Top Vegetarian Friendly Places to Eat in Lisbon in 2021!
If you follow us on instagram @noroadlongenough you will definitely have noticed that we love food and we really love food that is cooked for us by someone else (doesn't everyone). As J is vegetarian we always have to cater for this requirement when we are choosing somewhere to eat so, while not all of the places included here are strictly vegetarian, they all have great vegetarian (and some vegan) options.
We have been living in Lisbon on and off for over two years now and have tried a lot of places. These are our favourite places that we return to time and time again, order from on Ubereats (Covid-19 called for a lot of this) and have recommended to so many of our friends and family members that have visited Lisbon. We have also included some non-vegetarian dishes too as perhaps like us, you are dining with someone who is not vegetarian/vegan and so we wanted to show some of these options too where applicable.
---
1. PSI Restaurante Vegetariano
Location: Alameda Santo António dos Capuchos, 1150-314 Lisboa.
Website: http://www.restaurante-psi.com/
We have already featured PSI Restaurante Vegetariano on the blog and here it is again, at the top of our list. We love everything about this place, their fantastic food, their gorgeous outdoor terrace and their friendly competent staff. We advise you to book your table in advance, especially for Saturday lunchtime.
Dishes We Love: To start their Eggplant, Banana & Mint badjias. For main try their Sweet & Sour Eggplant with Tofu dish, it is so good. For dessert, their Cheesecake Crumble (this is not vegan)!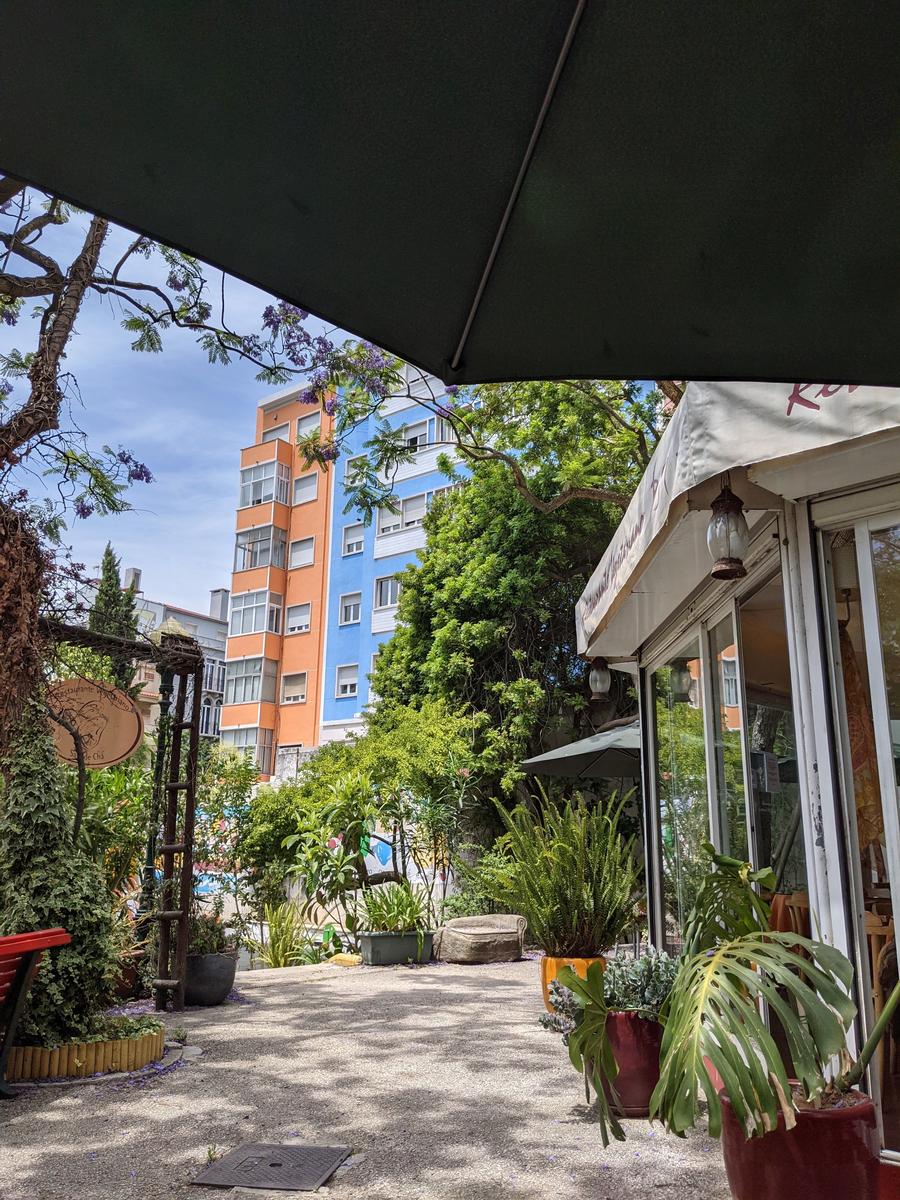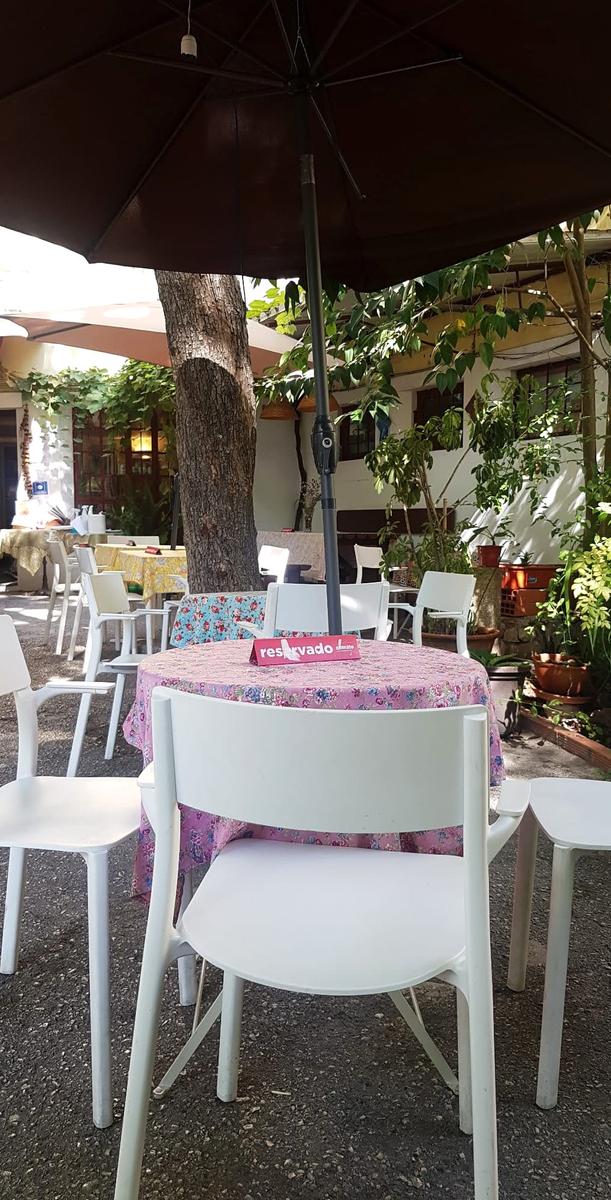 Eggplant, Banana and Mint badjias: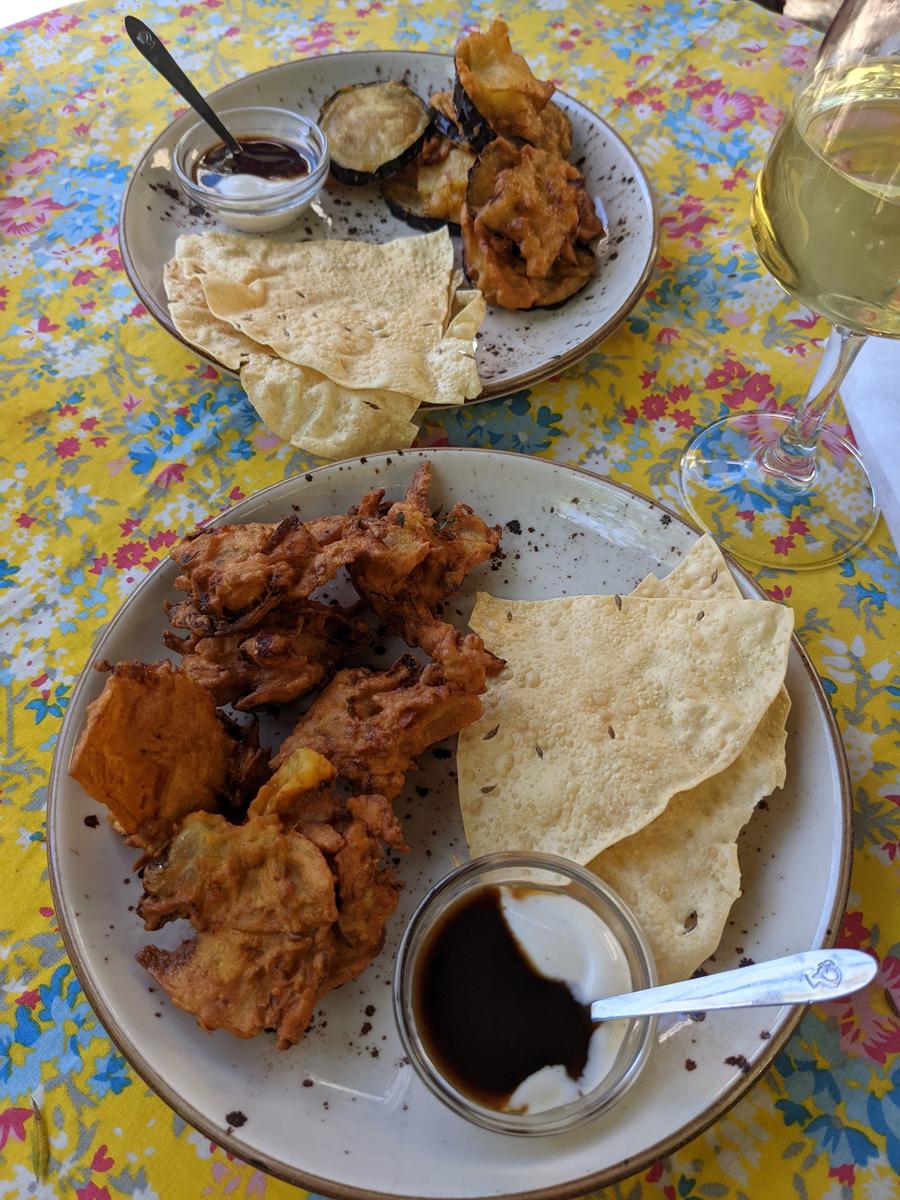 Their Onion and Potato badjias: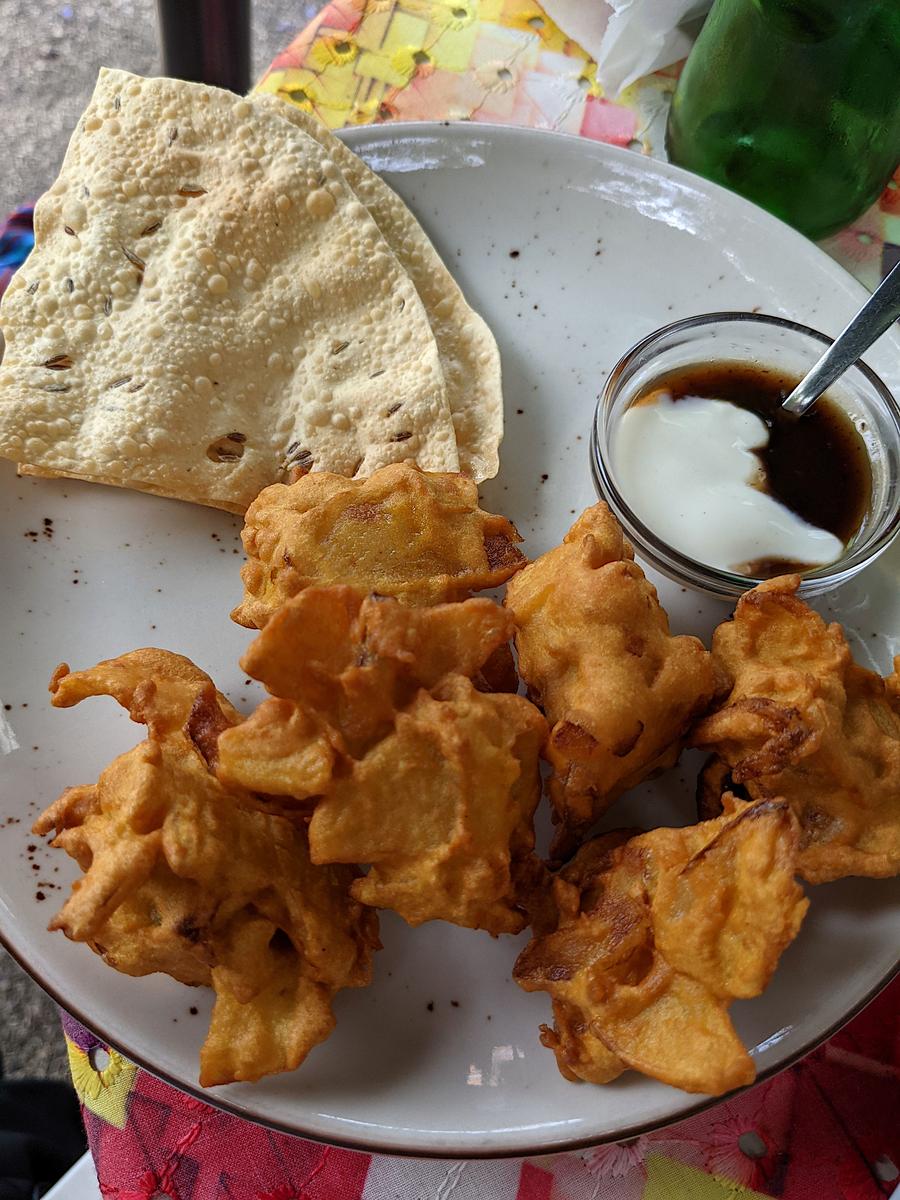 Indian Vegetable samosas: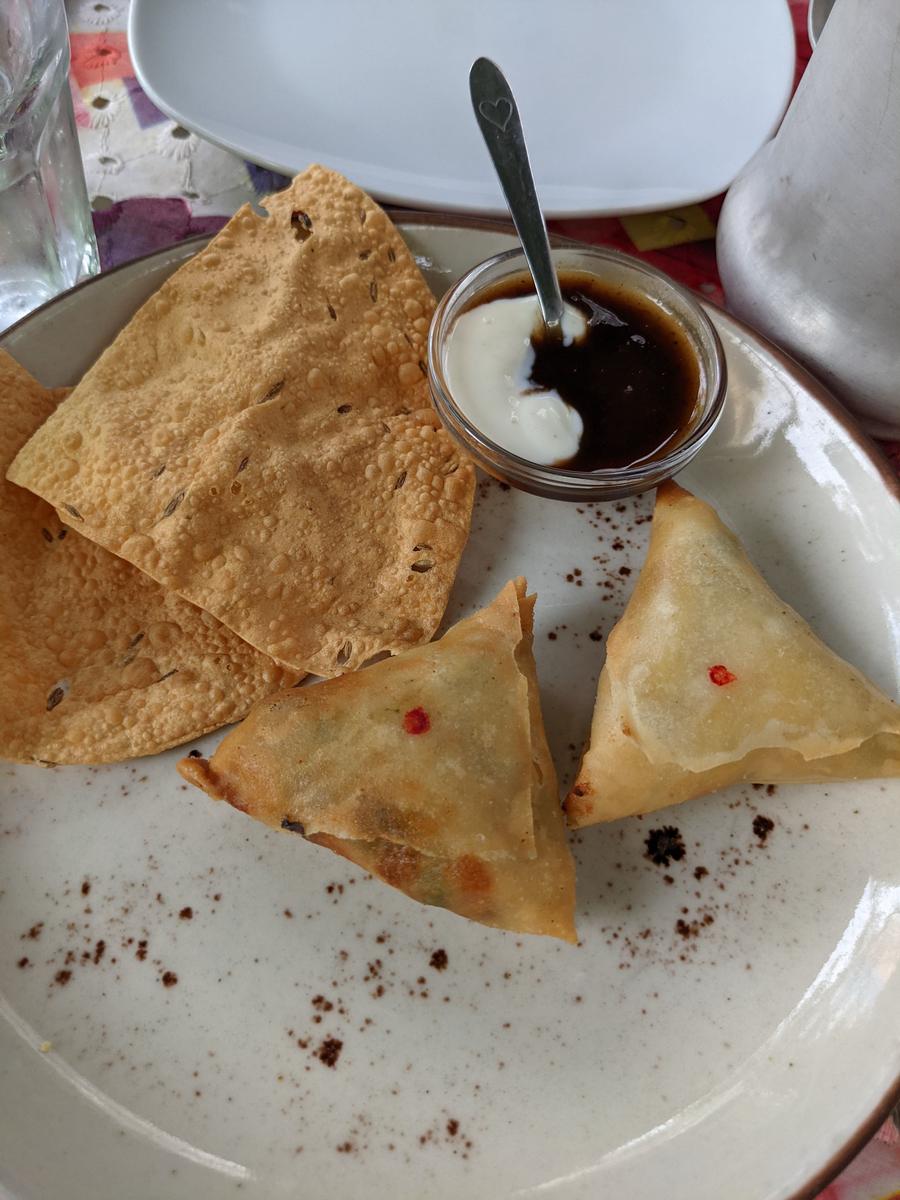 Sweet & Sour Eggplant with Tofu: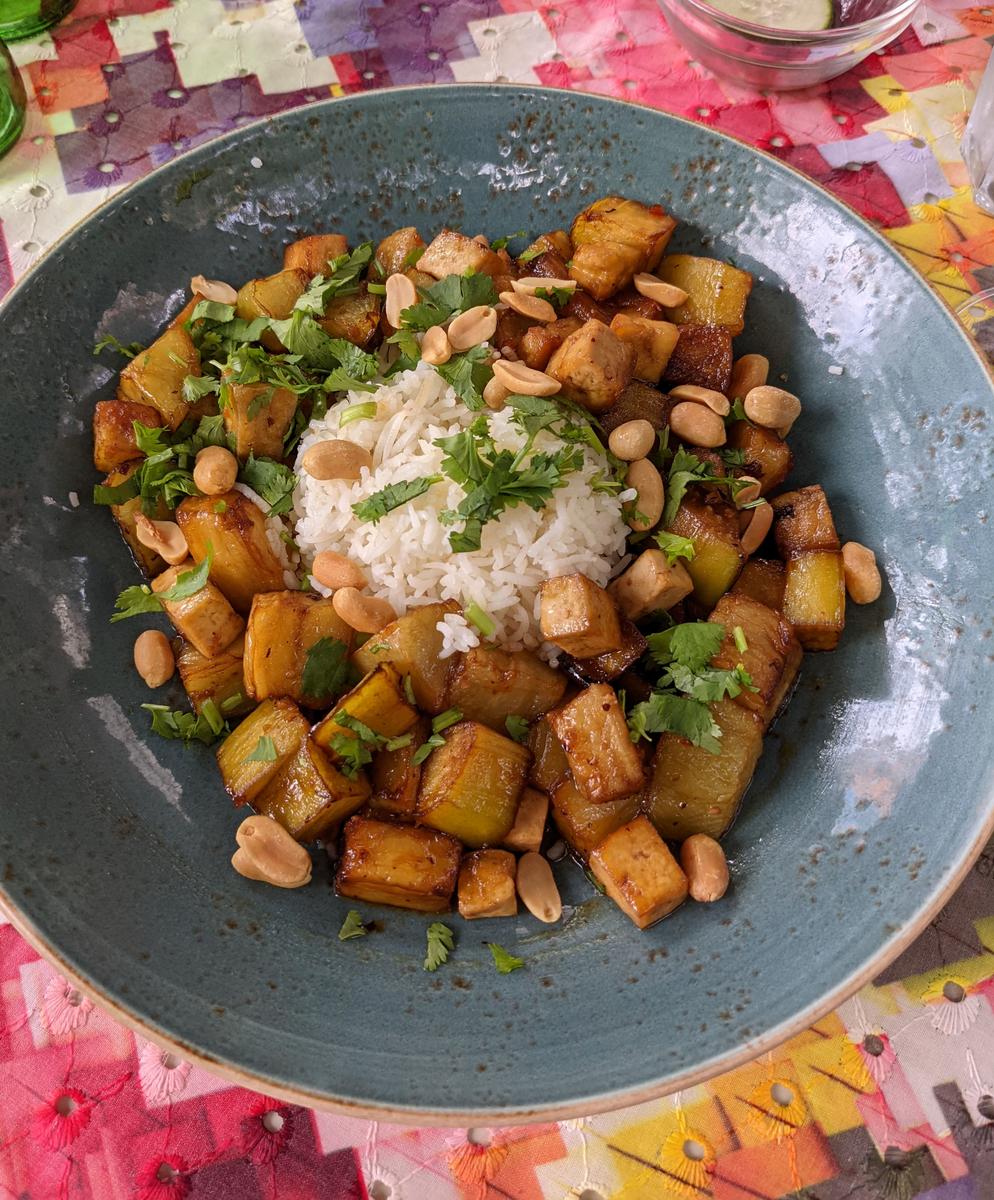 This is their Curry of the day at the top and the Sweet & Sour Eggplant with Tofu below: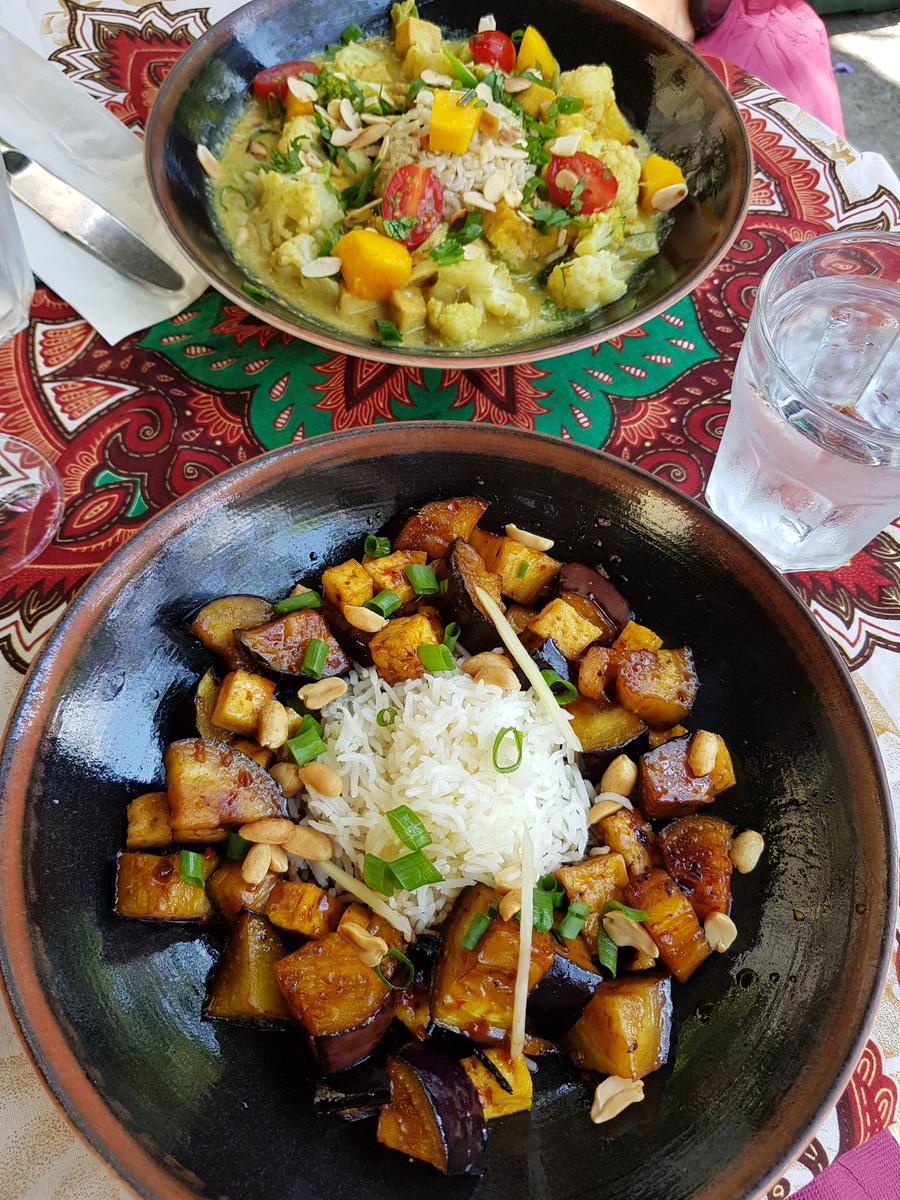 The Laksa Curry is also really good: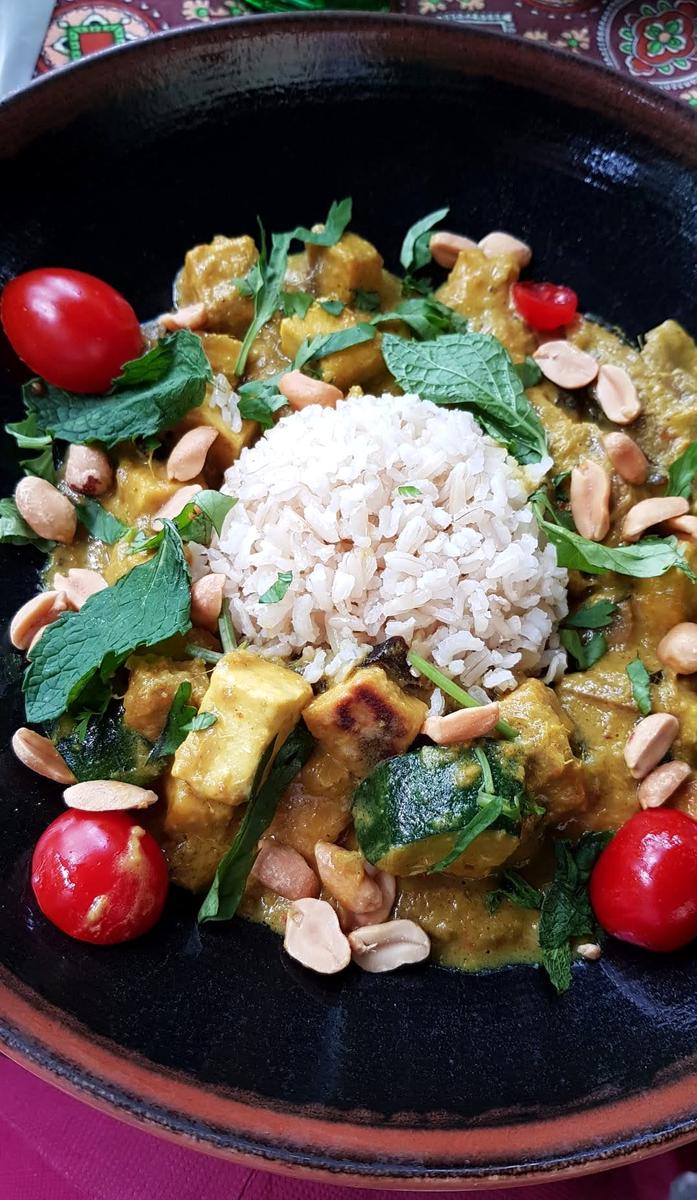 Their yummy Dan Dan Noodles: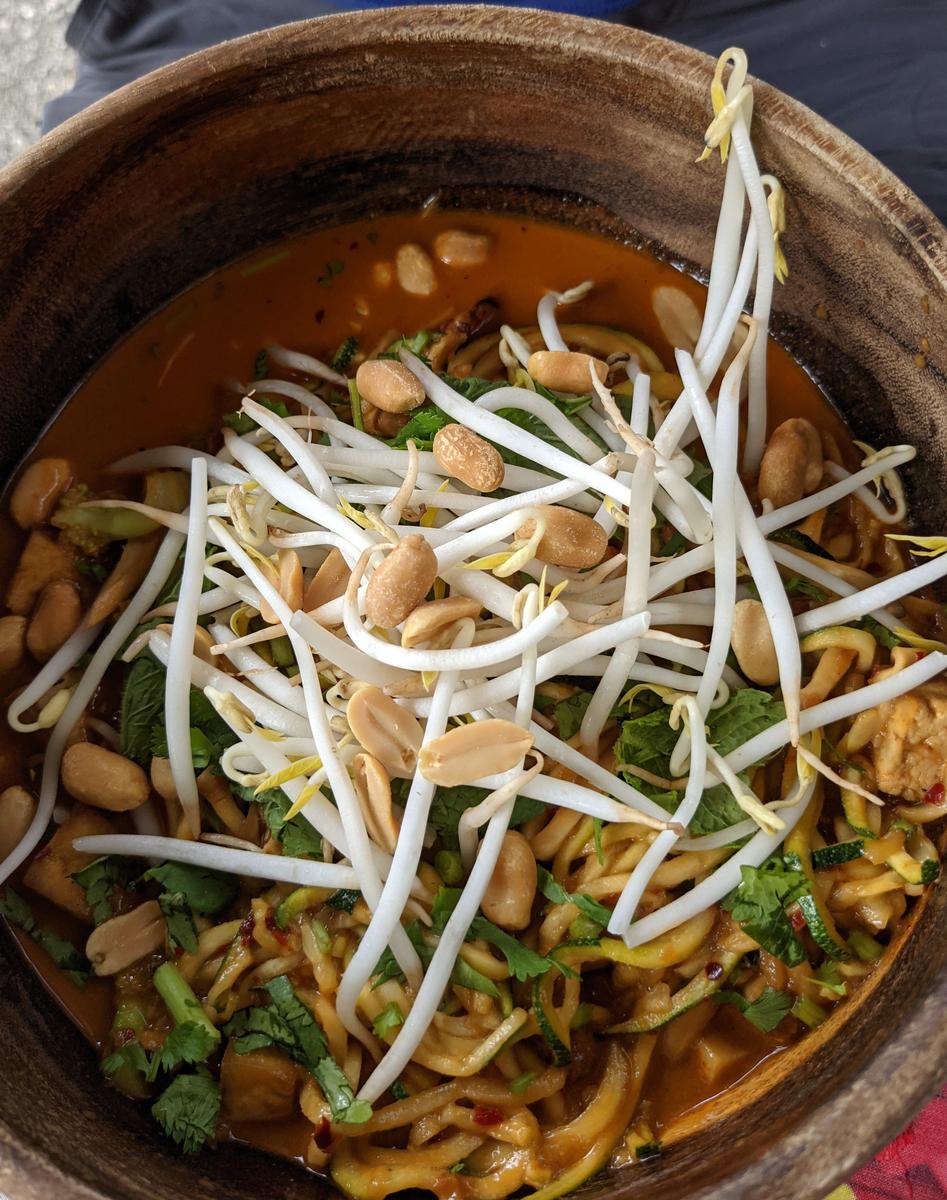 Now for some desserts. First up is the aforementioned Cheesecake Crumble: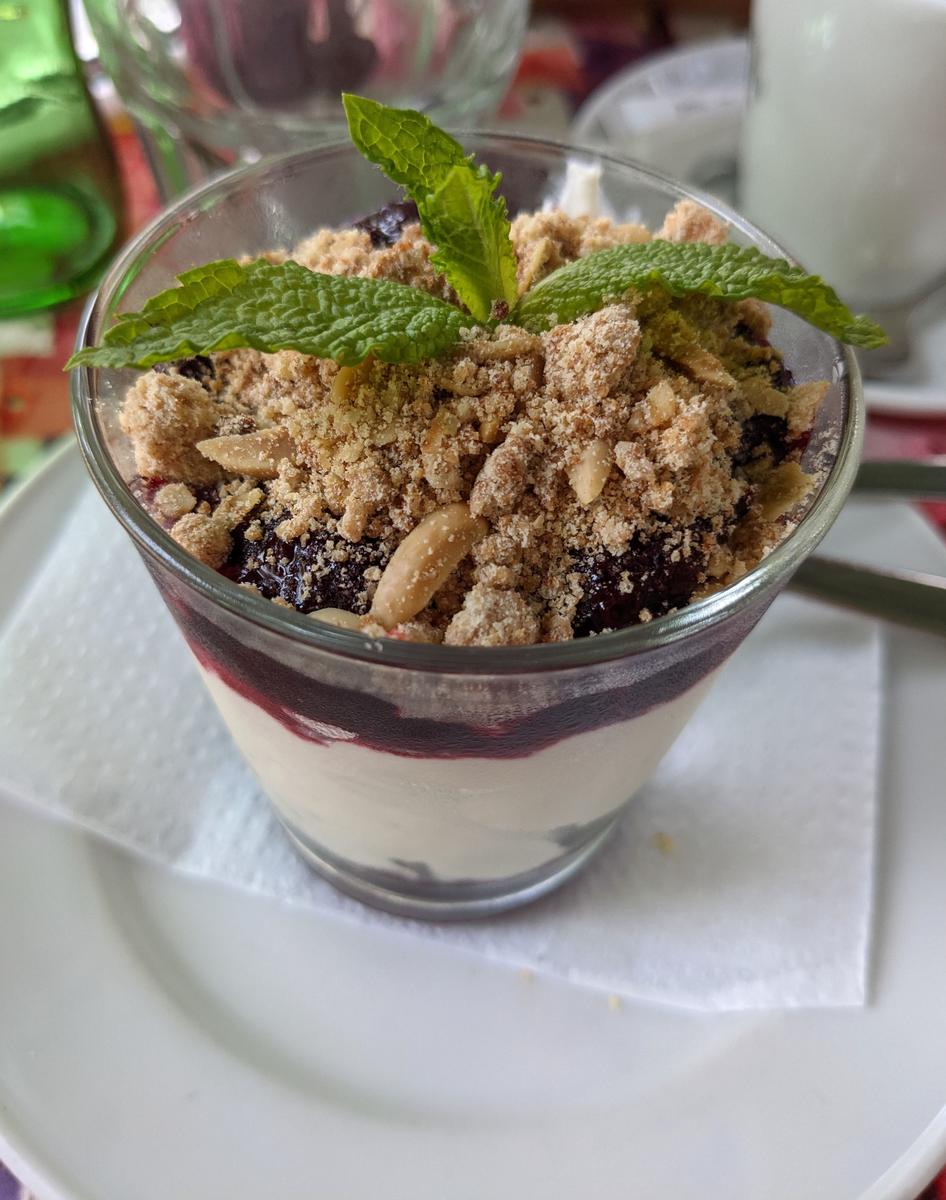 A close second in the dessert options would have to be their Dessert Mousse which consists oat flakes, dates, caramel, cream, condensed milk: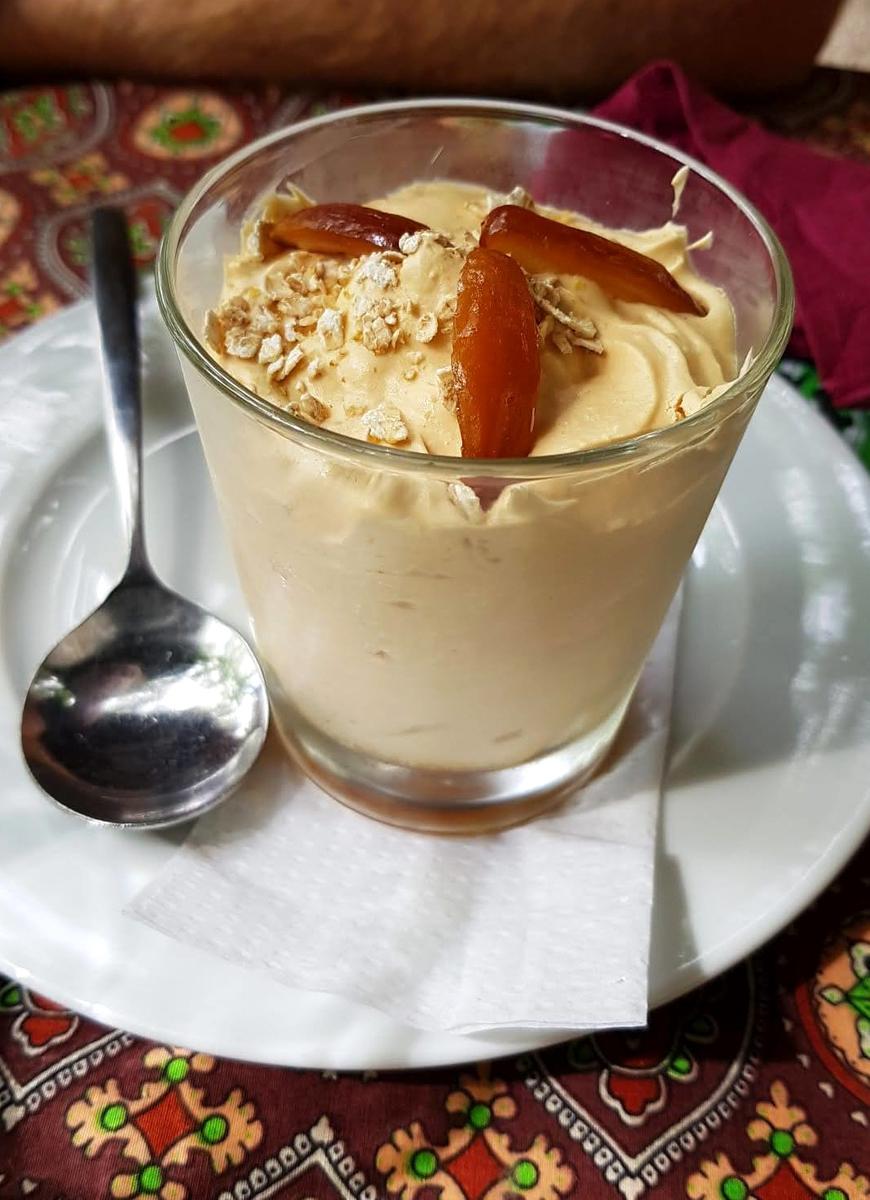 In third place, their delightful 100% Bio Chocolate Mousse & Rose Petals: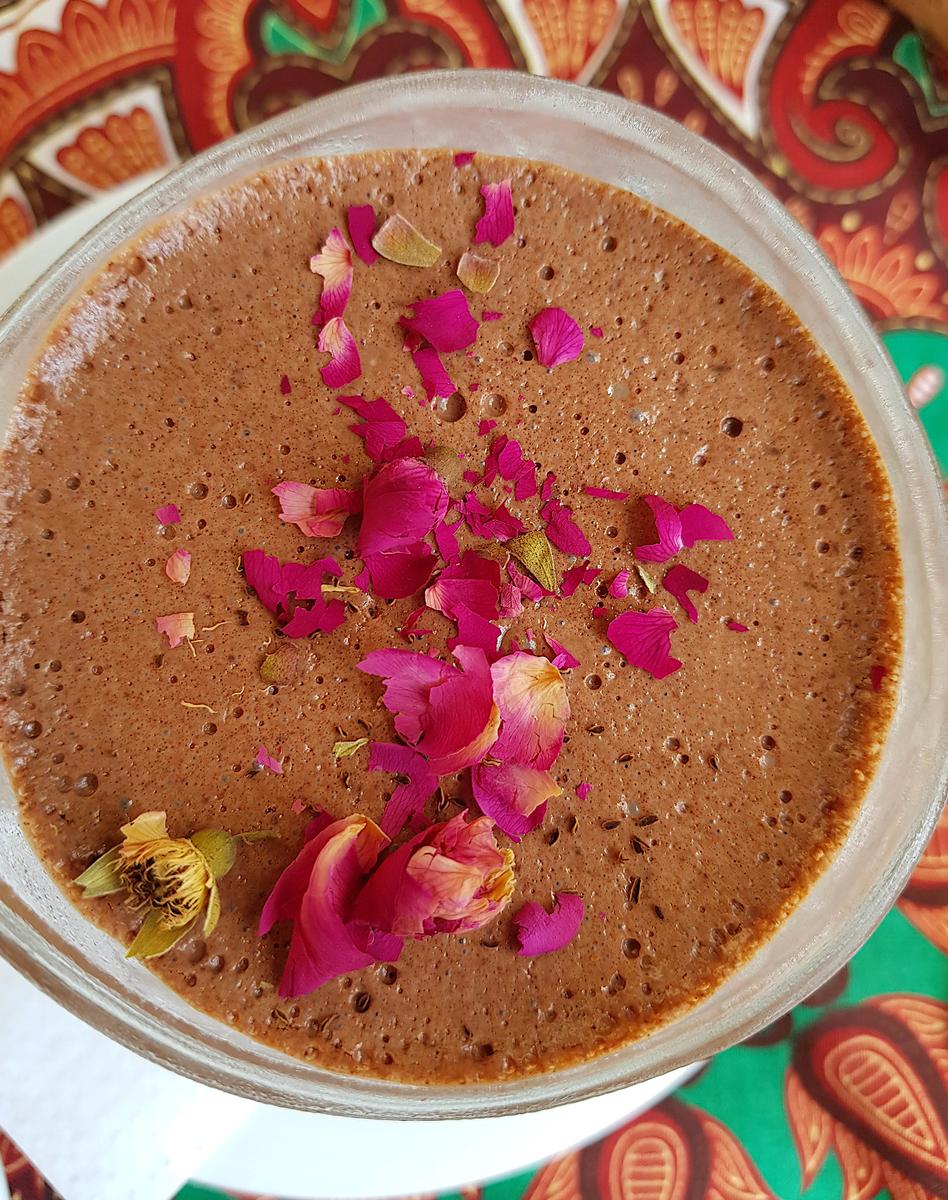 Surely this selection of photos has your mouth watering… mine certainly is!
---
2. Cafe Janis
Location: Rua Moeda 1A, 1200-109 Lisboa.
Website: http://janislisboa.com/
With indoor and outdoor seating Cafe Janis is a great place for people watching and scrumptious food! They are open "all day everyday" from 8am and have a large menu with vegetarian/vegan options. I have lost count of the amount of times we have been to Cafe Janis and during Covid-19 they were a weekly treat via Ubereats. There is a reason why their coffee hatch does so well too, their coffee is the best! They have two menus, one for day time and one for night time and great cocktails too.
Dishes We Love: For brunch/lunch it has to be their Vegan Bowl every time and for dessert we never stray far from their delicious cookies and a coffee. In the evening time, their Crispy Calamari to start followed by one of their burgers!
Bonus Tip: Try their refreshing Lemon Hibiscus Fizz!
The coffee hatch: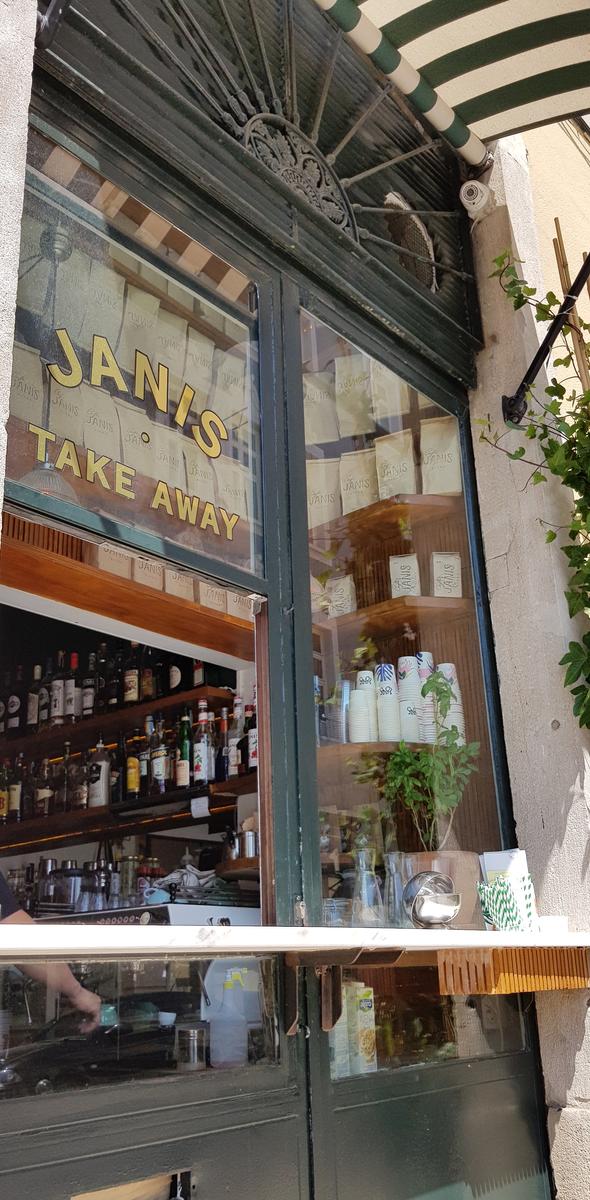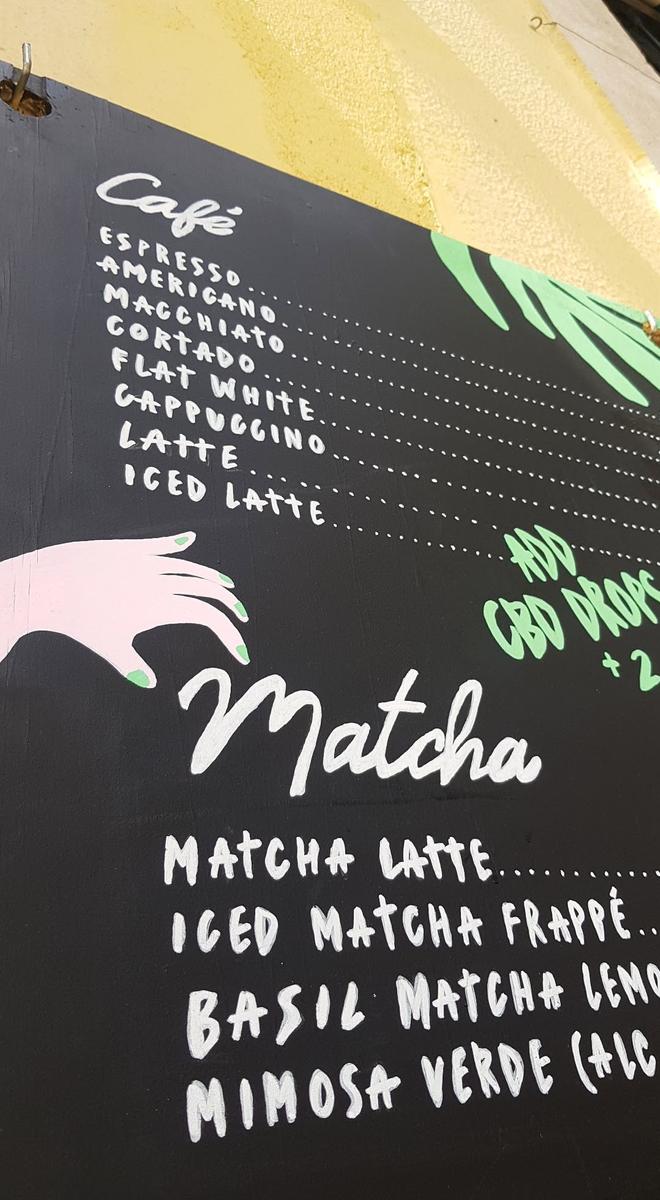 Some photos of the interior: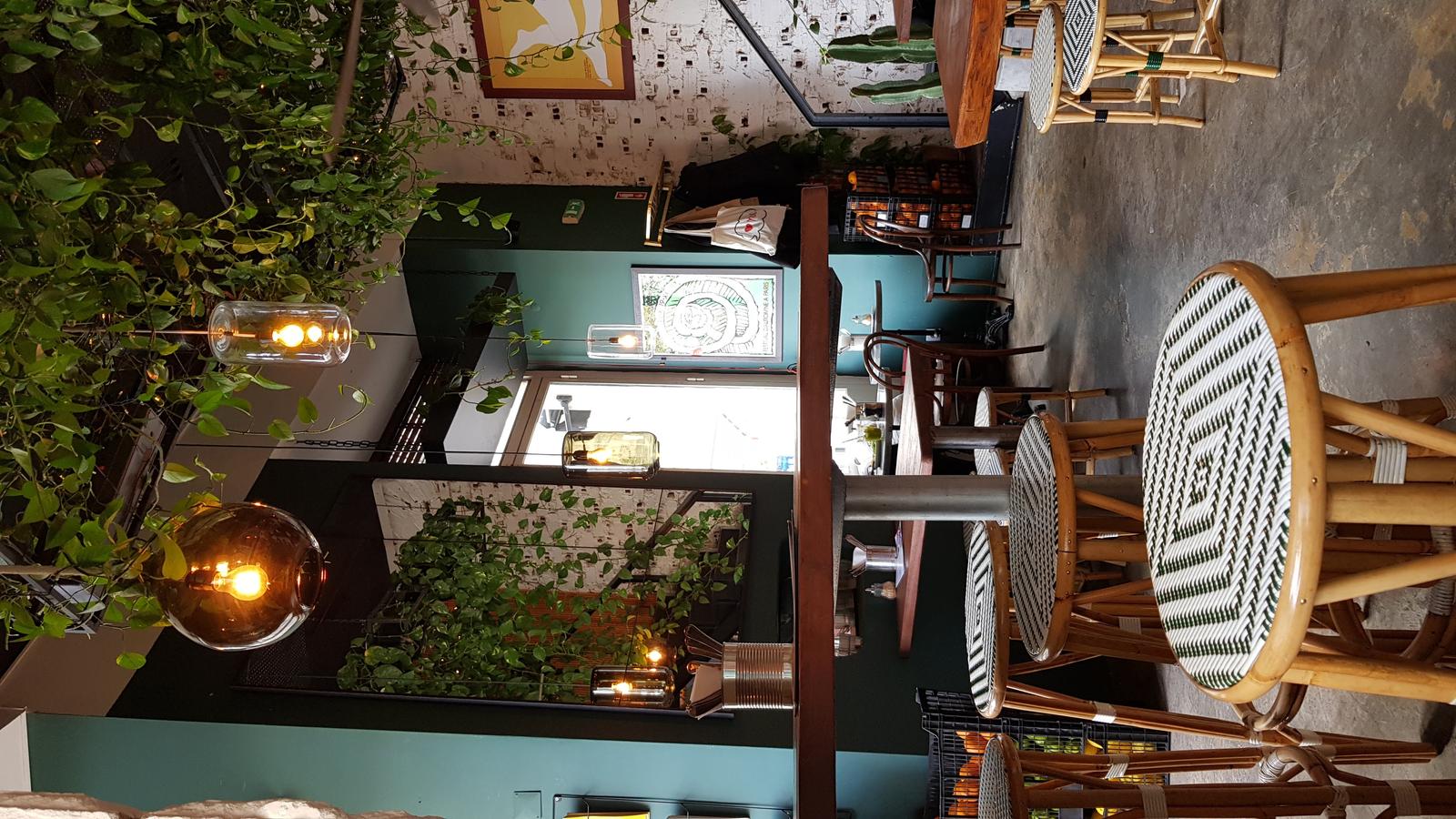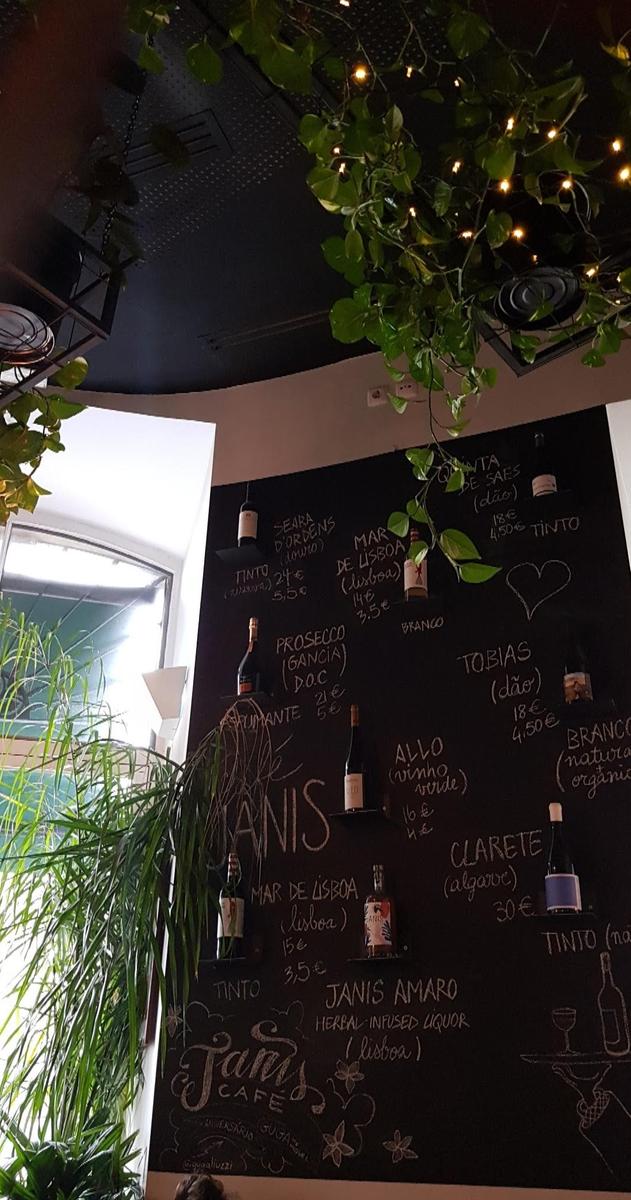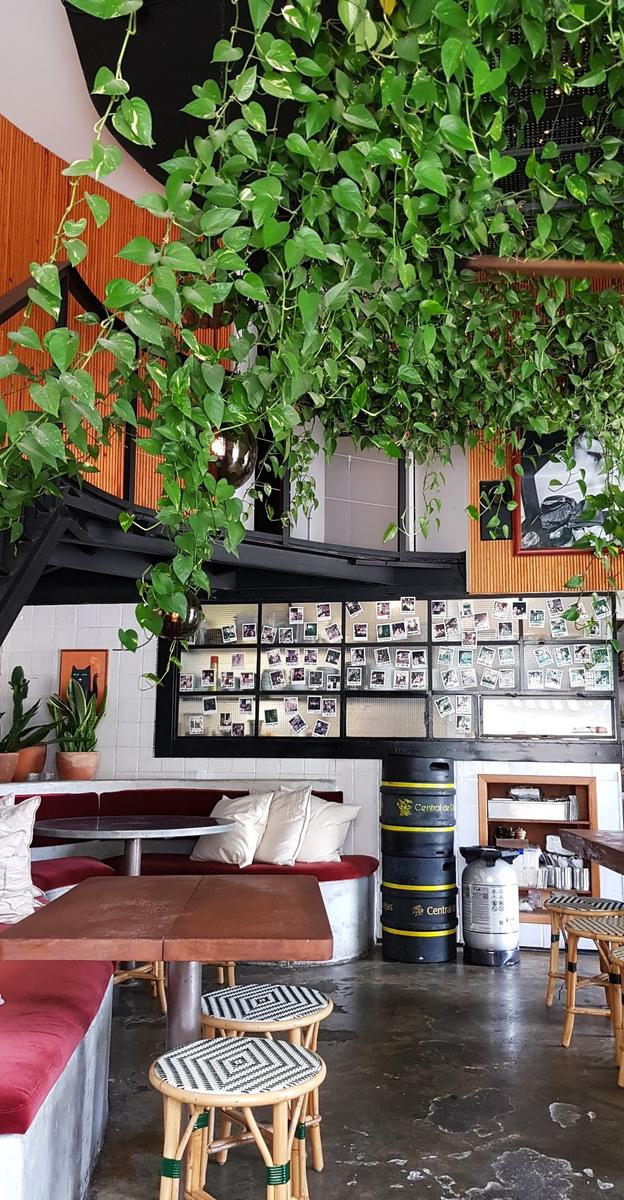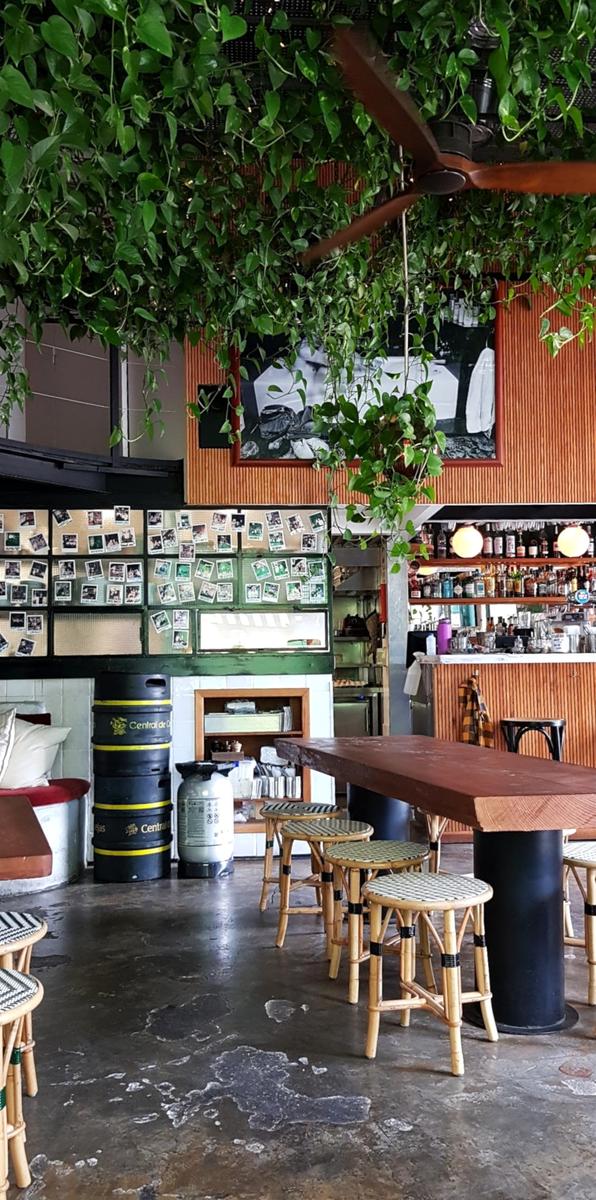 And now for the food. First up, their Vegan Bowl, the mushrooms and the artichoke are to die for: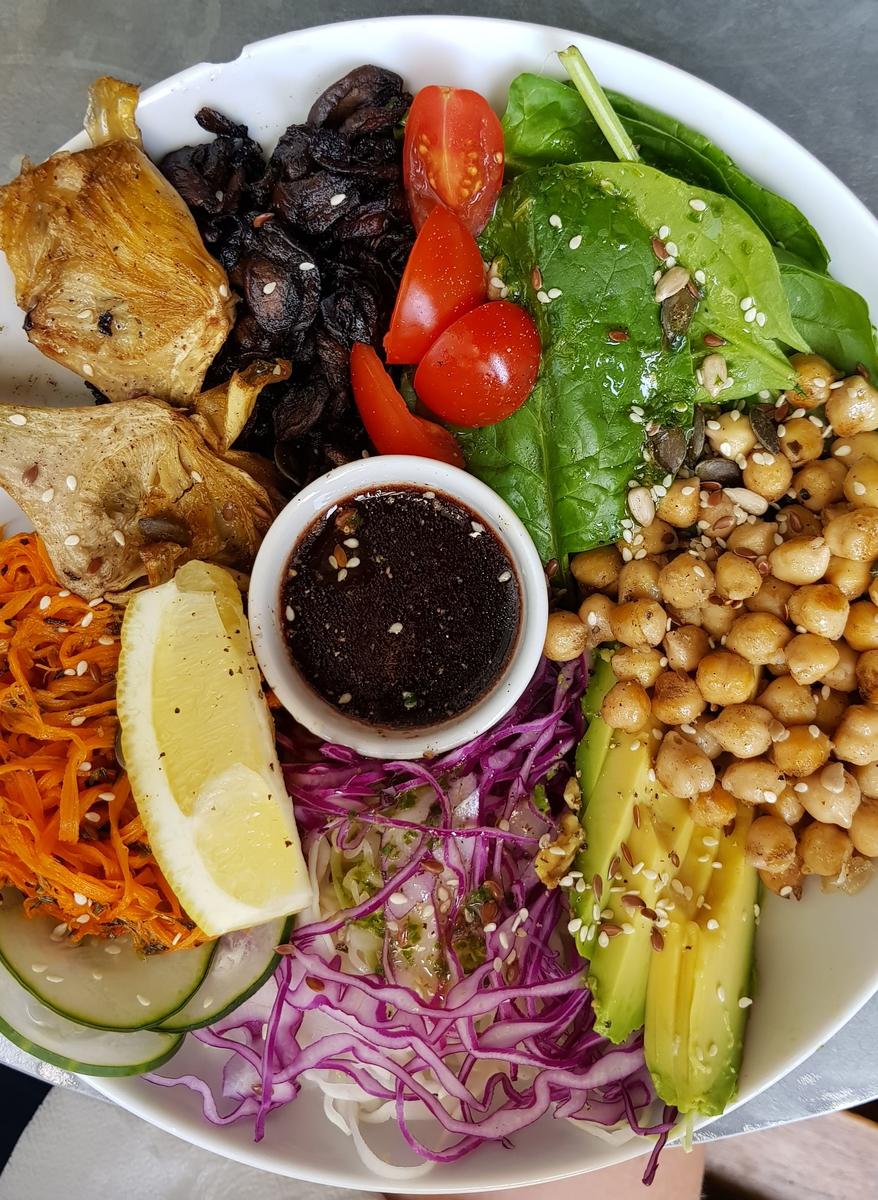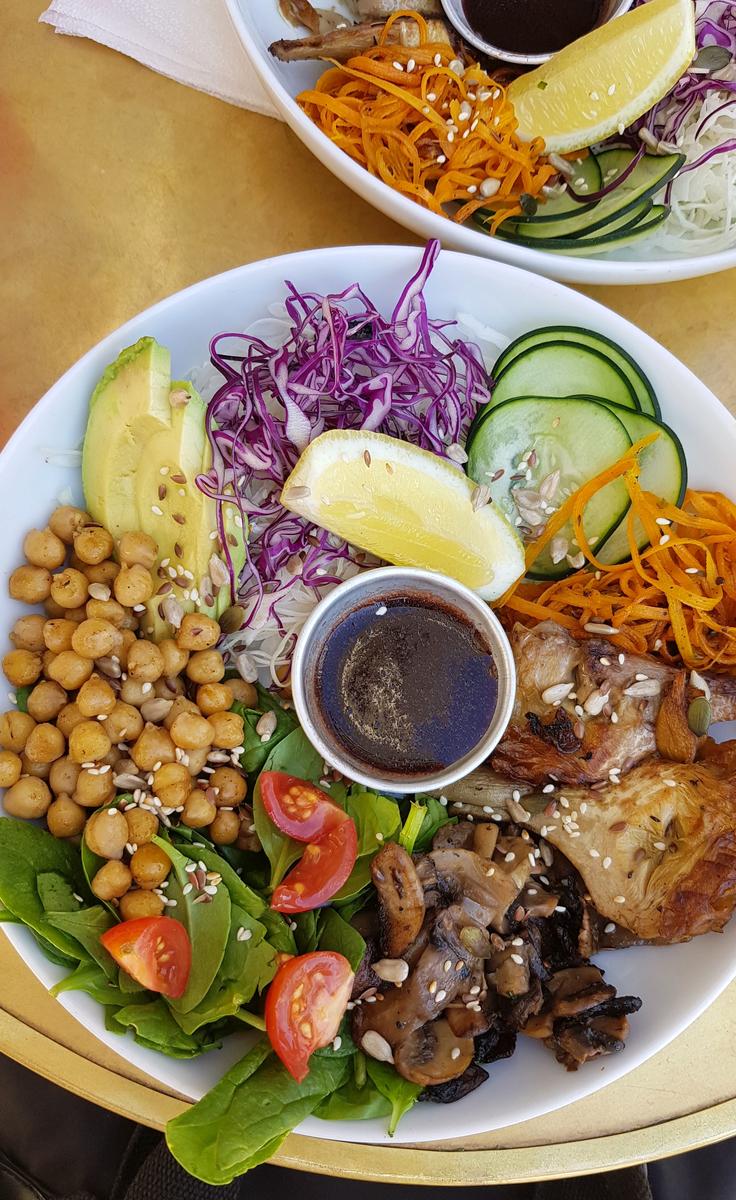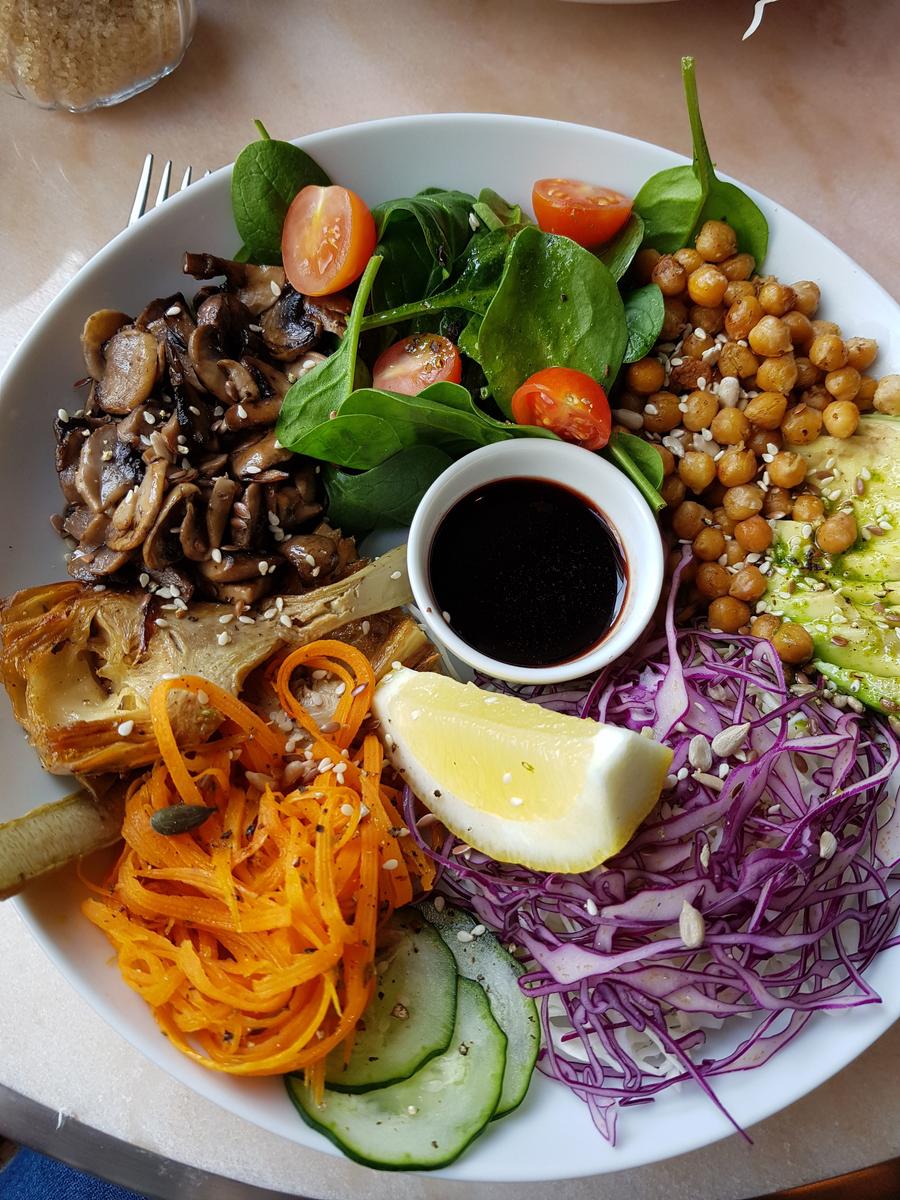 Just to show that the Vegan Bowl via Ubereats is just as good!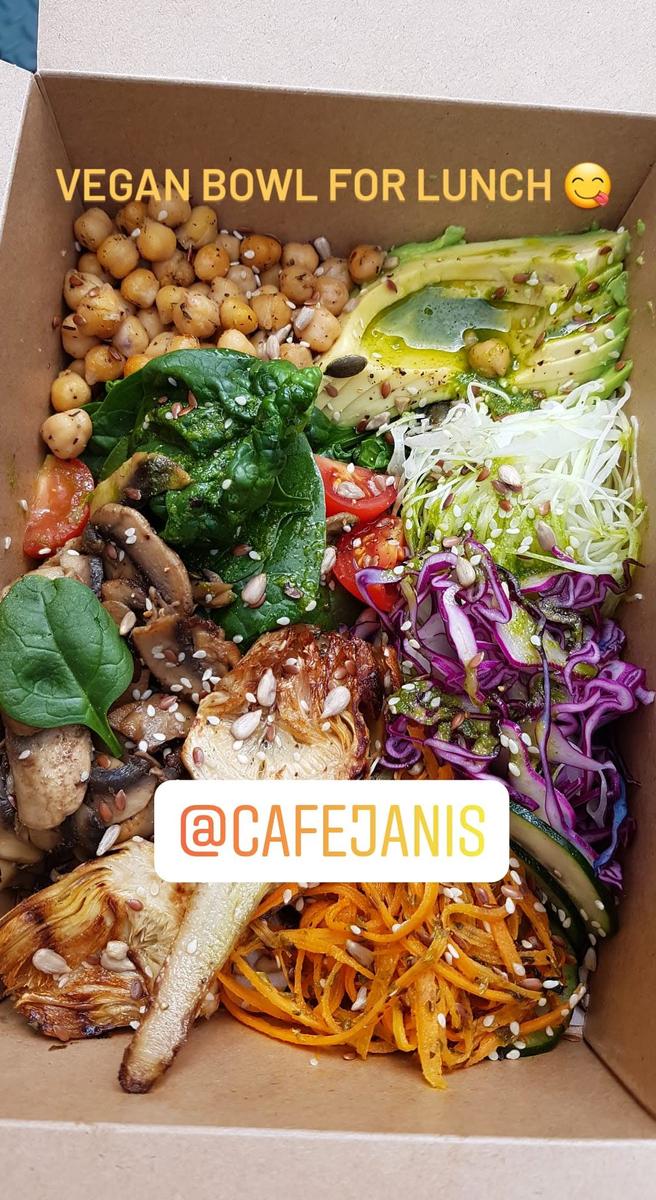 Cookie time: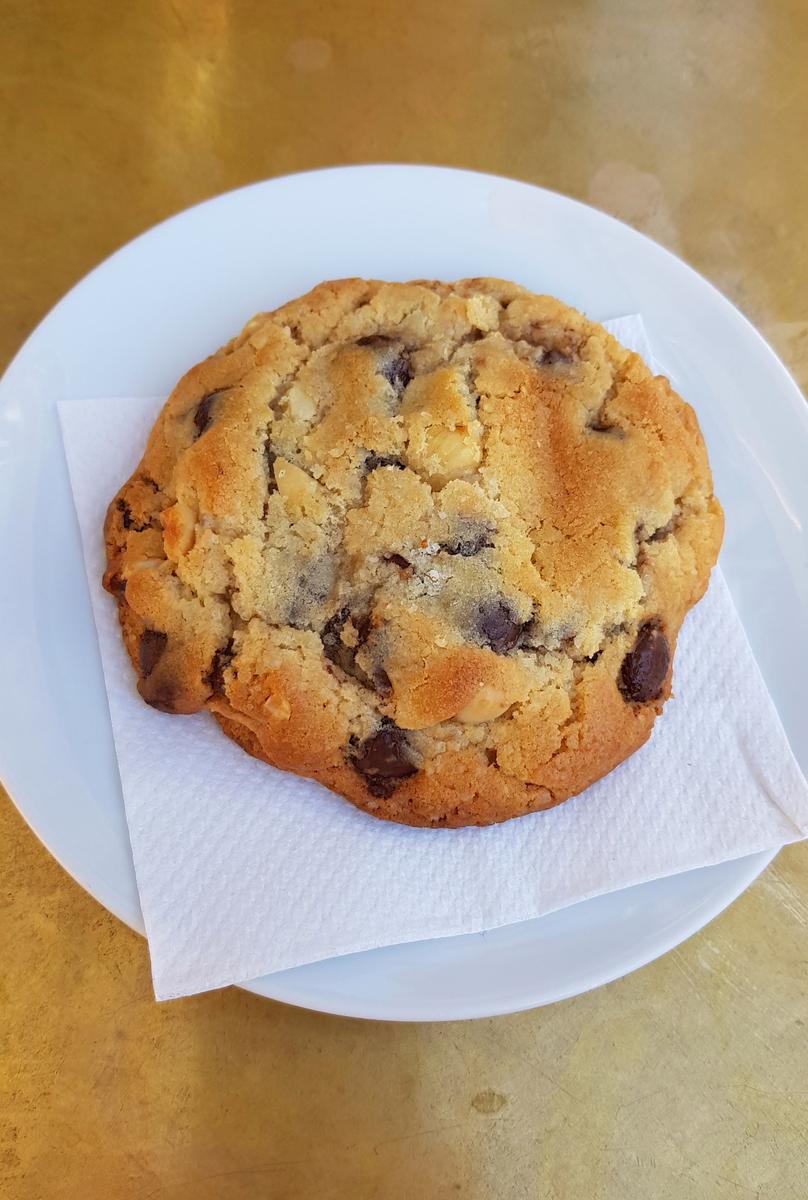 Lemon Hibiscus Fizz: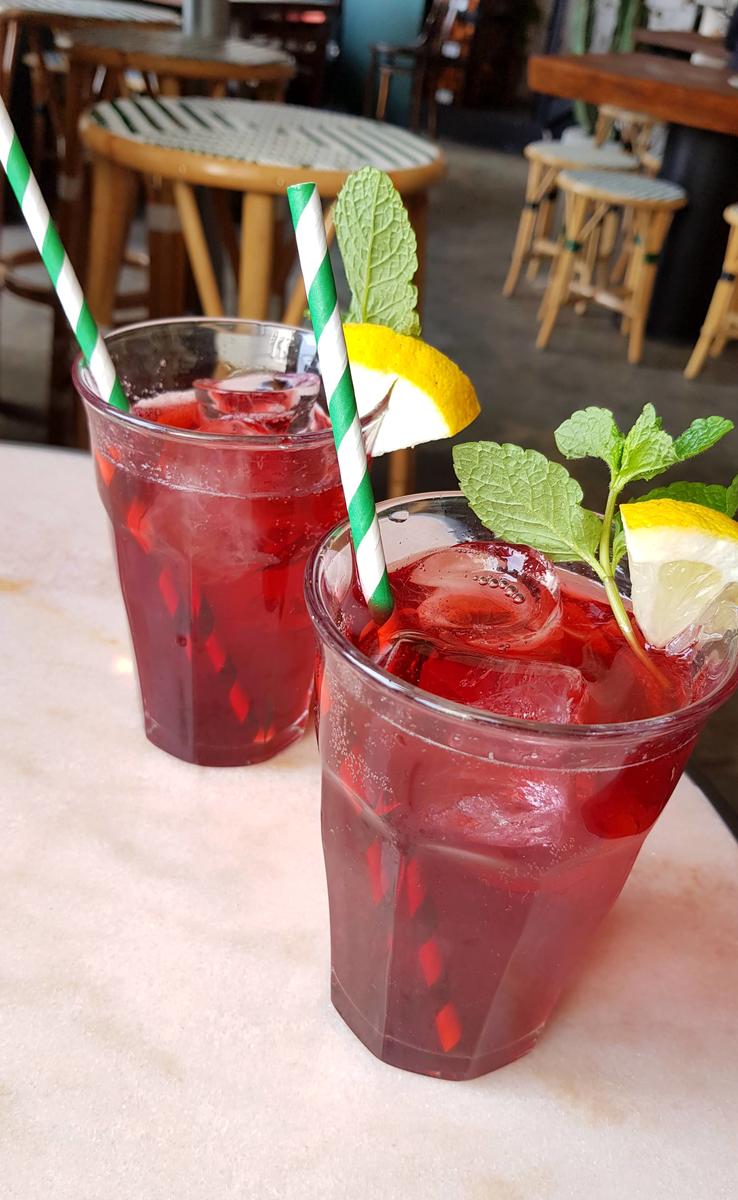 Not a great photo but the Crispy Calamari is great, as is the Chilli Lime Guac: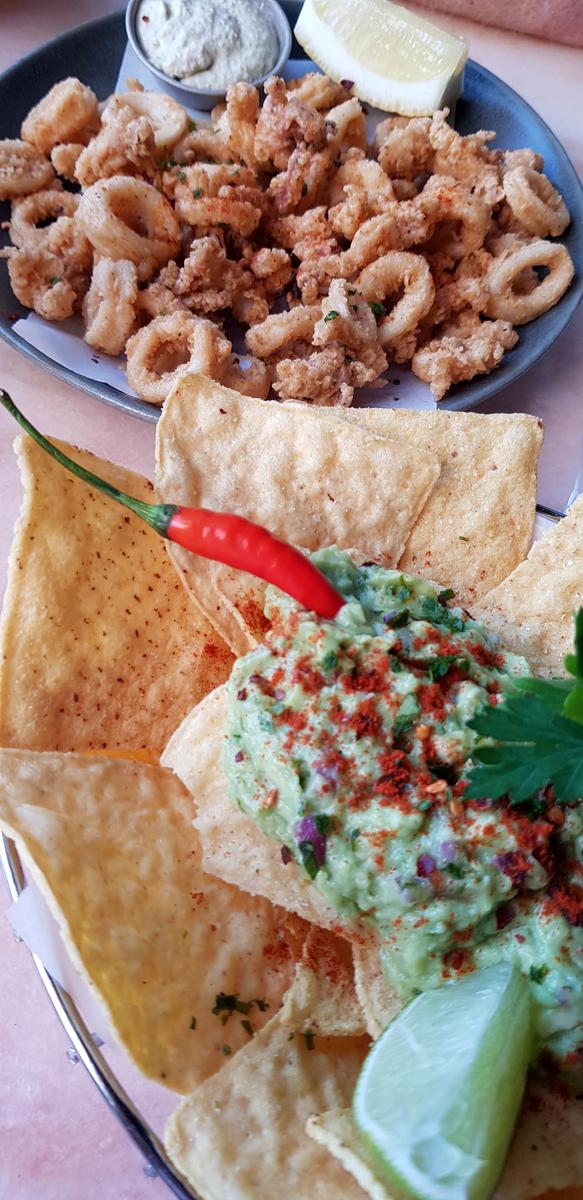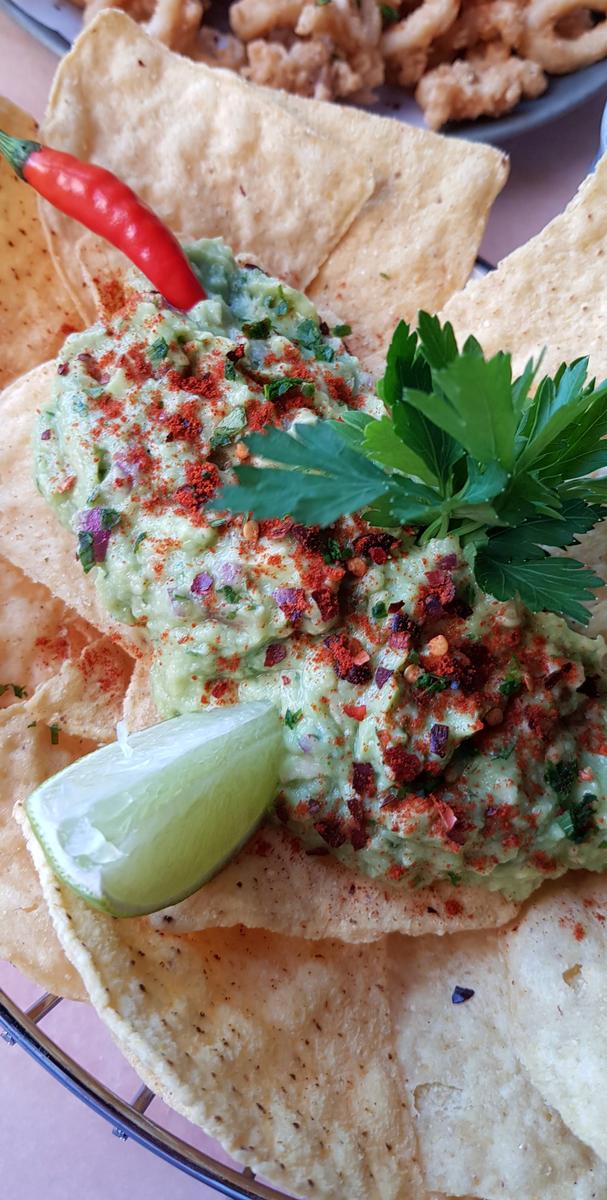 Some other dishes, the Full Hearty Breakfast with their Green Detox juice: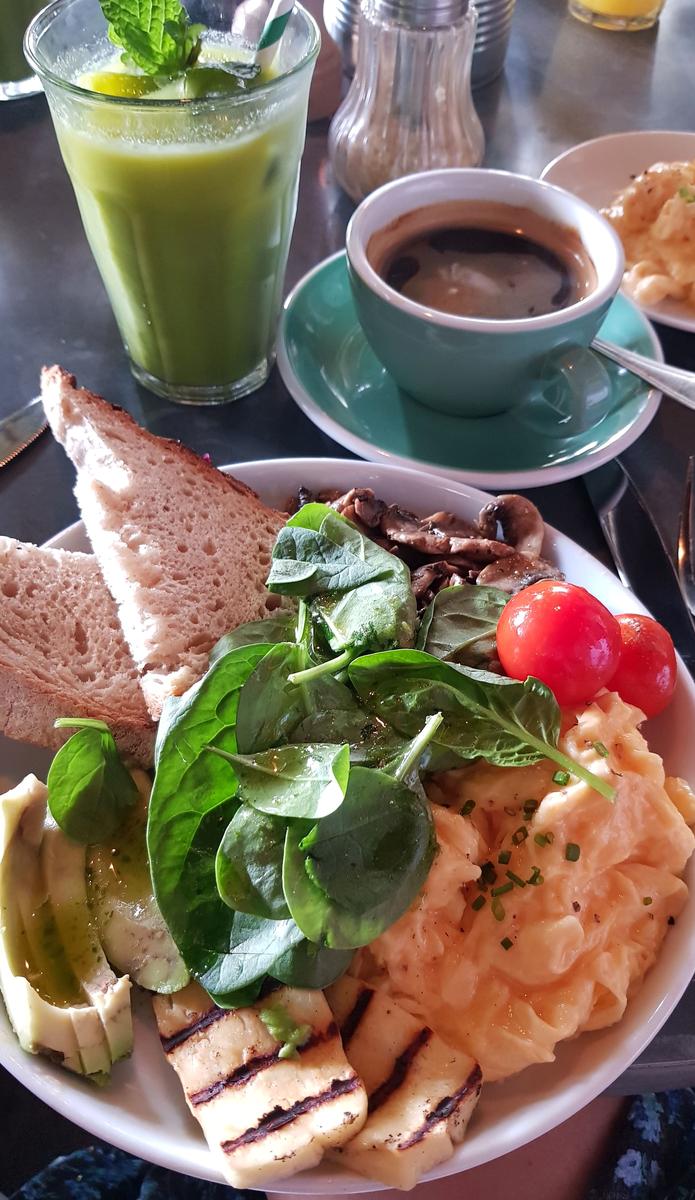 Their Mediterranean Breakfast: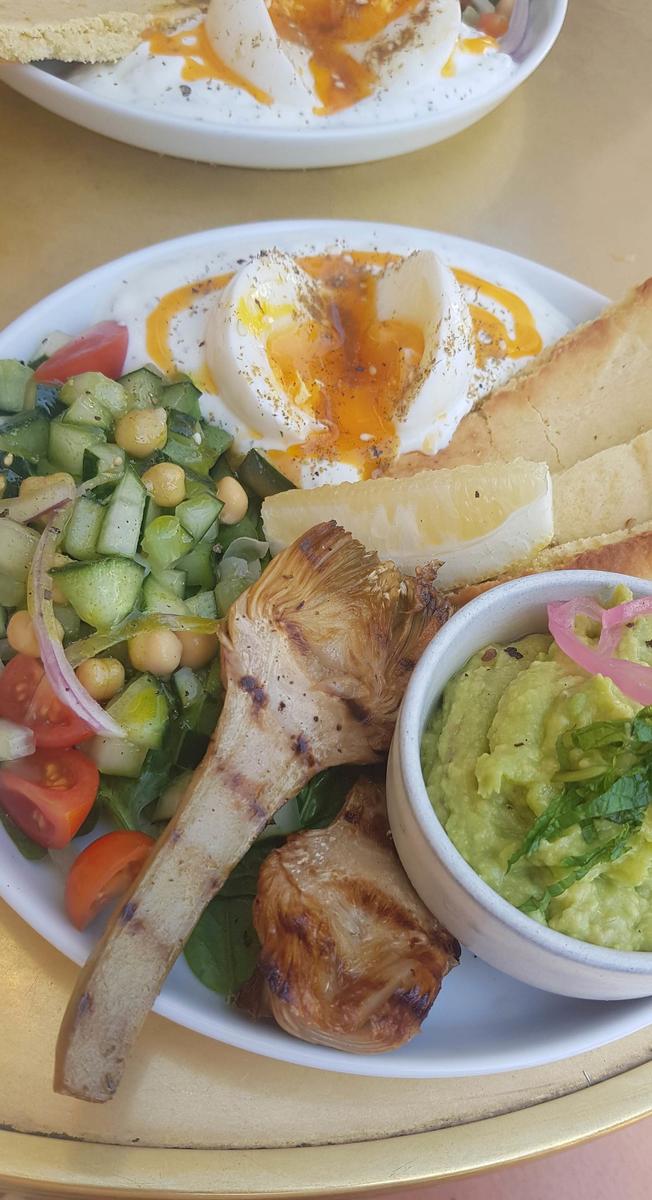 Anybody for some Avo Toast?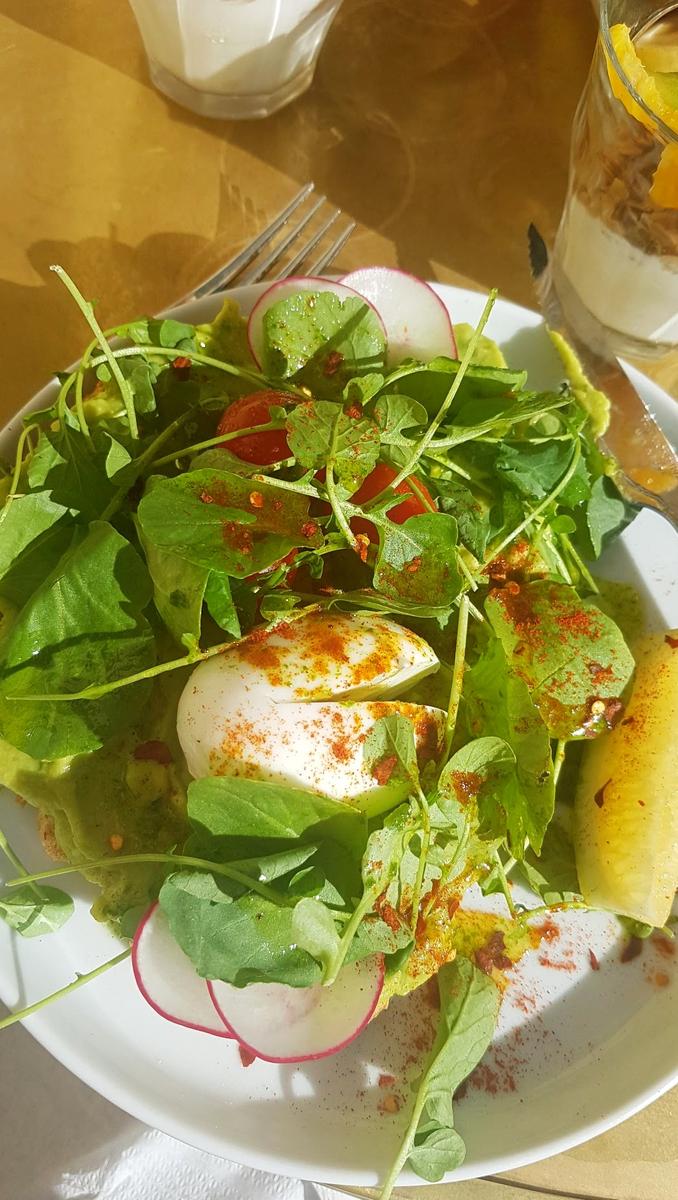 The Veggie Jaca Toastie - boy this is delicious too, so many great options!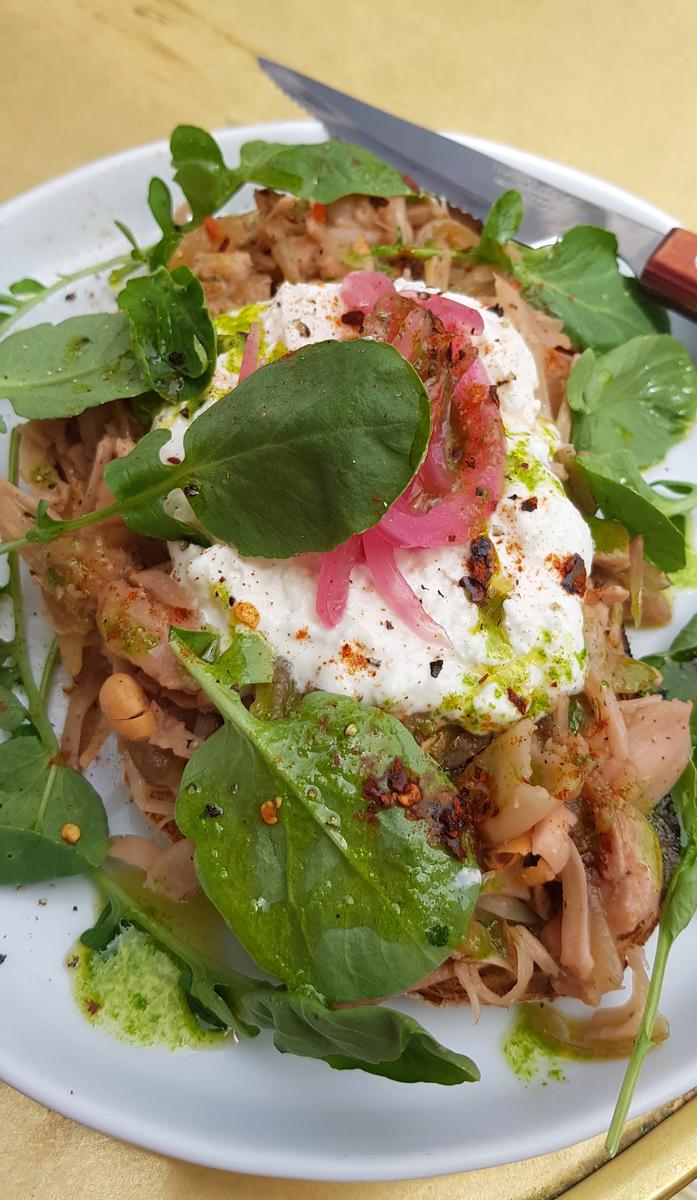 Yummy Shakshuka: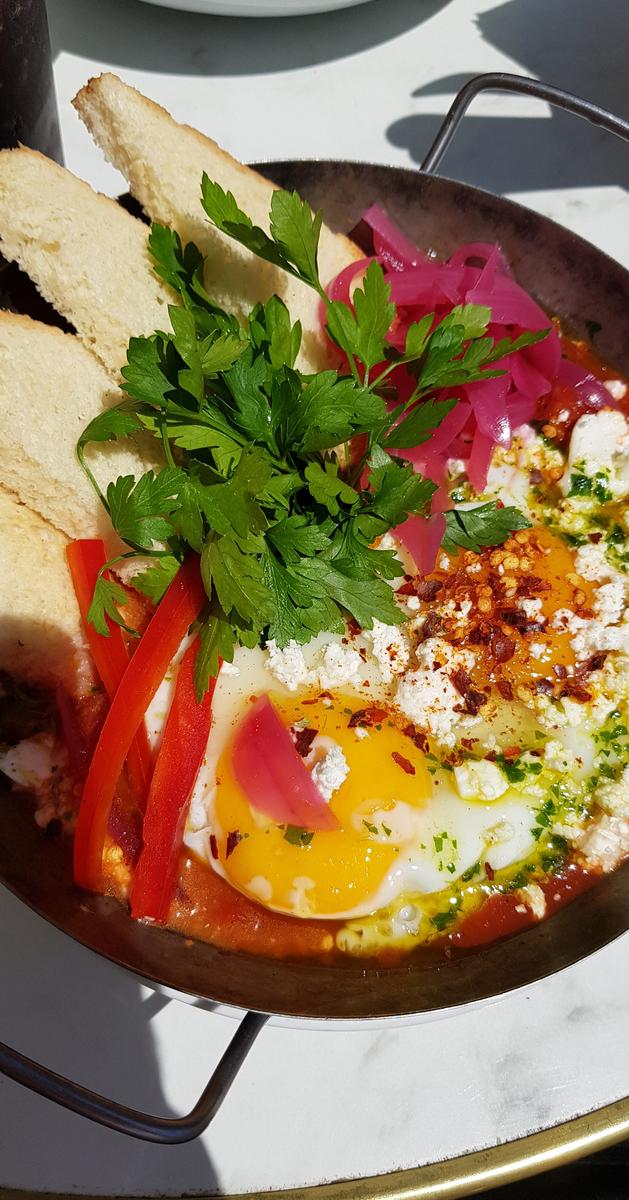 Their healthy Zoodle (zucchini noodles) Salad with Goats Cheese: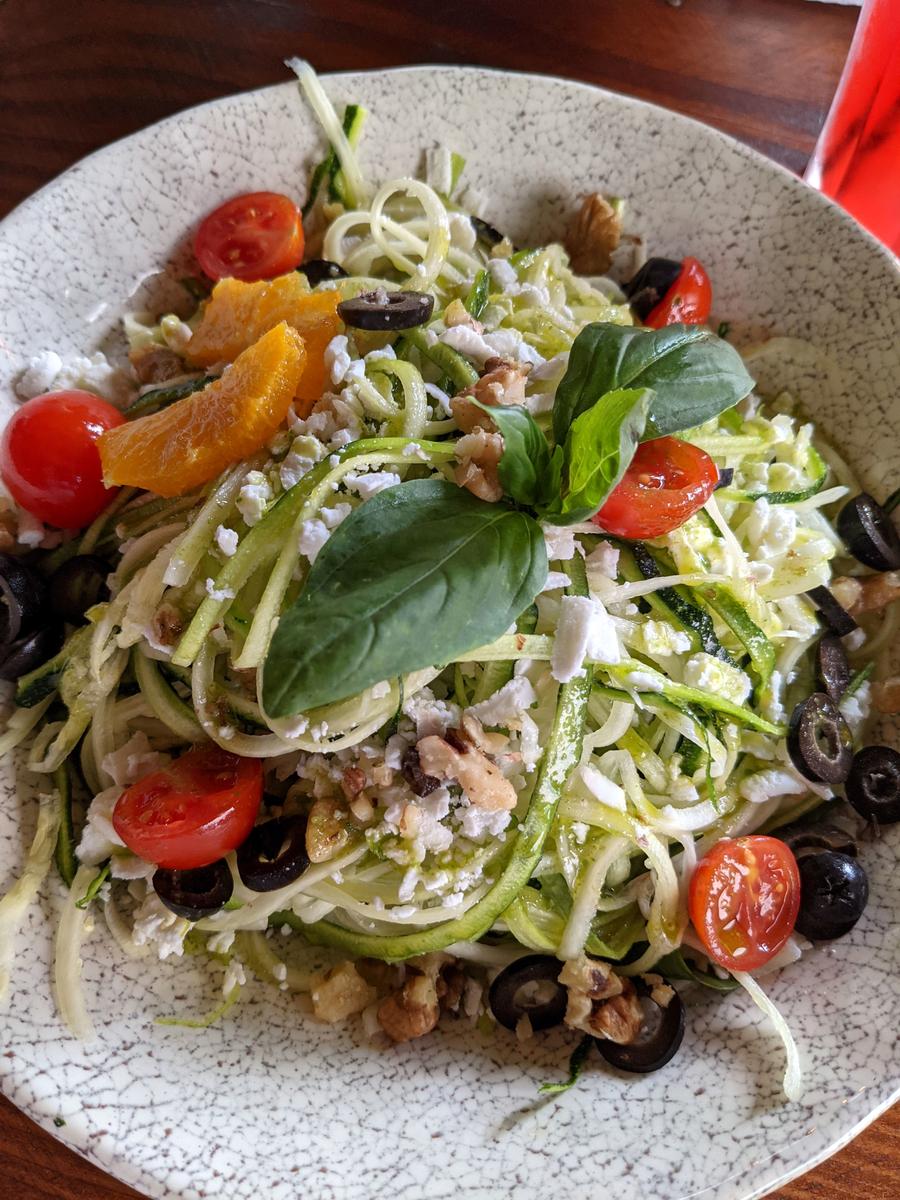 ---
3. Farès
Location: Rua de S. Paulo 200, 1200-429 Lisboa.
Instagram: @fares_lisboa
If you are in the mood for some great tapas and delicious cocktails, wine or beer then look no further, Farès has you covered! While we have only been here in the evening time (from 6pm) Farès also do brunch at weekends from 11am-1pm but be sure to check their Instagram for up to date information. If you do want to dine here, arriving at the 6pm opening time is advisable (especially at weekends/sunny evenings) if you haven't pre-booked. You can reserve in advance if you are a group of four or more. Farès is not exclusively vegetarian so it is a great option if you have a mix of meat eaters and non-meat eaters in your group.
We love sitting outside in the evening sunshine and enjoying a selection of their tasty tapas. The staff are great and it is another place that we return to over and over again. FYI - their food via Ubereats is also excellent, just like when you dine in.
Dishes We Love: Their Baked Sweet Potato, Crispy Falafels, Halloumi Fries and any of their Hummus!
A glimpse inside: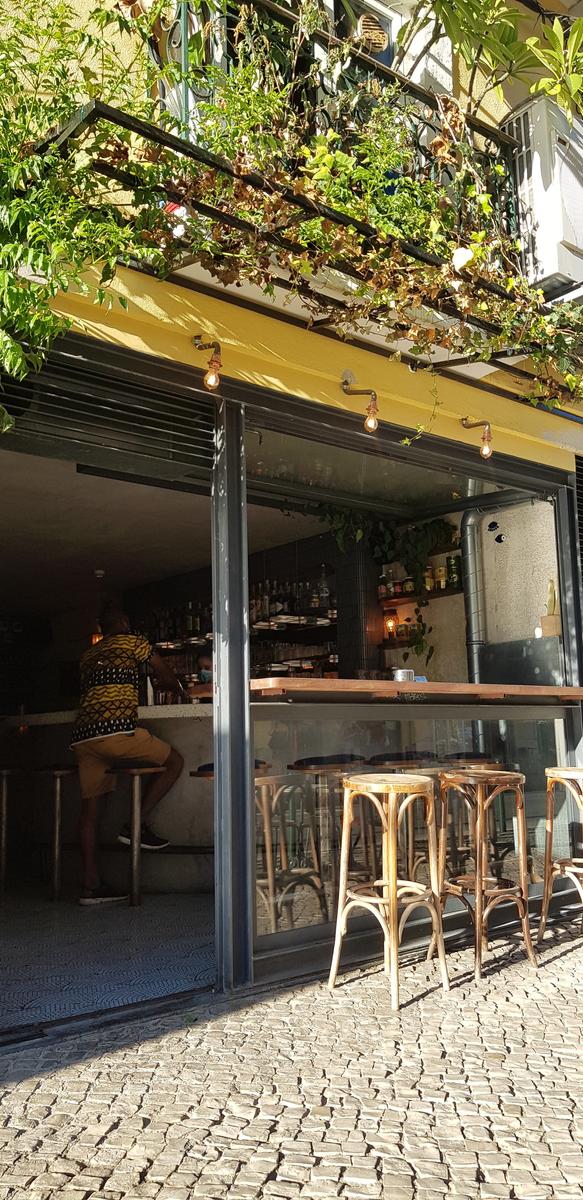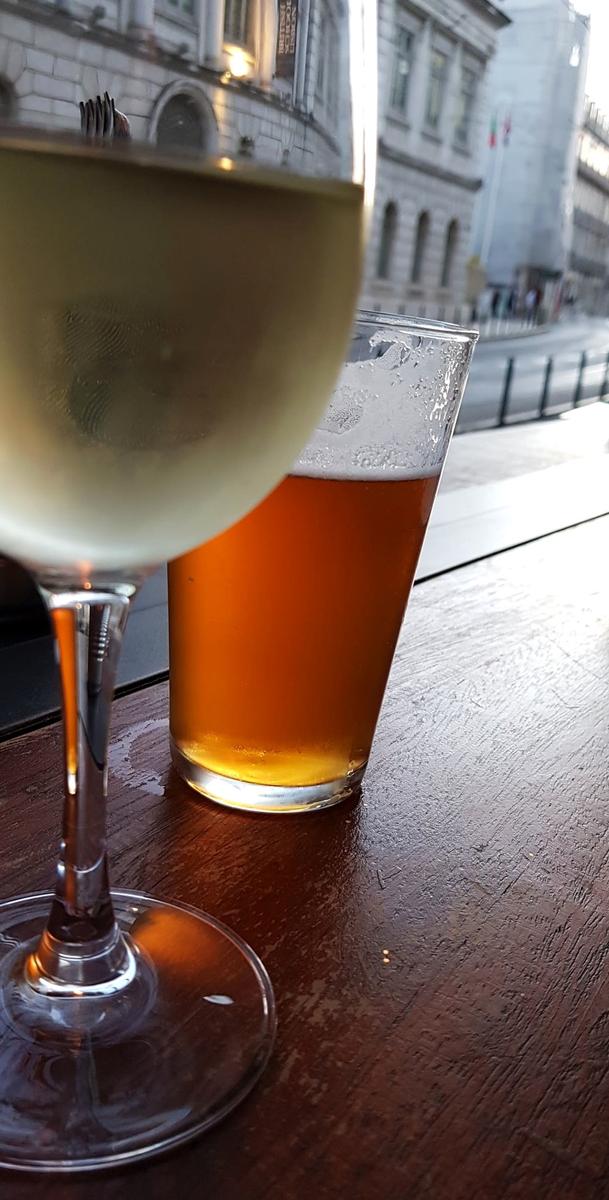 Their Baked Sweet Potato: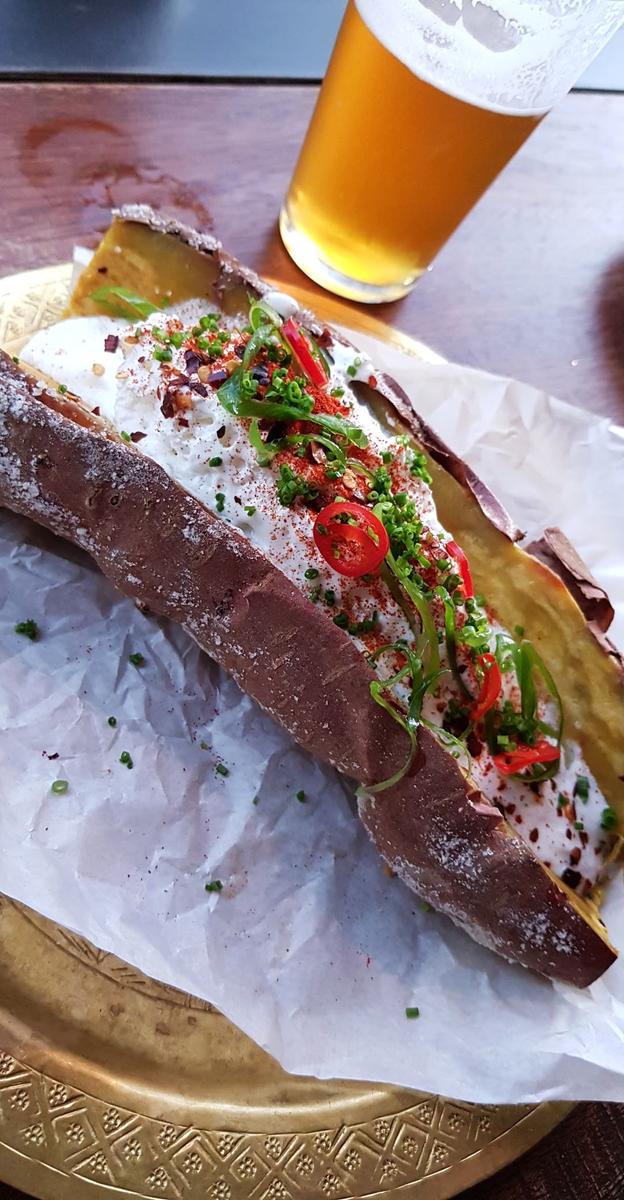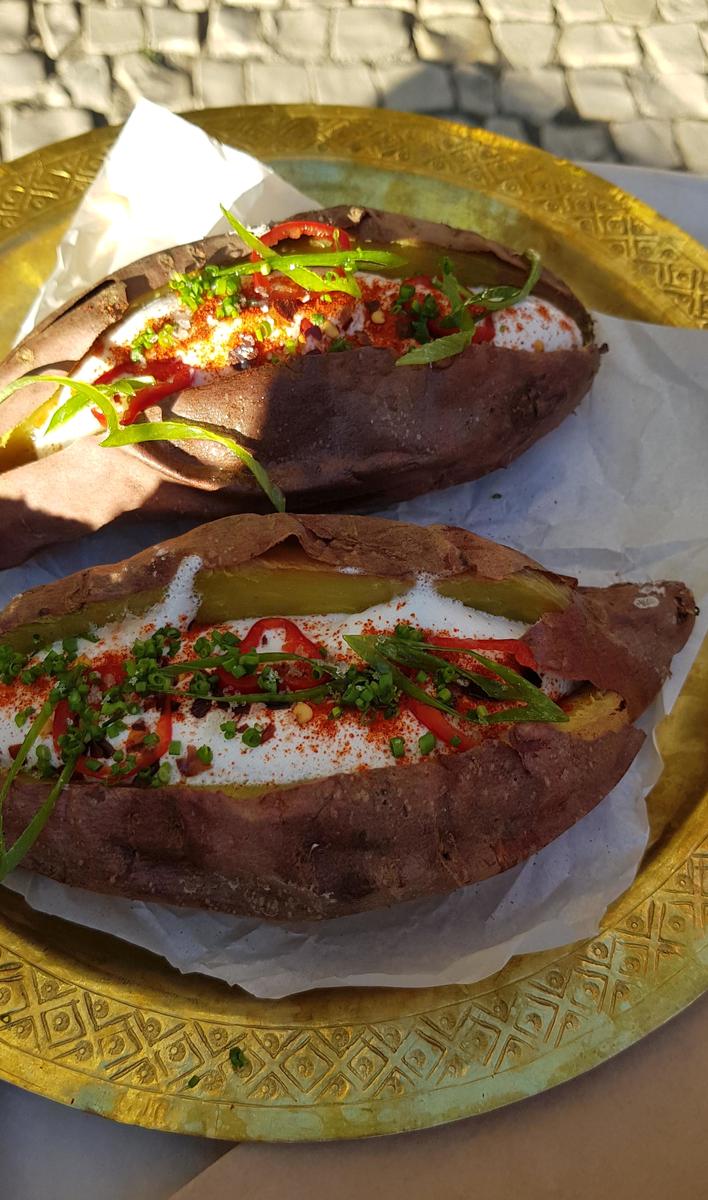 Their oh so tasty Halloumi Fries: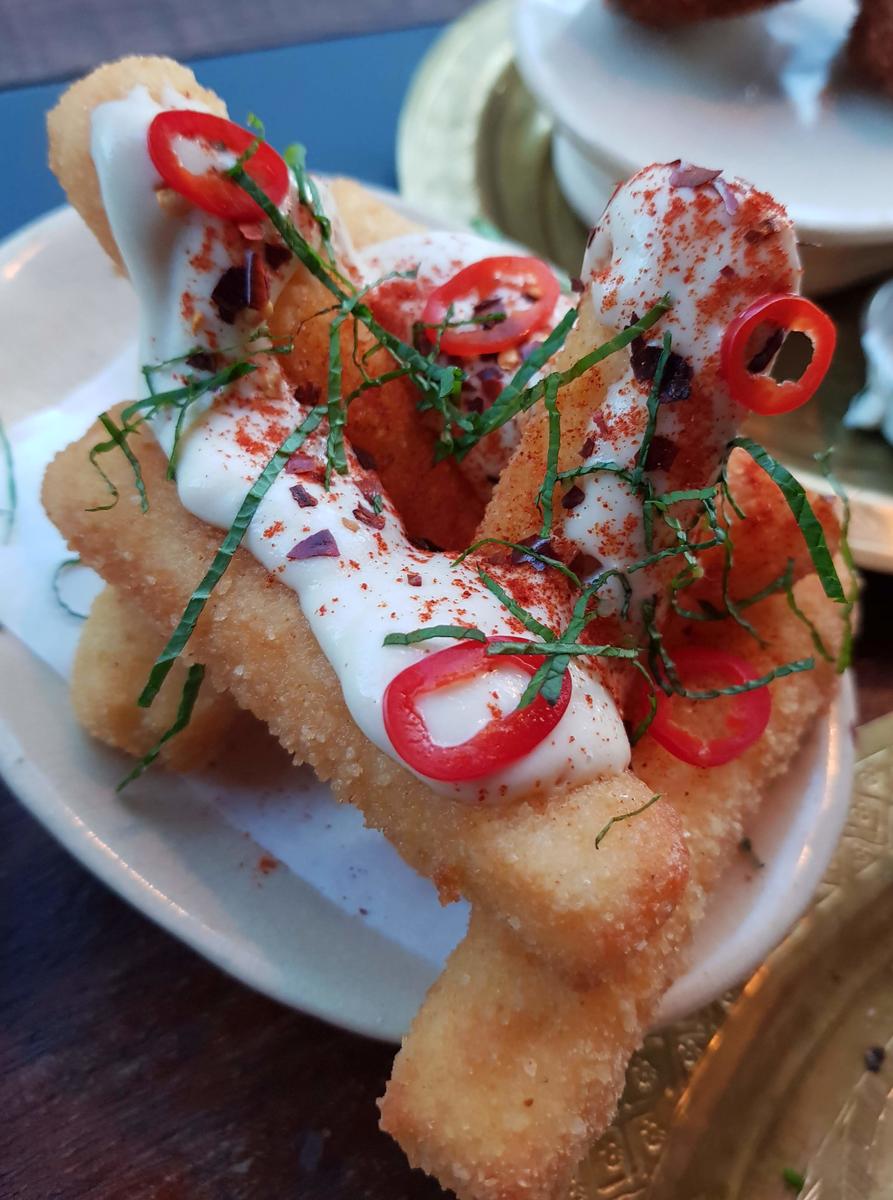 Crispy Falafels: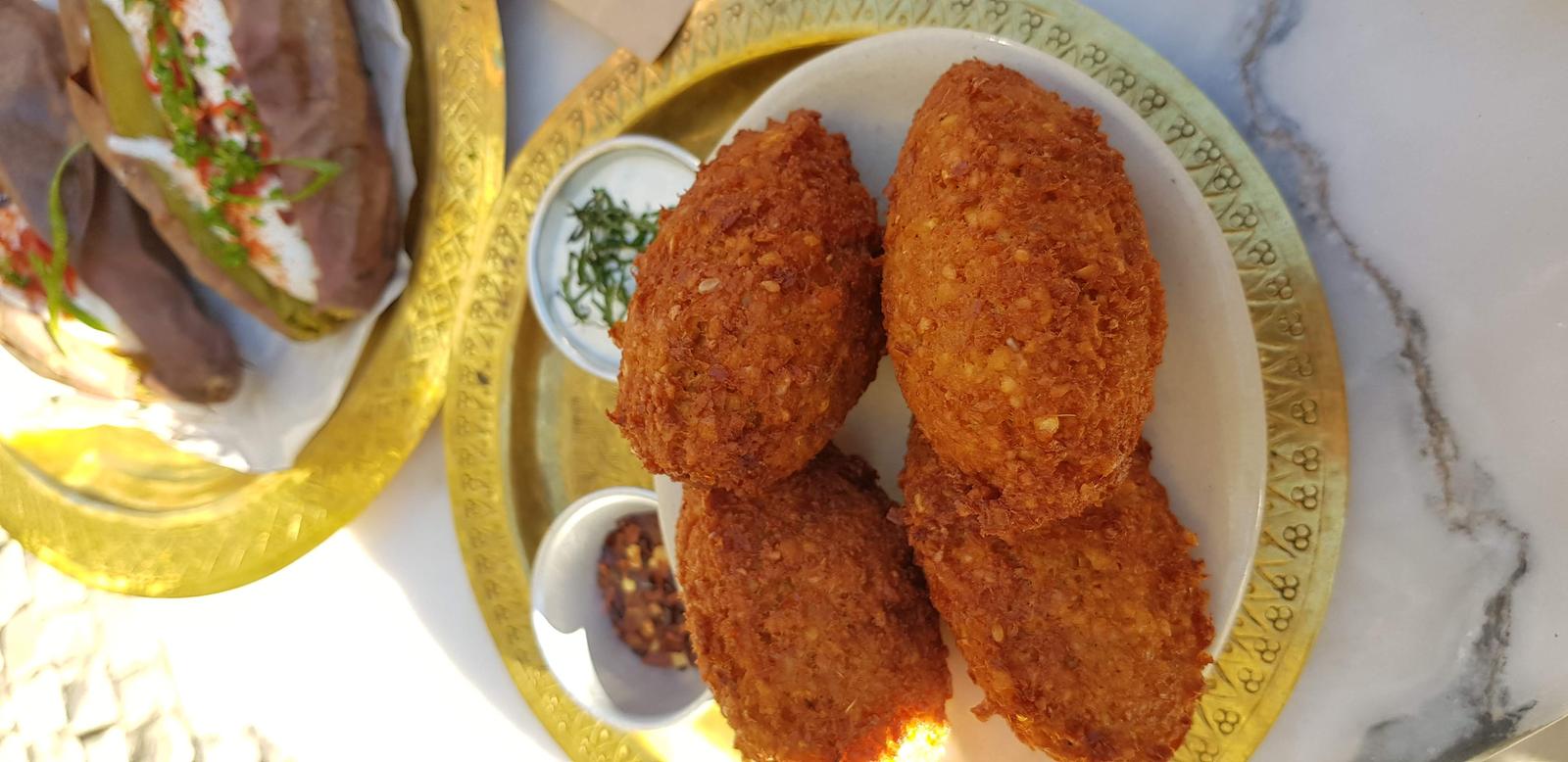 Some of the different Hummus we have tried with pitta bread: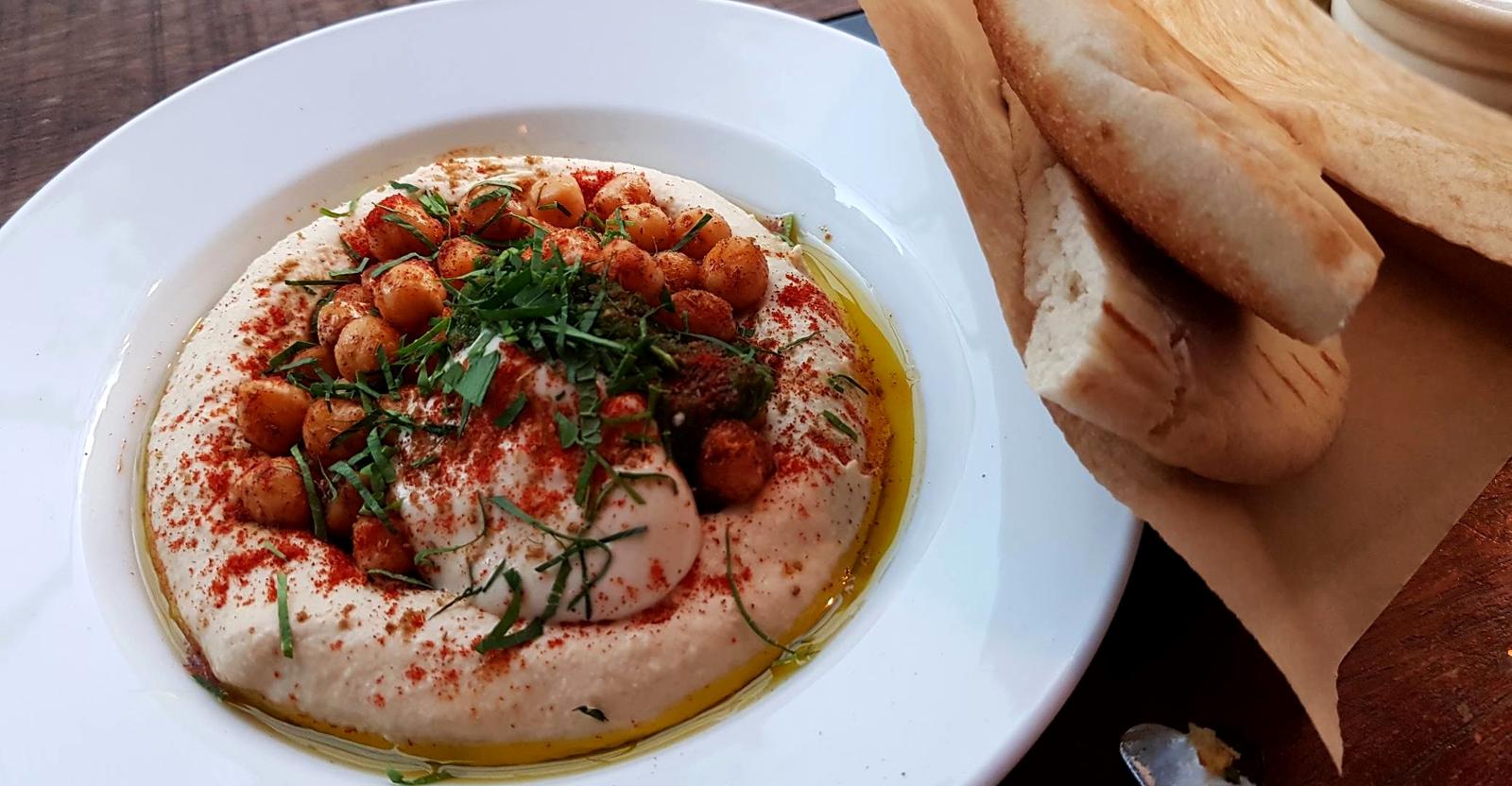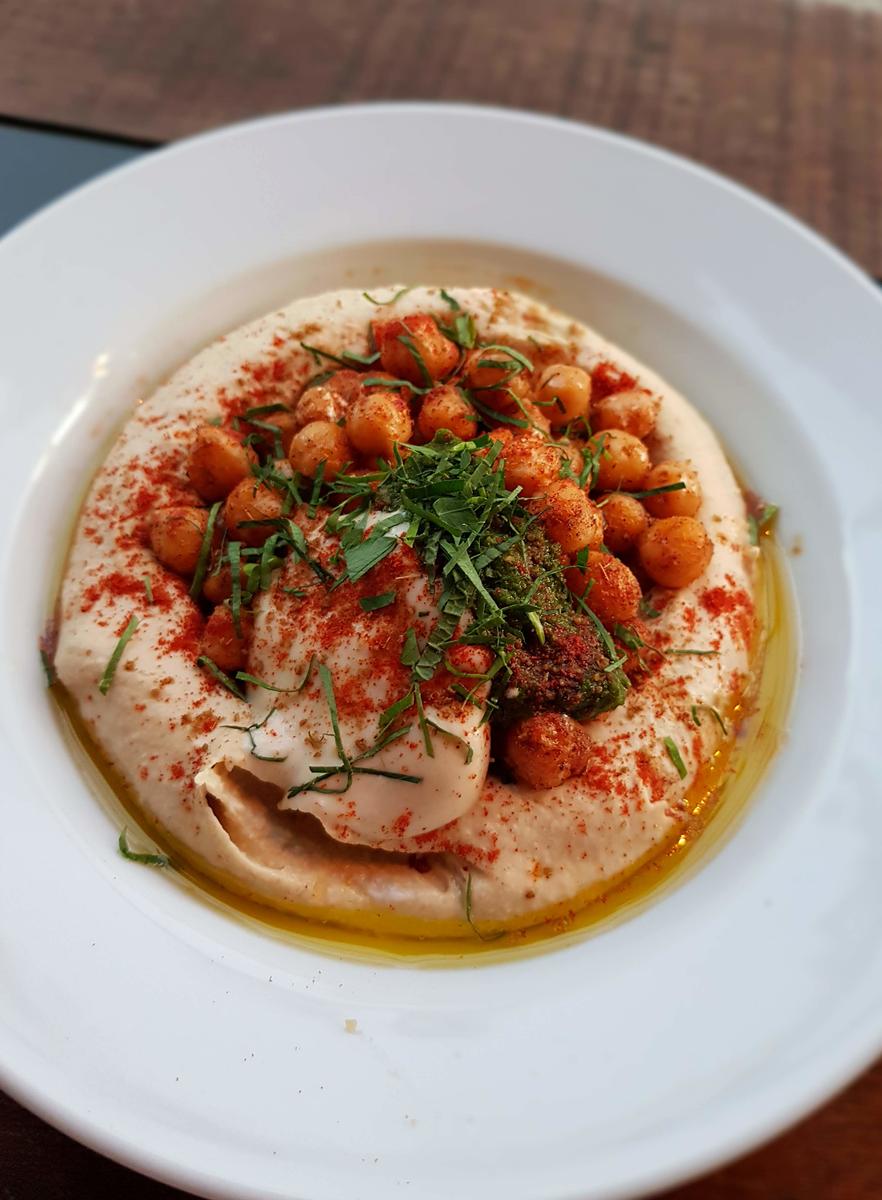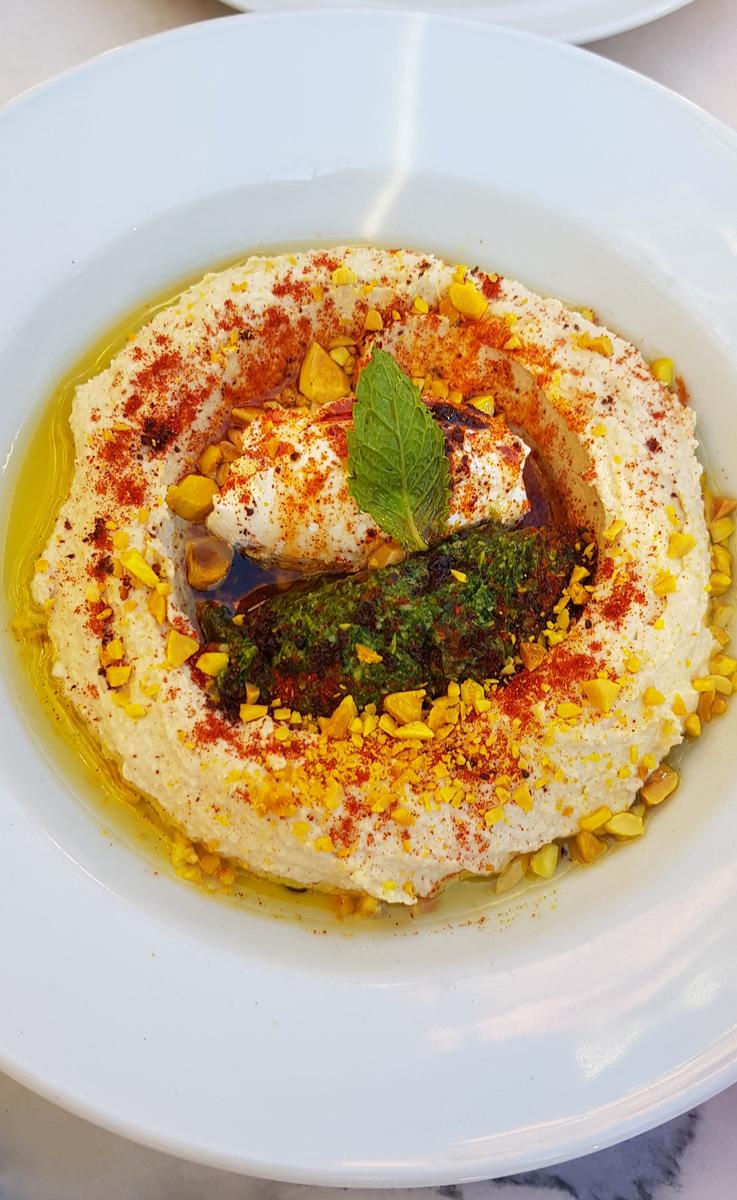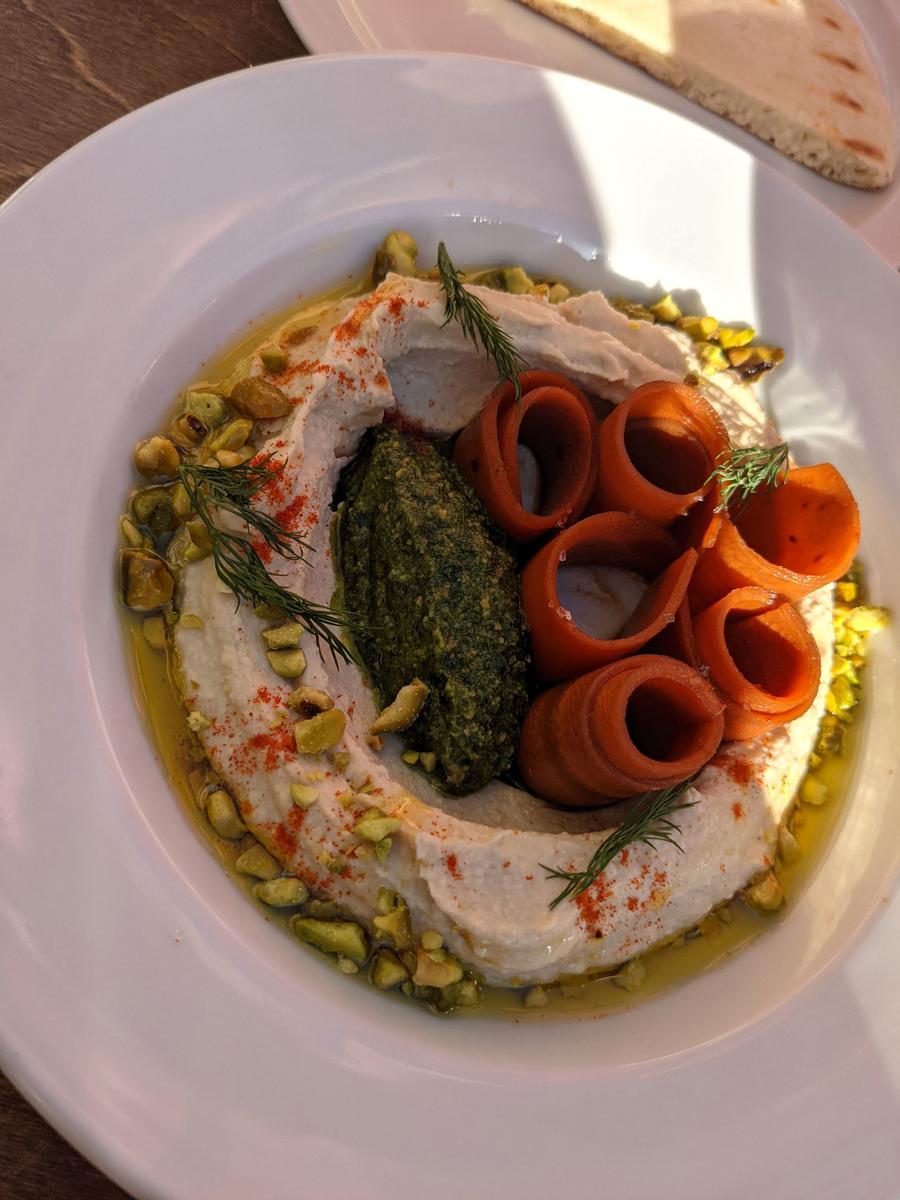 Artichoke Hummus: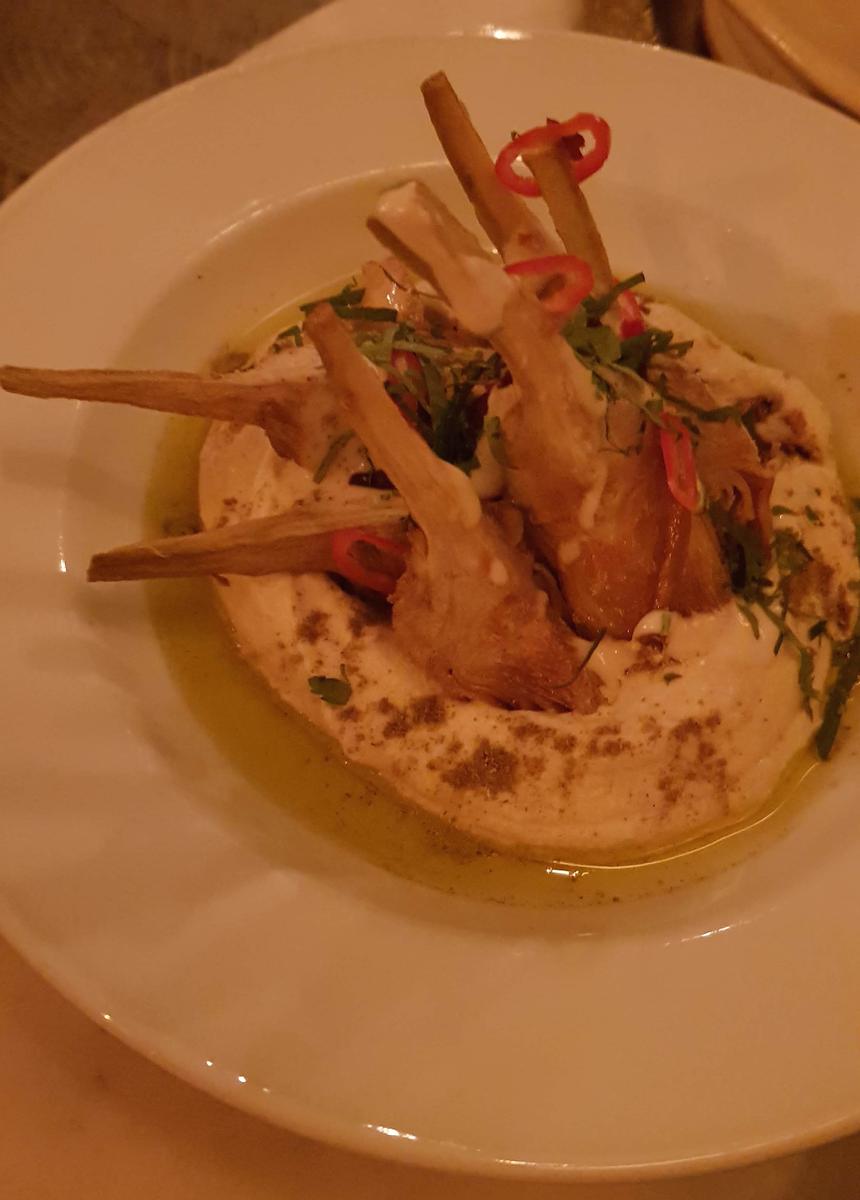 Another very popular dish is their Roasted Cauliflower which is great for sharing: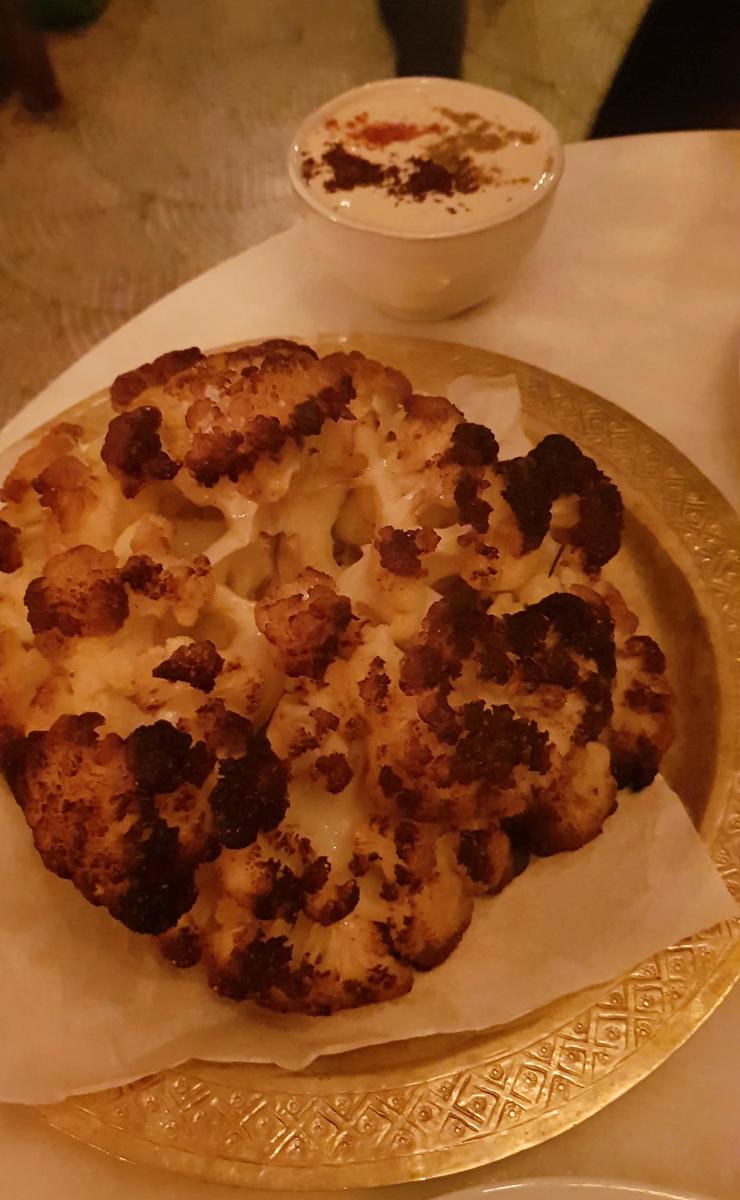 If you fancy dessert, try their dark chocolate pavê, it is divine!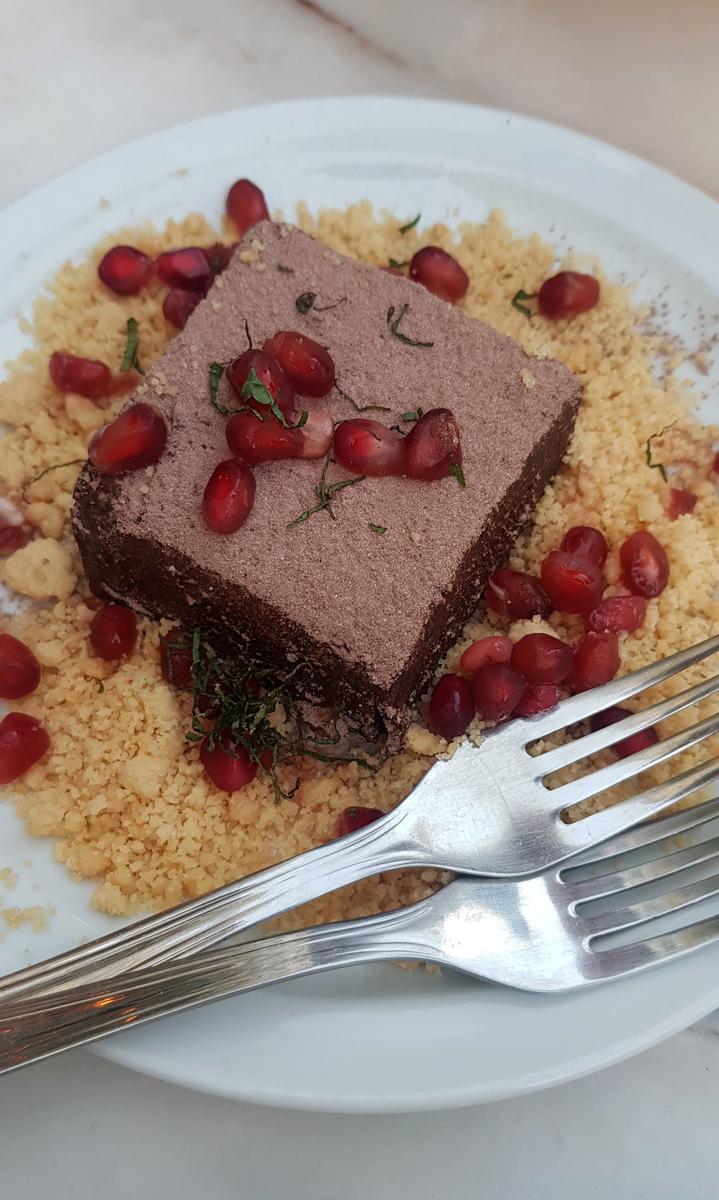 My beetroot pisco sour cocktail: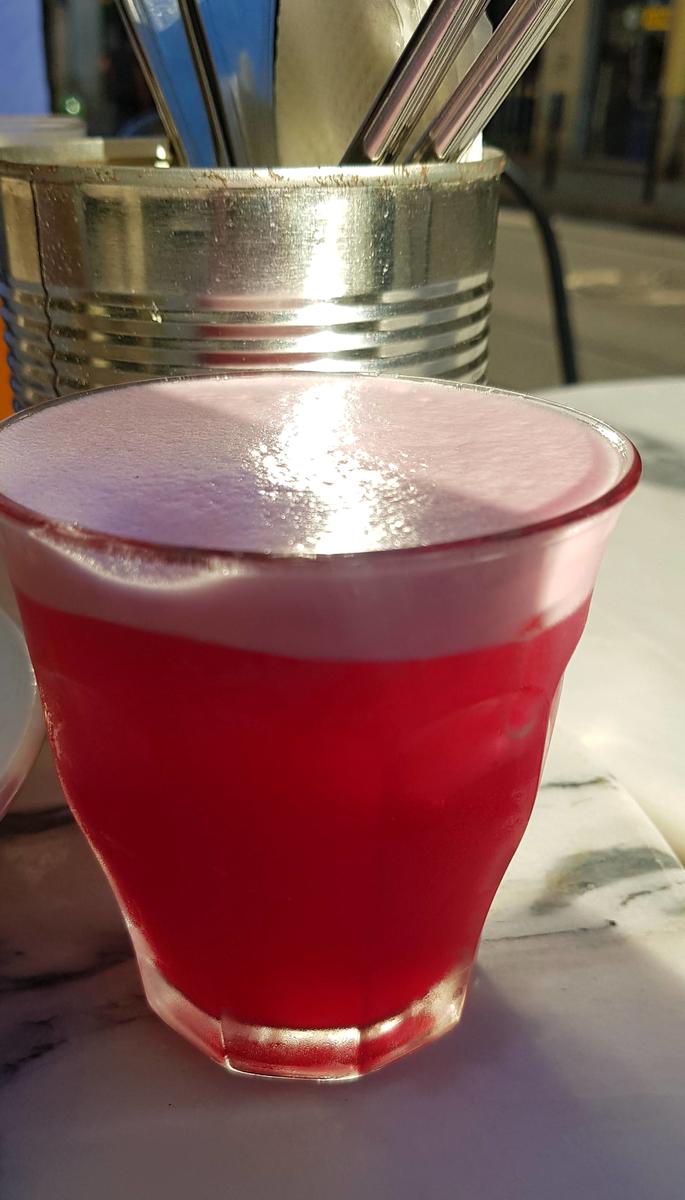 What is better than an Espresso Martini? - A Cardamom Espresso Martini!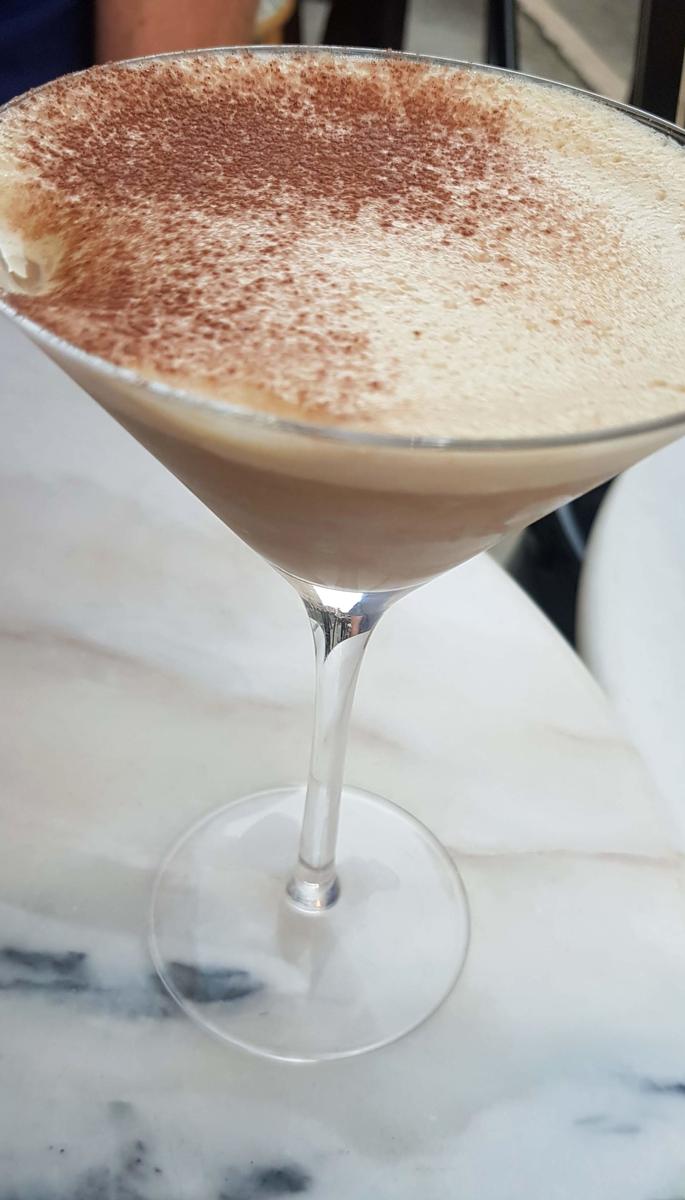 ---
4. O Gambuzino
Location: Rua dos Anjos Loja 5A, 1150-032 Lisboa.
Website: https://www.ogambuzino.com/
O Gambuzino is a 100% plant based vegetarian/vegan restaurant that you have got to try. We always book in advance as you will find with all great places, they are always busy. They have just constructed a new outdoor terrace so we will definitely be going there soon to check it out. The staff are really helpful and friendly.
Dishes We Love: Our absolutely favourite dish is their Courve-Flor Gochujang which is cauliflower battered in rice flour, in a sweet and sticky sauce. A close second is their Vieirias which are "scallops" from king oyster mushrooms, with pea puree, lemon and cumin foam, samphire and kumquat.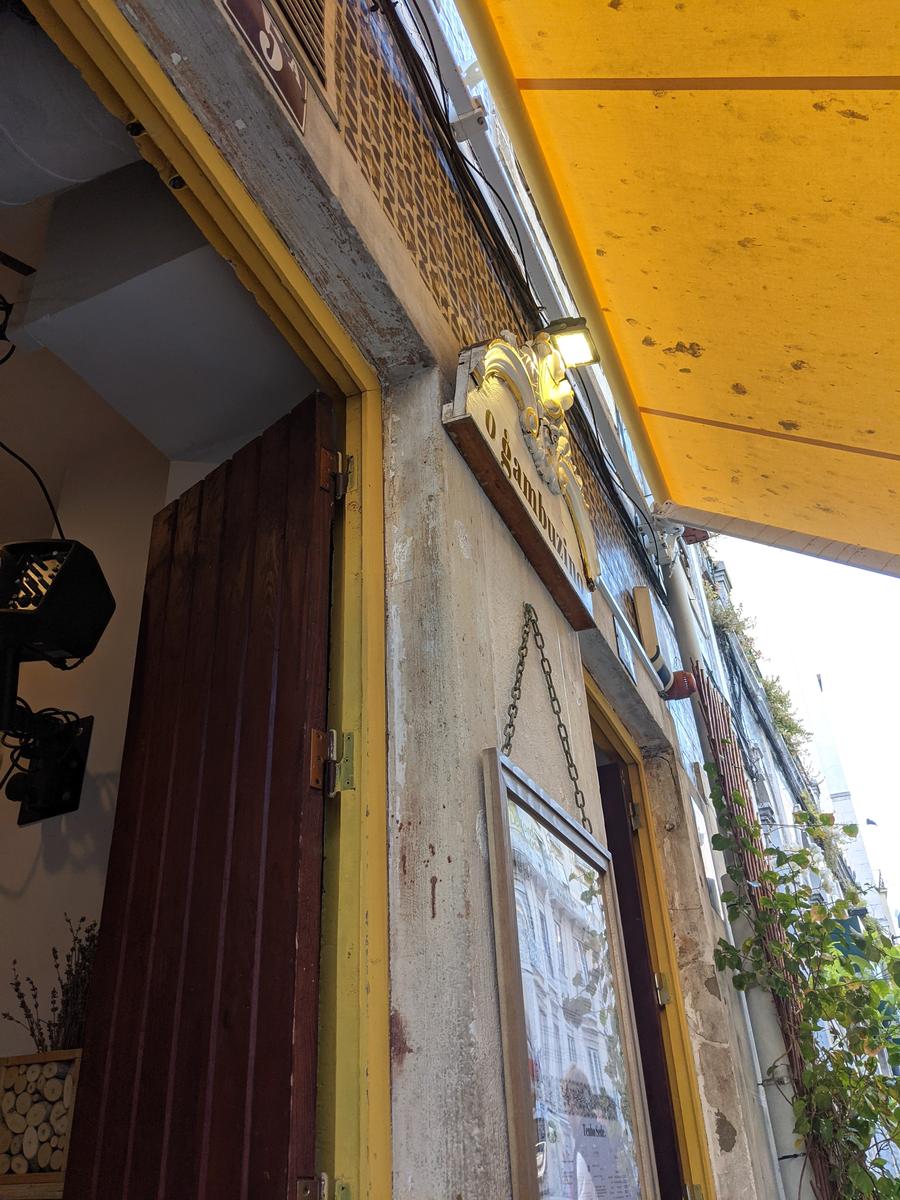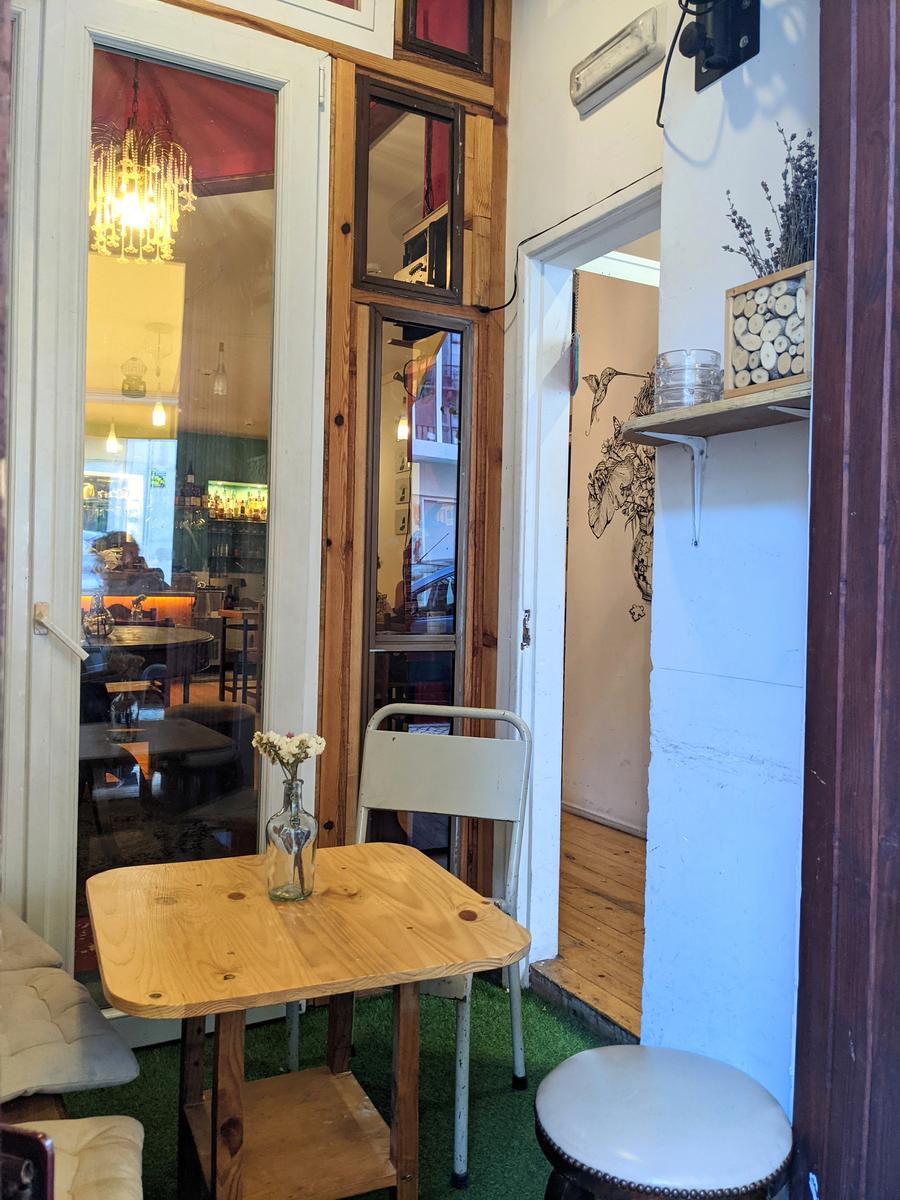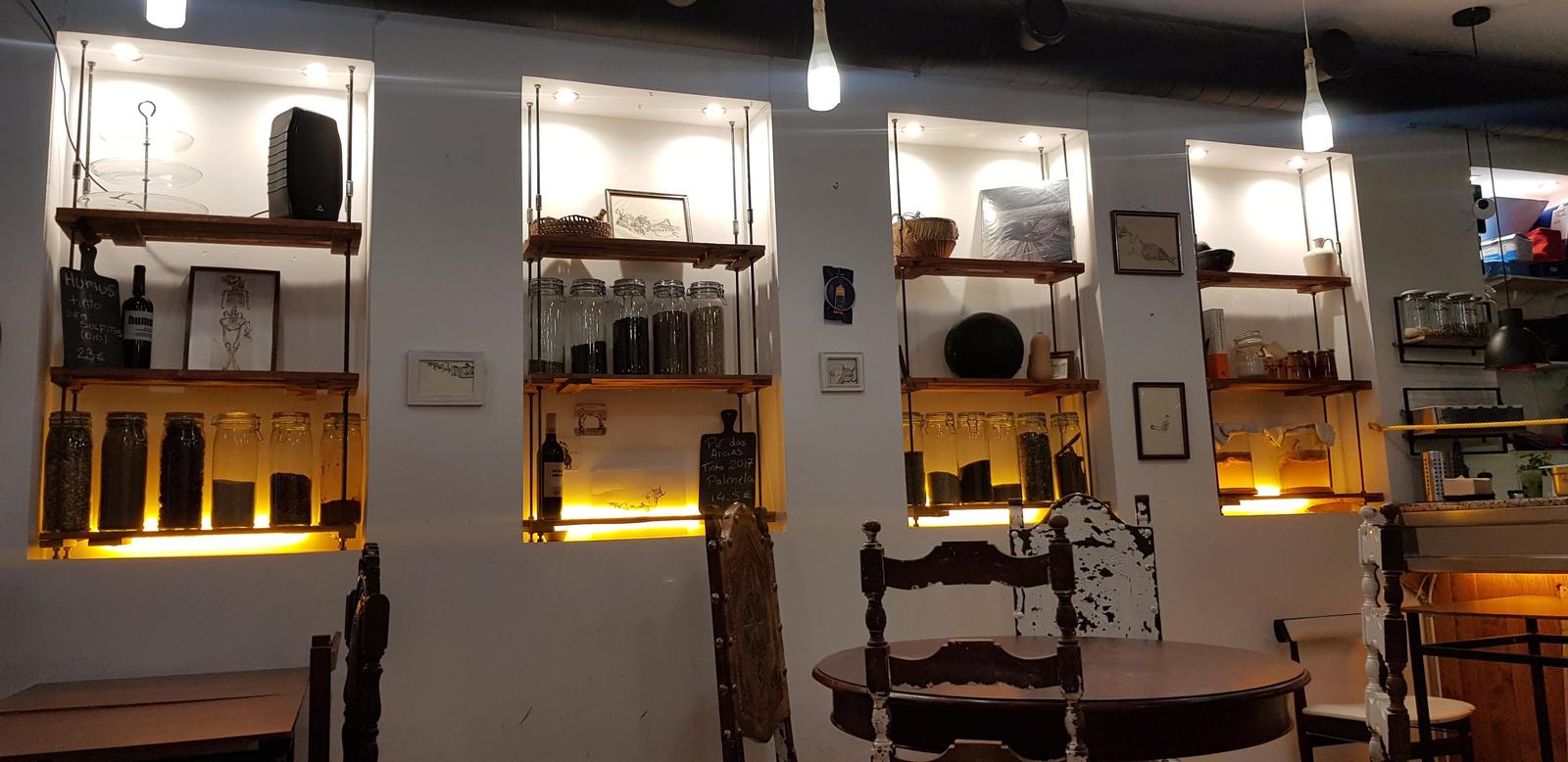 Their finger licking good Courve-Flor Gochujang: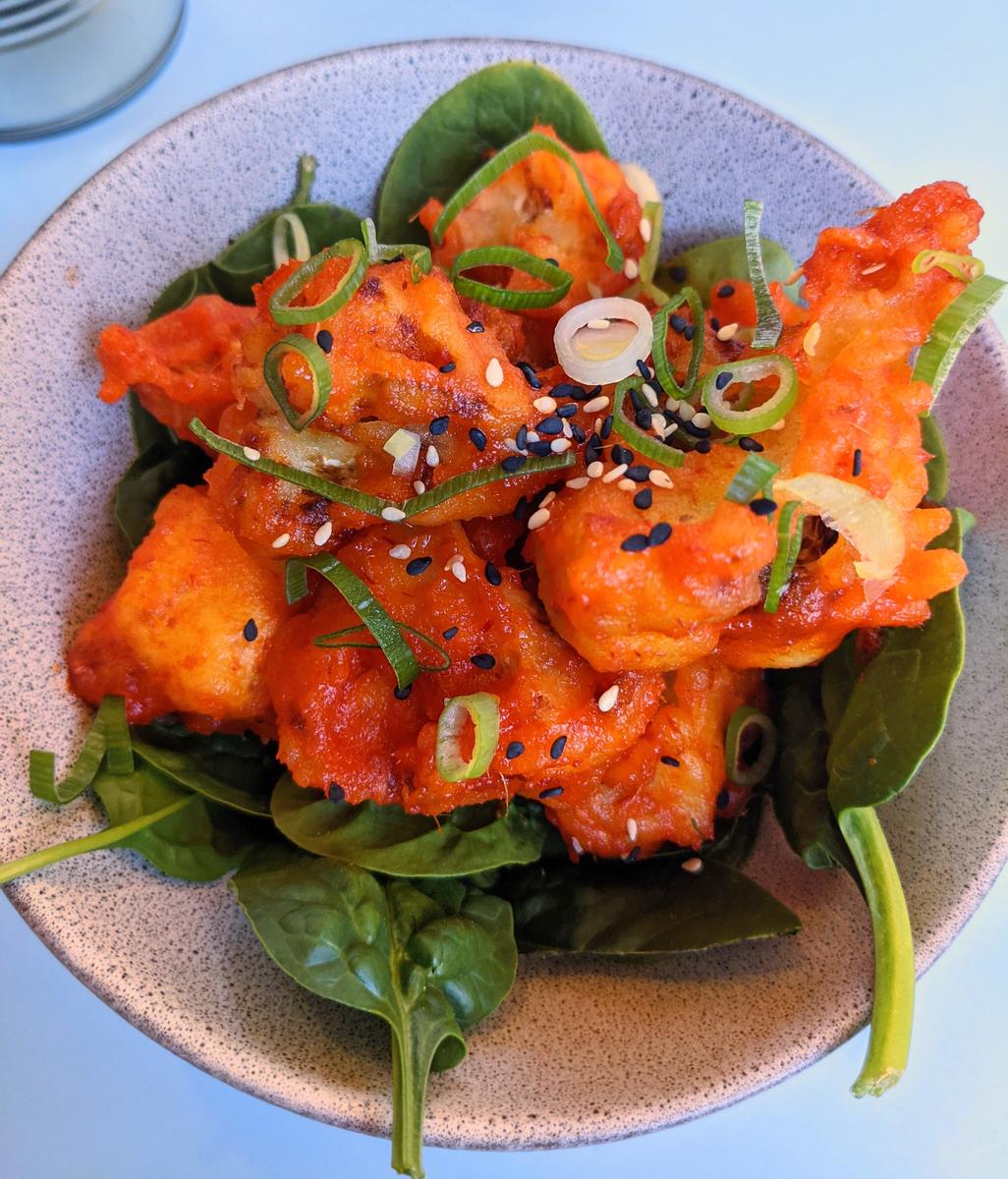 Almost too pretty to eat, the Vieirias: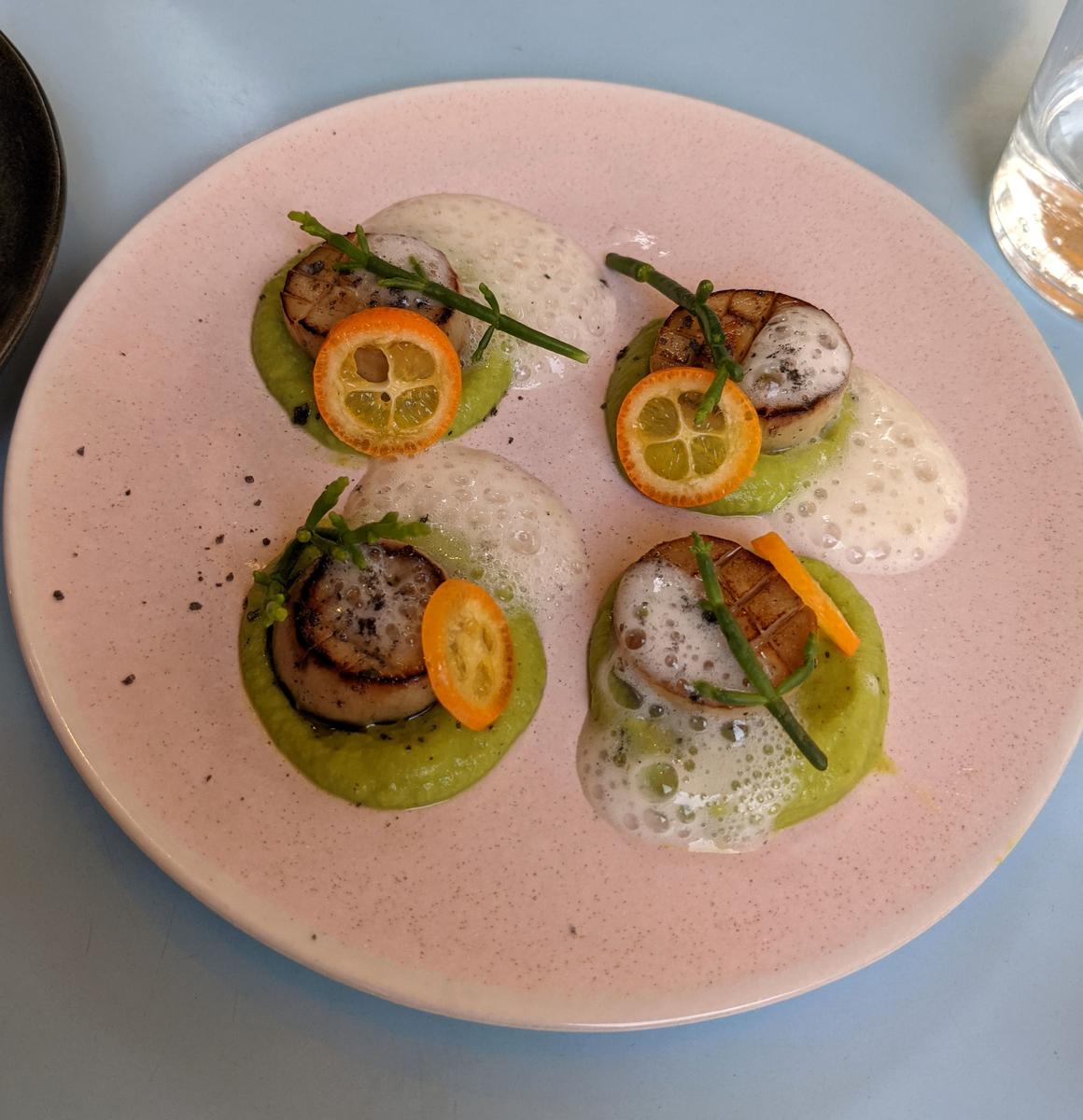 On our last visit I had their "Bife" de Raiz de Aipo (smokey celeriac "steak", sauteed kale, salsa verde, crispy leek, picadillo of cherry tomato and green apple, polenta) and will be having it again!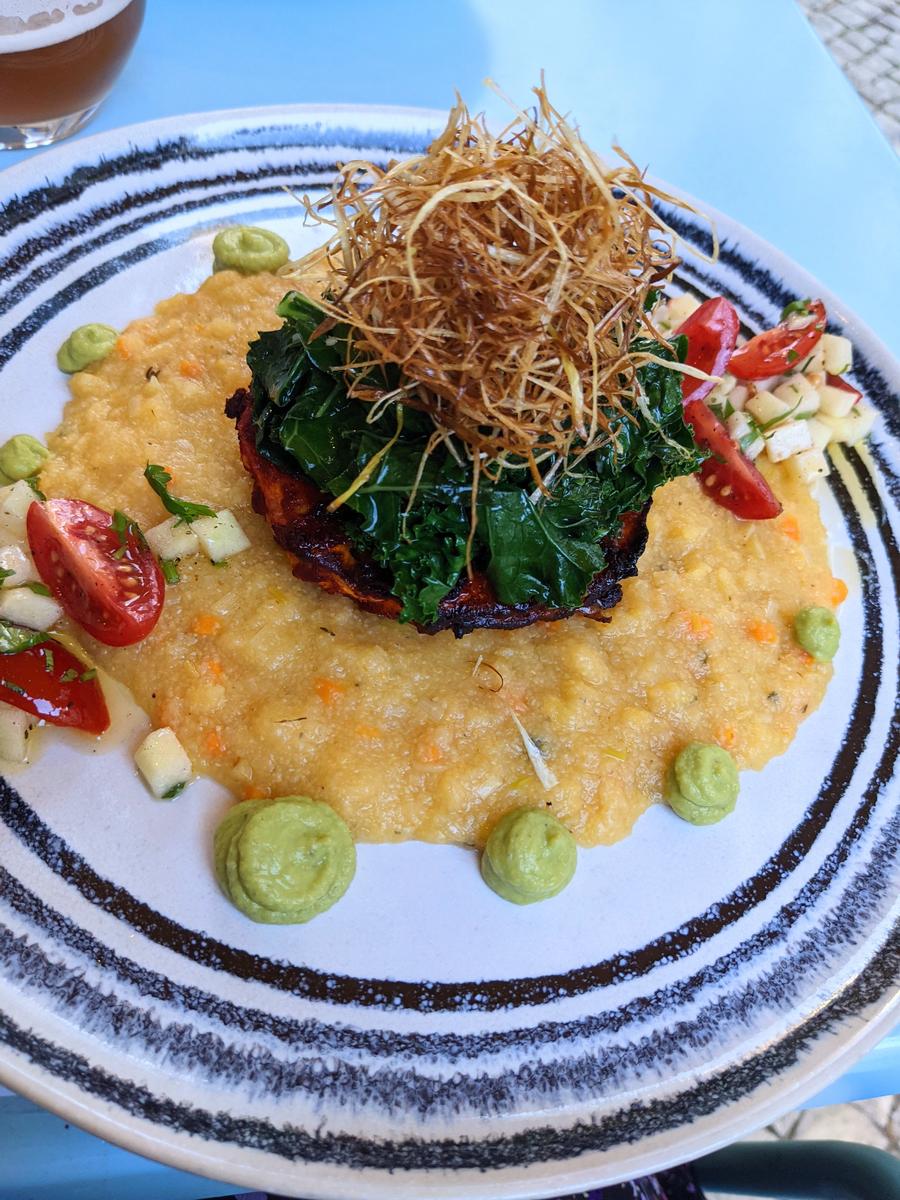 Next up is their Caril da Selva (Thai jungle curry):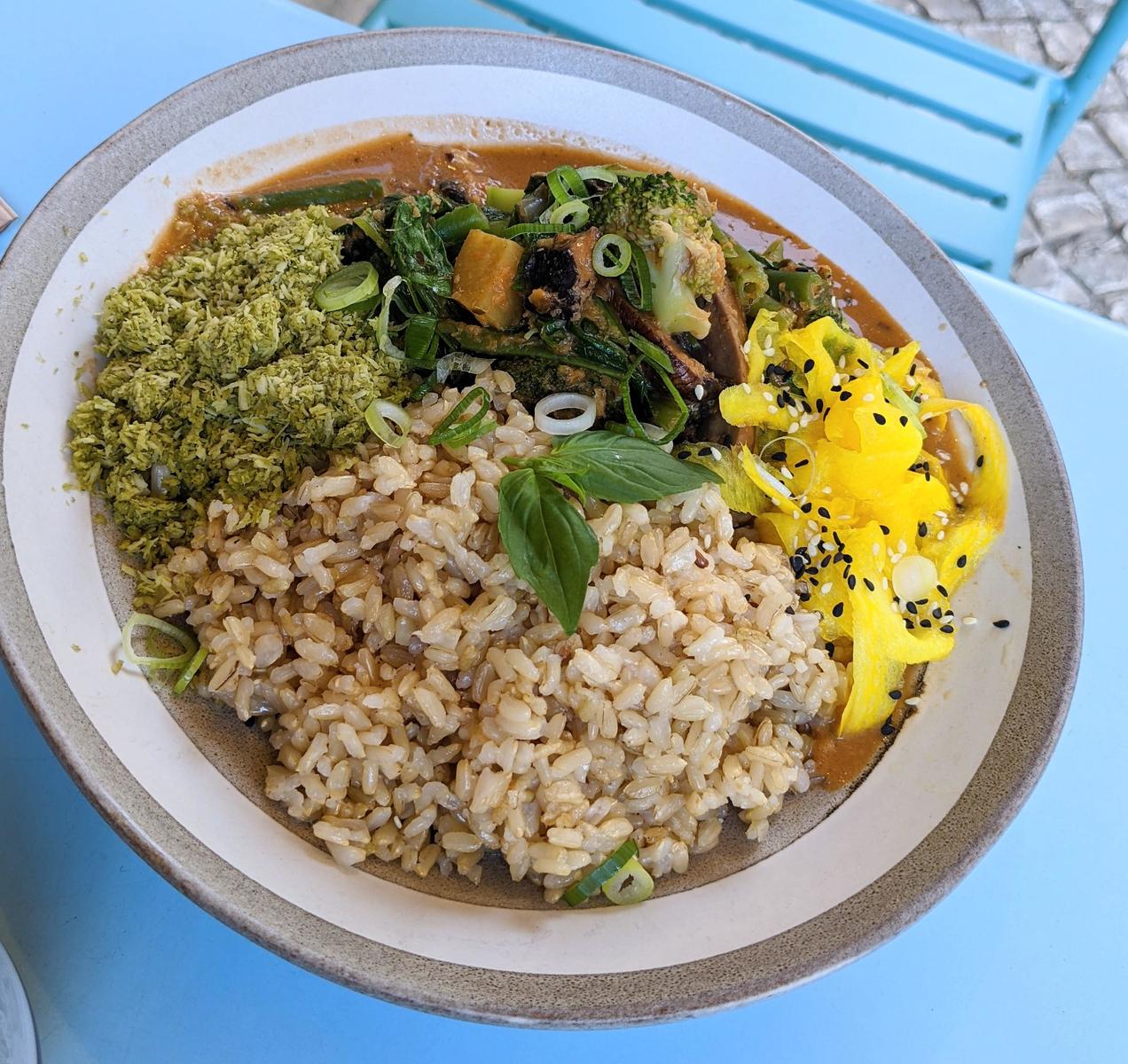 Their burgers are always bursting with flavour and very satisfying if you are hungry: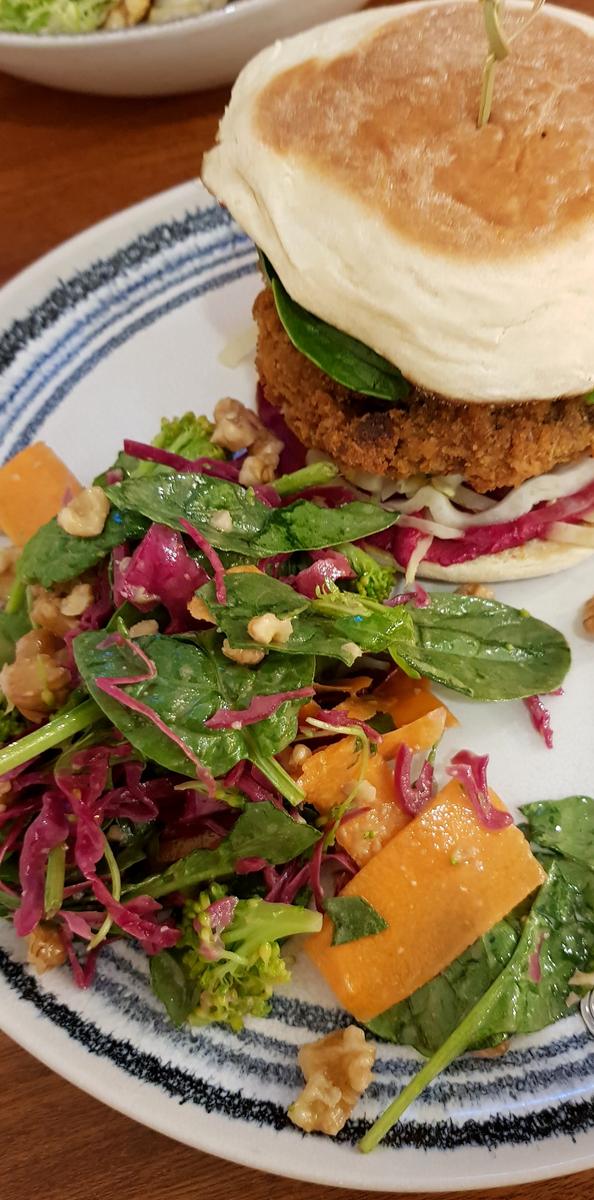 Last time we also went for something sweet and their "Cheese" Cake" was swiftly demolished: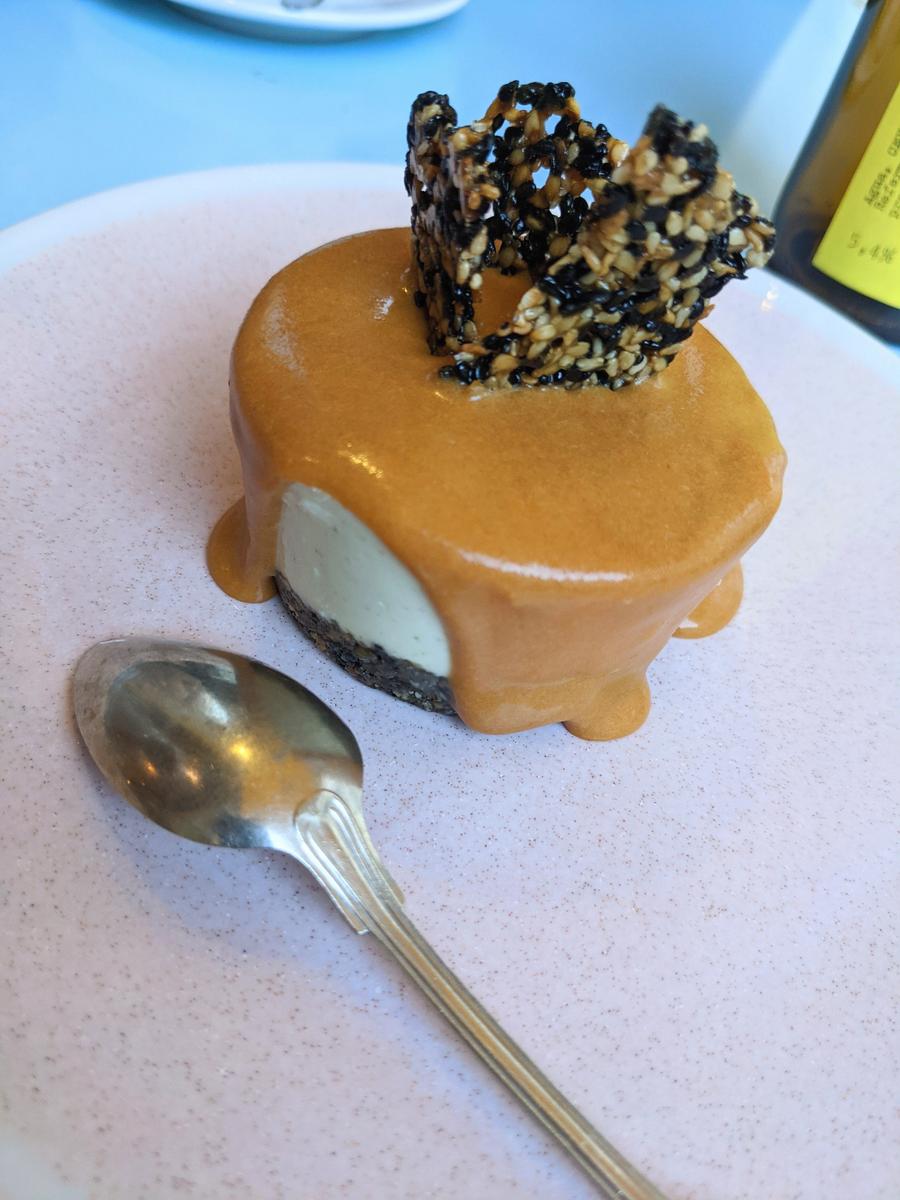 We have previously tried their Mousse de Chocolate and it was heavenly: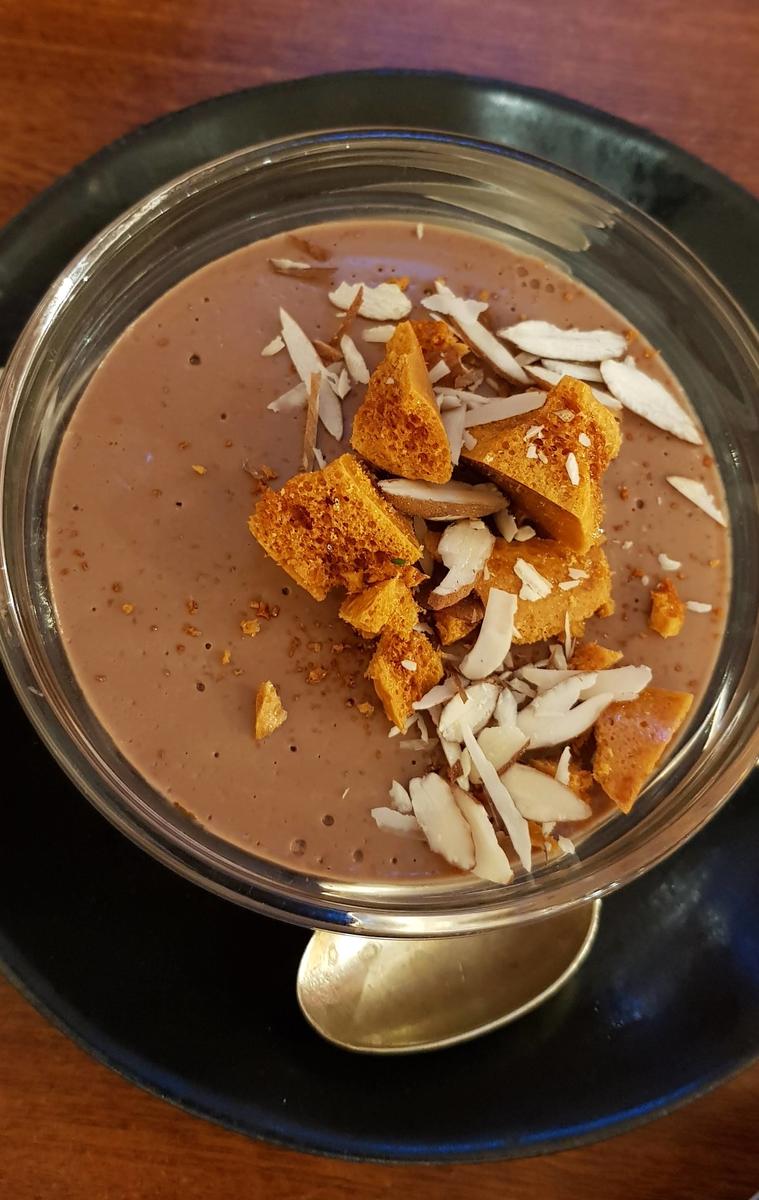 ---
5. Zappi
Location: Rua Santos-O-Velho 16 18, 1200-109 Lisboa.
Instagram: @zappi.lisboa
Next up, we are off to the Santos area of Lisboa and to the wonderful Zappi. If you are looking for a scrumptious nutritious salad or a killer pizza then Zappi has both and more, they have a big brunch menu too as well as a full bar. There is indoor and outdoor seating available. The staff are attentive and the prices are very reasonable.
Dishes We Love: The Verdilicious vegan pizza!
The interior of Zappi is bright and airy: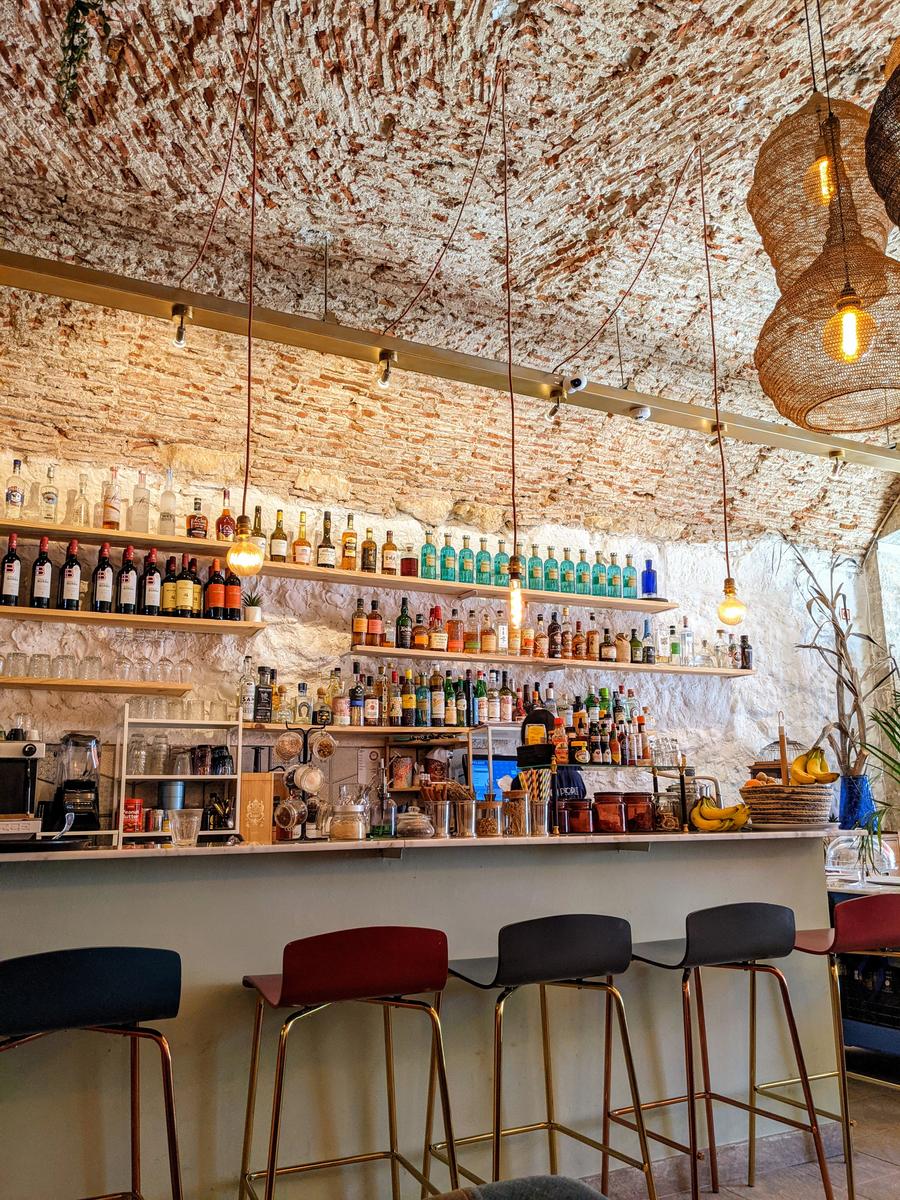 A great starter to share is their Summer Veggies: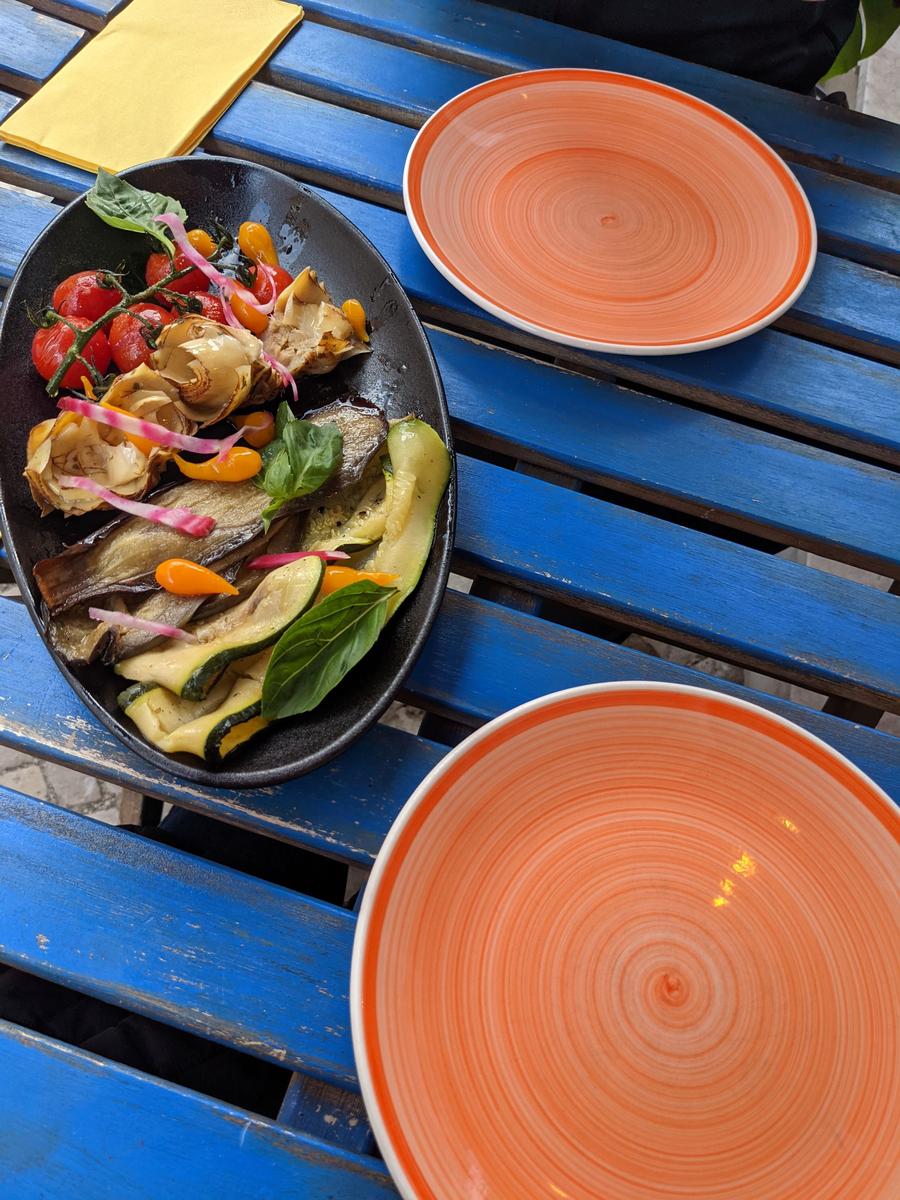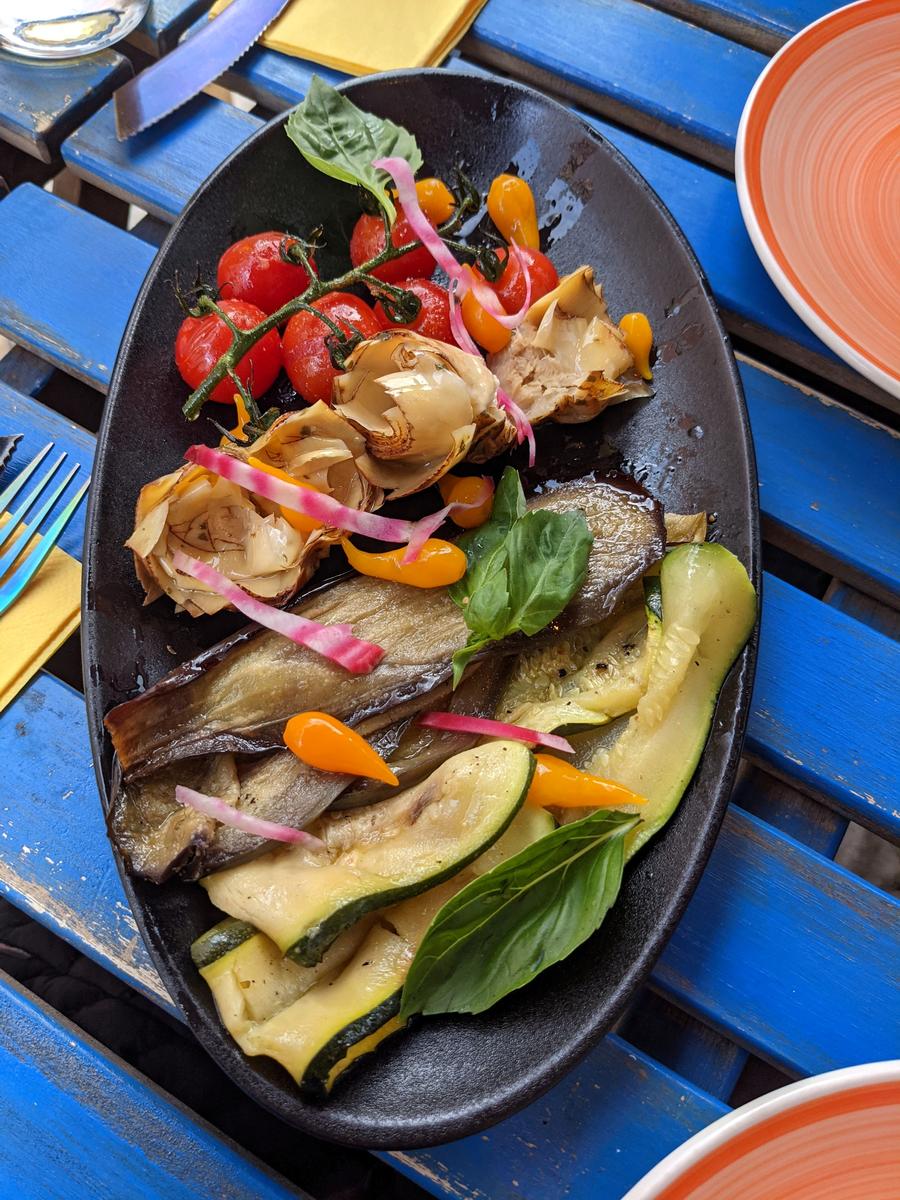 Below is their Verdilicious vegan pizza and it really is "verdi-delicious":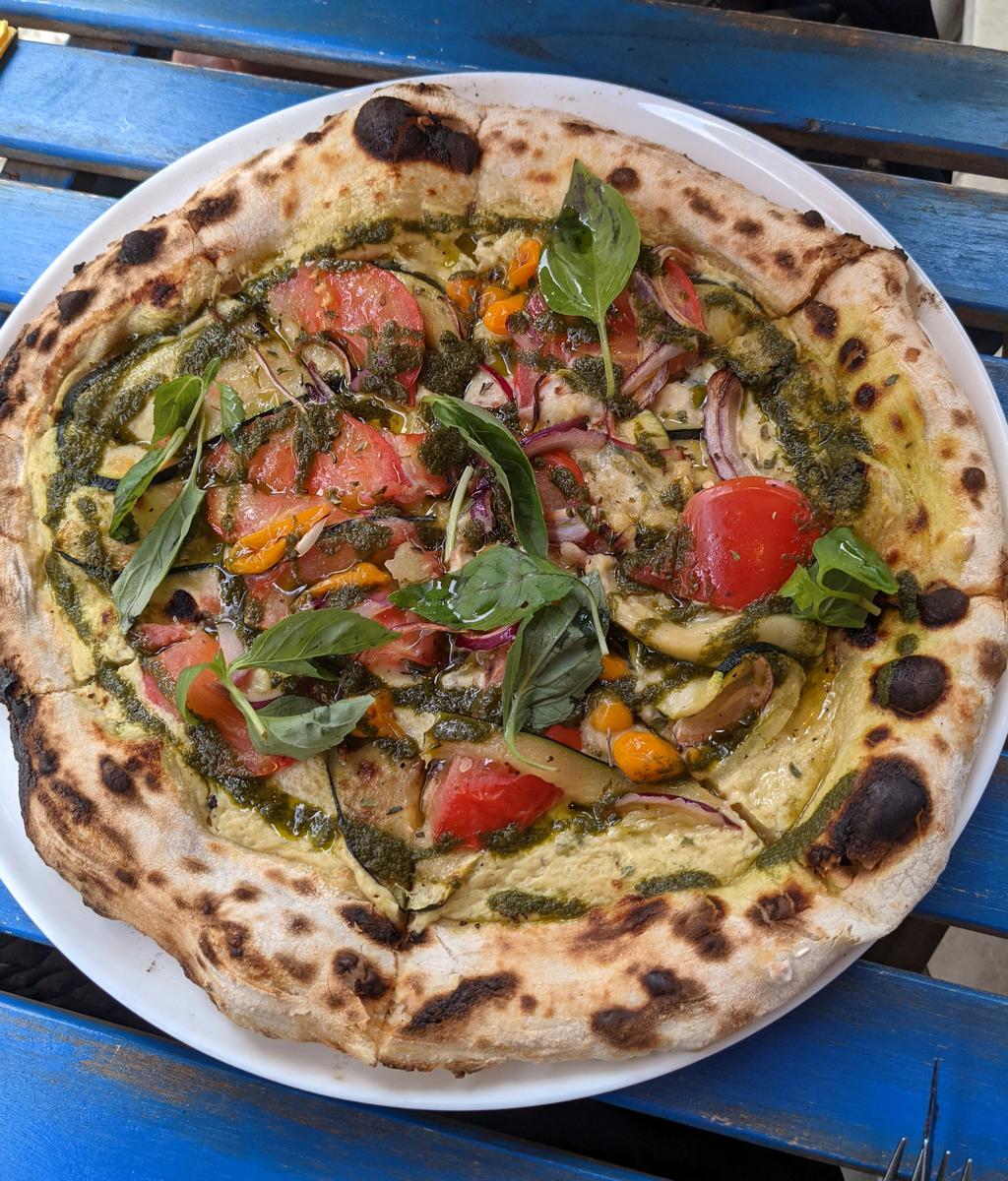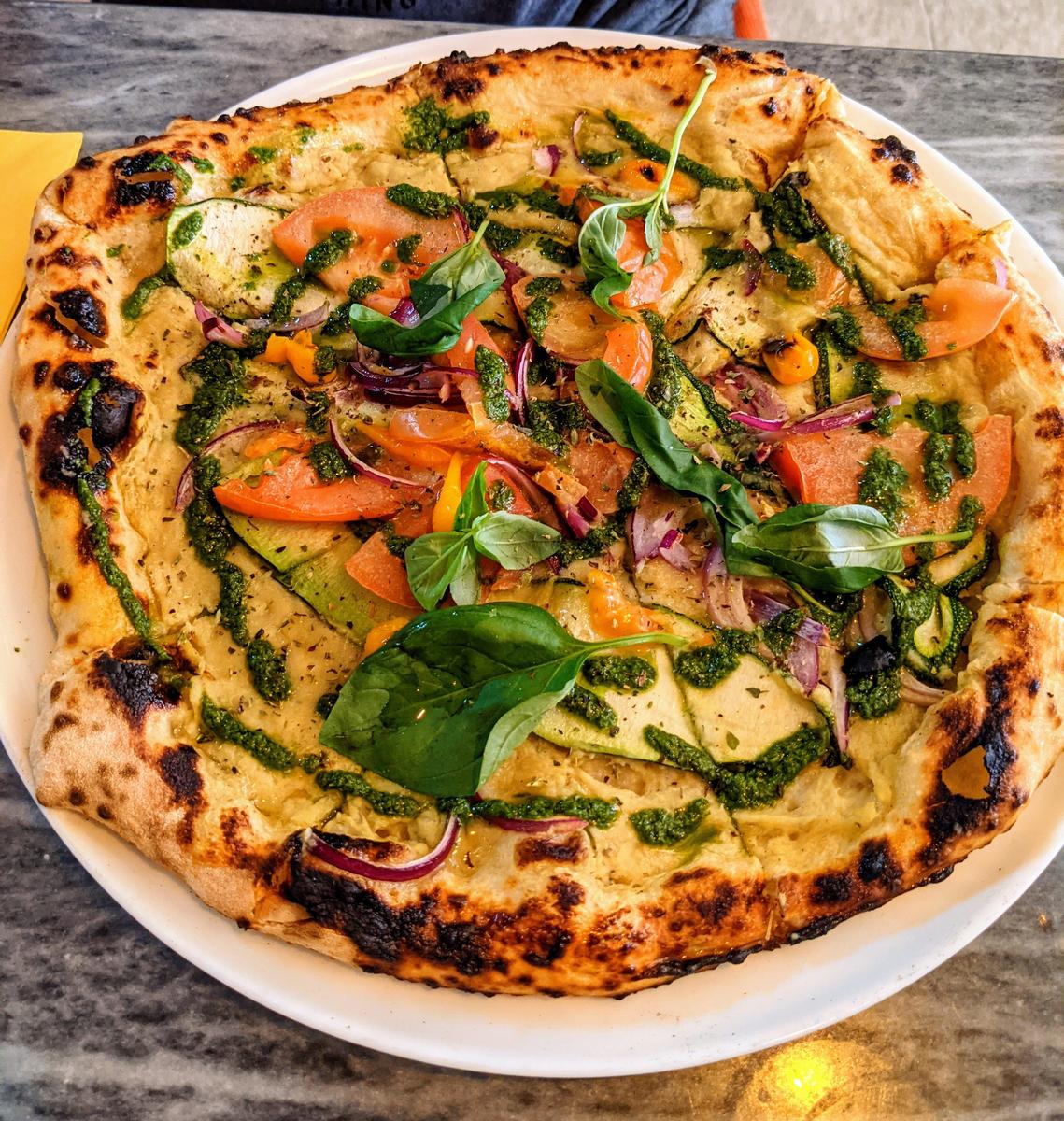 Below, J tucking into his Vegan Markle pizza straight away: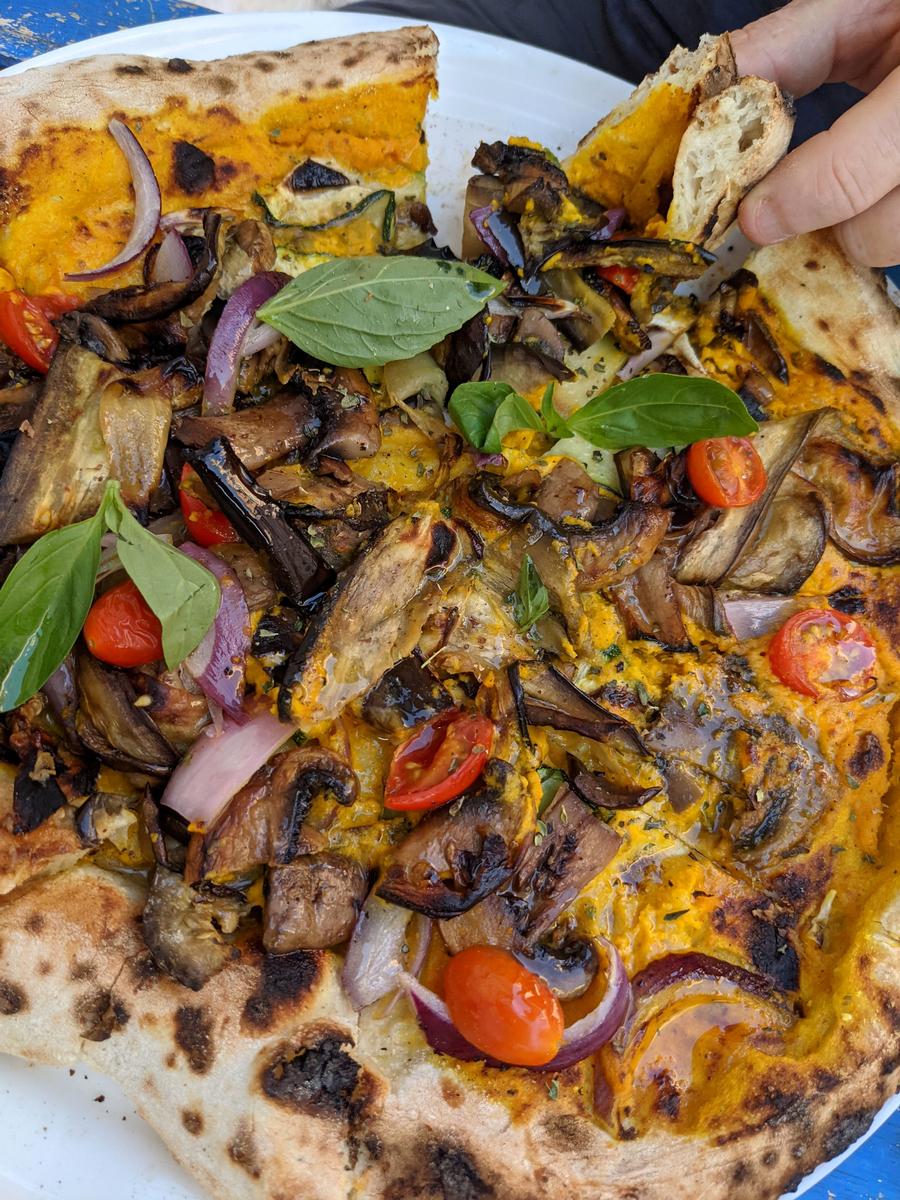 If you don't eat meat then skip the next photo! This is their Mike's Marinara pizza: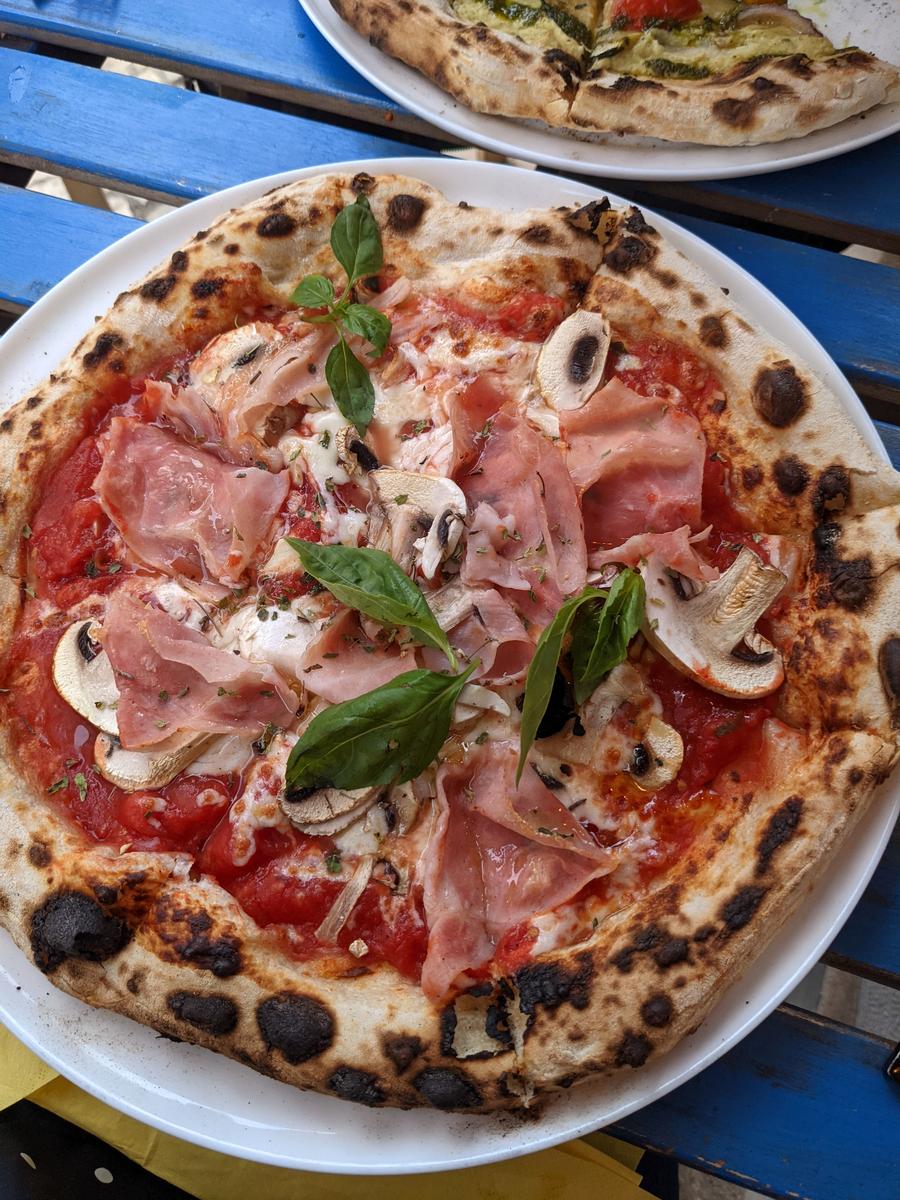 My wonderful Francis Cabri salad: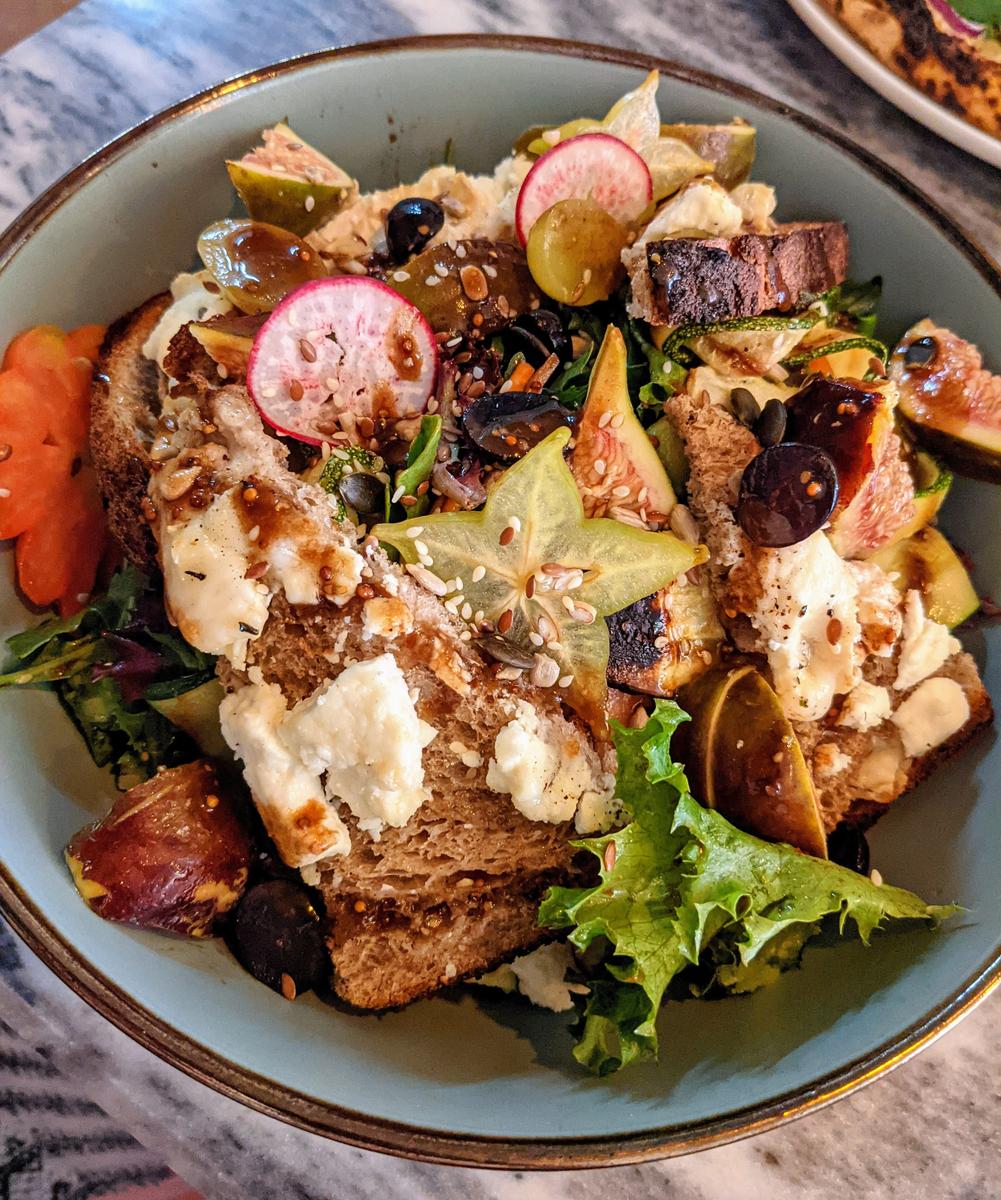 For something sweet their pancakes hit the spot. Below are their Banana Pancakes: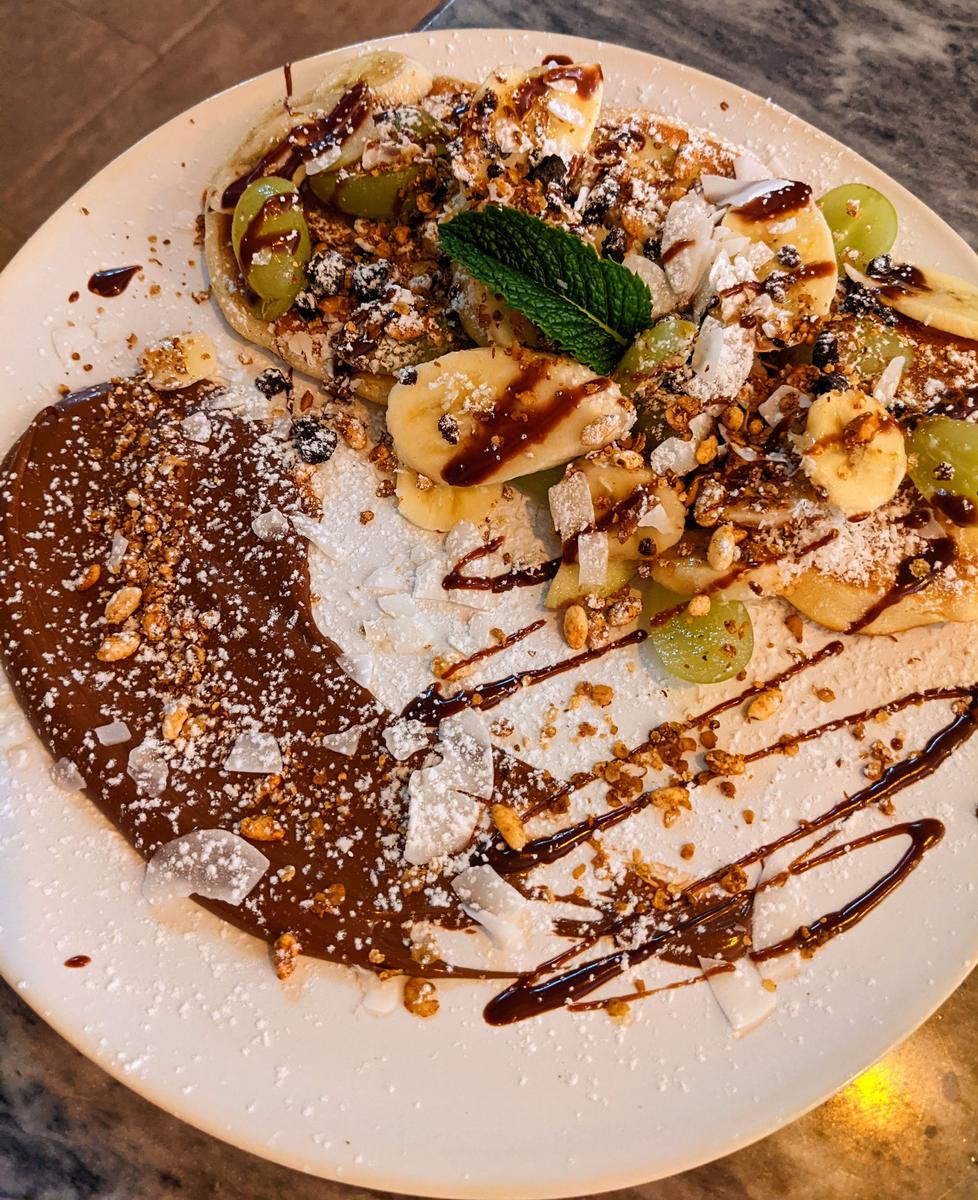 I love Lemon Meringue Pie and really liked their take on it: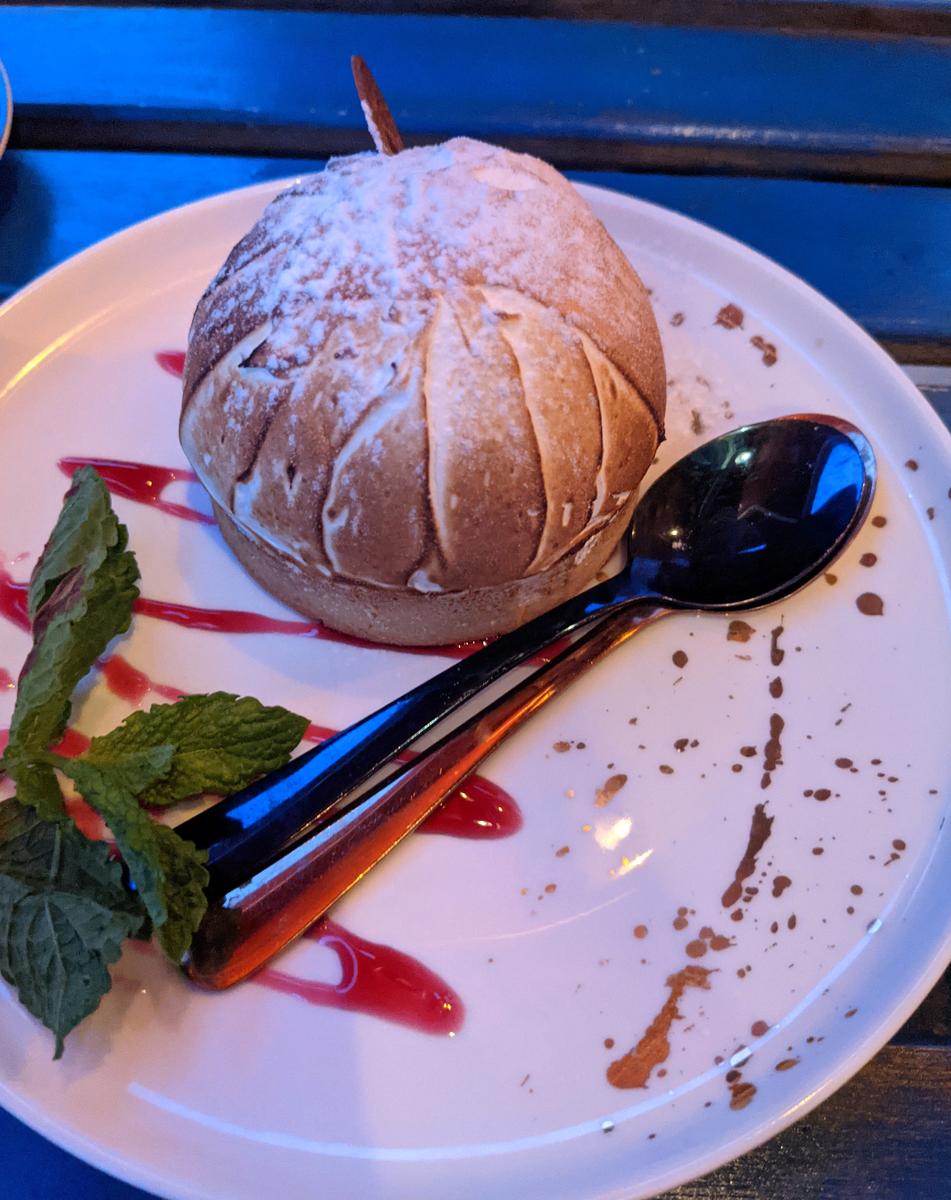 ---
6. Manifest
Location: Rua da Sociedade Farmacêutica 31, 1150-103 Lisboa.
Website: https://m.bakarta.com/Manifest-Lisbon
Our love for Manifest and their outdoor terrace continues to grow, we return again and again. This is a busy spot but we have never had to wait too long for a table. You can reserve in advance via their online booking system available on their Google Maps profile. Again, Manifest is not exclusively vegetarian or vegan but has options!
Dishes We Love: Their Vegan Brunch is our most ordered main and we highly recommend trying their Bolo de Cenoura/Carrot Cake for dessert, it is the best carrot cake we have had in Portugal and possibly anywhere - it is SO GOOD!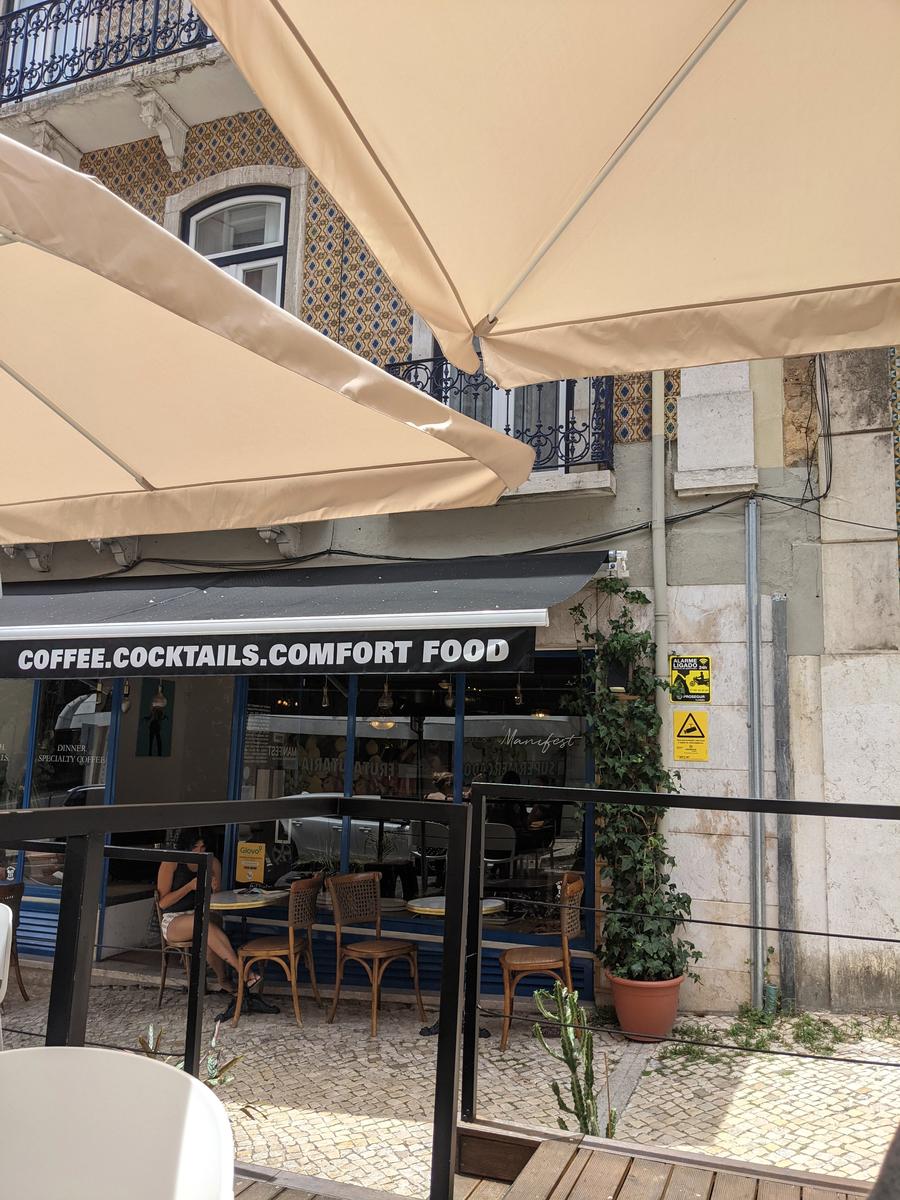 Here is a closer look at the Vegan Brunch which includes scrambled tofu on toast, peppers, rocket, spinach, cherry tomatoes, sweet potatoes, baked potatoes, chilli beans and mushrooms: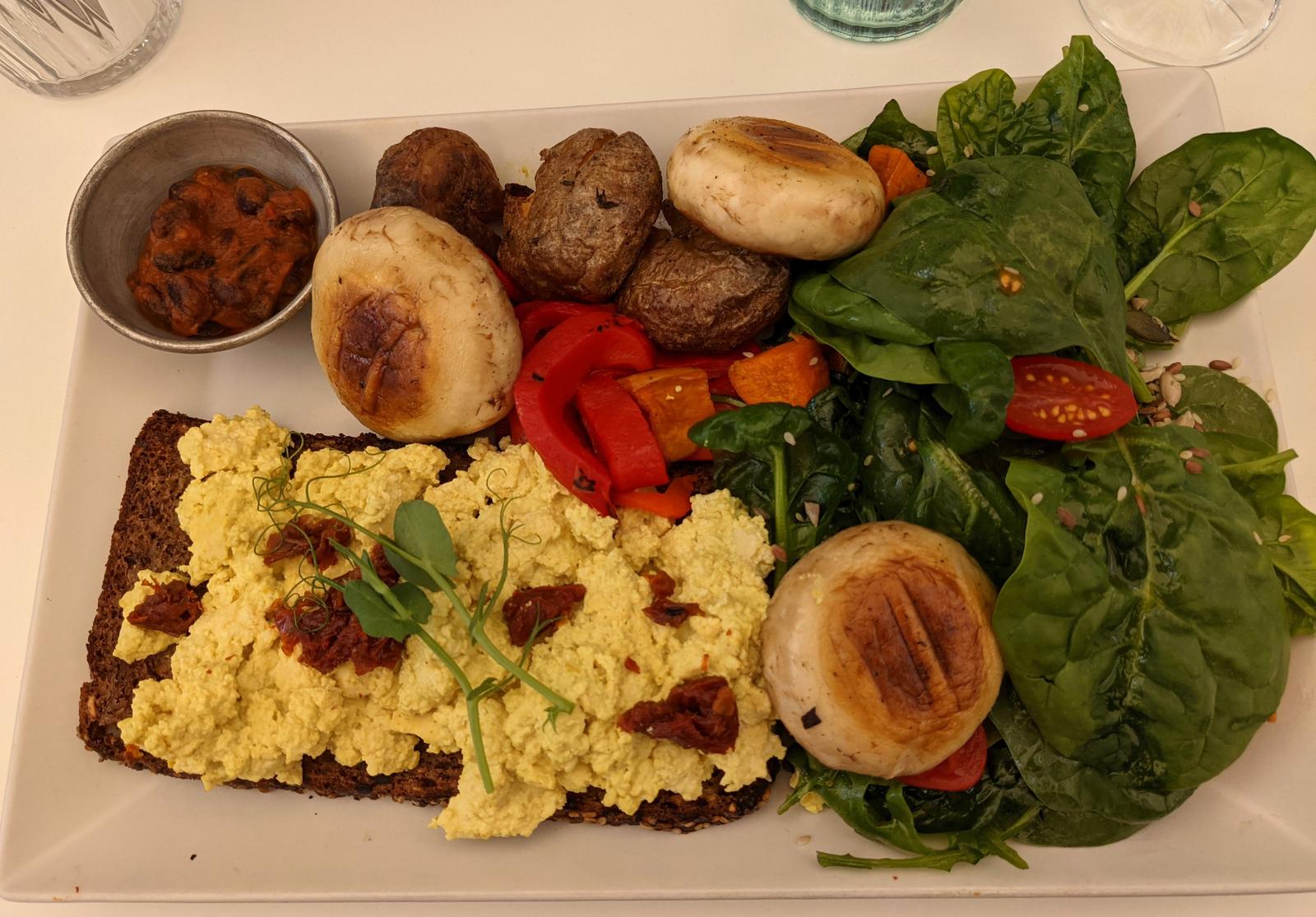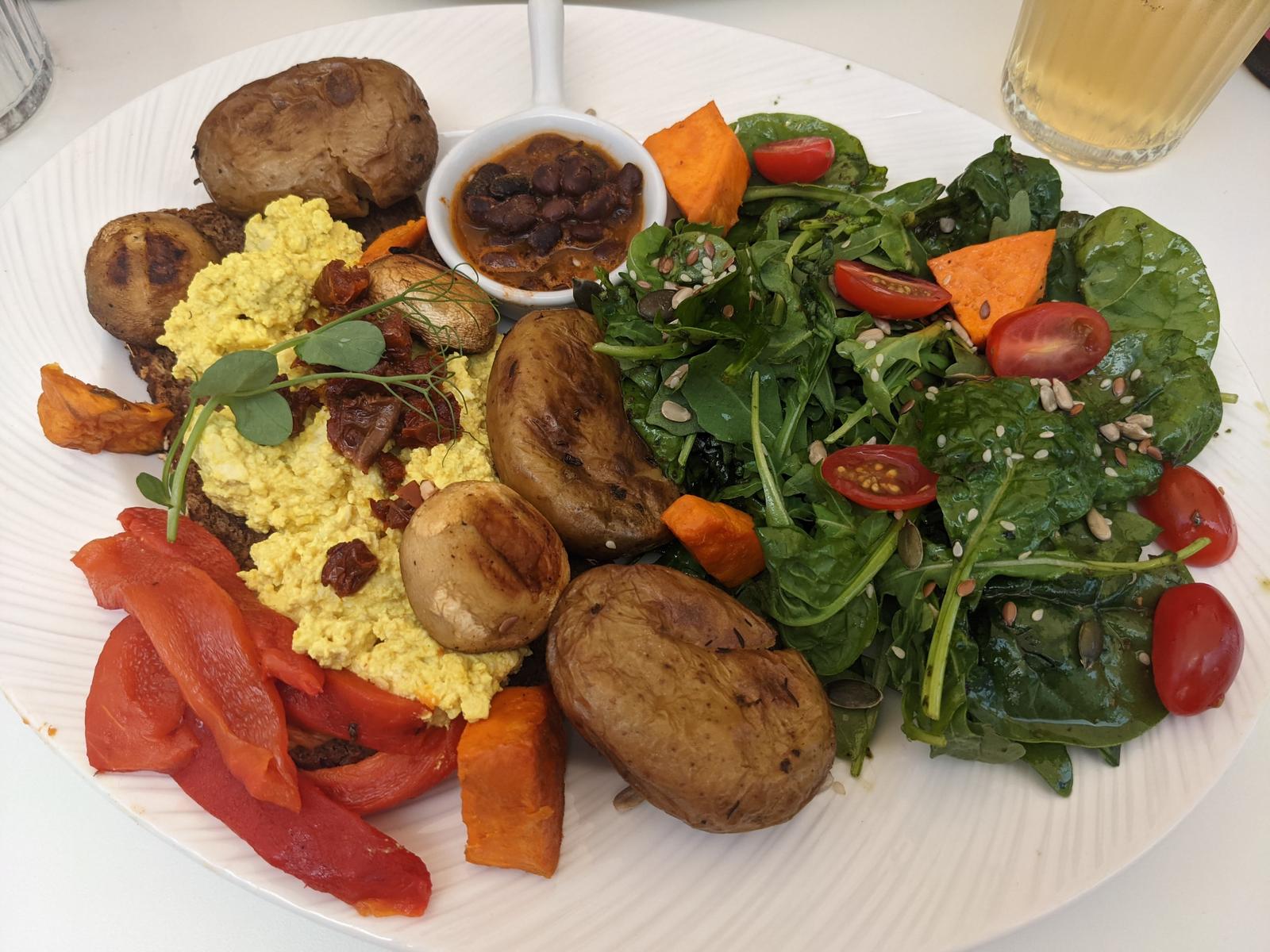 J has tried their Ovos Shakshuka and it was packed with flavour, something he will have again: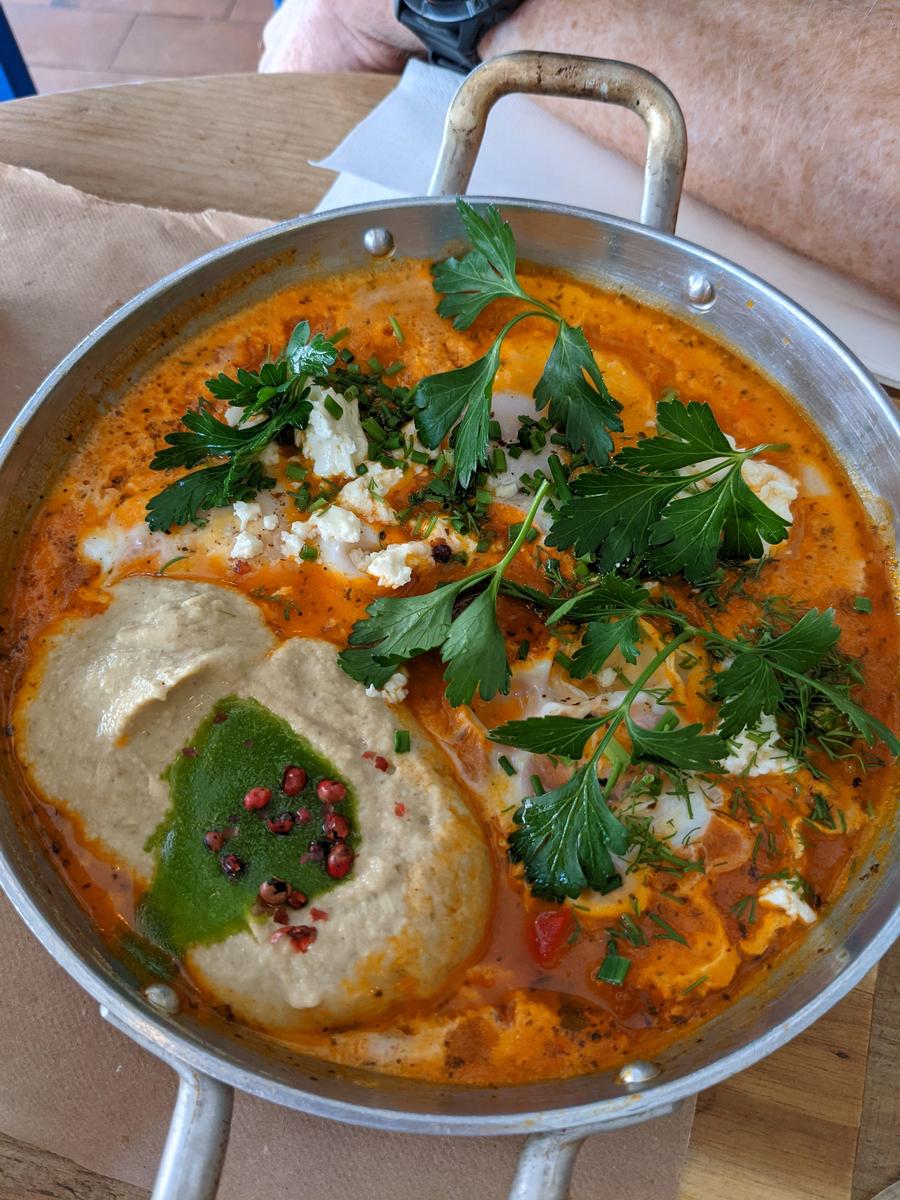 For those who do eat meat, I can suggest trying their Mexican Brunch: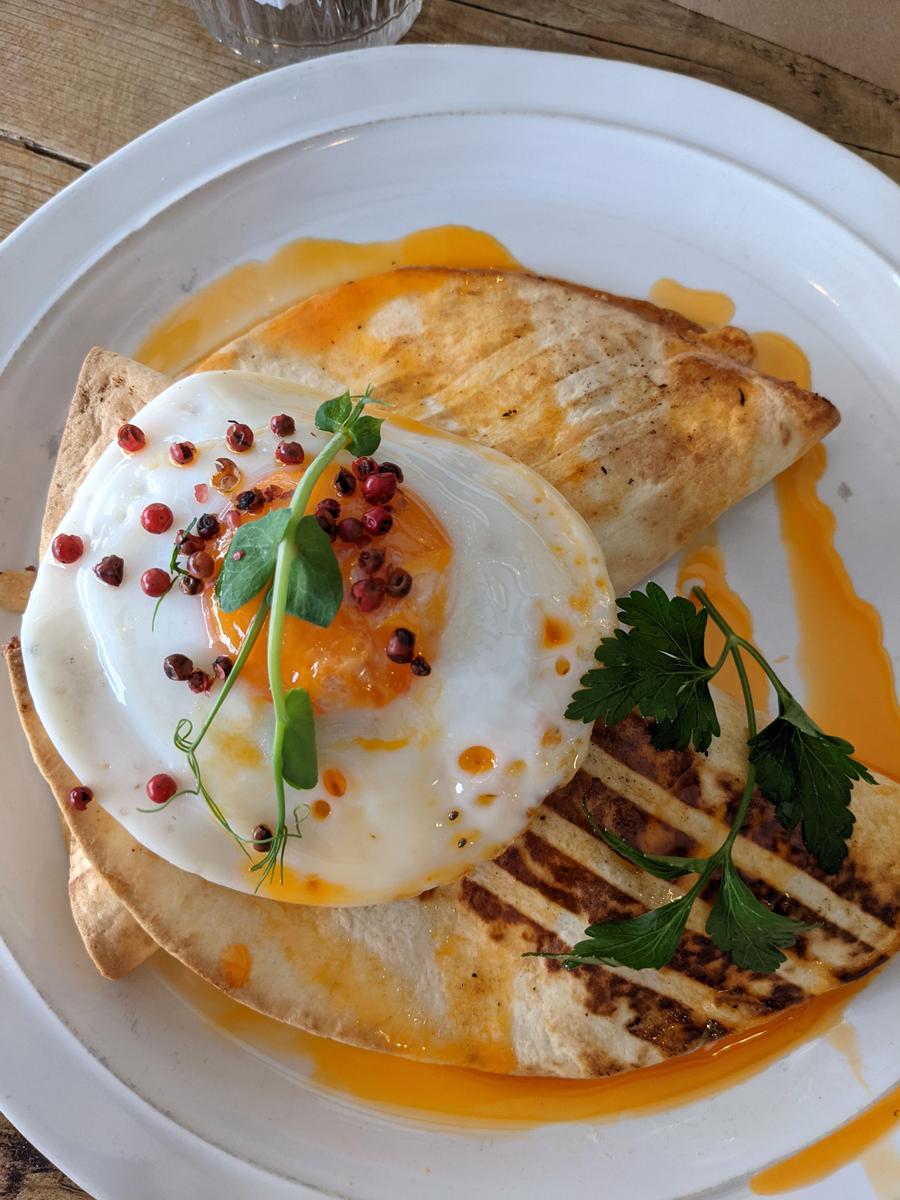 And if you are really hungry, their Pequeno Almoço Ingles is a feast!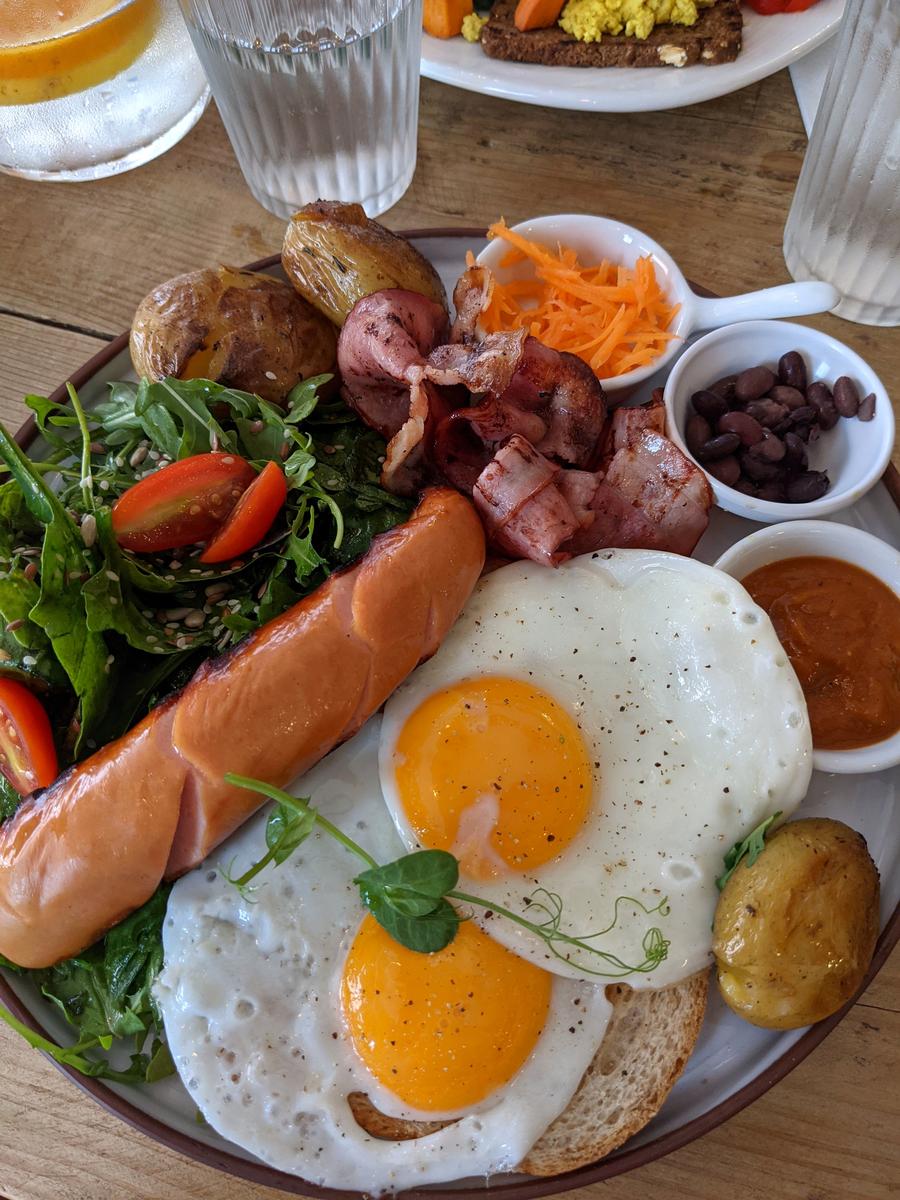 Now, the aforementioned Bolo de Cenoura/Carrot Cake of your dreams and don't forget a coffee to go with it, I highly rate the coffee in Manifest.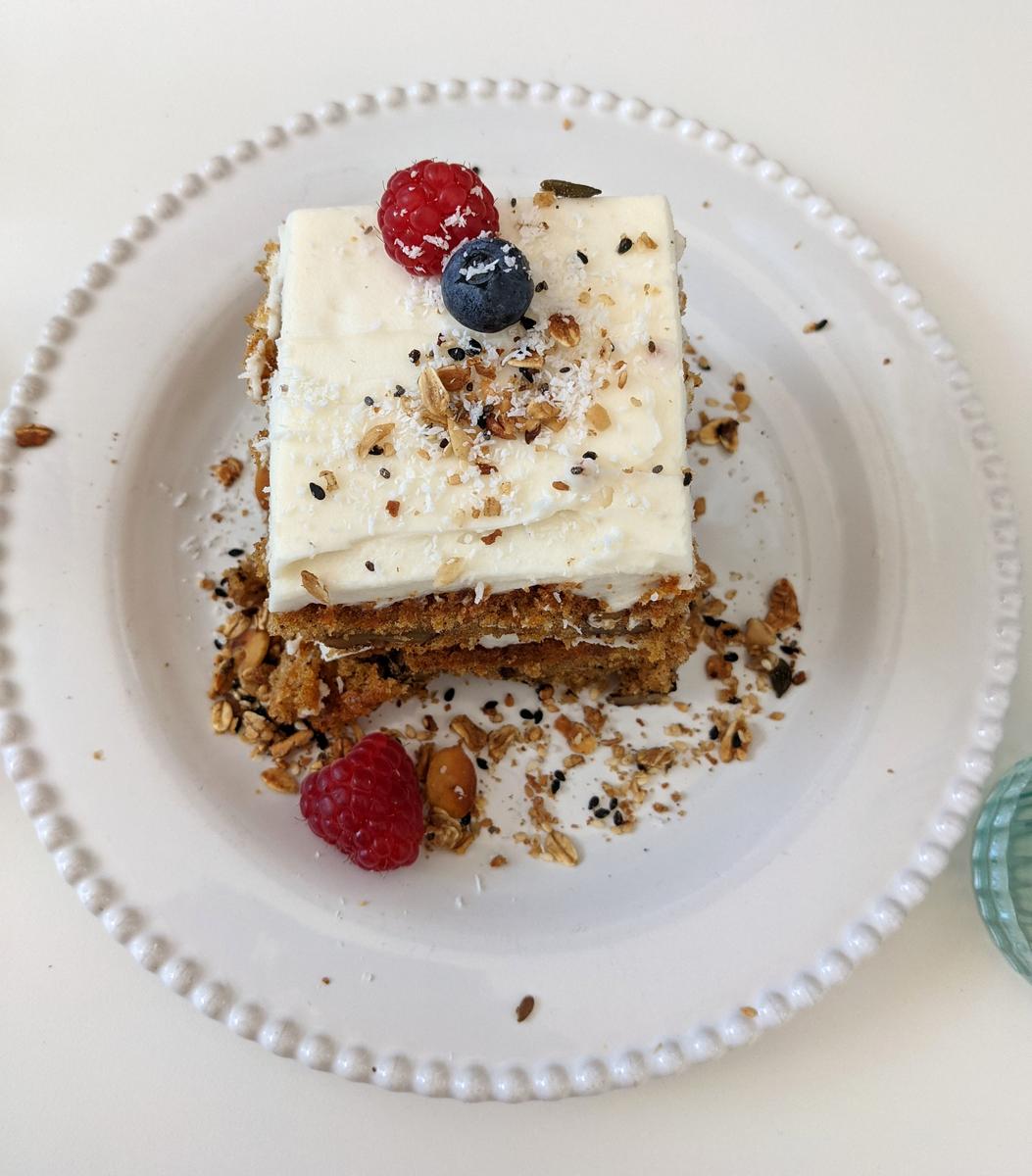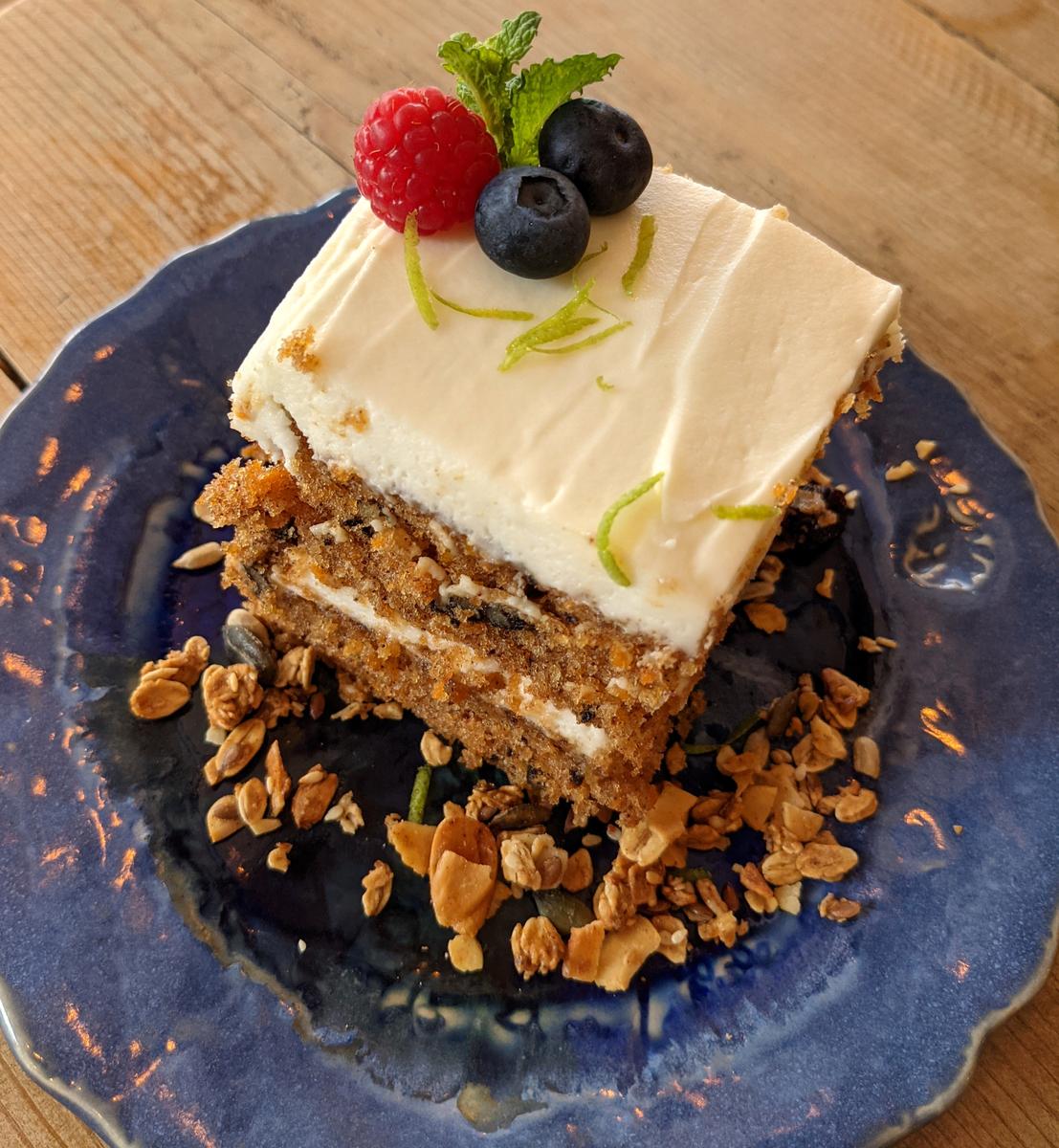 ---
7. Amélia Lisboa (Campo do Ourique).
Location: Rua Ferreira Borges 101, 1350-128 Lisboa.
Website: https://www.ilovenicolau.com/en/our-locations/amelia/
Amélia is one of four restaurants that are part of the "I Love Nicolau" business/brand. Three of their four restaurants are located in Lisbon and the fourth is located in Porto.
We had an almost weekly Ubereats delivery from Amelia when we were staying home due to Covid-19 and we never got sick of it. They have a massive menu with something for everyone. I think it is most popular for brunch and lunch and you will almost always see a queue outside especially at the weekends. You can book in advance via phone on +351 21 385 08 63 and we recommend requesting a table on their outdoor terrace.
Dishes We Love: Our two top mains are the Flower Power Bowl and the Salada de Atun Braseado. For something sweet it has to be their Panqueca Banoffe Lovers/Banoffe Pancakes every time (or everyday if we could).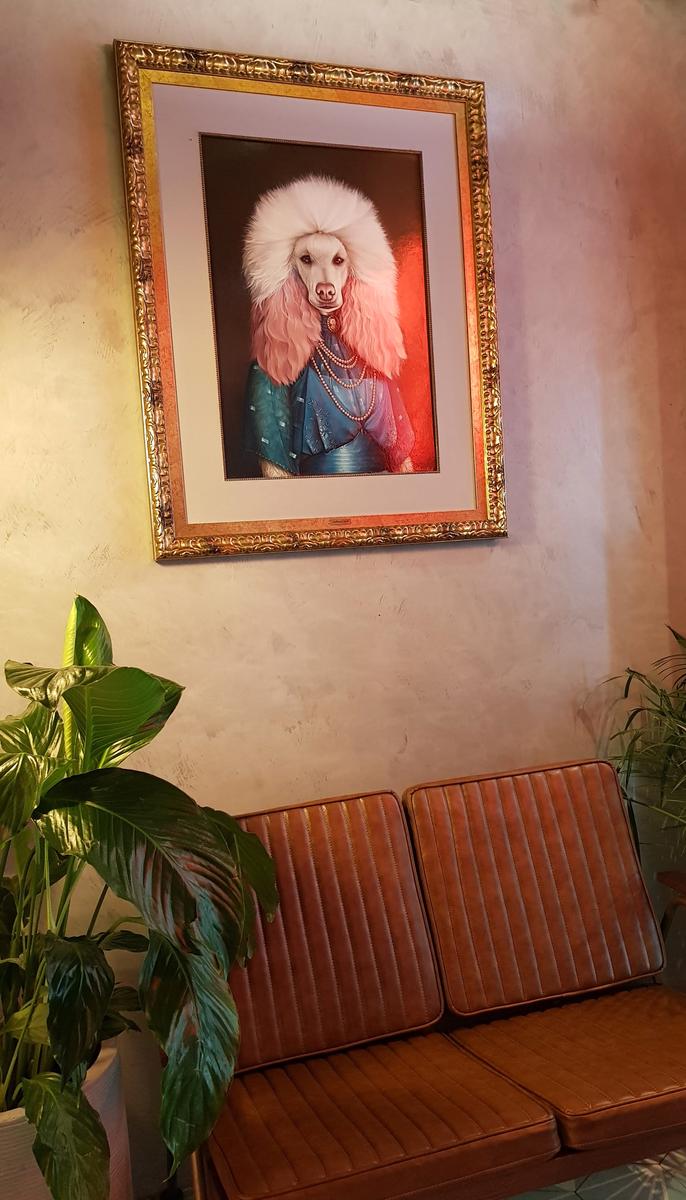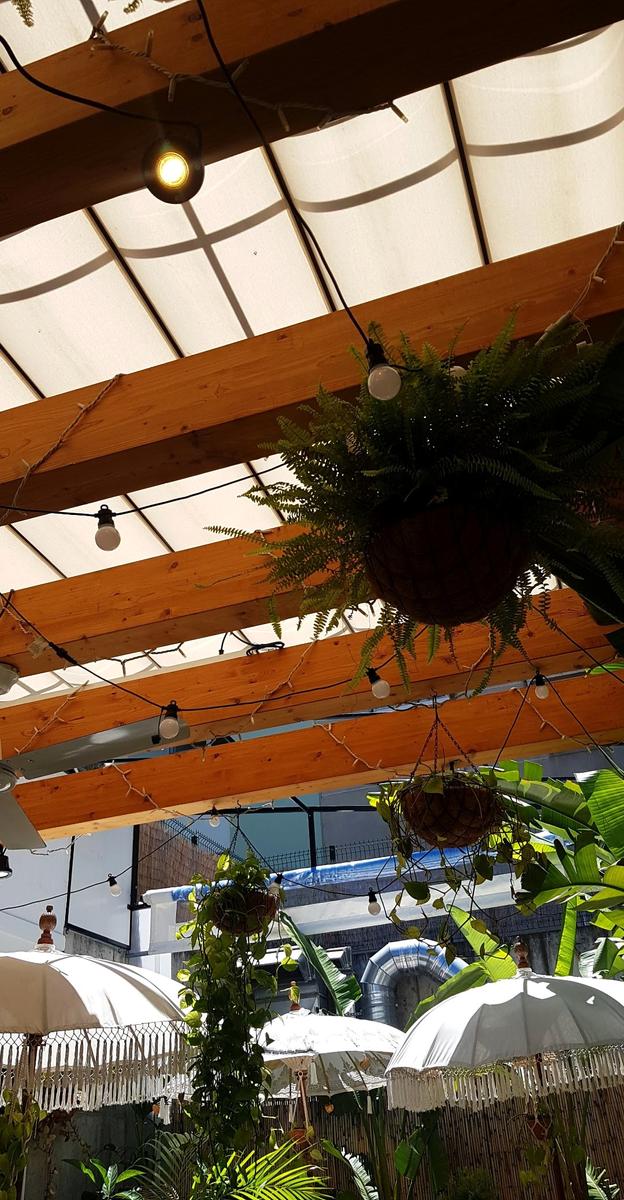 The first thing you will notice about the Flower Power Bowl is that it is bursting with colour. Inside the bowl you will find chickpeas, quinoa, beetroot hummus, avocado and more! I only have Ubereat photos: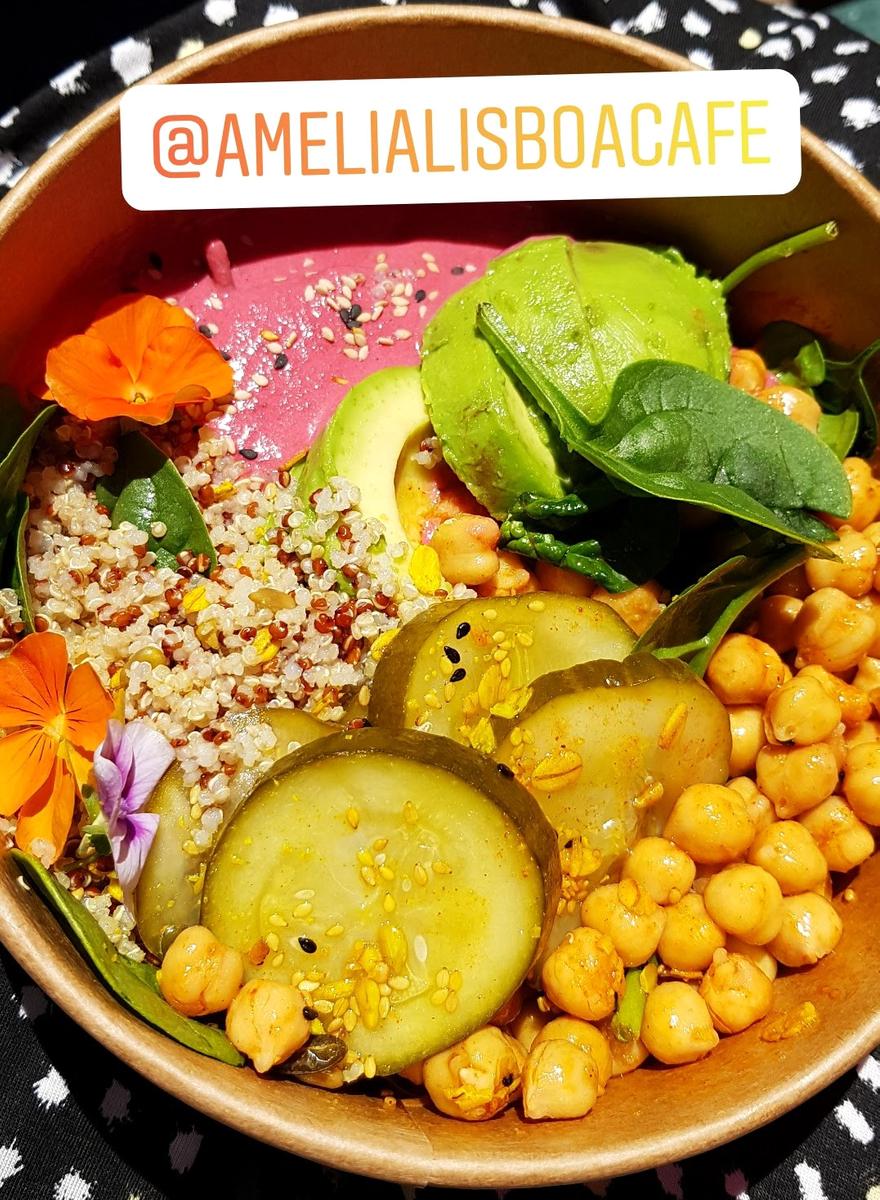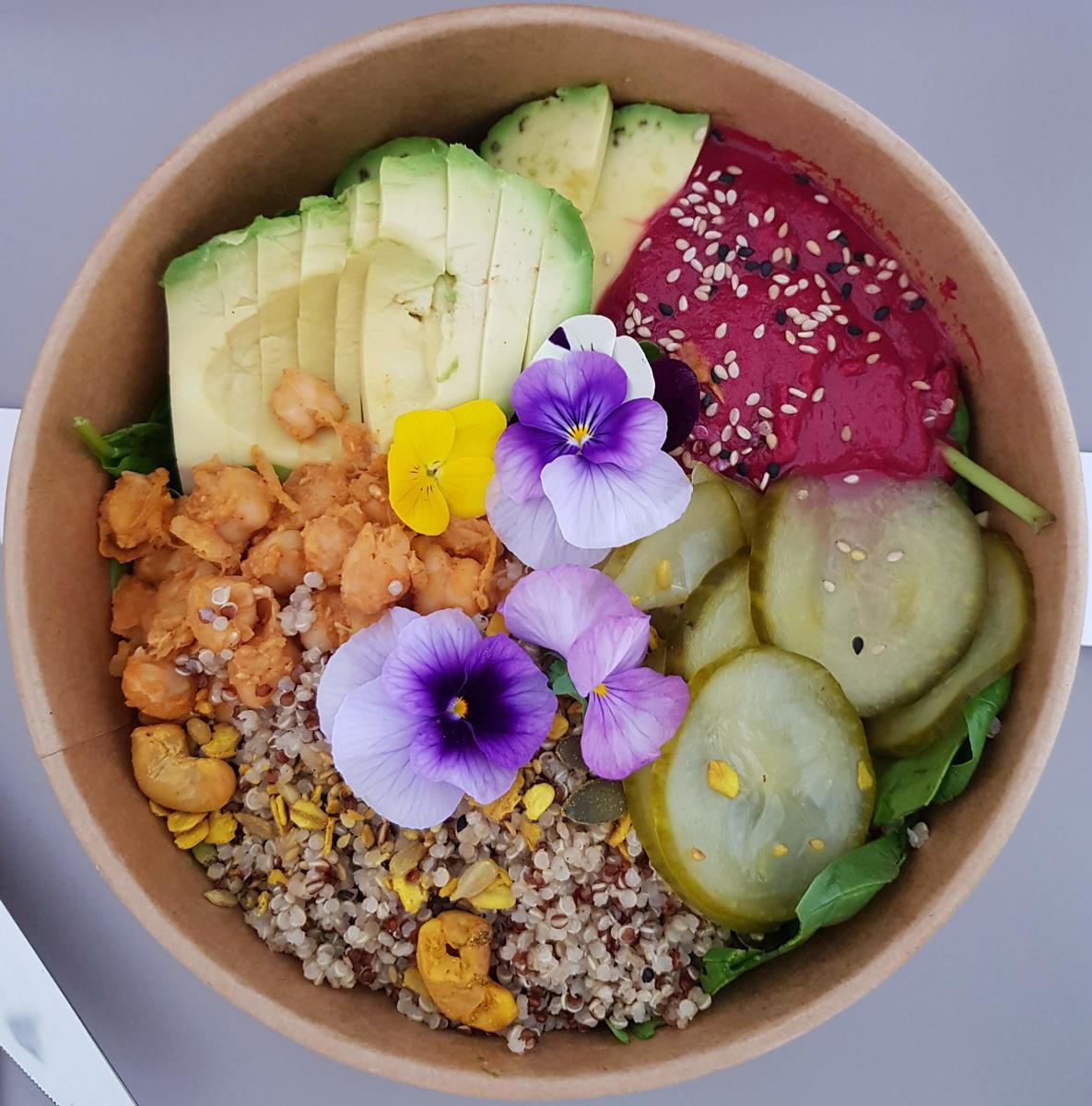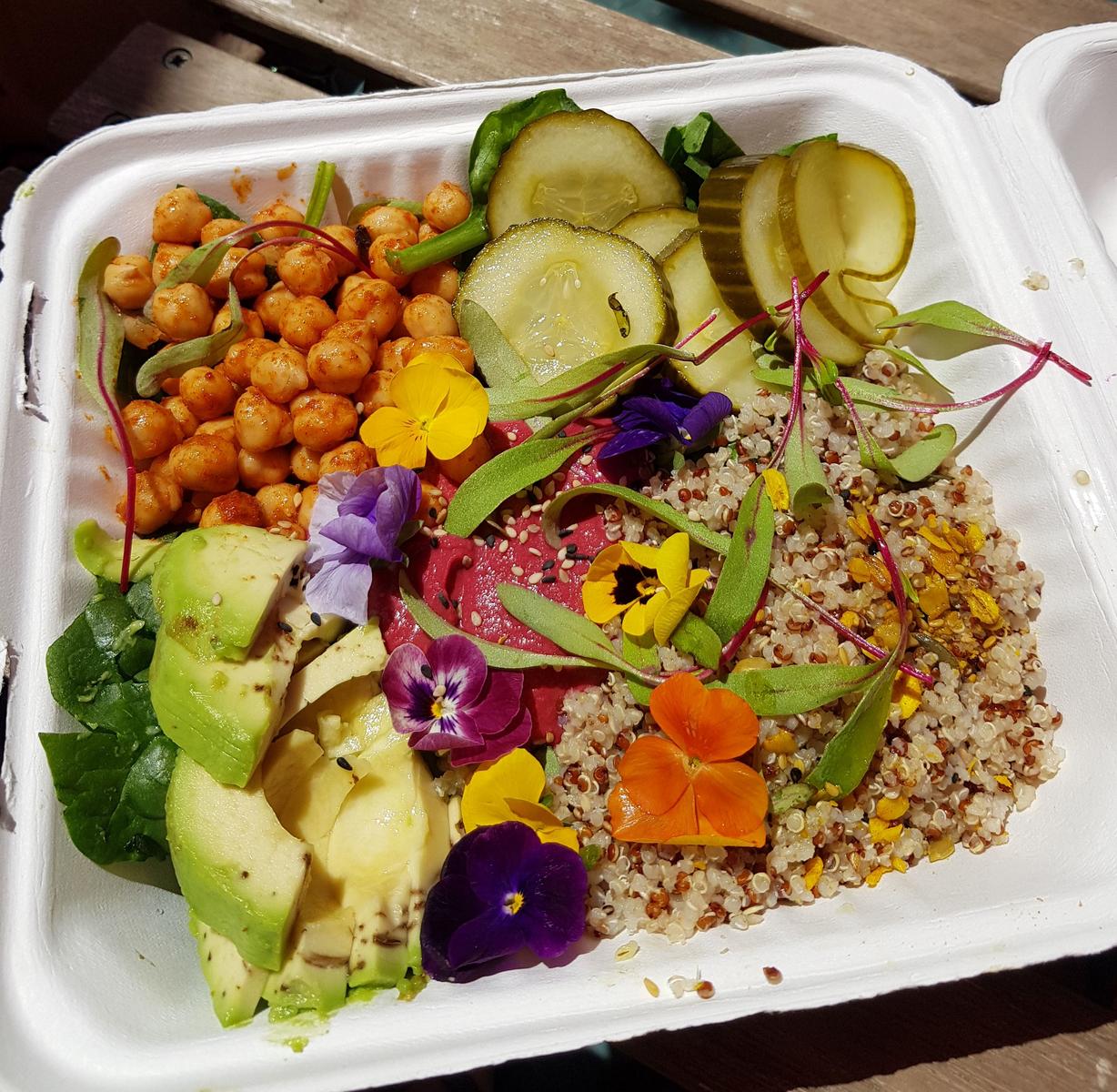 The Salada de Atun Braseado: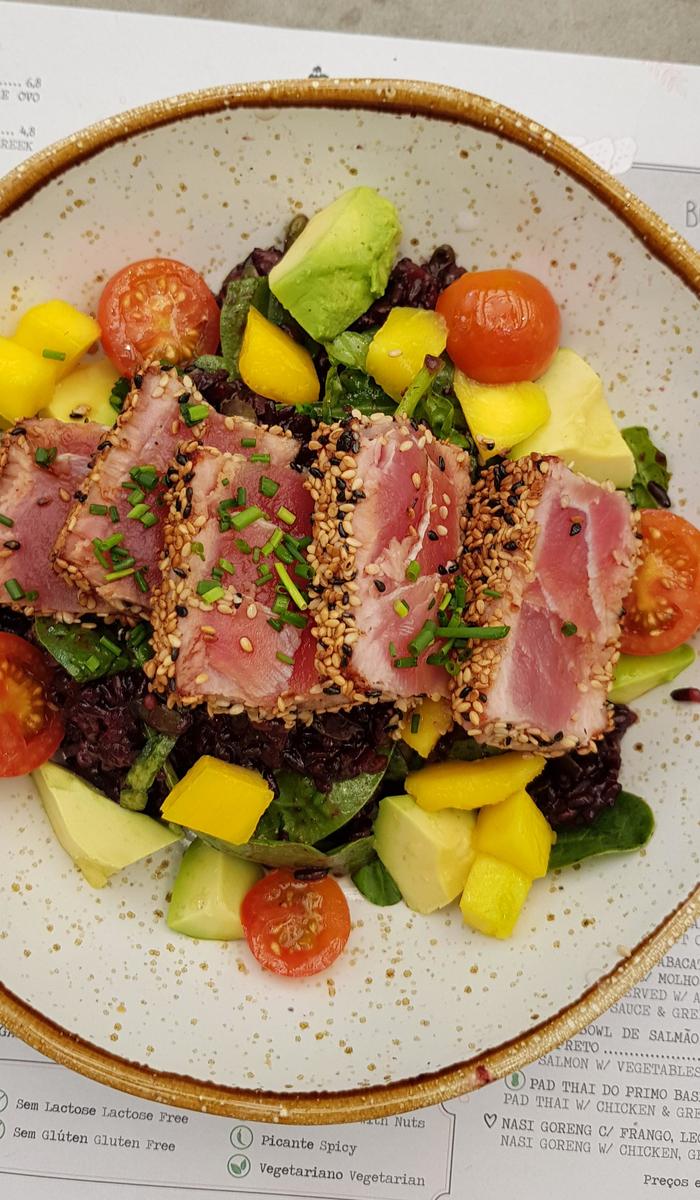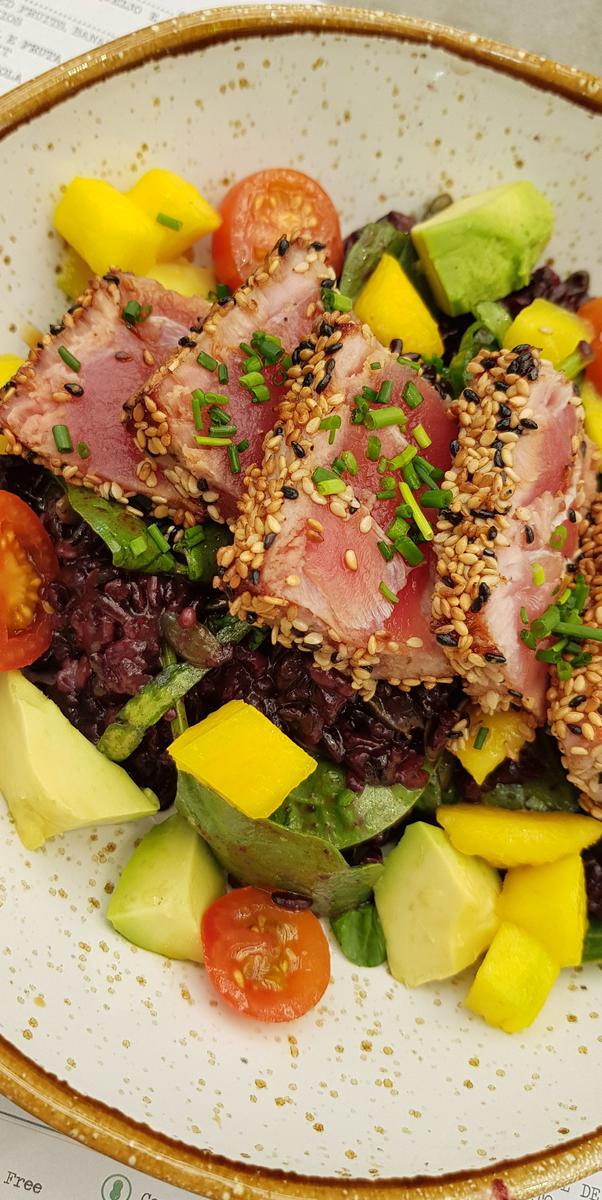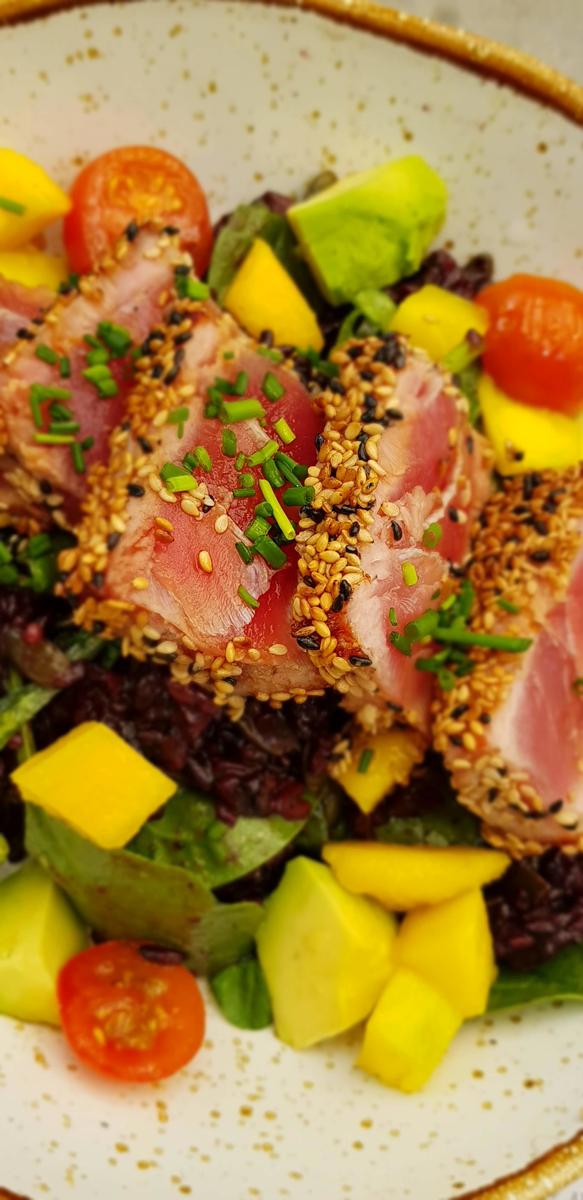 And the Ubereats version: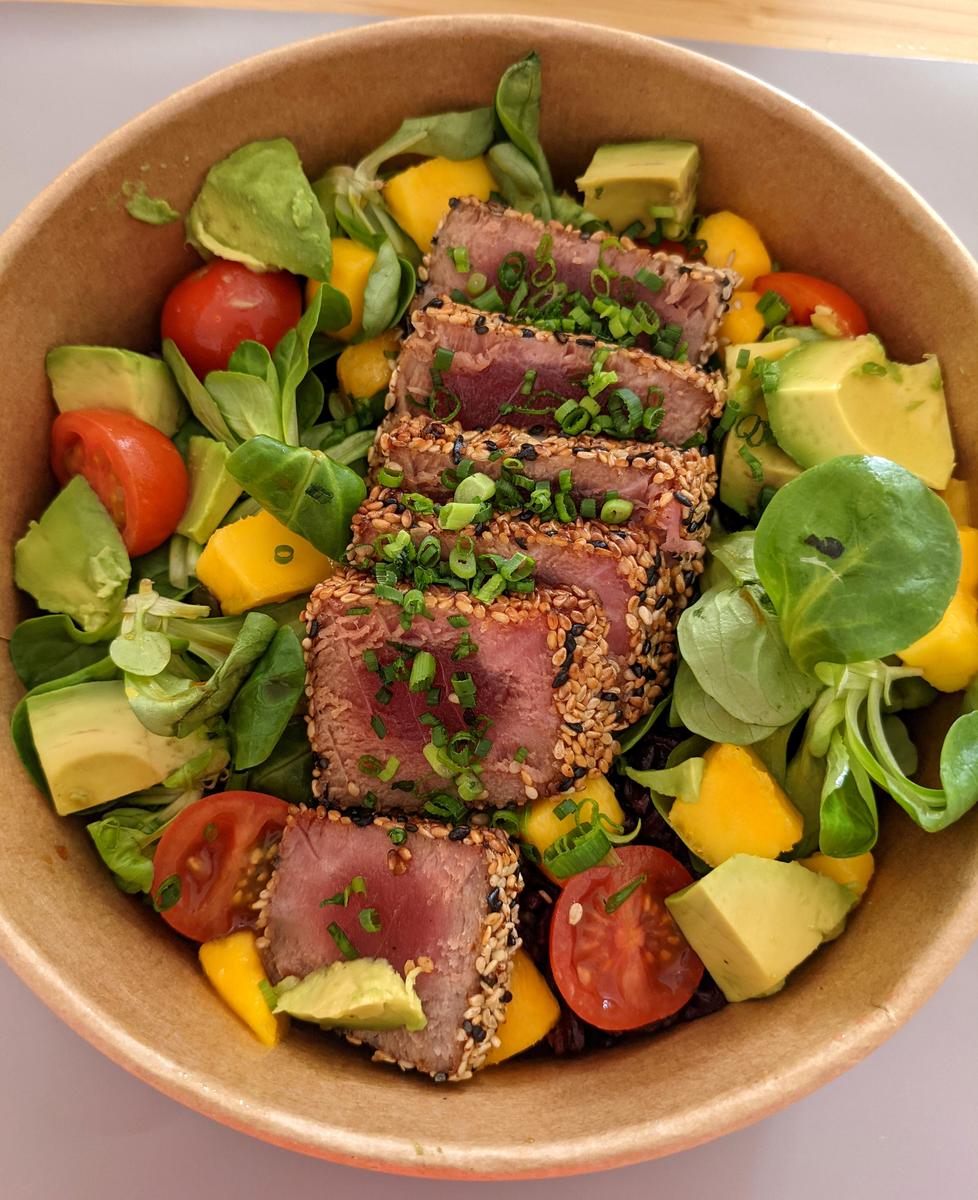 As a meat eater I have also had their Chicken Bowl many times. It is served with avocado, broccoli, poached egg, sweet potato and rice - very filling!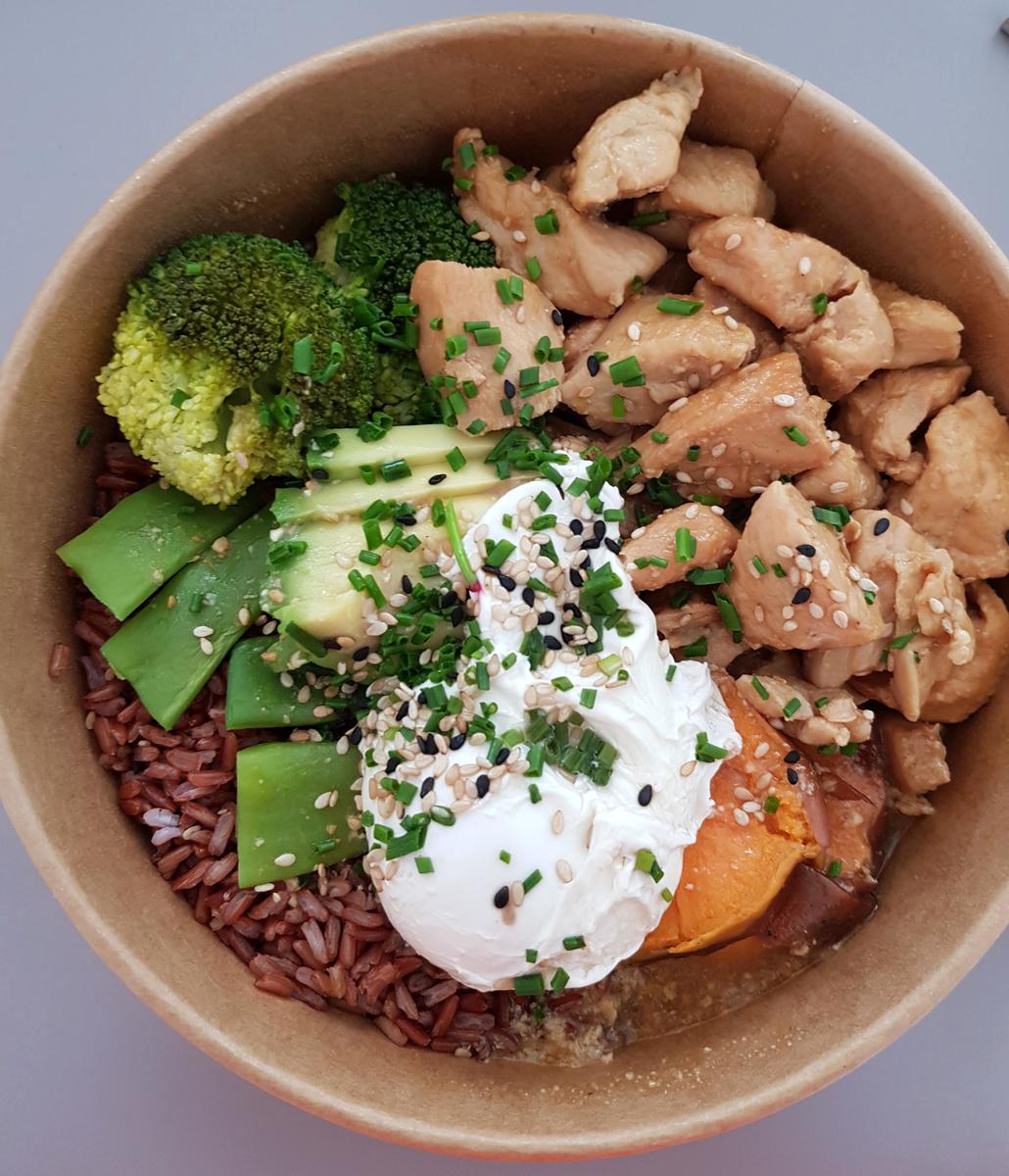 Our favourite sweet treat, the aforementioned Panqueca Banoffe Lovers/Banoffe Pancakes: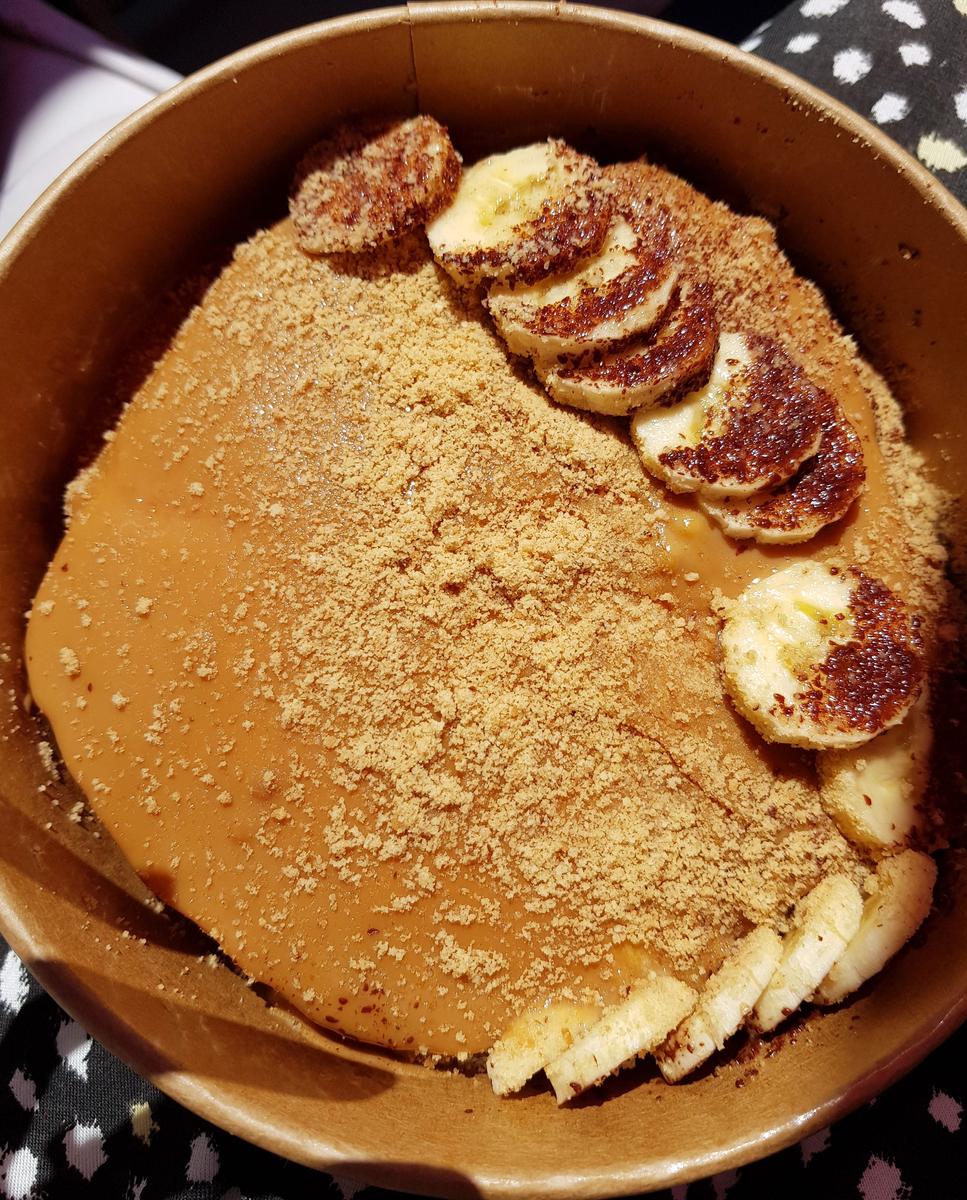 We have also tried and enjoyed their Amelia Pancakes: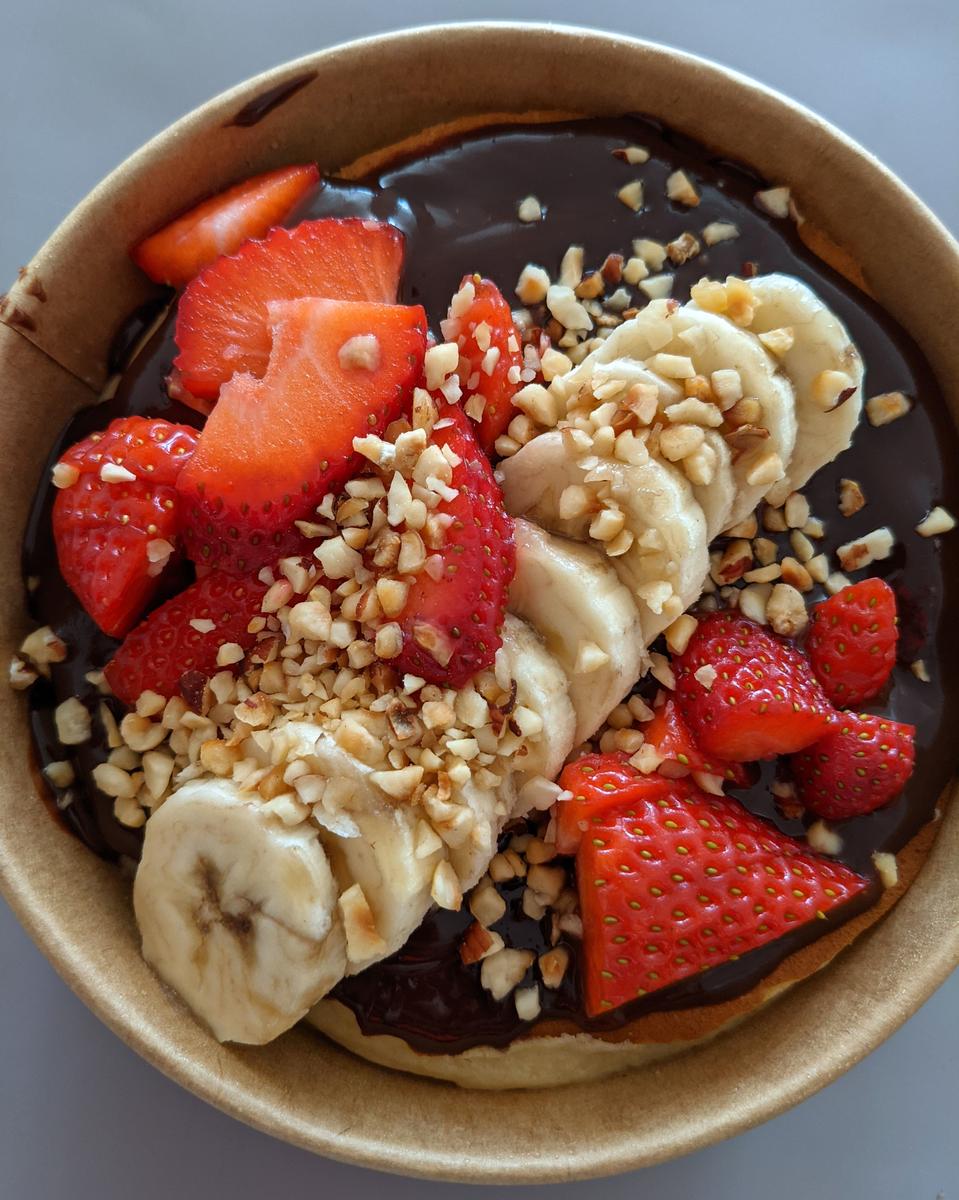 Their Carrot Cake we have had numerous times and goes down great with coffee: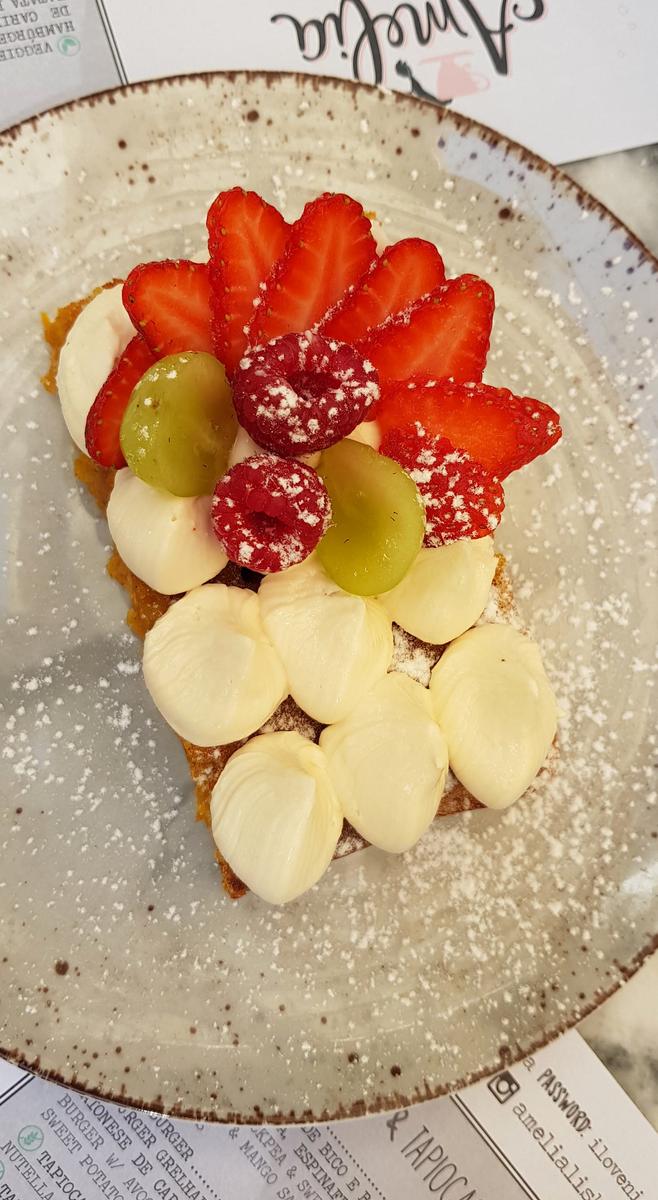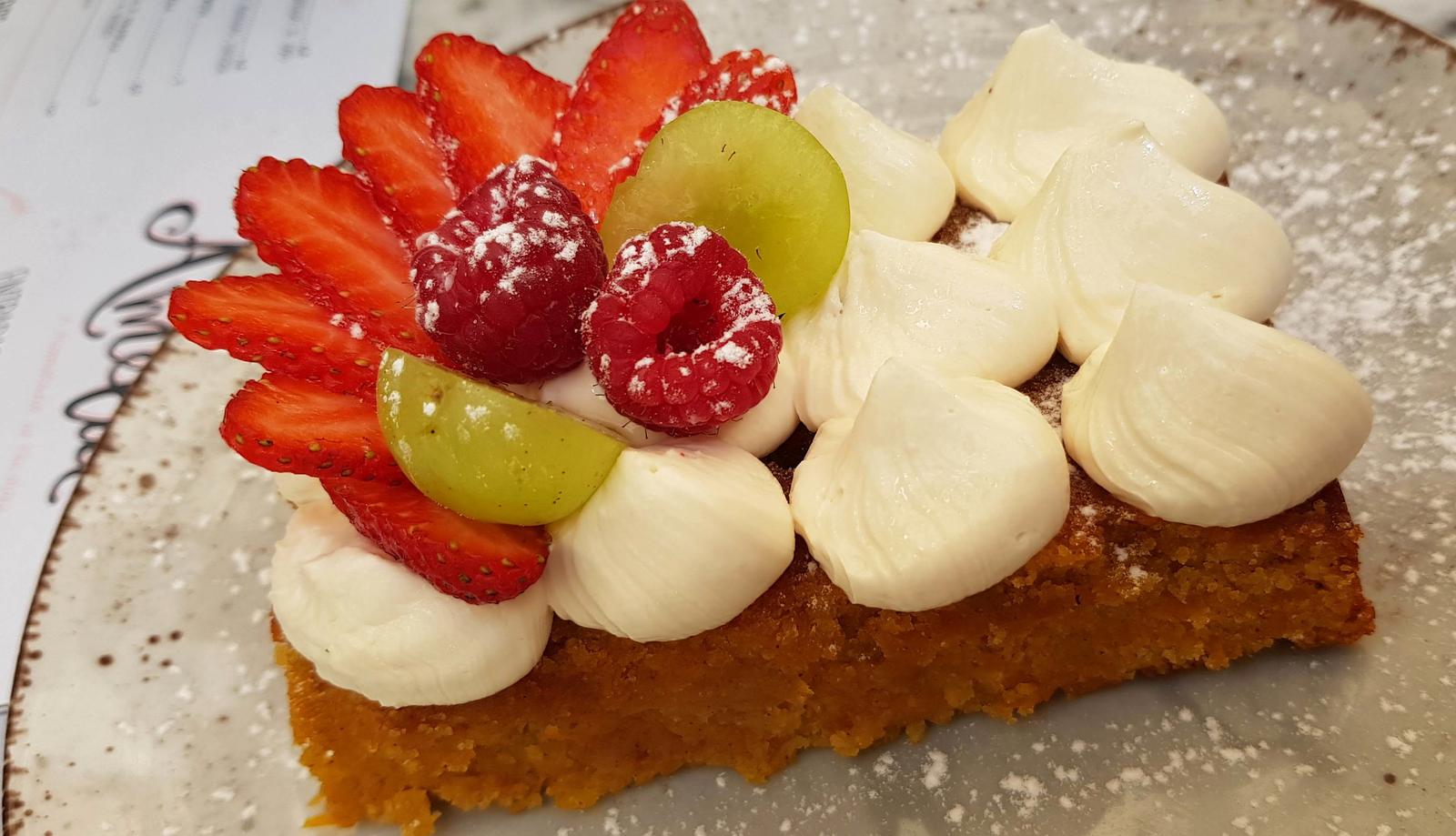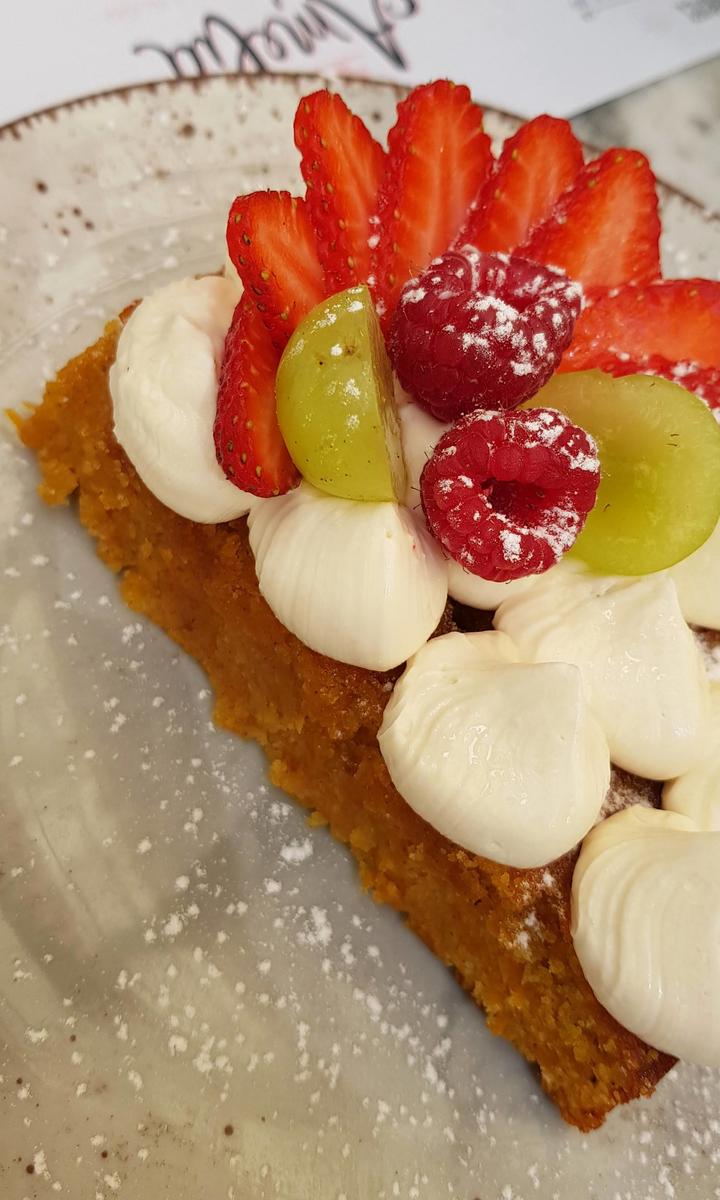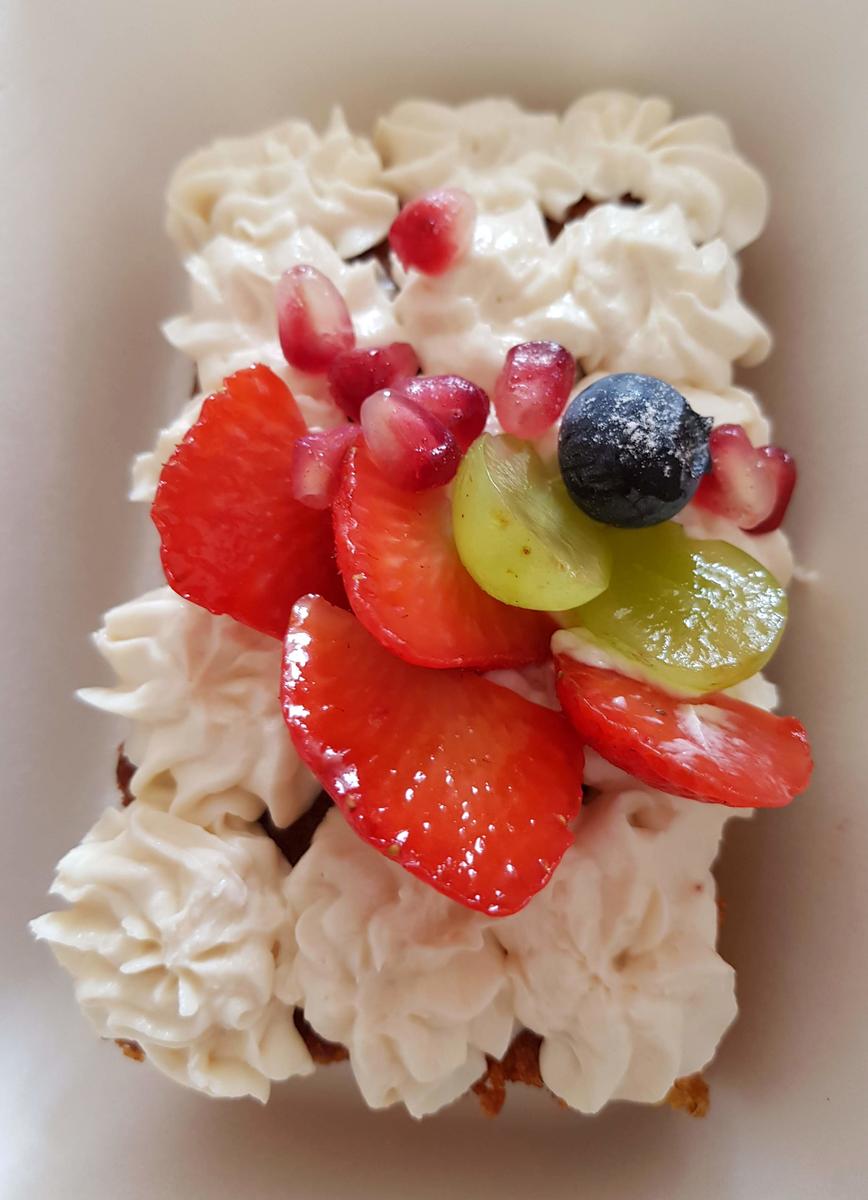 And their Chocolate Cake: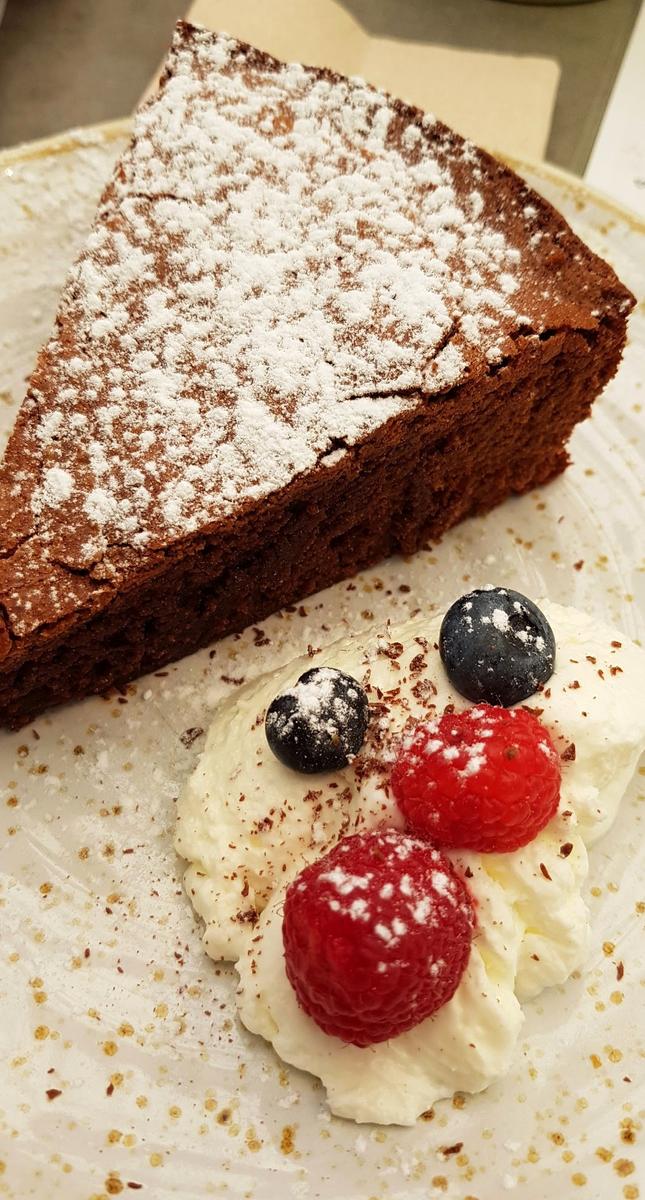 ---
8. Tease
Location: Rua Quintinha 70B, 1200-420 Lisboa.
Instagram: @tease_cafe
Tease is a hidden gem close to the Assembleia da República. Tease has welcoming staff, yummy food including lots of freshly baked cupcakes and cakes, indoor and outdoor seating and is the best value we have found in Lisbon. Be sure to add Tease to your list of places to visit.
Dishes We Love: Try their Green Pesto Burger and/or their Vegan King Burger. For dessert have a Brownie for a real good chocolate hit!
A couple of quick photos of the exterior before the lunch time rush!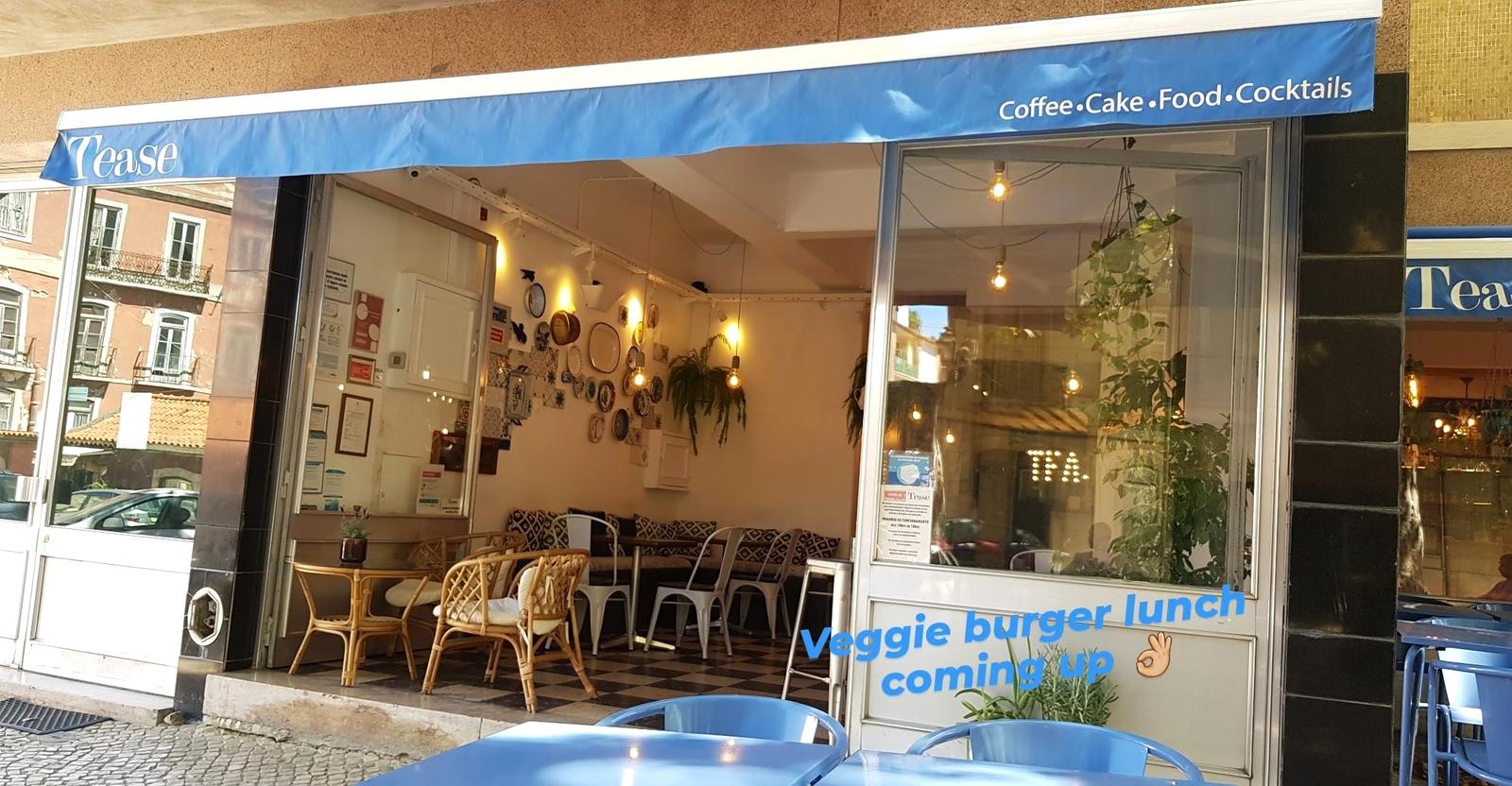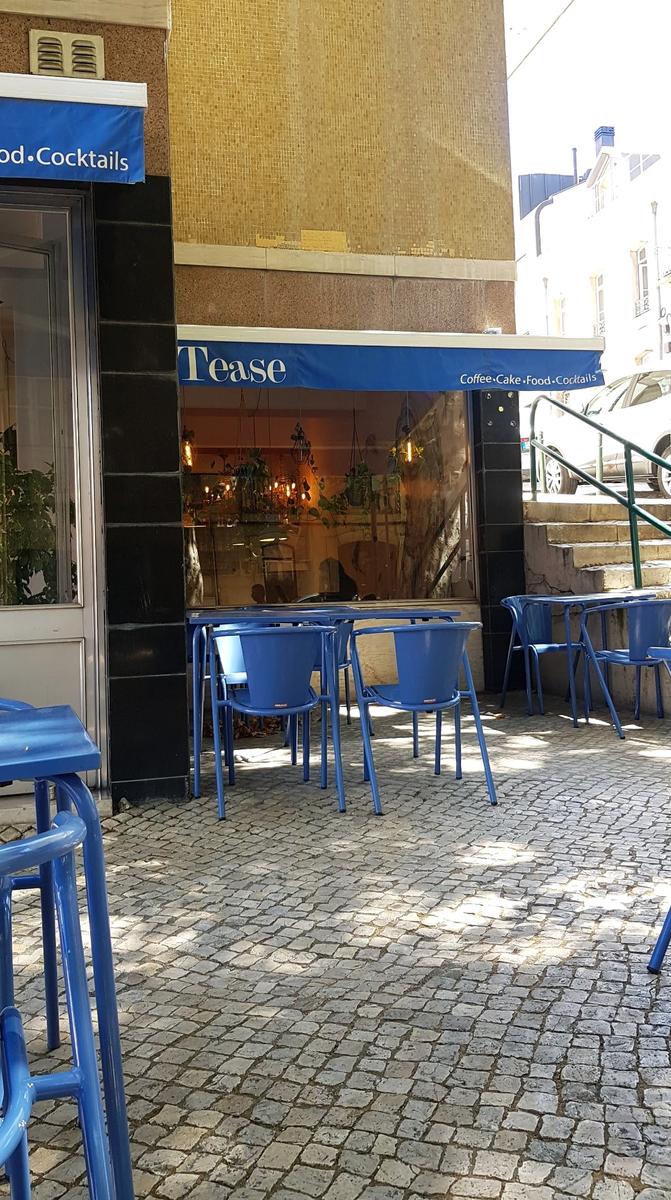 The Green Pesto Burger is always my burger of choice and is served with homemade chips and a side salad: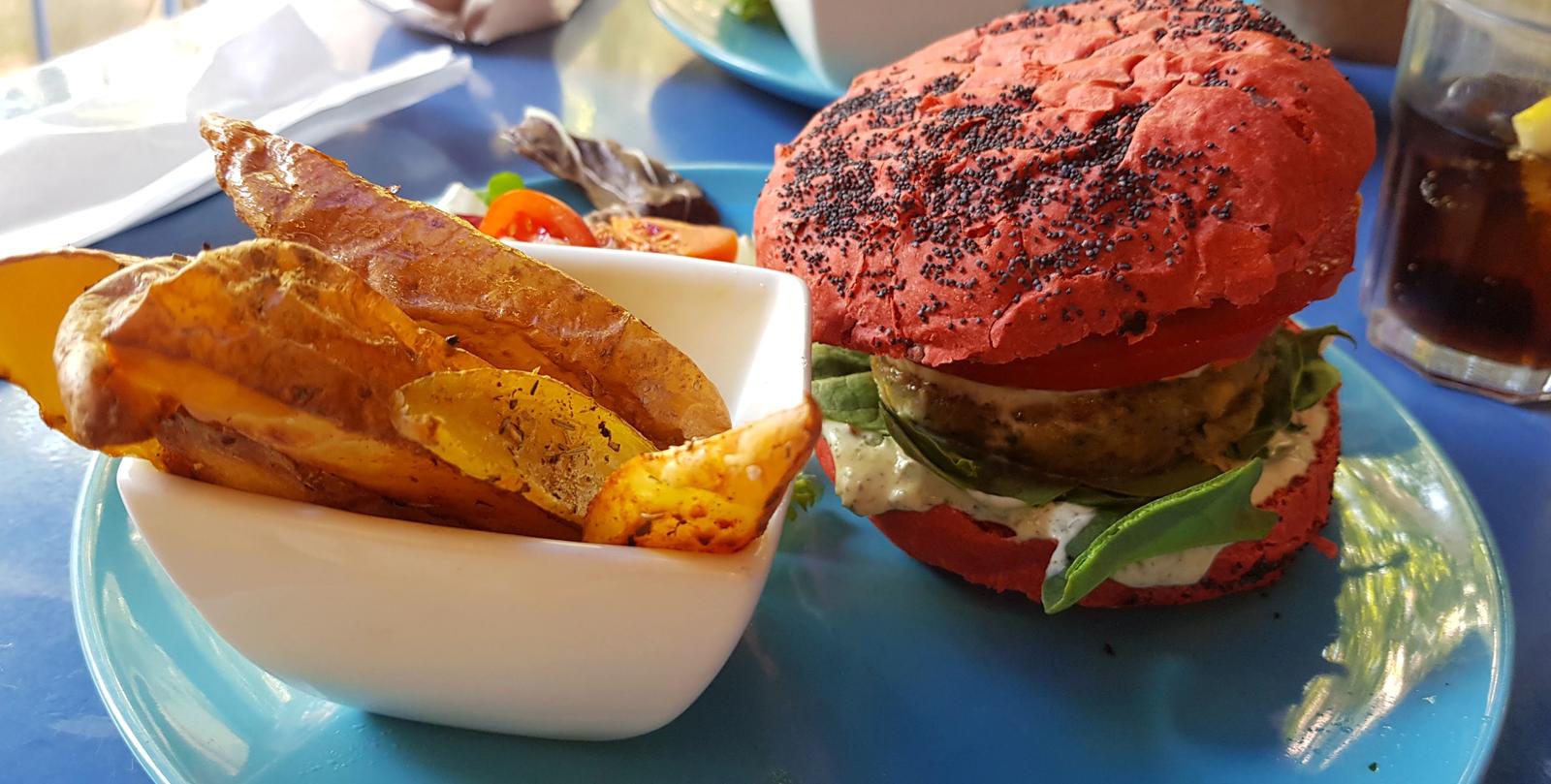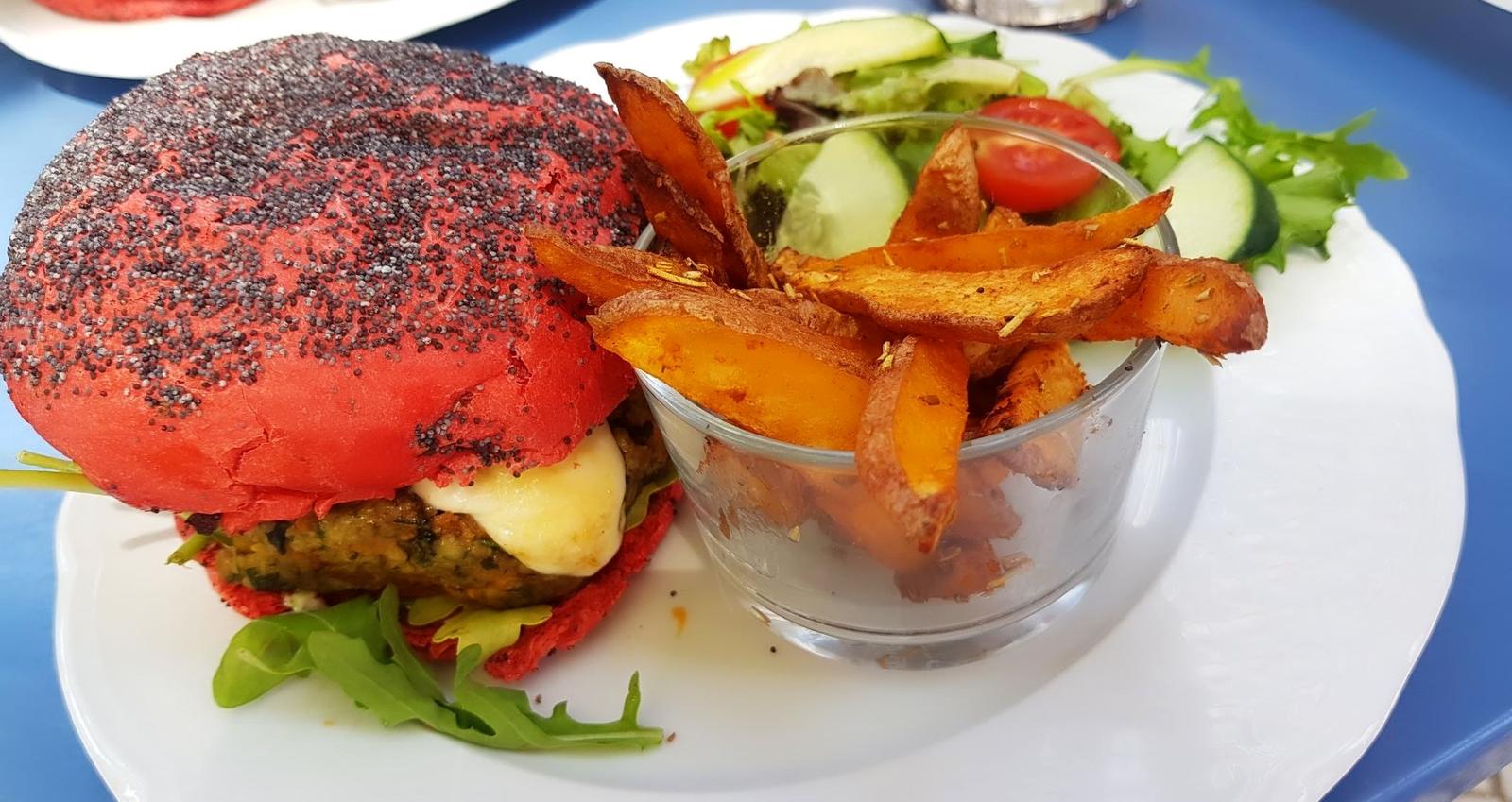 Same burger, different colourful bun!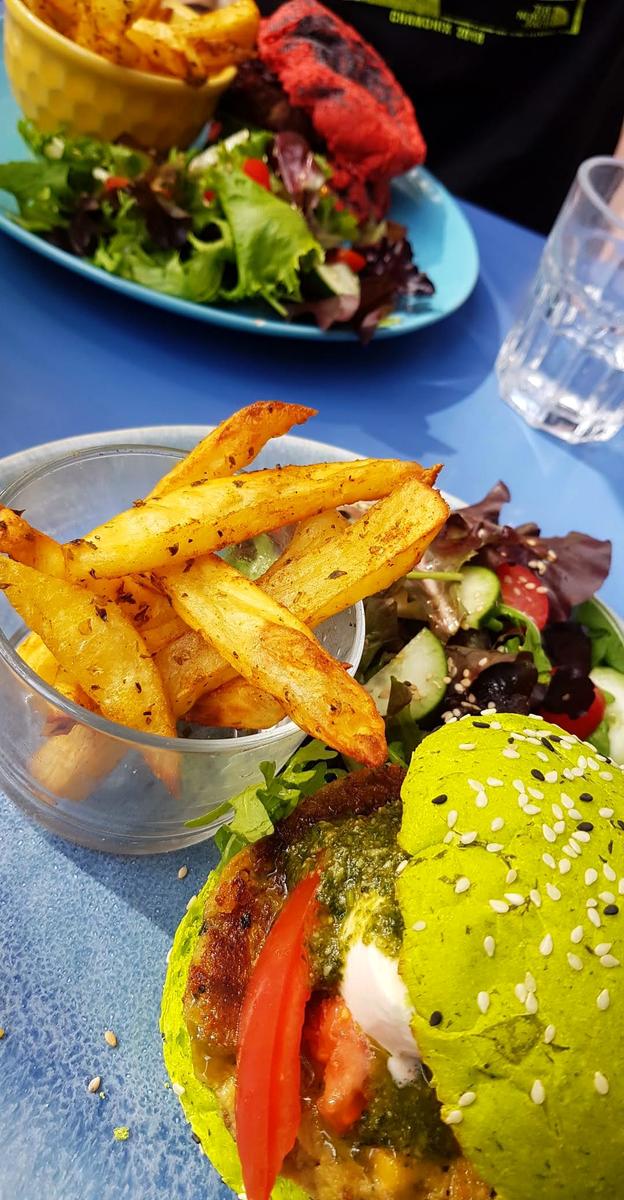 Yet another visit with another new bun!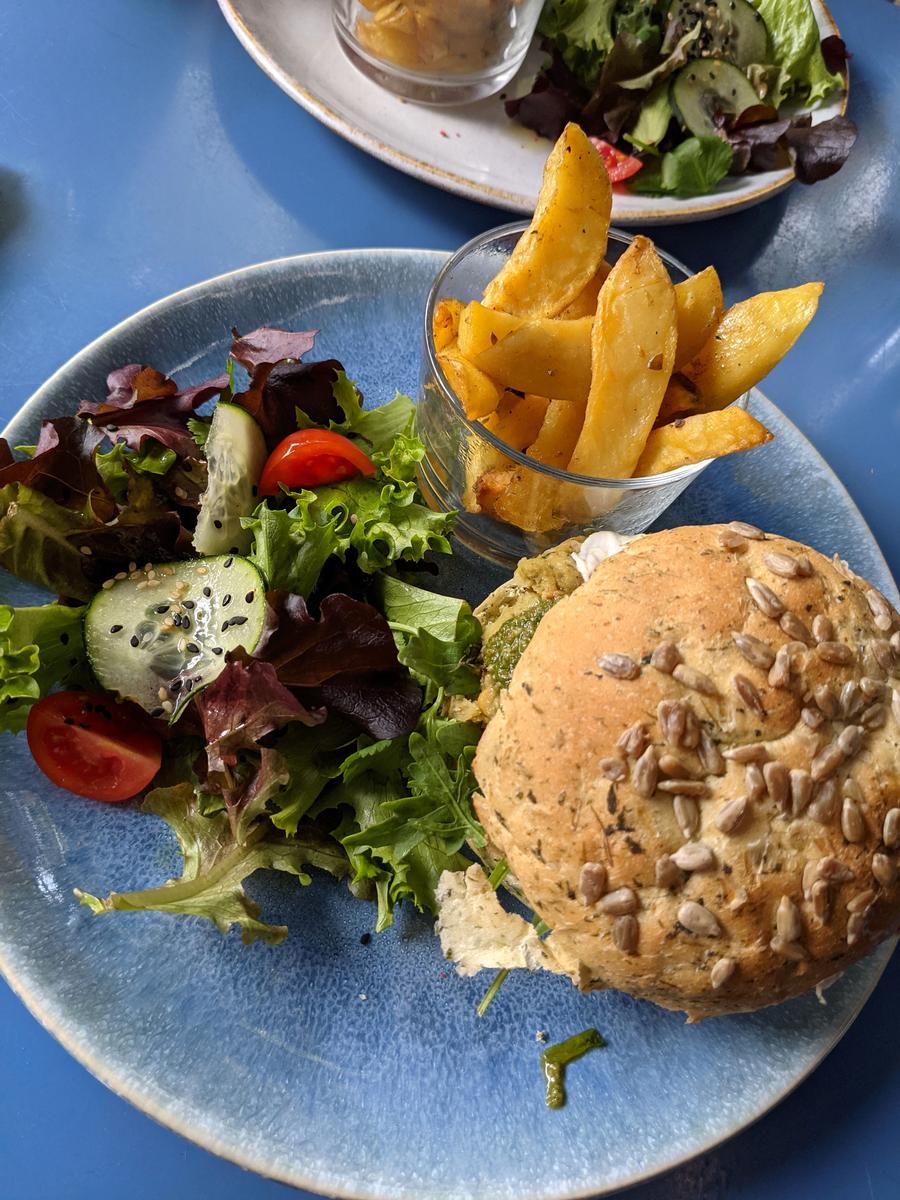 A chocolate lovers dream Brownie: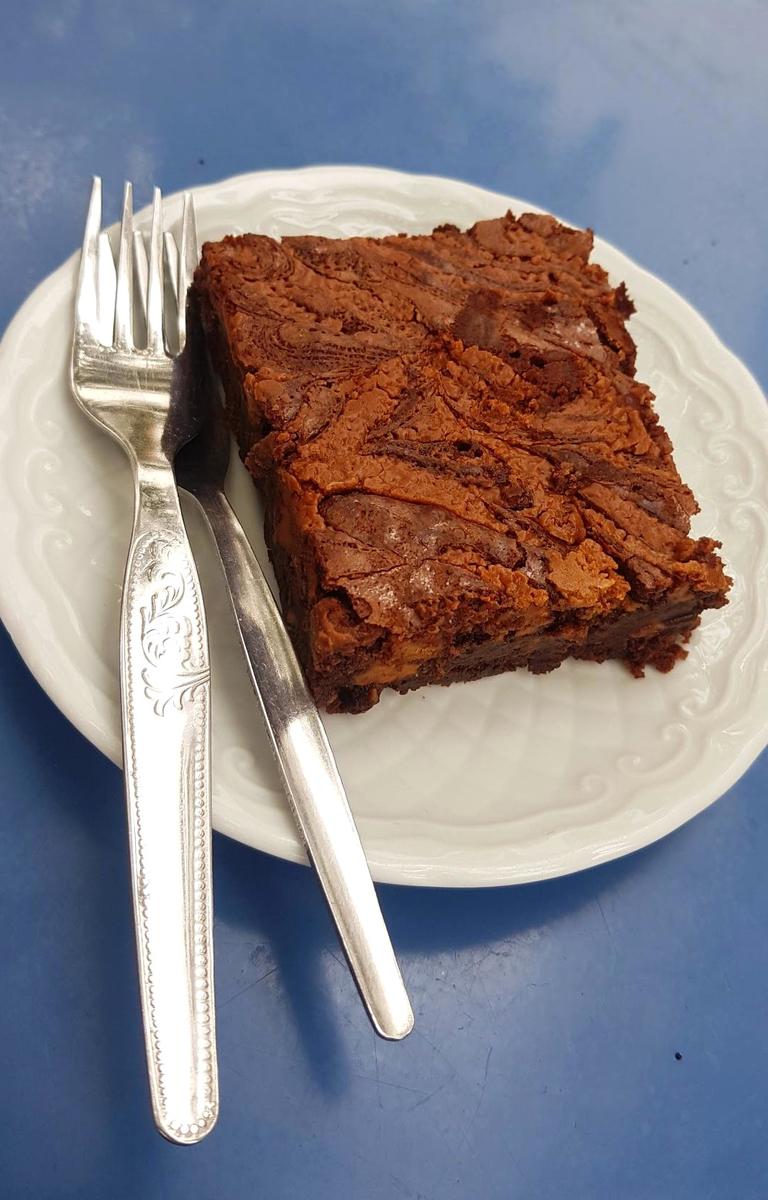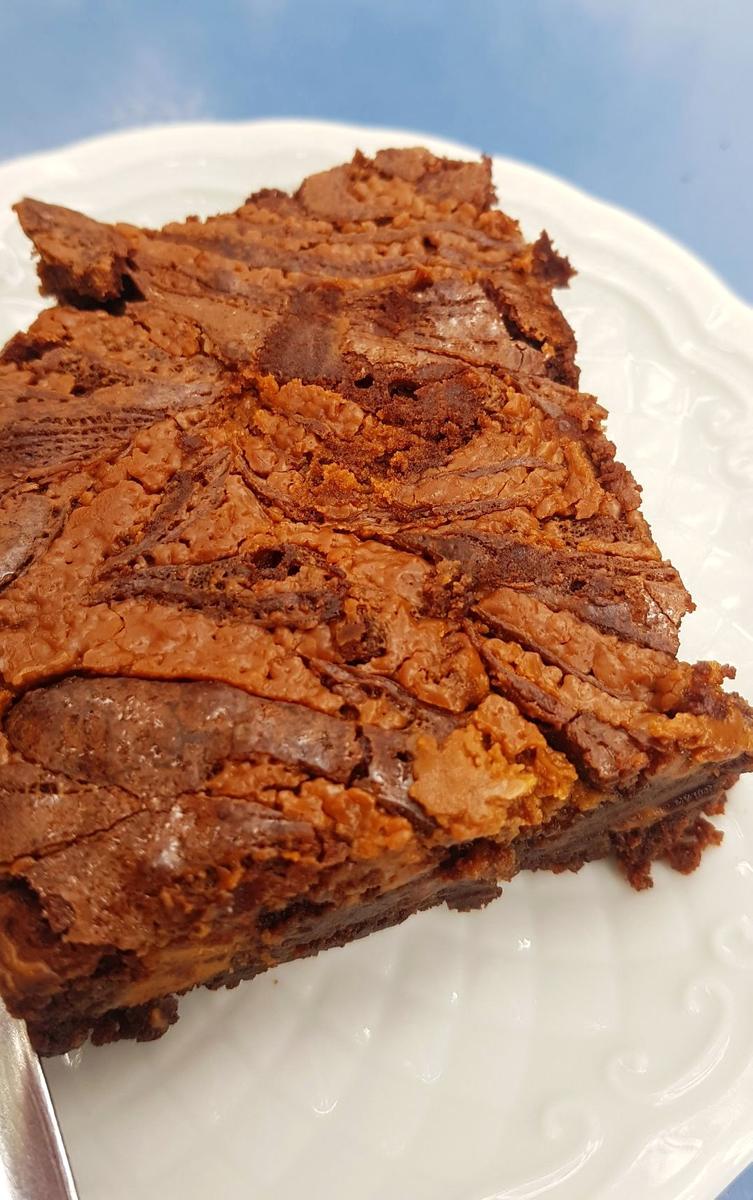 Can't go wrong with Chocolate Cake: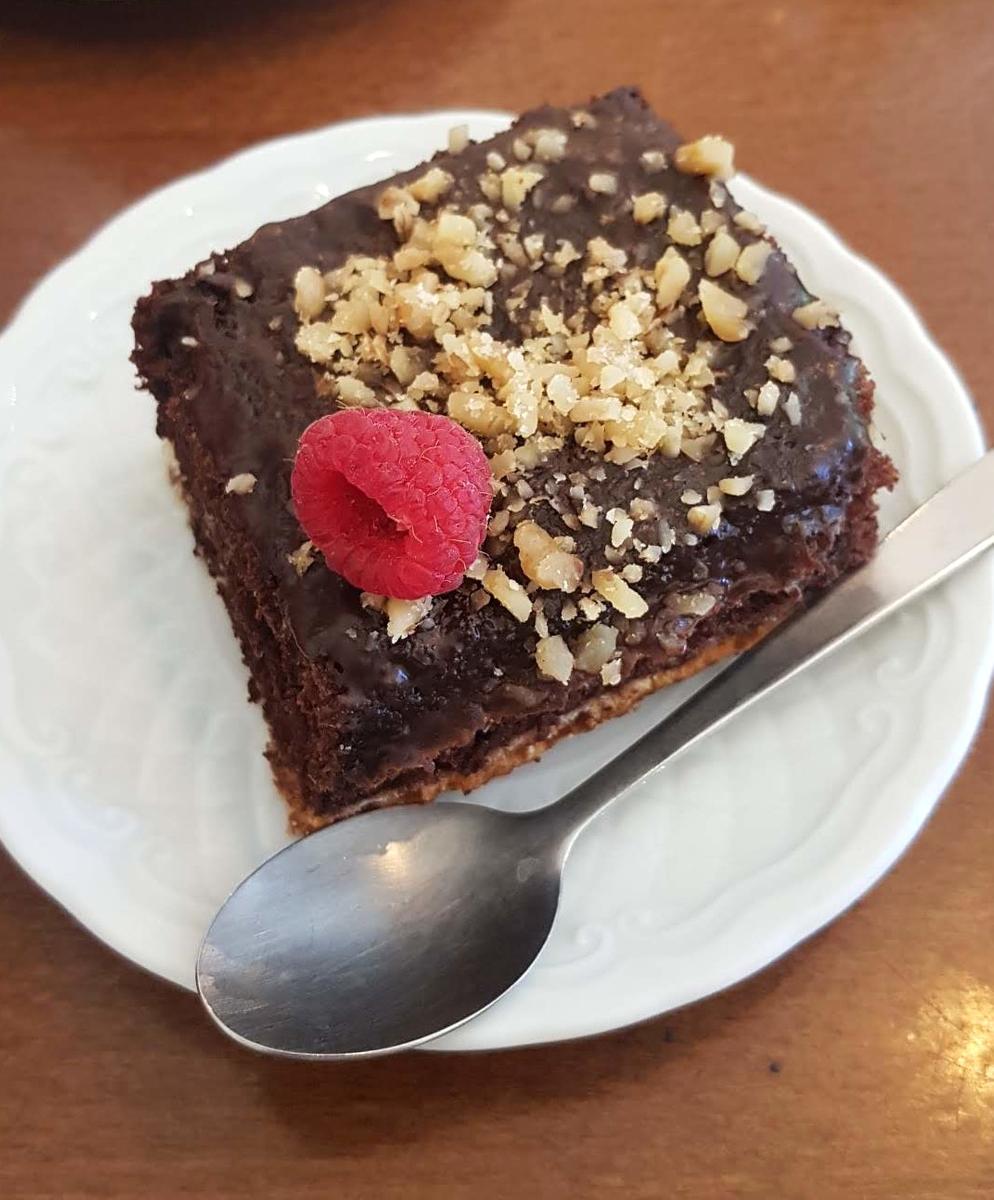 Delicious Apple Crumble with vanilla ice-cream: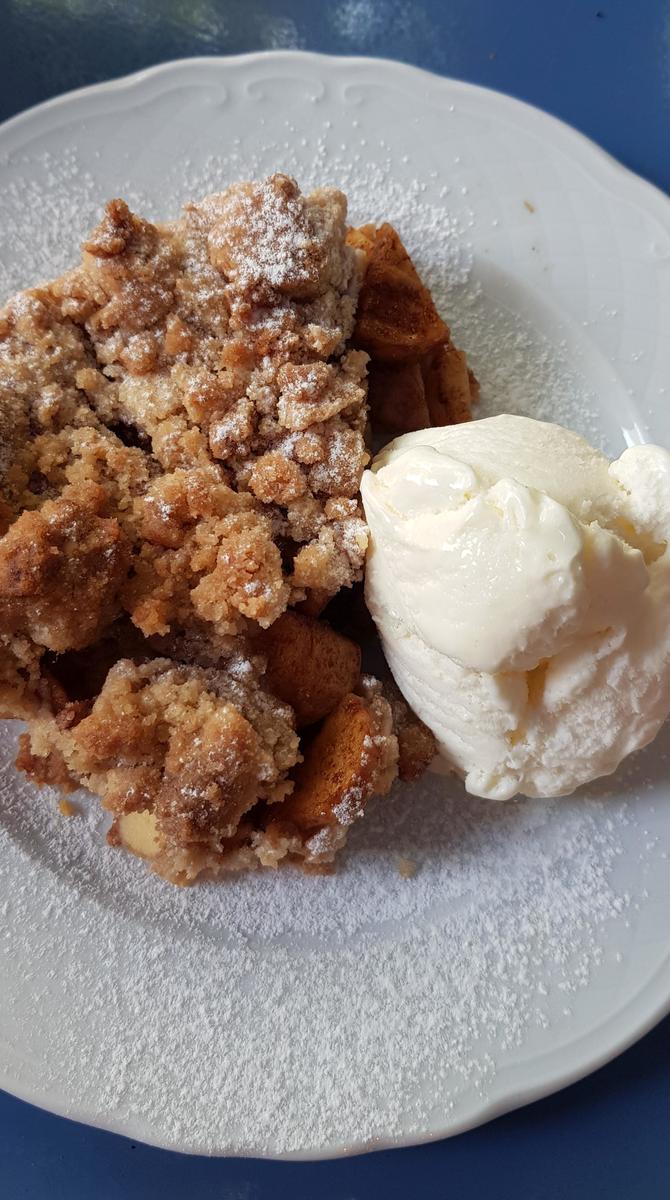 ---
9. Heim Cafe
Location: Rua Santos-O-Velho 2 e 4, 1200-109 Lisboa.
Instagram: @heimcafe.lisbon
If you have already done some research on places to have brunch in Lisbon, you will definitely have come across Heim Cafe already. It is located in the Santos area, just a few doors up from the aforementioned Zappi. It is no surprise how popular Heim Cafe is, the food is excellent and it is great value for money too. The biggest issue with Heim Cafe is that because it is so good, it is super popular which means it is hard to get a table! It is very rare that you will not have to queue for a table, especially during peak brunch/lunch hours. This is probably why we do not go there as much as we would like to, a severe lack of patience on our side and a high risk of becoming "hangry". They have another cafe called Seagull Method Cafe but again the few times we have tried to go there the queue was too long for us to wait.
Dishes We Love: Honestly, all of the brunch options are great it just depends what you are looking for!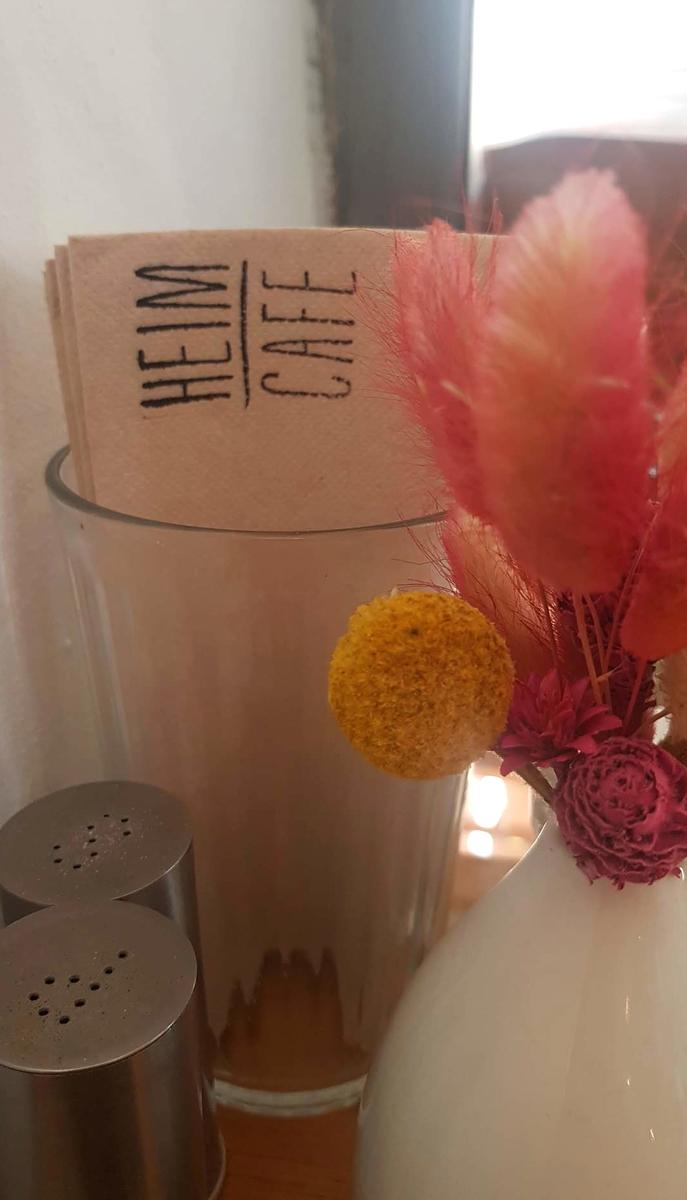 They have recently changed/updated their menu, so what you see here is actually what we had on various visits prior to the change of menu! The pancakes, muesli and lemonade below were part of a brunch option and came with the egg dish: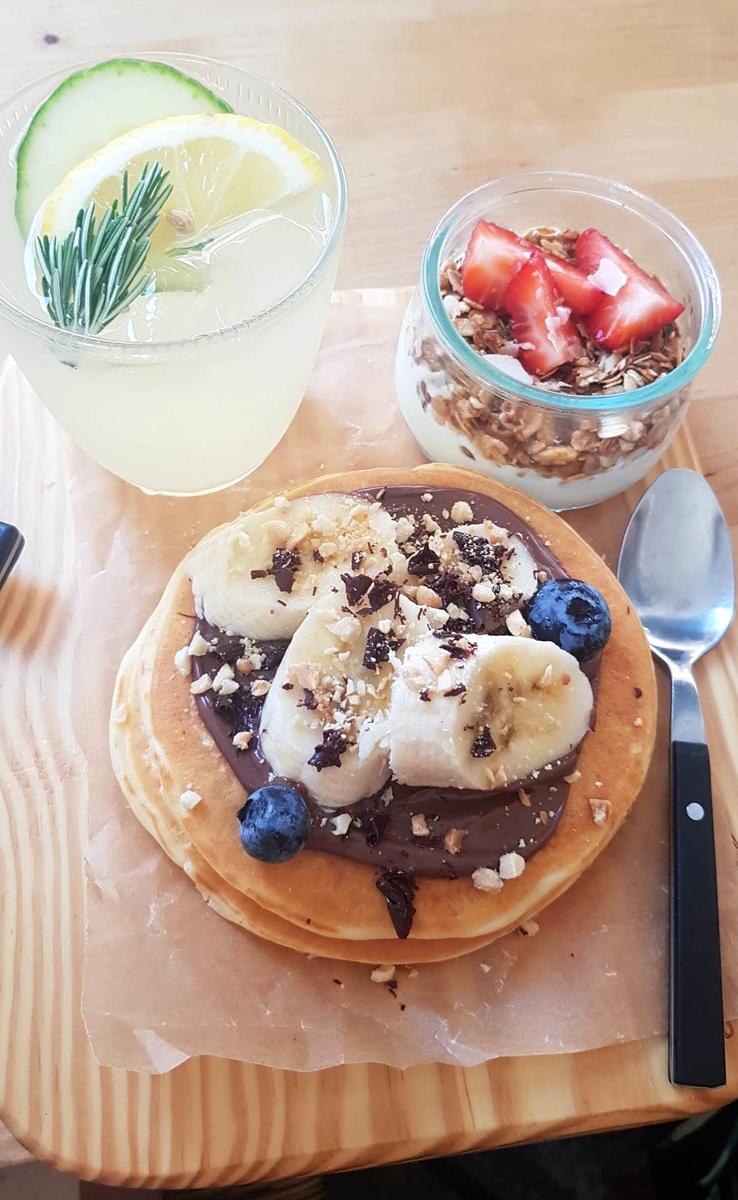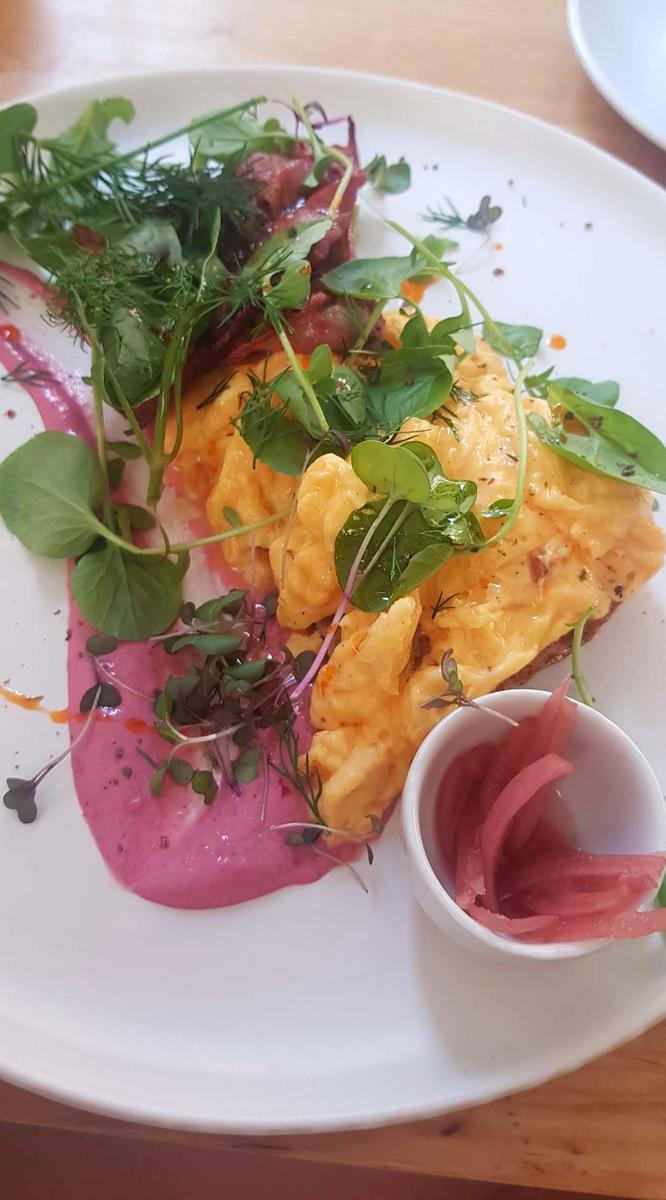 Another breakfast/brunch option. Oreo waffles, orange juice and muesli and the egg and salmon dish: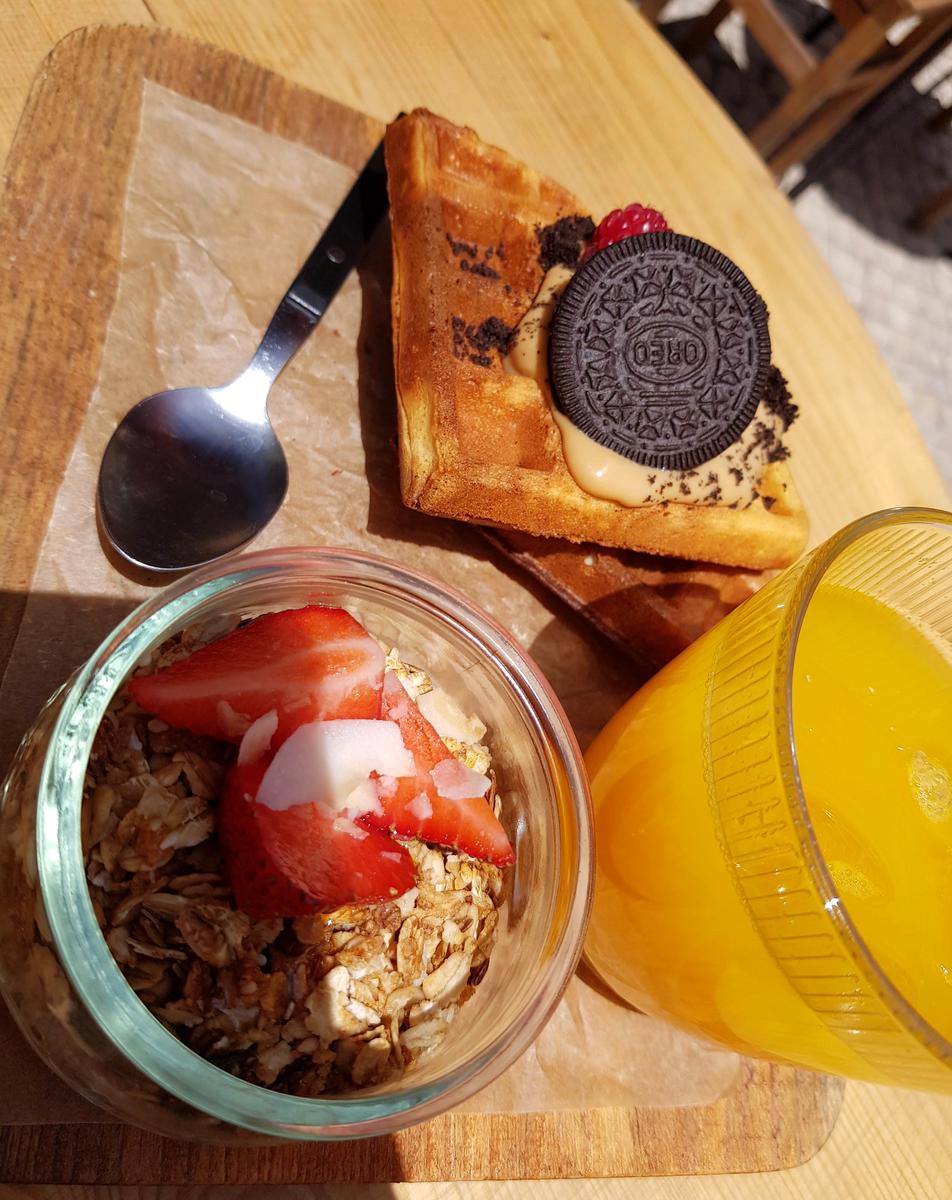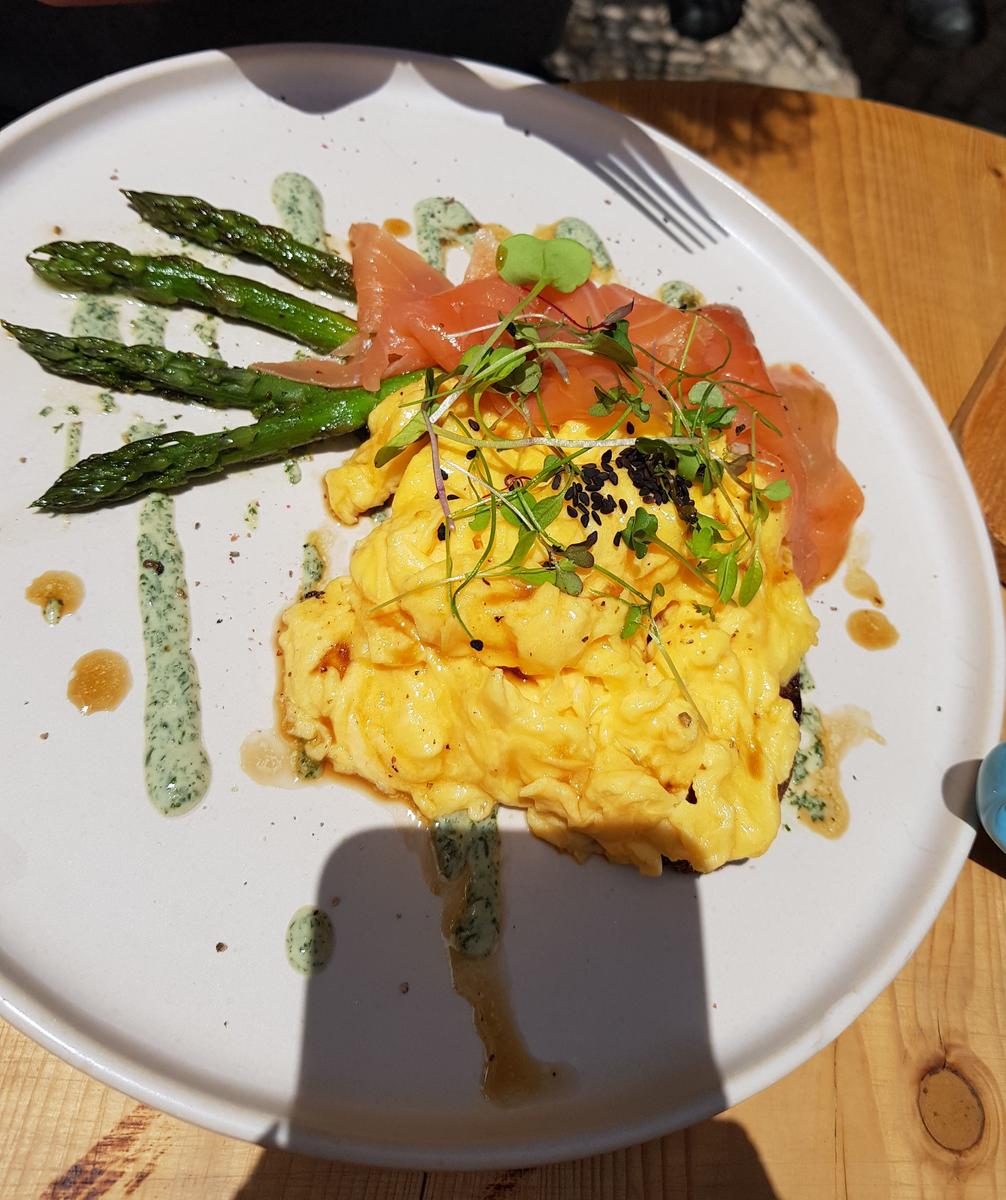 The "English Breakfast":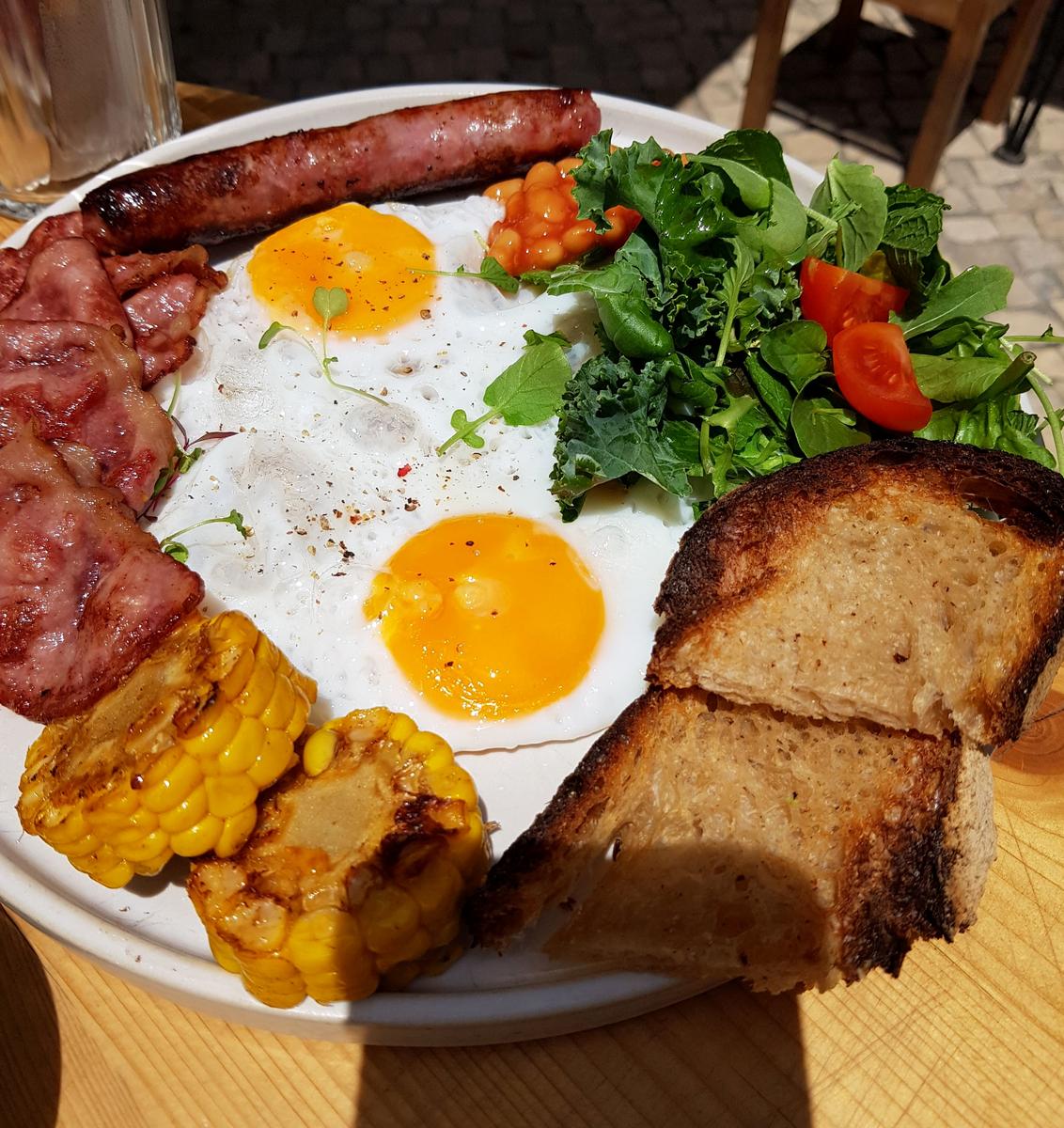 You will certainly never leave Heim Cafe hungry!
---
10. O Botanista
Location: Rua Dom Luís I 19, 1200-109 Lisboa.
Website: https://obotanista.eatbu.com/
O Botanista is a vegan restaurant located in Cais do Sodré. Both the exterior and interior of O Botanista is relaxing and comfortable, we love the art outside. We have only dined here for lunch (so far) but they open daily until 10pm (always check opening times directly due to Covid-19 etc.). They are very active on their Instagram @0botanista and we recommend looking out for their brunch offer and when you see it book your table immediately! I only have a few photos that were usable unfortunately; the food was great, the photos were not!
Dishes We Love: Hands down, the Gyosas!
The exterior (chopped photo to avoid having people dining in it):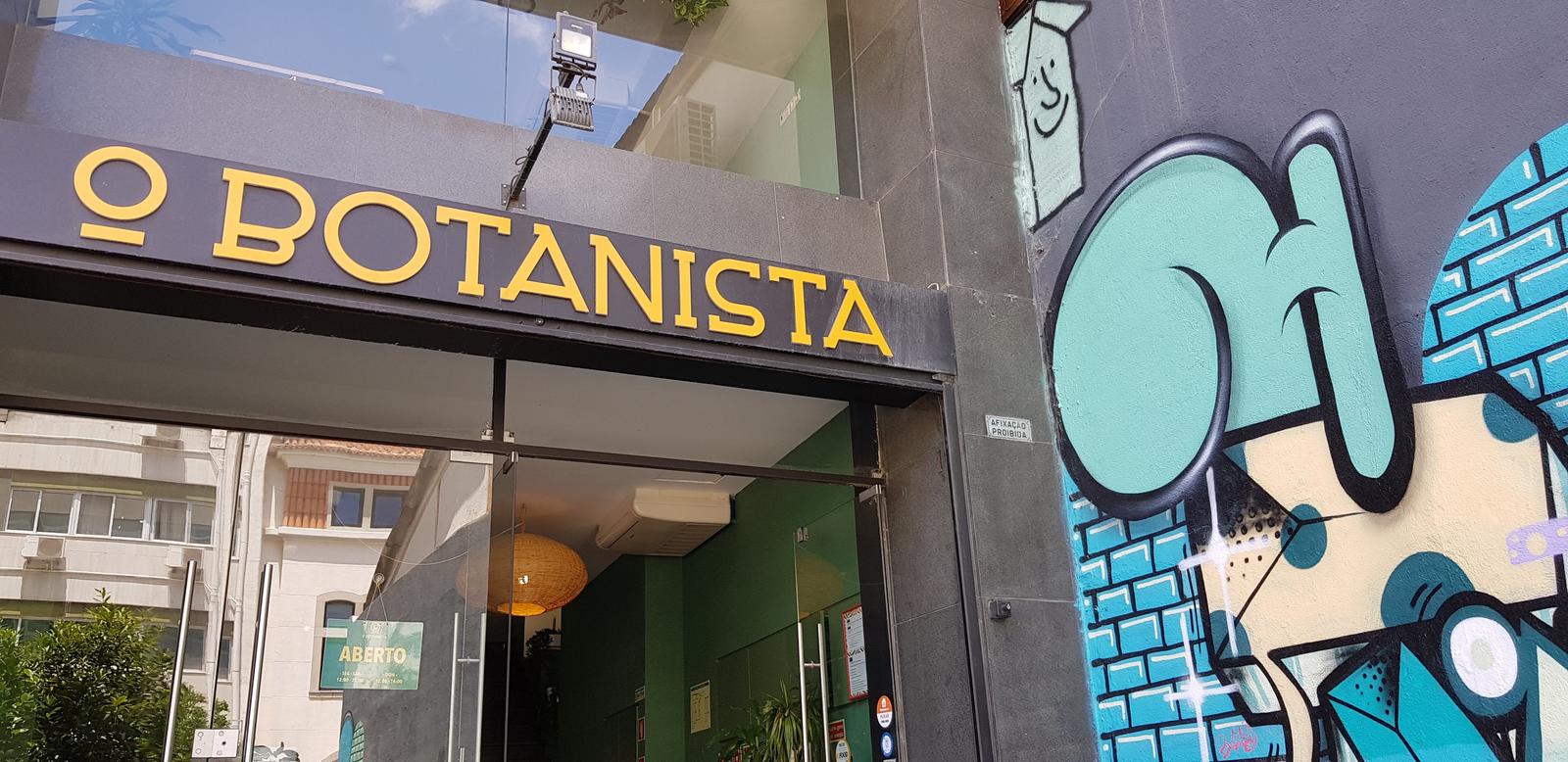 How good do these Gyosas look?!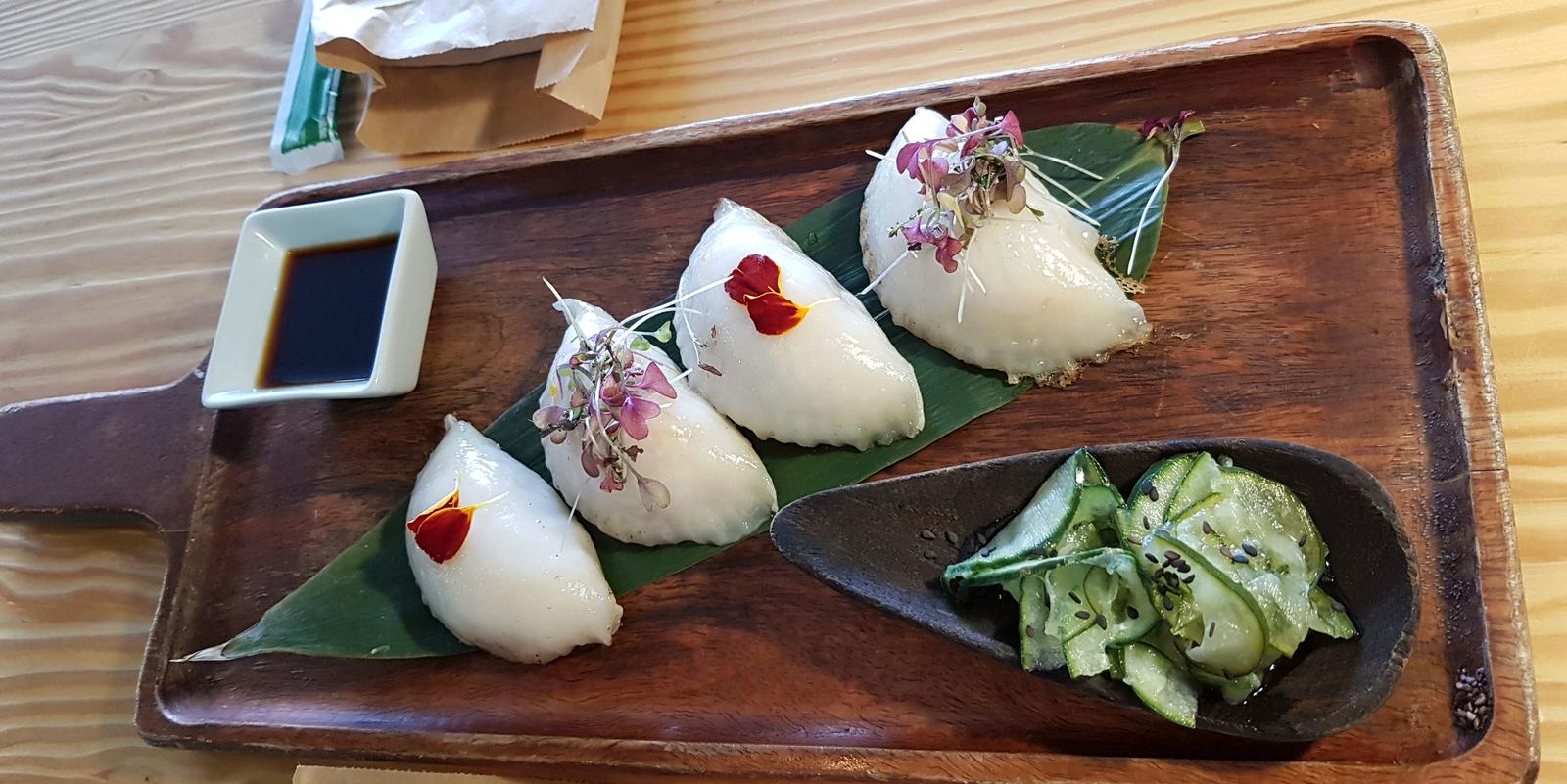 Nutty waffles: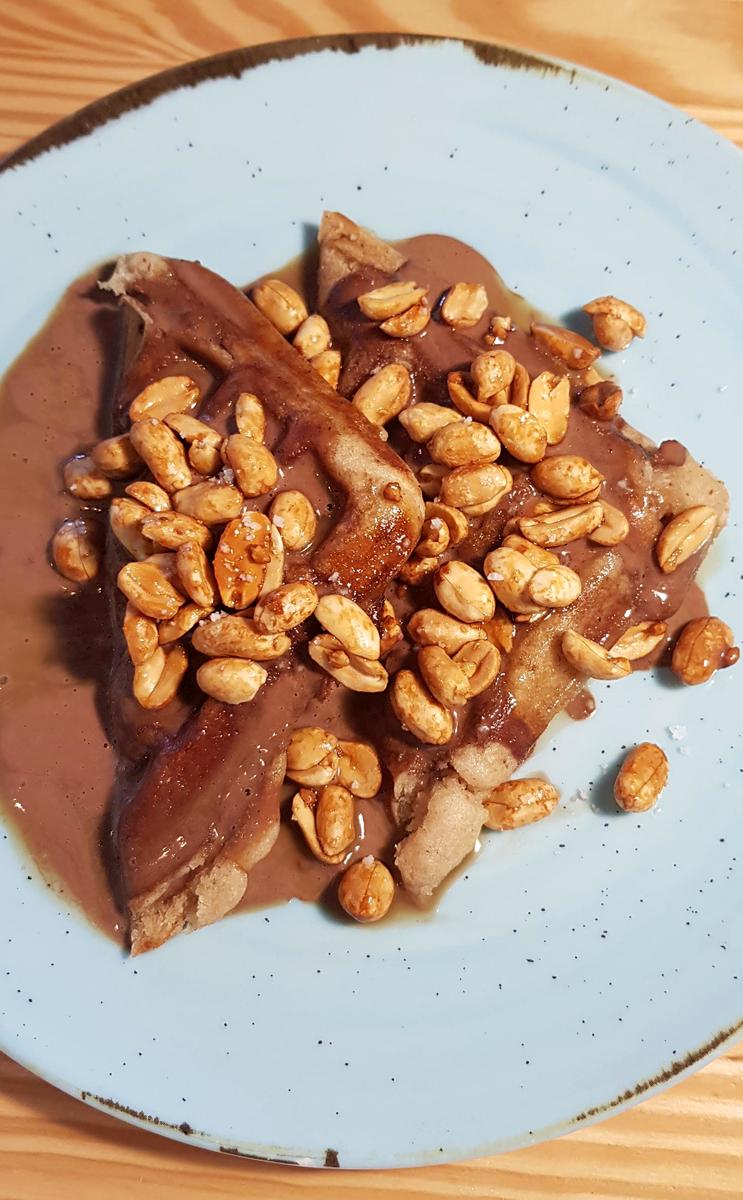 ---
11. Lupita Pizzeria
Location: Rua de S. Paulo 79, 1200-427 Lisboa.
Instagram: @lupita.pizzaria
Last but certainly not least is Lupita Pizzeria. During lockdown we were craving pizza and our search led us to Lupita! Since then we have ordered (all Ubereats) at least 20 times from here. While we have never dined in, they do have indoor and outdoor seating available. They are located across the road from previously mentioned Farès. Again, my photos are not great!
Dishes We Love: Vegans or vegetarians will love the Pizza Vegan, toppings include caramelised onion, baked mushrooms, vinaigrette of nuts and raisins, mint and lemon zest - a taste sensation not to be missed.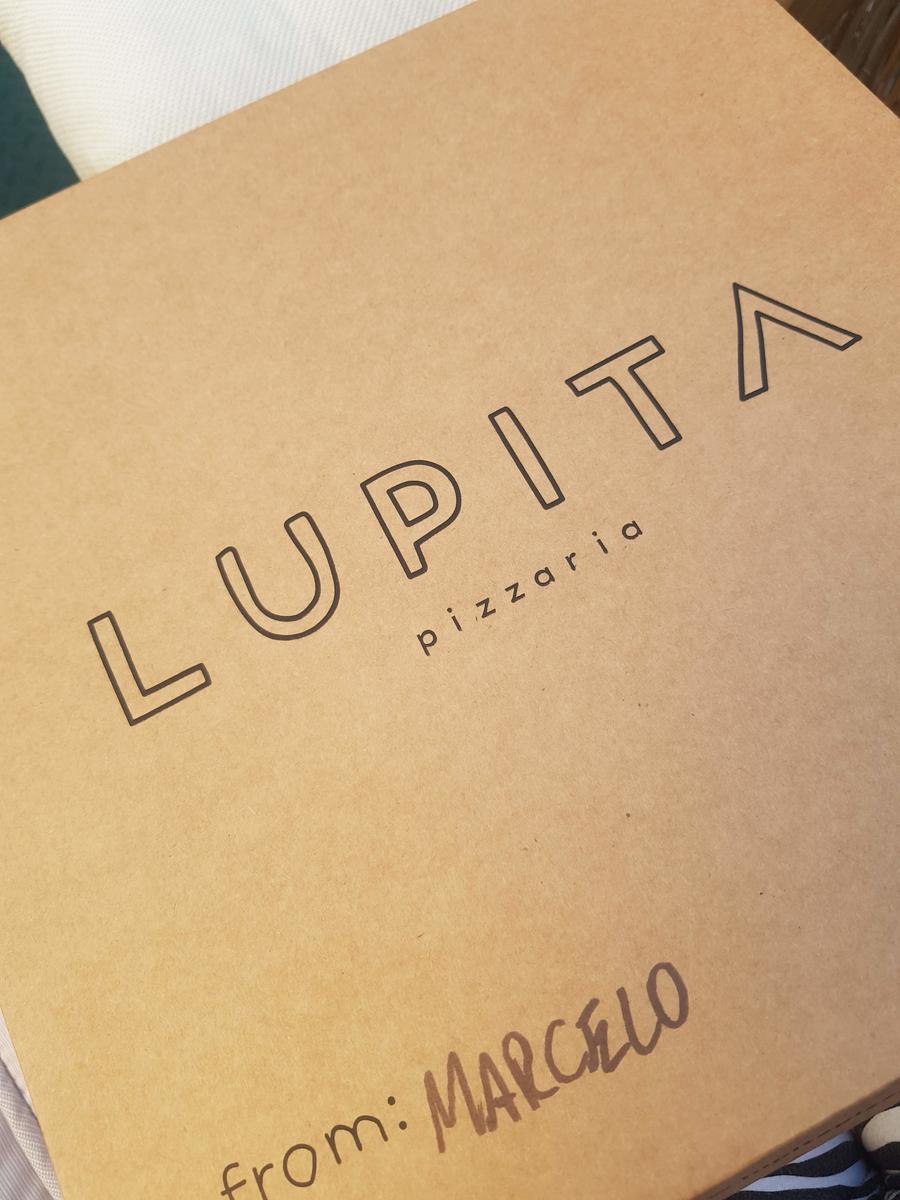 Here is the Vegan Pizza: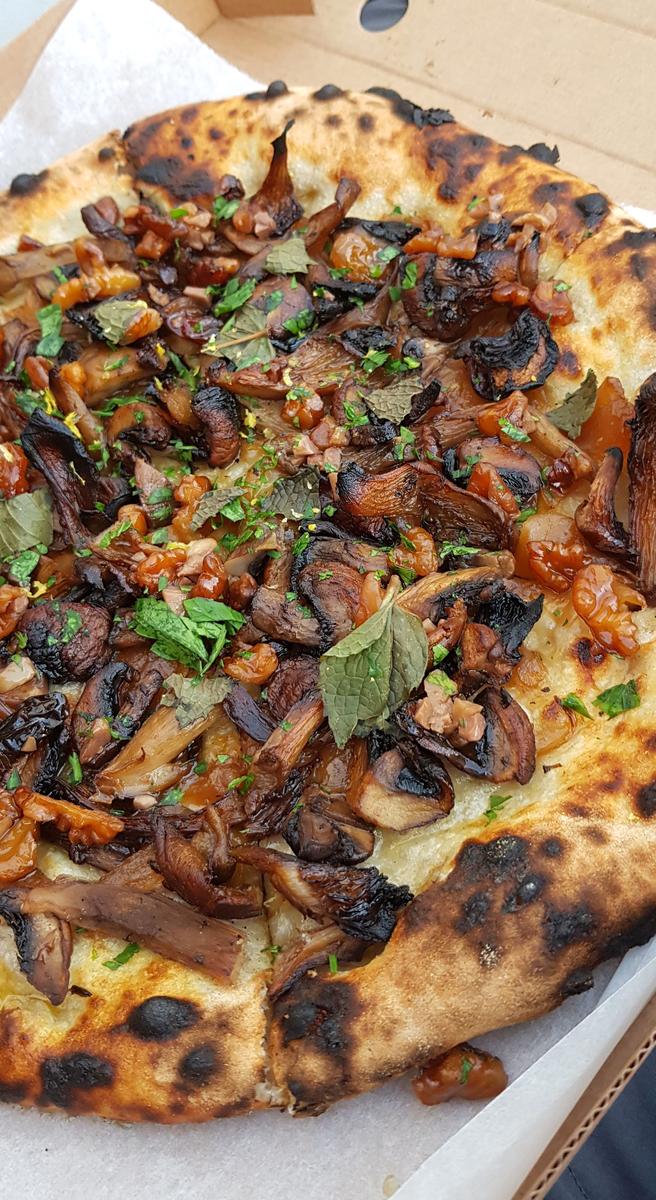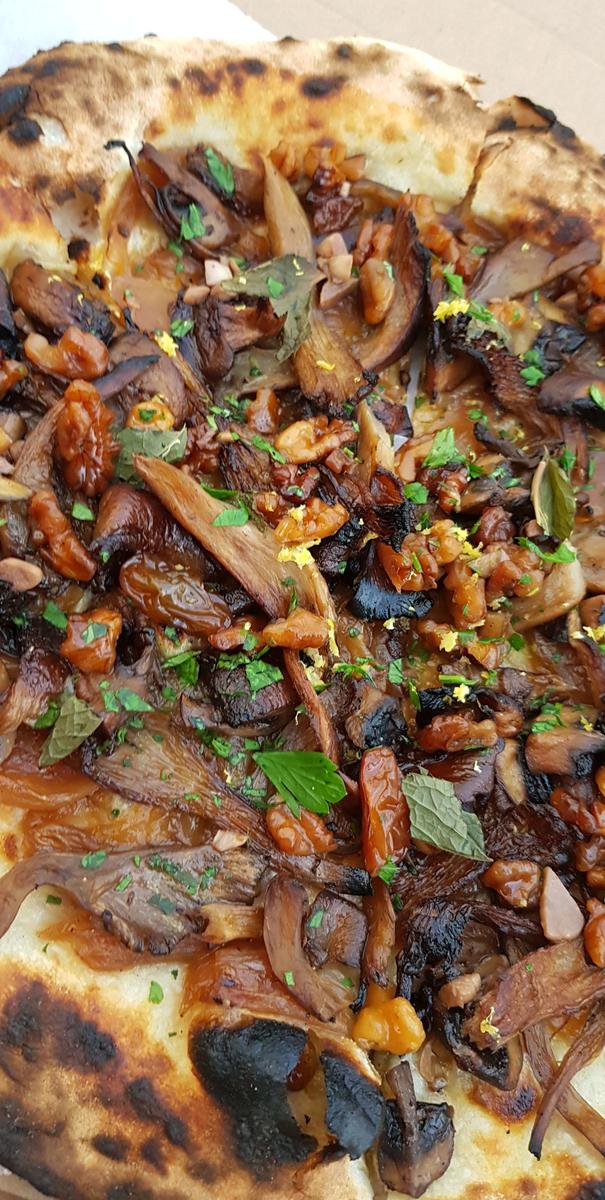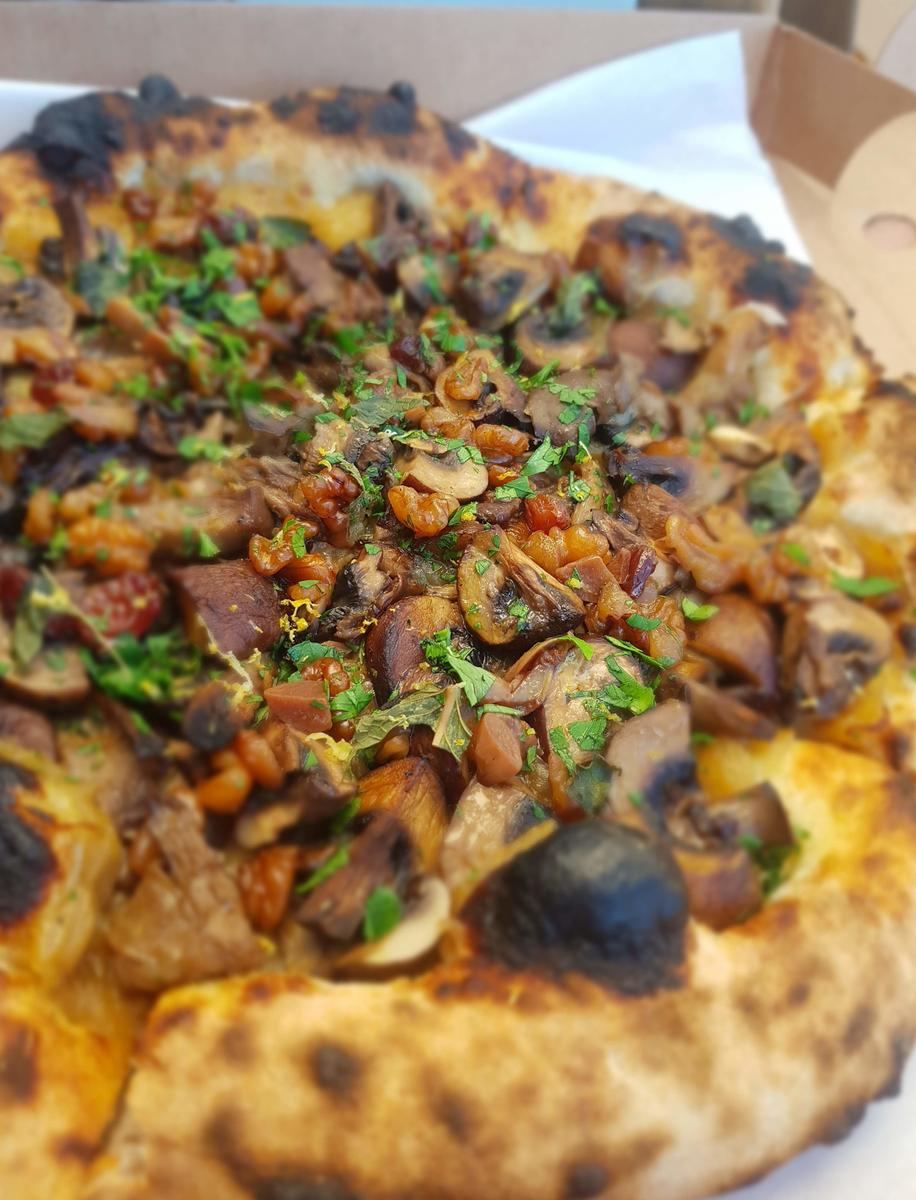 I am a big fan of pineapple on pizza (controversial I know) and so my most ordered pizza from Luipta is their Pizza Ananas: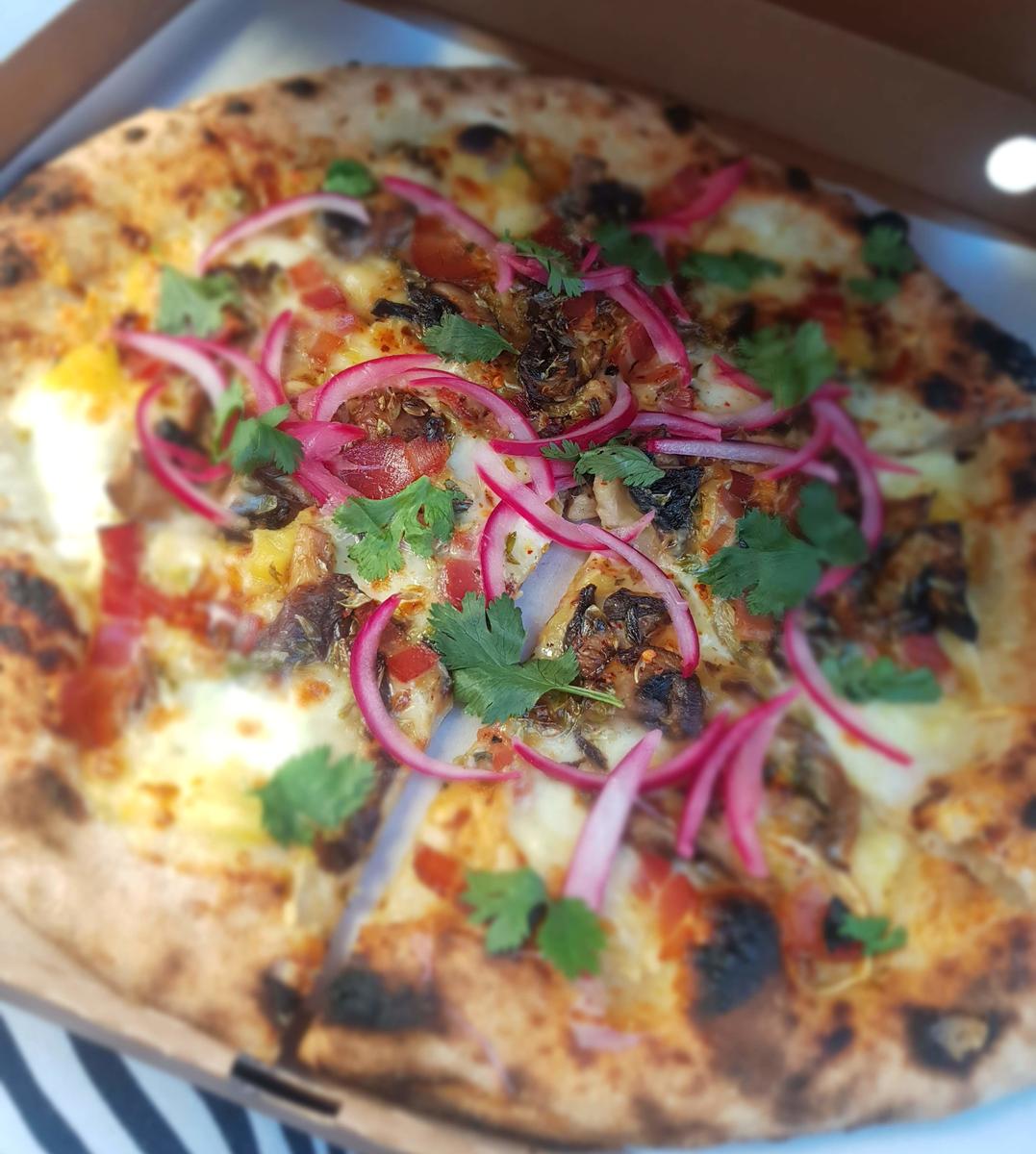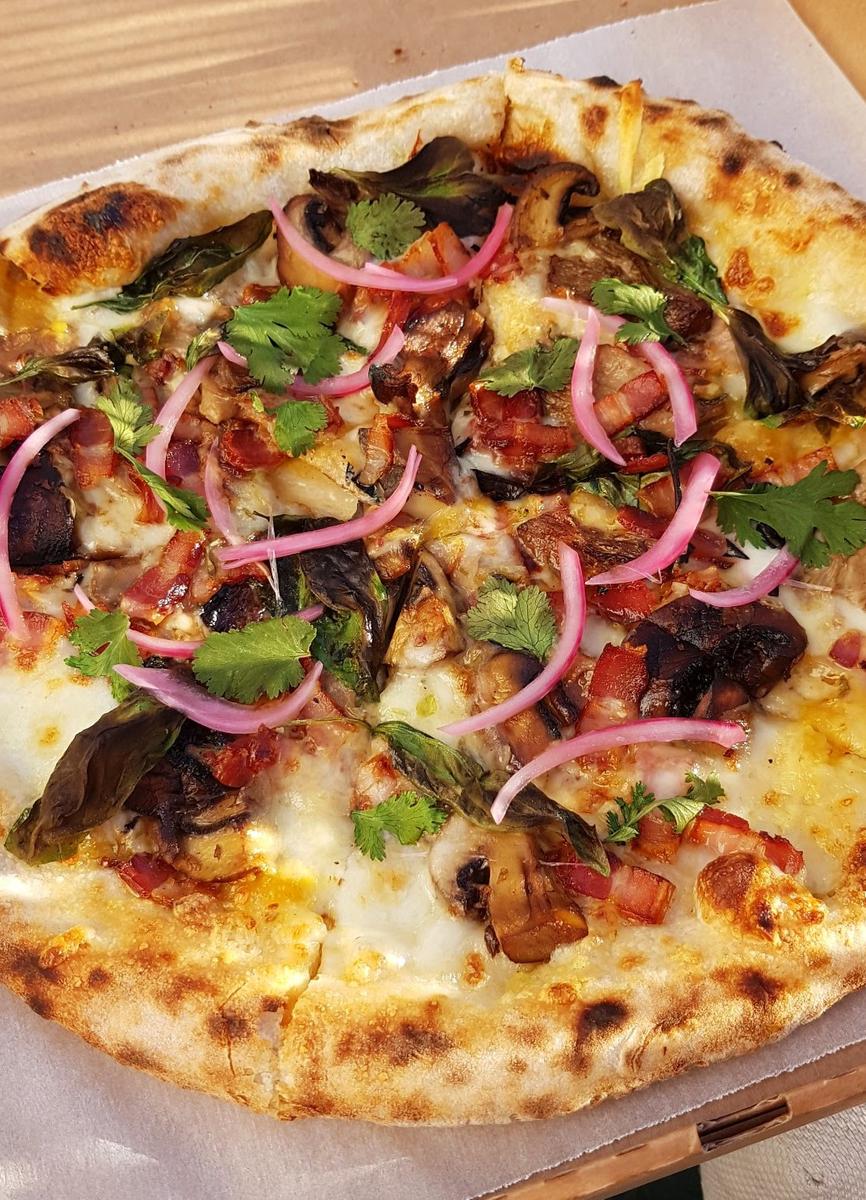 Below was one of their "limited time only" pizzas which had black pudding as one of the toppings: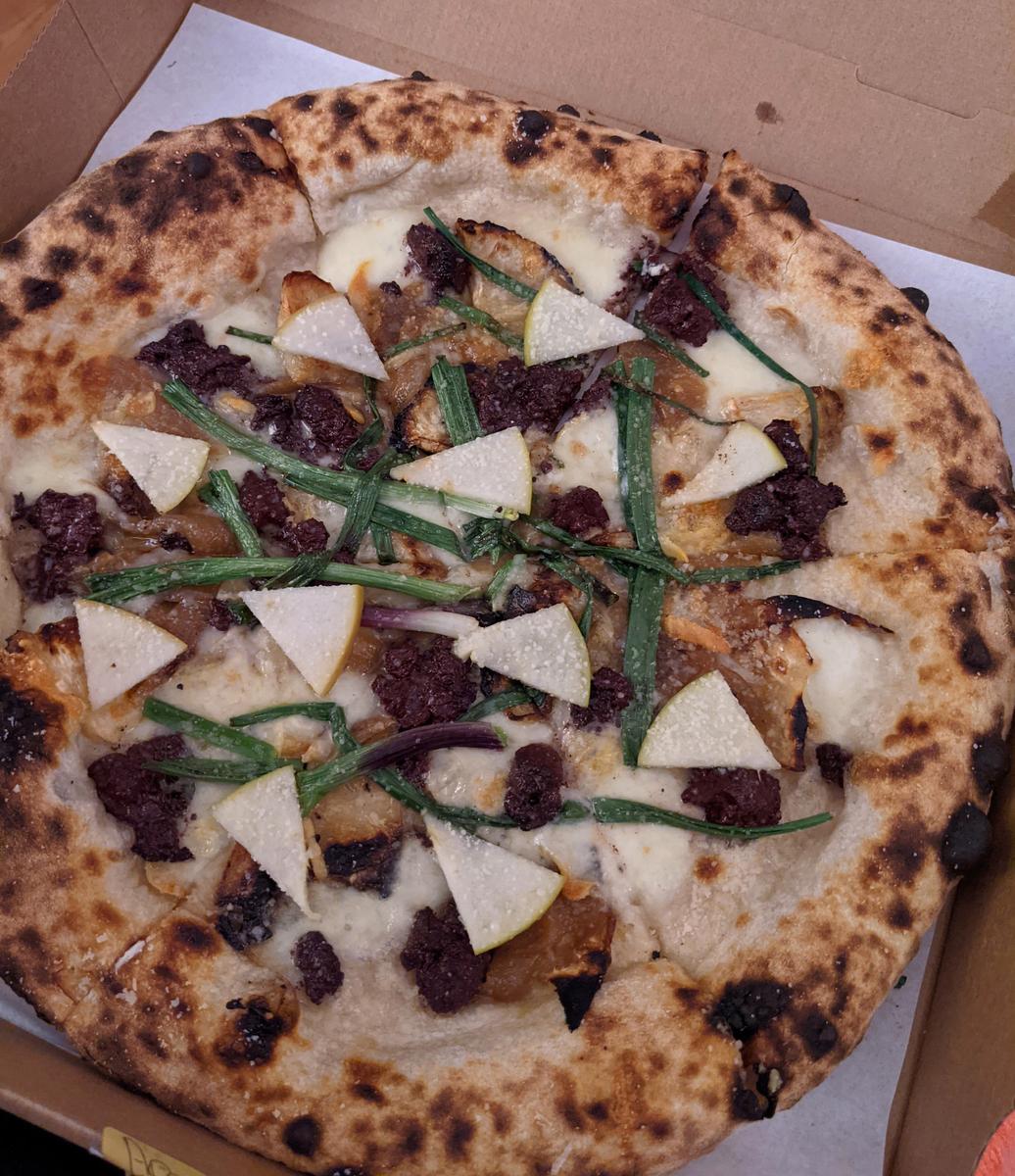 ---
EVEN MORE Great Vegetarian Friendly Restaurants in Lisbon:
When writing this blog it was soooo hard to narrow down our list so here are EIGHT additional equally worthy and highly recommended vegetarian friendly places to try, all of which we have written about before:
---
We really are spoiled for choice in Lisbon. If you do try any of the places mentioned we would love to hear your thoughts! Also, if you have suggestions of places we should try we would be absolutely thrilled to hear them too :-)
---
If you've any questions, suggestions or just want to say hello, contact me via the Contact Form, Instagram (@noroadlongenough) or By Email noroadlongenough1@gmail.com