It is definitely true that public transport is a great way to travel with your bike as it allows you to go further than you thought possible and complete routes that you considered unachievable. Here is what we have learned about travelling with bicycles and panniers!
So far, we have travelled from Ireland to France twice by ferry, travelled within France, Germany and Hungary by boat and train and travelled home to Ireland once via ferry and once via air.
GETTING THE FERRY FROM CORK, IRELAND TO ROSCOFF, FRANCE:
On our first bike tour in 2017 we decided to get the ferry from Cork to Roscoff, France. This was the easiest option for us for that trip. It meant the least amount of disruption to our gear and most importantly brought us close to where we wanted to start our bike tour. We later got the ferry back from Roscoff to Cork at the end of our bike tour. We also used this same ferry route in 2018 back to Roscoff for our second bike tour for the same aforementioned reasons.
We travelled to Roscoff with Brittany Ferries . Tickets for the ferry are pretty good value. In 2017 we paid €158 (in 2018 €163) for two adults, two bicycles and one inside 2 berth cabin with ensuite facilities and bunk style beds. This meant we were able to store our panniers in our cabin once we got onboard and get some sleep as the ferry takes about 14 hours (left Cork at 16.00hrs and arrived in Roscoff at 07.00hrs the following morning).
NOTE: There are other much cheaper options available for the ferry. You can book just a reclining seat for about €20! This would suit someone with less panniers or who is happy to leave them attached to their bike and not bothered about having a private space onboard.
Brittany ferries provides you with information about using their ferry with your bike on their website. Luckily on the first ferry we took we were not the only cyclists which was great as we were able to see what the other more experienced cyclists did with their bikes and gear.
In short, you arrive with your bike fully loaded. You check-in the same as car users and then queue to board. When told by ground staff, you walk your bike onboard to a particular area. They have staff to assist you with securing your bike (nothing high-tech, just some ropes to secure it). You then go with your panniers to your cabin. When you arrive at your destination the doors into the parking area will open and you load up your bike and you are ready to go, once again pushing it off the ferry (sometimes they let you cycle it on/off).
NOTE: While vehicle owners are instructed NOT to start their cars until they are signalled to drive off, pretty much everyone hops in and starts their vehicles straight away. This quickly turns the parking area into a toxic carbon cloud! Cyclists are meant to disembark first, but in our experience this did not happen. Our advice is to be assertive and as soon as you are ready with your bikes catch the attention of one of the ground staff and get yourself off the ferry so as to avoid the "carbon cloud"!
One major advantage of travelling by ferry is that you can avoid having to pay extra for additional checked bags as you would with an airline (we have four panniers each). It also meant we did not have to disassemble or pack up our bikes so we were ready to go when we arrived (this was particularly helpful on our first tour when we had less experience and knowledge of our bikes).
---
BOATS/FERRIES WHILE TOURING:
Many times along our cycle routes we have had to get local ferries/small boats to bring us across sections of the river we were following, such as the Danube. They are easy to use, you can walk on and walk off with your bike. They usually only take 5-10 minutes. You normally pay the driver of the boat, just have some coins ready.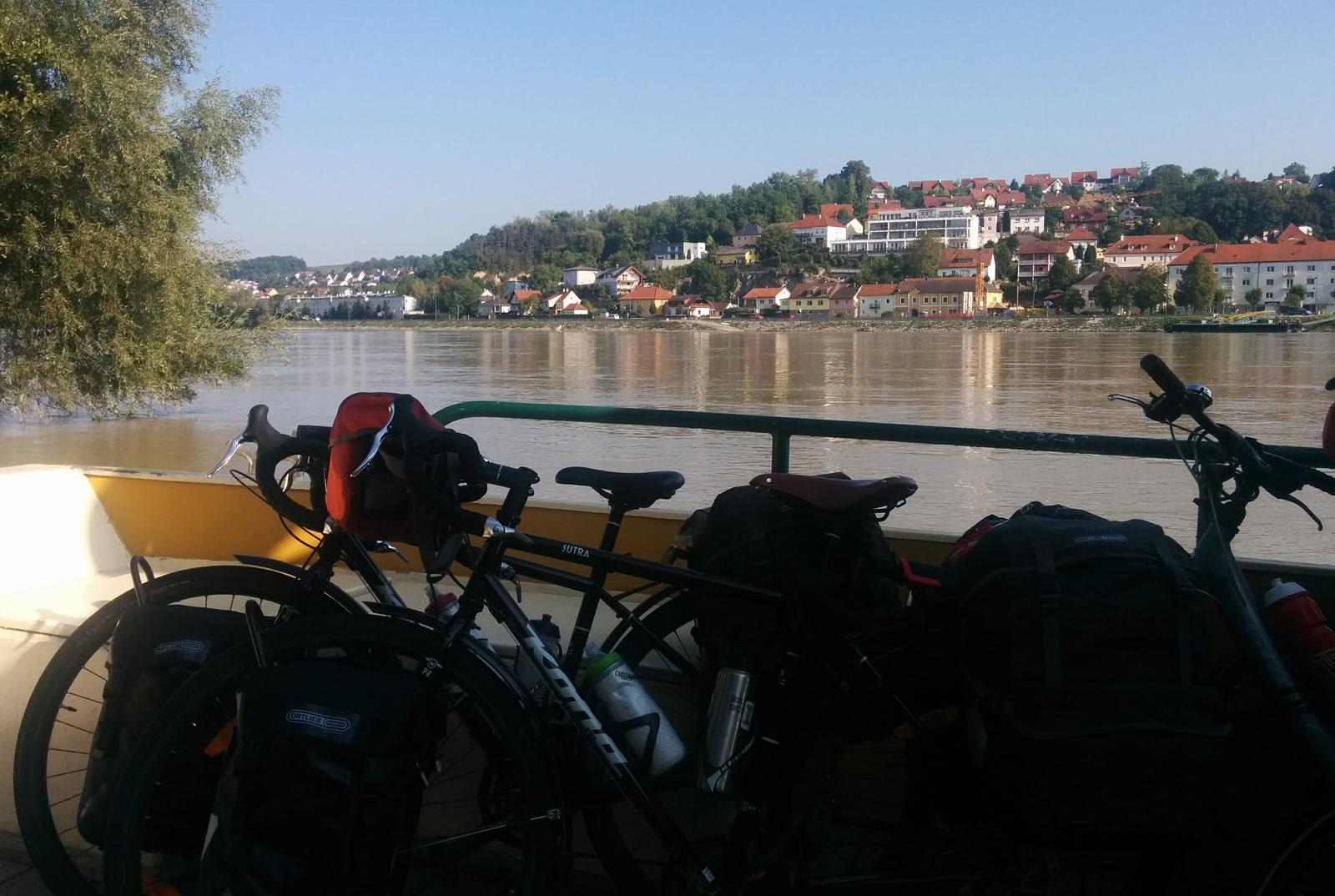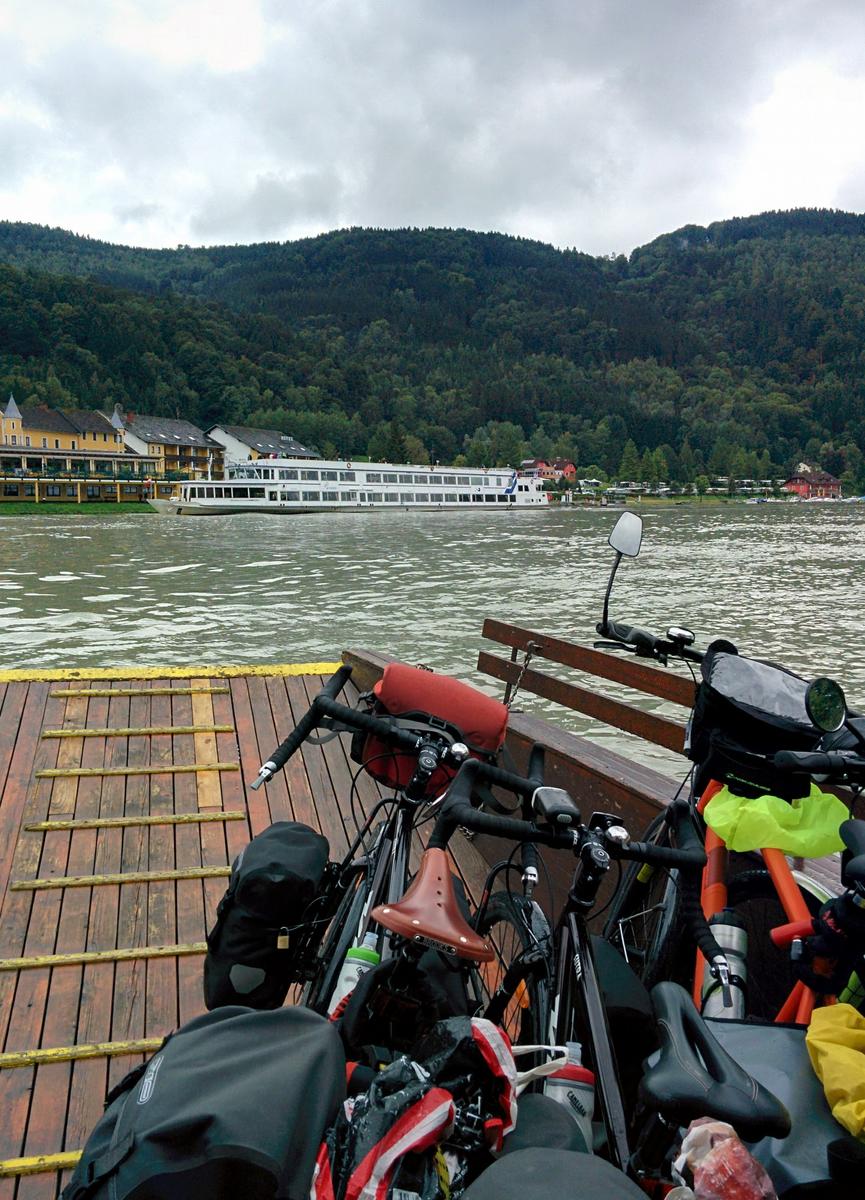 NOTE: It is advisable to check the times of the boat crossings so you can plan to cycle and arrive 5-10 minutes before. We once missed a boat by minutes (we could see it pulling into the other side of the river) and had to wait 1 hour for it to come back as that was the schedule.
---
FLIGHTS:
Direct flights to the beginning of your cycle route are super handy but you do need to allow yourself some extra time to sort out your bike and panniers when you land, before you can begin your tour. It is also really convenient to fly home to your local airport when you are finished. We flew back from our bike tour in 2018 to our local airport in Cork and this was so handy as we were collected from the airport and didn't need to worry about reassembling our bikes when we landed as we weren't using them to get home.
Before flying home, we each purchased a large gear bag from Decathlon in Düsseldorf (we flew home from Düsseldorf) a few days before our flight. I then repacked the contents of our panniers and the empty panniers into these HUGE bags. This meant that we only needed to check one bag each for the flight, so this saved us money!
Most airlines let you book a bike online or by phone subject to availability and obviously there is a charge to do so. We paid €50 per bike with Aer Lingus last year from Düsseldorf to Cork.
Be sure to check the airlines policy or regulations regarding how the bike needs to be presented for check-in. Some airlines require the bike to be boxed, others let you check it in unboxed. Most airlines will require you to turn the handlebars parallel, remove the pedals and partially deflate the tyres. I would also recommend adding padding to the dérailleurs, removing the saddle and securing the front wheel to prevent it moving around.
I read up on the pros and cons of each method online. I think without a box (but padded and certain items removed etc.) is easier for you and might mean your bike is less likely to be thrown around by the baggage handlers or have items stacked on top of it, as a box would be. The advantage of using a box is that you could pack some personal items and empty panniers around the bike to save on baggage charges.
NOTE: From my reading of popular bike related online forums it is not unheard of for bikes to get damaged when transported via air (think of those burst suitcases you sometimes see). Be sure you pack/pad your bike well, especially vulnerable areas such as gears/cassettes. It is something to keep in mind if you are planning on setting up your bike, panniers and cycling somewhere all on the day you arrive/land. It might be better to spend your first night close to the airport in case something is broken when you land and you can't cycle until you get it fixed. You could book two different accommodation options (with free cancellation), one close to airport and one where you ideally want to cycle to and cancel one when you land!
For further information on flying with your bike check out this great article by Cyclinguk.
---
TRAINS:
For train travel it is essential that you book your bike space in advance and pay to do so, in addition to your normal train ticket. In our experience it can be difficult to buy the bike tickets online and we usually visit a human in a train station prior to travelling to buy our tickets. This means we can also ask to be seated in the same carriage as the bicycles which makes life so much easier.
With trains in France, Germany and Austria we have had mixed experiences. For trains, the correct etiquette is to remove your panniers before lifting your bike onto the train. Once onboard you then secure and lock it in its designated space, store your panniers somewhere and take your seat. When departing you again lift off your bike and panniers and setup your bike once on the platform.
We have had some great experiences where we simply rolled the bikes on, locked them in their place, stored the panniers and sat down to enjoy the rest. Other times we have been given completely unsuitable bike storage spaces that not even a magician could fit a bike into and your mind boggles at who designated it a bike area.
On one occasion in France we ended up getting moved to a first class carriage where we stored our bikes next to us and enjoyed a luxurious train ride. This was due to the fact that the bike area stated on our tickets did not exist nor did our seats; the conductor was as confused as us!
Another time, in Rennes, France, they left it so late to announce the platform for our trains departure (we had allowed plenty of time at the station arriving 30 minutes ahead of departure time but they only announced it 5 minutes before departure) we had no way of getting down to the platform (where the train was waiting) except via an escalator (people were watching us with their mouths open in shock)! This was not safe or enjoyable, try holding onto a fully loaded touring bike and keeping yourself upright while going down a moving escalator! We were lucky that our train was easy to negotiate and quiet on that occasion. We were able to push our bikes on and it departed immediately. Once moving we unloaded and packed away the panniers and secured the bikes in their spaces (we were too tight on time to remove all the panniers before getting on).
Sometimes the train carriages have 2 or 3 high steps up into them so you are forced to negotiate these with your bike and panniers, as quickly as possible! Easier said than done! On one occasion in Germany, we met four lovely men also bike touring and they very kindly helped us lift our fully loaded bikes (everyone was loading their bikes before getting off so we did the same) off the train, down those three high steps onto the platform before rushing off to catch their next train.
I think the worst part of train travel is that you really don't know what you are going to get until the train pulls in; what type of train it will be, will it be easy or hard to use. I do think that in general the trains which service the more common bike touring routes are definitely easier to use; they are designed with the knowledge that 1000s of bike tourers use them yearly, such as the train from Roscoff to Morlaix in France.
I will leave you with our main train travel tips:
TRAIN TIPS:
Buy your train ticket and your additional bike ticket in advance.
Try to be seated in the same carriage as your bike.
Arrive at the station in plenty of time.
Find out your train departure platform as early as possible so you have some time to remove your panniers and get organised before the train arrives.
There are usually maps of the trains layout displayed at the platforms. These allow you to see what the train looks like and where your carriage will be when the train pulls in. This means you can stand and wait in the correct area of the platform i.e. A, B, C, D etc.
It has never failed us to alert one the train conductors, for our train, that we are travelling with bikes and luggage. They will generally advise you and ensure you get onboard the right carriage. Also if there is an issue you can call on them to sort it out for you.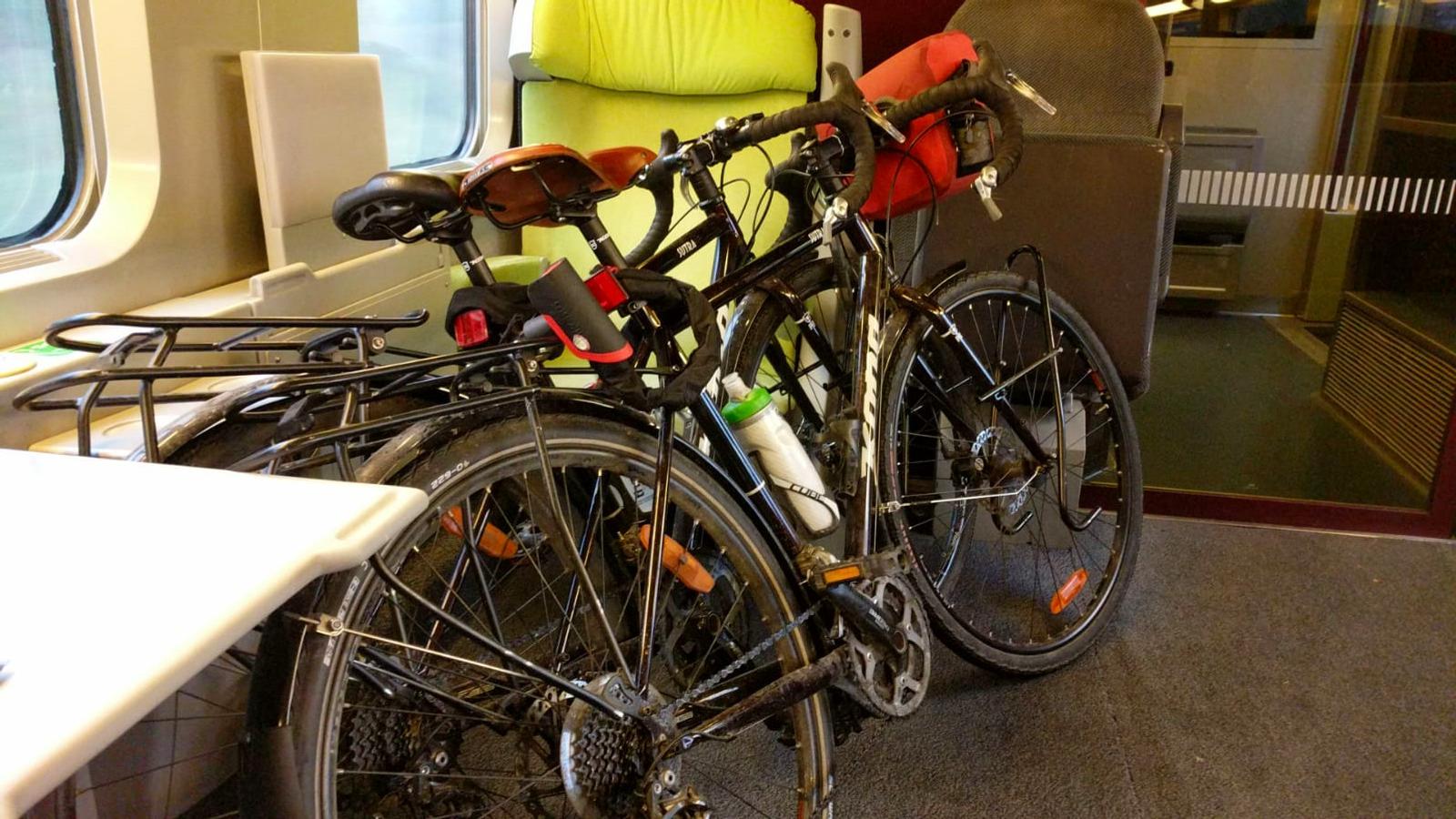 ---
As always, thanks for reading and we hope you get something useful from this article. We would love to hear your experiences of travelling with your touring bikes!
---
More Bike Touring Blogs:
If you liked this blog you might like some of our other bike touring blogs too so we have attached some links below to make it easier for you to find them:
Even more noroadlongenough bike touring blogs available here.
---
If you've any questions, suggestions or just want to say hello, contact me via the Contact Form, Instagram (@noroadlongenough) or By Email noroadlongenough1@gmail.com