A Little Background Information!
Where is the Cinque Terre?
The Cinque Terre National Park is located in the province of La Spezia in Liguria, Northern Italy. It's position on the coast of Italy (on the Italian Riviera) makes it one of the most stunning places we have ever been especially on a sunny day!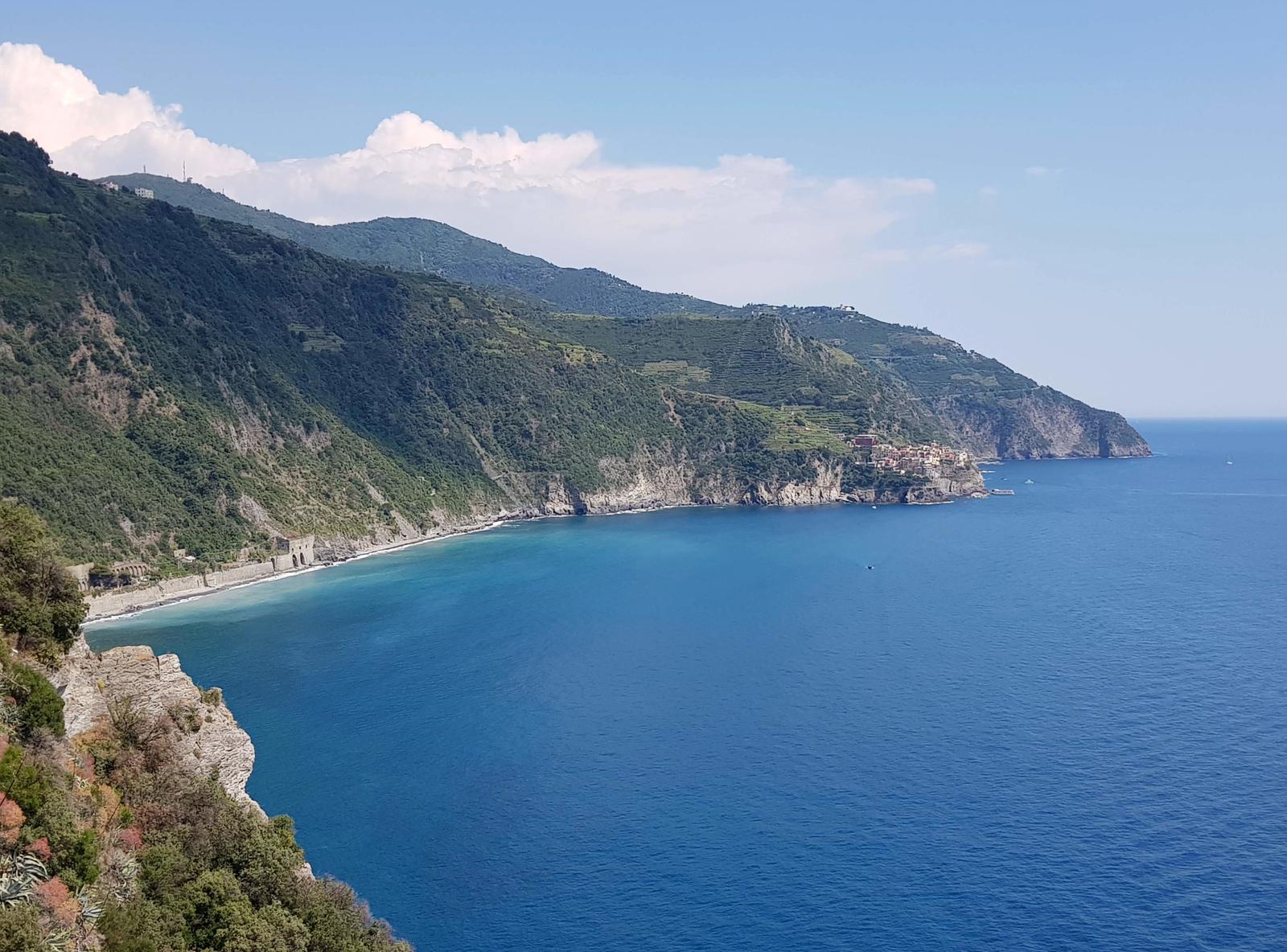 As explained here, within the territory of Cinque Terre are five medieval villages, all of which are UNESCO World Heritage Sites since 1997. The five villages that make up the Cinque Terre, from North to South are Monterosso al Mare, Vernazza, Corniglia, Manarola and Riomaggiore (more about these later).
---
Top Tips for Your Visit to Cinque Terre!
The Cinque Terre Card
As the Cinque Terre is a National Park, a Cinque Terre Card exists which gives you access to the trails, paths and more (keep reading). They are available to purchase online, at all the railway stations of the Cinque Terre's villages as well as at the La Spezia and Levanto train stations. Cards can also be purchased in tourist information centres and from bus drivers in the five villages of the Cinque Terre. For more information see here.
According to incinqueterre.com the card includes:
Use of bus services within each of the five villages. Each village has a bus connecting it with nearby places of interest.
Entrance to the Blue Path #2, a hiking trail that connects all five Cinque Terre villages.
Free entry to some museums in the Cinque Terre Park.
Use of Wifi (more details can be obtained at the time of purchasing your Card).
Use of the toilets at the stations (Normally €1).
Unlimited travel by train (costs about €8 extra).
If you are only visiting a Cinque Terre village and not using any of the connecting paths, you do not need a card.
---
Where to Stay?
We stayed in La Spezia and took the train to Cinque Terre for both of our days hiking. Basing ourselves in La Spezia was the most practical option for us as we were bike touring so cycling into Cinque Terre, while it would have been beautiful, it would also be hard going on our fully loaded bikes with the hilly terrain. Anyway, we wanted a break from cycling and to explore by hiking!
The waterfront in La Spezia: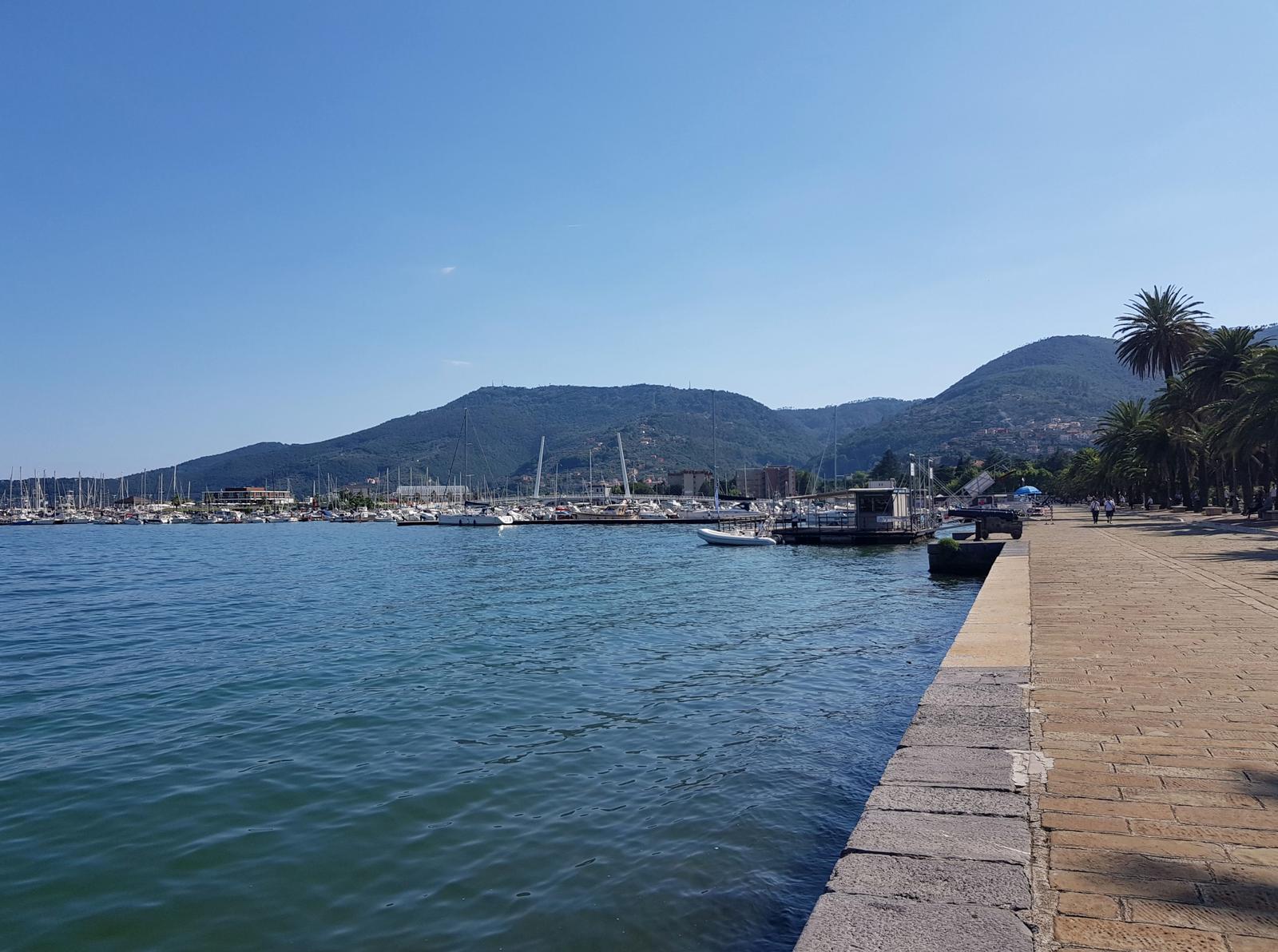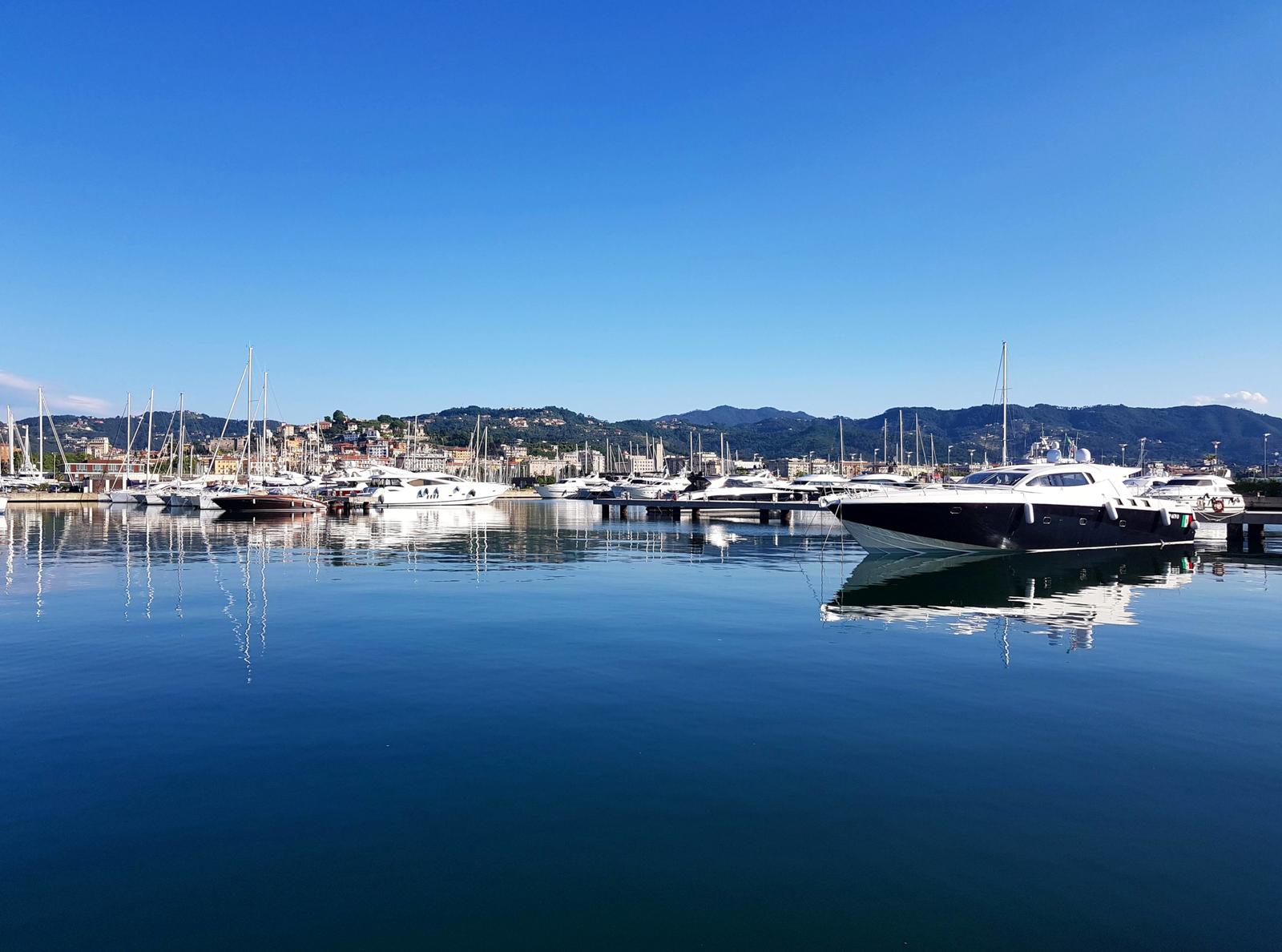 I would highly recommend staying in La Spezia. There are a few major advantages of doing so.
There is an abundance of accommodation options available in La Spezia as it is a decent sized city with a population of approximately 94,000.
Accommodation prices are very reasonable. We stayed in a gorgeous Airbnb (contact us if you want the details) and the hosts were fantastic.
There is lots to do and see in La Spezia so you could easily spend a day exploring the city itself.
You will find a great variety of dining and drinking options as you would expect from a city of its size.
If you are travelling on a budget and want to self-cater, there are of course large supermarket chains. Moreover, there are also plenty of cheap dining options in La Spezia.
If you do want to stay within Cinque Terre it is important to highlight that the villages are small and very busy especially during peak season. You can expect to pay more for accommodation and will need to book your accommodation well in advance. Of course, restaurants, cafes, bars etc. in the five main villages of Cinque Terre tend to be more expensive due to their location.
---
Getting to Cinque Terre from La Spezia:
By Train:
Getting the train from La Spezia to Cinque Terre is easy and inexpensive. The main train station of La Spezia is located at Piazzale Medaglie d'Oro, 19122 La Spezia. Trains run frequently between La Spezia and the five main villages of Cinque Terre during the day (this can vary seasonally so always check in advance). The train ride from La Spezia to the closest of the five villages, Riomaggiore, takes only 10 minutes.
By Boat/Ferry:
You can get a boat/ferry from La Spezia to any/all of the five main Cinque Terre villages and also to beautiful Porto Venere. Porto Venere is also a UNESCO World Heritage Site but it is not one of the official Cinque Terre villages as it lies just outside the boundary. It is well worth a visit in our opinion. Here is a view of Porto Venere from the hiking path we took from Riomaggiore (you can read about that hike here).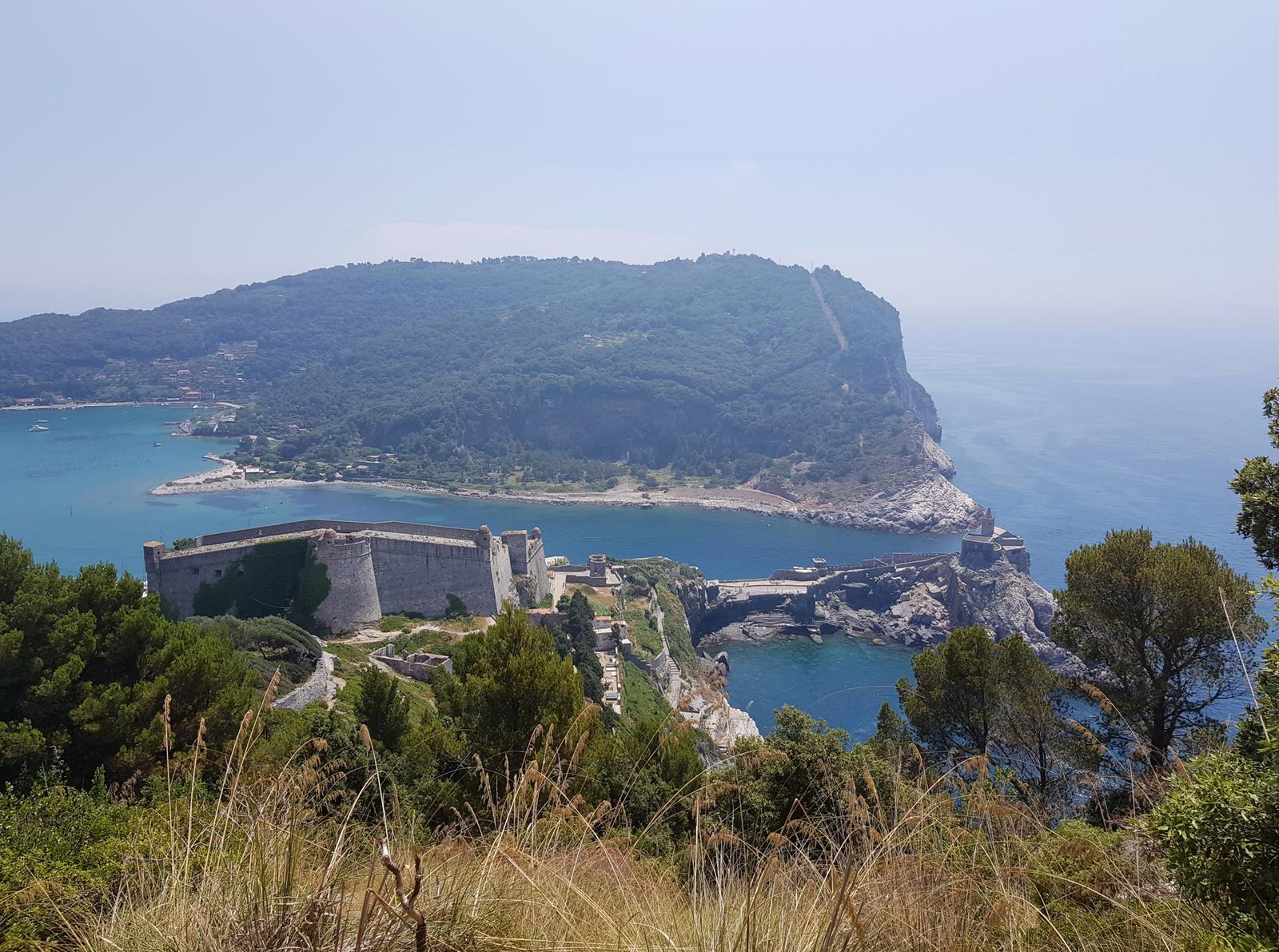 You can also get a boat/ferry from Porto Venere to any of the five villages of Cinque Terre.
If the weather is good and you are not caught for time, travelling by boat would be a great way to see the area and this stunning section of the Italian Riviera coastline. There are public and private boat options so what you choose largely depends on your budget, availability and the times of operation that best suit your schedule.
Find the 2019 Cinque Terre Boat Timetable PDF here.
By Car:
If you are thinking of travelling by car to Cinque Terre there are a few things that you should consider first. In general, travelling by car around Cinque Terre is not recommended. The villages of Cinque Terre have extremely narrow, winding, cobbled streets. Much of the central areas of the villages are pedestrianised and/or cars are completely prohibited from entering them. So, if you do wish to visit any of the villages you will most likely have to park in the outskirts and walk into the village. Parking spaces can be hard to find and prices for parking tend to be expensive.
I think it is safe to say that you should be a confident and experienced driver to attempt driving around the Cinque Terre region (and Italy in general).
My Recommendation?
I think getting the train from La Spezia to any/all of the Cinque Terre villages, even if you are staying over, would be far easier, less stressful and more enjoyable than driving. You could also definitely fit in a boat trip along the way for part of your visit to see the stunning coastline up close and get a different perspective on the area.
For more general information on all transport to Cinque Terre see here.
---
Getting around Cinque Terre:
To recap, the five villages that make up the Cinque Terre, from North to South are:
Monterosso al Mare
Vernazza
Corniglia
Manarola
Riomaggiore
Of course, it is advisable and more practical to start your visit in either Monterosso al Mare and make your way South, or begin in Riomaggiore and make your way North, if you wish to visit all five villages.
Once you are in Cinque Terre, the easiest ways to move between these five villages is by train, by boat or on foot (hiking).
We got to see four of the five villages over our two days. Monterosso, Corniglia and Riomaggiore we visited and walked around. Vernazza we only saw from the distance on our first day hiking in Cinque Terre and we did not visit Manarola. Our next trip to Cinque Terre will definitely include a hike from Corniglia to Riomaggiore.
Monterosso al Mare: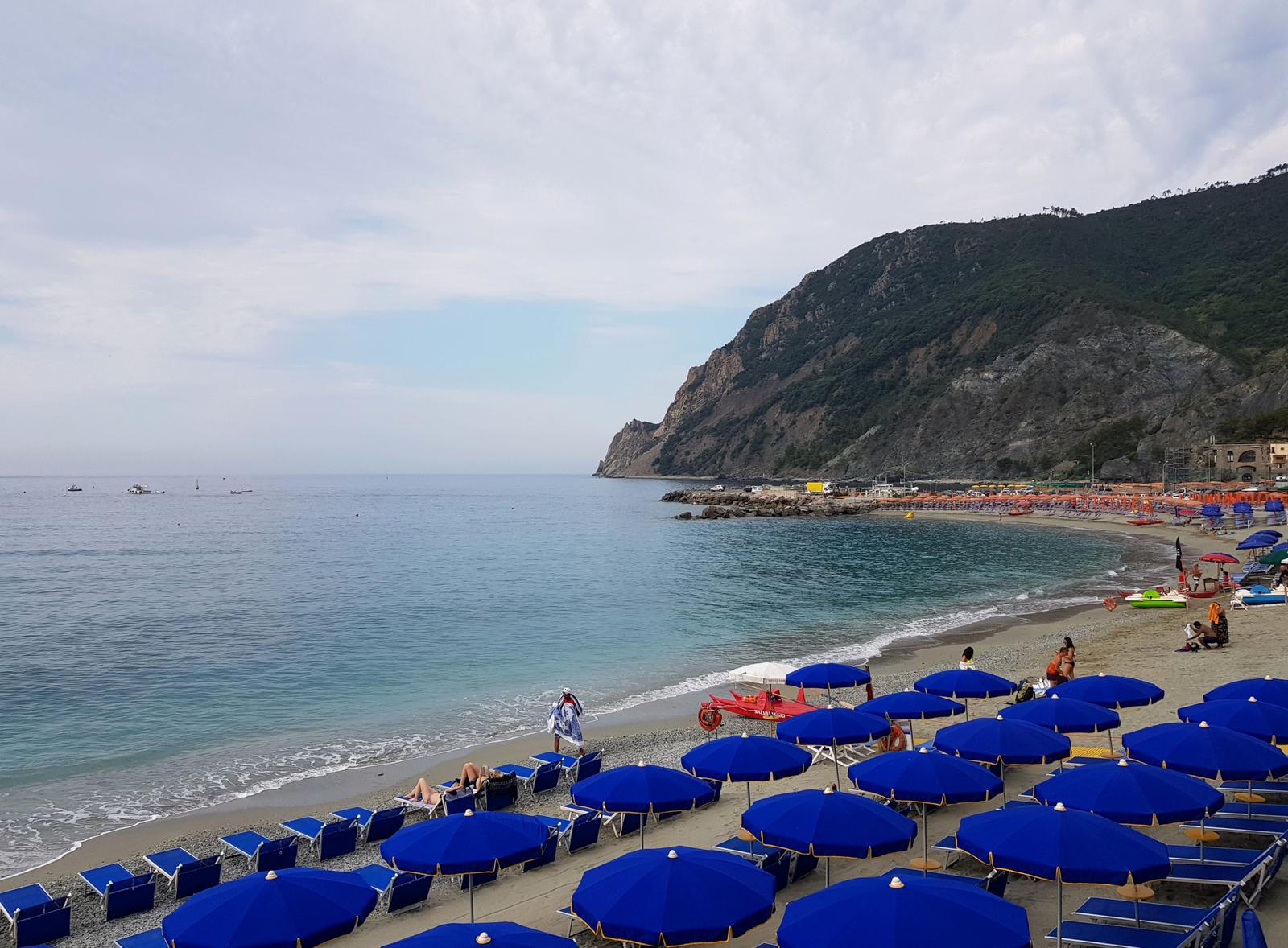 Vernazza: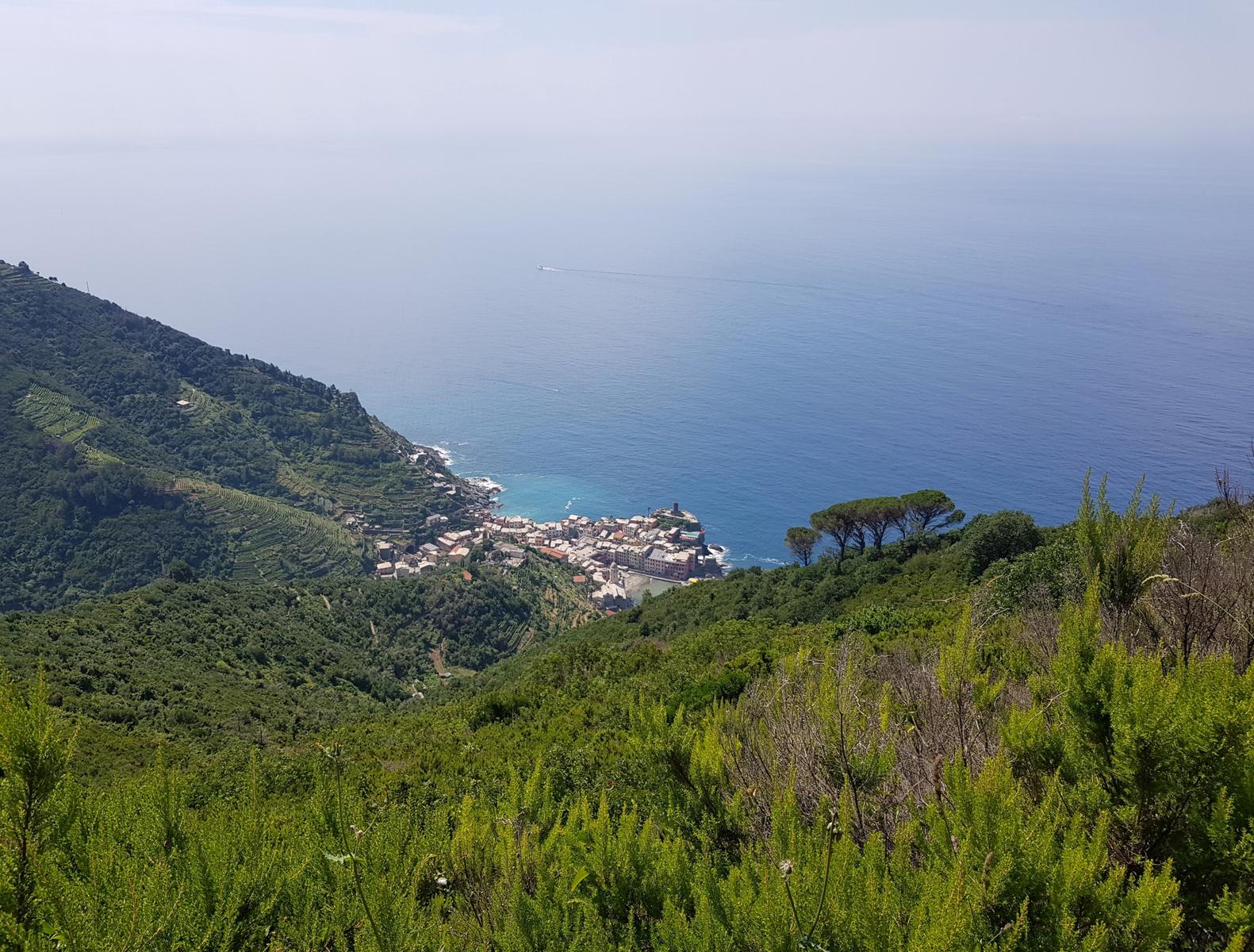 Corniglia: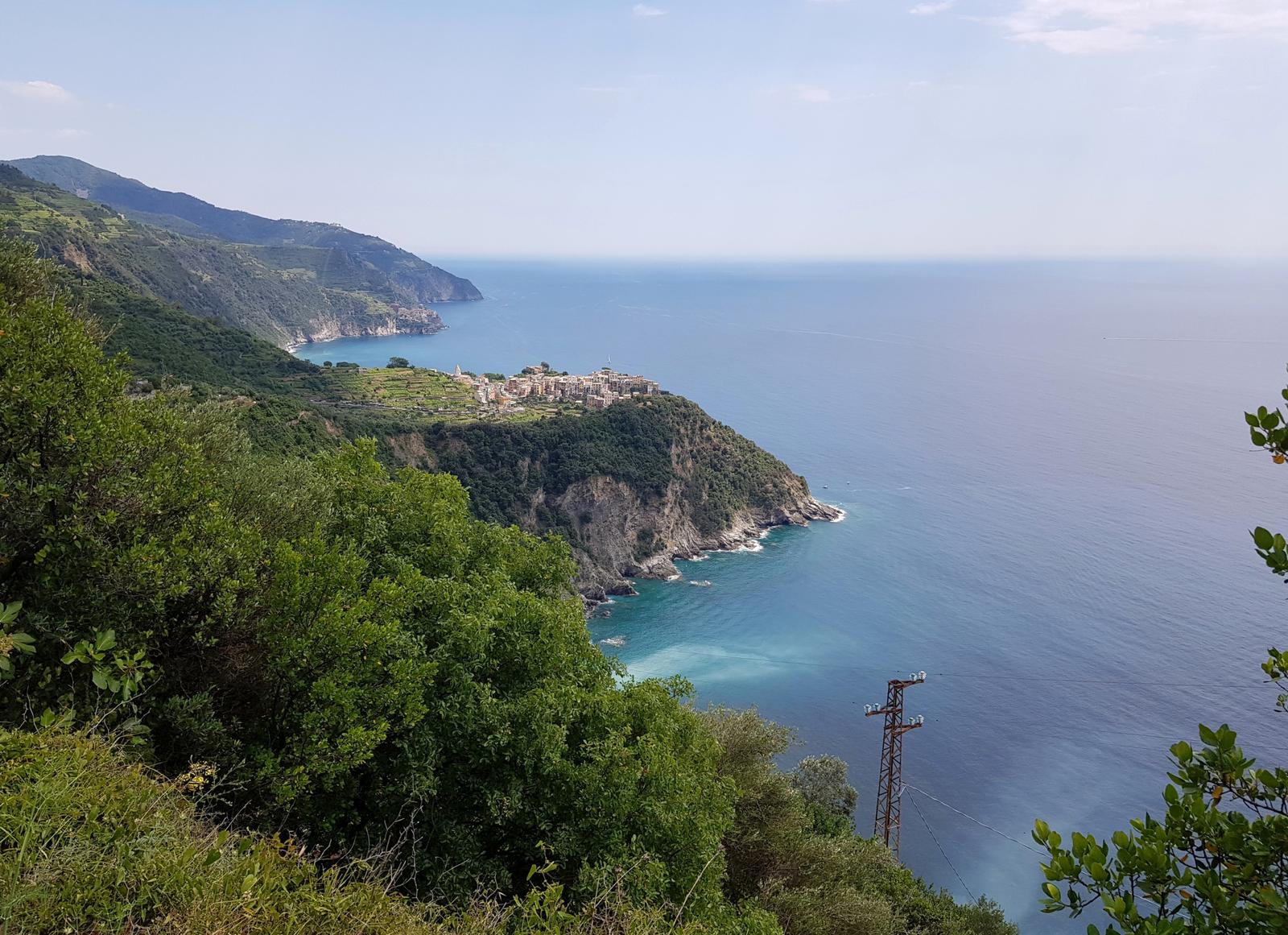 Riomaggiore: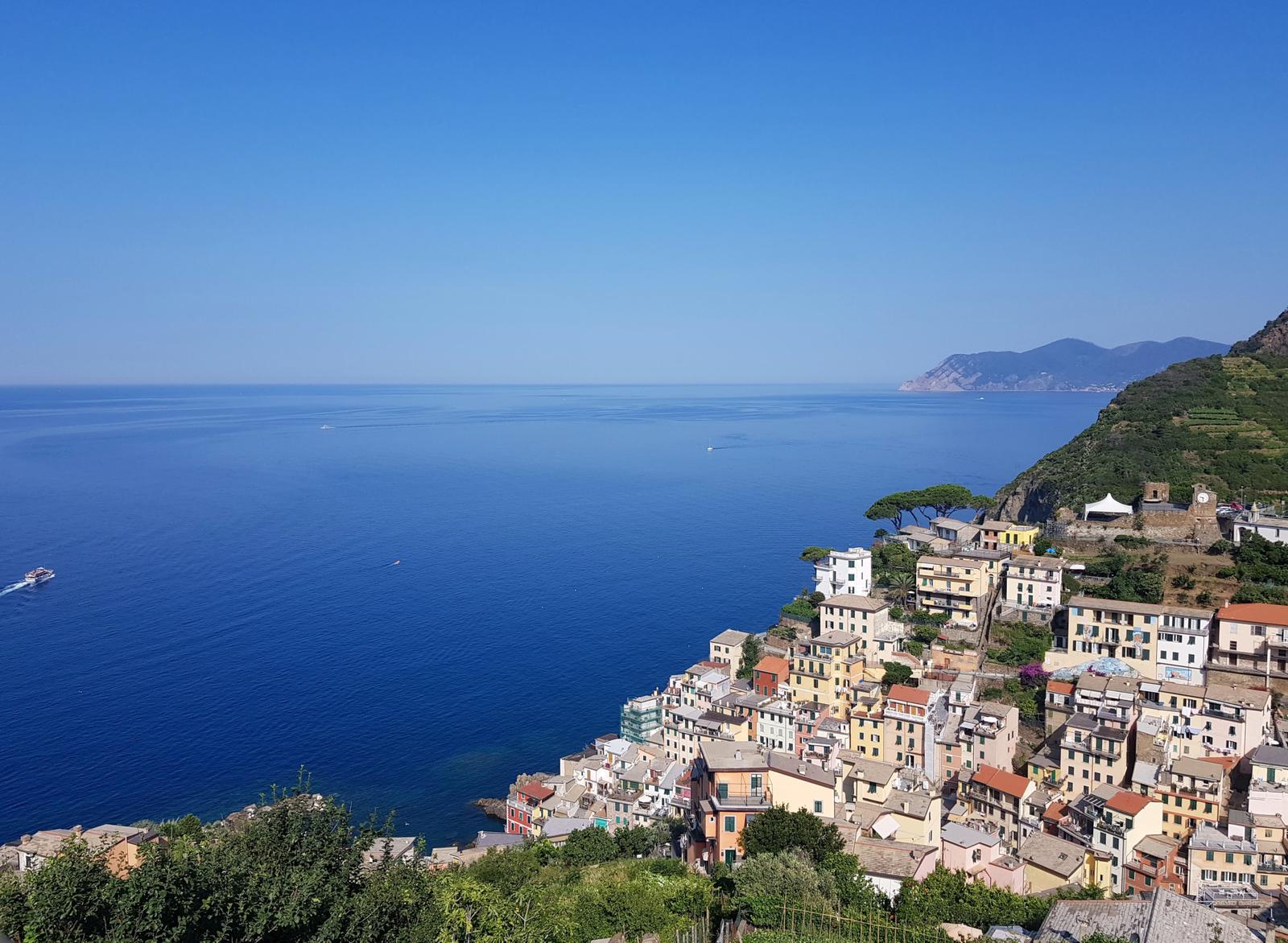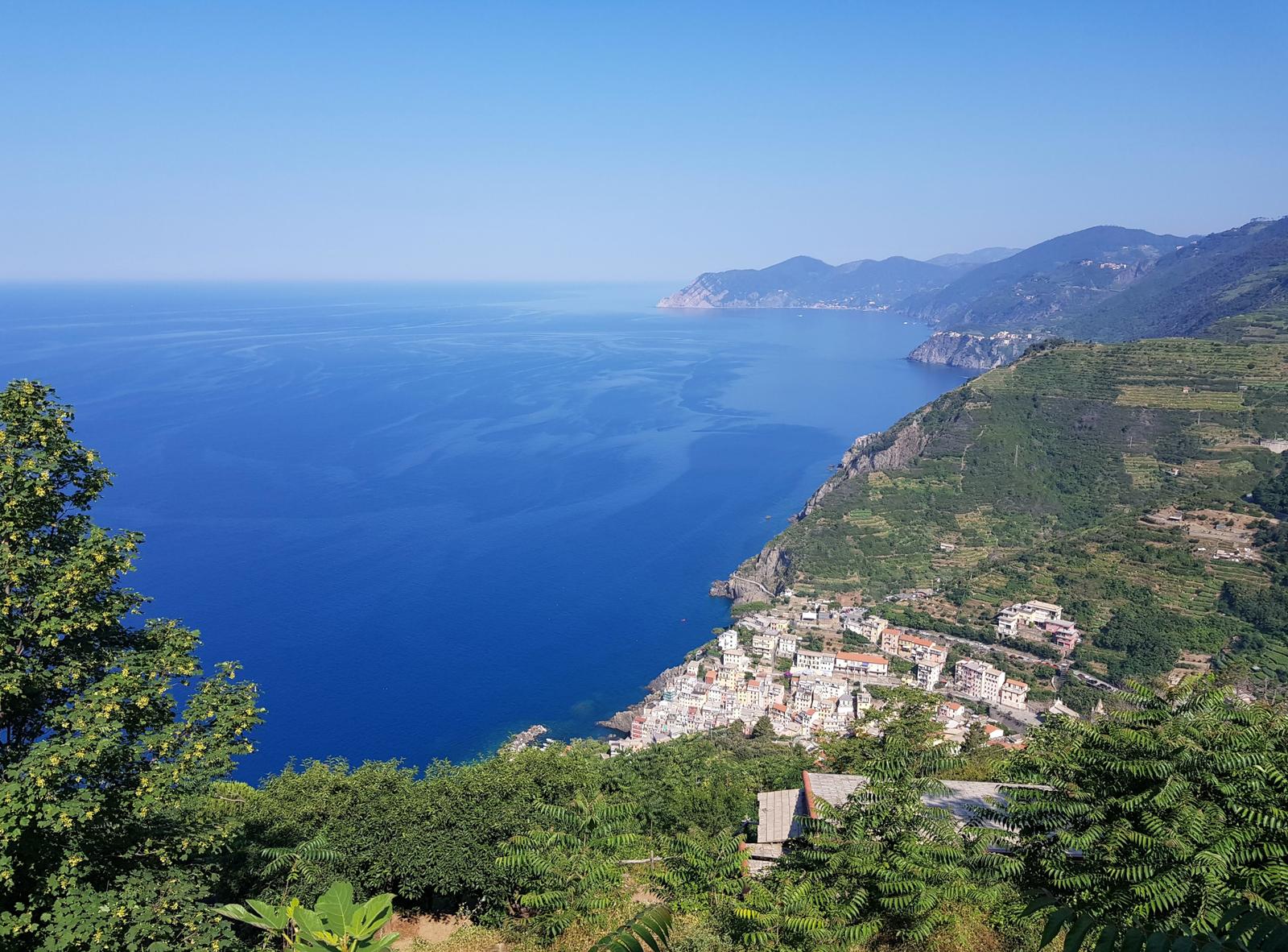 By Train:
Each of the five villages have a train station which makes it really easy to get from one village to the next.
Here are the approximate train travel times between the five different villages:
Monterosso - Vernazza: 4 minutes.
Vernazza - Corniglia: 4 minutes.
Corniglia - Manarola: 5 minutes.
Manarola - Riomaggiore: 6 minutes.
Train information for each village:
By Boat/Ferry:
You can take a boat from each of the five villages to the next. This will definitely be a more expensive and time consuming way to see each of the villages if you plan to hop off/on.
For information on boat timetables within Cinque Terre see here.
On Foot:
There is hiking trail called the Sentiero Azzurro or Blue Trail (trail #2) that you can start in either Monterosso al Mar or Riomaggiore and the trail passes through all five villages (there is a charge €5-€8 to access this trail/included in the Cinque Terre Card). This is the most popular trail in Cinque Terre and it is 12kms long. It is possible to do this trail in one day however be advised that it takes a minimum of 6 hours to complete this trail, allowing only for some short stops. For this reason, most people prefer to split this trail into two or three days to allow for more significant stops, exploration of the villages and a more relaxing experience.
Of course you can always do parts of this hiking trail and link it with trains to complete this route in one day without having to hike all of it.
My Recommendation:
I think a great way of travelling would be to get a boat from La Spezia to the furtherest village of Monterosso al Mare. From reading online I believe the boat will visit each village along the way to drop/pick up customers. So, you will get to see each village from the boat. Then disembark in Monterosso al Mare and use the train and some hiking to work your way back visiting each village along the way. This would be best done over the course of two/three days - simply train to your accommodation at the end of day one and then train back the following morning, picking up where you left off and continuing along the coast until you reach Riomaggiore.
Be sure to confirm with the boat operator that they do in fact stop in the villages along the way as there may be boats that go directly from La Spezia to Monterosso al Mare without stopping in the other villages.
---
Hiking in Cinque Terre:
Note: Before you travel be sure to check the Park of Cinque Terre Official Website for up to date information about the park e.g. what trails are open/closed, weather warnings, flora & fauna information etc.
There is a lot of useful information online about all the different hiking trails within the Cinque Terre so I won't go into detail here. Check out the following:
We spent two days hiking in Cinque Terre (and Porto Venere) and you can read about both days here and here.
Really all the usual hiking questions apply such as:
How far do I want to (am I fit enough to) hike?
How much time do I have?
How do I get to the start?
How do I get back to my accommodation when I am done?
What services will be on available on the route?
Is there a particular area/village I really want to see/visit?
My two tips would be to go as early as you can and bring food, water and sun cream. By going early you will be able to enjoy quieter trails, have more time for breaks, exploring and even swimming. If you have some water and food with you it gives you more freedom on the trails.
If you are lucky enough to have good weather like we did, definitely bring sun-cream, a sun hat or visor, sunglasses and plenty of water. We also brought snacks and a picnic lunch on both hikes. Depending on the hike you choose, you could just bring water and snacks and plan your hike to allow you to eat lunch in one of the five coastal villages on the way.
There are some lovely beaches in the Cinque Terre with crystal clear blue water and I can think of nothing better than a relaxing swim at the end of a hot sweaty dusty hike so definitely consider bringing your swimsuit and a lightweight towel. If you wanted to, you could definitely hike early and spend the afternoon at one of the beaches before heading back to your accommodation (if staying in La Spezia).
If you only have one day you should definitely use the train in addition to hiking. This would enable you to visit all the of the five villages in the one day without over doing it on the hiking front! It would mean you would have time to actually see the villages properly. Enjoy!:-)
---
Ending it there, I hope you find some of this information useful.
---
If you've any questions, suggestions or just want to say hello, contact me via the Contact Form, Instagram (@noroadlongenough) or By Email noroadlongenough1@gmail.com