Heavenly Hiking in Cinque Terre - Day Two!
Note: Before you travel be sure to check the Park of Cinque Terre Official Website for up to date information about the park e.g. what trails are open/closed, weather warnings, flora & fauna information etc.
After our first day hiking in Cinque Terre (Monday) which you can read about here, we spent the next day (Tuesday) back in La Spezia planning our next trip to Cinque Terre for the following day (Wednesday).
We decided to start our hike in Riomaggiore and end in Porto Venere where we hoped we could have a relaxing swim before catching a bus back to La Spezia.
Note: While Riomaggiore is one of the five villages of Cinque Terre, this hike goes South from there to Porto Venere. Porto Venere is also a UNESCO village but officially it is not part of the Cinque Terre. Porto Venere is part of Porto Venere Regional Natural Park.
---
Day Two in Cinque Terre:
Hike from Riomaggiore to Porto Venere - 12kms & 913m Elevation.
On the morning of our next trip to Cinque Terre we once again walked from our Airbnb to the train station in La Spezia and got the 8.55am train to Cinque Terre but this time we hopped off in Riomaggiore. Riomaggiore is the first village of Cinque Terre (from the La Spezia side) so the ride on the train was pretty short.
The hike started by following the cobbled streets of Riomaggiore and then we were led up some stone steps. Little did we know we had a few 100 of these steps ahead of us, it was like a stair-master and at 9.30am it was already super hot which of course meant we were sweating from the start!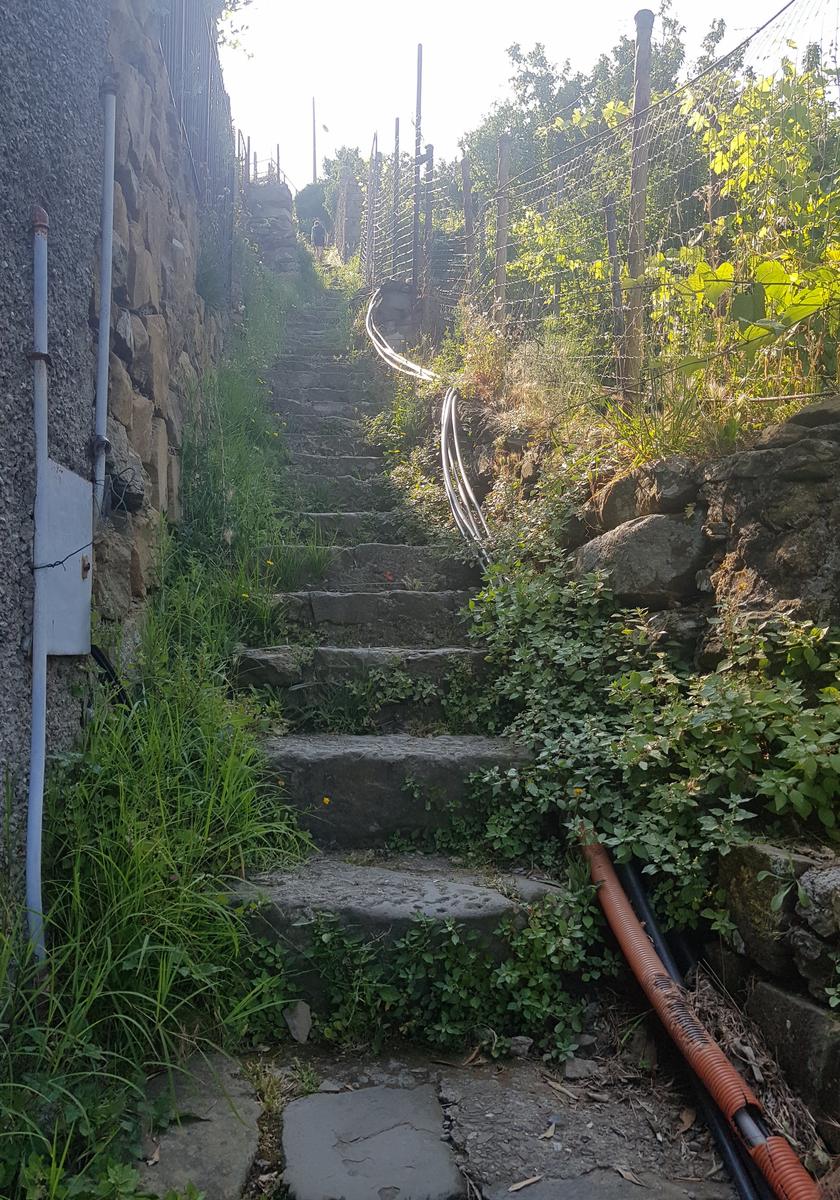 As you can see from the photos we left the village behind us pretty quickly, following red and white route markers. The trail was mainly through small vineyards and around small houses with vegetable gardens. It was easy to follow.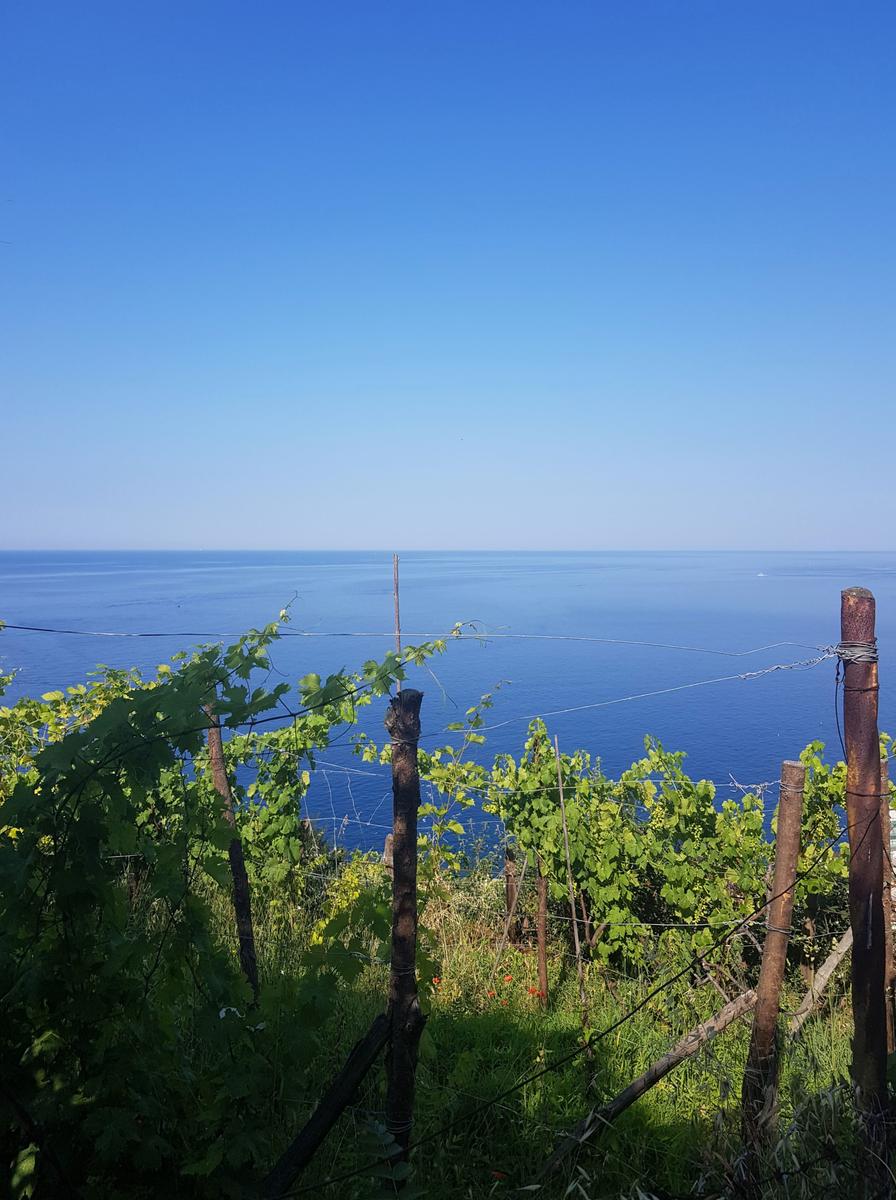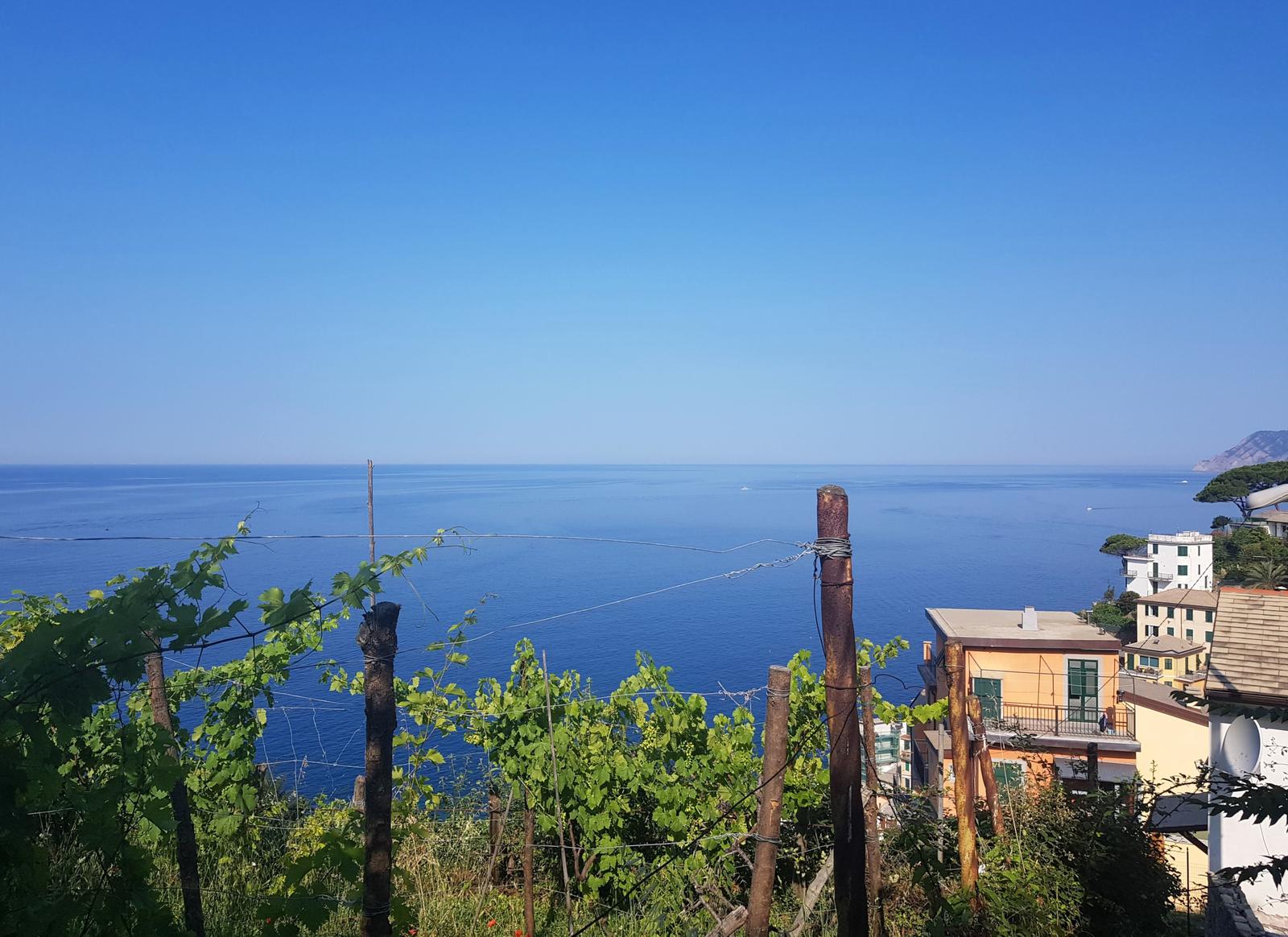 It wasn't long before we got to see Riomaggiore behind us: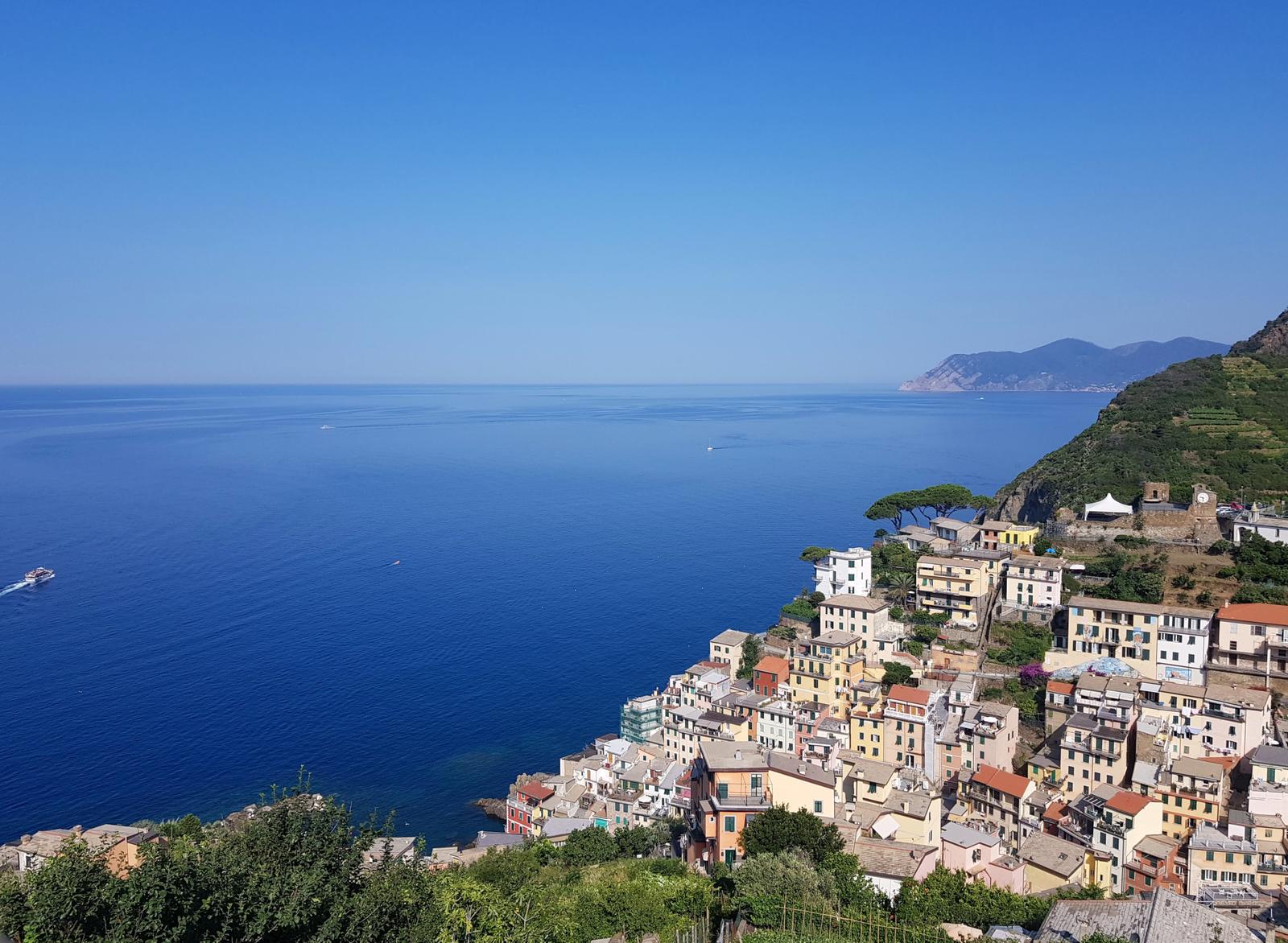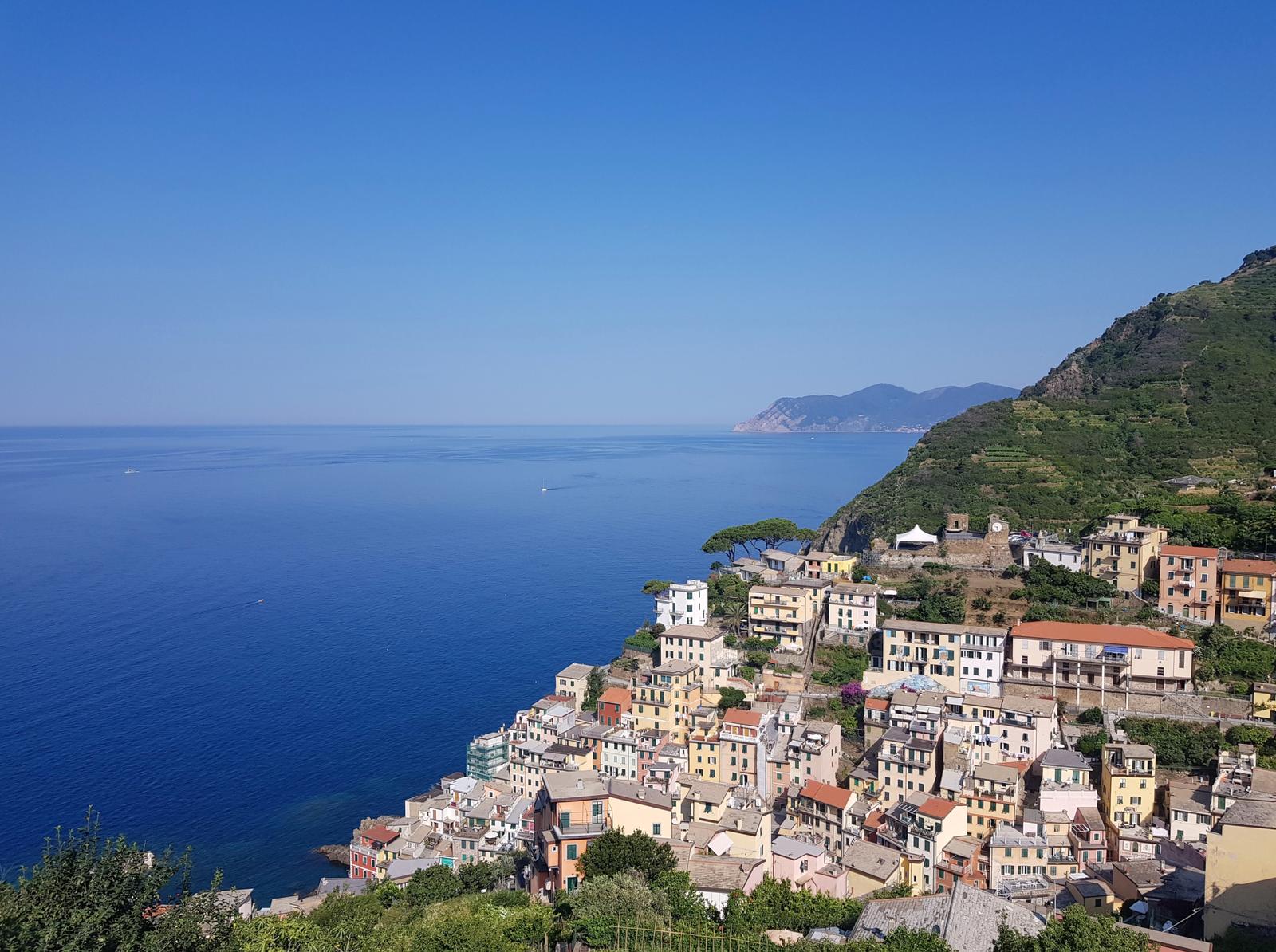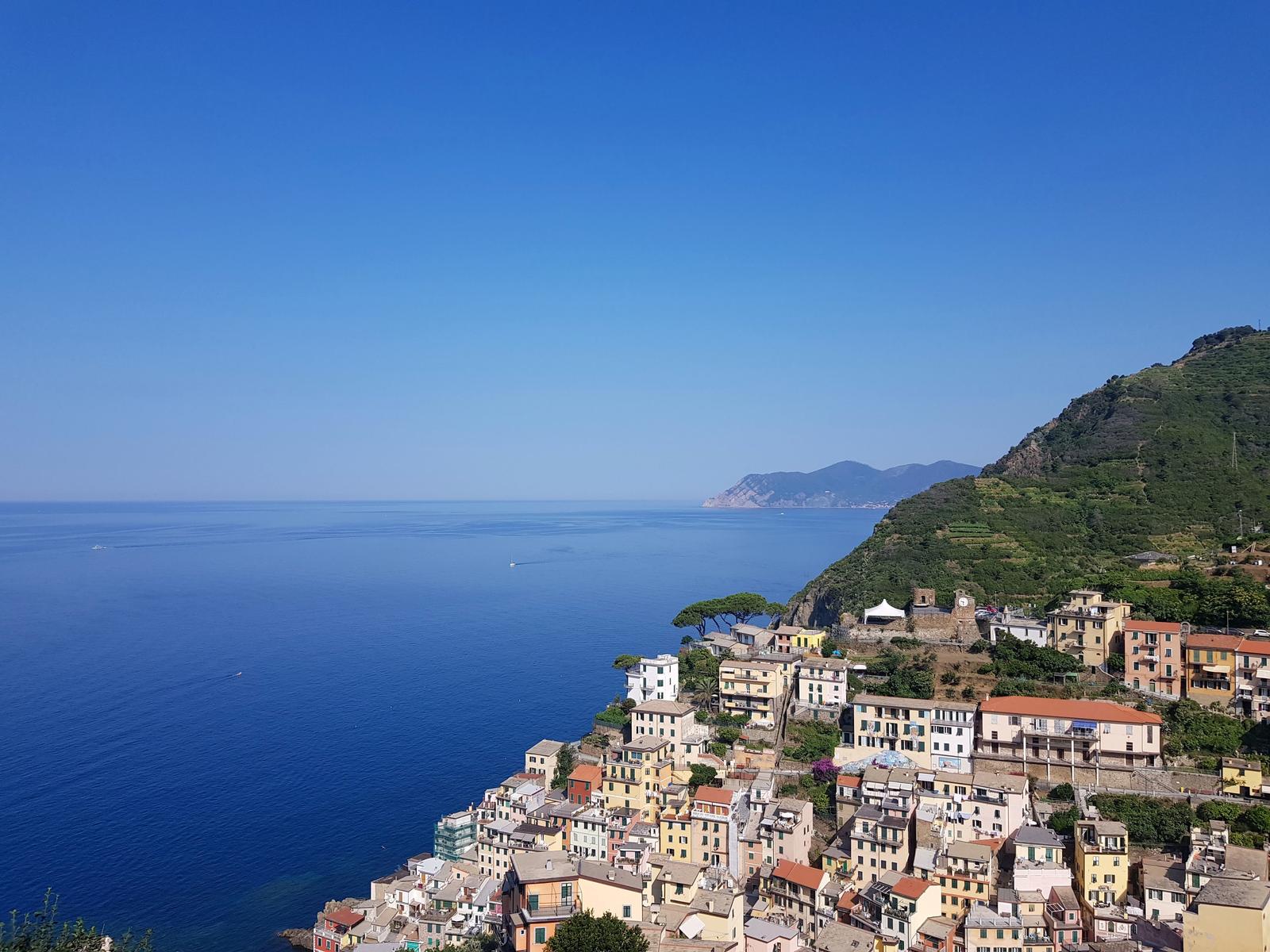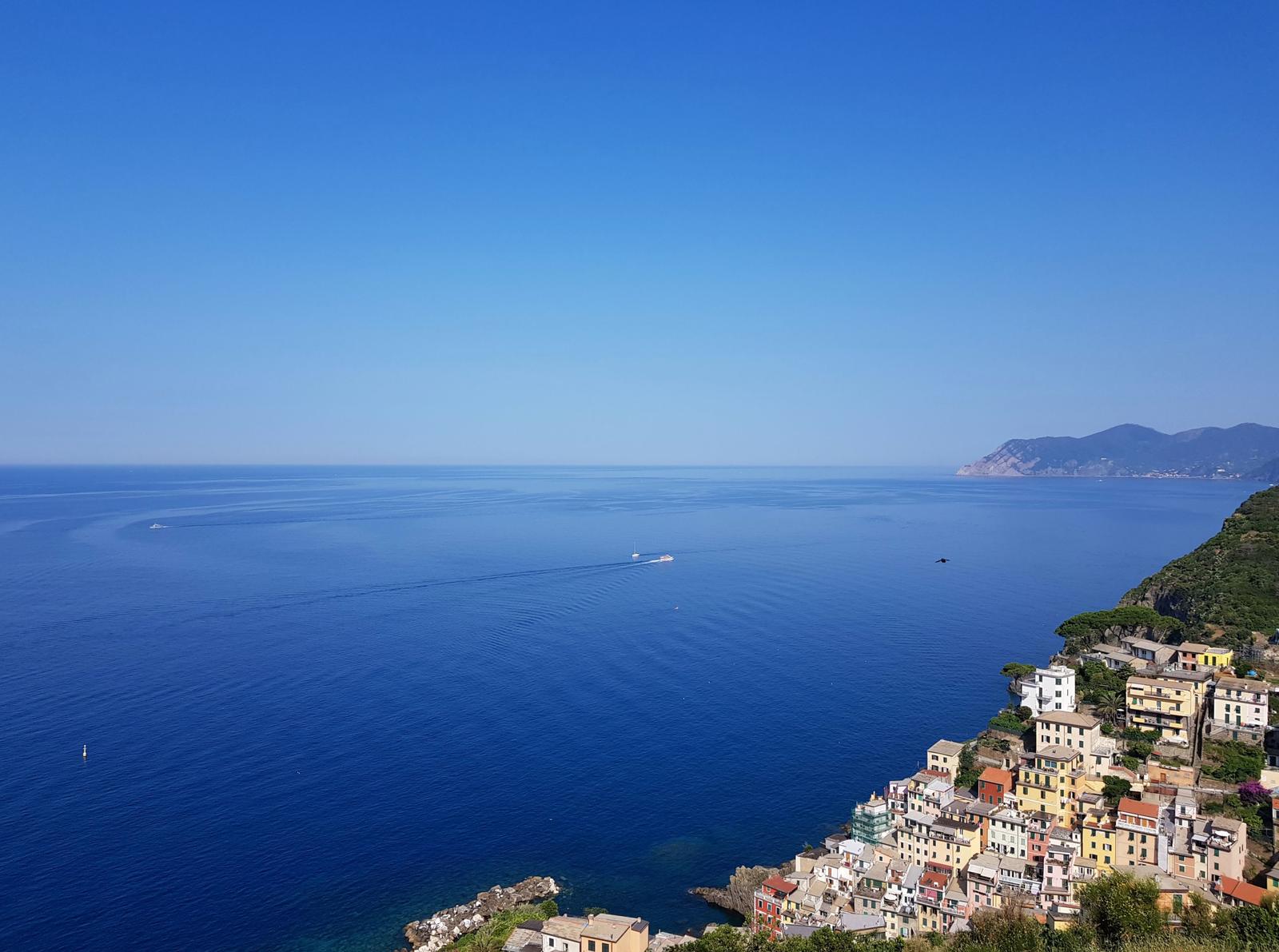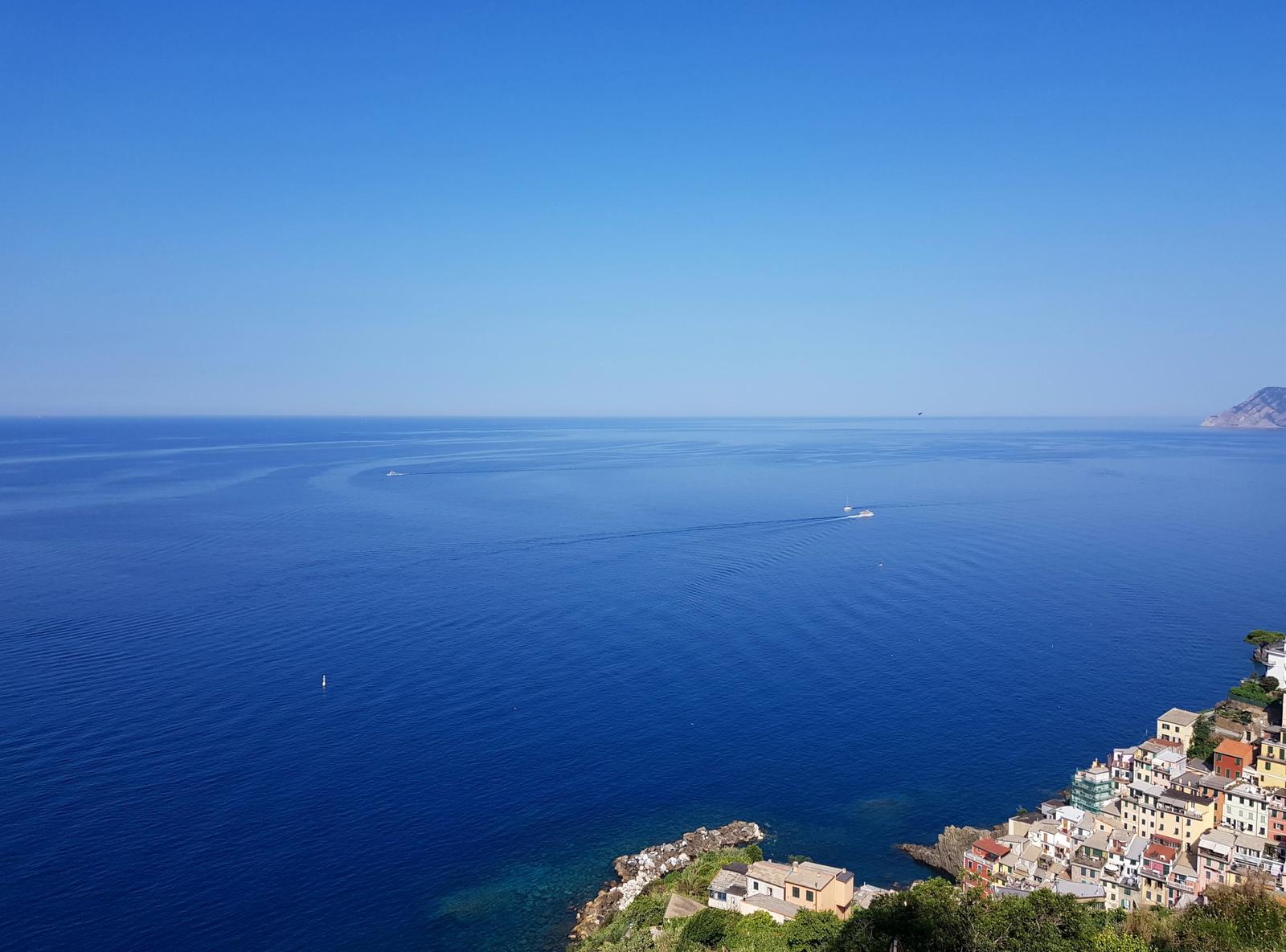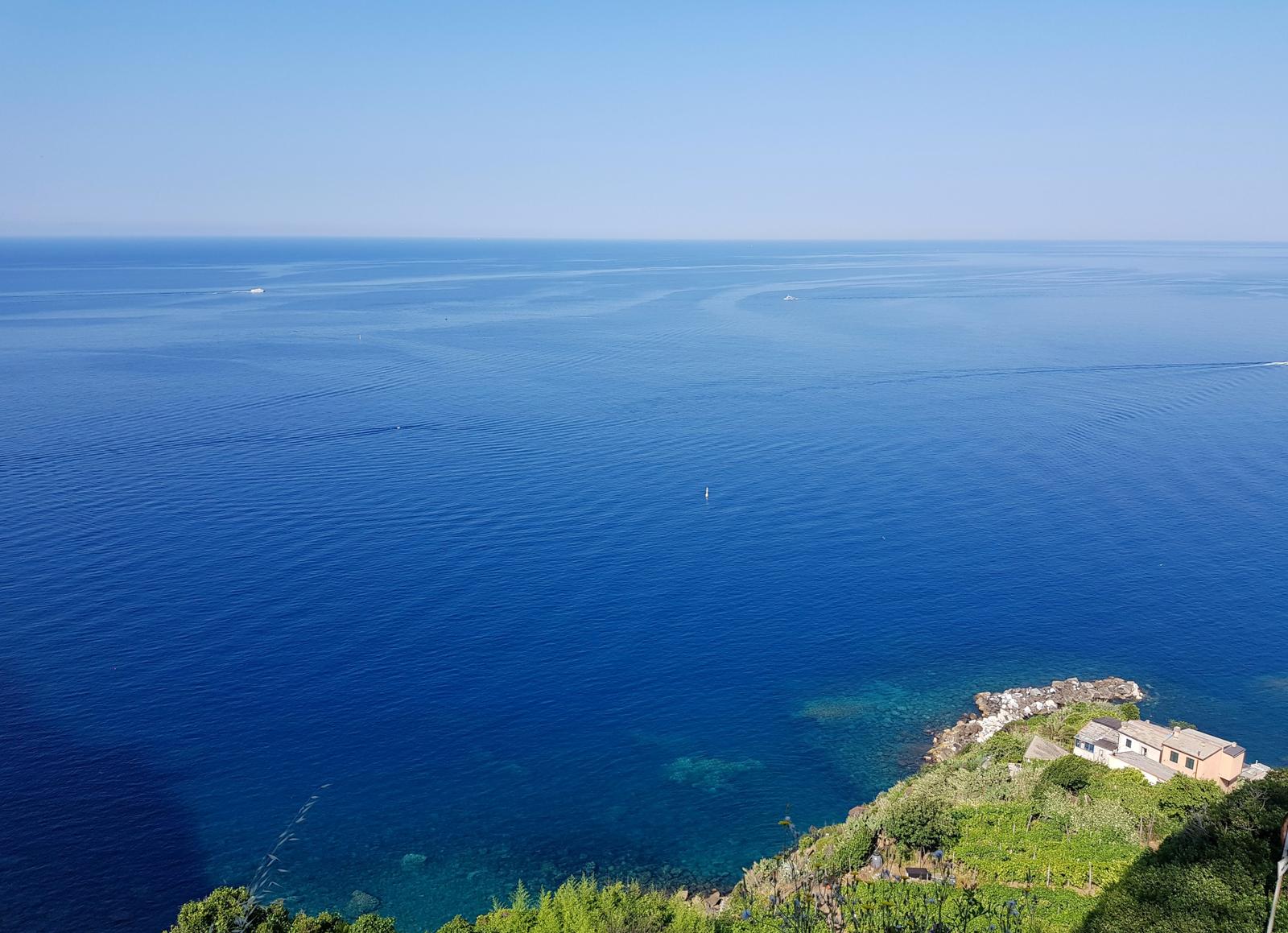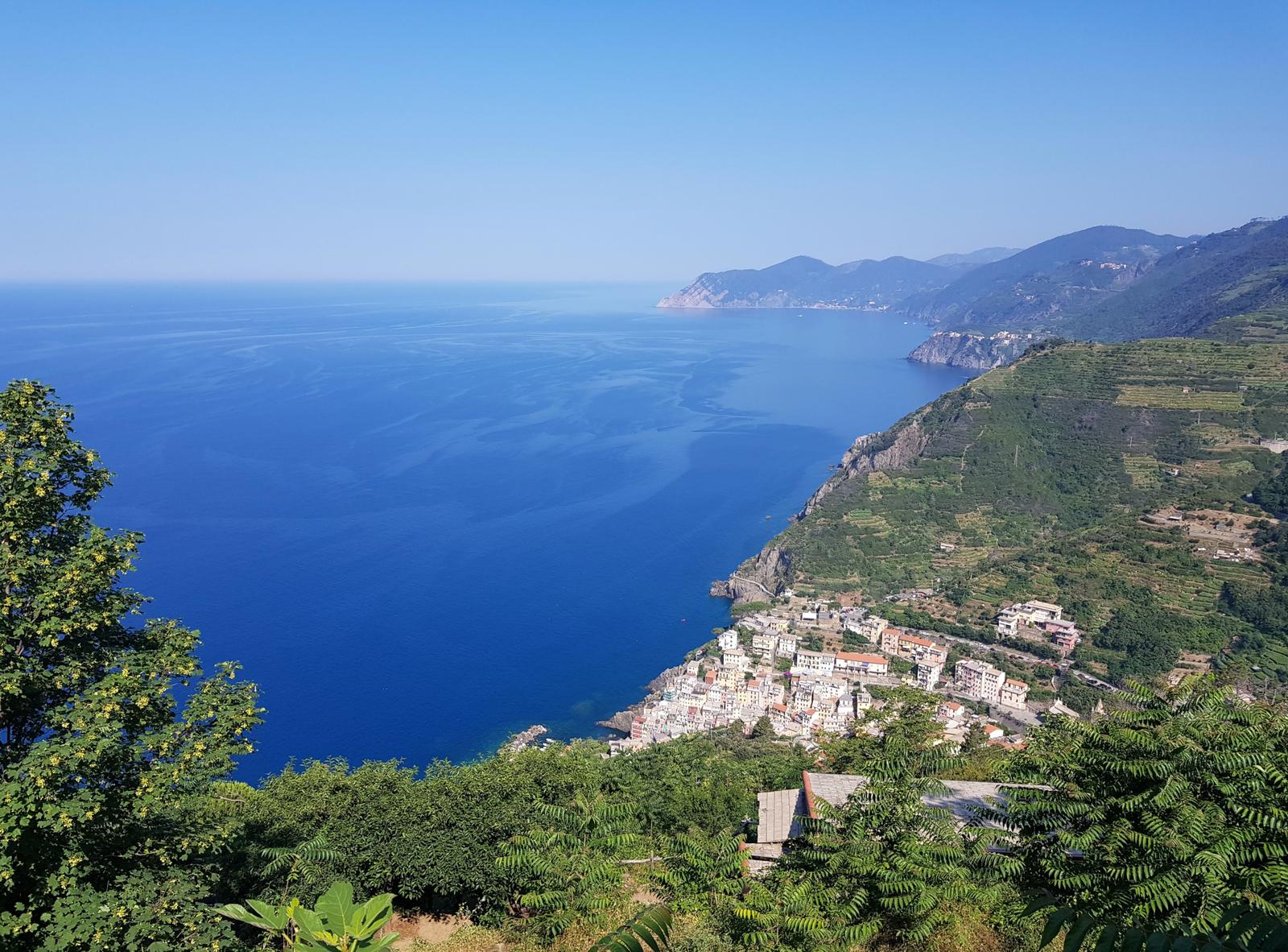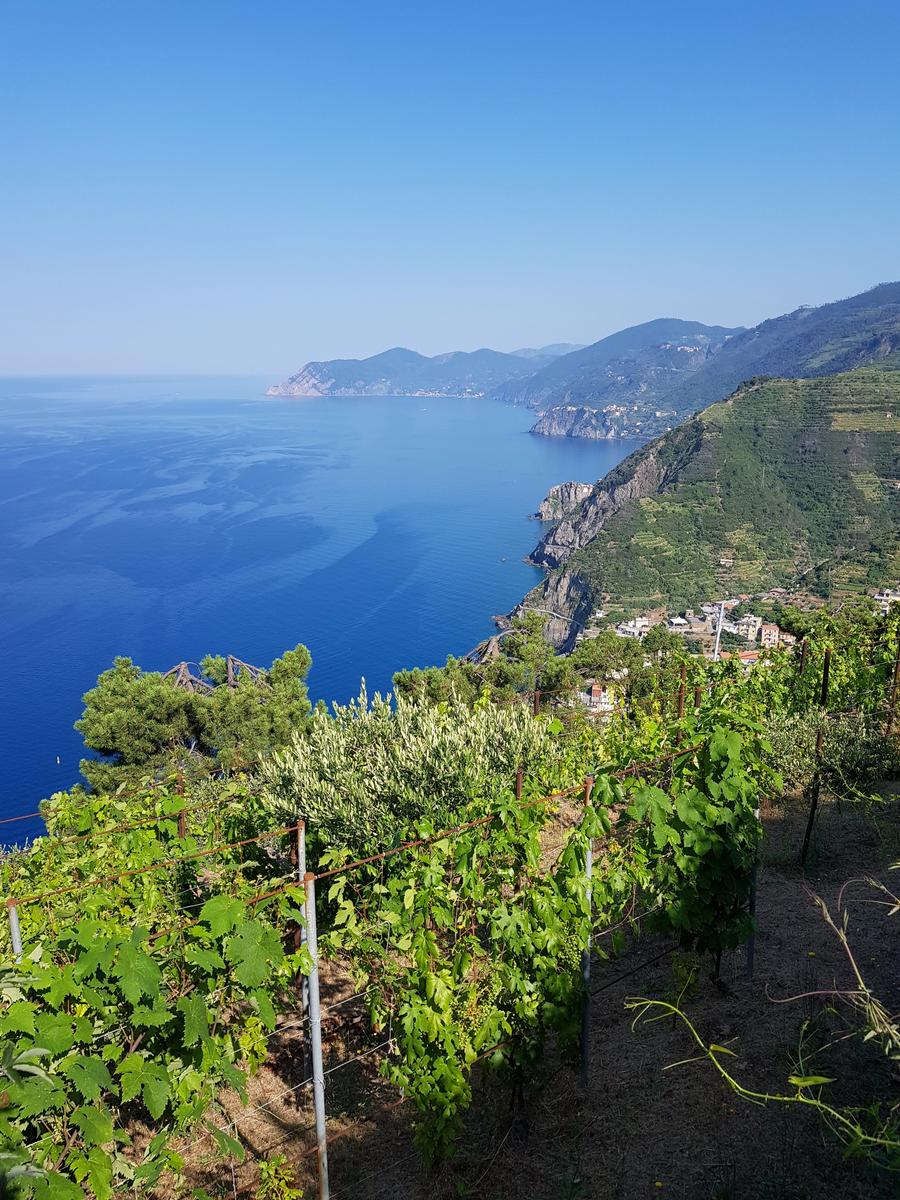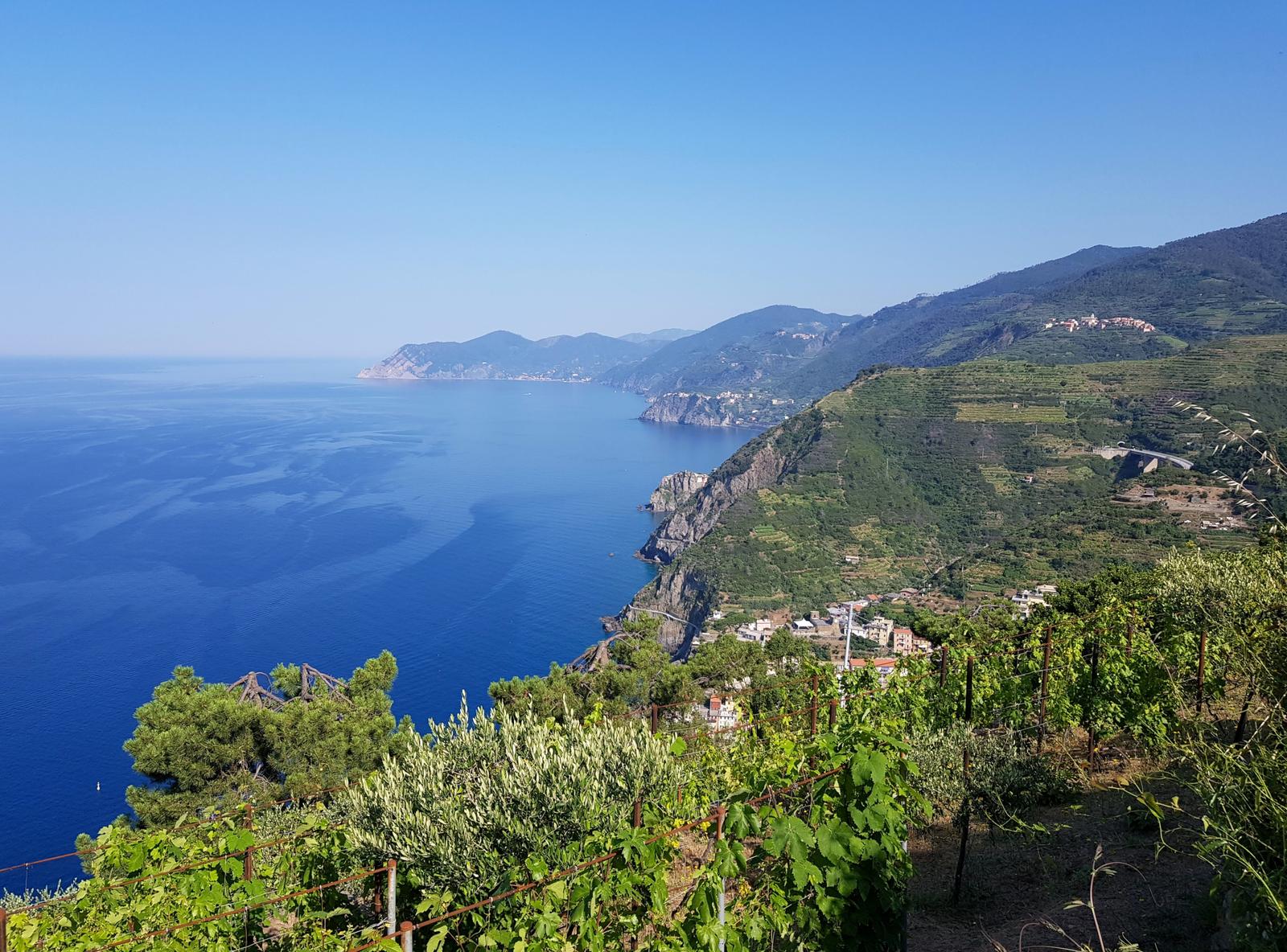 The stone steps first led us to the Riomaggiore Cimitero from which there is a nice view. Then more stone steps brought us to the Santuario di Nostra Signora di Montenero which was approximately 2kms from where we started. The view walking from the Cimitero to the Santuario is gorgeous as you are constantly climbing and so you can see far into the distance. We were also lucky with the sunny weather which meant that the sea was a mesmerizing blue. From the Santuario we chose to go on a dirt trail (and not more stone steps). This section was a bit more shaded by trees which was a relief.
In the photos below you get the first glimpse of some of the islands of the Porto Venere Regional Park in the distance: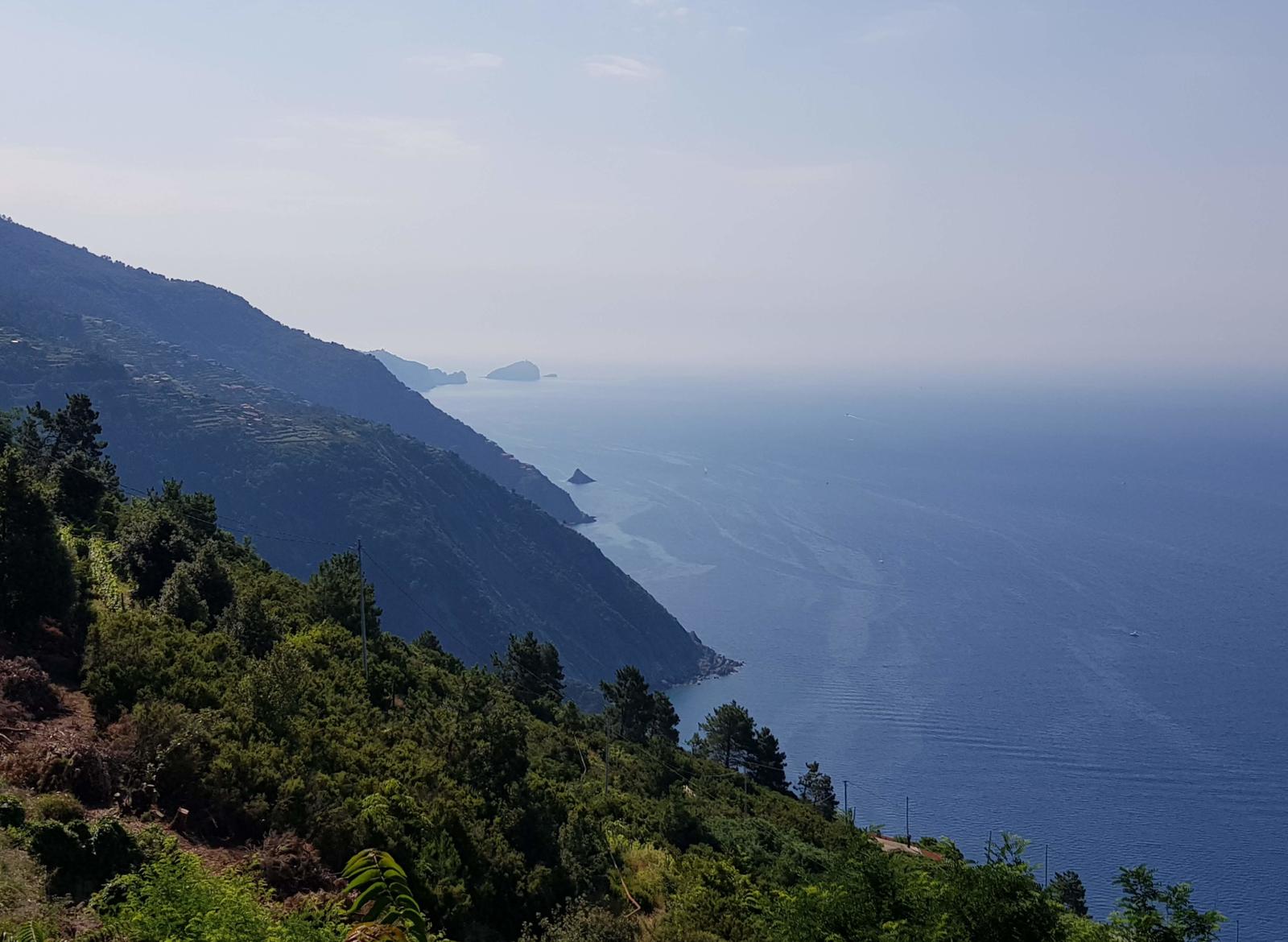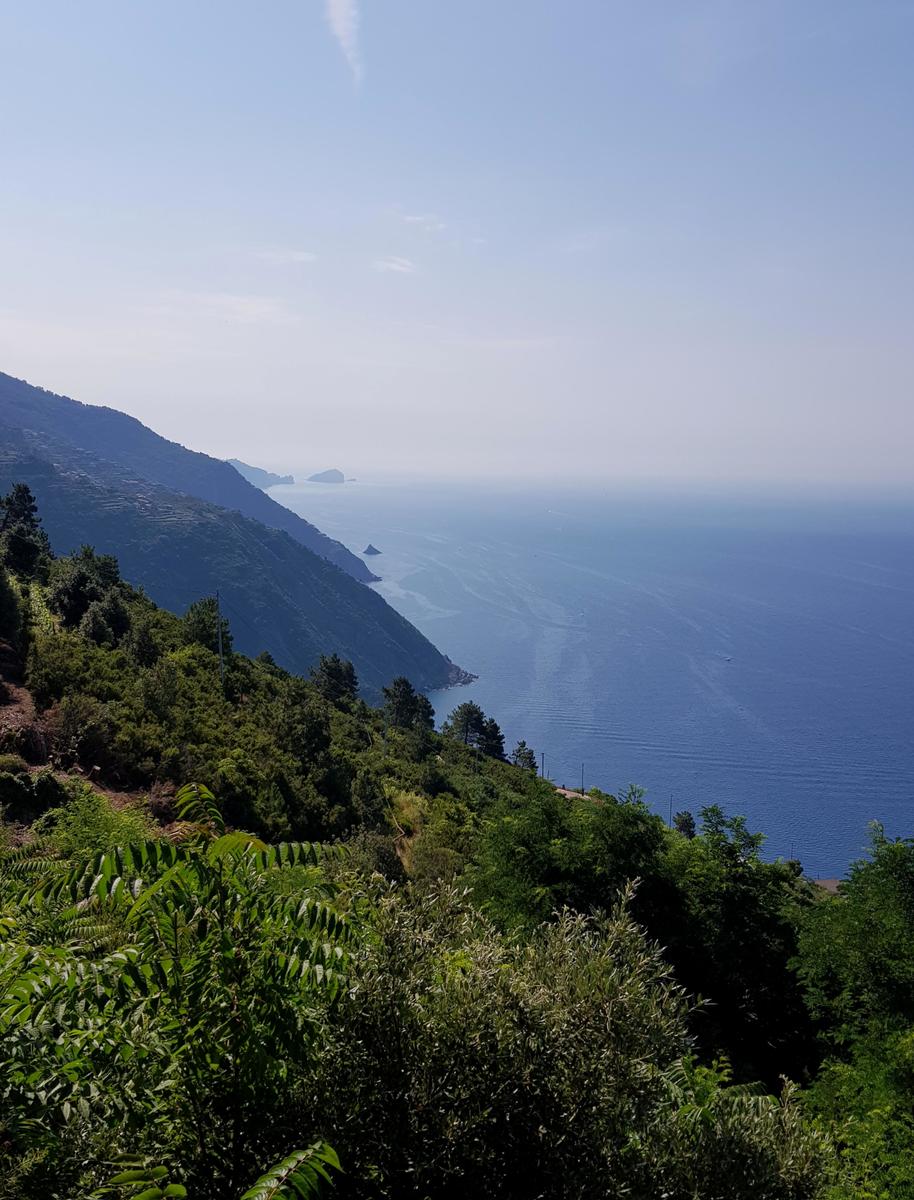 There were plenty of signs along this section of the trail that looked like the one below: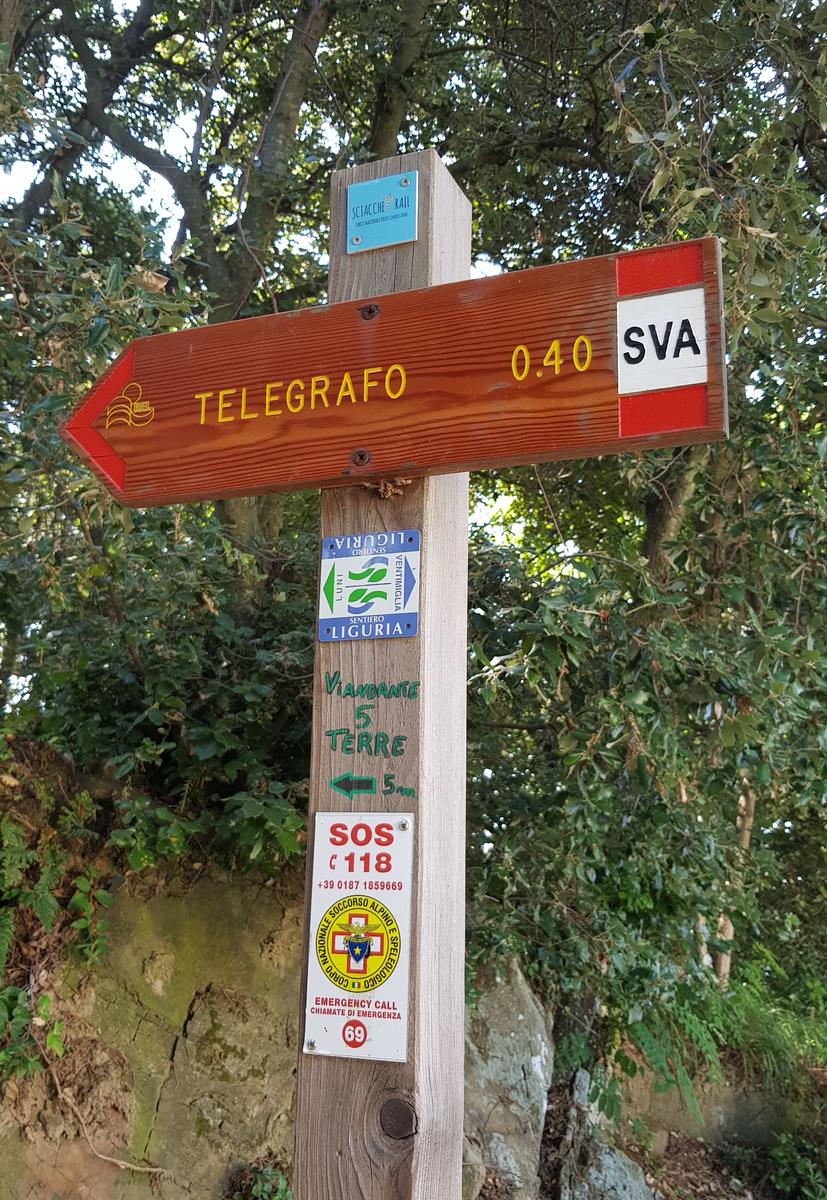 There is a bar just before the Batteria Monte Madonna called Colle Del Telegrafo, the path passes right by it so it is a convenient place to stop. We met some tour groups around the Batteria Monte Madonna but otherwise the trail was quiet.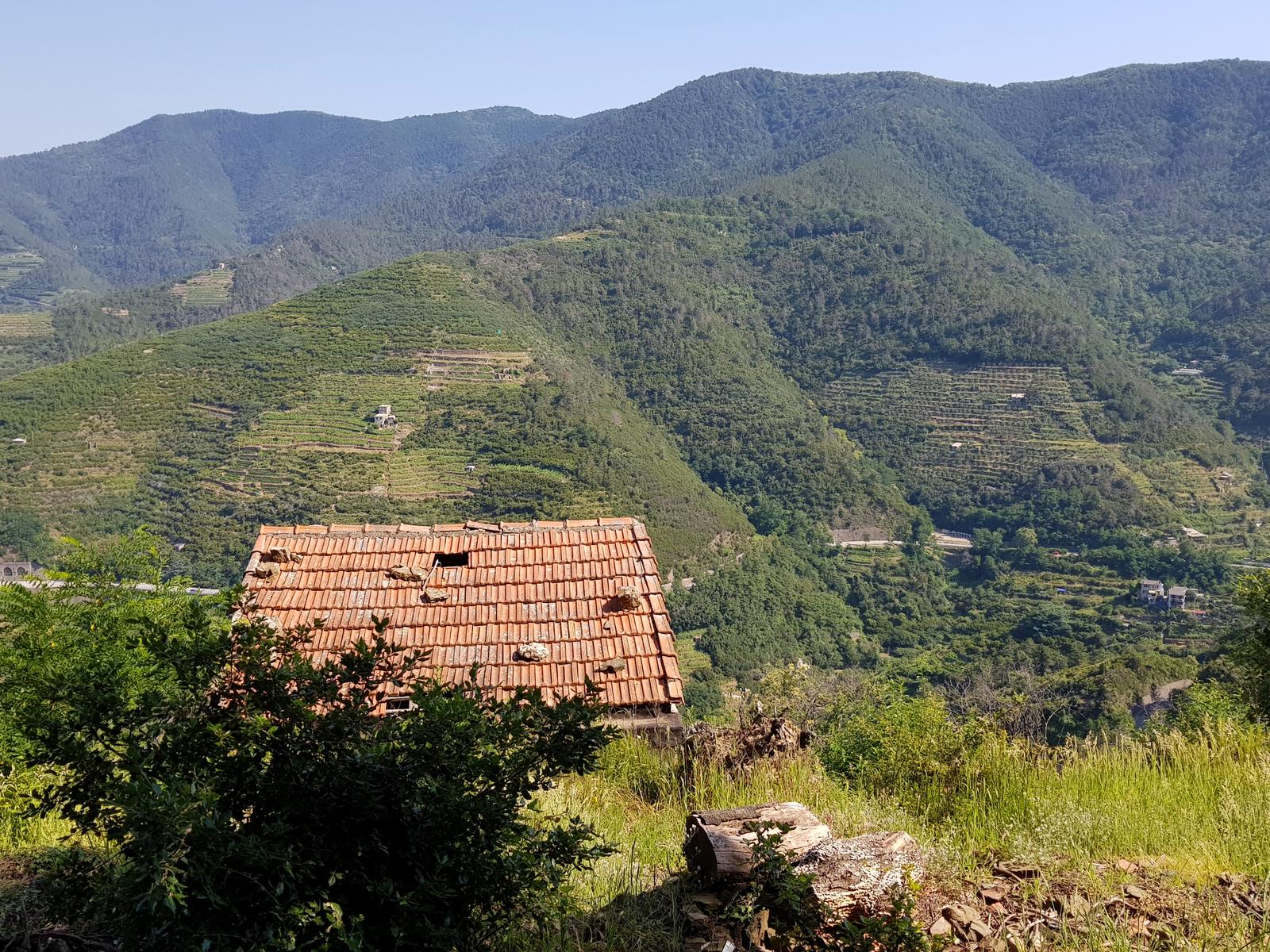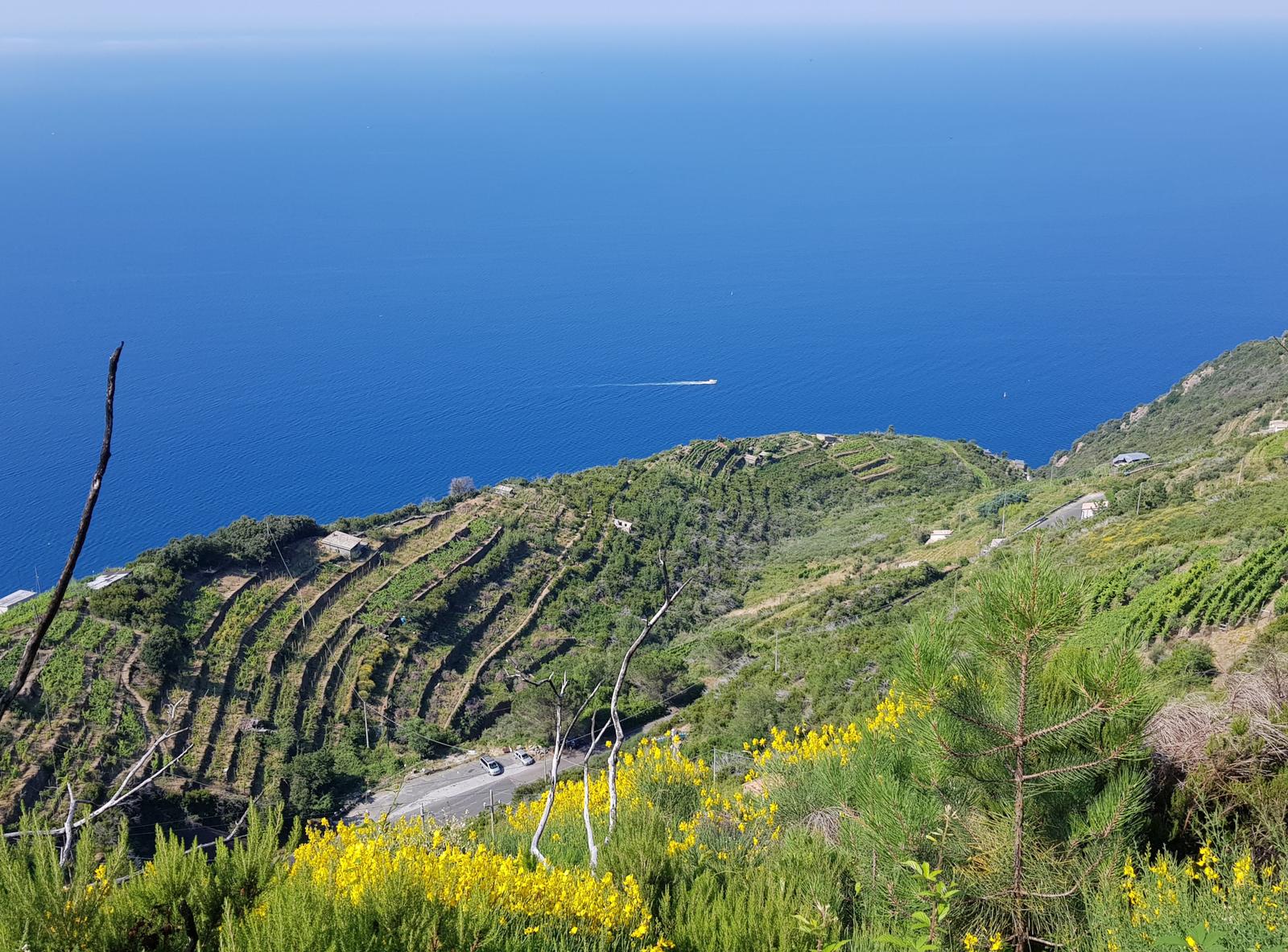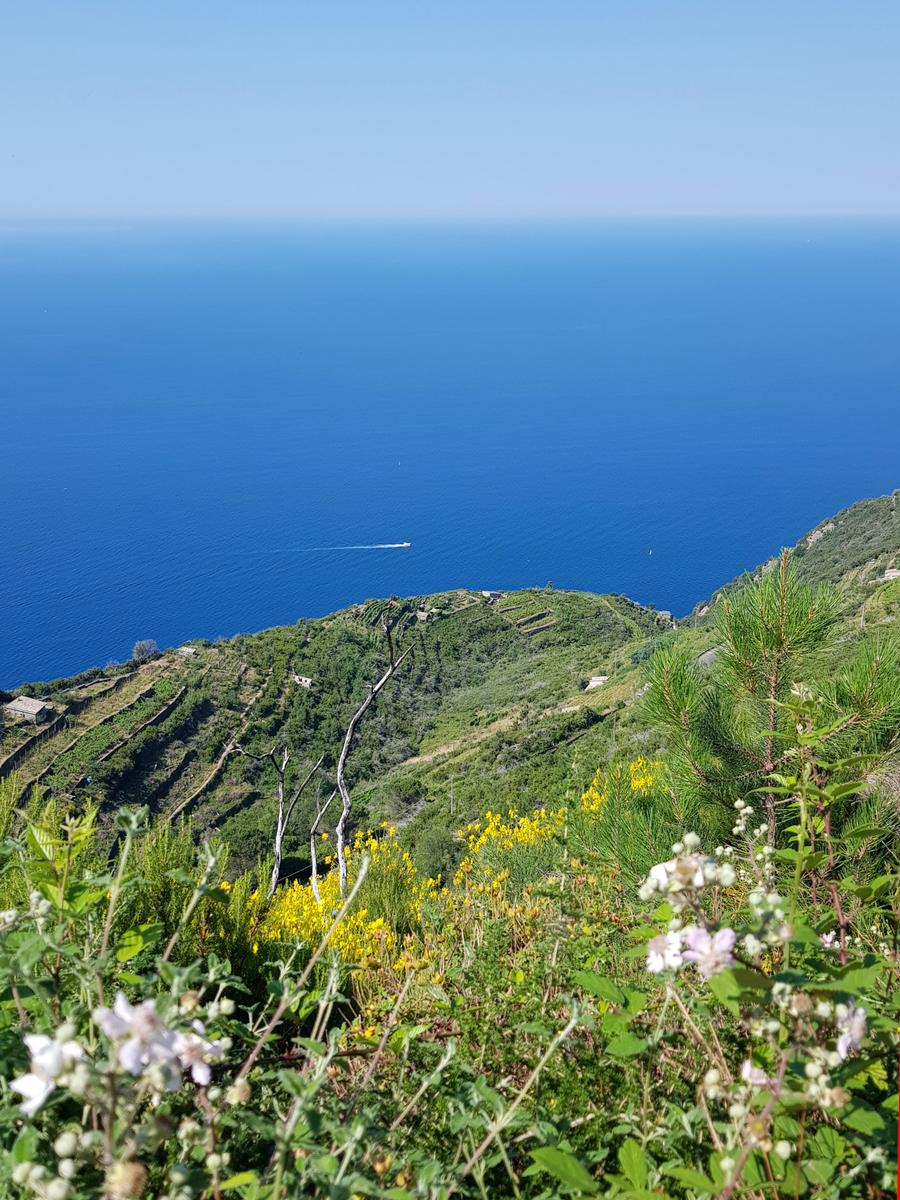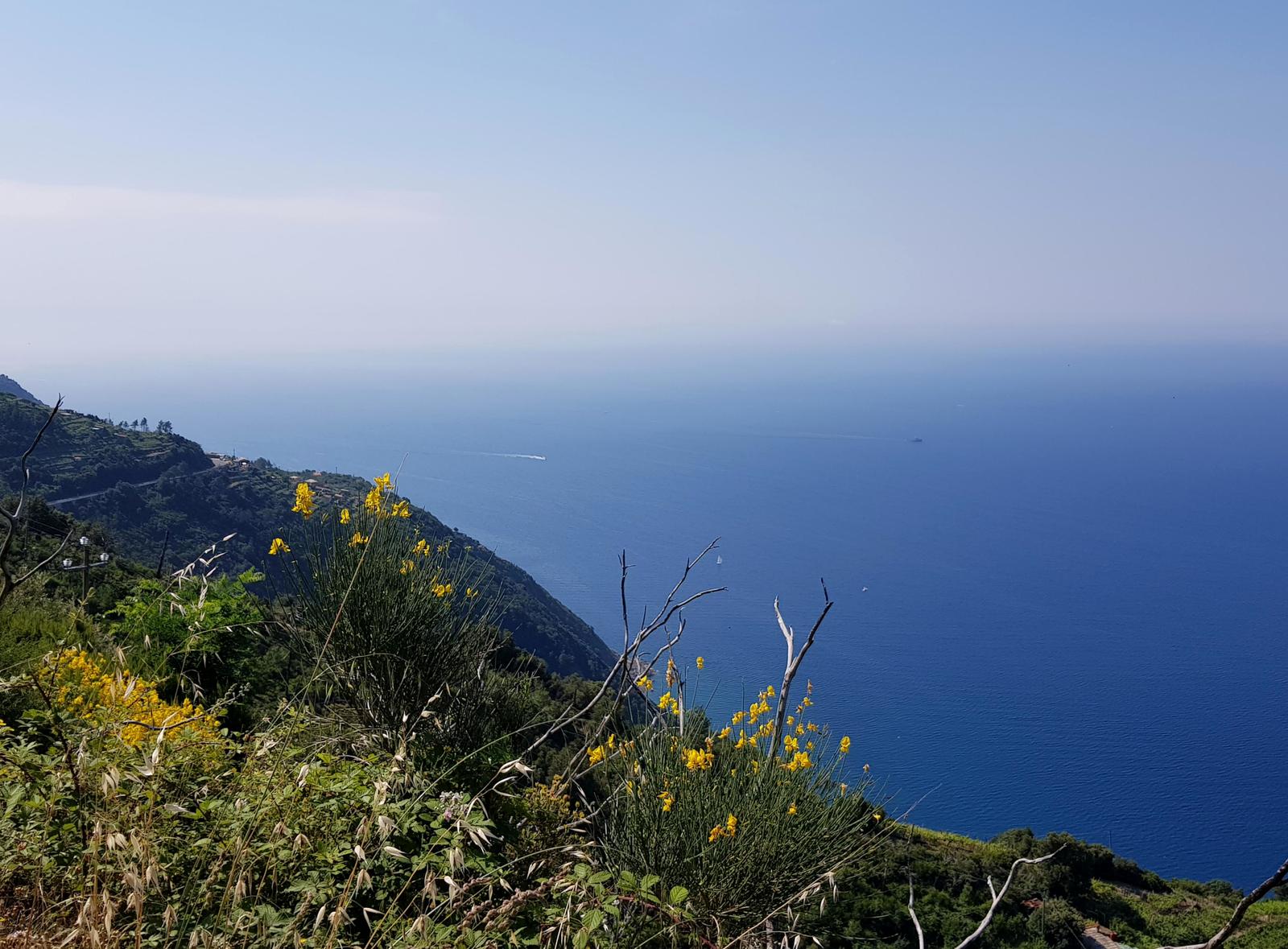 Making progress!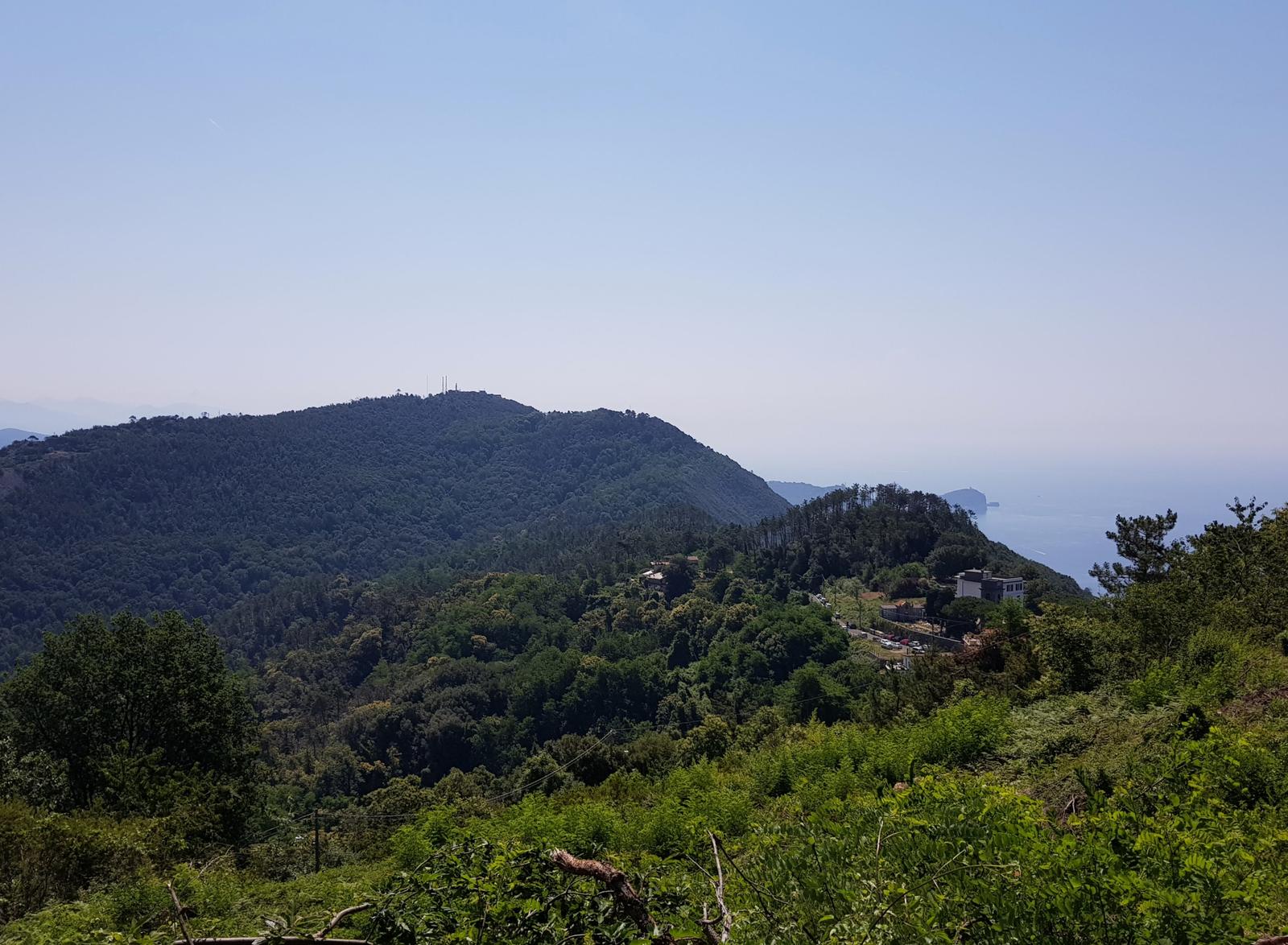 And taken at the same time, the photo below is looking left towards La Spezia: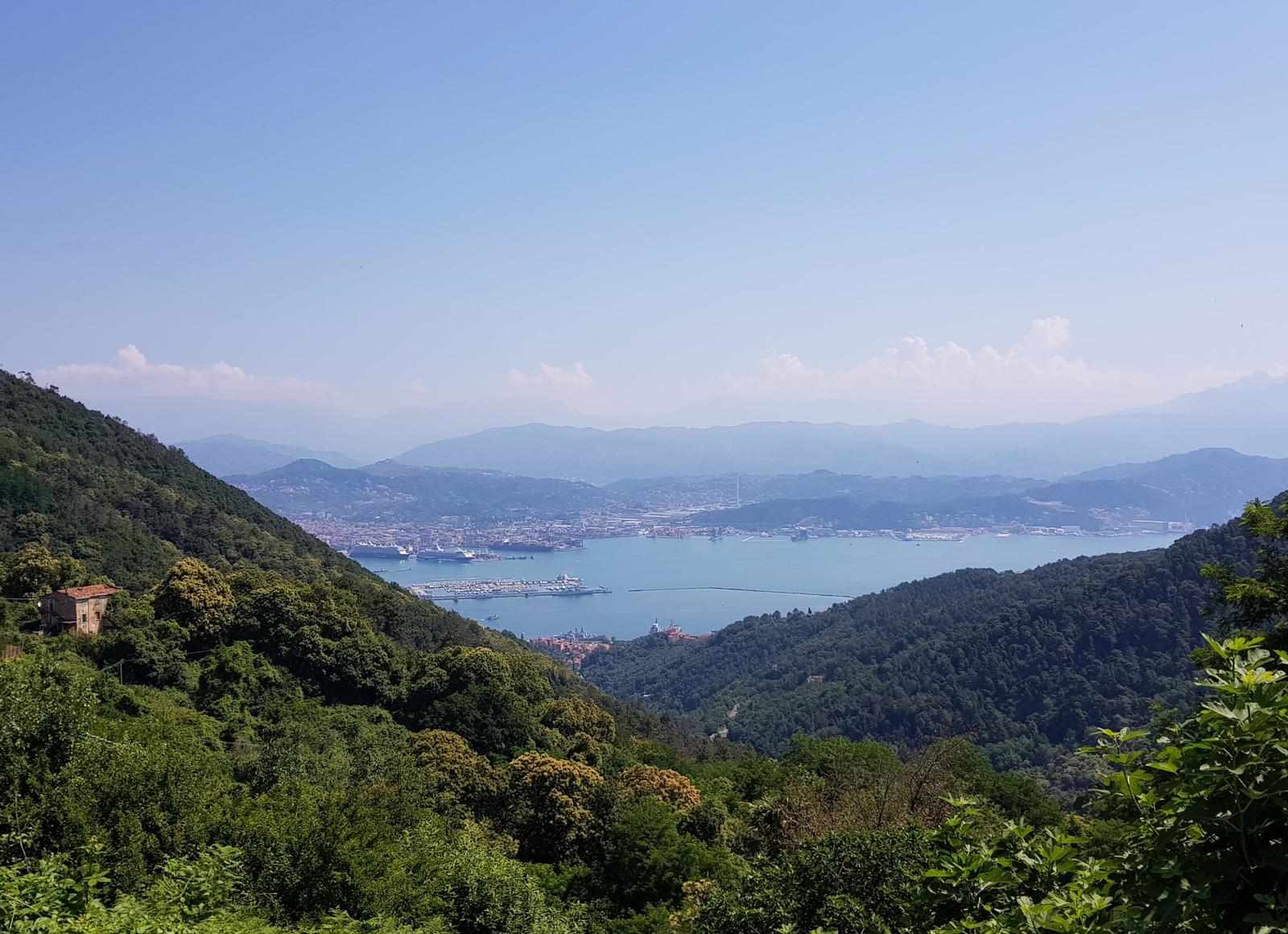 We stopped in Campiglia about 7kms into the hike for a cool drink in En Goto Au So which has a fantastic sea view from its outdoor terrace.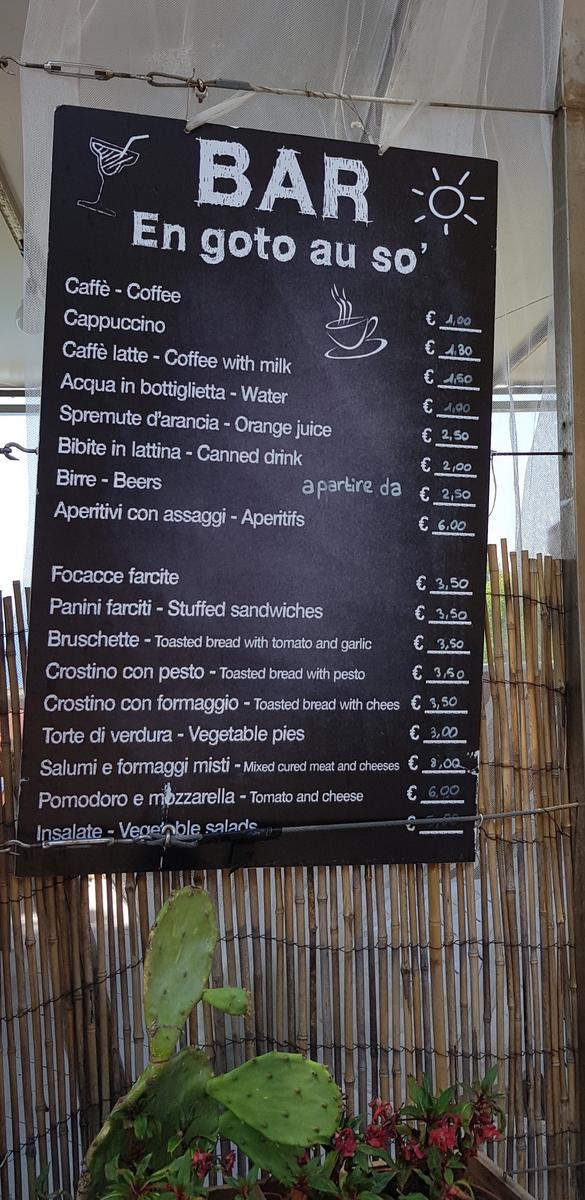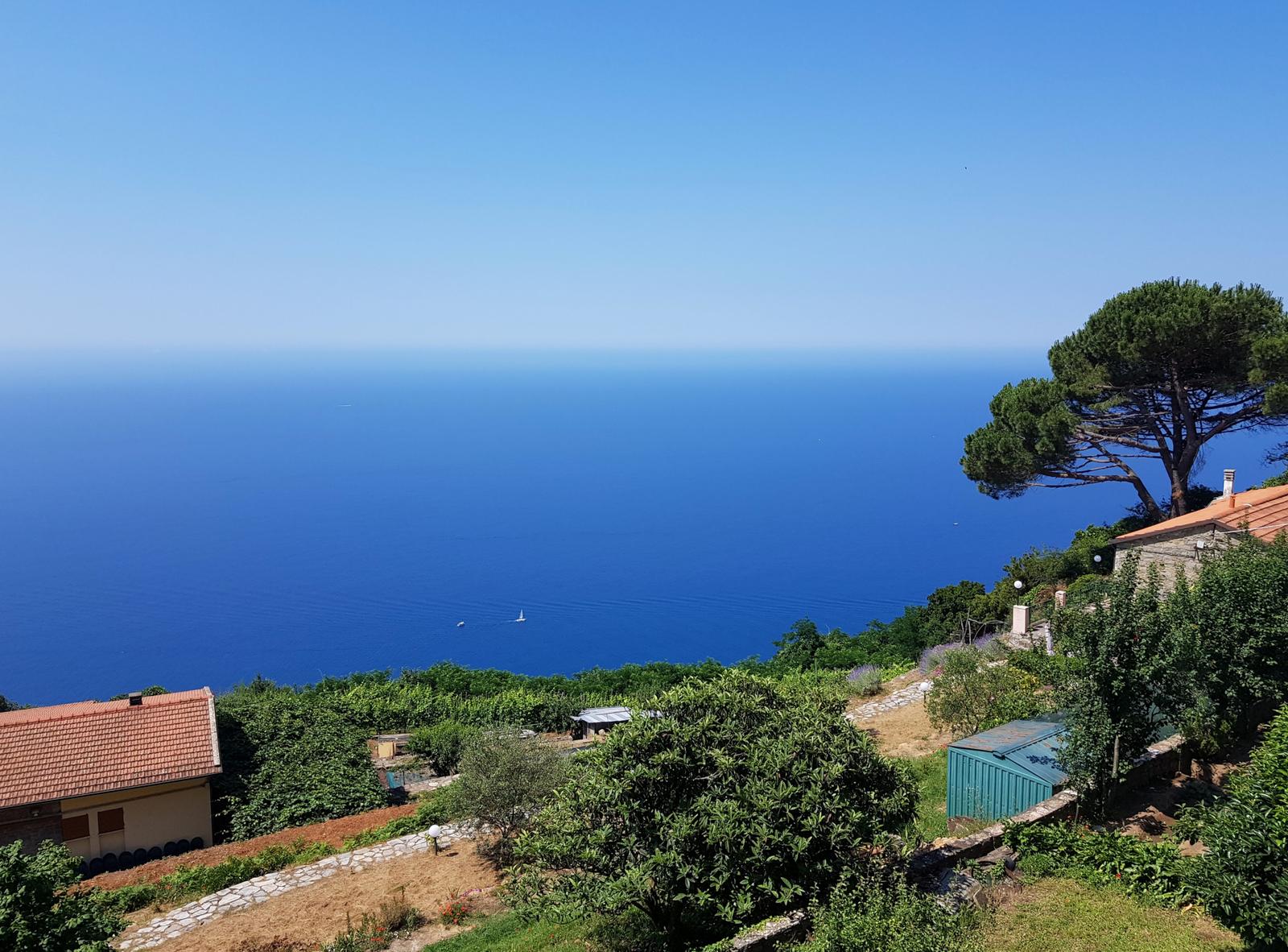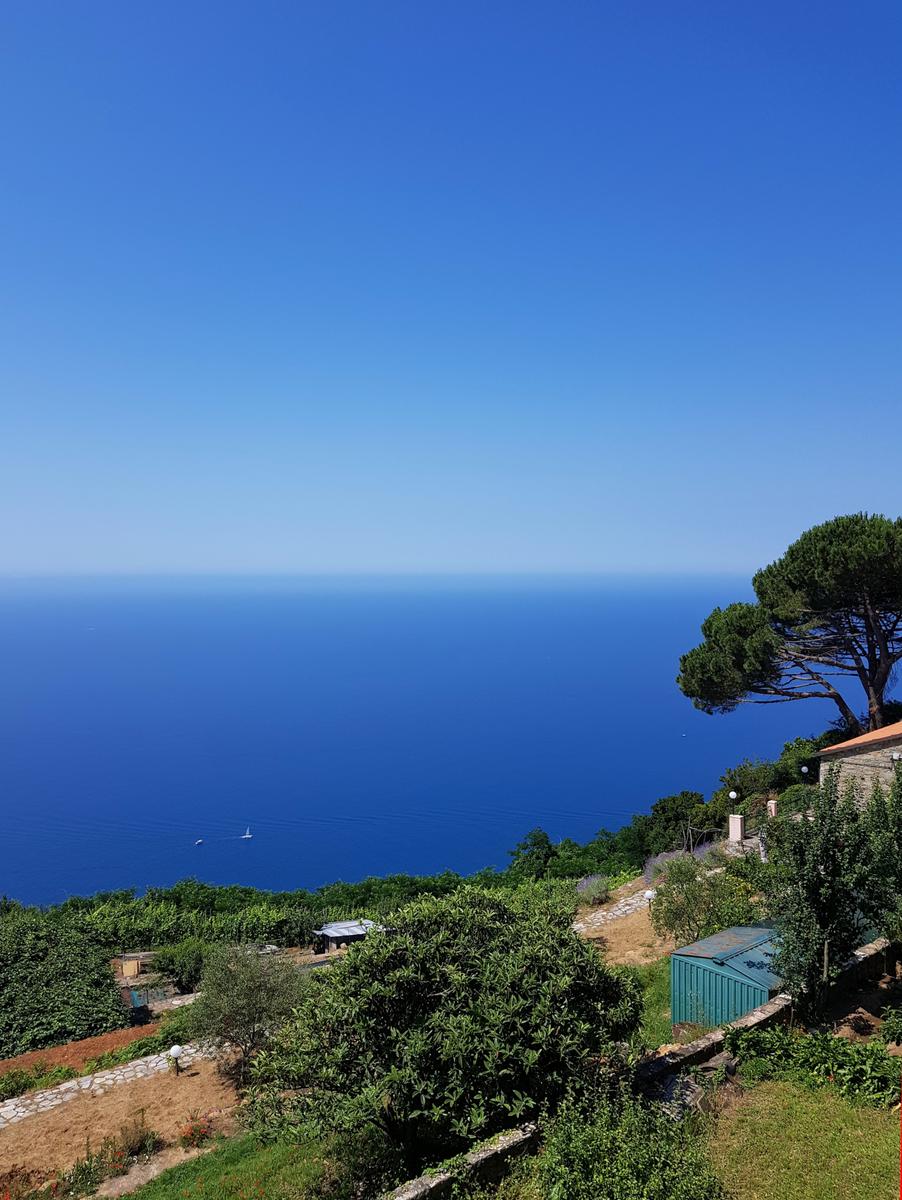 From Campiglia the trail hugs the coast all the way to Porto Venere and so this is probably the nicest section of the whole hike.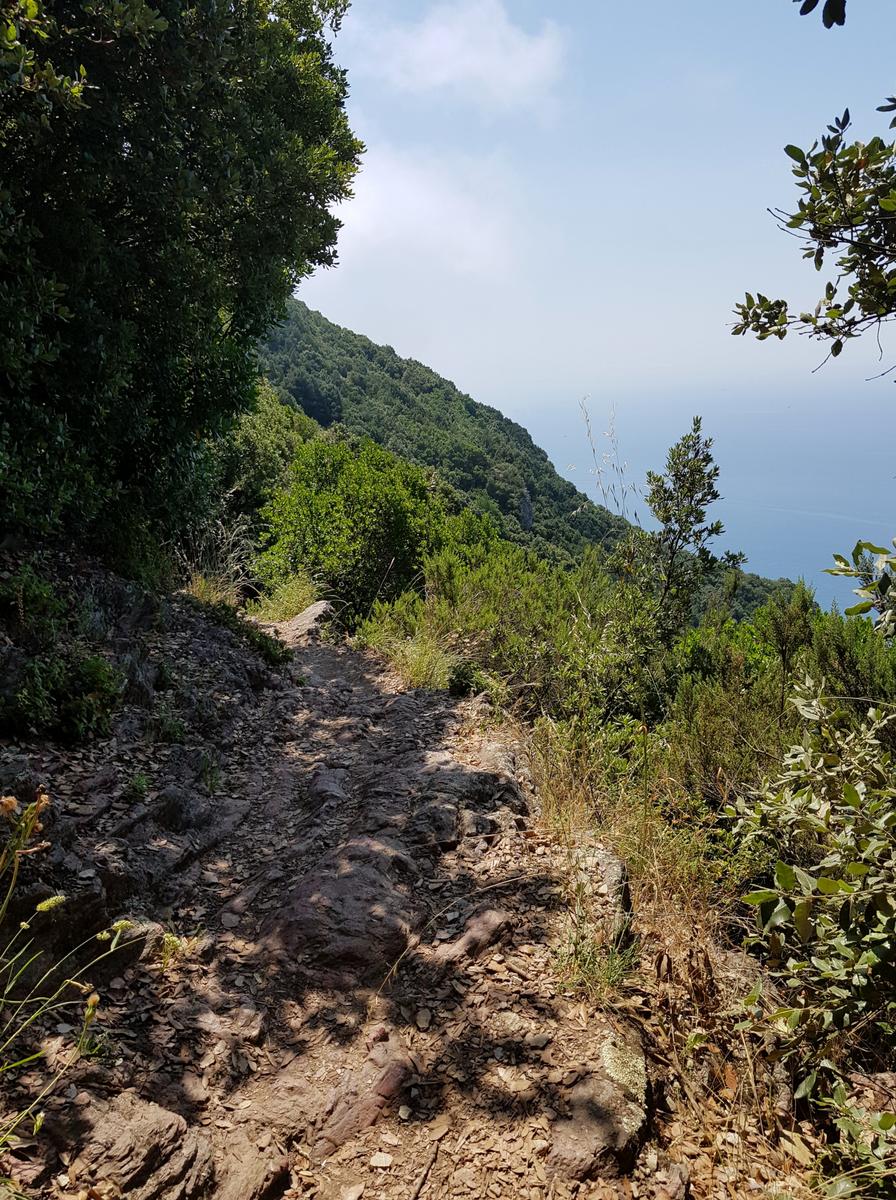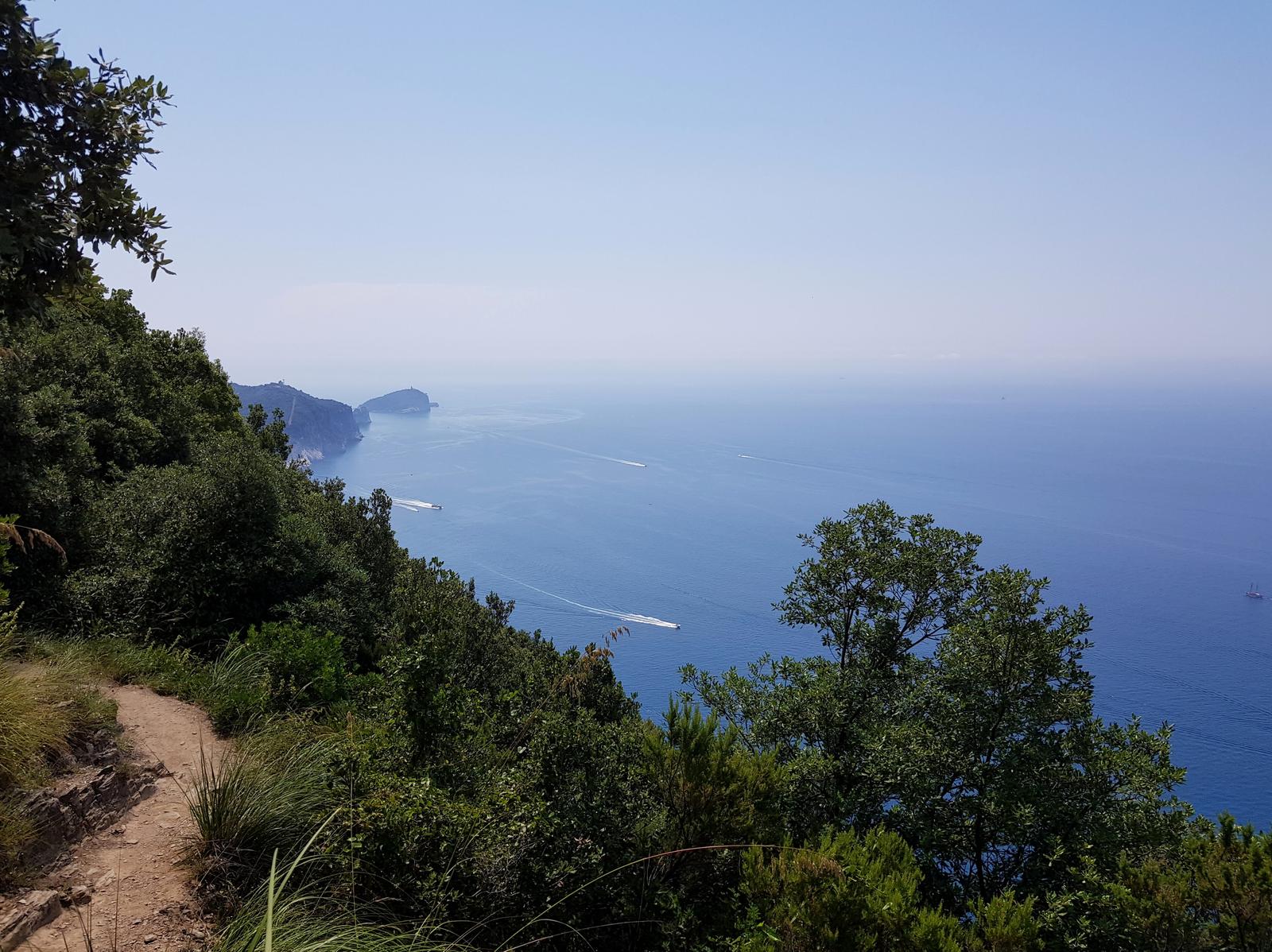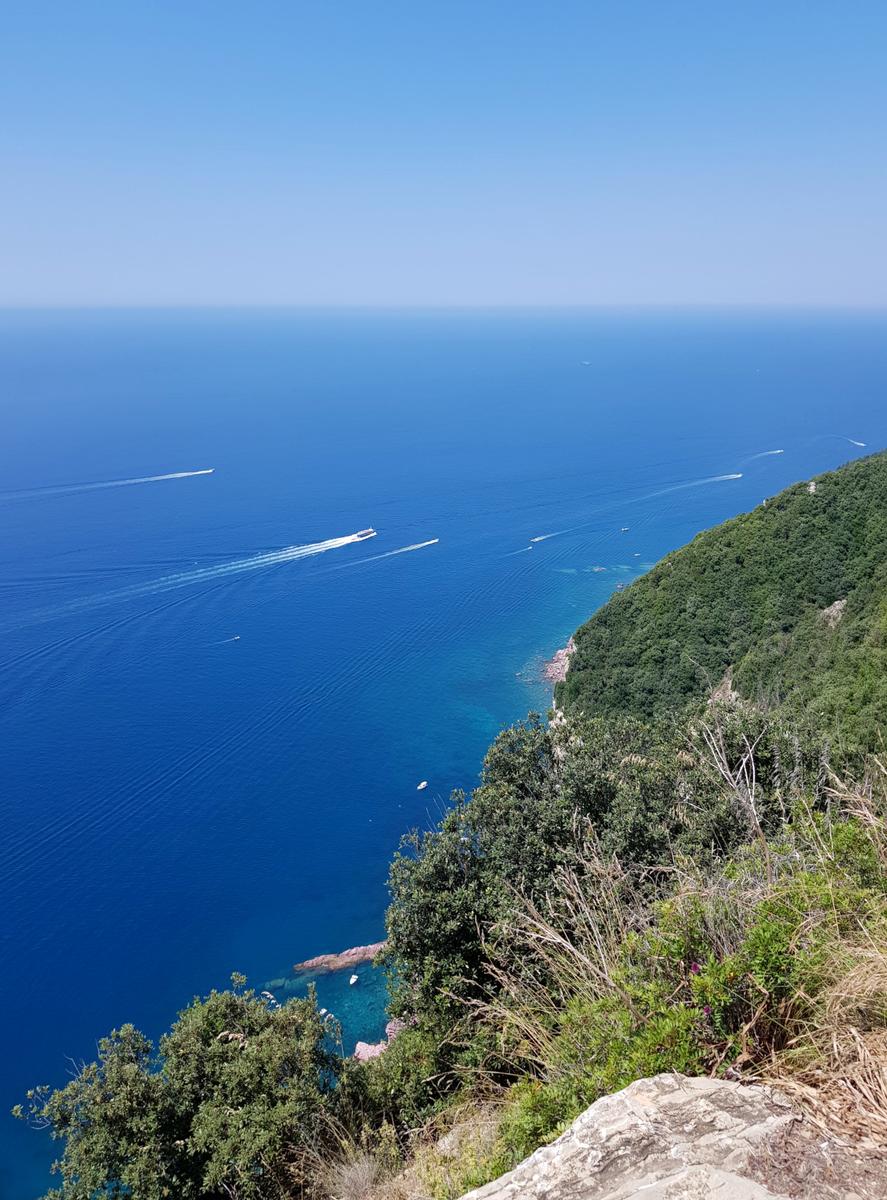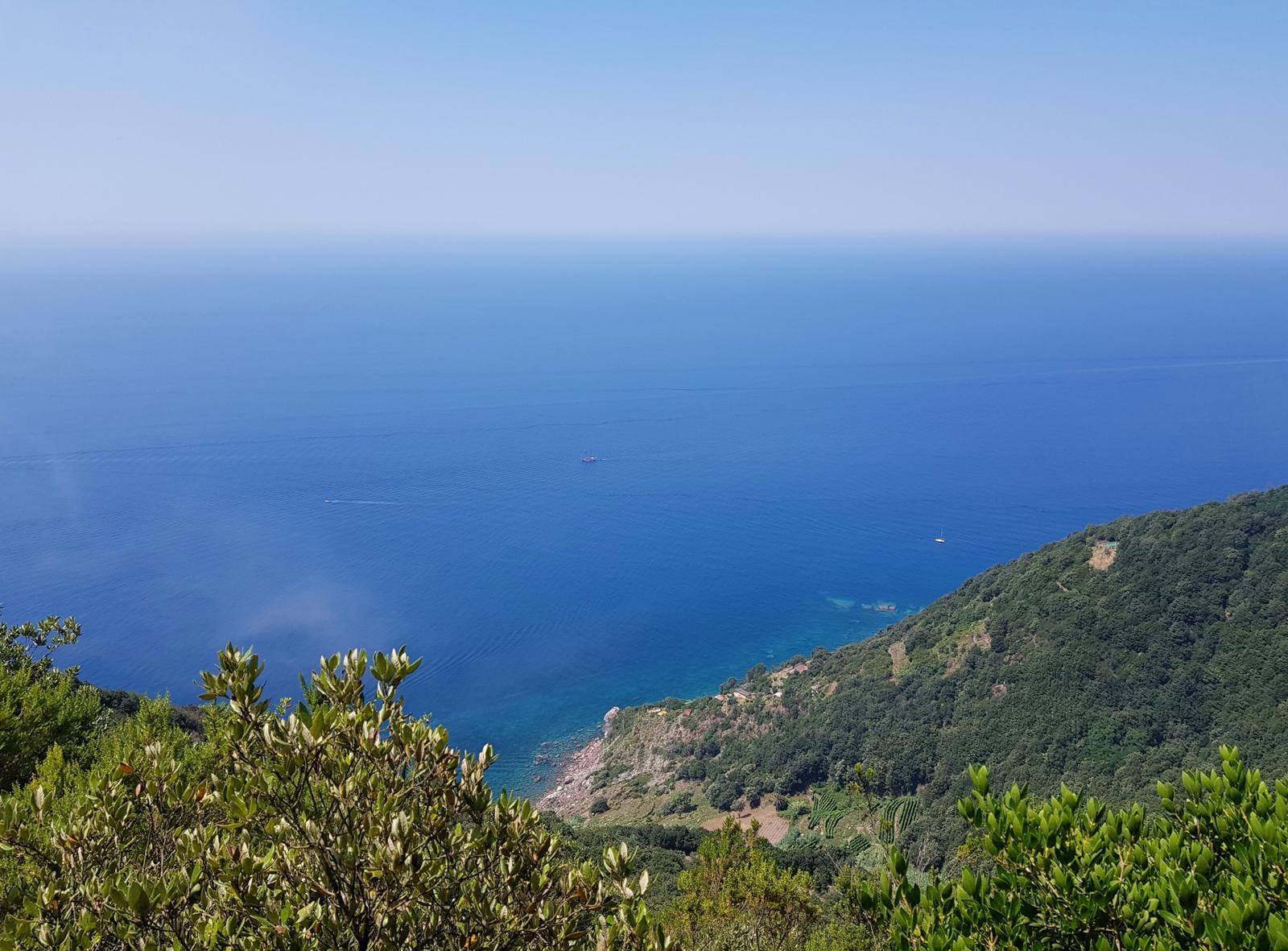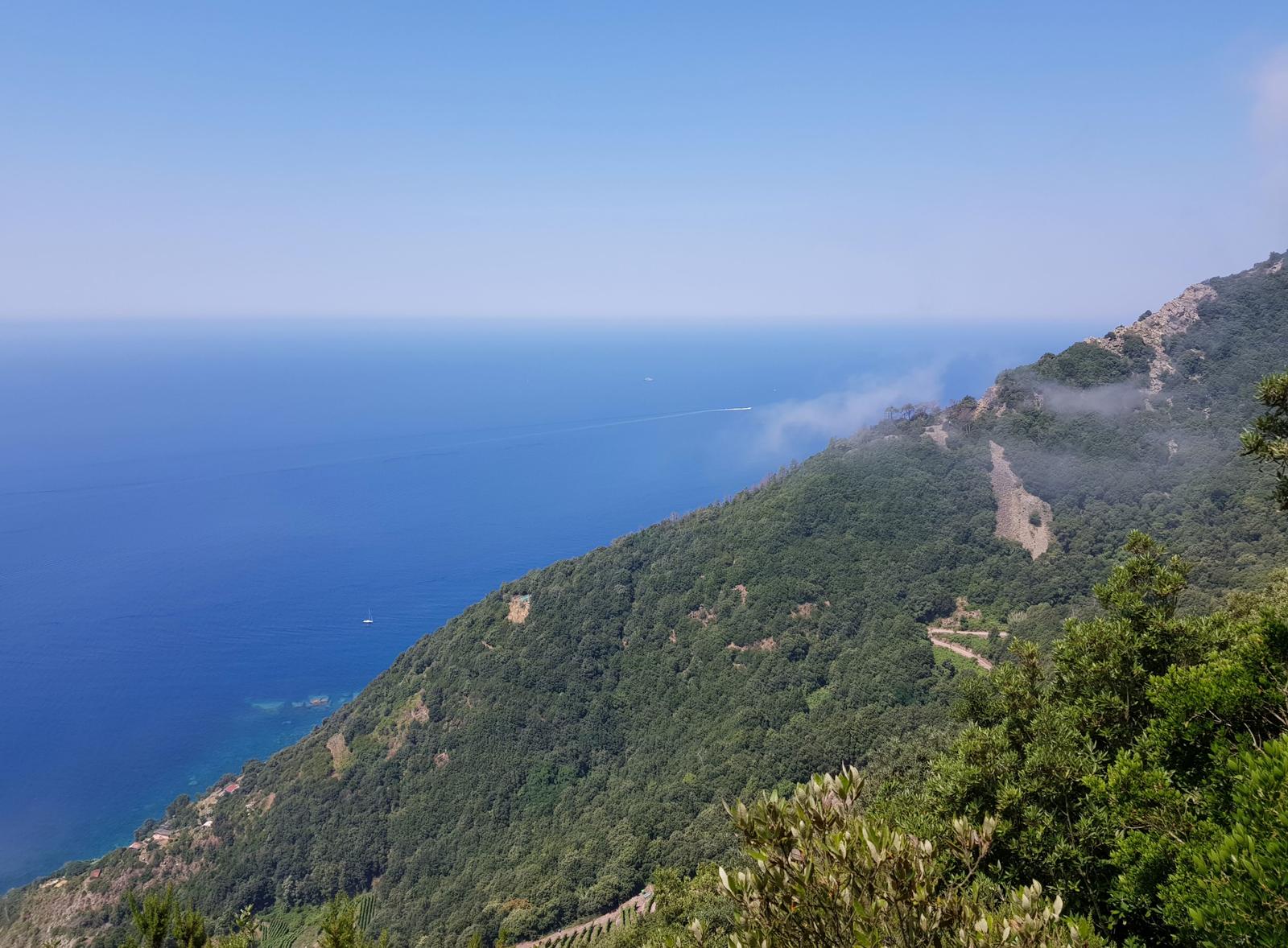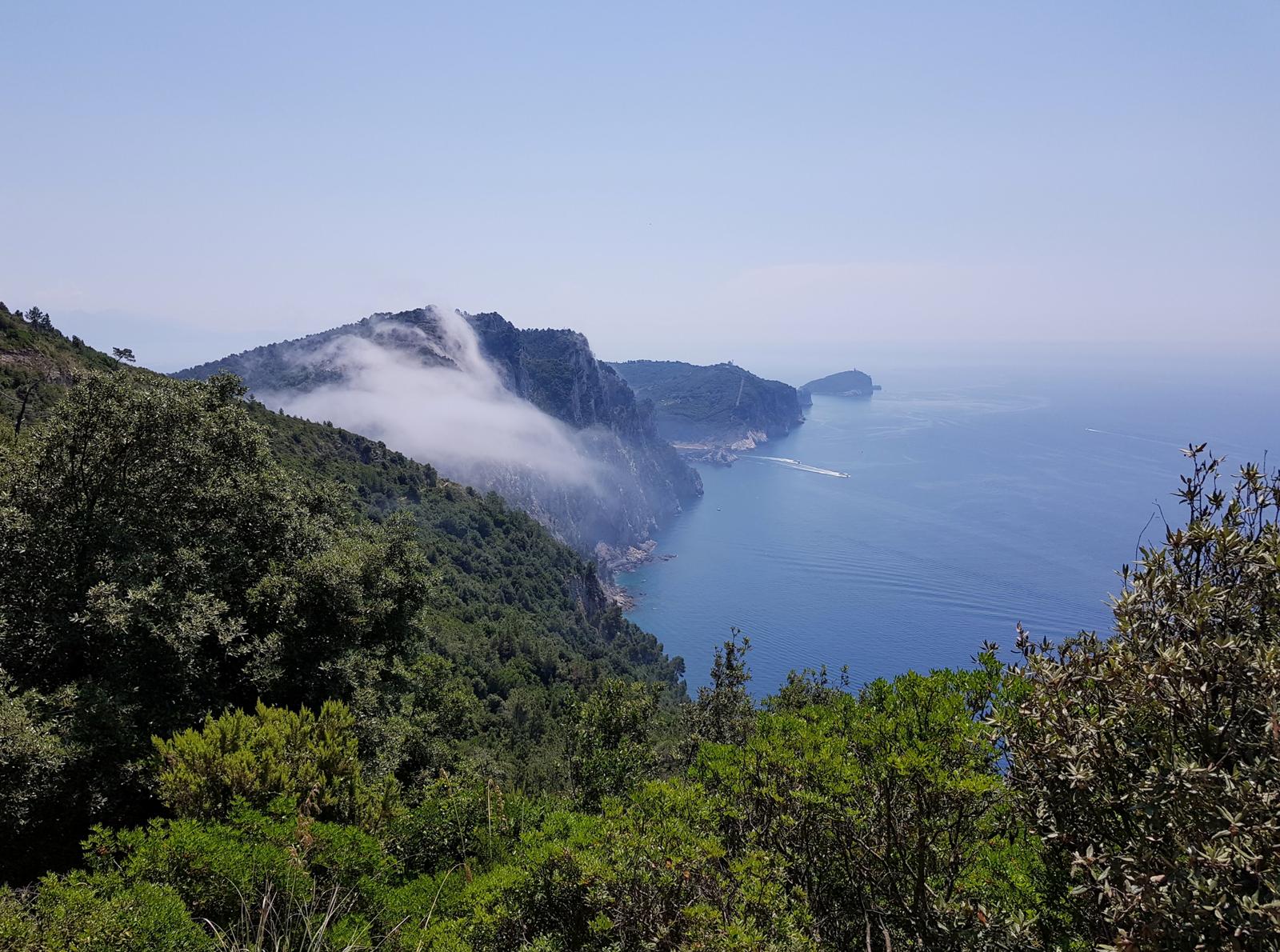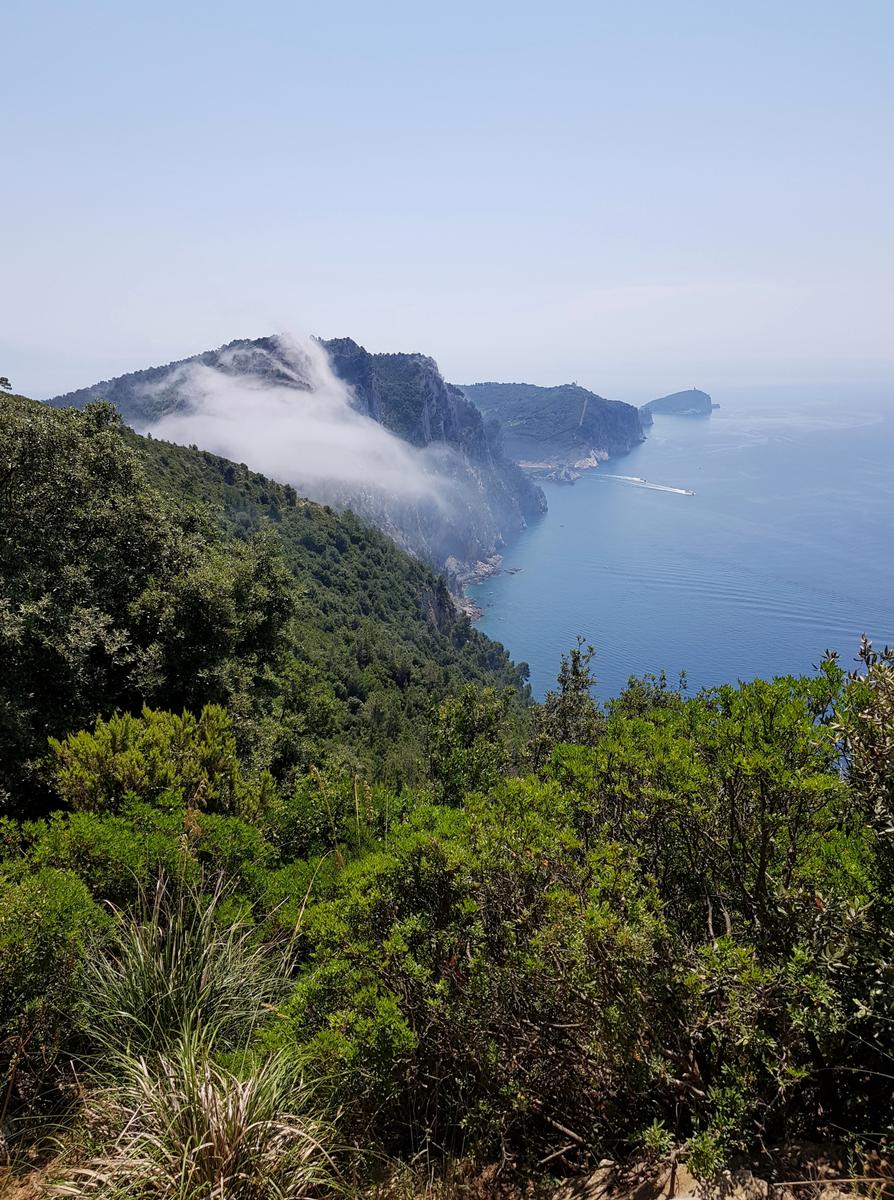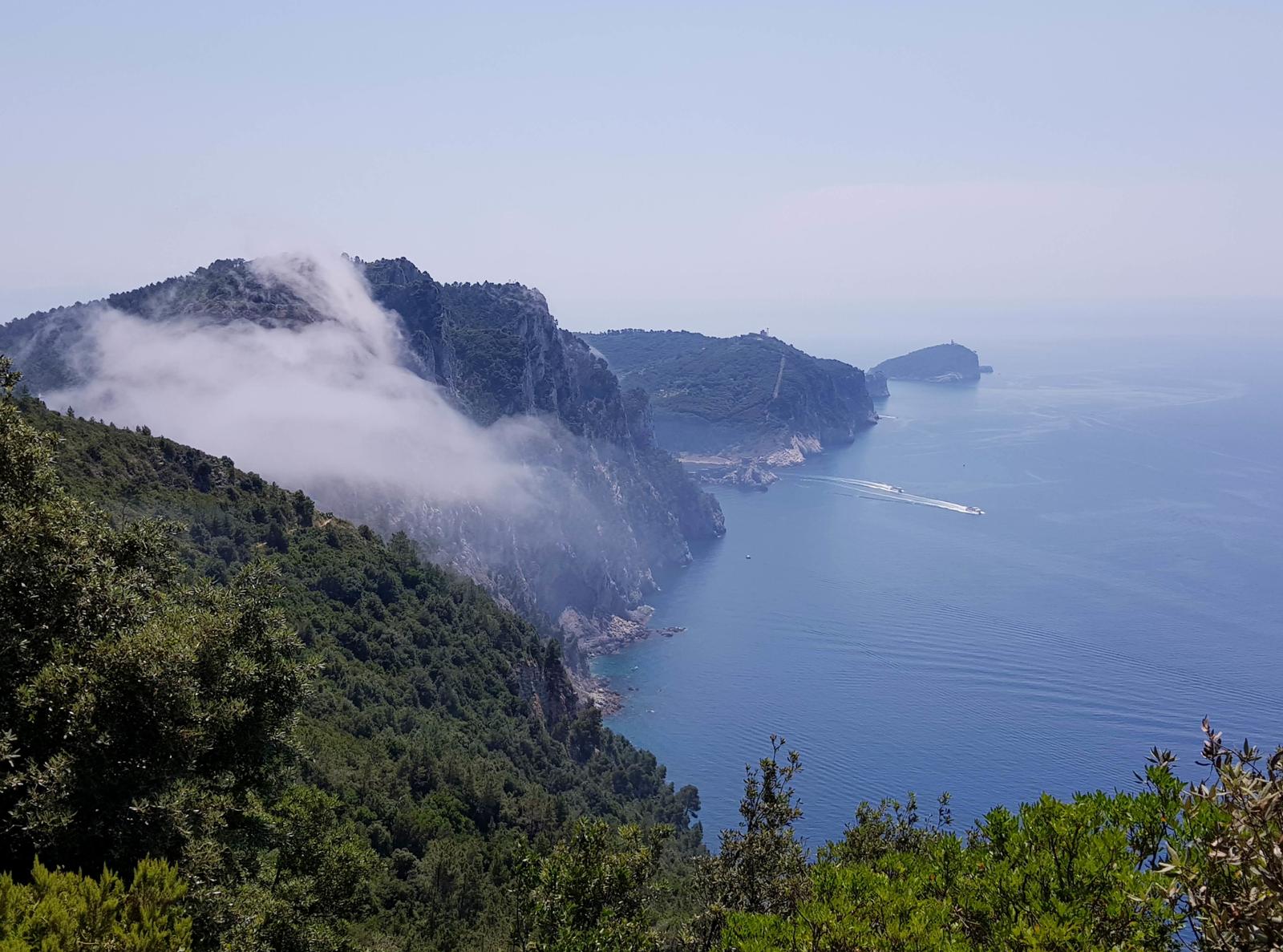 Of course you start to get a better view of the Porto Venere Regional Park the closer you get to it and with this view we decided it was time that we stopped to have our picnic lunch.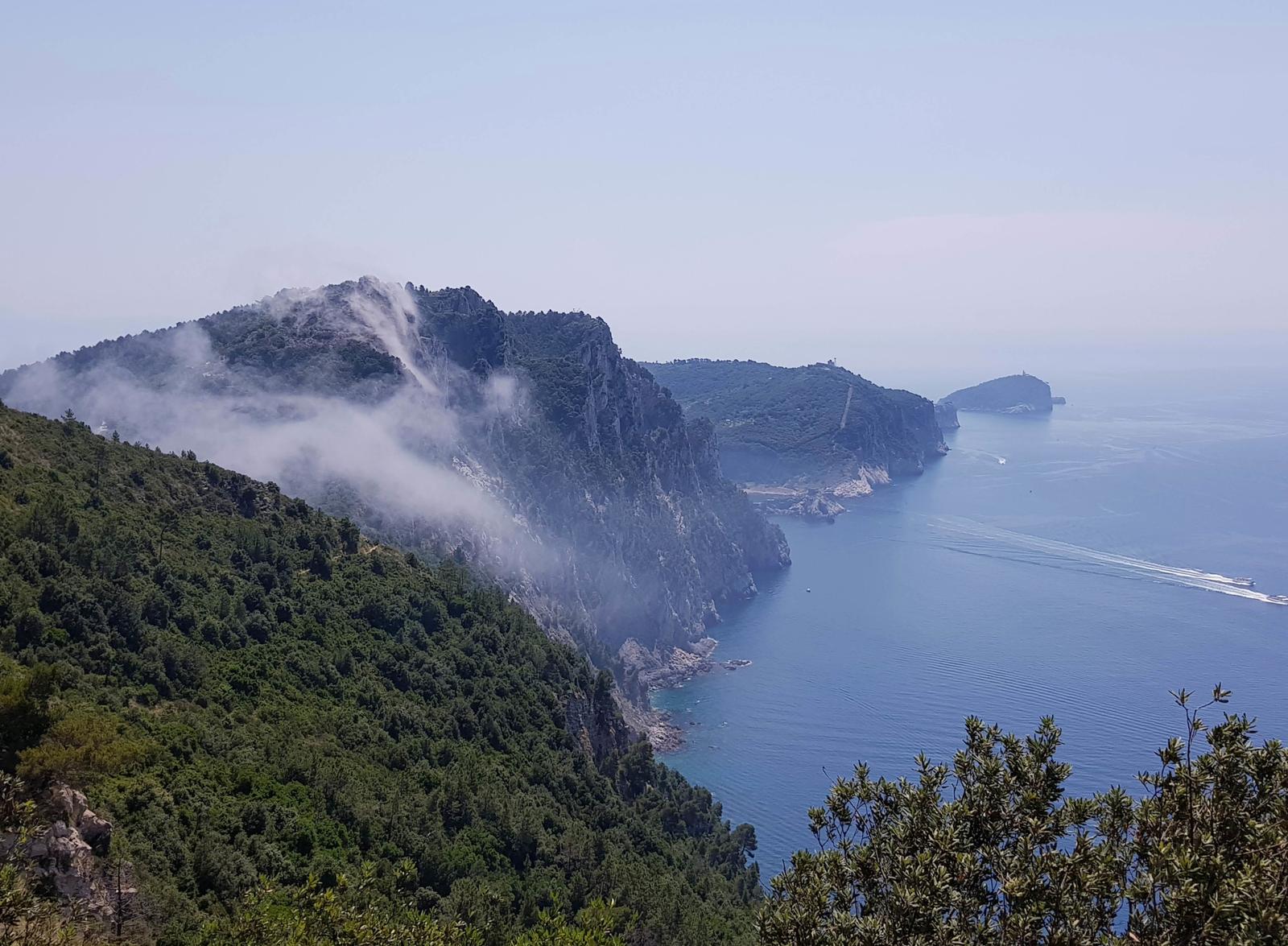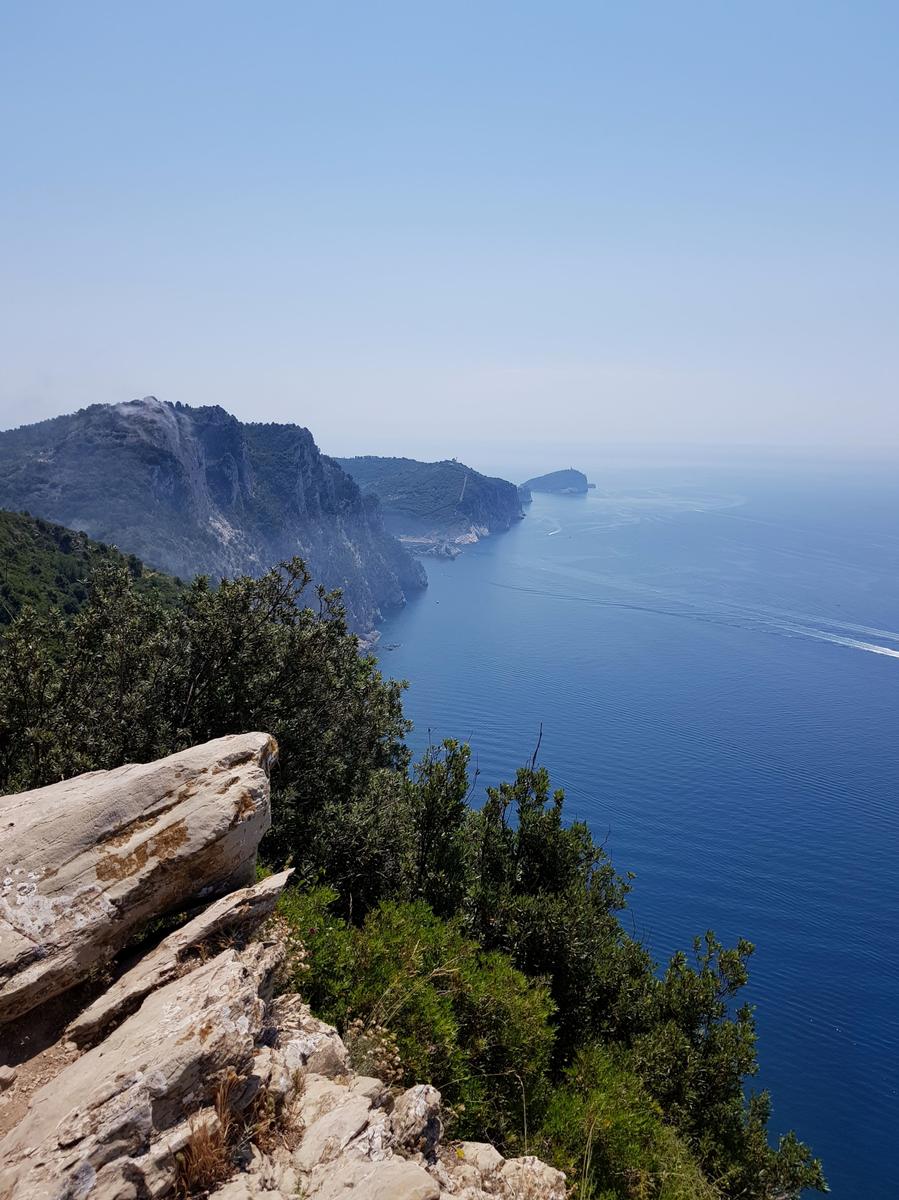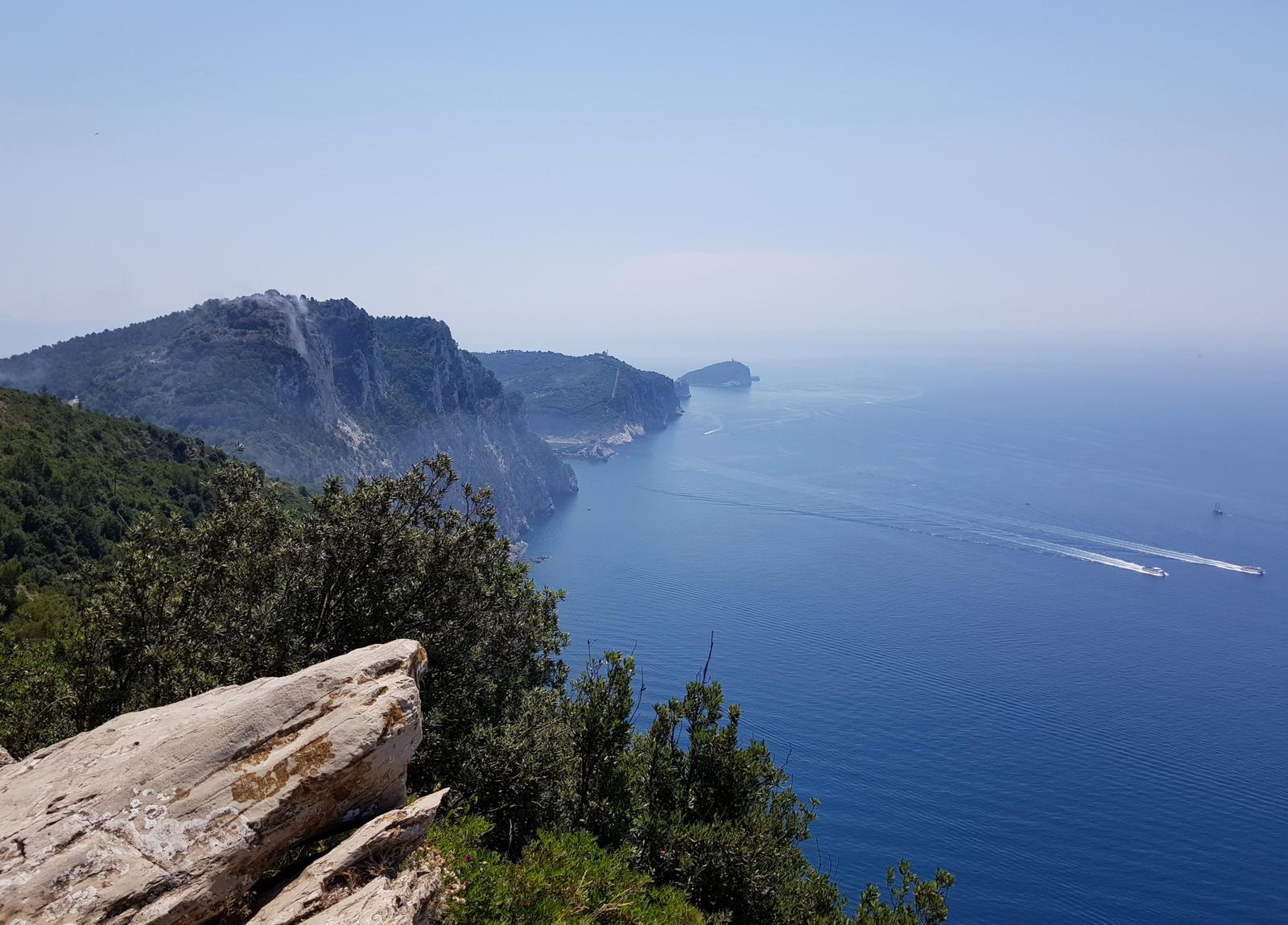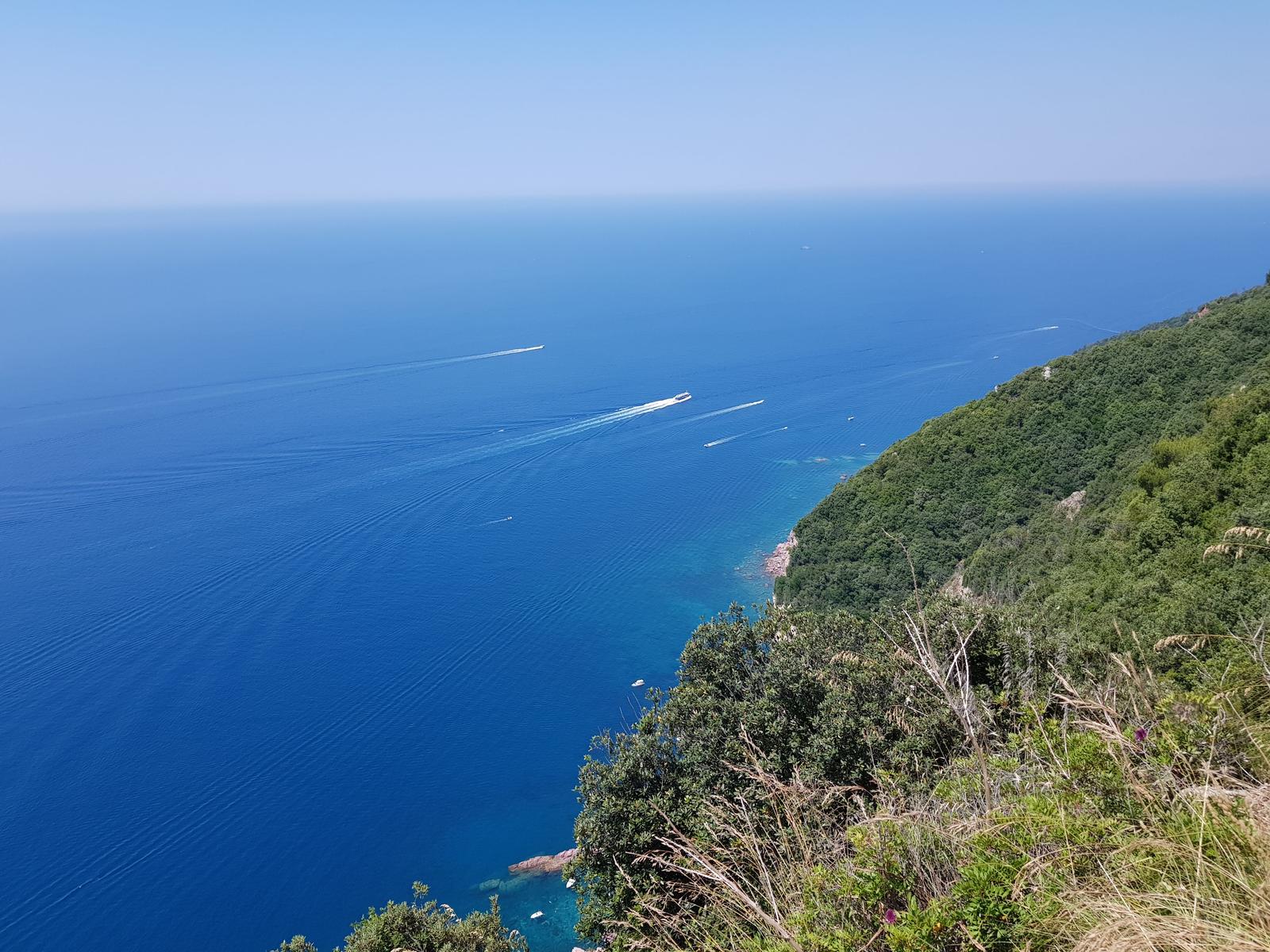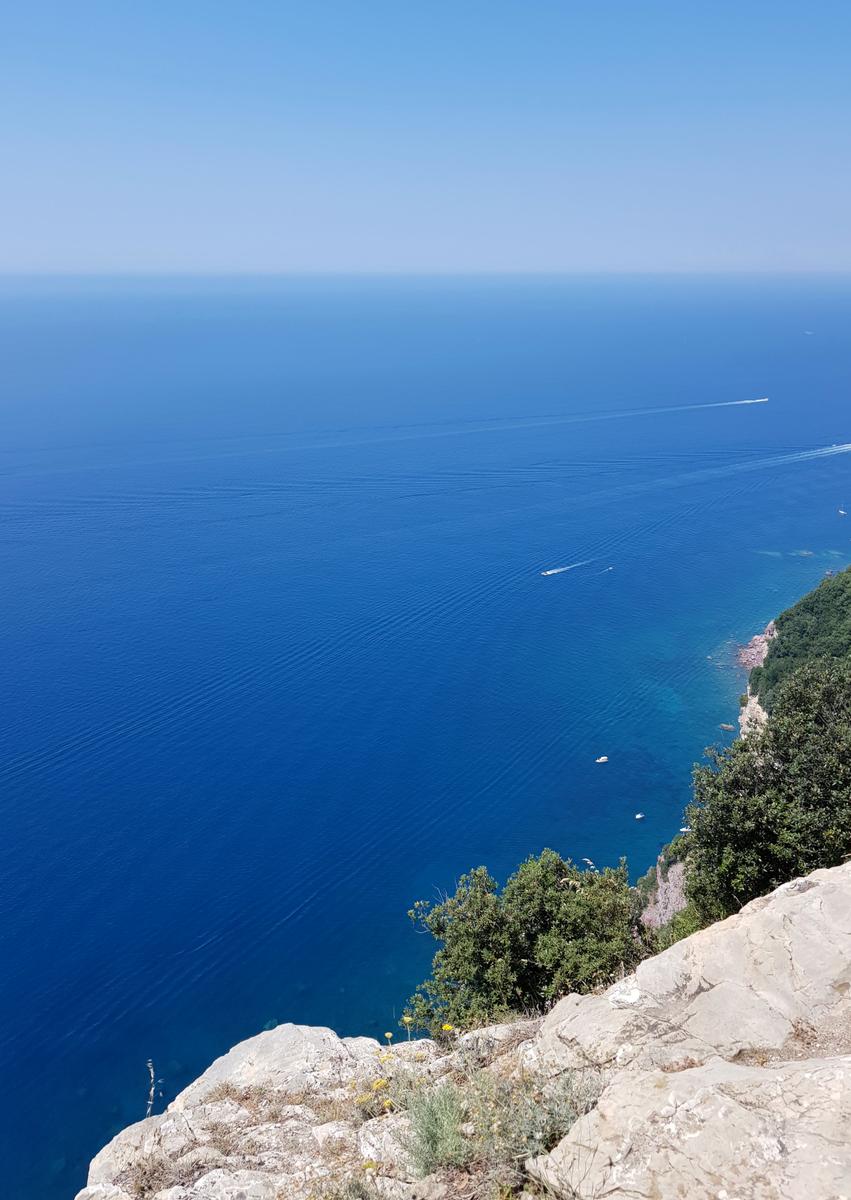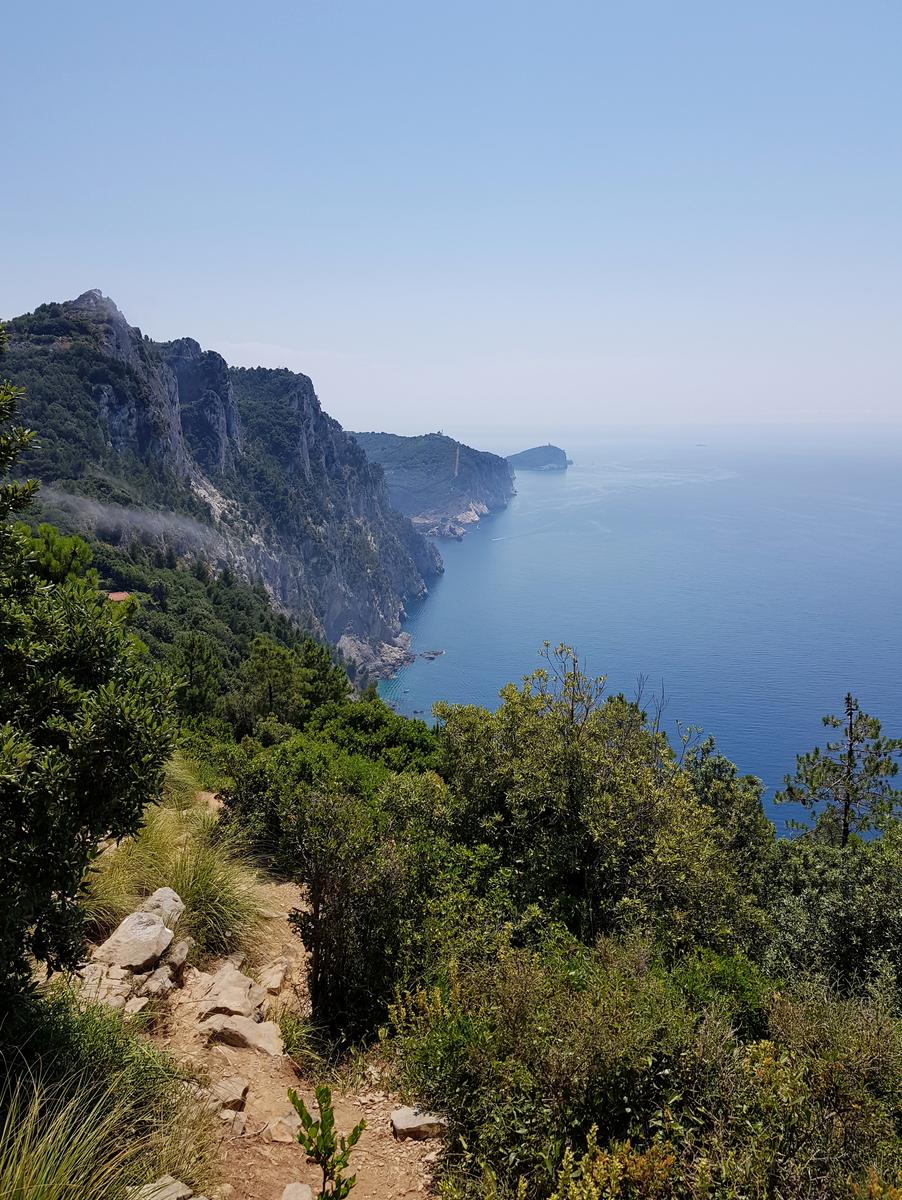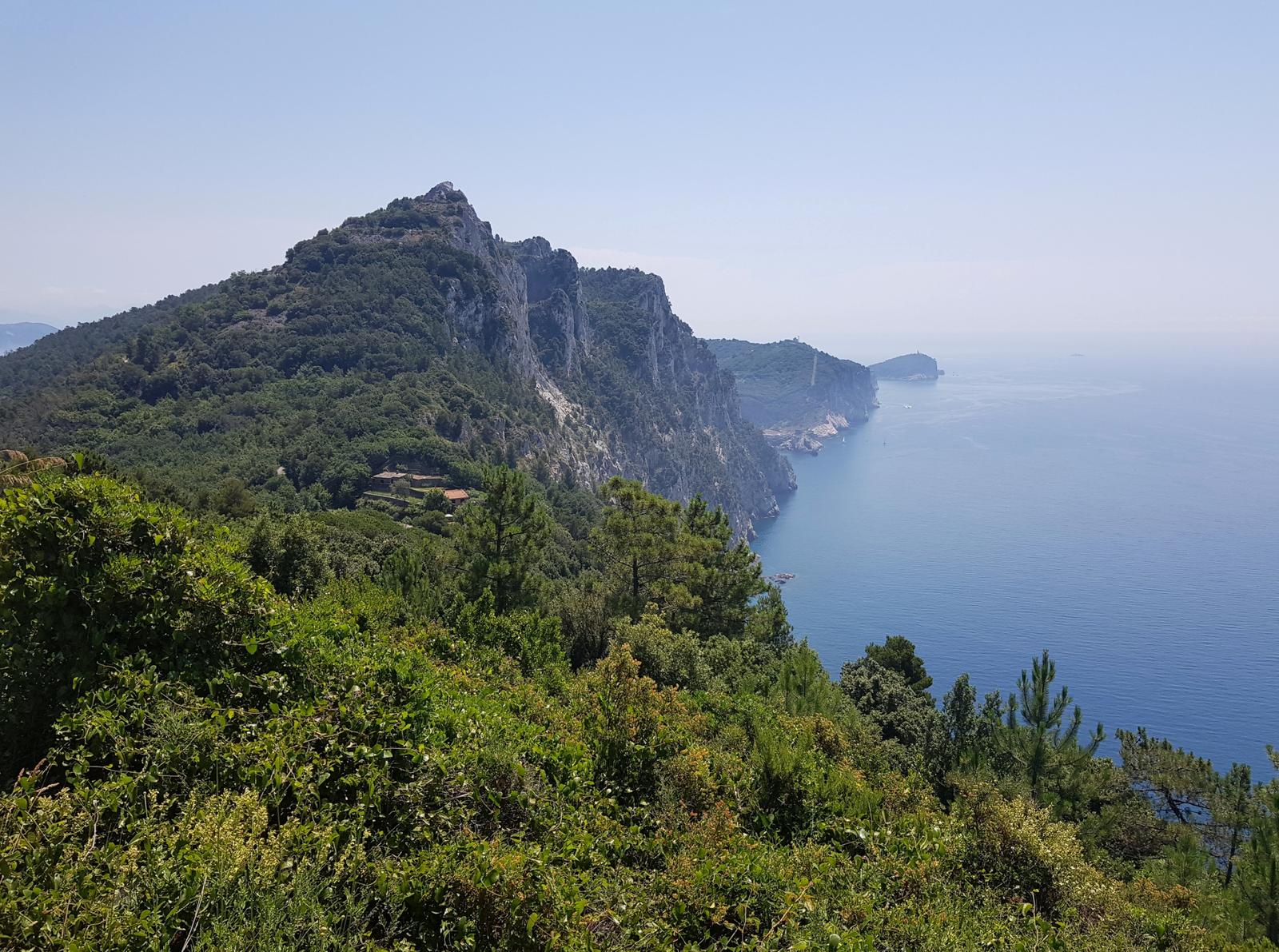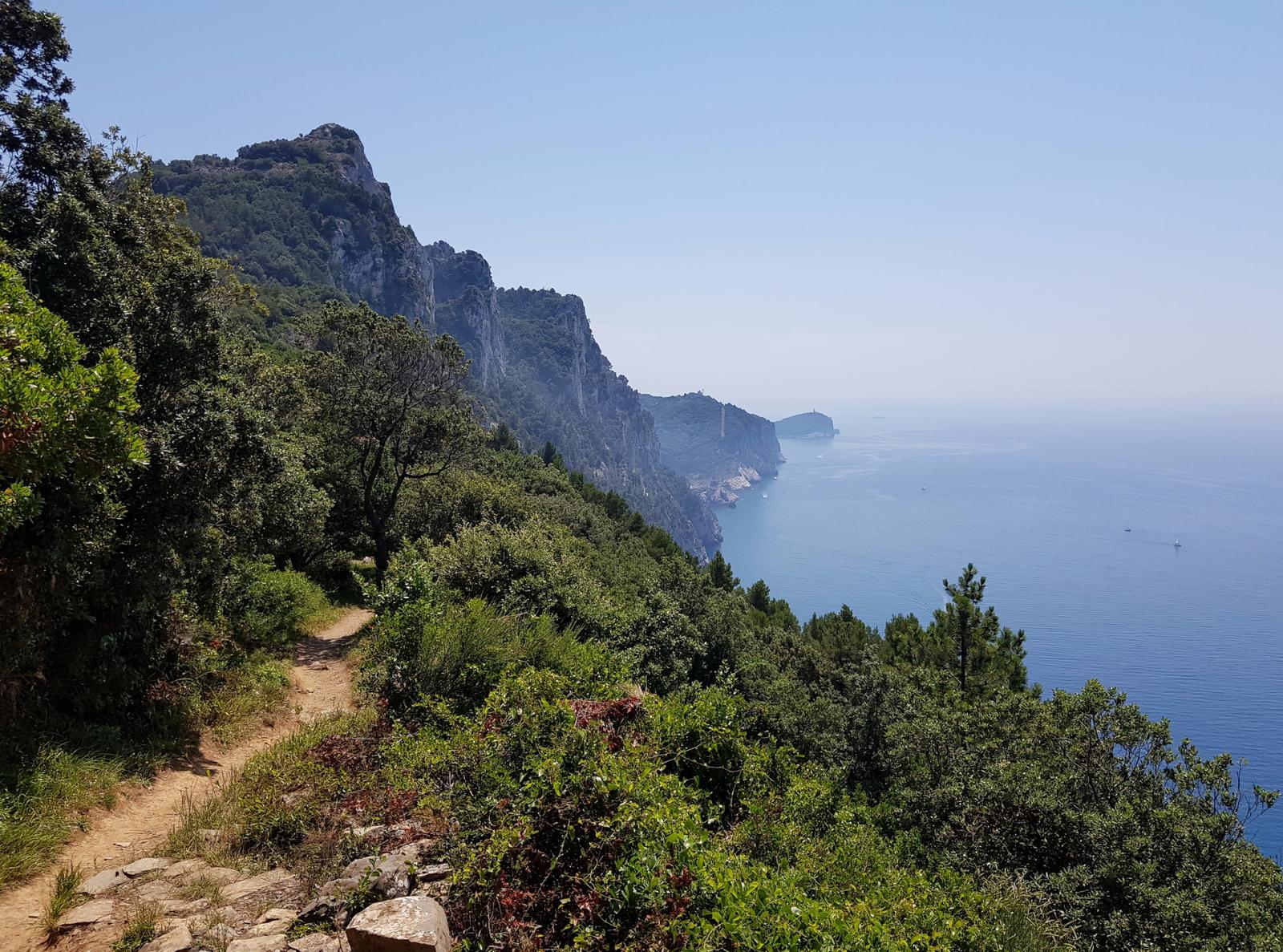 Around 11kms into the hike, we could at last see the Chiesa di San Pietro (Church of Saint Peter) which is built right on the edge of the rock.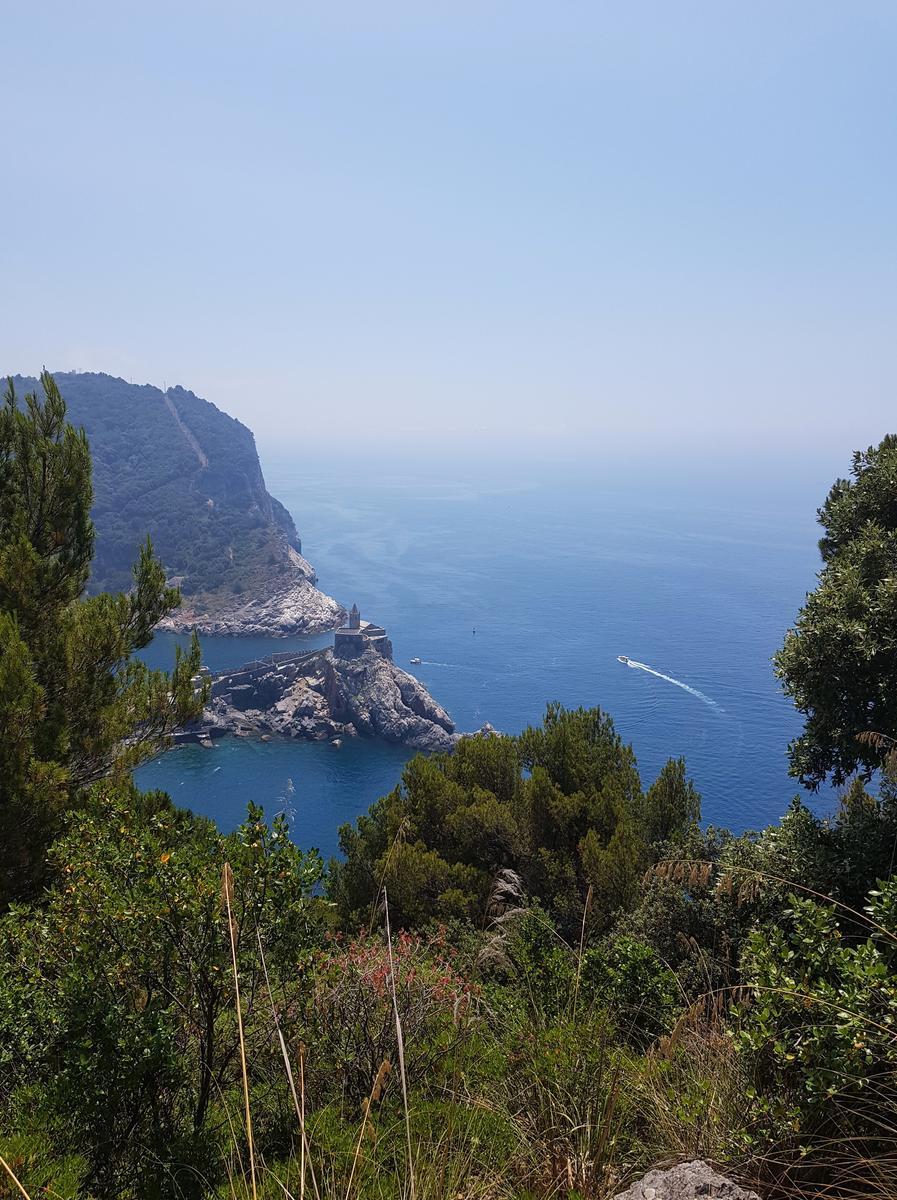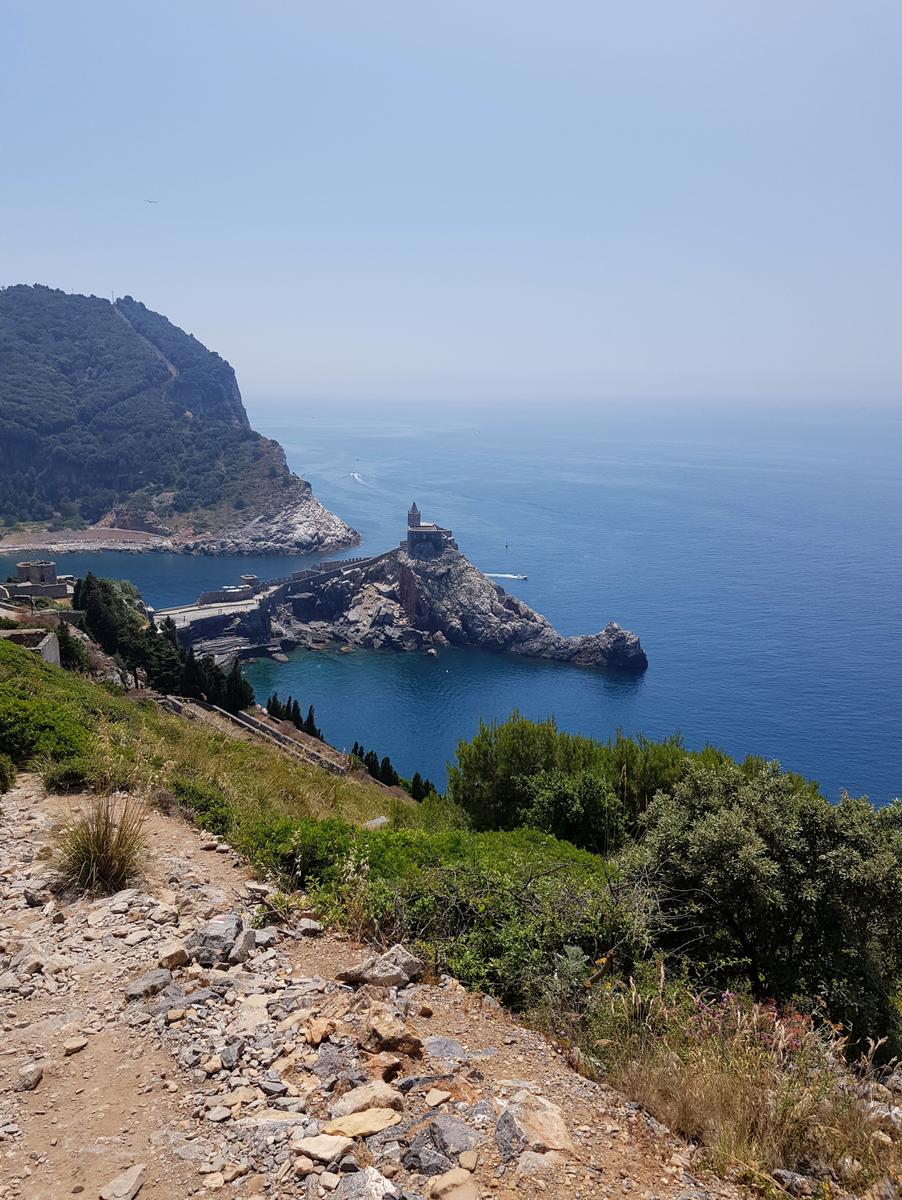 Next we saw the Castello Doria ahead and even more exciting we could see people swimming in the crystal clear blue water below and we couldn't wait to jump in ourselves.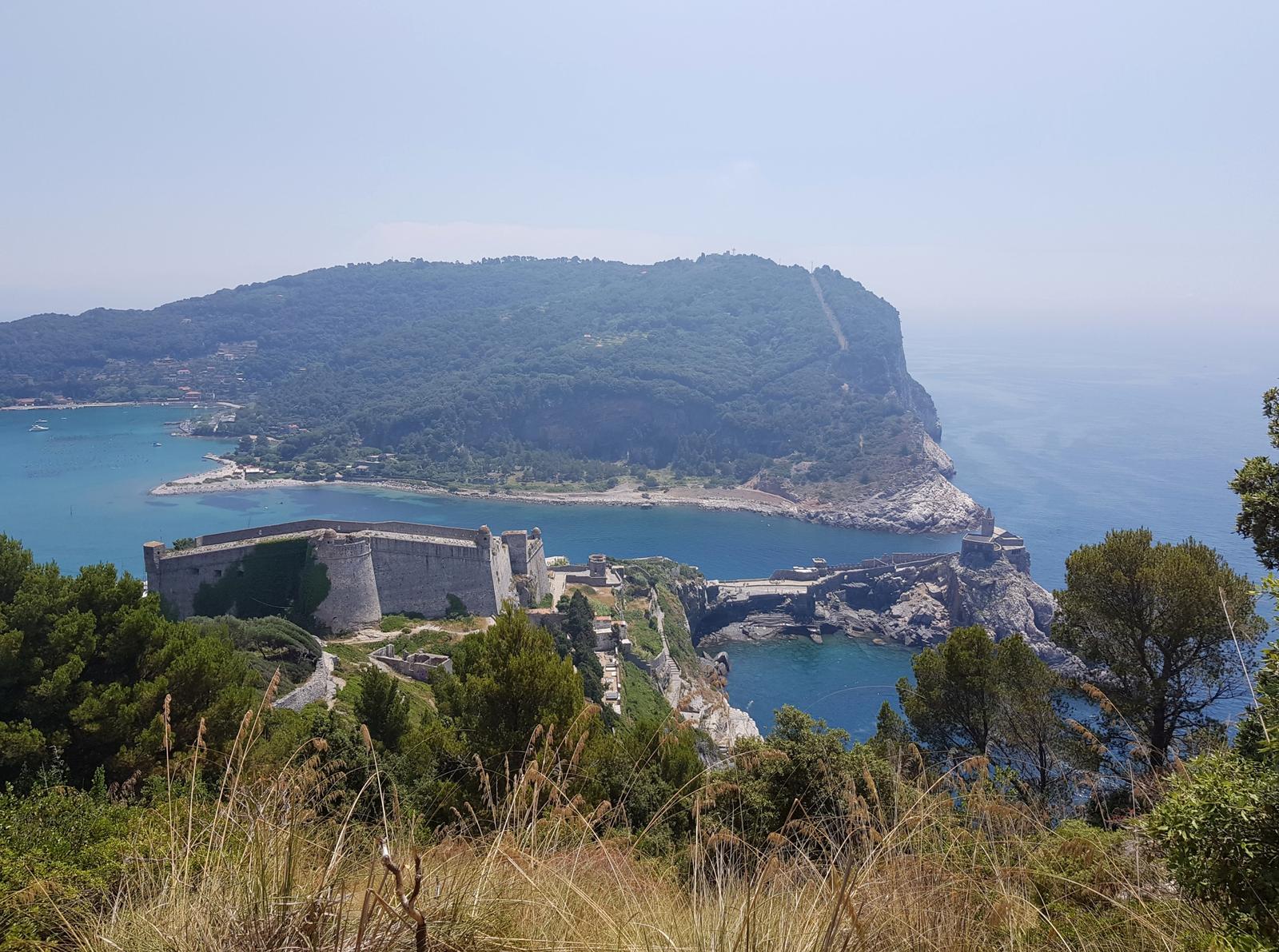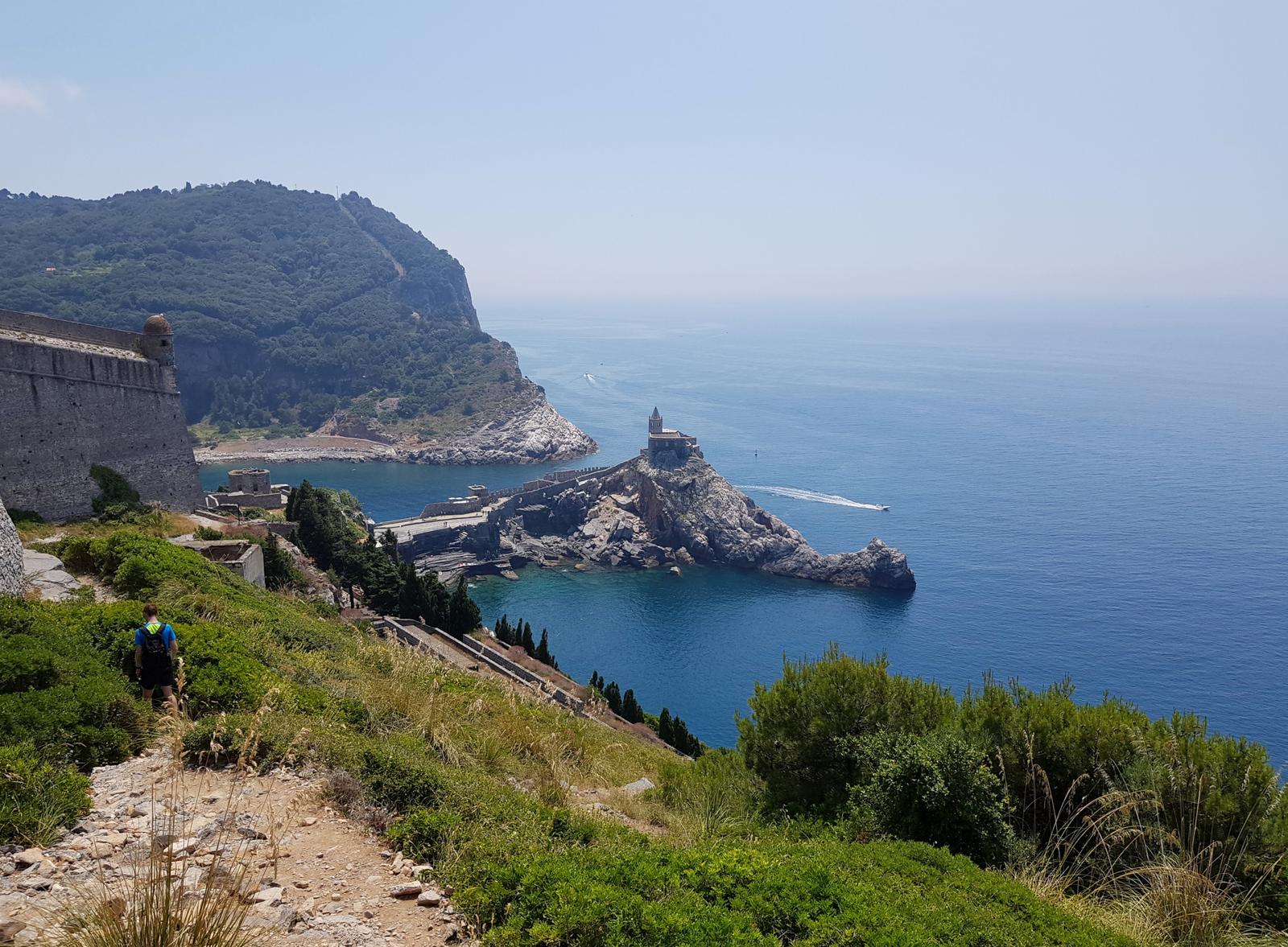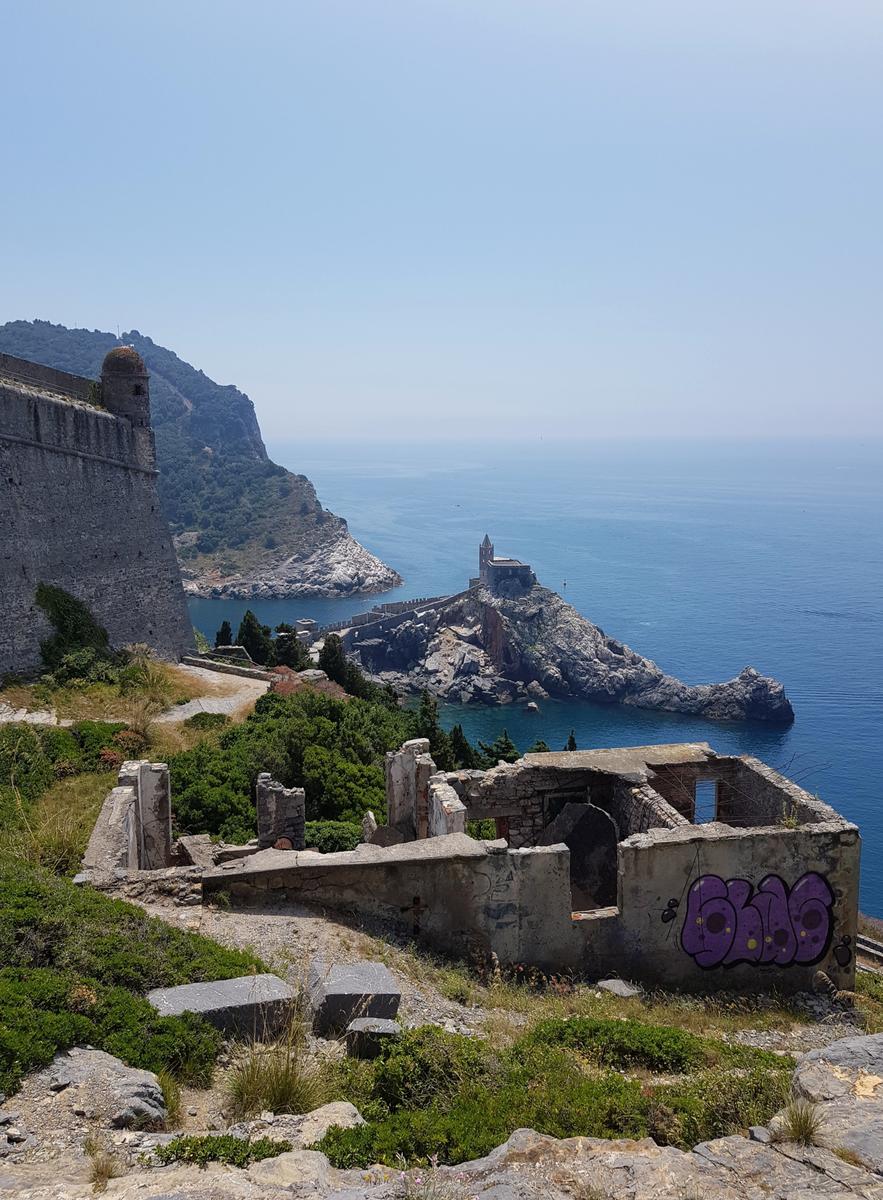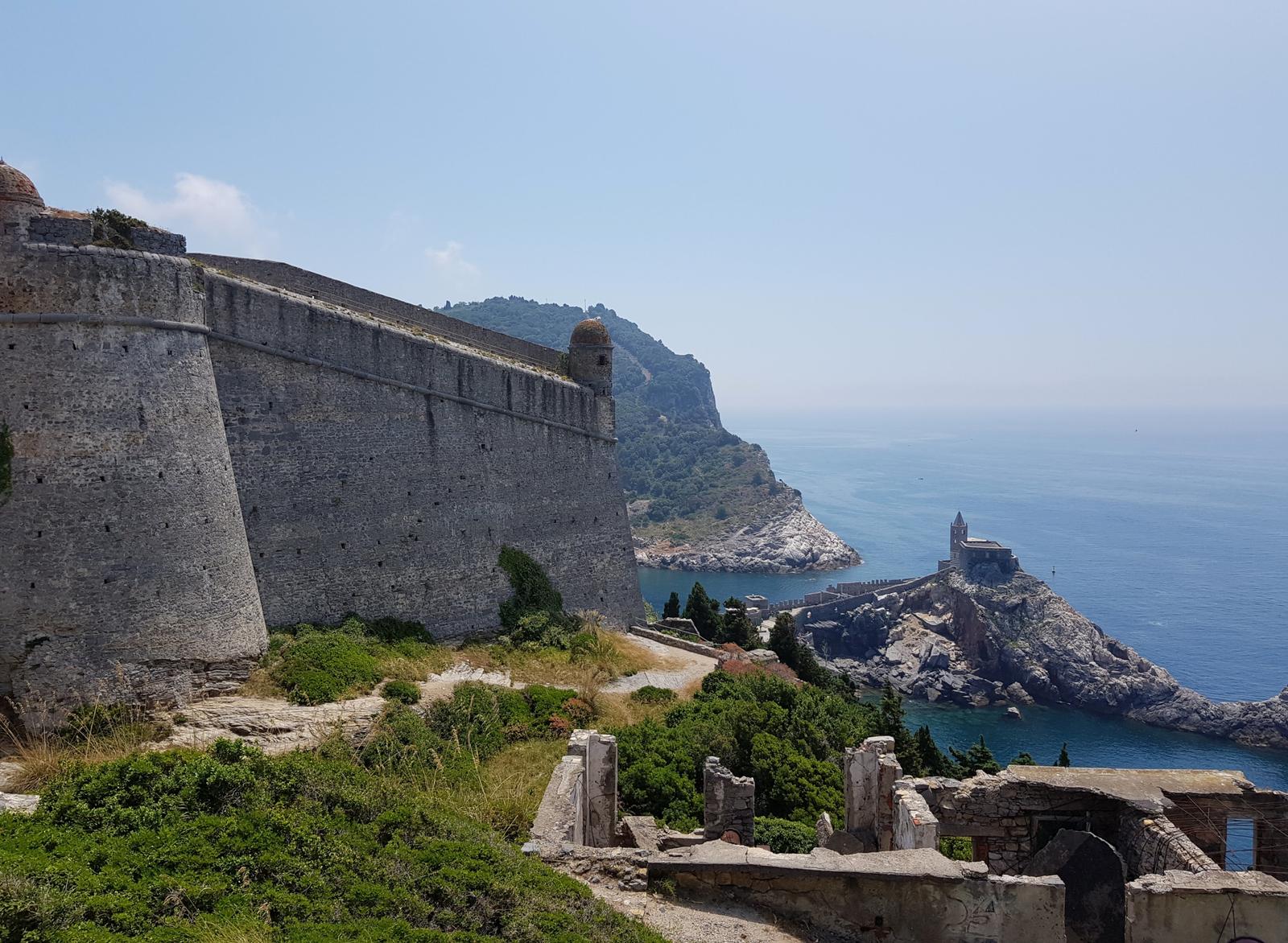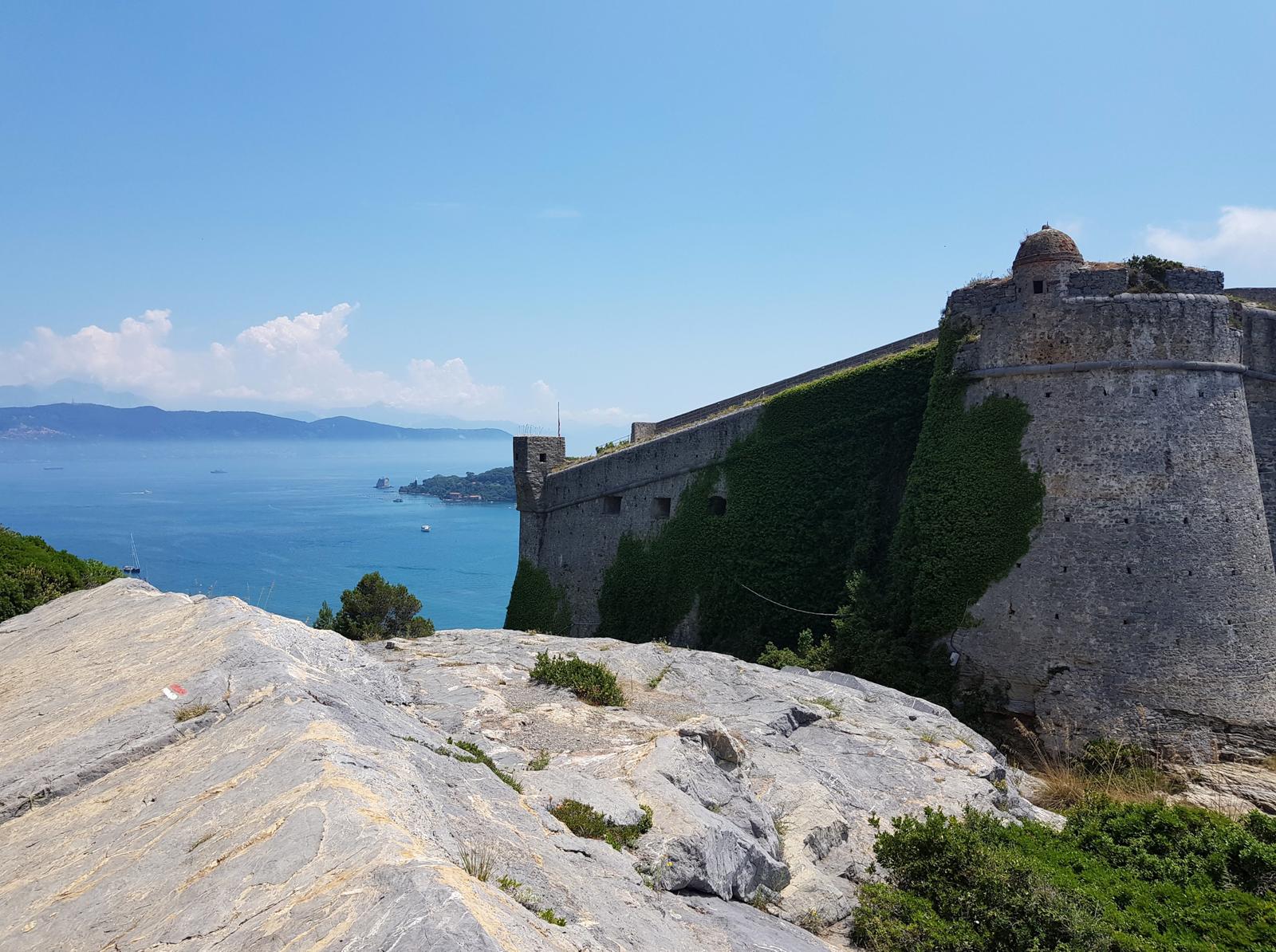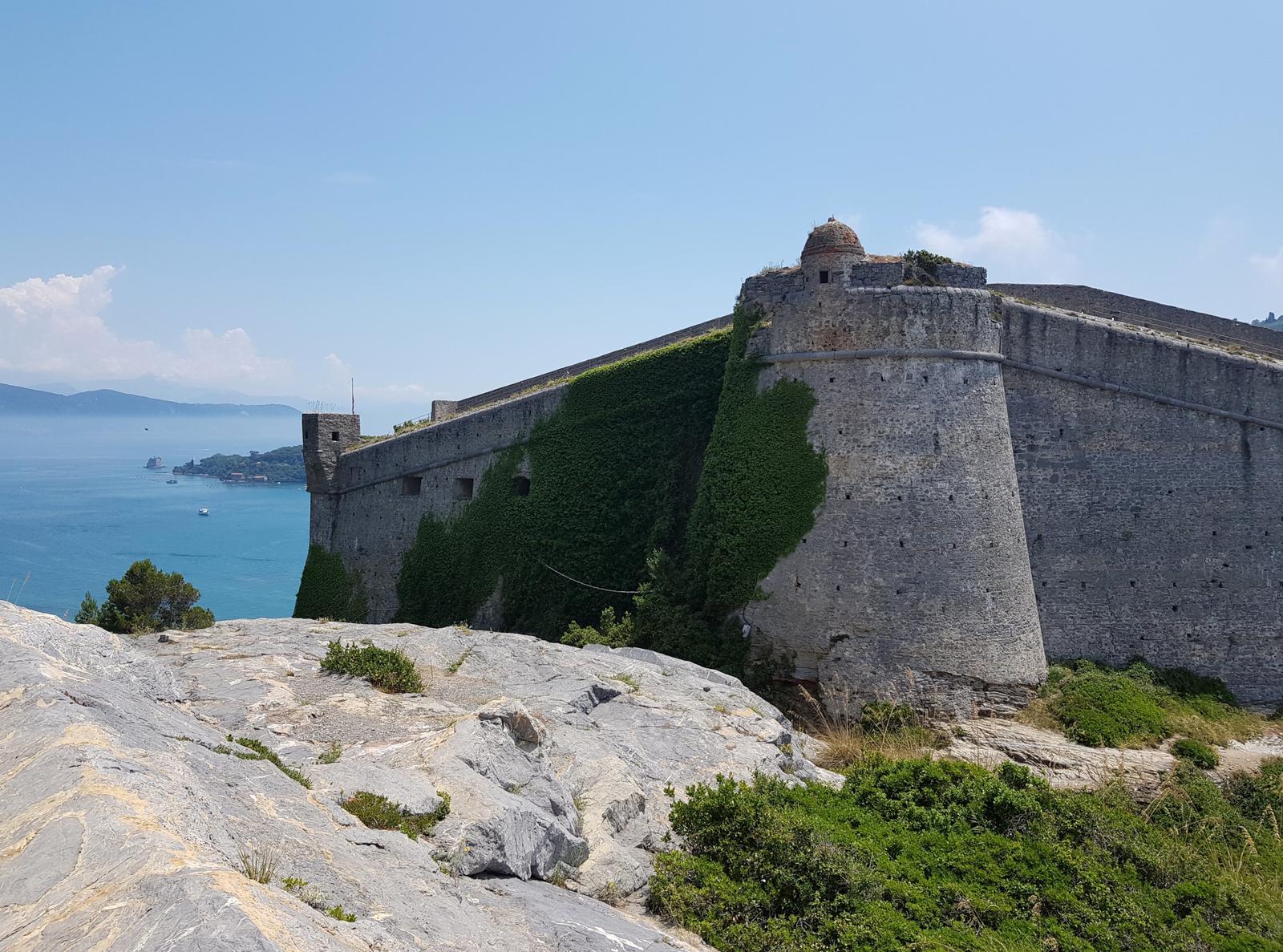 The last kilometer down from the Castle Doria was probably the busiest section of the whole hike with a lot of people making their way up to take photos. Finally, we descended stone steps into colourful bustling Porto Venere.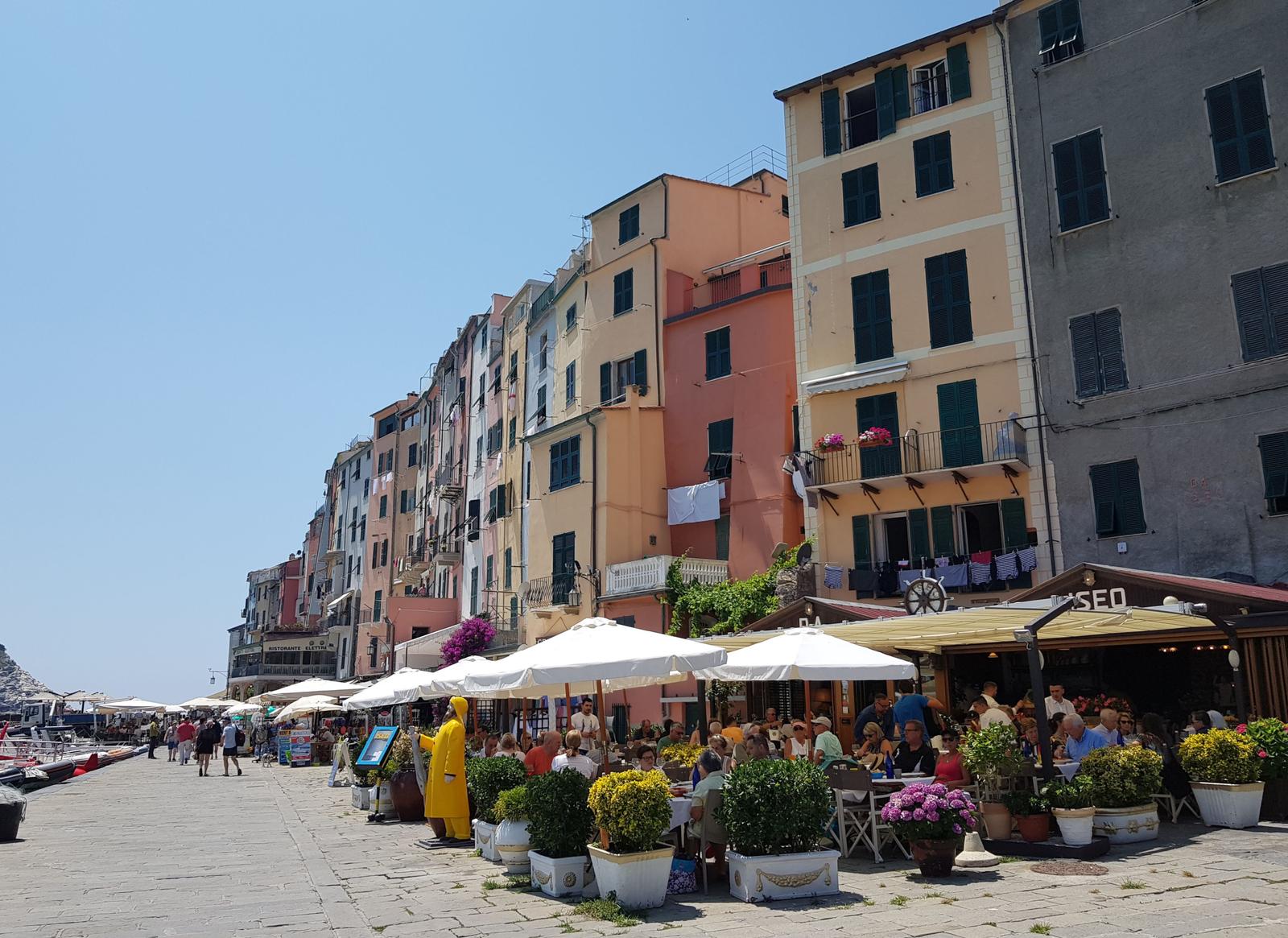 It was really hot and busy so we headed straight for the pier and soon we were floating in the glorious (very salty) sea - we wouldn't be smelly tourists/hikers on the bus home today!
---
Back to La Spezia.
Once we were content with our swim and sufficiently cooled we headed for the bus. The train isn't an option from Porto Venere but it was easy to find a bus stop using Google maps. You can also take a ferry from Porto Venere to La Spezia. For more information on getting from Porto Venere to La Spezia see here.
---
Final Thoughts:
This was definitely our favourite of the two hikes we did in Cinque Terre. Although the start of this hike is steep you can avoid this section by getting a bus from Riomaggiore to the Sanctuary. Once you get to the Sanctuary the path is fairly flat and well worn with just a few short technical sections as you get closer to Porto Venere. Also, on this hike there are more opportunities to stop and have a coffee/cool drink along the way in one of the cafes/bars that you pass, where as with the other hike, you are far removed from civilisation for the majority of the hike.
Porto Venere is a great place to end a hike. It is gorgeous and has lots of bars, cafes, restaurants, shops etc. If we weren't hopping back on the touring bikes the next day we would have spent longer in Porto Venere and taken a later bus back to La Spezia. We absolutely loved our swim when we were done too as it was over 30C that day so it was delightful.
---
If you've any questions, suggestions or just want to say hello, contact me via the Contact Form, Instagram (@noroadlongenough) or By Email noroadlongenough1@gmail.com