Our 2020 Best of Nazaré!
We have visited Nazaré a number of times since moving to Lisbon, only an hour and a half away by car, it is the perfect place to relax and spend a few nights breathing in some fresh sea air. Nazaré is located on Portugal's famous Silver Coast, North West of Lisbon in the district of Leiria. Nazaré is truly a picturesque seaside town, well, when the sun is shining anyway! Check out the photos below, from different seasons (and weather), Winter versus Summer, that we have experienced in Nazaré - taken from the same viewpoint!
This first one was a cloudy Winters day: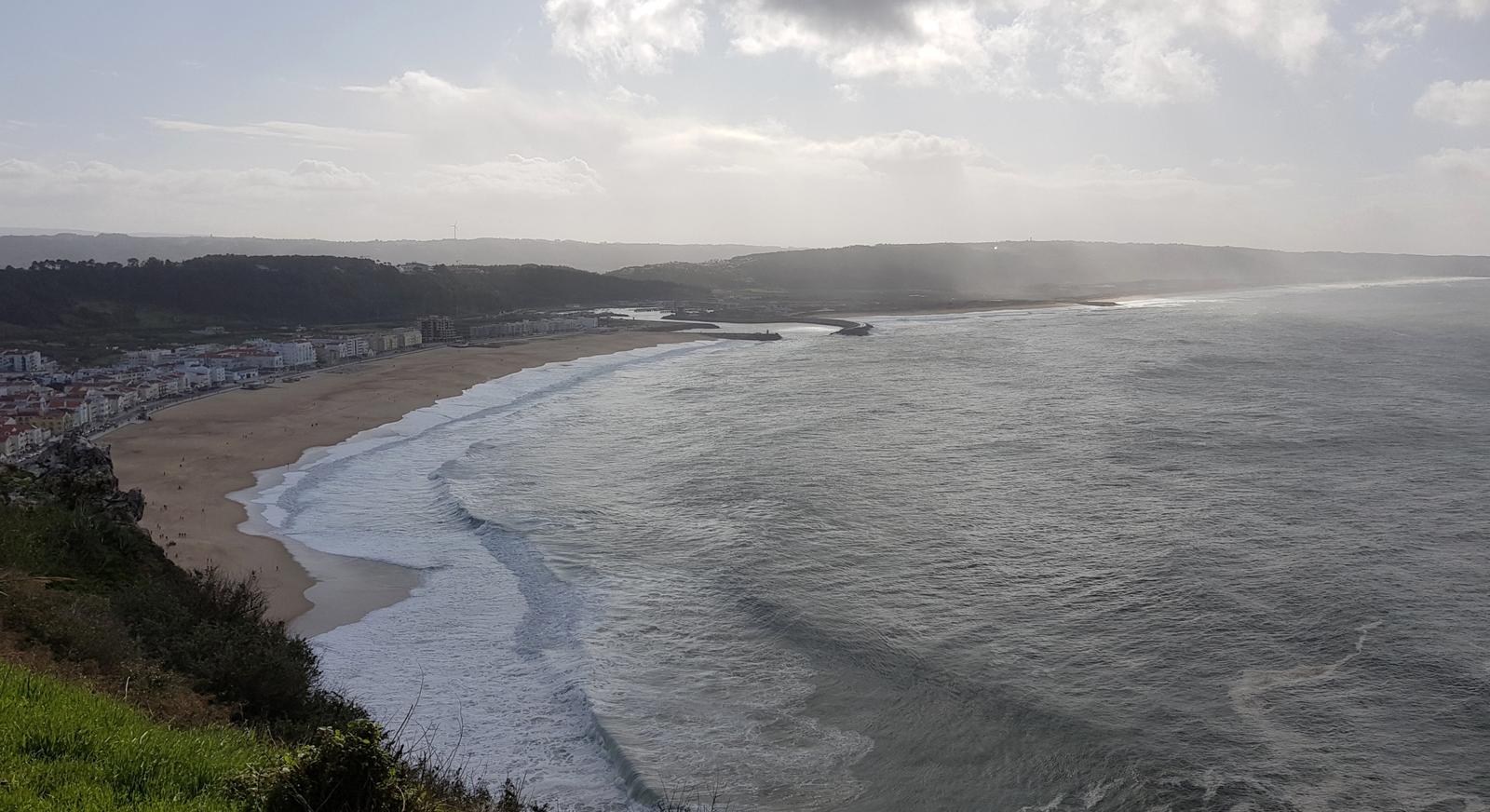 Then a blue sky Winters day: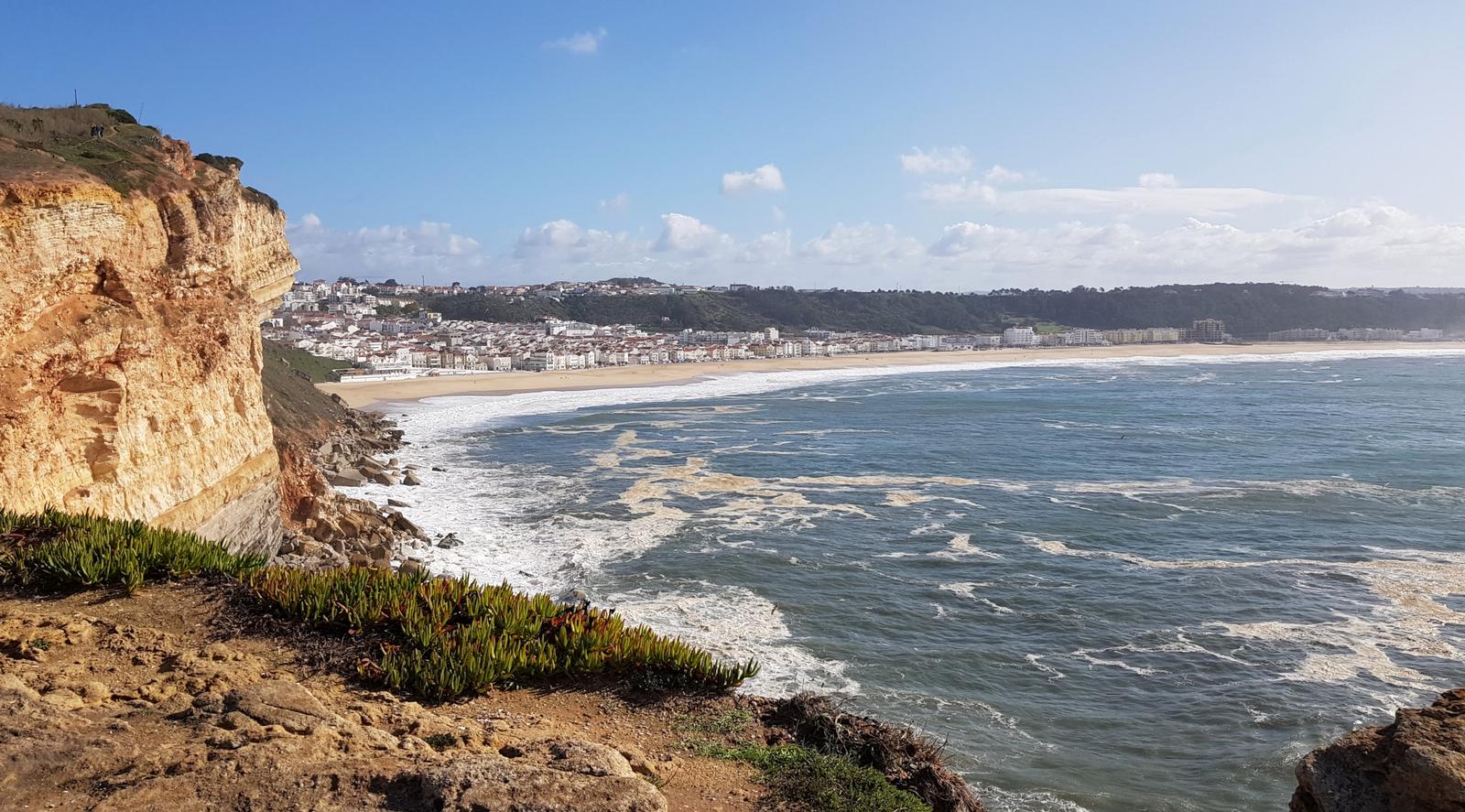 And finally, a gorgeous hot Summers day: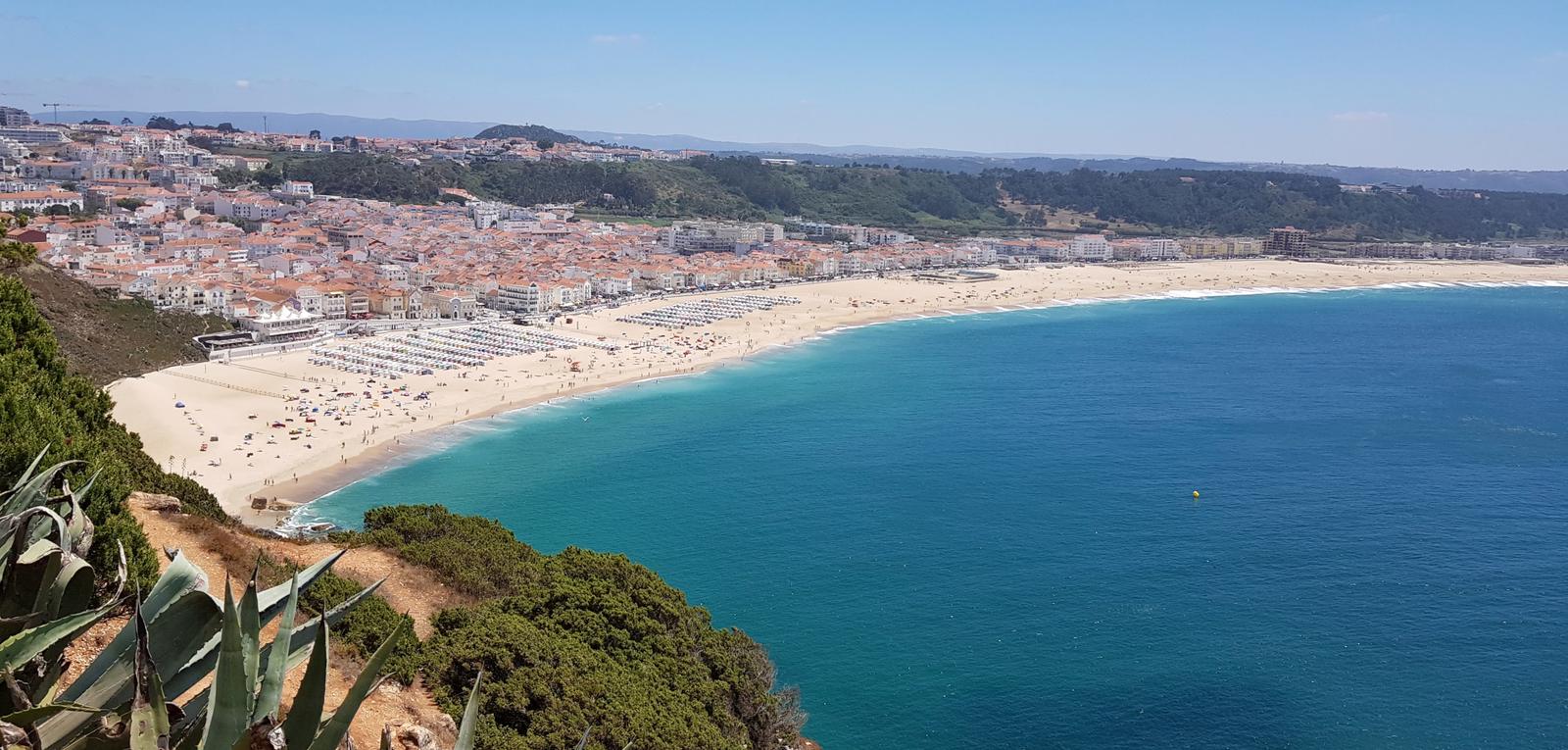 ---
Nazaré's Praia do Norte, lighthouse and Fort sea area is known worldwide as a surfing hot-spot for big wave tow surfing which when the conditions are right, attracts professional surfers from all over the globe. Post surfing they can relax and soak up the laid-back atmosphere that the town offers. More about surfing in Nazaré to come later!
As you would expect, fishing is an important industry in Nazaré and you will see a lot of evidence of this. There are always fishing boats in the harbour and dotted along the horizon, fresh fish for sale and there is a large dried fish market on Praia da Nazaré. Of course there are an abundance of great seafood restaurants too.
The now Cultural Center of Nazaré was formerly the towns fresh fish auction house/market. It is centrally located on Avenida Manuel Remígio. It operated as a fish market from December 24th 1958 until March 22nd 1987. The Cultural Center is now home to temporary exhibitions of art and other cultural activities. The interior and exterior of the center is:
"… decorated with fishing-themed panels by Galhardo and were manufactured at the Aleluia factory in Coimbra." (Source here).
Outside the Cultural Center you will find the Mãe Nazarena statue. This statue represents the:
"… dual role of the Nazarene mother, linked to the art of fishing and, simultaneously, the dedication to their children." (Source here).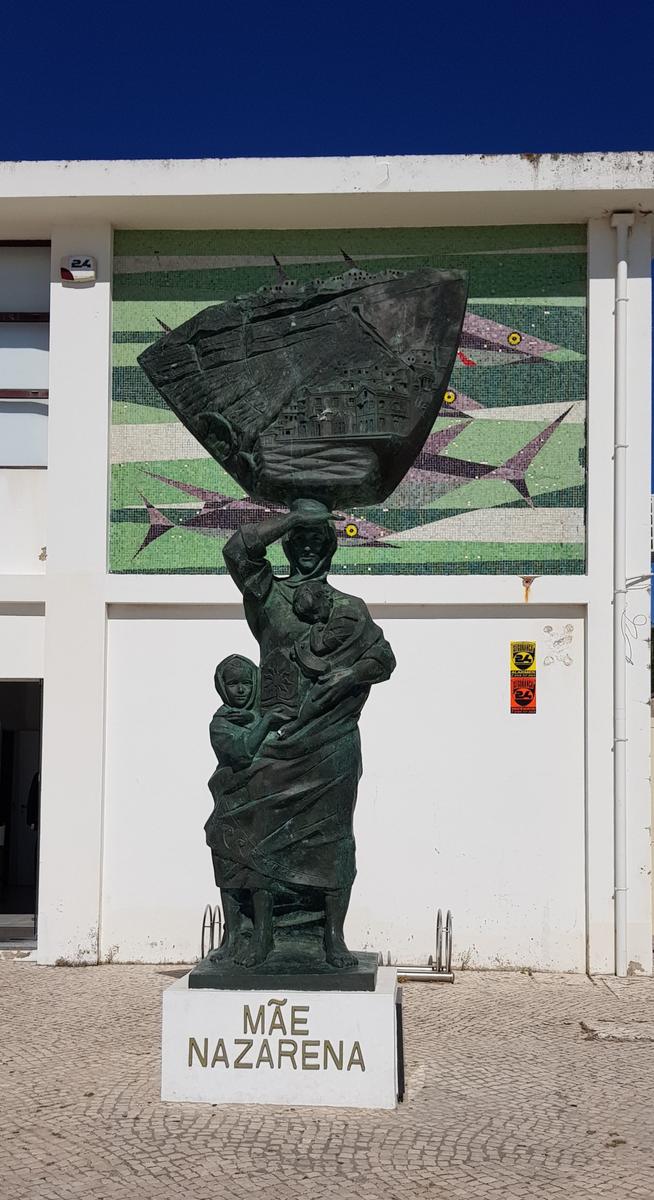 ---
Nazaré has a wonderful promenade that runs along the entirety of the golden sand beach of Praia da Nazaré. As you can see in the photo below, the sea side has a wide footpath while across the cobbled street the footpath is lined with souvenir shops, bars, restaurants, cafes and more: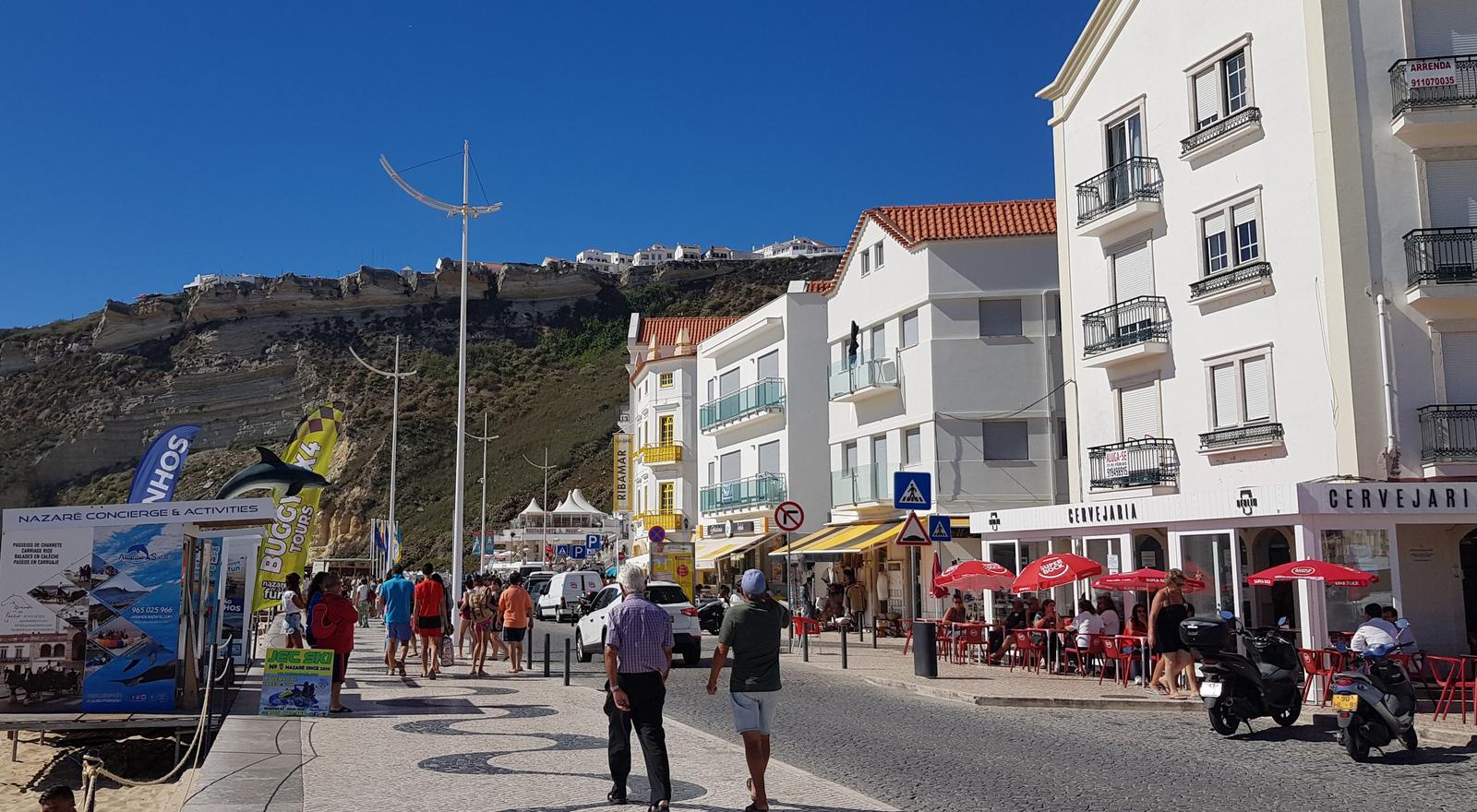 ---
How To Get To Nazaré From Lisbon?
Car:
By car is definitely the easiest and quickest way to get to Nazaré from Lisbon. It is only about a 1 hour 30 minutes drive from Lisbon via the A8 and N8-5. Bring some cash for the tolls as I am not sure if they except non-Portuguese credit/debit cards.
Bus:
You can catch an express bus from the Sete Rios Station in Lisbon towards Nazaré. It takes approx 1 hour 45 minutes and costs around €10. See here for more information.
Train:
You can also catch a train from the Sete Rios or the Oriente train stations in Lisbon in the direction Famalicão da Nazaré. When you arrive in Famalicão da Nazaré you will then have to bus or taxi the rest of the way to Nazaré, about 10-15 minutes away. The total travel time for the train and bus/taxi option would be around 2 hours and 45 minutes so considerably longer then the other two options mentioned here. For more information on getting a train to Nazaré see here.
---
Where To Stay?
A Little Background Information:
Nazaré is made up of three main areas, firstly the Praia area which as you probably guessed is the area surrounding the beach Praia da Nazaré. Secondly, the Sítio area which is an older village area, located on the cliff top high above the Praia and connected to the Praia via funicular (or by the walking path & by road of course). The third area is Pederneira which is another older village located off the N8-5 road, about 1.5kms from Praia da Nazaré. Below is a rough map I made using Google Maps to give you an idea: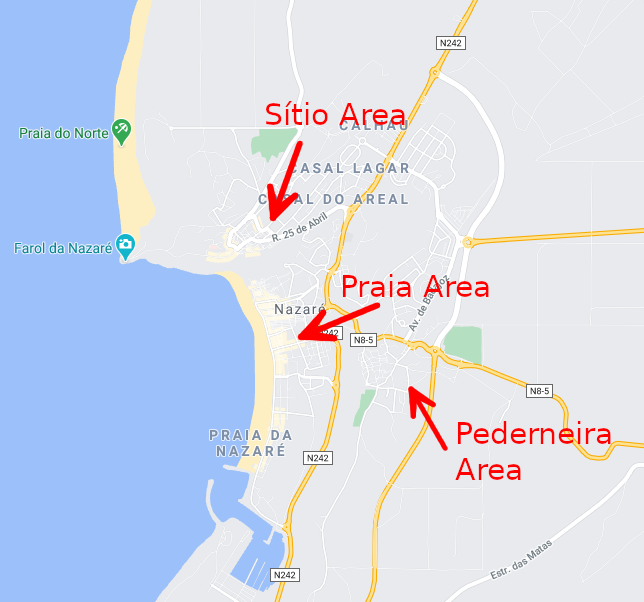 ---
Tips When Choosing Your Accommodation:
If you travel by car to Nazaré and therefore require parking we would strongly advise you to book accommodation with parking. This of course is especially important during Summer/Peak season as the volume of beach goers increases and parking can be problematic (which we learned the hard way).
There are a lot of one way, cobbled and very narrow streets in Nazaré, the same as you will find in the majority of Portuguese towns. This often means that a lot of parking spaces are small and narrow and this is certainly true for some parts of Nazaré. If you are not comfortable driving in these conditions, you should book accommodation in the outer Praia area of Nazaré. A lot of the accommodation in this area is purpose built, modern and includes parking, but you are still within walking distance of the beach. Furthermore, this area generally has bigger, wider tarmacked streets/roads.
Looking for some peace and quiet? then we would advise you not book accommodation that is located along the Praia promenade or Praia commercial areas where the majority of bars, clubs, shops etc. are located. In peak season, these areas become extremely congested from 9am, both in terms of vehicle and human traffic. These areas will continue to be super congested all day and late into the night as people eat, drink and have a good time outside the local eateries, pubs and so on. However, if you want to party this is the place to be!
As mentioned, if you book accommodation in the Sítio area and are planning on walking to/from the Praia area, the shortest route is via the funicular (which has limited operating hours) or via the combination of steps and path adjacent to the funicular, not for the faint of heart, it is pretty steep and definitely not suitable for wheelchairs, buggies/prams etc! However, there are restaurants, bars, cafes etc. located in the Sítio area too, so it is just a matter of what you are looking for and planning on doing while in Nazaré. Sítio is the closest town area to Nazaré's surfing hot-spot Praia do Norte. The photo below is taken from Praia da Nazaré, with an arrow pointing to the funicular track. The edge of the Sítio area is visible at the top of the cliff: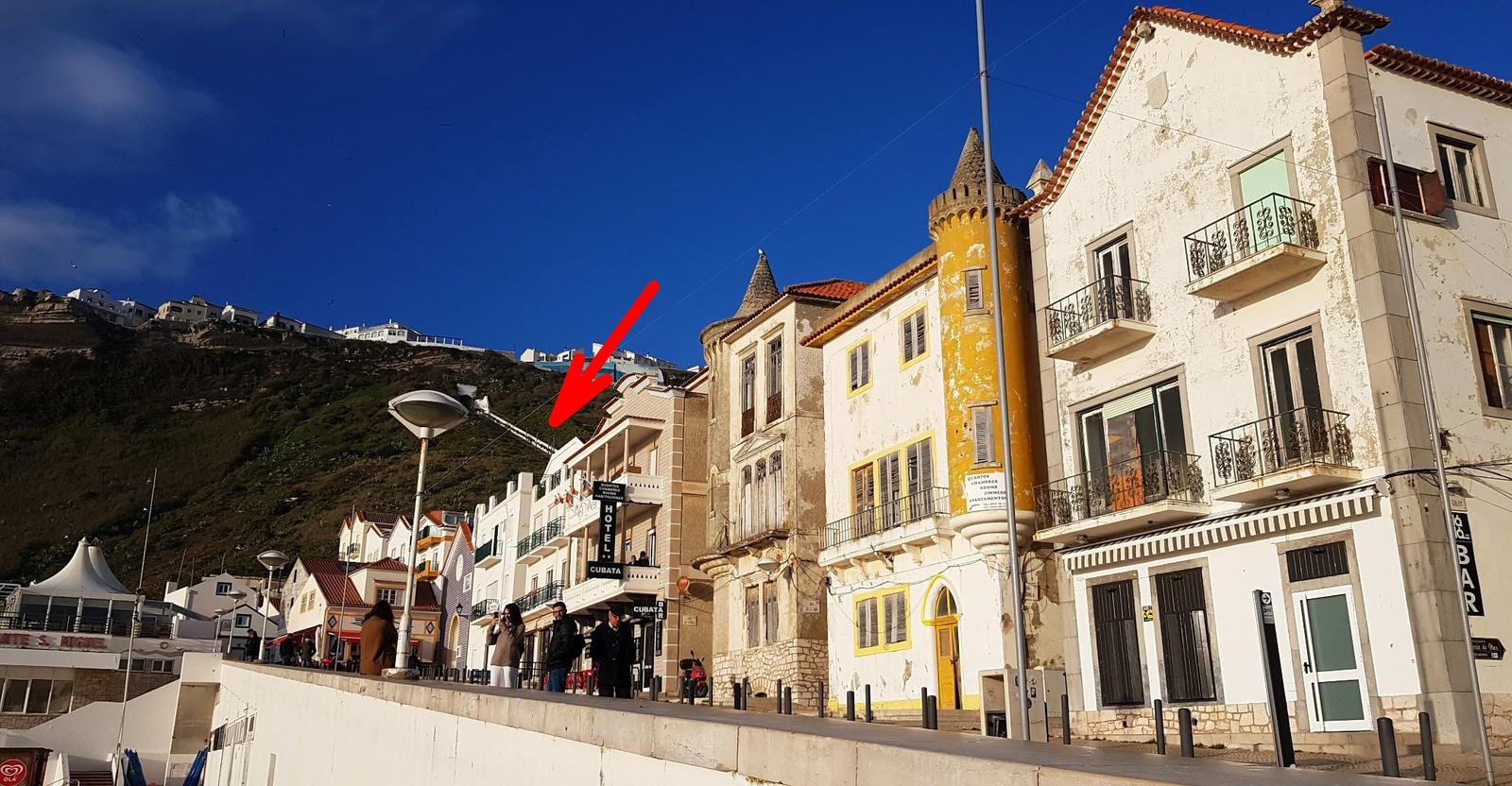 ---
So, when looking for accommodation be sure you book in the area that is most suited to your needs. Personally, we prefer the Praia area as we like to be near the beach as well as to specific restaurants, bars, cafes etc. that we like to visit (more about these later), that are all located in the Praia area. We also don't fancy having to walk the steep steps up to the Sítio area a couple of times a day!
---
Some Accommodation Options:
There is definitely accommodation to suit any budget in Nazaré.
Budget Friendly Options:
At the lower/budget end you will find hostels, campsites, cabins and caravan parks available. We have also seen many camper-vans "freedom camping" in the area surrounding the North Beach/Praia do Norte: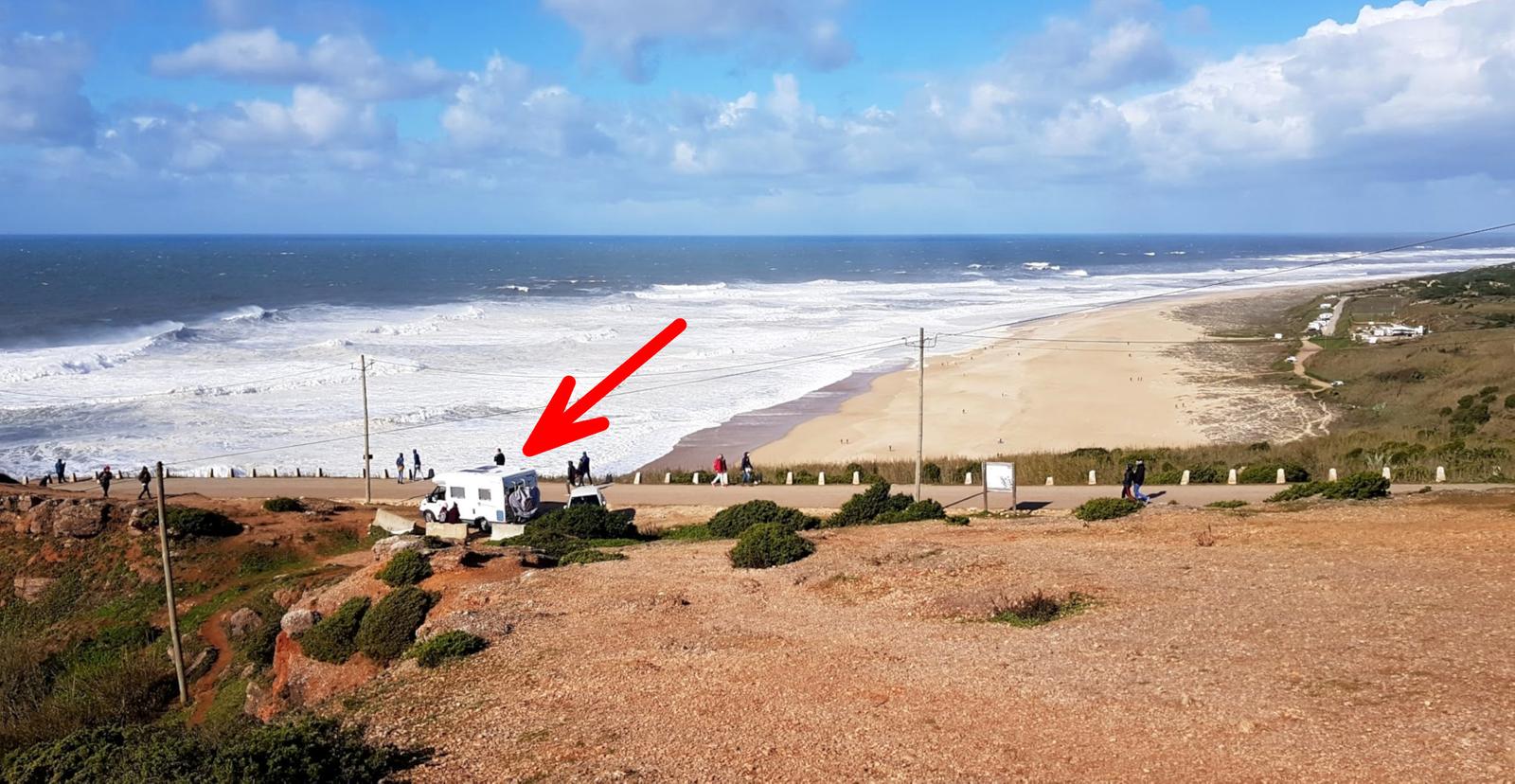 We saw the following giant camper on one visit to Nazaré: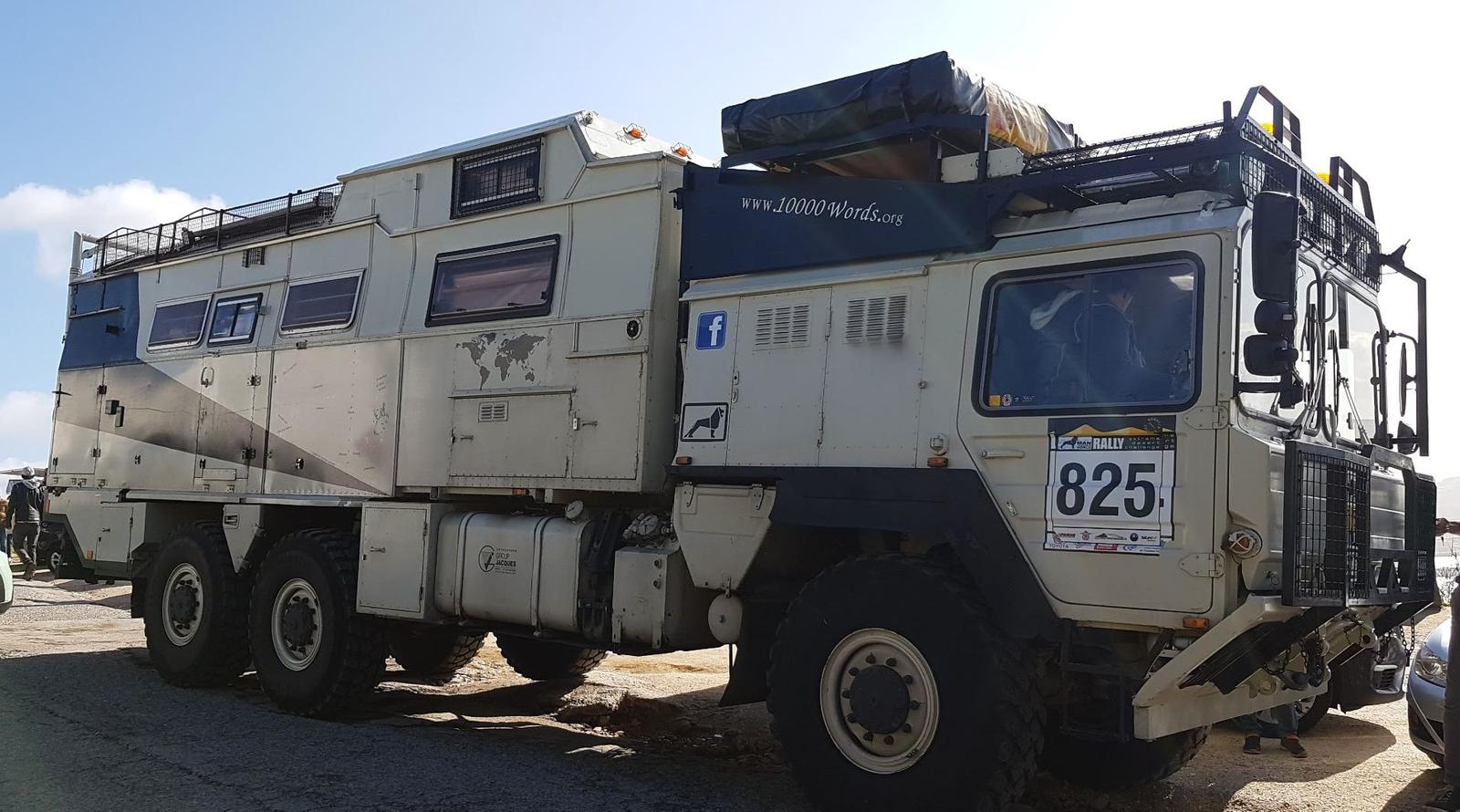 Here are some cheaper/budget options:
---
Won't Break the Bank Options:
There are lots of middle budget options, including hotels and guest-houses. Booking.com have lots to choose from. On one occasion we stayed in the well priced Casa do Quico, in one of their one-bedroom apartments. The location is great although parking was a bit of a headache (peak Summer time). We were very impressed by how clean the apartment was and the staff were great. We did find that noise travelled readily within the building (lots of tiles, wood and little sound proofing) and unfortunately some guests were really noisy when we stayed there.
Two other three star options:
We have stayed in various reasonably priced apartments that we found using Airbnb, just message us directly if you want any information.
---
Push the Budget Options:
On the higher end of the budget, the only more luxurious place we have stayed in is the very well situated Villamar Style Maison and we loved it. It is a new purpose built premises with large bright rooms (some have a balcony), a large outdoor pool area, an outdoor bar as well as secure parking. The staff were friendly and attentive and we would definitely stay there again.
Two other four star options:
Note: We have not stayed in or experienced all the accommodation options listed here, always do your own research too.
---
Top Things To Do & See in Nazaré:
1. Enjoy a Day at the Beach!
Praia da Nazaré is probably the biggest attraction in Nazaré so it had to be number one on our list of things to do/see. Praia da Nazaré is a lovely long beach but we think the nicest area is closest to the cliff at the North end of the beach. We have noticed that Praia da Nazaré gets quite decent waves and we feel that you will find the calmest, most sheltered area to be next to the cliff. Of course, if you are swimming, be sure to check the conditions on the day and swim where the lifeguards are on duty.
There are public toilets on your right as you walk along the boardwalk onto the Northern end of the beach. There are plenty of multicoloured sun-tents available too: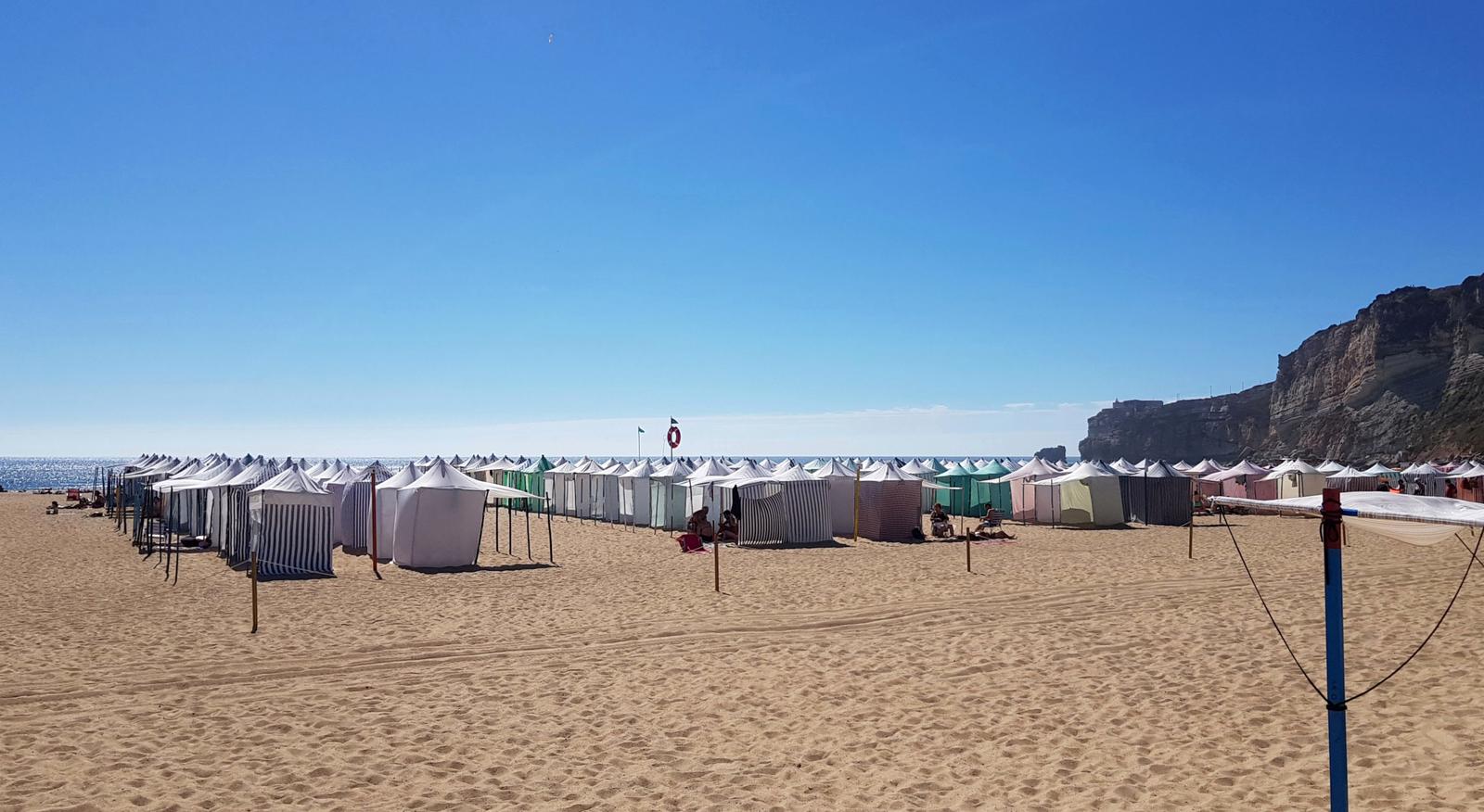 If you don't want a sun-tent simply continue walking beyond them towards the sea and claim your own spot on the sand: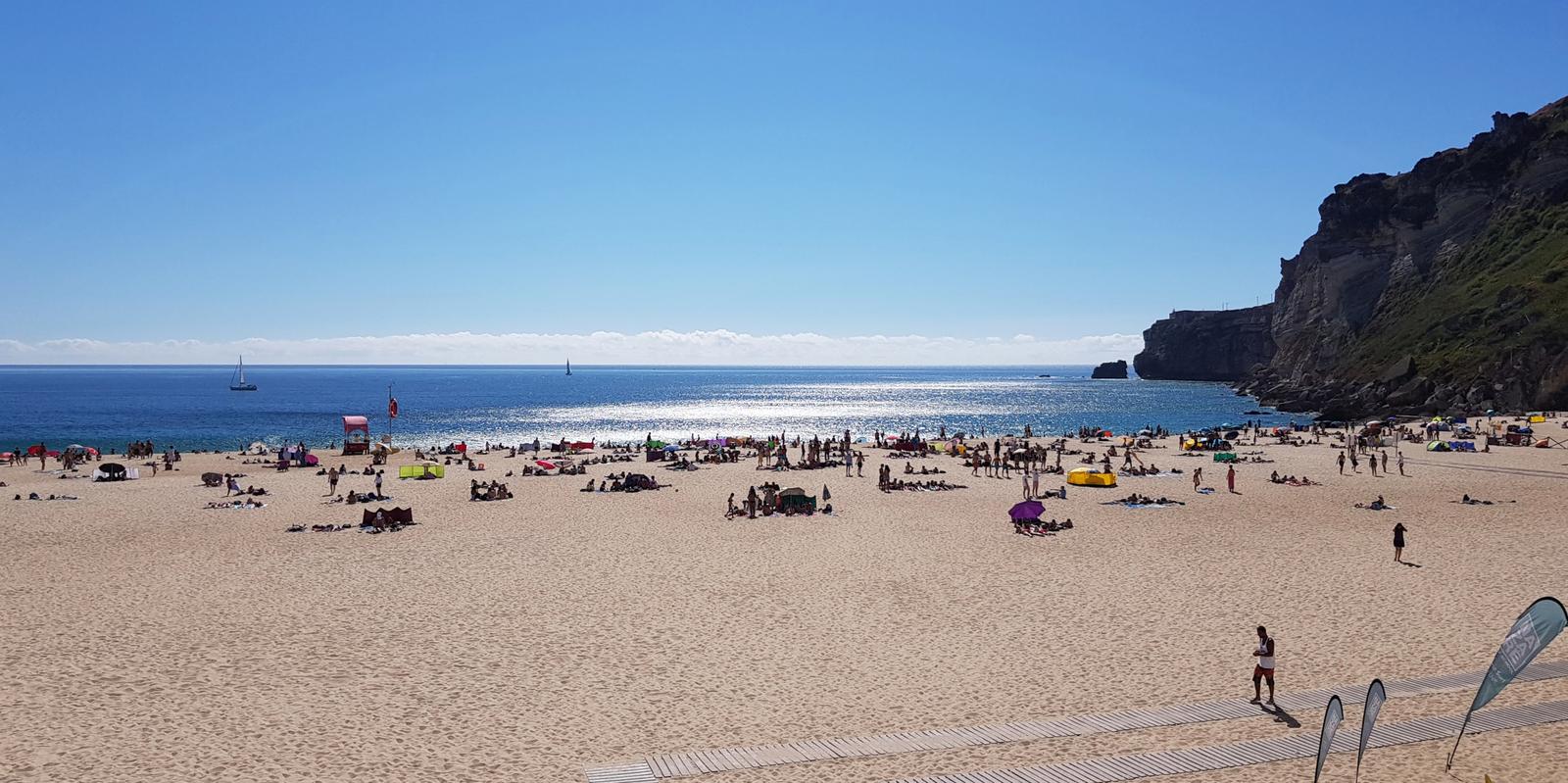 Looking South on Praia da Nazaré: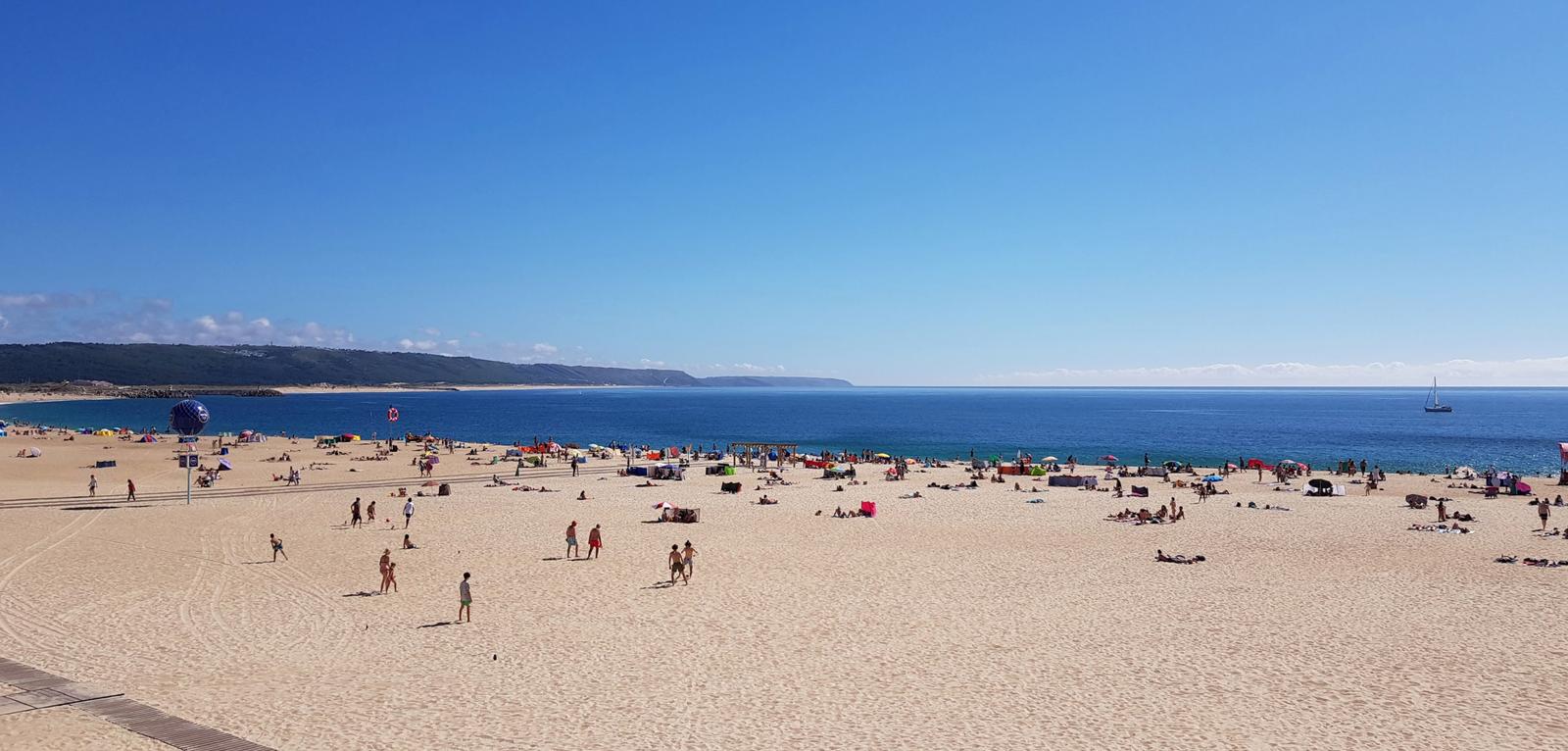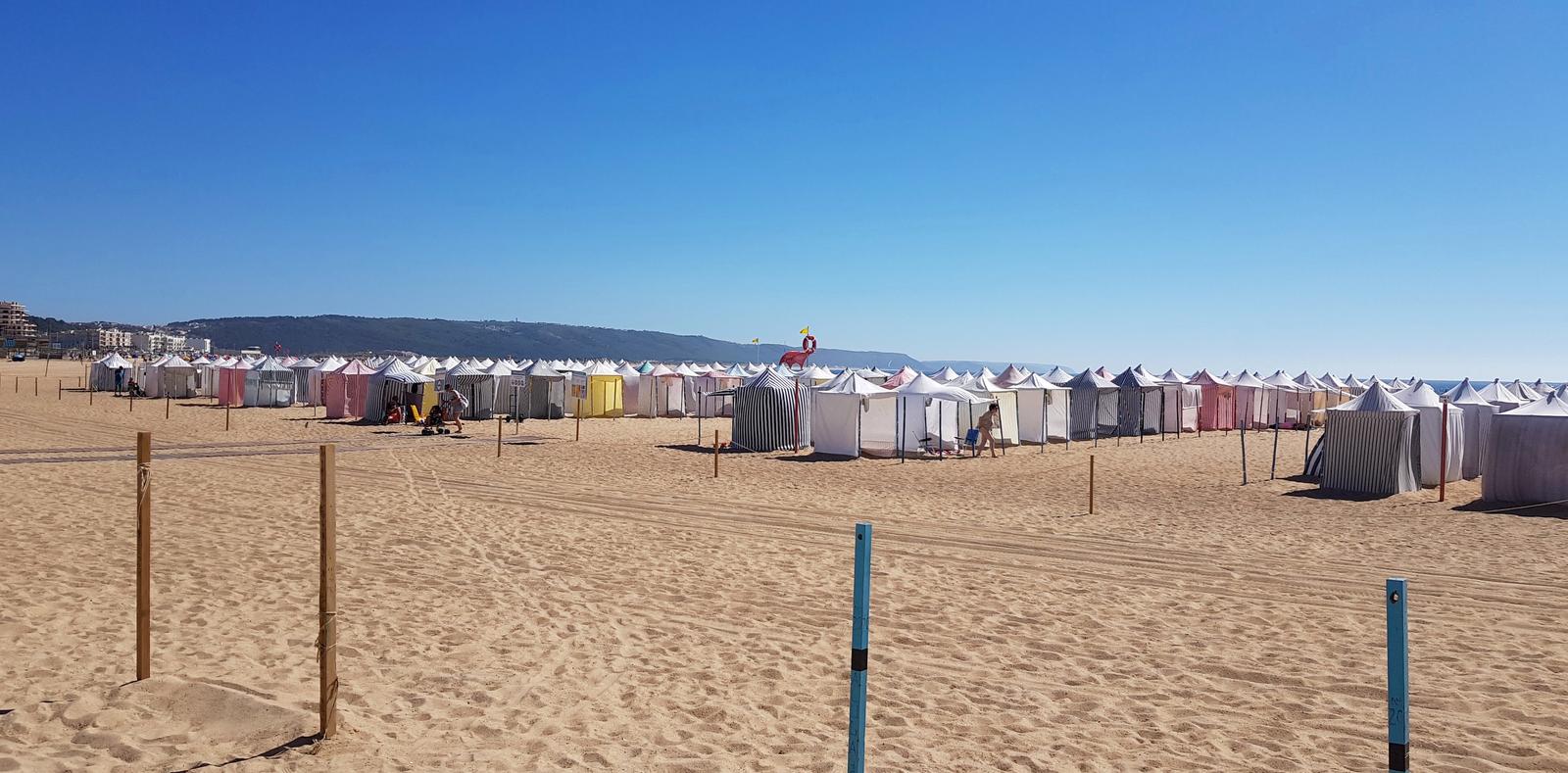 An overcast moment at Praia da Nazaré: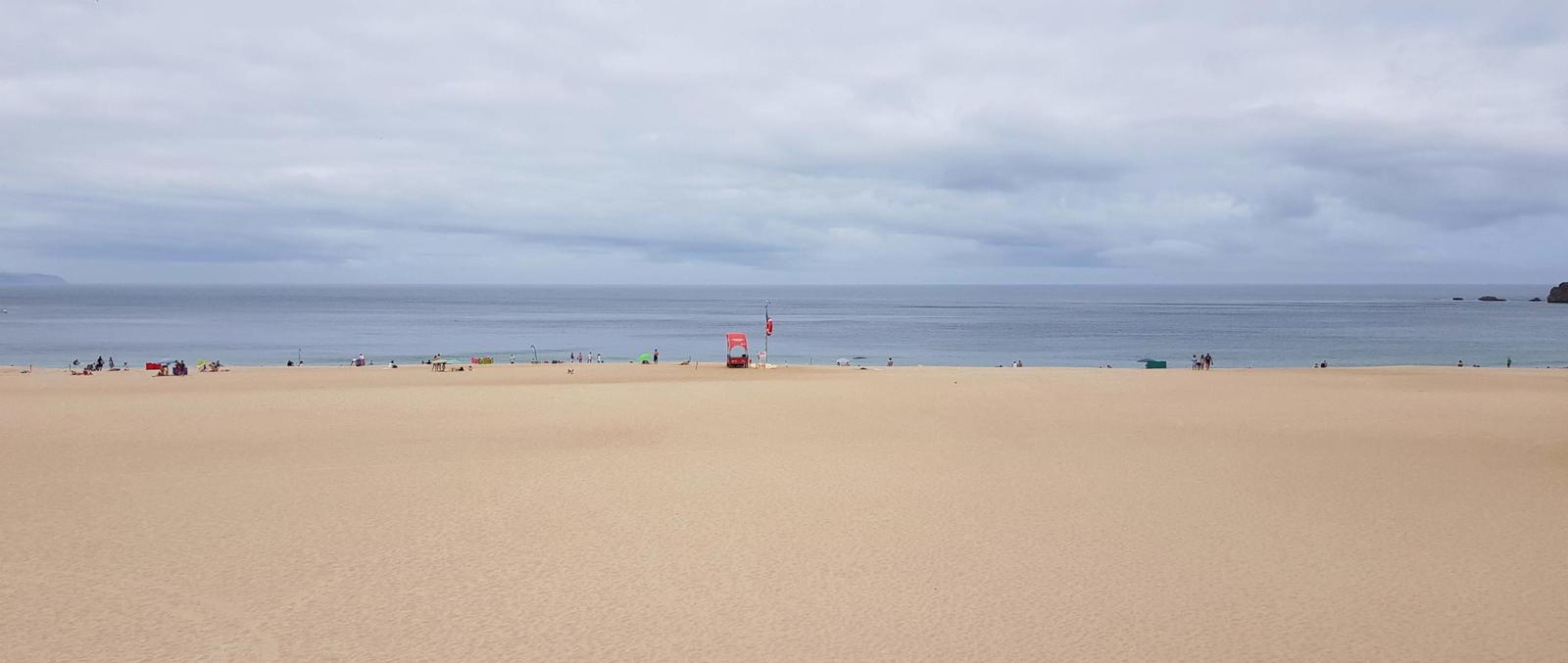 ---
2. Go Surfing!
Nazaré's second biggest draw has got to be its status as a surfing mecca so if you are surfer I think you are going to love Nazaré. While the big waves are really for the pros only (and only occur a few times a year), Nazaré has the right conditions for non-pro surfers too.
Not a surfer but think you might like to be? Nazaré is the perfect location to give it a go. There are a number of Surf Schools but the two most popular are the Nazaré Surf School and the Soul Surf School.
Don't fancy taking to the waves yourself but want to see the pros in action? Time your visit to Nazaré to coincide with favourable big wave tow surfing conditions and head straight to Praia do Norte, Farol da Nazaré or the Fort de Sao Miguel Arcanjo for the best views. There you can sit back and watch the pros in action.
See here for more information.
Some snaps of Praia do Norte on a windy Winters day: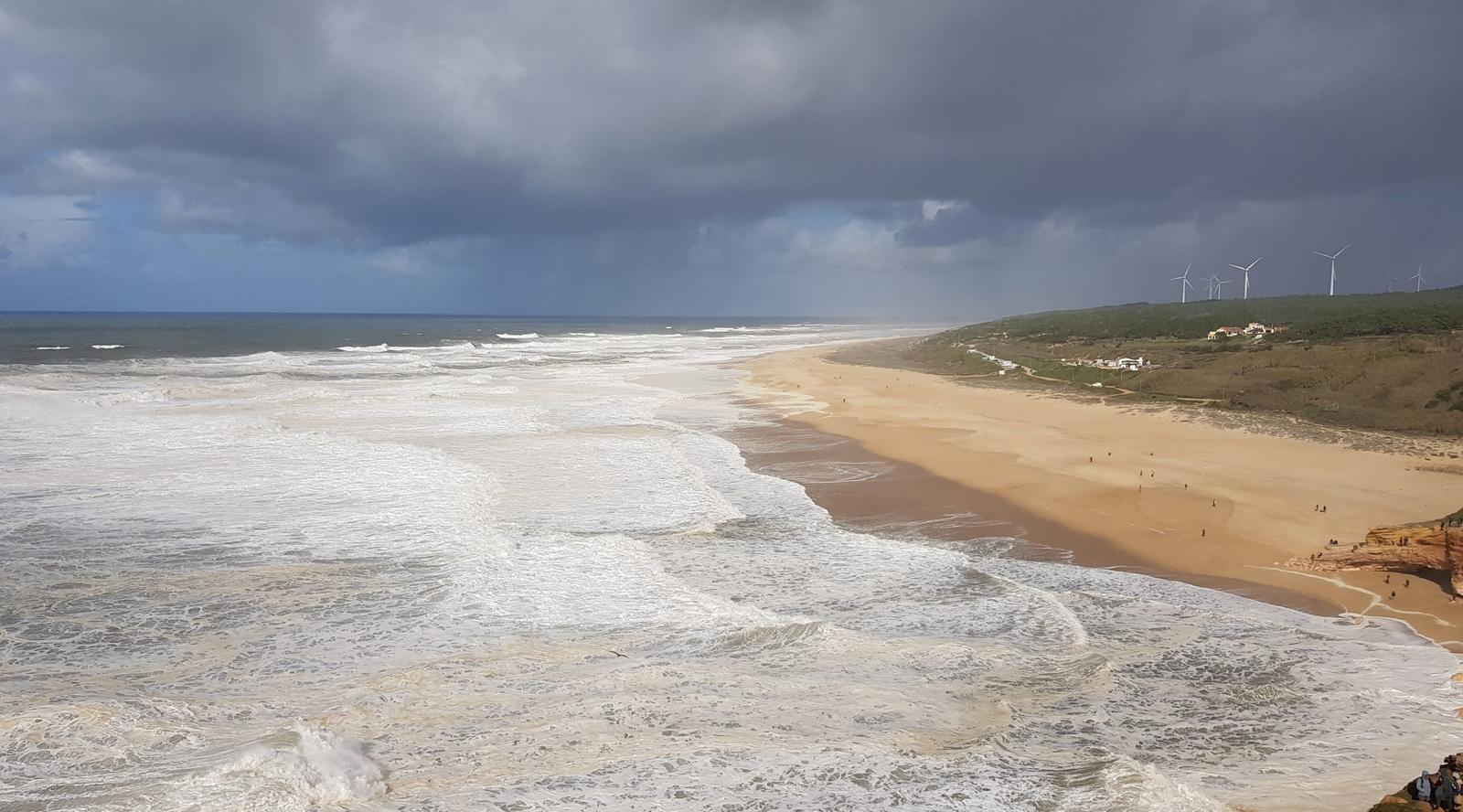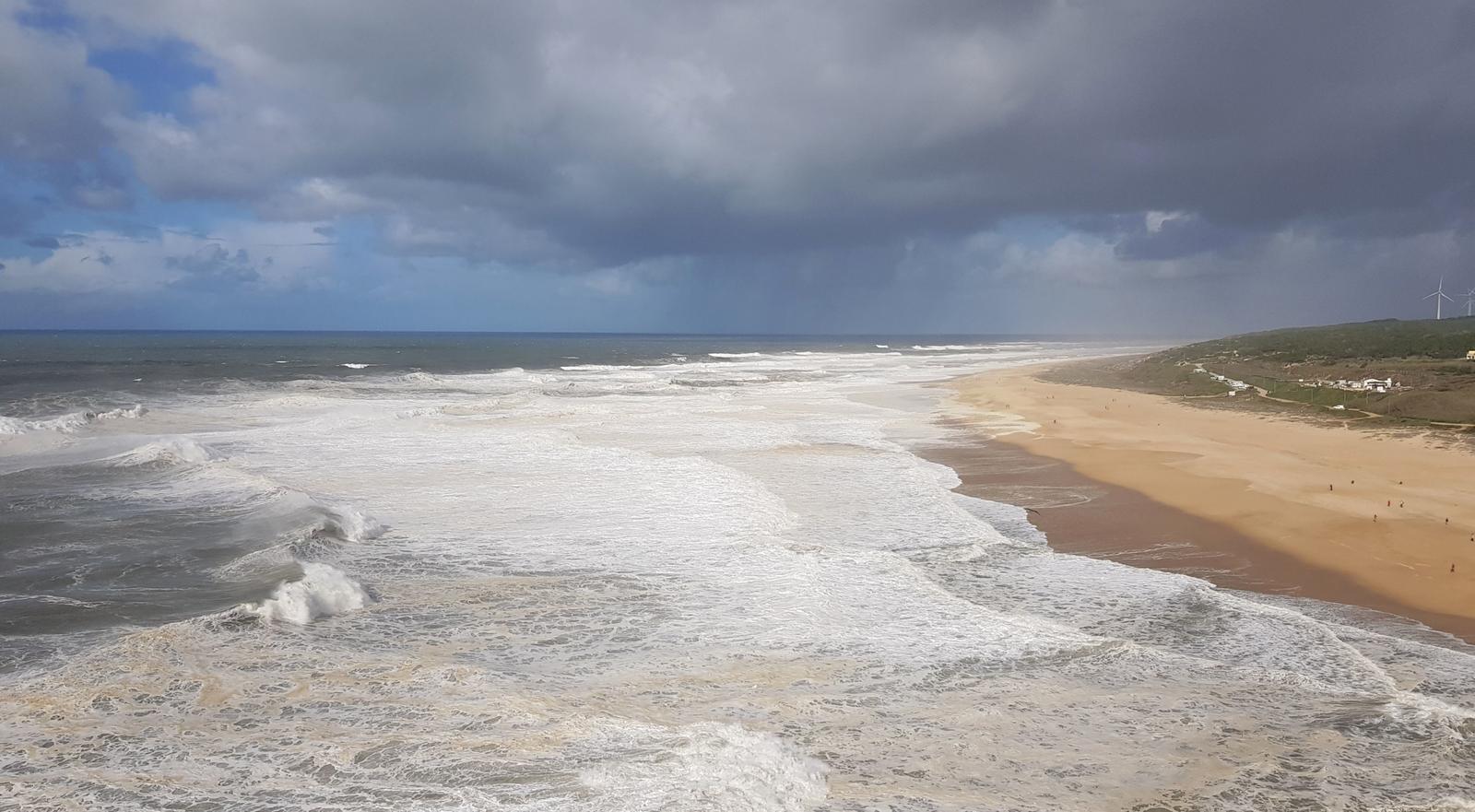 And on a Summers day: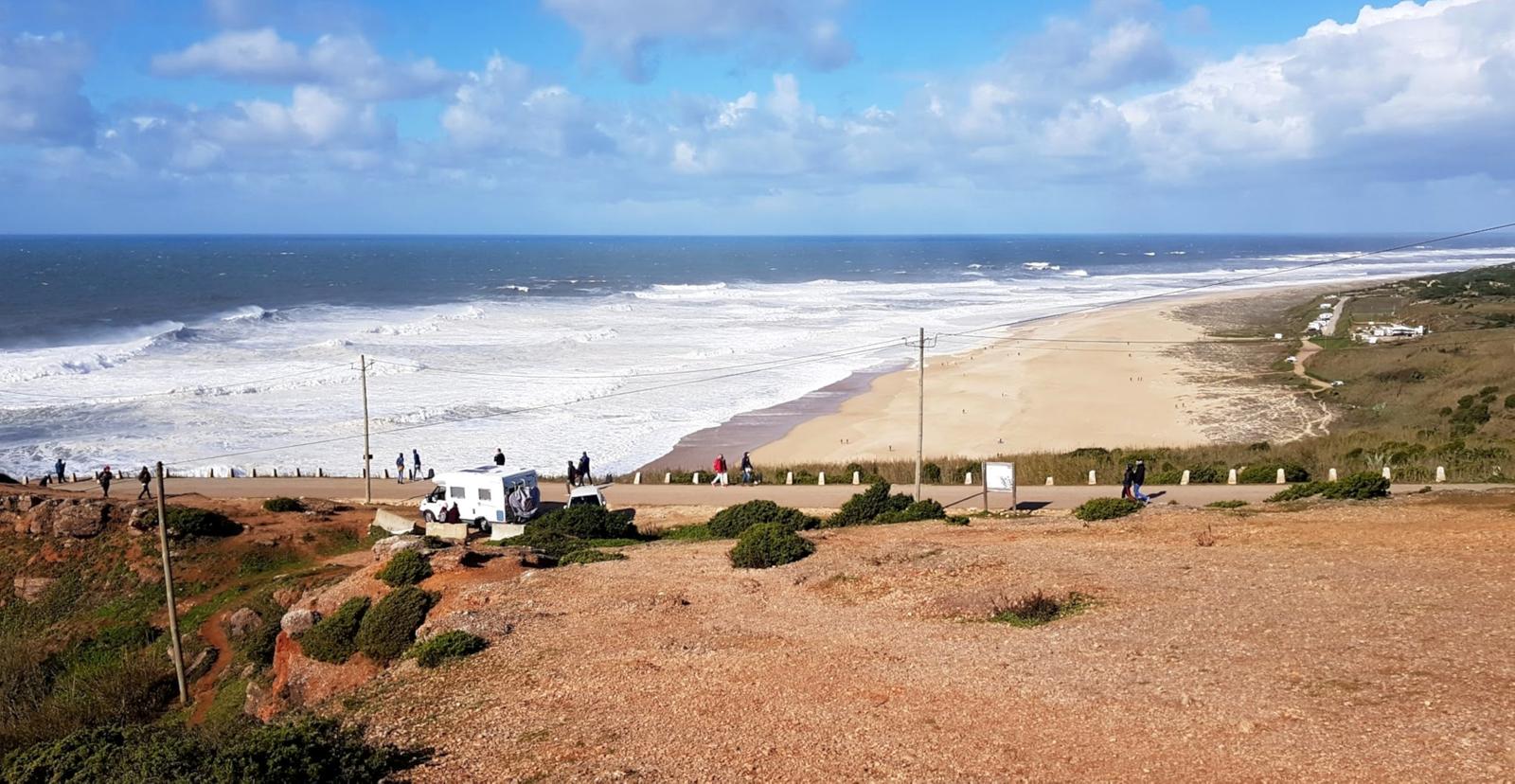 ---
3. Explore Nazaré's Praia Town Area!
The streets and town around the Praia are like a maize and it is really nice to just wander around exploring them all. Seek out the small narrow cobbled streets, spot some colourful tiled buildings and reward yourself with some snacks, drinks or a purchase from one of the local shops along the way. You will also see a lot of the older generations wearing traditional clothing, especially those selling local produce from their stalls along the beach front or at the dried fish market on Praia da Nazaré.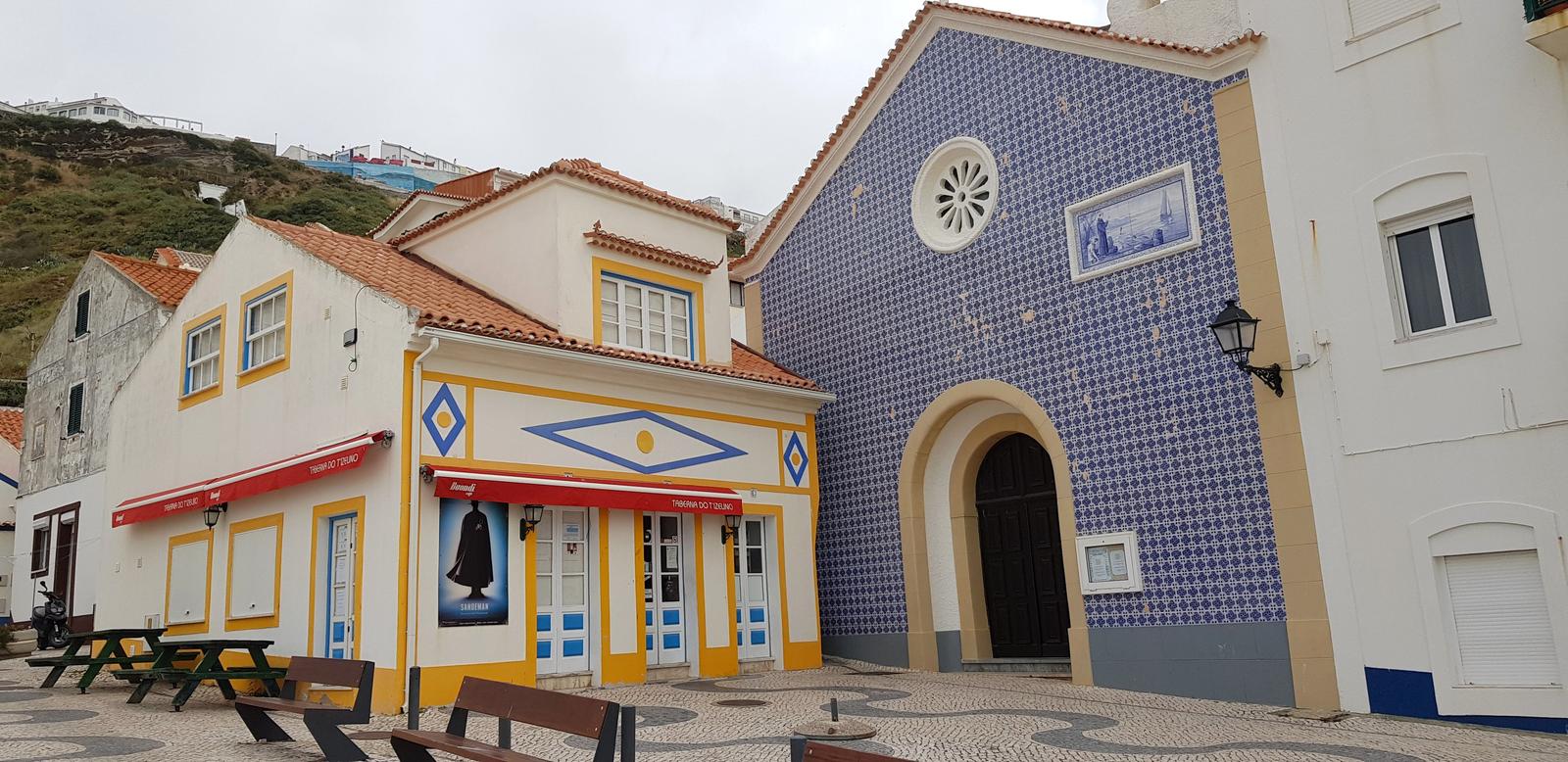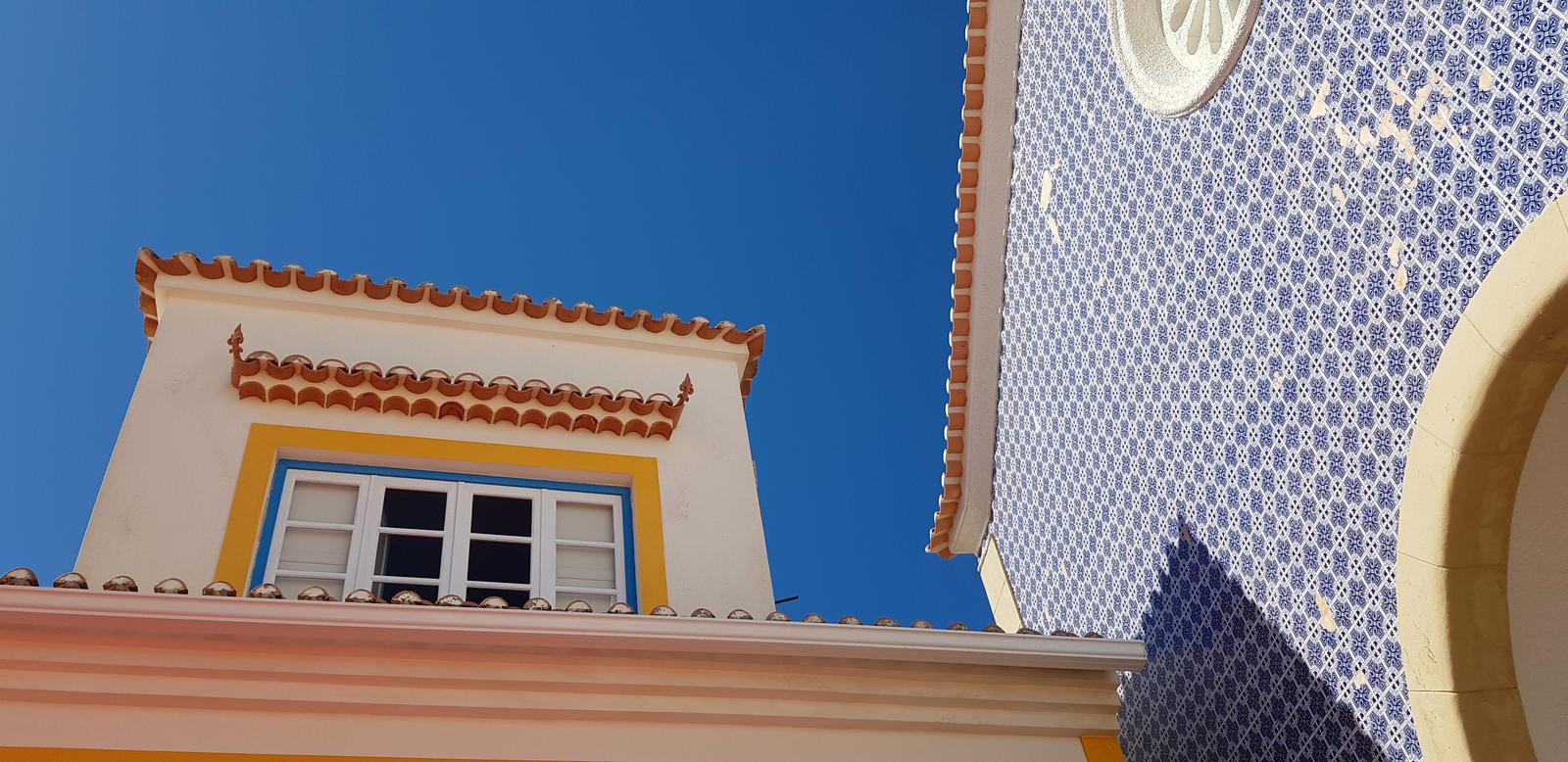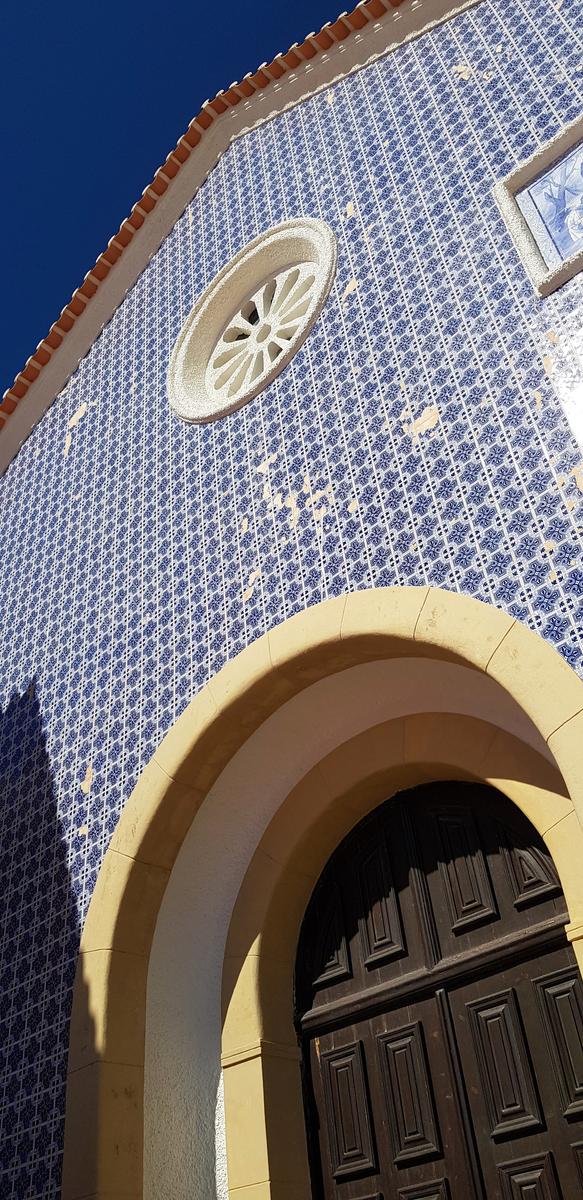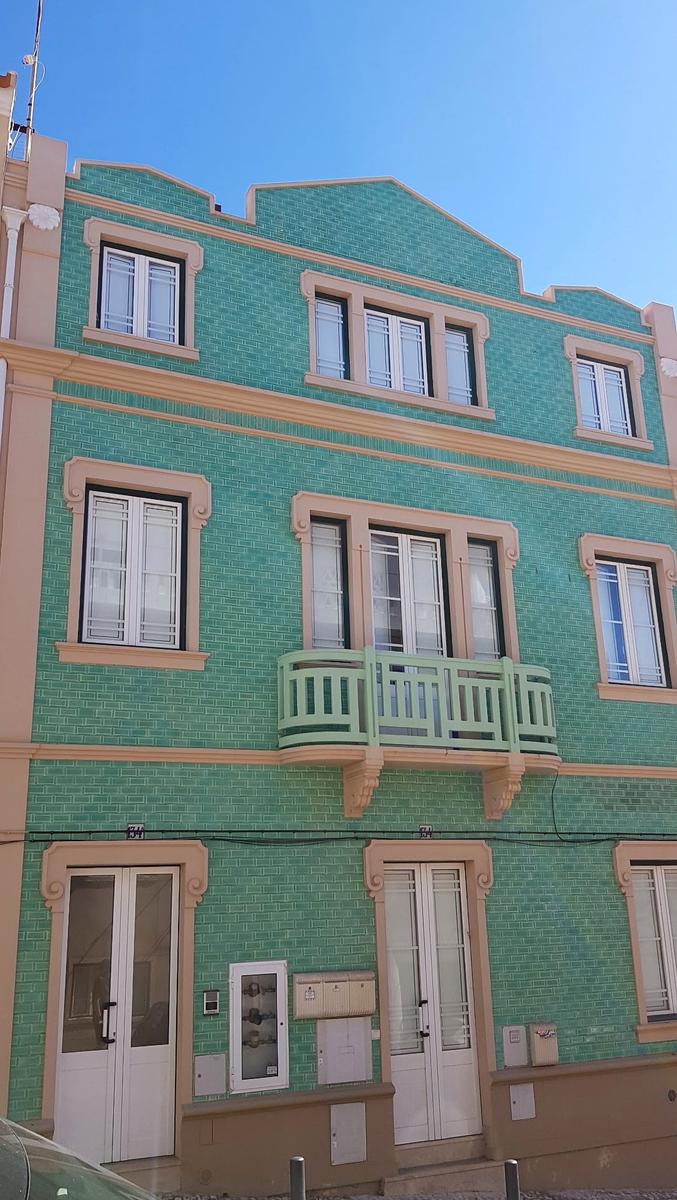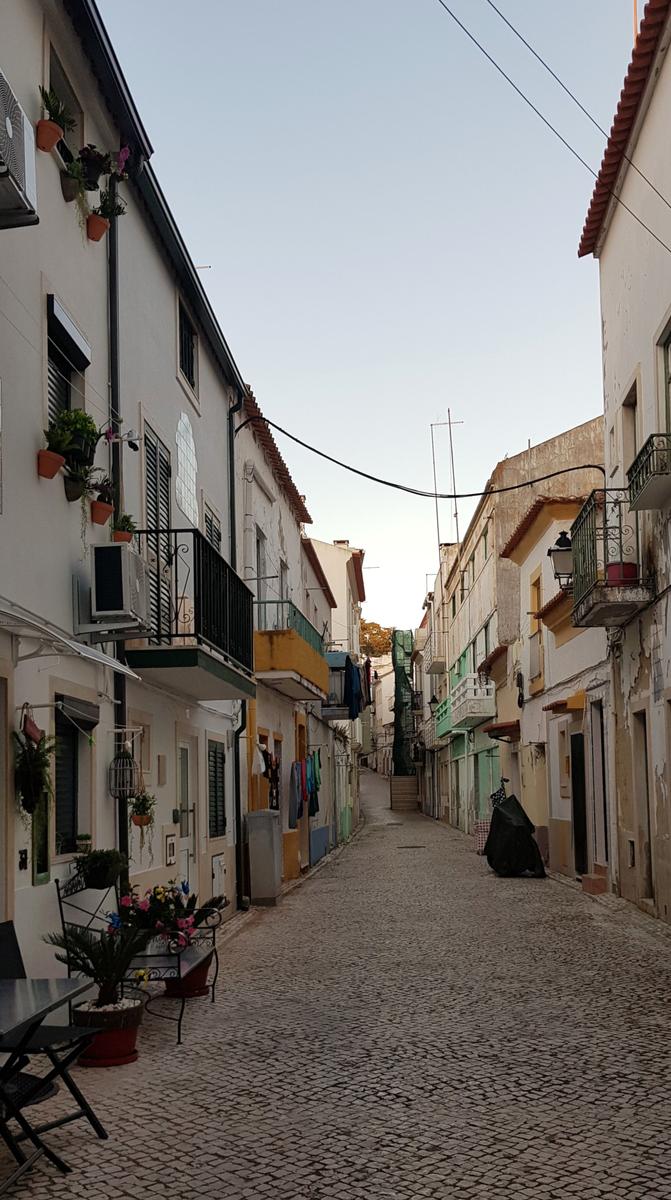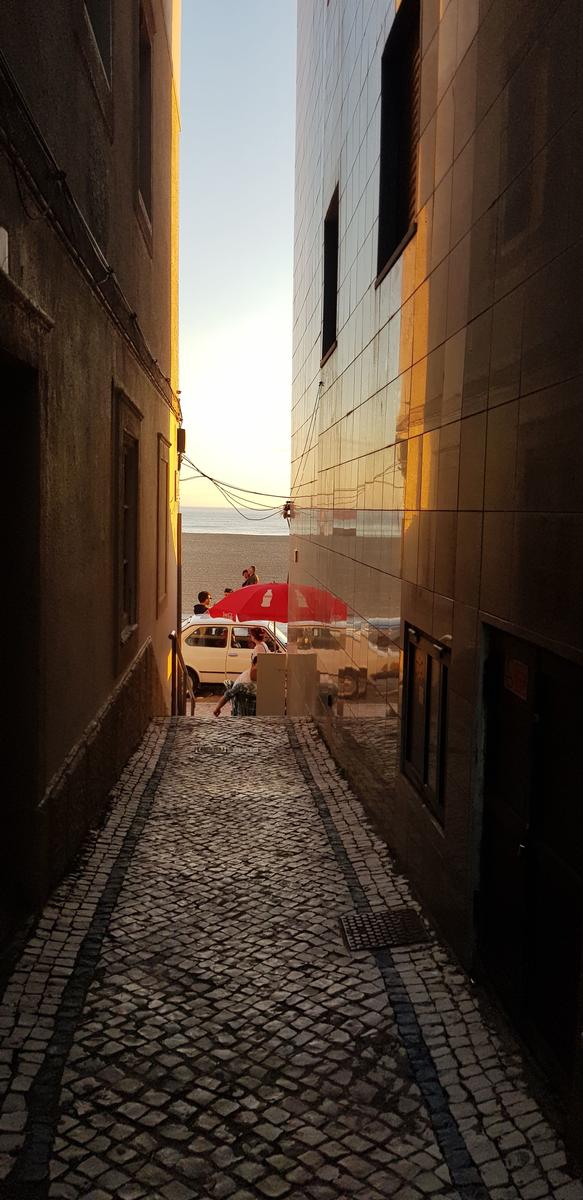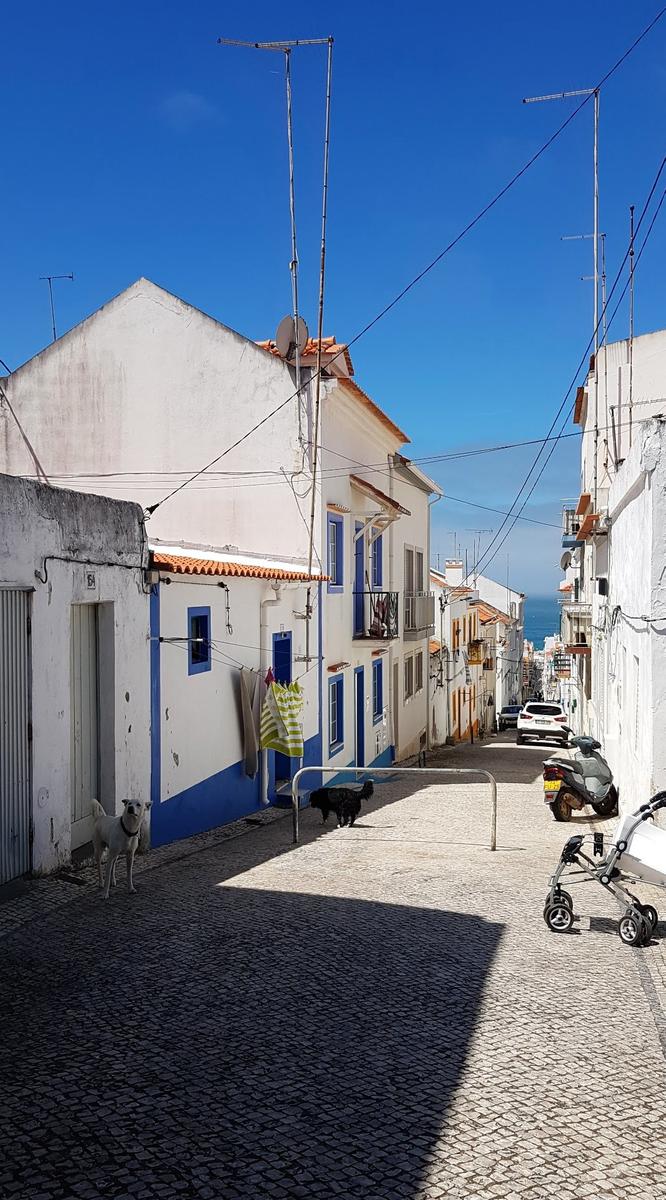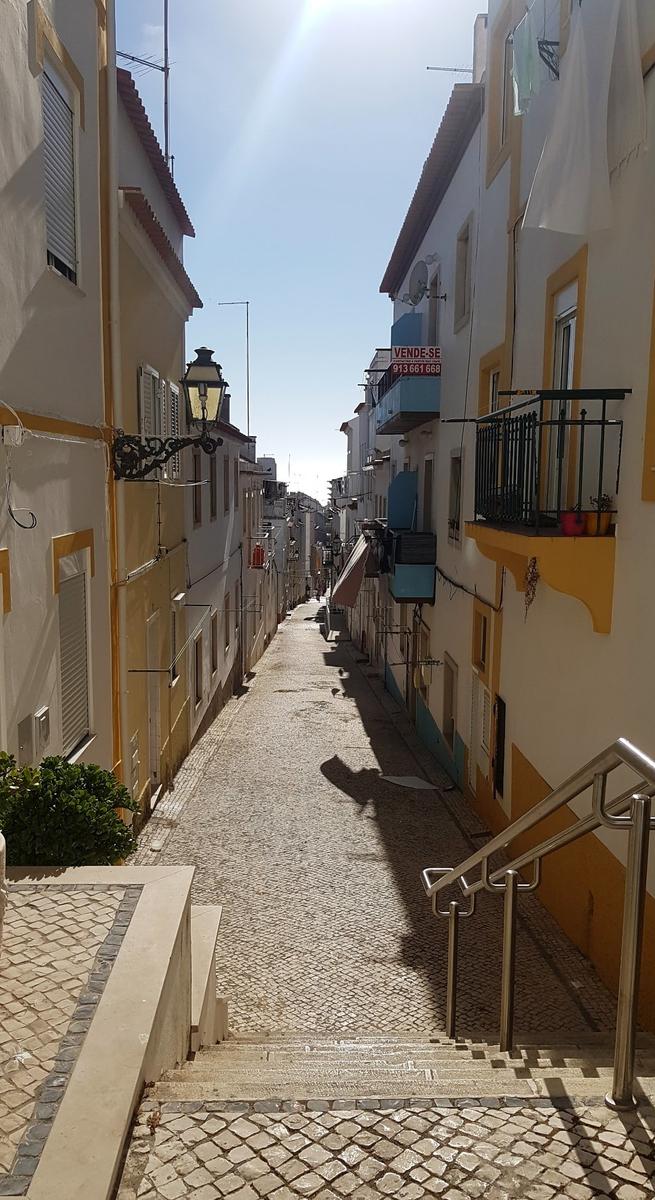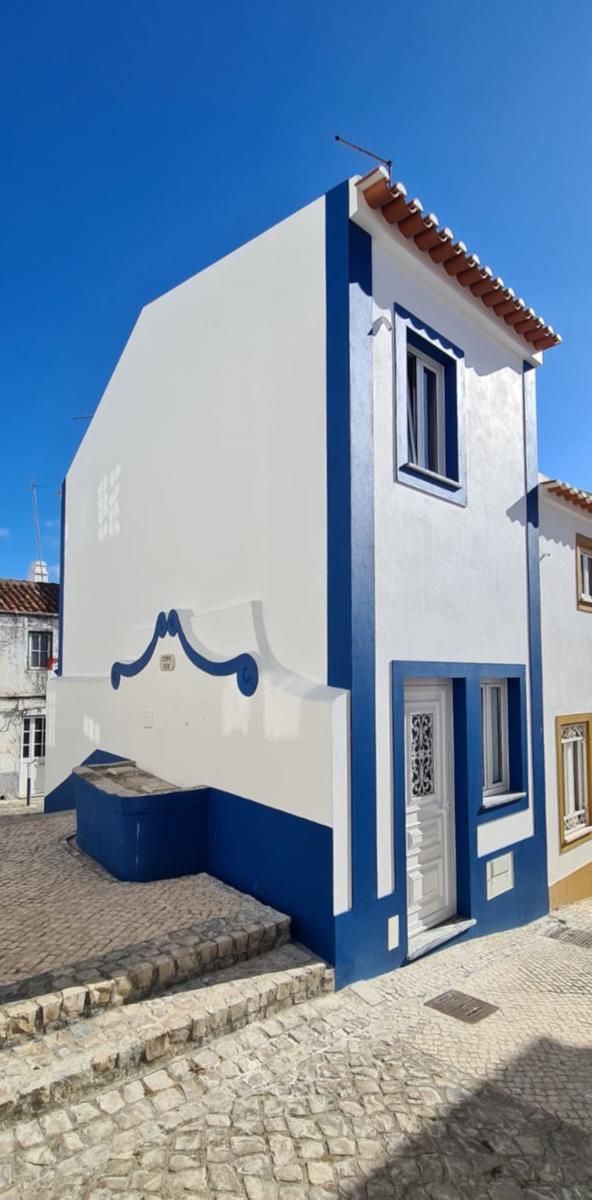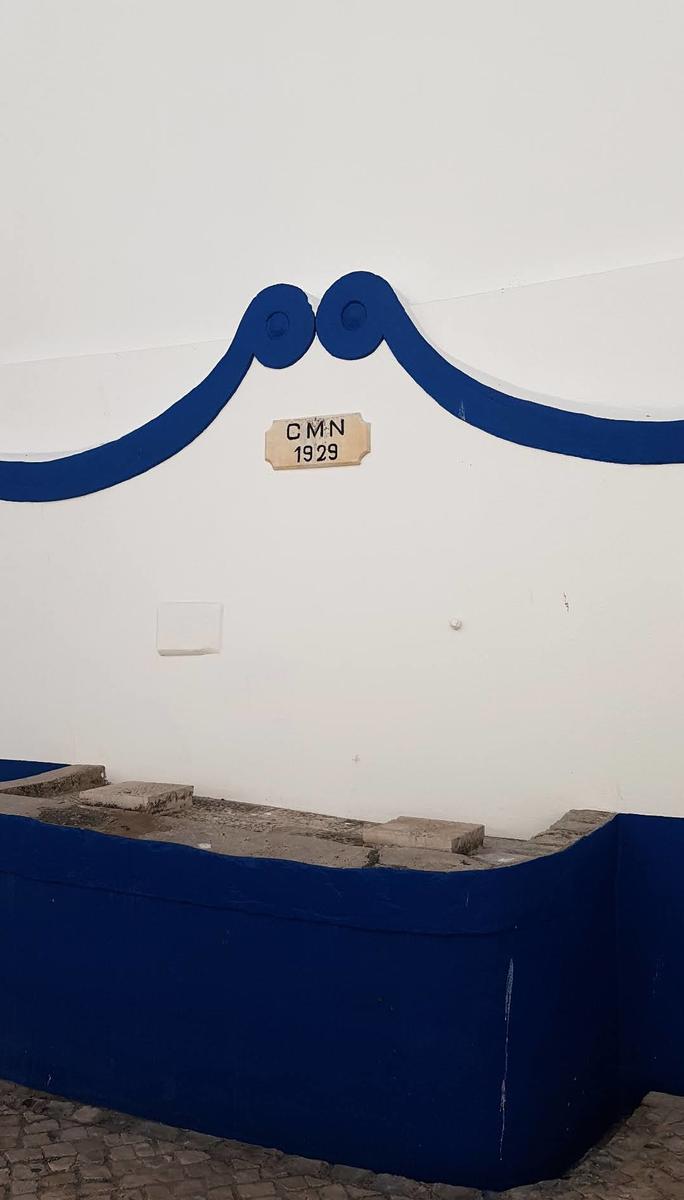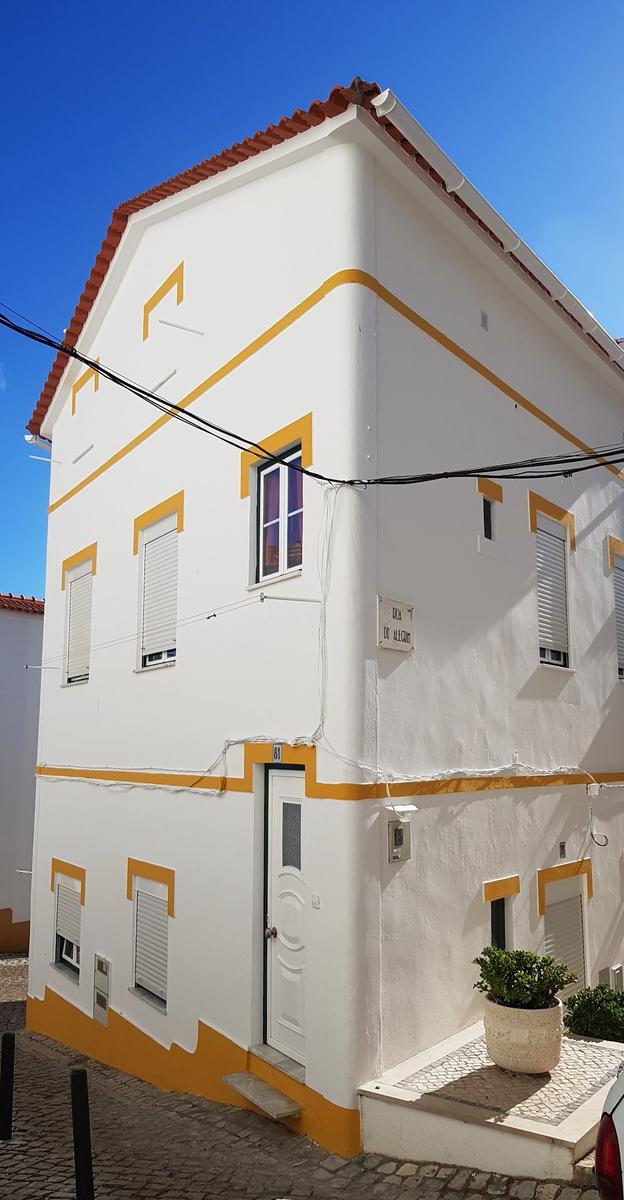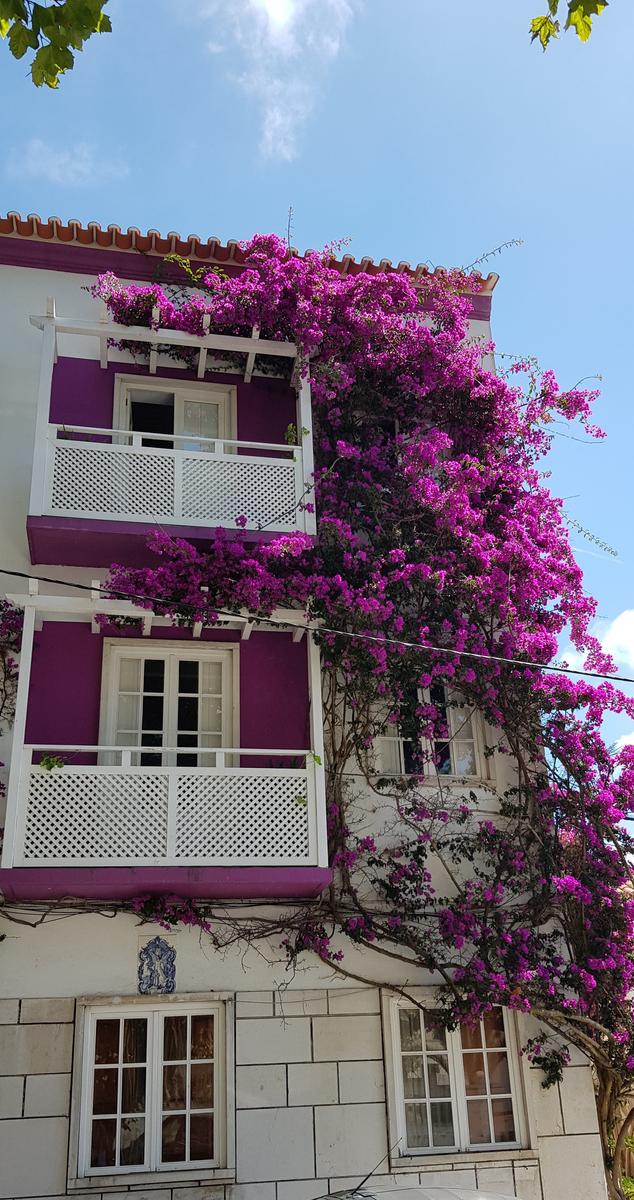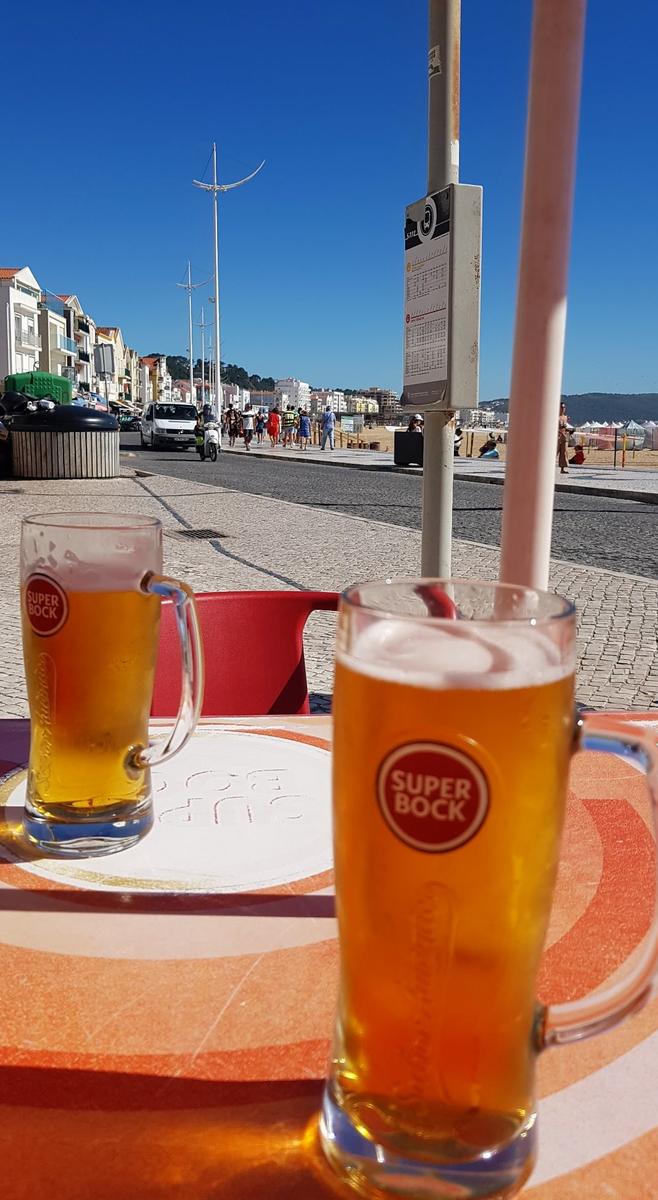 ---
4. Sunset Walk & Pizza at the Beach.
Sunset is a lovely time to walk along the golden sand of Praia da Nazaré. The crowds have dispersed and the sand is no longer burning your feet! Want to blend in with the locals? Then grab a take away pizza and make your way to the beach for sunset with your pizza - the perfect combo! The popular Mr.Pizza chain has a premises close to the North end of the beach. We had pizza from Mor Kebab & Pizza (on Rua Gil Vicente No.28) the last time we were in Nazaré and it was pretty good! There are a few other pizza places so you will definitely find one close-by.
Some Summer sunset shots below: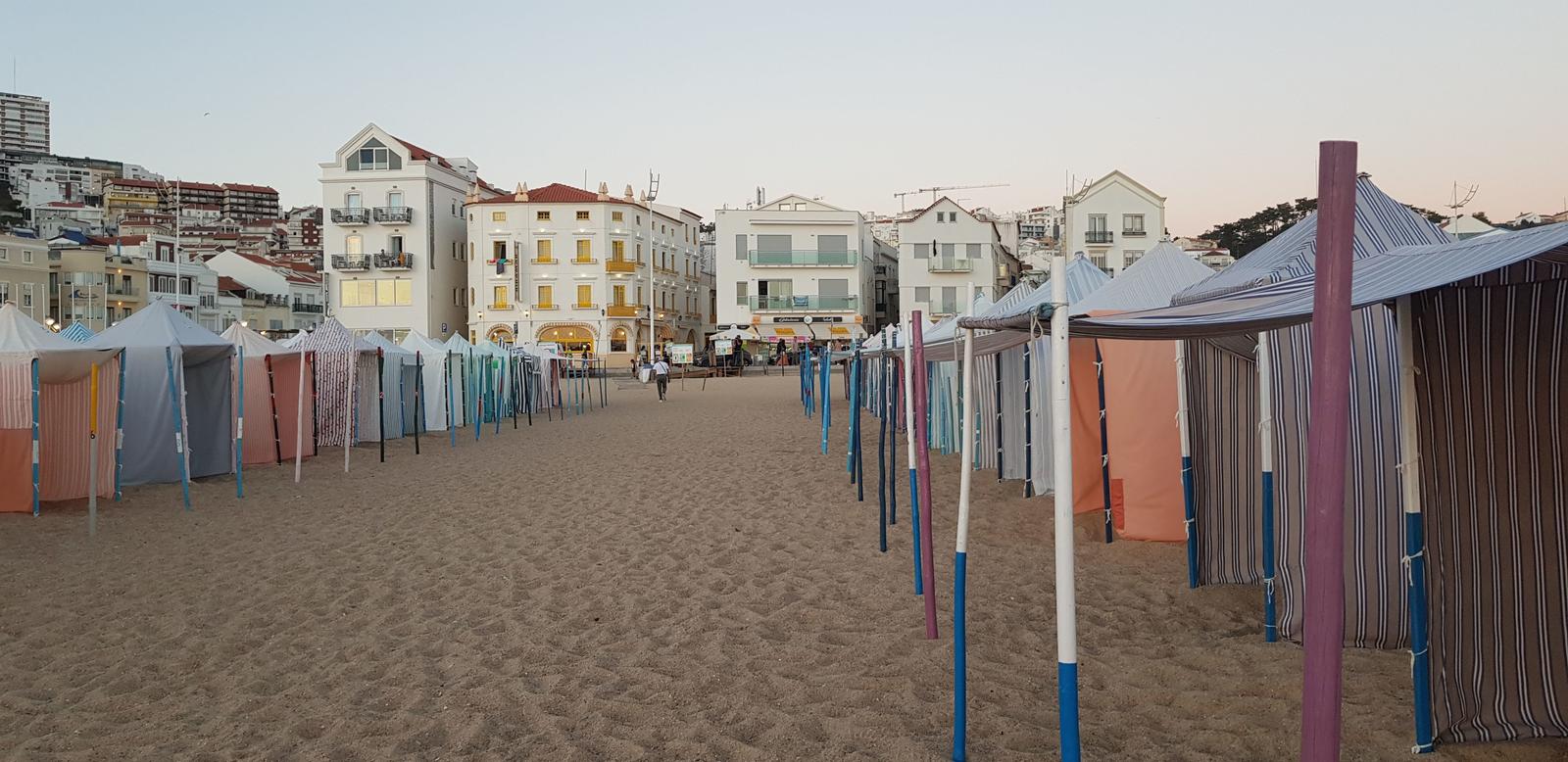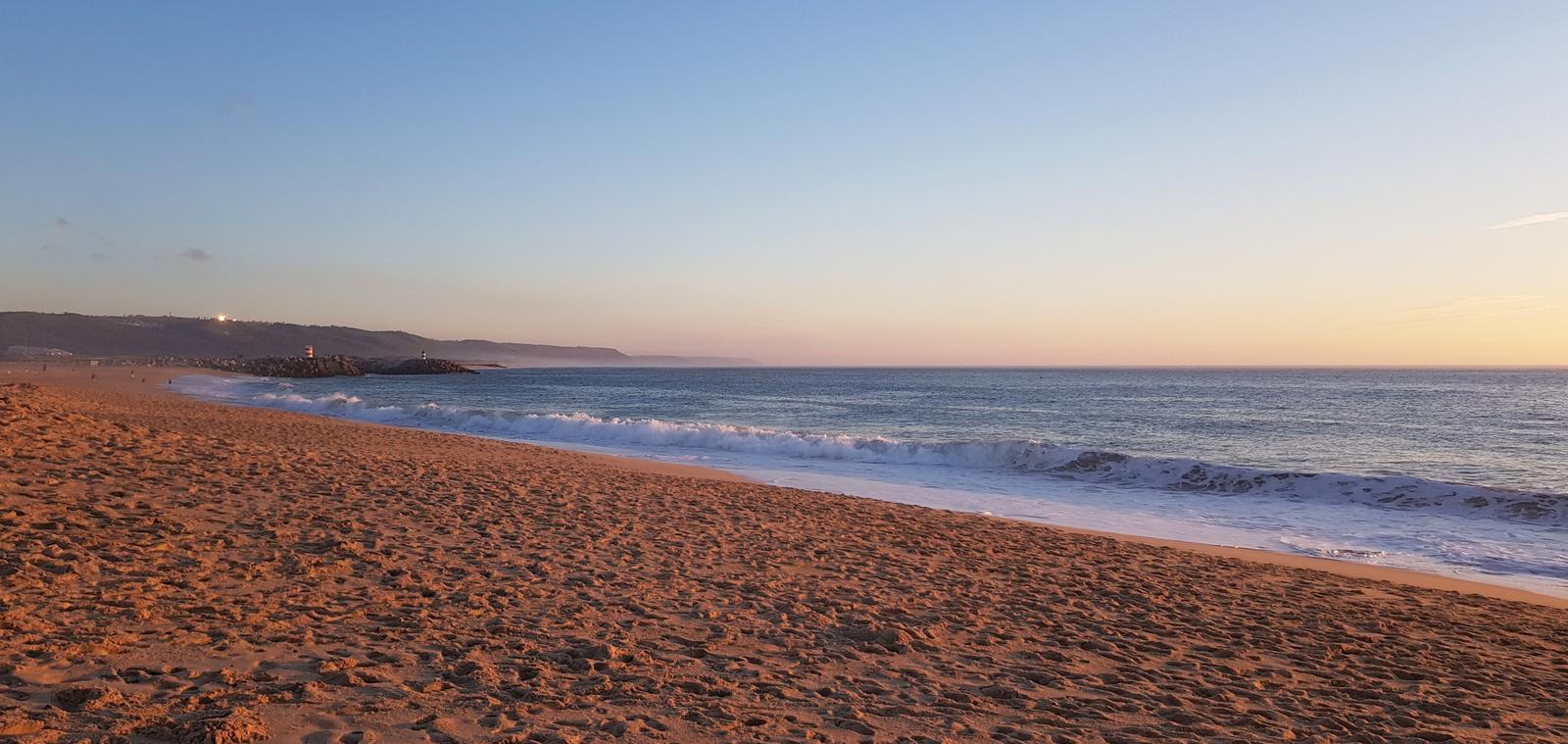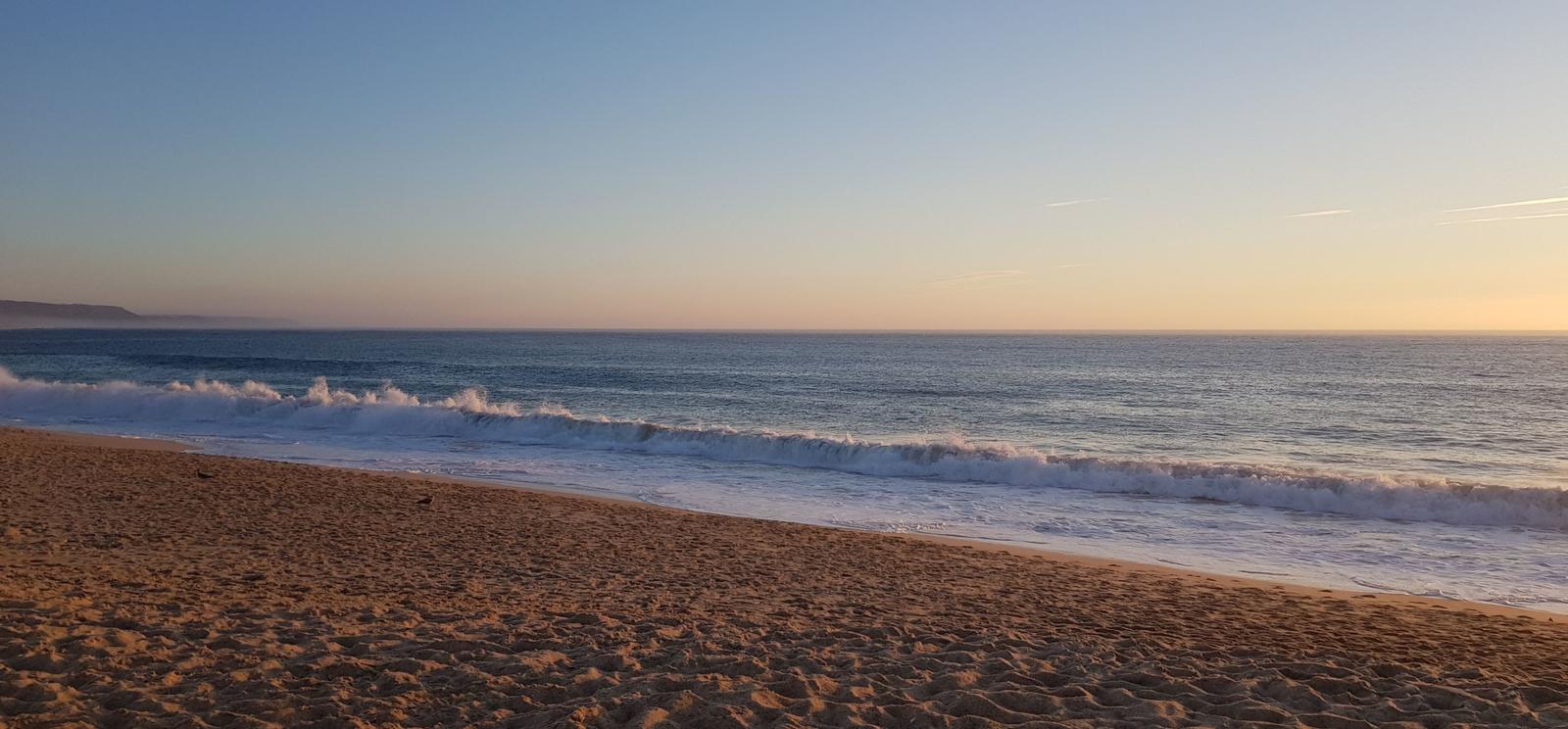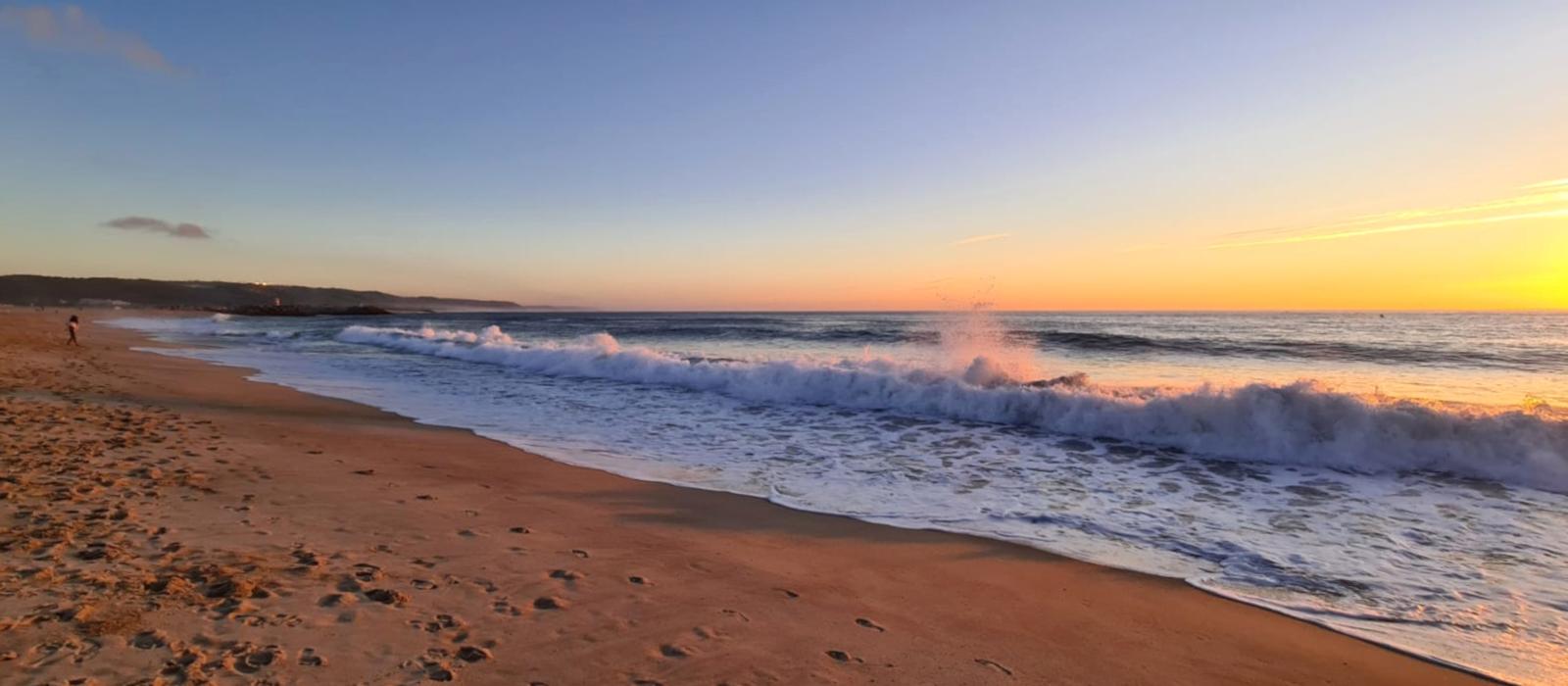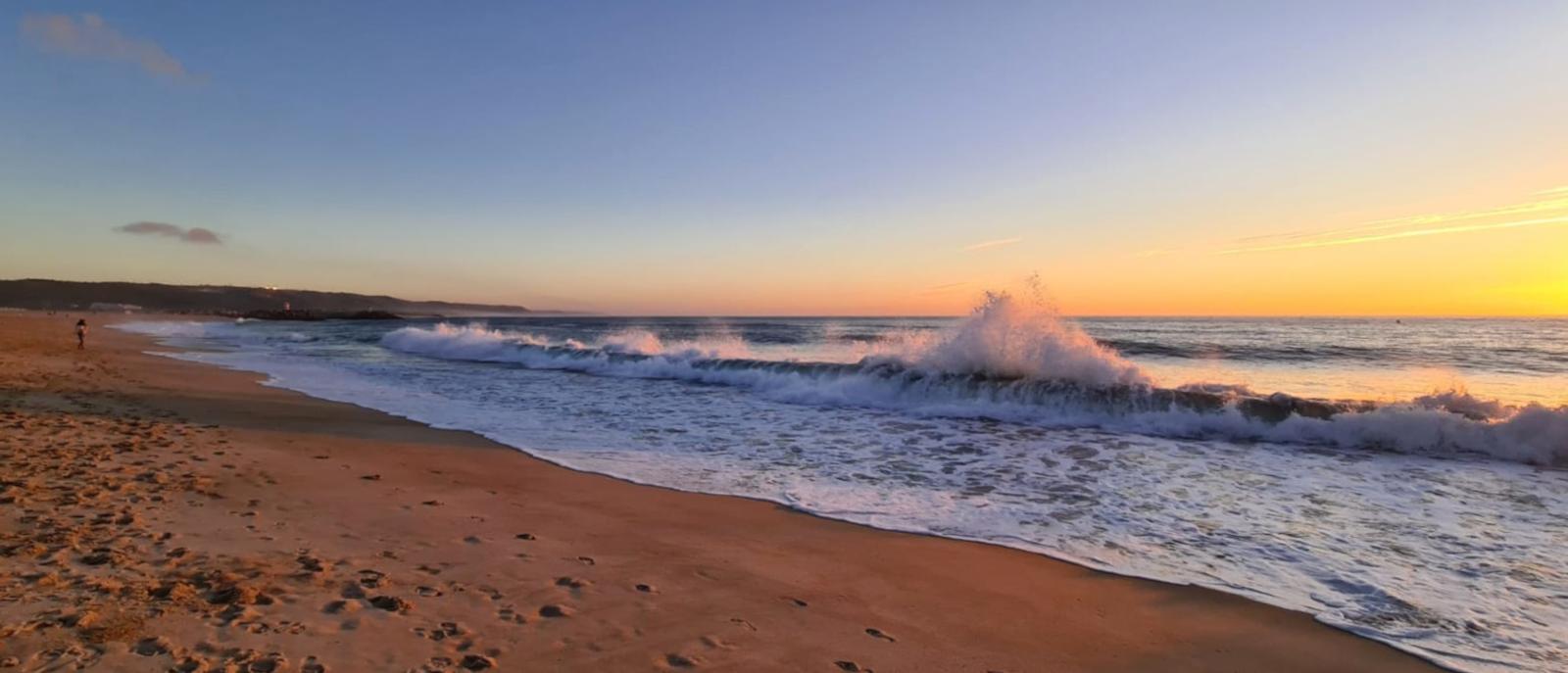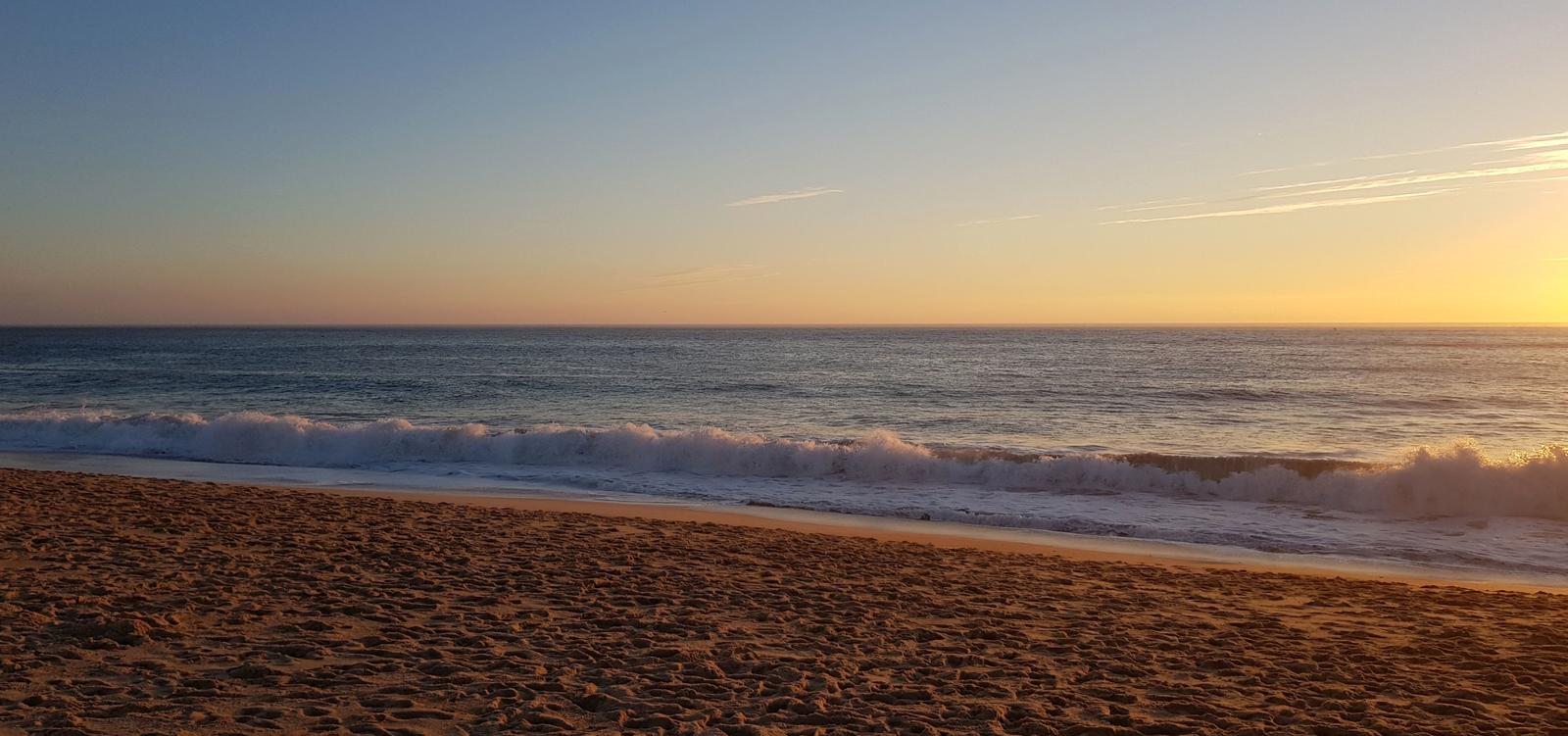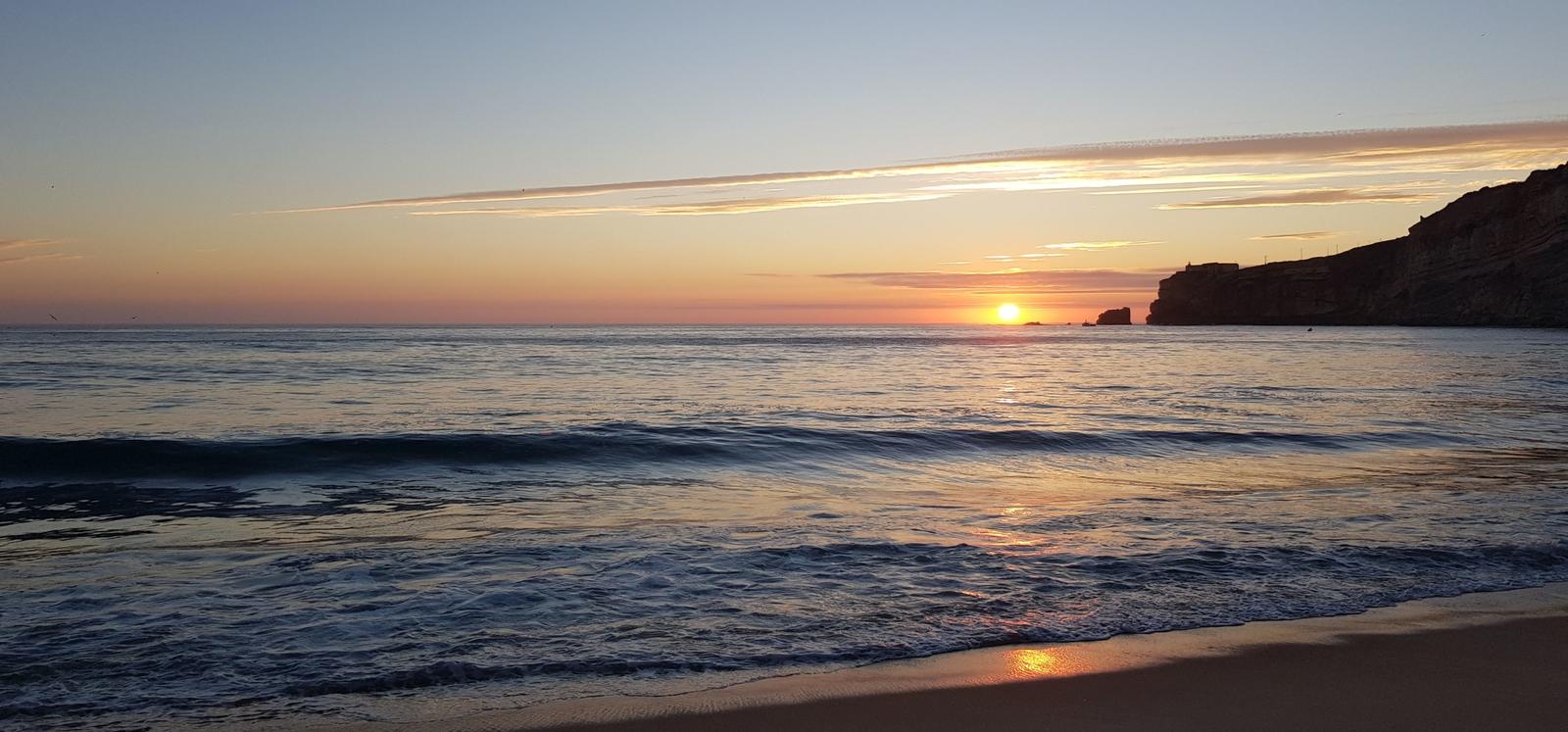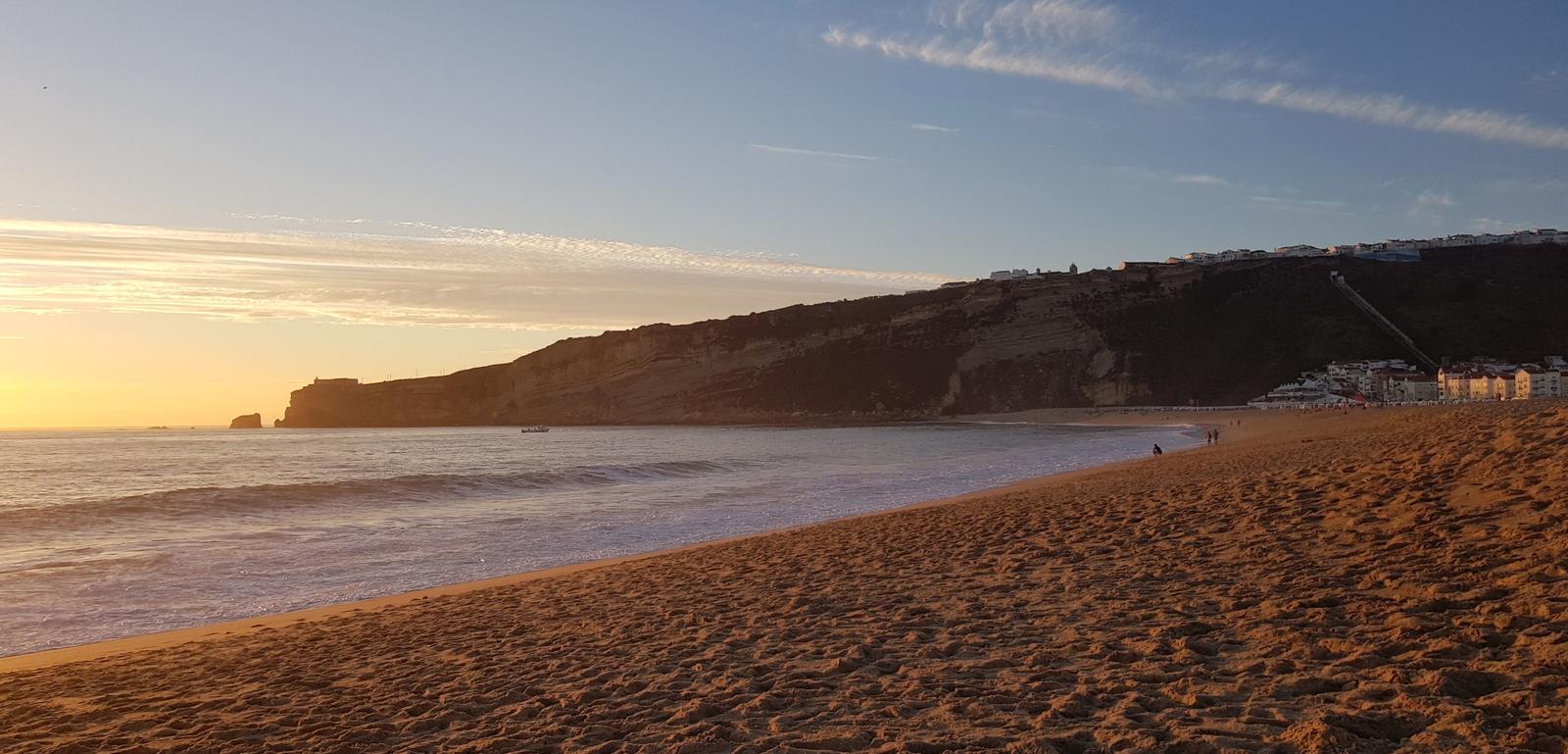 ---
5. Walk, Run or Cycle the Praia da Nazaré Promenade!
There is a wide footpath along the beach road and much of it has a proper cycling path also.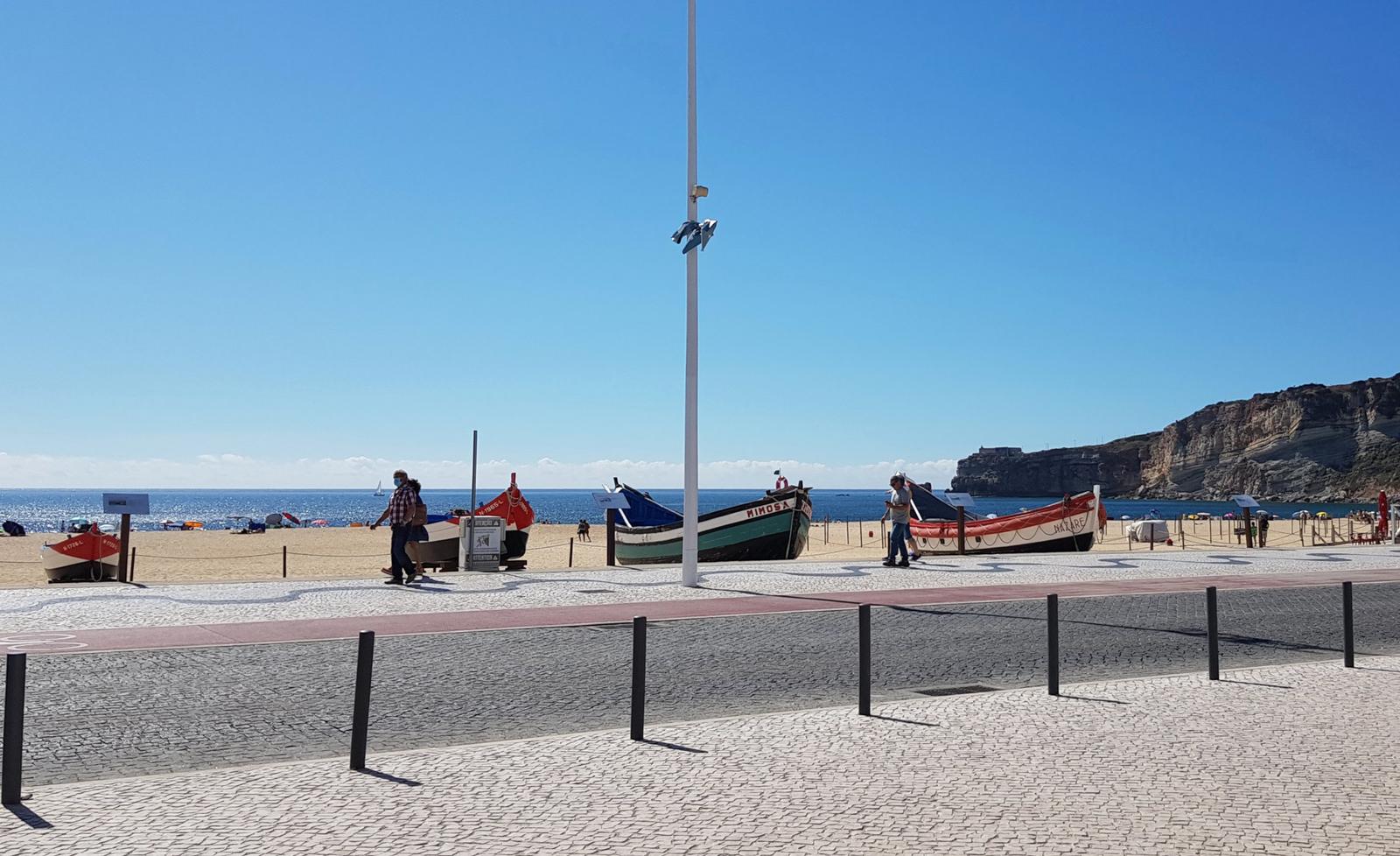 ---
If you like to walk/run/roller blade it is a great place to start your activity. Best to go early (or late) to avoid the crowds (and heat) during Summer time. The mornings are often foggy in Nazaré but I think this makes for nice mysterious running weather.
At the Southern end of the Promenade there is another lighthouse and you get an alternative view of Nazaré. As you can see in the photos below, it was very overcast the last time I ran down that way: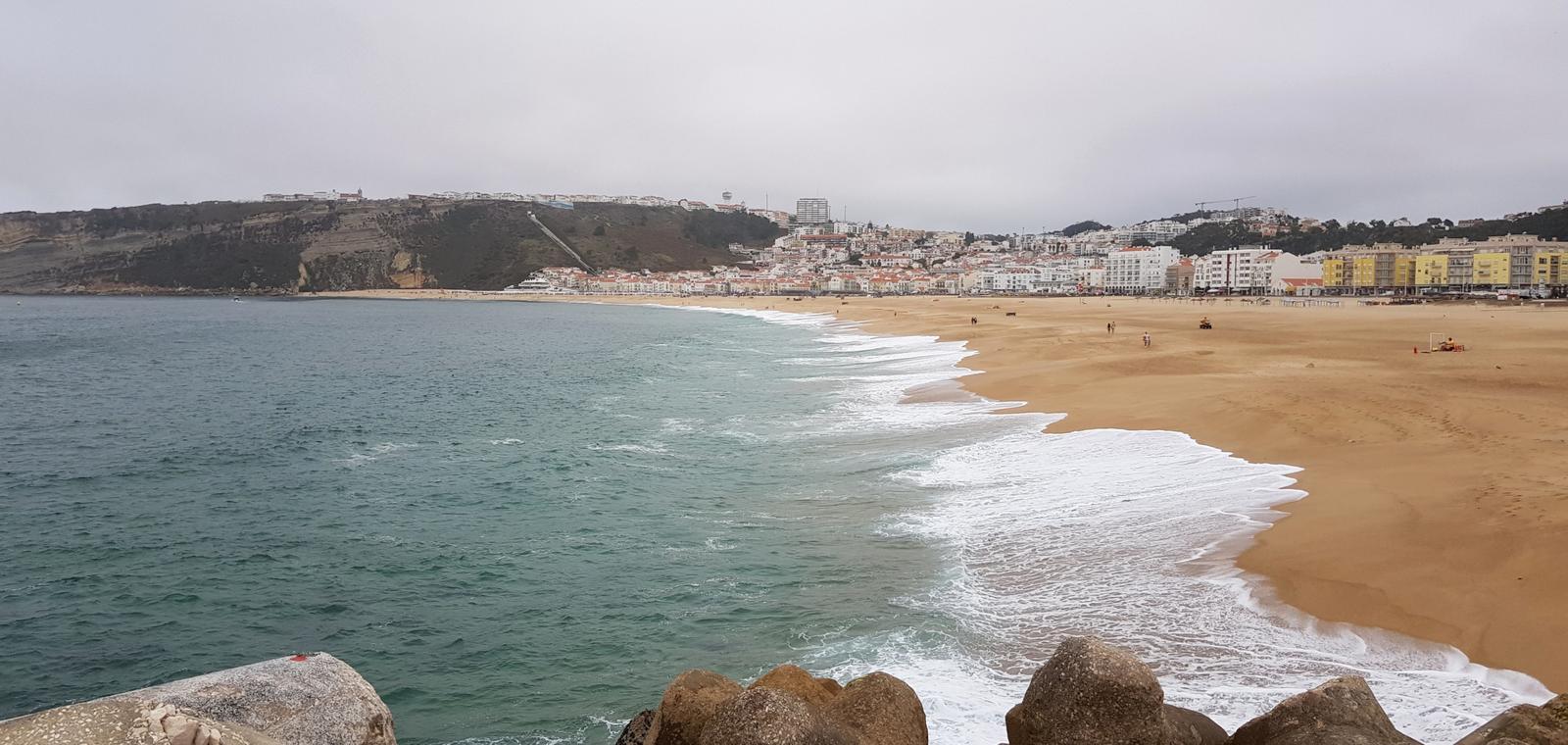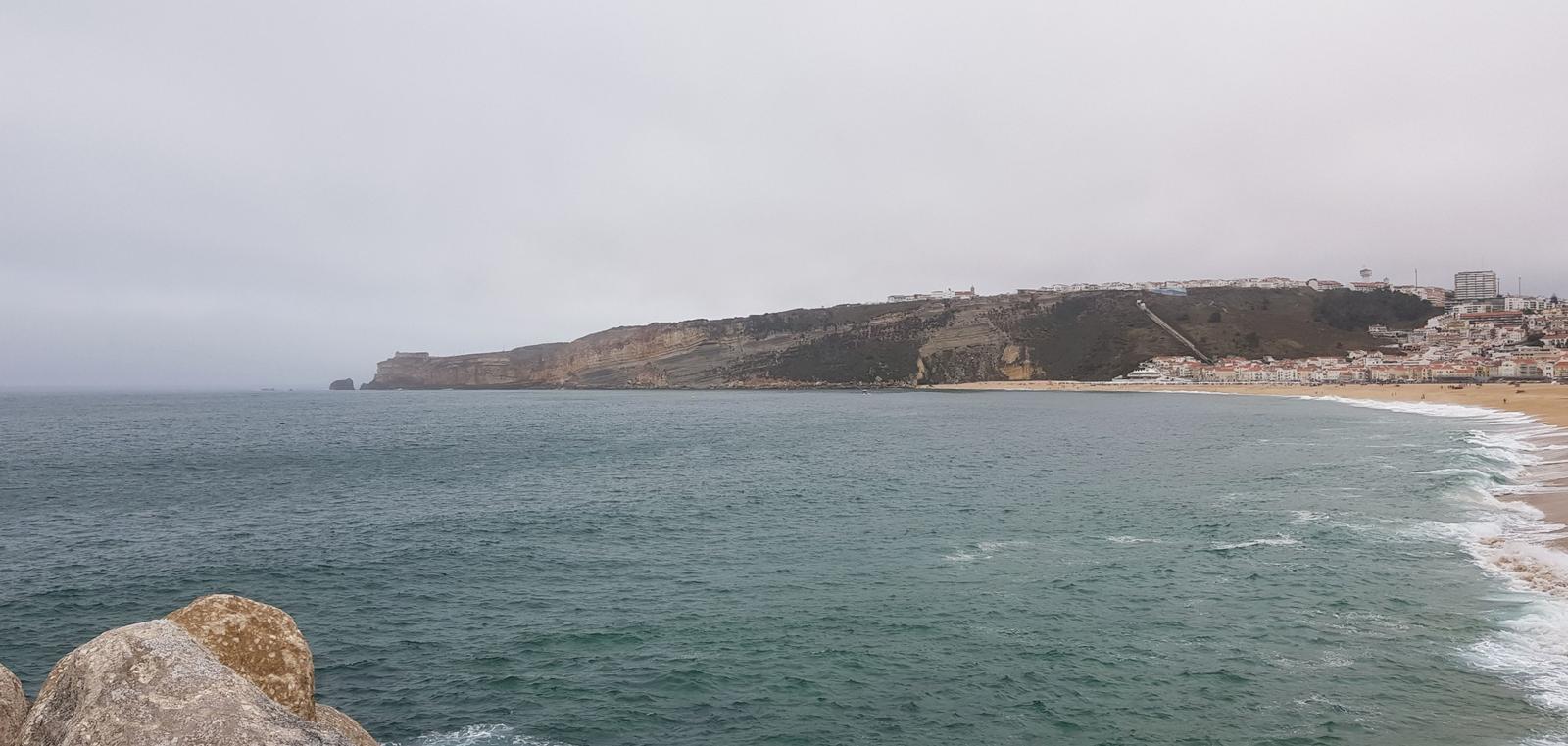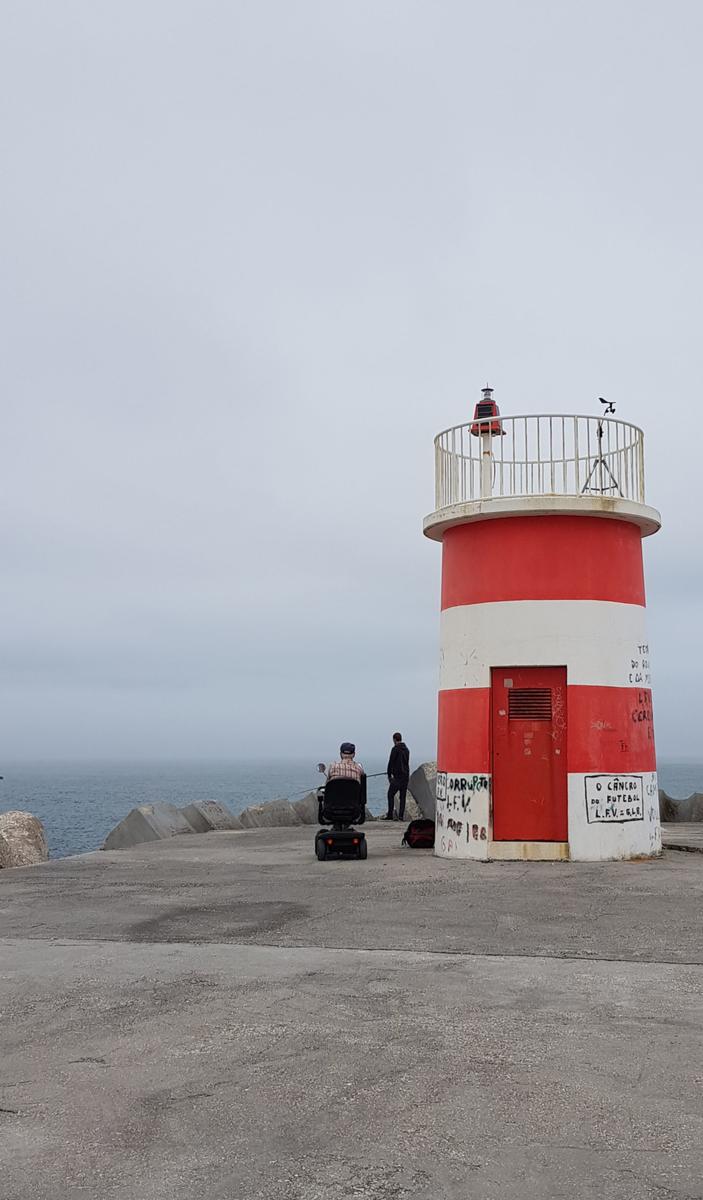 ---
6. Ride the Funicular.
Riding the funicular is definitely a popular activity (especially for those with children) in Nazaré with most people choosing to get the funicular up to Sítio and walk back down.
The view as you make your way up, on a cloudy day: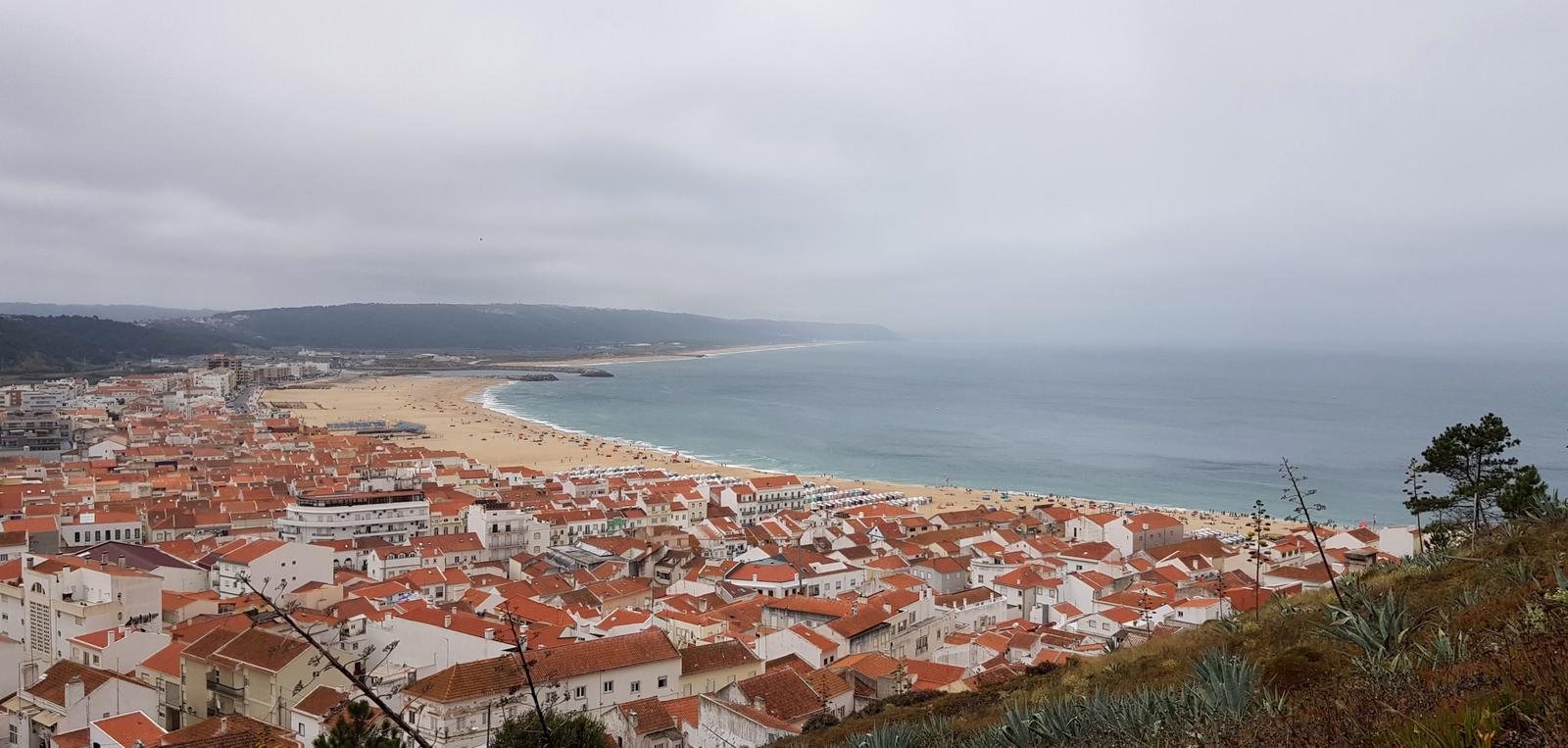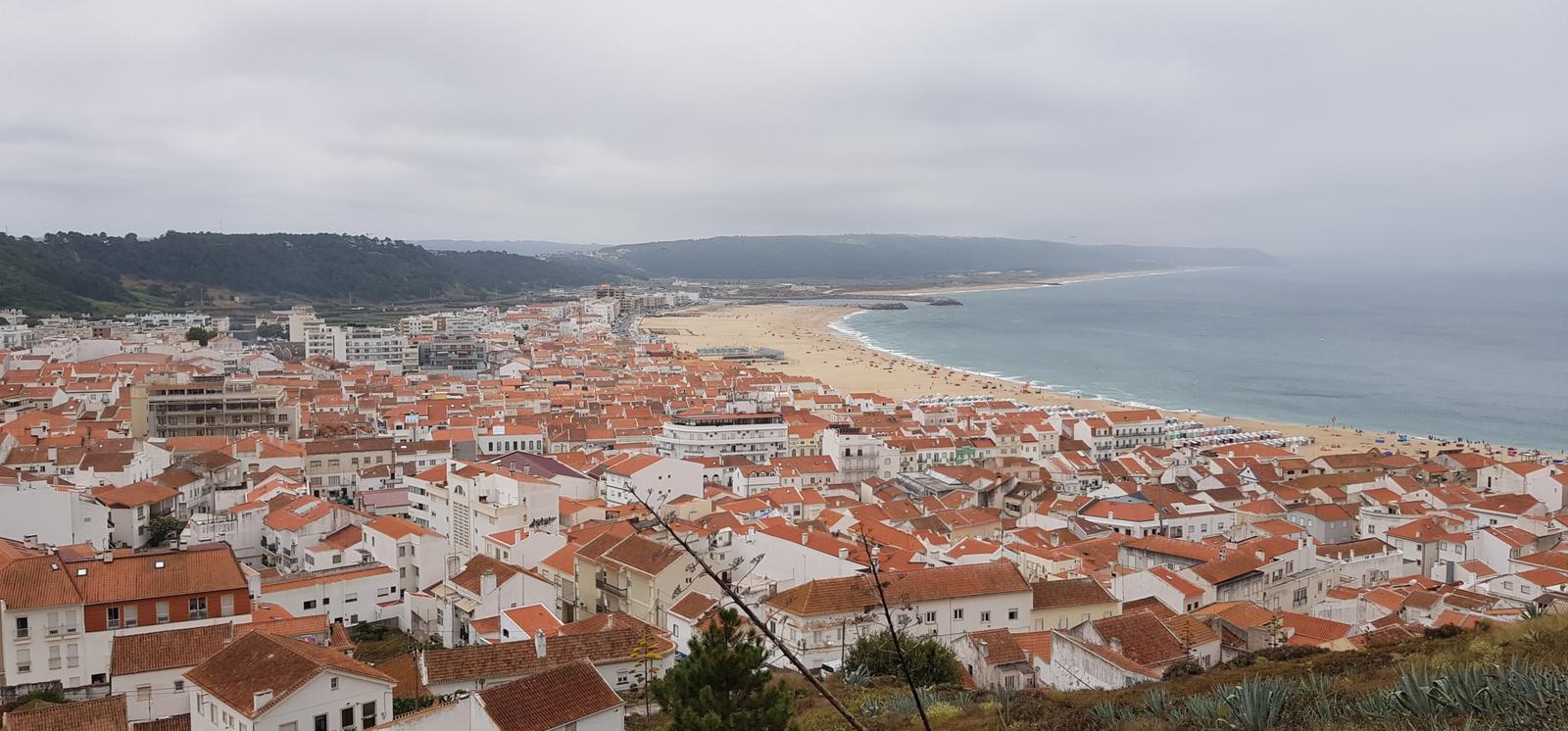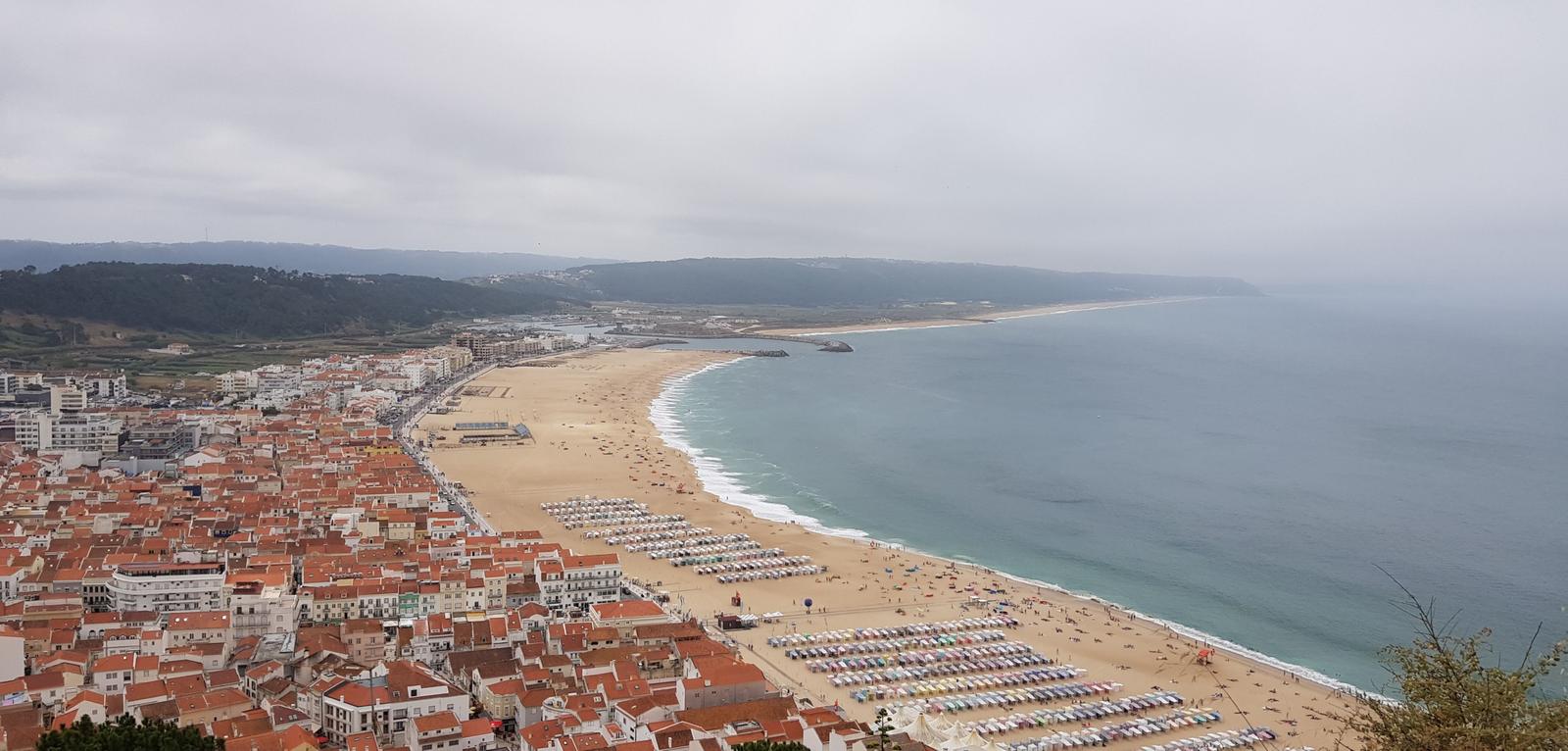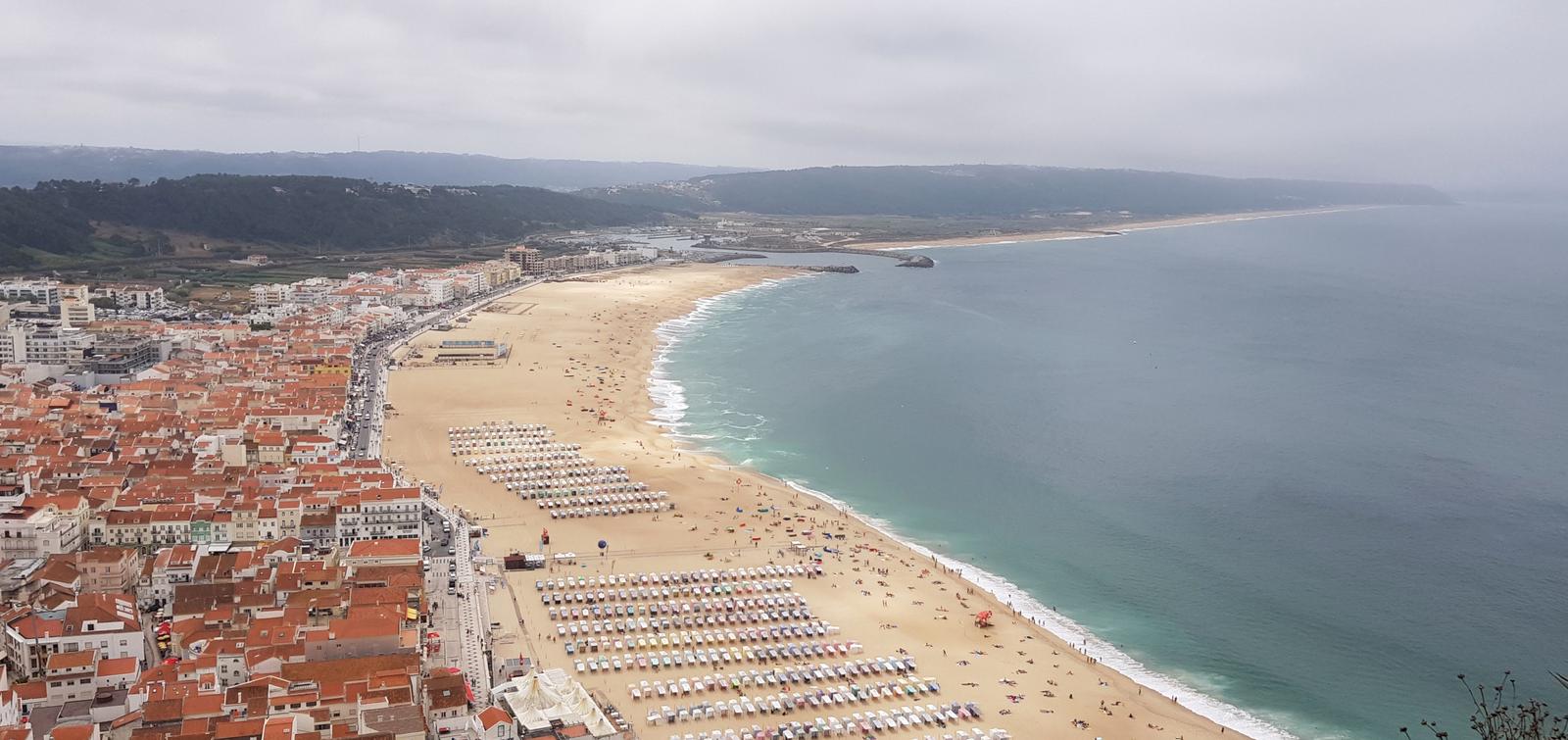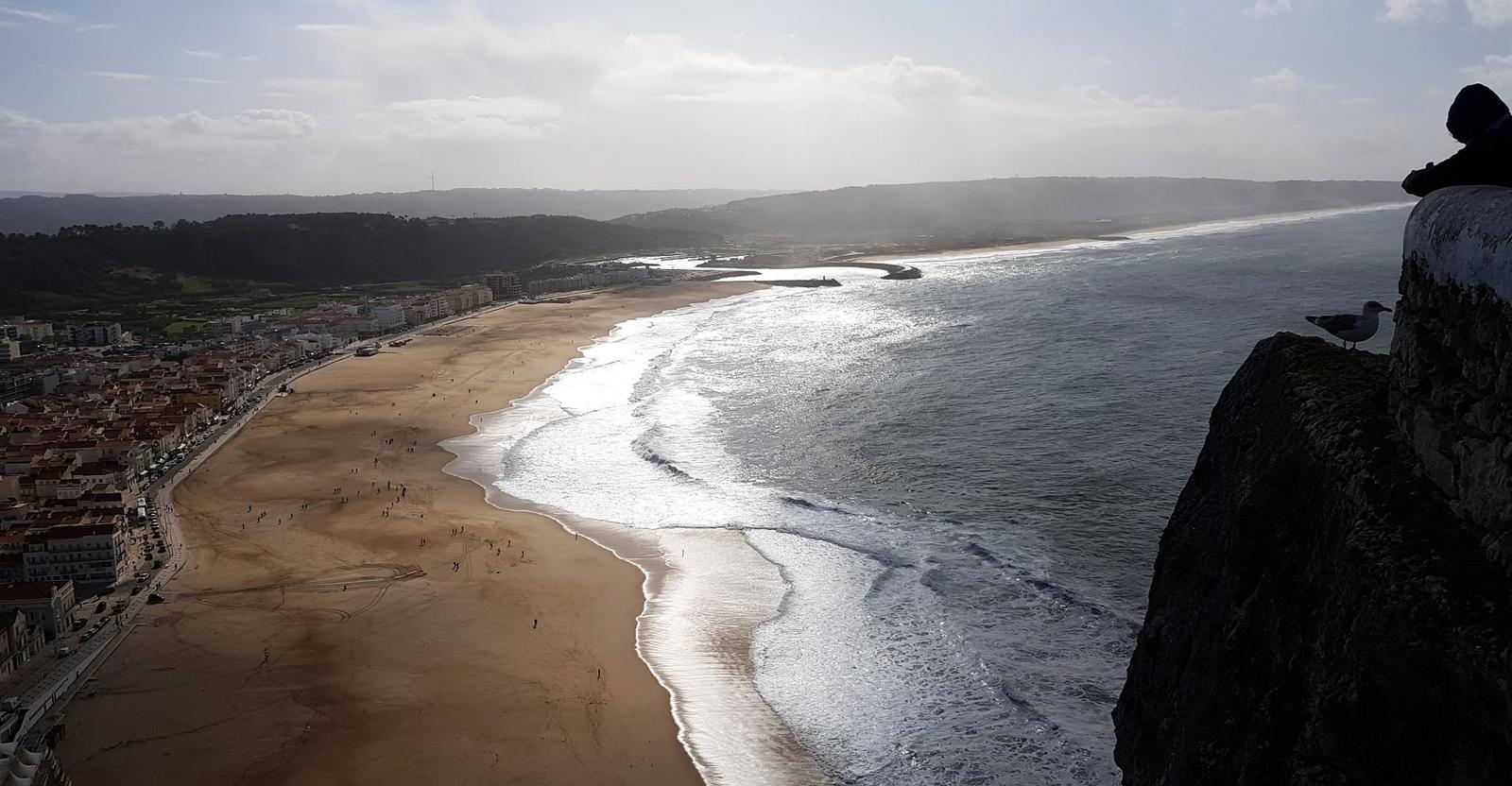 ---
If the weather is good, you could have a nice cool drink or a bite to eat at the top, there are one or two places right at the top of the steps that have outdoor terraces with an amazing view. Sítio dos Petiscos is one such place.
These guys keep a close eye on everyone at the top of the funicular: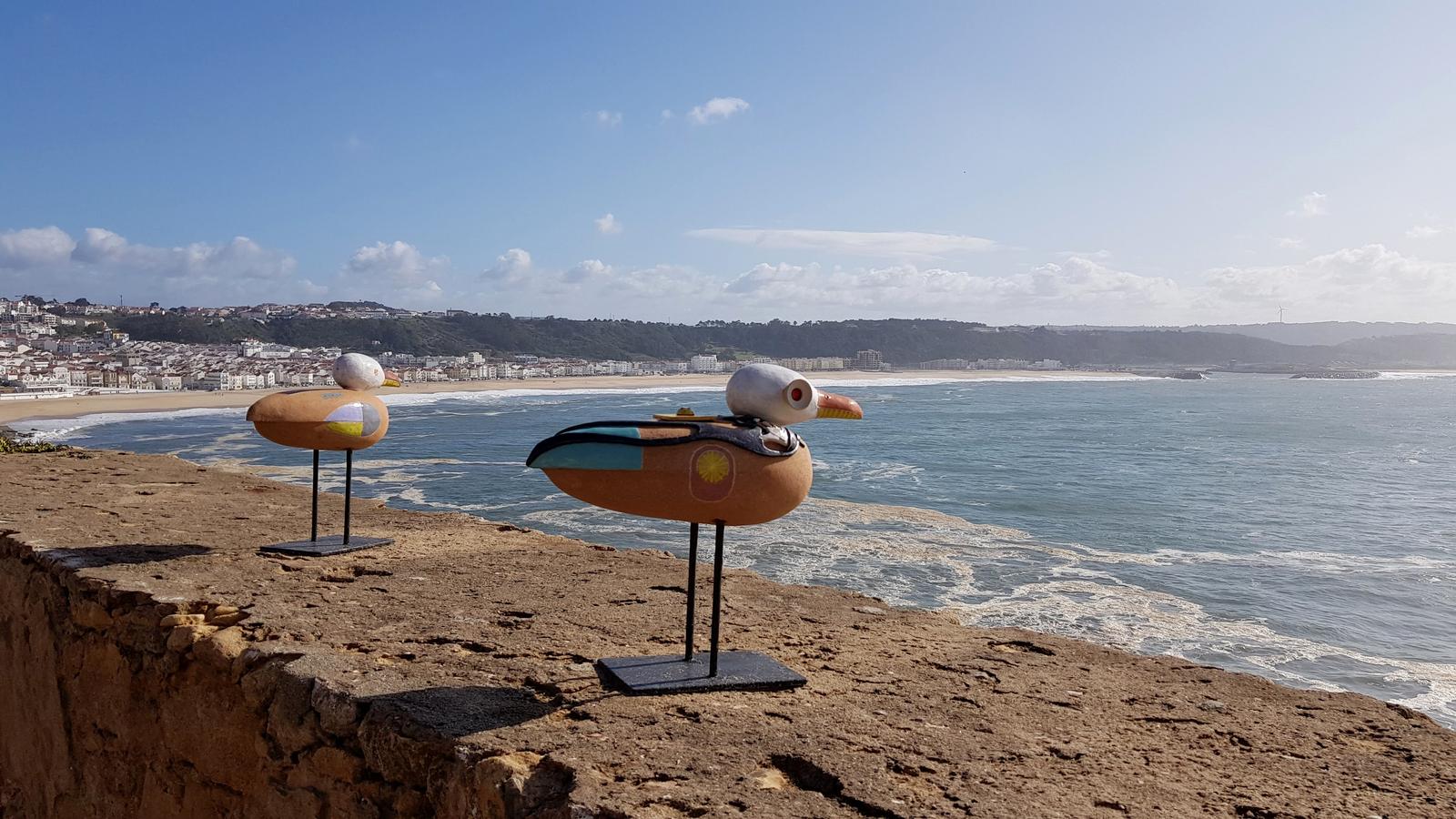 While you are up there, check out Sítio! Keep reading to find out more.
---
7. Spend Some Time Exploring Sítio!
As mentioned Sítio is the older cliff top area of Nazaré that can be accessed via car/bus, via the funicular or on foot/by bike. It is well worth visiting this area. If you are planning on visiting Farol da Nazaré, Praia do Norte, Fort de Sao Miguel Arcanjo and/or the Canhão da Nazaré Interpretive Center you will have to go via Sítio so it makes sense to visit all these areas together.
On a sunny day, the view it offers of the surrounding area is stunning: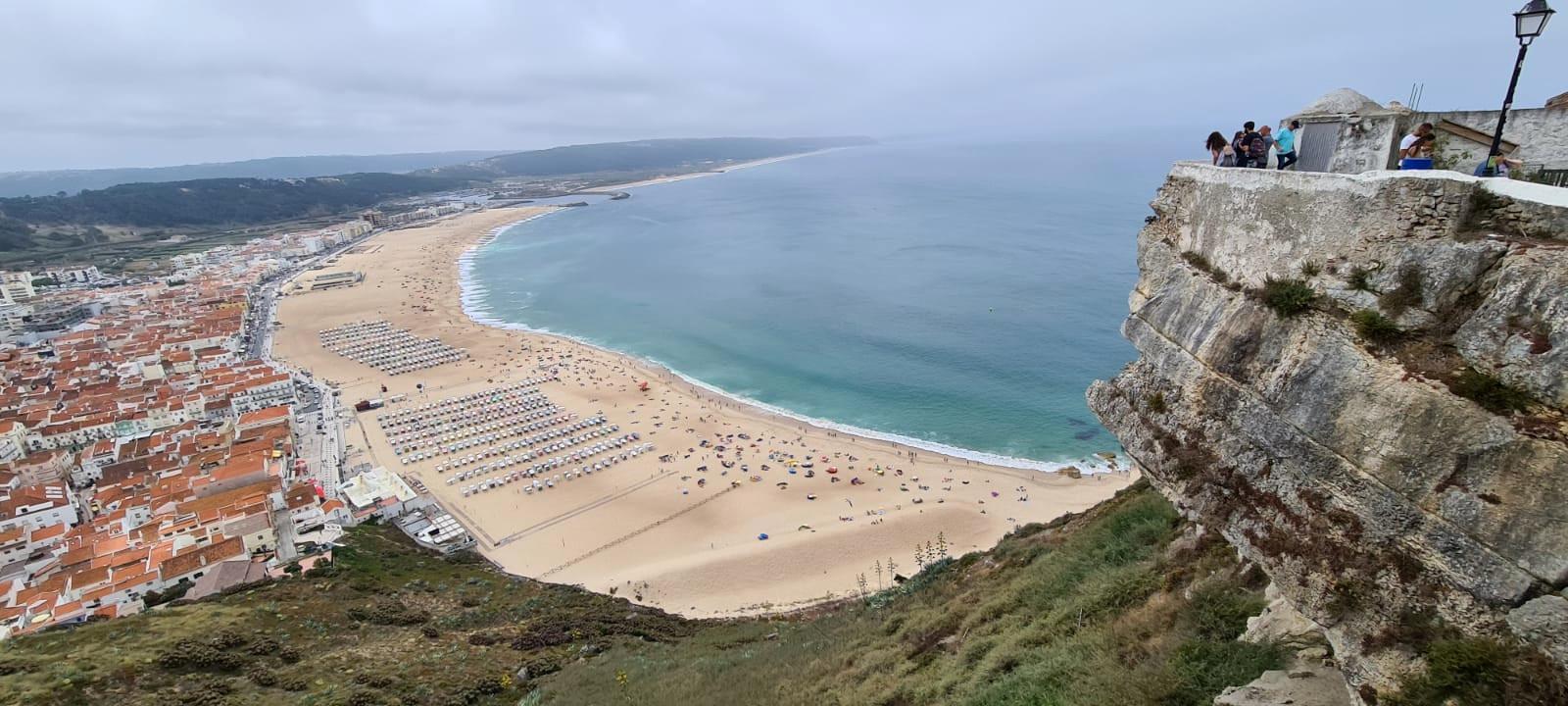 ---
There is a lovely square in Sítio, a great place to grab a coffee, sit and do some people watching.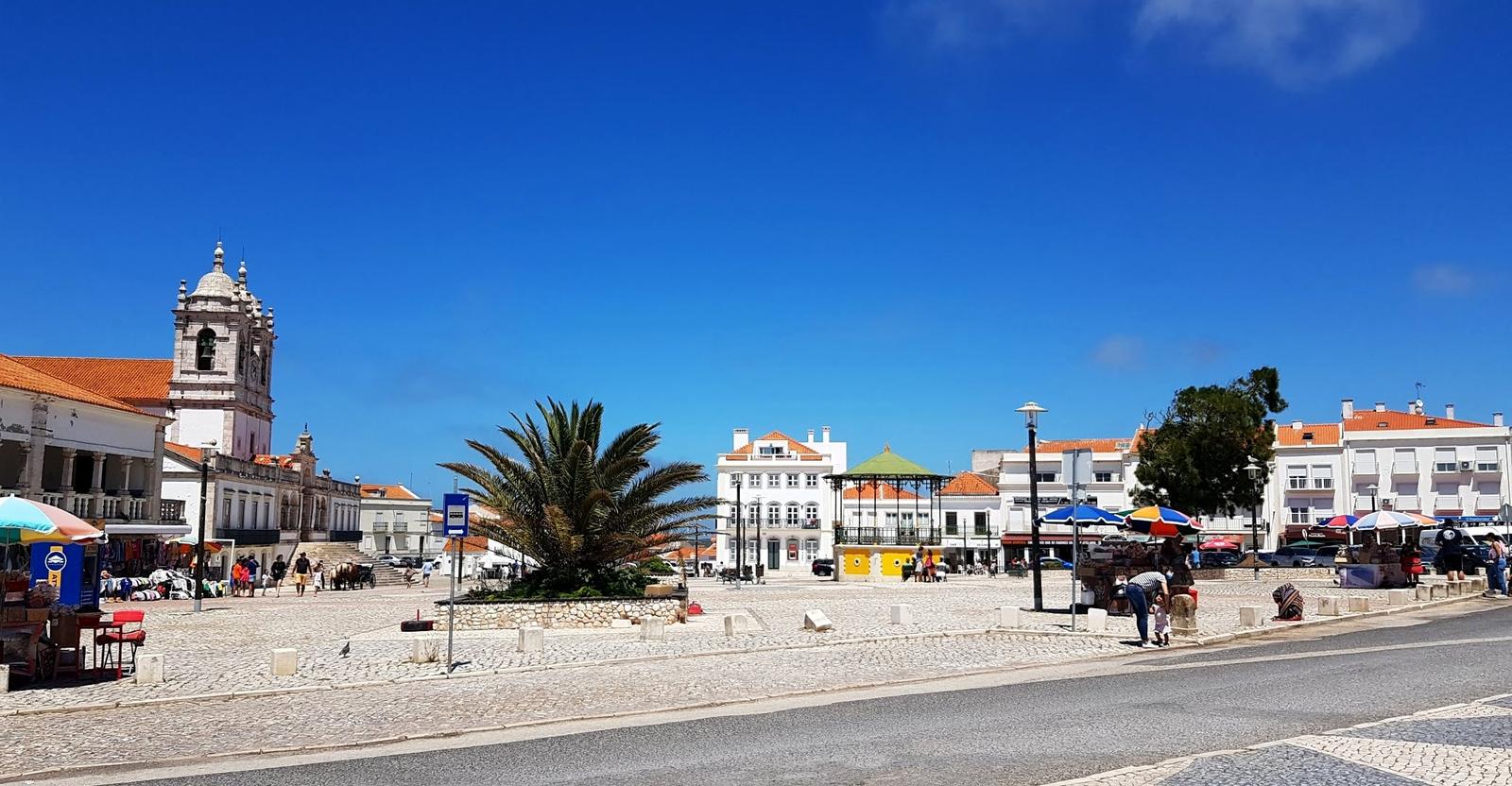 As well as cafes, bars and restaurants there are lots of shops selling local produce, some of which is handmade and unique. Of course you will find mass produced tourist souvenirs for sale too. Around the square you will also commonly see stalls selling local produce (you can see them in the photo above with the umbrellas) although there is a big difference from Summer to Winter with regard to how many stalls will be there and what businesses are open or closed in this area.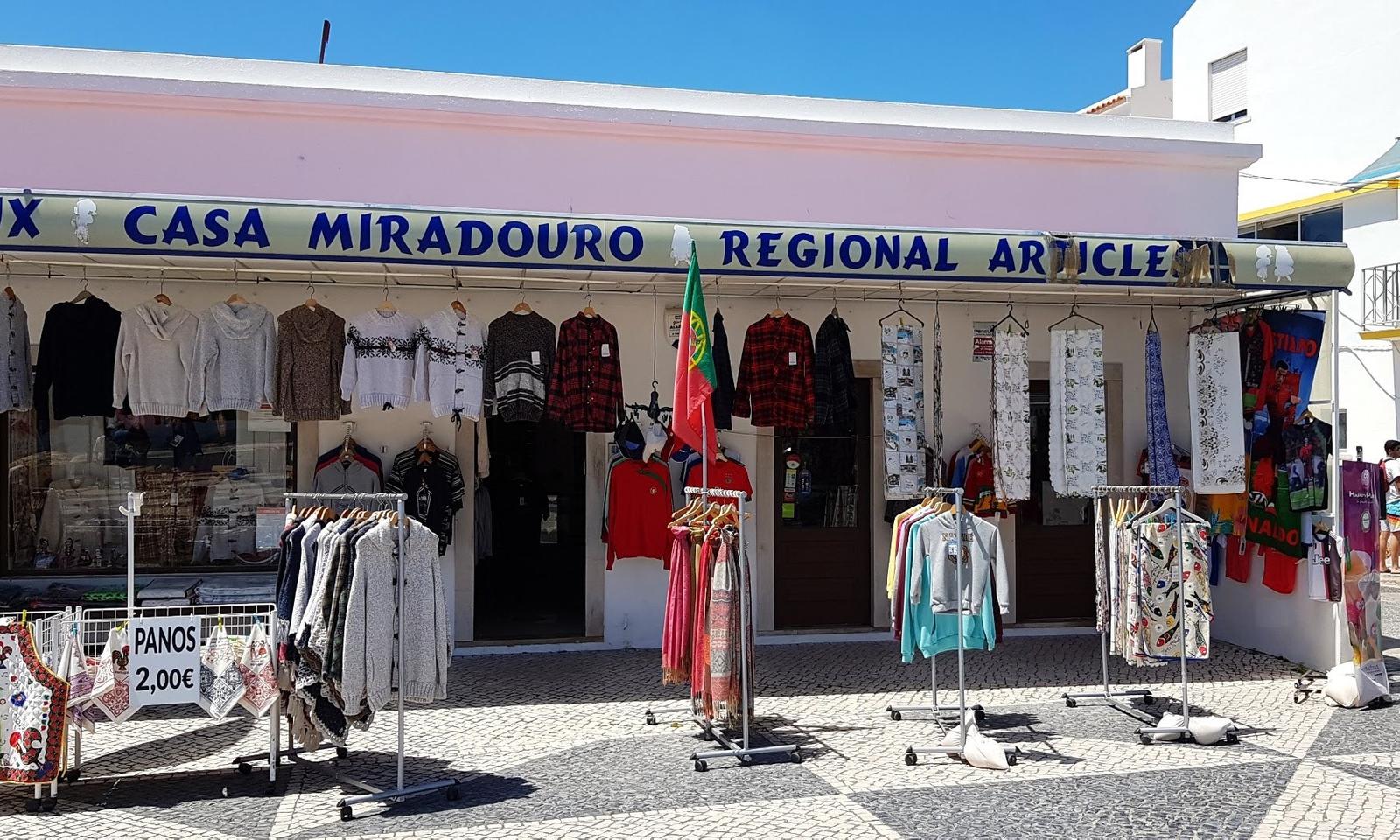 ---
Also located in the square is the Sanctuary of Our Lady of Nazaré/Santuário de Nossa Senhora da Nazaré which is well worth a visit.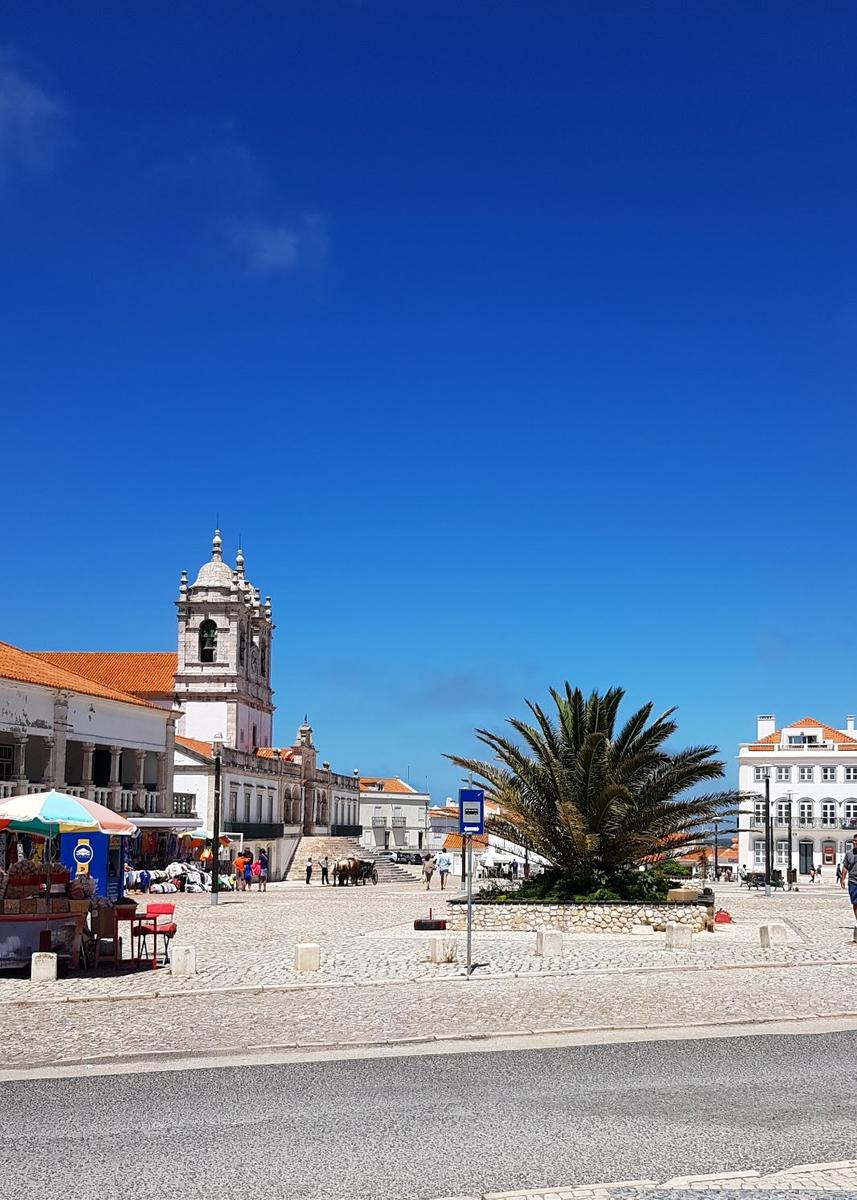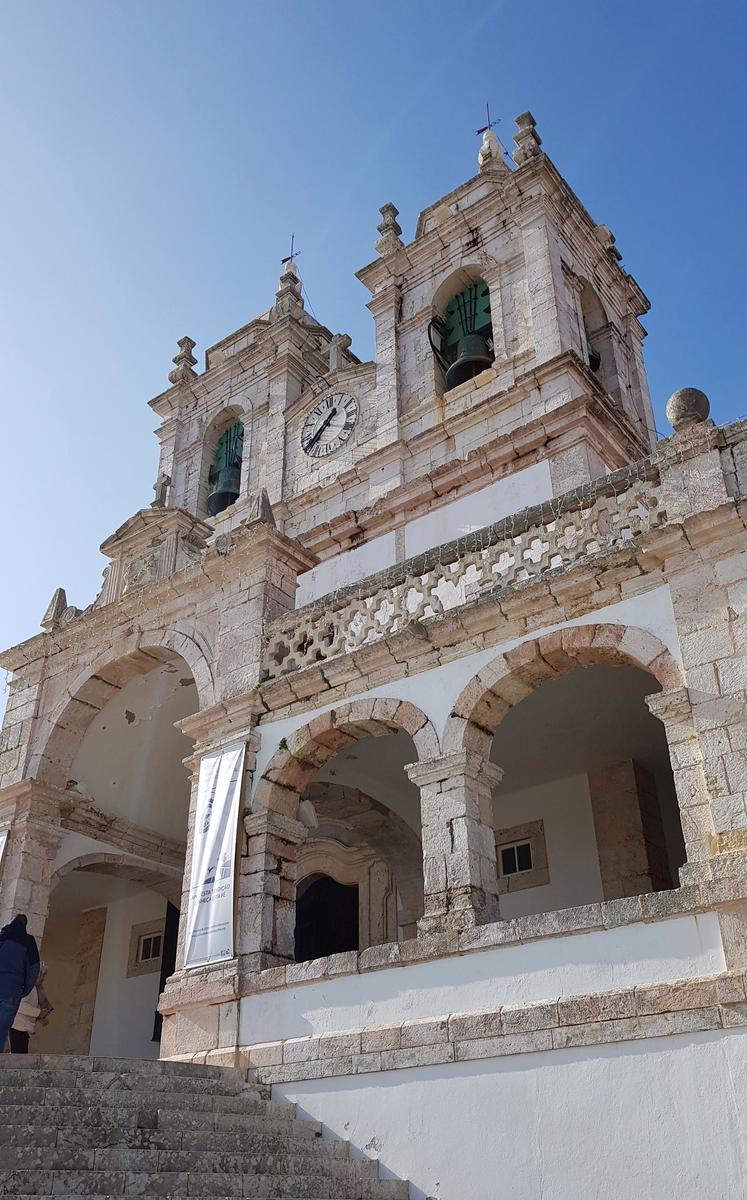 ---
The interior of the Sanctuary of Our Lady of Nazaré/Santuário de Nossa Senhora da Nazaré is beautiful with its gold main altar, domed ceiling and the really impressive azulejo depictions (and you know how much I love Portugal's azulejos).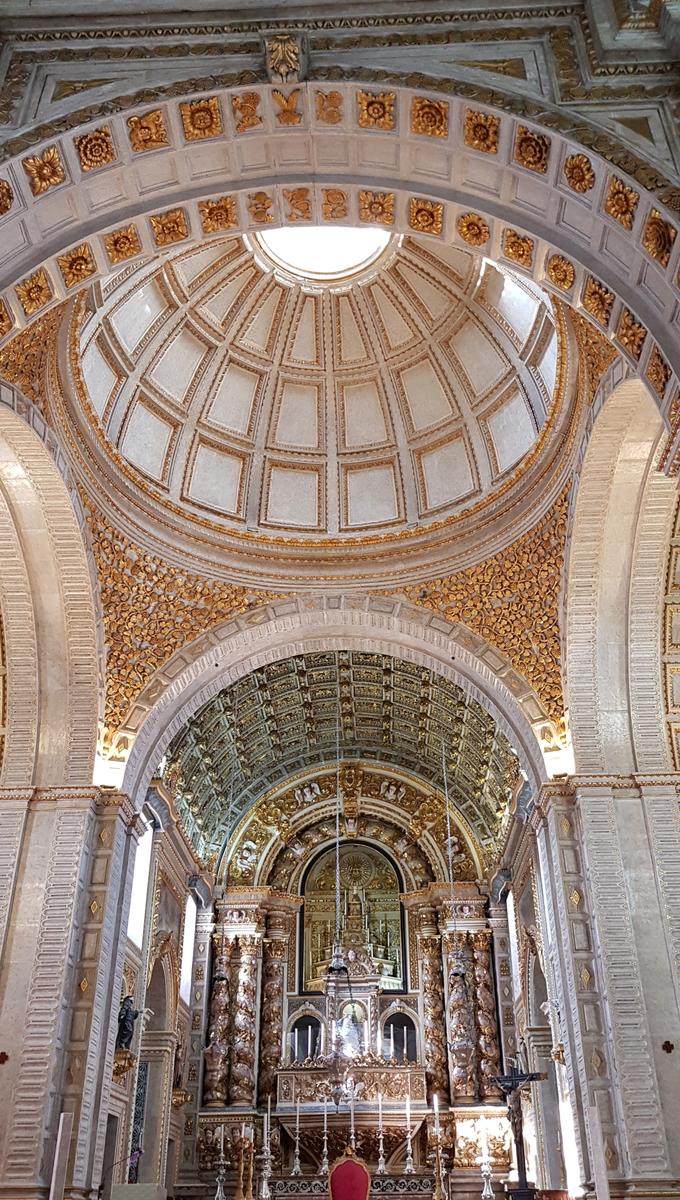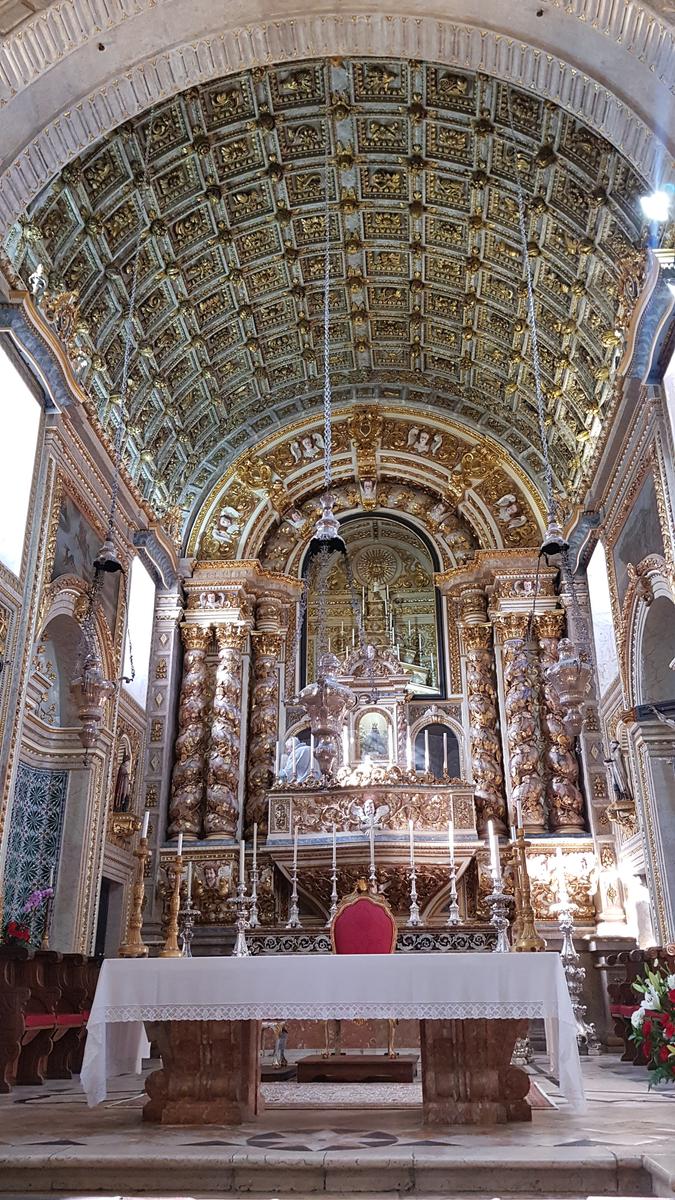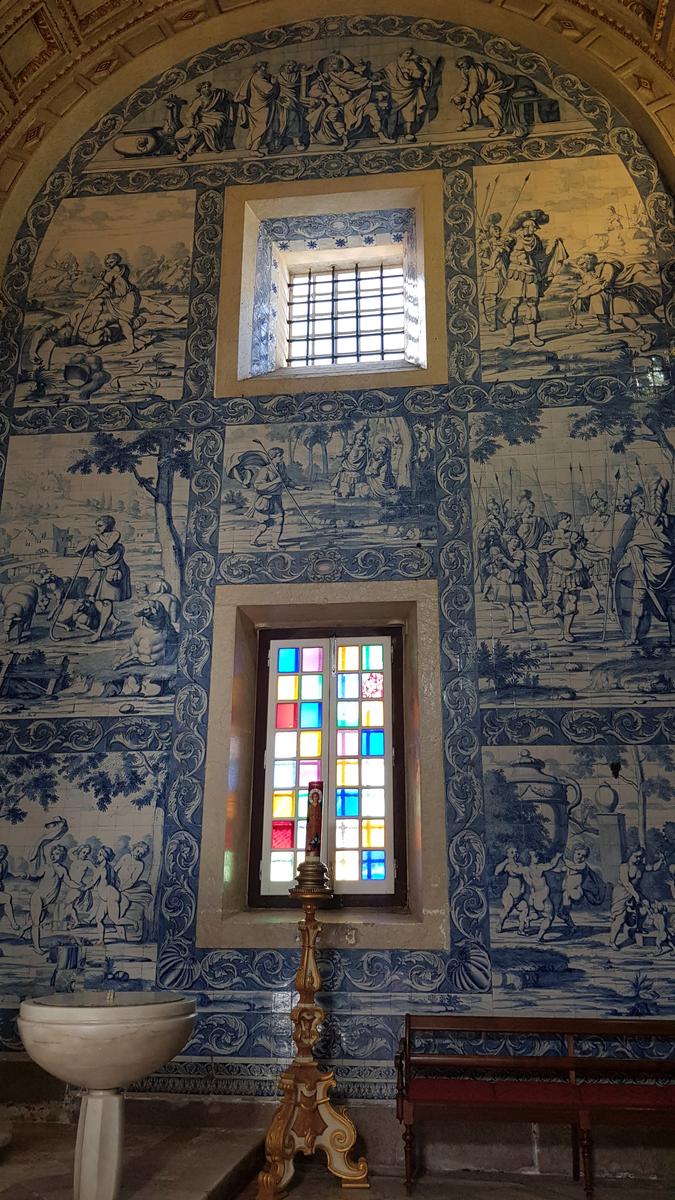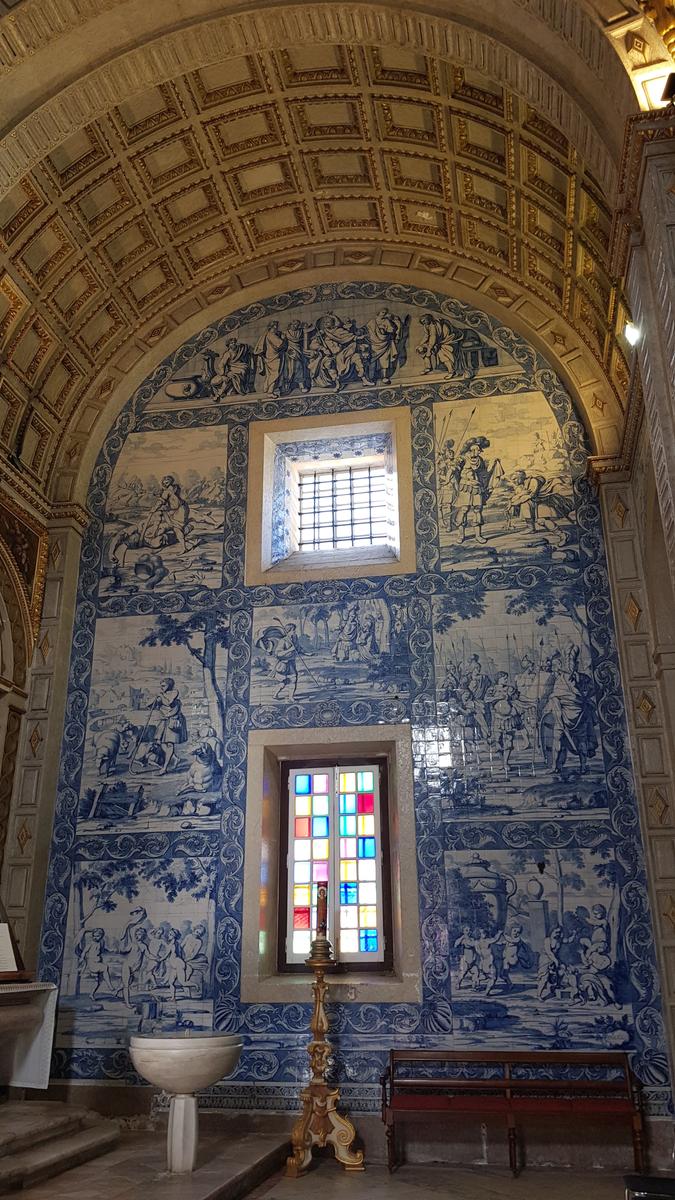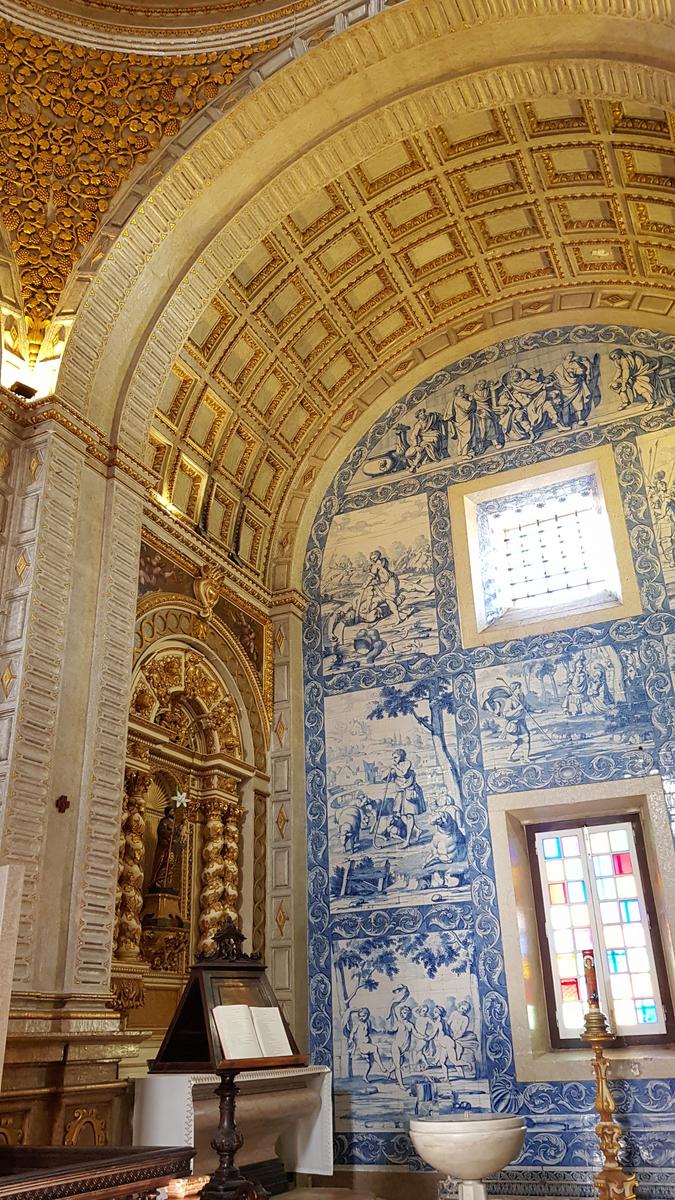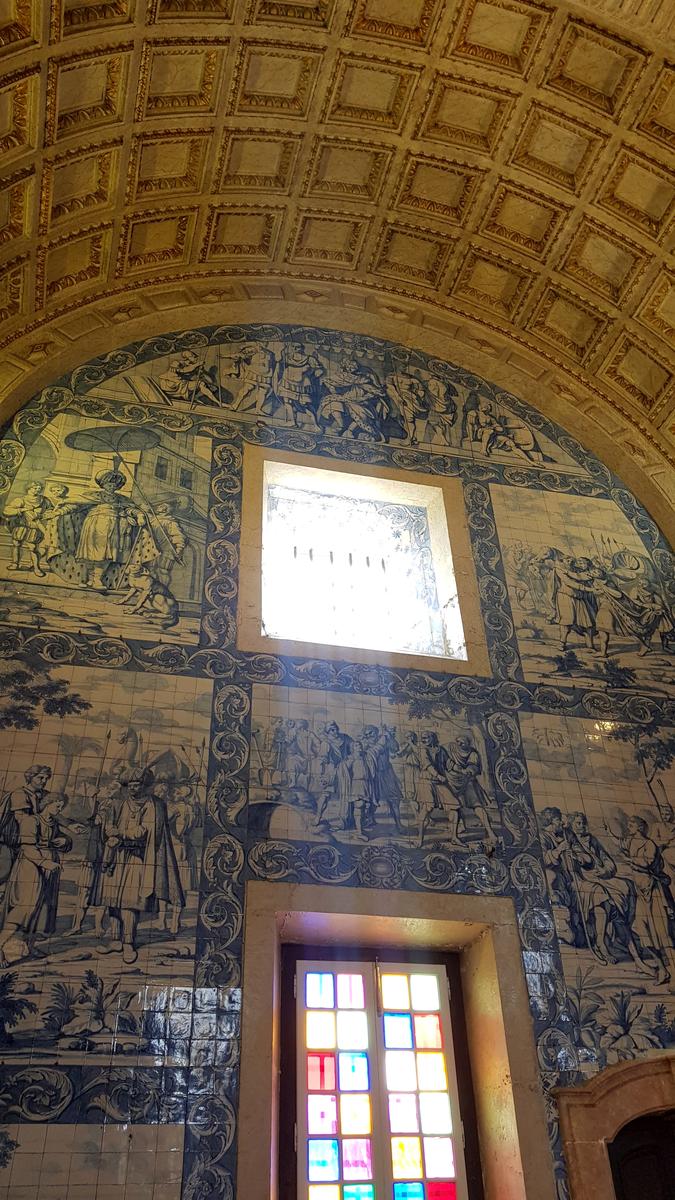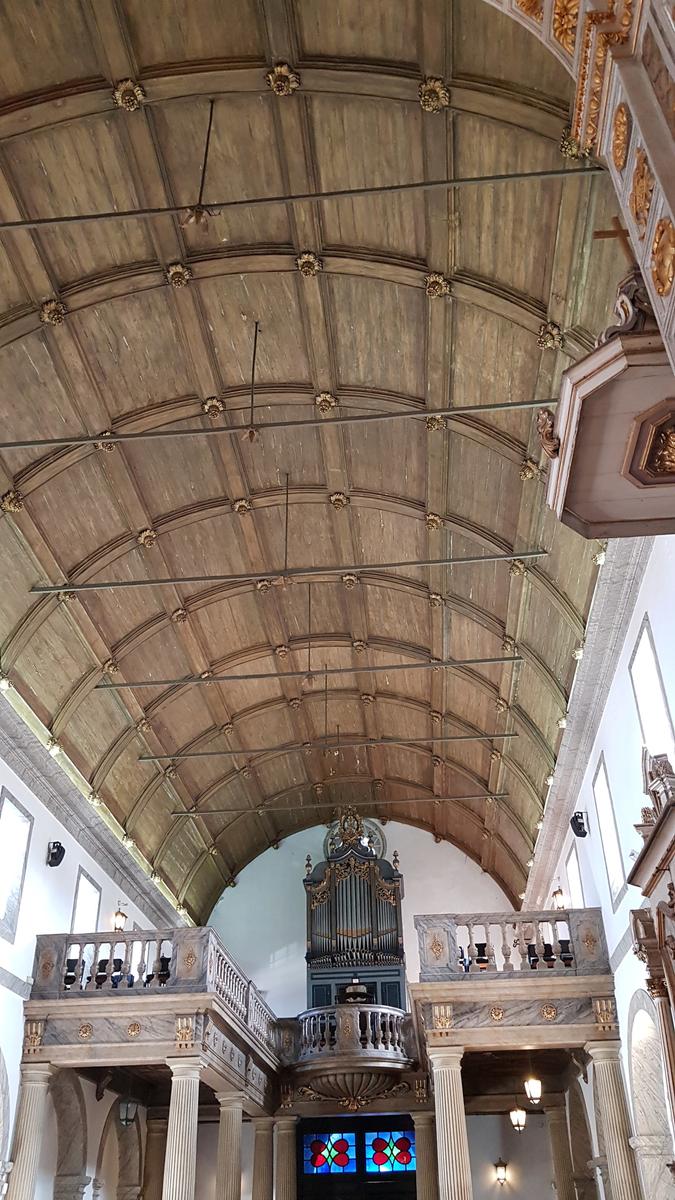 ---
Also not to be missed is the small but beautiful 12th Century Chapel of Our Lady of Nazaré/Ermida da Memória/Capela de Nossa Senhora da Nazaré or Memory Hermitage of Nazaré with its idyllic location on the cliffs overlooking Praia da Nazaré. It is located across the road (sea side) from the square.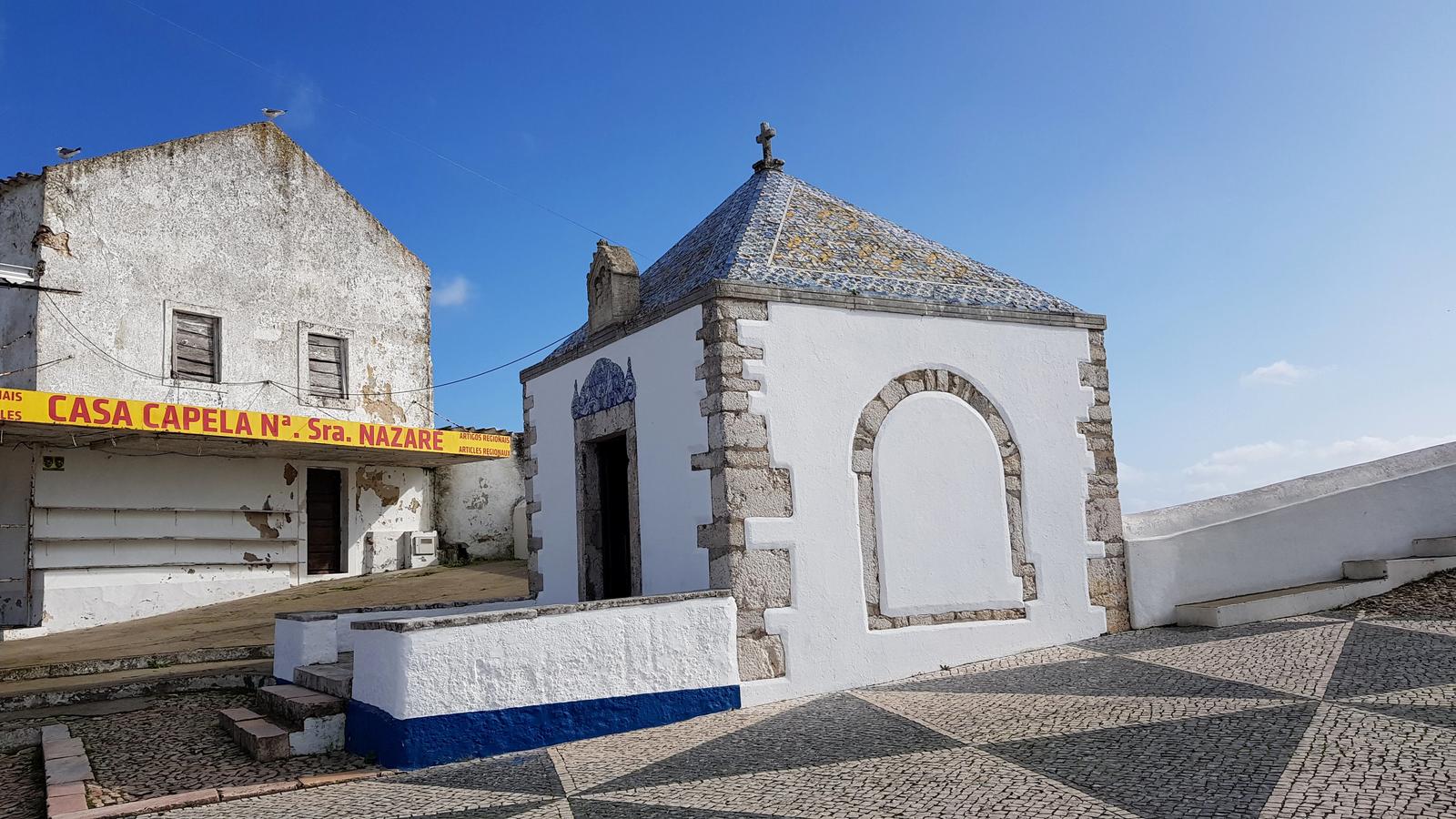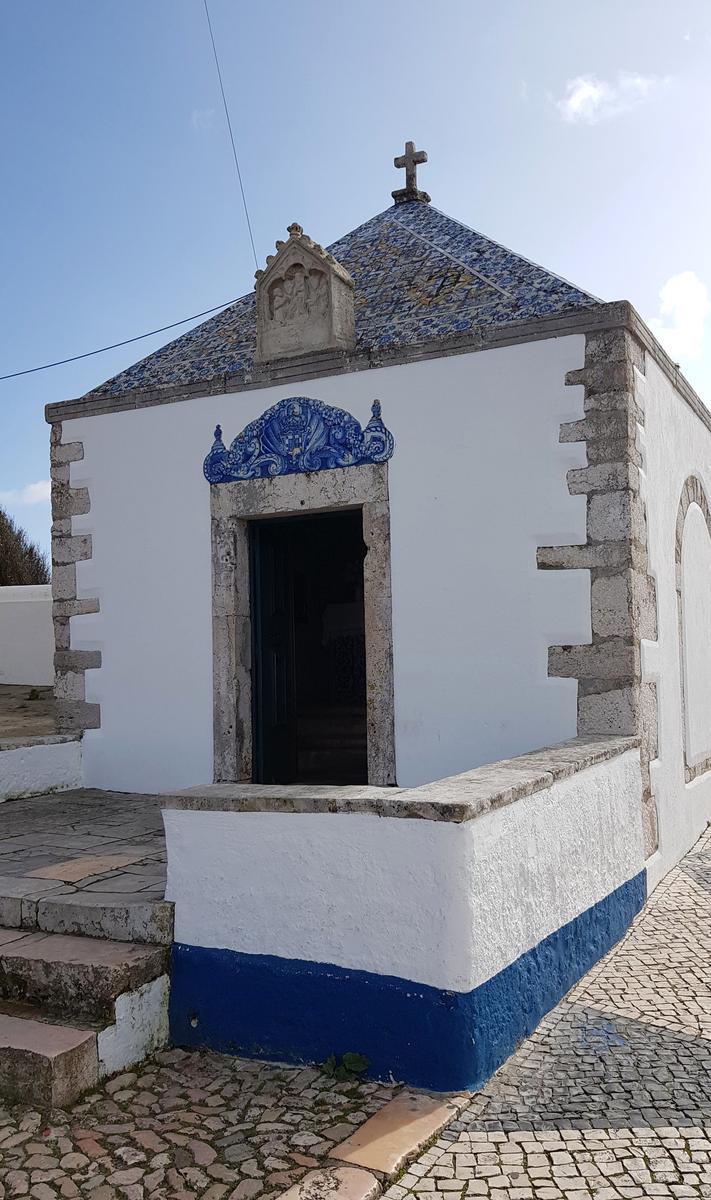 Want to keep exploring? From Sítio walk the cliff path to Farol da Nazaré, keep reading to find out more!
---
8. Walk the Scenic Cliff Paths From Sítio to Farol da Nazaré:
From Sítio continue walking down Estrada do Farol, keeping left once you leave the road, through a car-park and onto a dirt path for some even better views. Take care on these dirt paths, for much of the route there is a steep drop-off on the sea side with no railings for backup and loose gravel underfoot!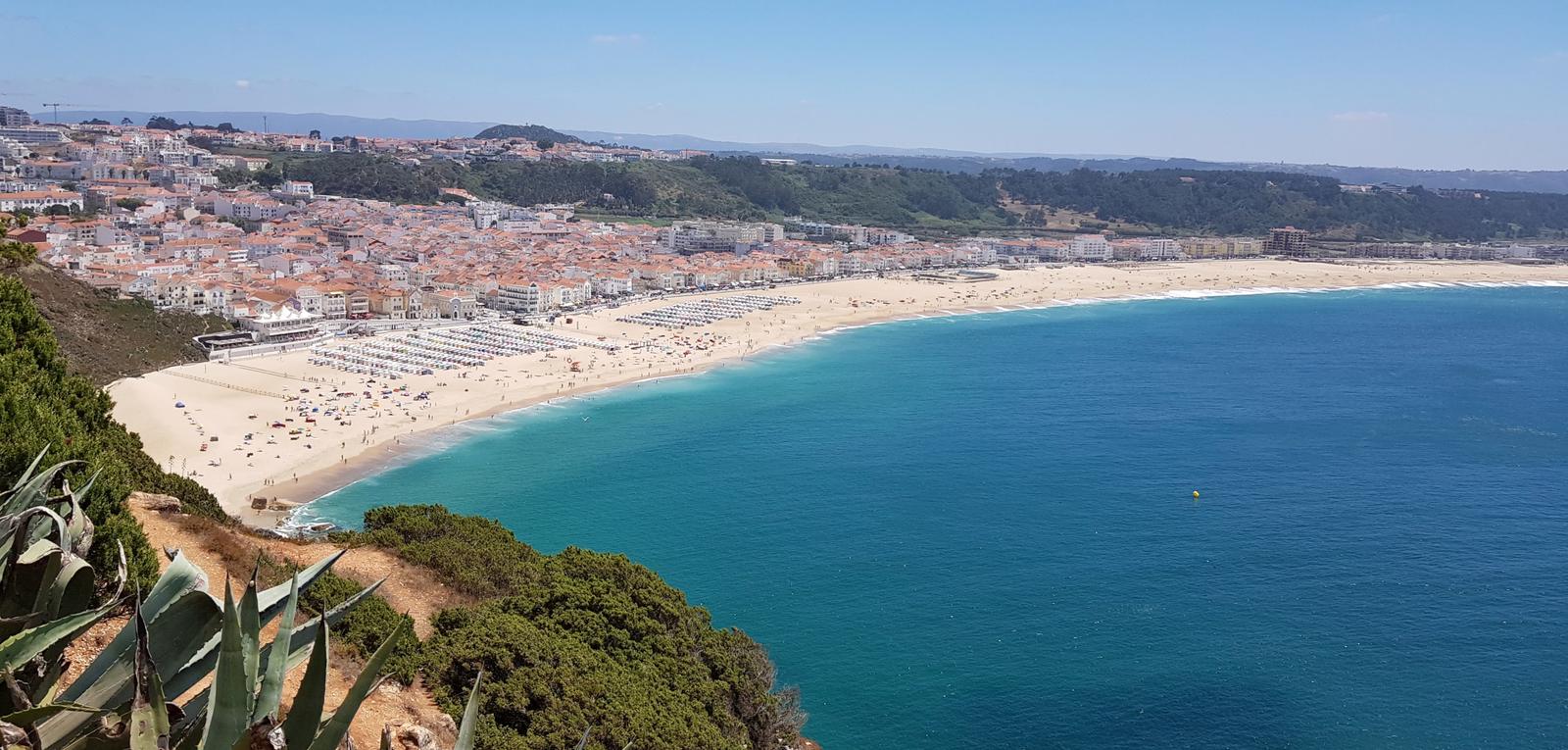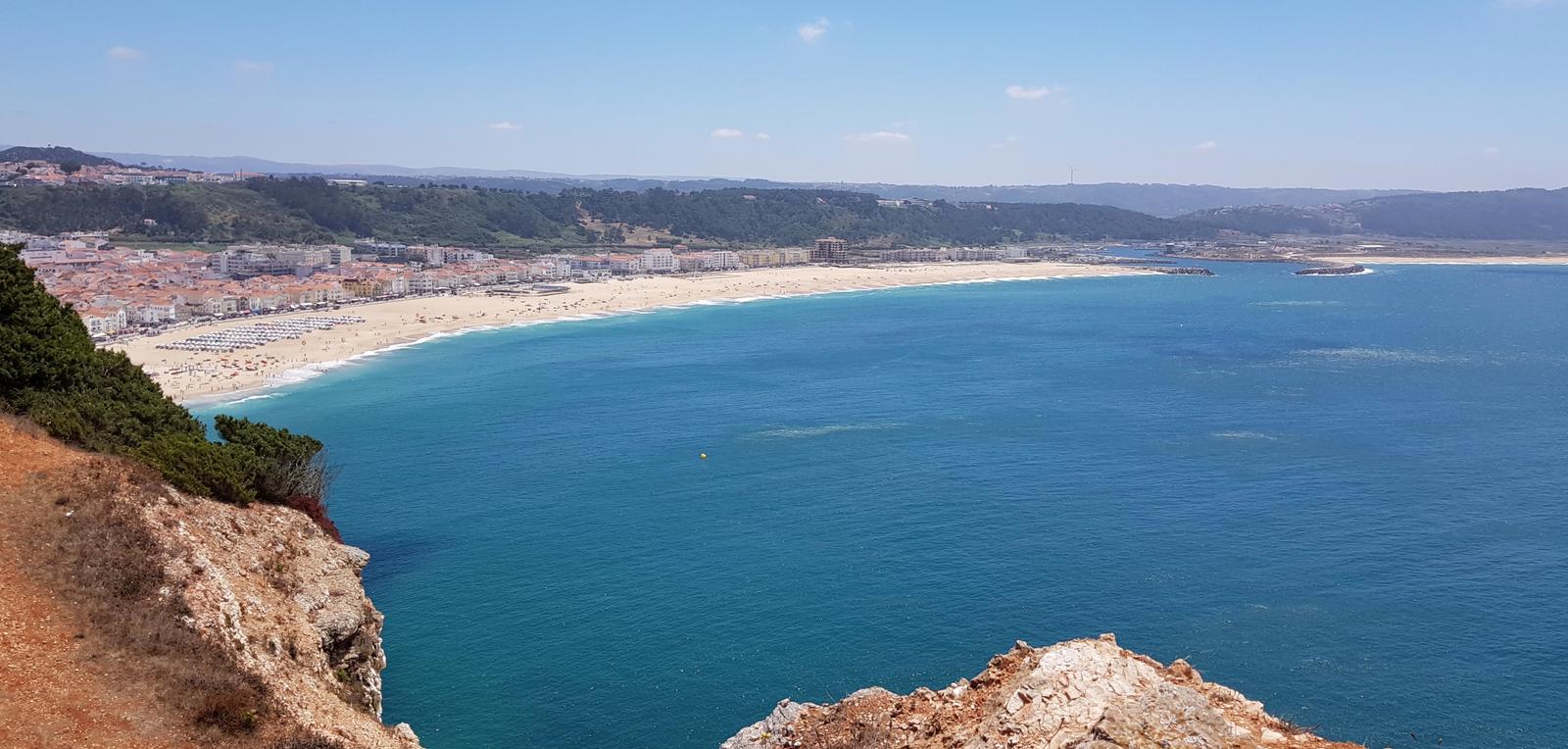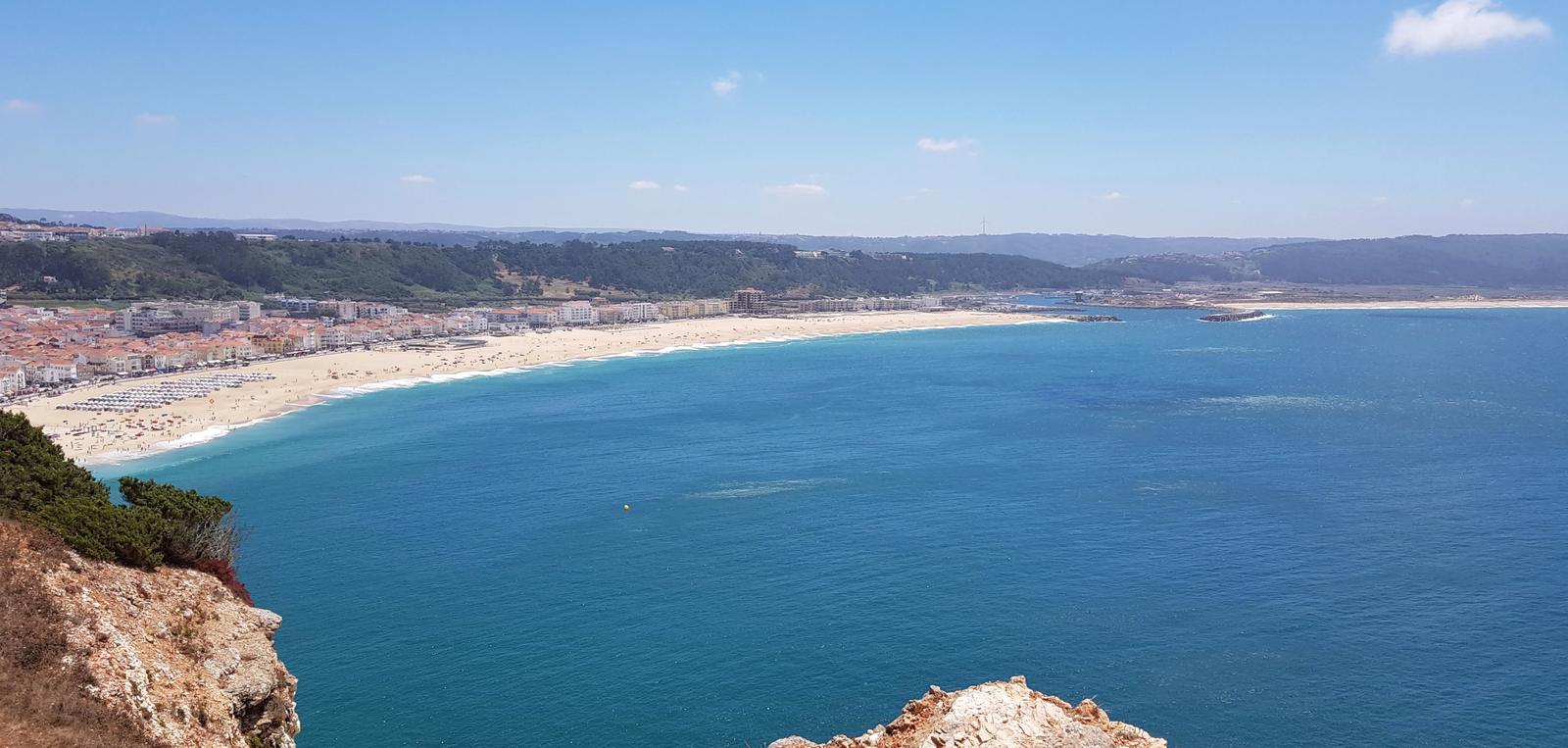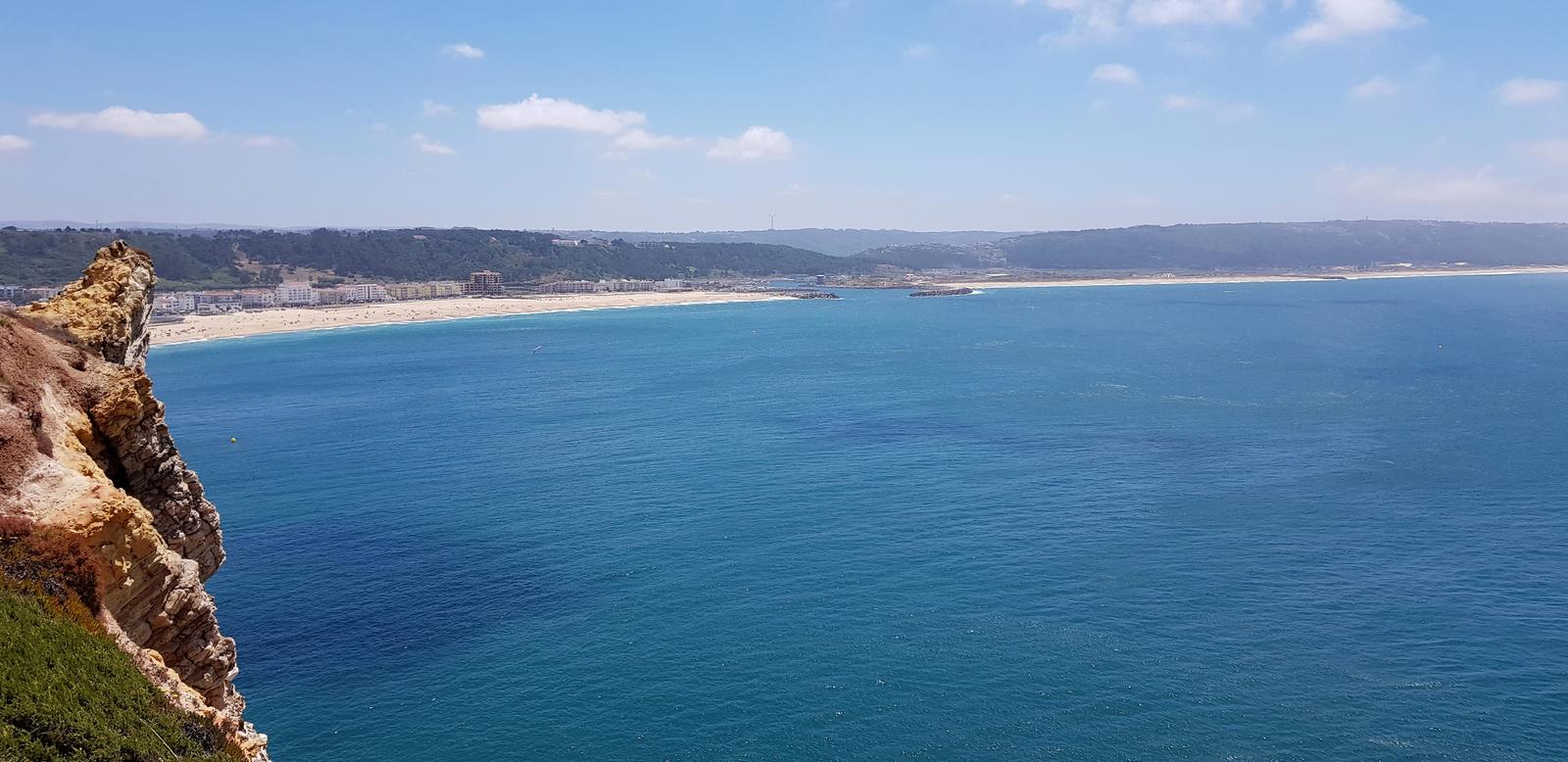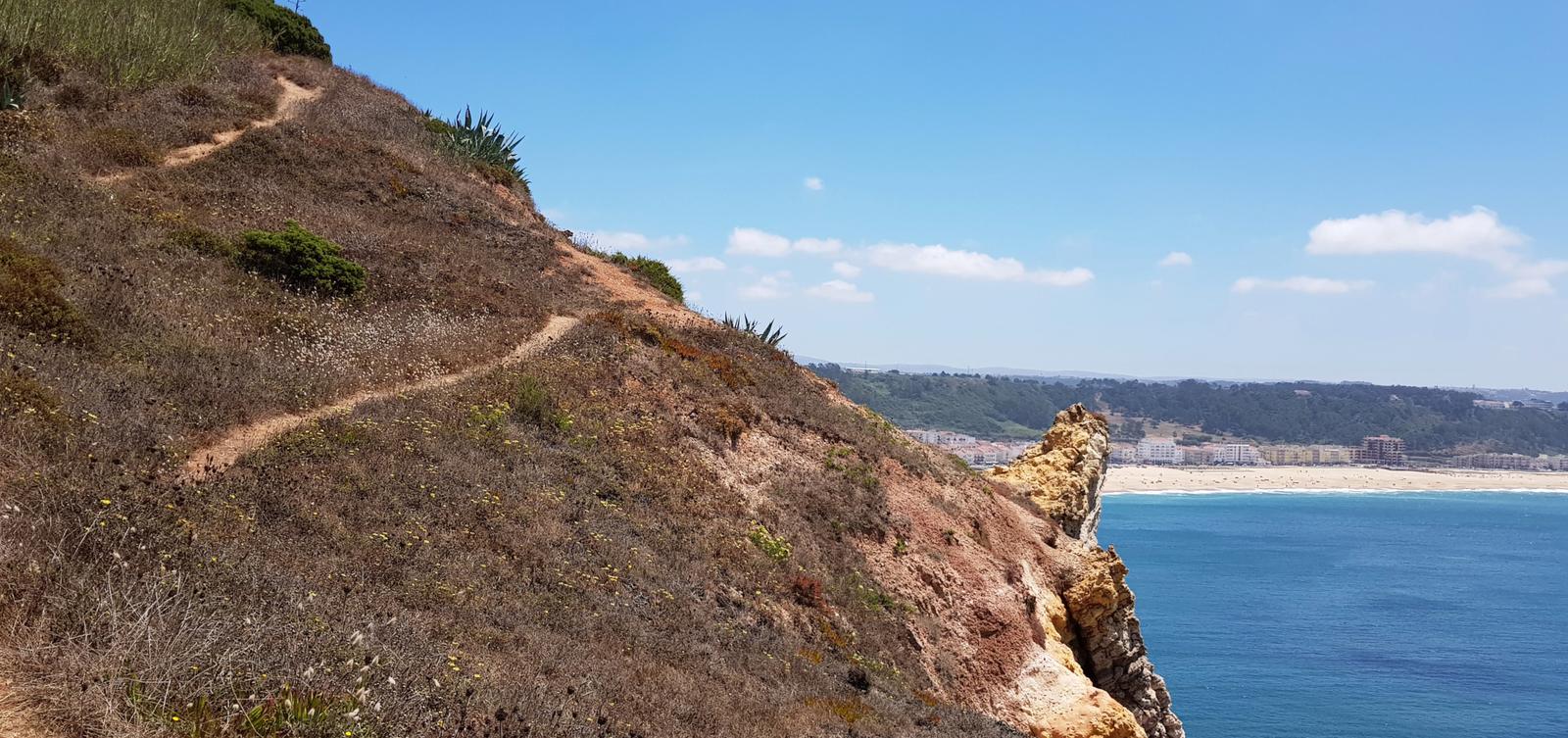 ---
Follow the path all the way to the Farol da Nazaré and the Canhão da Nazaré Interpretive Center inside the Fort de Sao Miguel Arcanjo (more about this later):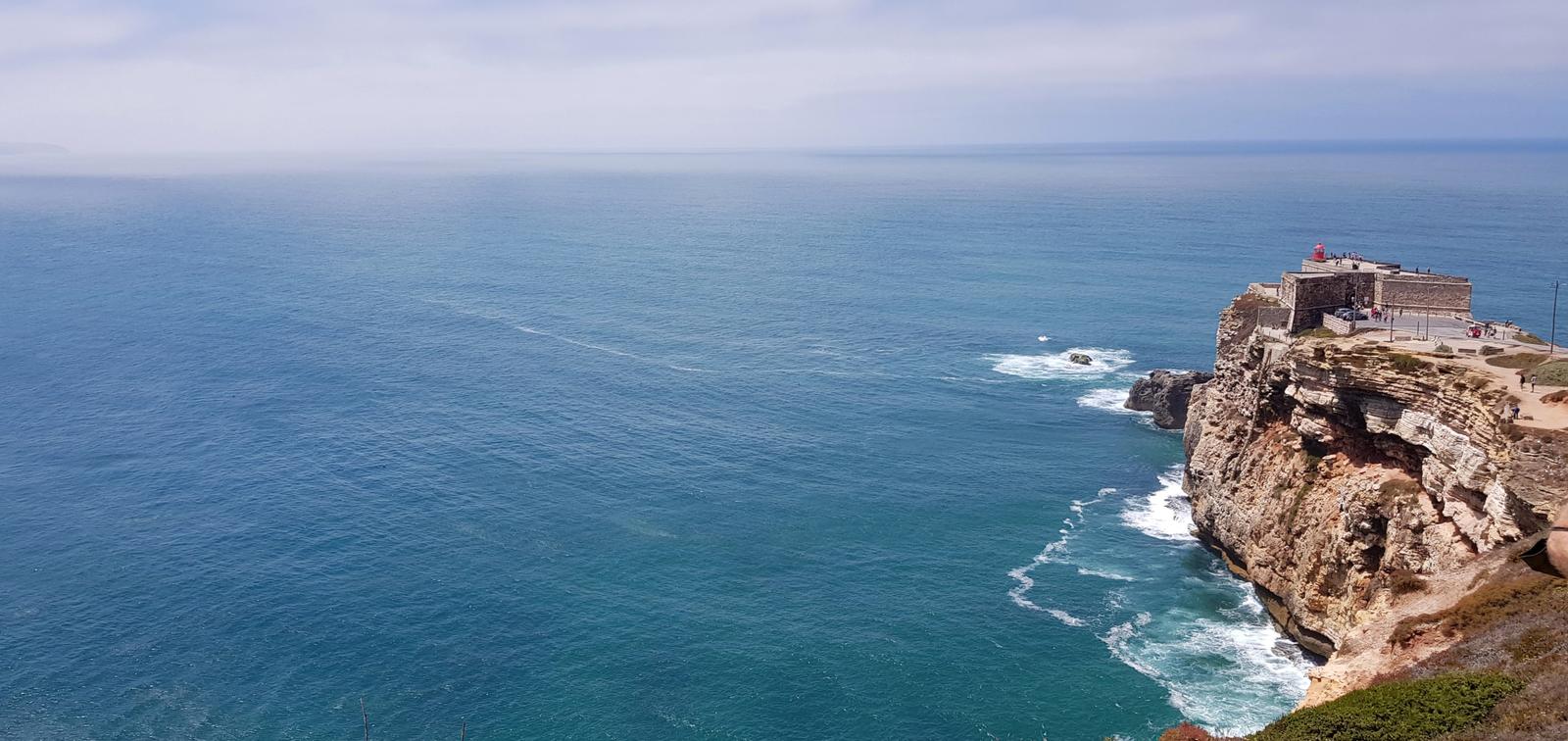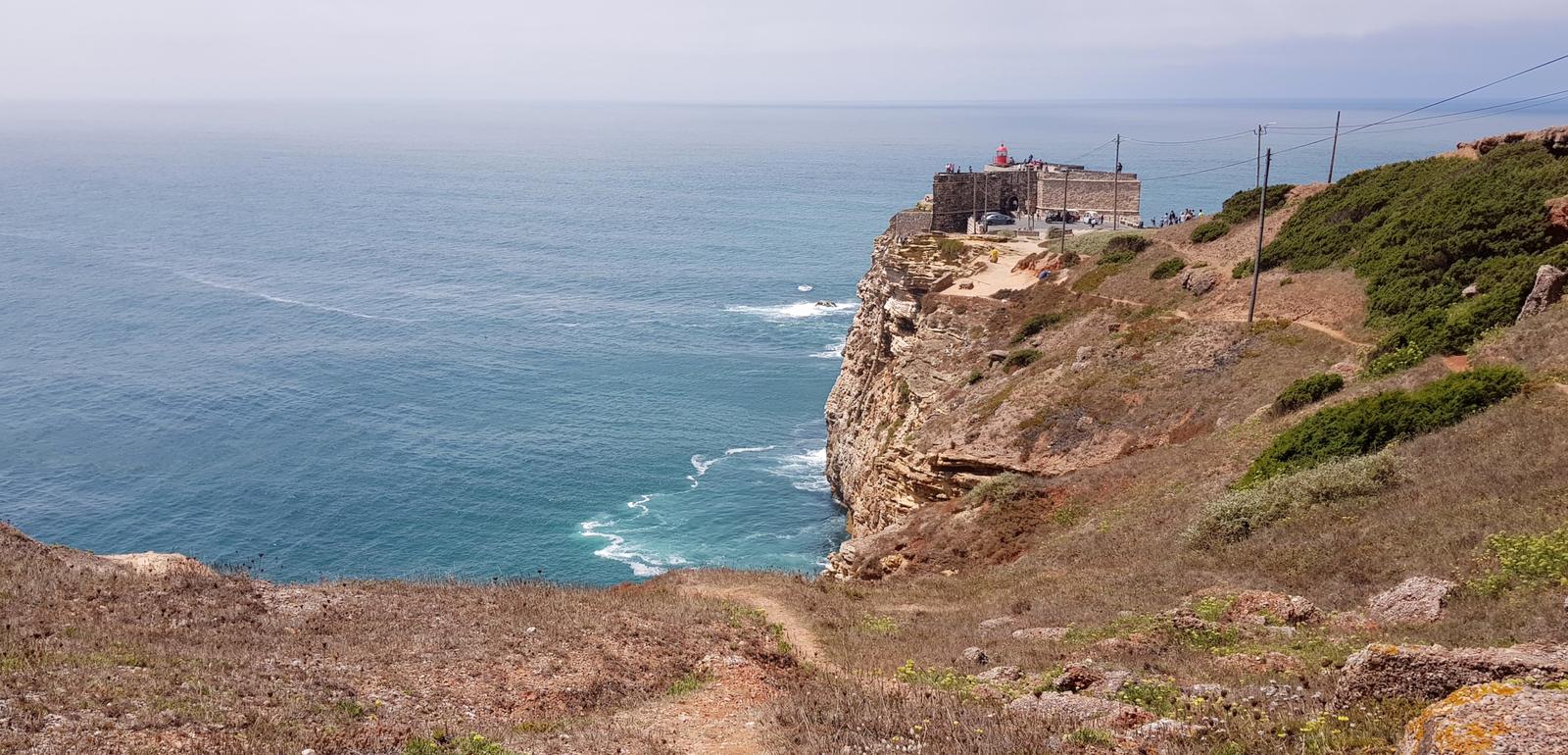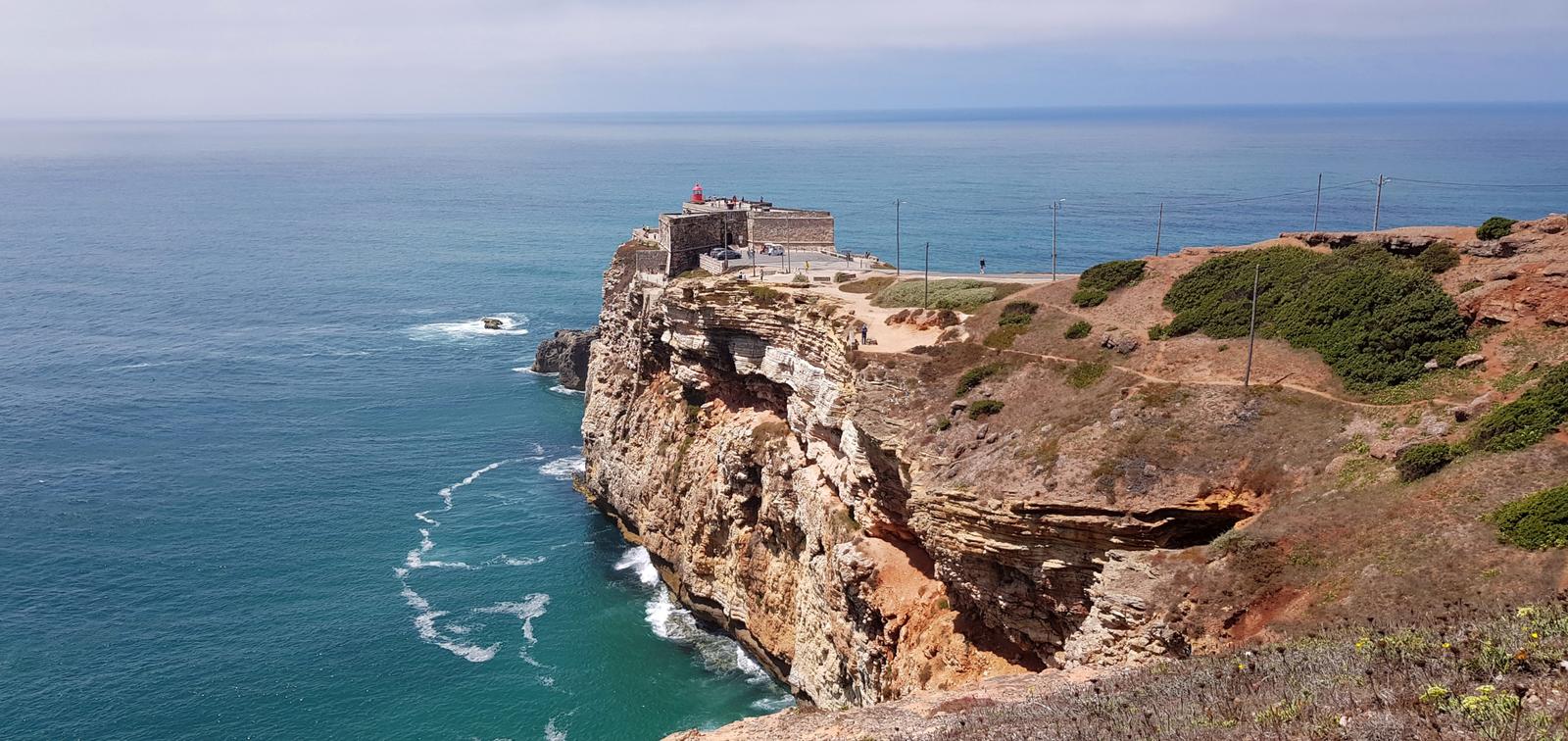 ---
From there you will see Praia do Norte and of course you can continue your walk along there if you wish: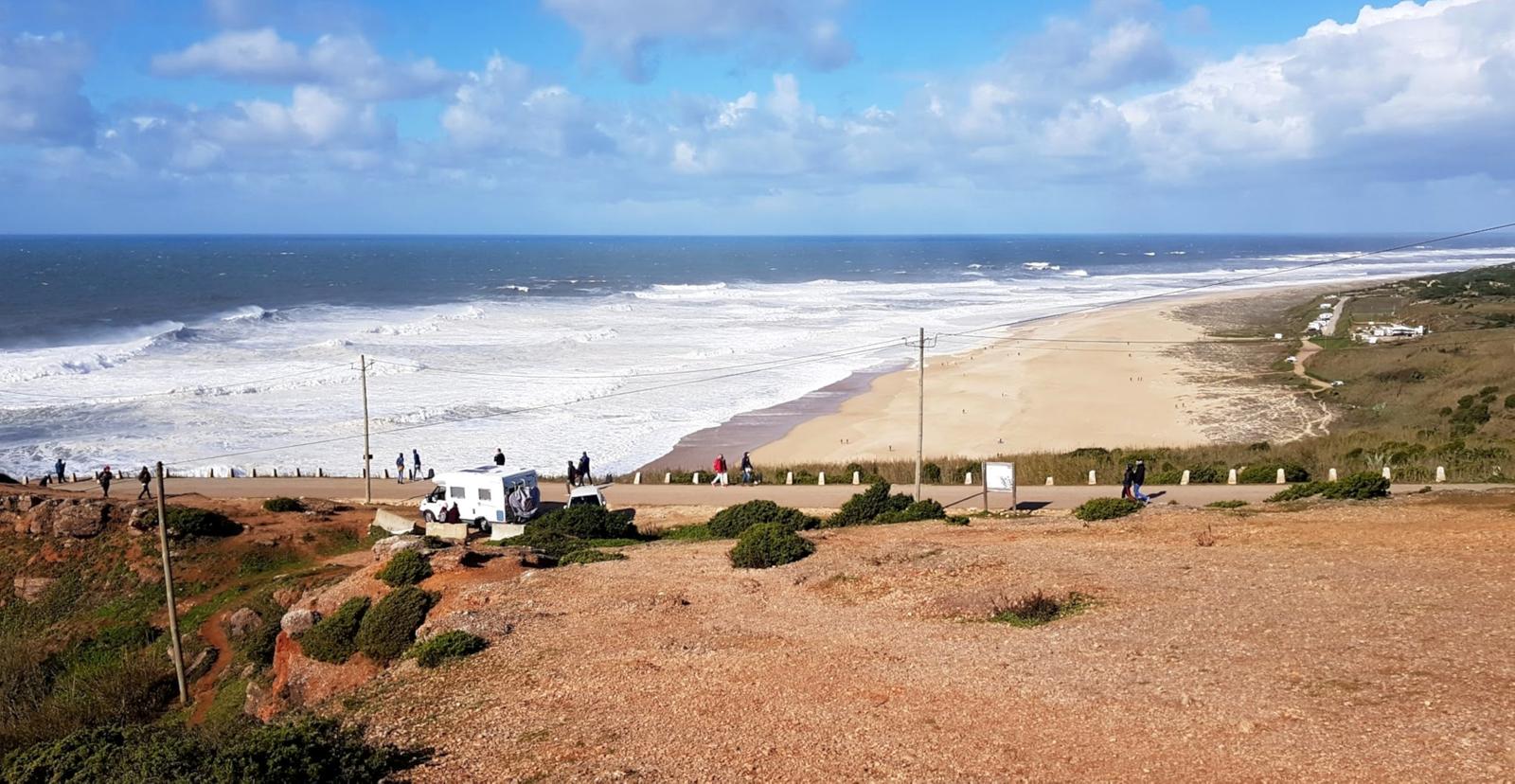 ---
From the Fort, if you take the road back up to Sítio you will pass the statue Veado which was created by Portuguese sculptor Adália Alberto. The statue:
"… honors the legend of Nazaré as well as the town's legendary status as the home to some of the best surfing and biggest waves in the world." (Source here).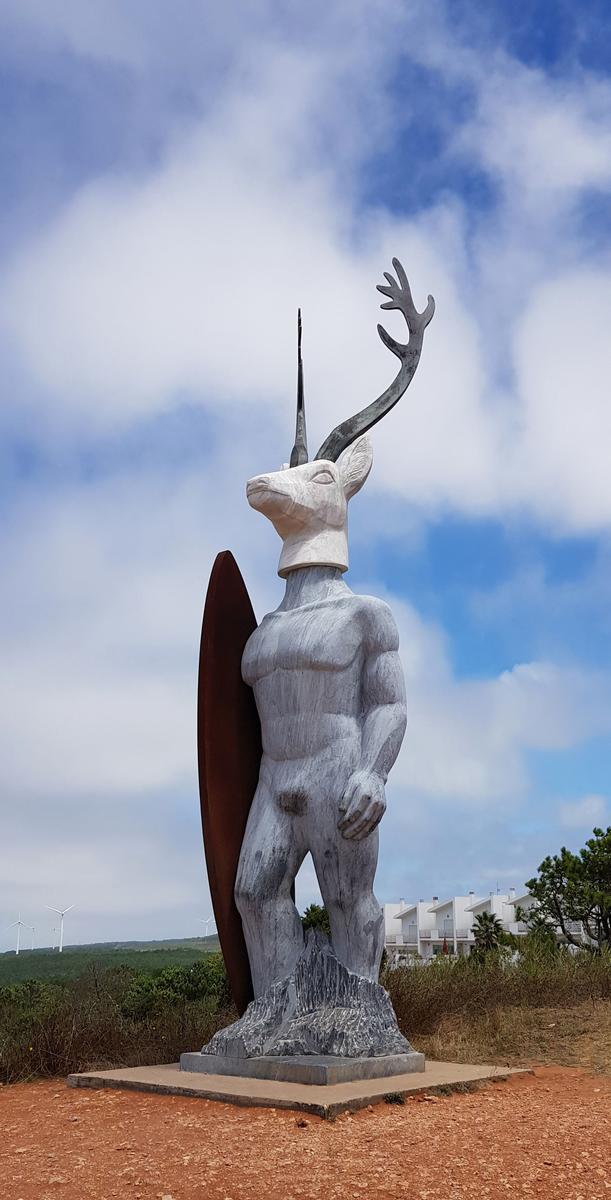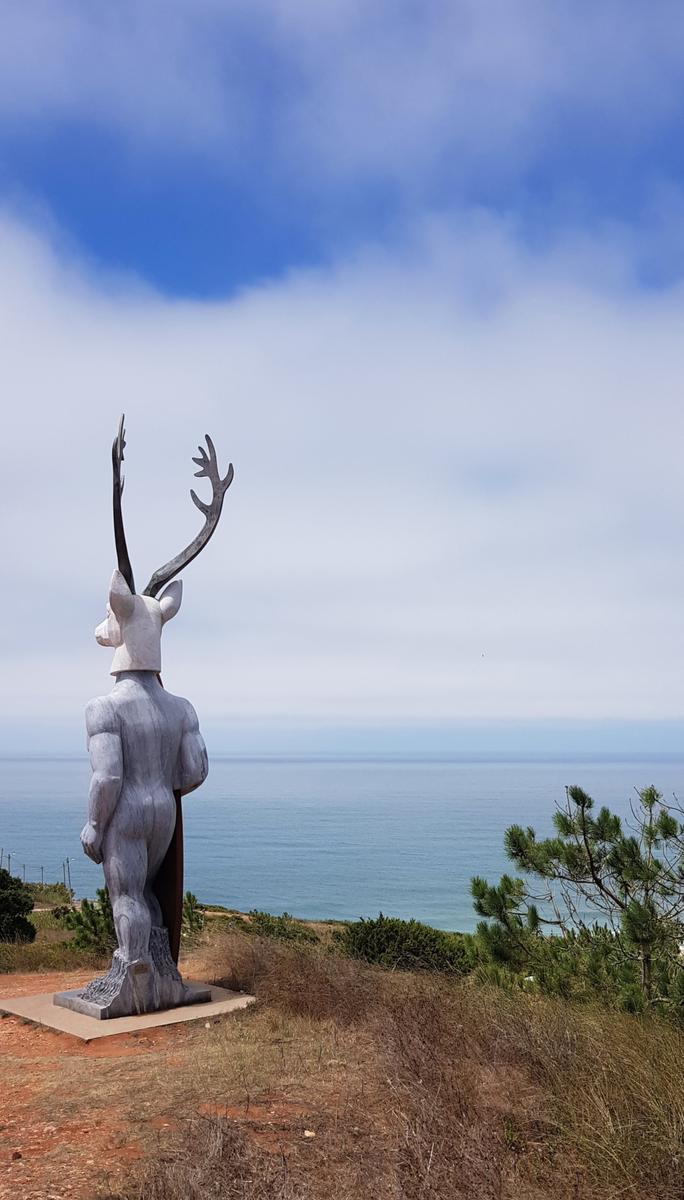 ---
As you get closer to Sítio, following the road, there are sometimes a couple of food trucks on the left side near the car-park. We highly recommend the burritos from Le Petit Chef Belge they are next level deliciousness. The staff are cool and they have great outdoor seating: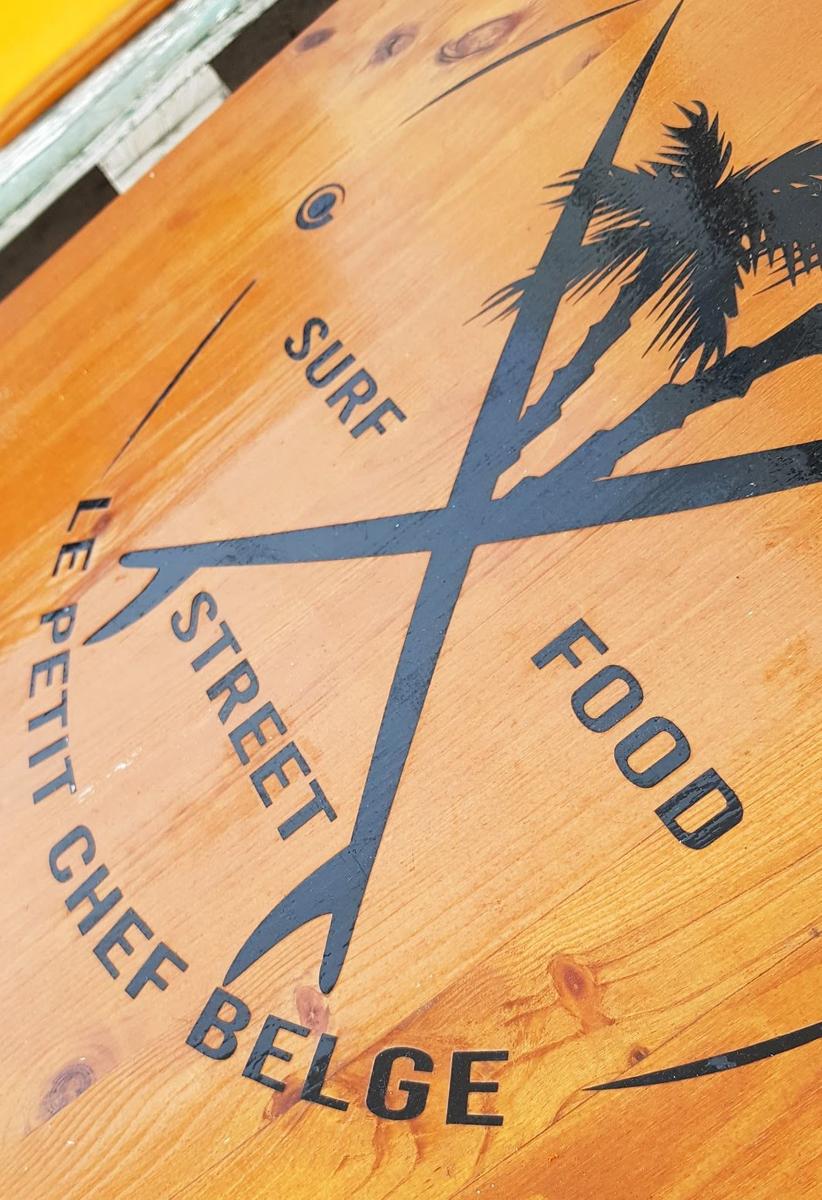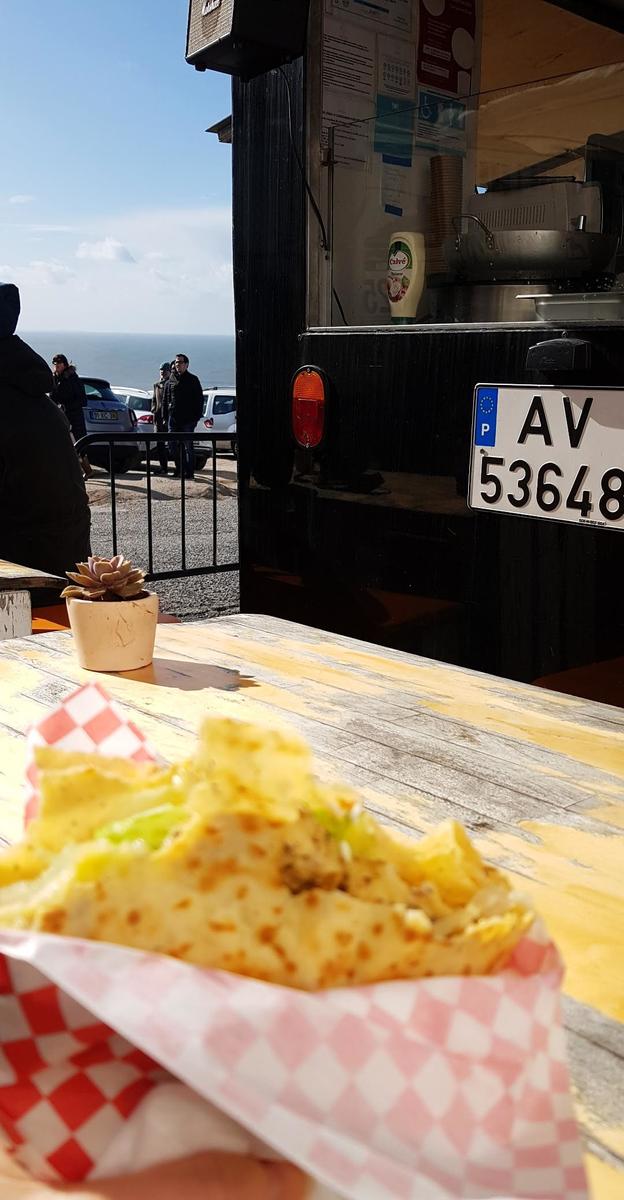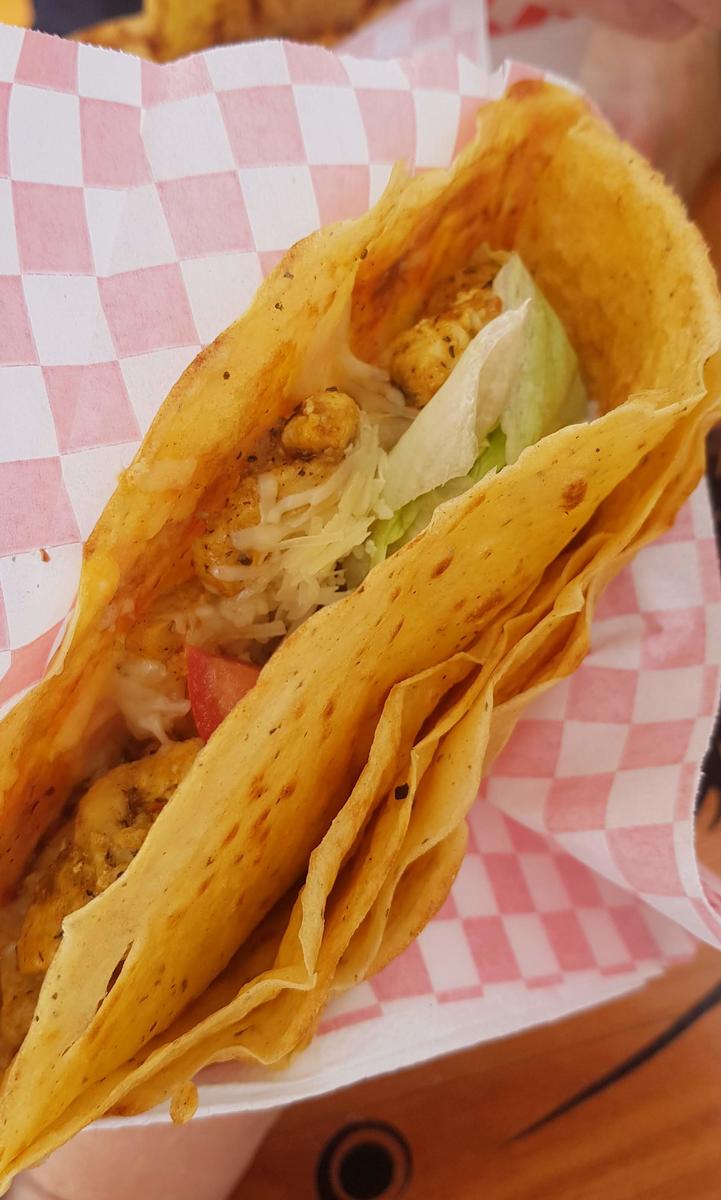 ---
9. Visit the Canhão da Nazaré Interpretive Center, Fort & Lighthouse:
As previously mentioned, Nazaré is well known for its big wave and tow-surfing possibilities (waves that can top 30 meters/100 feet). The typical season for this type of surfing is October to March with the giant waves dependant upon storms and high seas to bring them in. Nazaré also has a North Canyon which contributes to the creation of these monstrous waves. Want to know more? Then why not visit the Canhão da Nazaré Interpretive Center inside the Fort de Sao Miguel Arcanjo in Sítio: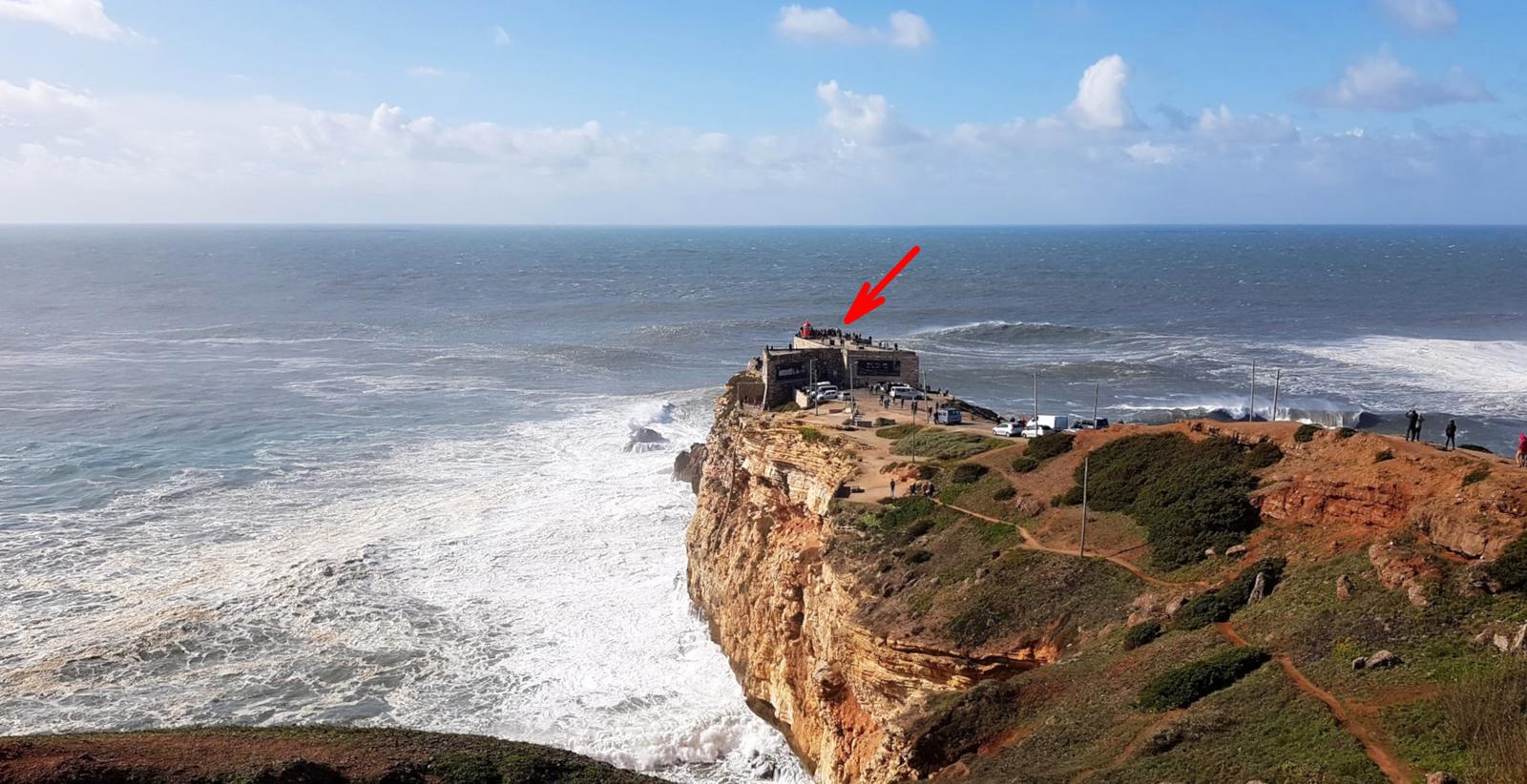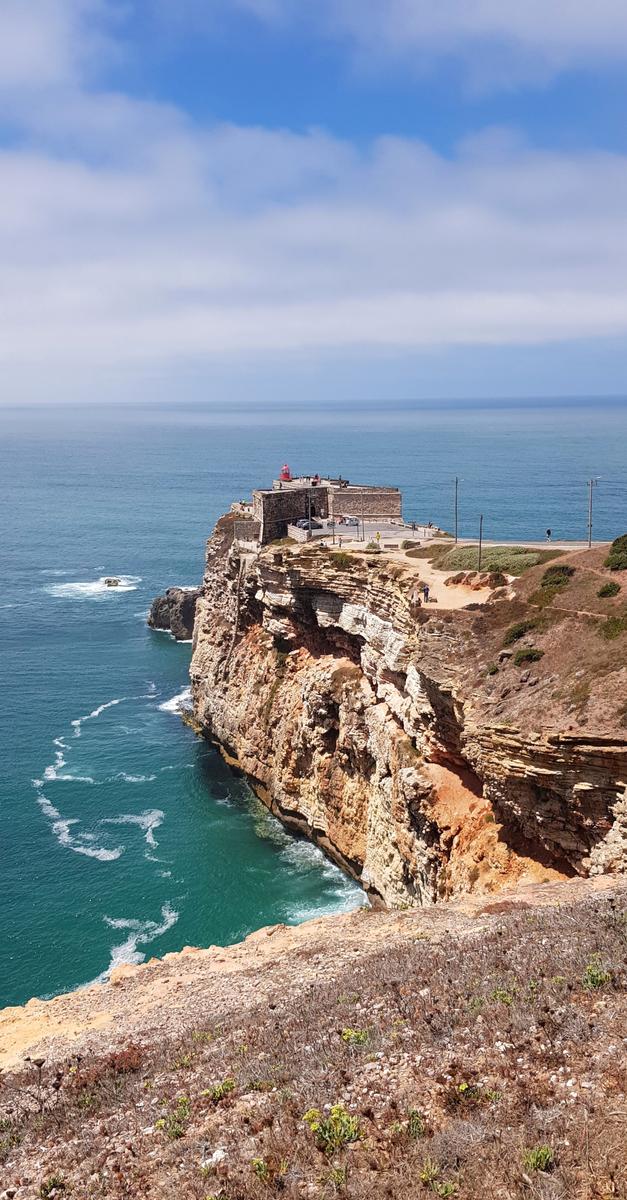 ---
In the center you will learn all there is to know about the canyon, the famous waves and the world famous surfers who ride them.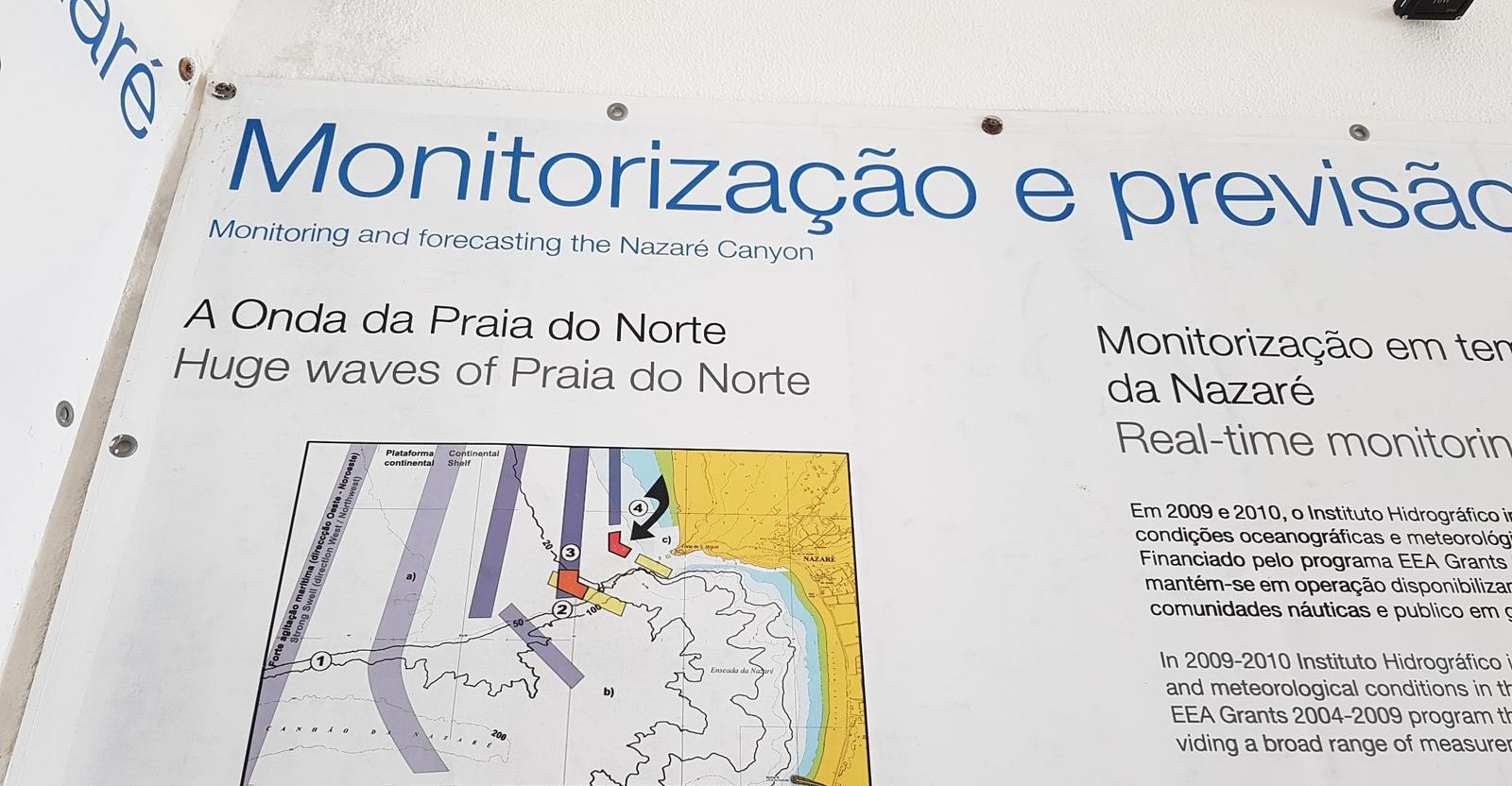 Nazaré's North Canyon is:
"… one of the largest submarine canyons in Europe, a giant hole in the bottom of the sea! It is 227km long and 5000m maximum depth, with several steep slopes." (Source here).
This canyon also contributes to the creation of these big waves:
"The canyon's presence creates special conditions for the build up of big waves. It will separate the wave into two, increase the speed of the wave that travels in the canyon and make them reunite again."
"The opposite ocean current coming from the beach will also add a few more meters." (Source here).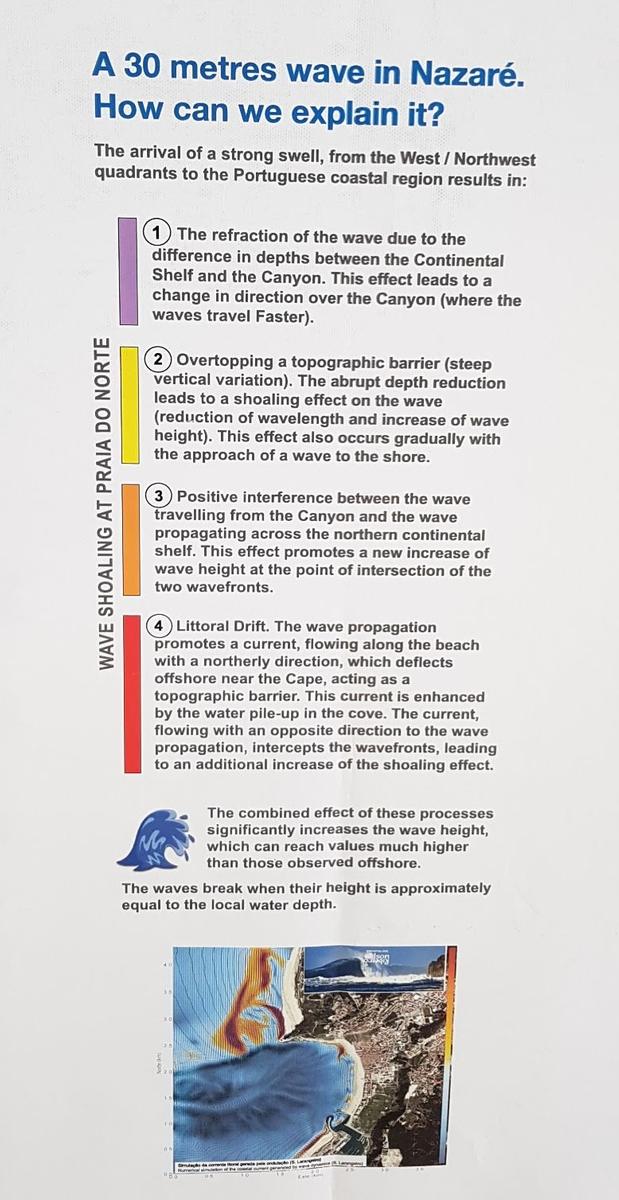 ---
Discover the "Surfer Wall" where surf boards (and other surf related paraphernalia) are displayed along with information about the surfers who owned them: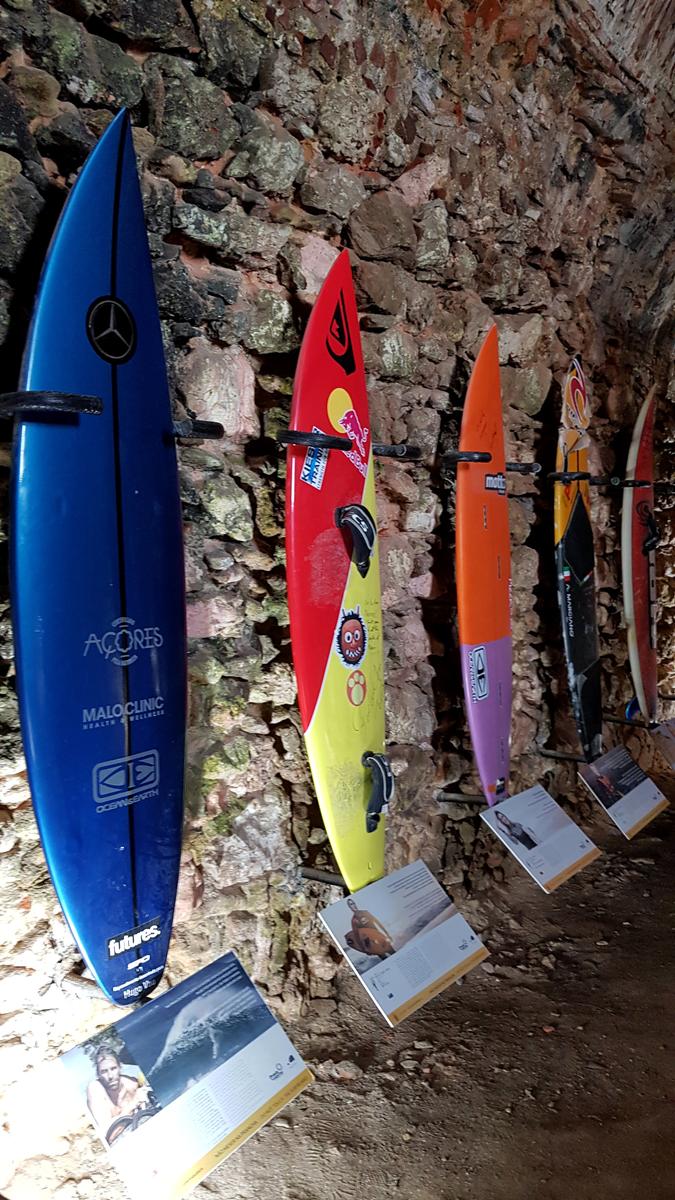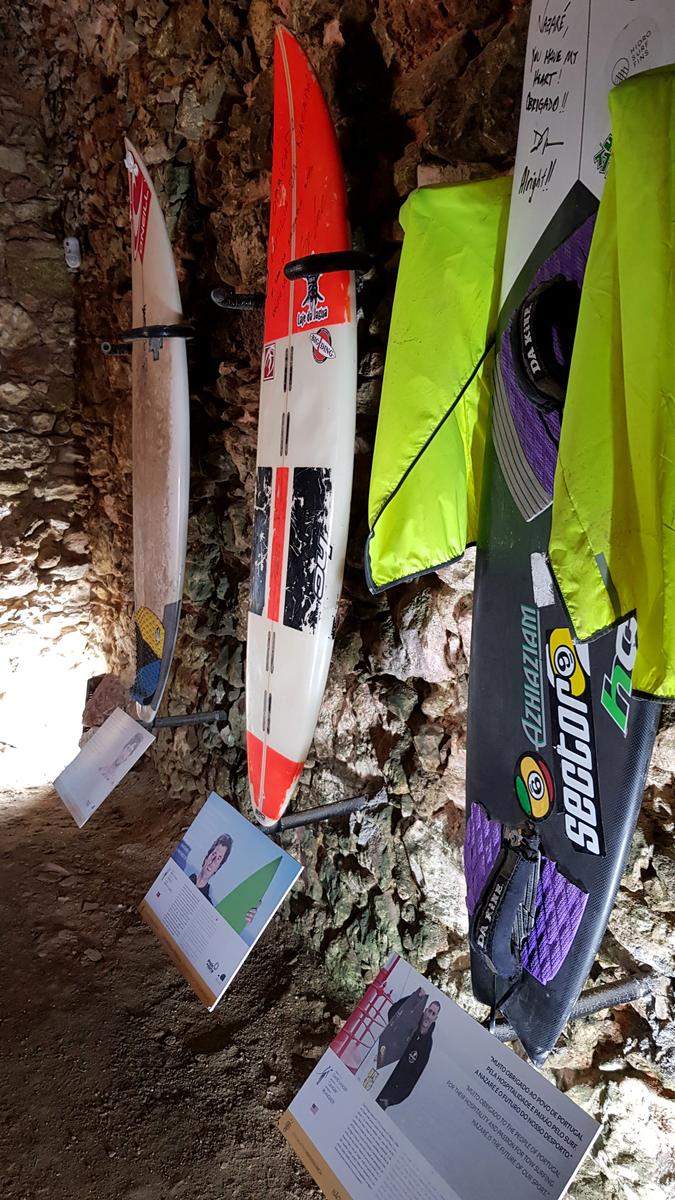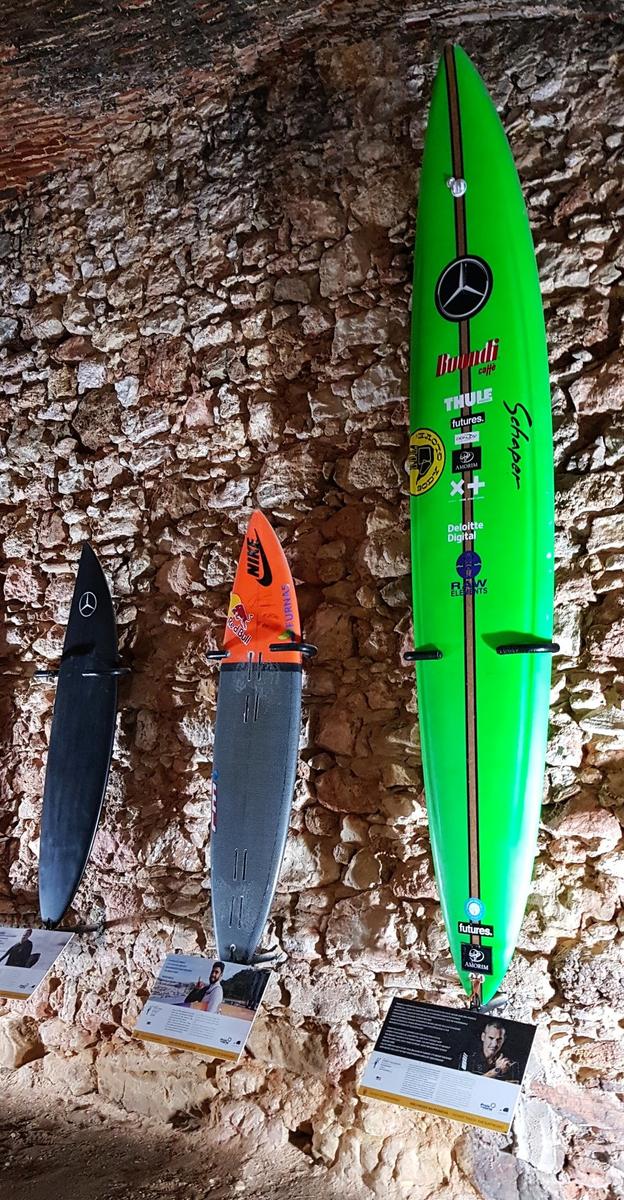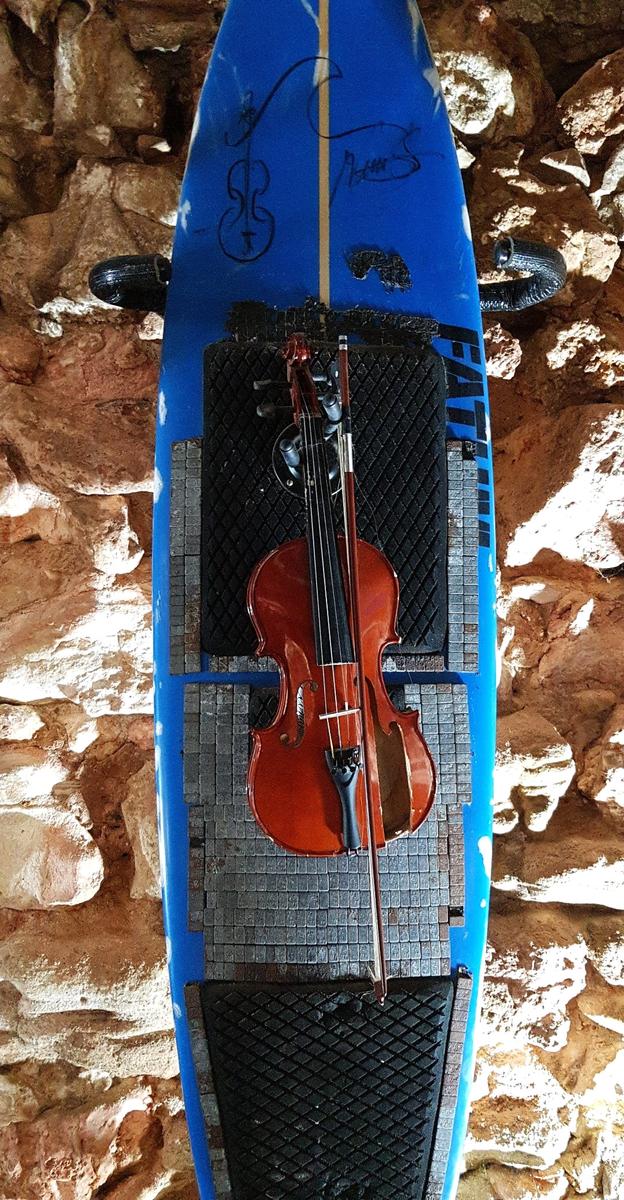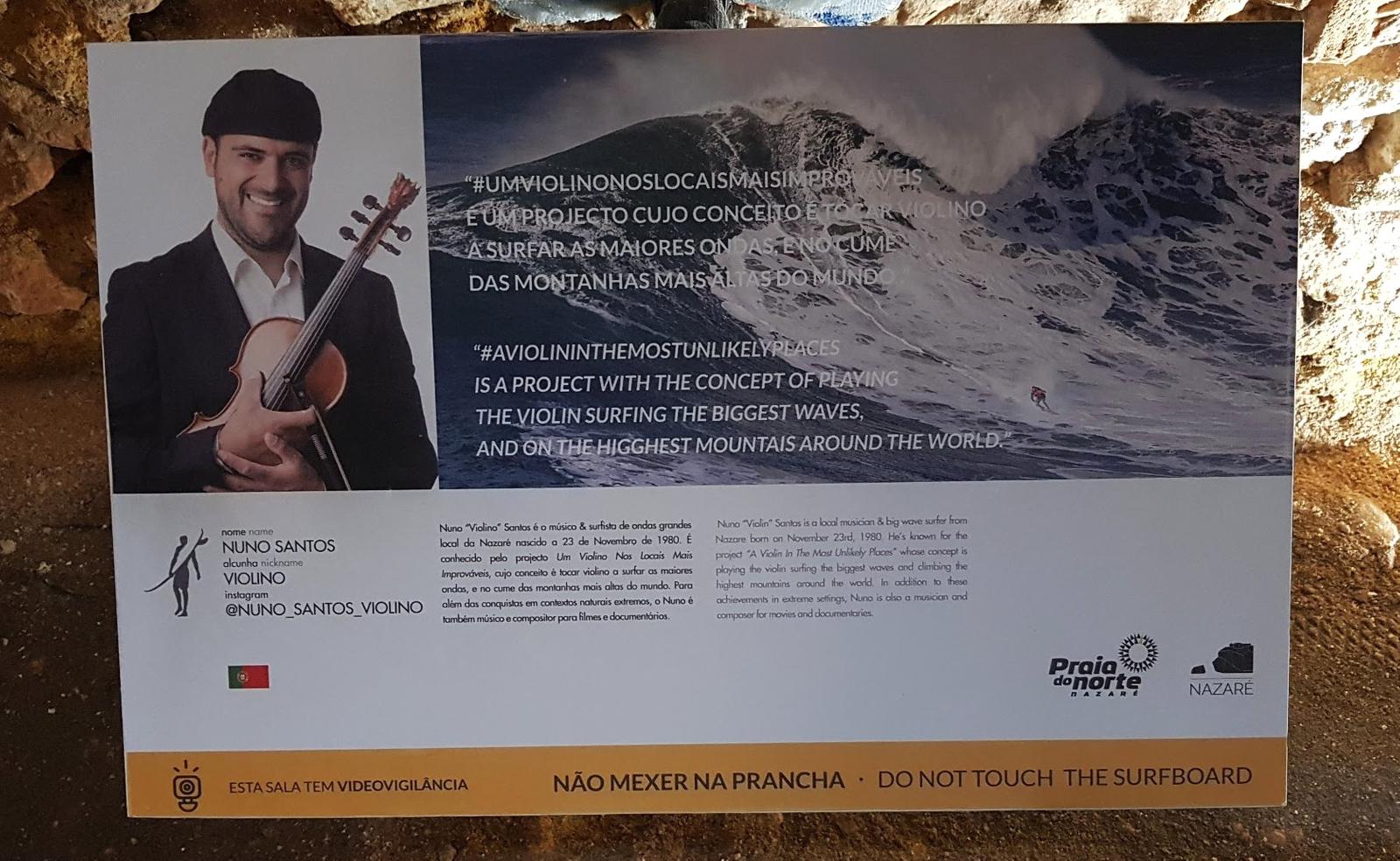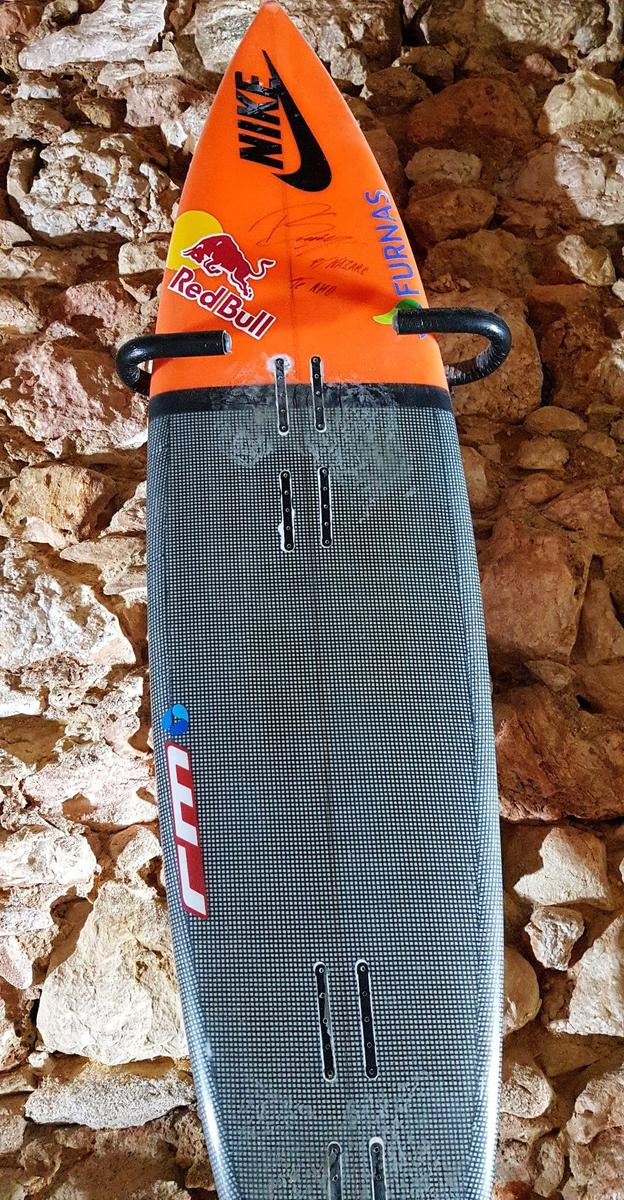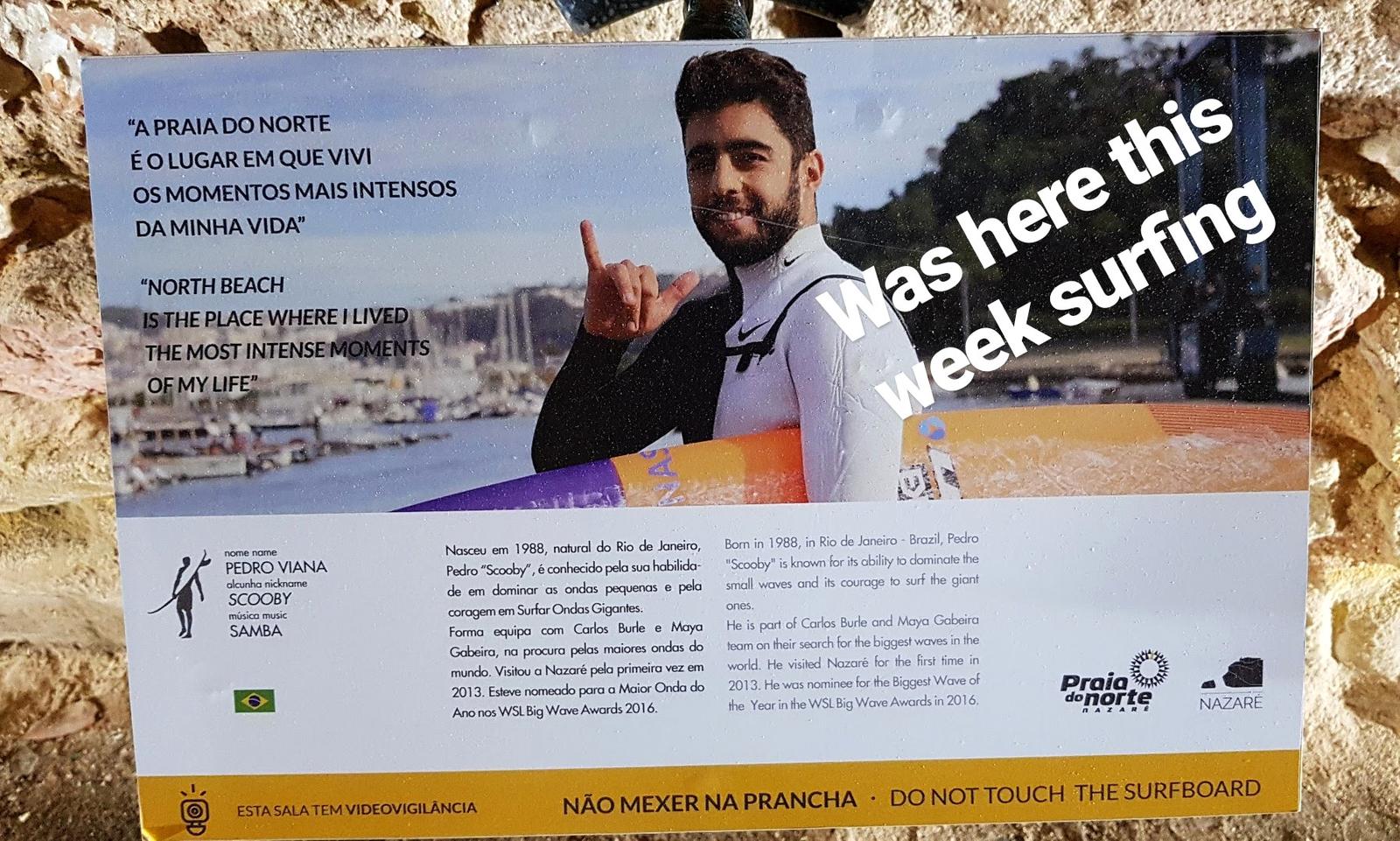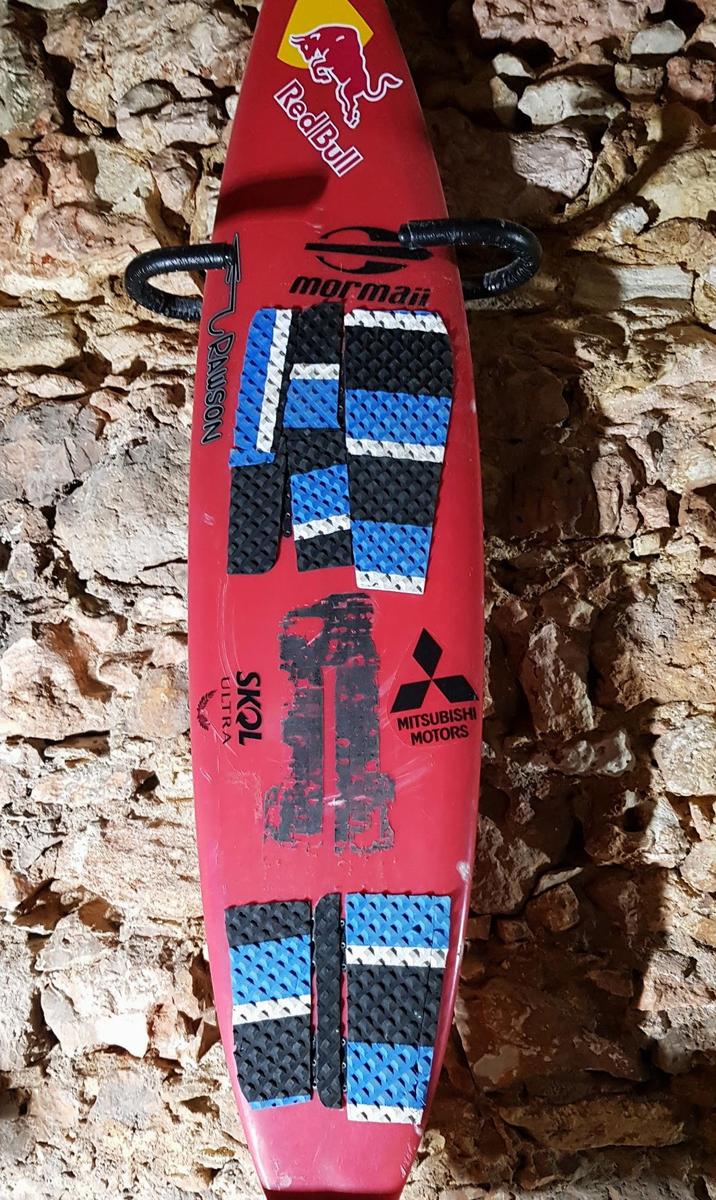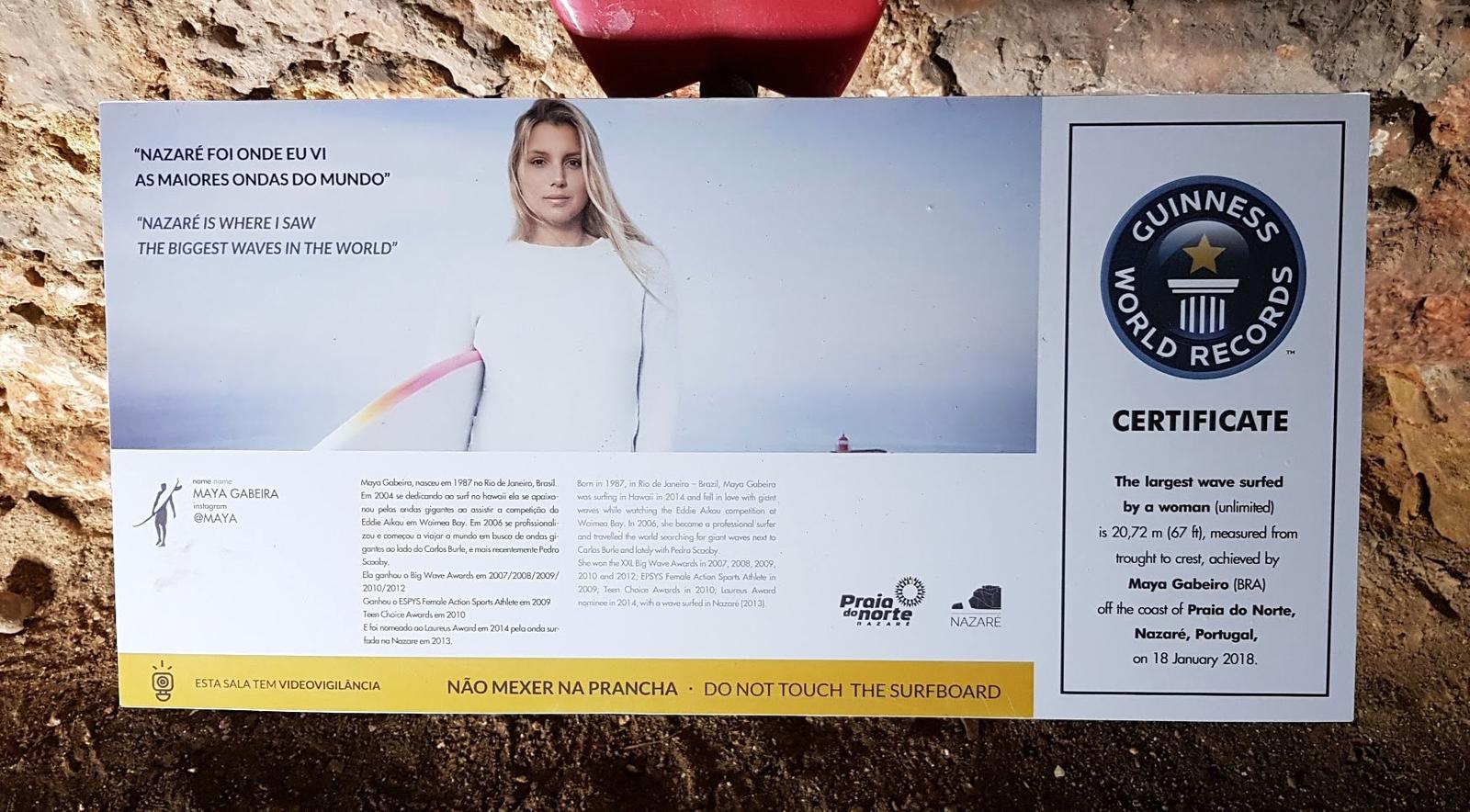 ---
On the roof of the center/Fort is an observation area from which you can watch the surfers in action and the Farol da Nazaré is also located there: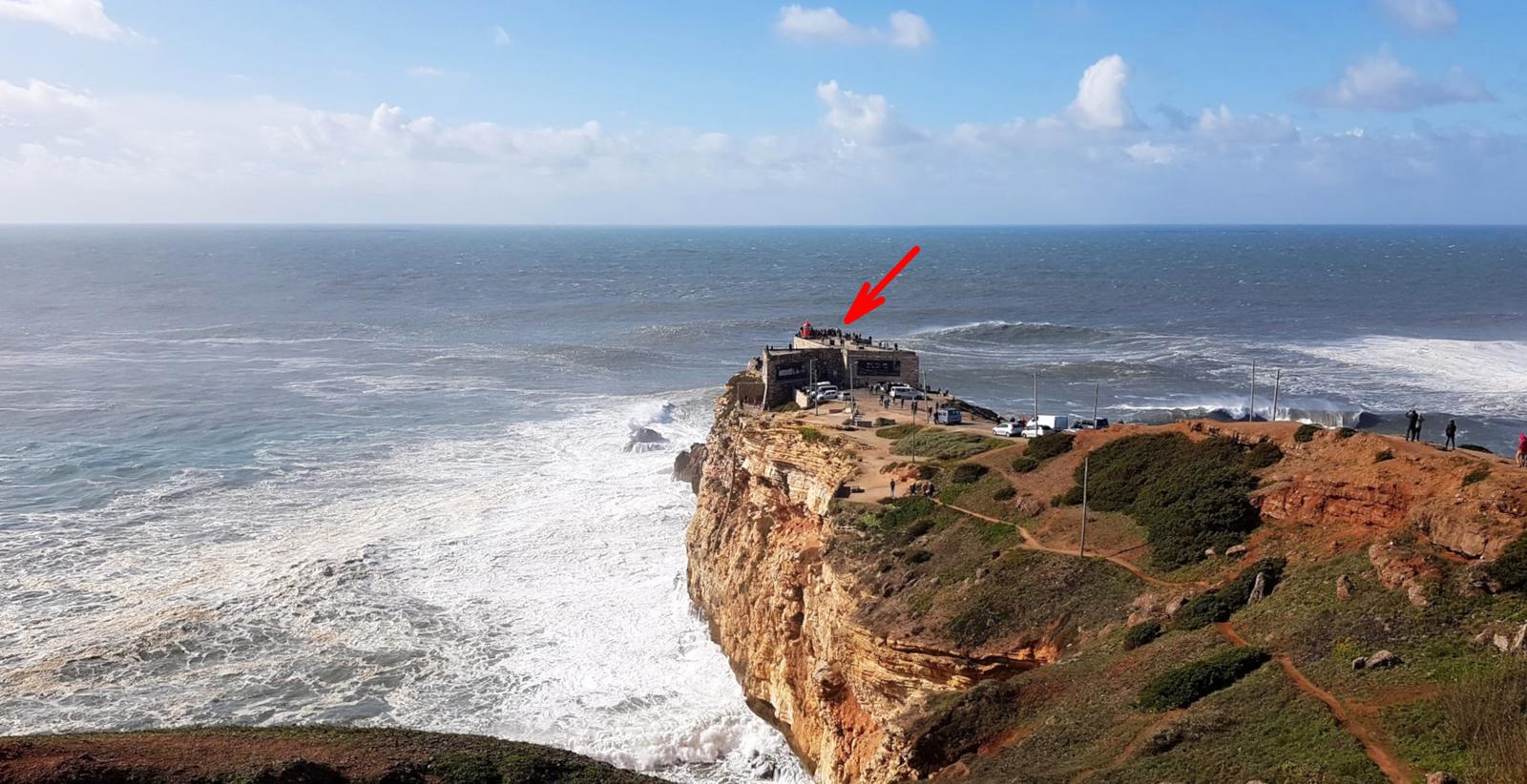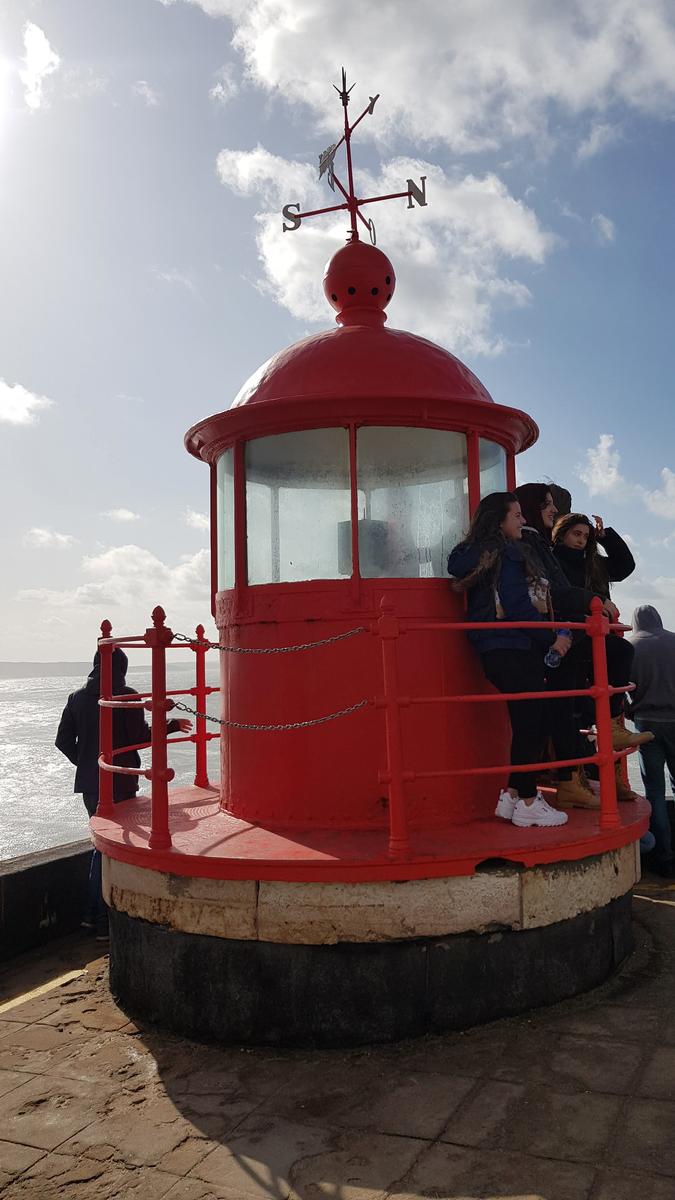 ---
10. Check out the View from Monte de S. Bartolomeu!
Just a short drive or a 2.5km walk from Praia da Nazaré will bring you to a parking area from which you follow a path and hike up to Monte de S. Bartolomeu.
I just used Google Maps to take me from our accommodation to Monte de S. Bartolomeu. Following the main roads until heading into a wooded area with deep sandy paths: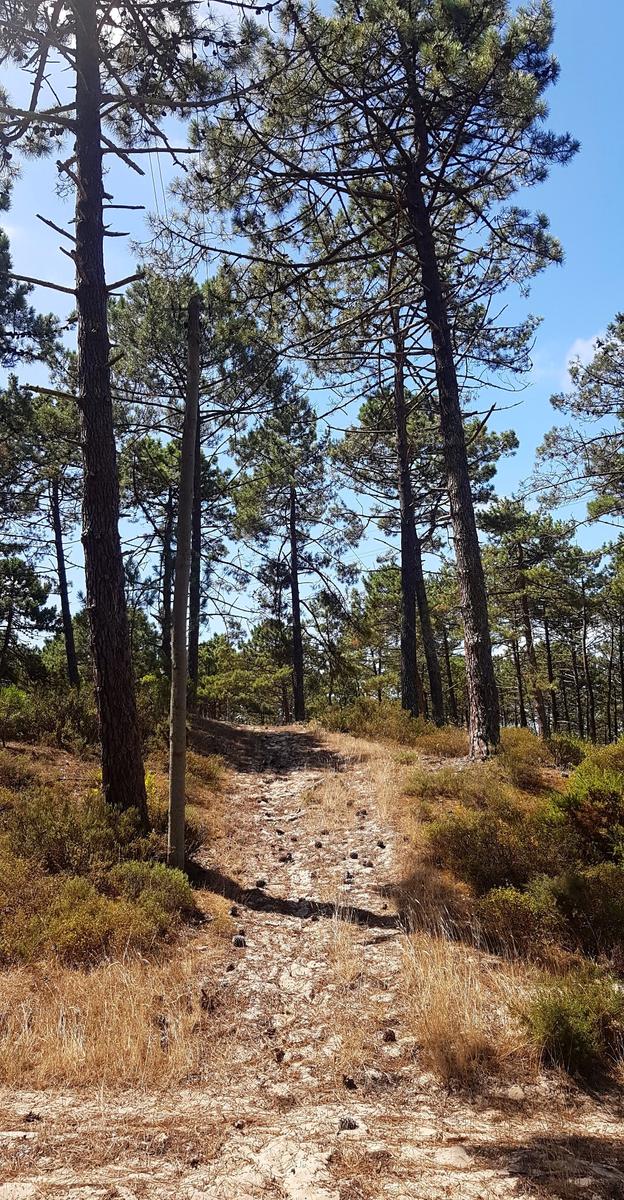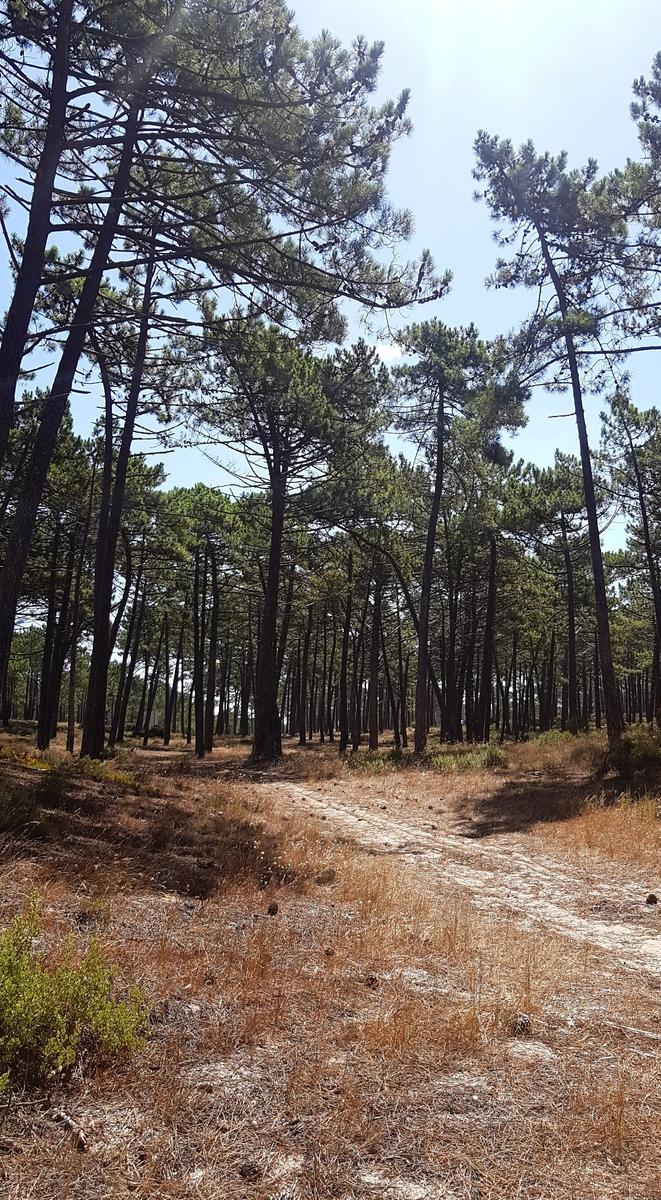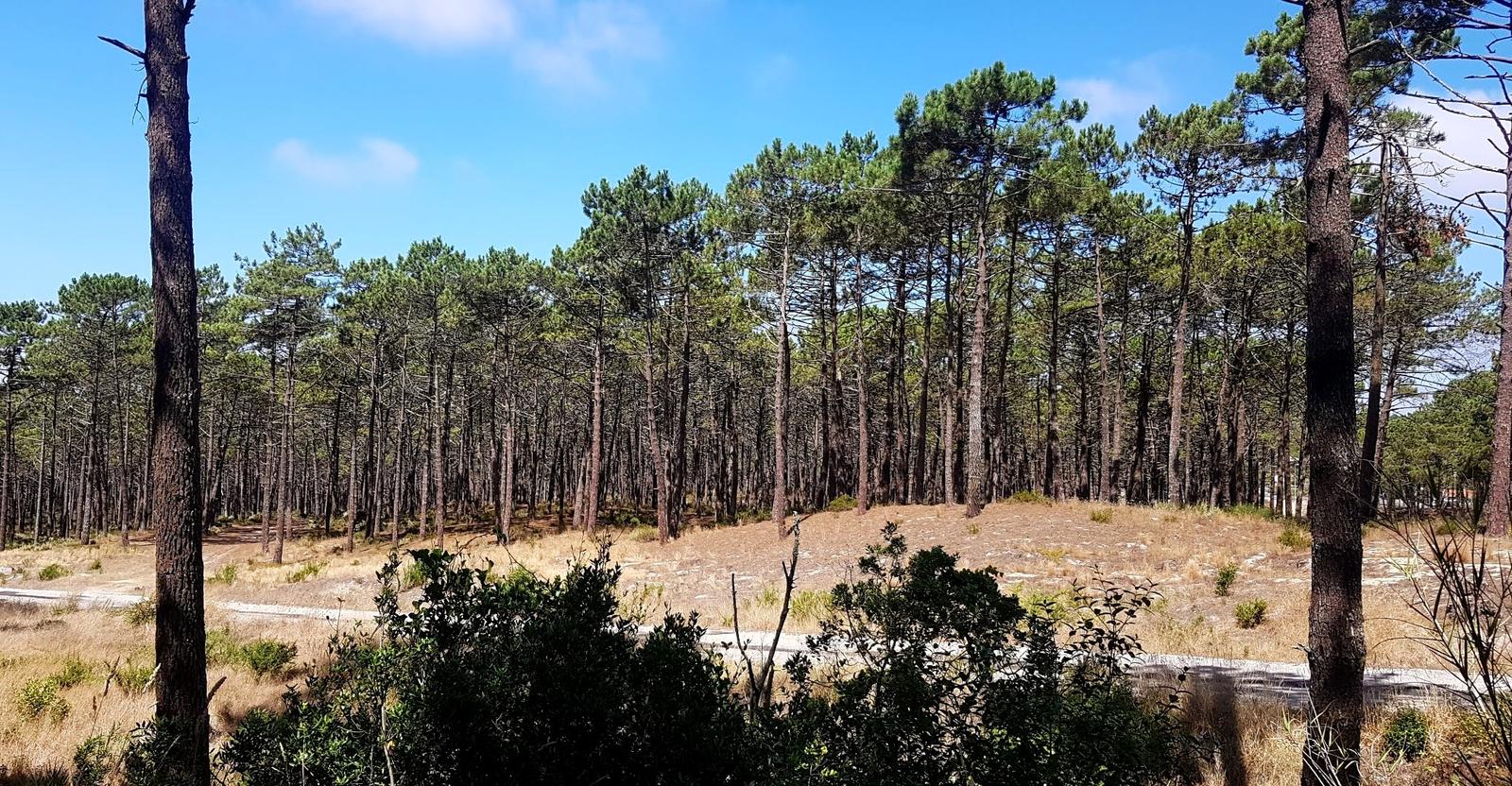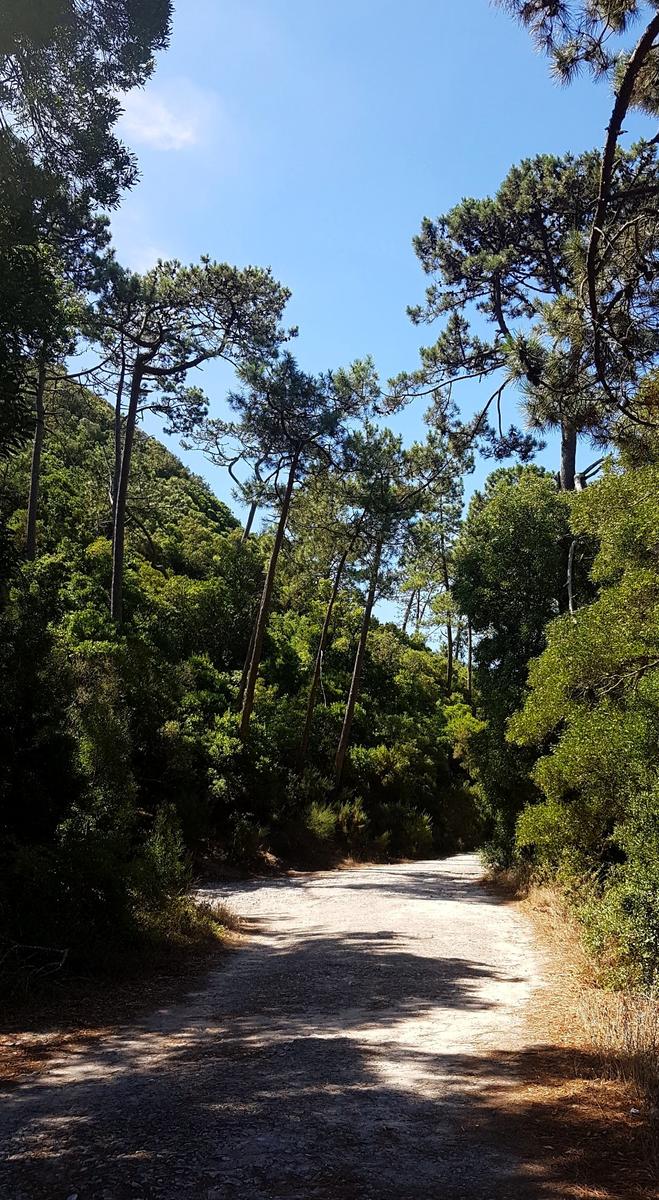 After about 400 metres in the wooded area I came to the parking area and sign for the hike: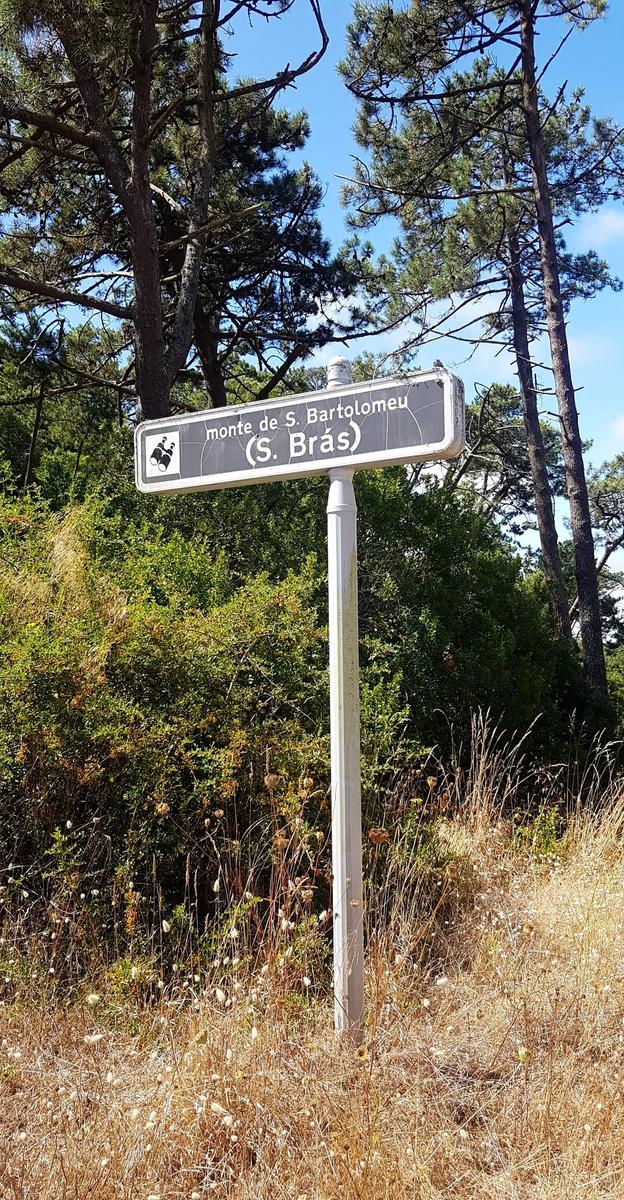 From there the path is short in length but quite steep and well worn as you make your way up. Enjoy great views on a clear day!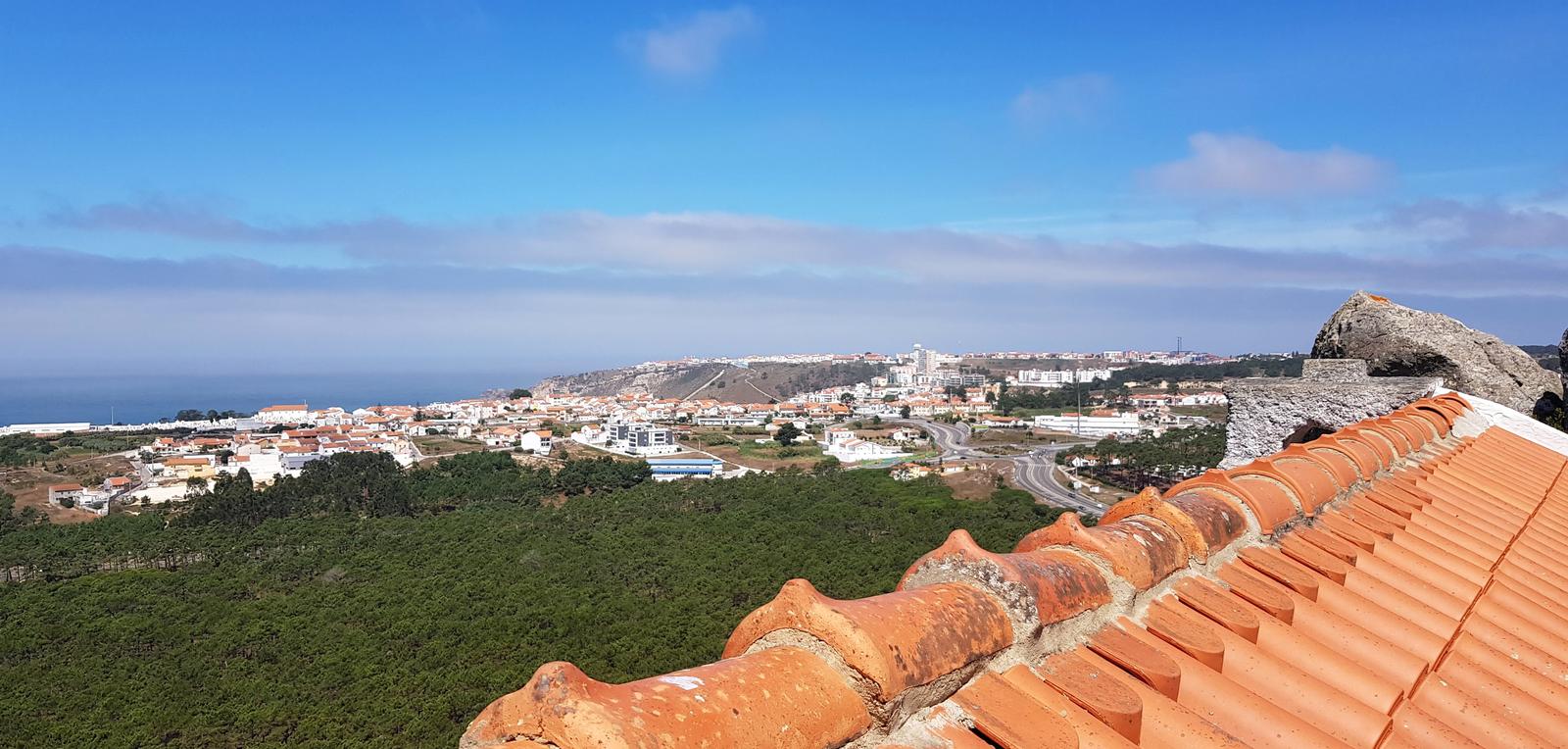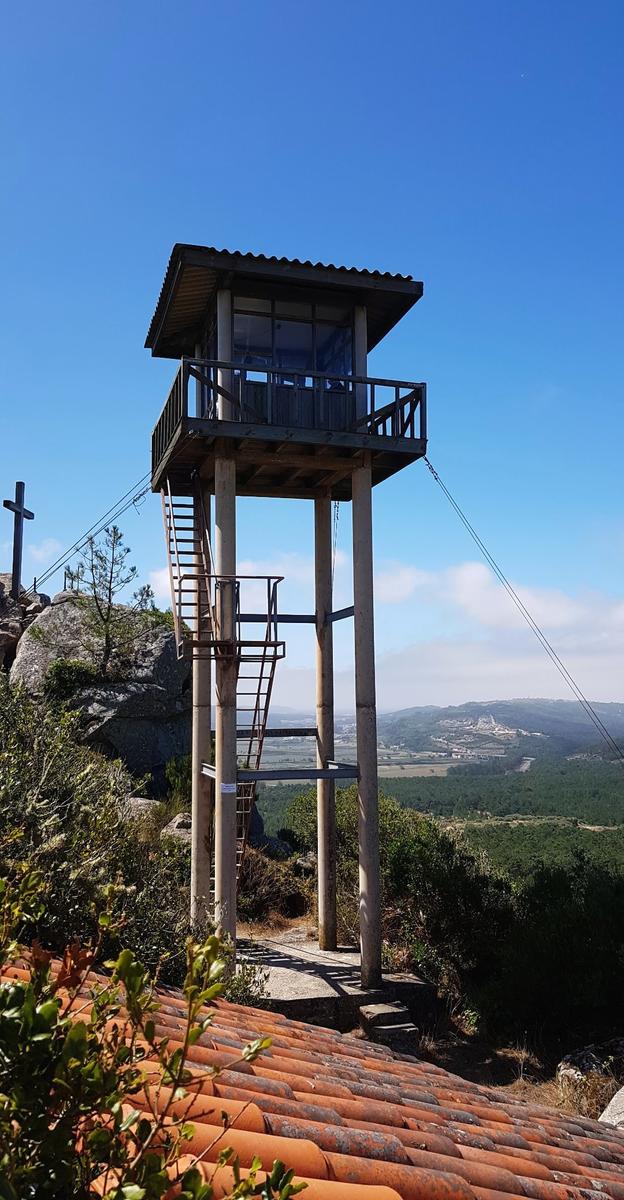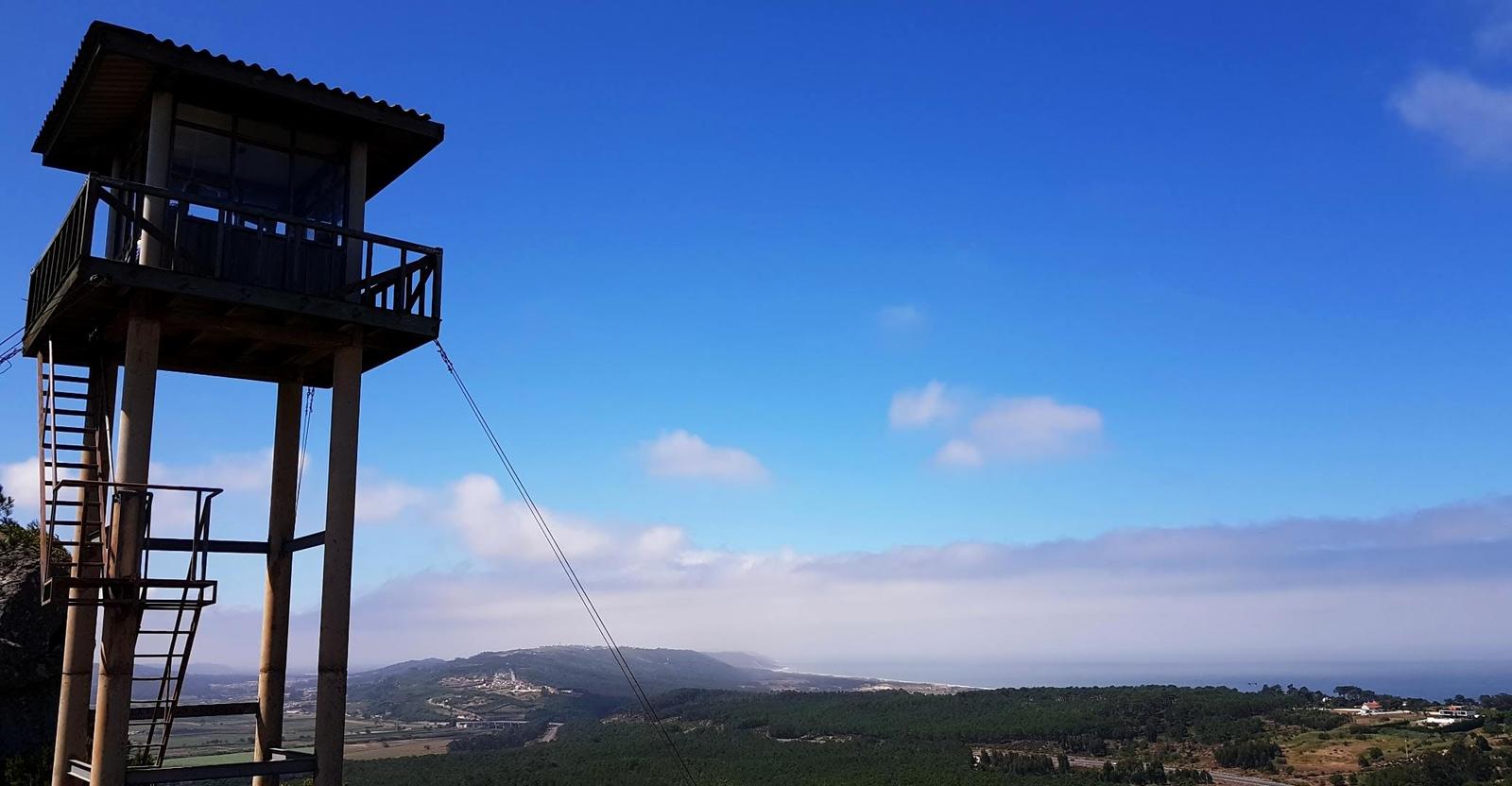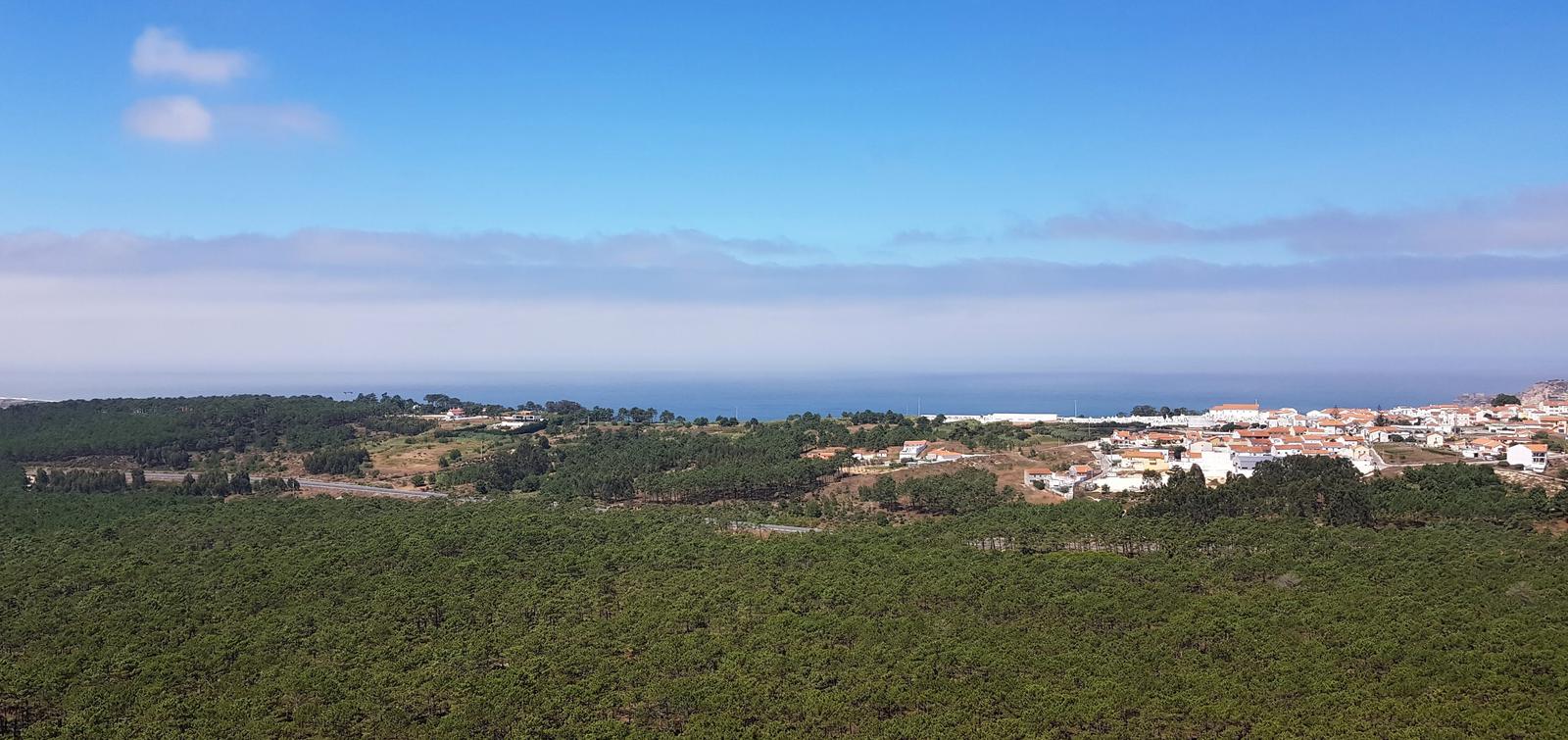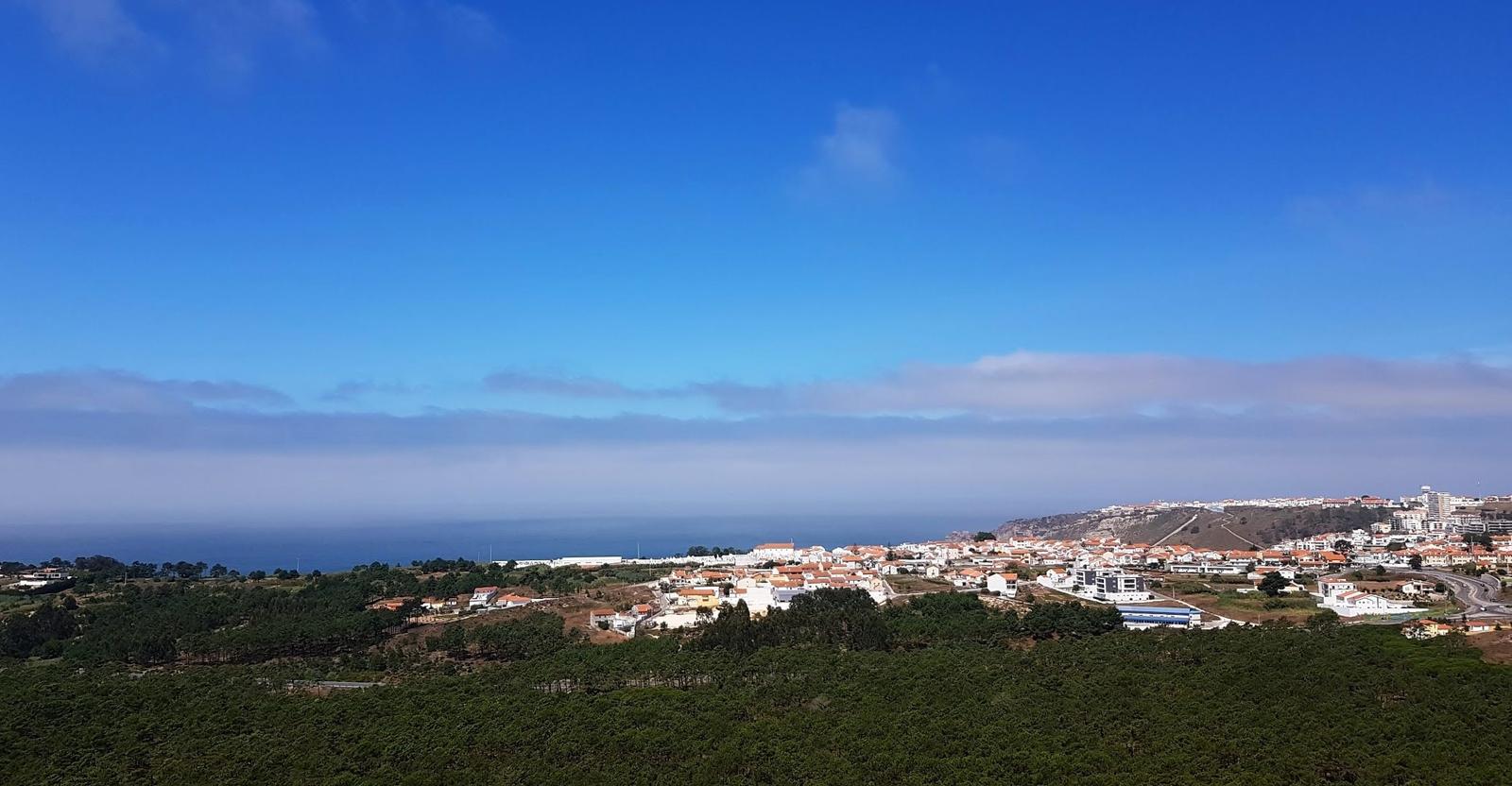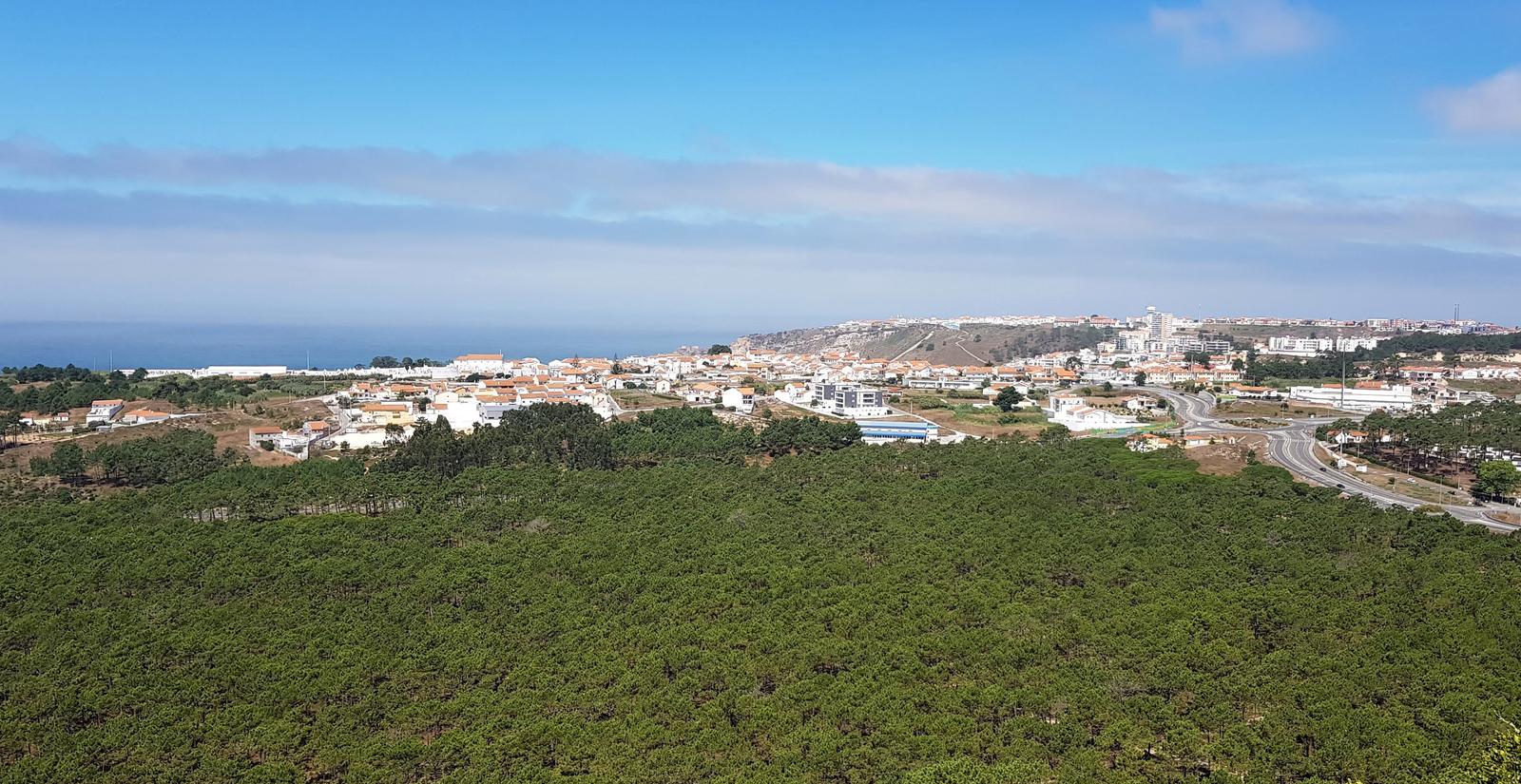 ---
11. Rent a Jet ski or go Dolphin Watching:
You can book a variety of activities from the stalls/cabins along the promenade of Praia da Nazaré or you can book online of course.
Seabookings offer a range of activities from dolphin watching to jet skiing!
Well known tour company Viator also offer jet ski rental in Nazaré.
---
12. ATV Tours & Jeep Safaris:
Viator also offer Jeep Safari tours in one of their UMMs.
---
13. Do a Wine Tour:
While we have done plenty of wine drinking while relaxing in Nazaré we have not done a wine tour YET! Lux Invicta are one company that really have a lot of options to choose from. I think their West Coast: Obidos and Wines would be our choice and hopefully post Covid-19 we will get to experience it!
If you can find someone willing to drive (and not drink), three highly recommended vineyards that are on my list to visit in the area are Quinta dos Capuchos, Quinta do Sanguinhal and Cortem Winery. Their websites are great and the photos alone will make you want to visit asap!
---
14. Visit Alcobaça:
Alcobaça is only about a 15 minute drive from Nazaré and is certainly worth visiting. The Cistercian Mosteiro de Alcobaça is the main attraction. If you want to know more, our blog a visit to the cistercian mosteiro de Alcobaça will fill you in.
---
Where To Eat?
The following are some of our favourite places to dine when we are in Nazaré.
Village Brunch & Coffee:
Looking for breakfast, lunch or brunch then Village Brunch & Coffee is the place to go in Nazaré. We were so impressed with their brunch, it was scrumptious and such good value for money and yes we ate it ALL: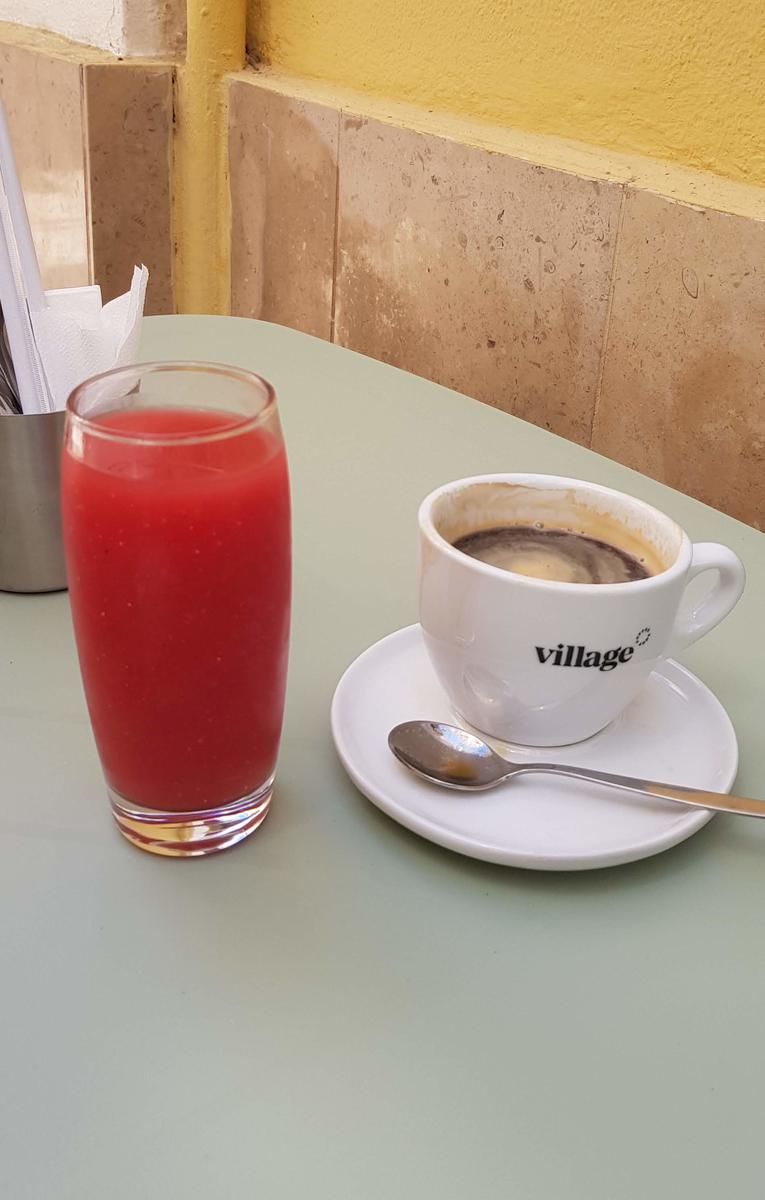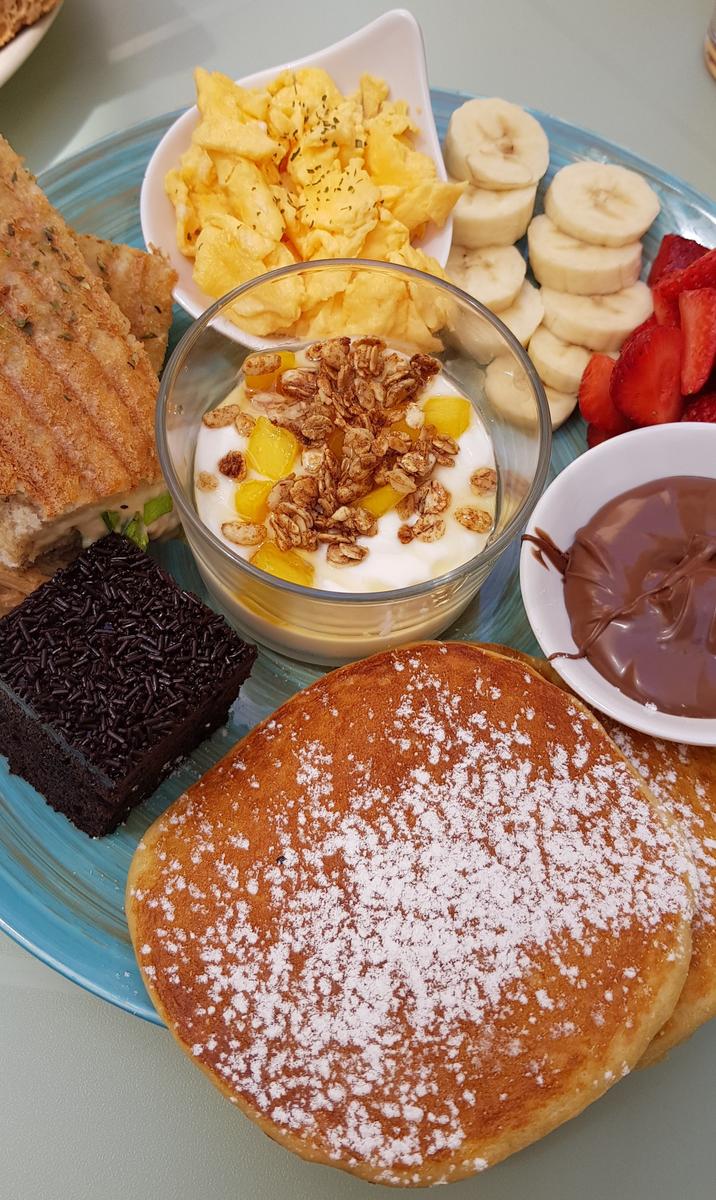 It is also the perfect place to visit if you just want great coffee and something sweet to go with it!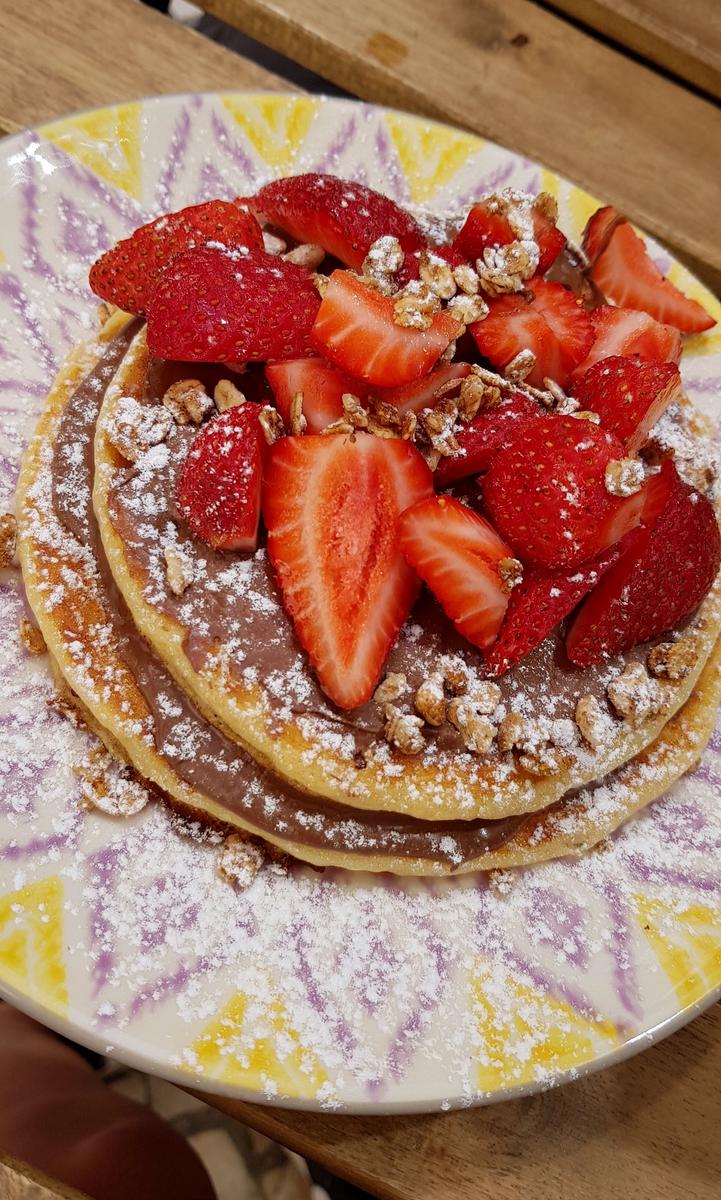 ---
Taberna do T'Izelino
Taberna do T'Izelino is the perfect place to enjoy an ice cold beer and/or eat some local fish dishes (clams are their speciality). Always busy, they have lovely outdoor seating at the North end of Avenida da República. It is a very popular choice among beach goers and in the late afternoon/early evening you will always see lots of people sitting on the nearby beach wall sipping their drinks and relaxing.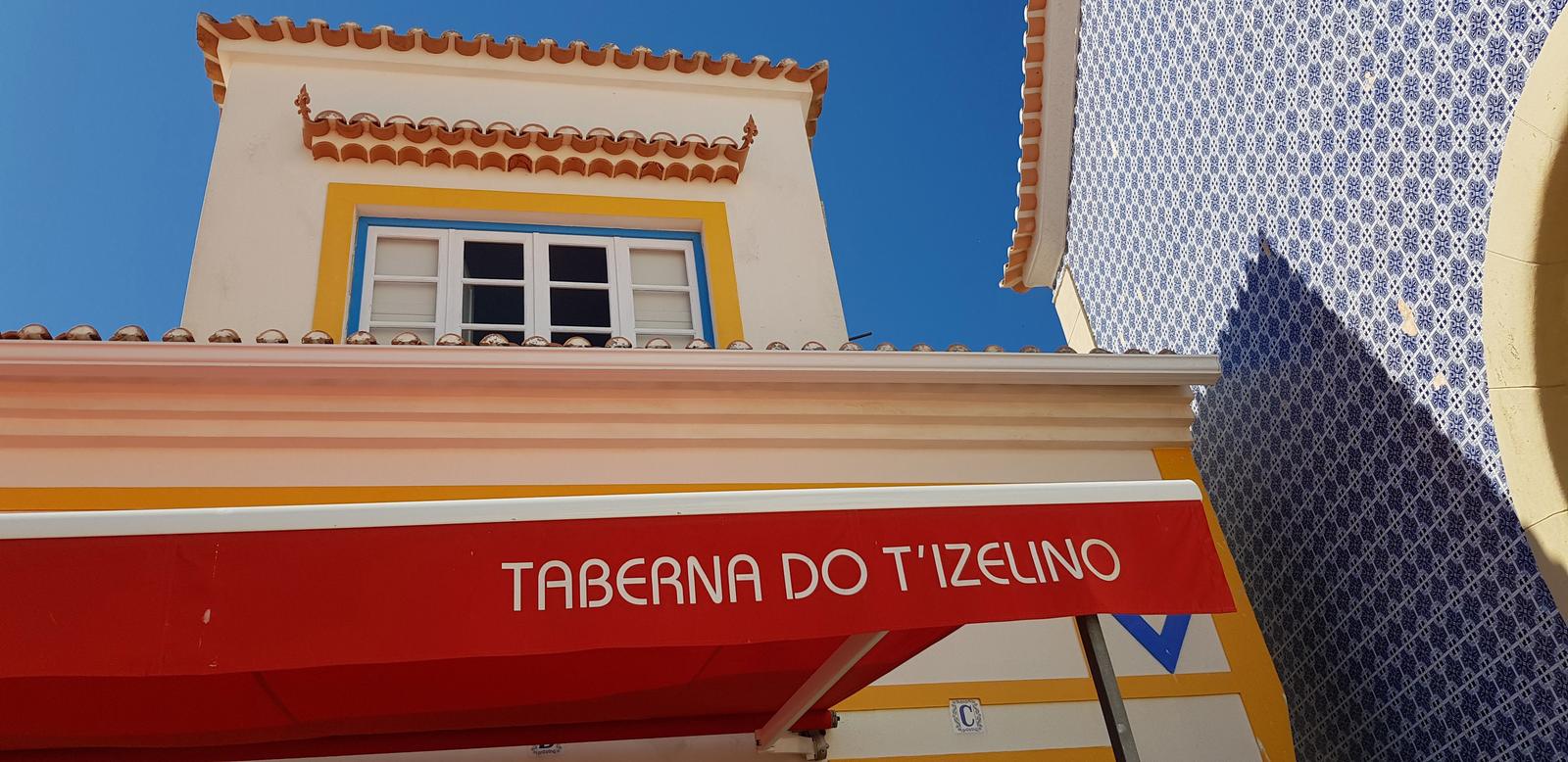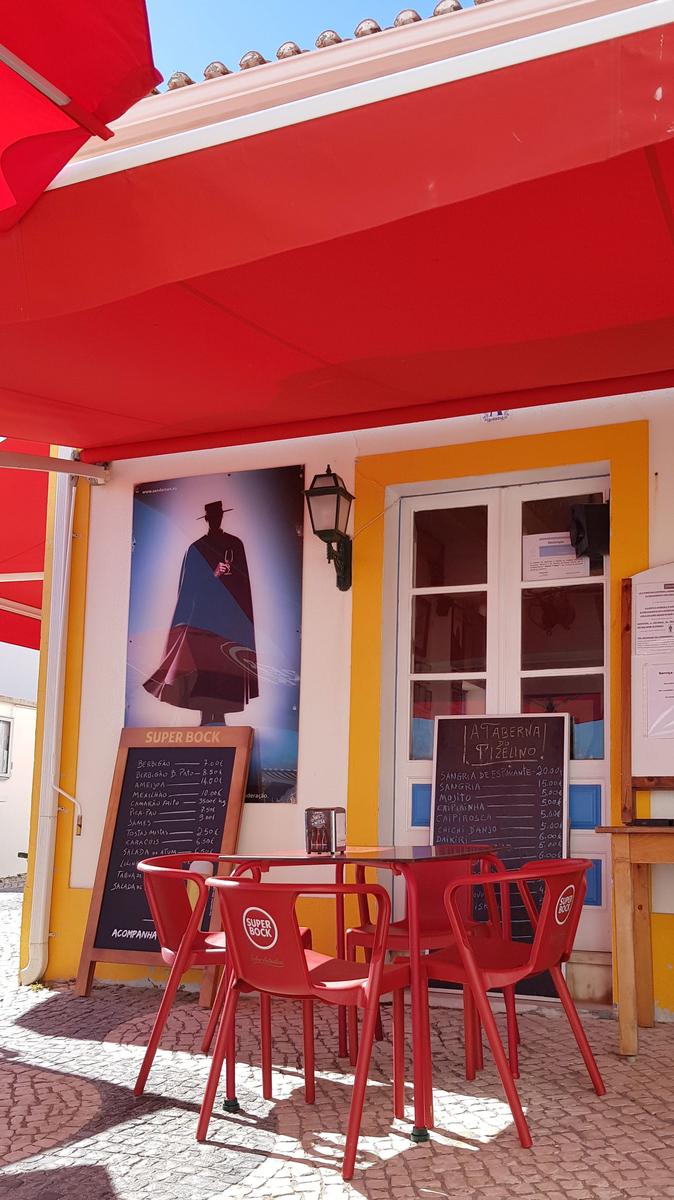 ---
Little India
If you like Indian food as much as we do then Little India will not disappoint. Really great authentic Indian food and once again reasonably priced. We have been there three or four times and it has been consistently excellent.
---
Bontà Bistro Italiano
We discovered the wonderful Bontà Bistro Italiano on our most recent visit to Nazaré. It is owned and operated by Roberto and his wife who moved to Nazaré from Milan. We went there for dinner but they also serve lunch. The menu changes daily and Roberto explained the menu to us directly. On Roberto's recommendation we had a slice of their homemade pizza for starter, the best pizza ever! For my main I had their meat lasagne and J had their vegetarian lasagne and both were absolutely delicious, we were transported back to Italy by the scents and flavours of the dishes, heavenly! They have indoor and outdoor sitting but tables are limited (it's tiny inside) so be sure to book in advance to guarantee yourself one of their highly coveted tables.
---
So, that is it, Nazaré in a nut shell! We hope you find this guide helpful and enjoy your own holiday in Nazaré.
---
If you've any questions, suggestions or just want to say hello, contact me via the Contact Form, Instagram (@noroadlongenough) or By Email noroadlongenough1@gmail.com