A Coastal Walk at Sintra's Cabo da Roca:
We had been to Cabo da Roca before (about a year prior) but when our lock-down ended we wanted to go for a spin and decided not to venture too far from Lisbon. So, we decided to drive towards Cabo da Roca. When we were almost there, we got distracted, found some lovely coastal walking trails and checked them out instead!
---
Where To Park?
We followed the main N247 road before taking the well signposted turn off for Cabo da Roca, along the Estrada do Cabo da Roca. As we got closer to Cabo da Roca there were cars pulled in off the right side of the road on small gravel areas, so as we got closer we decided to do the same when the opportunity arose. Having been to the cape before we knew that the car-park there can get very congested. We would favour a slightly longer walk to the cape than the hassle of wasting time sitting in a hot car trying to find a parking space.
In the photo below, you can just glimpse the blue official Cabo da Roca sign on the left, we parked just in front of that sign, completely off the road. This is VERY important to note as we witnessed cars getting taped up and ticketed by the Police just up the road from where we parked. The difference was that they had parked on the side of the road, half on the road, half off and so they were reducing the overall road space and restricting traffic flow on what is a very busy road!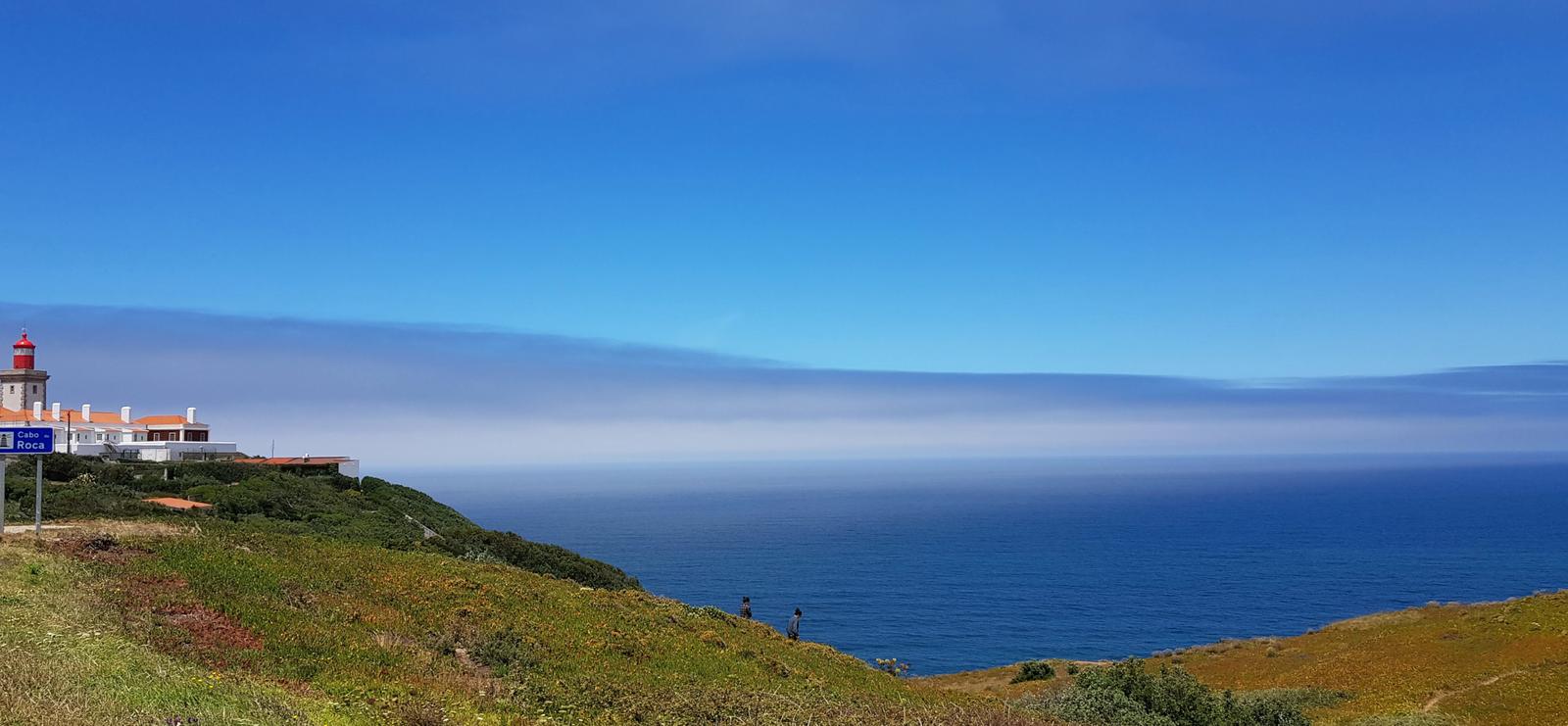 ---
Where To Walk?
It was only once we were parked that we properly noticed lots of trails to our right, heading away from the lighthouse and along the coastline. We could see a few people in the distance on these paths so we headed down one of these paths and never made it over to the official cape area this time, but it was totally worth it! When we started out it was overcast but a "warm" 33C.
The photo below was taken at the start, when it was overcast. The above photo was taken on the way back to the car - some difference! When the sun was shining and the blue sky was visible it was beautiful. You get a good view of the Cape Lighthouse from these trails.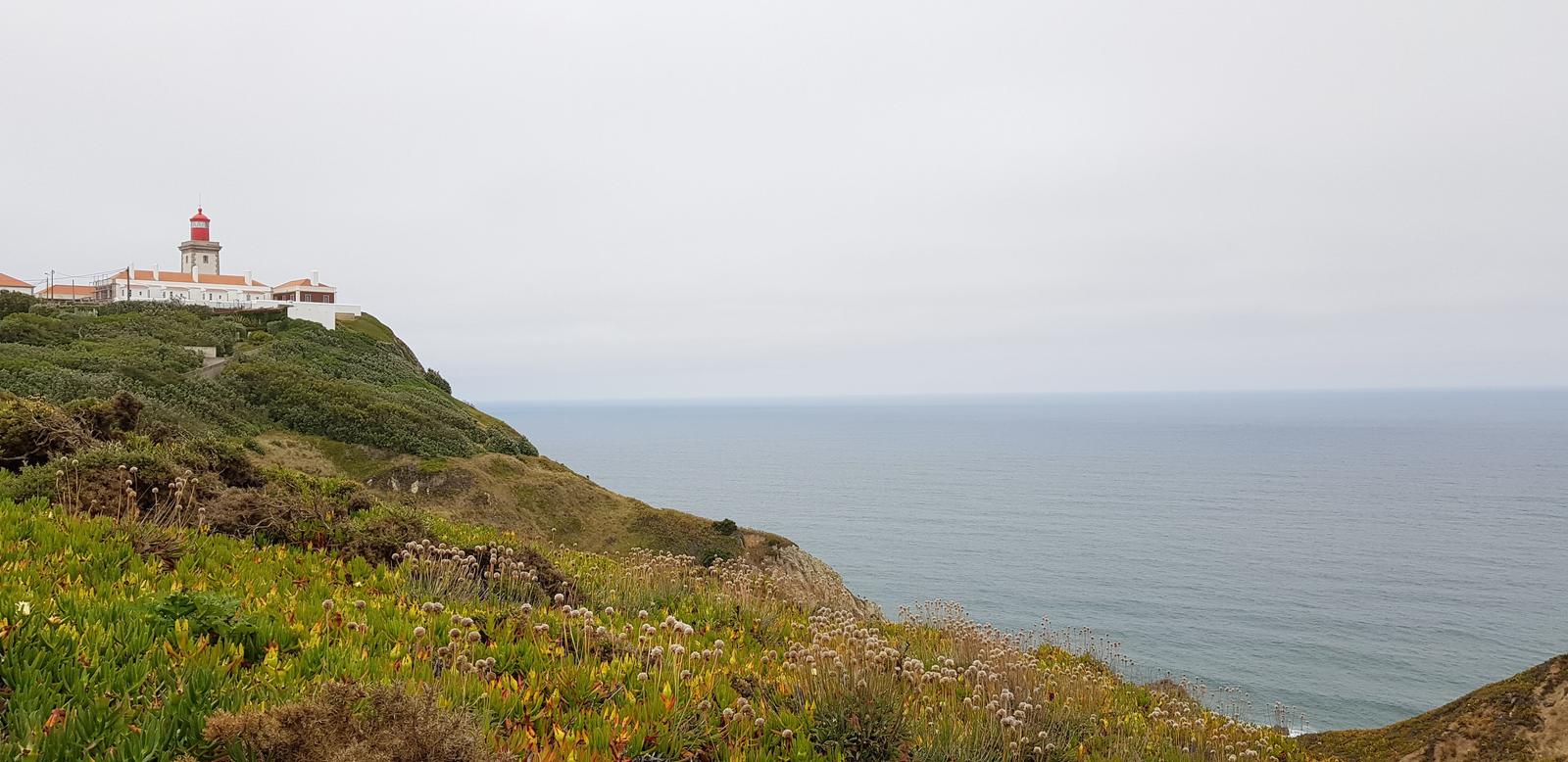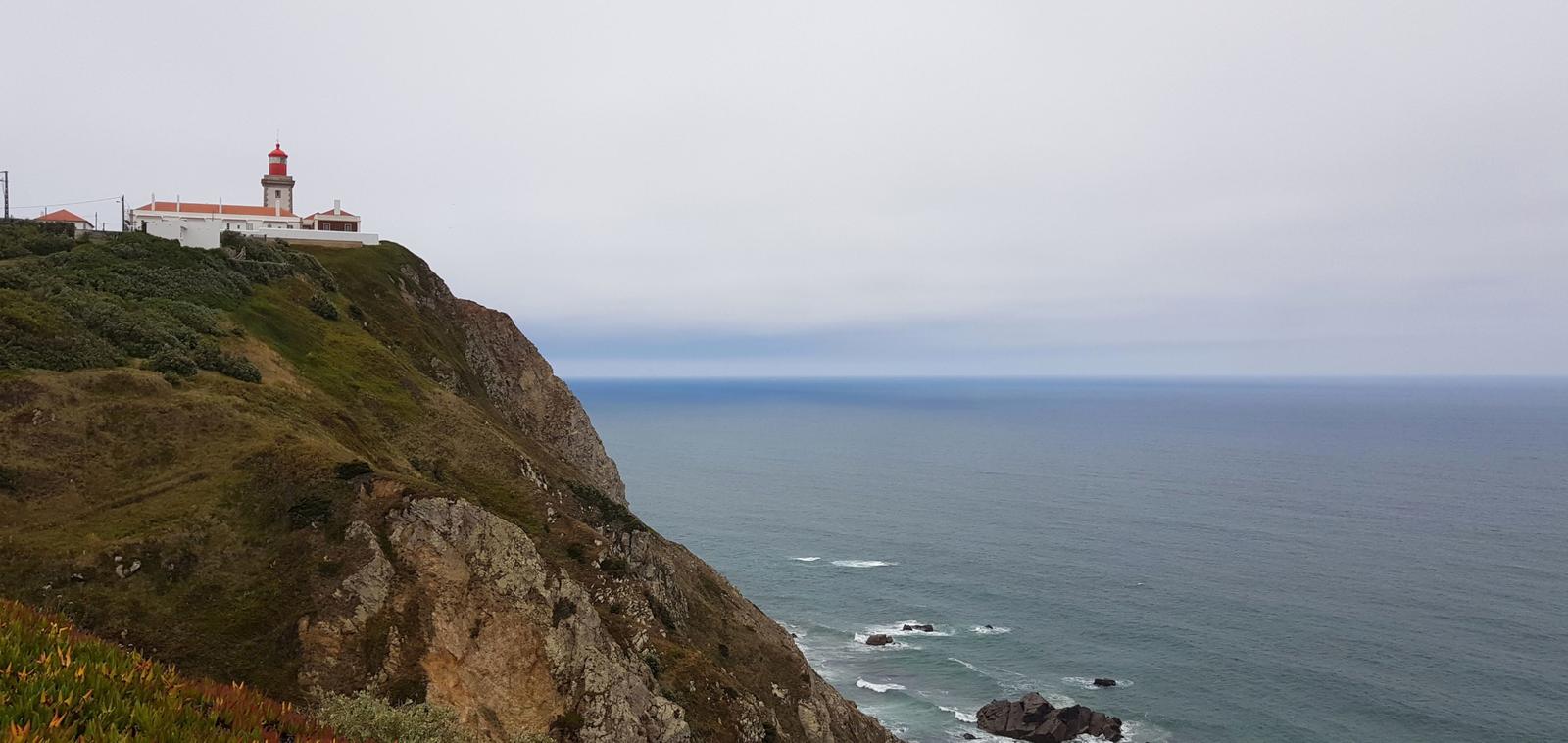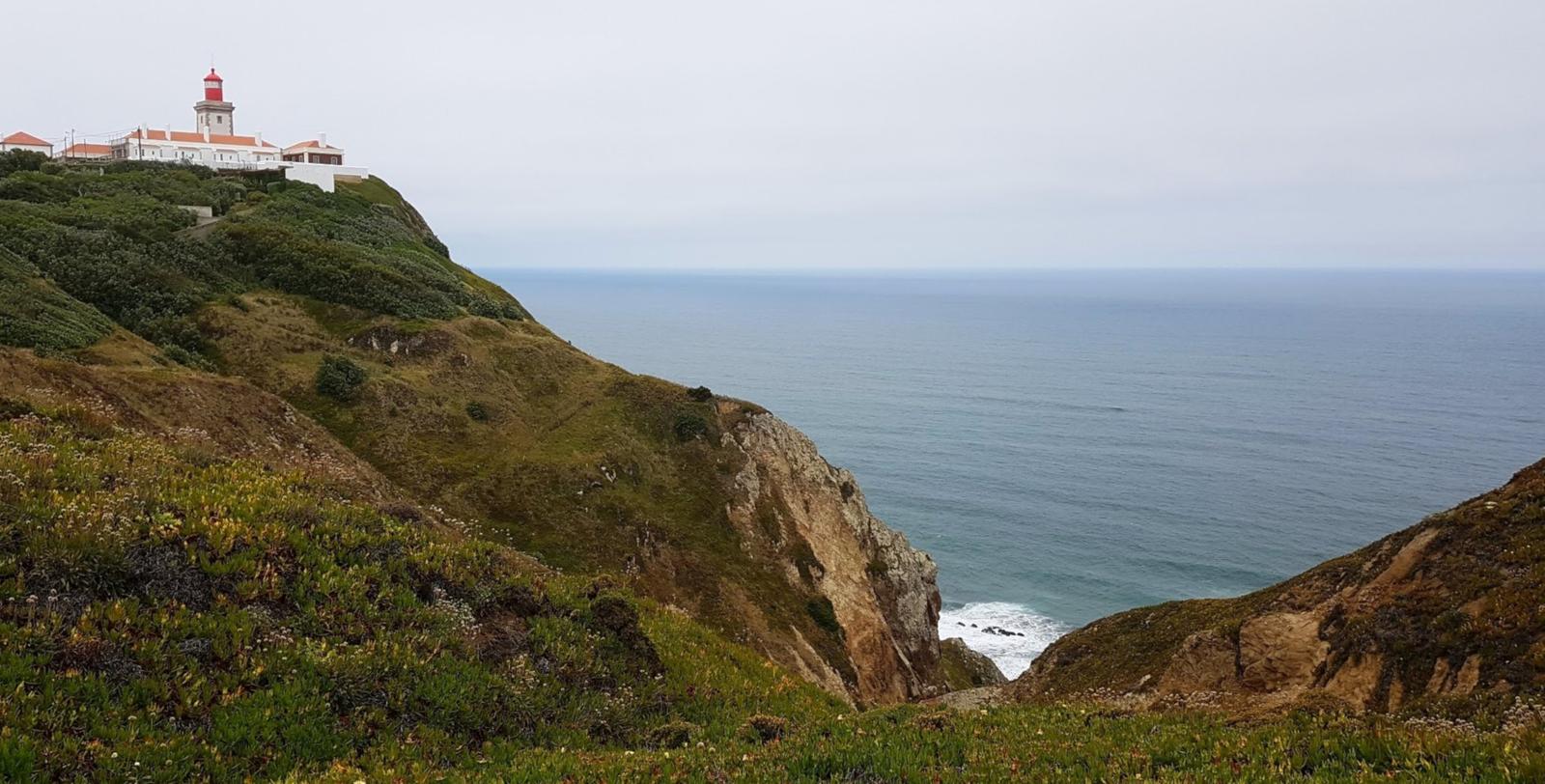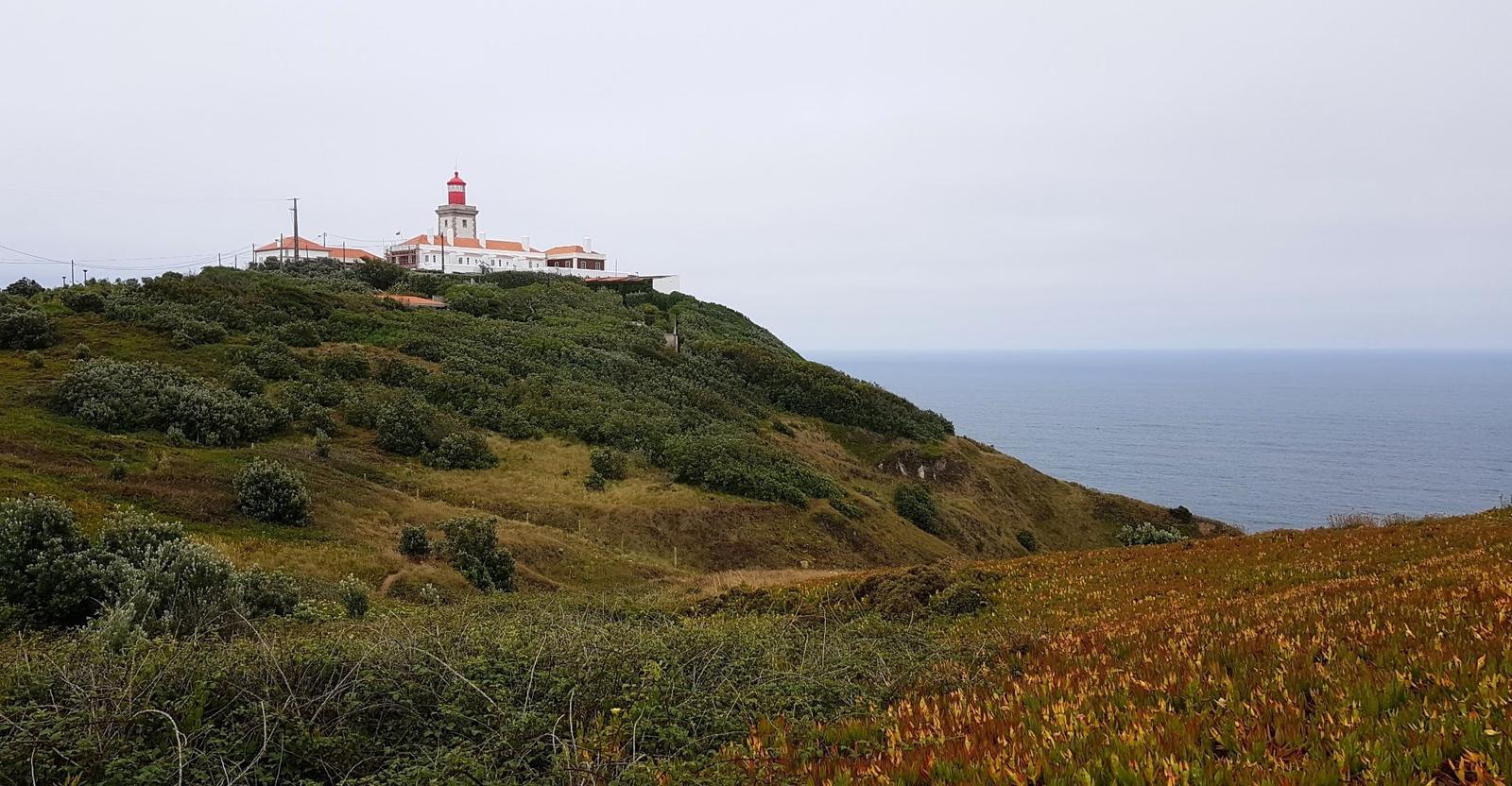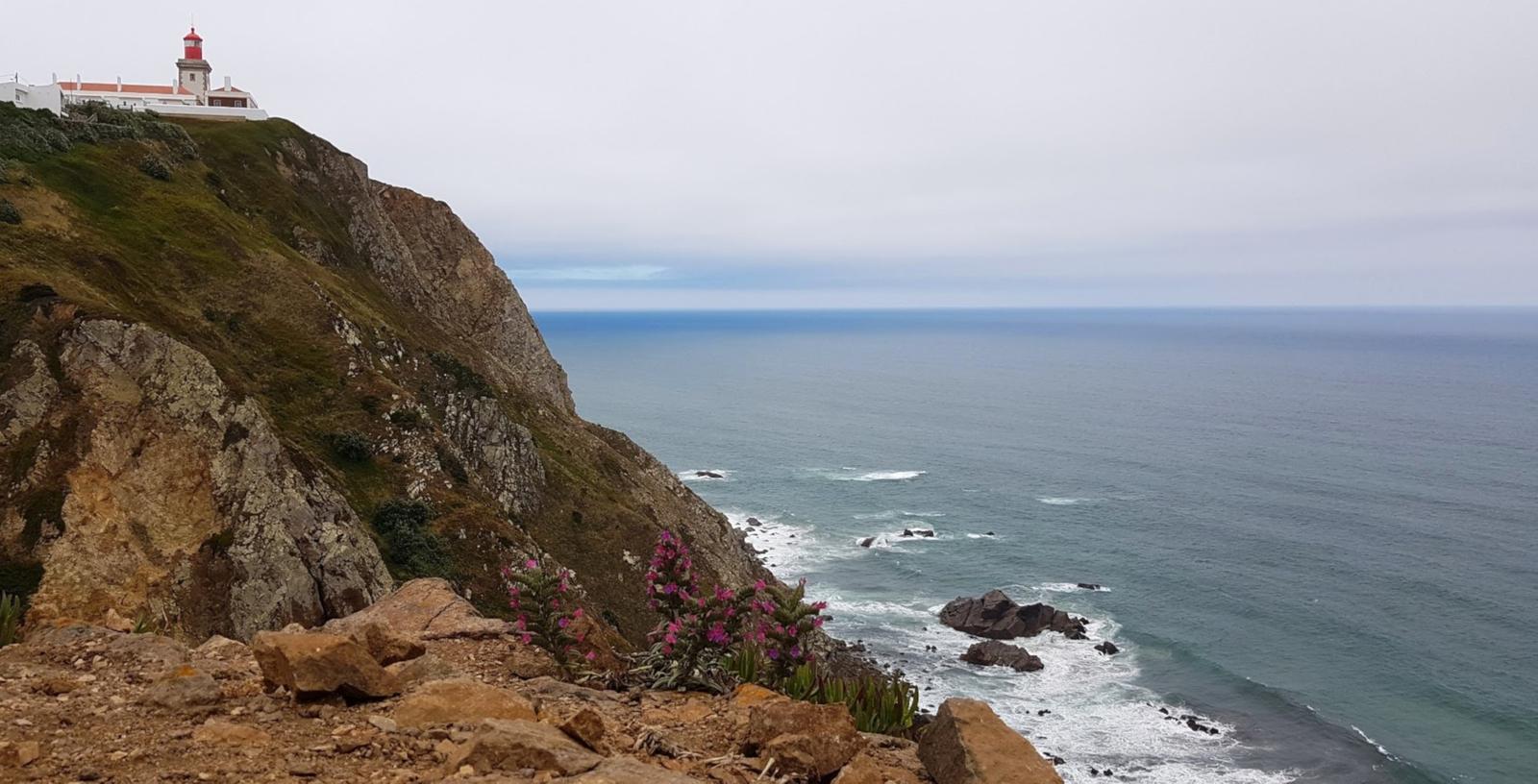 The spiralling trail in the next photo leads all the way down to a small beach area, it wasn't really do-able when we were there due to wind and sea spray: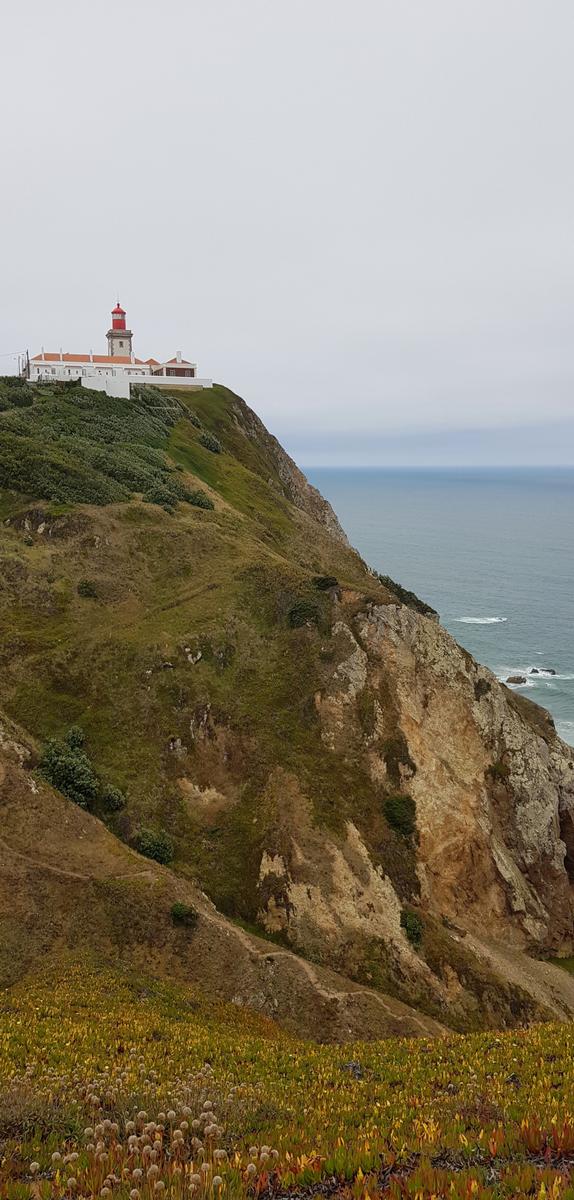 It was super windy so we were extra cautious walking along the cliff side paths: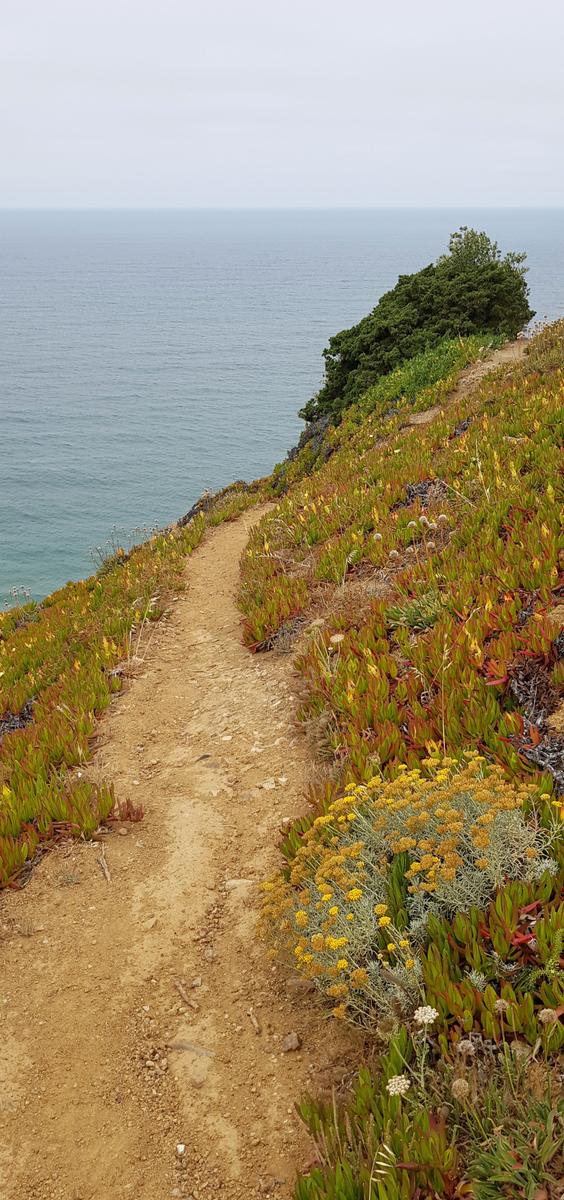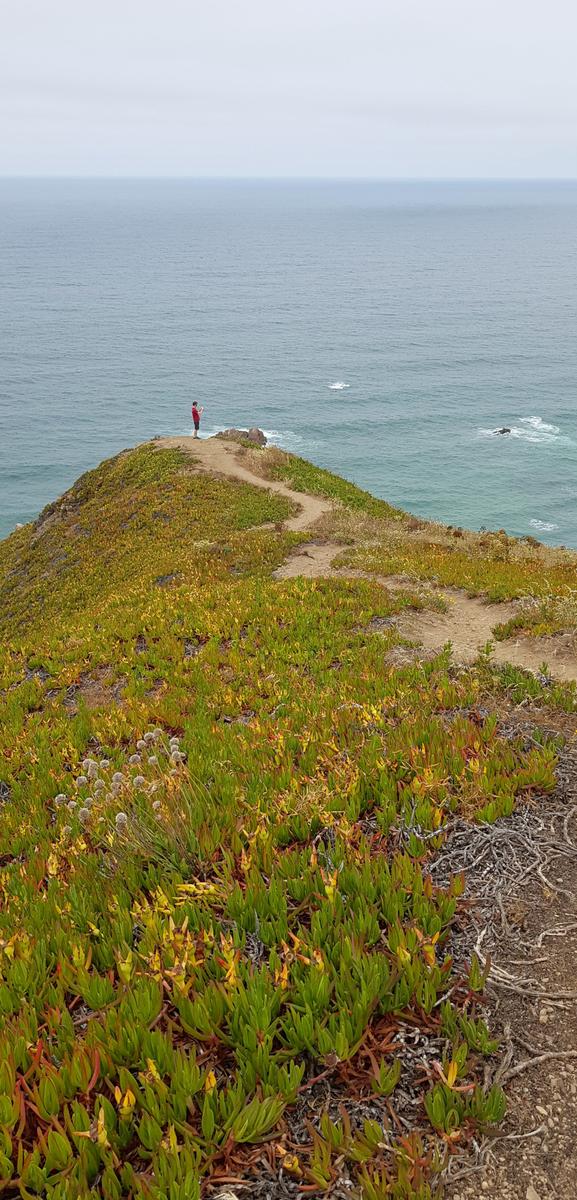 They area is actually littered with trails so we just wandered along, always keeping the sea on our left: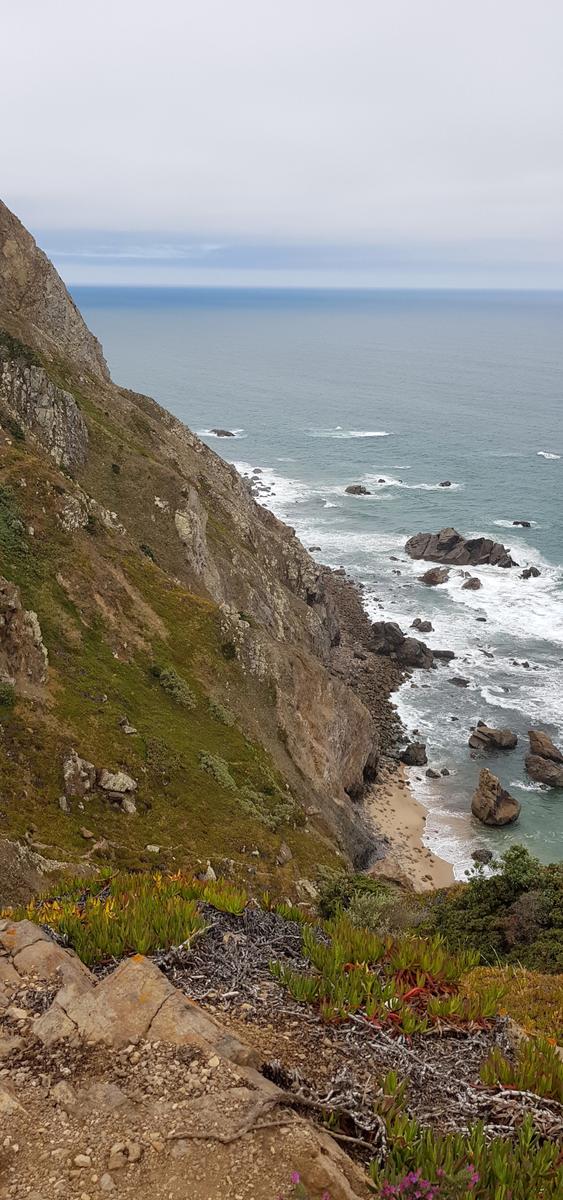 I think the beach pictured below is Praia da Aroeira and there was a trail all the way down to it: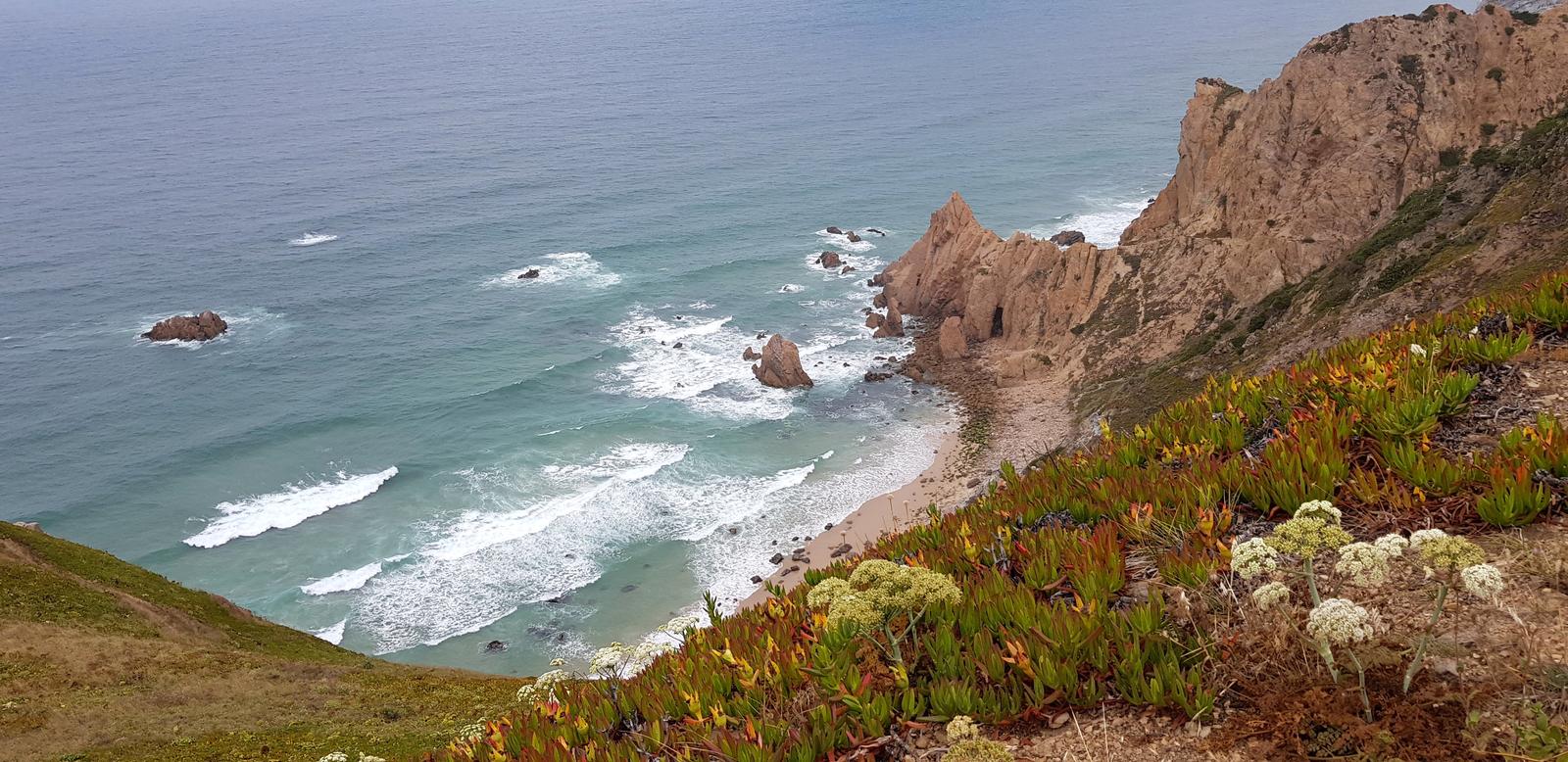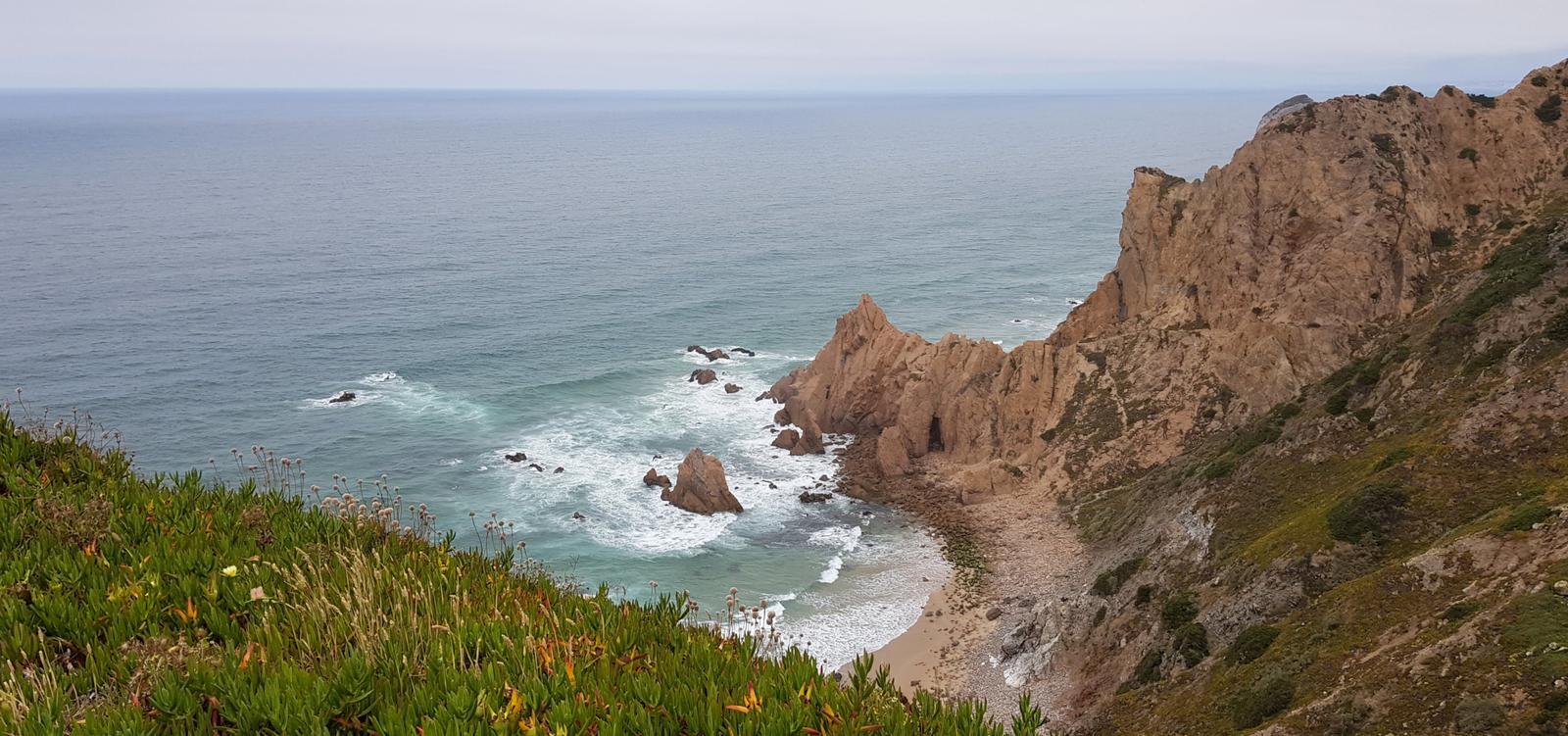 ---
As we walked on, to the right we noticed some cars parked in small "car parks" that we had not seen from the main road but later found that they are accessed from the main road, on the right side before where we parked, along a dusty sandy dirt road. Personally I would not drive the dirt road without a high sitting vehicle as there were big lumps, rocks and holes that could easily damage your car.
Soon we saw people walking along the surrounding trails with beach paraphernalia and sure enough it wasn't long until we saw a gorgeous beach below us, Praia de Ursa: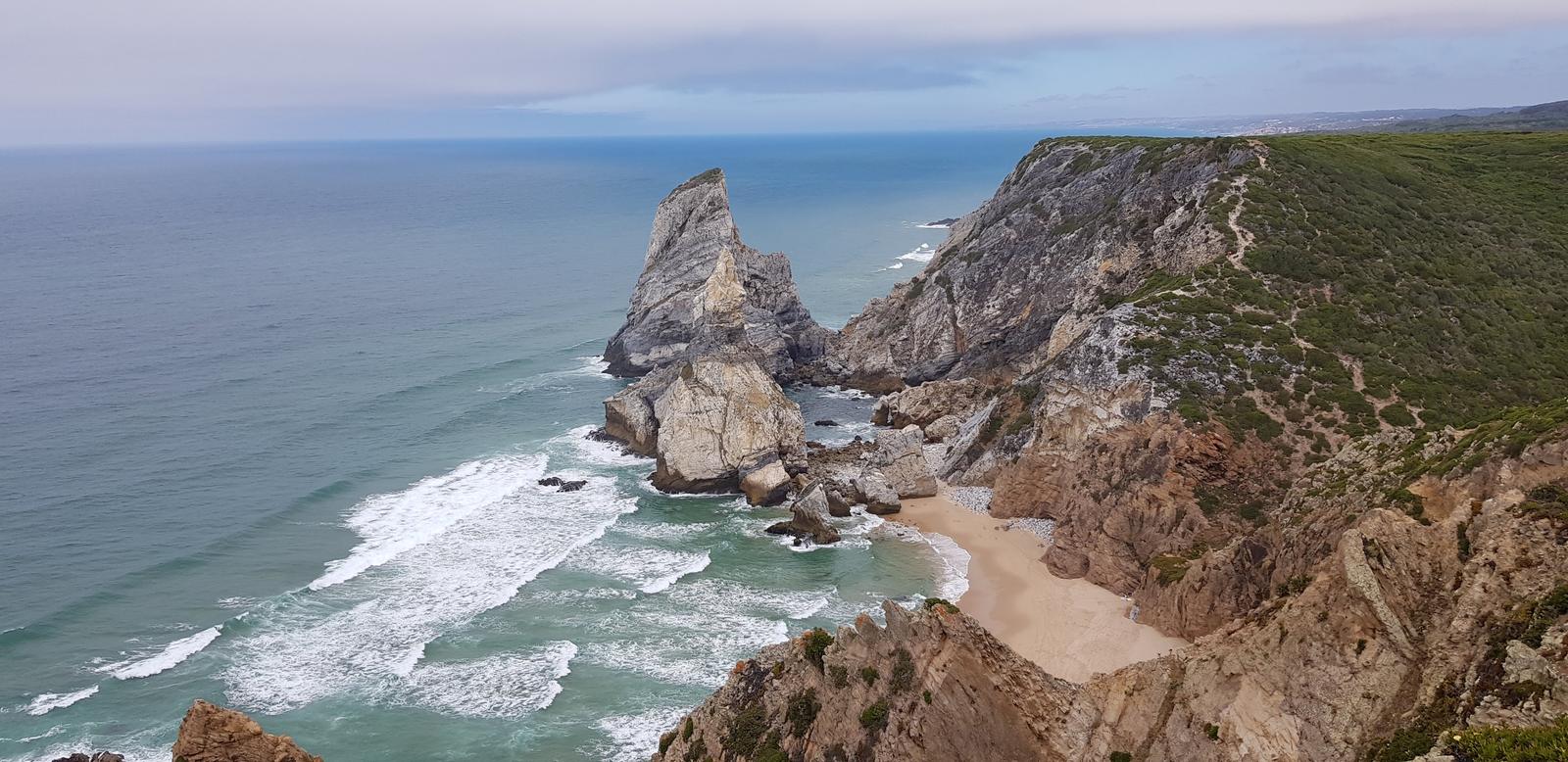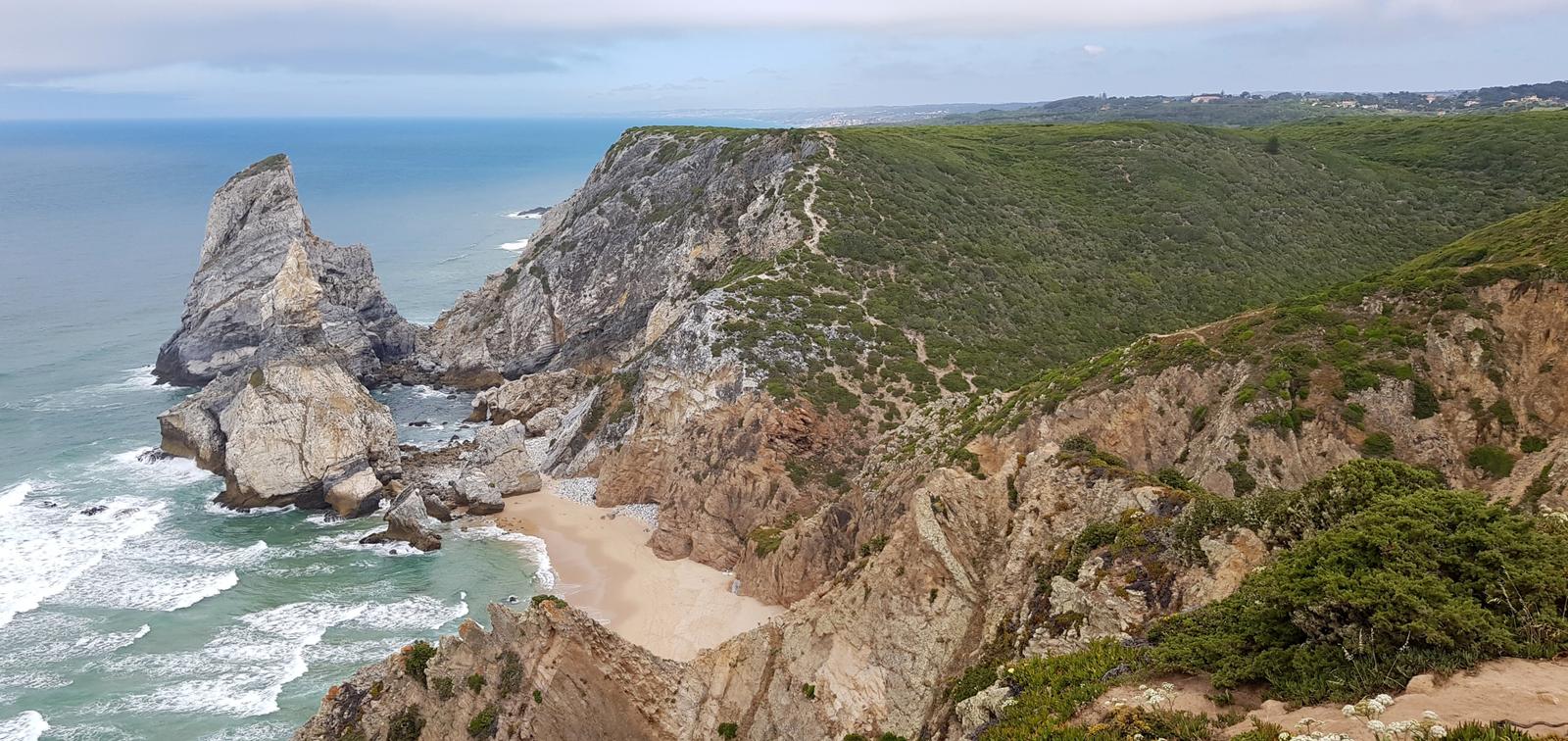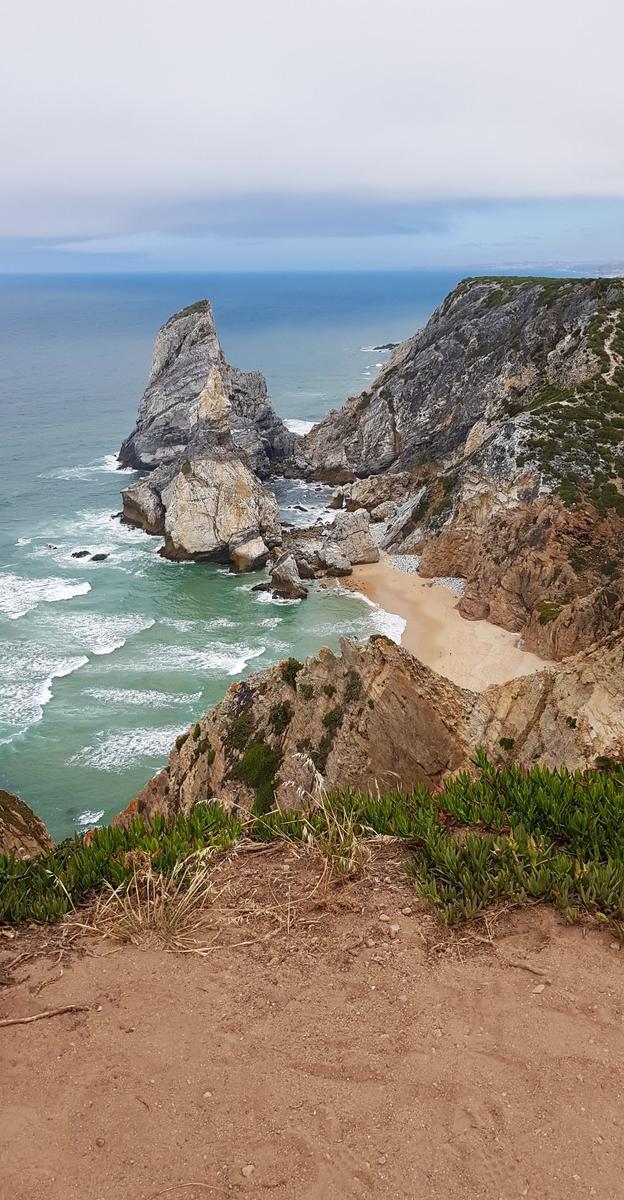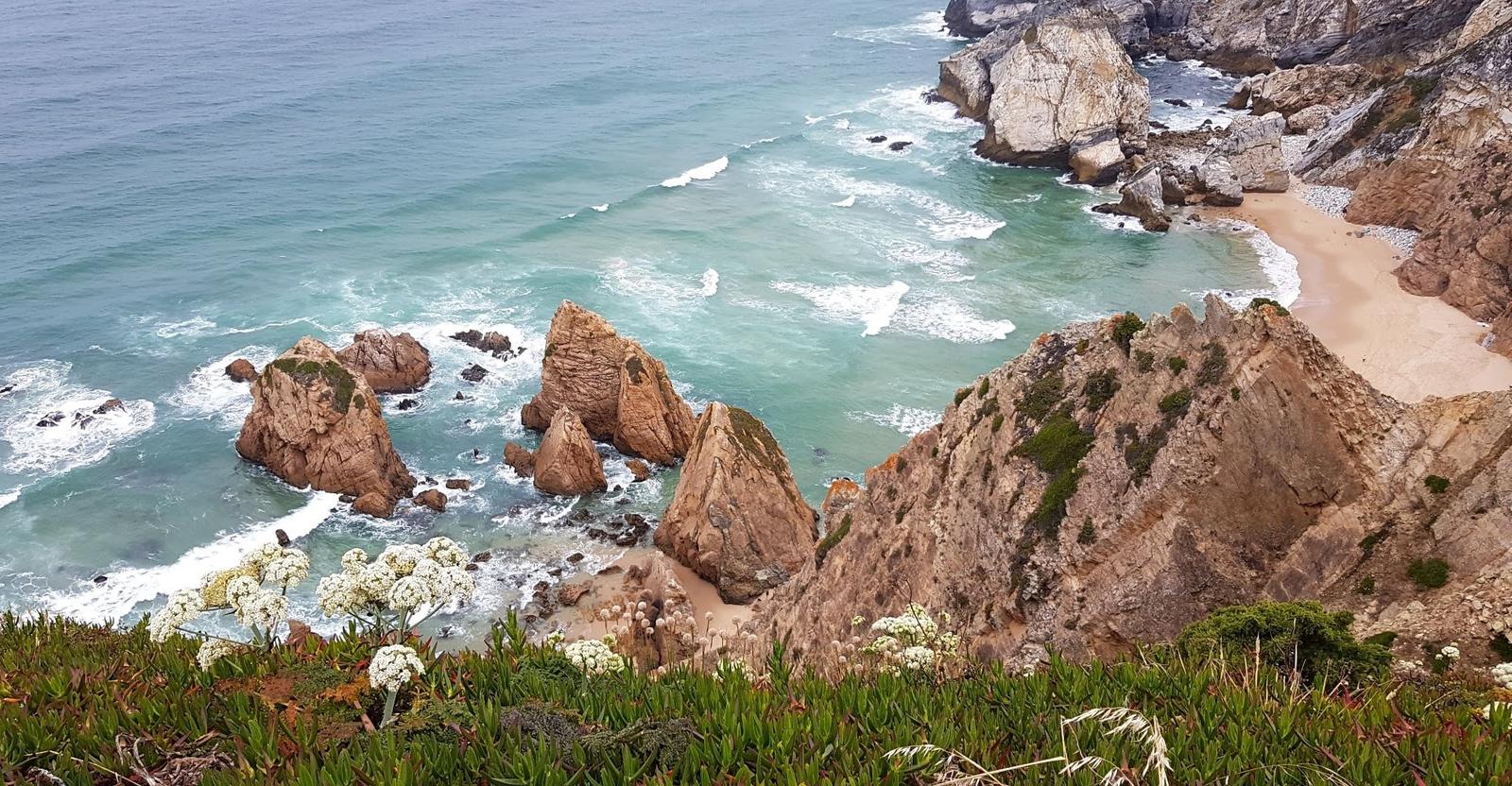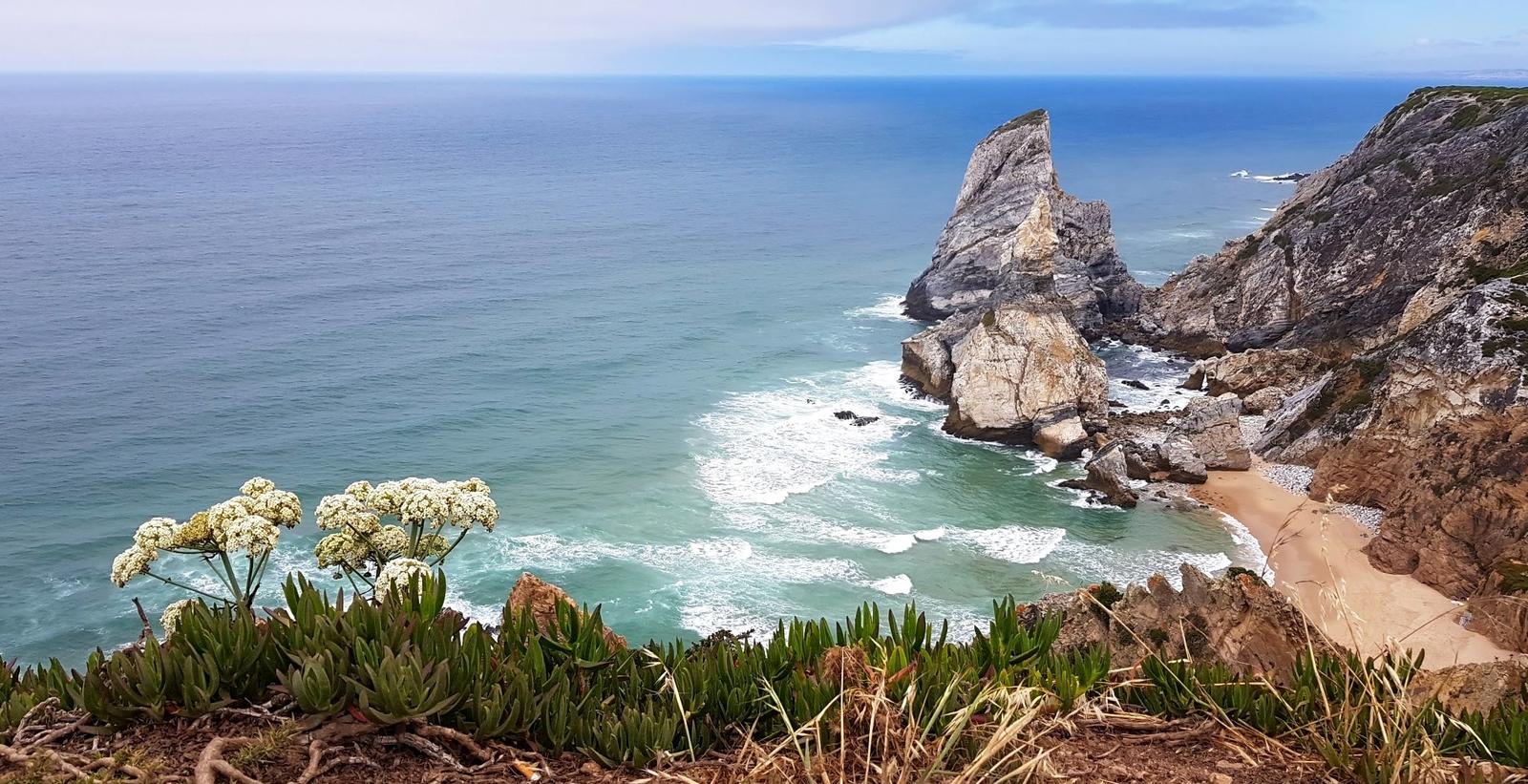 ---
At this point we decided to head back to the car as it was hot and we had not intended to walk or prepared to either (i.e. no water, snacks, sun cream etc). The trails continued well into the distance and we are definitely going to go back to walk further along the coast, planning to stop and swim at Praia de Ursa on our way back.
As I mentioned at the start, the majority of the cloud had burnt off during our walk so by the time we were returning to the car the blue sky was perfect: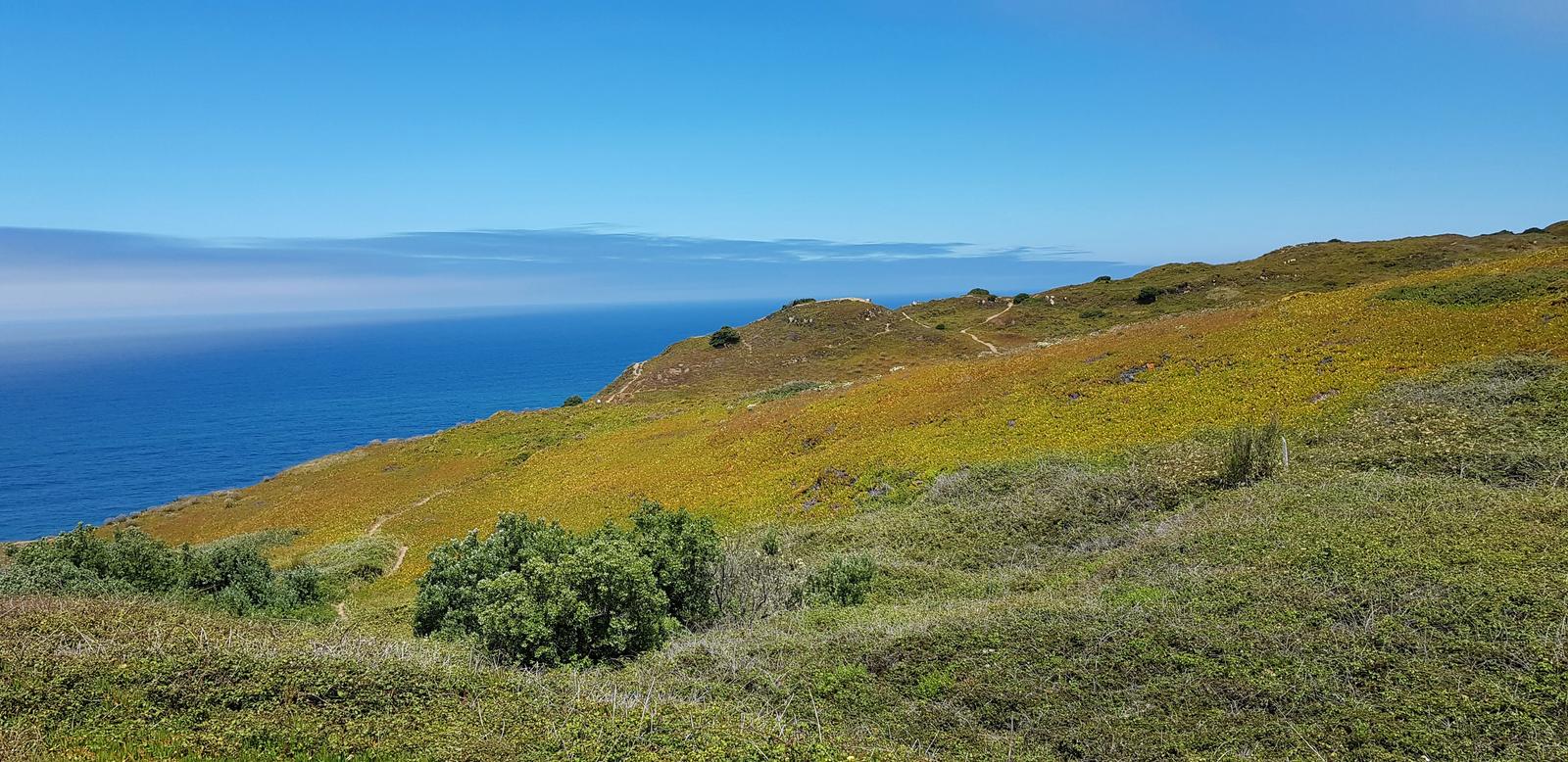 ---
Back in our car, fairly sweaty despite our walk only being a couple of kilometres, but any movement feels like a lot of effort in 33C, we were ready for lunch. Luckily J had found us a vegetarian place close by that we were excited to check out. Read our blog Sintra's Real Secret Restaurant Flores do Cabo Organic Vegetarian Gastronomy to learn all about our experience.
---
If you've any questions, suggestions or just want to say hello, contact me via the Contact Form, Instagram (@noroadlongenough) or By Email noroadlongenough1@gmail.com