Broadening Our Lisbon Horizons!
As we have now been in Lisbon on and off for over six months, we are attempting to expand our knowledge of the city by visiting new neighbourhoods and seeing new things, whenever we can. So, with this in mind, we decided to spend a day in the Parque das Nações (Park Of Nations) area and it far exceeded our expectations. We liked it so much that we have been back there since for a second visit.
Parque das Nações is a redeveloped area of Lisbon that borders the Tagus River. Here is a screenshot of the area from Google-maps: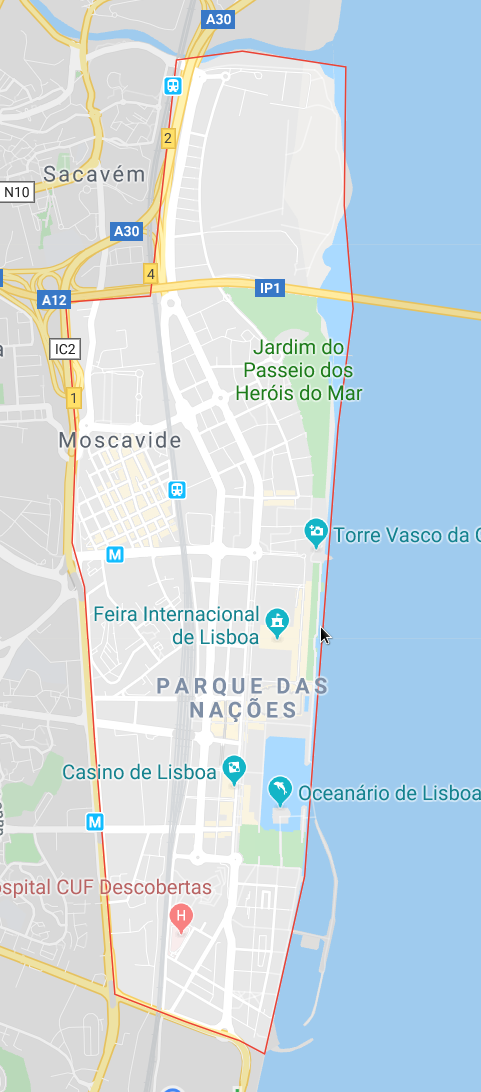 Keep reading for our list of suggestions of things to do and see in this part of Lisbon!
---
Our Top Picks - 12 Things To Do & See in Parque das Nações.
---
1. See the Vasco da Gama Bridge in all it's glory!
At 11 miles long, the Vasco da Gama Bridge is Europe's longest bridge and spans the Tagus River.
From the redeveloped waterfront area of Parque das Nações you have a wonderful uninterrupted view of this award winning bridge.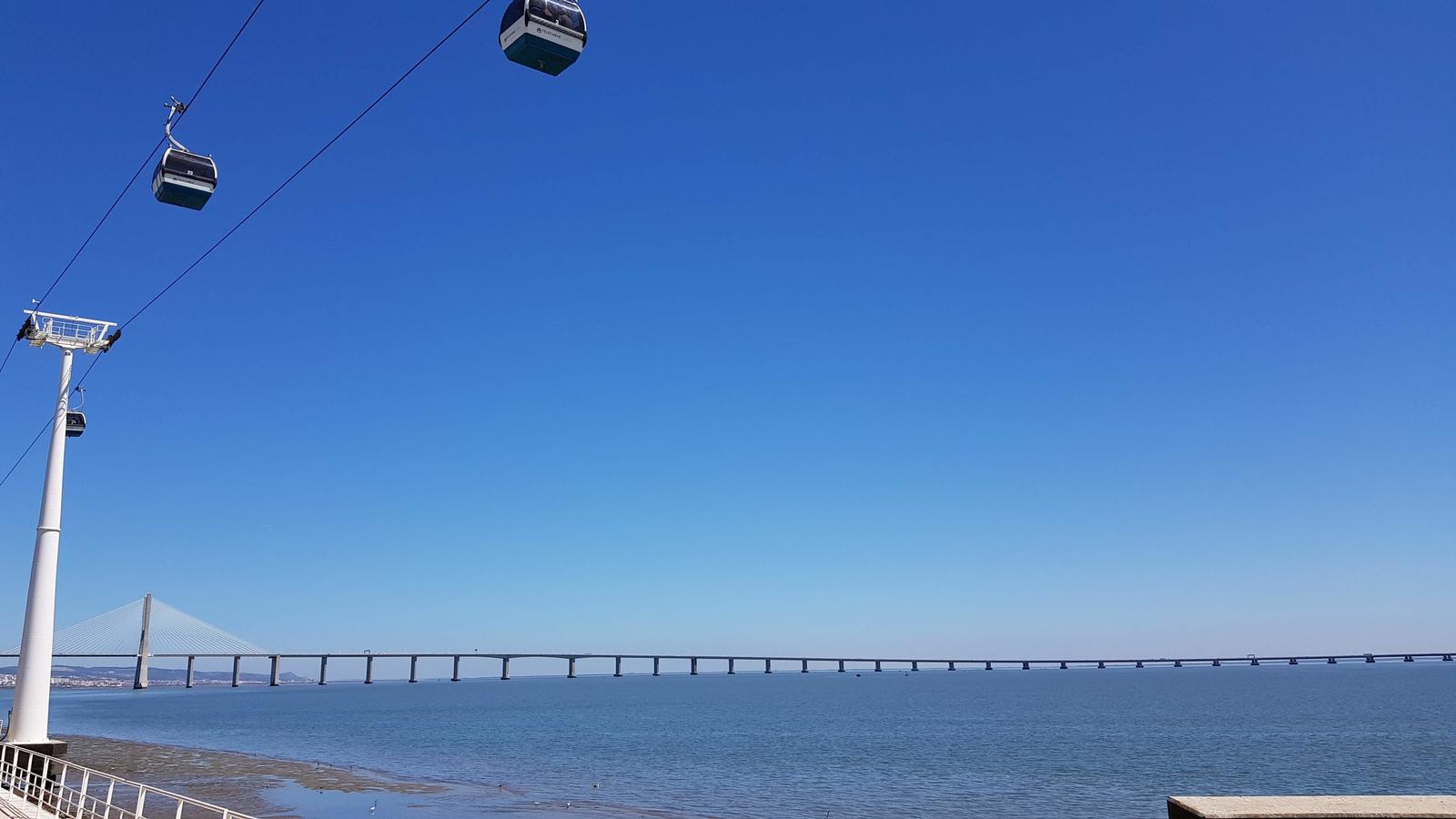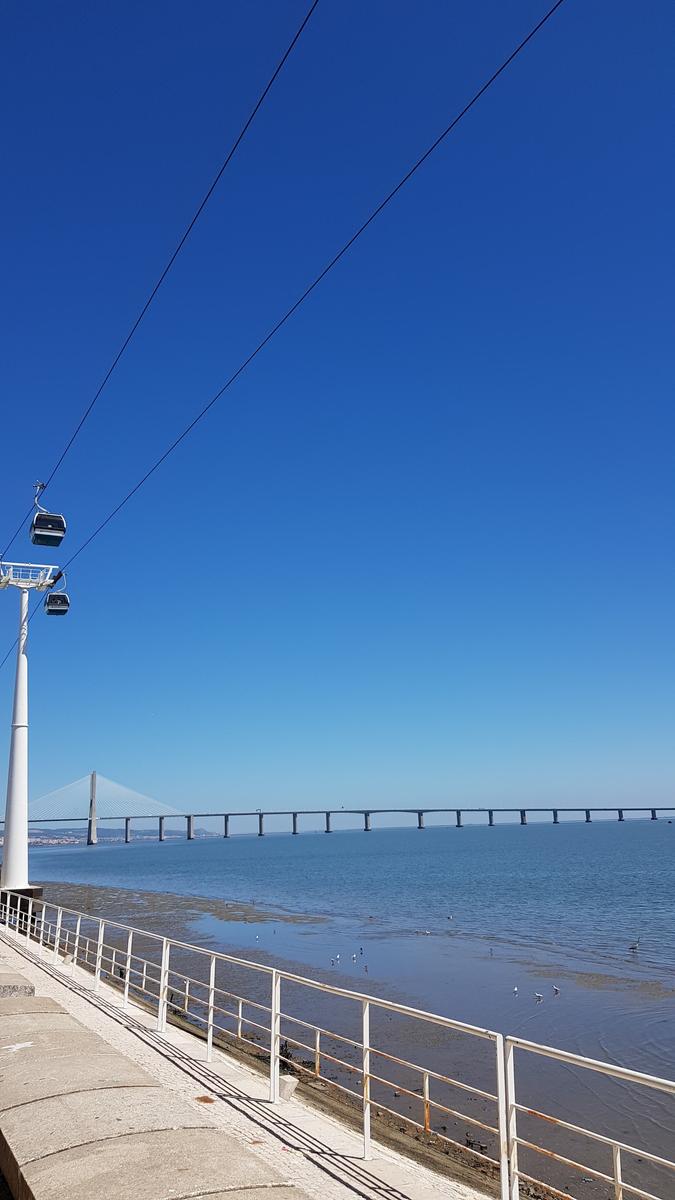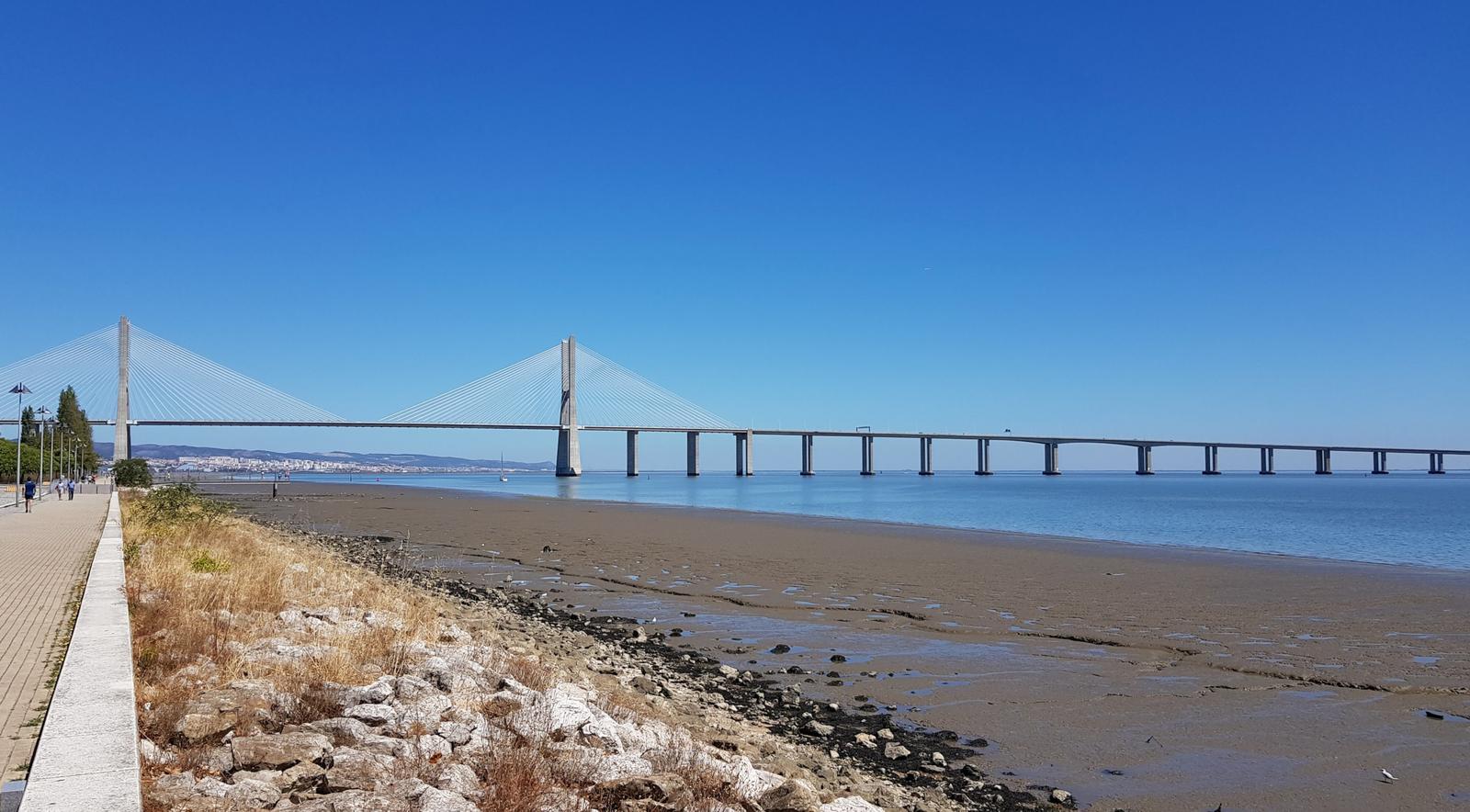 You can walk a paved pathway all the way to the bridge. There are gardens underneath the bridge where you can sit and study this impressive bridge up close.
---
2. Take a closer look at the Vasco da Gama Tower.
The Vasco da Gama Tower is the tallest building in Lisbon and so as you would expect, it catches your eye from a long way away.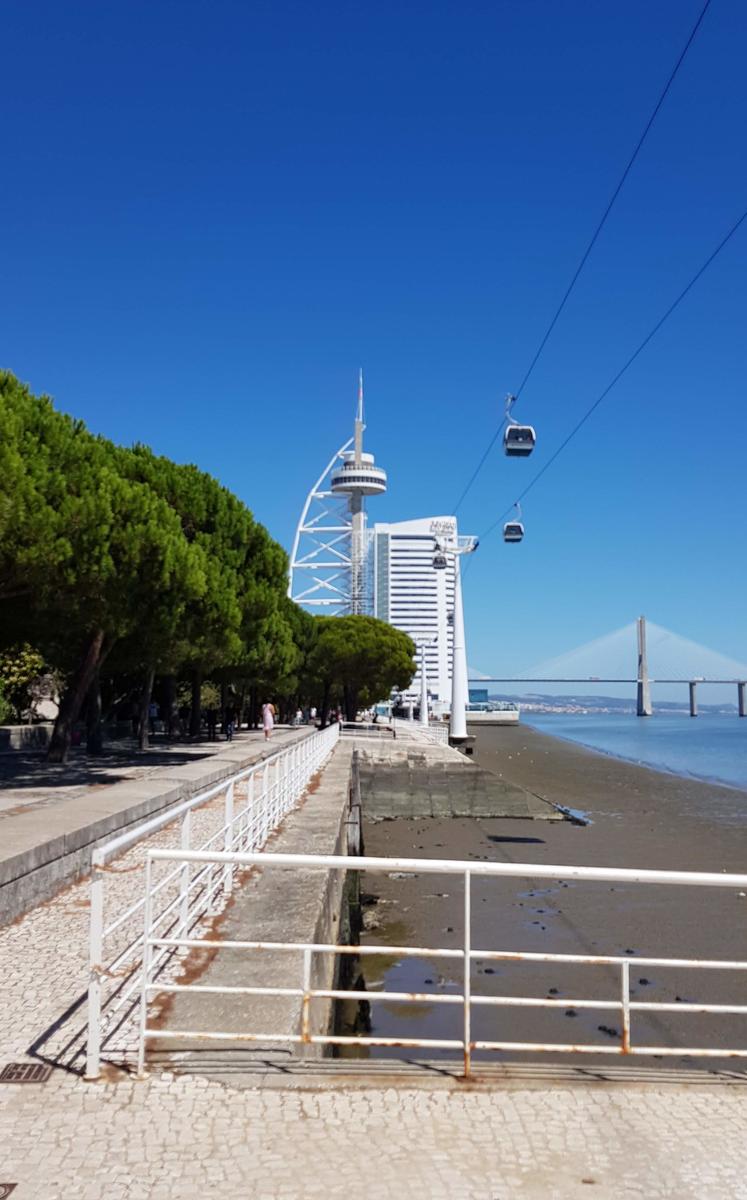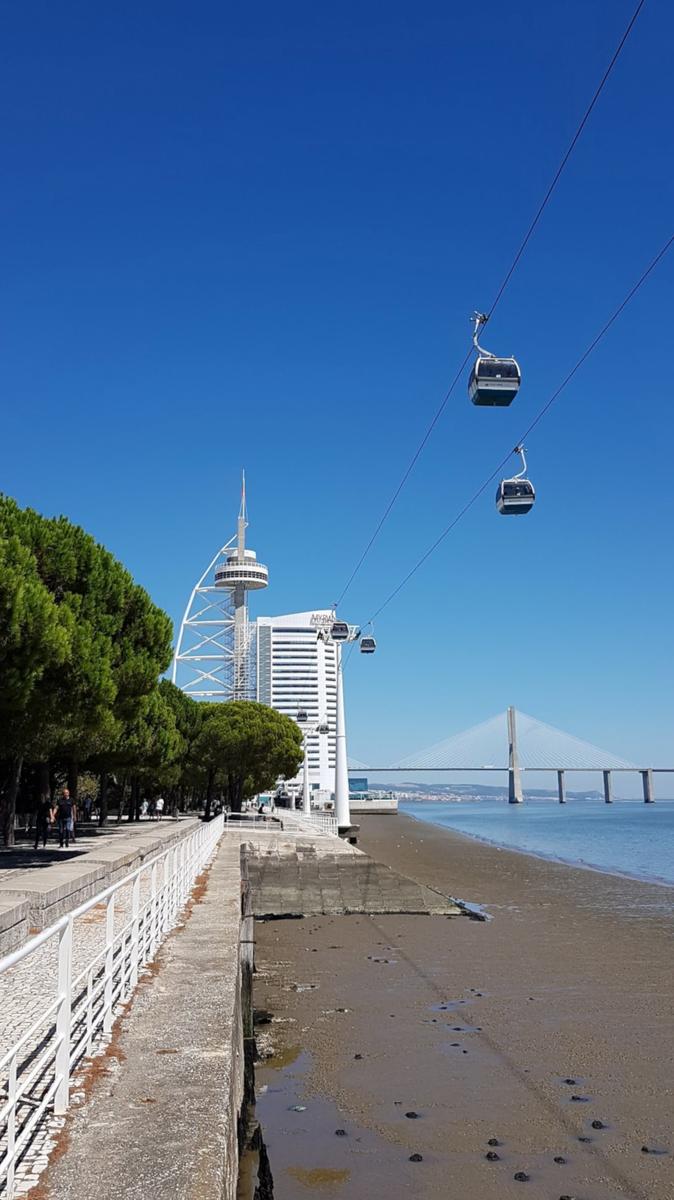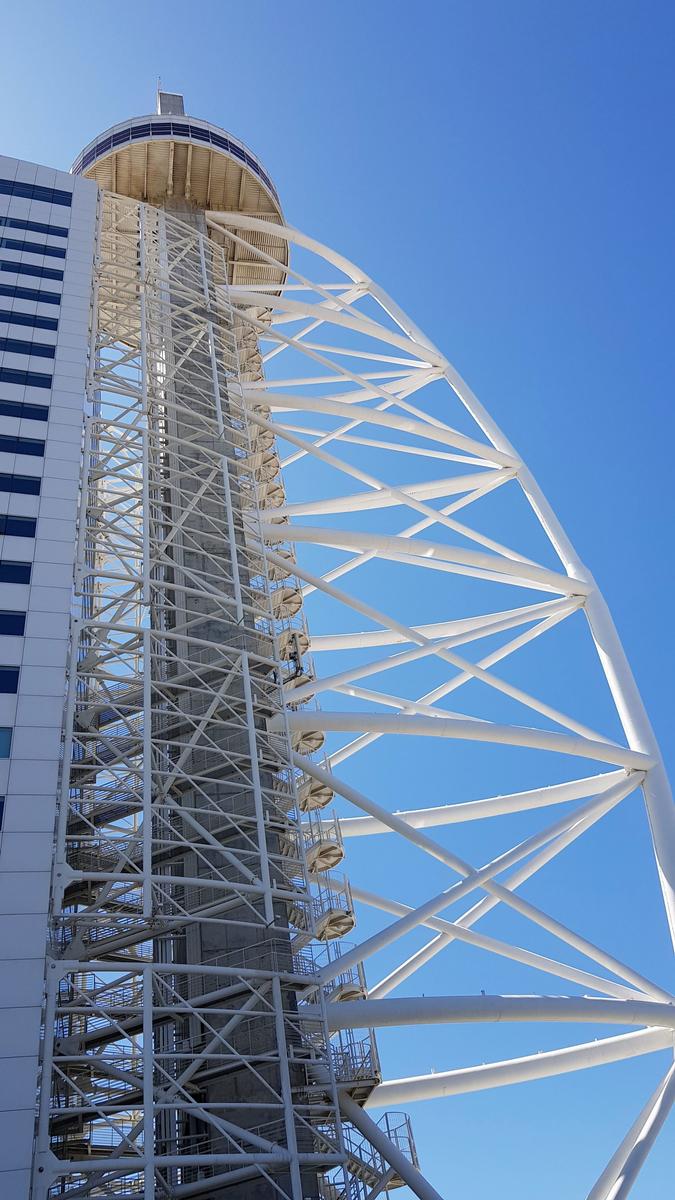 Only guests of the hotel within the tower are permitted access to the tower so you can only admire it from outside. If you do decide to walk to the bridge, you will pass right by the Vasco da Gama Tower.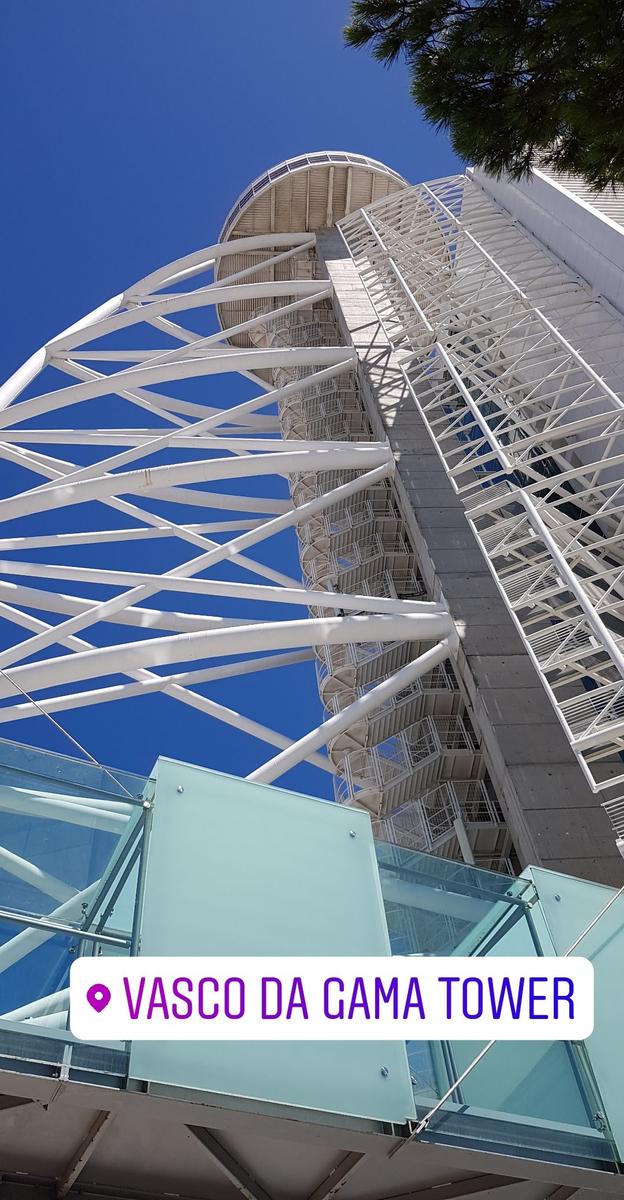 ---
3. Take a Ride in the Teleférico.
Yes, Parque das Nações has it's very own Teleférico (gondola/cable car) which offers you the opportunity to see this section of the Tagus waterfront and all its features from a new elevated perspective.
This activity seemed to be really popular with families and we think it is a great way of seeing the area and reduces the amount of walking required to see everything.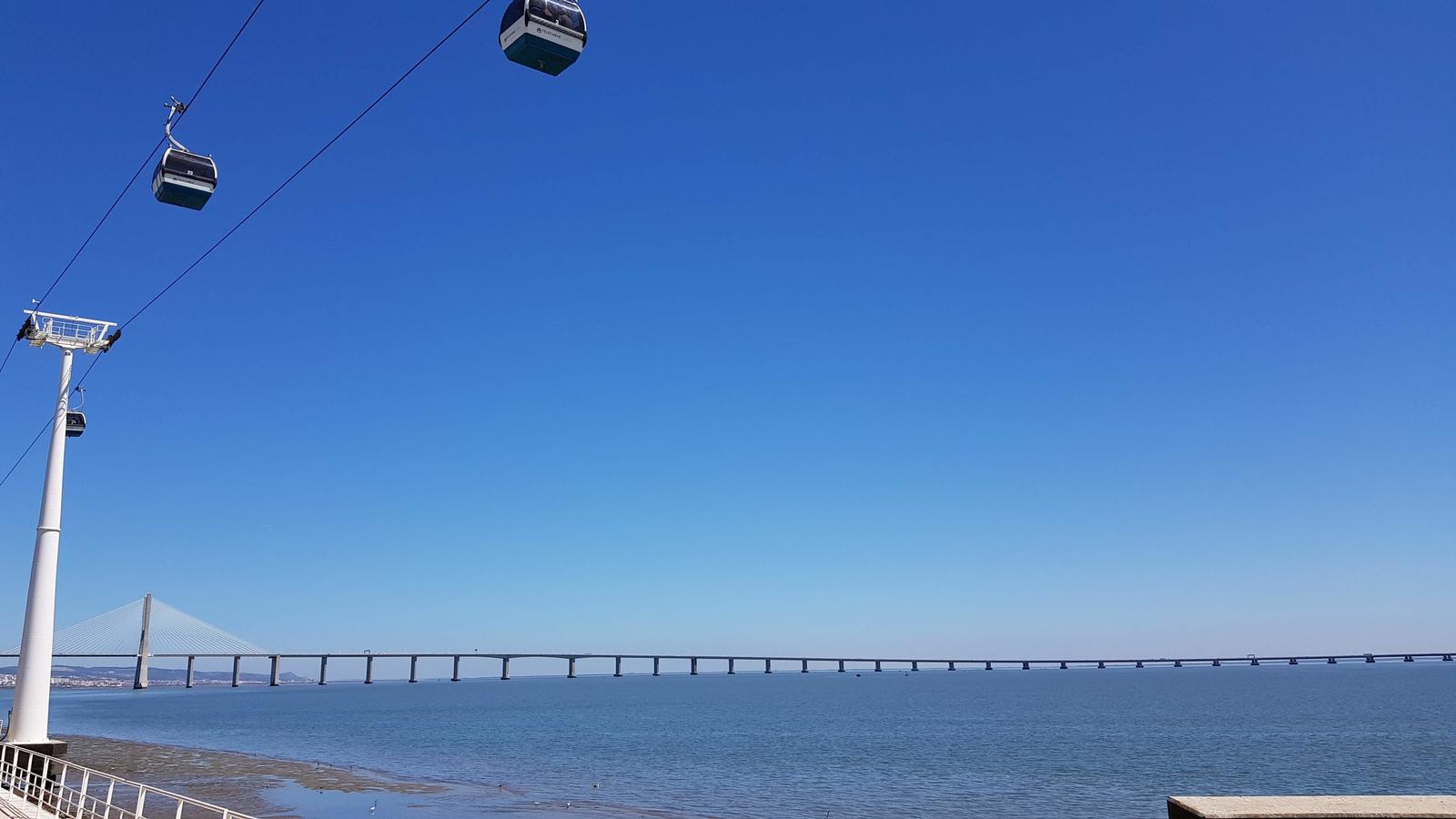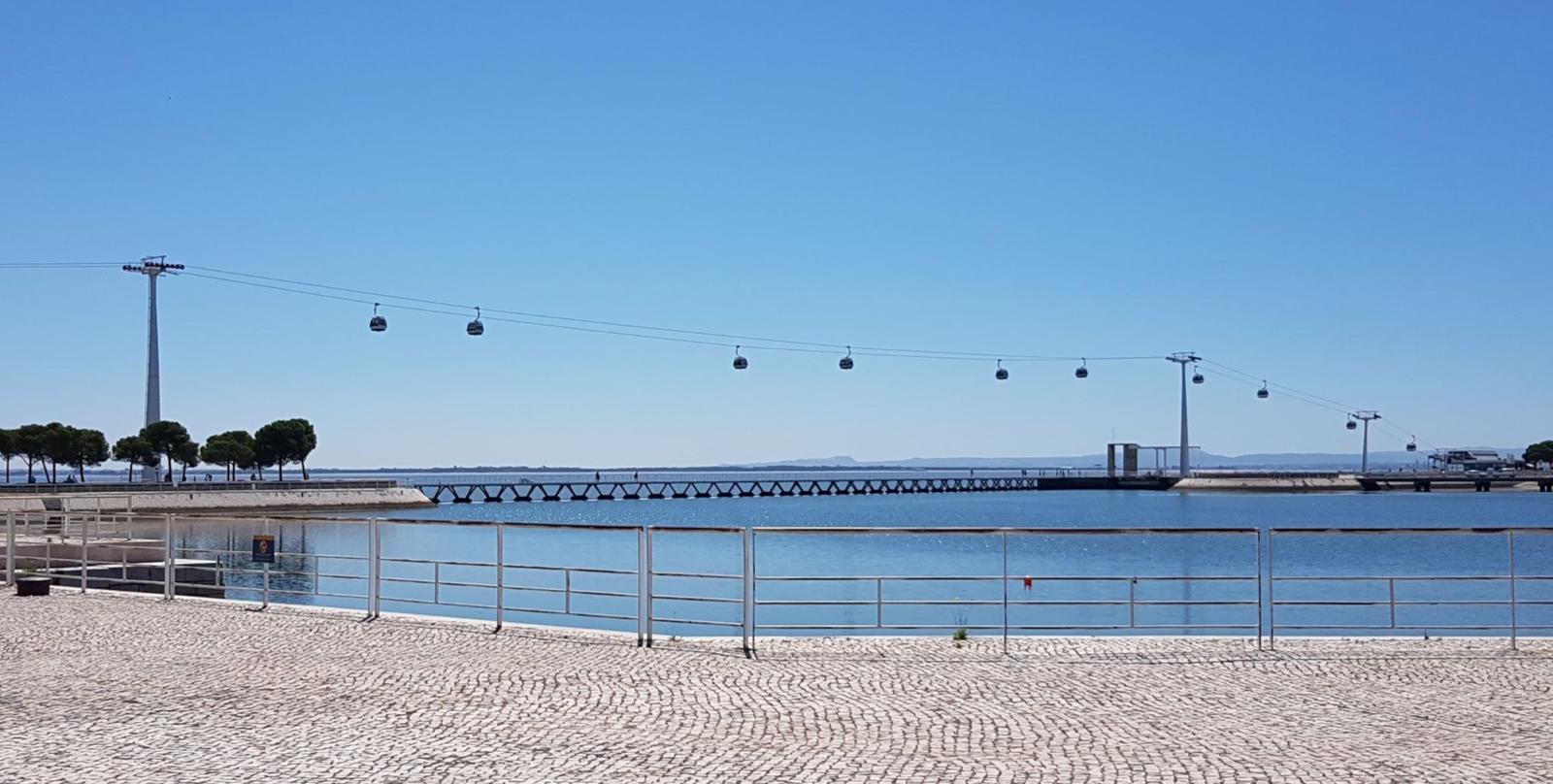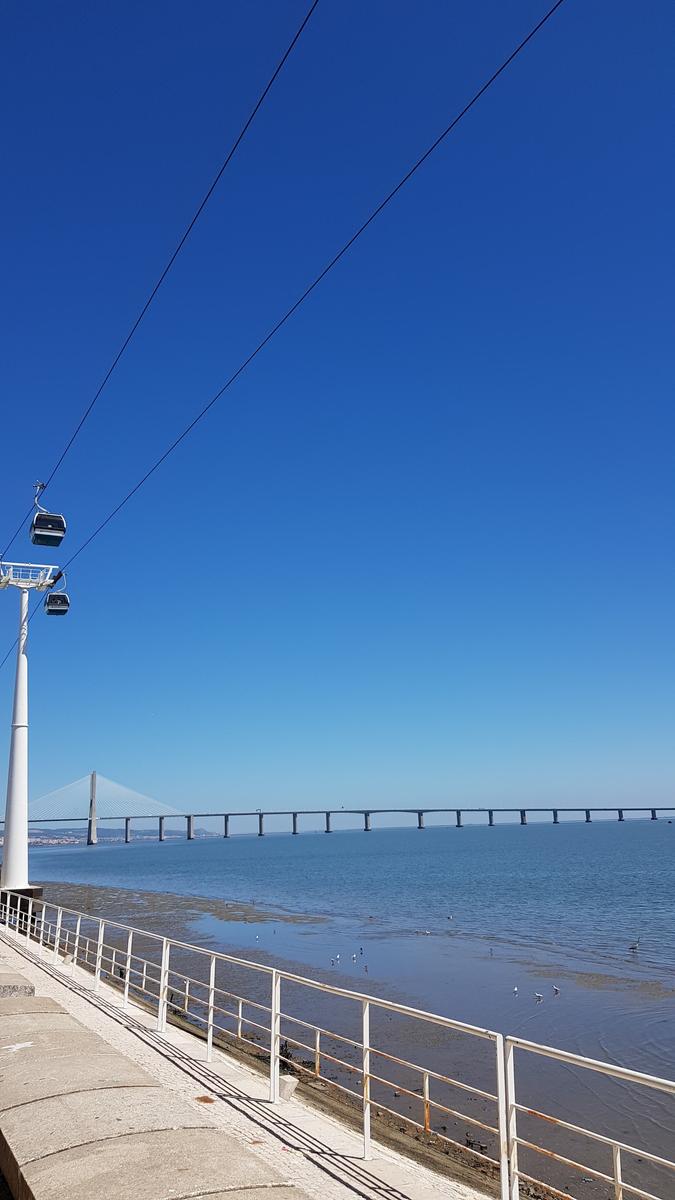 You can purchase one way or round trip tickets and children under 3 years travel for free. For more information on prices see here.
---
4. Spot Some Art!
There are a number of noteworthy urban art pieces and statues in Parque das Nações. You will find many of these in the area outside the Centro Vasco da Gama shopping centre (the river side).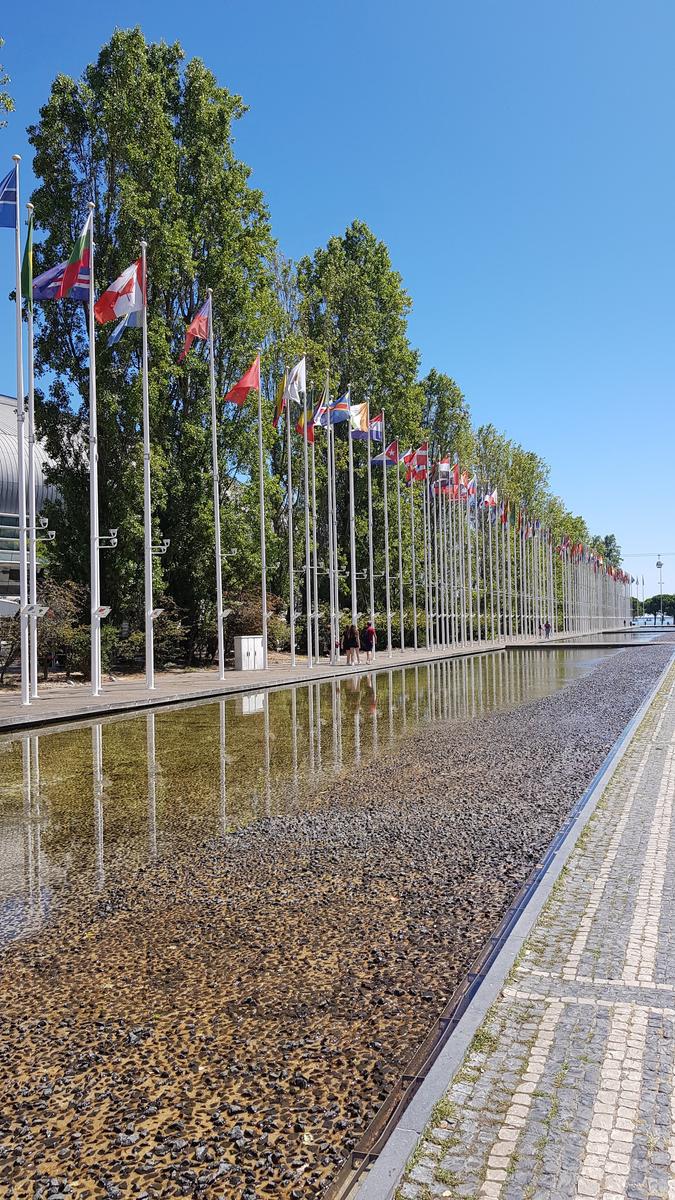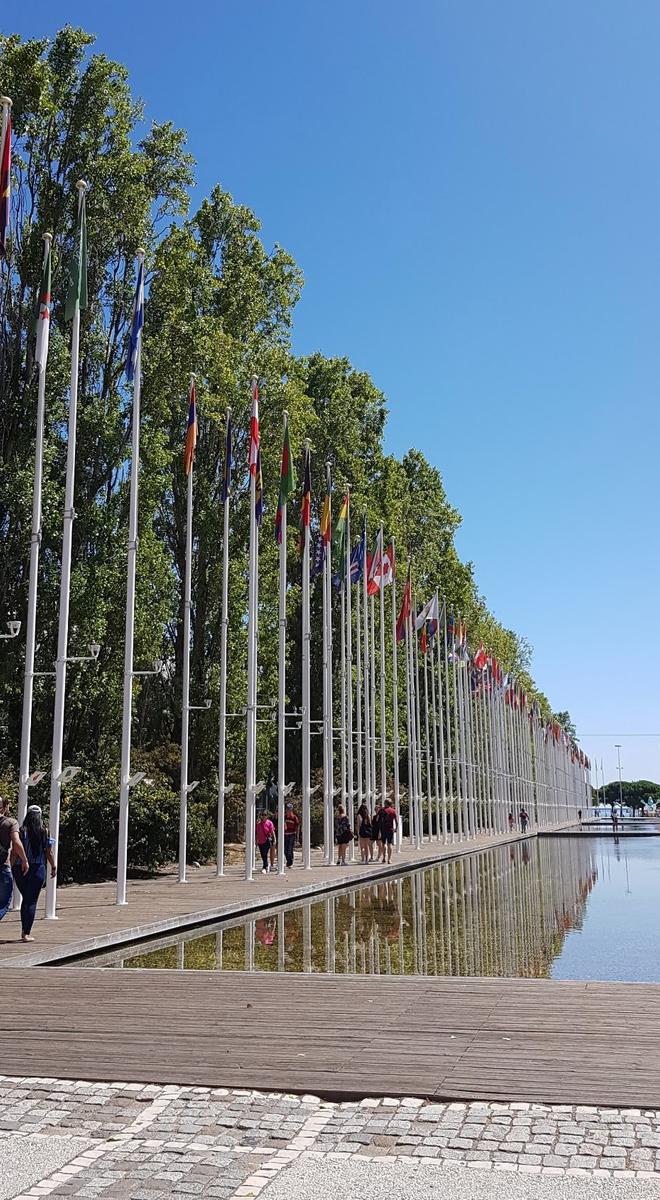 ---
Firstly there is the Estátua do Homem-Sol (Alameda dos Oceanos 10611A, 1990-203 Lisboa, Portugal) by Portuguese artist Jorge Vieira. This gigantic 15 tonne metal sculpture "Sun-Man/Sol-Man" was inspired by the Sun.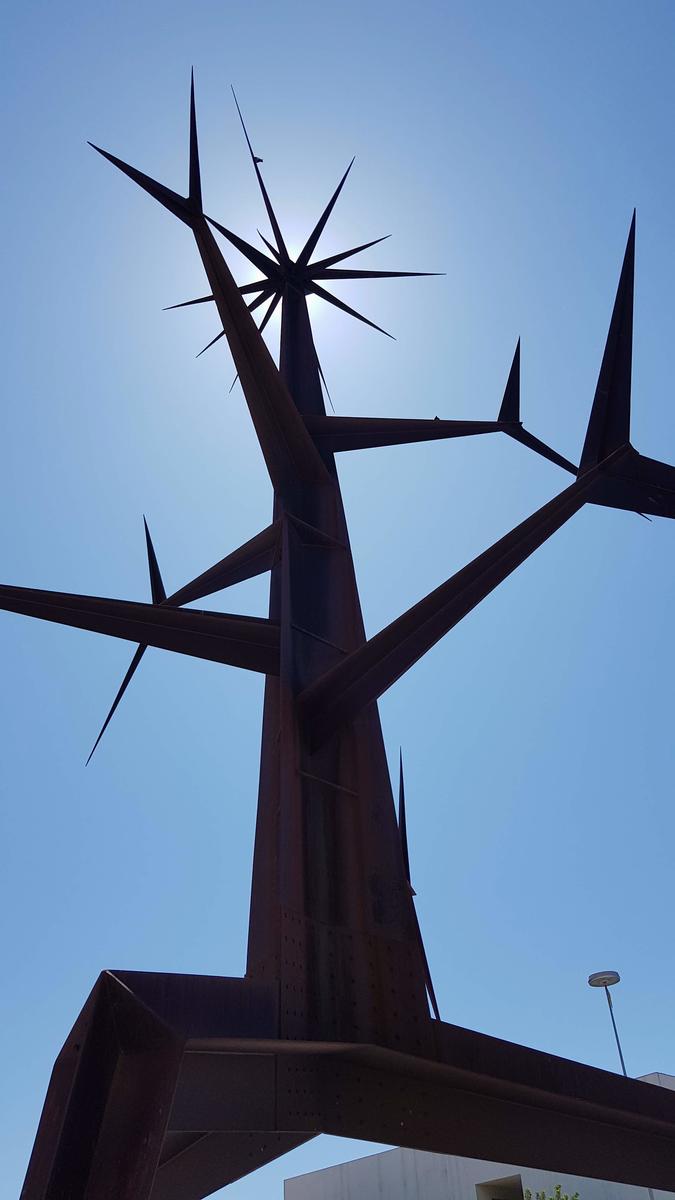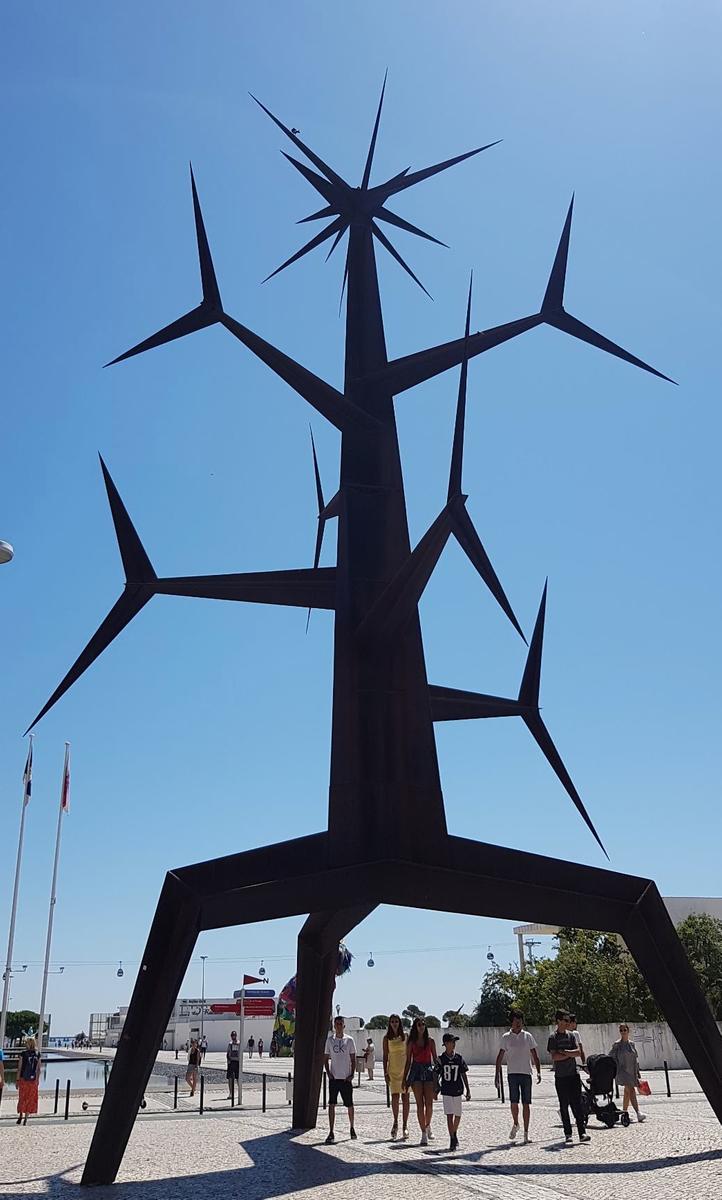 ---
Close by you will see the eye catching multicoloured Lince Ibérico - Bordalo II Statue (Rossio dos Olivais, 1990-221 Lisboa, Portugal). This Iberian Lynx statue was made using rubbish. If you read our blog Our Guide to Lisbon's LX Factory you will recognise the artists name, as Bordalo II also has artwork displayed in the LX Factory (and in other locations throughout Lisbon).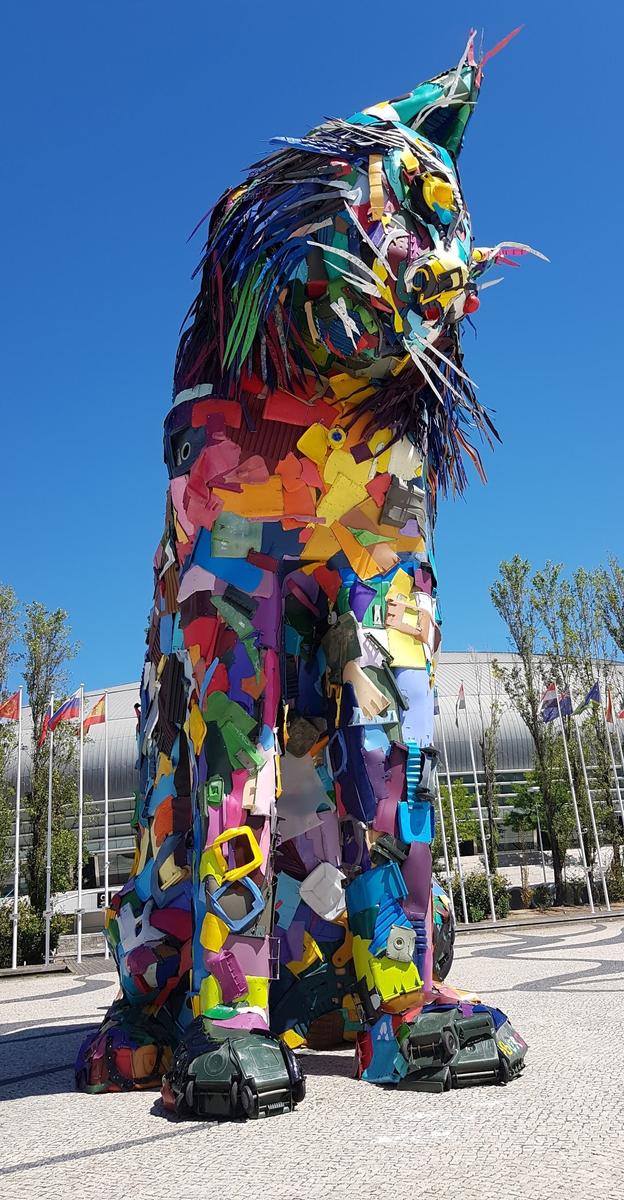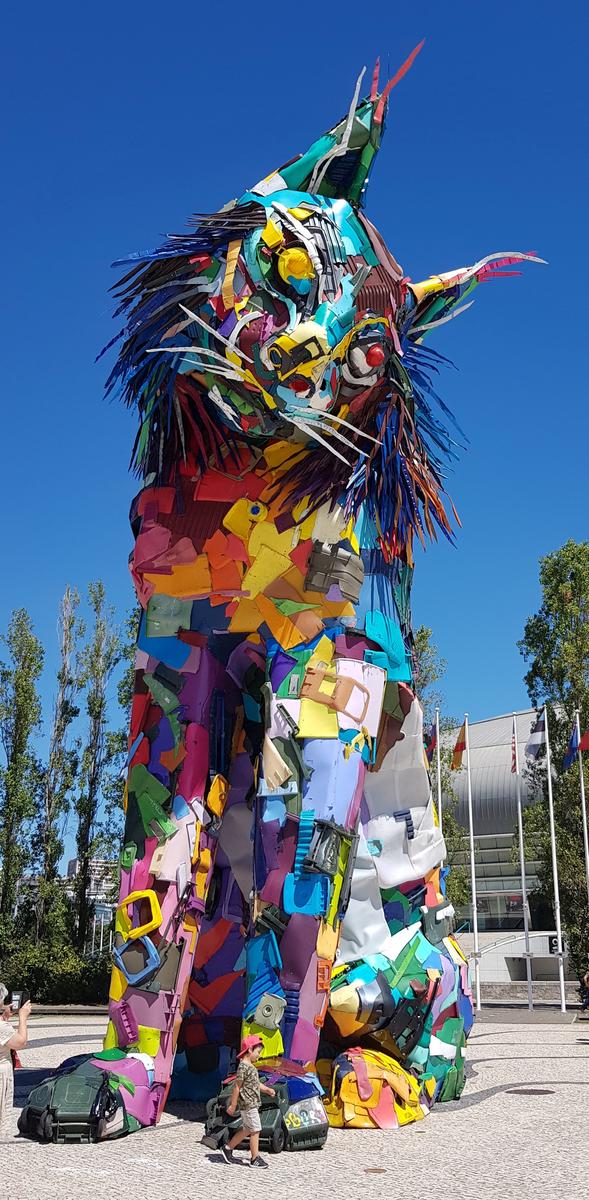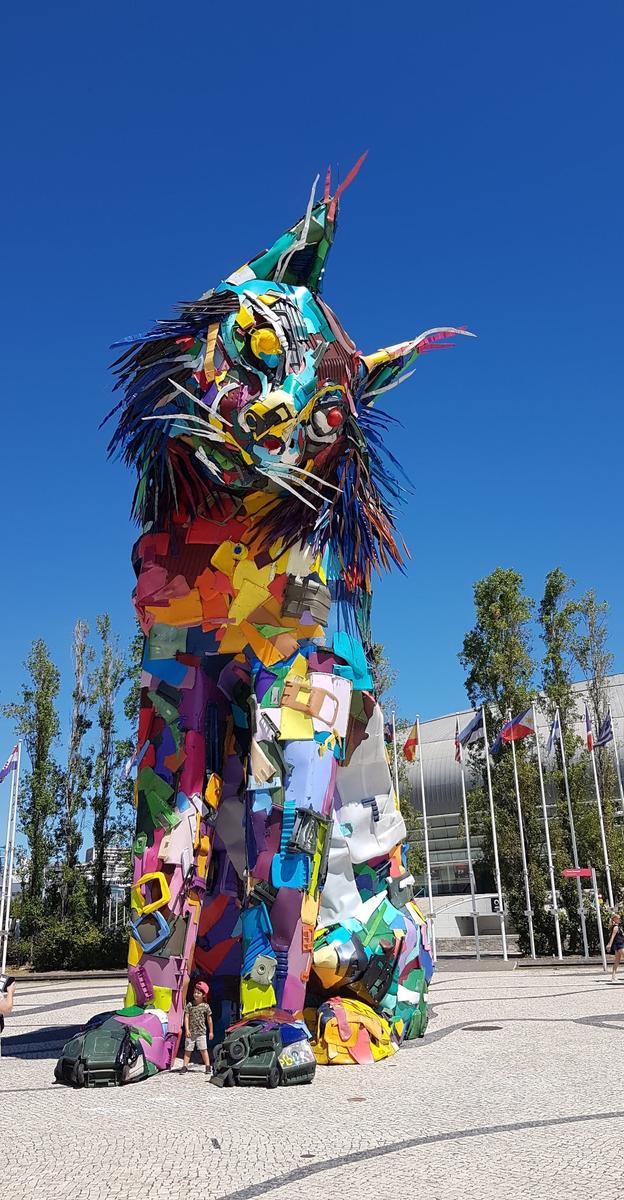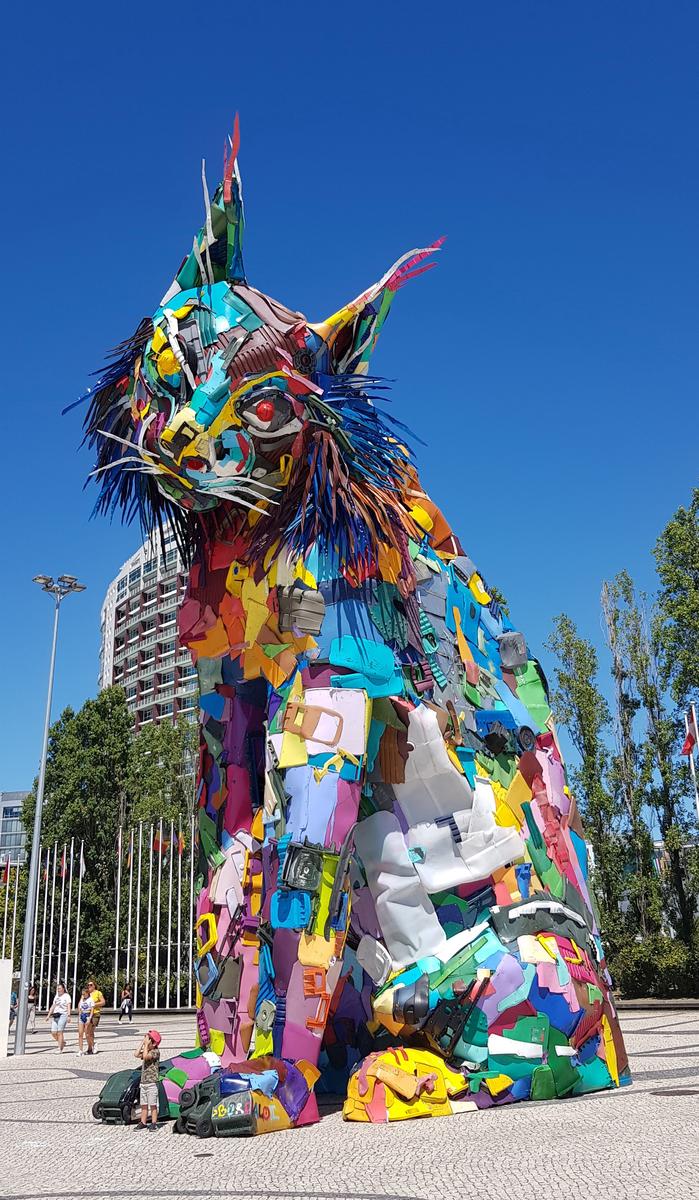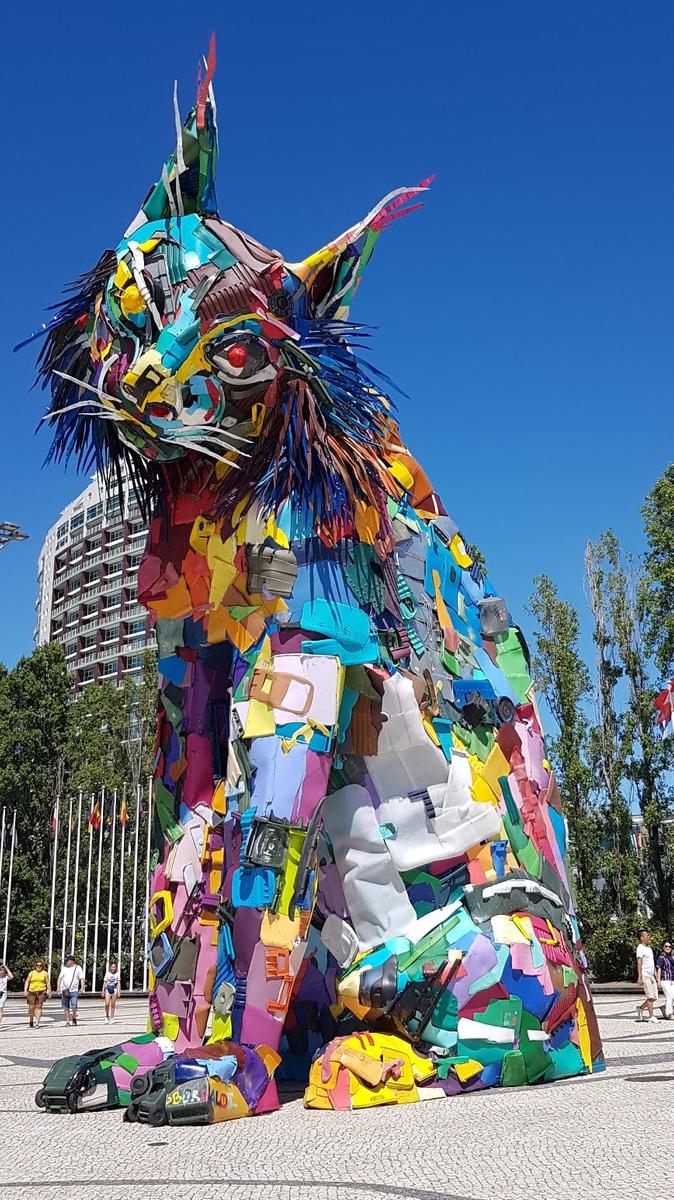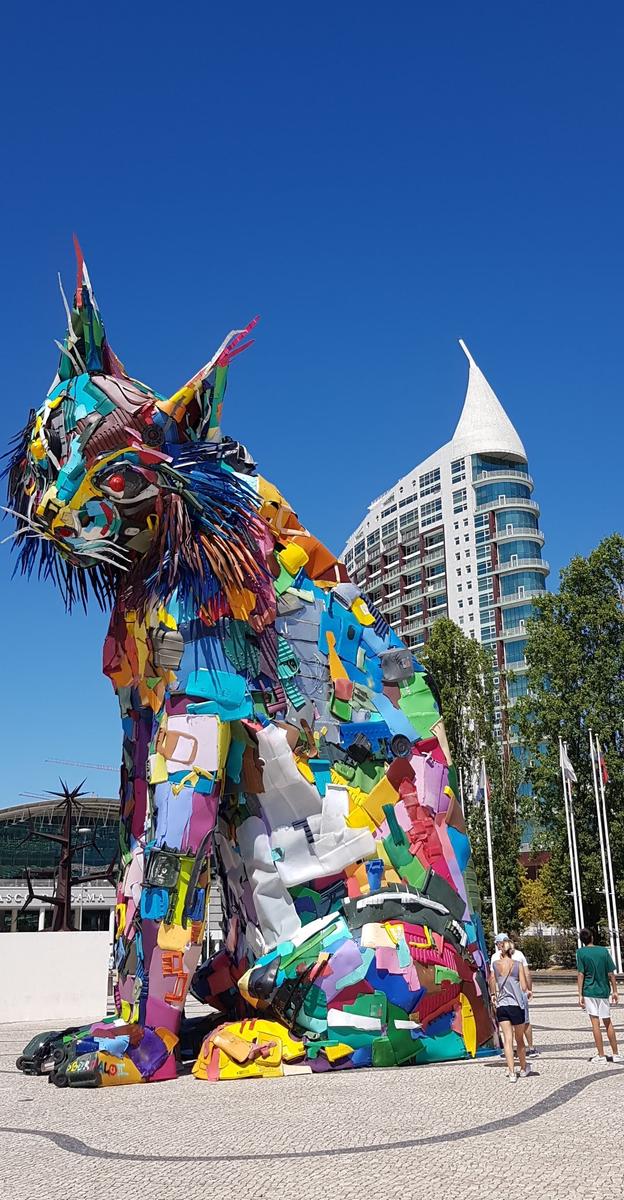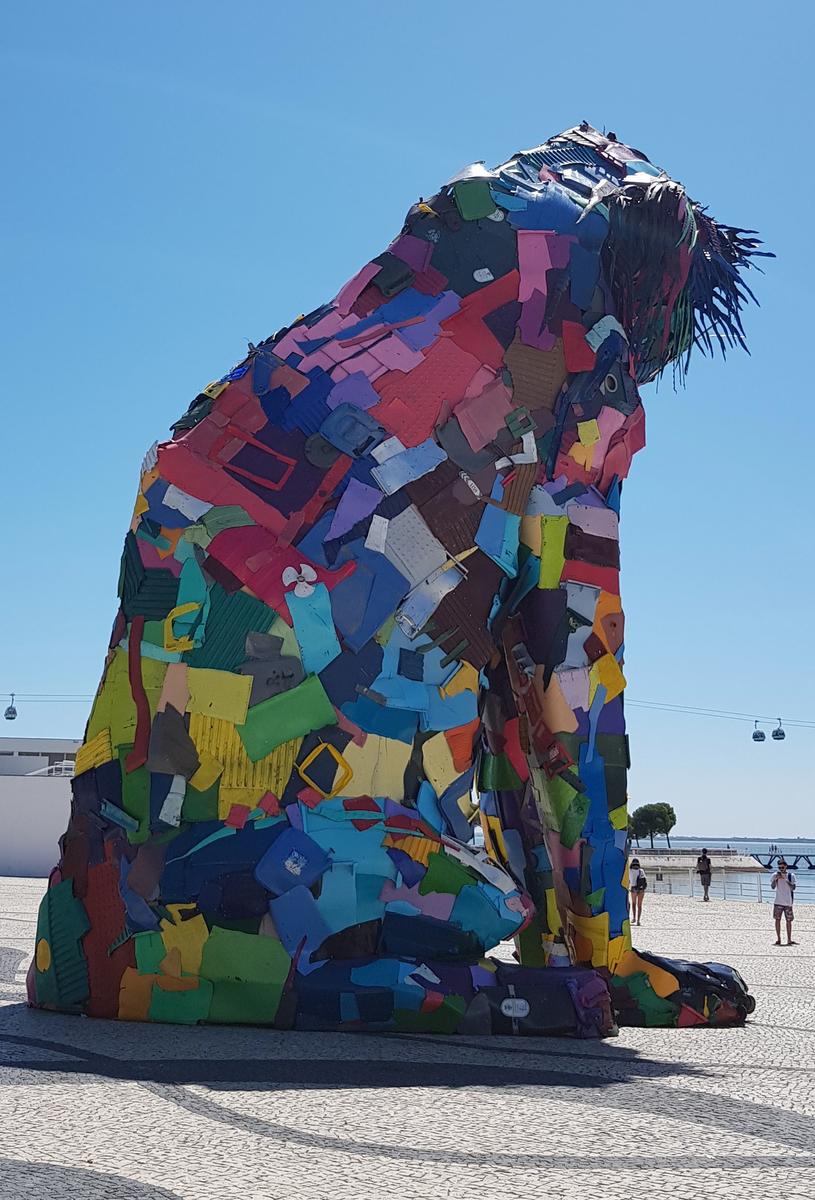 ---
Not far from the Iberian Lynx Statue is Rhizome II (1998) by British sculptor Antony Gormley.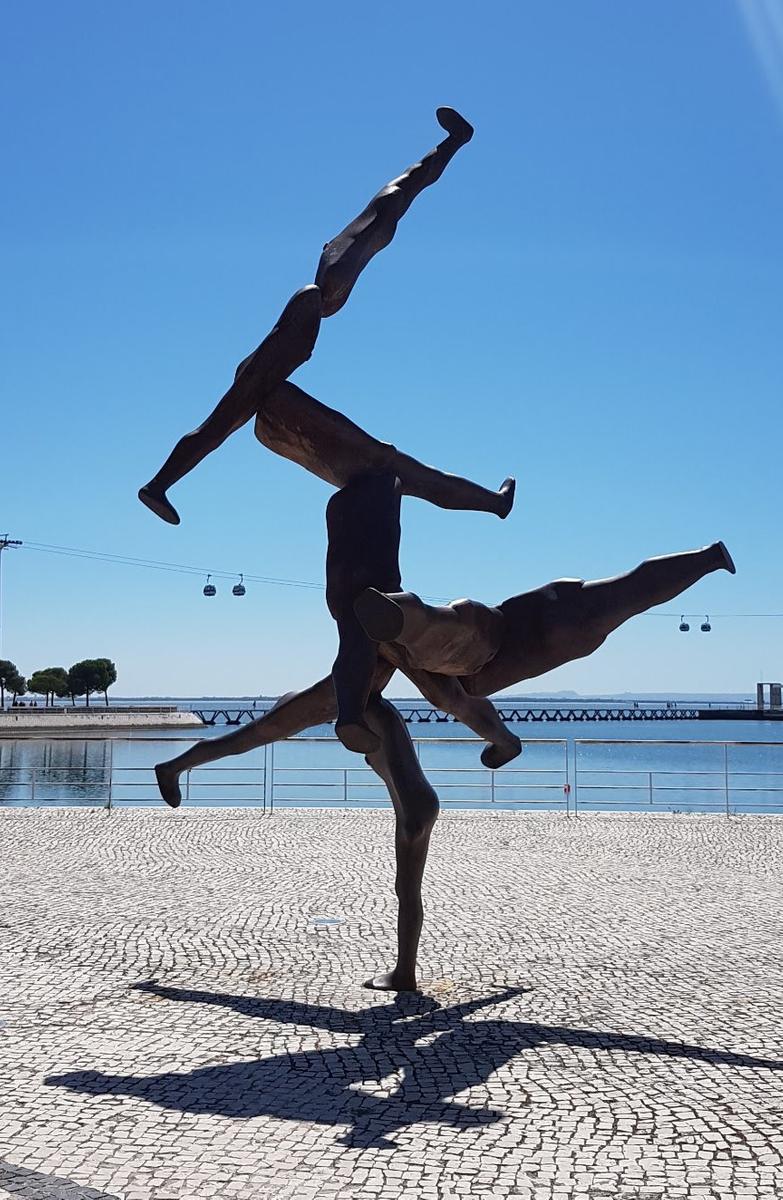 ---
Further along the waterfront towards the tower but not far from the shopping centre you can see the Lago das Tágides stone carvings. These marble stone sculptures were created by João Cutileiro in 1998.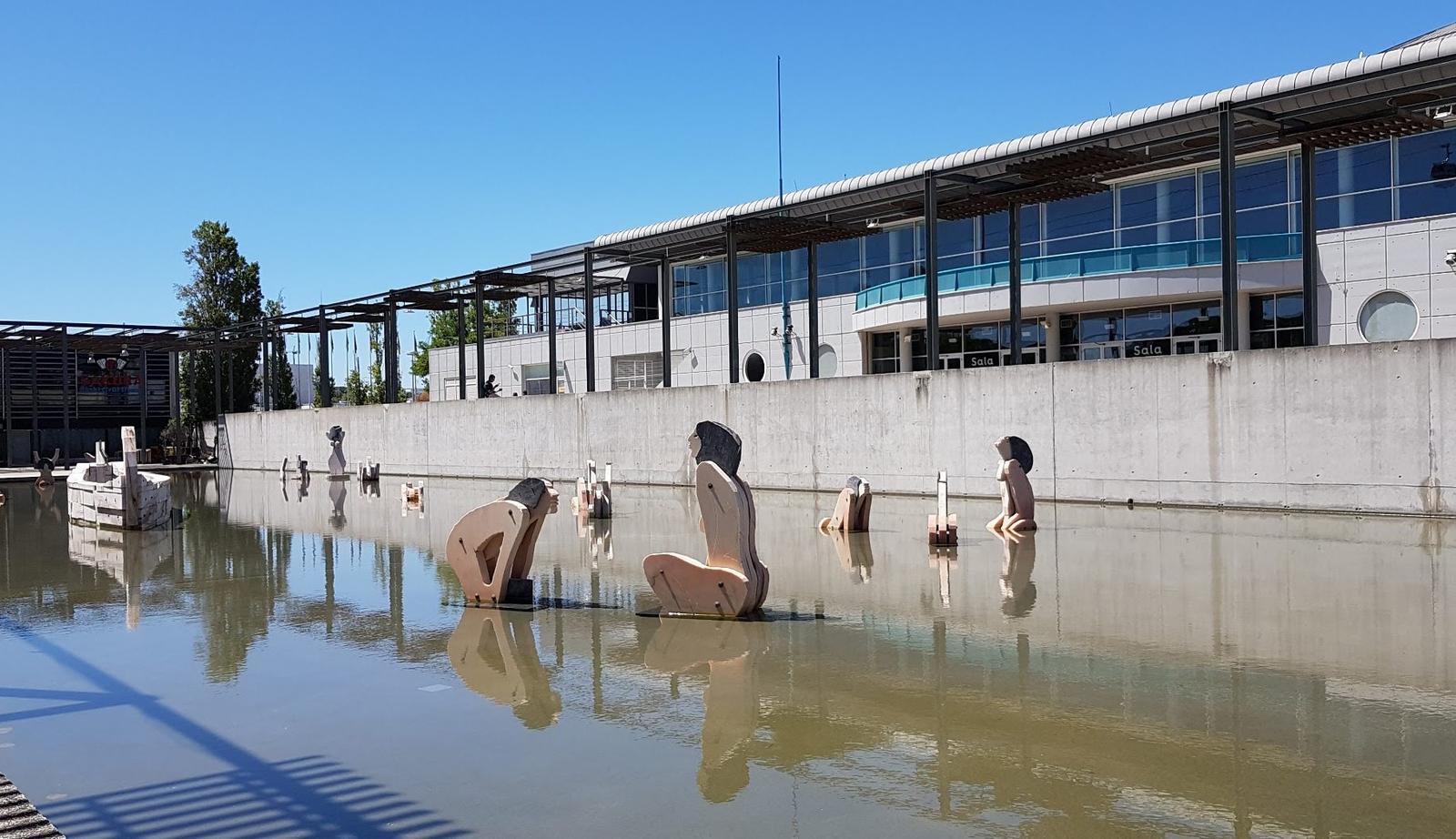 "We find here represented a falua, a traditional Tagus boat, and female figures that evoke the Tagus, mythical Camonian figures."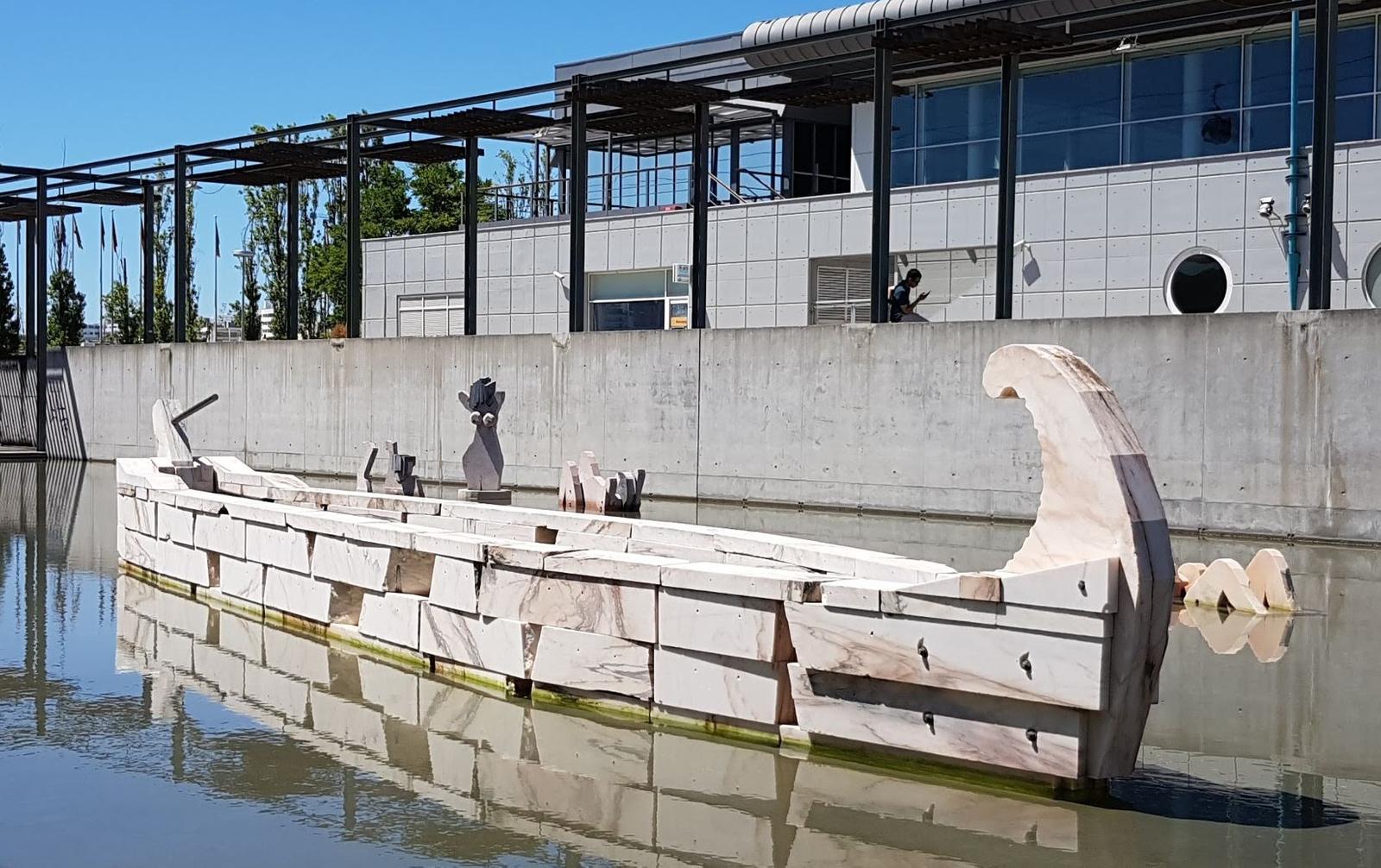 ---
While not strictly artworks, the water volcanos along the street Alameda dos Oceanos are really pretty and so I am including them. In the background you can see Casino Lisboa, more about this later!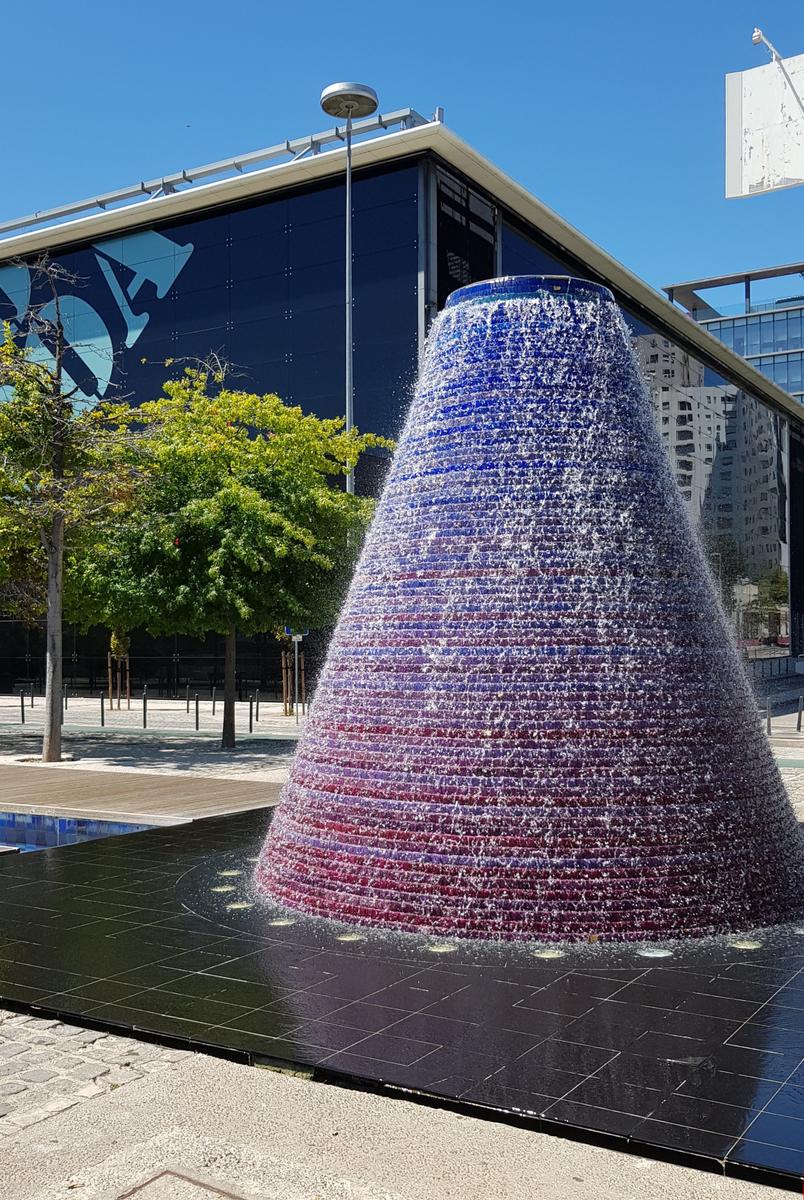 ---
5. Enjoy a Drink/Food Overlooking the Marina.
There are some lovely bars and restaurants along the waterfront overlooking the Marina. When it is sunny they are the perfect place to relax and unwind. An added bonus is that food and drink in the Parque das Nações area tends to be cheaper than in the more central areas of Lisbon City.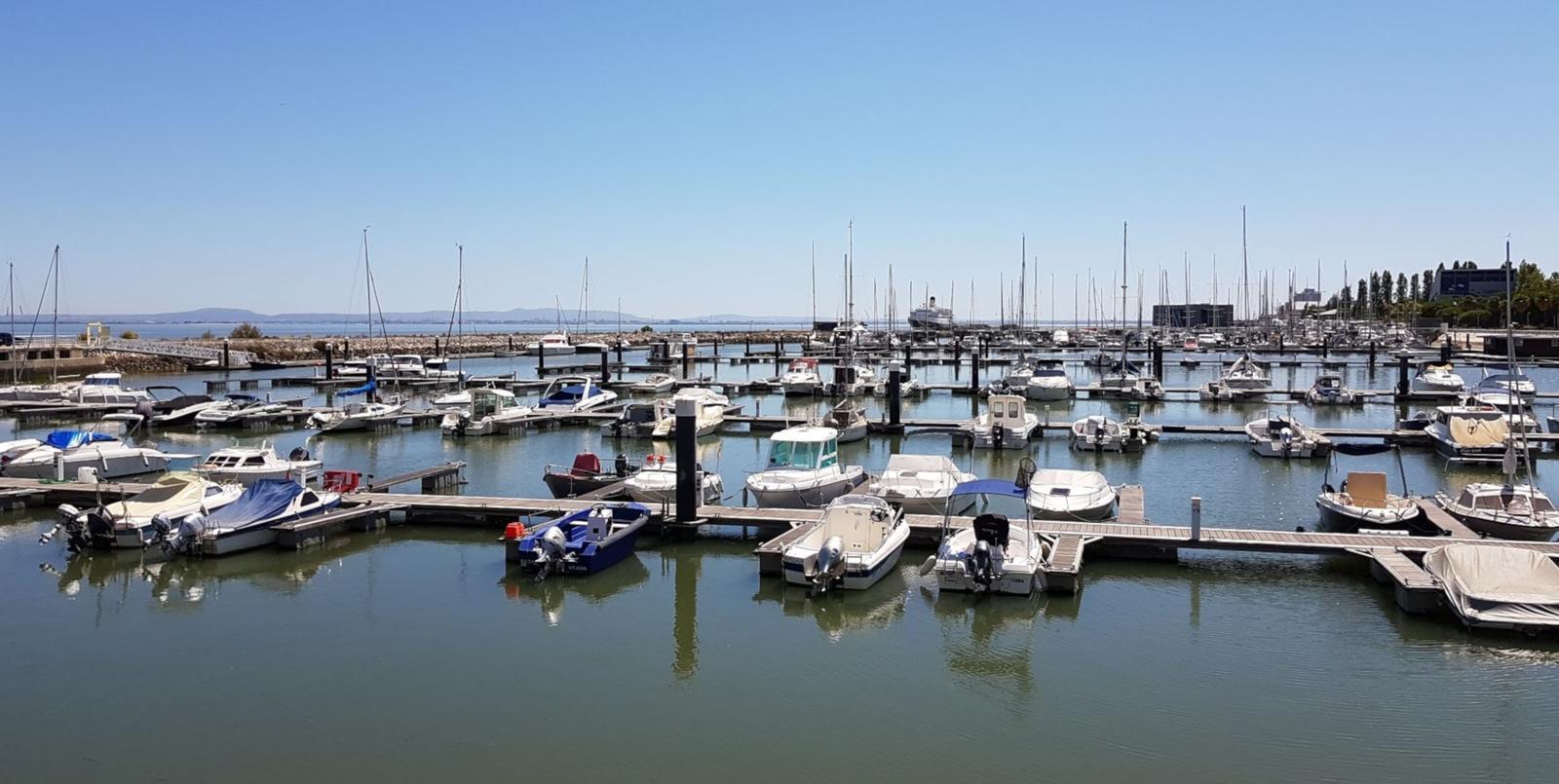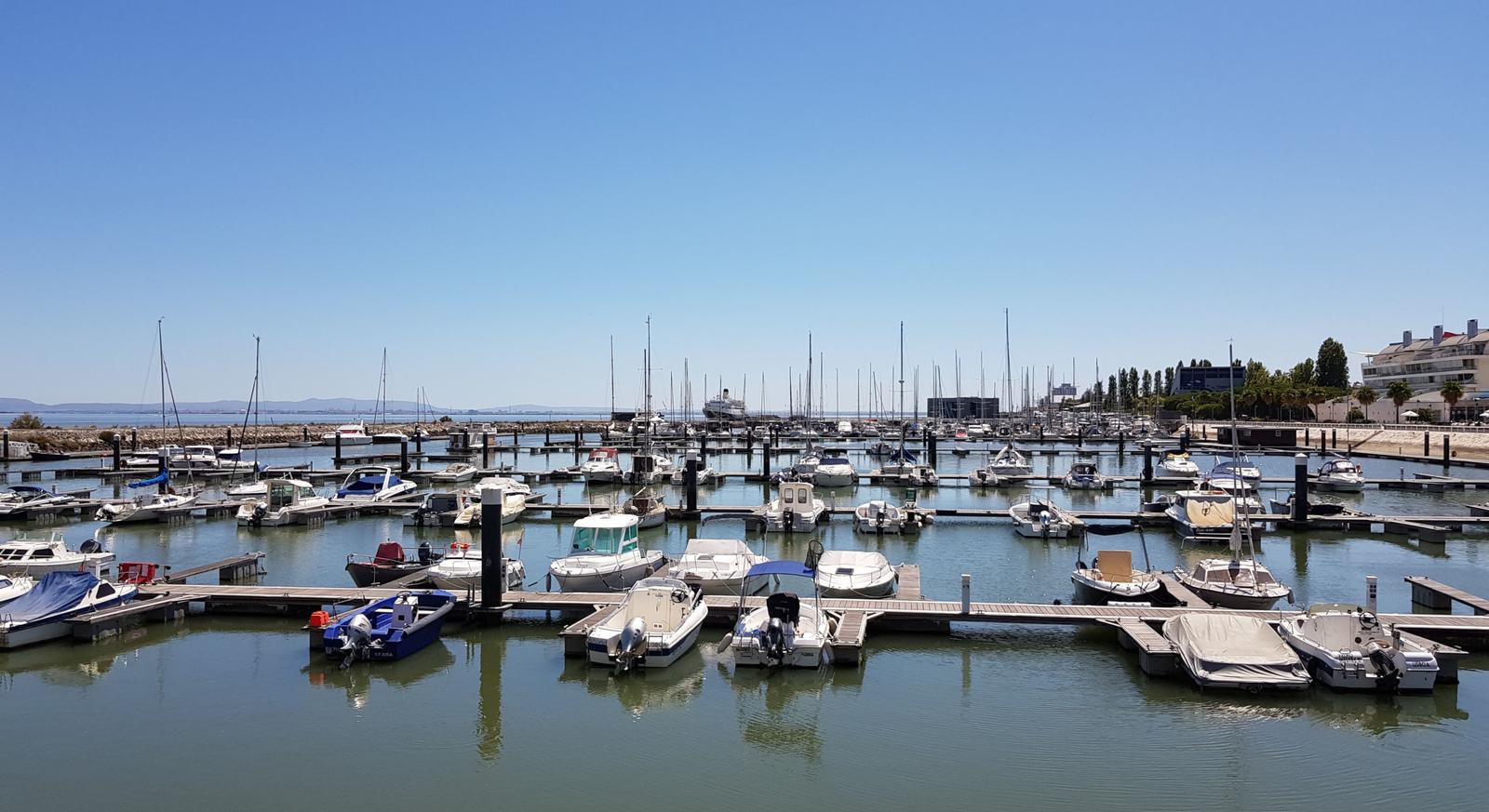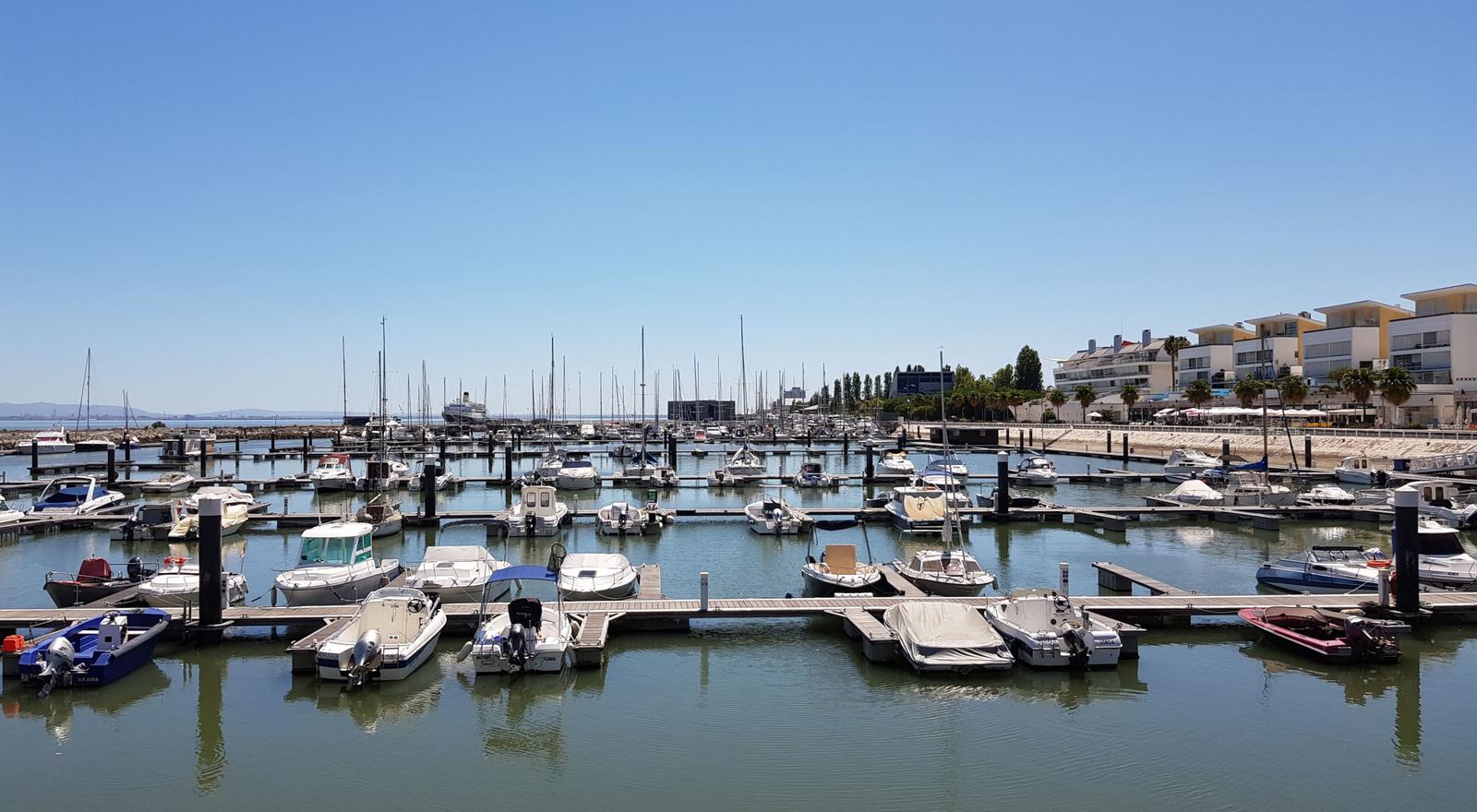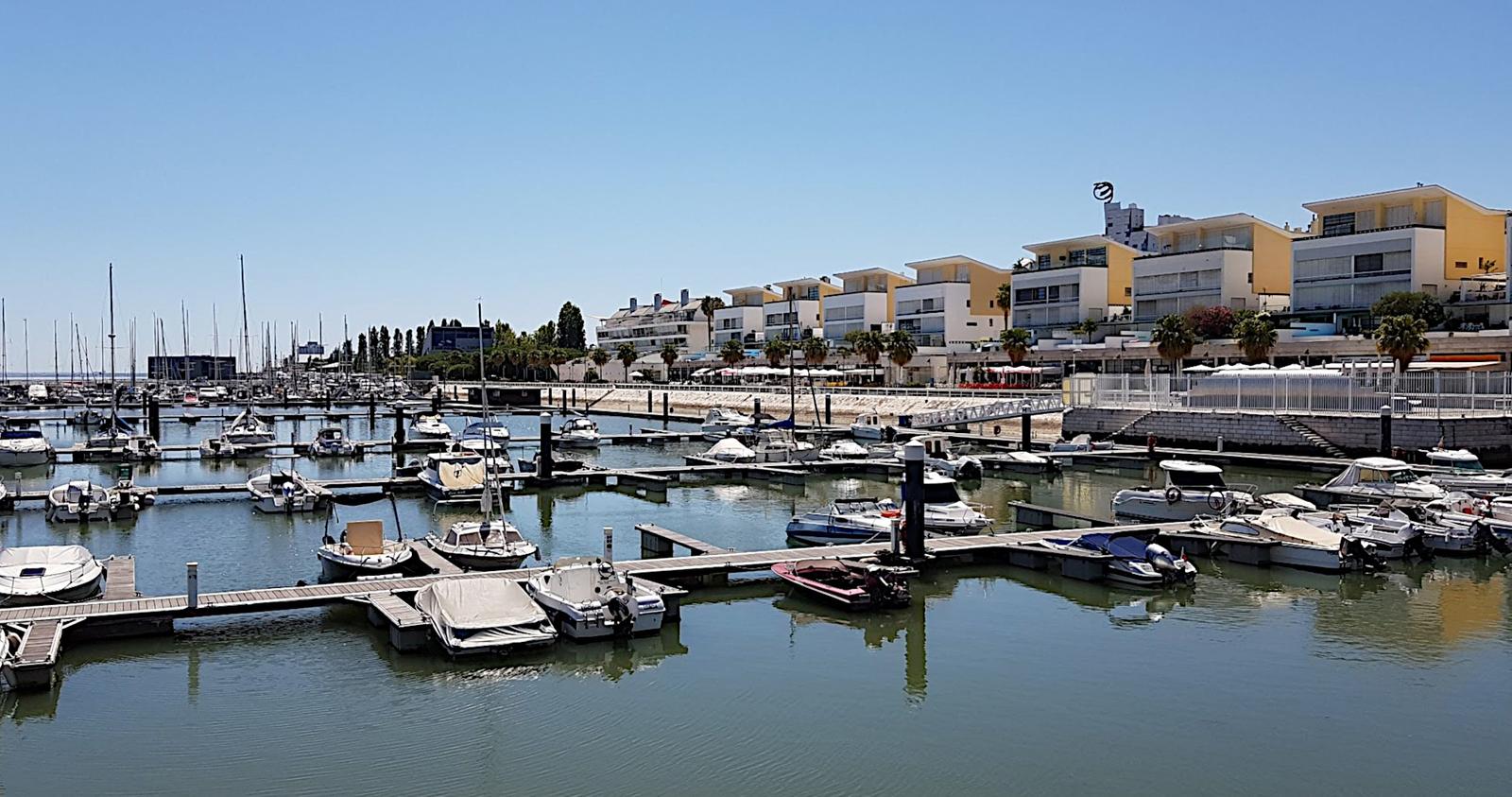 ---
You will get great coffee and delicious food at the bicycle cafe Grupeto Bike Shop Café (Lote 2, 01.01A PT, Passeio Adamastor Loja 11, 1990-008 Lisboa). Really reasonably priced too!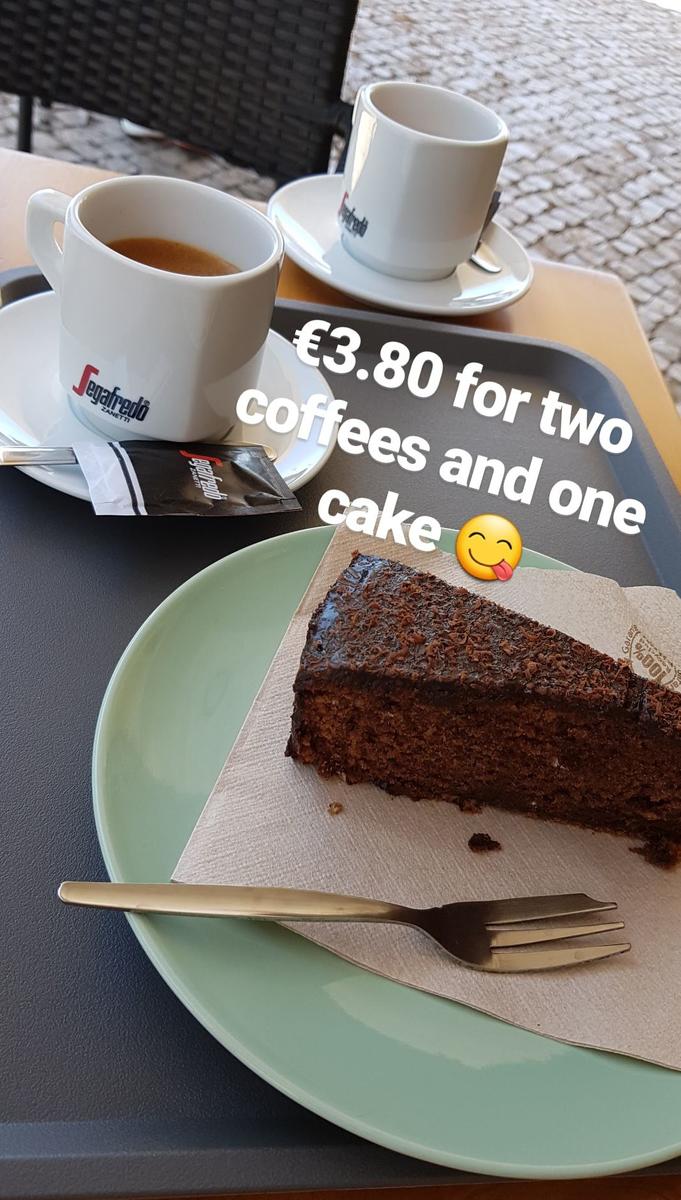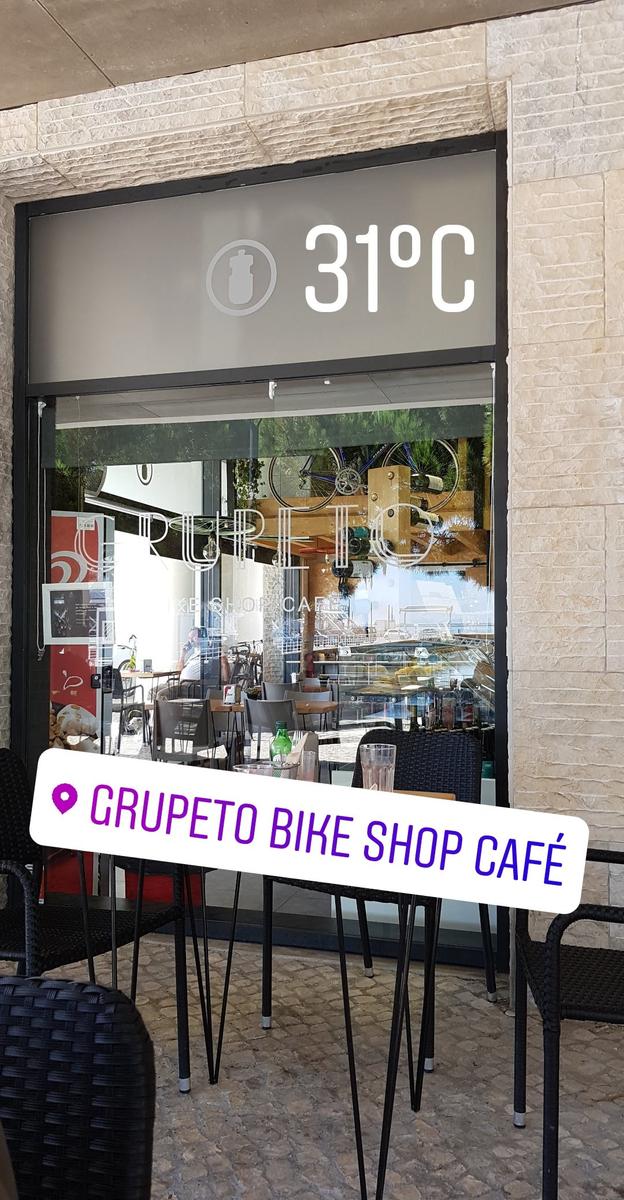 ---
Relax in the comfortable outdoor seating at Prego LX Restaurant & Bar while enjoying the view and sipping something alcoholic from their extensive drinks menu.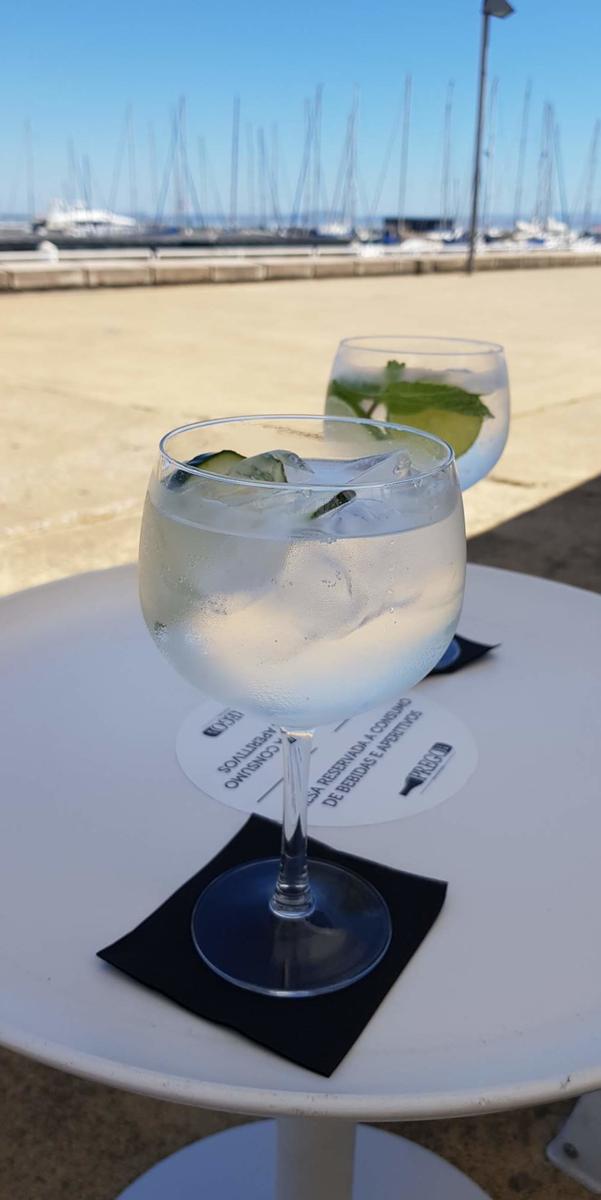 ---
6. Visit the Oceanario.
Oceanario is the largest indoor aquarium/oceanarium in Europe. If you are thinking of visiting during peak tourist season then buying your tickets online in advance will definitely save you time. The queue for tickets can be very long as this is a hugely popular activity not only for individuals on holiday but as a destination for school excursions. In fact, on September 18th 2019:
"… the Lisbon Oceanarium welcomed 25 million visitors and marked this moment with recognition for all those who, over 21 years, have contributed to the conservation of the ocean through their visit."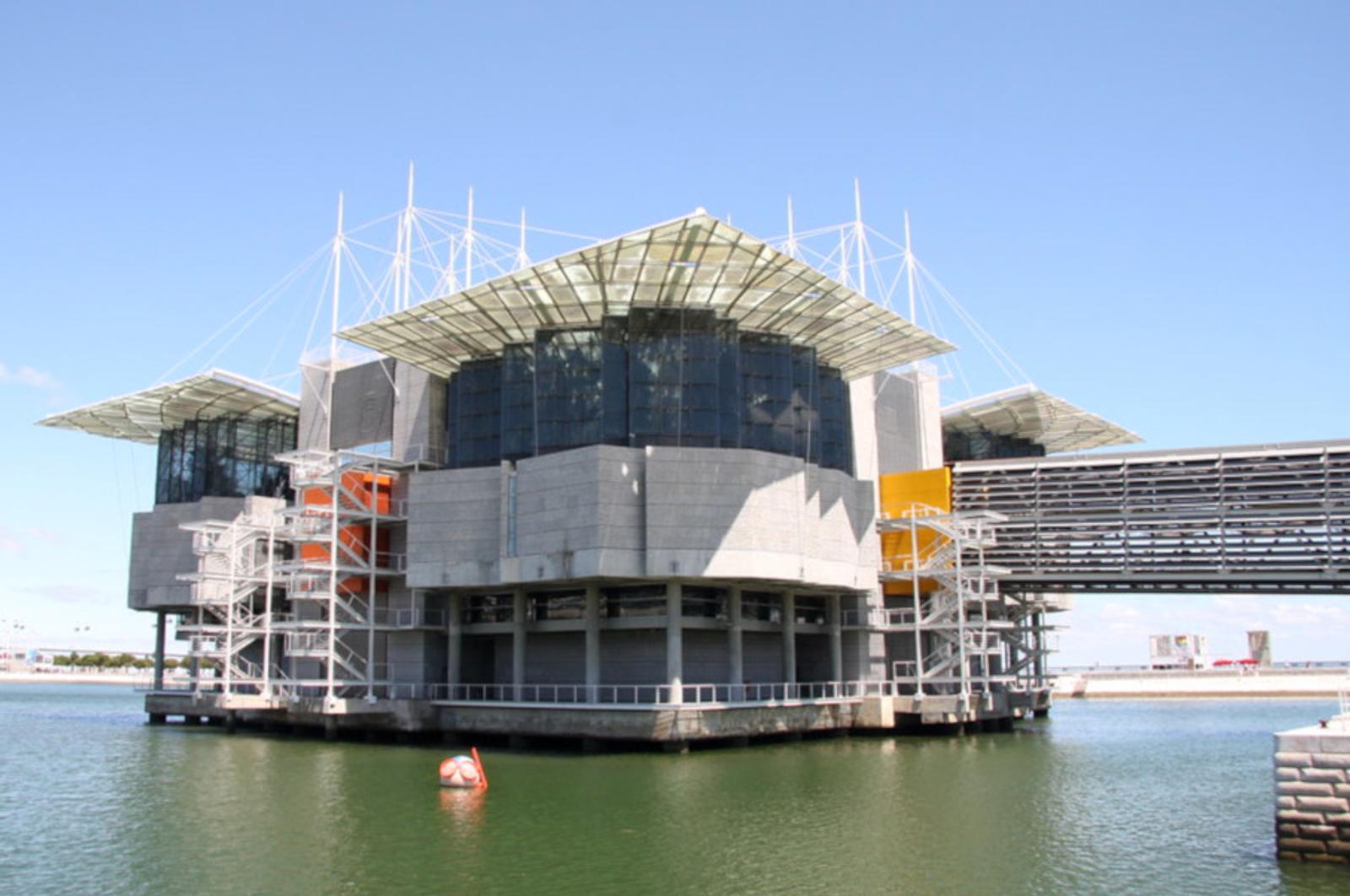 It's main feature is a large central aquarium that holds a massive 5 million litres of salt water - pretty impressive!
---
7. Learn Something New at the Pavilion of Knowledge.
Right next to the Oceanario is the Pavilhão do Conhecimento (Pavilion of Knowledge), another popular school excursion destination. Essentially it is a science museum inside a dramatic contemporary concrete building designed by Portuguese architect Álvaro Siza Vieira.
According to culturetrip.com the pavilion was designed to look like a curved sheet of paper sitting between two pillars.
"The awe-inspiring roof, which architect lovers should take the chance to stand underneath when visiting, weighs an incredible 1,400 tonnes."
So, even if you never go inside, check out this incredible piece of architecture from the outside.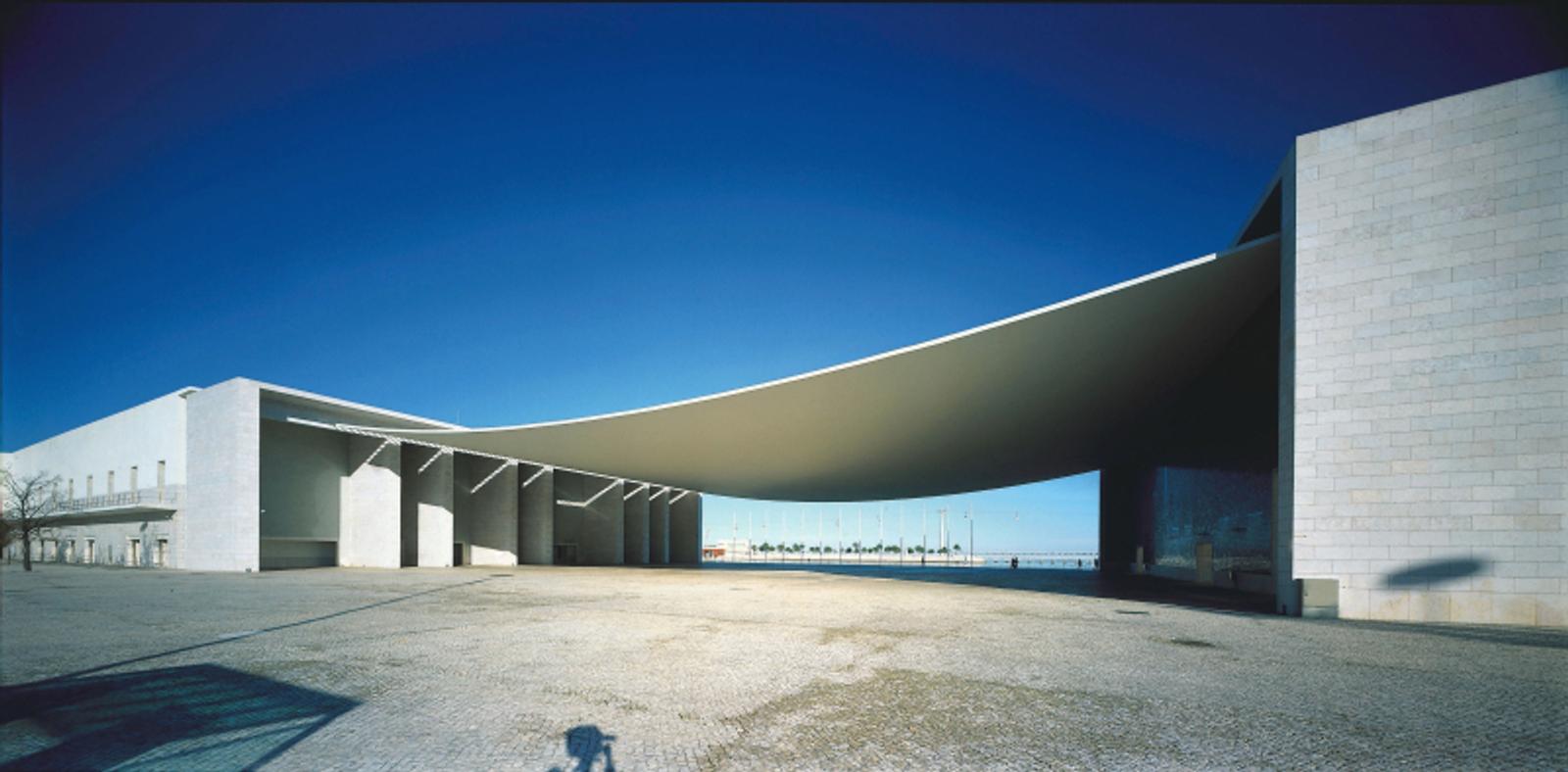 Credit to azores-adventures.com for the above image.
---
8. Go Shopping in the massive Centro Vasco da Gama.
Not only does the Centro Vasco da Gama have over 100 shops, it also has 33 restaurants, 6 movie theatres and a health club so there is certainly something for everyone. There are outdoor terraces with lovely Tagus River views too, the perfect place to relax and take a break from sight-seeing.
---
9. Try Your Luck in the Casino Lisboa.
Believe it or not, Parque das Nações is home to a very large Casino. The Casino Lisboa opened in 2006. Within the Casino there are four bars, three restaurants and a theatre that hosts lots of live music and shows (such as circus performances) weekly. You can find a full programme of events here. Of course gambling is the main focus so if you are feeling lucky and a have a pocket full of cash you know where to go!
---
10. See a Concert in the Altice Arena.
OK, so this one would probably require a little bit of pre-planning but the Altice Arena should be on your radar when you are planning your visit to Lisbon. The Altice Areana hosts some of the biggest names in the music and entertainment industry.
This multi-purpose arena was built in 1998 and a capacity of 20,000 (people) making it one of the largest indoor arenas in Europe and the largest in Portugal.
Regino Cruz was a co-designer of this building in association with Skidmore, Owings & Merril (SOM). Skidmore, Owings & Merril (SOM) and Regino Cruz were also among the team of architects that designed the aforementioned Vasco da Gama Tower.
We will be attending a concert in the Altice Arena in December so we are looking forward to seeing what it is like for ourselves.
---
11. Hop on a Bike or Scooter and Explore on Two Wheels!
While we explored Parque das Nações on foot there is a great tarmac bike lane along the quiet street Alameda dos Oceanos and you can also cycle/scoot along by the waterfront where it is pedestrianised. I think the waterfront area is better suited to cycling as there are quite a lot of raised tiles and tree roots to contend with there!
---
Depending on how long you would like to have a bike for you can choose between using a GIRA bike (there are loads of GIRA stations in the area) or a JUMP bike (you will see them everywhere). Whichever you choose, you will need to download the relevant app onto your phone and set it up first.
JUMP bikes are instantly recognisable by their bright colour and are better suited to shorter time use periods as you pay by the minute. We have used these a number of times and they have a big basket on the front which is very handy.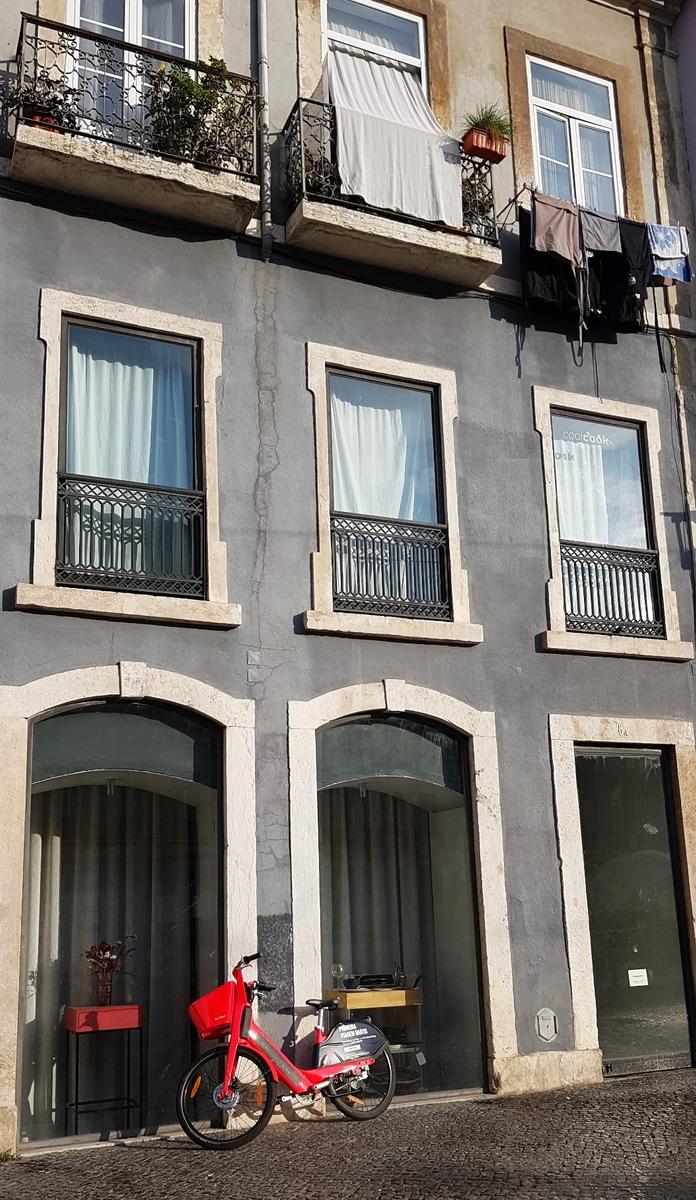 GIRA bikes offer e-bikes as well as normal non electrical bikes and the minimal hire time is 24hours for €10.

For private e-bike rental check out E-Bike Lovers at Passeio de Neptune lote 2.01.01.F, Loja 22, 1990-192 Lisboa, Portugal.

For regular (non e-bike) rental check out Grupeto Bike Shop Café lote 2, 01.01A PT, Passeio Adamastor Loja 11, 1990-008 Lisboa.
---
Electric scooters are as popular in the Parque das Nações as they are in the rest of Lisbon. As with the bikes, you will need to download the relevant app to use with the scooter you choose.
---
12. Go For a Run along the Waterfront.
The waterfront area of Parque das Nações is the perfect place for a run if you are so inclined. There will be lots to look at as you get your exercise fix and there will be plenty of other runners if you want some company.
---
That's A Wrap!
I hope you liked this article and found it helpful. If you want to read more about the architecture in Parque das Nações then check out this great article here.
For any vegetarian (or vegan) readers, we recommend having lunch at Ohana By Naz located at Alameda dos Oceanos 41F, 1990-203 Lisboa. They have a lovely outdoor area if the weather permits and if not, the interior is really clean and bright. We found the staff very friendly and helpful and the food was delicious.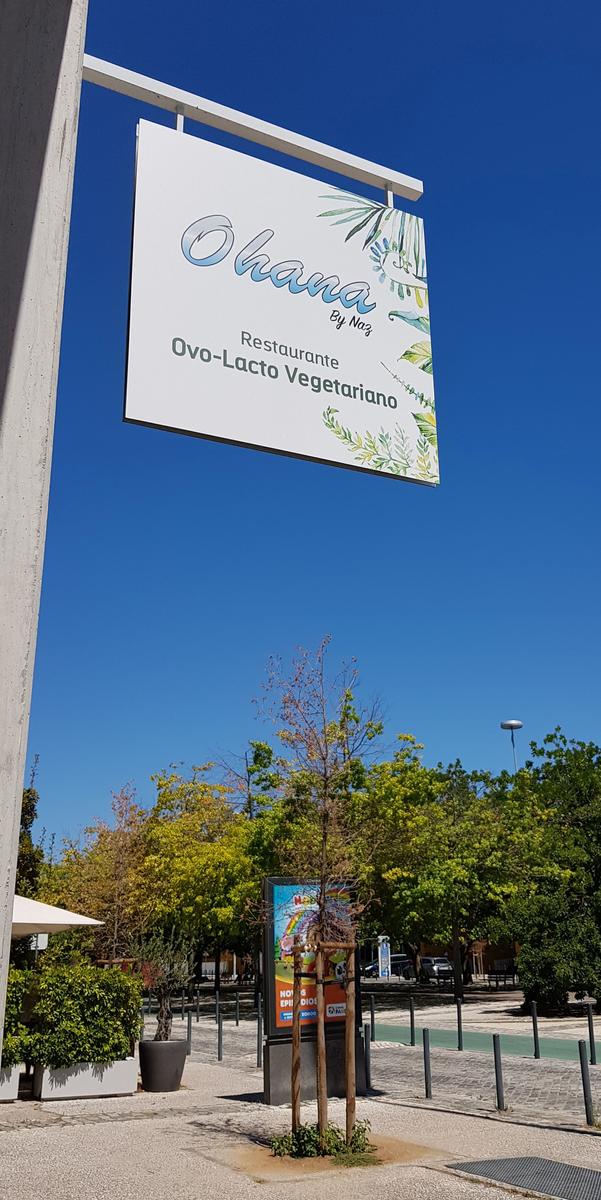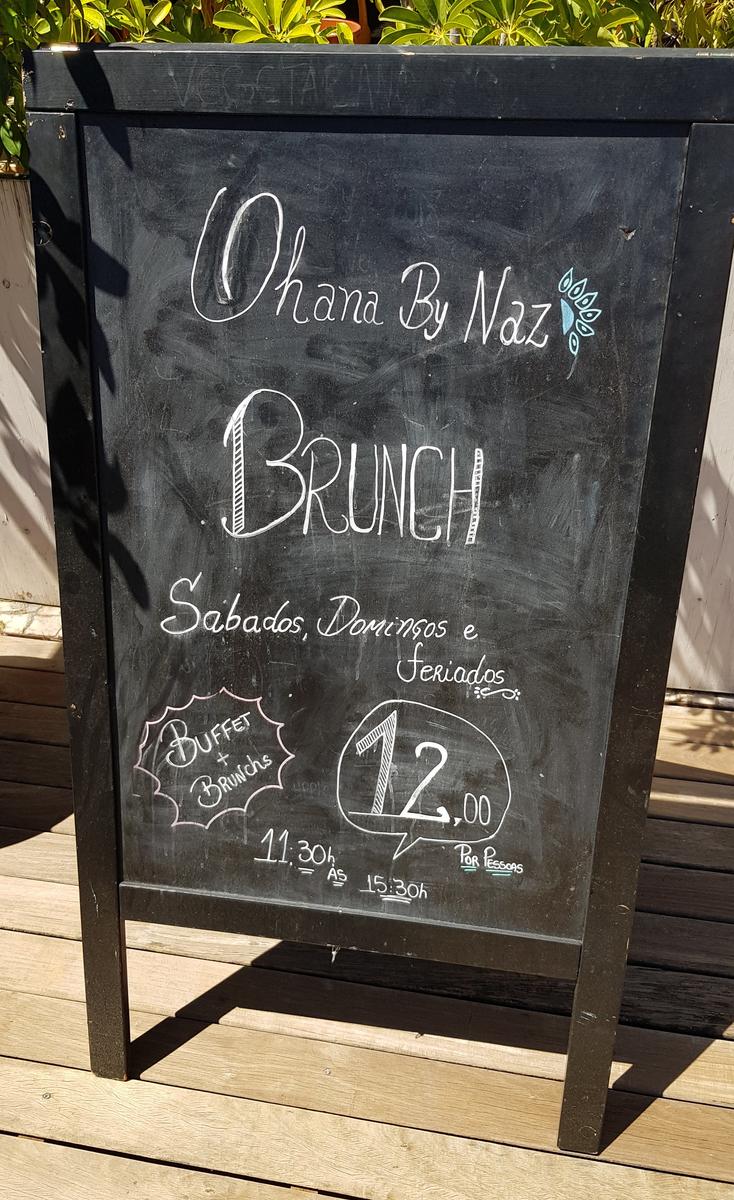 ---
If you've any questions, suggestions or just want to say hello, contact me via the Contact Form, Instagram (@noroadlongenough) or By Email noroadlongenough1@gmail.com