A Little Background Information:
In June 2018 we were on a bike tour cycling along the stunning coast of the Liguria region of Italy and making our way into Tuscany. As we were planning our route and upcoming stops I mentioned to one of my cousins that we were thinking of heading to Pisa and making our way inland to Lake Garda and beyond from there. My wise cousin suggested we head for Lucca instead and if we wanted to, we could day trip to Pisa easily from there. Her reasoning? Having visited both Lucca and Pisa, she surmised that Lucca was far nicer than Pisa. So, we took her advice and spent four days in Lucca and she was 100% right; Lucca is gorgeous and the perfect place from which to explore Pisa.
---
Visiting Pisa and it's Famous Leaning Tower!
After a few days relaxing and exploring Lucca (read our Blog about visiting Lucca here) we finally felt rested (cycling in Italy is no joke, constant rolling hills and sharing the road with crazy drivers, we have a blog about it here) and ready to go to Pisa and brave the crowds that we knew would greet us there. I have always wanted to see the Leaning Tower of Pisa so I was actually pretty excited to finally get to!
Having figured out the timetable for the train, we arrived a little bit before it departed and purchased our tickets from the self-service machines in the Lucca train station. It was a comfortable train ride, busy but not full. It took about 50 minutes to the Pisa San Rossore stop (the closest stop to Pisa Tower) from which the tower itself is only a short walk (follow the crowds). For more information about getting to the Leaning Tower of Pisa, click here.
From where we approached, the first thing we saw was the beautiful and very impressive Battistero di San Giovanni (San Giovanni Baptistery). You can read all about this medieval Baptistery here. It's dome circumference:
"… measures 107.24 meters, while the width of the masonry at the base is 2 meters and 63 cm, for a height of 54 meters and 86 centimetres."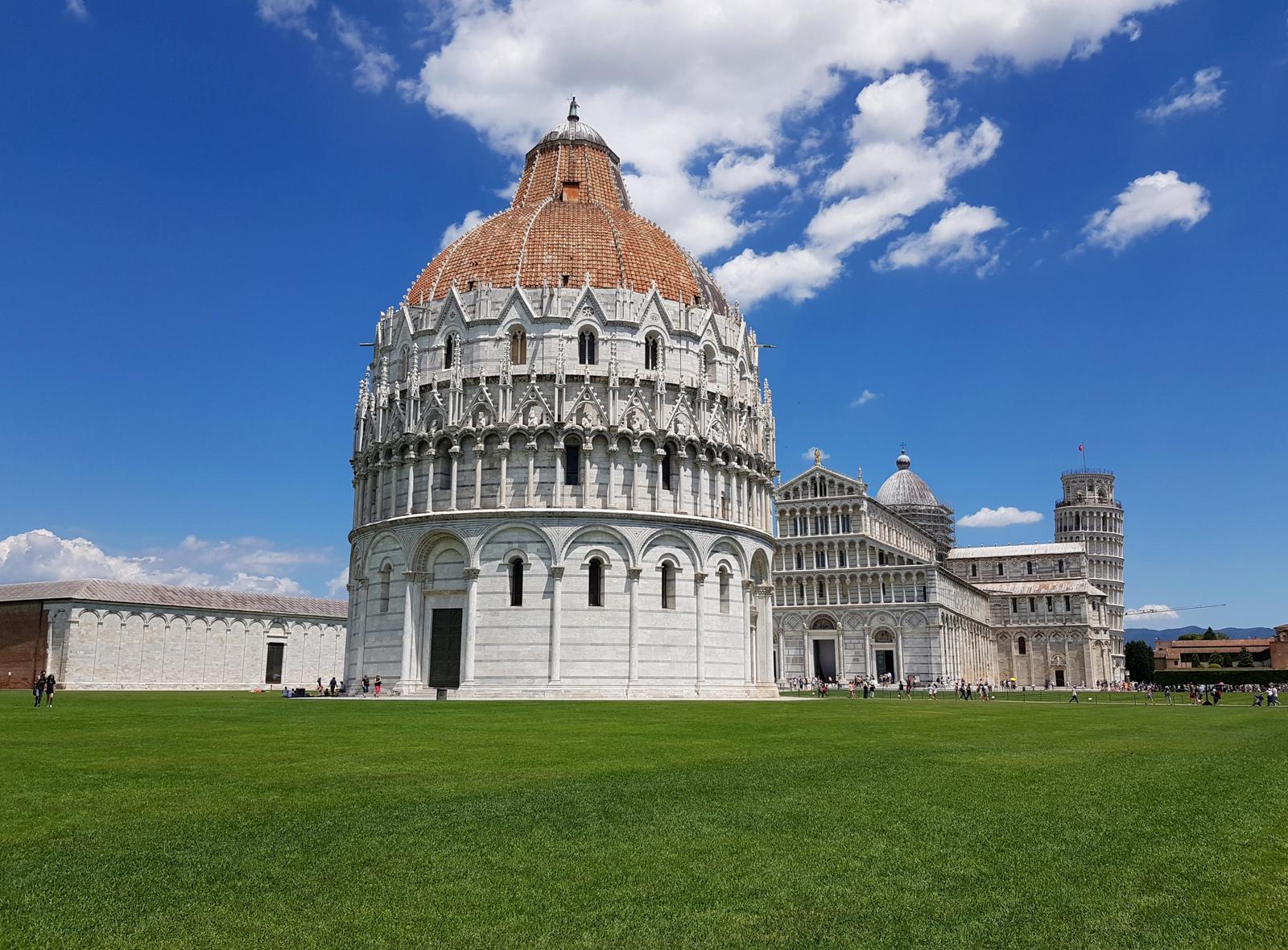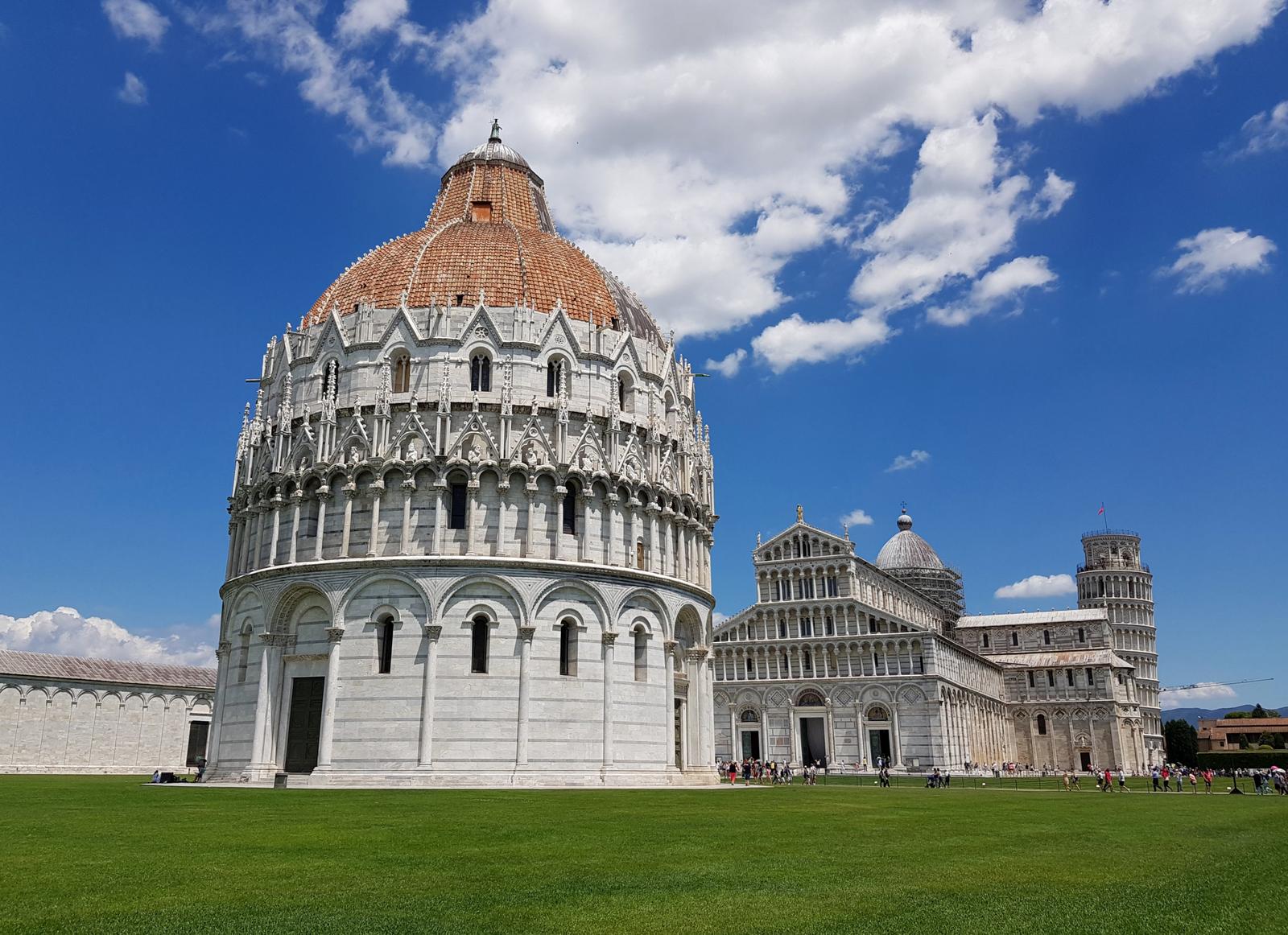 The Leaning Tower of Pisa and Cathedral di Pisa are just beyond the San Giovanni Baptistery and they are all located in the Piazza dei Miracolo (Square of Miracles).
When we got a little closer to the Cathedral we could see that it's dome was covered in scaffolding, so I didn't take any photos from that side.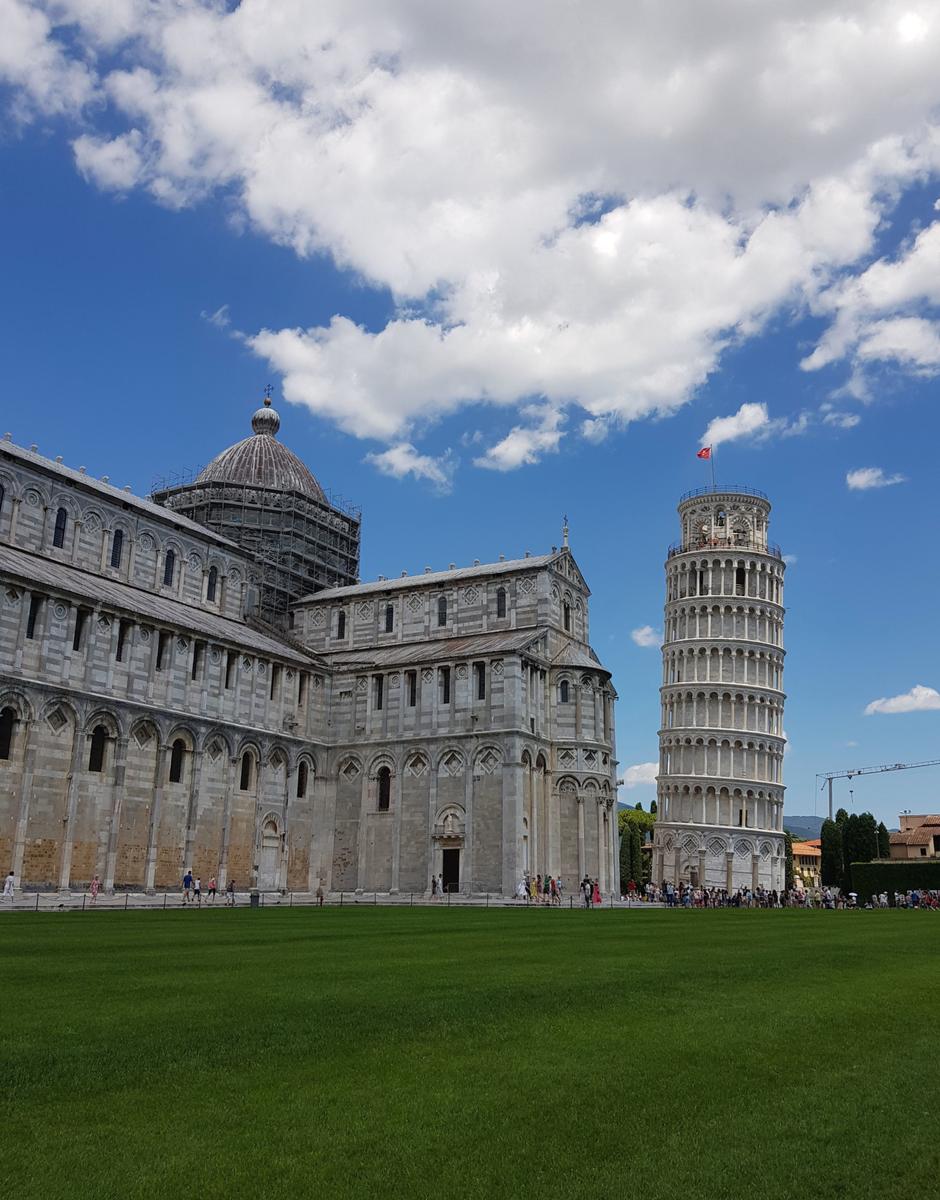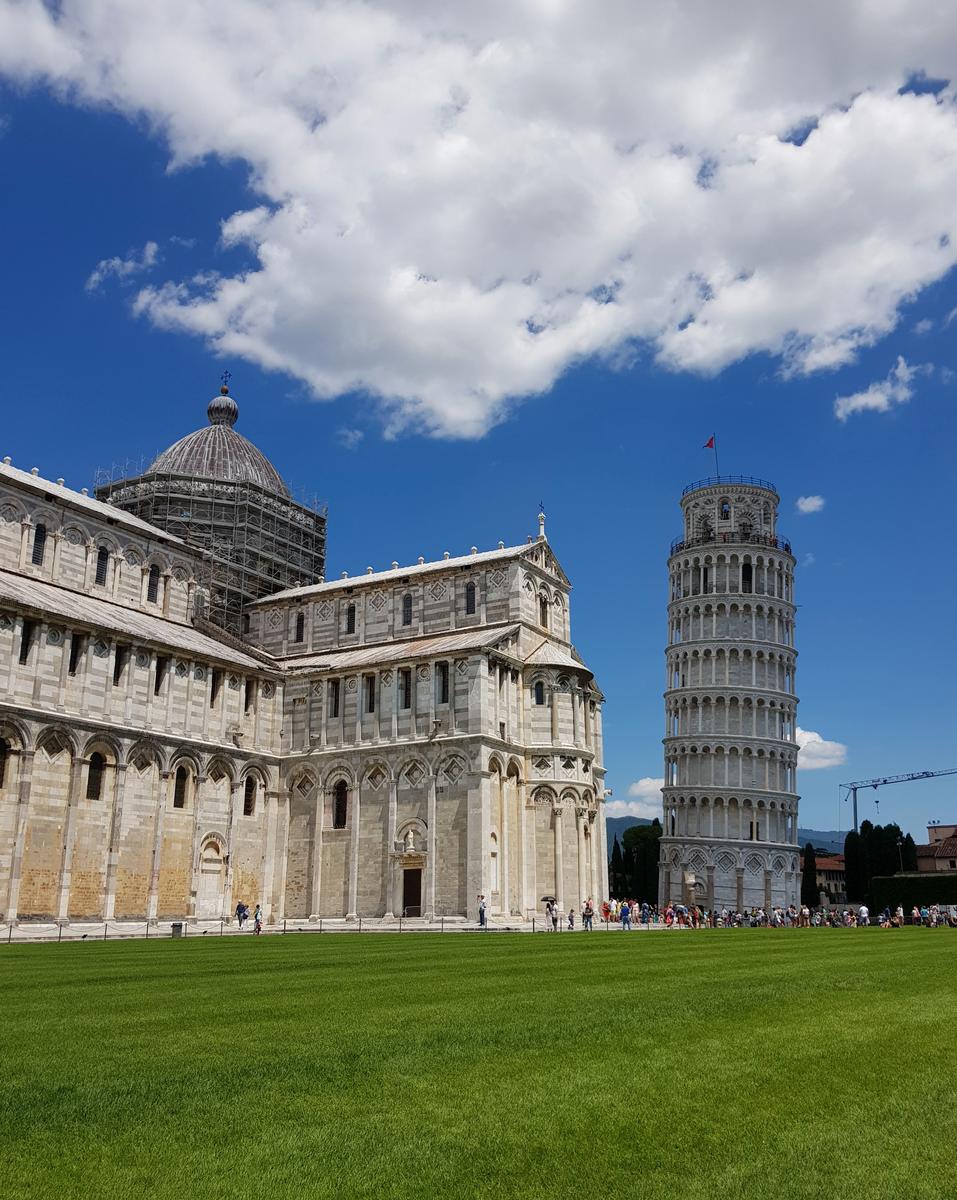 As you would expect, there were people everywhere trying to get photos of themselves holding up the tower etc. Many many takes later they would move on, it was funny to watch some of them! You can see from my photos all the people around the foot of the Tower. We didn't go into the Tower as the queue was very long. It was also a hot day (+30C) and we didn't want to queue in the sun. I was happy with the photos I took to be honest and didn't fancy battling fellow tourists inside.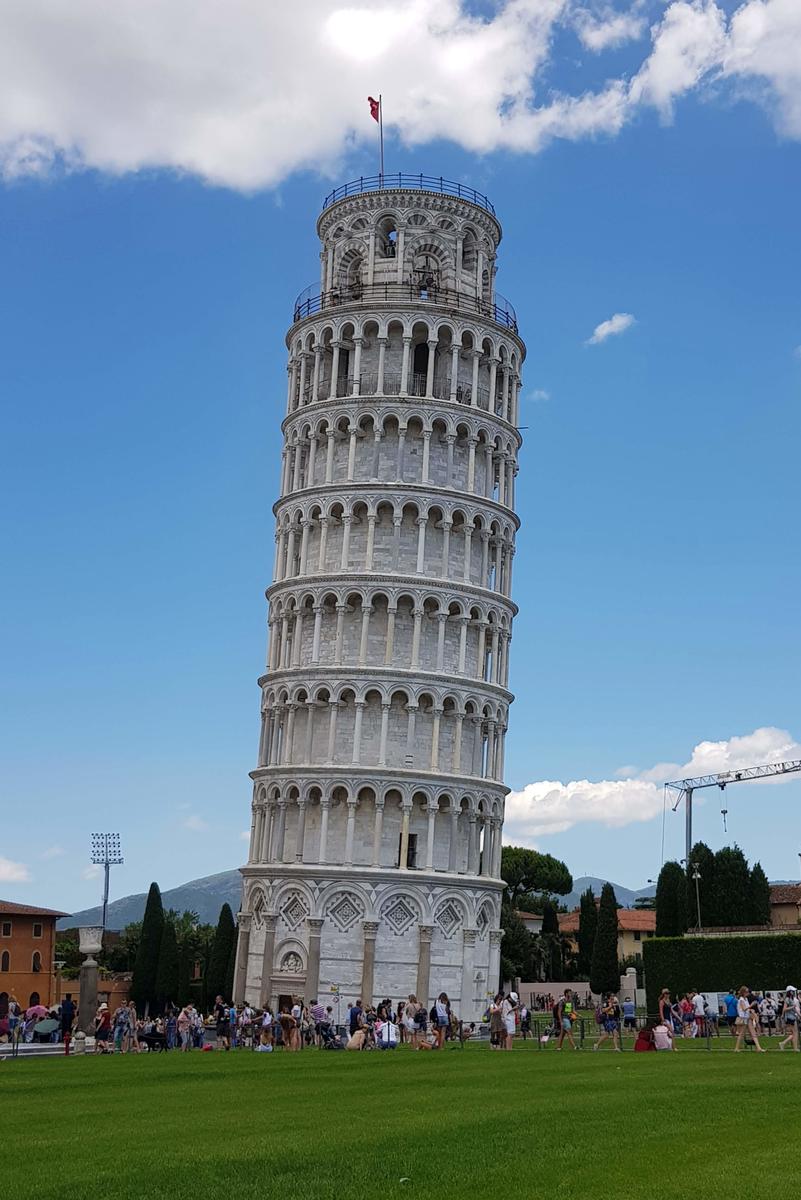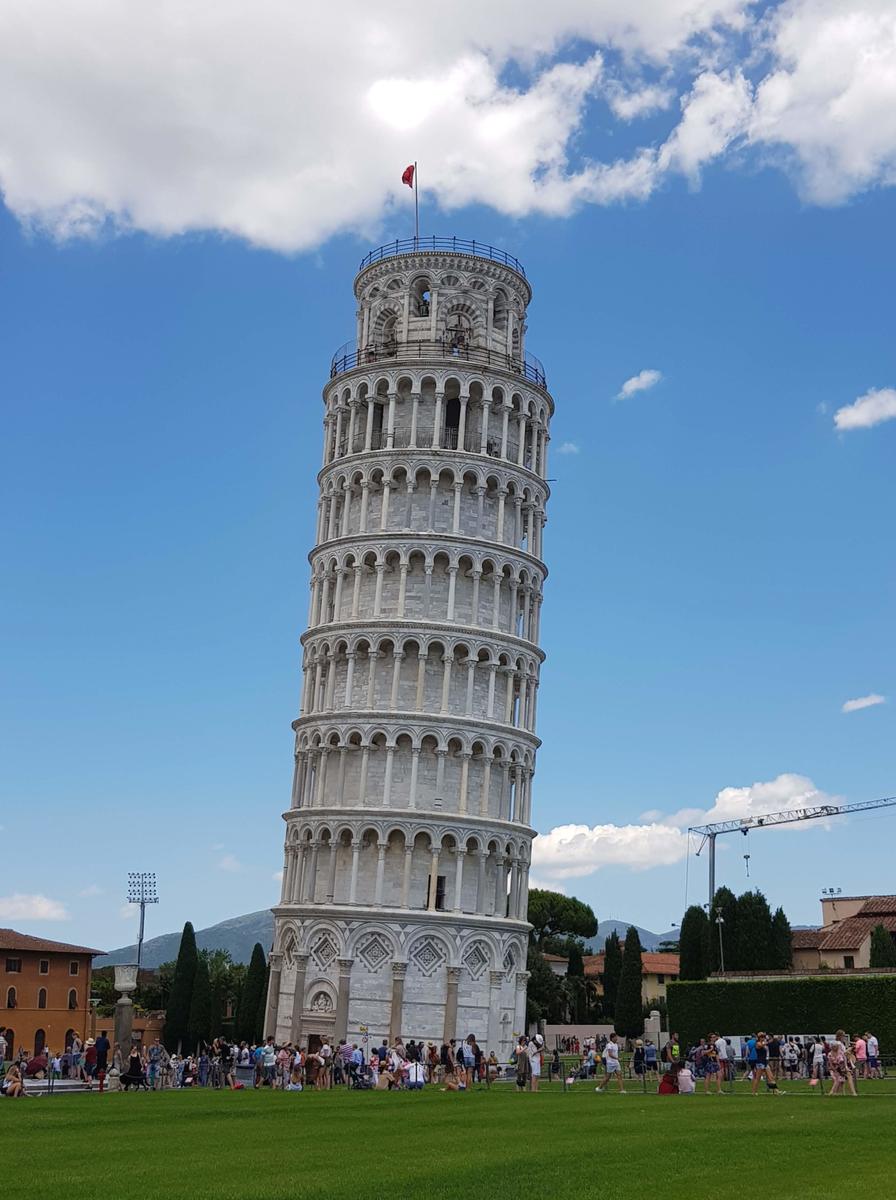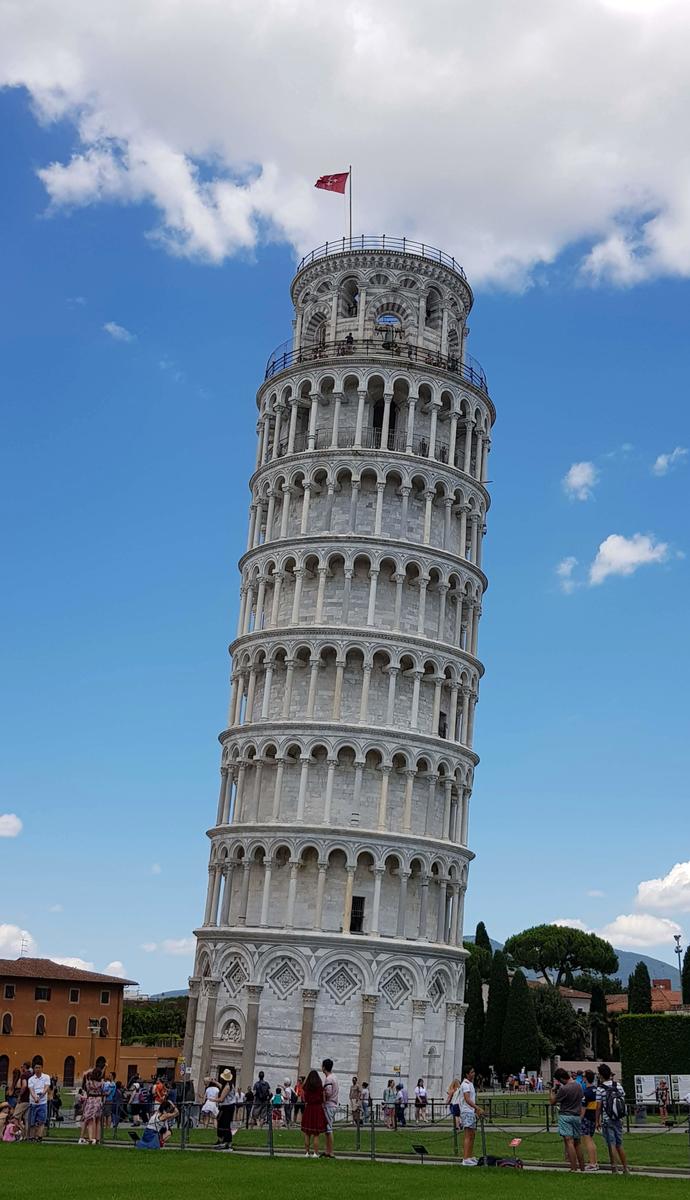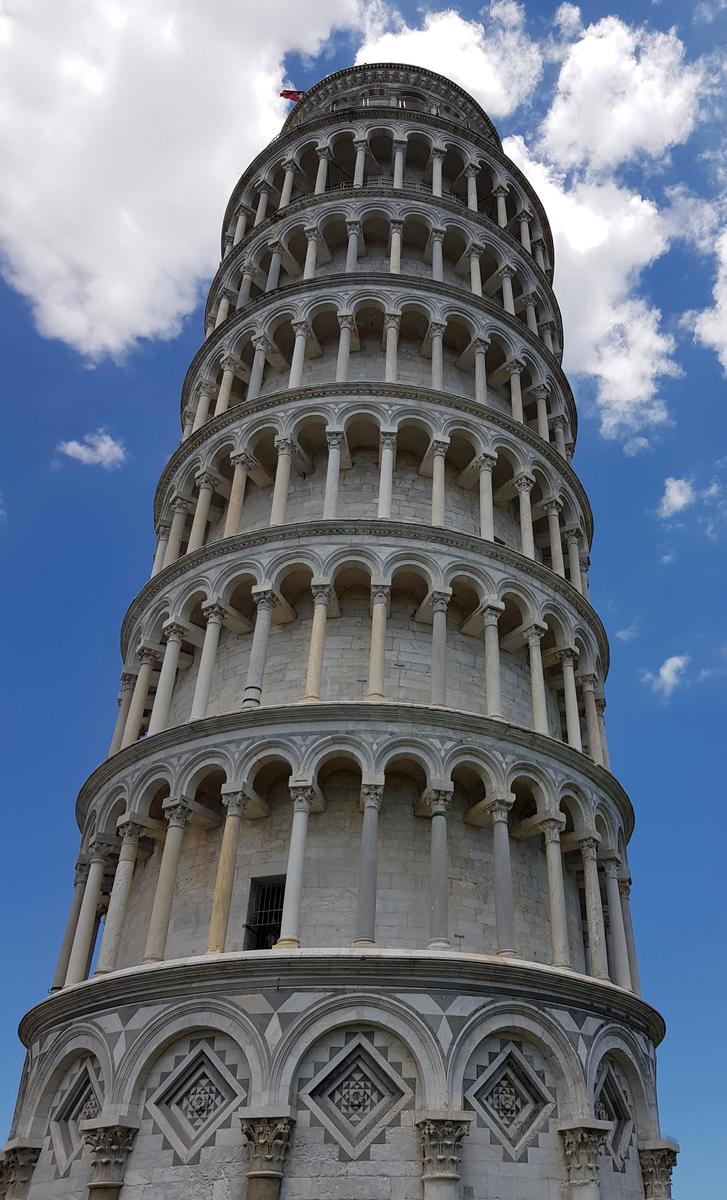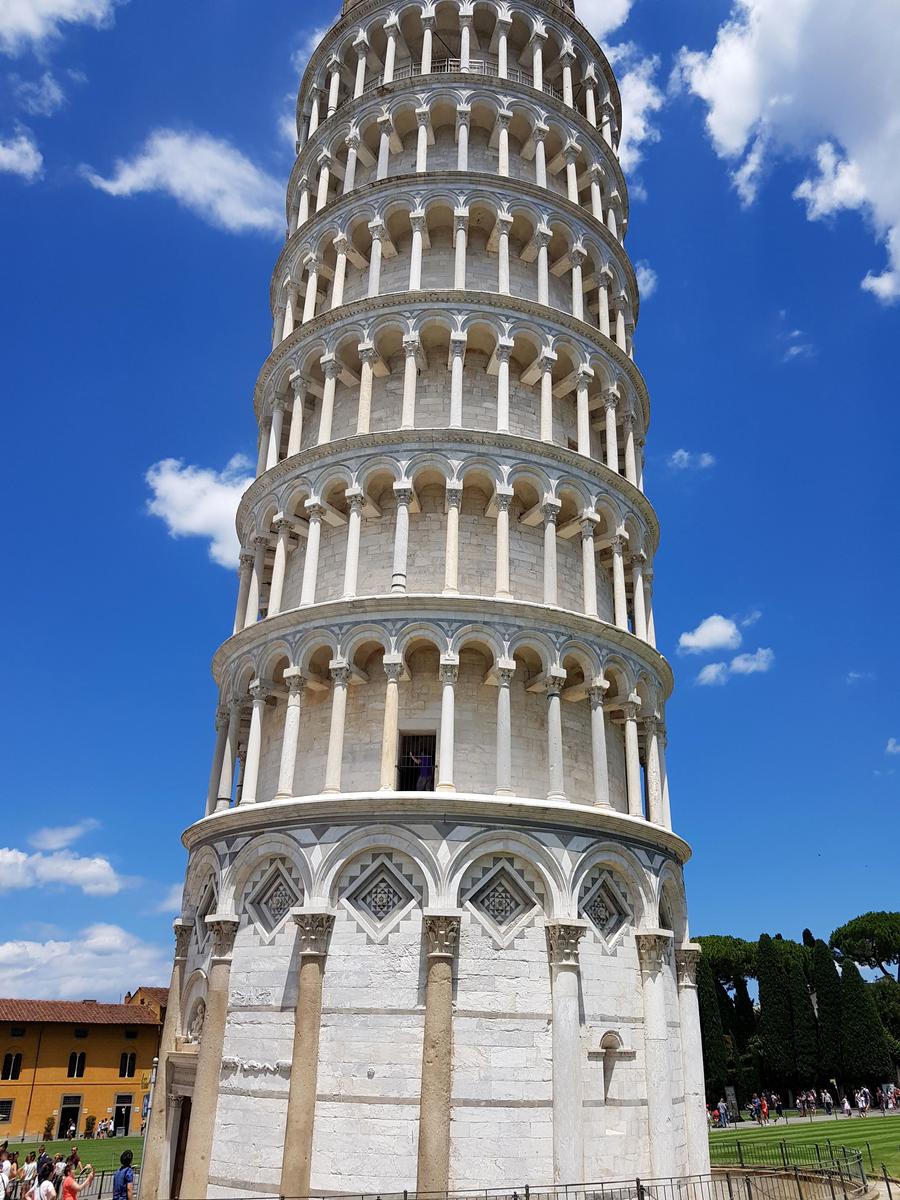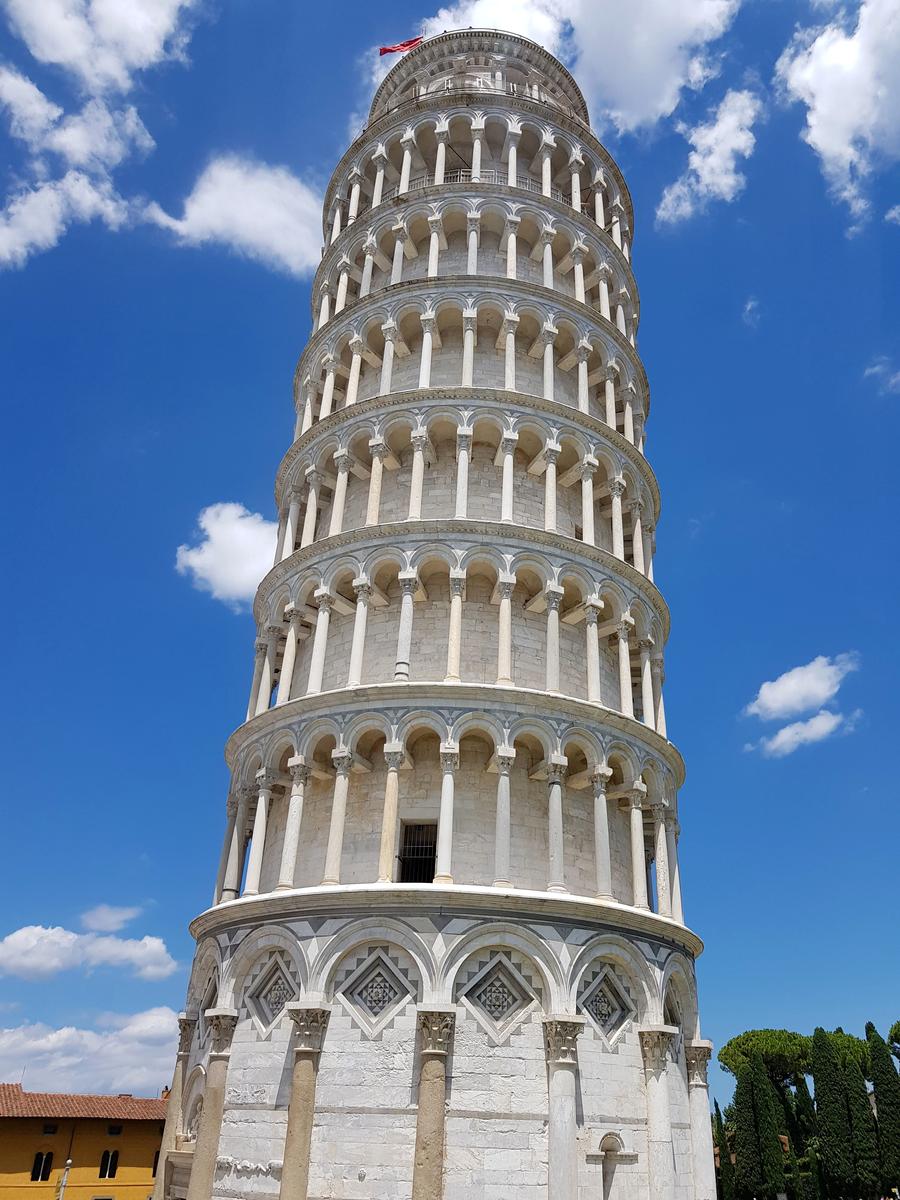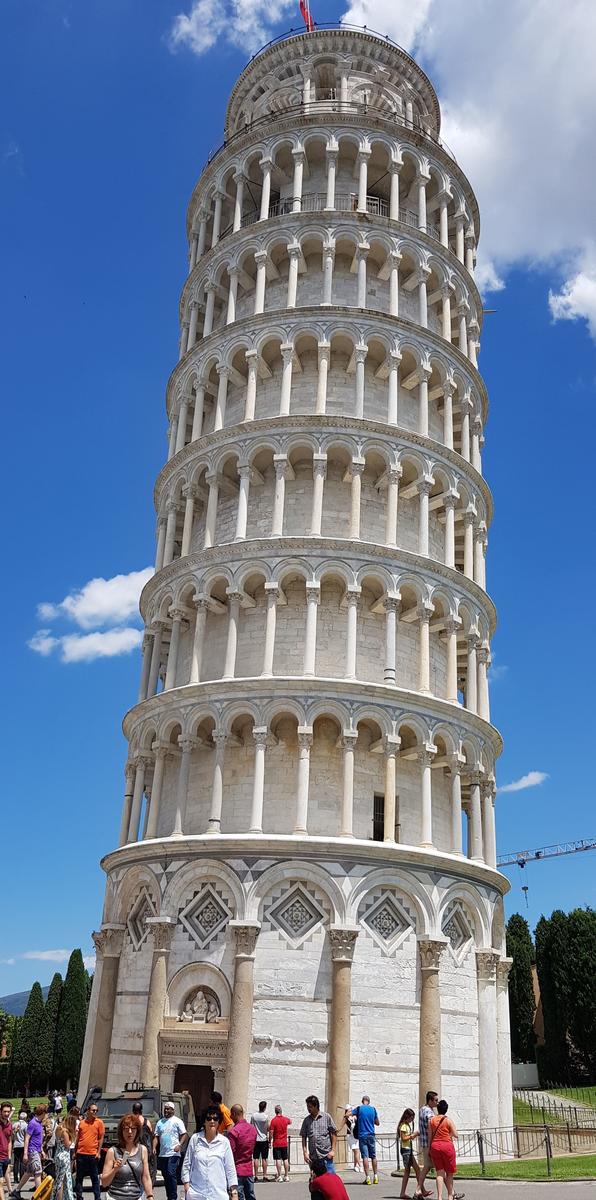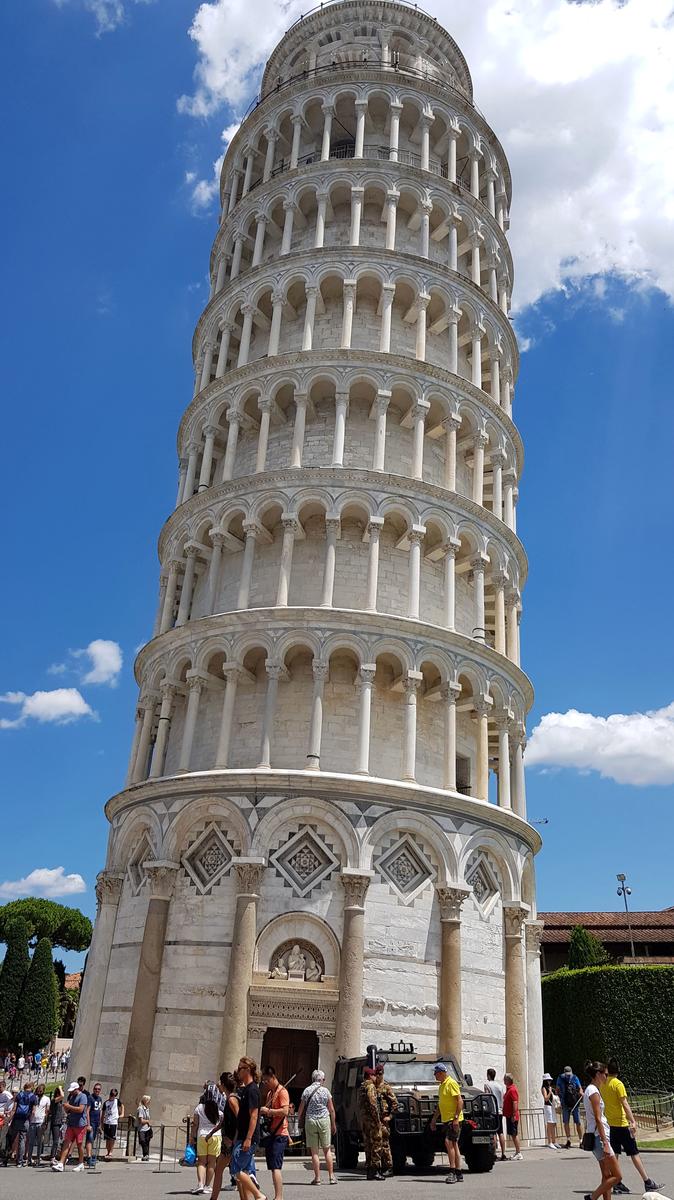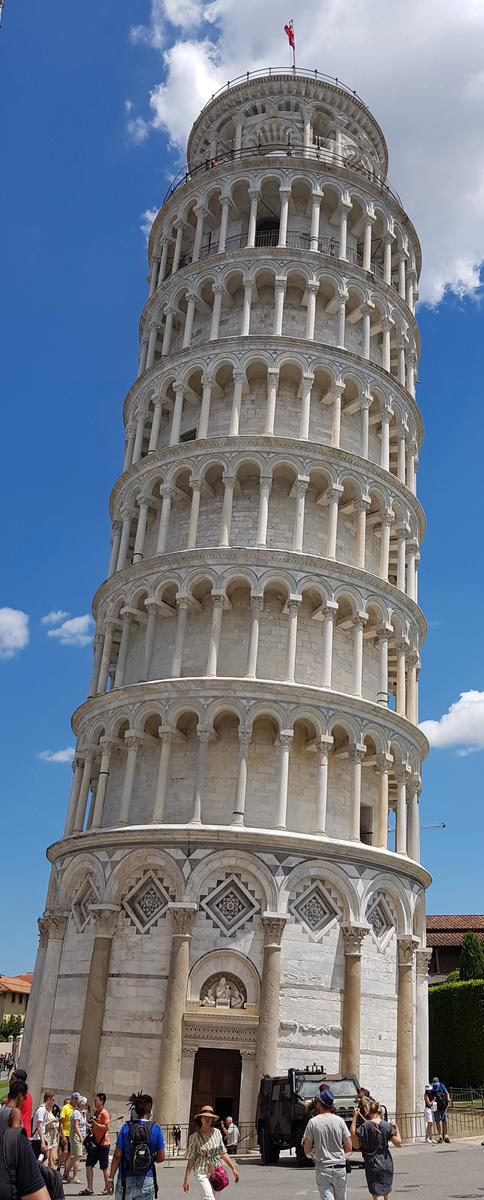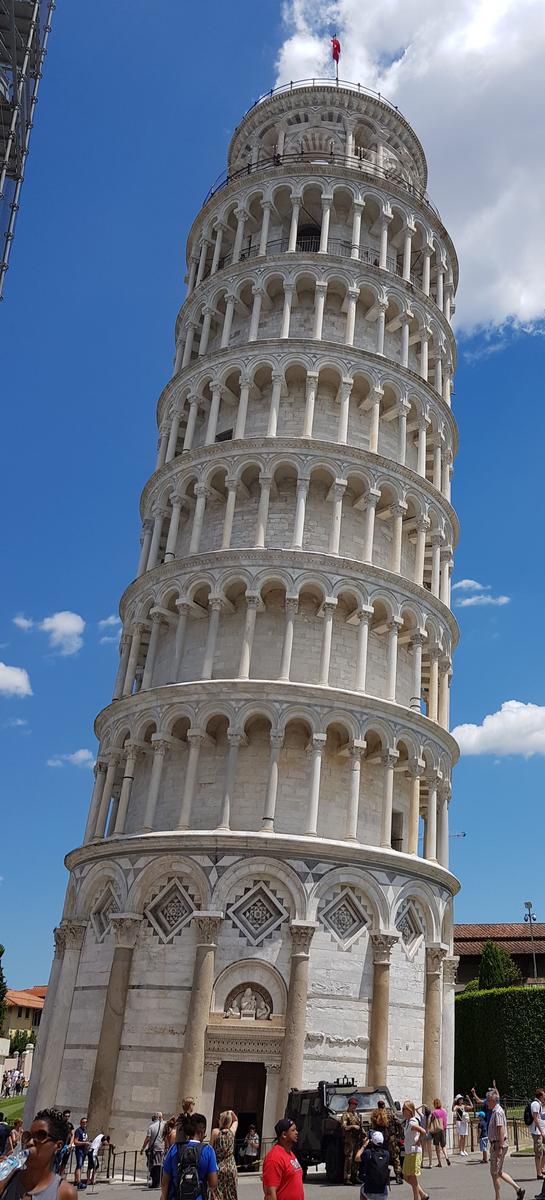 ---
What Next?
We decided to get the train back from the main Stazione Pisa Centrale (Pisa Central Station) so that we would see some of Pisa city on our way to it. Once we were all "towered out" we walked along via Santa Maria, a street lined with restaurants, cafes and souvenir shops, it was jammed! We followed via Santa Maria all the way to the river and crossed over the first bridge (Ponte Solferino) that we came to. We took our time and stopped to have a coffee and people watch for a while.
On our walk we passed some nice buildings (needing small detours to see some of them up close), such as the Museo Nazionale di Palazzo Real (National Museum of the Royal Palace) and the Chiesa di Santa Maria della Spina (Church of Santa Maria della Spina). We also walked through Piazza Vittorio Emanuele II which is surrounded by shops and cafes.
---
Overall Impressions
On the whole, while I really enjoyed seeing the Leaning Tower of Pisa and the immediate area that surrounds it, I wasn't blown away by Pisa itself. I had no regrets that we hadn't more time to explore and to see more of the city (very unusual for me). So, as I hopped on the train back to Lucca, I was content with our trip, delighted to have finally seen the Leaning Tower of Pisa and happy that I was on my way back to charming Lucca.
---
If you've any questions, suggestions or just want to say hello, contact me via the Contact Form, Instagram (@noroadlongenough) or By Email noroadlongenough1@gmail.com