Our Best of Amarante, Portugal
We had a wonderful two night break in Amarante earlier this year. I kind of stumbled upon Amarante by chance. We were driving from Entre Ambos-os-Rios in the Peneda-Gerês National Park to Peso da Régua in the Douro Valley and fancied breaking up the drive to see somewhere new along the way. Doing some research I found Amarante and I am so glad I did!! It is a really charming and beautiful town and it was the perfect place to relax for a few nights after some long days on the trails in Peneda-Gerês National Park.
---
Where is Amarante?
Amarante is located in Northern Portugal, in the Tâmega e Sousa subregion on the banks of the Tâmega River. According to here the town of Amarante dates back to the stone age.
"One of the most ancient settlements in northern Portugal, it was founded as Turdetanos in 360 BC and went on to prosper under the Romans." (Source here).
---
Where We Stayed?
Our apartment was wonderful and we would 100% recommend it. We booked a two bedroom apartment in Casa do Fontanário Stay via booking.com. The location is excellent, everything is on your doorstep. The building in which the apartment is located is newly renovated, stylish and clean. Here is the main hallway and the door to our apartment can be seen: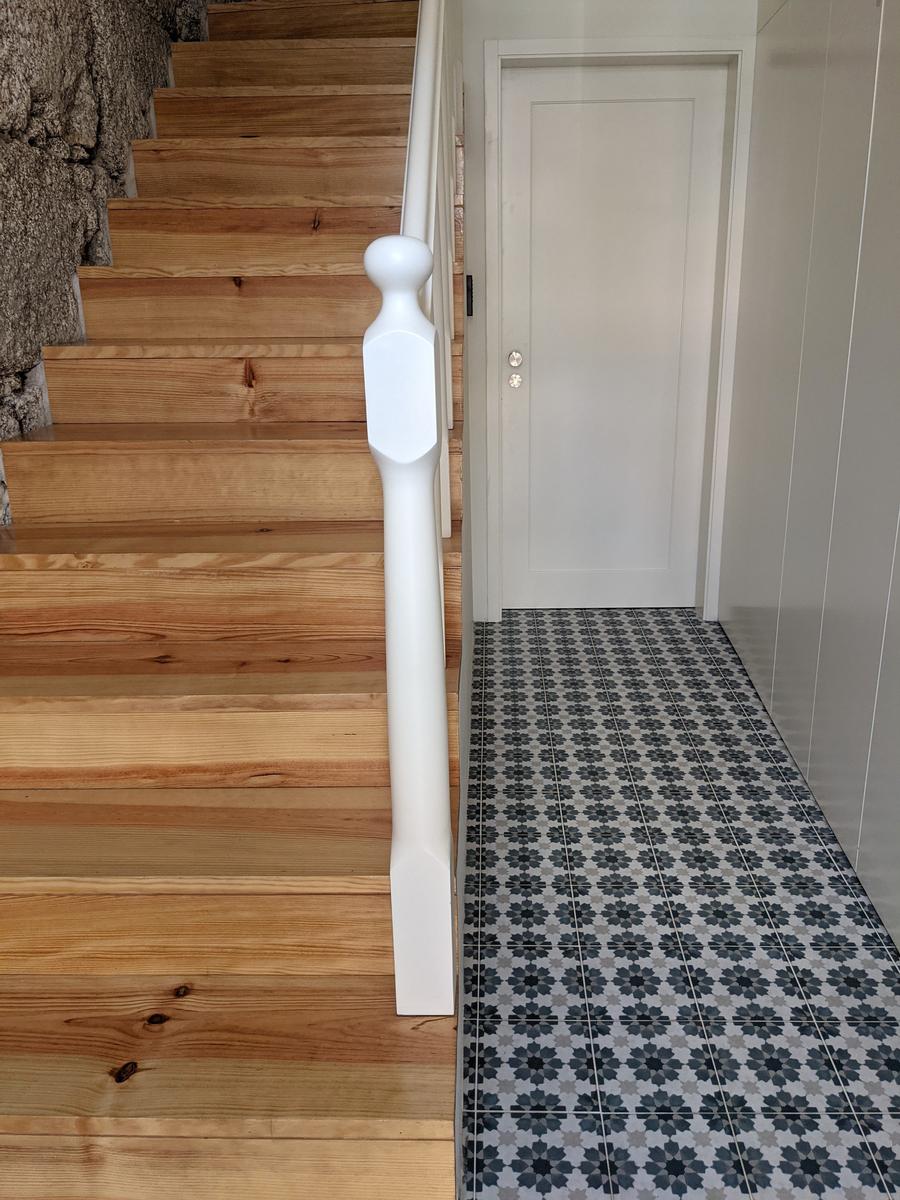 Our apartment was located on a lower level but it was bright, modern and comfortable with a well thought out interior and wonderful balcony/terrace area. It has a great kitchen that we made use of to prepare some quick and easy breakfasts and dinners.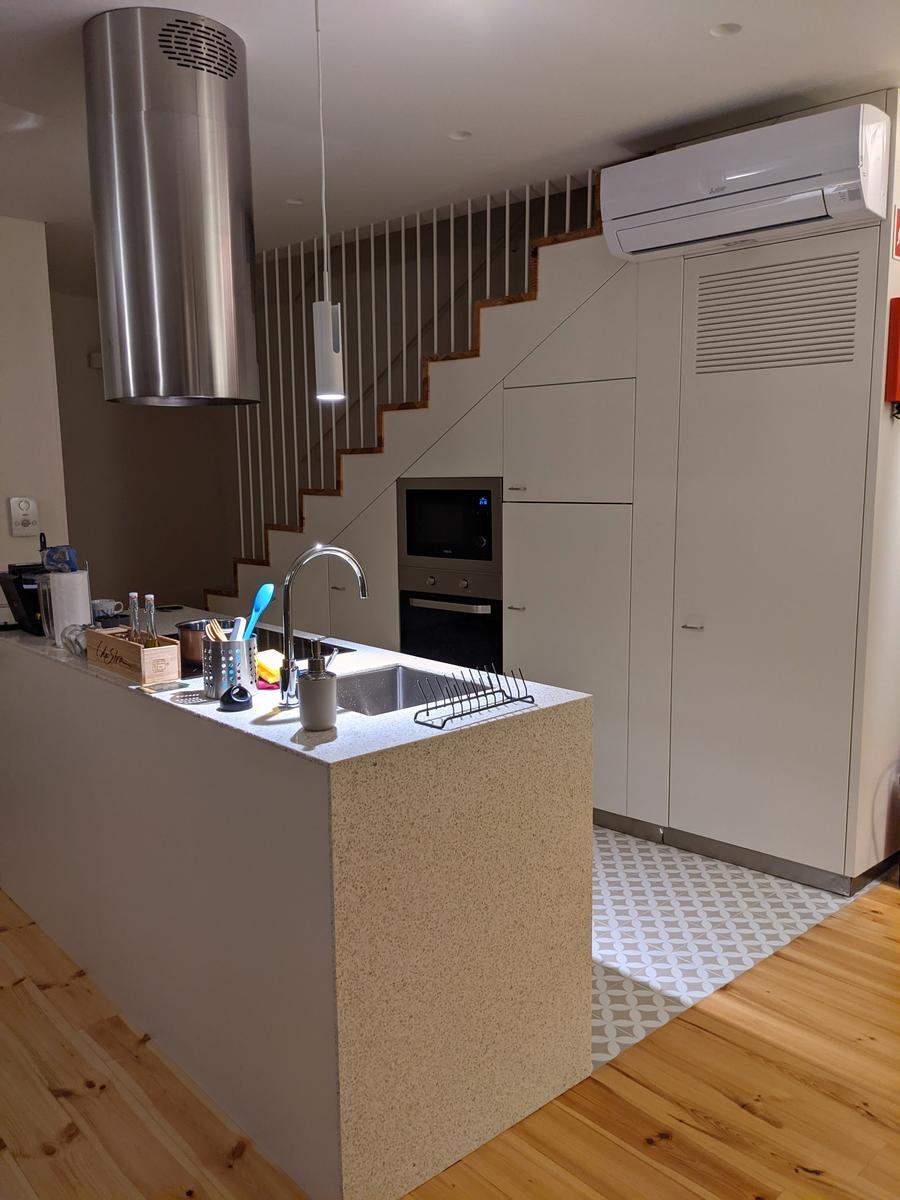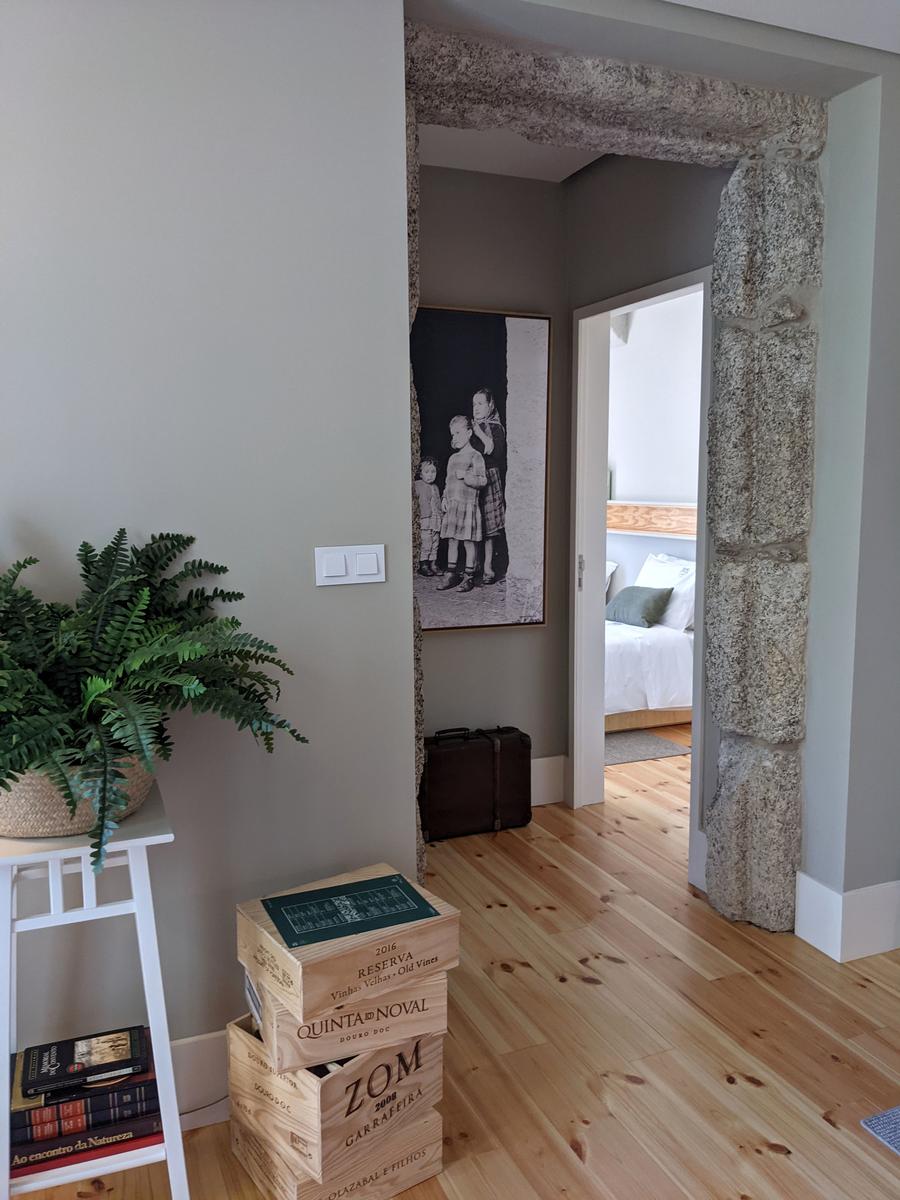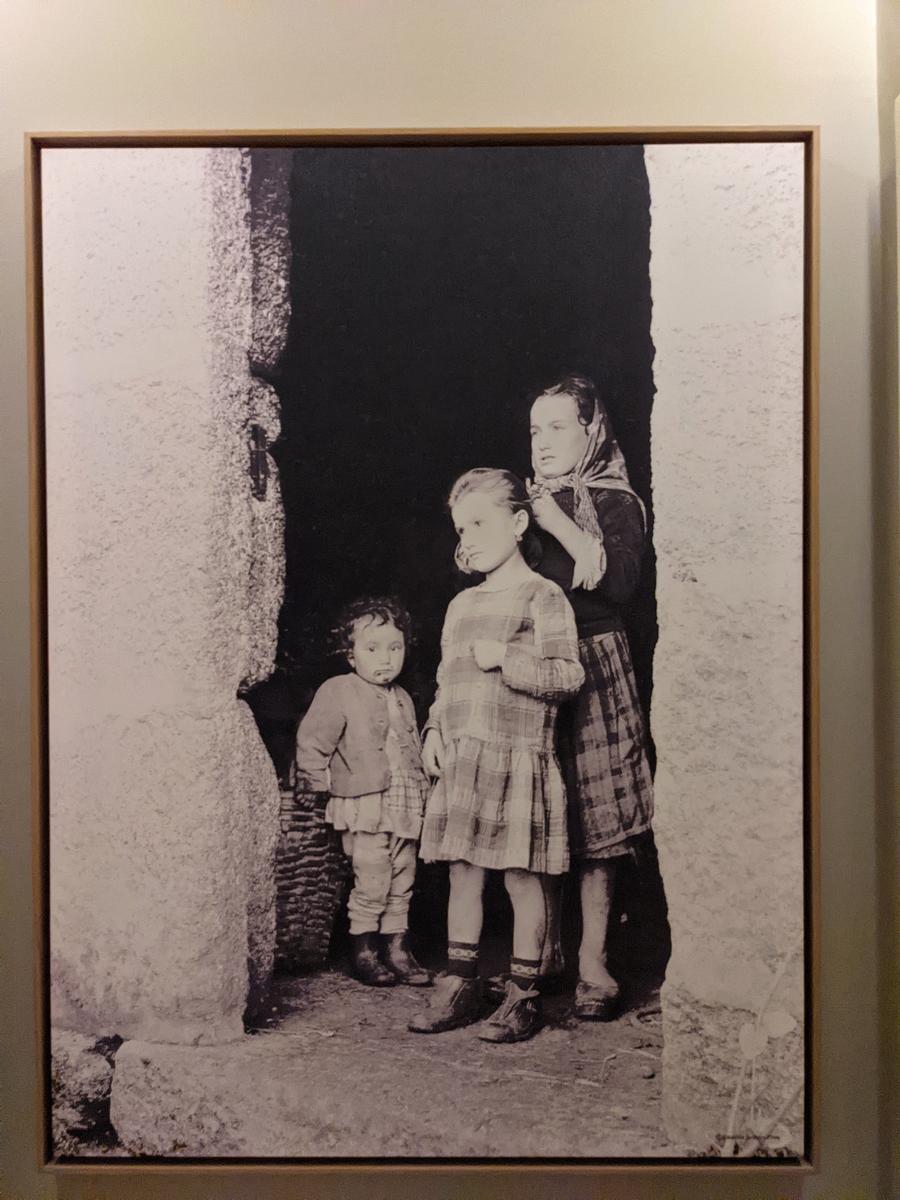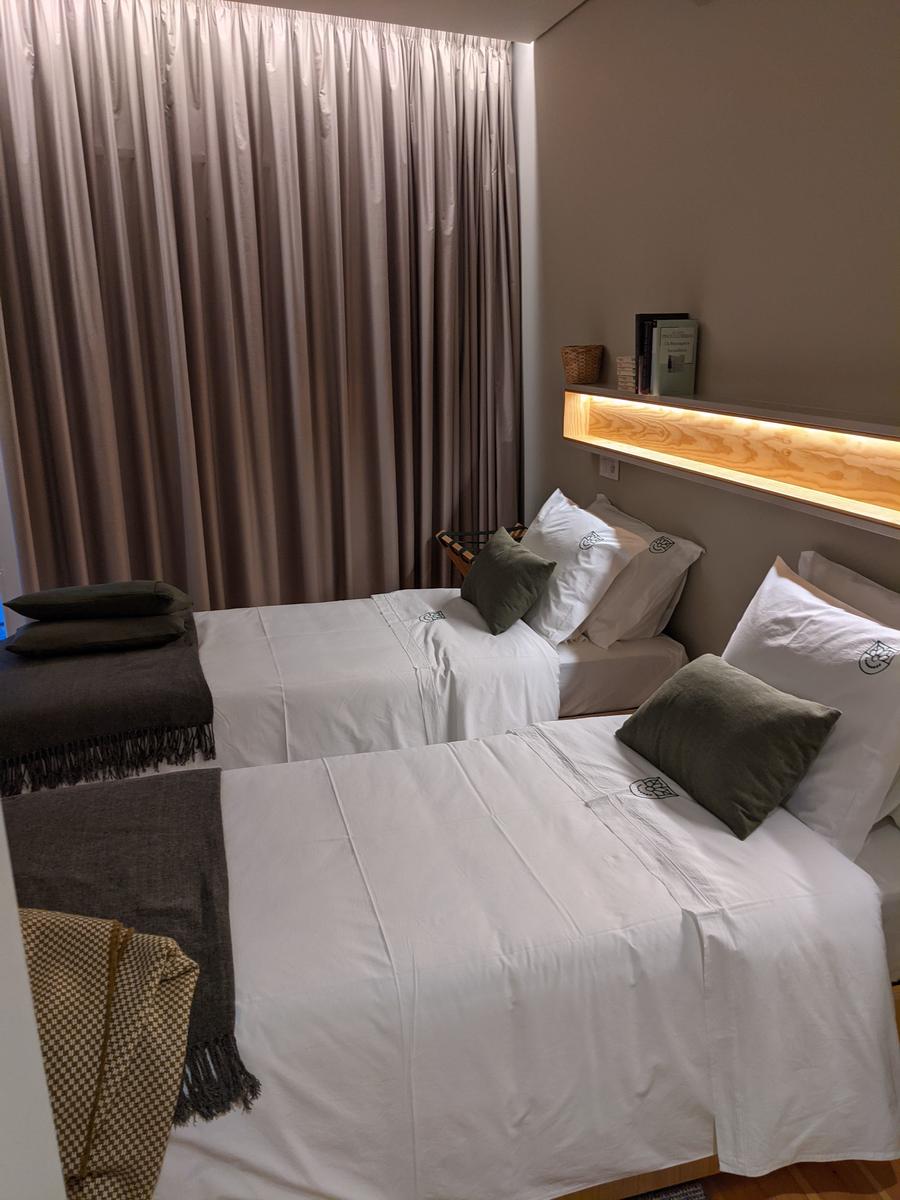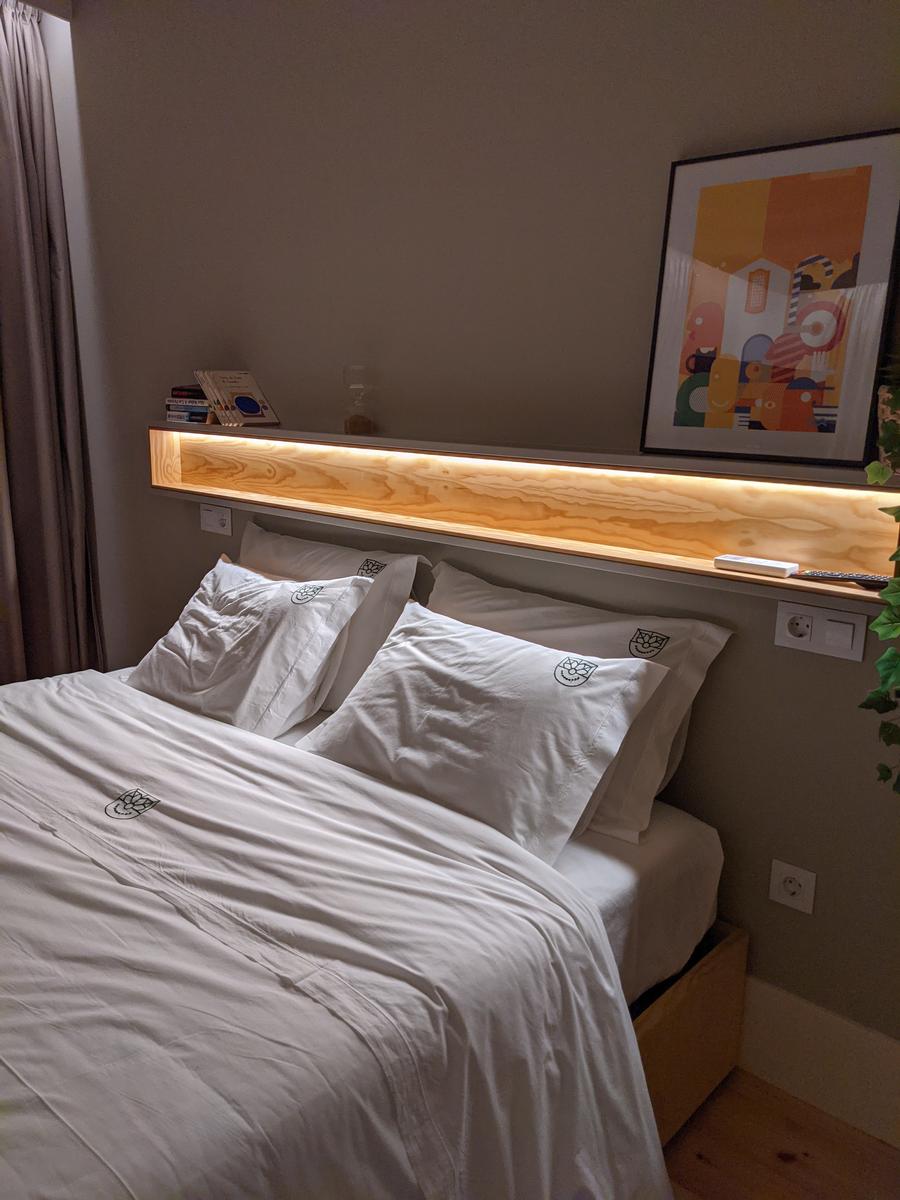 The view from our terrace was lovely and it was a real sun trap! It will be even better when the car-park you can see in the photo below is finished: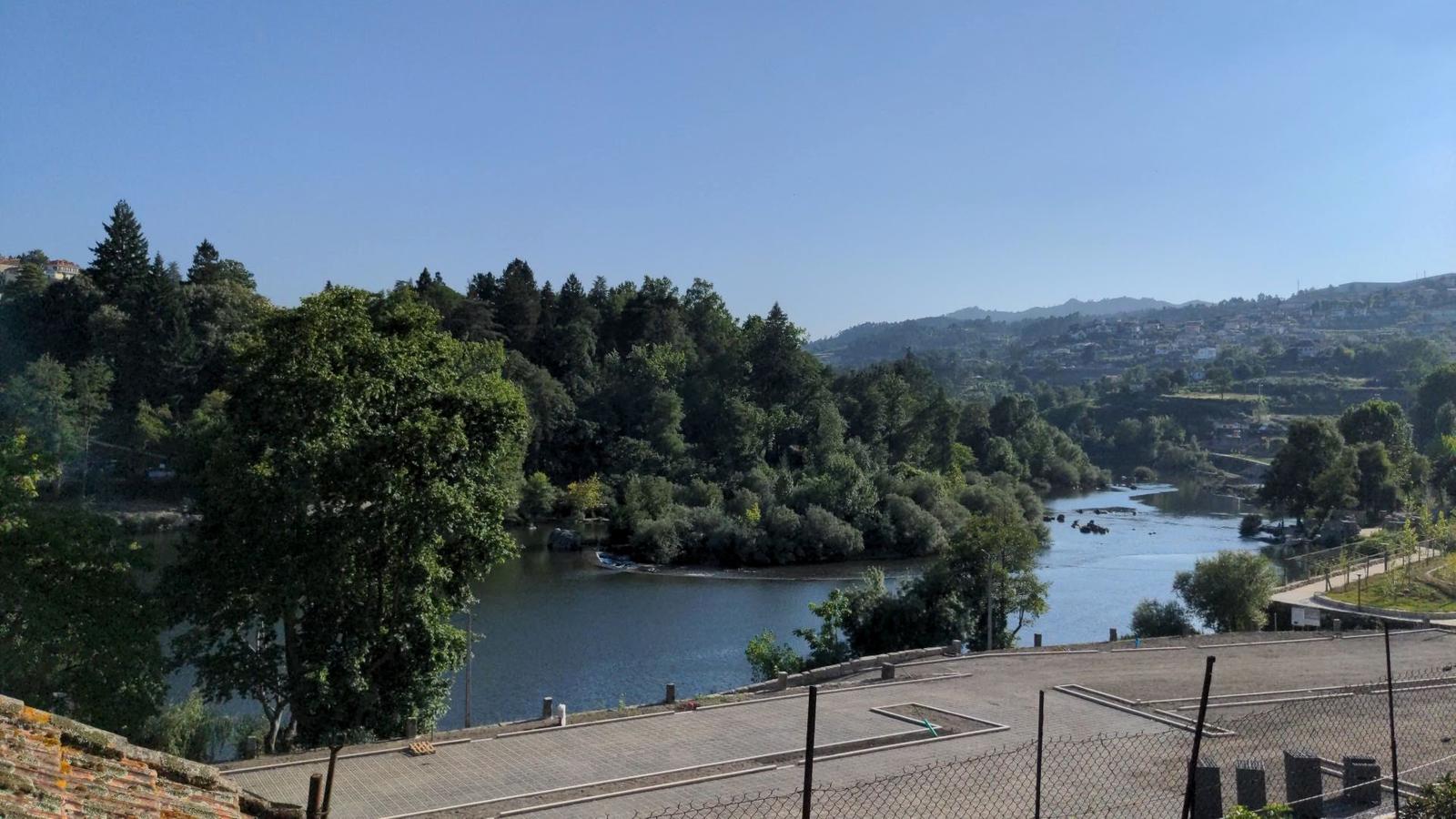 Sunset from the terrace did not disappoint - stunning: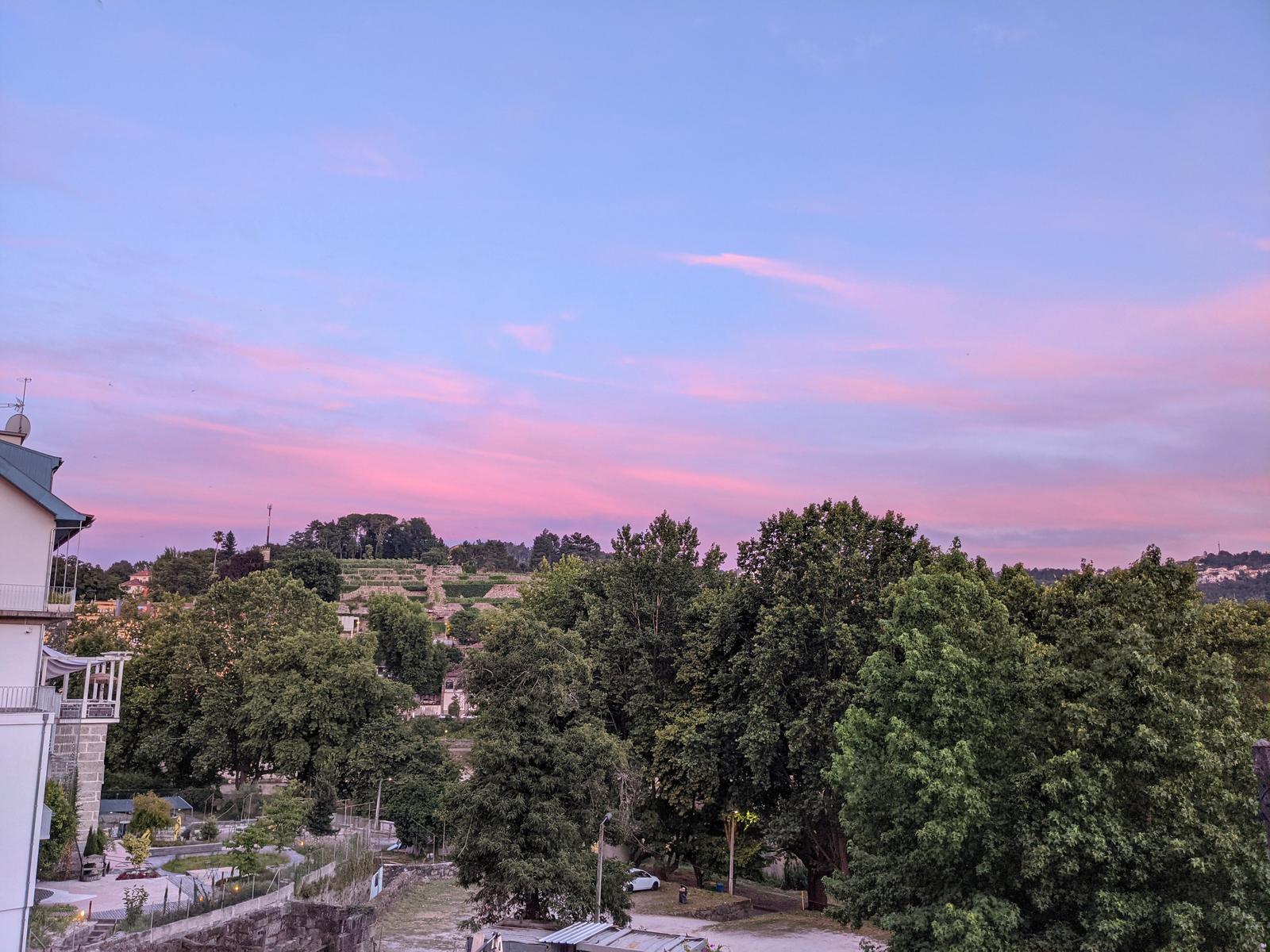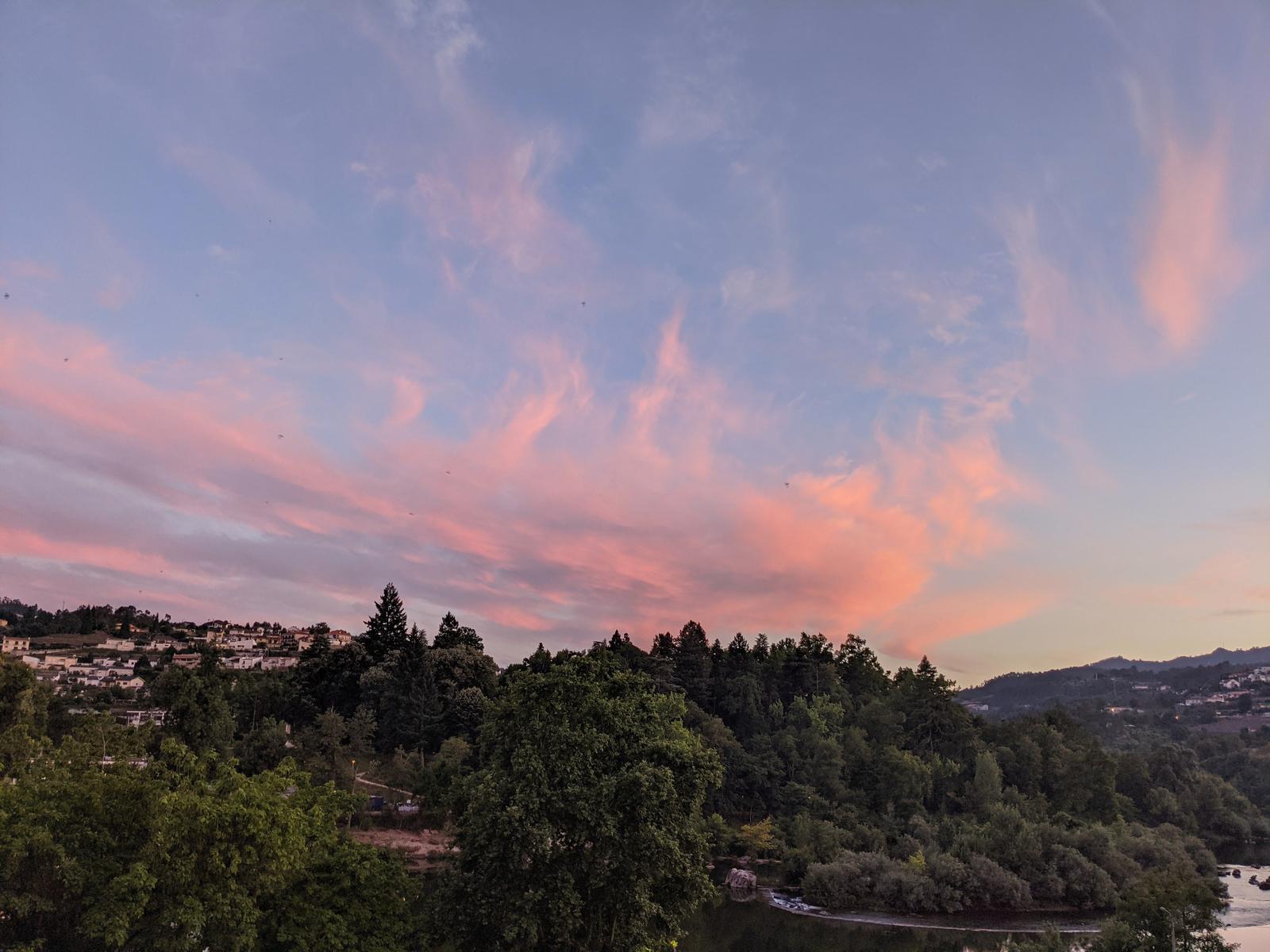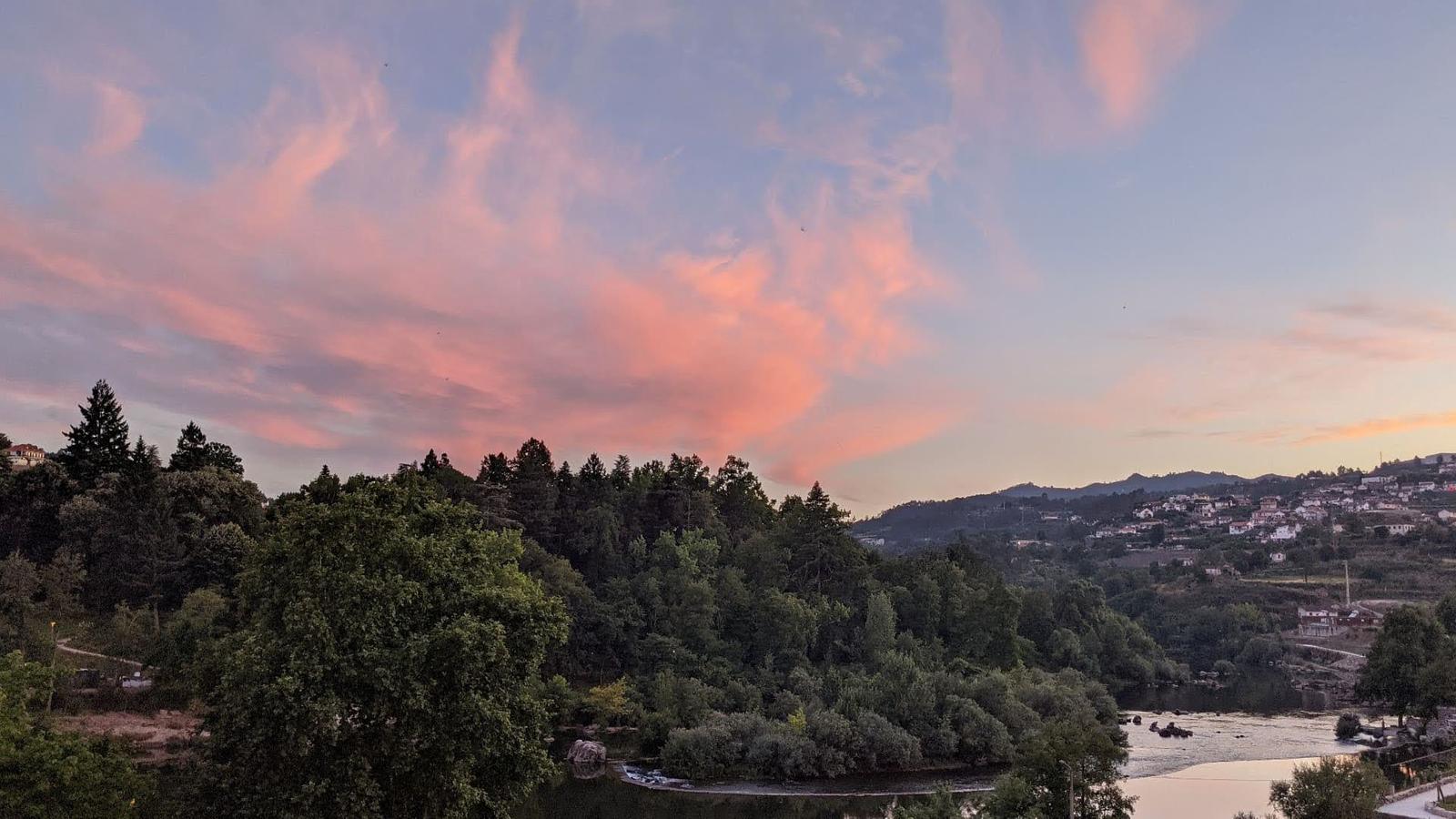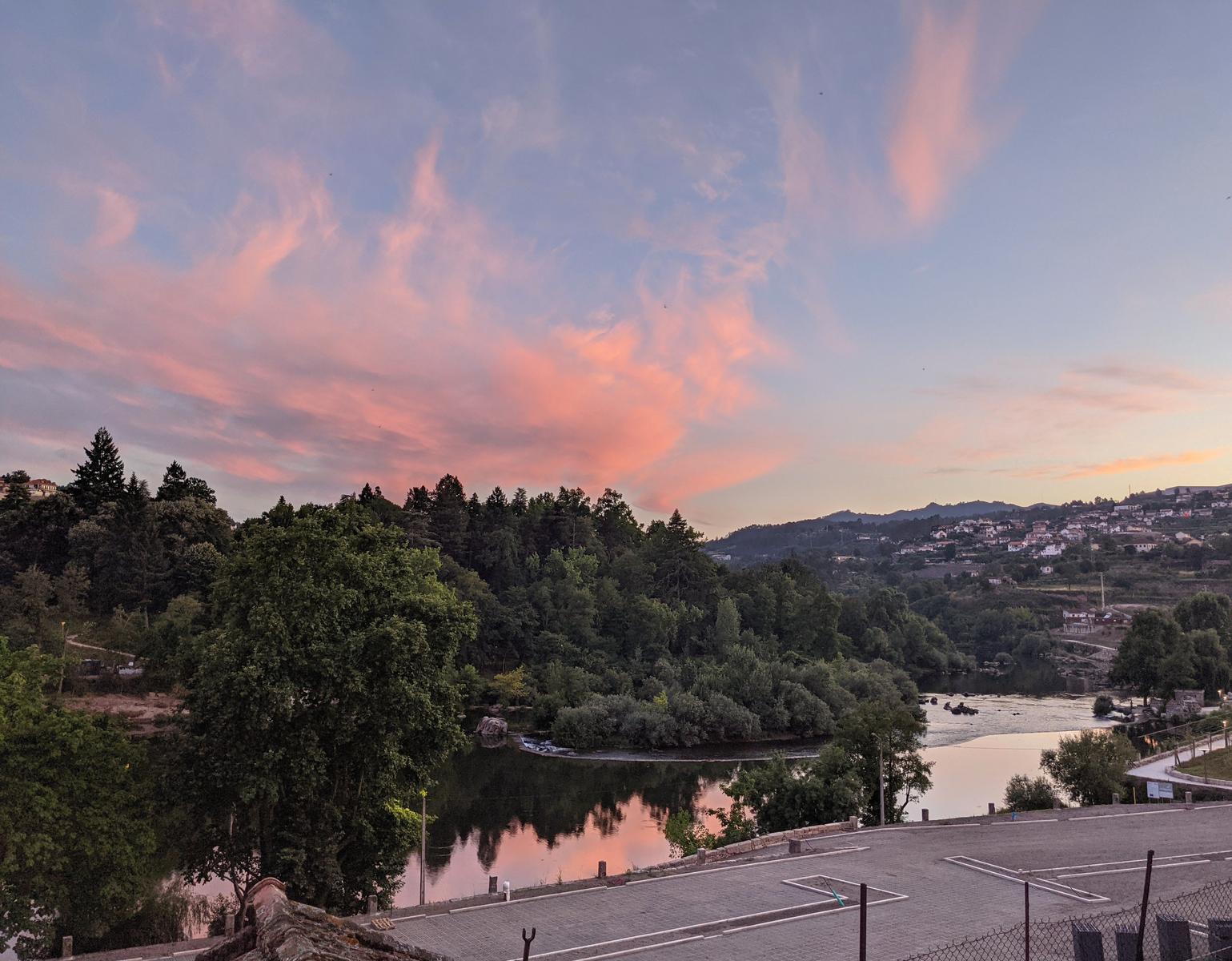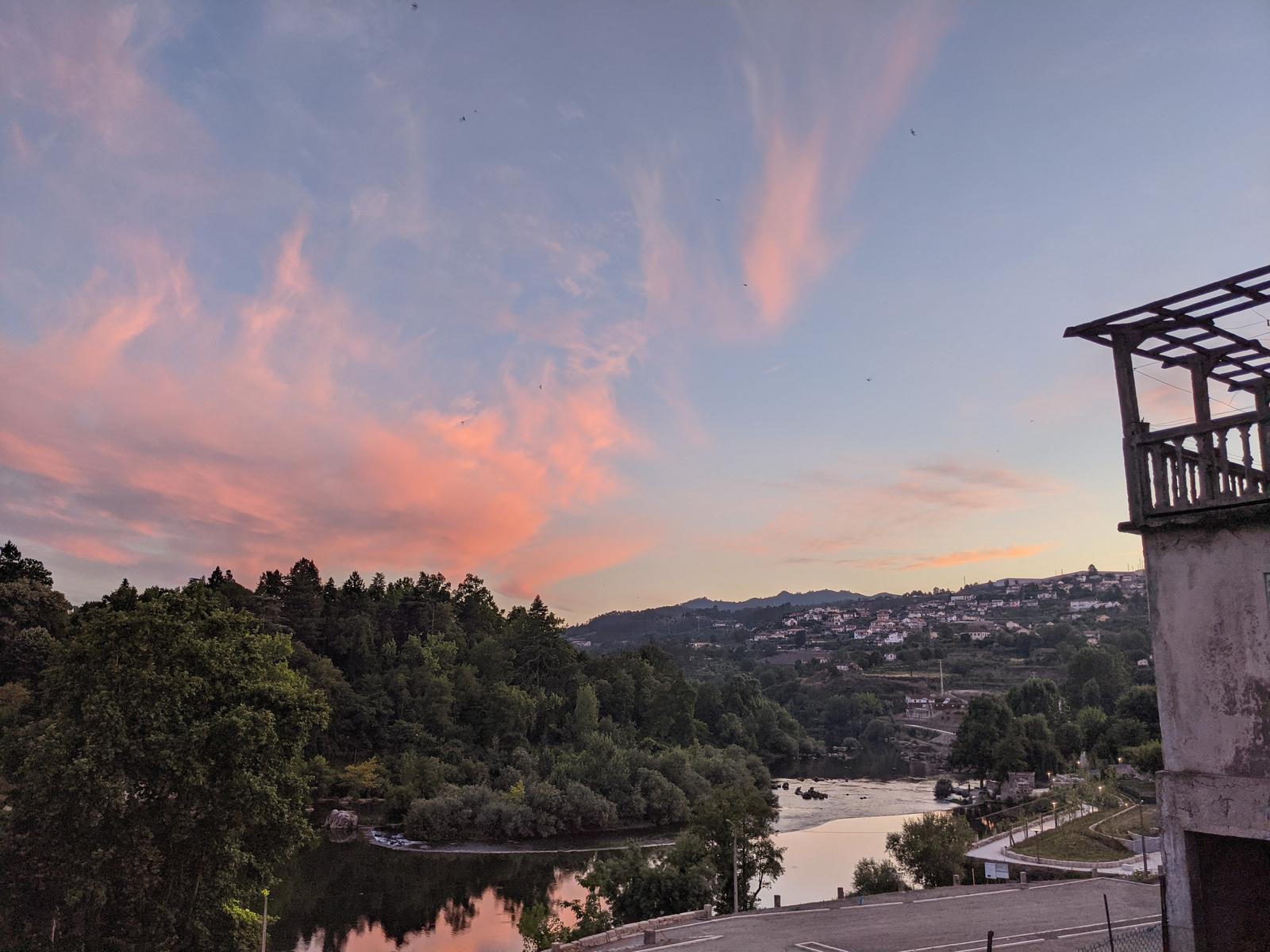 ---
What To Do in Amarante?
1. River Tâmega Walkway
As you can see in bottom right corner of the photo above, there is a paved pathway alongside the river. This is a lovely scenic route to walk/run or even cycle. There are places where you can swim and/or sunbathe, stop to read a book or have a picnic. It is also possible to hire a pedalo and/or a kayak for use on the river.
Below is a photo of the start of the paved path. It runs for about 500 metres from this point but it was still being built when we visited and so it will definitely extend further in the future.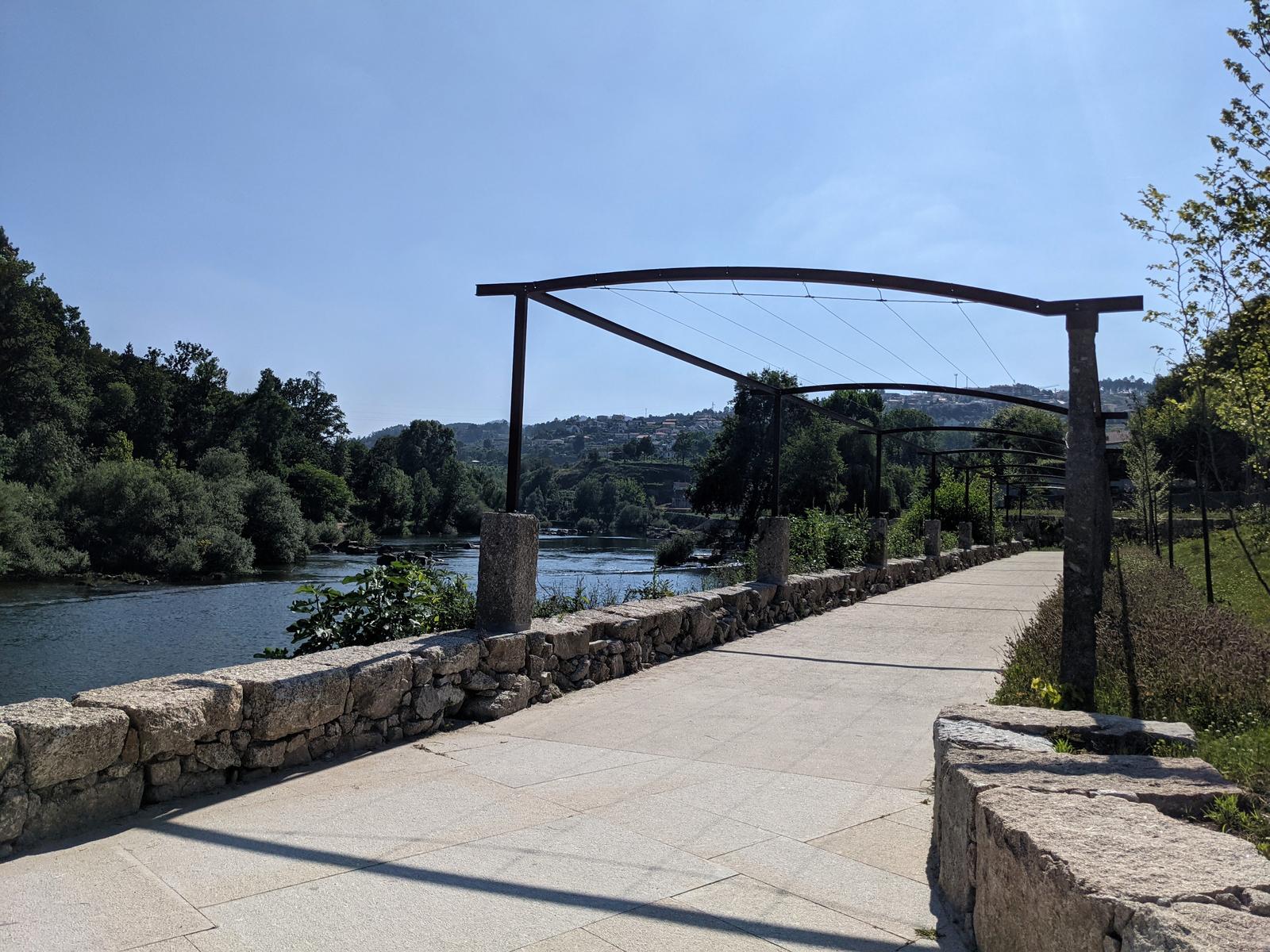 Looking back in the direction of Amarante: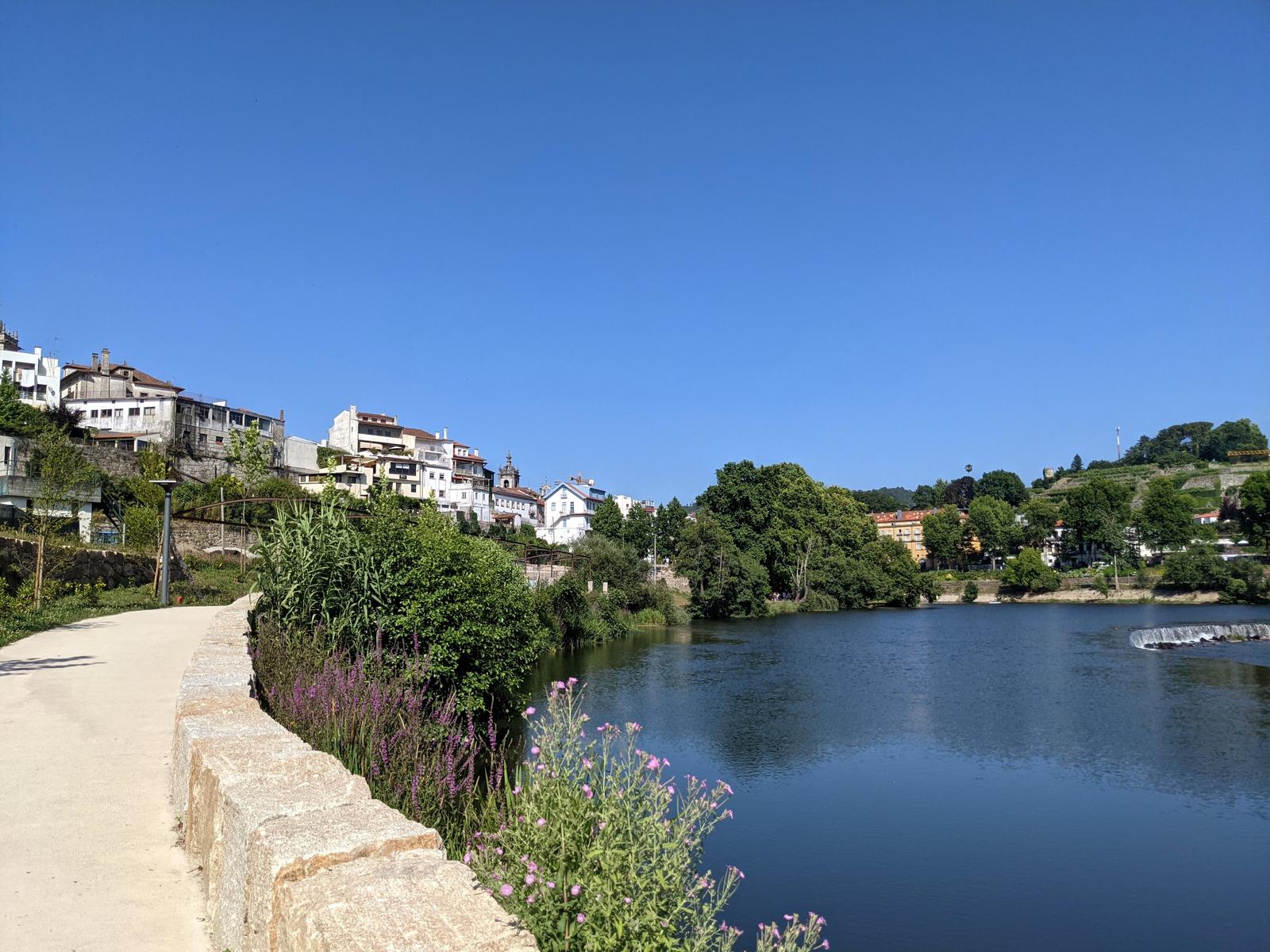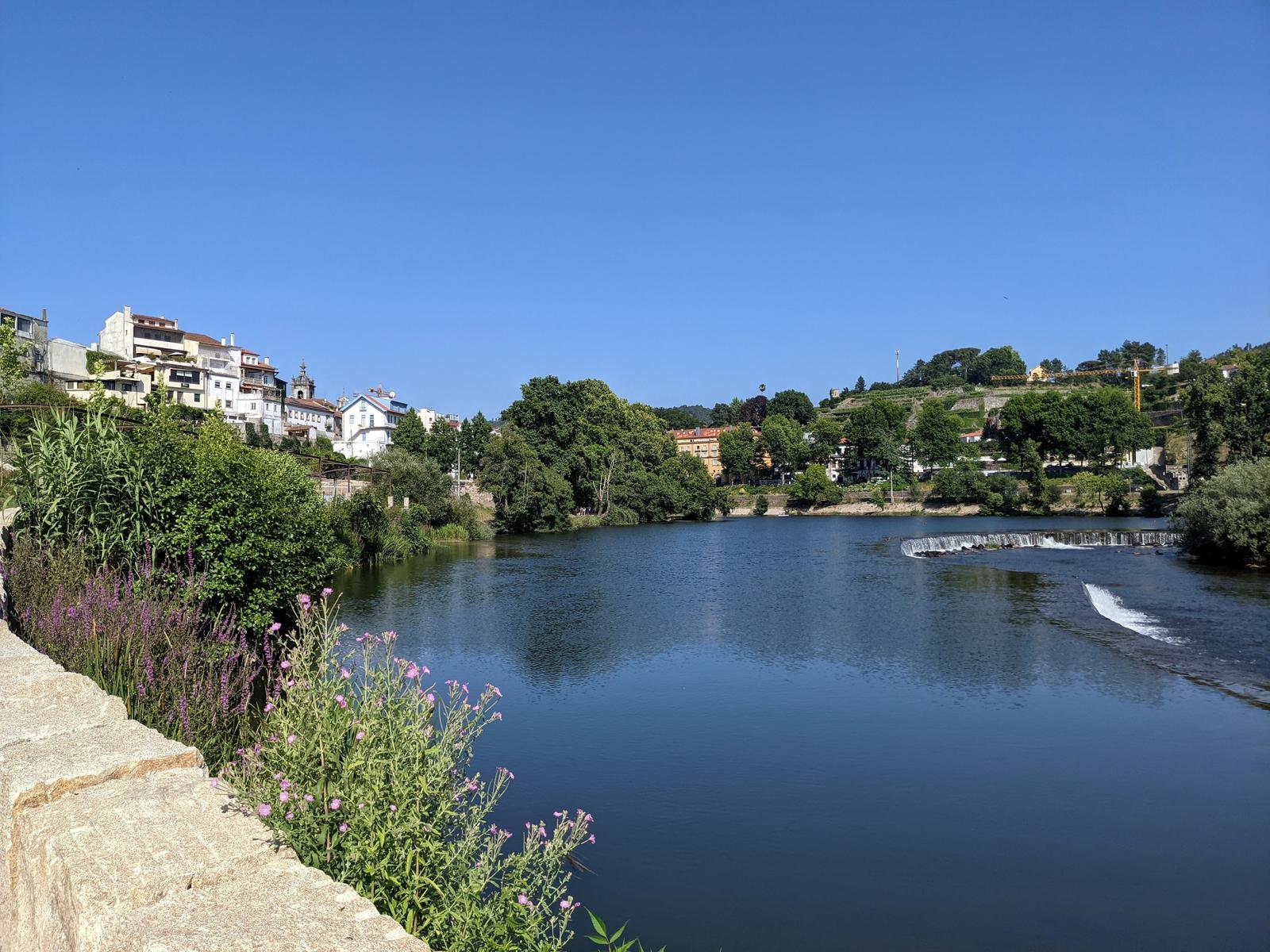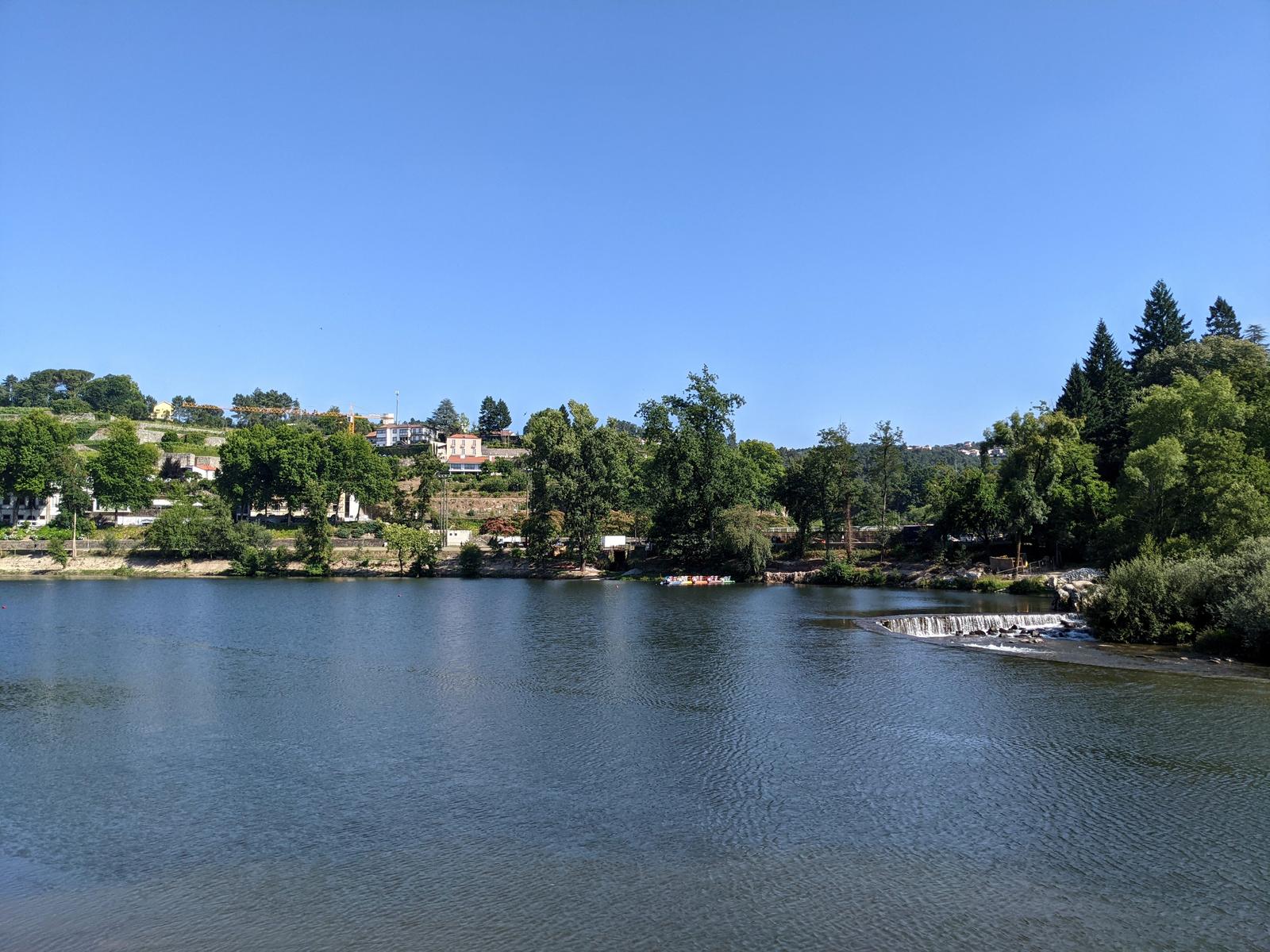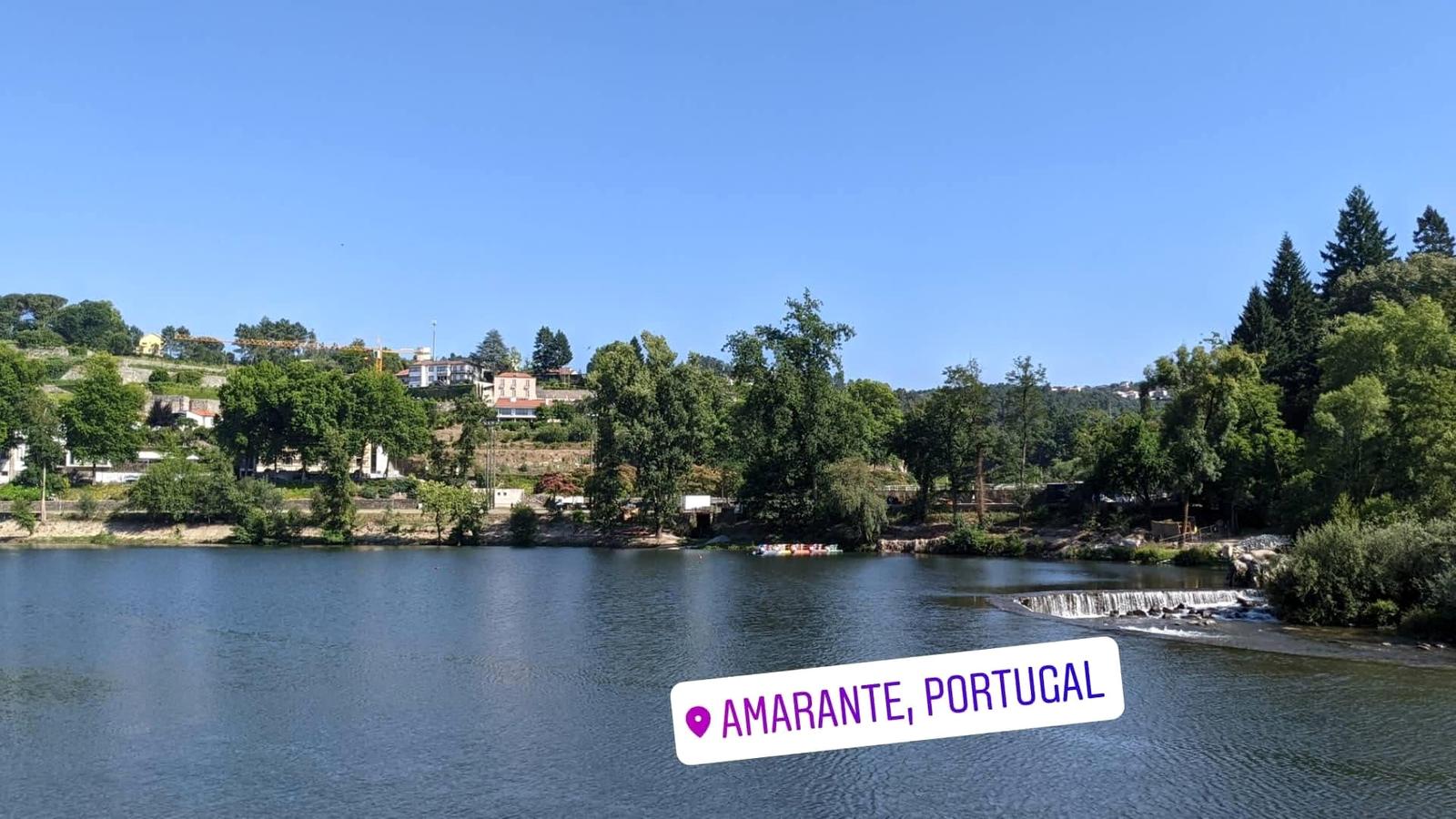 The view from a little further along the walkway and you can see where the walkway continues on the right in the photo below: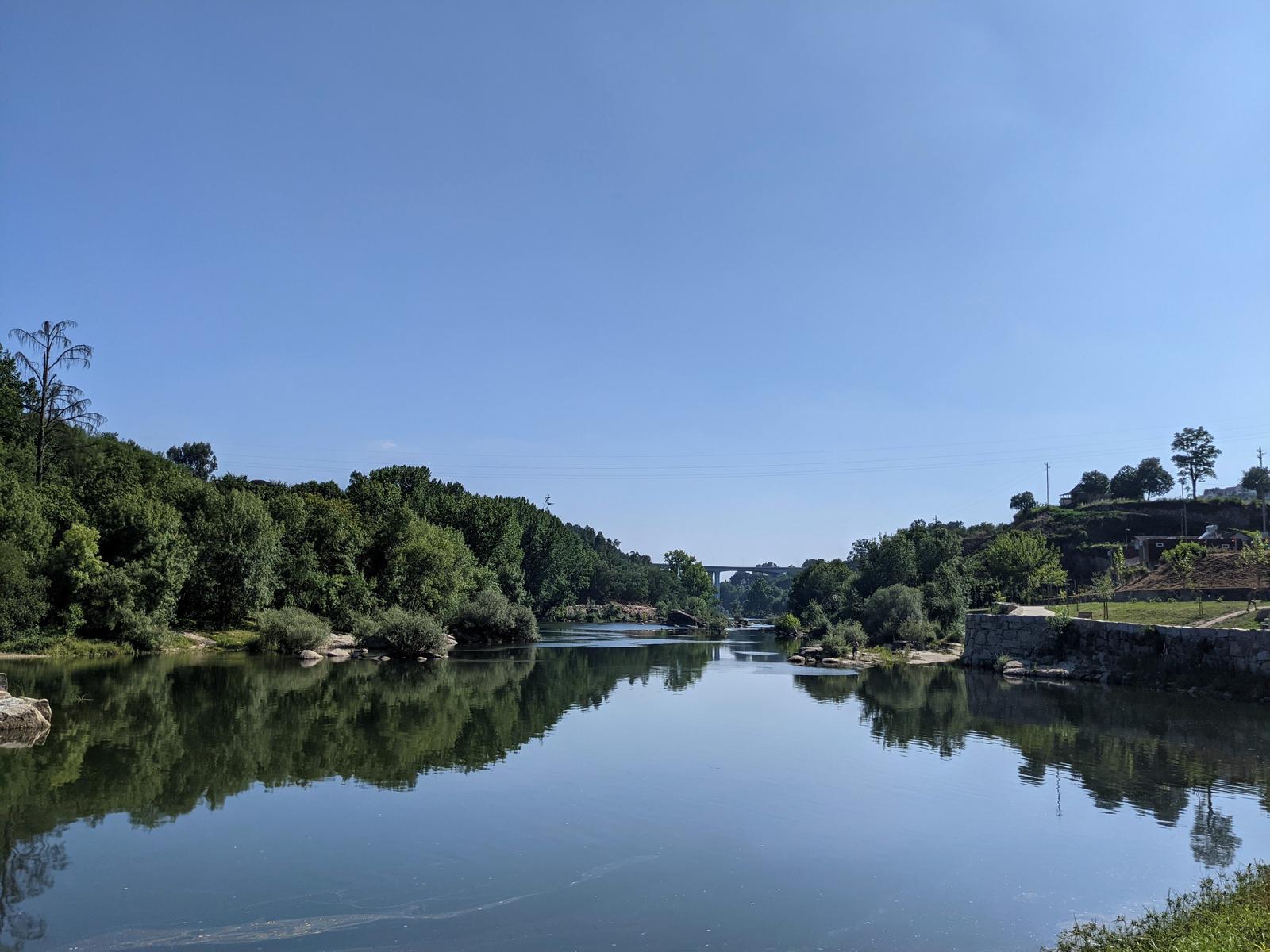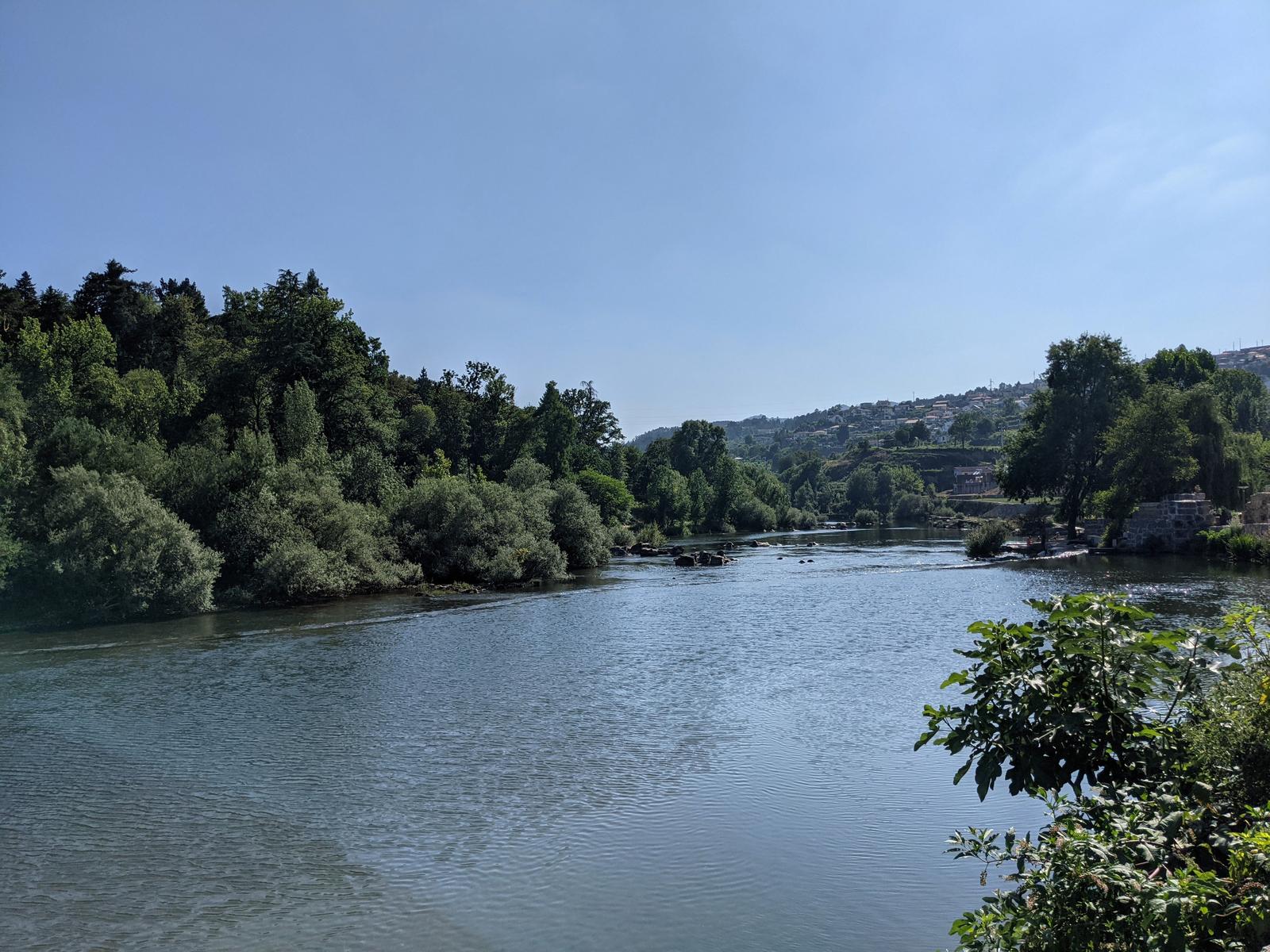 Looking back towards Amarante. There were lots of fish in the water here!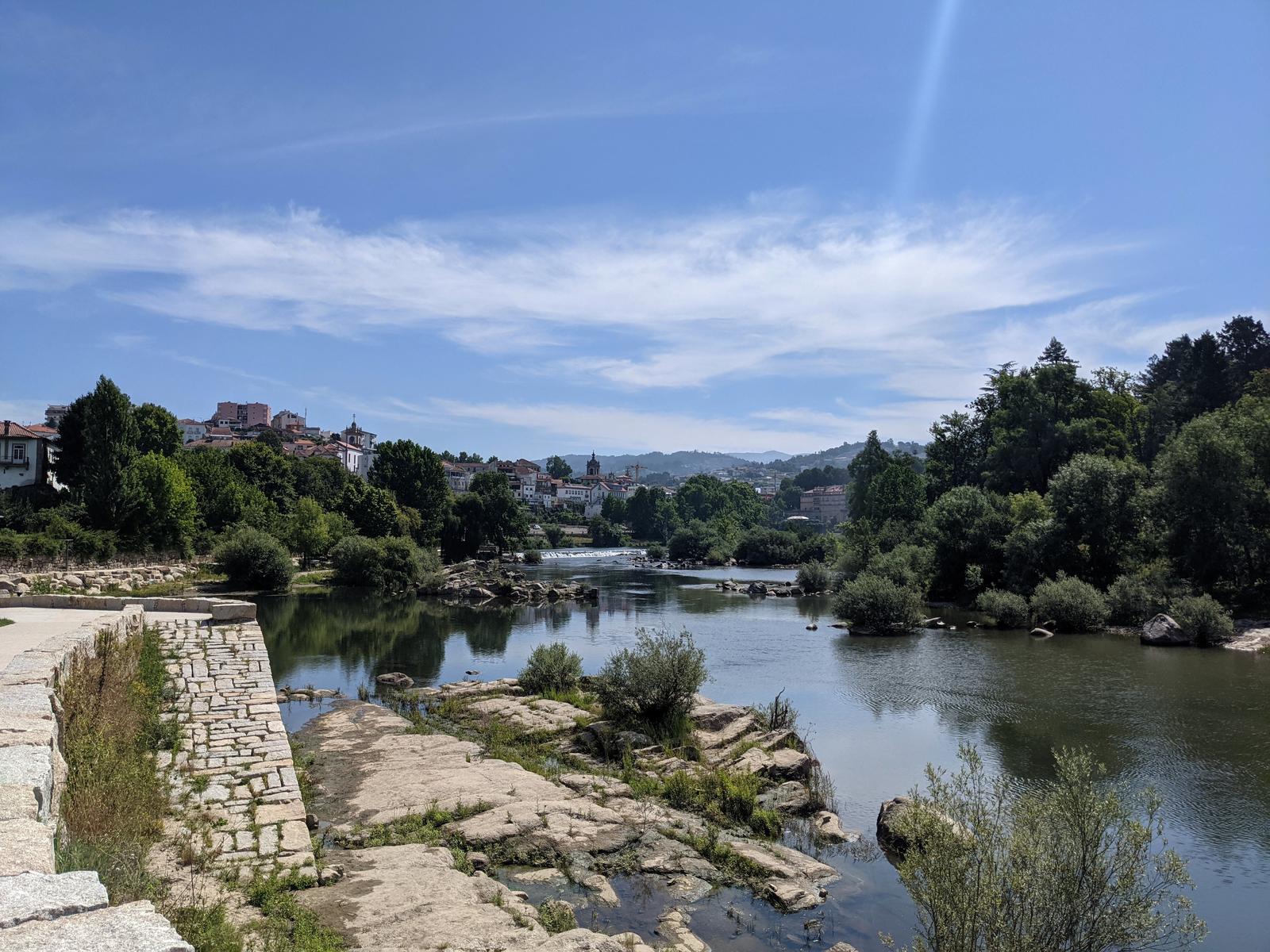 We walked to the "end" of the path (it is blocked at that point where construction is continuing) and then we turned and walked back towards Amarante. We followed the paved path and when it ended we continued on the old cobbled tree lined road that follows the river and provides some wonderful shade on a hot day: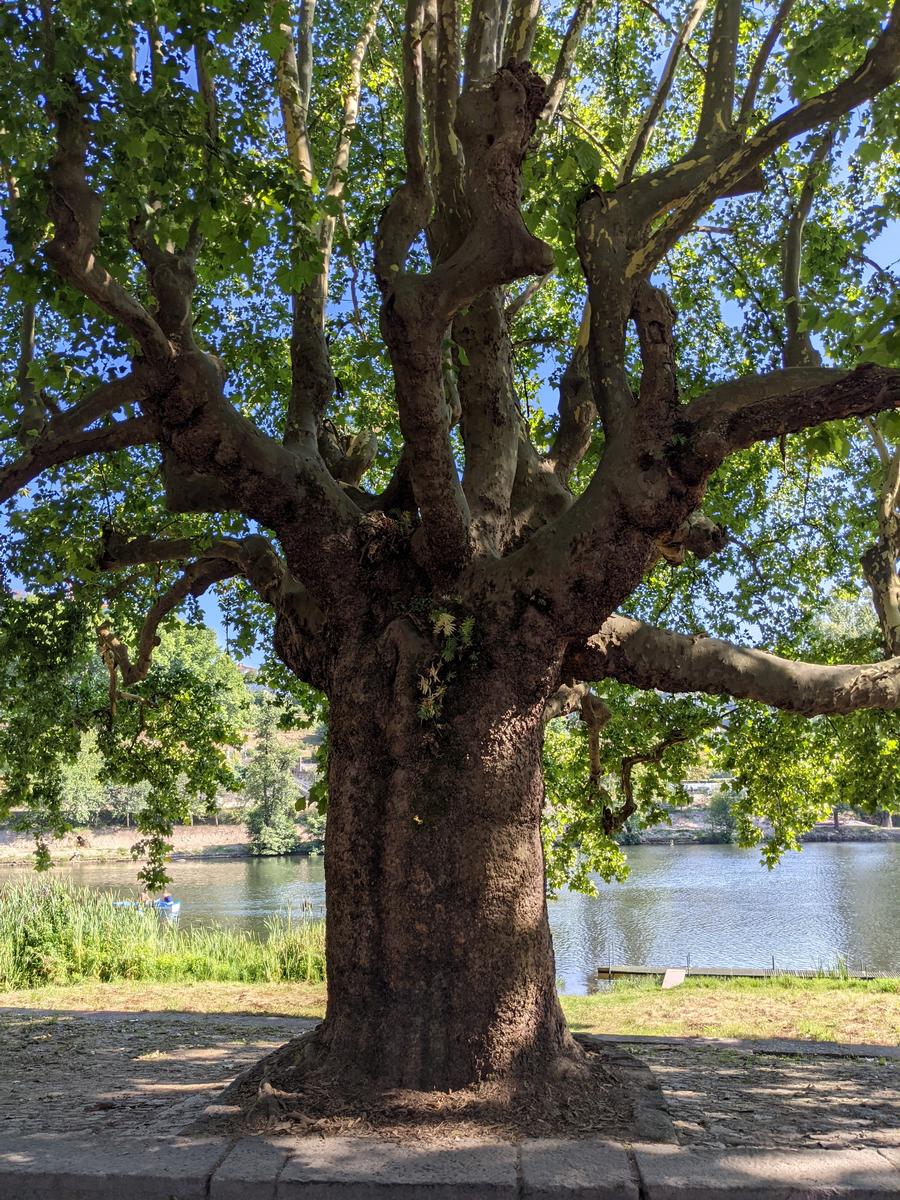 A little further on the cobbled road turns into a pedestrian path that leads all the way to the striking arched bridge of Ponte São Gonçalo: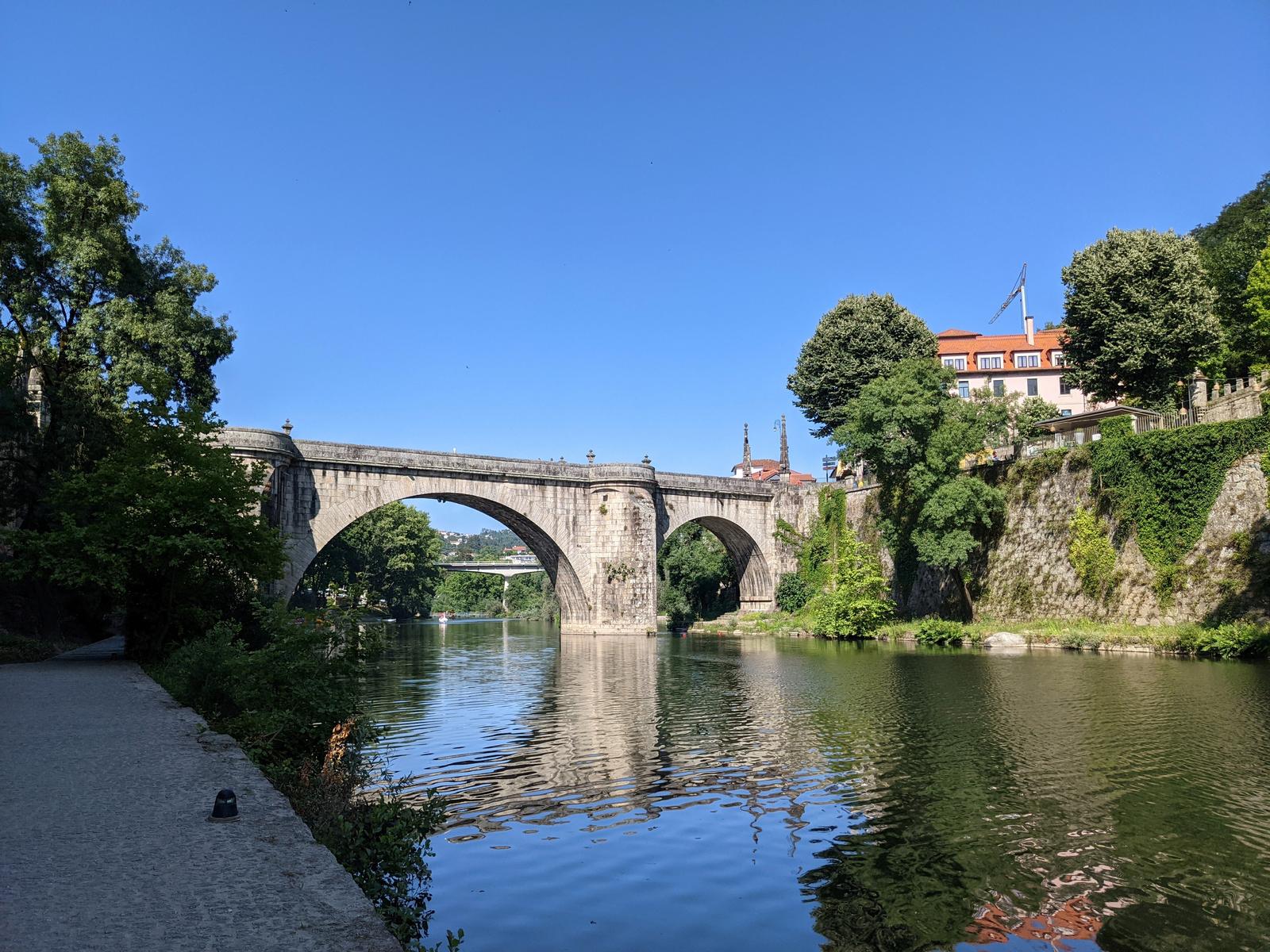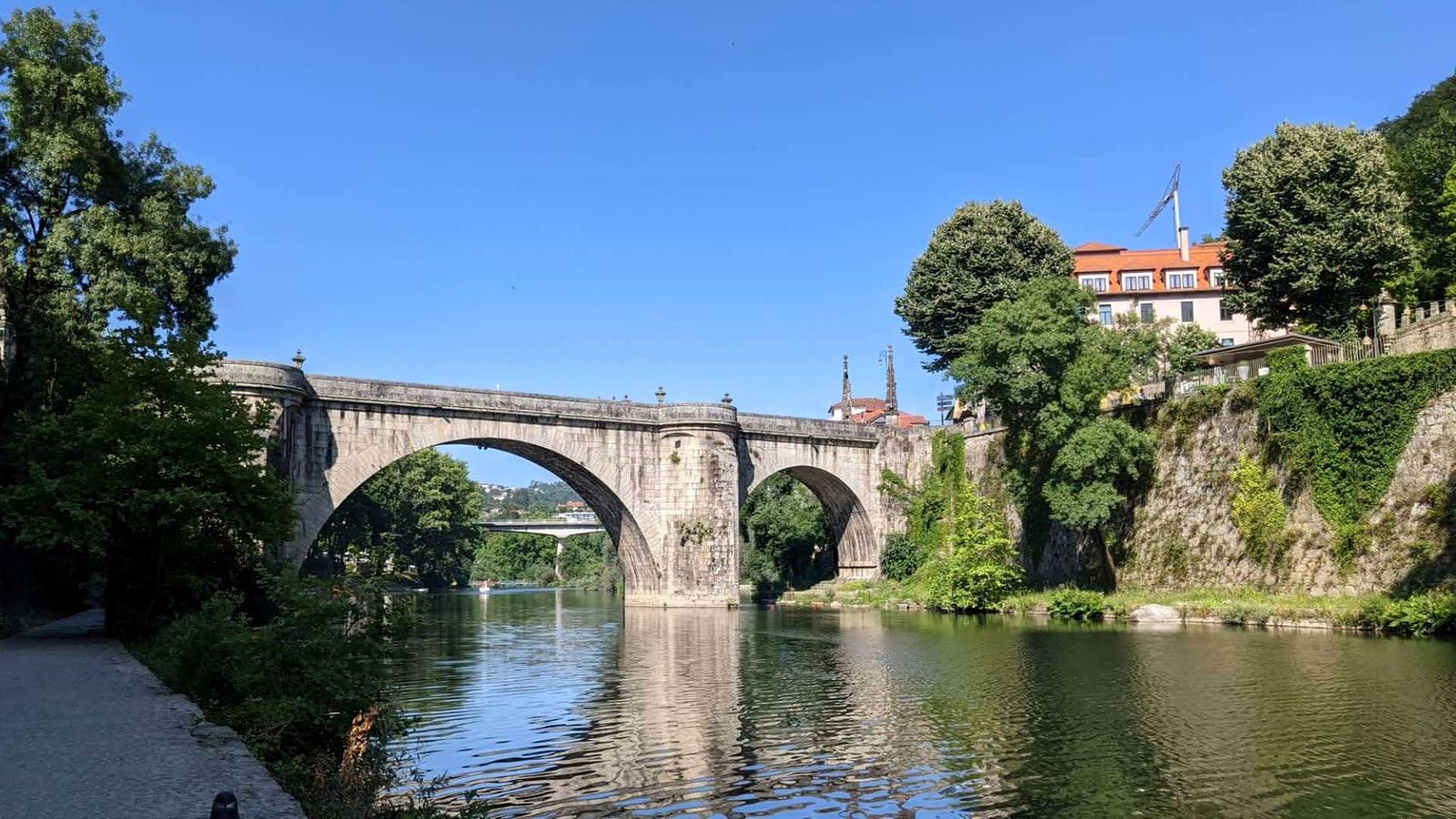 Which takes me onto recommendation No.2 - check out Ponte São Gonçalo!
---
2. Ponte São Gonçalo
You simply cannot miss this beautiful landmark in Amarante. Even a quick walk around the town will lead you here and over it! Traffic still uses this bridge too.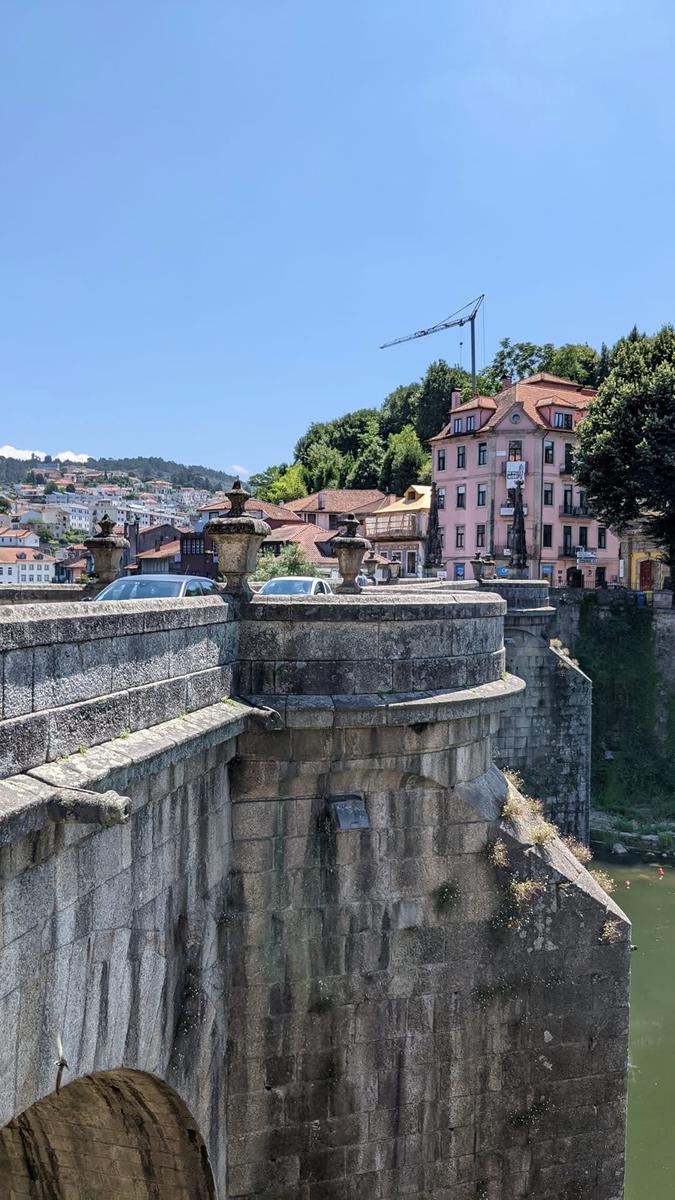 According to Lonely Planet, the bridge is:
"A symbol of the town's heroic defence against the French (marked by a plaque at the southeastern end), the granite Ponte de São Gonçalo is Amarante's visual centrepiece. The original bridge, allegedly built at Gonçalo's urging in the 13th century, collapsed in a flood in 1763; this one was completed in 1790." (Source here).
I really liked the view of the bridge from the river walkway below it but of course you get a great view from up top too: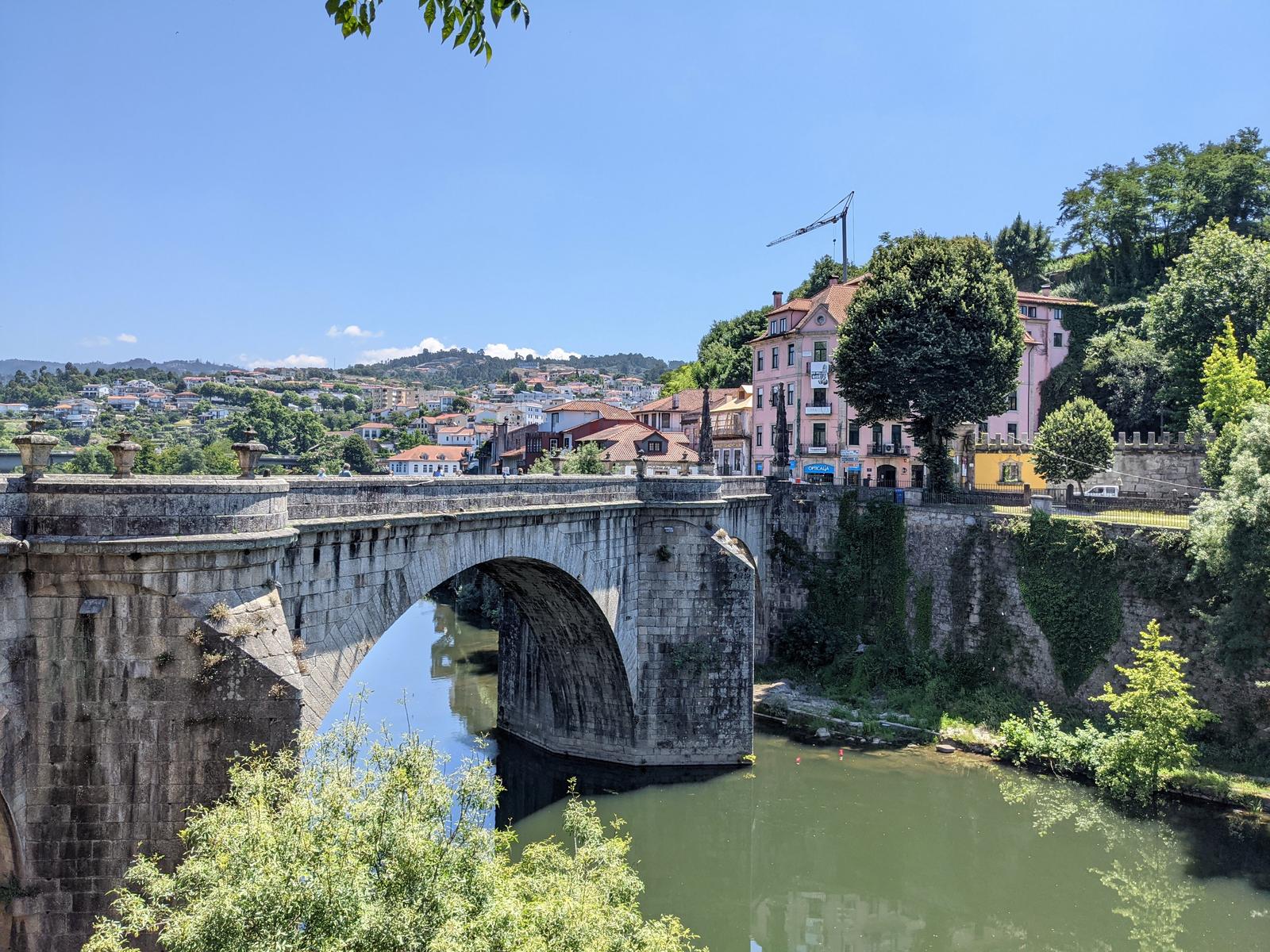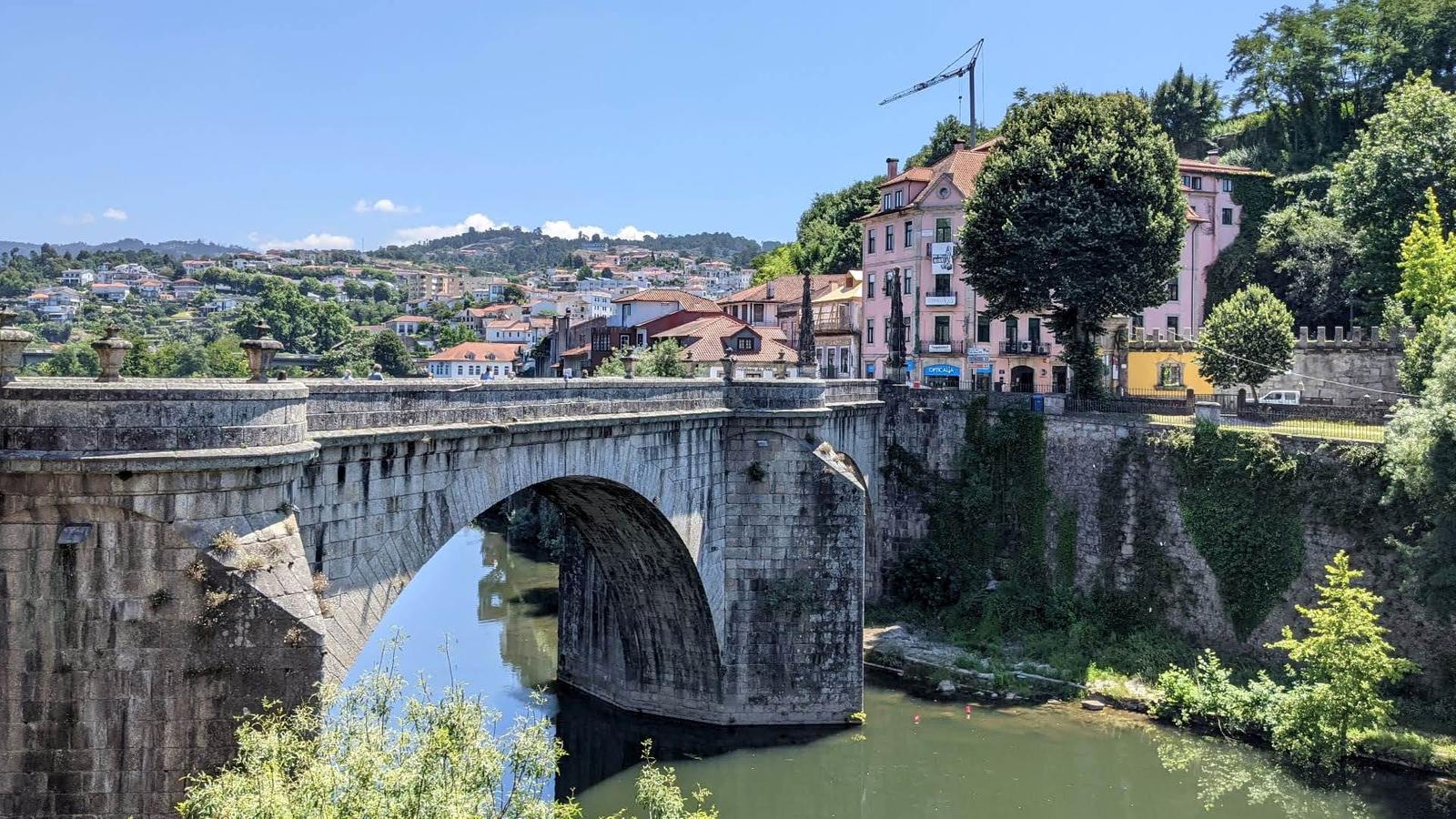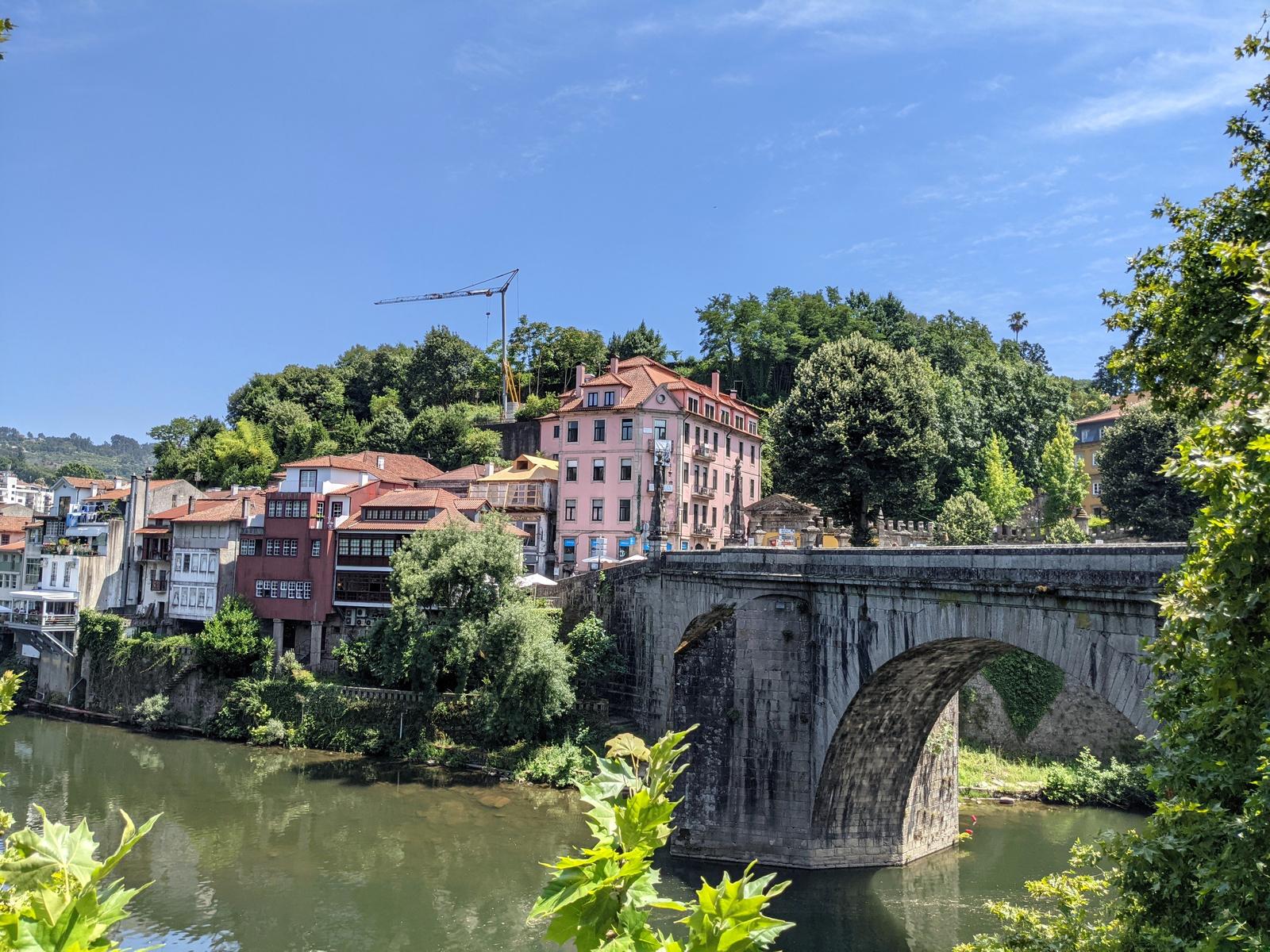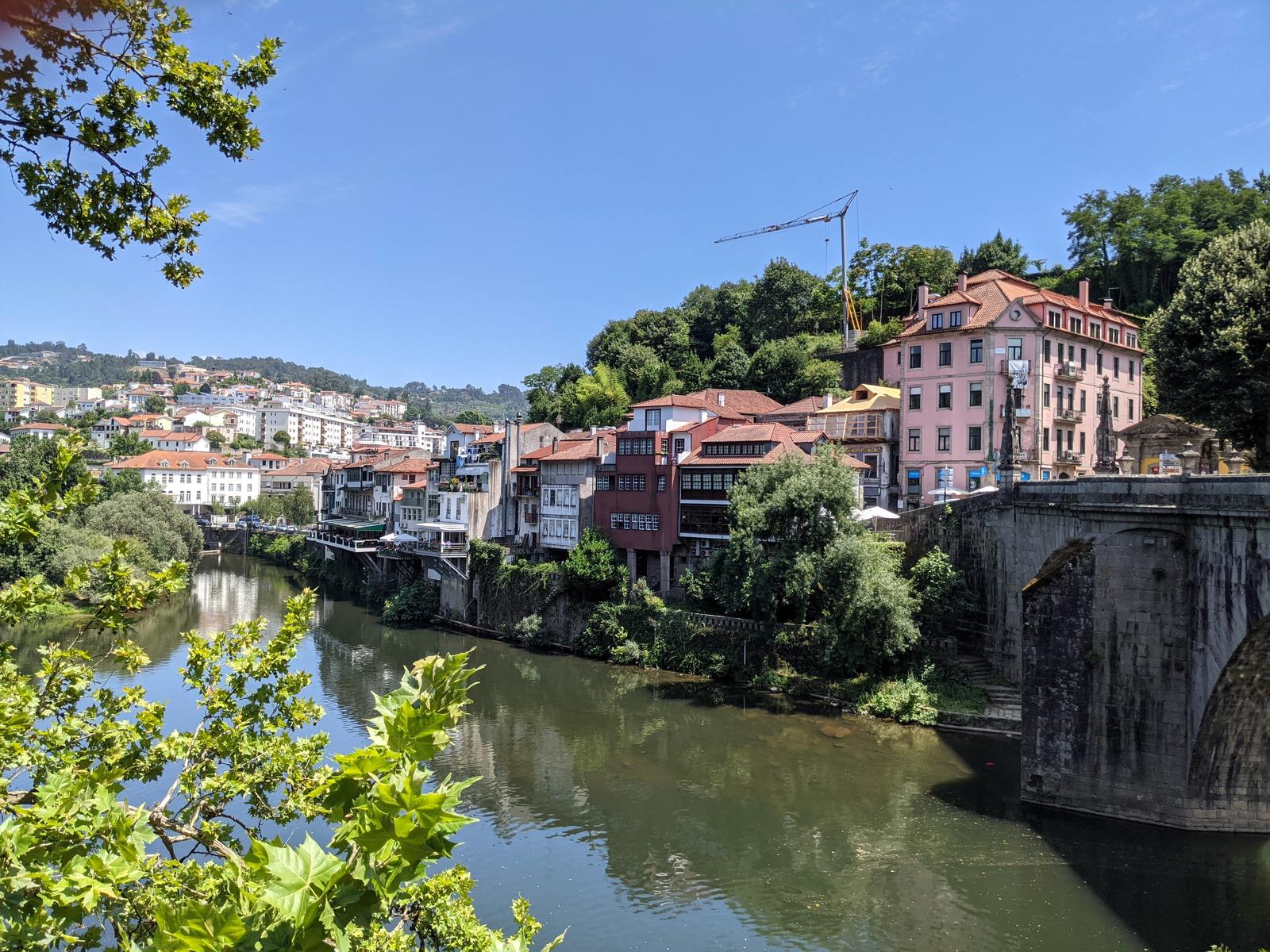 In the buildings that line the riverfront and have a bridge view (as seen below) you will find mainly restaurants and cafes with terraces that take advantage of the great location and river view; the perfect place to enjoy a glass of the local vinho verde.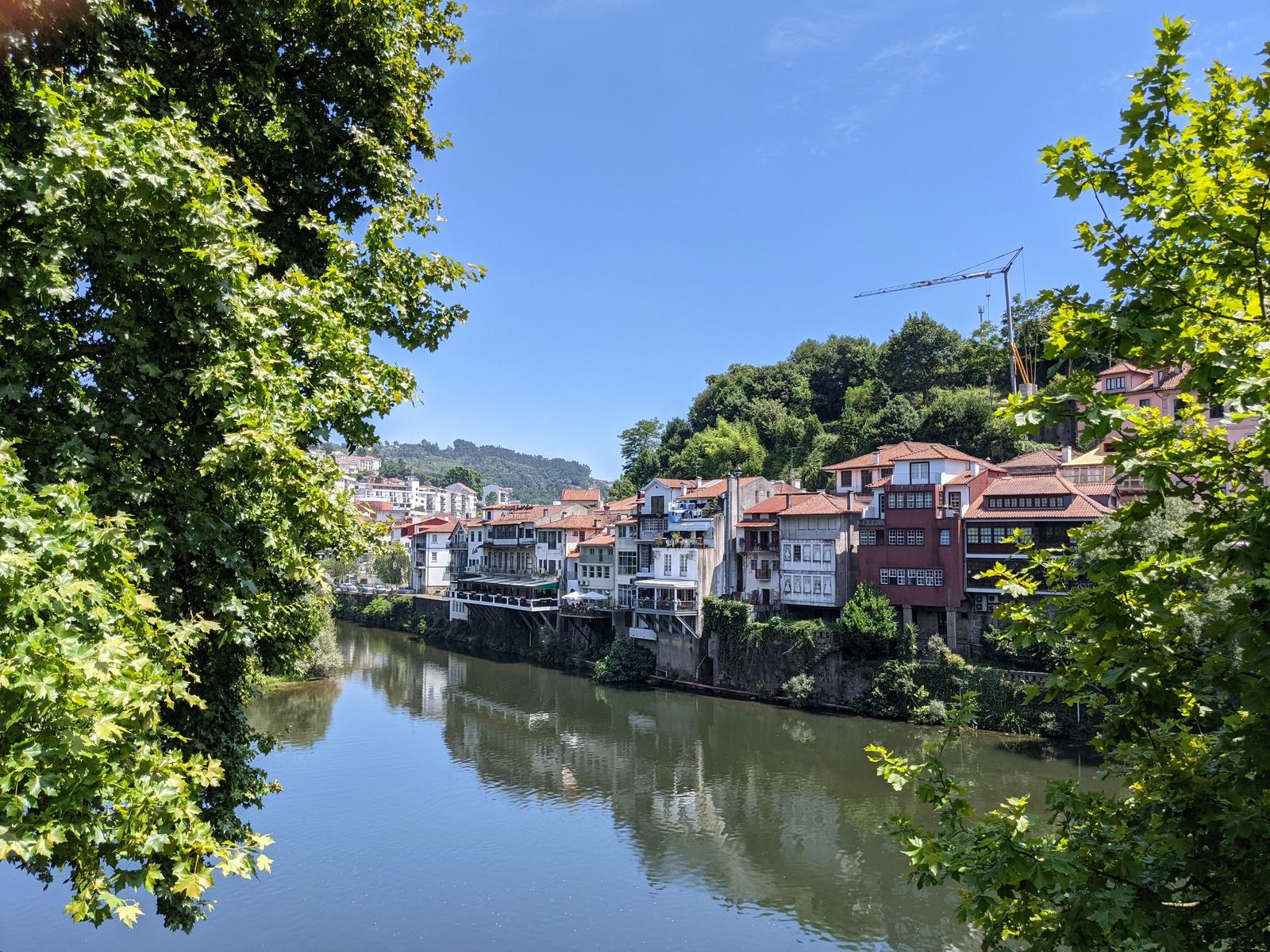 ---
3. Explore the Cobbled Streets & Local Shops
There are some really gorgeous shops in Amarante. You will find a variety of shops selling locally made produce, especially food (cheese and meats), wine and Port. Clothes shops are also plentiful and you could easily pass a few hours enjoying some retail therapy. Rua 31 de Janeiro is one street that stands out to me as a must see.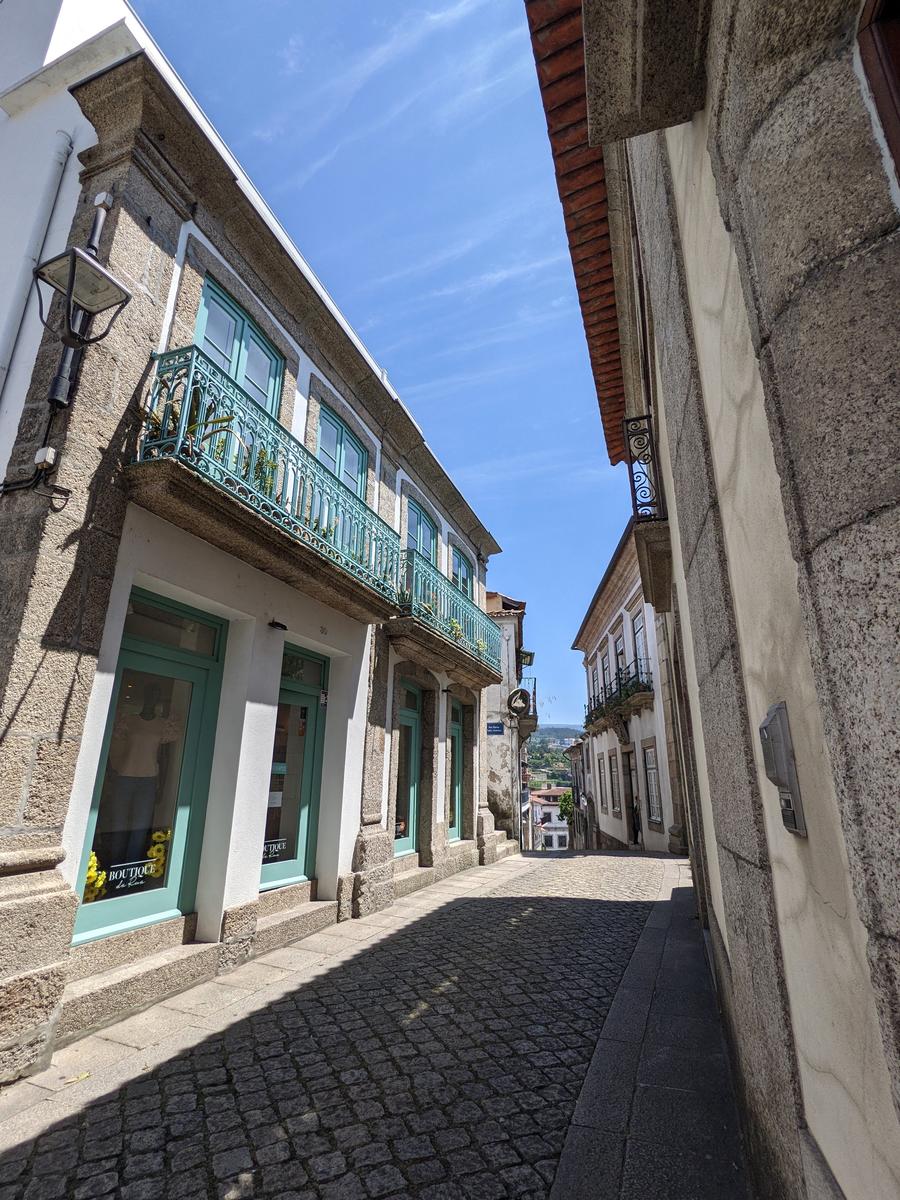 The plaza pictured below is next to the Igreja de São Gonçalo: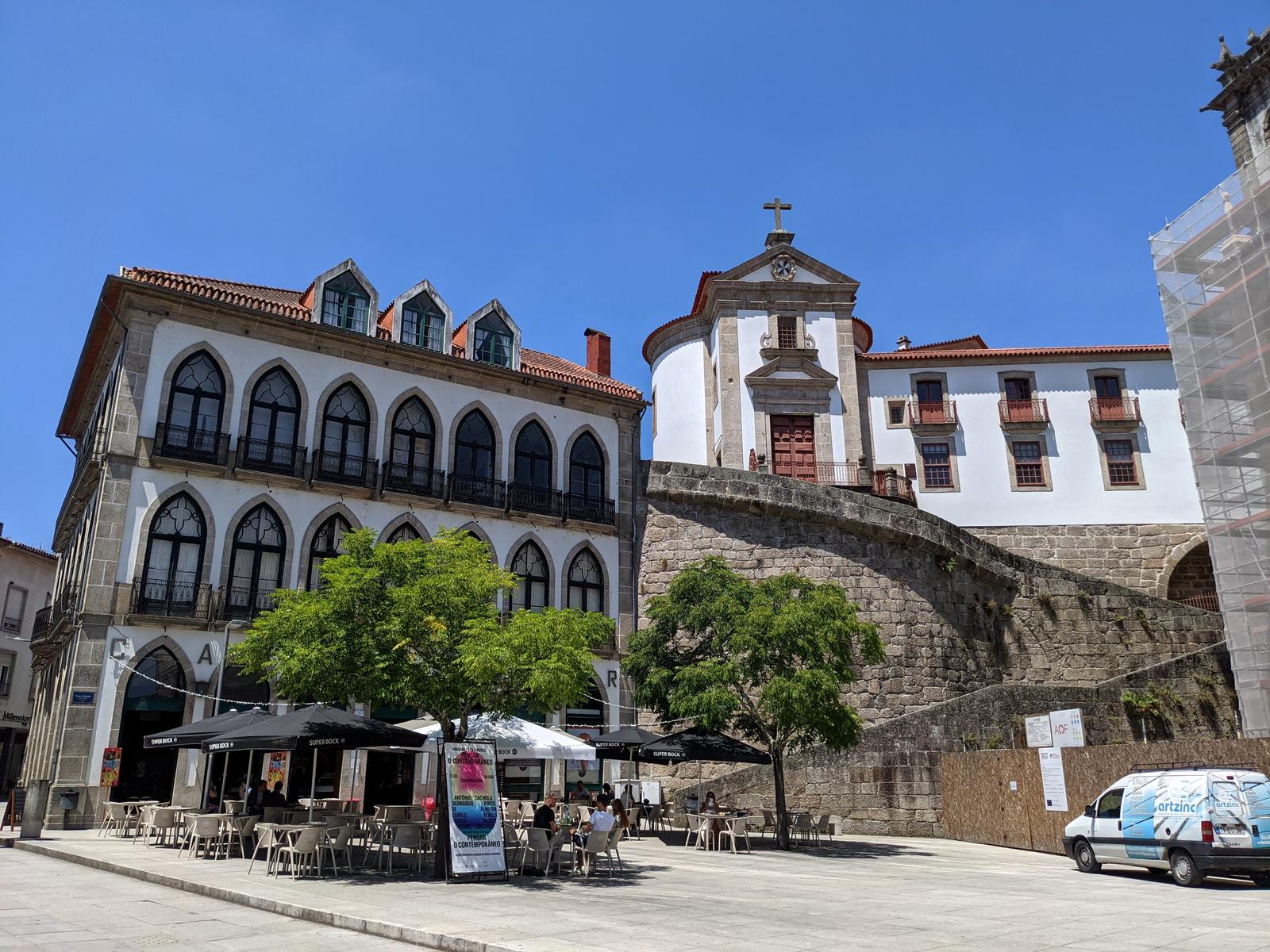 The Igreja de São Gonçalo is also a import landmark in the town but as you can see below it was under renovation when we visited: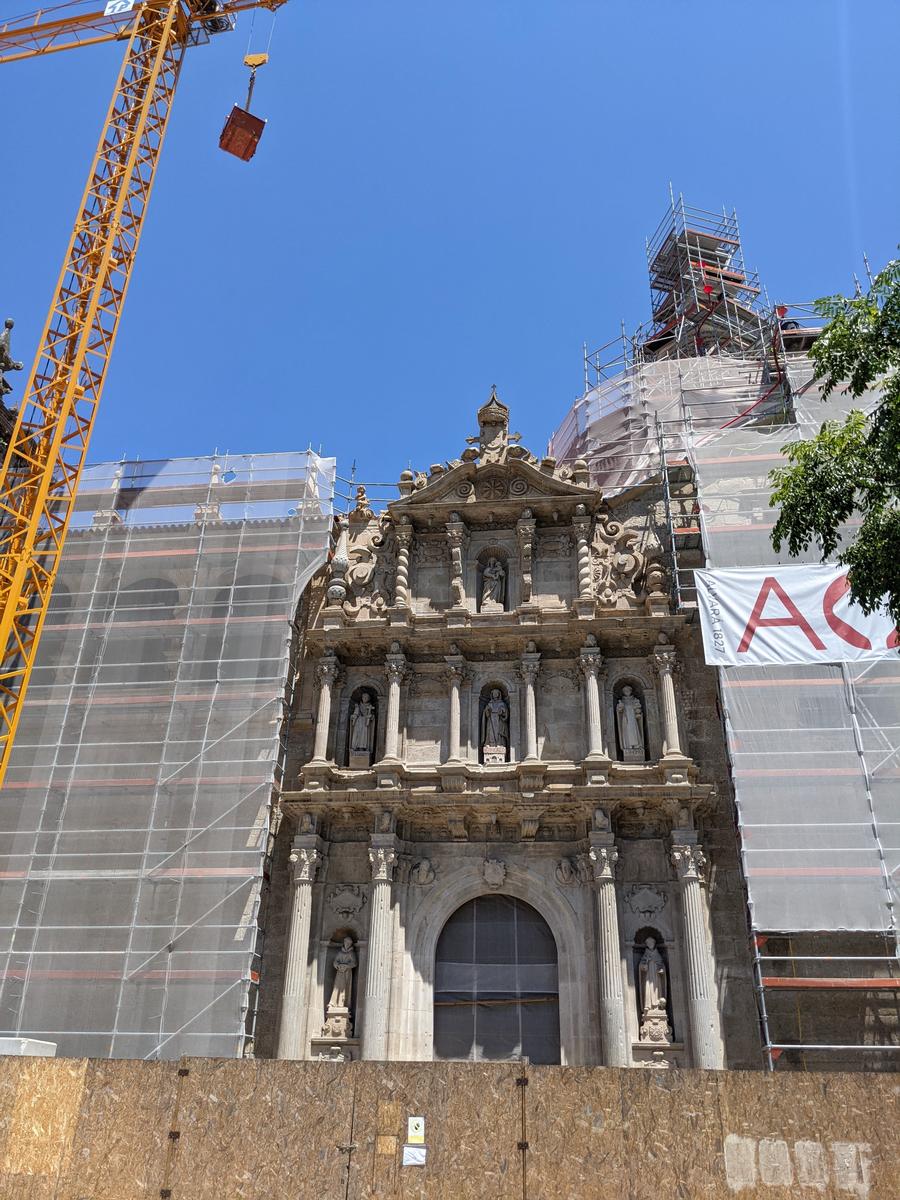 Below is the Igreja de São Pedro: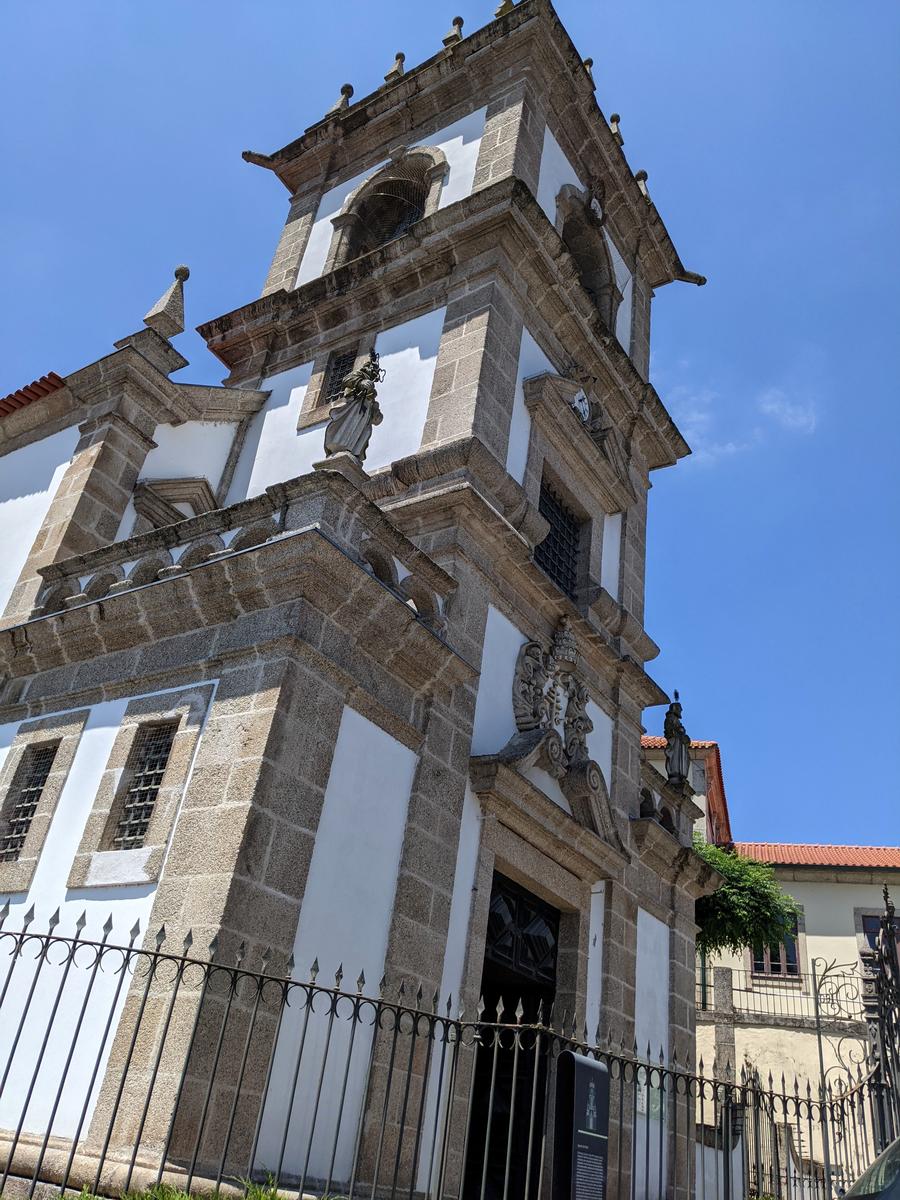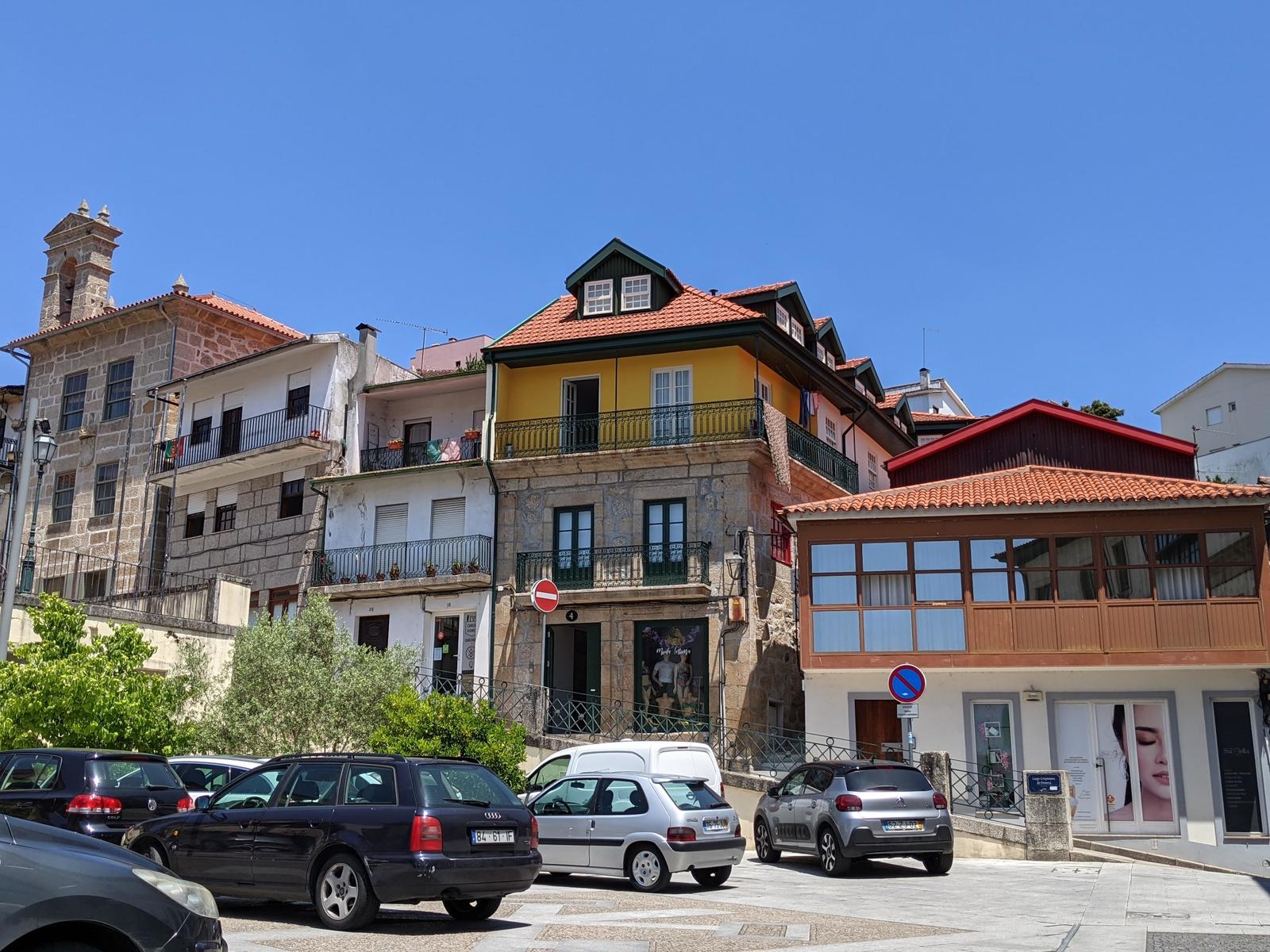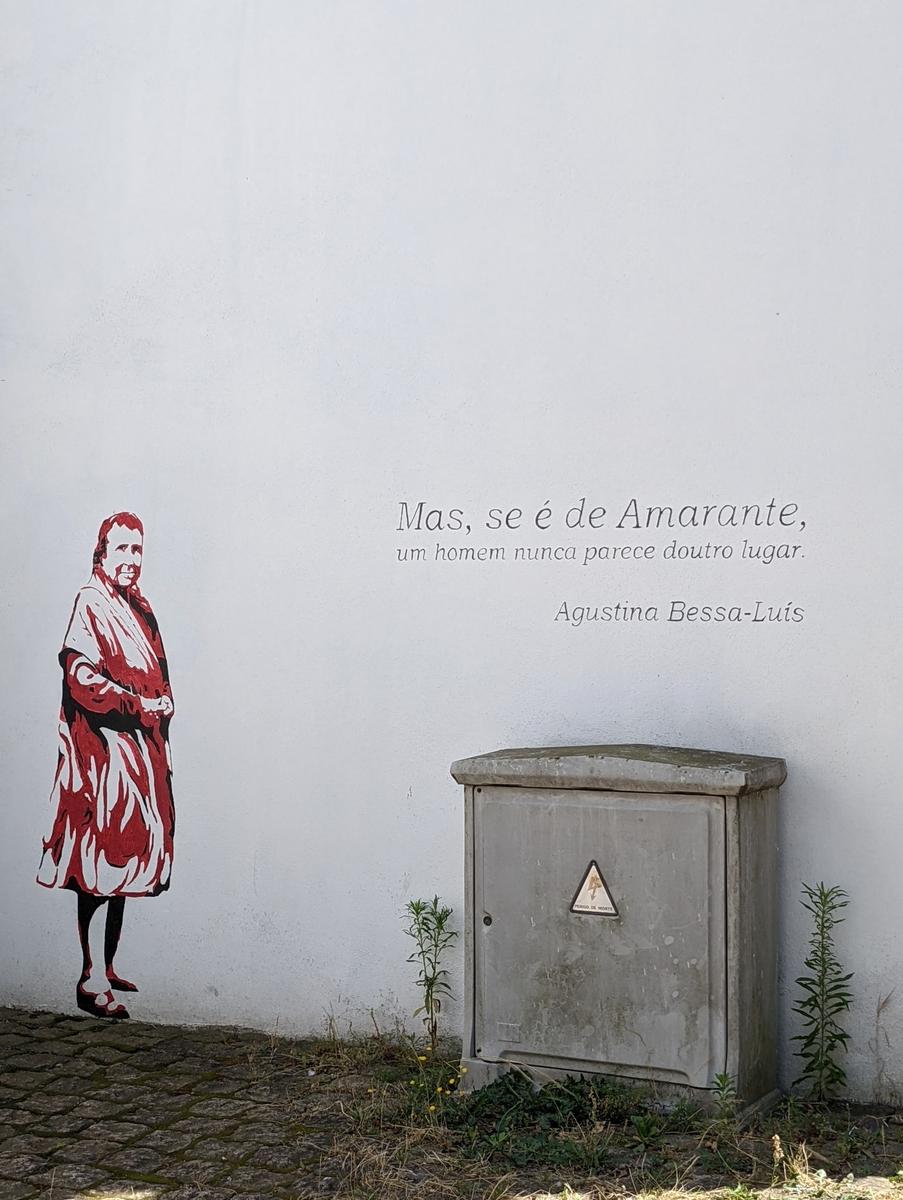 The Amarante sign and the Municipal Museum Amadeo de Souza Cardoso: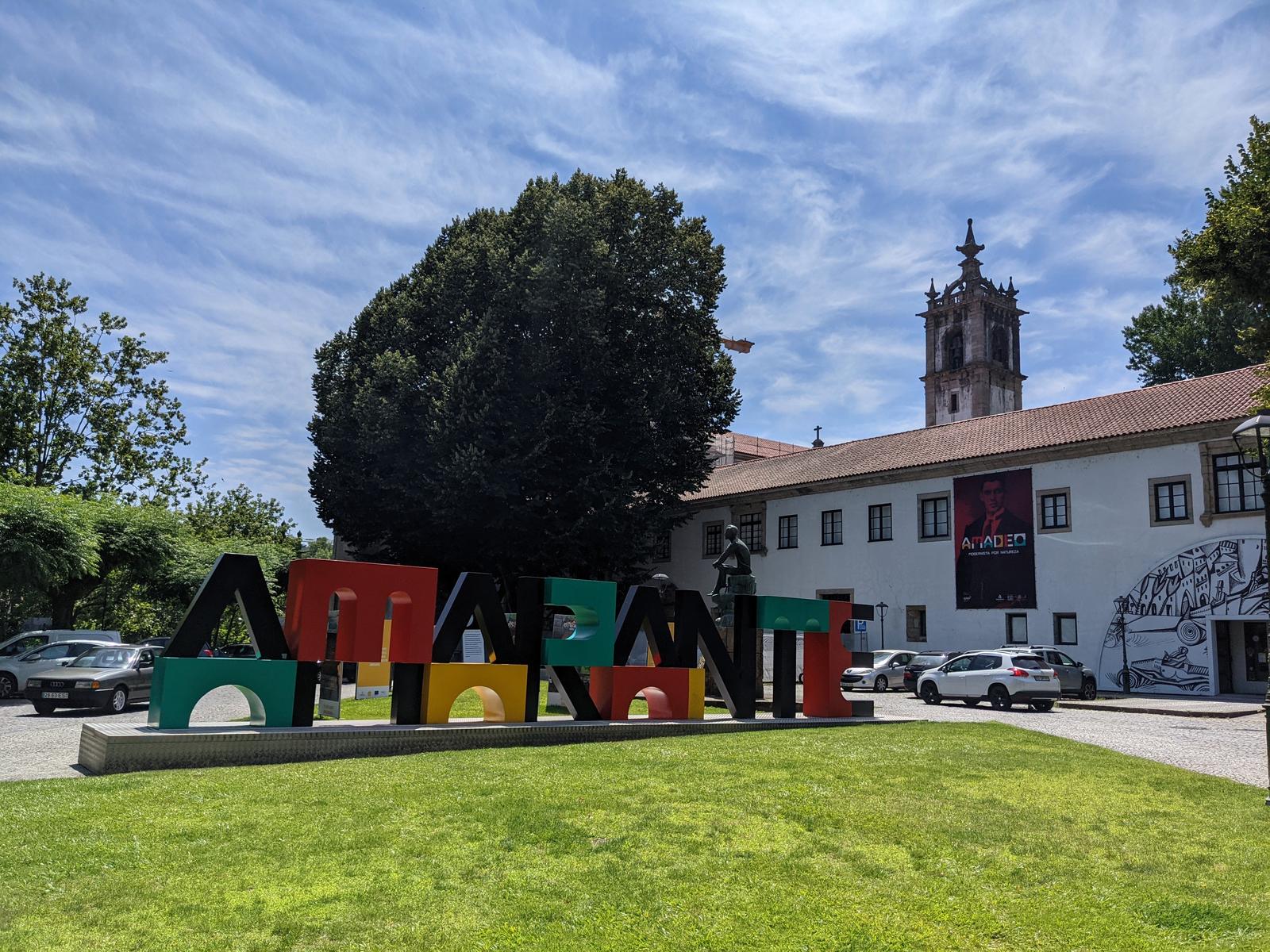 There were food stalls in the area next to the Amarante sign when we were there. It was a long time since I had seen a old style pay phone!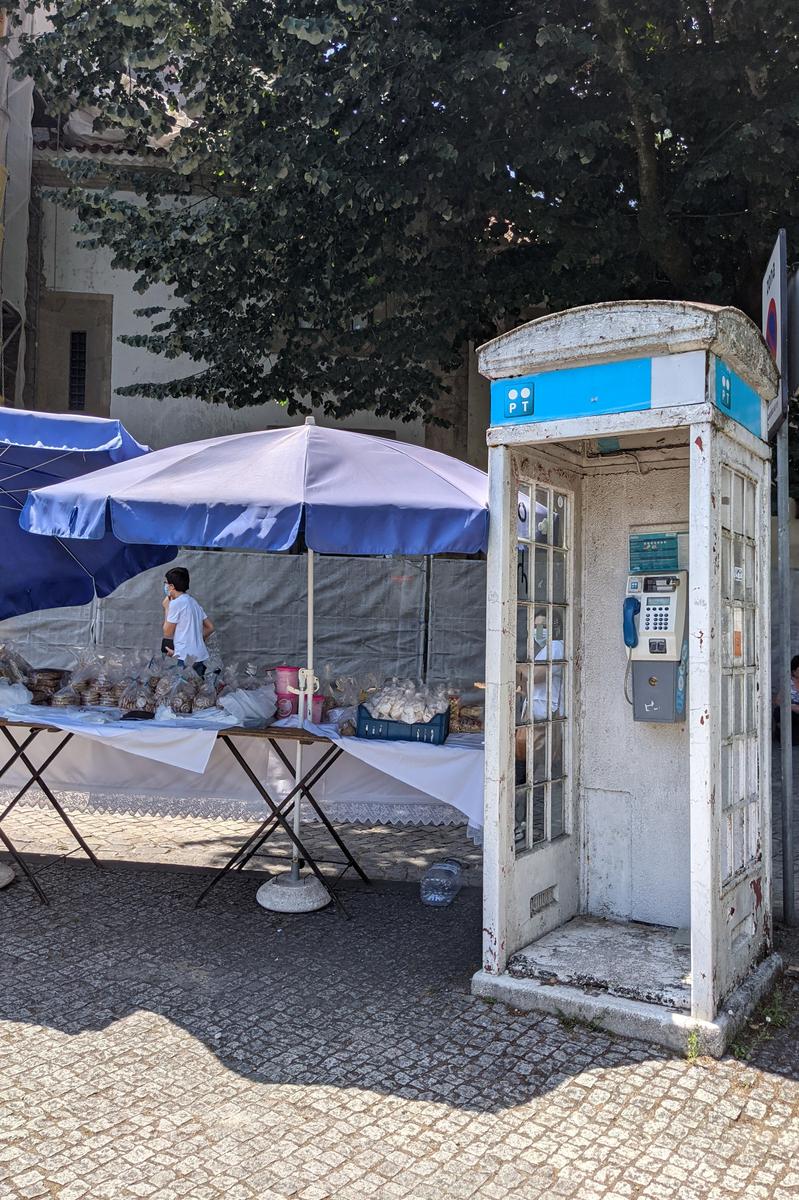 Some nice flowers on the way to the supermarket: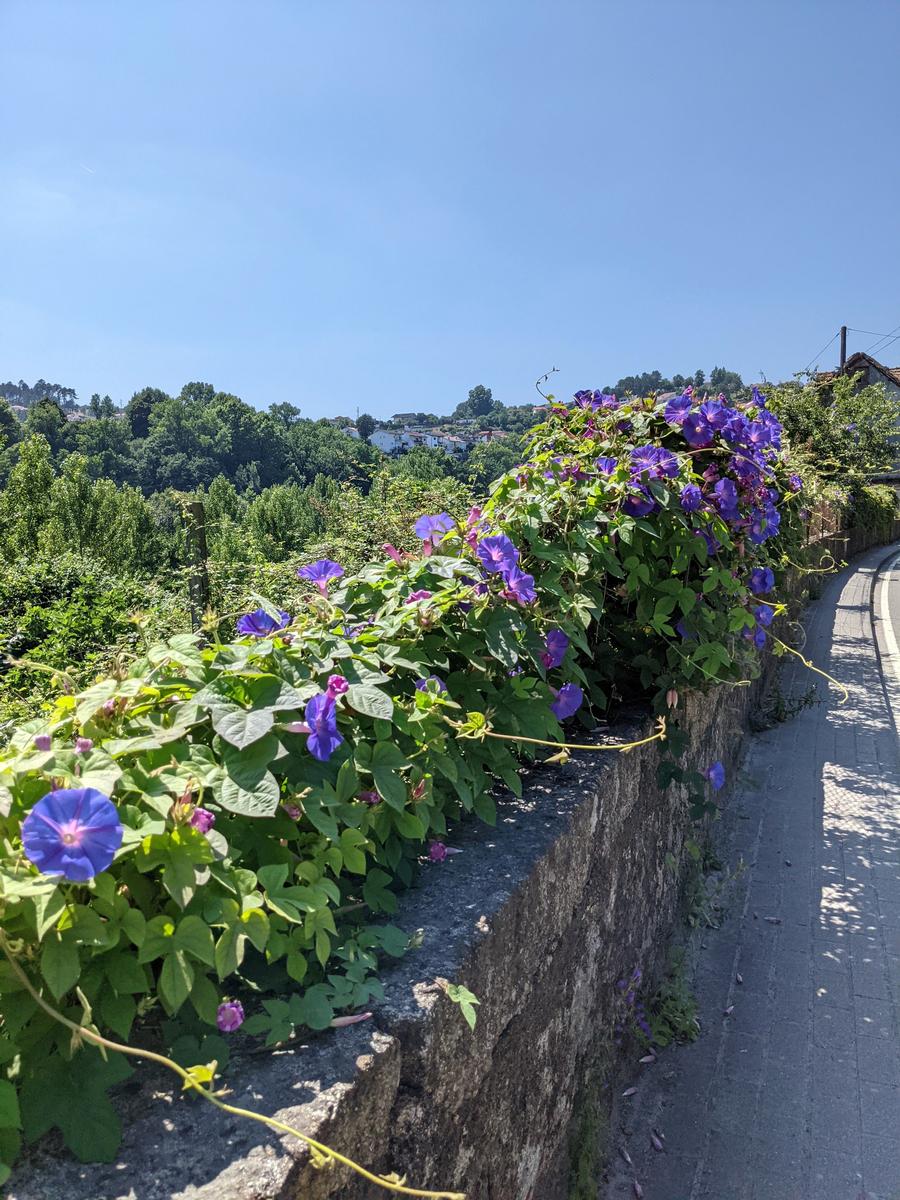 ---
4. Visit the Parque Florestal de Amarante
On our second morning I went for a run on the opposite side of the river and decided to check out the Parque Florestal de Amarante. It is so pretty and well worth a visit.
On my way to the park I passed a big outdoor riverside market: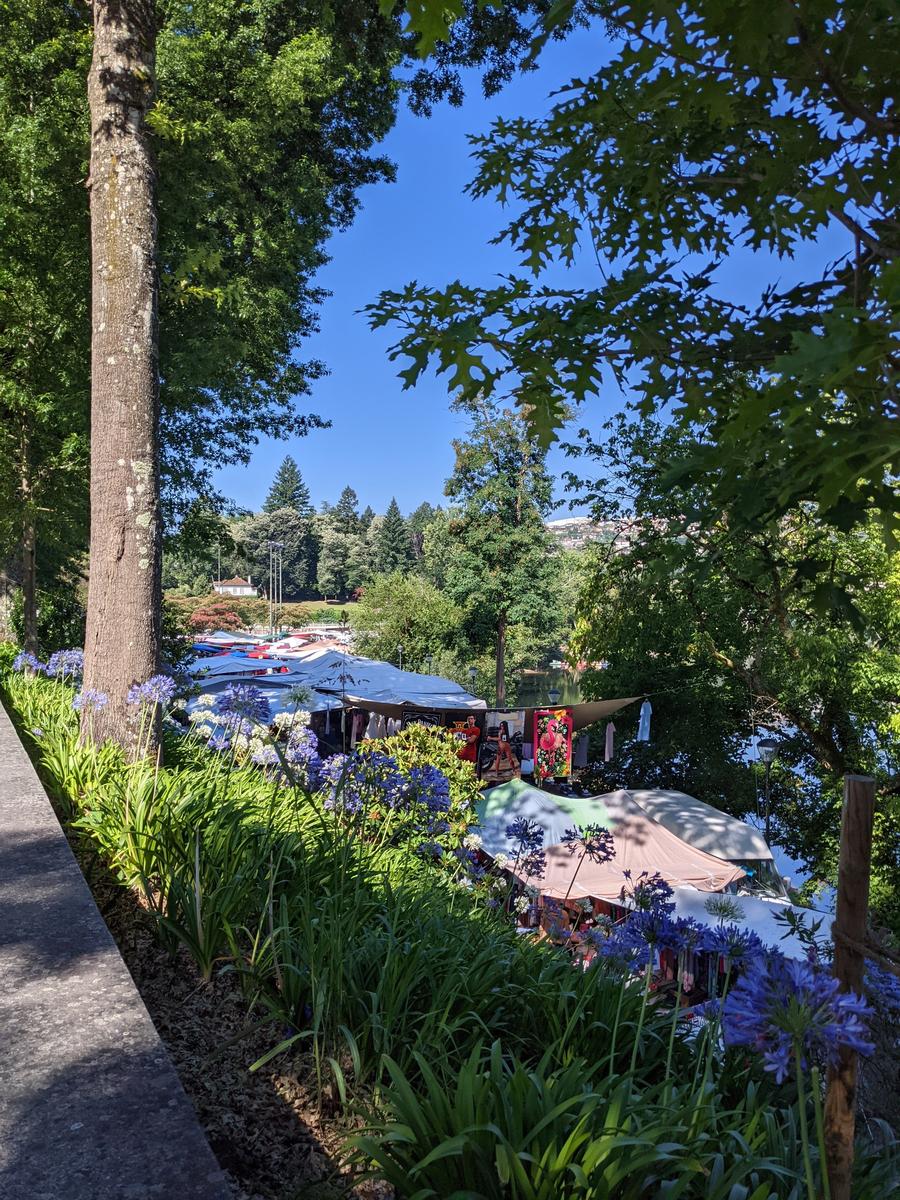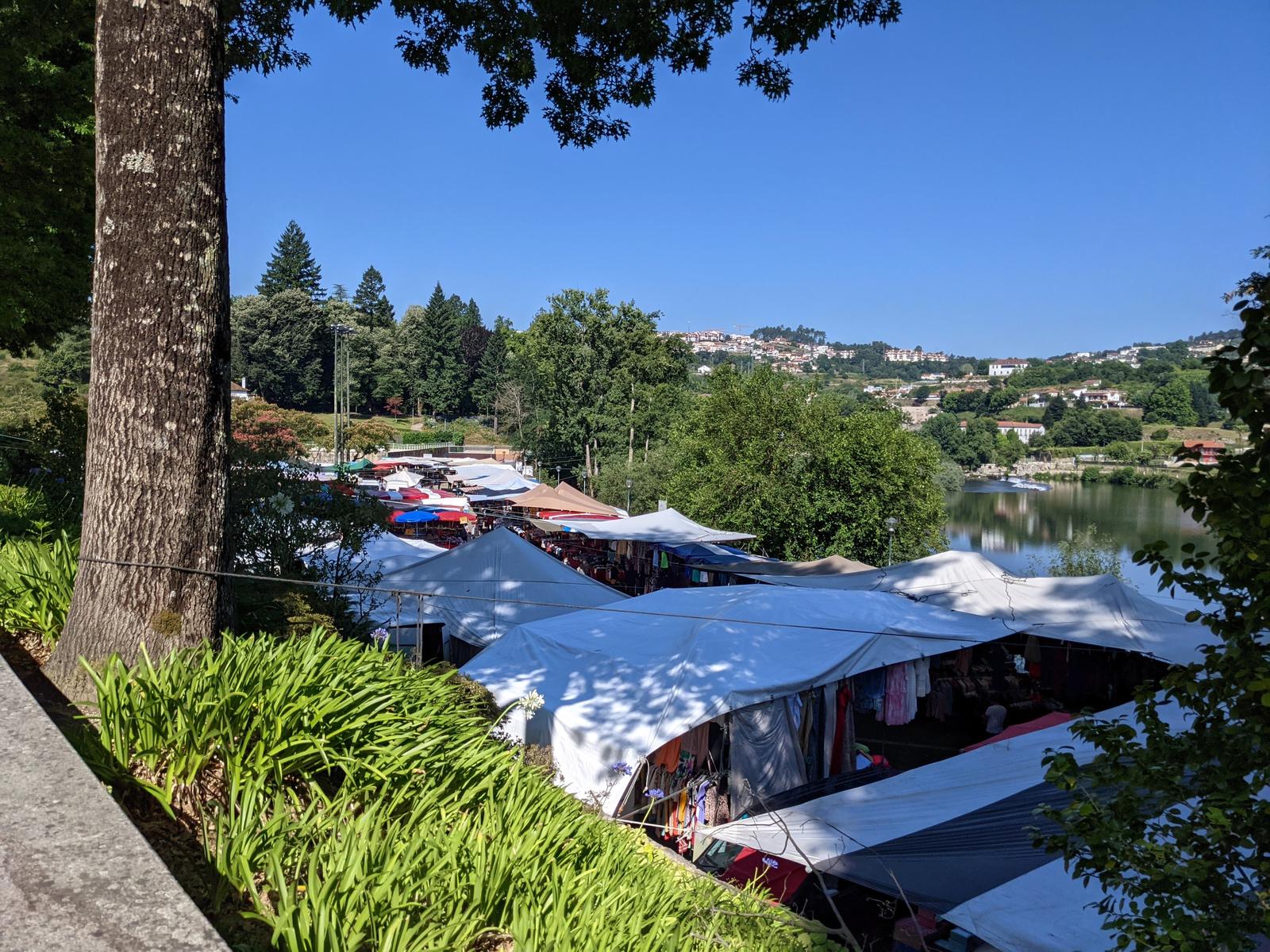 I enjoyed running around the park paths, some of which brought me through a lovely wooded area. There was one path that I had planned on run along that follows the river but unfortunately it too was being worked on when we were there so I could not access it - next time! Here are some quick photos of the well maintained park. It would be a great place to picnic or relax with a book.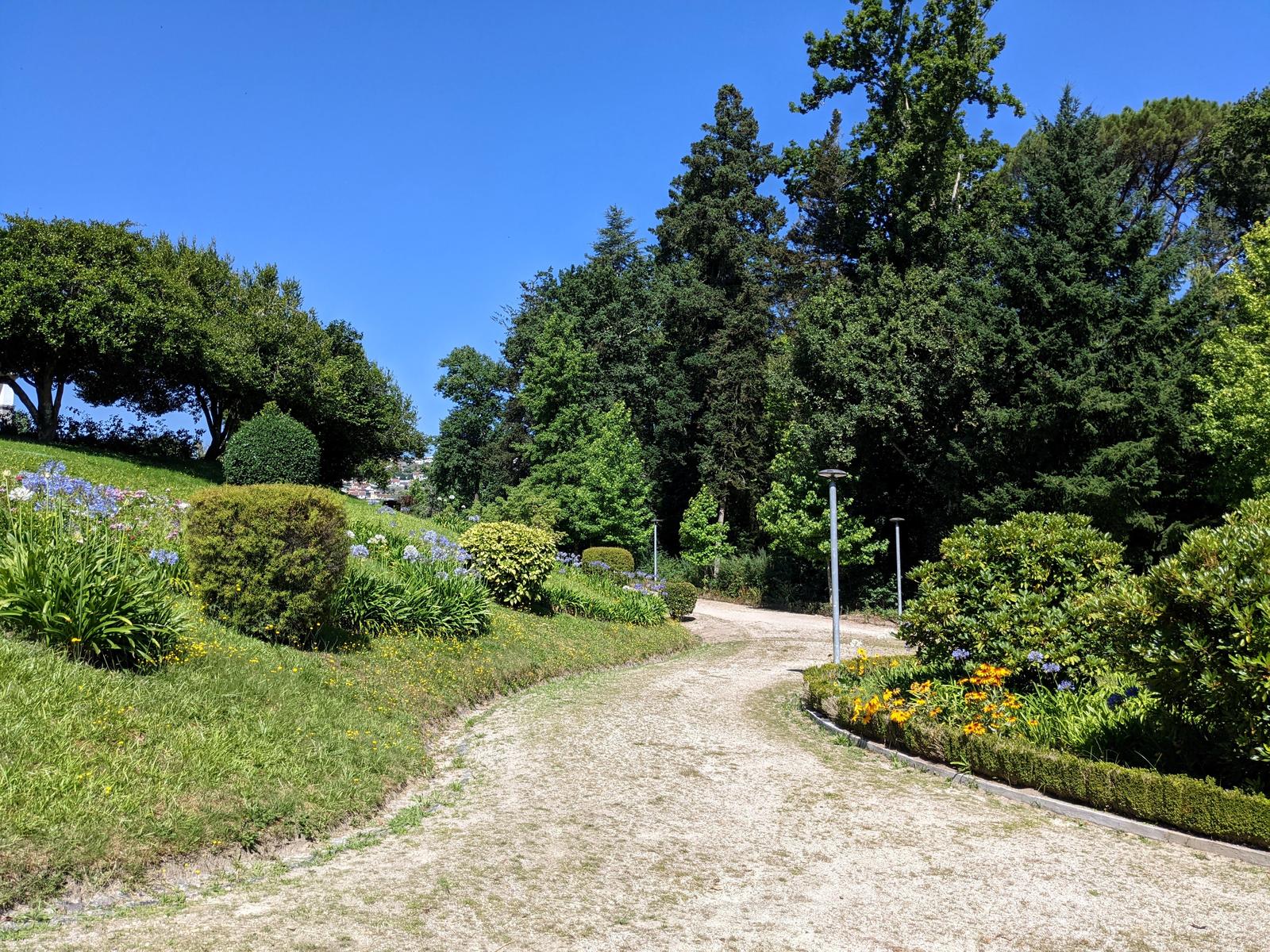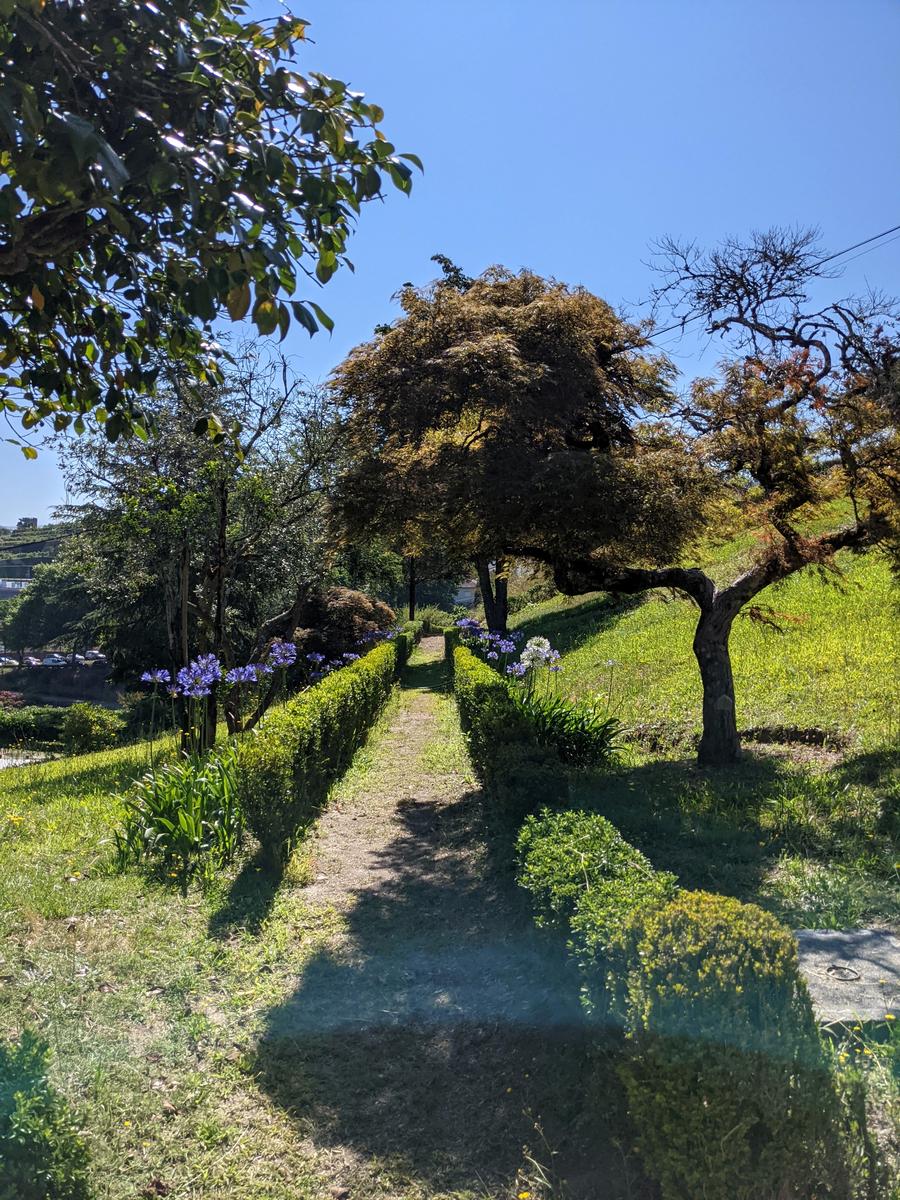 Leaving the park, looking back towards the municipal pools: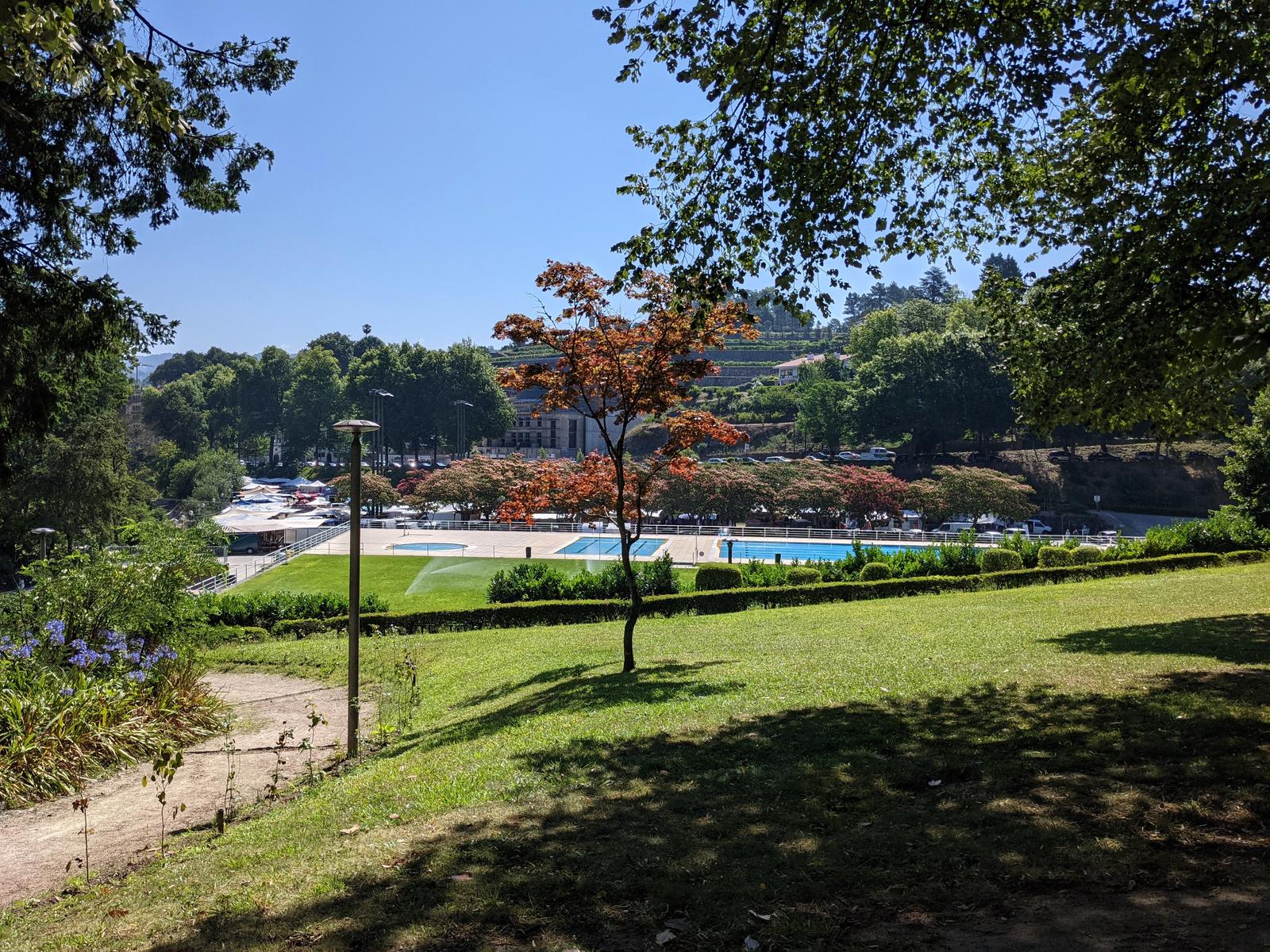 And you can see the market in the distance: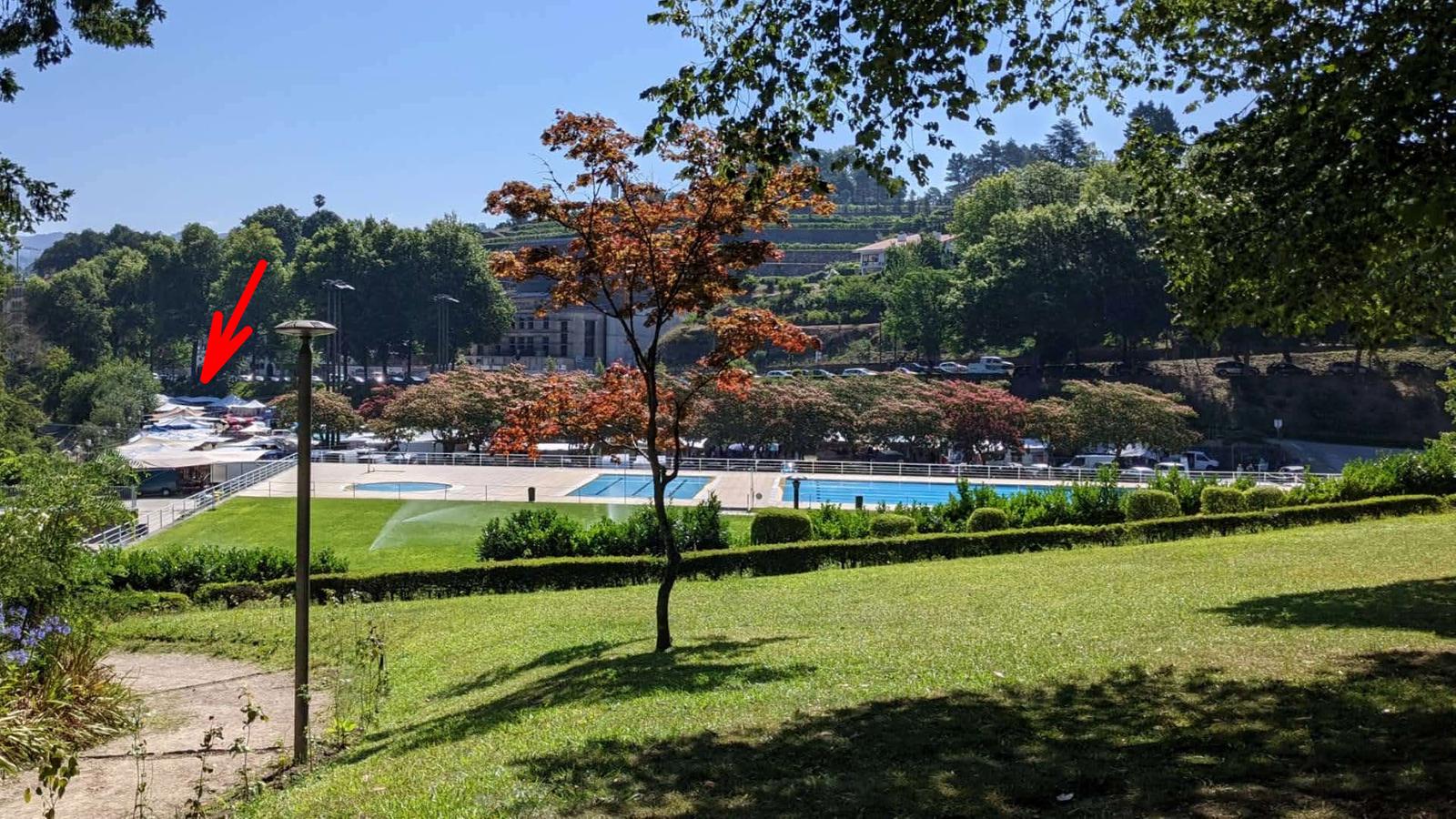 ---
5. Check out the Ecopista do Tâmega
While I had hoped we would get the time to check out the Ecopista do Tâmega we unfortunately did not! The Ecopista do Tâmega passes through Amarante. You can walk, run or cycle along the 39 kilometre route that was once a railway line. We definitely plan on doing it the next time we are here. For more information check out the website here.
---
Where We Ate?
Bar do Girassol:
We had two fantastic vegetarian lunches in Bar do Girassol. It was so good the first time that we had to go back again before we left. Bar do Girassol offers simple but really tasty vegetarian food. Their menu changes daily and their fresh daily juices are delicious.
There is a great view from outdoor terrace of the restaurant: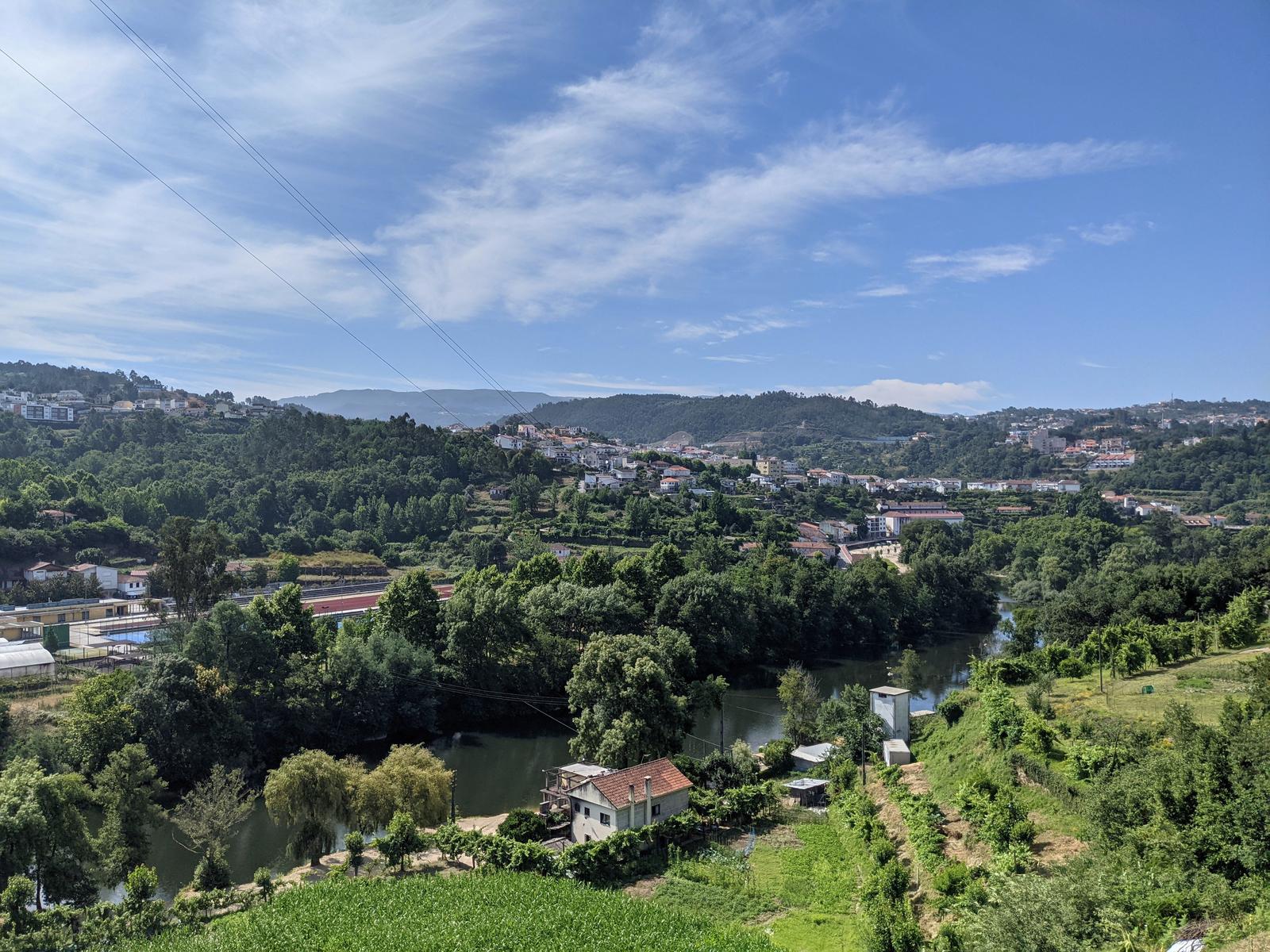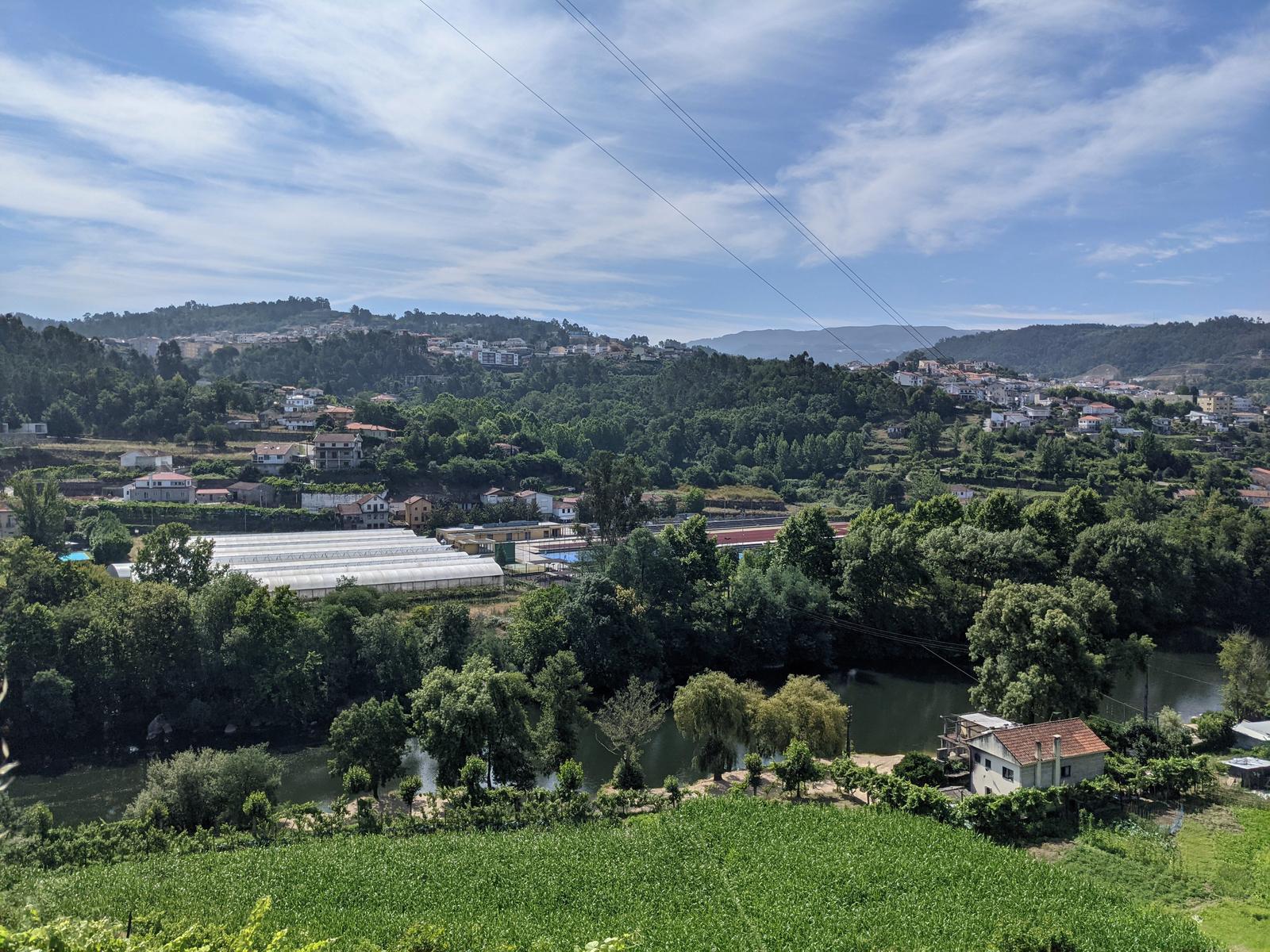 I managed to grab a photo of the terrace before the lunch time rush kicked off and all the tables were quickly occupied: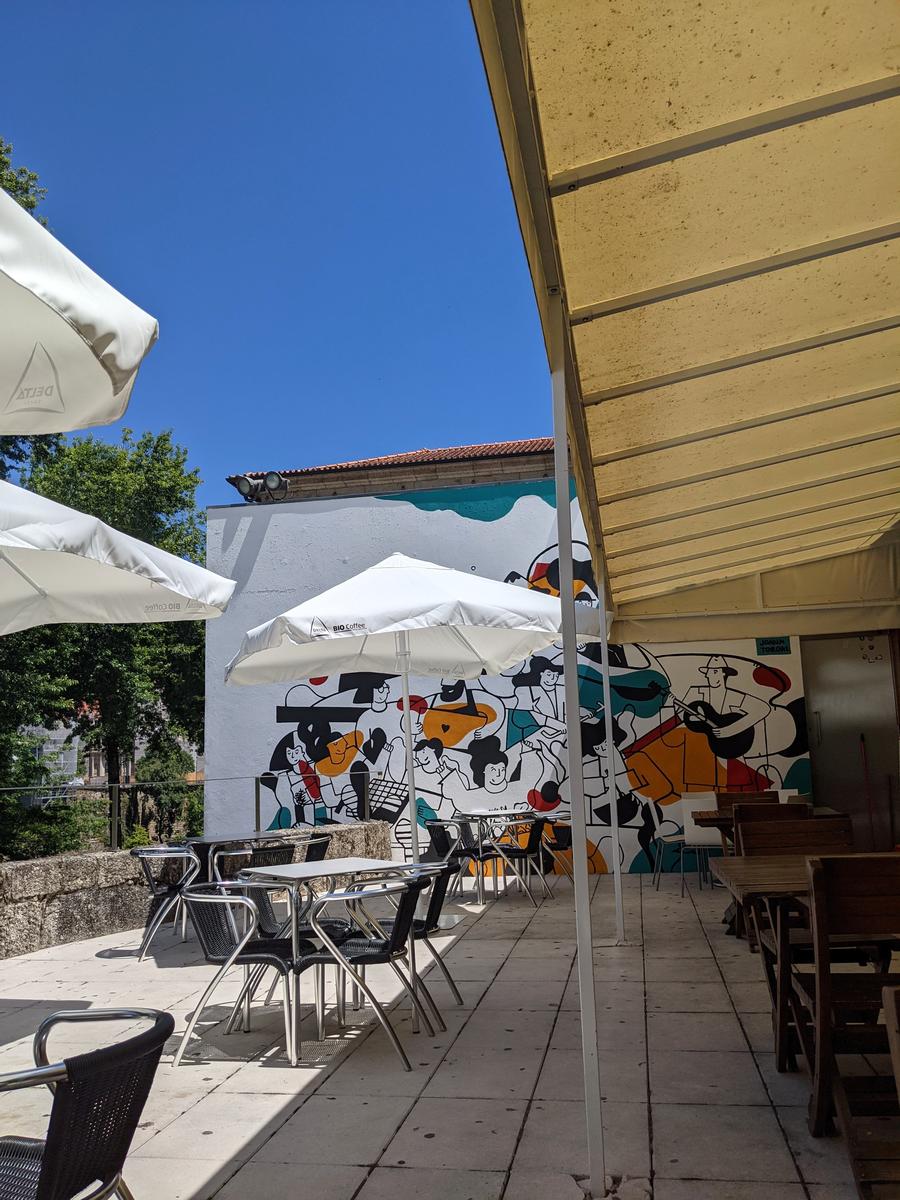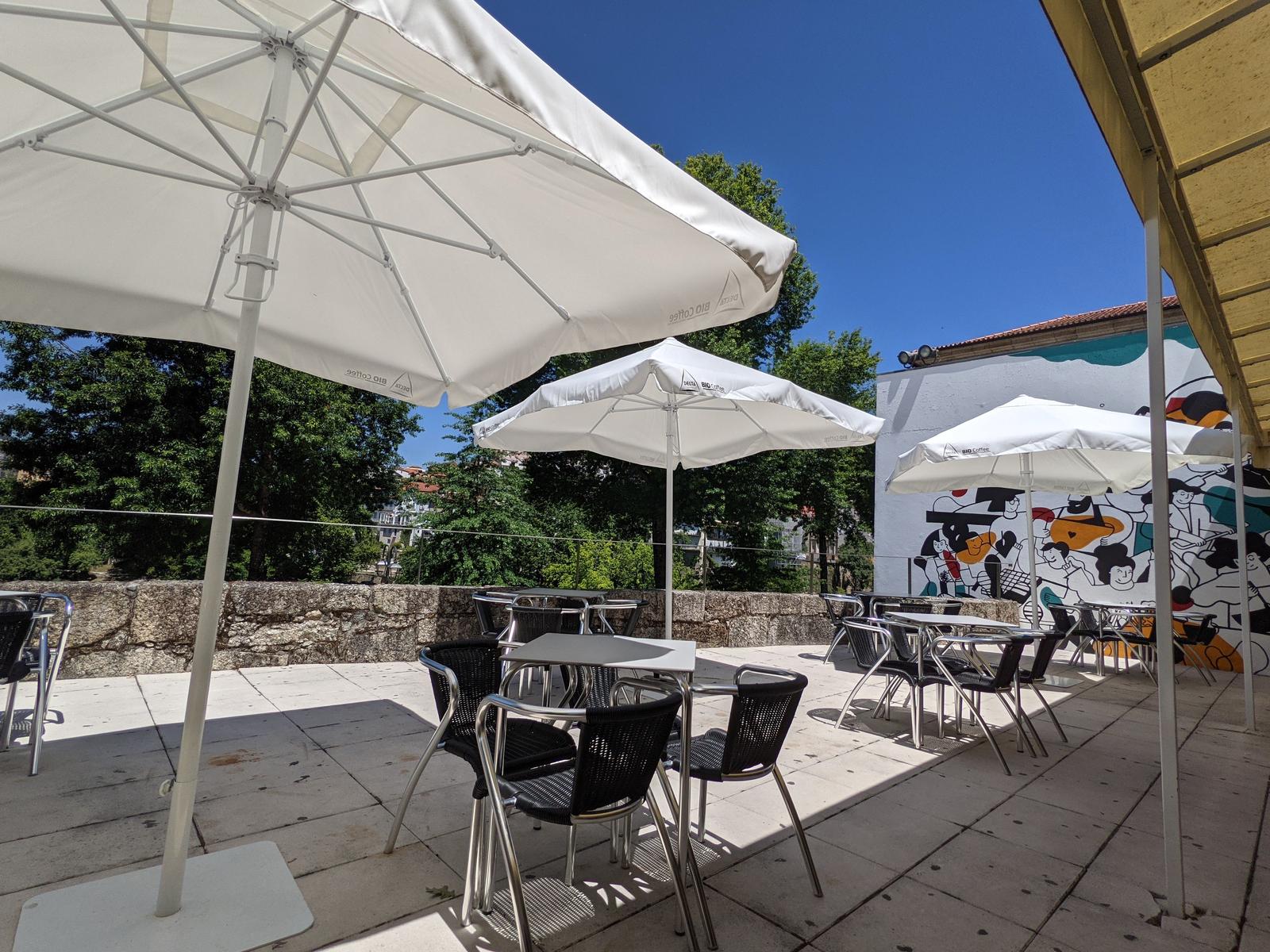 Here is the daily specials menu for the week that we visited: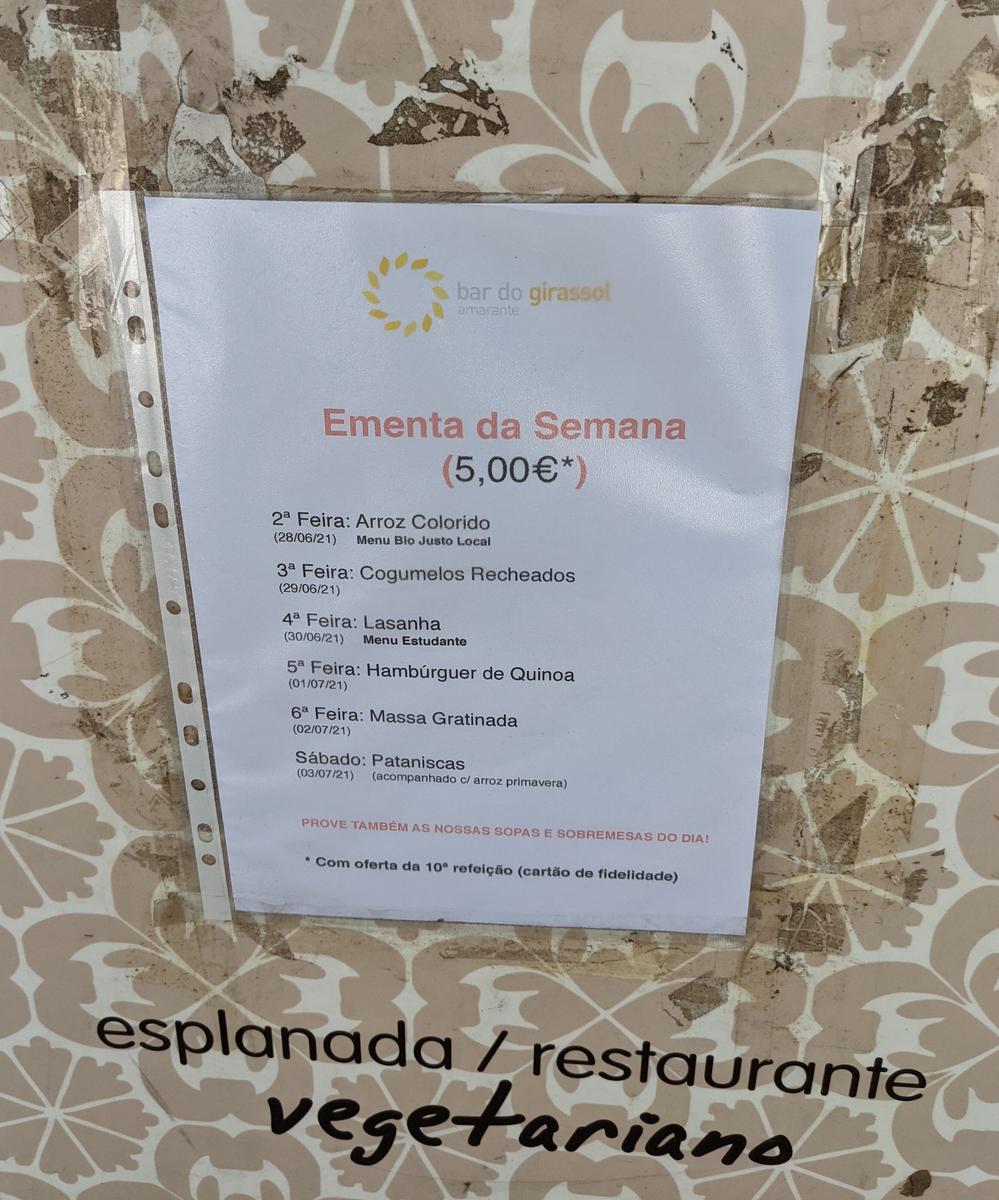 Fresh bread with oil and seeds to start - it was delicious: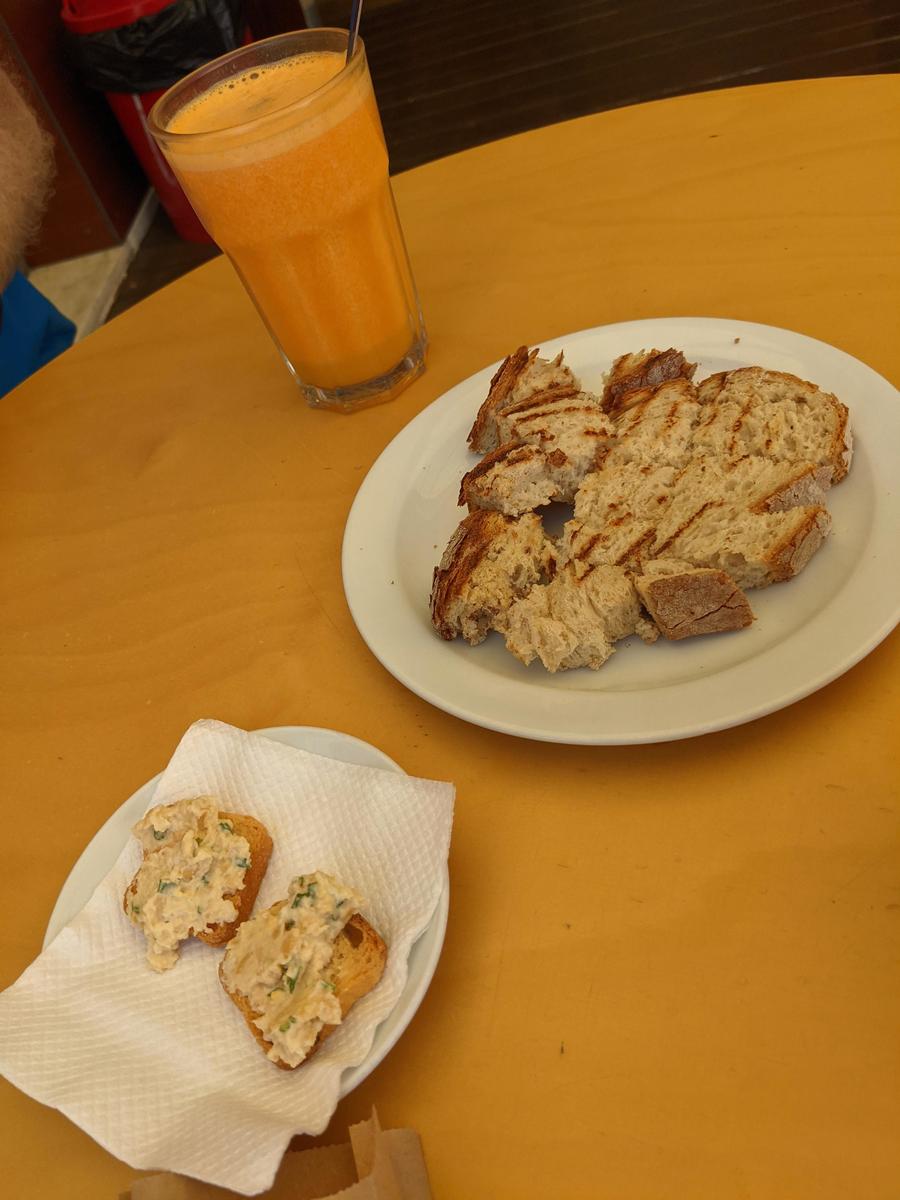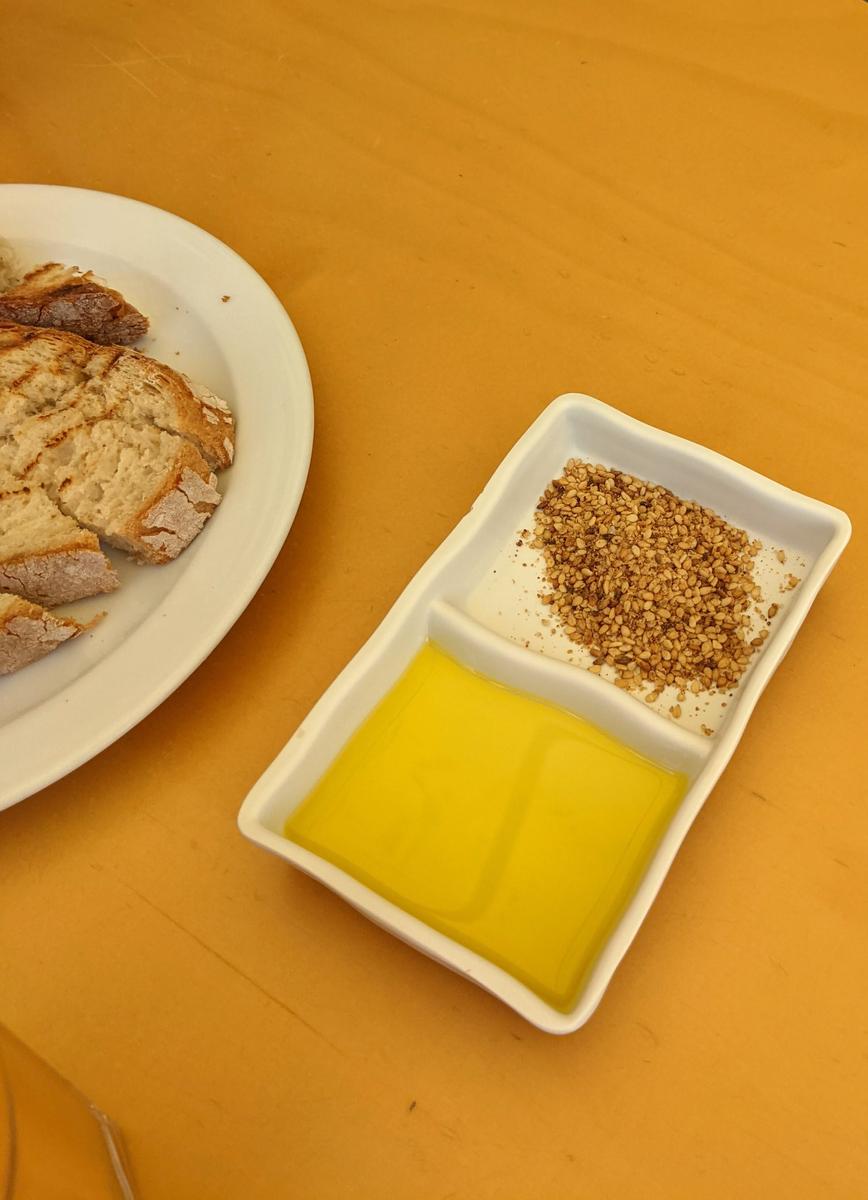 A really yummy juice: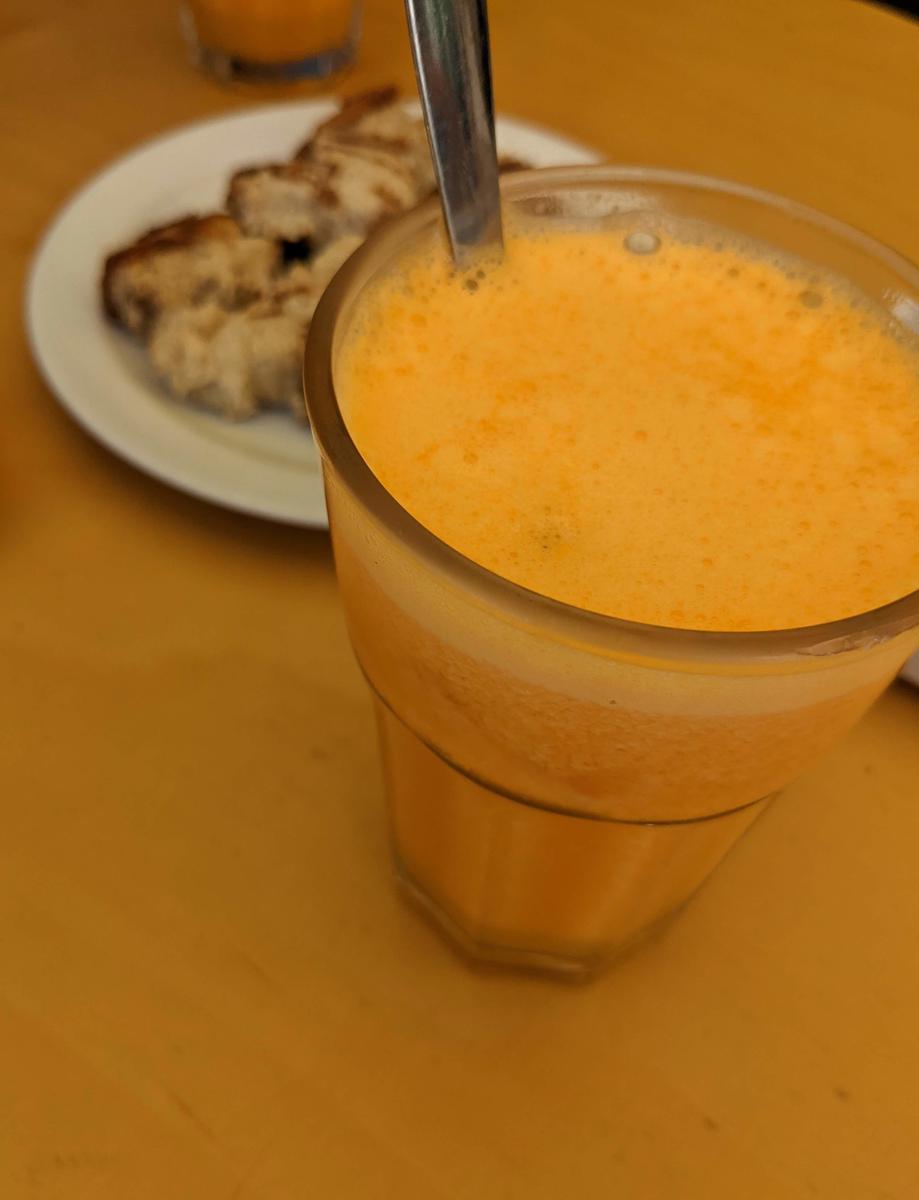 The lasagne dish of the day did not disappoint: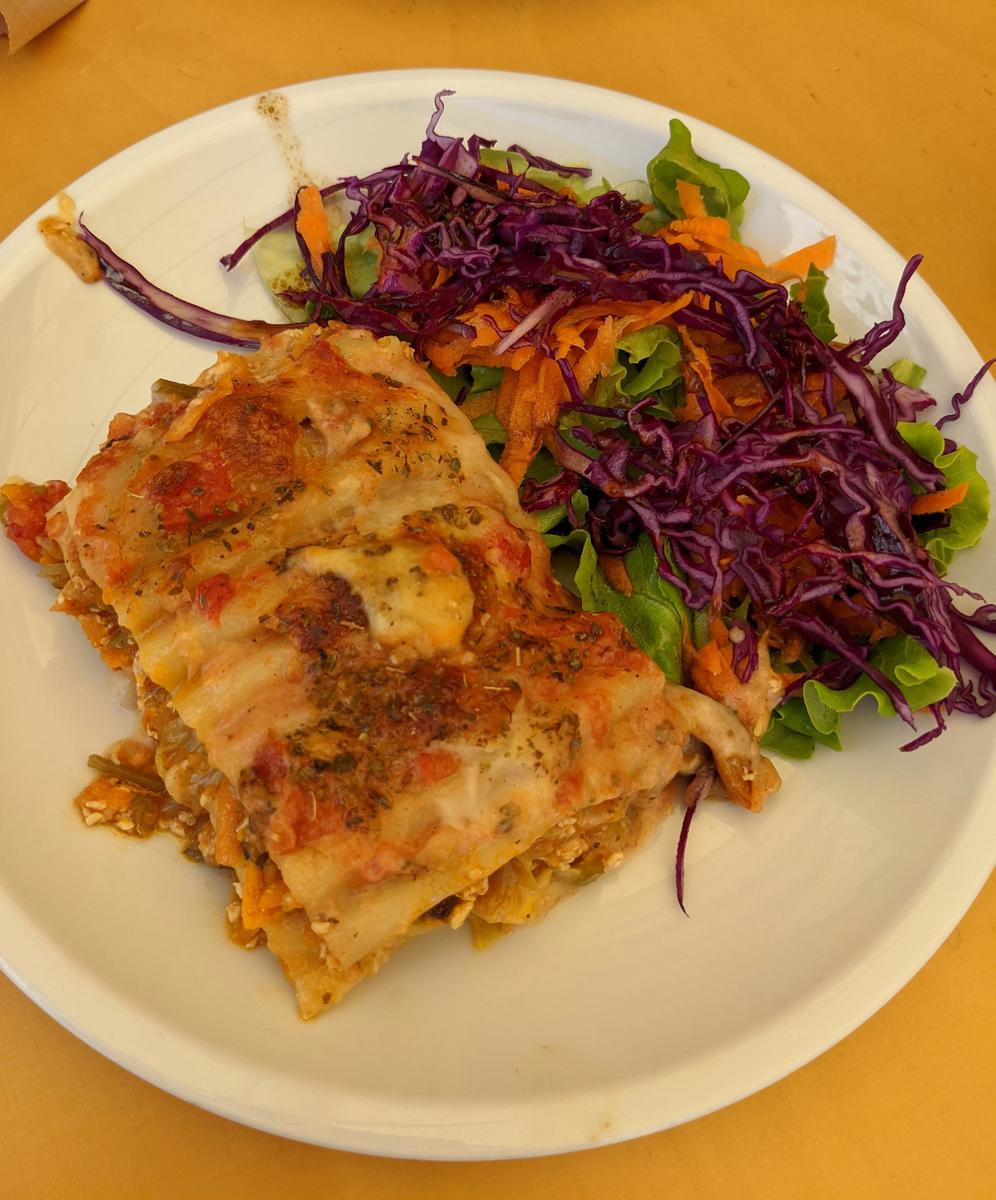 Our second visit, more of their fresh bread: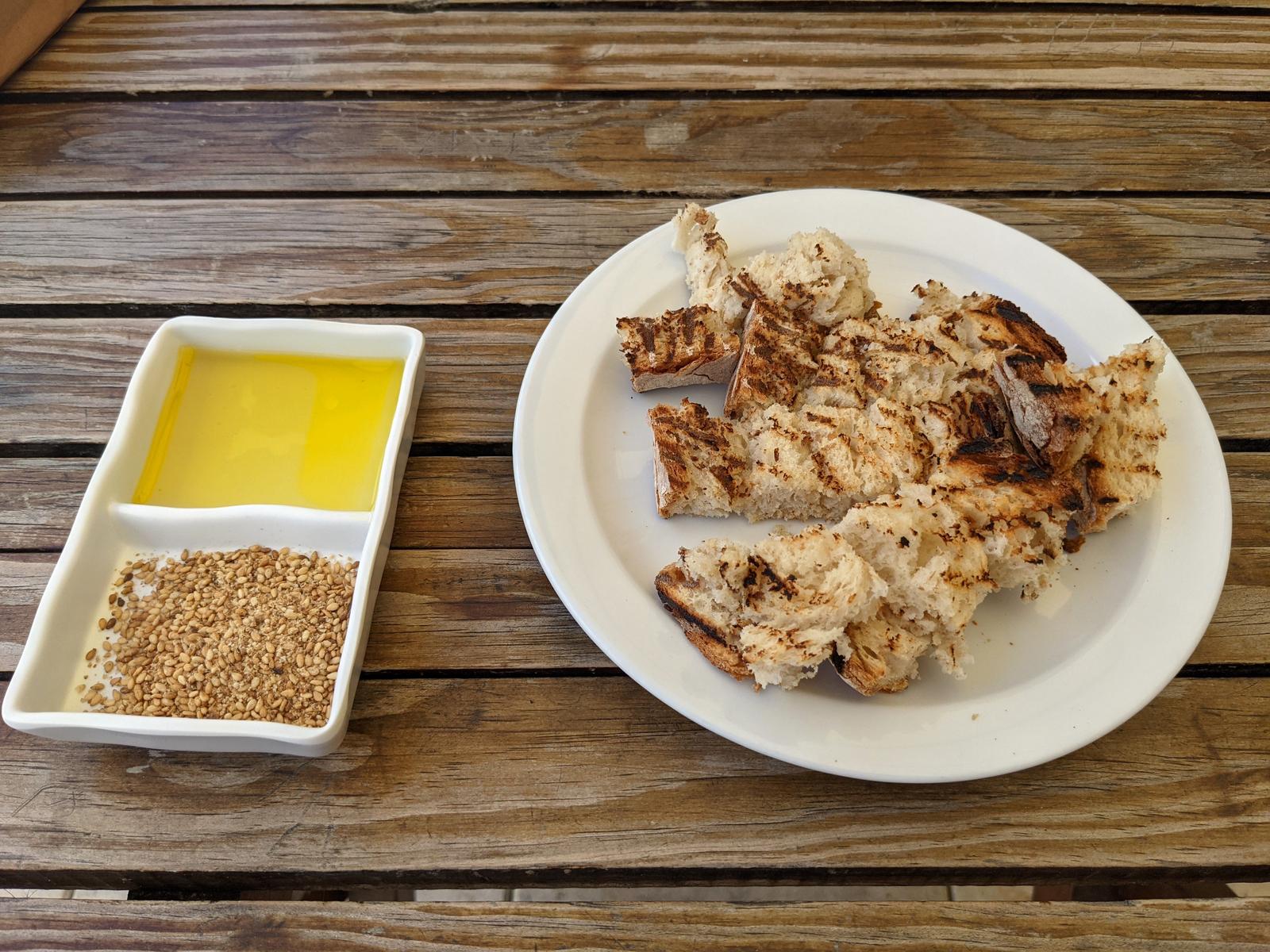 The tasty quinoa burger dish of the day: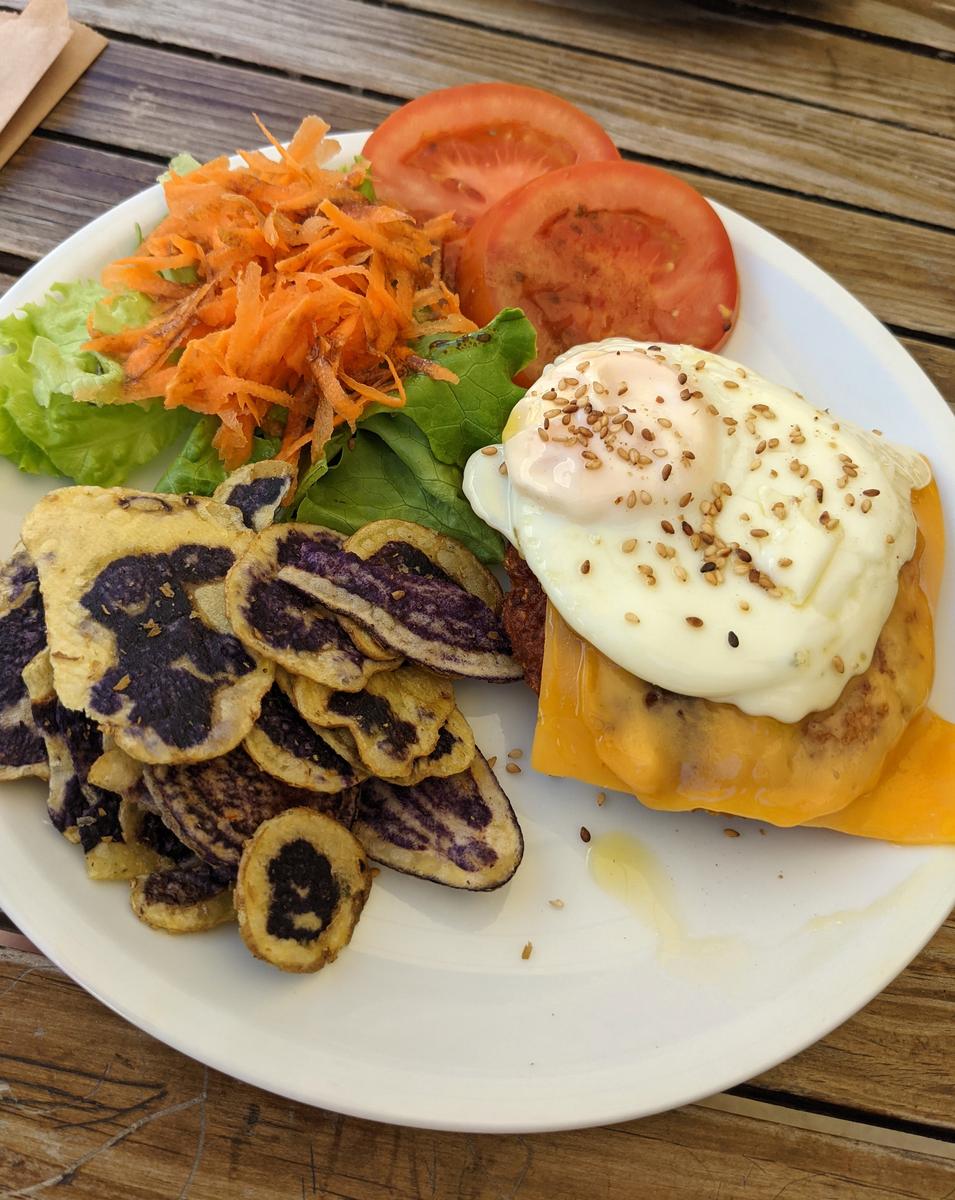 ---
Cafe & Duas de Letra:
If you are looking for a great coffee in Amarante then look no further - Cafe & Duas de Letra is the place to go. We enjoyed a couple of coffees (and cakes) here. They also offer breakfast and light snacks. The staff are really welcoming and attentive. Their free Wi-Fi seemed to be a big attraction too as we couldn't help but notice a lot of people on their laptops so it is safe to presume that it is "nomad" friendly too. We were very happy to leave the laptops at home and instead sit outside in the sunshine and do some people watching.
---
Café Bar - Restaurante S. Gonçalo:
Located on the plaza next to the Igreja de São Gonçalo, Cafe Bar Restaurant São Gonçalo is a great place to sit back and relax and enjoy an ice cold beer and do some more people watching. The staff were total gems, so friendly and welcoming. While we were seated outside, the interior was absolutely spotless, as were the toilets and I loved in the interior decor which is nautical themed.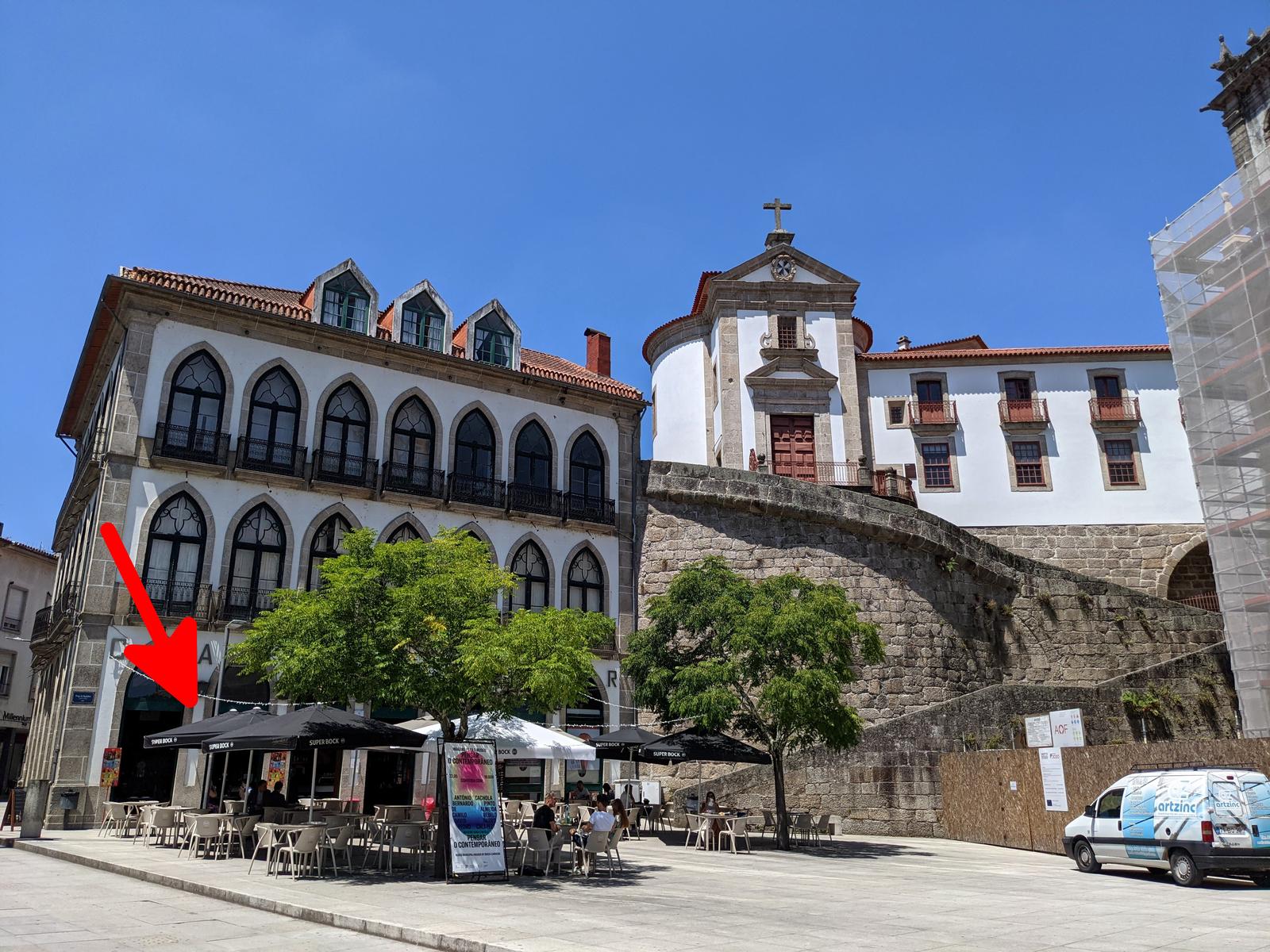 ---
Goodbye For Now Amarante:
From the moment we arrived in Amarante we knew we would love it. At first glance it reminded us a little of Lucca in Italy. Its location on the Tâmega river is idyllic. There is lots to see and do, we barely scratched the surface as the surrounding area also has a lot to offer. Overall it far exceeded our expectations and our only regret was that we did not plan to stay for longer, two nights was not enough so we left Amarante already planning our return.
---
Useful Information:
---
If you've any questions, suggestions or just want to say hello, contact me via the Contact Form, Instagram (@noroadlongenough) or By Email noroadlongenough1@gmail.com