Our Road Trip Around Iceland - The Final Leg!
We started our trip exploring Iceland's Golden Circle. Following that, we drove to and around East Iceland which was so different from the Golden Circle. Now it was time to continue our self-guided driving tour, heading along the North East and North of Iceland, followed by a little sightseeing in West Iceland before finally finishing our loop in Reykjavík. Here is what we got up to!
---
Day One - North East Iceland Attractions!
1. Visiting Dettifoss.
Of course our first stop in North East Iceland had to be another waterfall! The drive from Seyðisfjörður (East Iceland) on the ring road was a long one but the landscape was gorgeous, vast and deserted.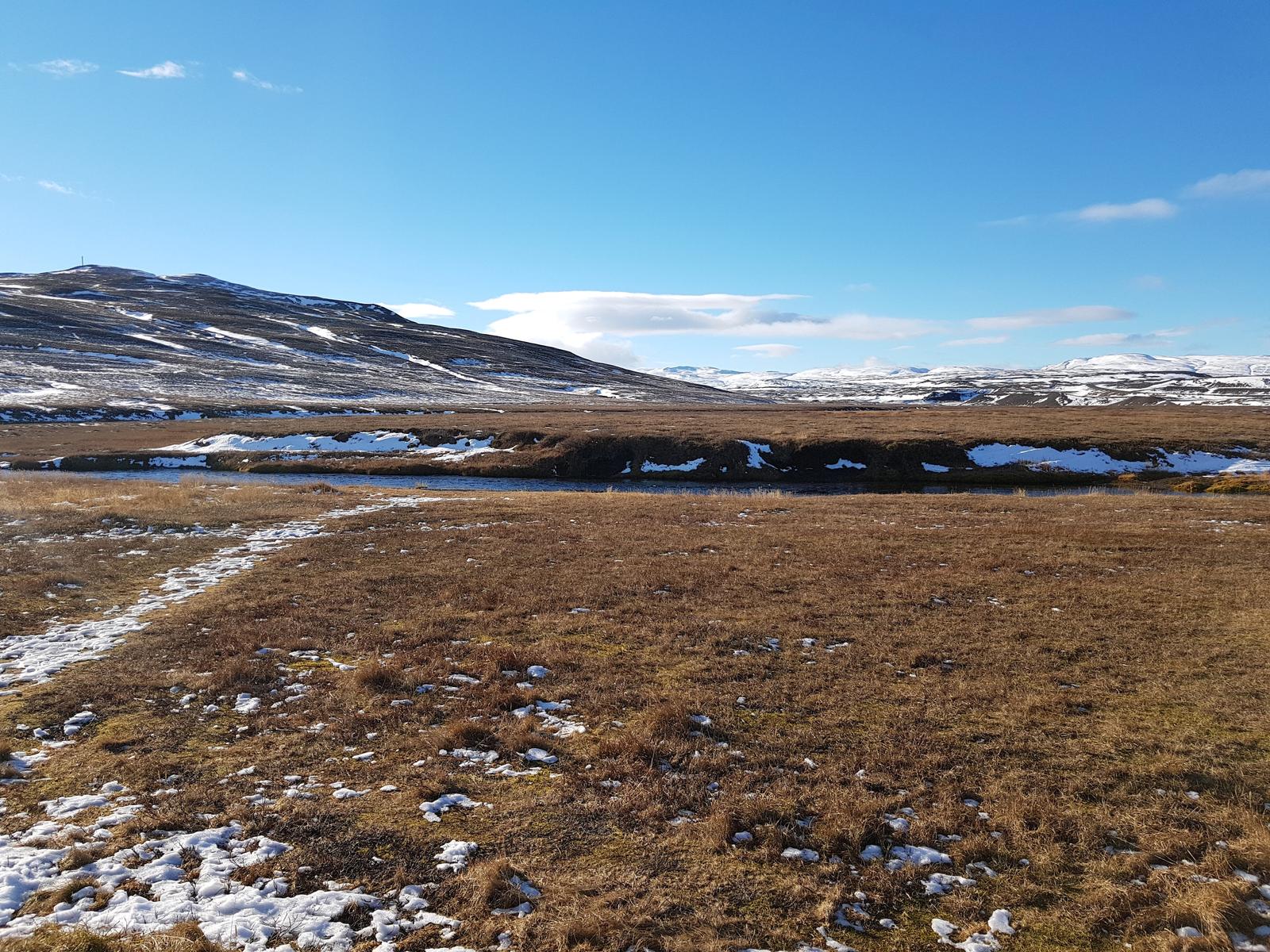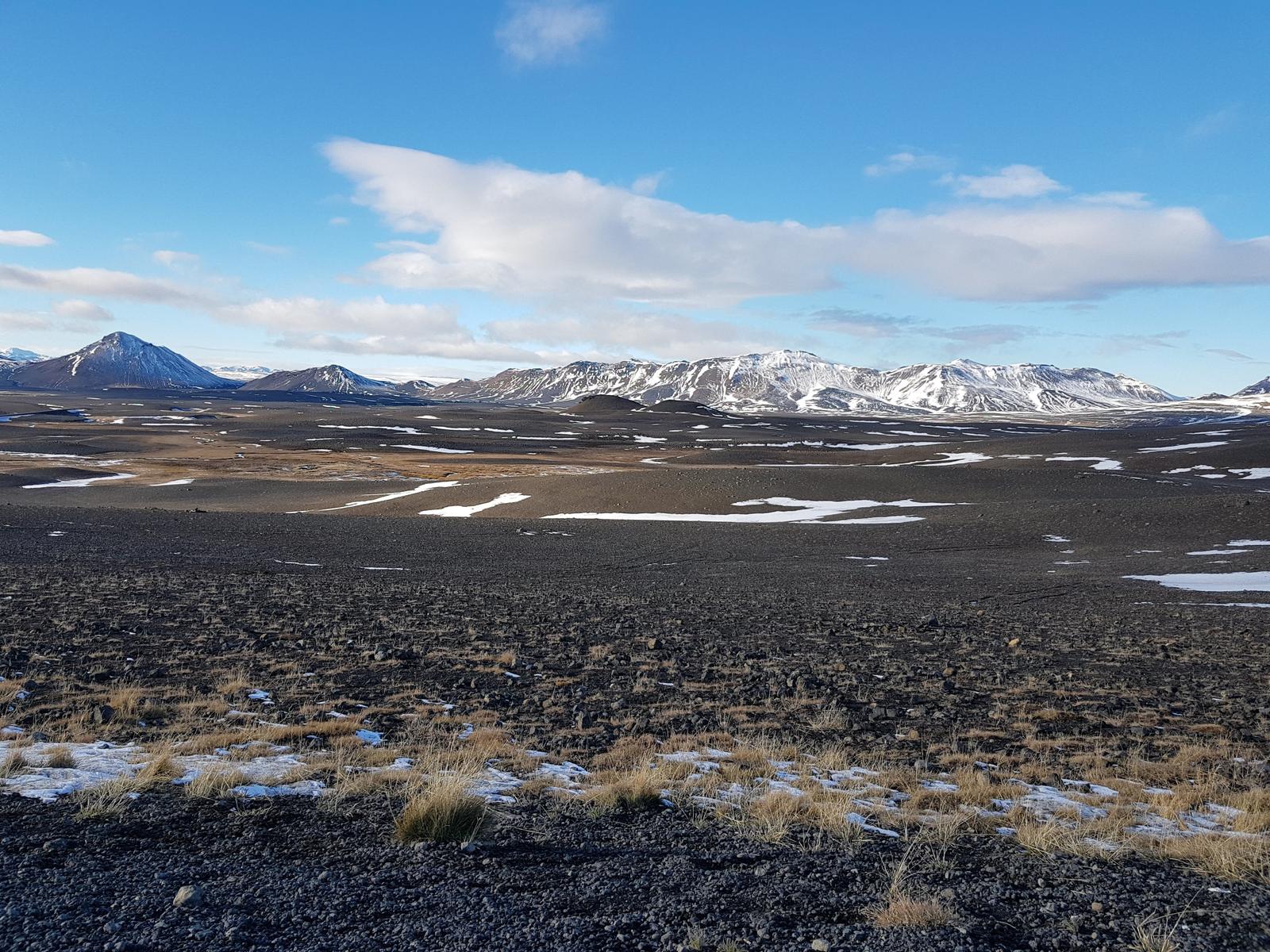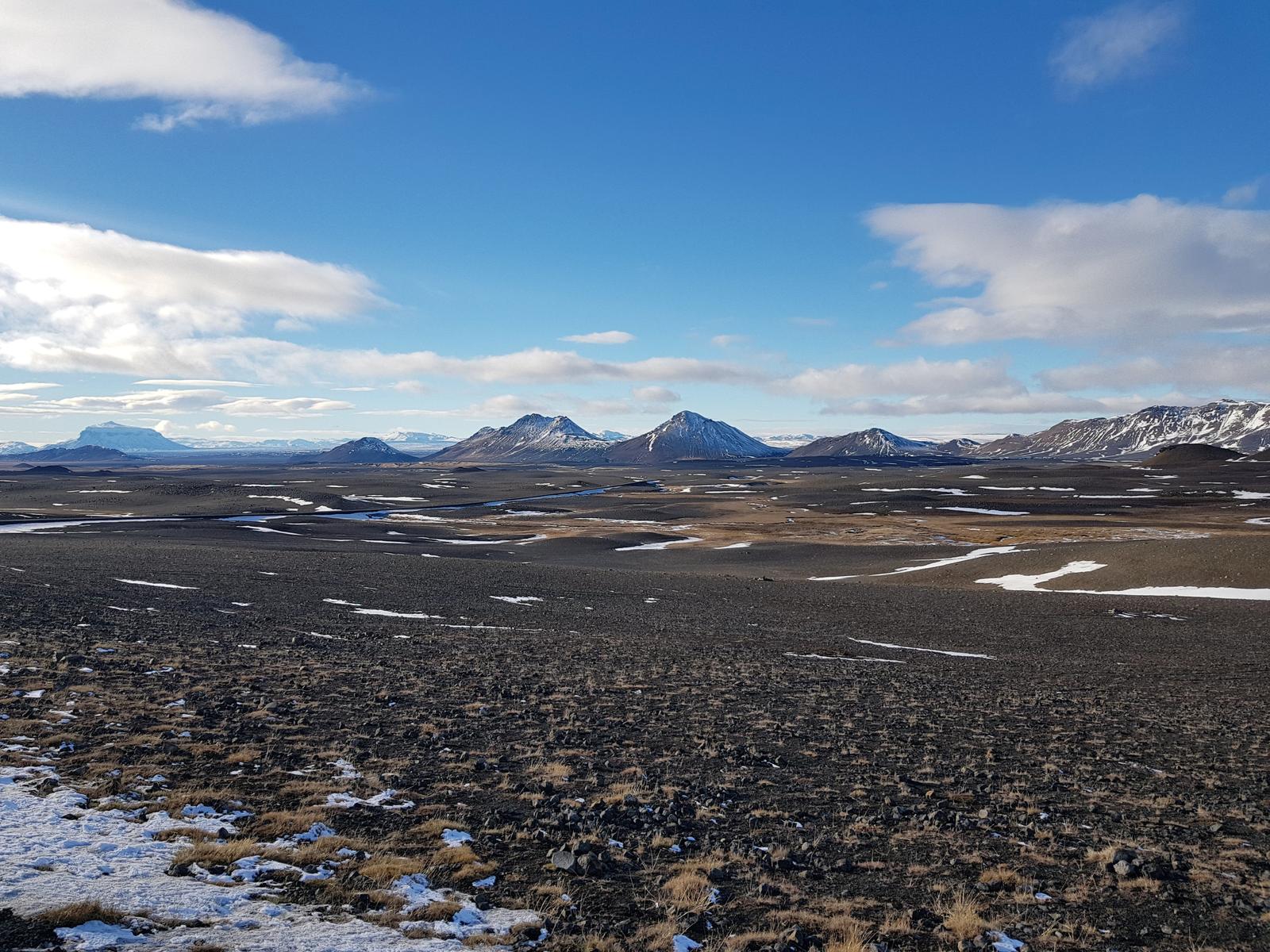 Located in Vatnajökull National Park, Dettifoss is said to be one of the most powerful waterfalls in Europe and is:
"… fed by the powerful glacier river Jökulsá á Fjöllum which flows from the largest glacier in Europe, Vatnajökull. The thunderous falls has an average waterflow of 193 metres cubed per second (6,186 cubic feet). It is 100 metres (330 feet) wide and plummets 45 metres (150 feet) down into Jökulsárgljúfur canyon." (Source here).
The walk from the car-park to Dettifoss was VERY muddy in parts but at least we had the right footwear. The path was very easy to follow with plenty of signposts (and muddy footprints). We were lucky to have dry weather when we visited, although layers were needed as it was really cold with frost and ice in places.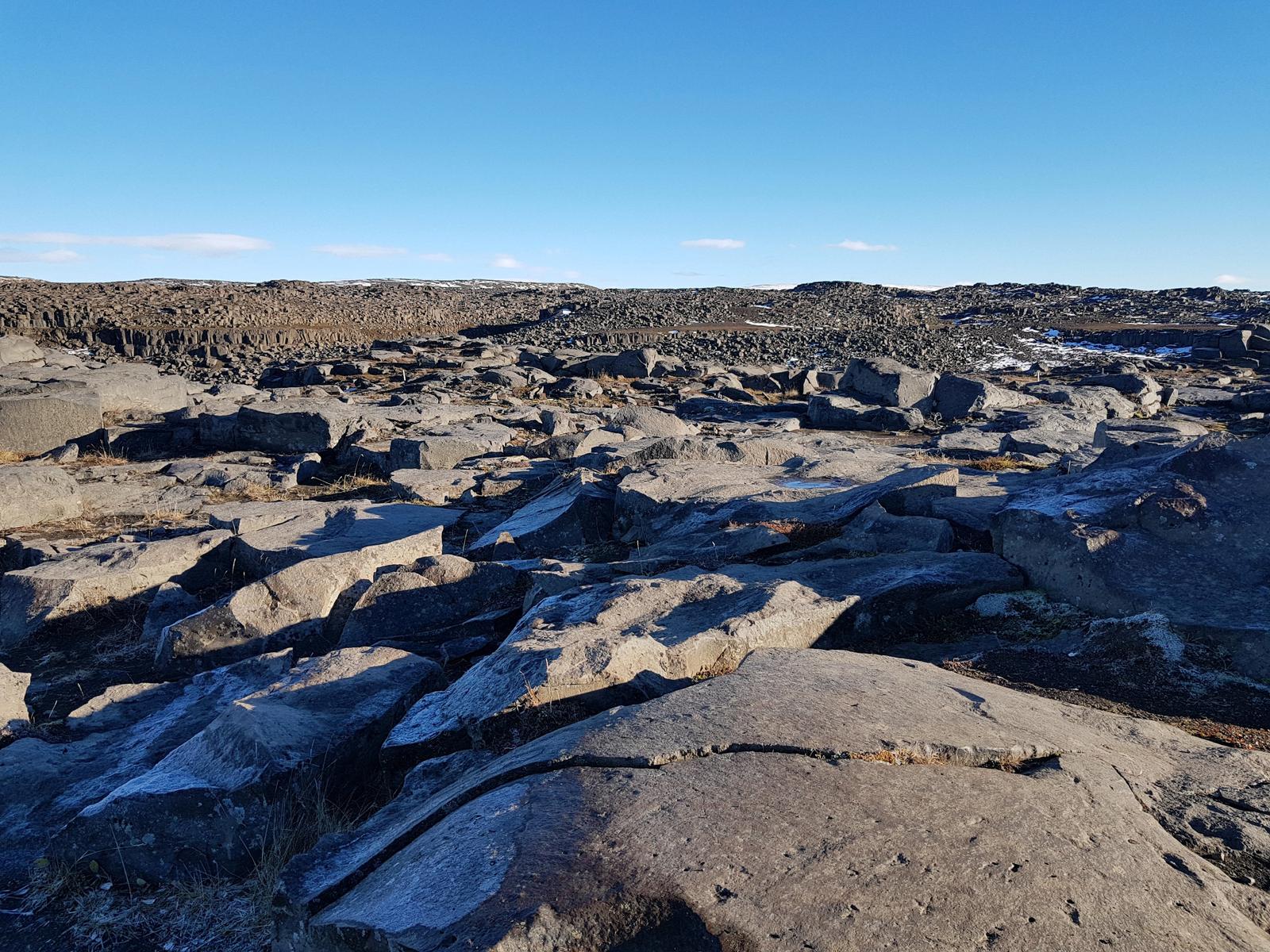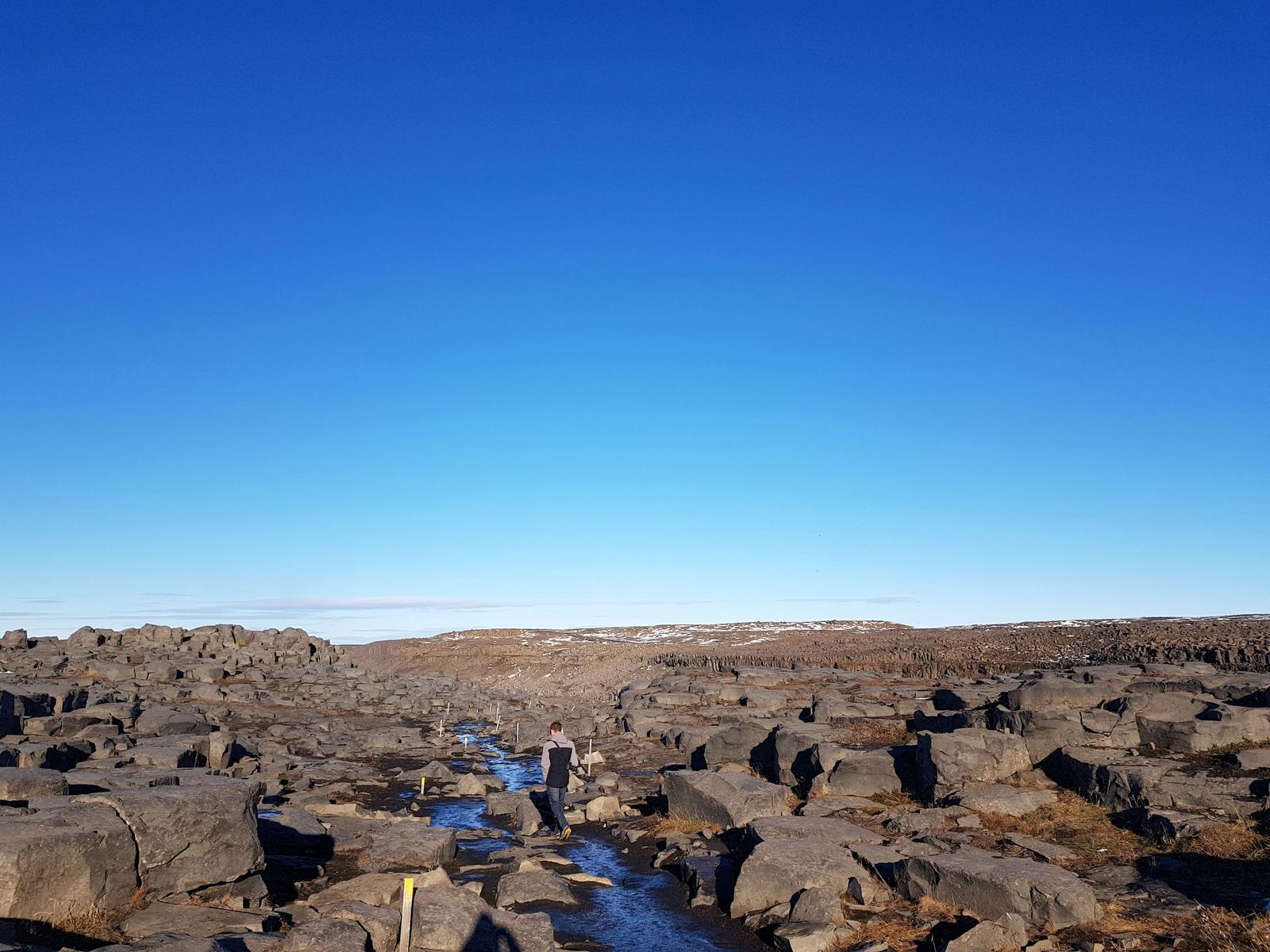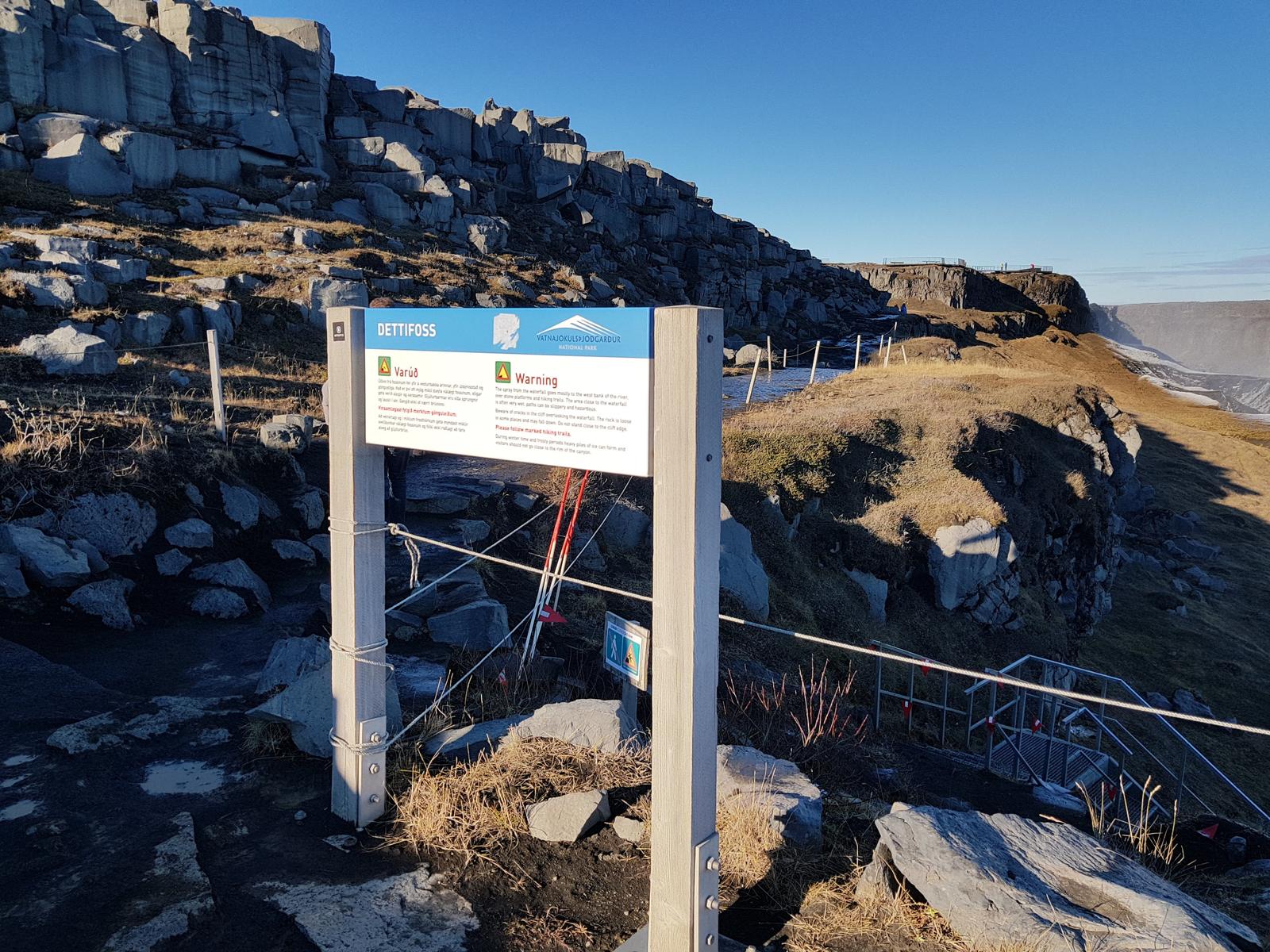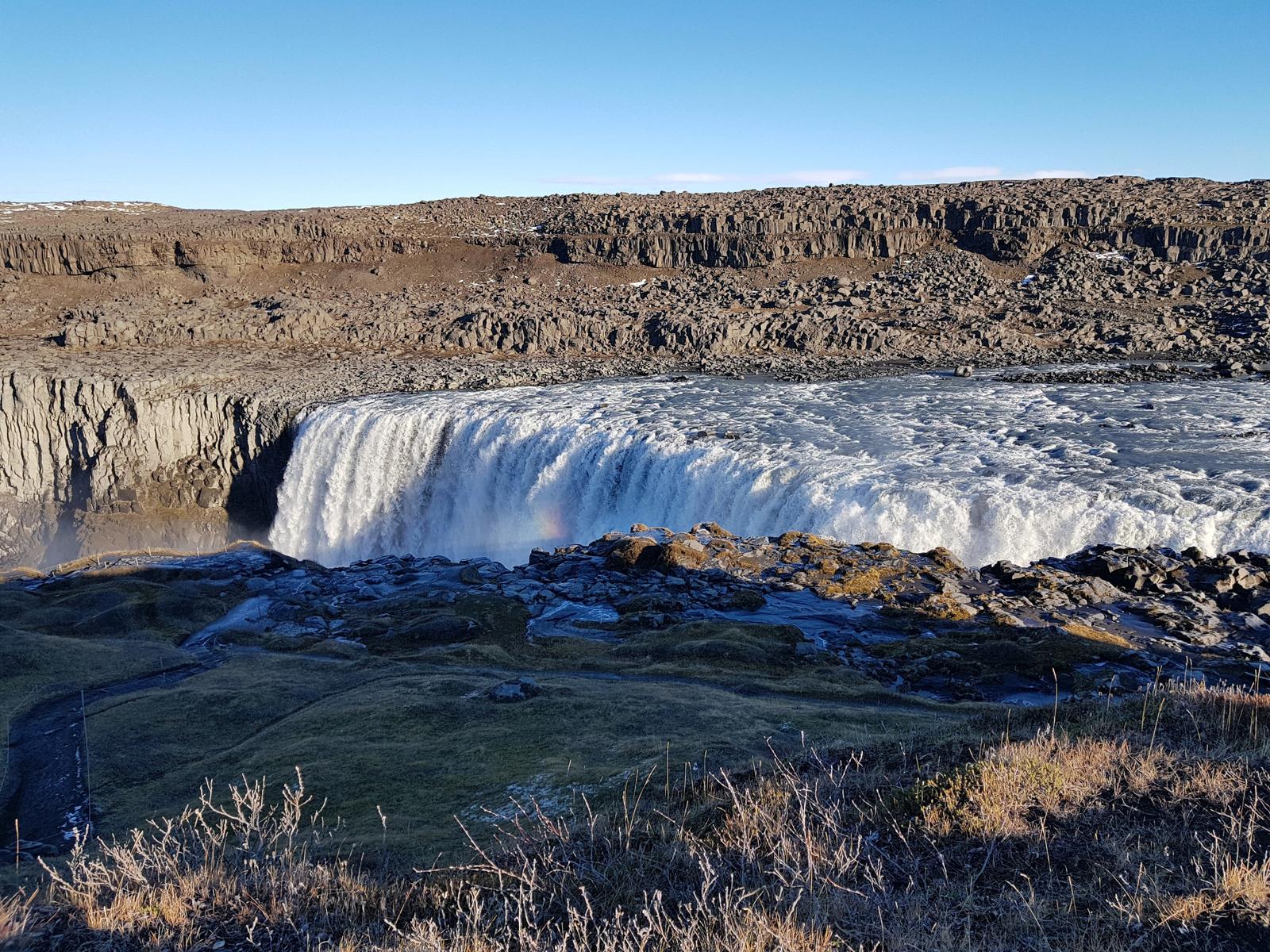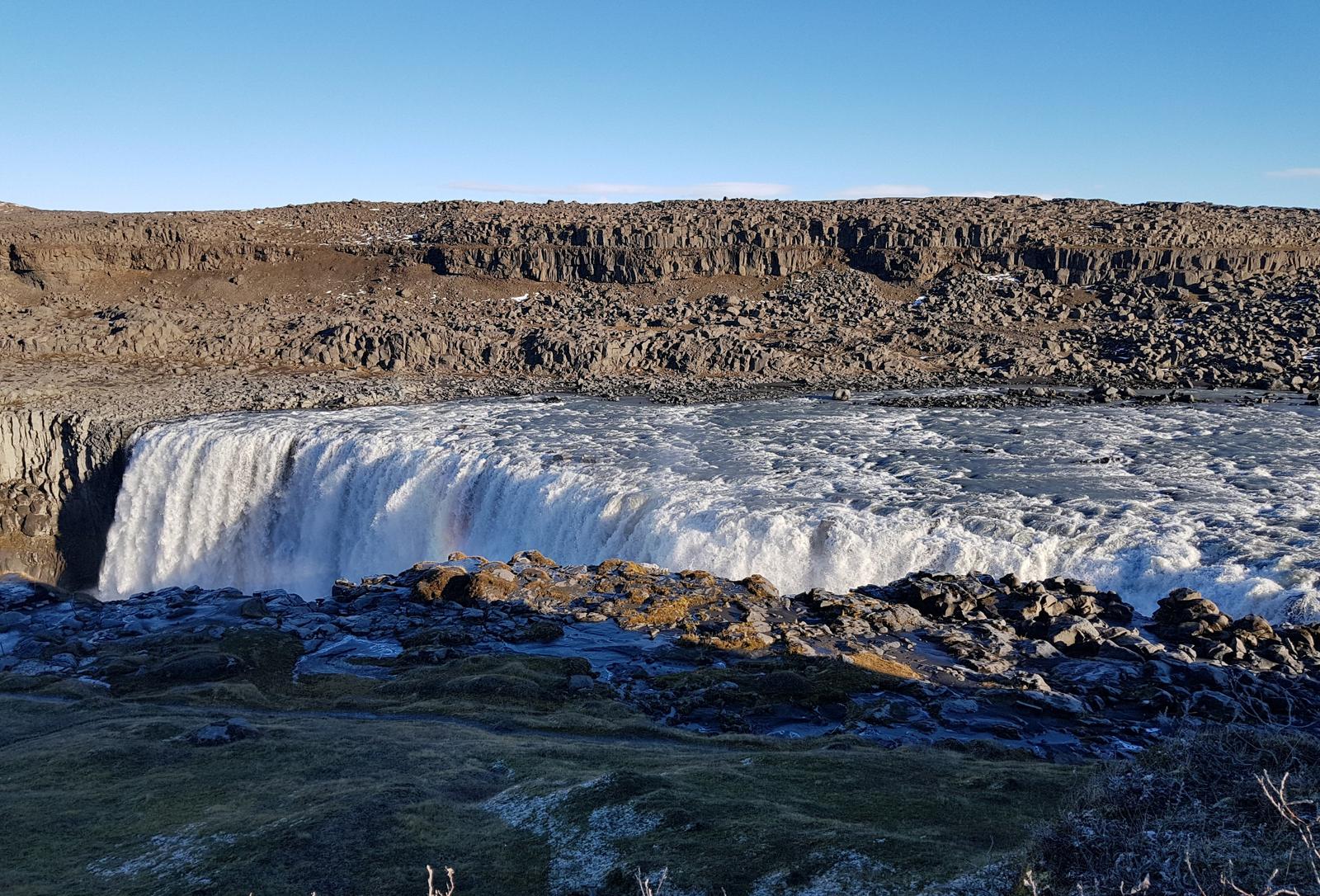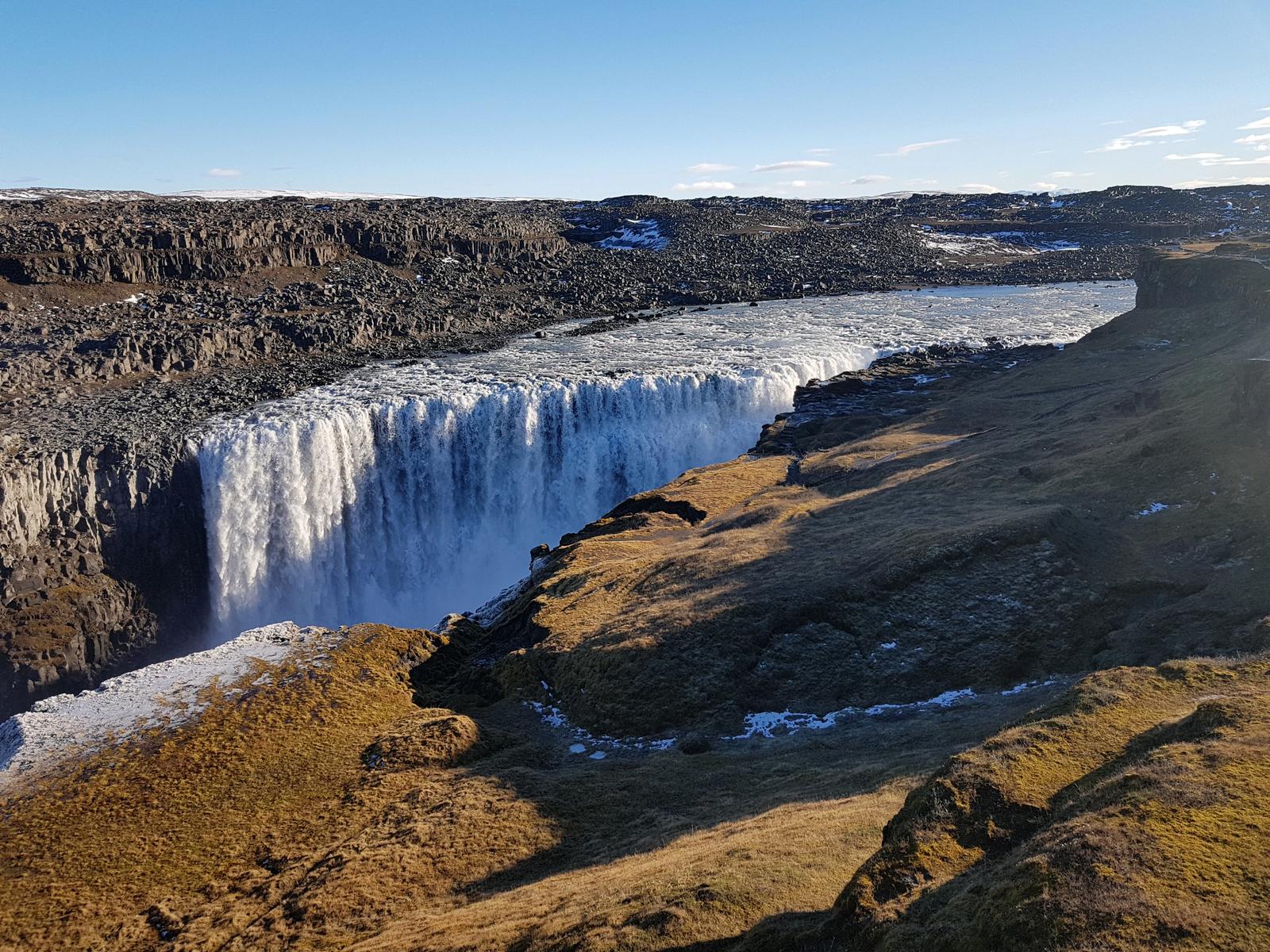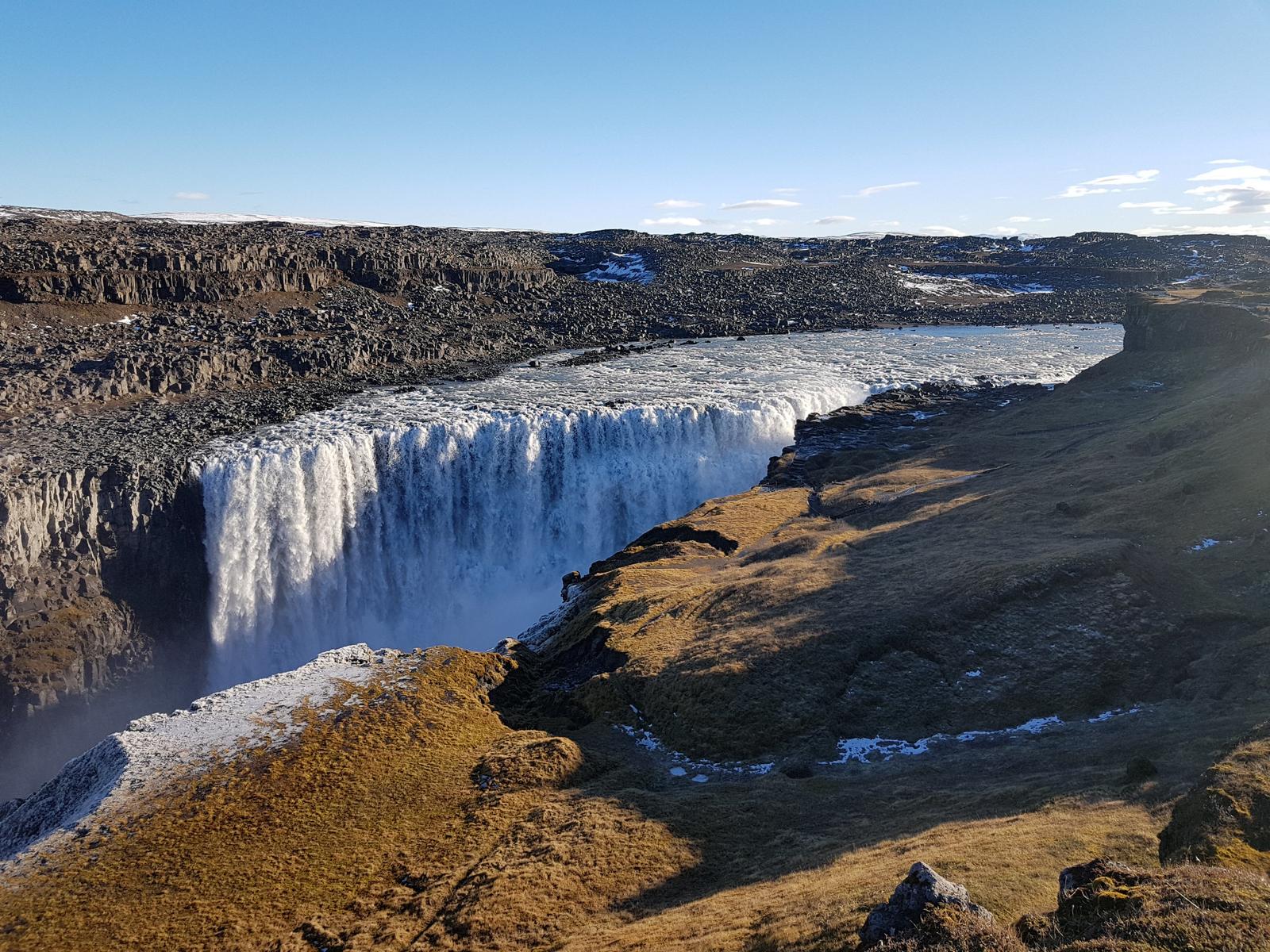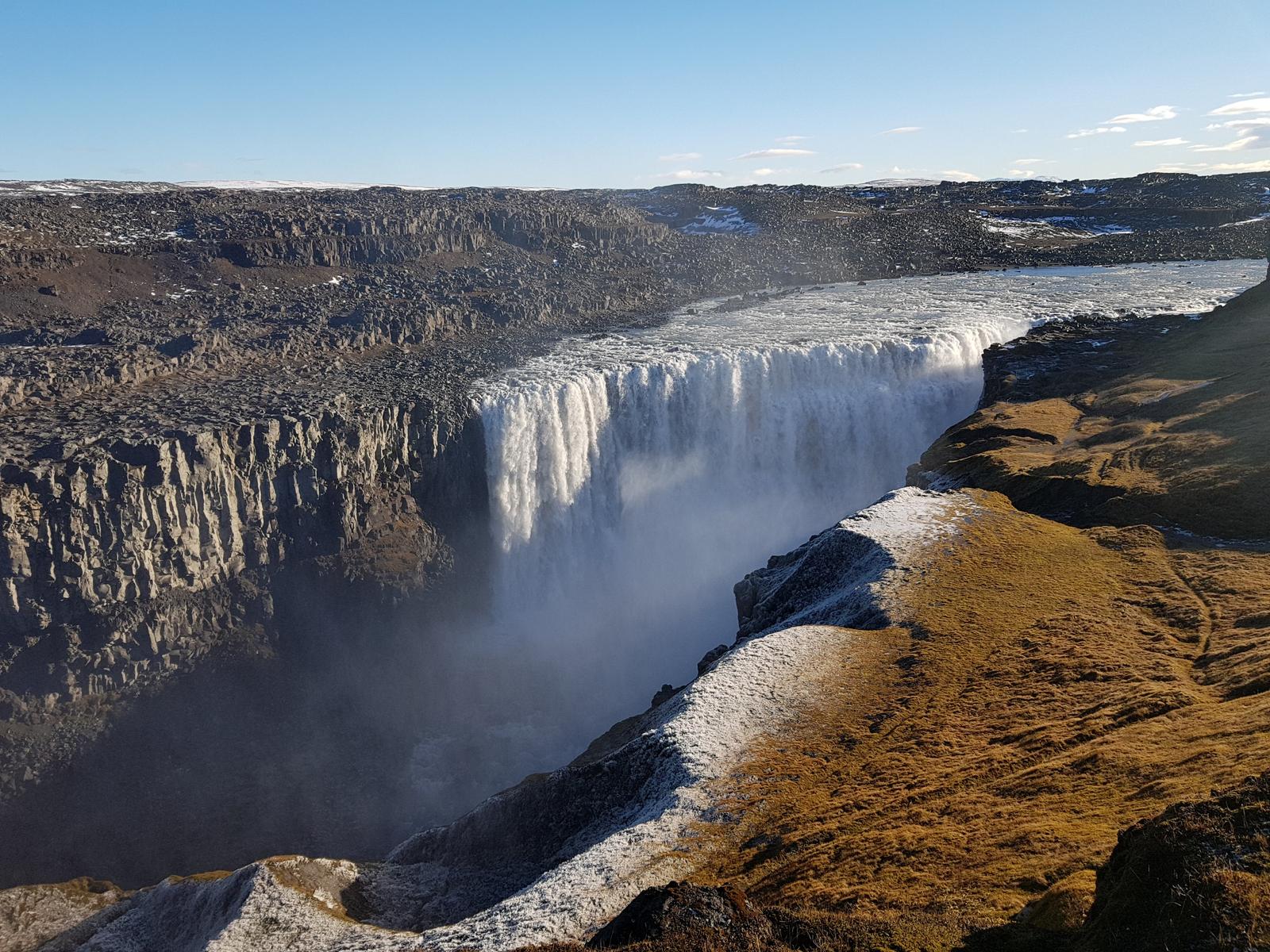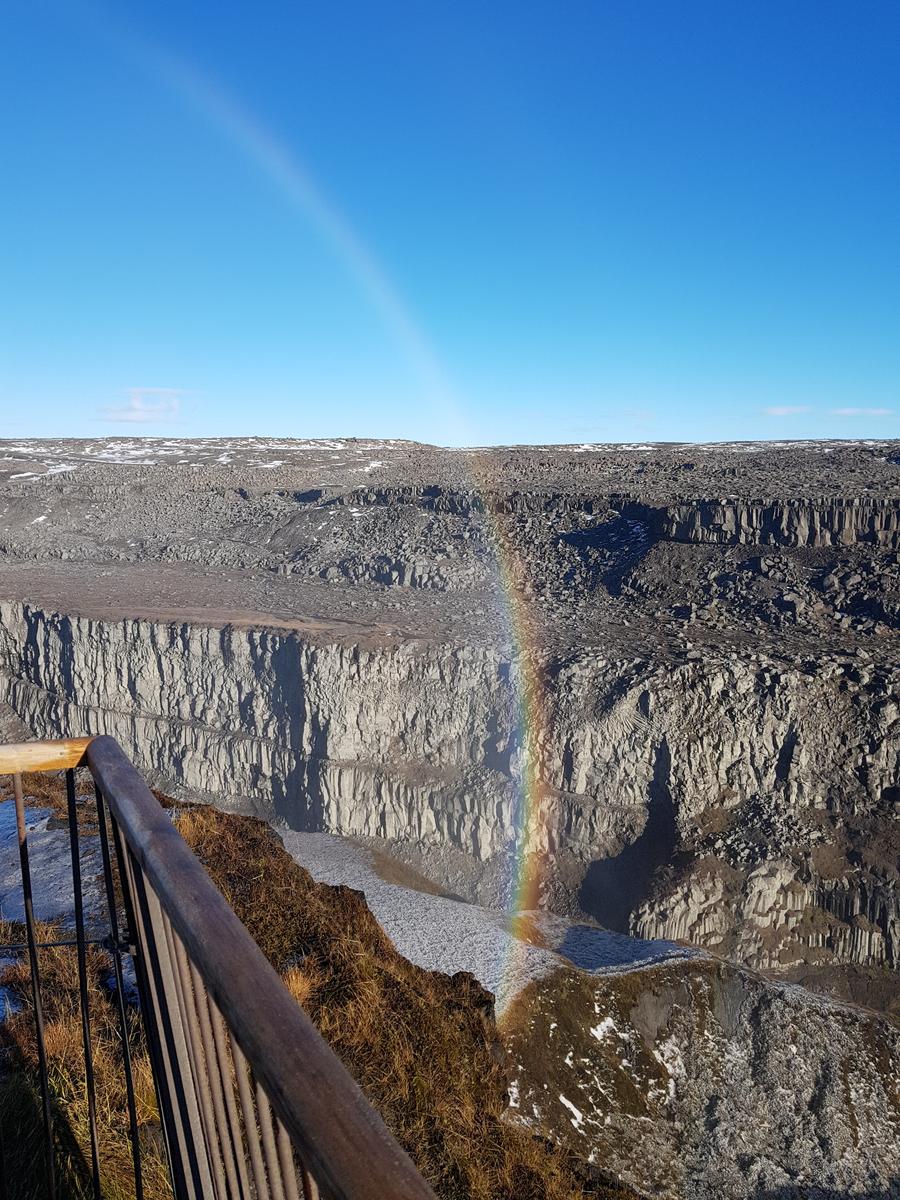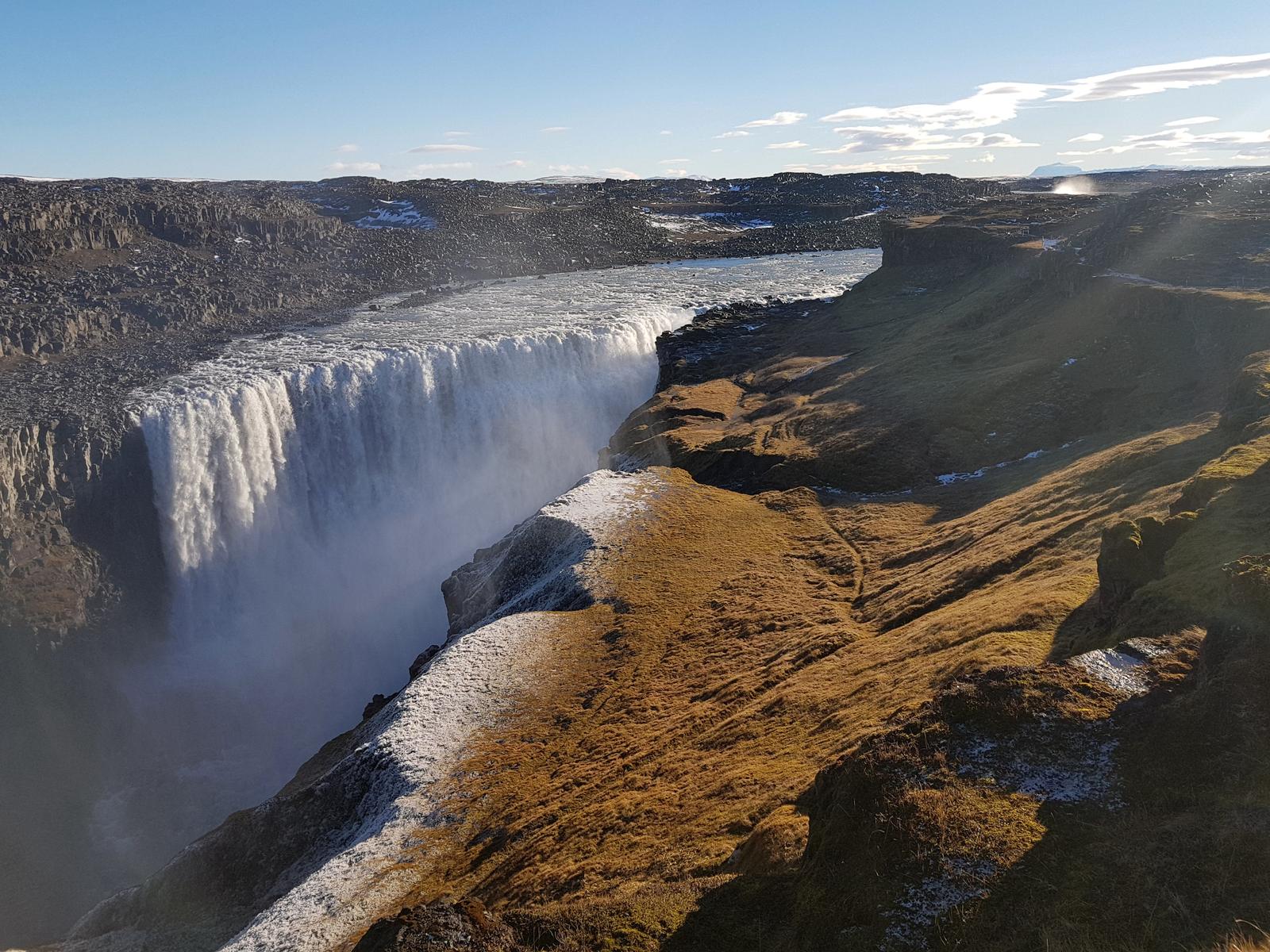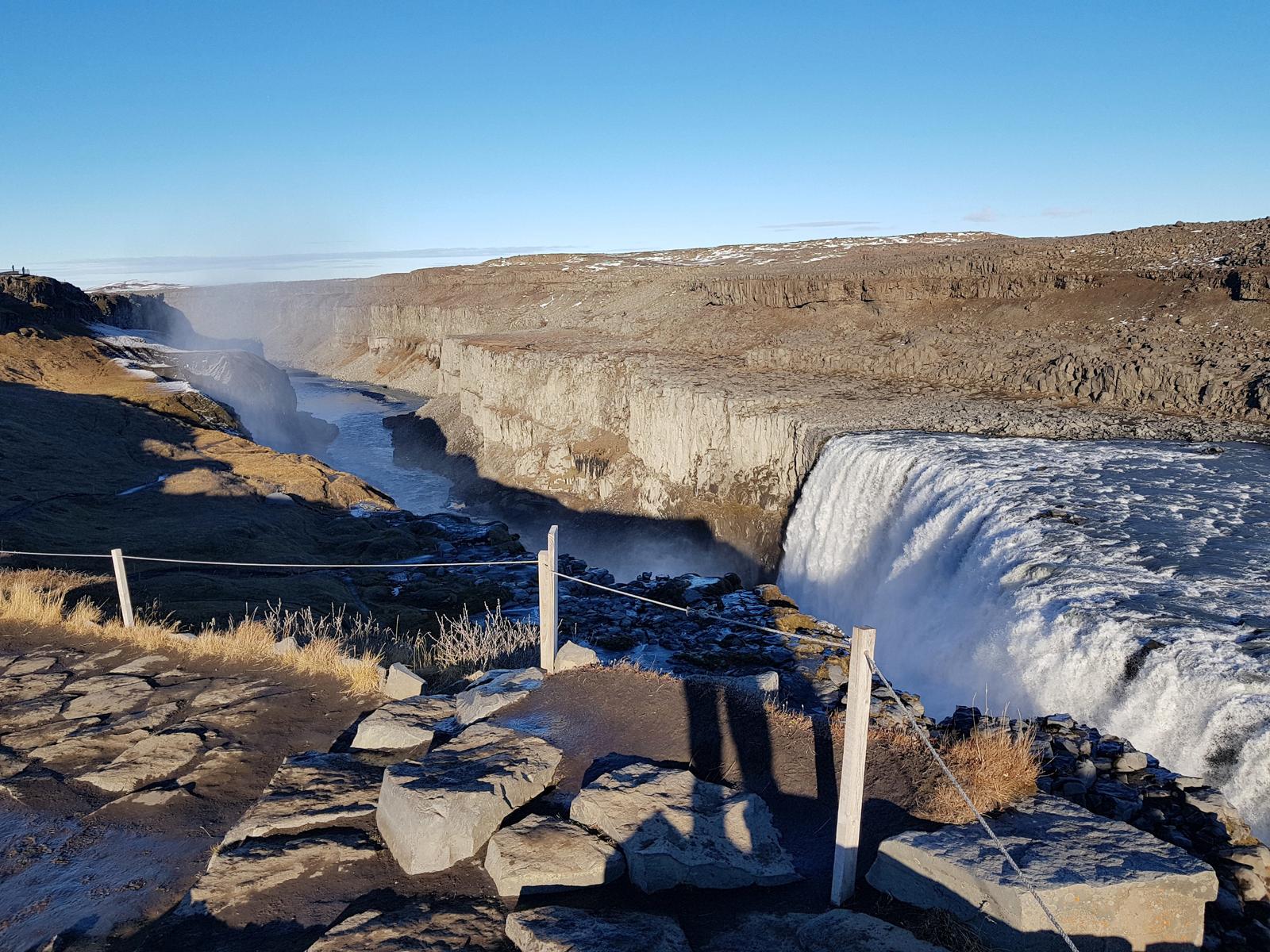 I thought Dettifoss was very impressive and enjoyed walking along the path adjacent to the gorge to and from it.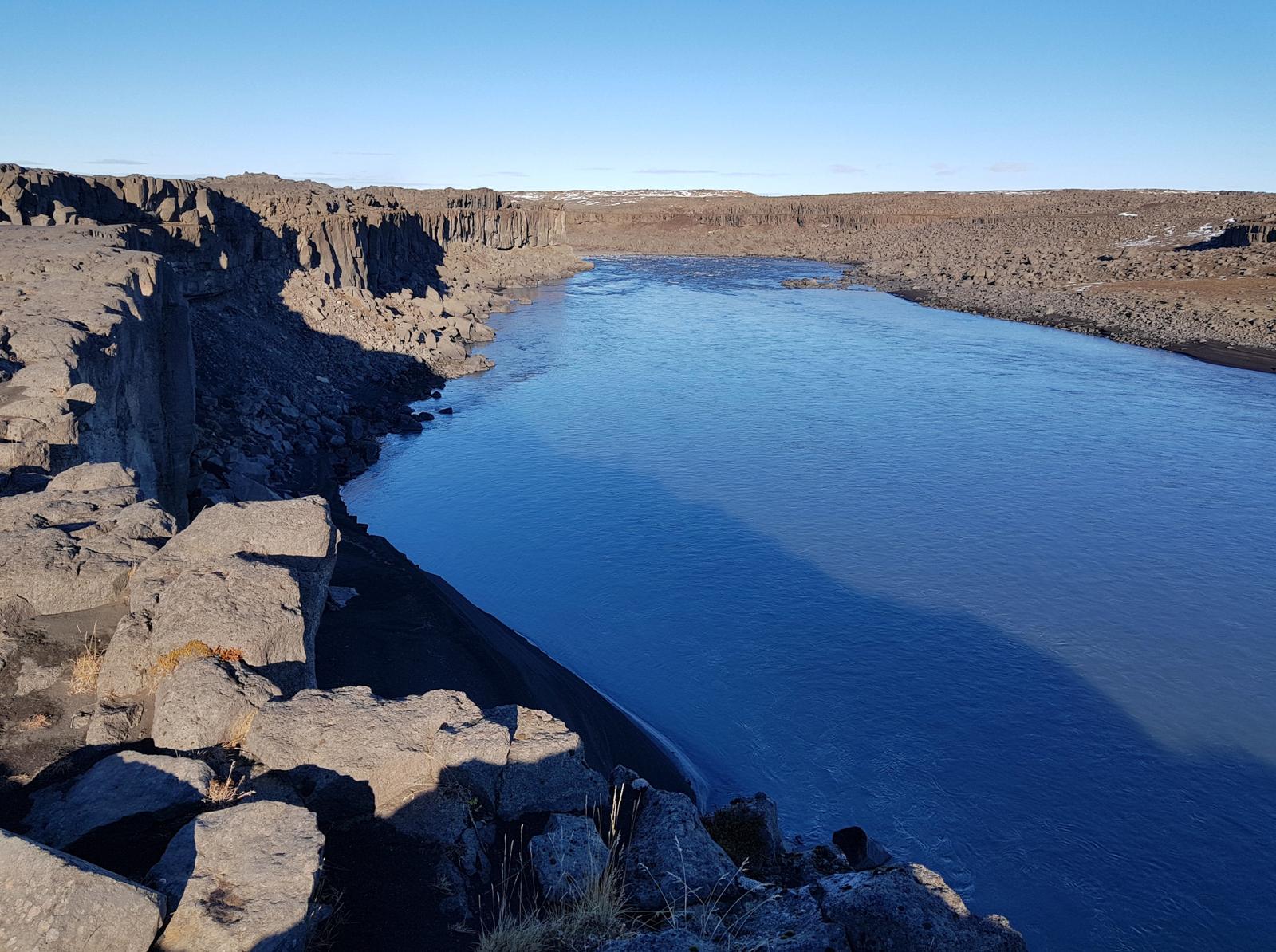 We walked along the gorge towards the smaller Selfoss waterfall. According to guidetoiceland:
"Selfoss is much wider than it is tall; its height is eleven metres (36 feet) while its width is around 100 metres (330 feet)."
We decided to just observe Selfoss from the distance as we had more planned stops for that day and wanted to get on the road again.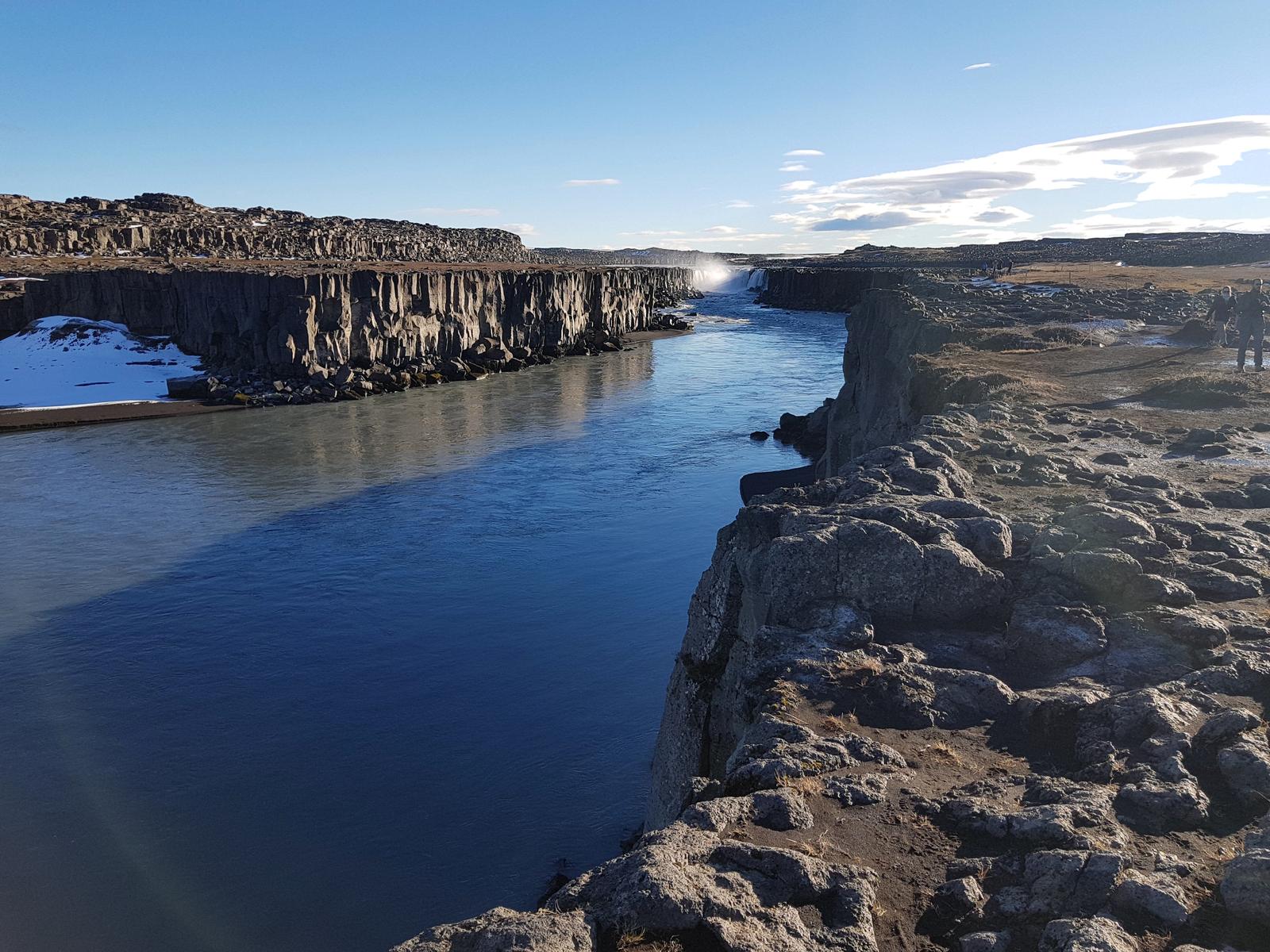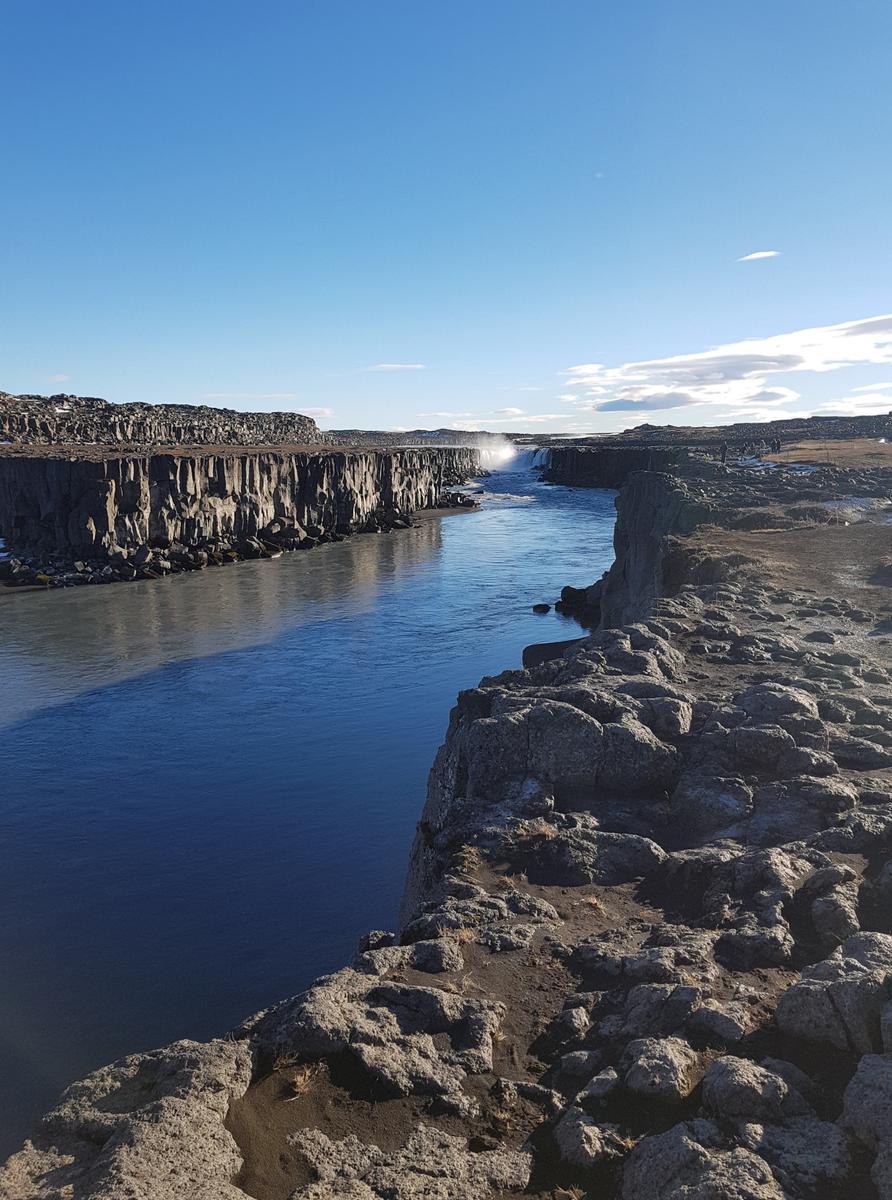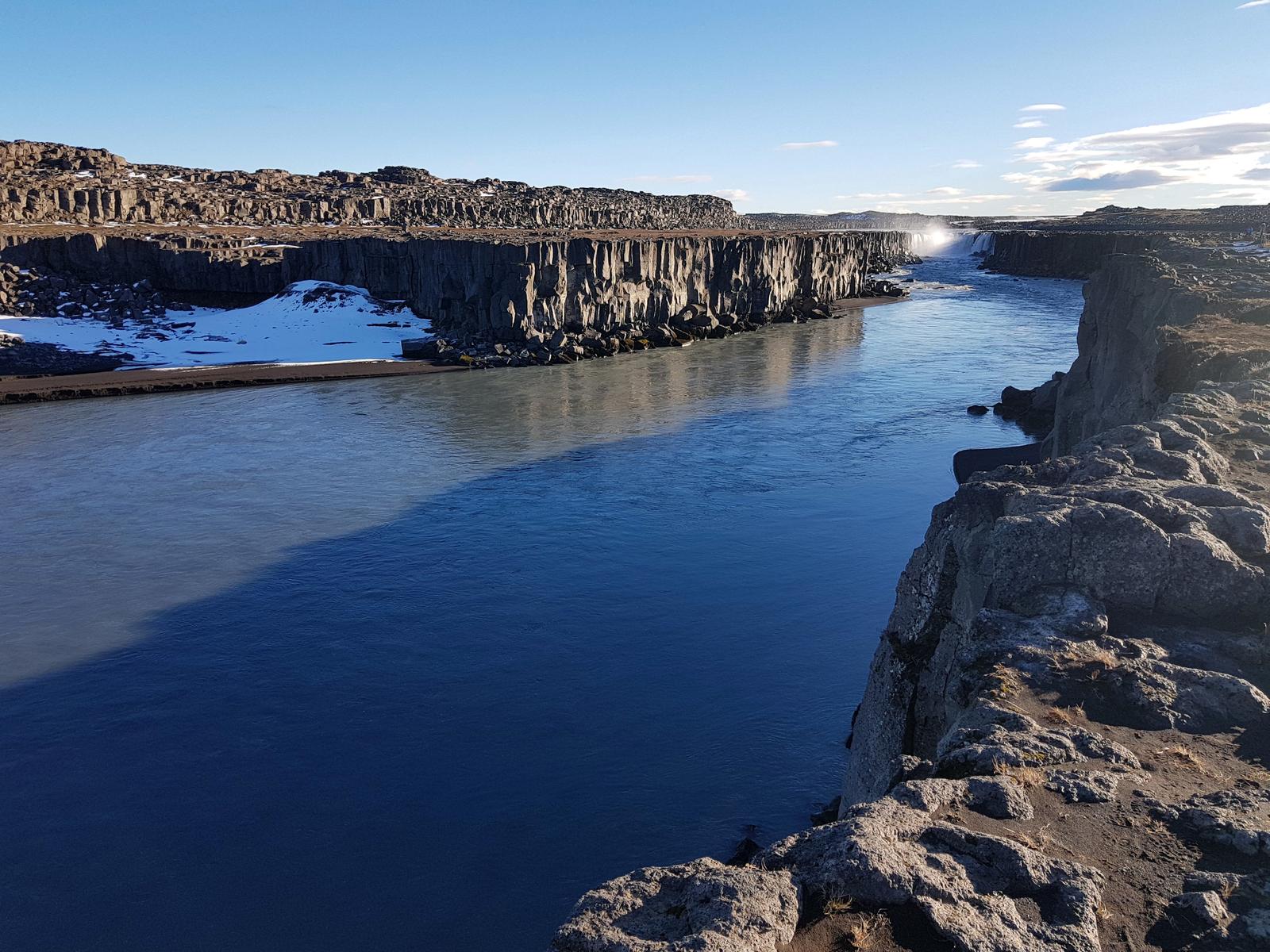 It was very quiet in the park, we seemed to have timed it right as some tour buses arrived when we were leaving.
---
2. Námafjall Geothermal Area.
The Námafjall Geothermal Area is located East of Lake Mývatn, the fourth largest lake in Iceland. You can walk up to and around actively smoking fumaroles and boiling mud pots (we were actually surprised at how close you could go). The trail is short and easy to follow from the car-park. Definitely glad we stopped here.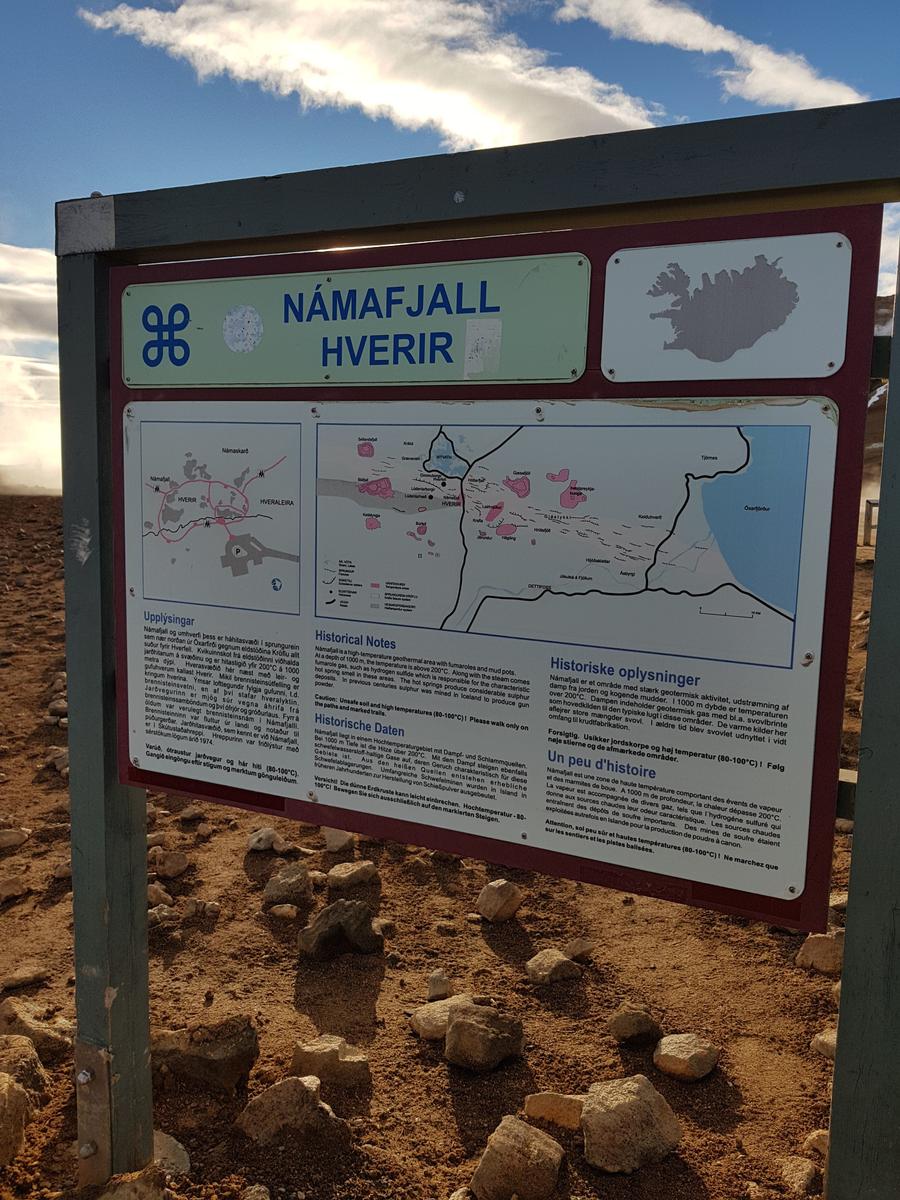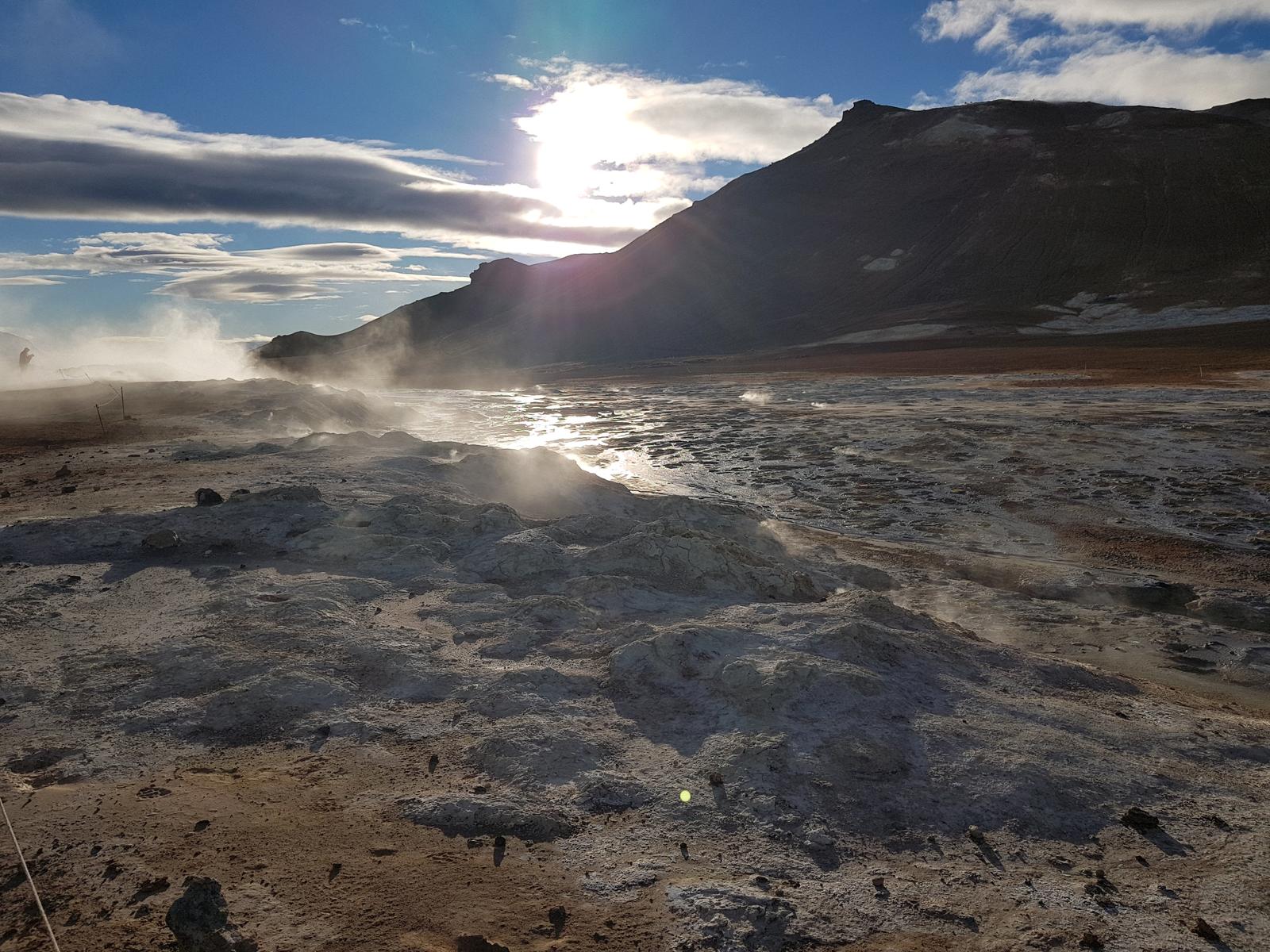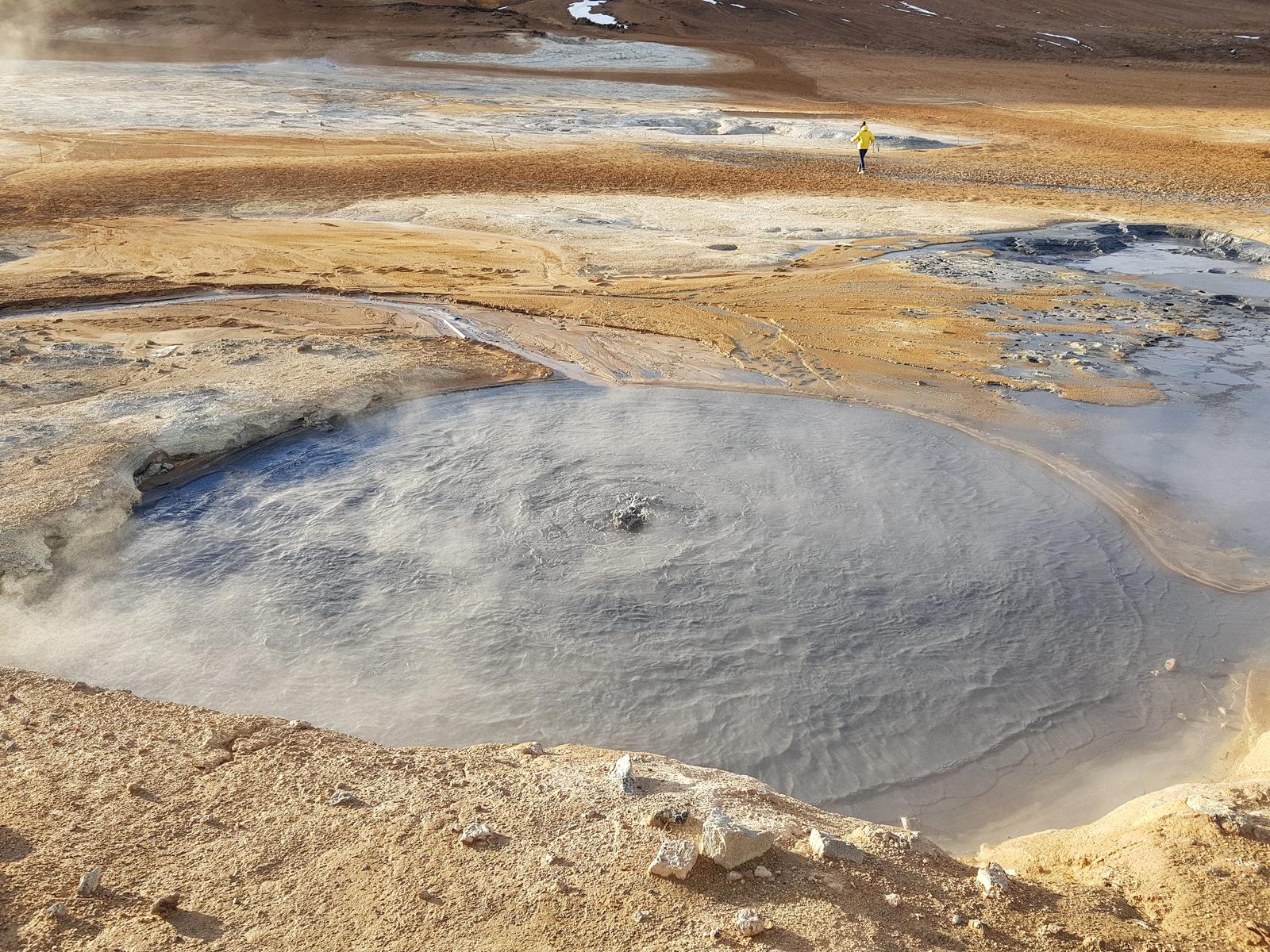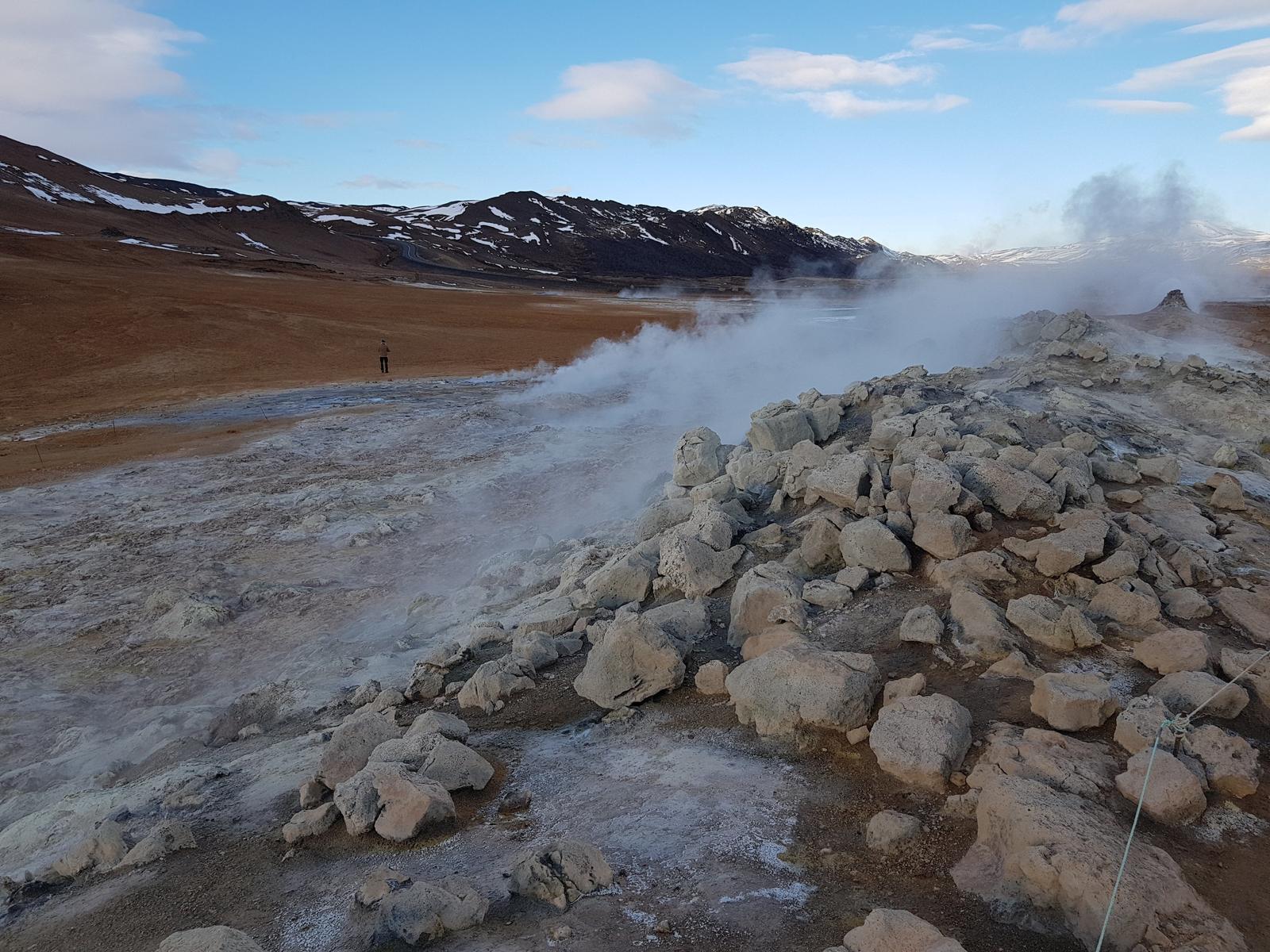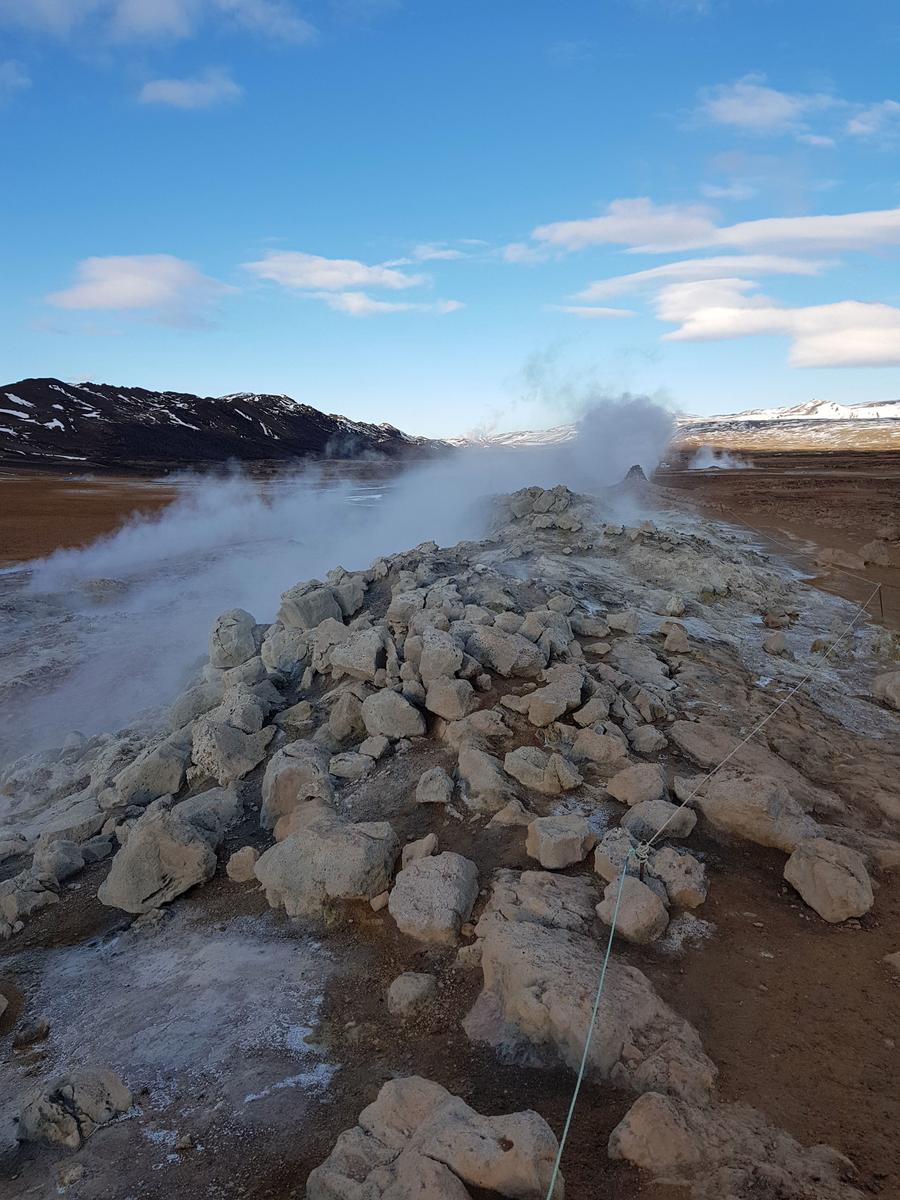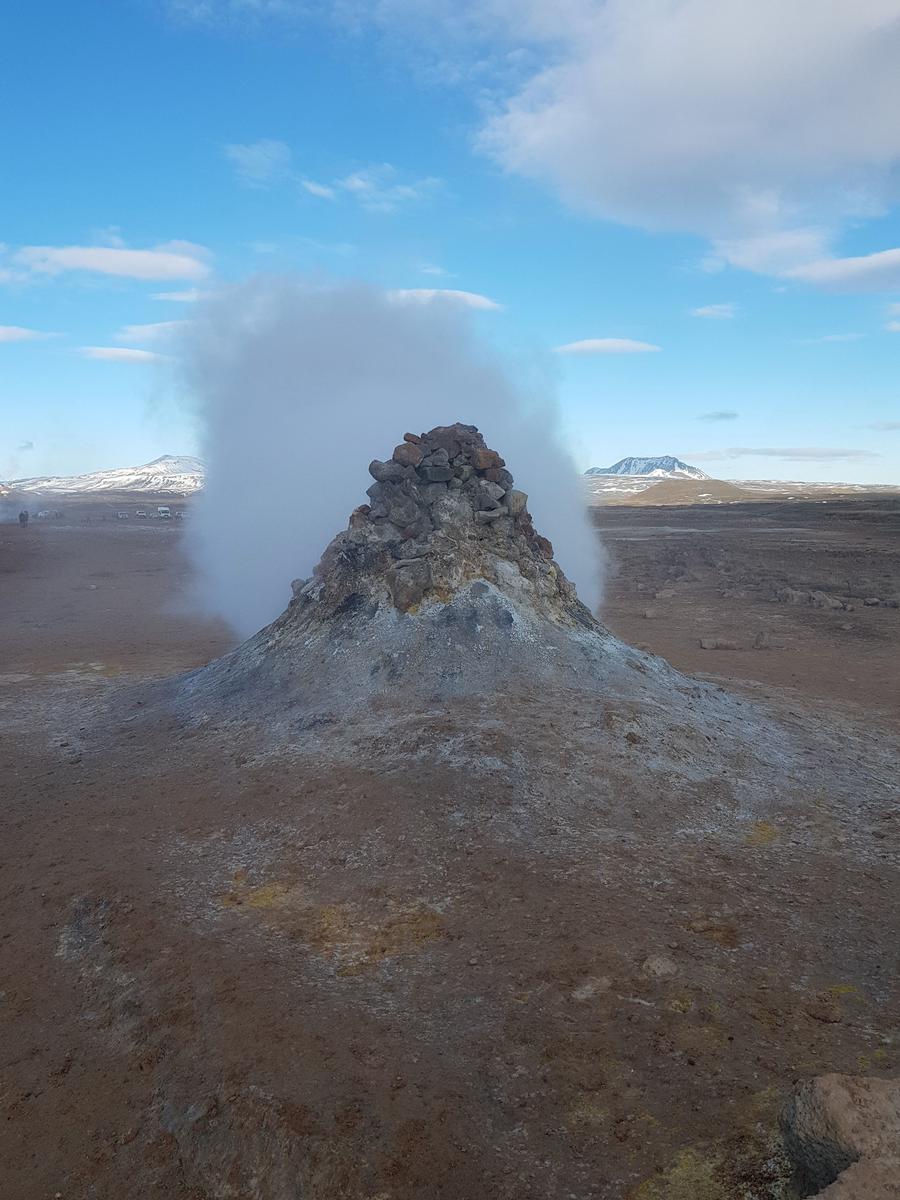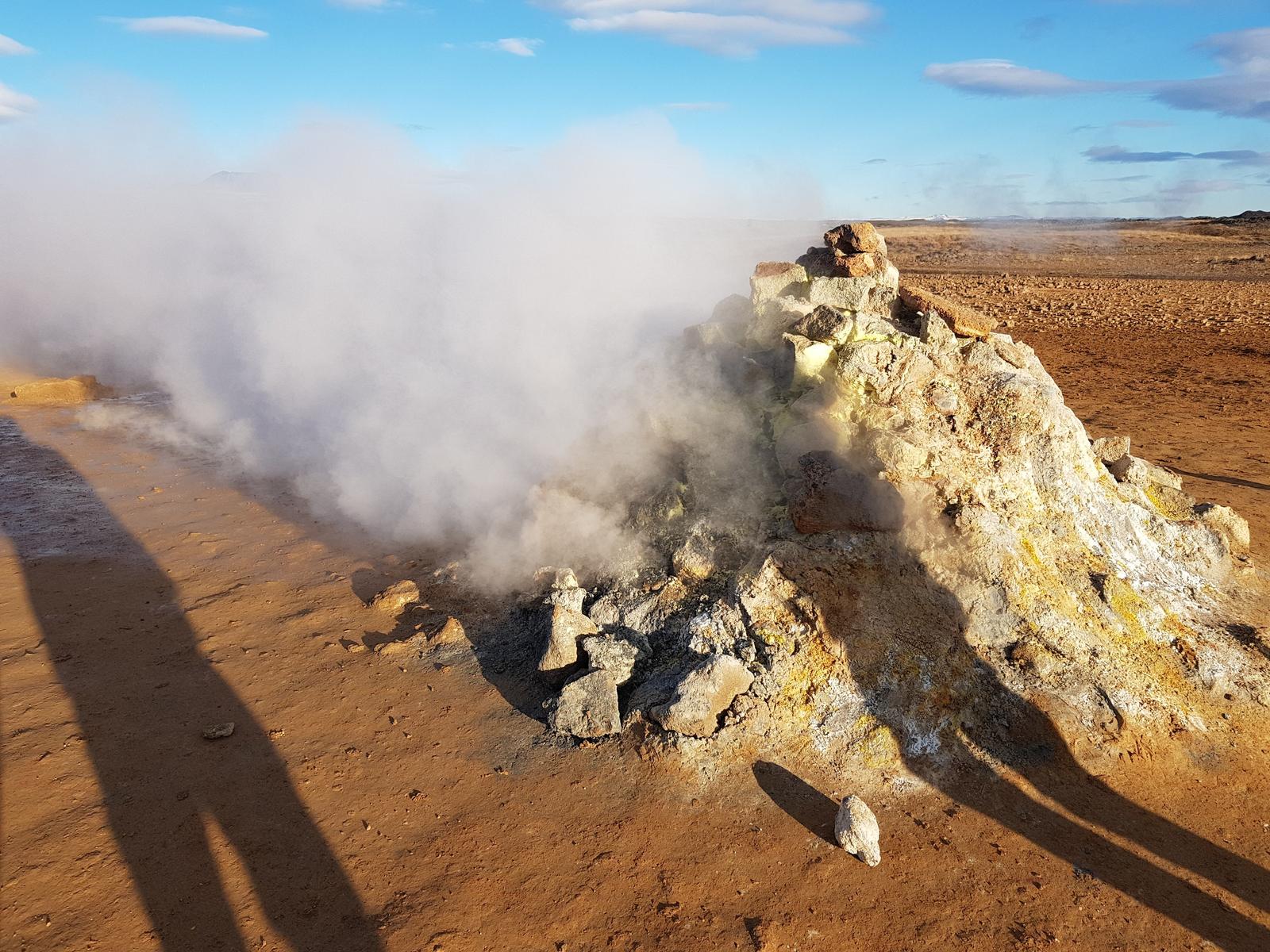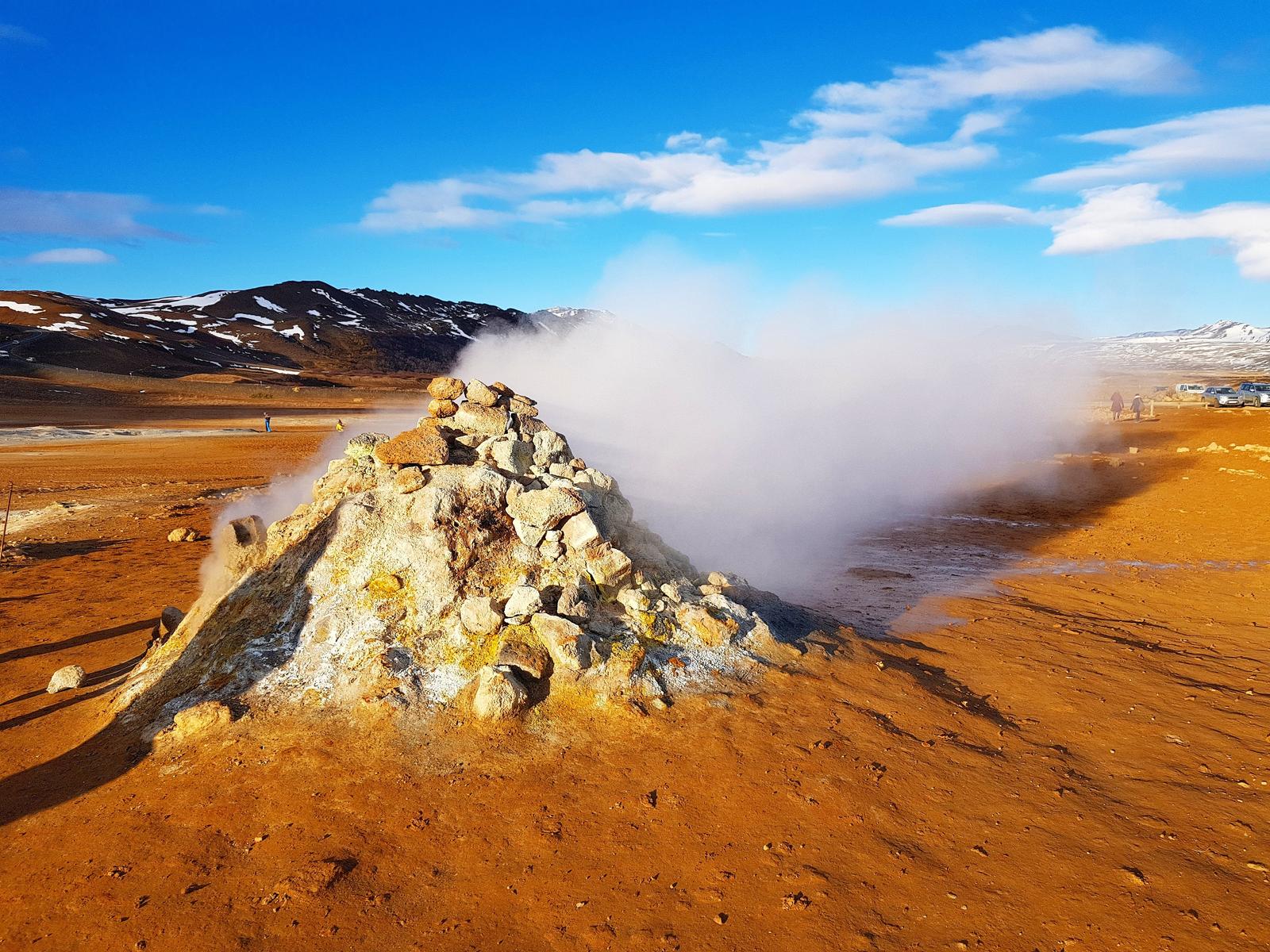 ---
3. Mývatn Nature Baths
Our final stop on day one was at the Mývatn Nature Baths (Jarðböðin við Mývatn). Having since also visited the Blue Lagoon I can say that I did prefer the Mývatn Nature Baths, they are not as large or as "fancy" but they were so much quieter and this alone made the experience more enjoyable. I have no photos as we left our phones/cameras in the car and just relaxed inside so the photo below is from here.
According to the Mývatn Nature Baths official website:
"The water supplies for the lagoon run straight from the National Power Company´s bore hole in Bjarnarflag. The water has a temperature of about 130°C when it arrives to the huge basin beside the lagoon itself forming an impressive, man-made hot spring. Altogether, the lagoon and the basin contain around 3.5 million litres of water with a temperature of 36 – 40°C."

"The lagoon itself is a man-made construction, its bottom is covered by sand and gravel. The characteristics of the water are unique in many ways. It contains a large amount of minerals, is alkaline and well suited for bathing. Due to its chemical composition, undesired bacteria and vegetation do not thrive in the lagoon making chloride or any other disinfectant redundant."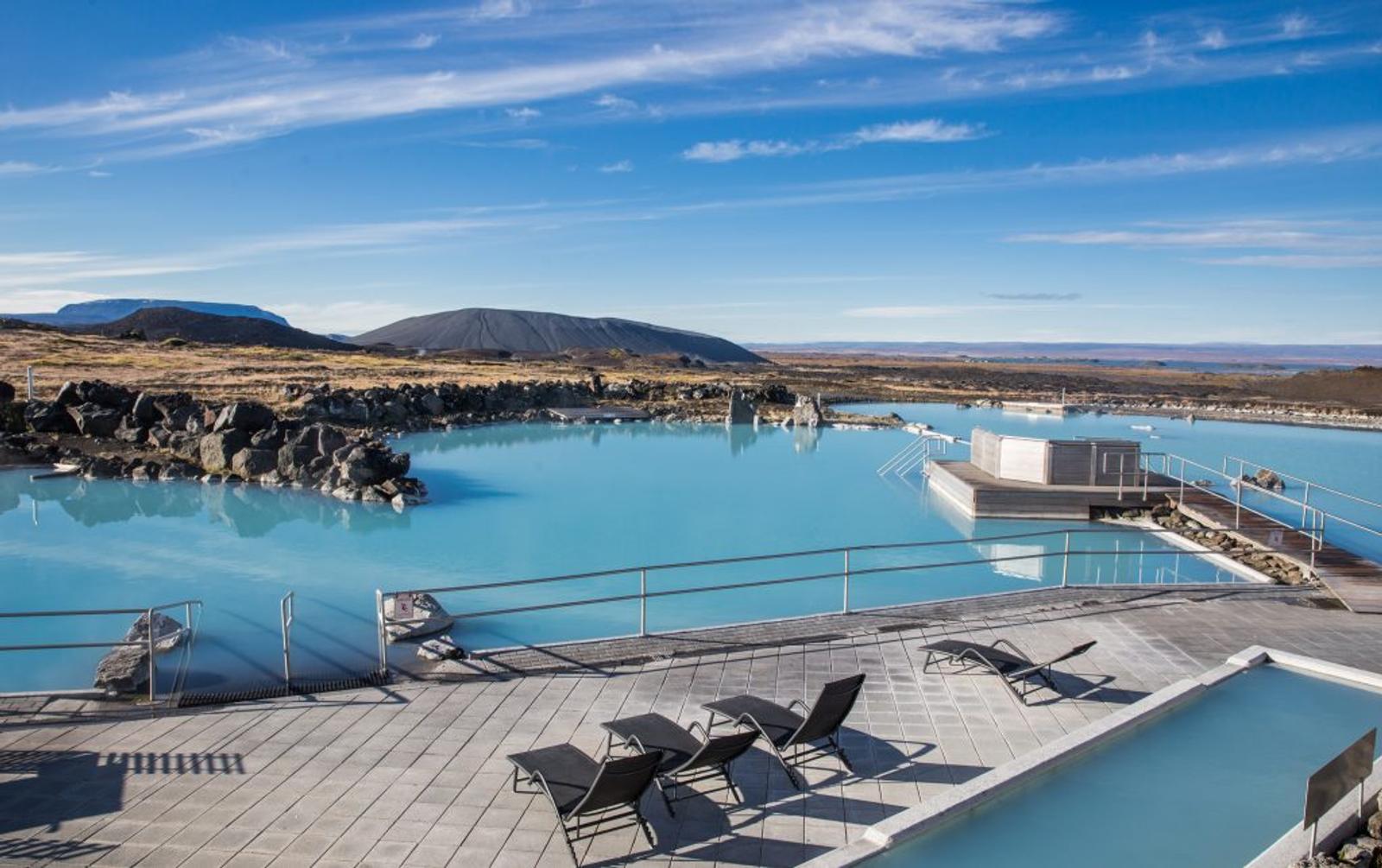 In addition to the lagoon, there are also steam baths, a cafe and small gift shop. An adult ticket is approximately €38 (you can stay as long as you want). As we planned this to be our last stop of the day and we hadn't far to drive to our next accommodation in the town of Mývatn so we spent about two hours soaking and relaxing, it was blissful.
---
Day Two - North to the Whales!
By the end of today (day two) we needed to be in Dalvík as we had booked a whale watching trip leaving from there early the next morning. The main reason we decided to go whale watching was that we met a lovely couple from Germany (a few days earlier) who were also doing a self-guided ring road loop of Iceland, but were going in the opposite direction to us. They had been whale watching in Dalvík and could not recommend it enough. It was the highlight of their trip (so far) - so we decided to give it a go! This would not be our first whale watching tour, we have also been whale watching in New Zealand and Canada and both were successful trips.
1. Stretching Our Legs in Akureyri.
It was raining steadily as we left Mývatn at 8.45am. We had planned to visit the Goðafoss Waterfall as our first top of the day. Unfortunately, as we got close to the turn off for it, we made the decision to skip it, deciding it was too wet and cold and neither of us fancied getting soaked. This was the first time the weather impacted our trip so far, not too bad considering how crazy Icelandic weather is!
So, skipping Goðafoss meant that we then found ourselves in Akureyri earlier than planned. It was actually a bit of a shock to the system being back in a "large" (by Icelandic standards) city after so many days of pretty much nothing but vast open spaces, fields of Icelandic horses and quiet roads. The traffic in Akureyi alone was enough for us to want to race back to the emptiness we had come from.
"Akureyri, 'The Capital of the North' is a town in the fjord Eyjafjörður in North Iceland. It lies just 100 kilometres (62 miles) away from the Arctic Circle. It is Iceland's second-largest urban area with a population of about 17,800." (Source here).
The one advantage of being in a larger settlement was the availability of shops, so we hit up a big supermarket to stock up on supplies and filled our rental cars gas tank. We then drove back into the centre and found on street parking, pay and display.
It had stopped raining but was still very cold and grey. We walked around the streets for a little while before going for a coffee in the lovely Blaa Kannan Cafe where we spent some time catching up on our laptops in the warmth. I think Akureyri is fine for a stop on the way somewhere. It would also would work well as a base while you visit attractions in the North and North East of Iceland as you would definitely have more food, drink and accommodation options. However, for us, the best part of Iceland was how remote and tranquil the tiny towns and villages dotted all over were, so this is what we would seek out and prefer to explore.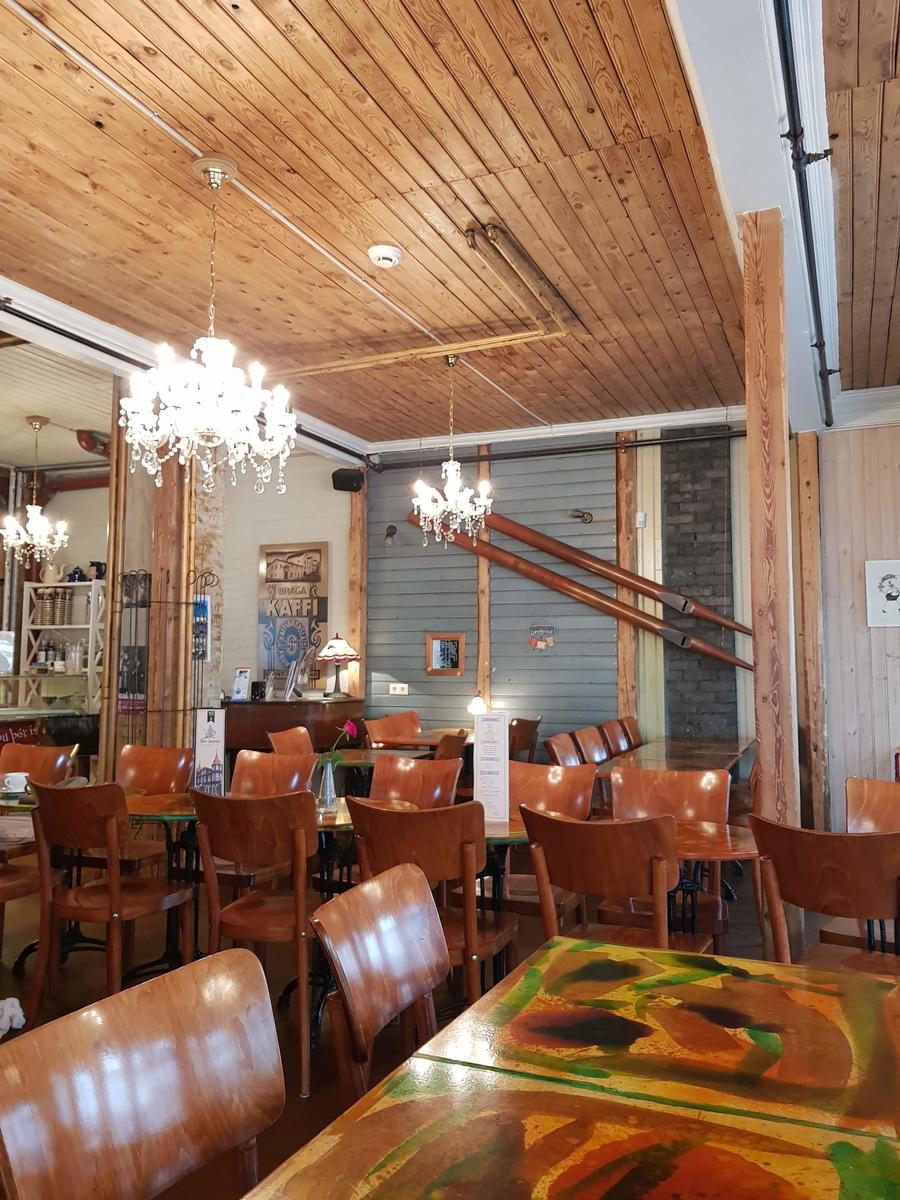 ---
2. Coffee & Cake in Dalvík.
After more driving and rain for company most of the way we made it to Dalvík which has a population of about 1400 people.
It was too early to check into our accommodation so with an hour to kill and the weather too wet to walk around we went for coffee and cake in the really cute Gisli Coffee House. We definitely recommend visiting if you visit Dalvík. The coffee was great and our cake was delicious. The interior "design" is certainly worth a look too! In the photo below you get a small taste of what the interior is like (I wish I had taken more photos but there were too many people inside):
Male toilet tapestry door sign: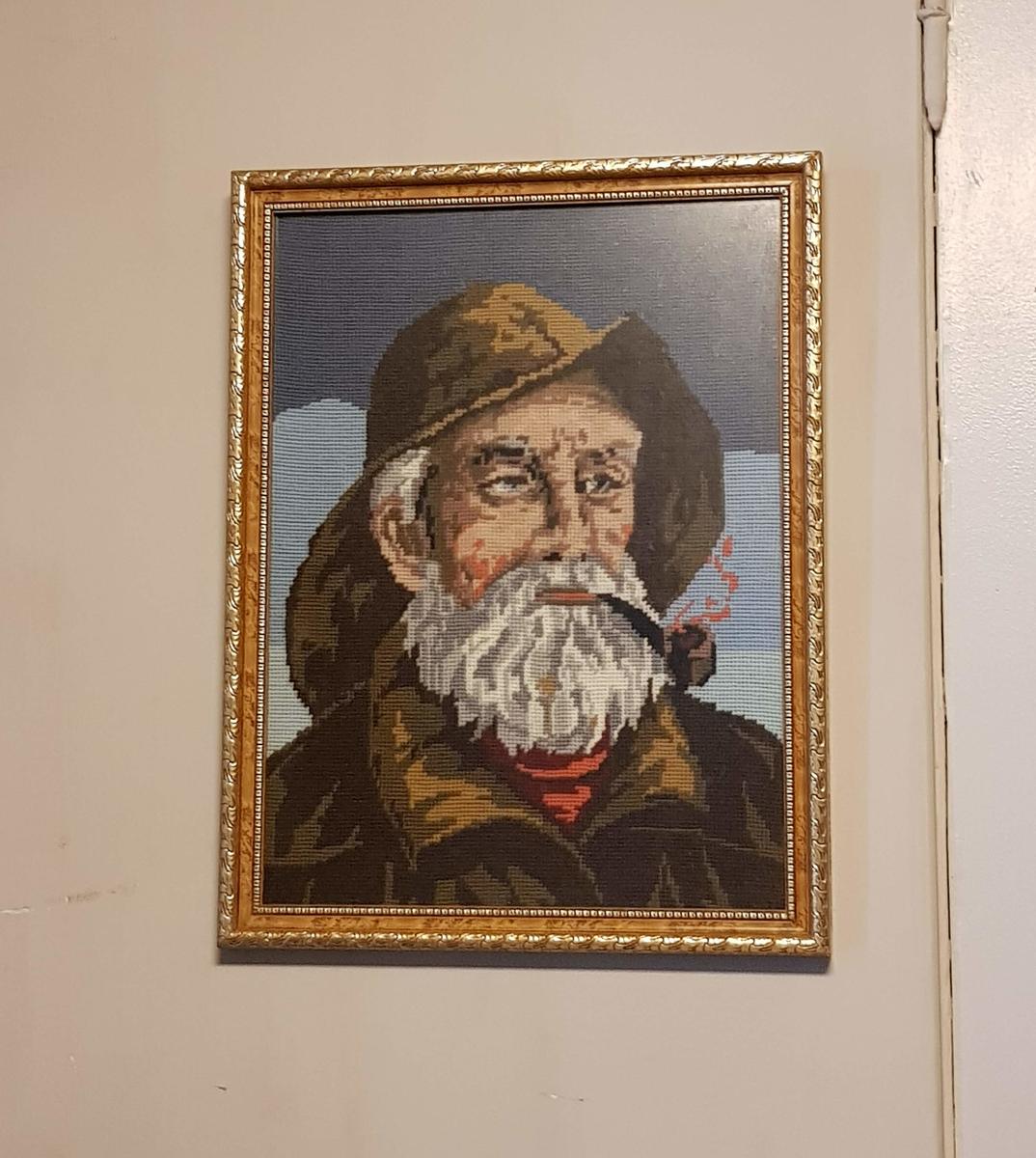 ---
3. An Evening Run.
We checked into Höfði Cottages which are located just outside Dalvík. We were staying in the very tiny "Litli Cottage" which was fine for one night but any longer we probably would have killed each other! We actually both slept so well that night in our tiny cottage though, it was so quiet there and the view was lovely.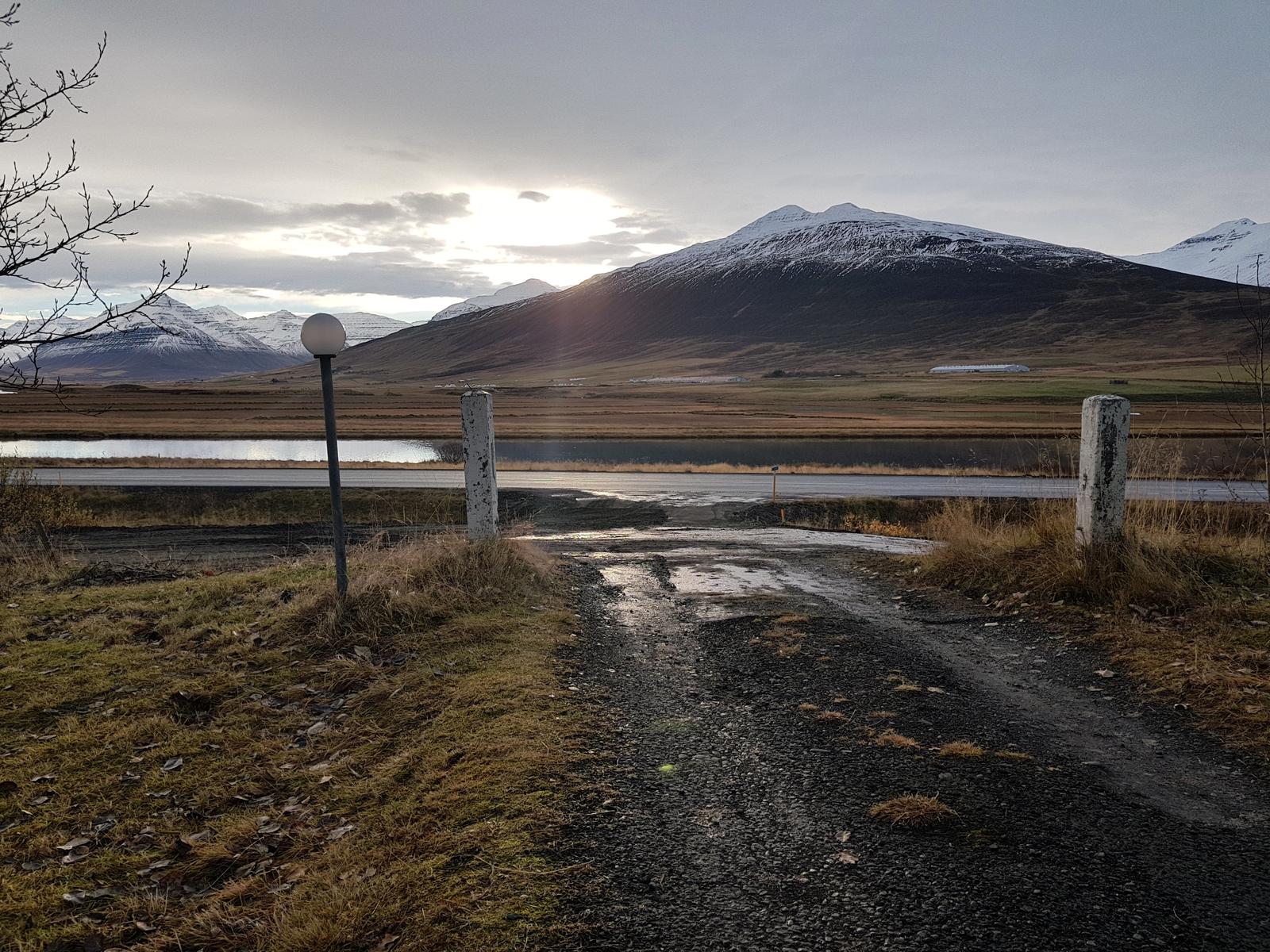 Our "cottage" is hidden behind the decently sized one in the photo below: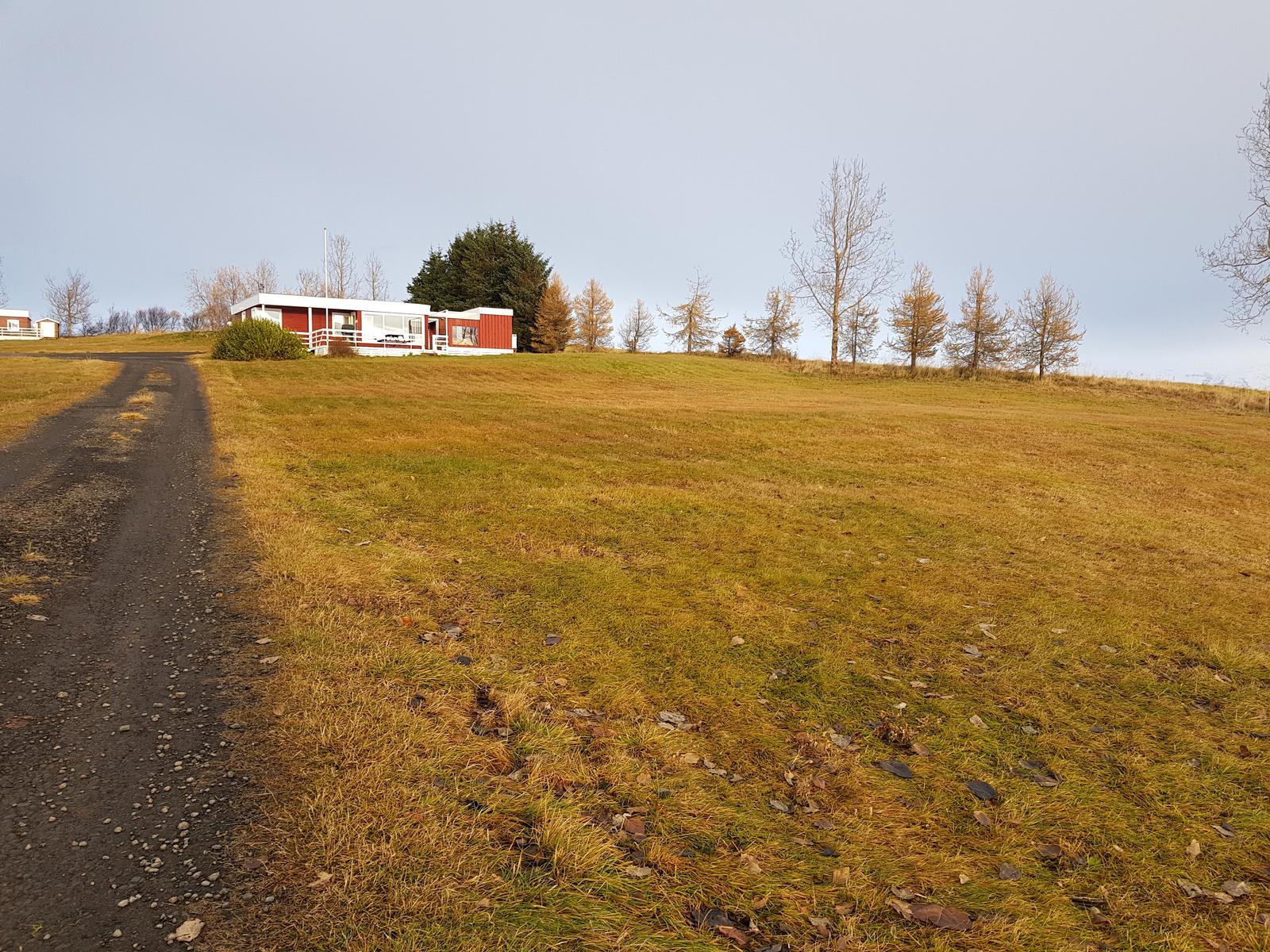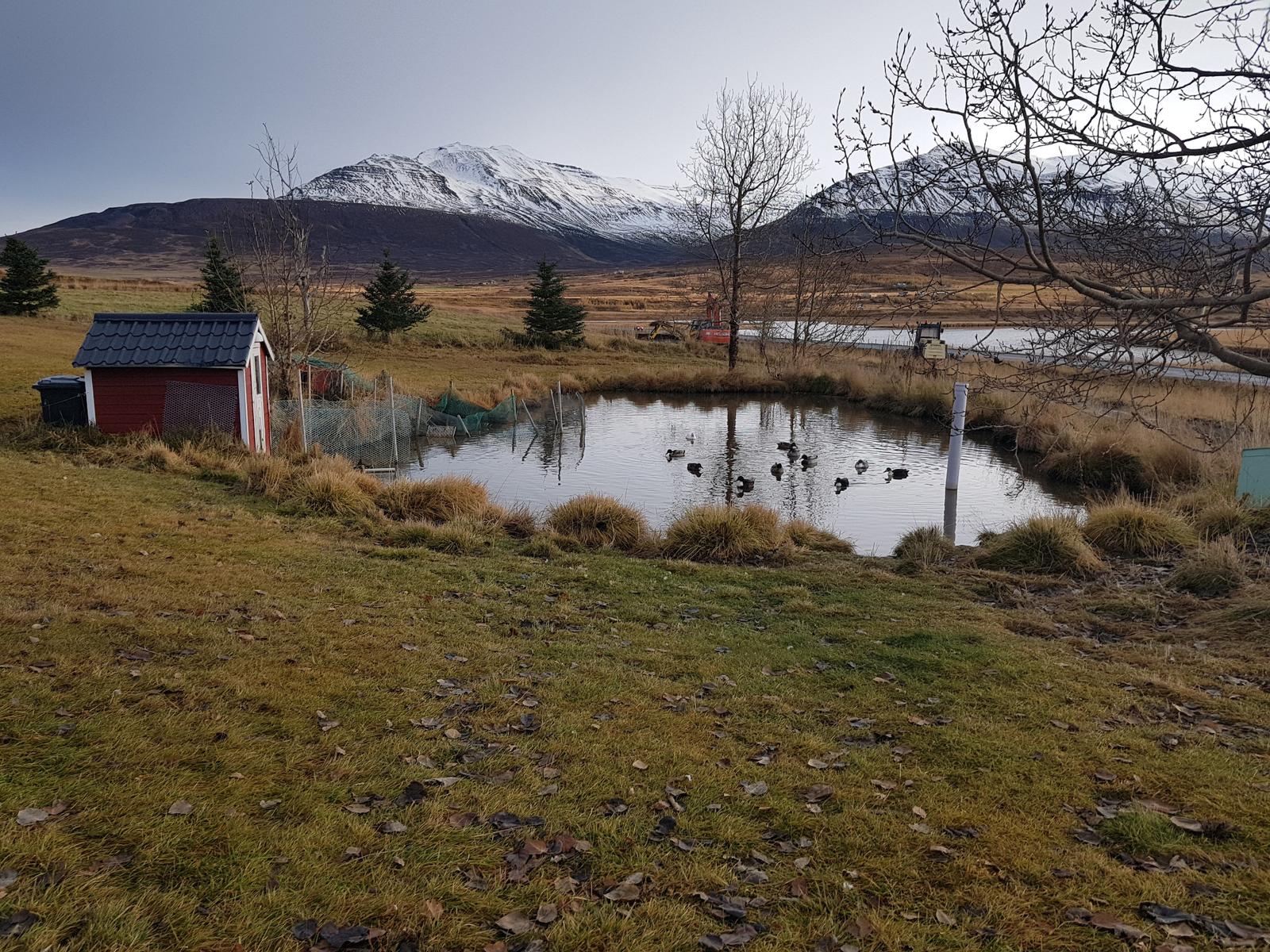 As you can see in the photos, the rain stopped and the late afternoon was really lovely. So, following our very sedentary day we were delighted and both nipped out from our accommodation for a quick run before it got dark.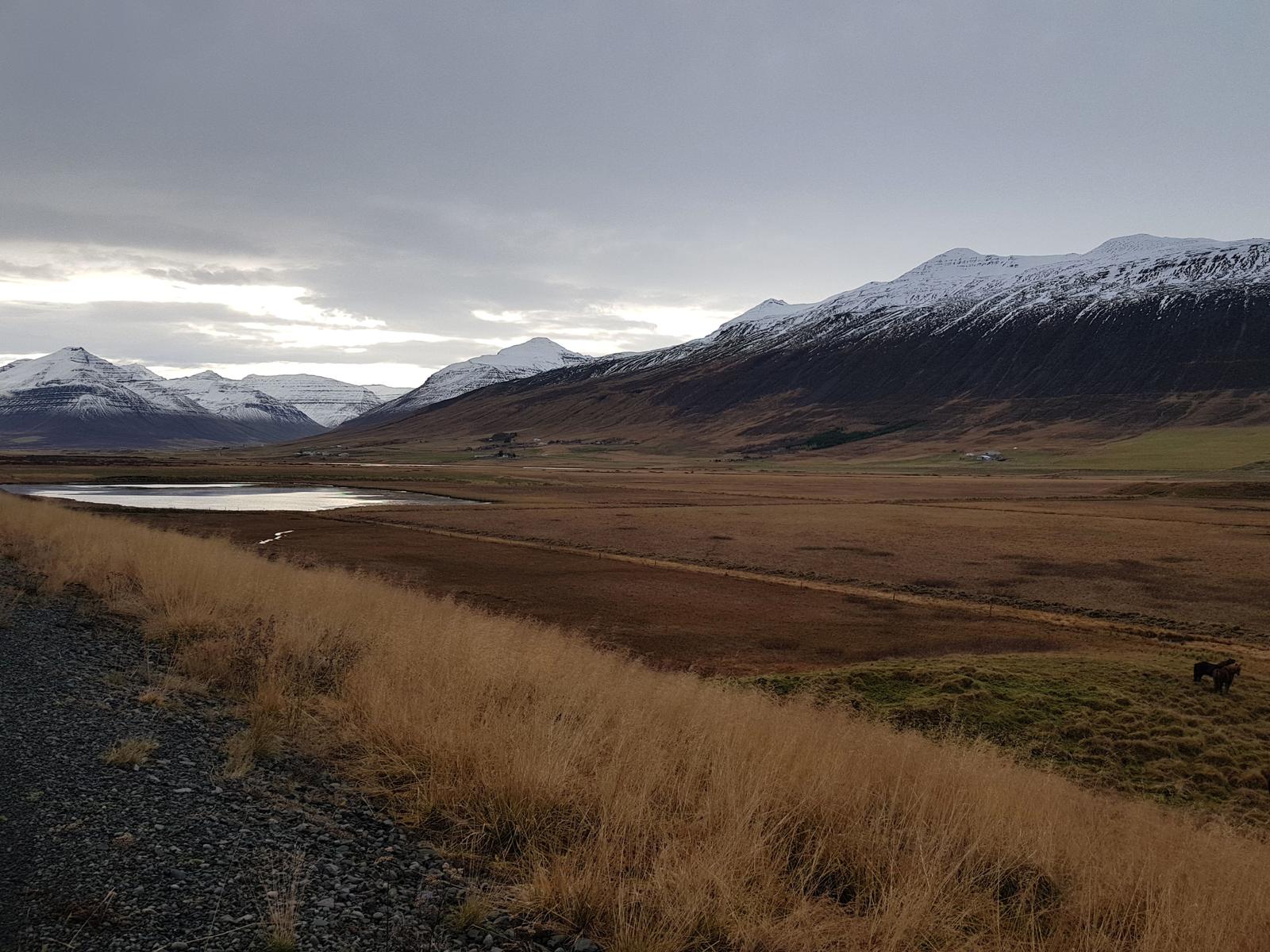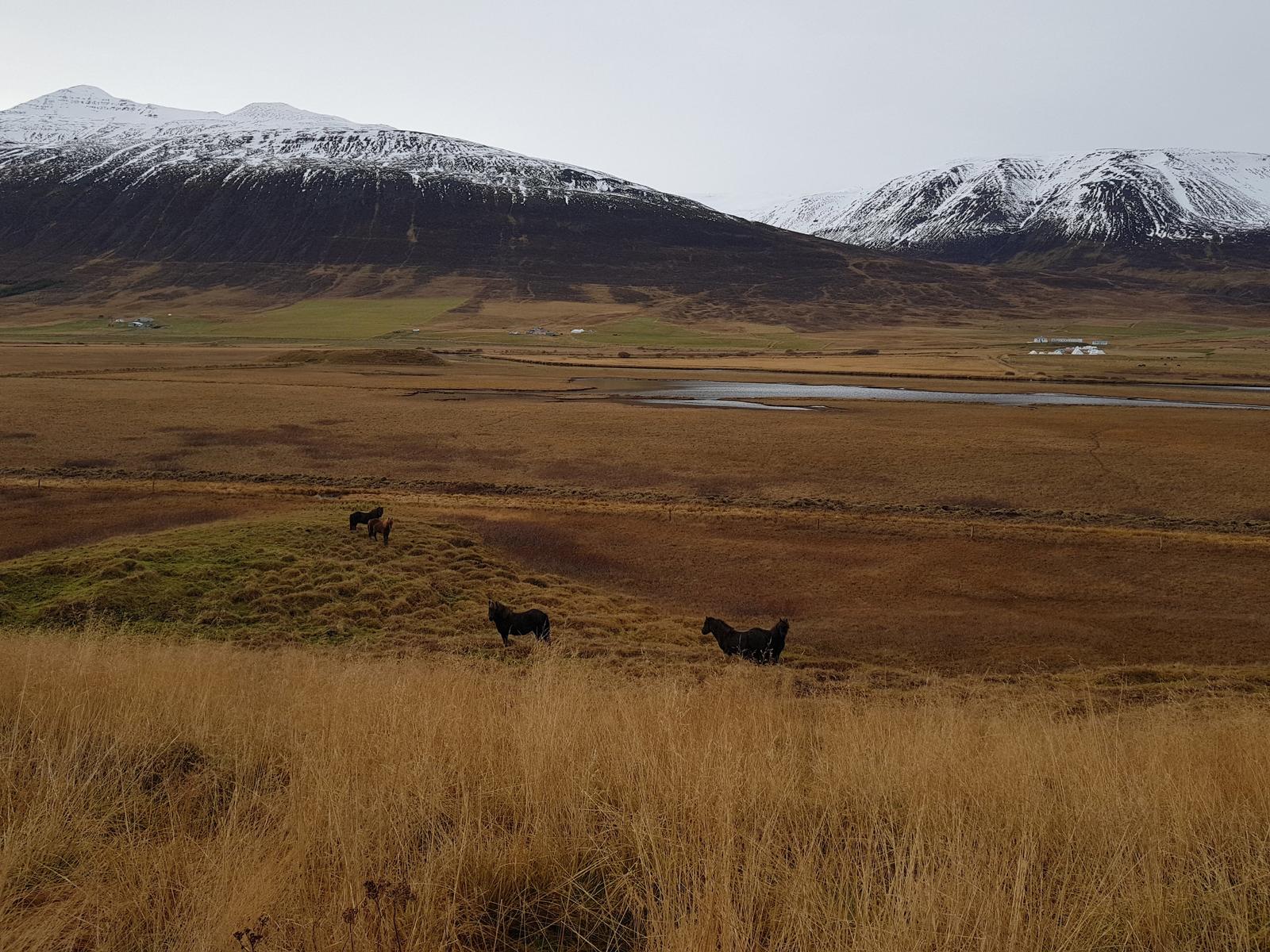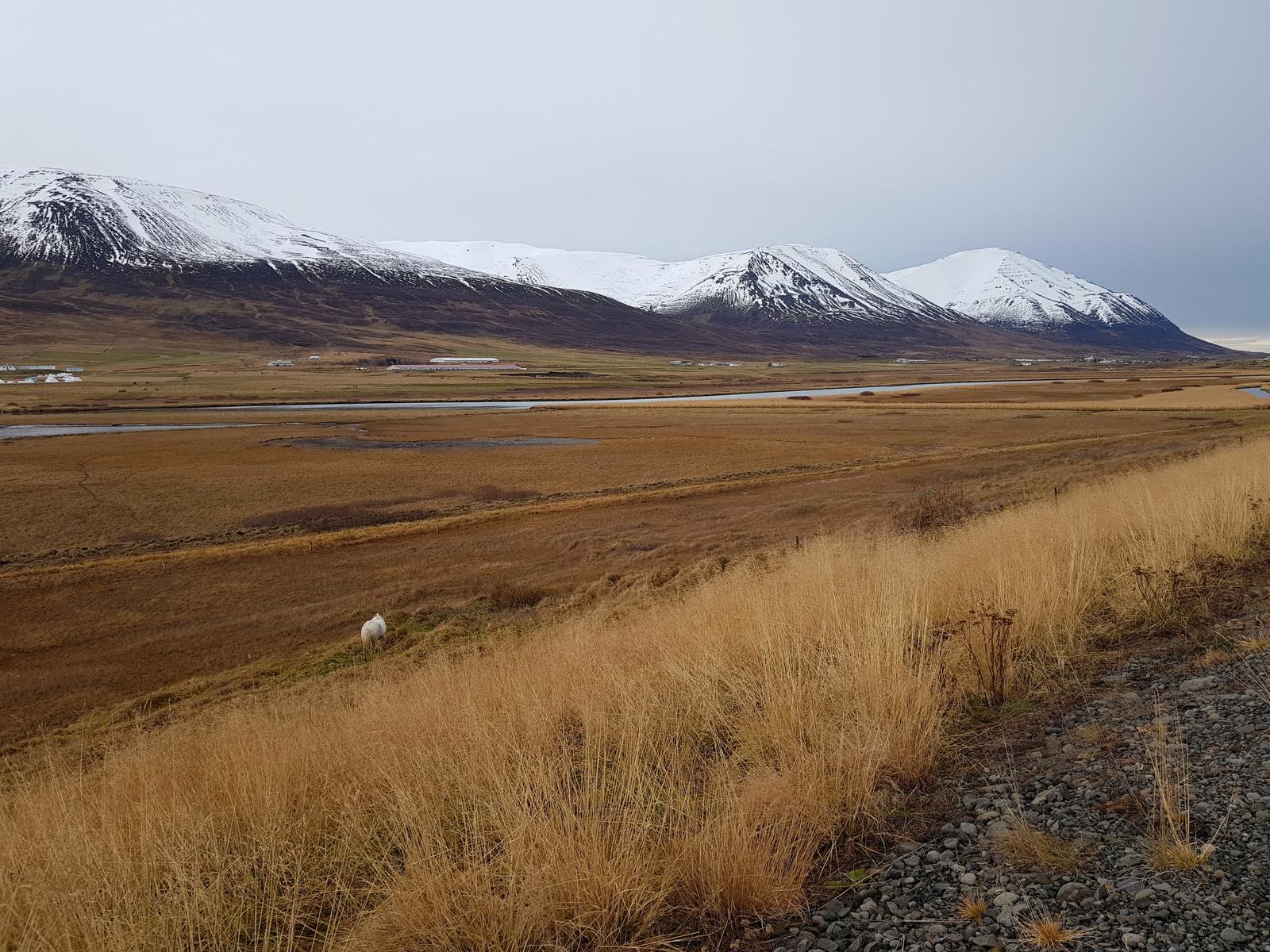 ---
Day Three - North Iceland.
Whale Watching Dalvík
We did our whale watching trip with Arctic Adventures who were great to deal with. We opted to do the morning excursion with them so that we would be back around lunch time and still have a few hours of daylight to drive to our next destination.
We arrived at the scheduled time (8.30am) with a lot of layers on (it was so cold) and we were then provided with even more layers by Arctic Adventures which we gladly accepted. By 9am we were headed for the boat, ready to go. The boat was a "fishing" style affair, with no indoor area so wearing all the layers and looking like "Michelin men/women" was definitely the right call.
As you can see it was overcast and threatening rain although we didn't get any in the end. The harbour in Dalvík was lovely: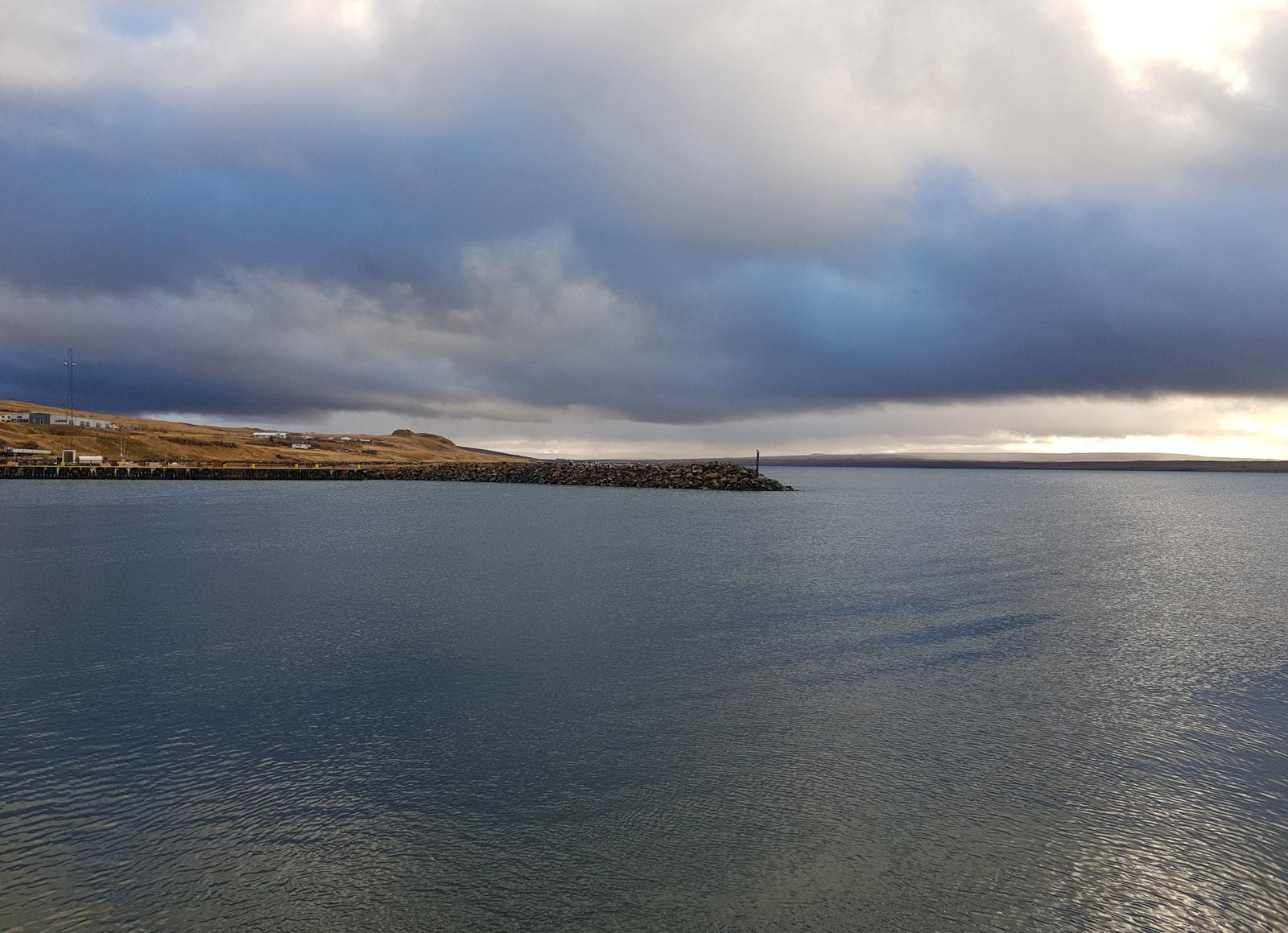 Beautiful scenery as we headed out to find the whales: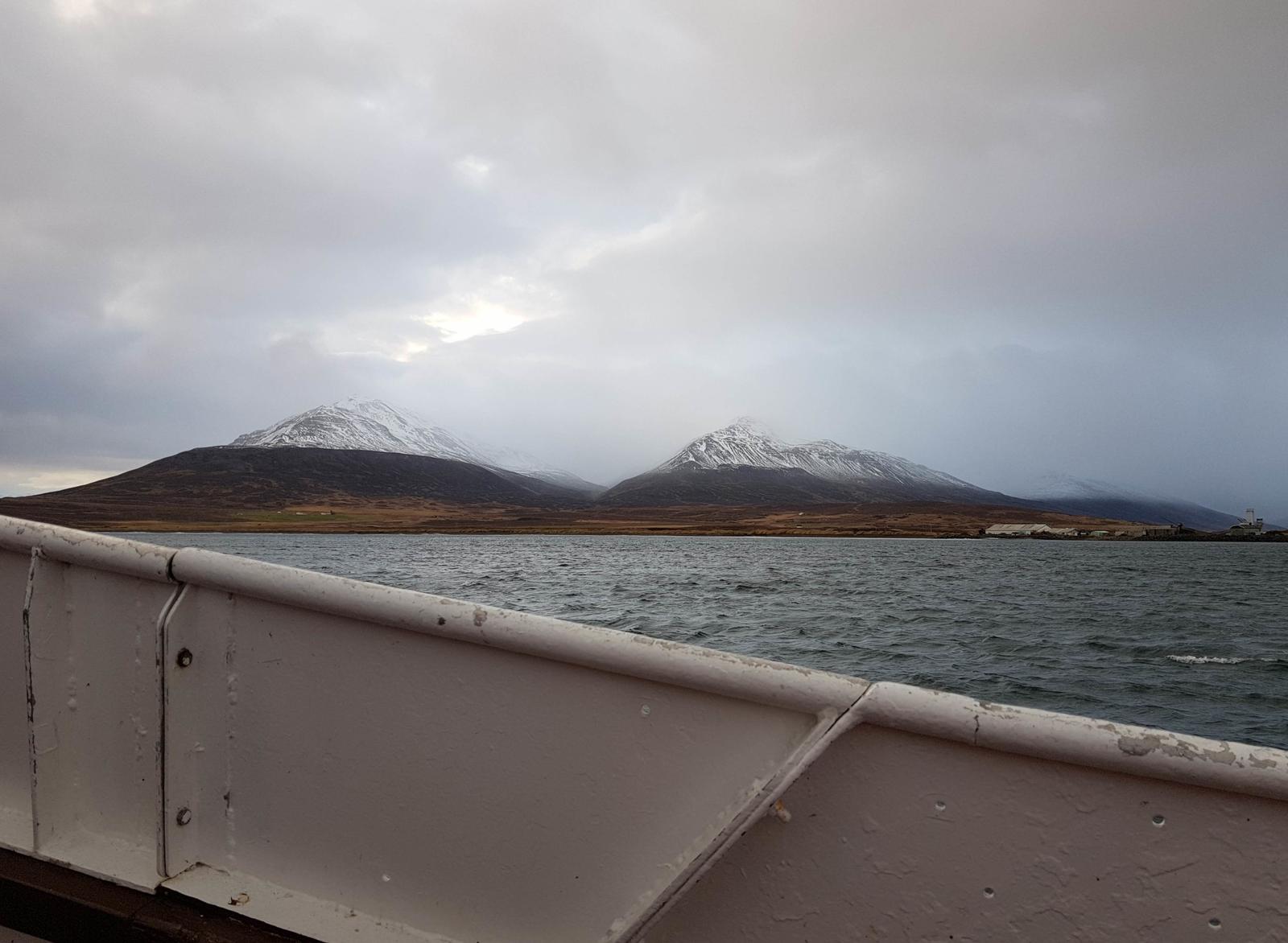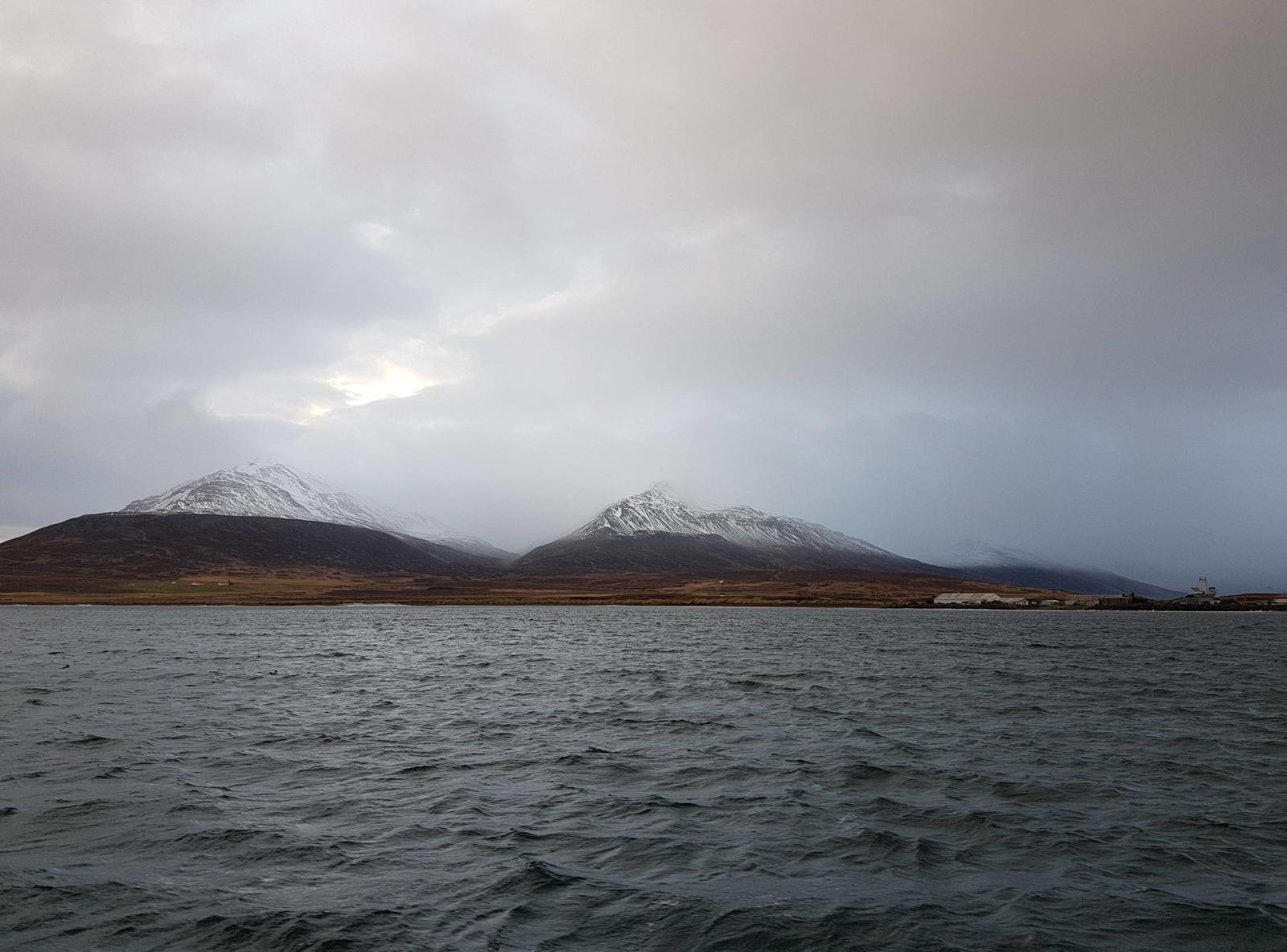 Success - we actually saw loads of whales we were so lucky. Here are just a few photos as we spent our time looking at them, rather than looking through the phone/camera at them, it was wonderful.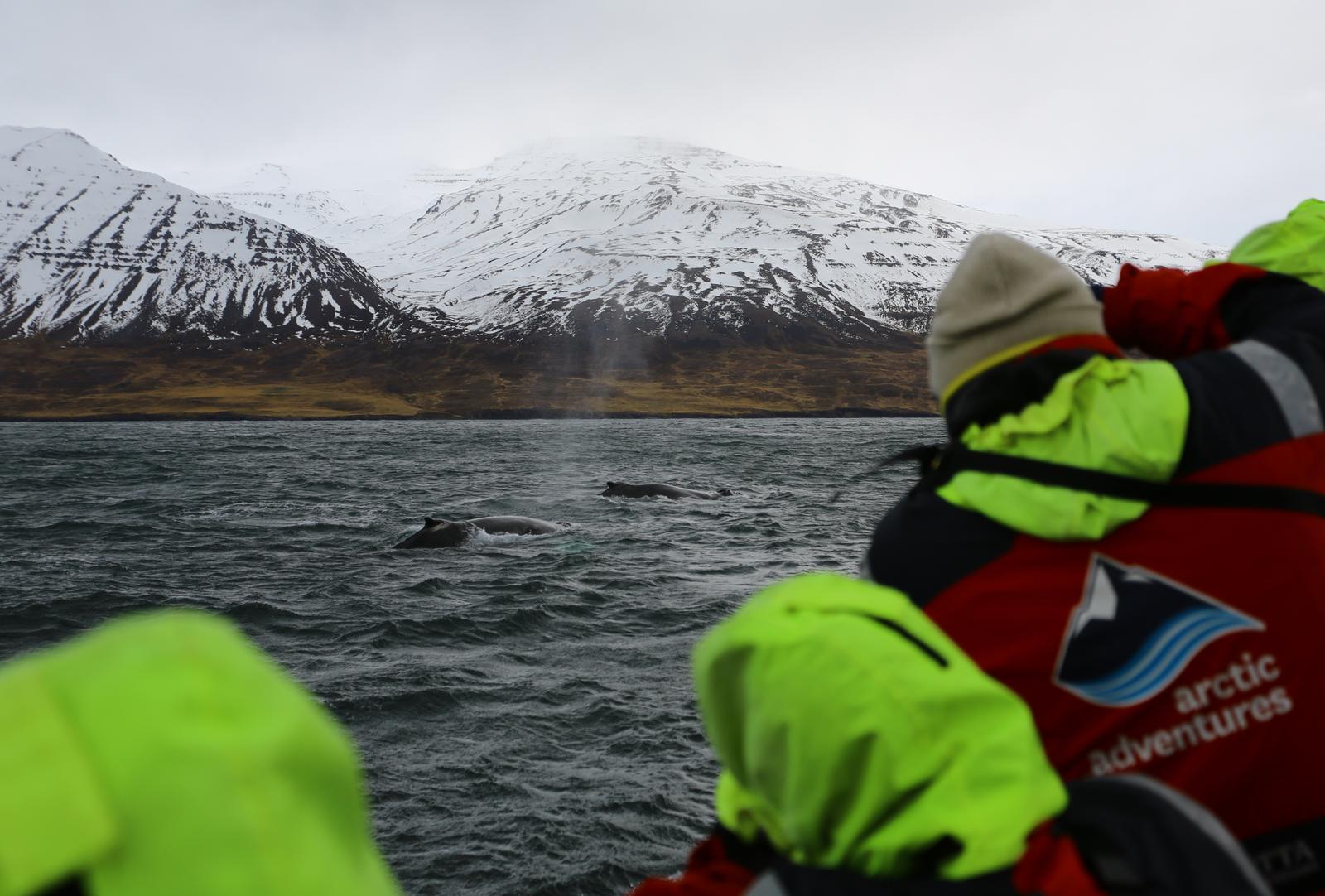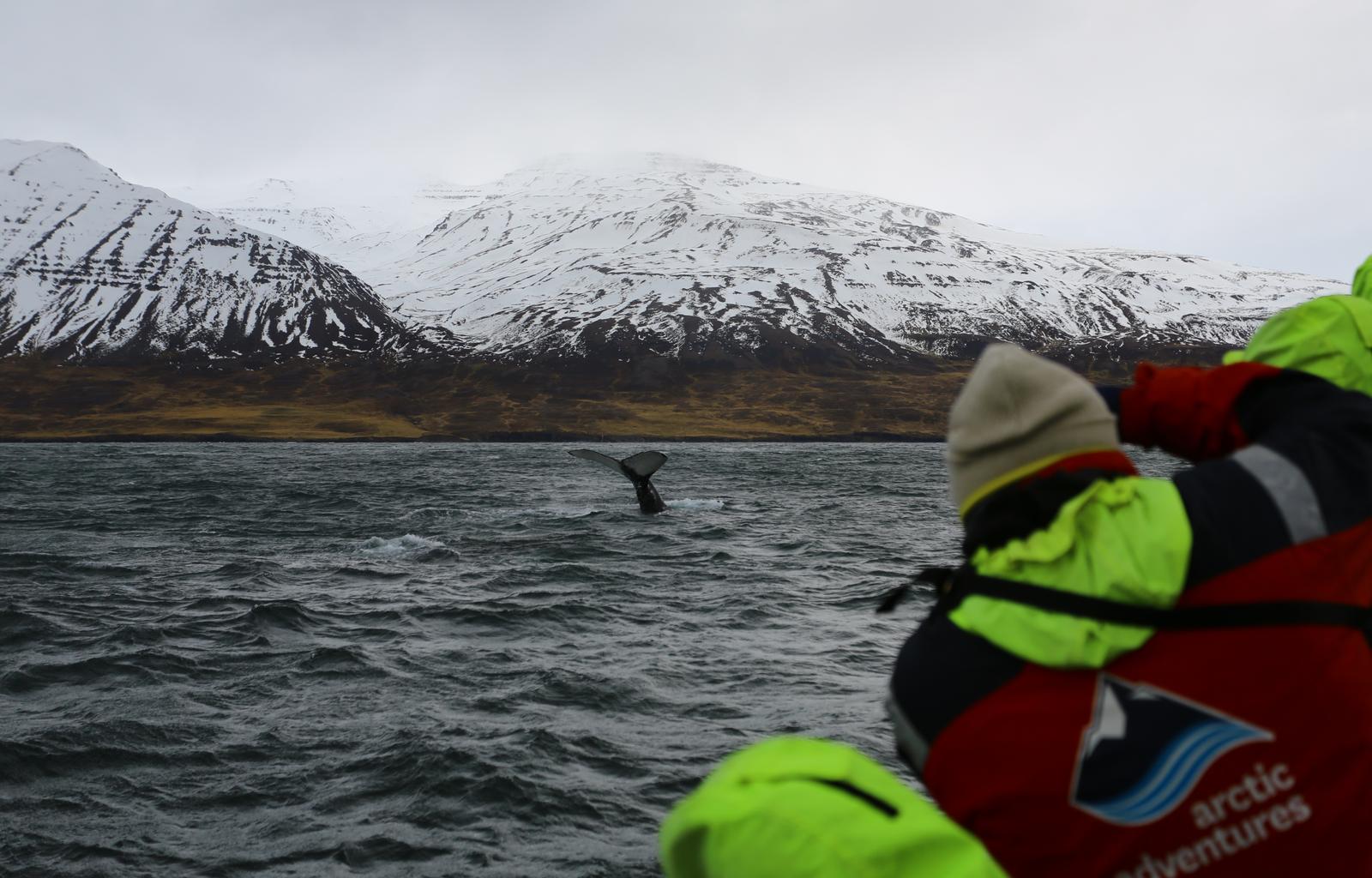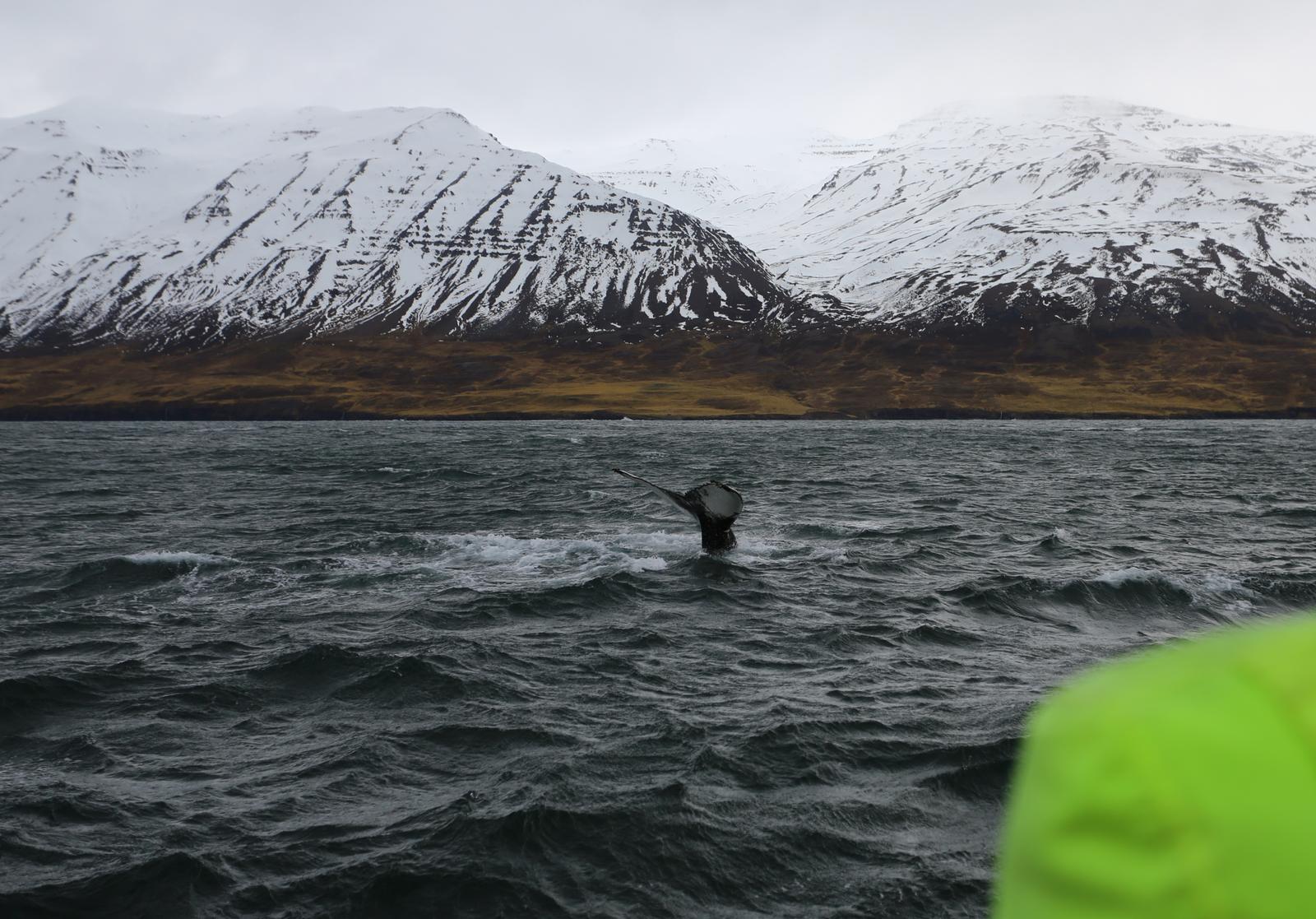 We had a great experience with Arctic Adventures. The staff were really nice, friendly and the crew on the boat were very knowledgeable. Our boat was not too packed so it was easy for everyone to get to see the whales. The water was pretty choppy on the day and there were a few people seasick but the crew did their best to make them comfortable. Overall a pleasurable experience.
---
It was about 1.30pm by the time we were back and in the car driving to Guesthouse Höfðabraut in Hvammstangi on the Vatnsnes Peninsula. I really loved this guest-house. We were able to self check in and quickly made ourselves comfortable in the communal living area with a hot cup of tea from the communal kitchen. As we were the first people to check in we used the quiet time to do some work. Later we made dinner in the very well equipped large kitchen and met some of the other guests. We both slept well and woke in the morning to breakfast cooked and served by the owner. A great experience in a stunning setting: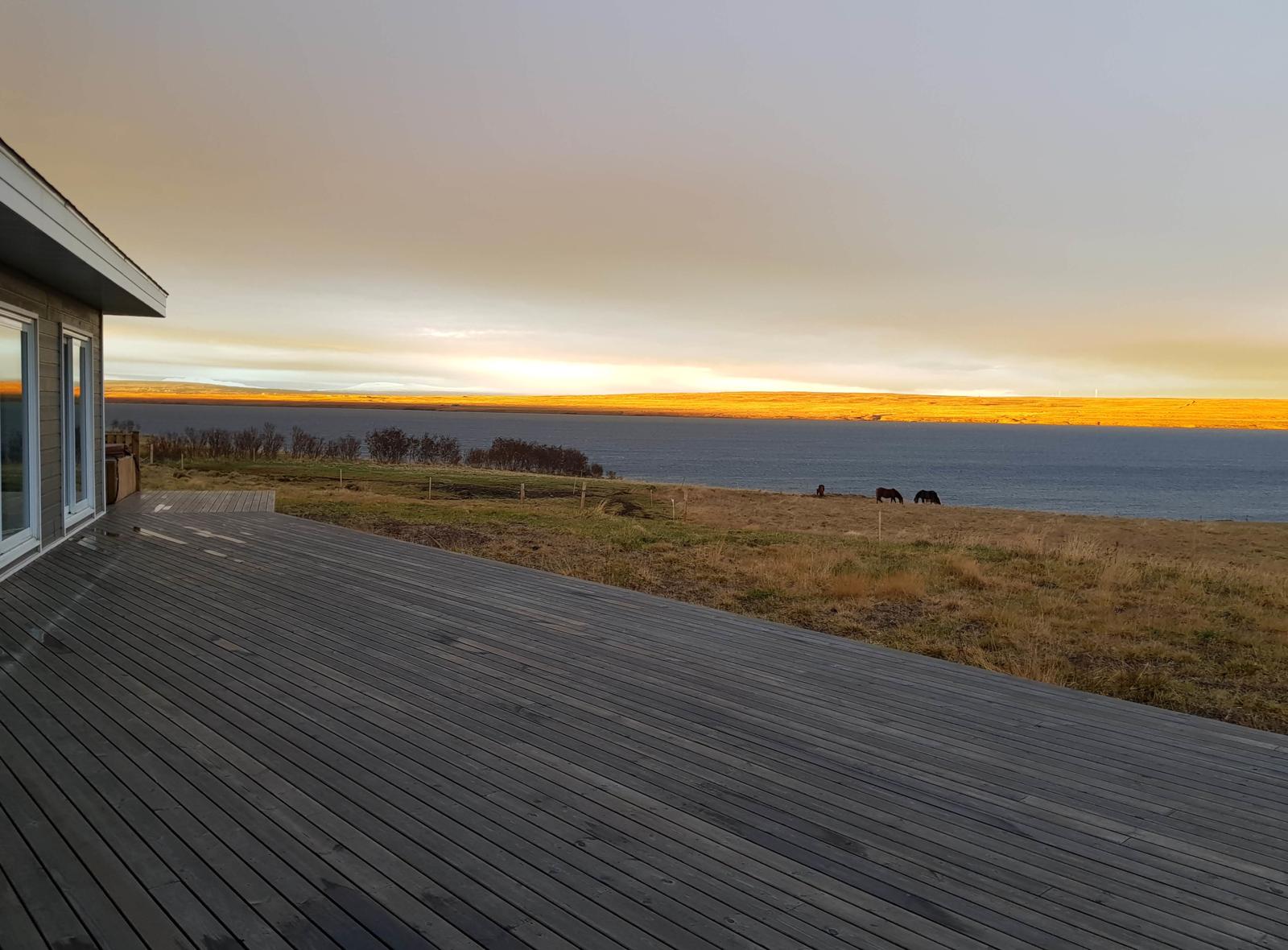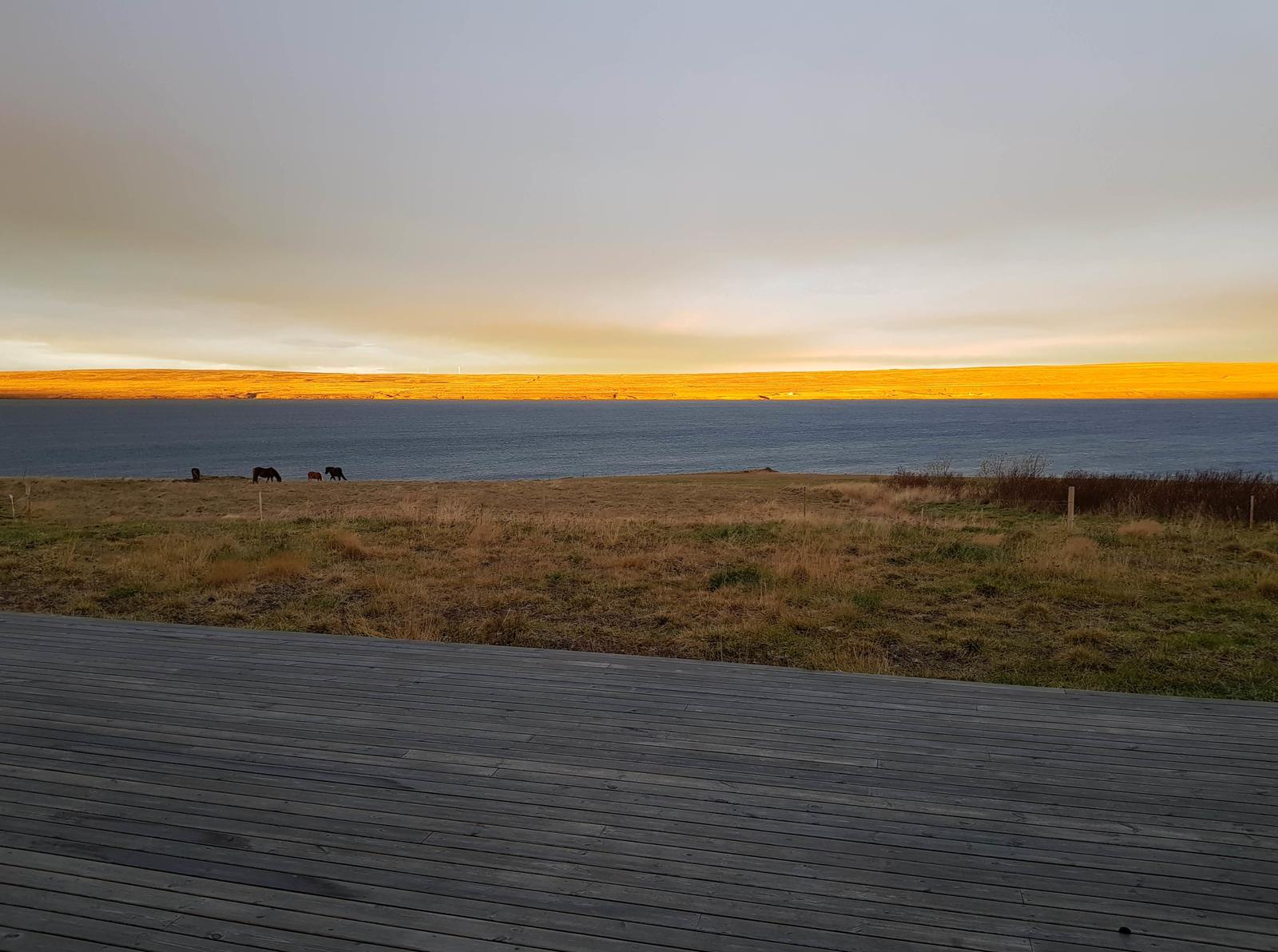 ---
Day Four - Driving to Reykjavík!
As you have probably gathered by now, as we made our way around Iceland the weather got a lot wetter, windier, colder and then we got snow. This meant that our original plan spend a few days exploring the Snæfellsjökull National Park in West Iceland on our way to Reykjavík had to be scrapped. Instead we decided go straight to Reykjavík and try fit some day trips in from there (which we did and mentioned in our Golden Circle blog). Certainly this was disappointing as we had scoped out some hikes we wanted to do and sights we wanted to see but with the weather forecast being more rain, wind and snow, there was no point going there and we had always known the weather in Iceland would be the biggest hurdle of all.
---
1. Grábrókargígar National Monument.
So, our second last stop on the way to Reykjavík was the Grábrókargígar National Monument which is located in West Iceland.
According to outdoorproject.com:
"Grábrókargígar National Monument is comprised of three volcanic craters called Stóra ('big') Grábrók, Litla ('small') Grábrók, and Grábrókarfell. They are in an area known as Norðurárdular in the western region of Iceland and have been protected since 1962. While Litla Grábrók has mostly disappeared due to mining operations prior to 1962, Stóra Grábrók rises over 100 meters (328 feet) above the landscape. This set of craters is believed to be younger than 3,600 years old, and a constructed pathway allows you to get up close to this interesting geology and view the surrounding land from the edge of the former Grábrók Volcano."
The car-park was almost empty when we arrived, the beauty of being so early. Wooden steps lead up from the car-park to the trail and then it is easy to follow a mix of trails, wooden paths and wooden steps all around, you can see some of them in my photos.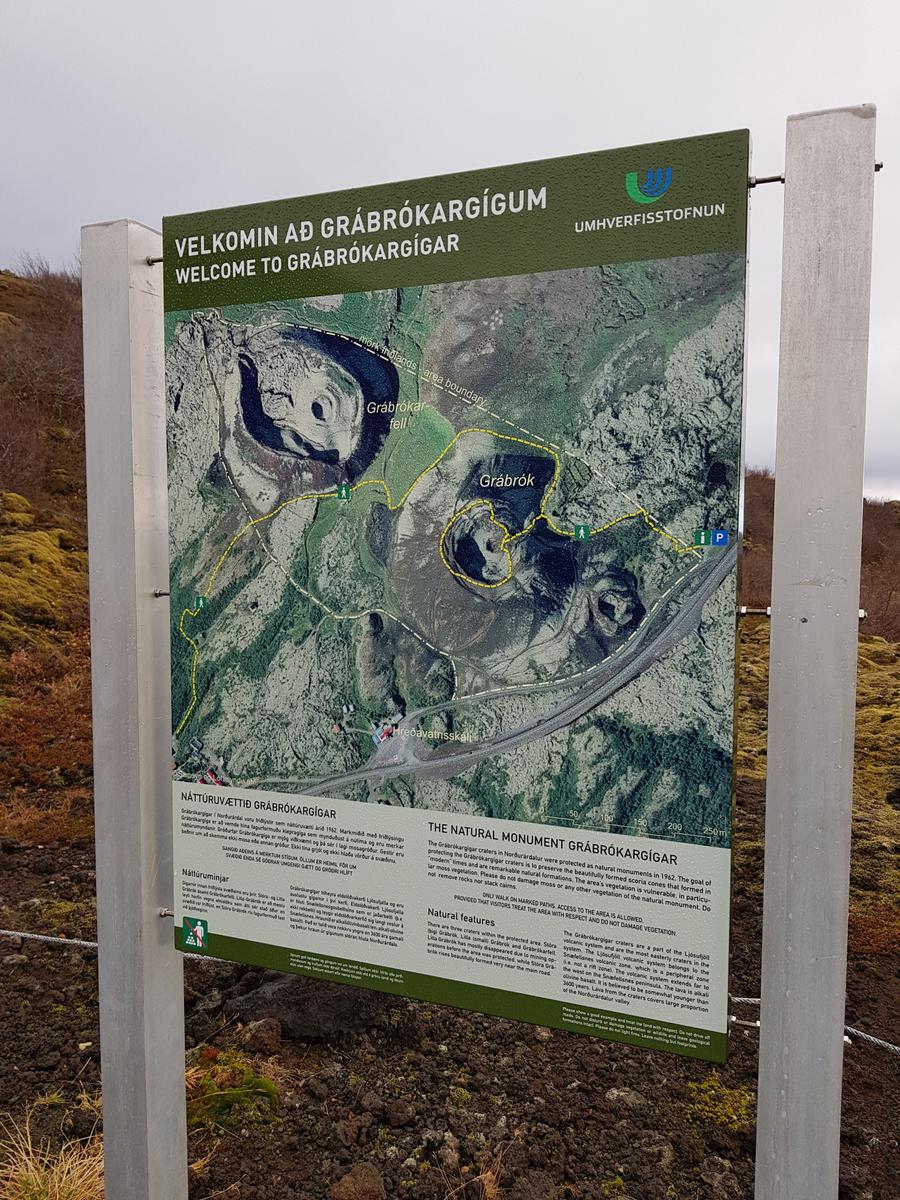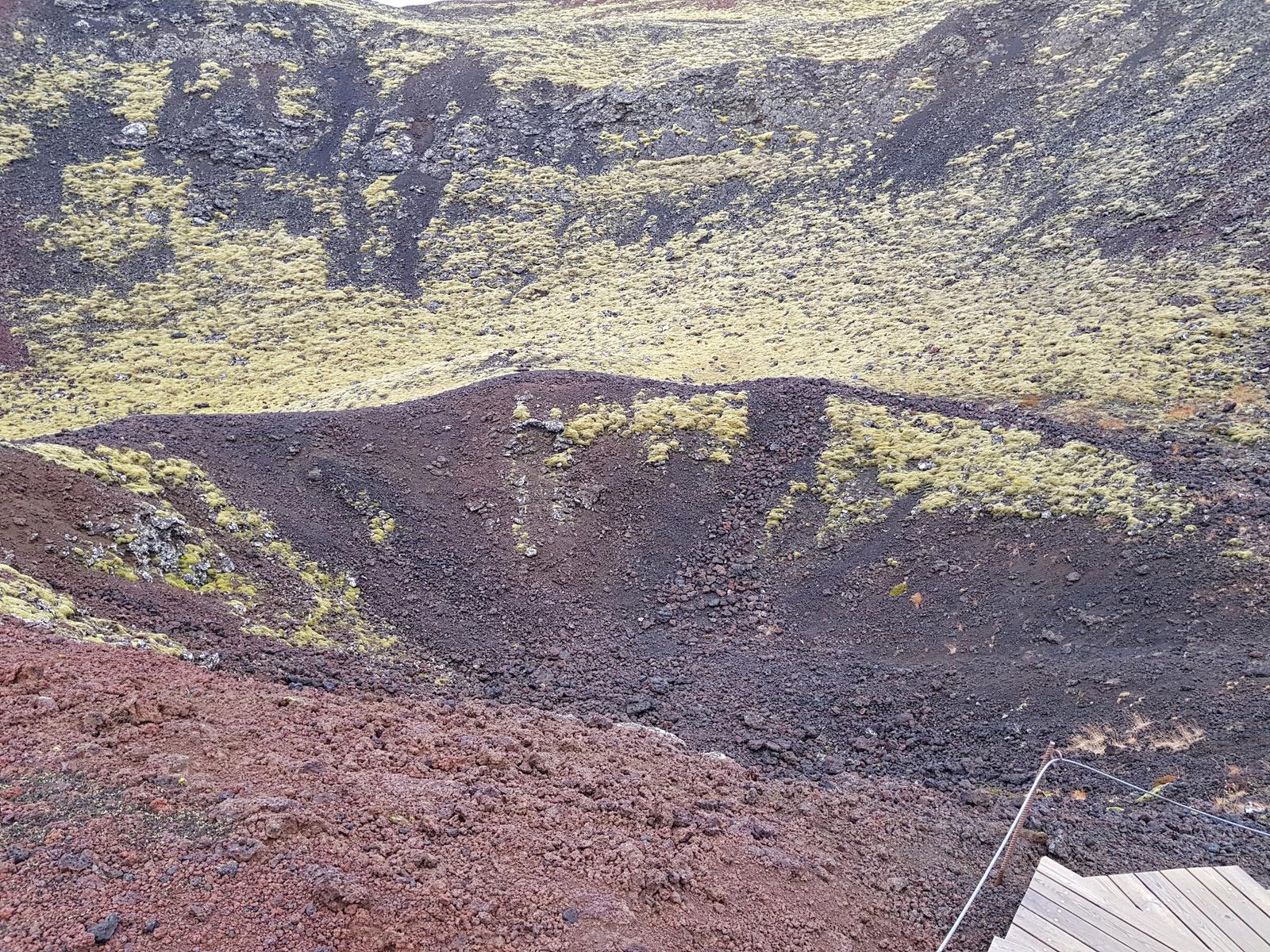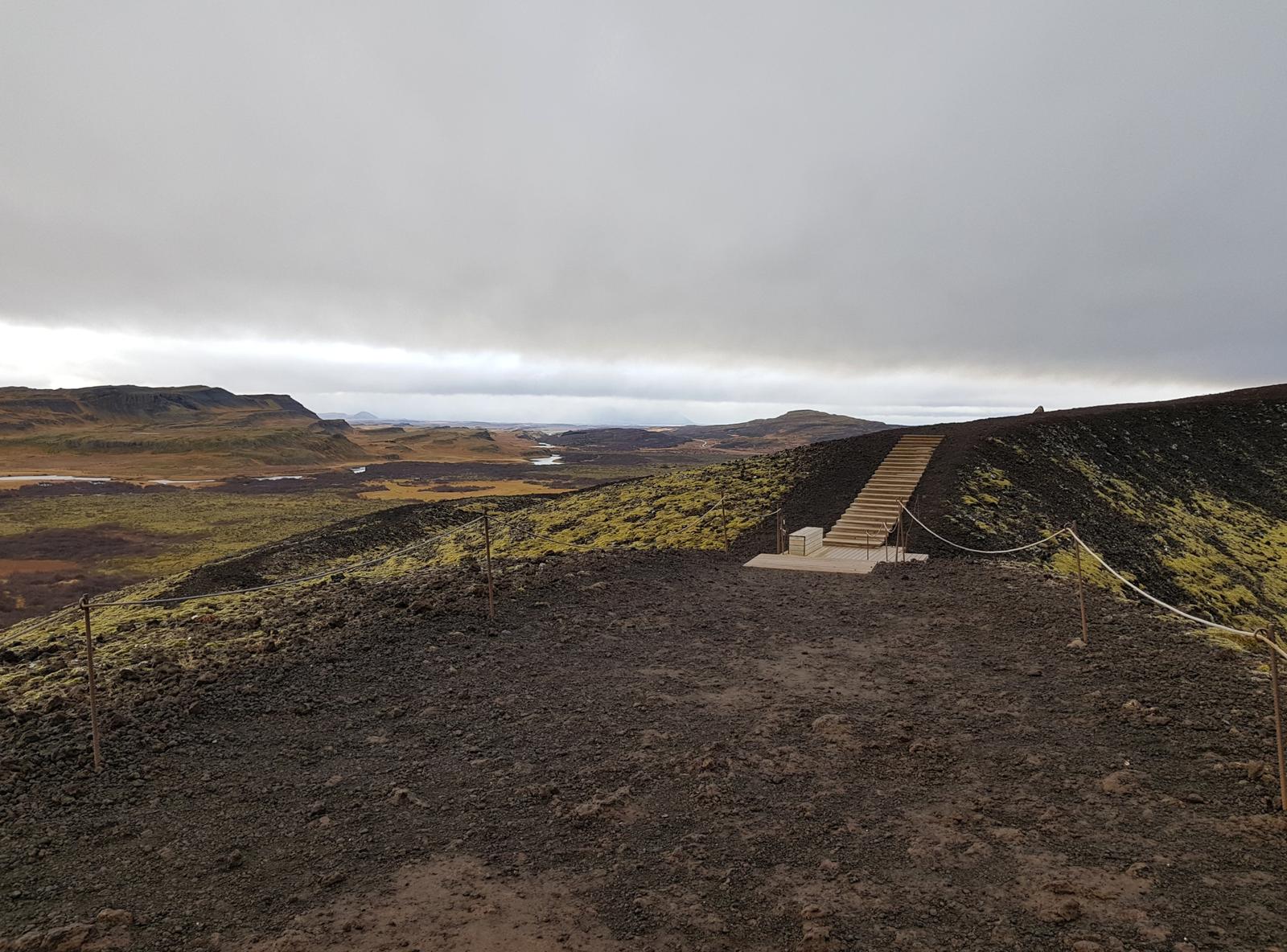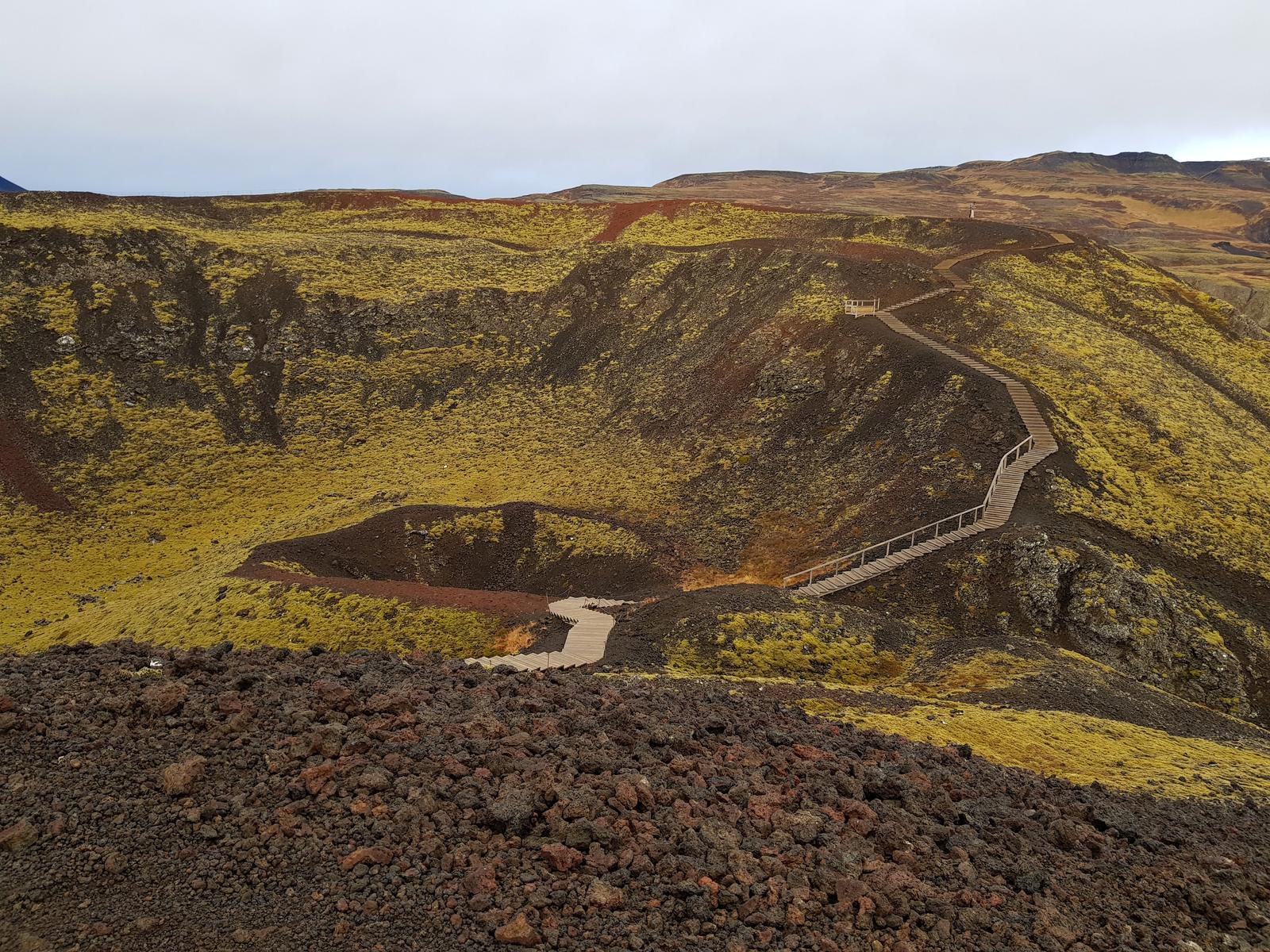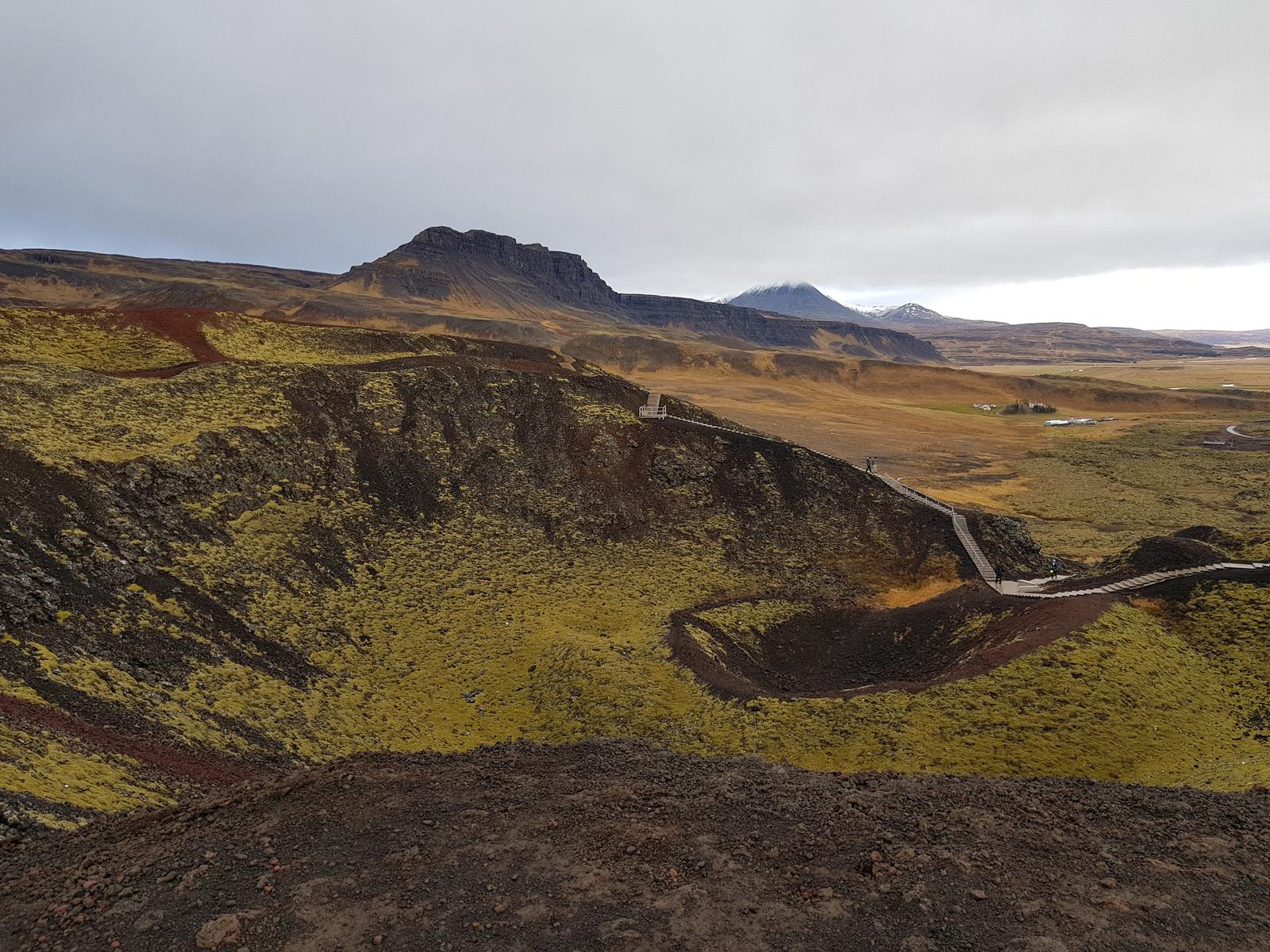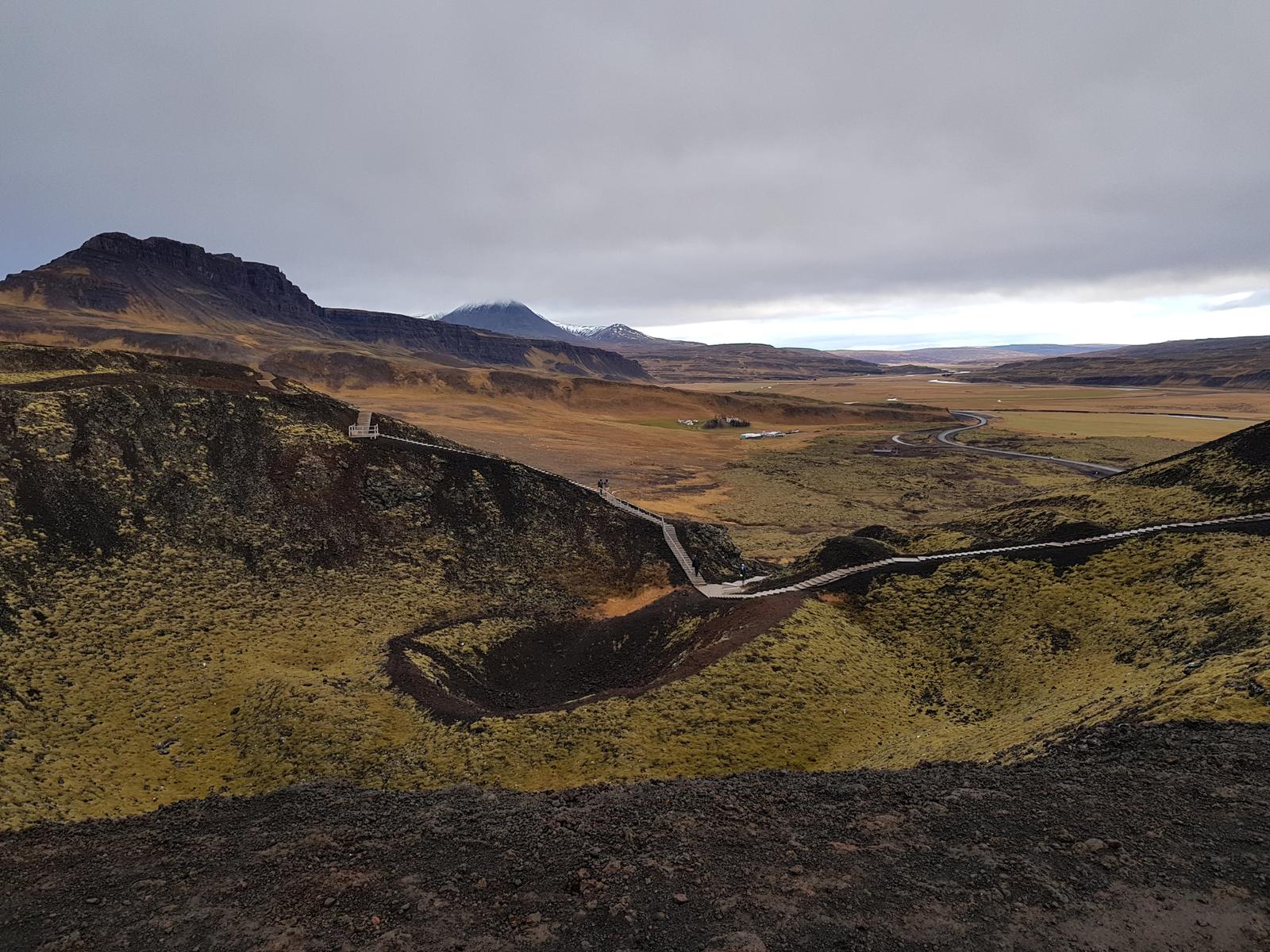 The surrounding countryside was impressive, lovely autumnal tones and a "train of sheep":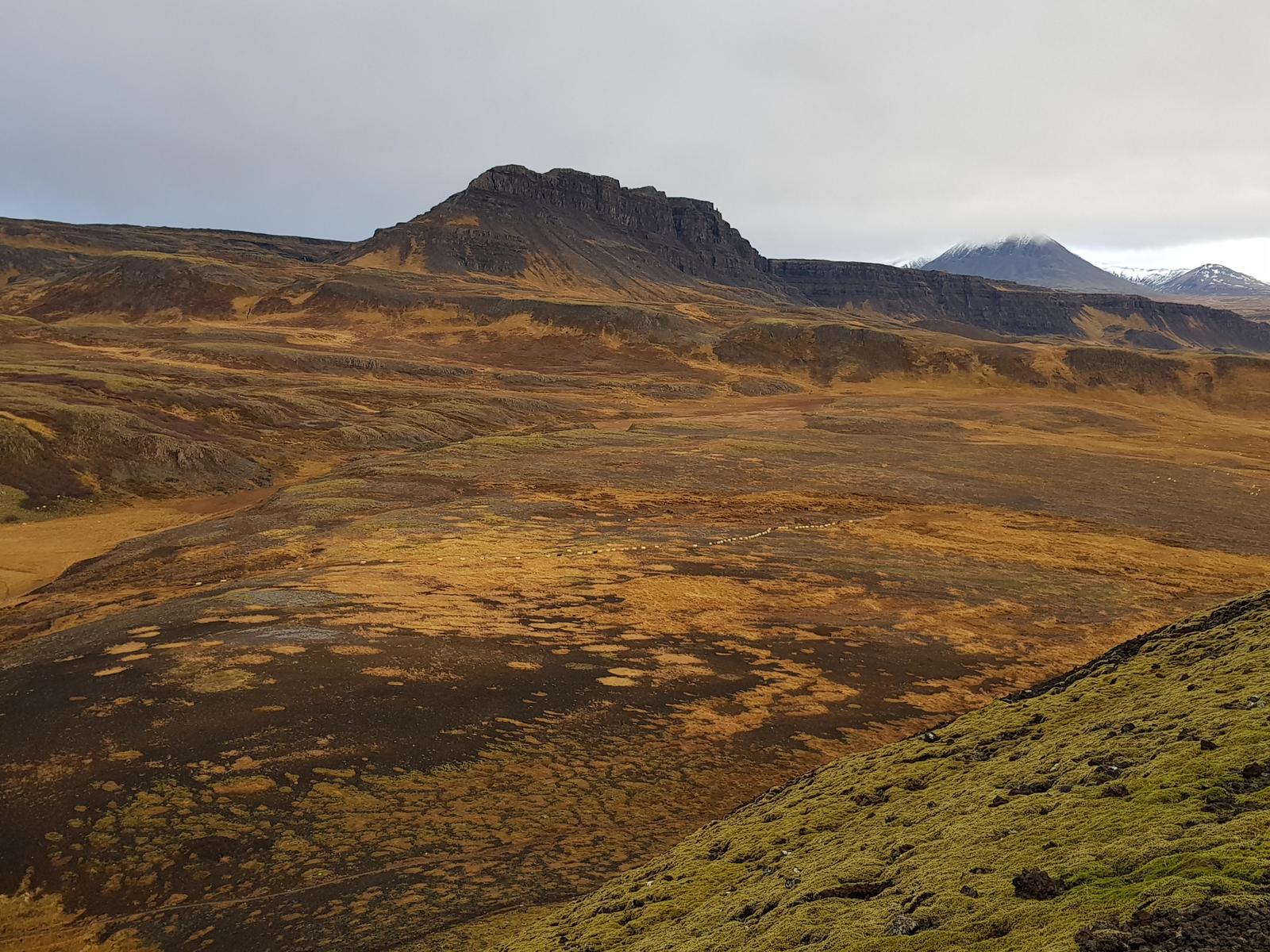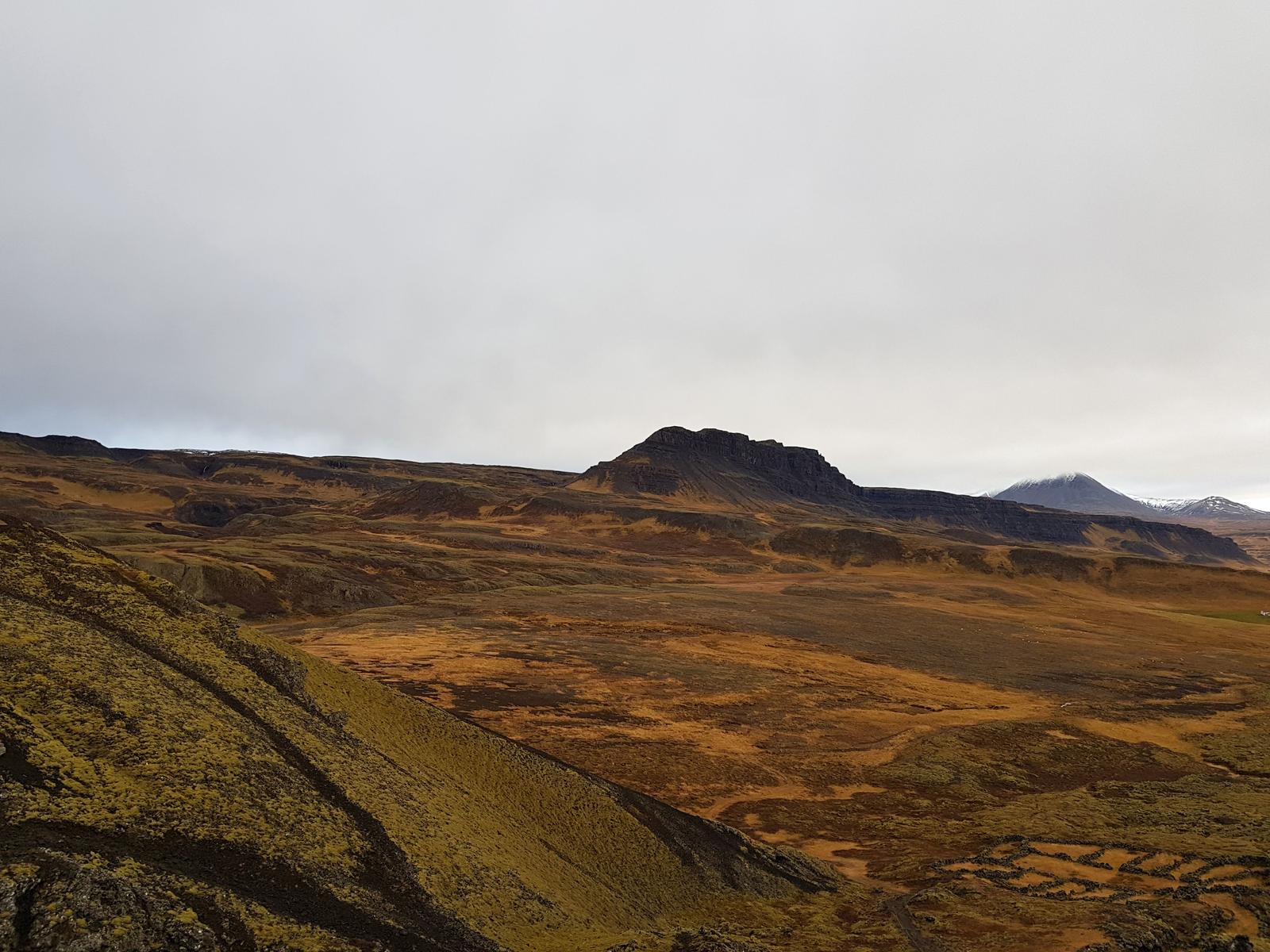 ---
2. Visiting The Settlement Center in Borgarnes.
Our last stop on the way to Reykjavík was the town of Borgarnes (Borgarbyggð) where we visited their award winning Settlement Center.
The town of Borgarnes:
" … lies in the middle of West Iceland about 75 km from Reykjavík City Centre."
The Settlement Center was the perfect indoor activity while the rain hammered down outside. Inside the center you will find a really lovely restaurant/cafe and gift shop also. The building is mix of old and new, here is a photo from inside the cafe: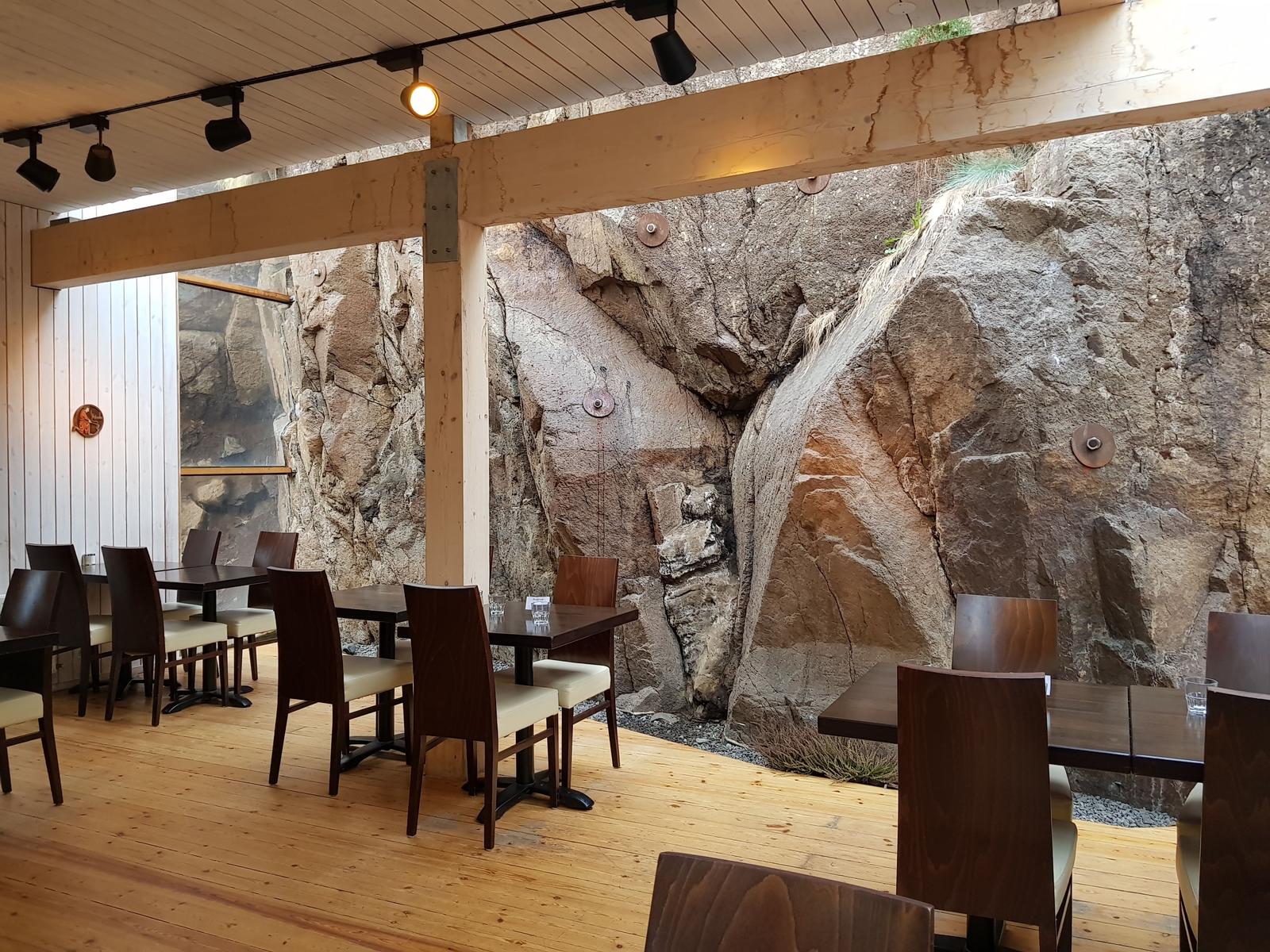 In the center there are two exhibitions:
"While one tells the story of the first settlers, the other reveals the story of Iceland's most important saga – Egils Saga. Egill Skalla-Grimson was a famous Viking and poet, and his saga is closely linked to the settlement period, as his father was one of the first settlers." (Source here).
The staff were waiting to welcome visitors, chatting with them to find out where they were from and then helping you to get setup for the self guided tours which you complete using audio guides and headphones (supplied).
"These audio guided storytelling programs are available in 15 languages. They will give you the fascinating background you need to understand the history of this nation." (Source here).
You can read more about the two exhibitions here. Definitely check out the Settlement Center if you are in the area.
---
We Made It!
Our final drive of the day brought us to our Airbnb in Reykjavík where we would finish out our time in Iceland. It was great to have a comfortable base after all the one night stops around the island. As I mentioned earlier, we did a few day trips from Reykjavík which I have covered in our other Iceland Blogs which you can find here.
---
If you've any questions, suggestions or just want to say hello, contact me via the Contact Form, Instagram (@noroadlongenough) or By Email noroadlongenough1@gmail.com