Hiking & Running in Serra de Monchique, Algarve - Portugal
After our relaxing break in Garvão, Beja we drove to the Serra de Monchique area for another four night stay in a remote private villa. The villa was quaint but very clean and well equipped. This was the perfect base for us as being close to trails was our priority. It was about an 8 minute drive to Monchique town (mainly due to the narrow winding roads) and there you will find cafes, bars, restaurants, one large supermarket and the rest!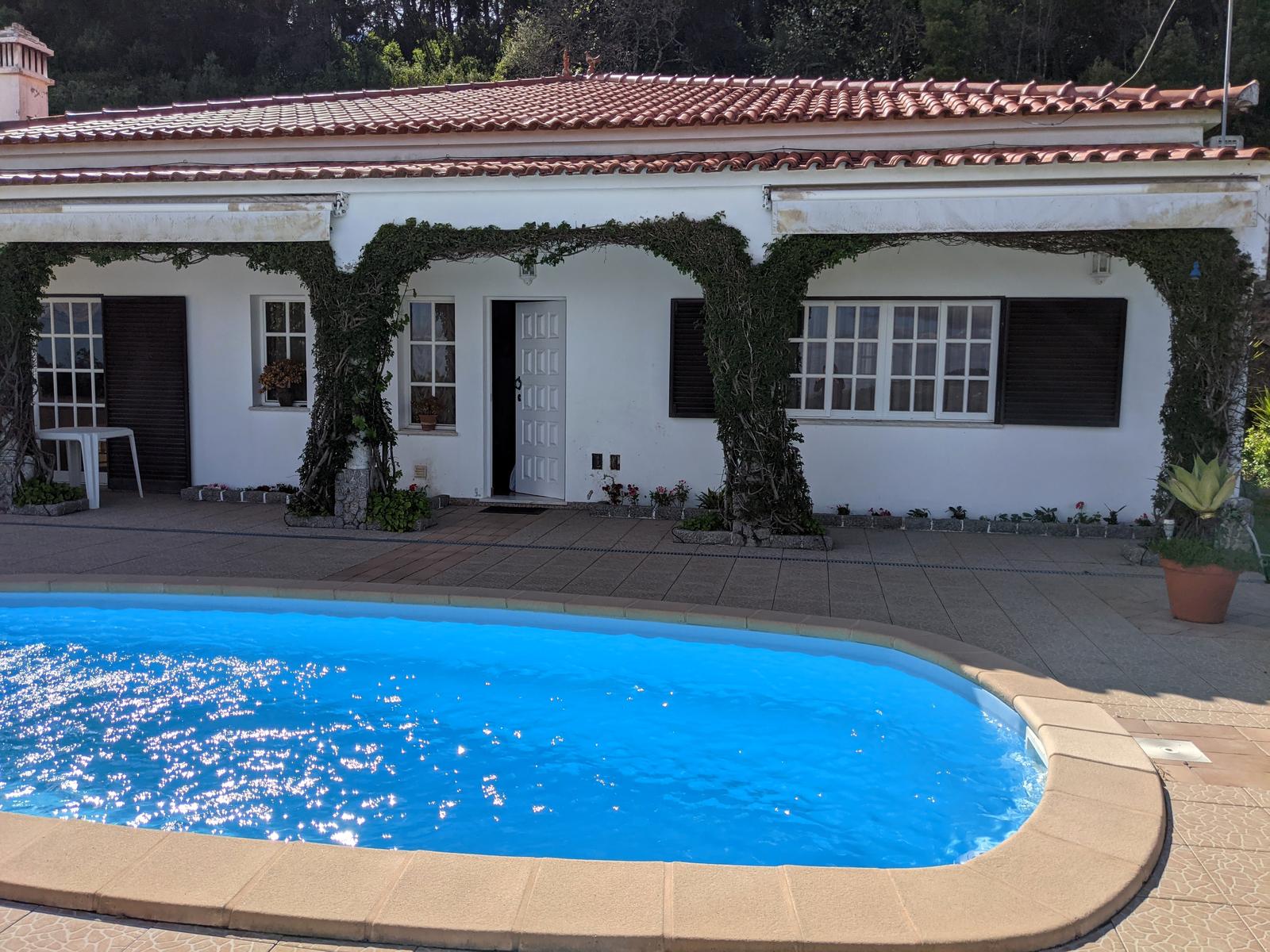 It was cooler and mostly overcast when we were in Monchique but we still made the most of our time there, getting up early and out on the trails daily. When the clouds did clear, we had a lovely view from our villa and enjoyed relaxing in the garden in the afternoons: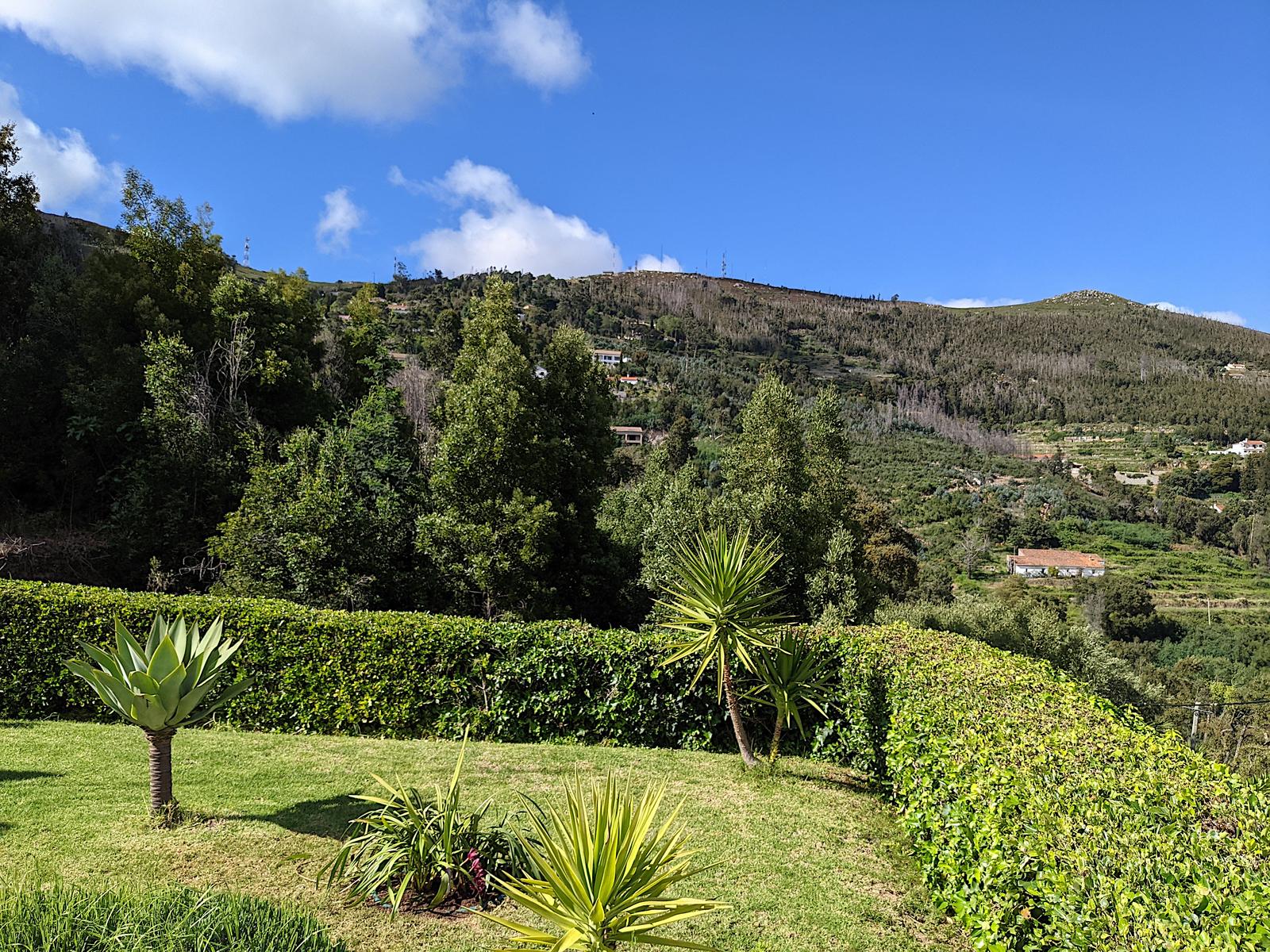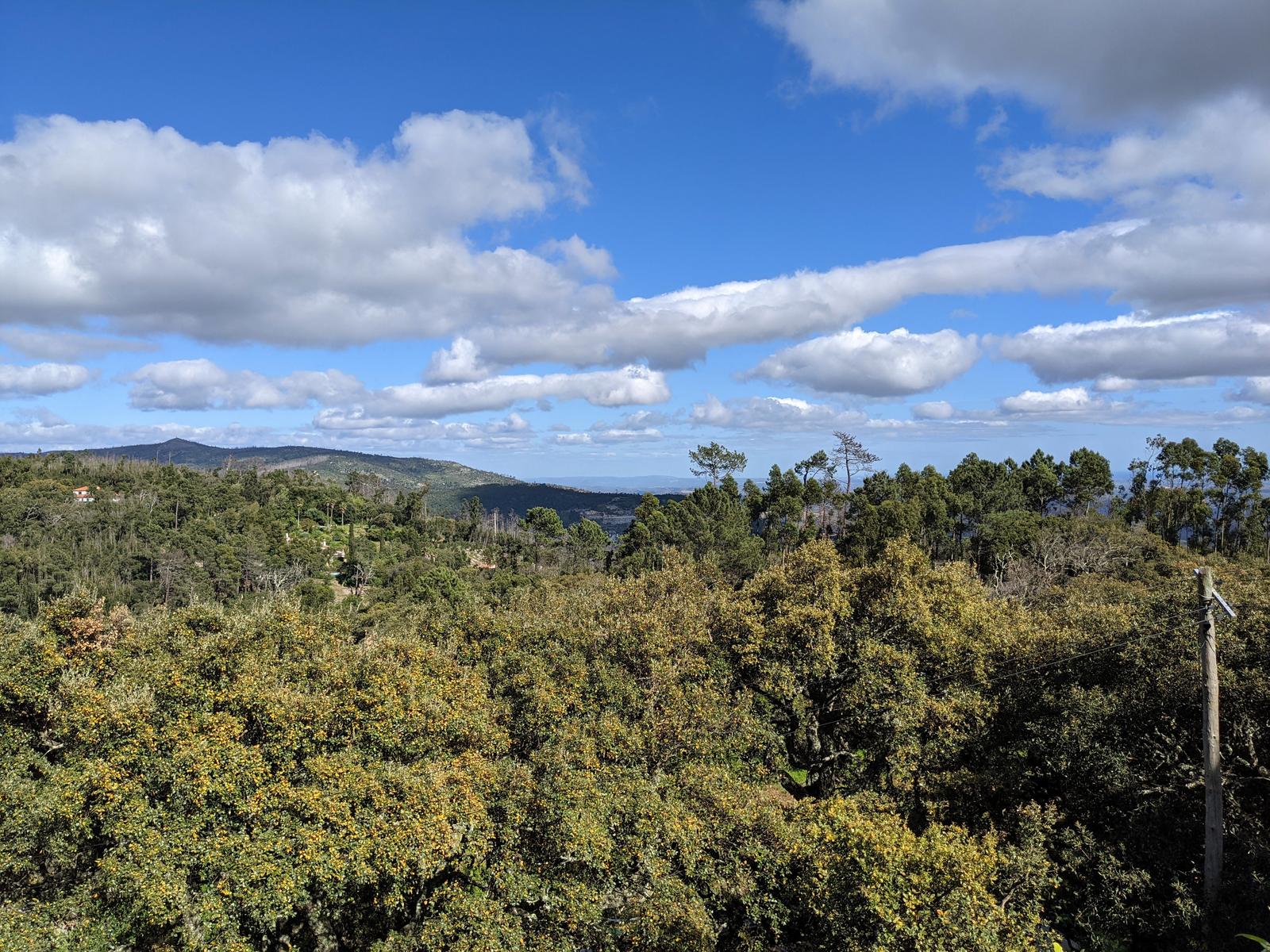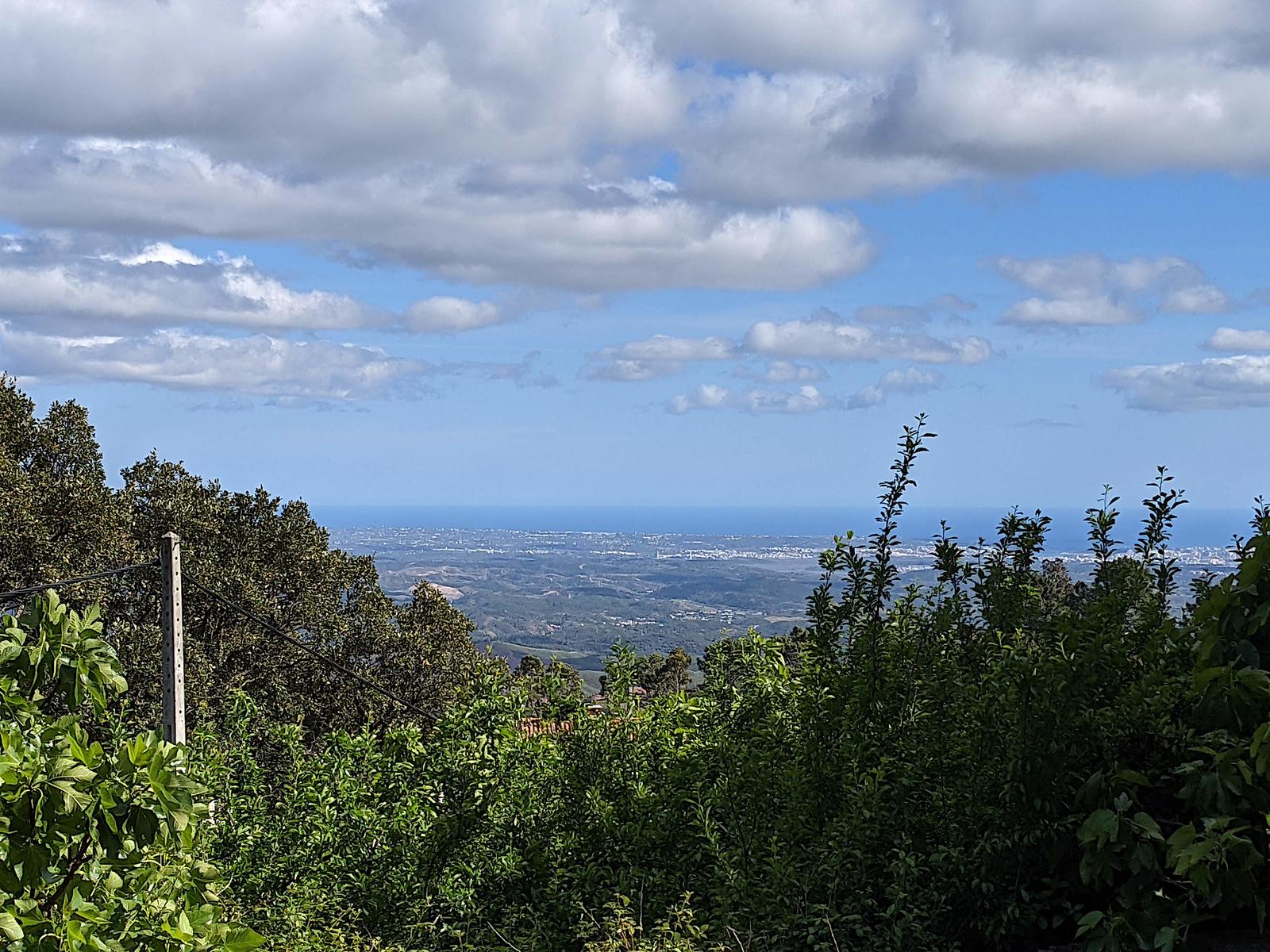 ---
Hiking in Monchique:
We started all our hikes/runs from our accommodation. On our first day I headed up to Fóia. It was easy to make my way to the main road (N266-3) and then follow that to Fóia, returning via part of the PR3 Trilho do Fóia although I had a GPX on my watch also as I am known for getting lost. On the second day I also headed to Fóia but detoured around some other trails first (more about these later).
Note: If you want a copy of any of the GPX routes we followed email noroadlongenough1@gmail.com and we will send them onto you.
First I hiked up (and I mean UP, so steep) the narrow roads that lead up to the main road: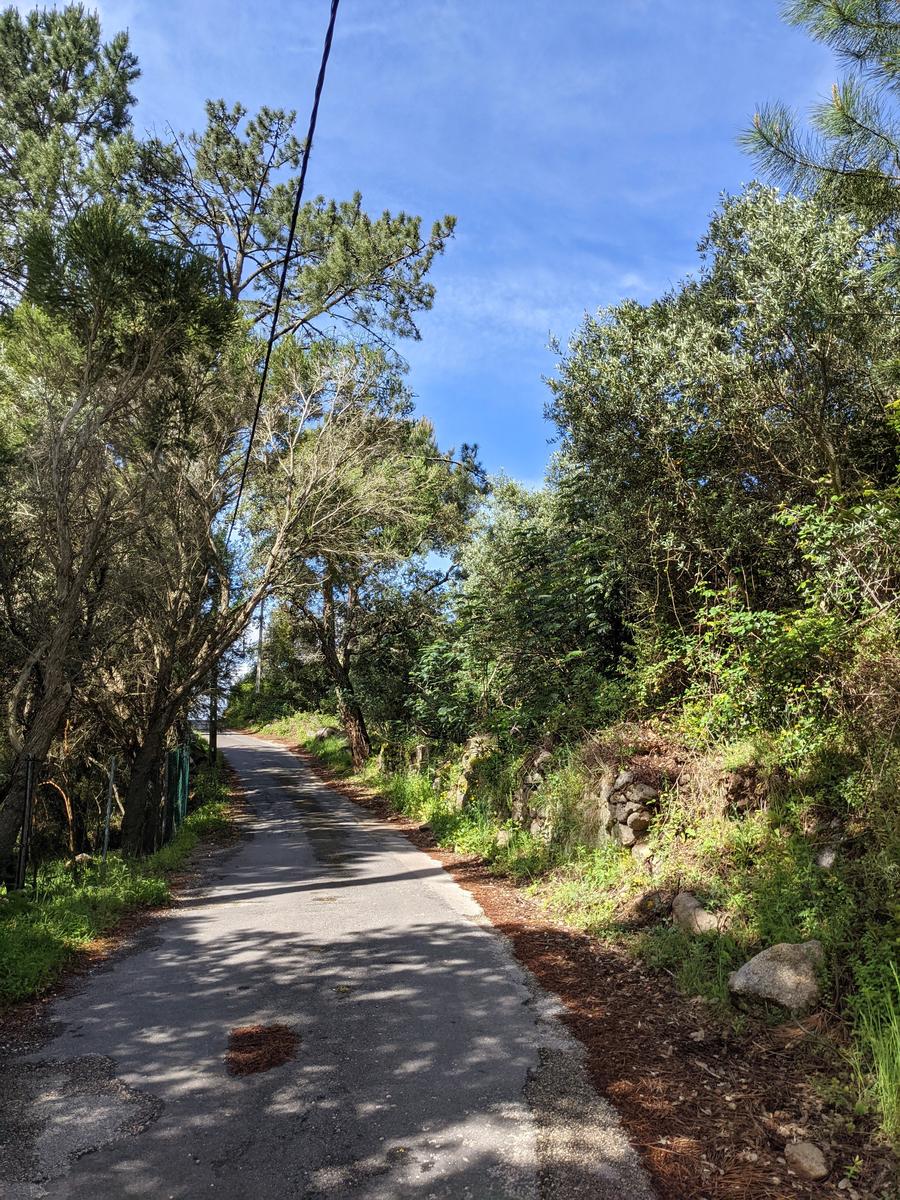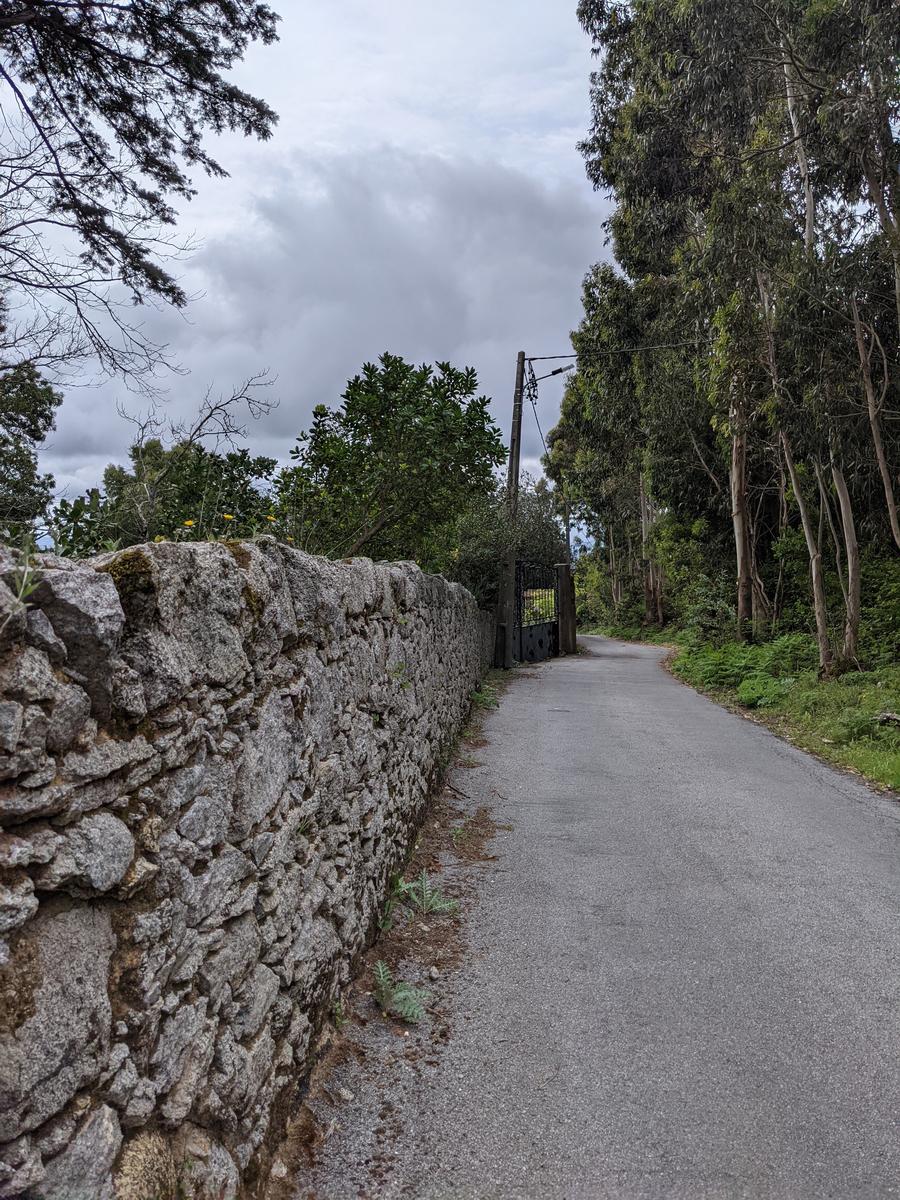 Then passed this small church: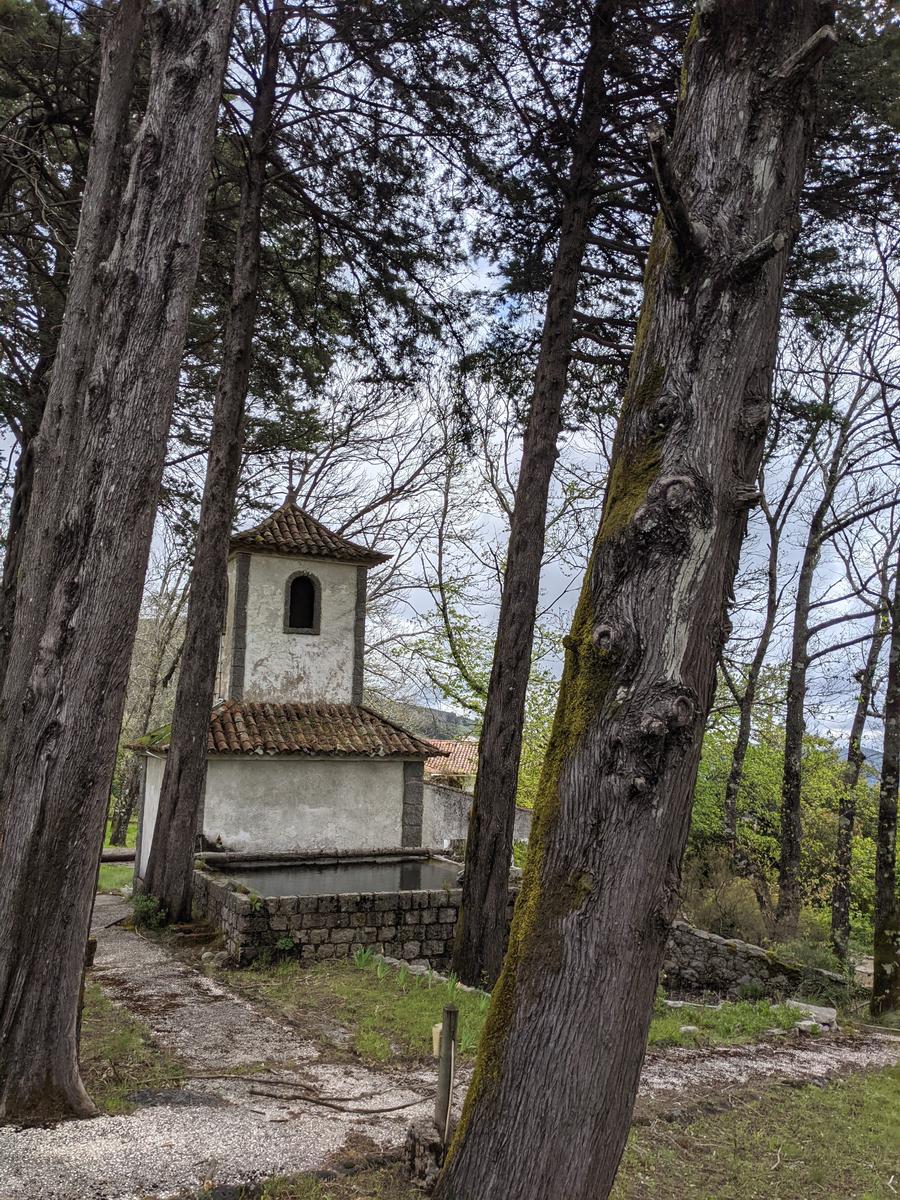 Before continuing on the main road until I came to the Miradouro da Fonte Santa where of course I had to stop to take some photos!
---
Miradouro da Fonte Santa:
Getting from our accommodation to the trails involved walking past here on two occasions. Miradouro da Fonte Santa is located on the left side of the main road (N266-3) as you drive up from Monchique to Fóia. There is parking available for vehicles and a small green area with picnic tables.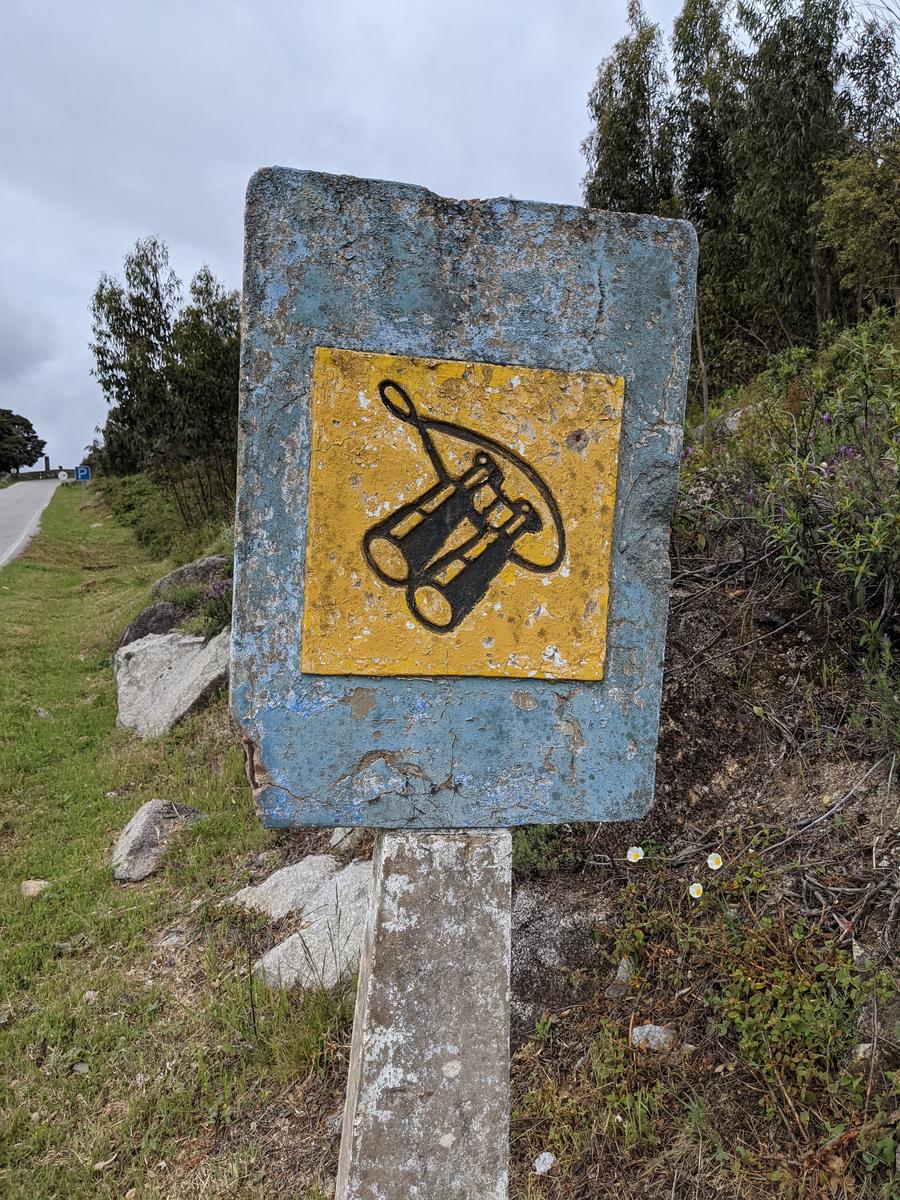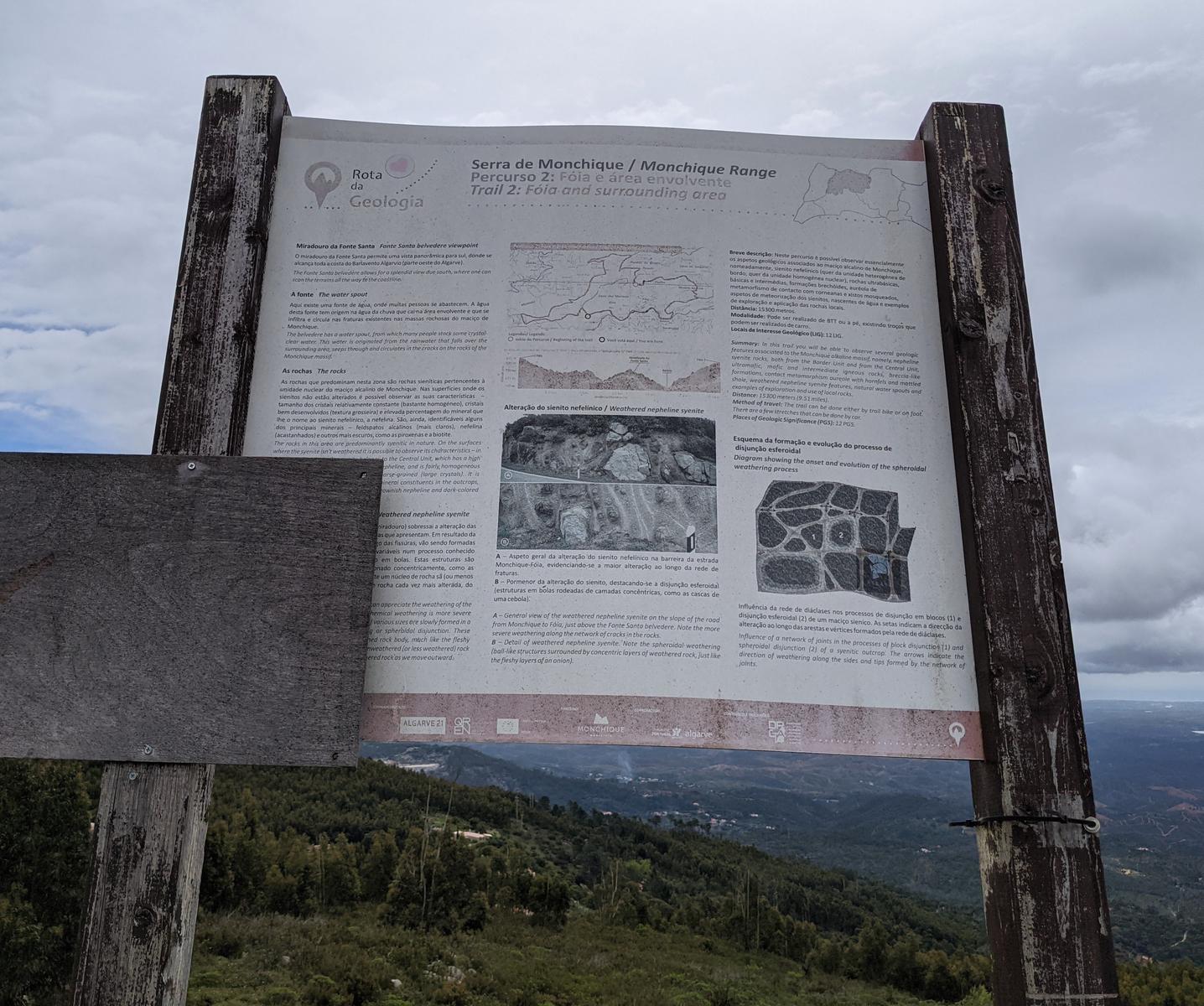 You can just about see the coastline (Algarve) in the distance, not easy with the cloud coverage!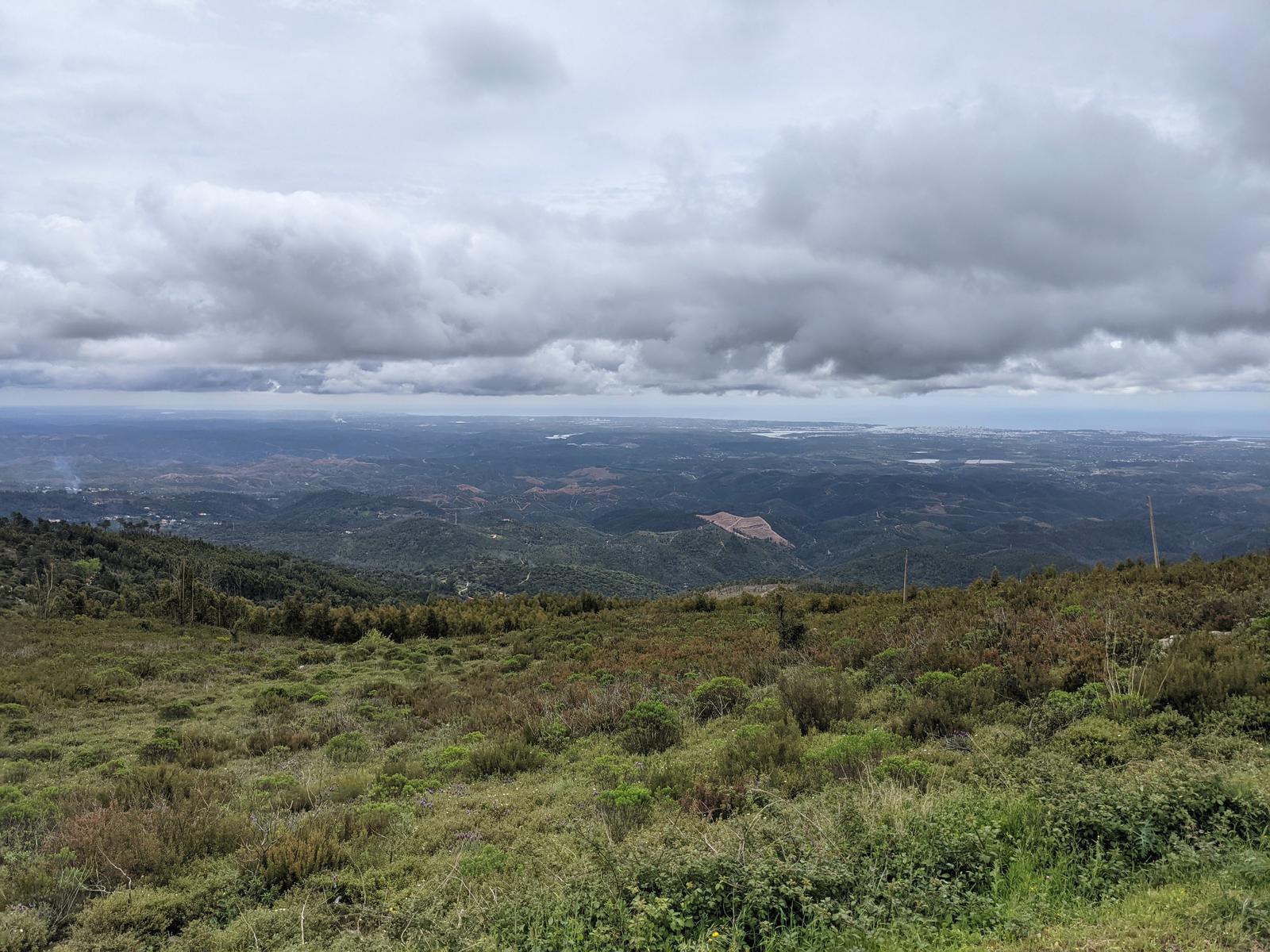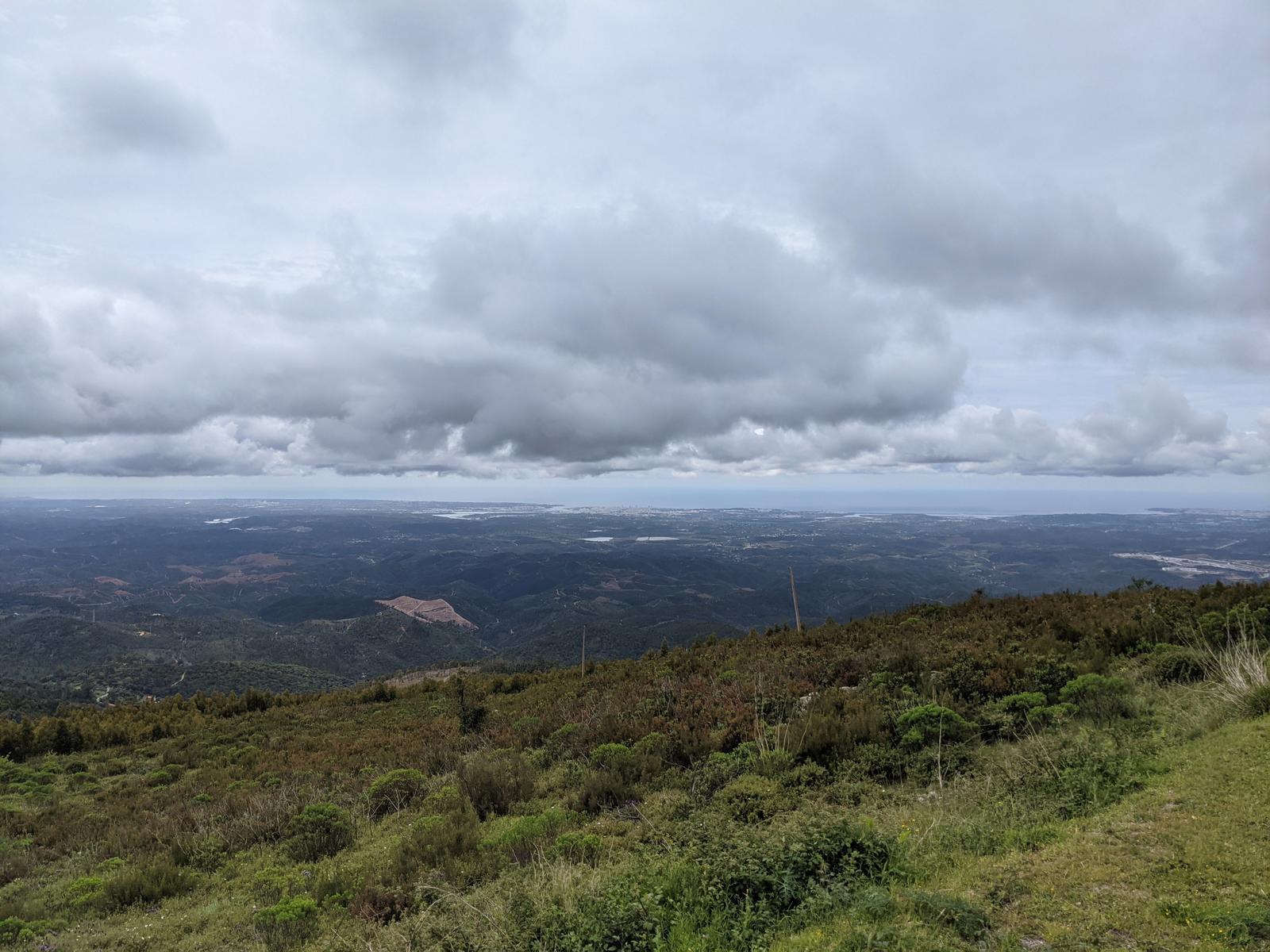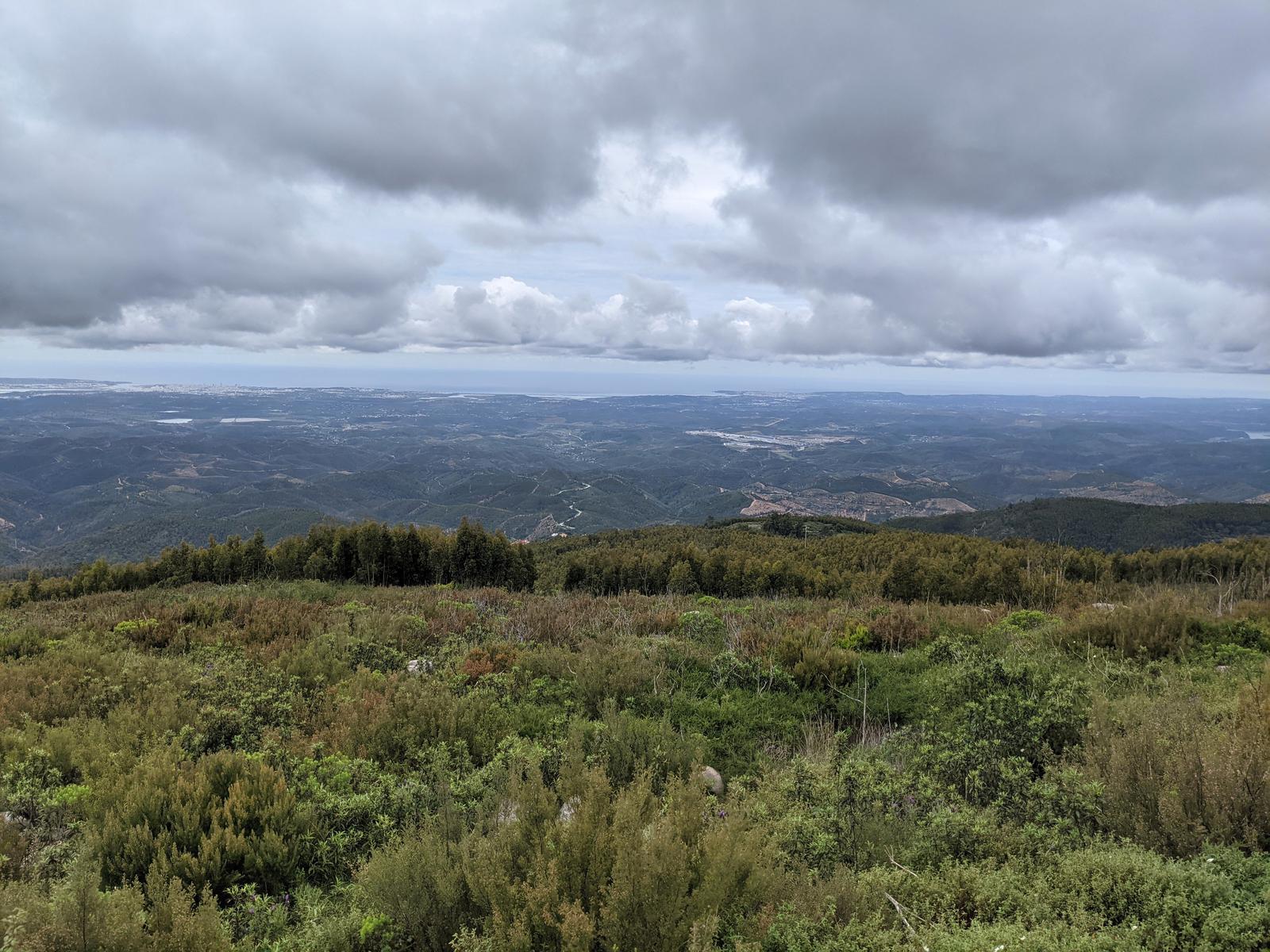 The following day, once again at this lookout but this time the sun was out!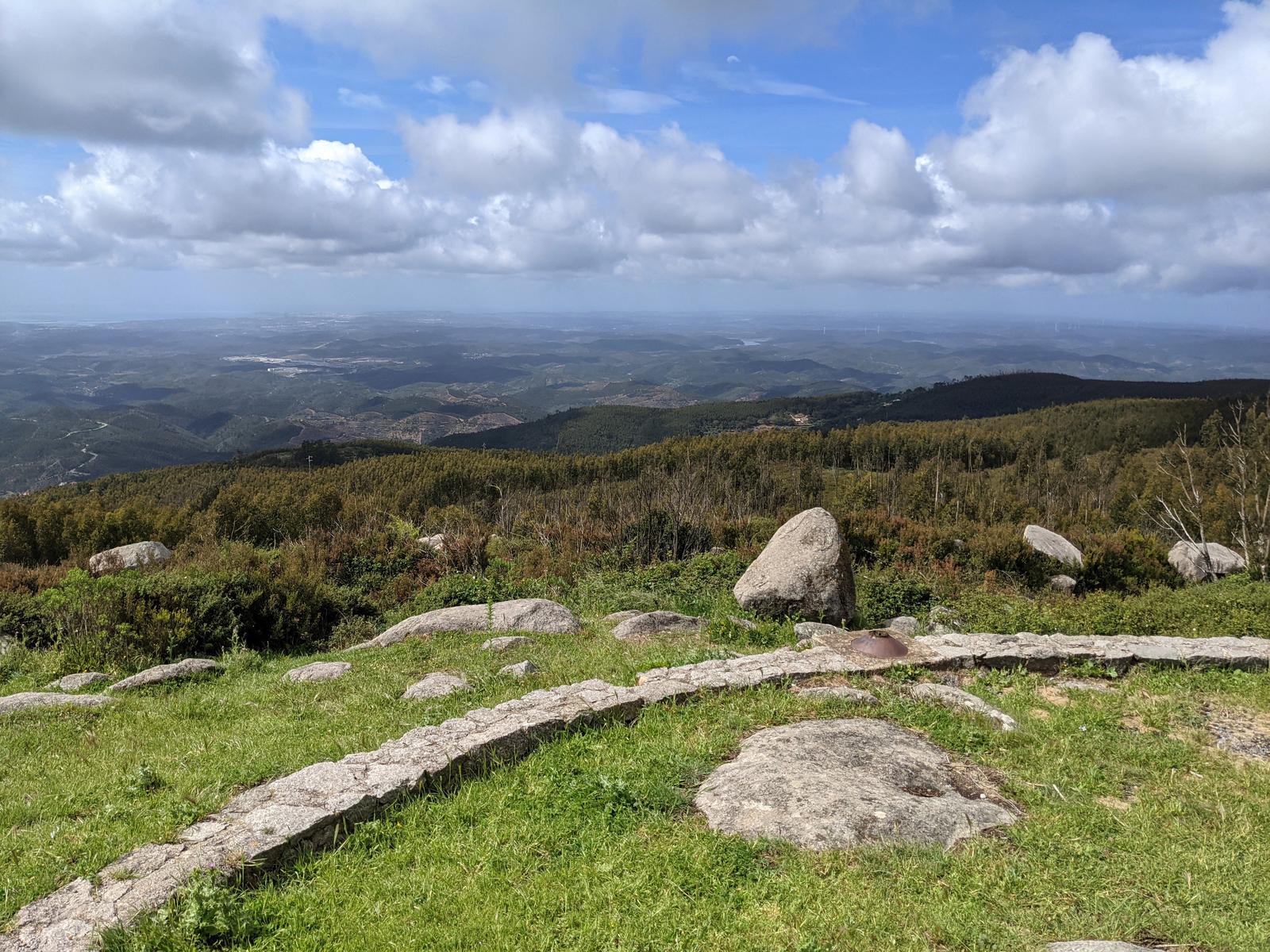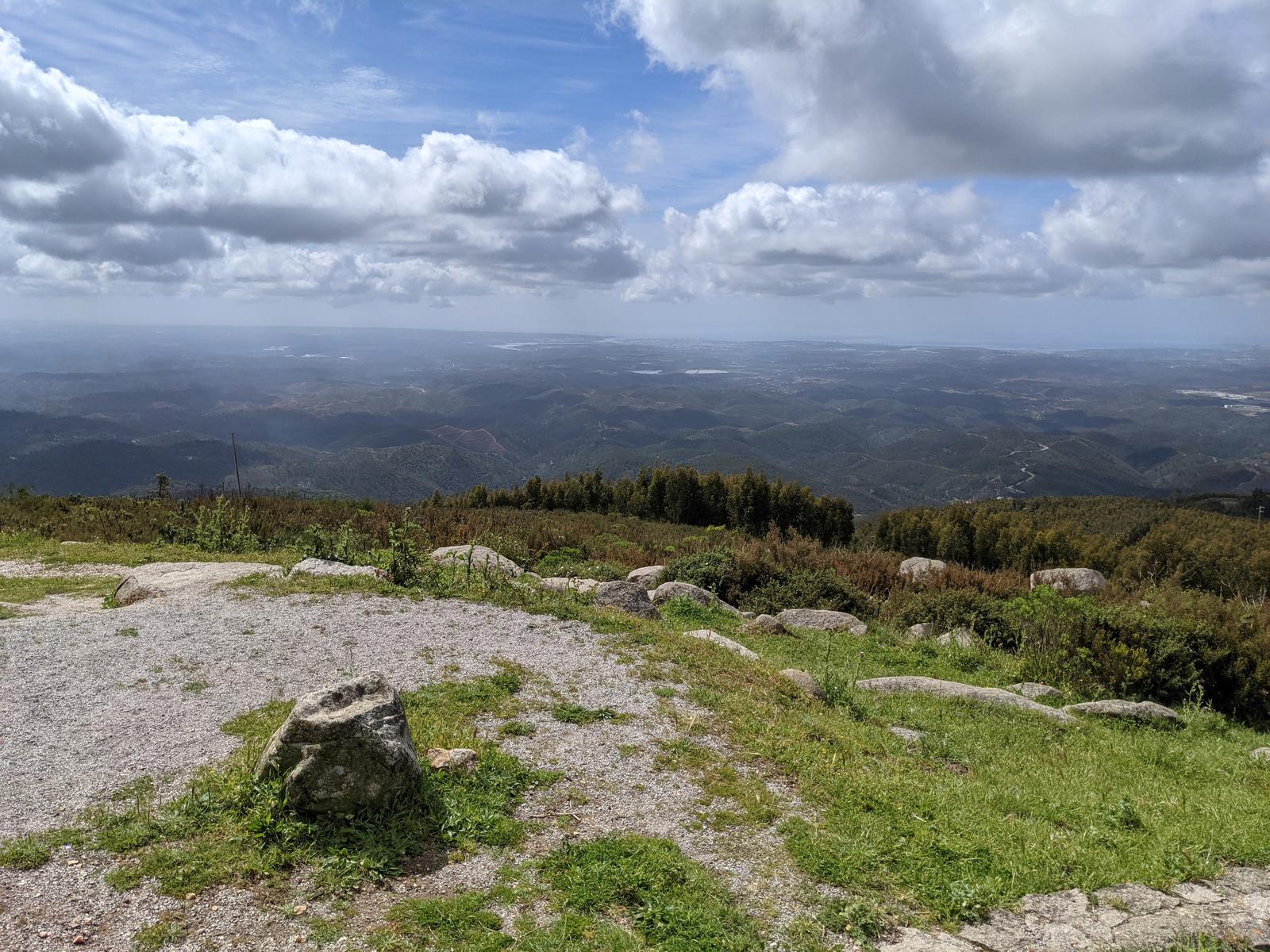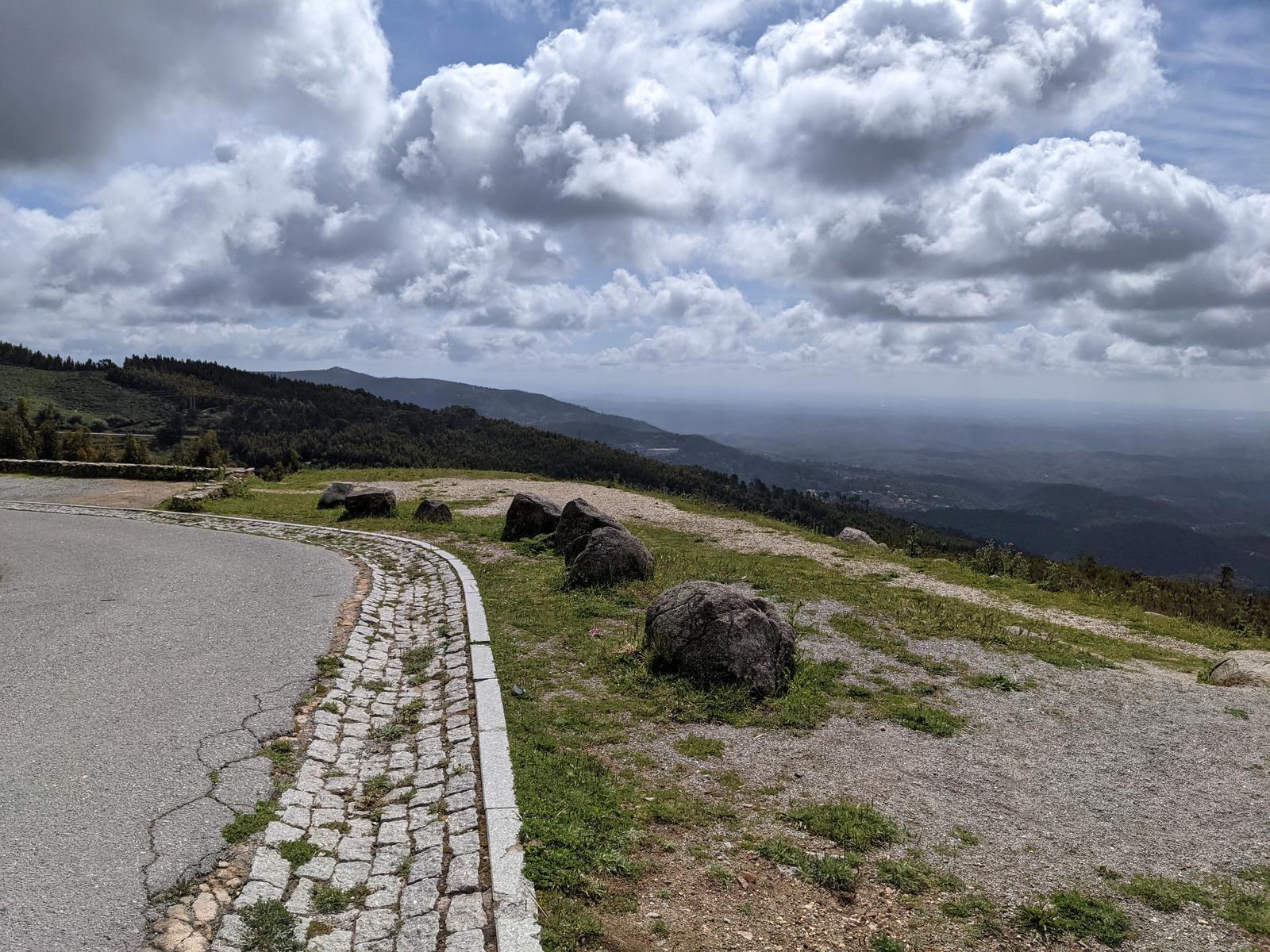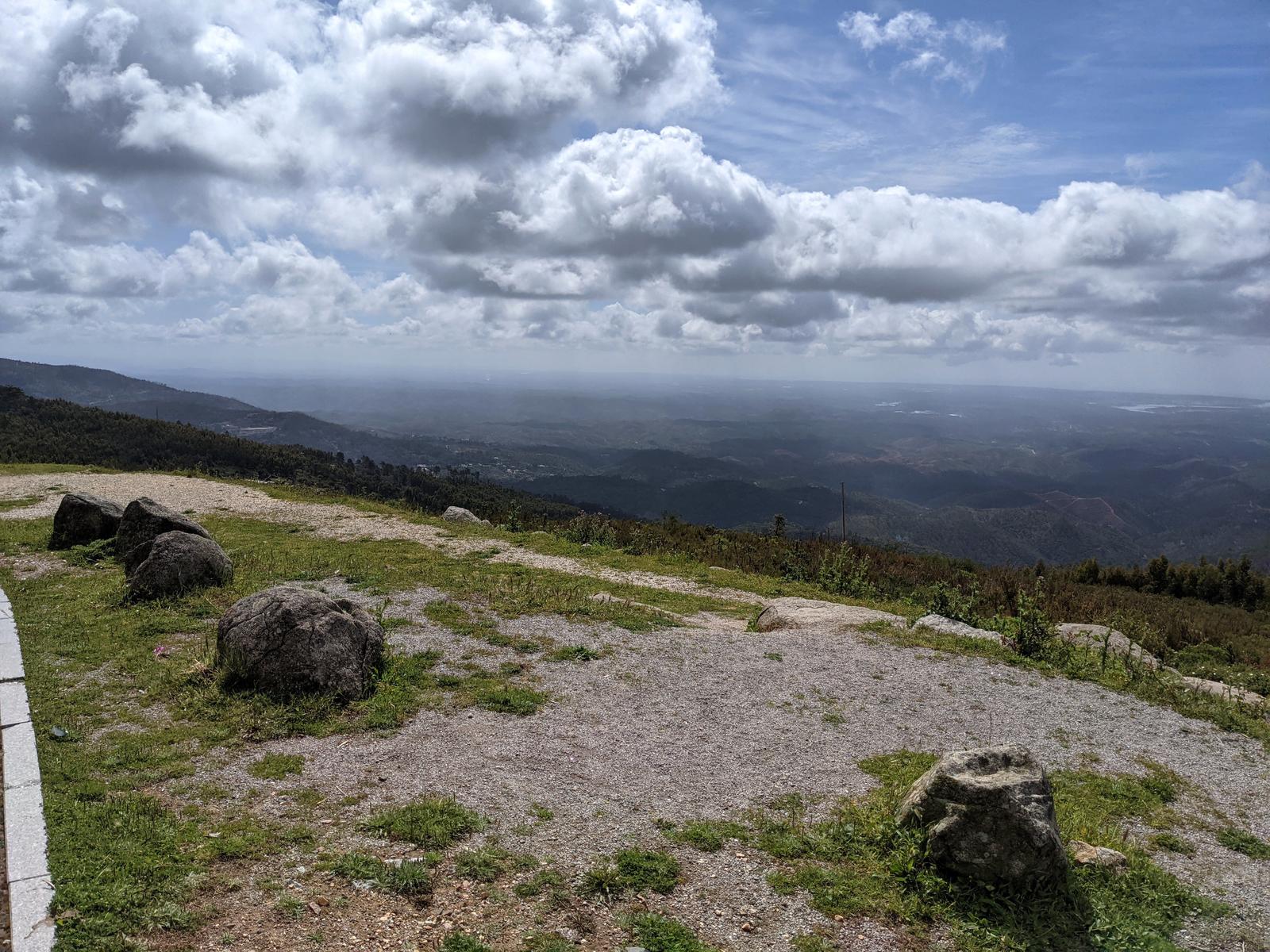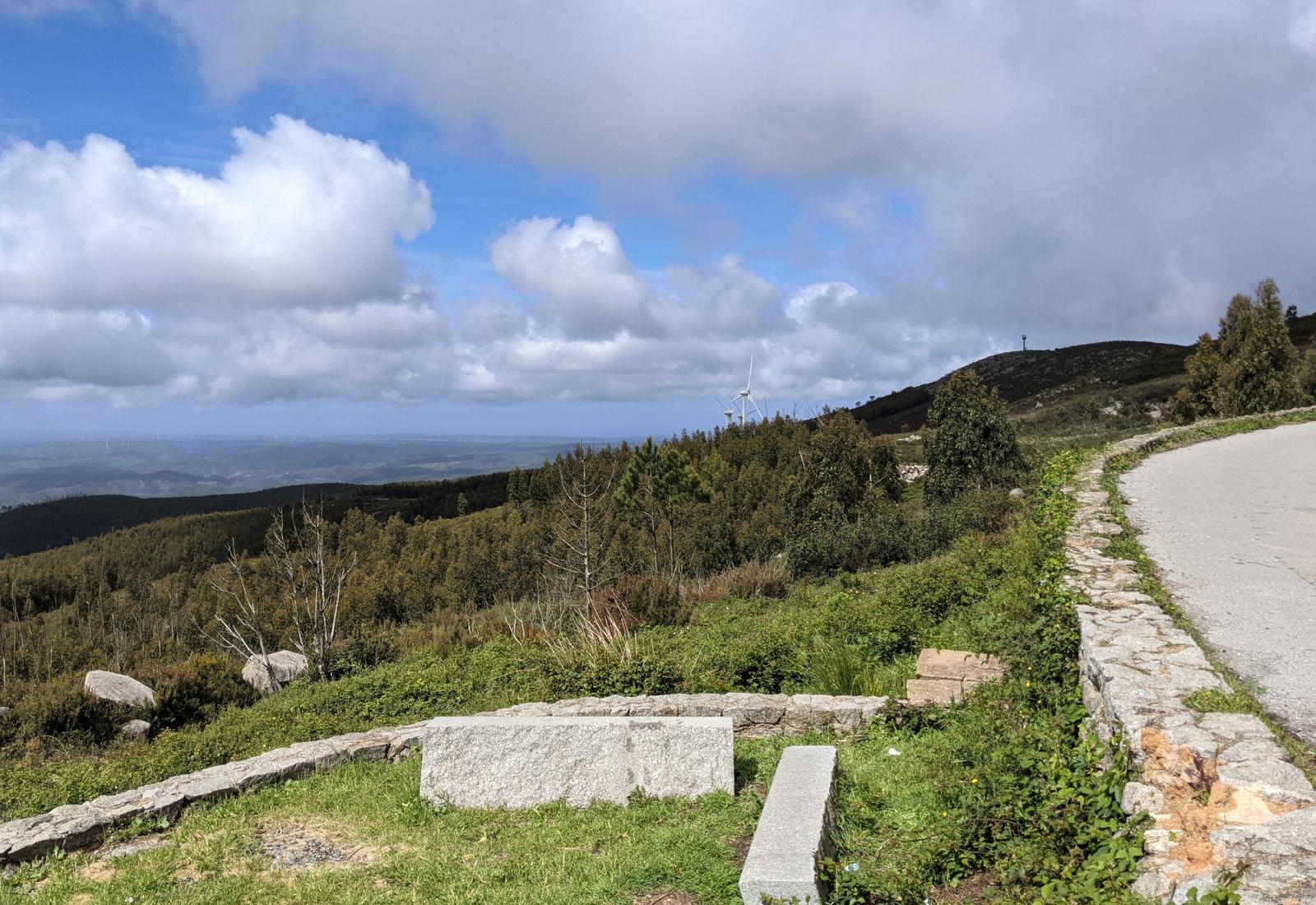 The arrow below is showing where I headed on day 2, to the green lookout tower, before continuing up to Fóia via the main road. The trails to and around the tower were gorgeous and empty. I spent some time wandering around and yes, taking photos!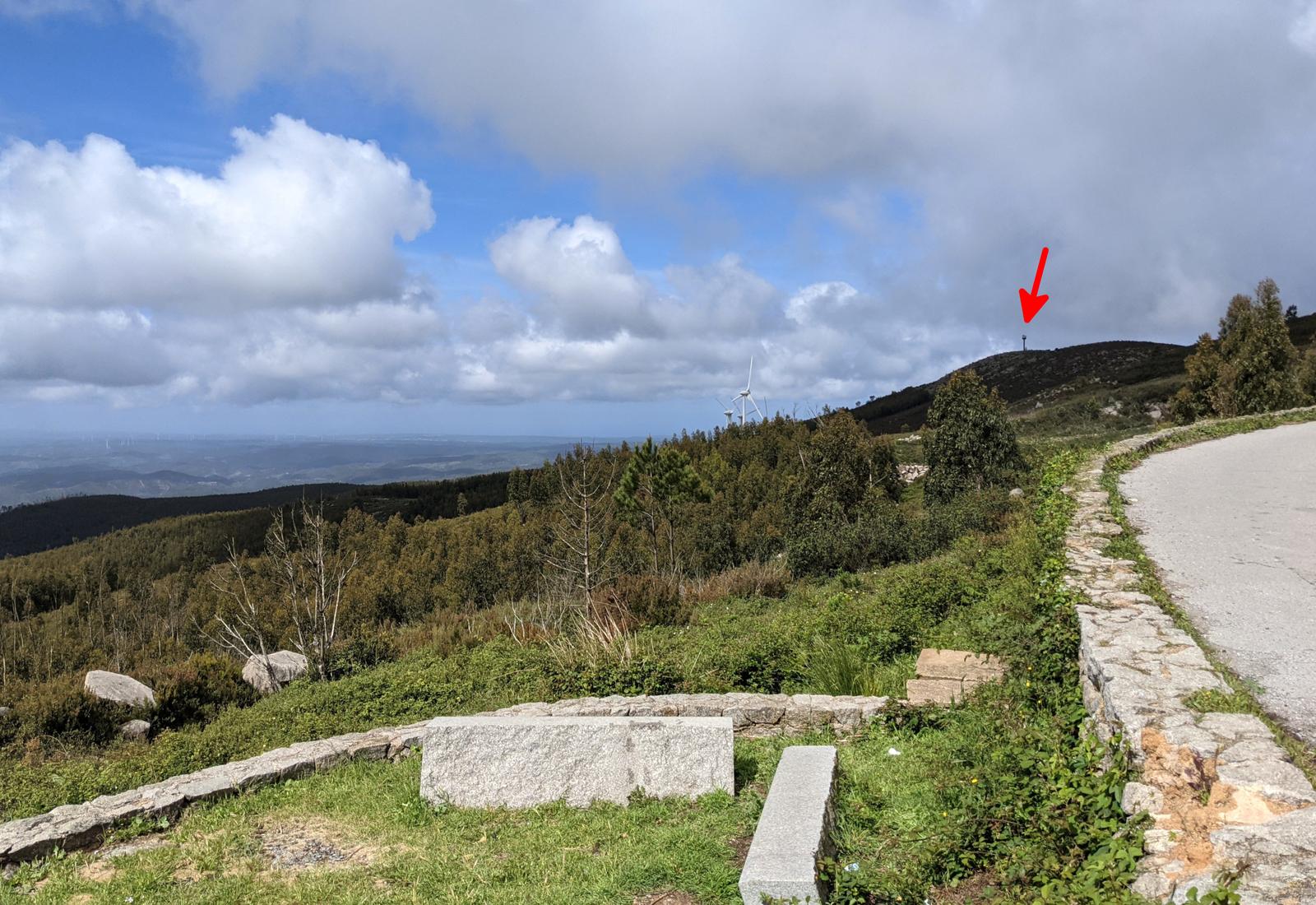 ---
The Green Lookout Tower & Quiet Trails:
Getting closer to the green lookout tower!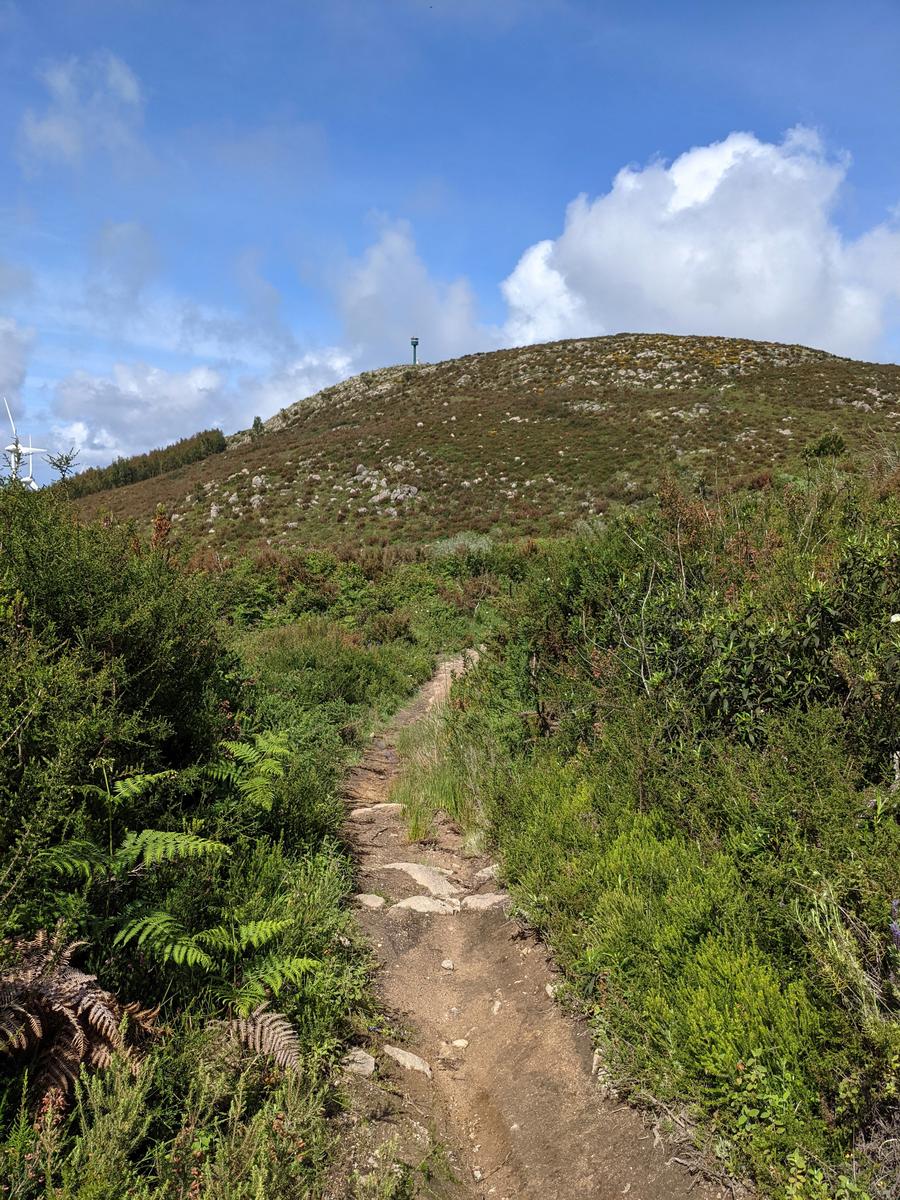 Unsure if I could get to the tower from the trail in the above photo, I took a right and headed towards the gravel road that I knew would bring me there.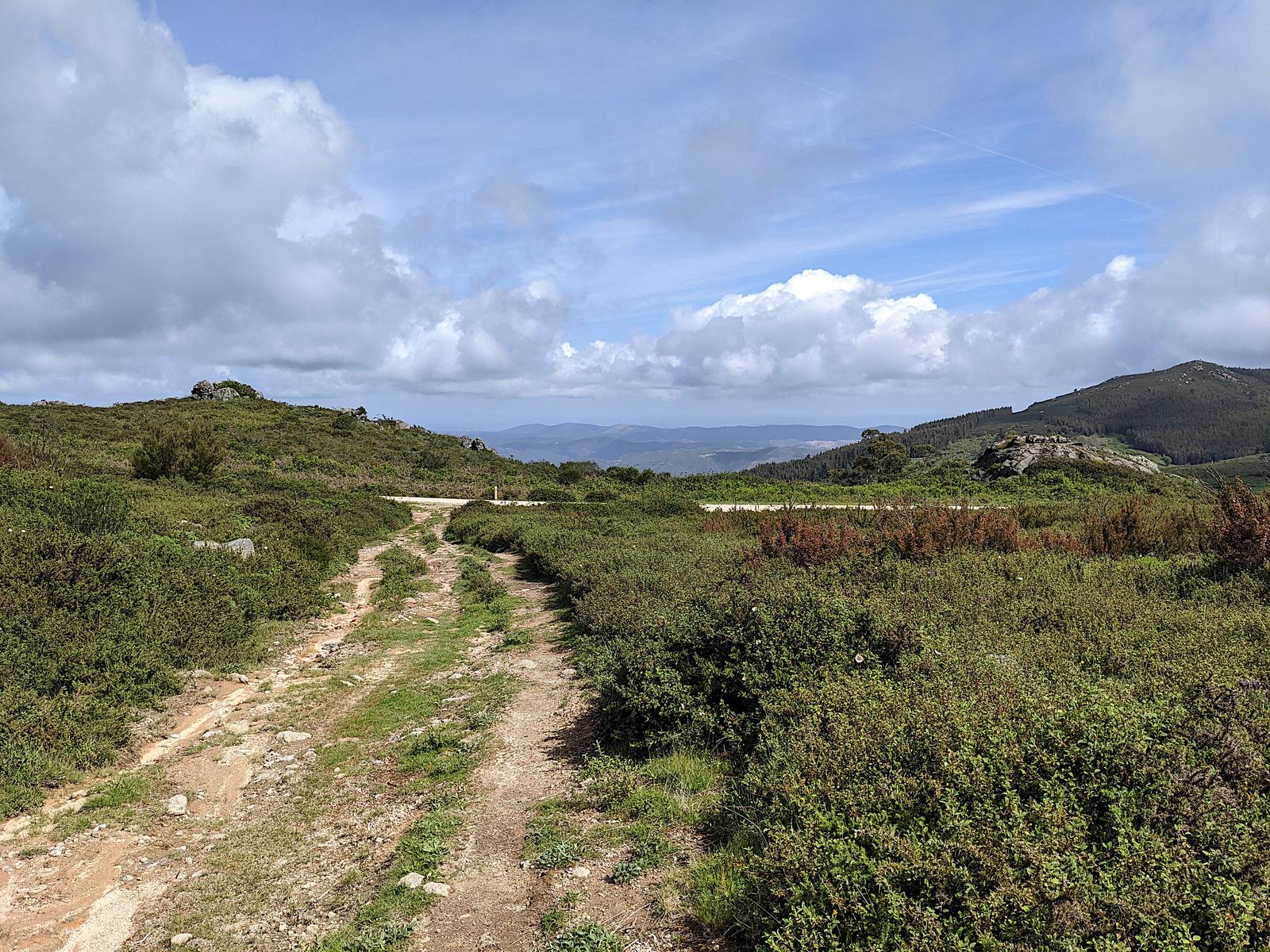 Below, looking back towards Fóia from the gravel road: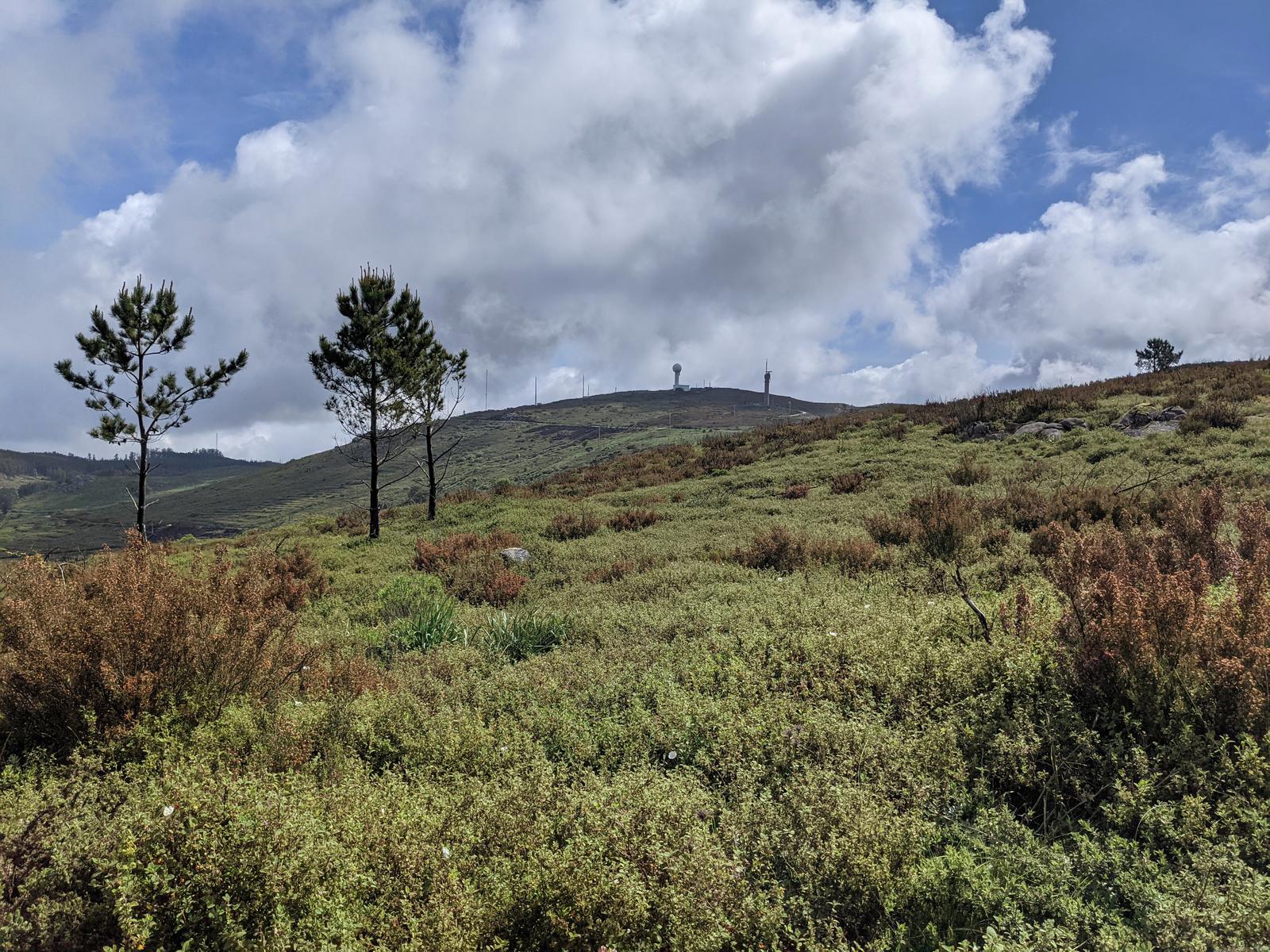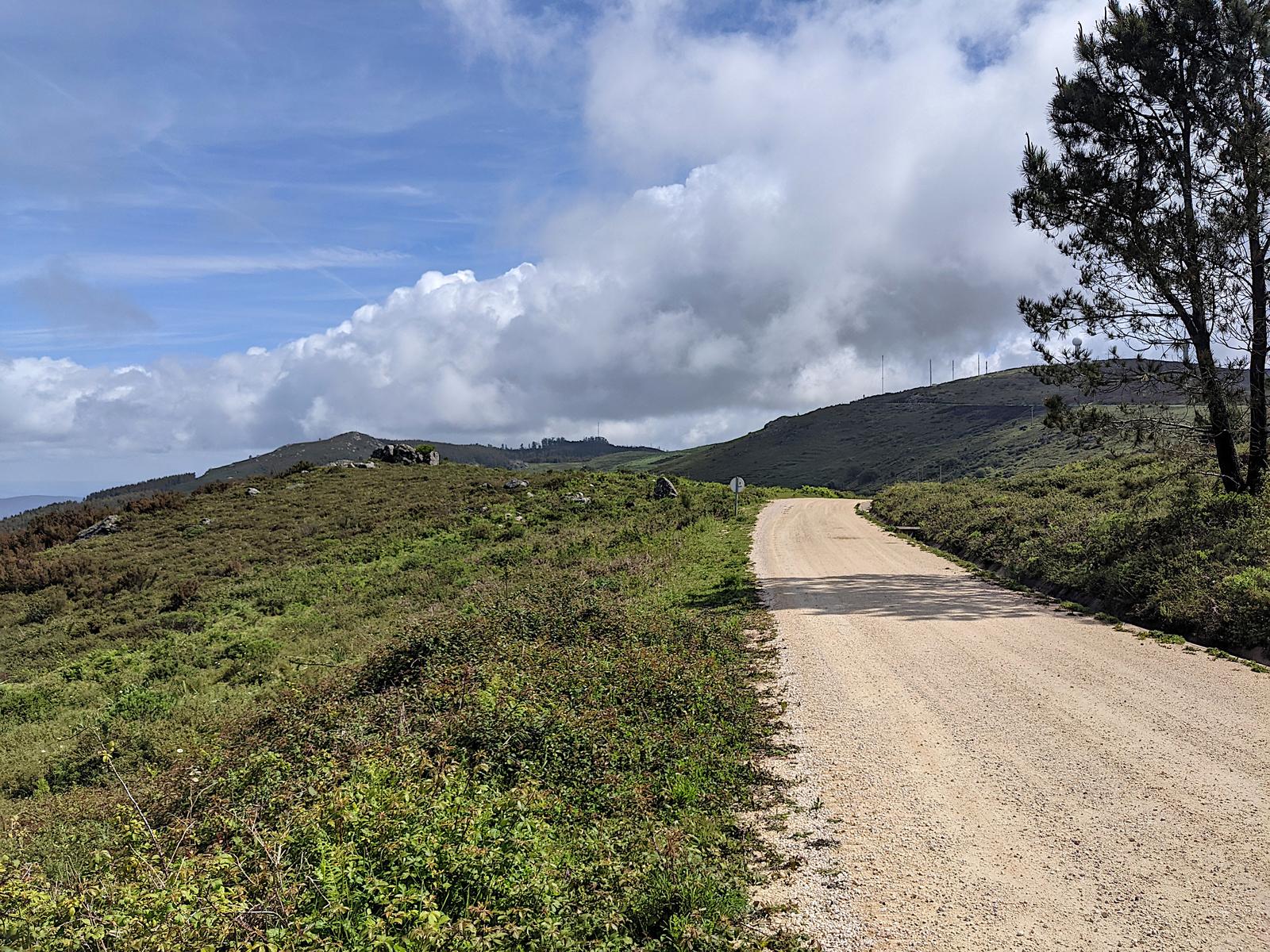 Gorgeous view from the gravel road: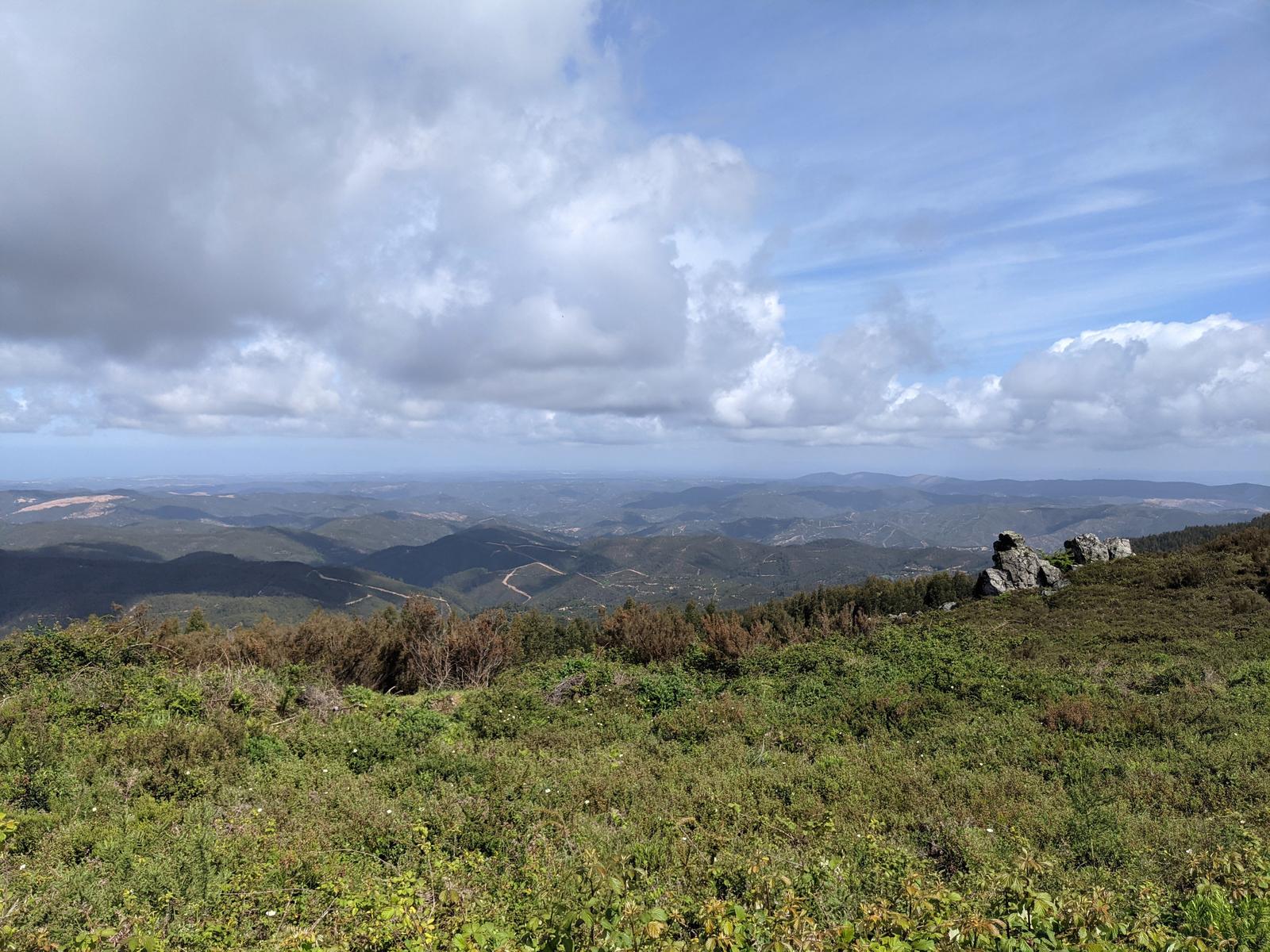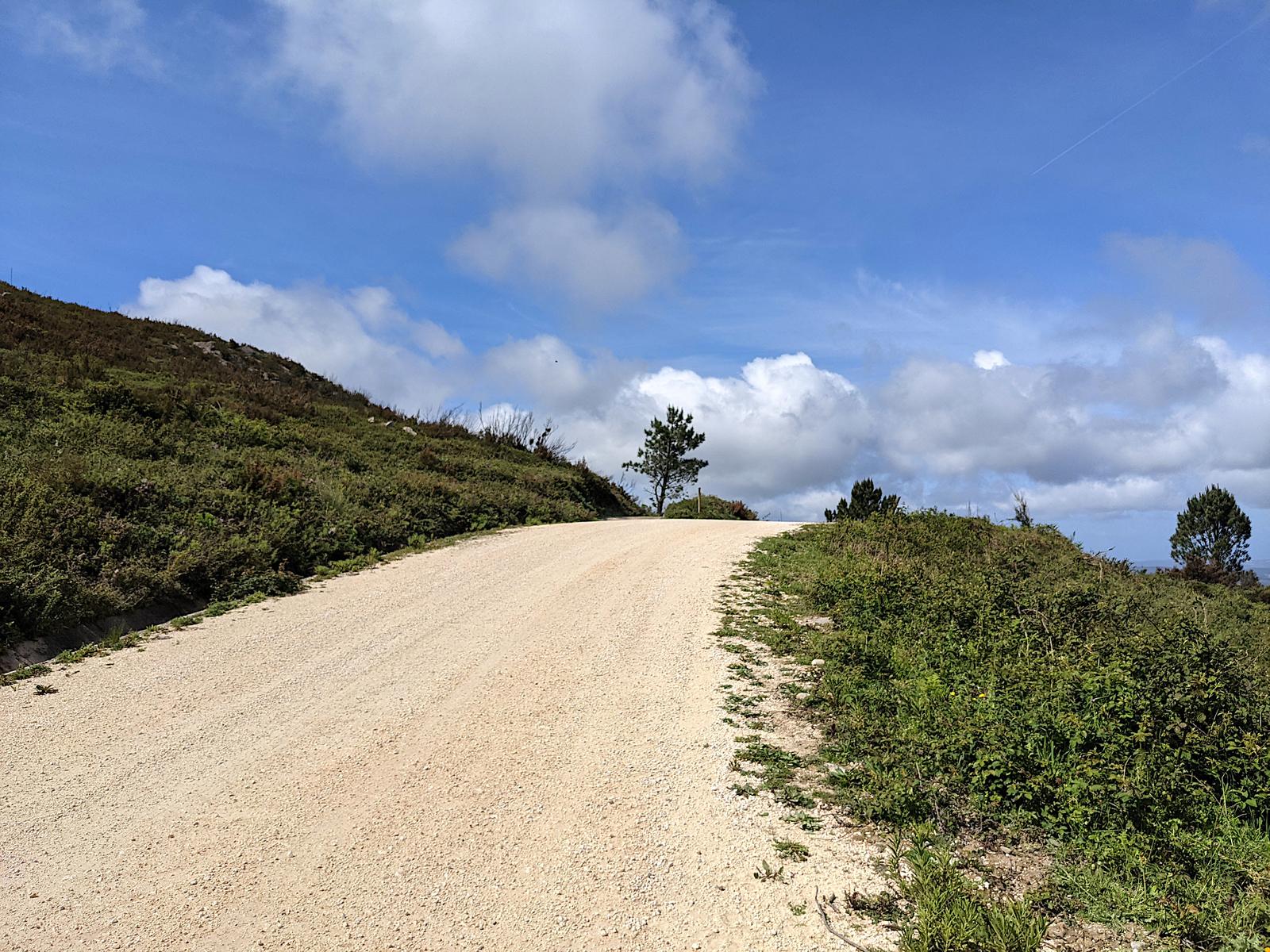 Heading up the slightly steeper section towards the tower: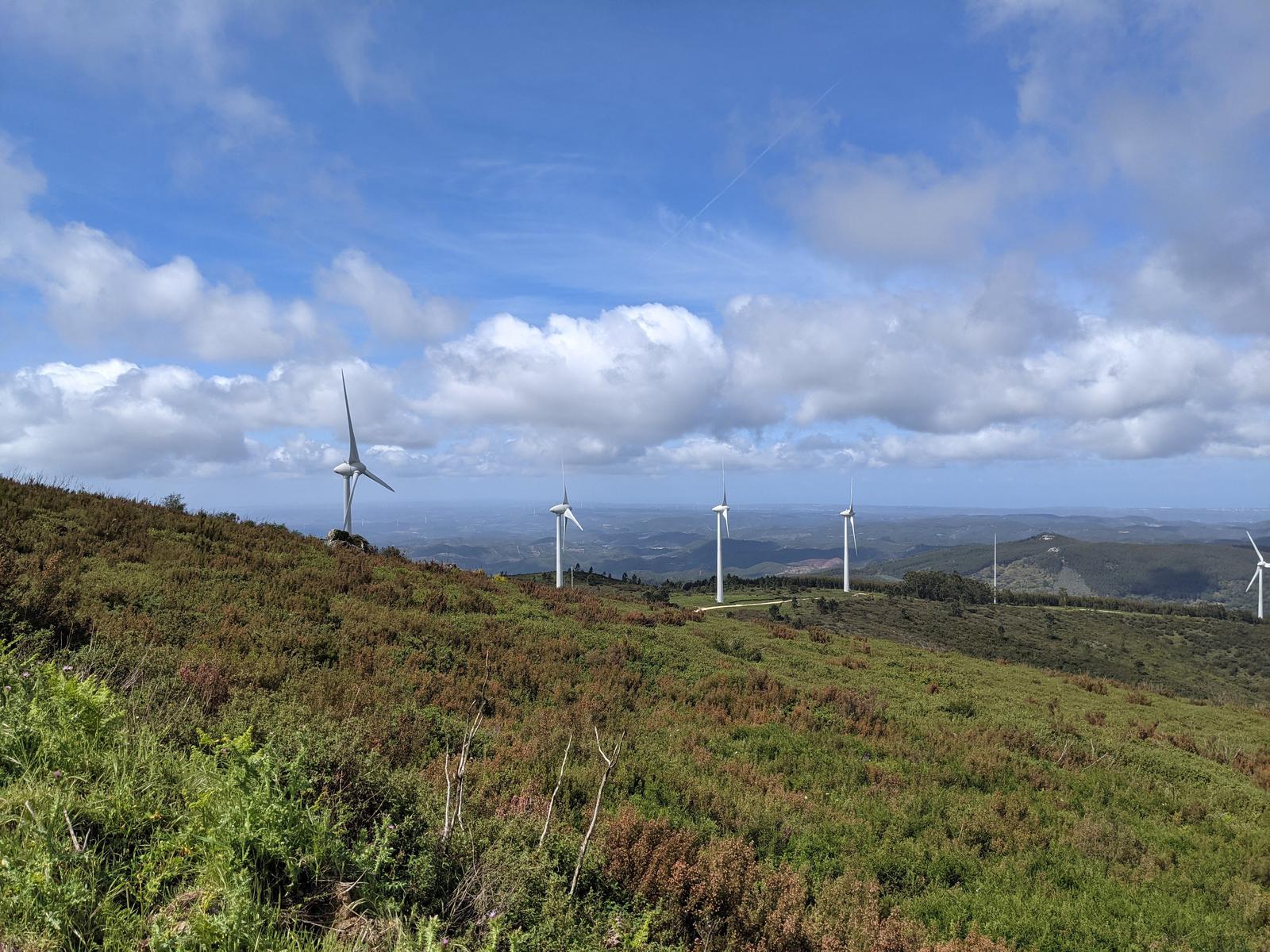 The gravel road below: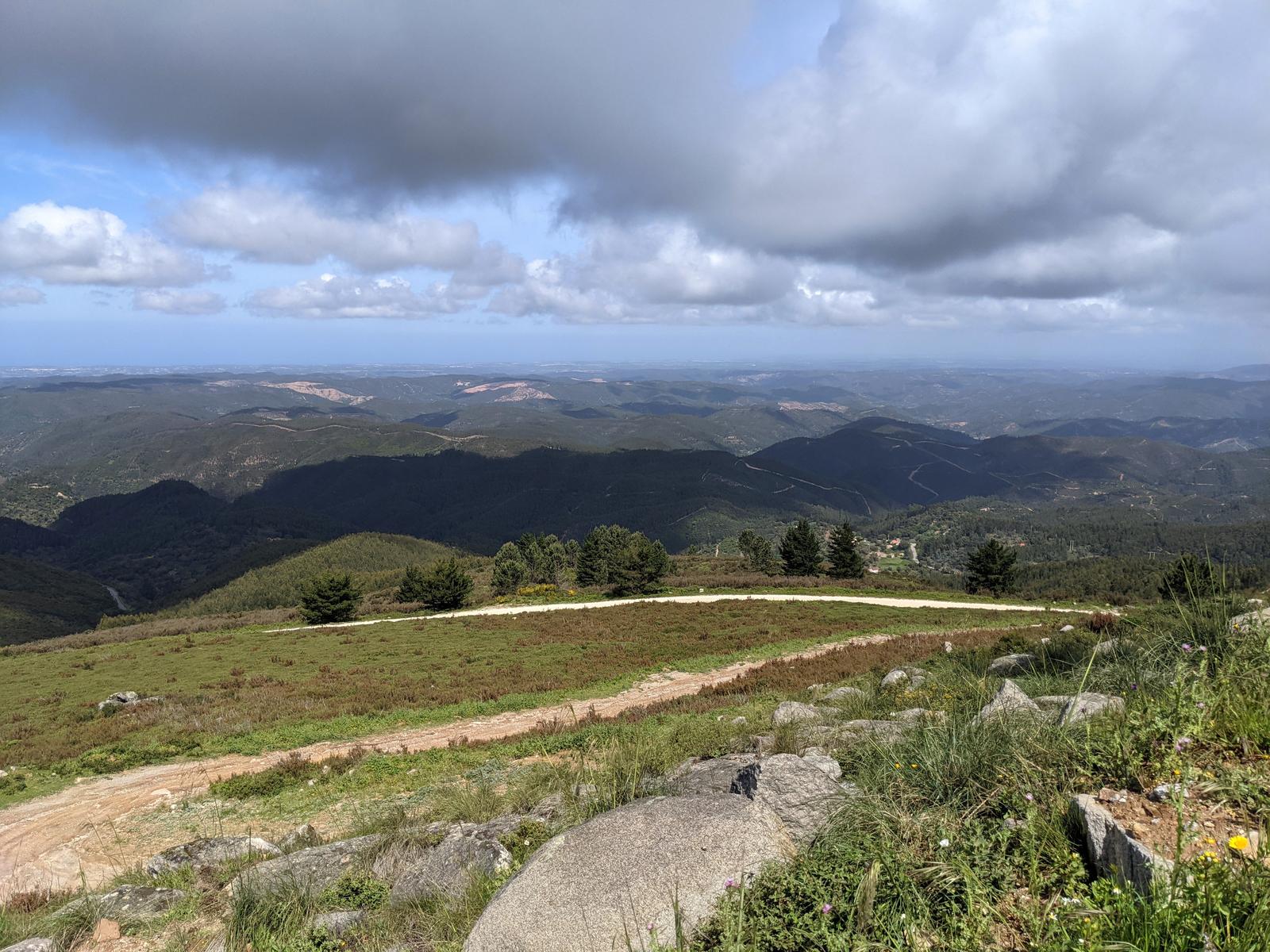 A few minutes later and I was there. A very easy detour but well worth it for the 360' views.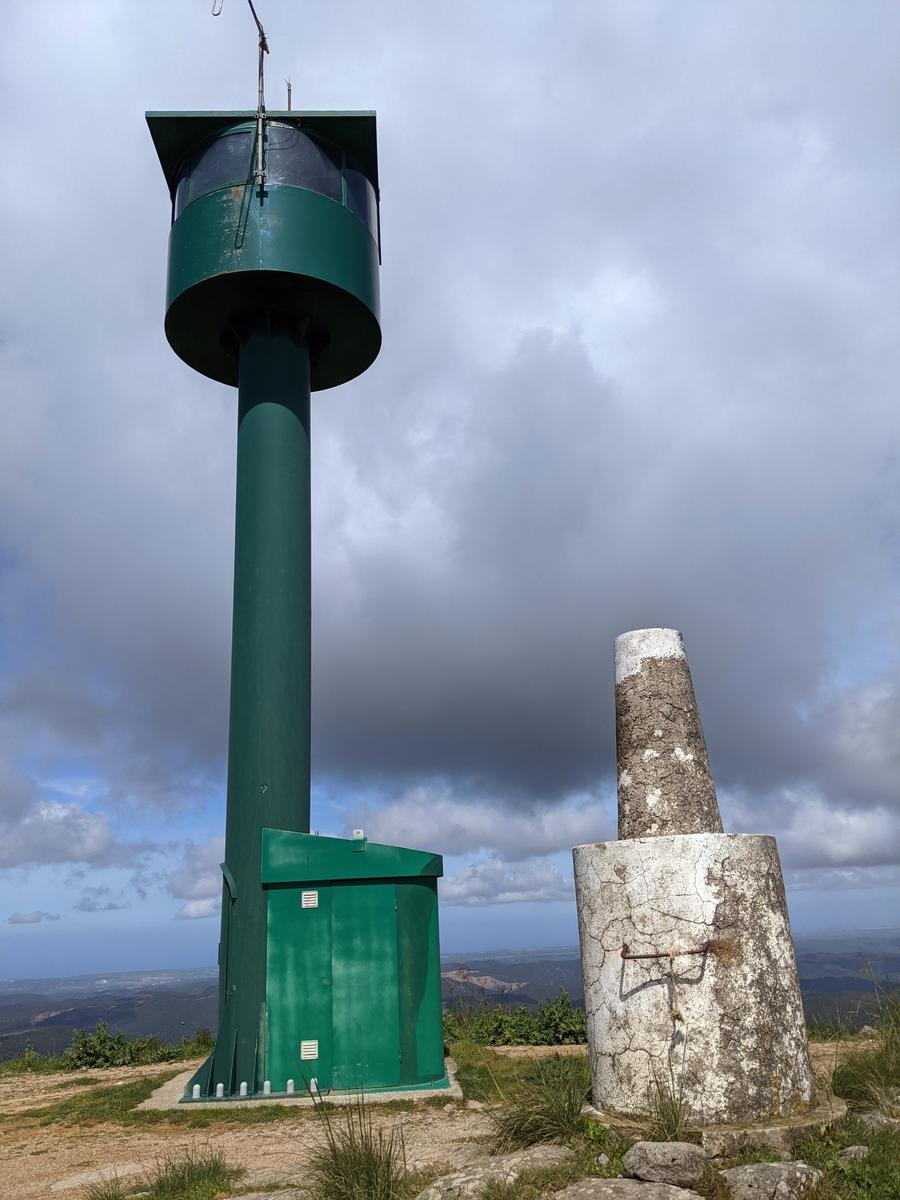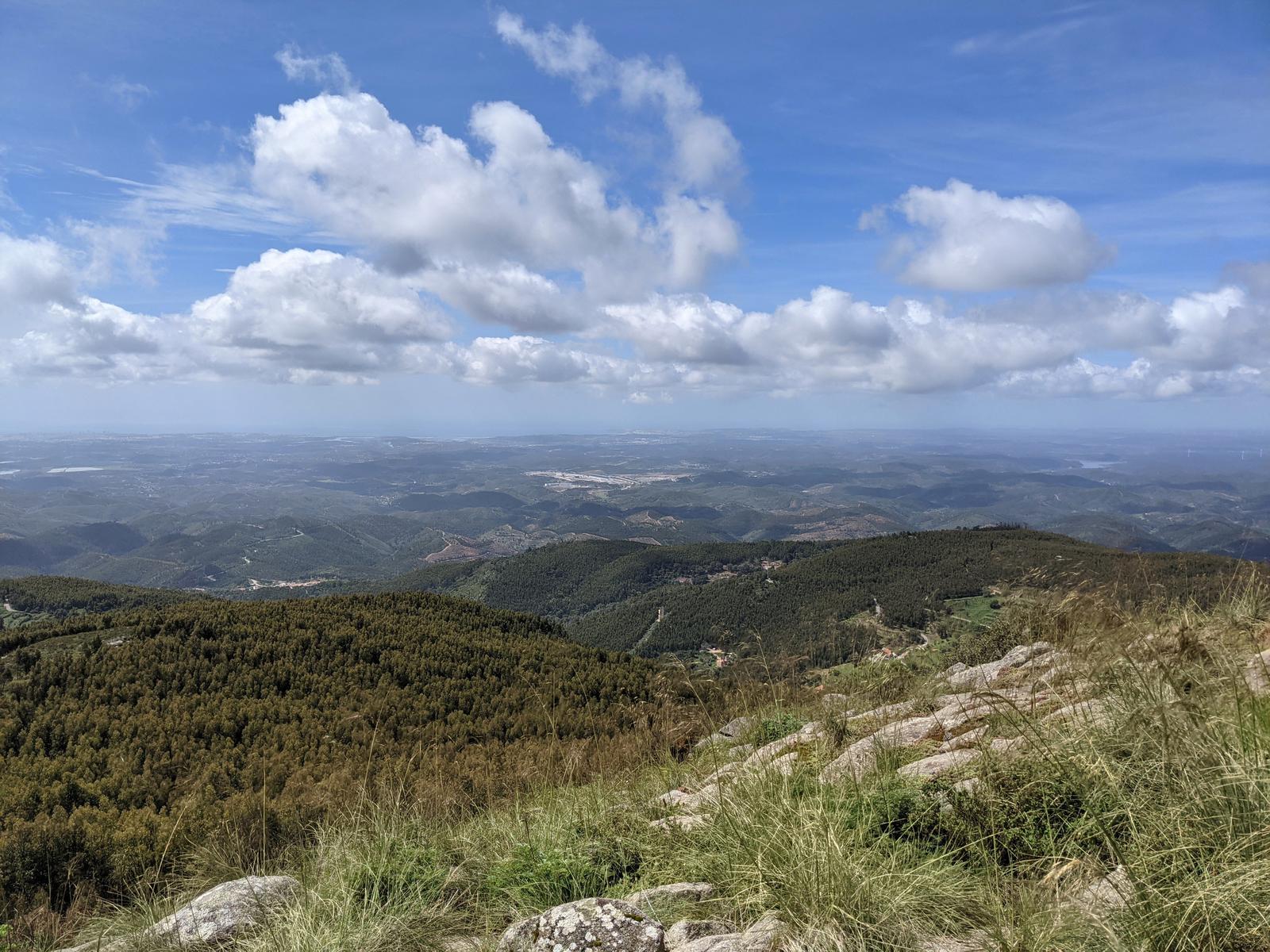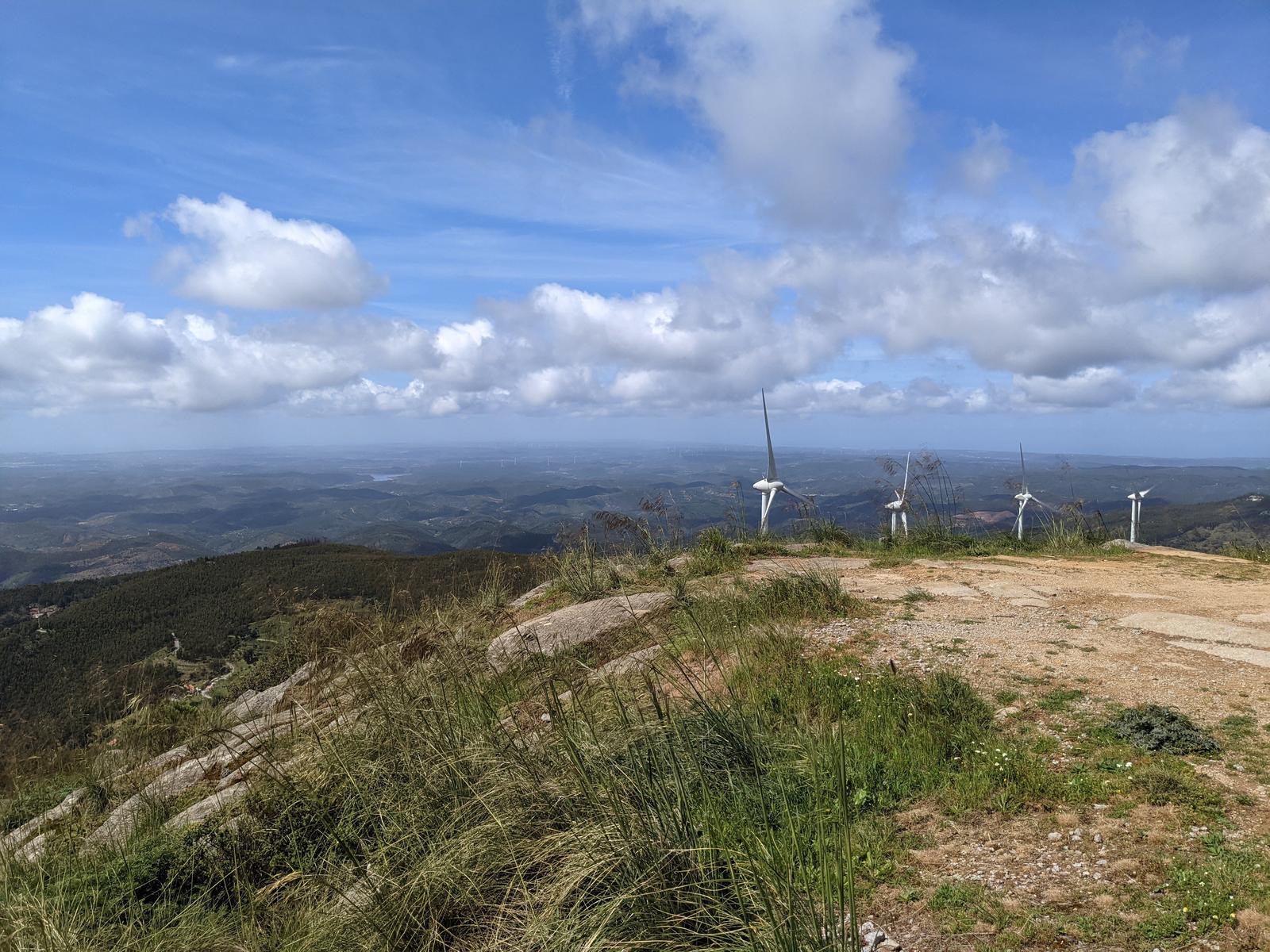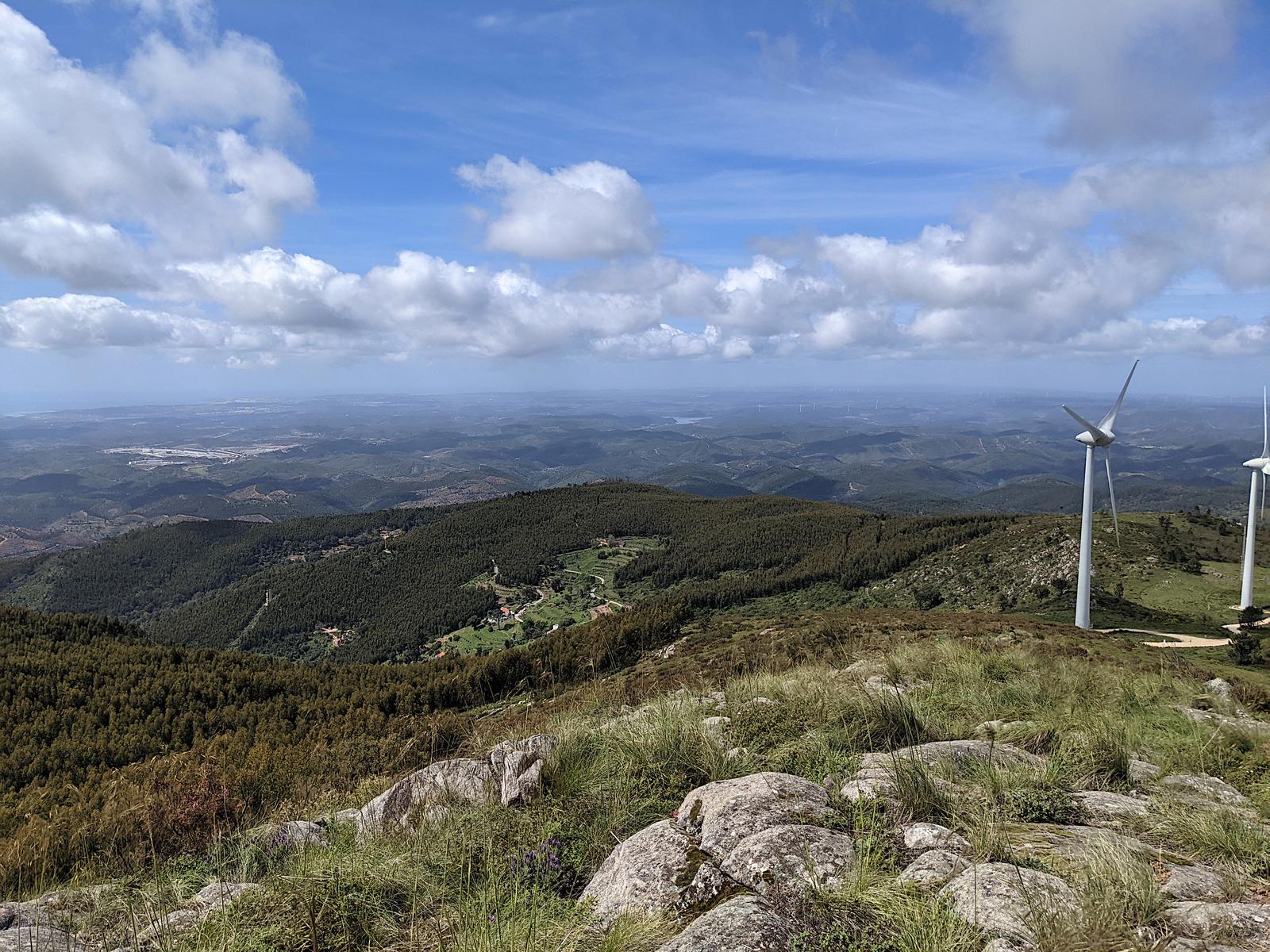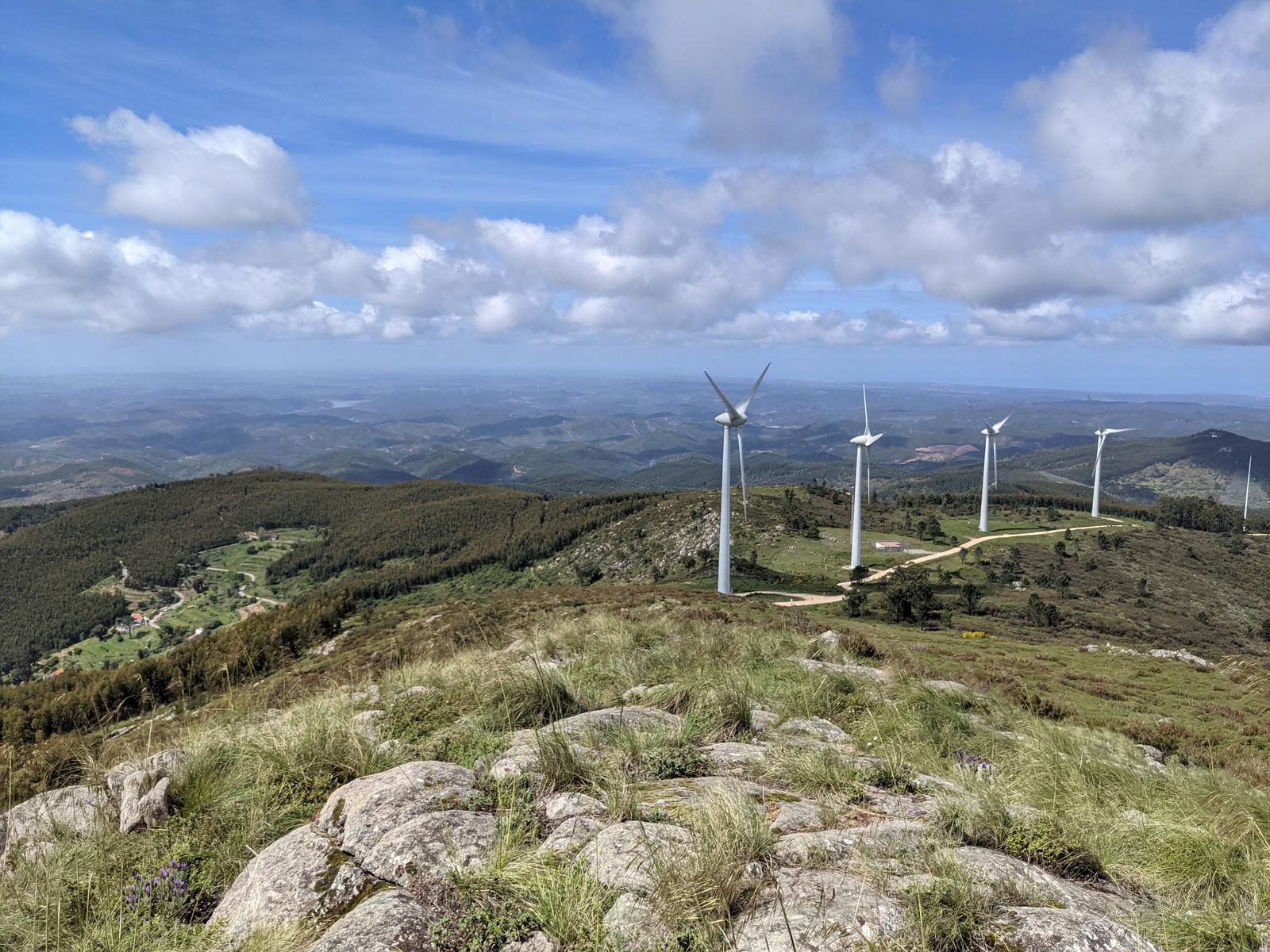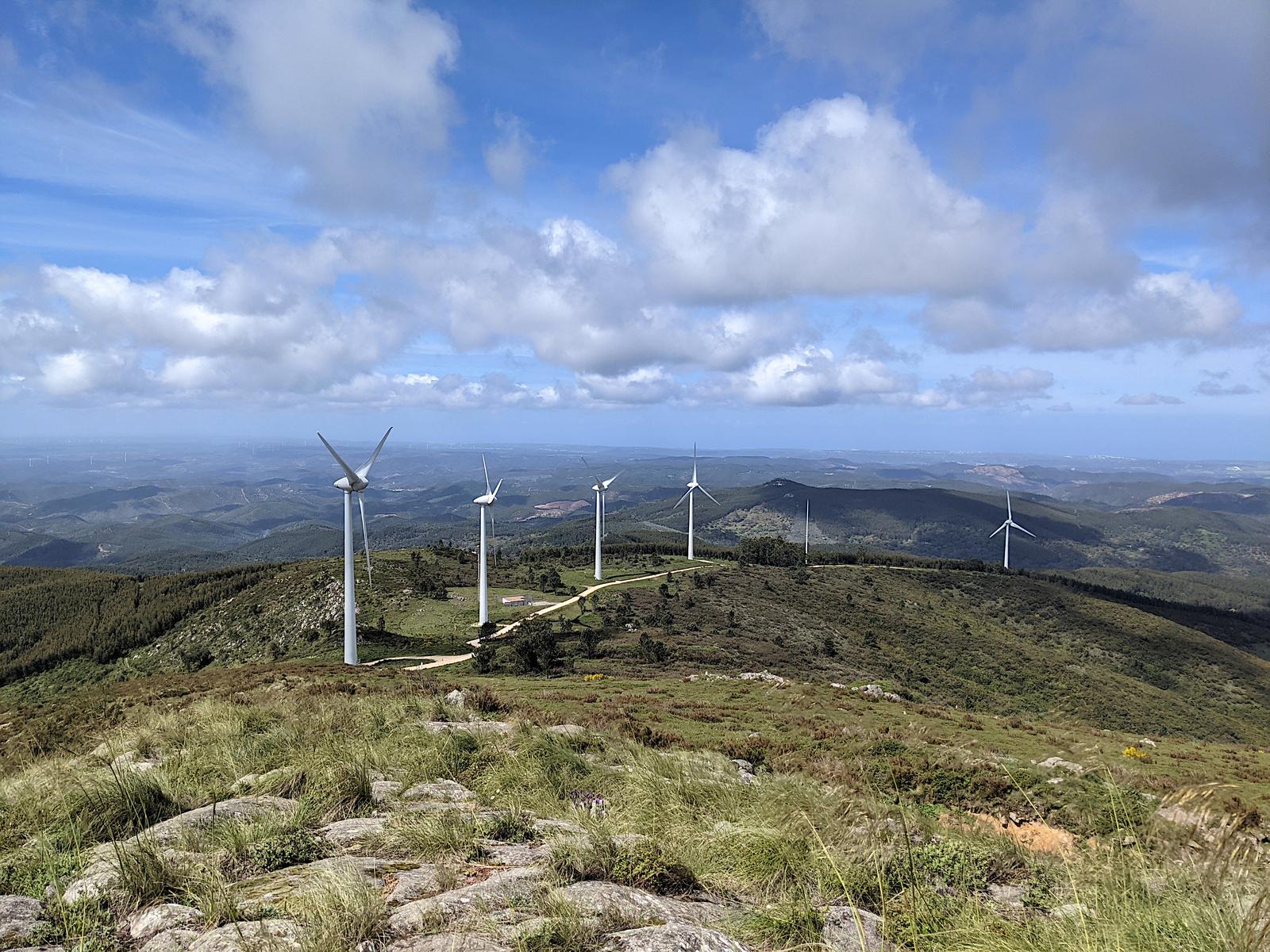 Now from my higher position I could see that the single track trail that I had been following earlier would have indeed led me up to the tower: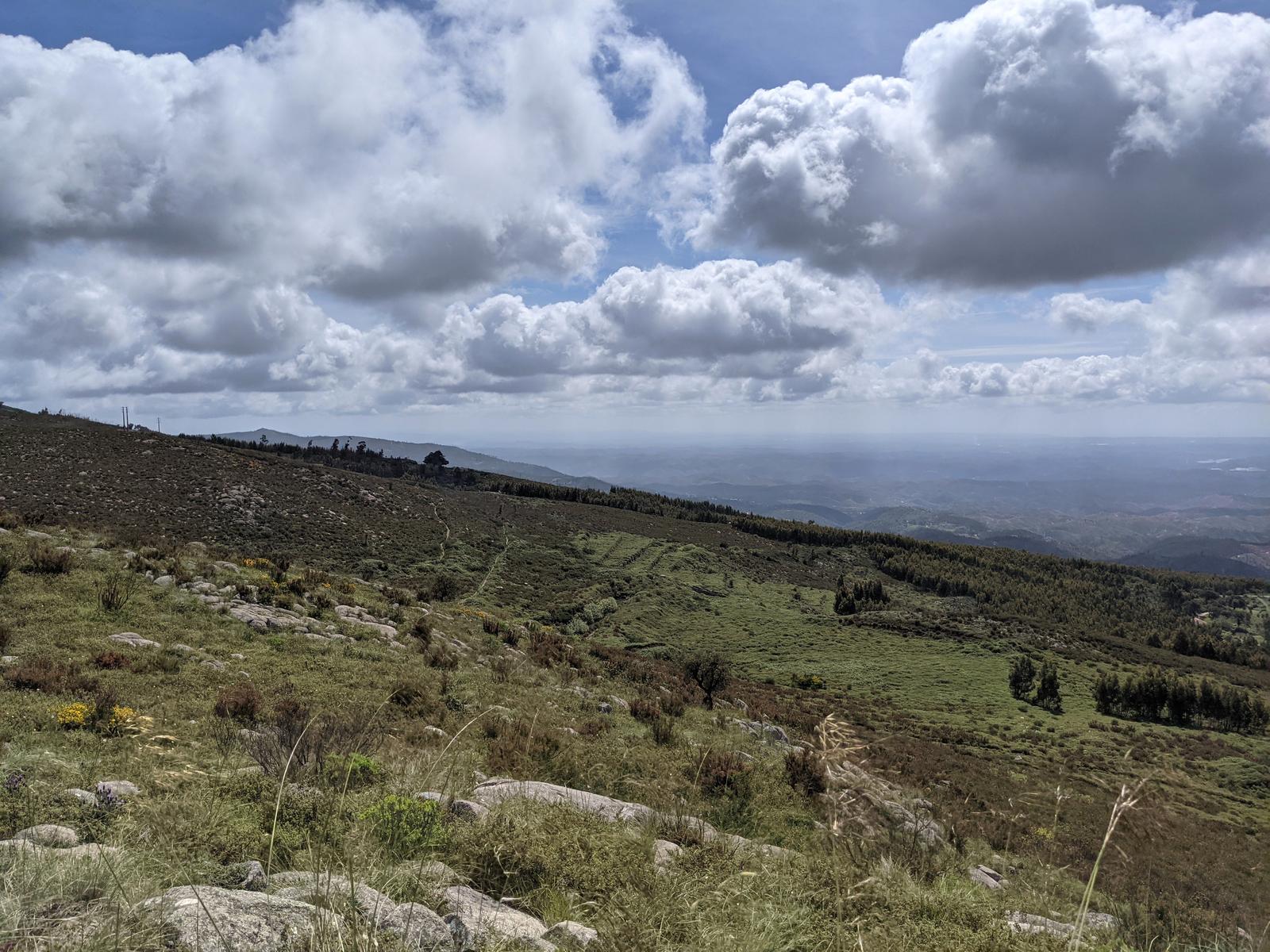 So I took that trail back down to the main road: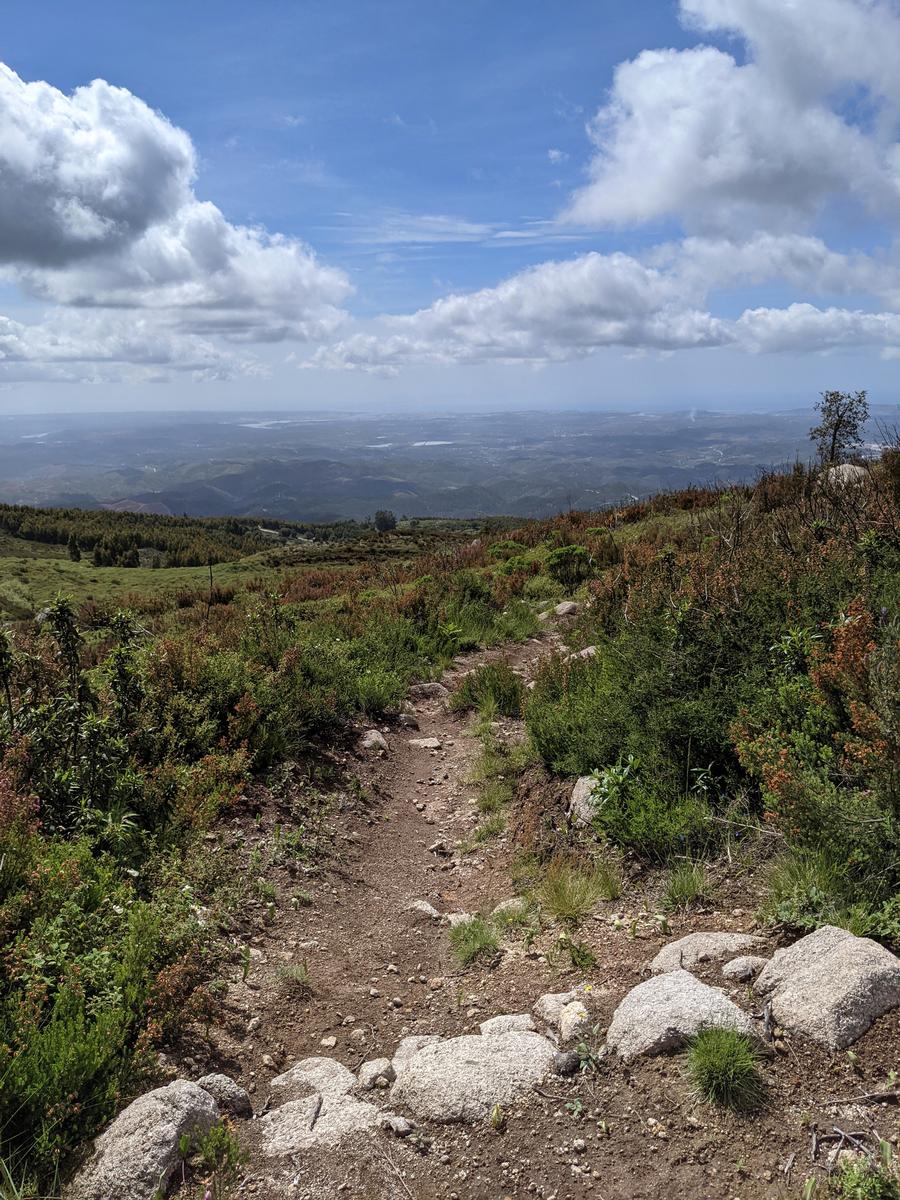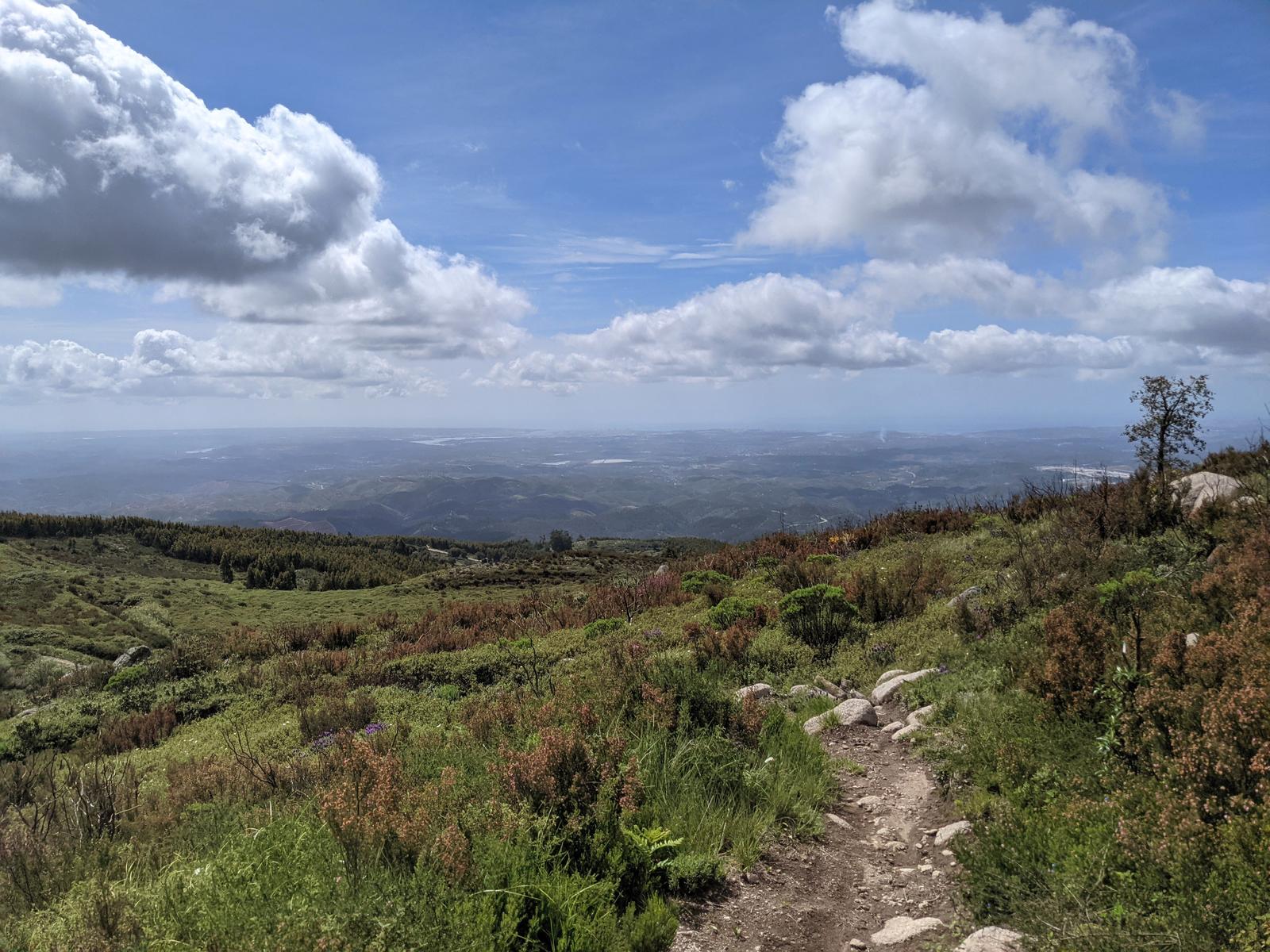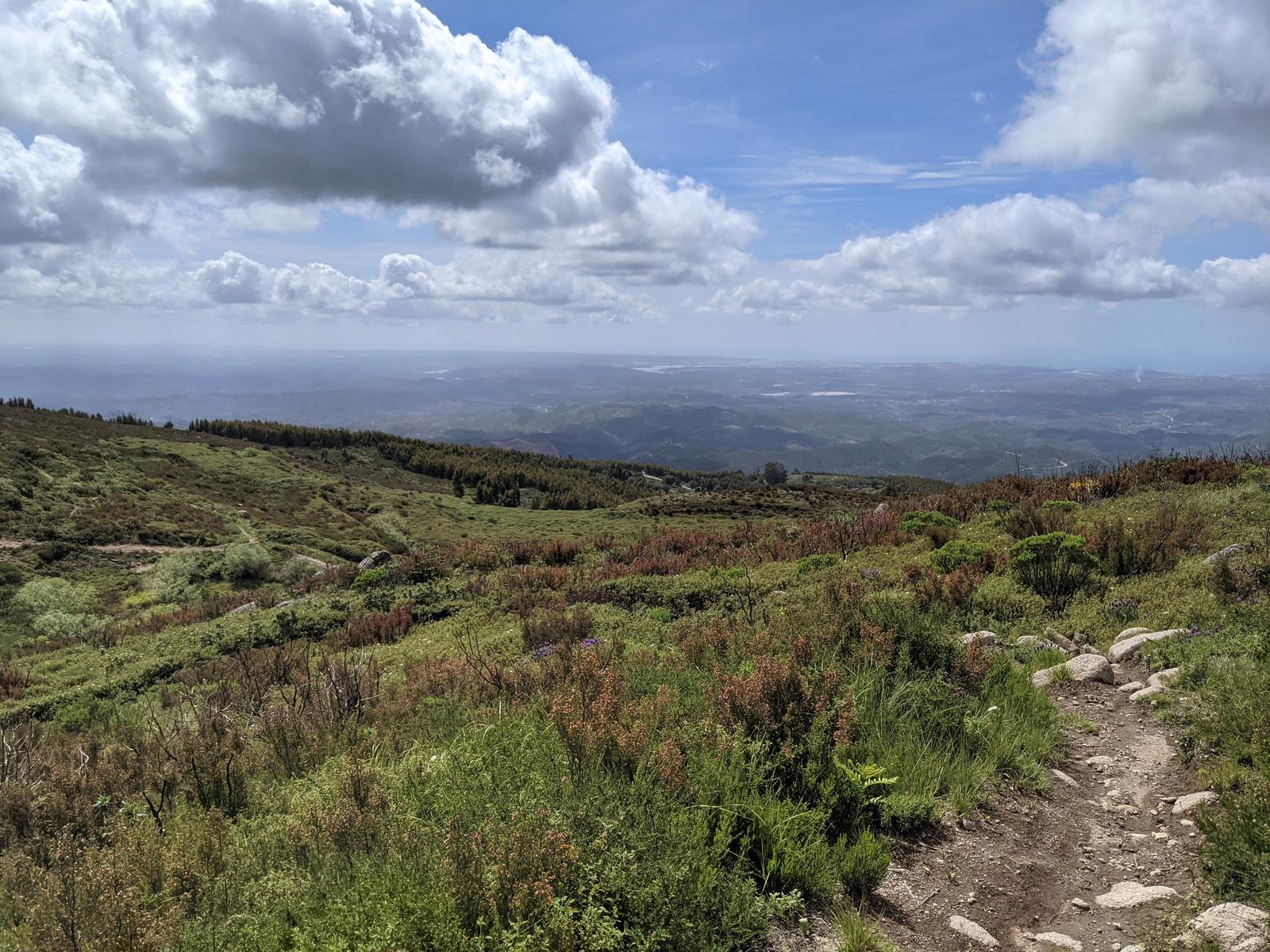 Next stop was Fóia which I've highlighted in the photo below: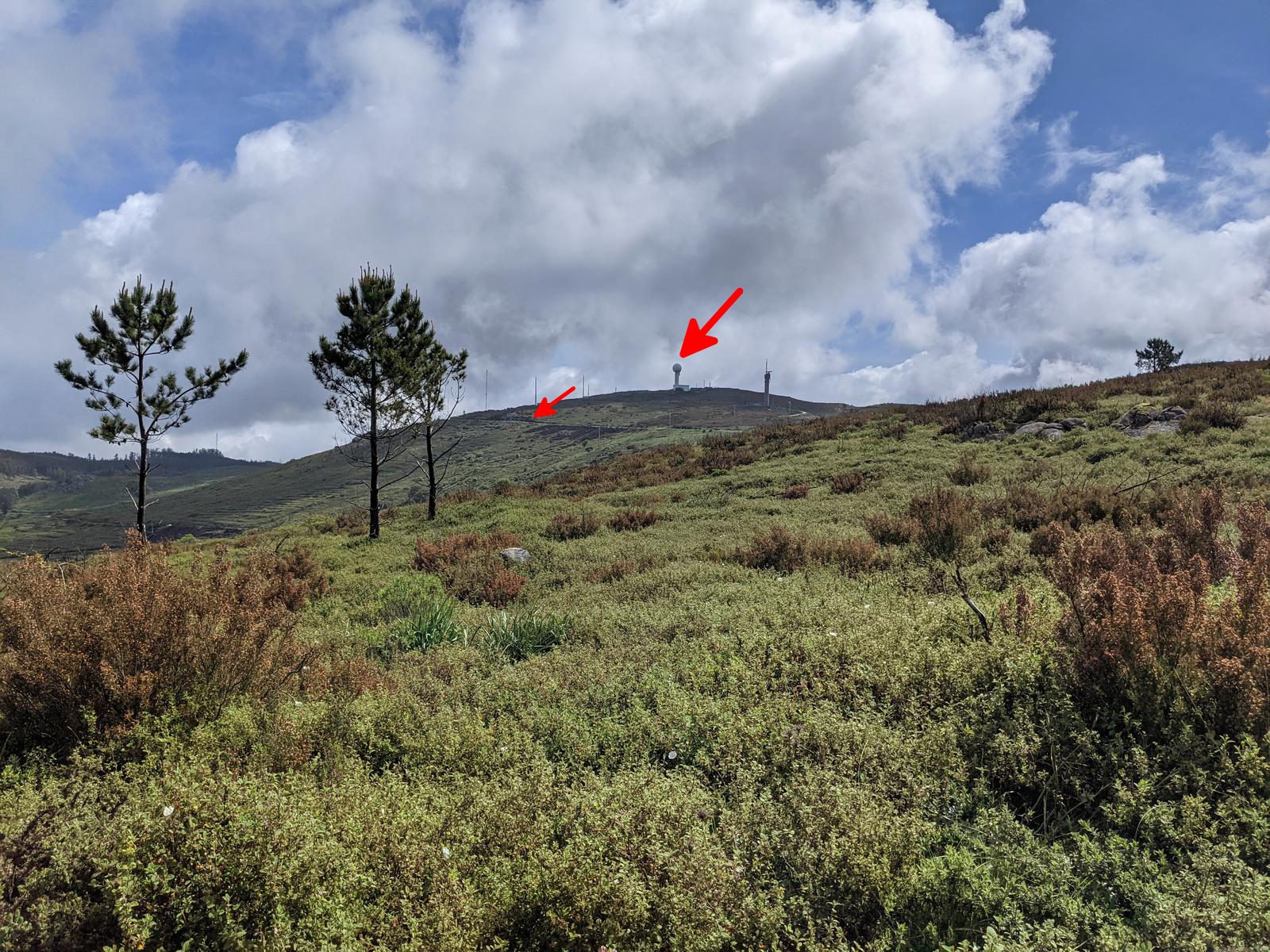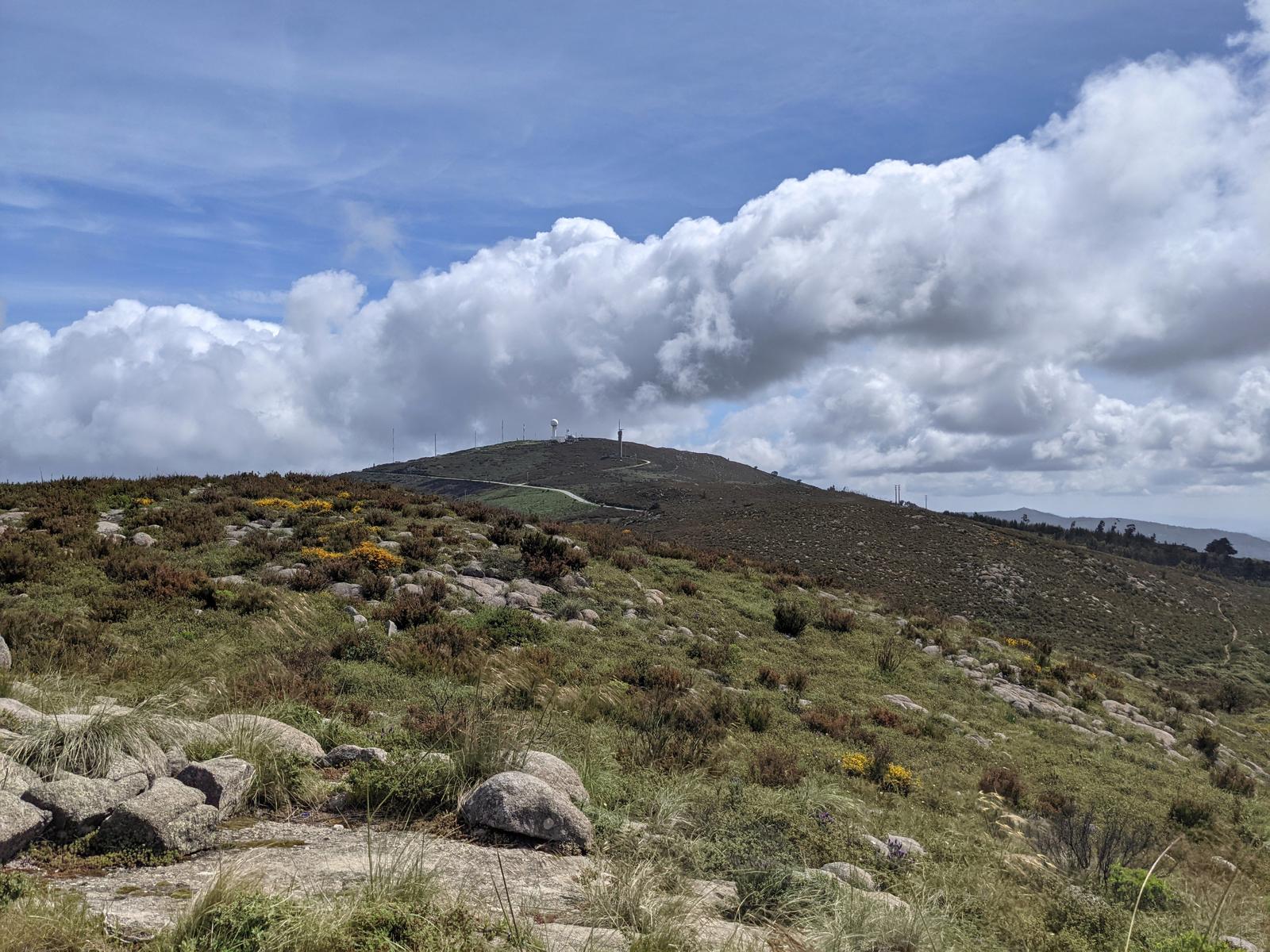 ---
On The Road to Fóia:
So as I already said, on day 1 and day 2 I went to Fóia via the main road. It was so quiet, I think maybe one car passed me and there was a herd of cattle happily strolling along the road one of the days also. The view from the road is really gorgeous.
Below on overcast day 1, you can see the green tower and wind turbines in this photo: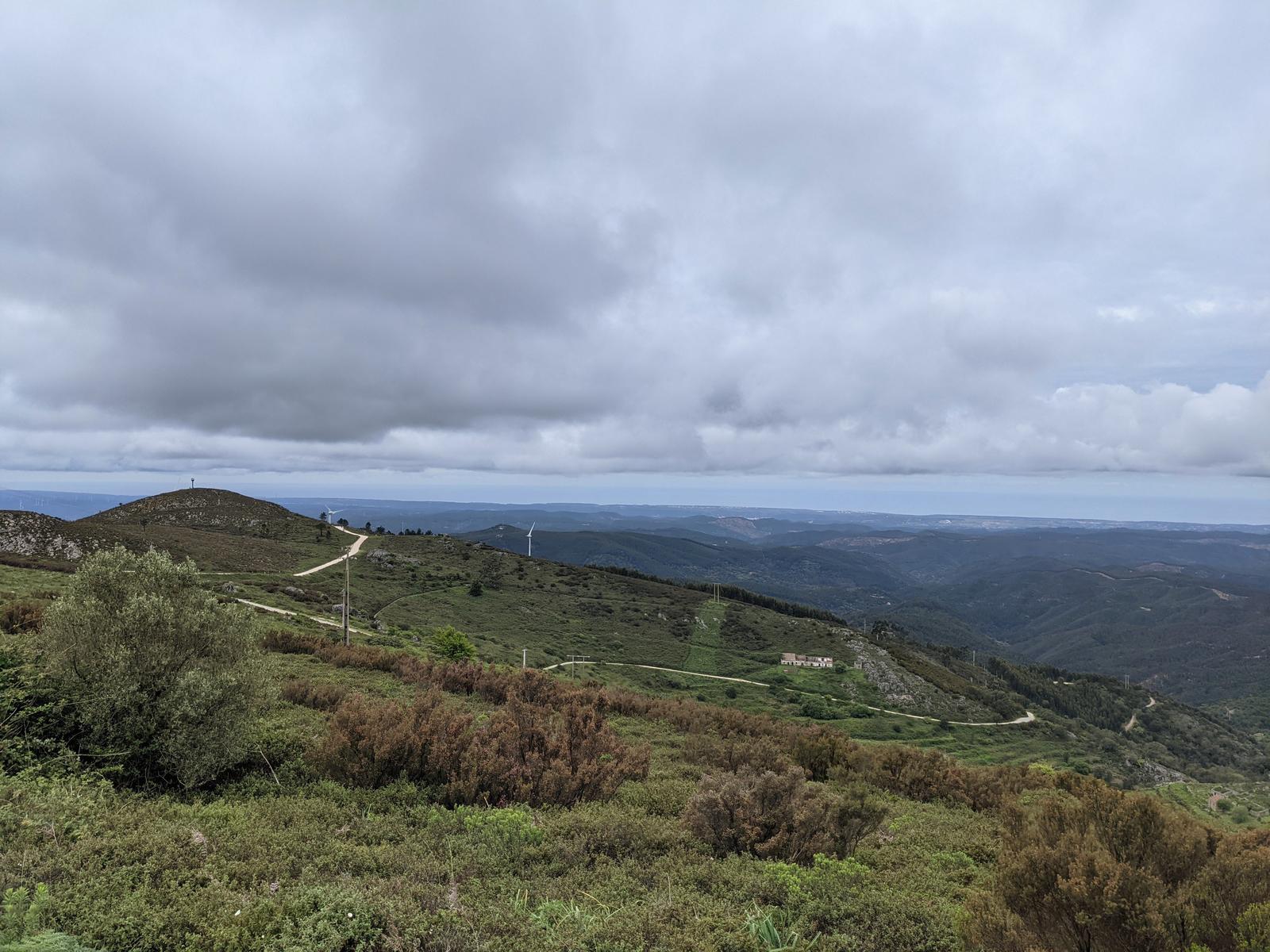 Next, the same view on sunny day 2 but with newly burnt area now visible: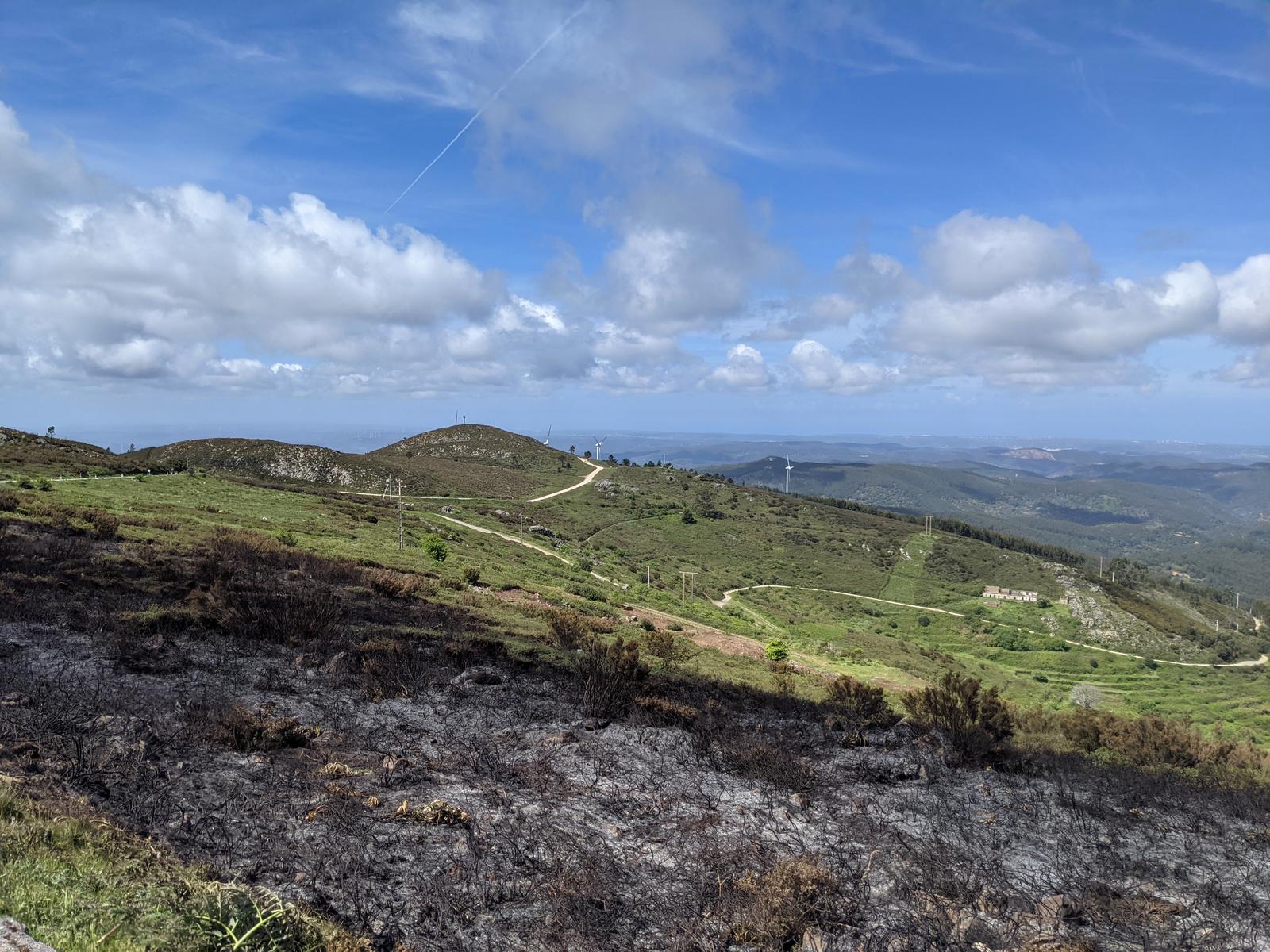 Day 1 overcast below: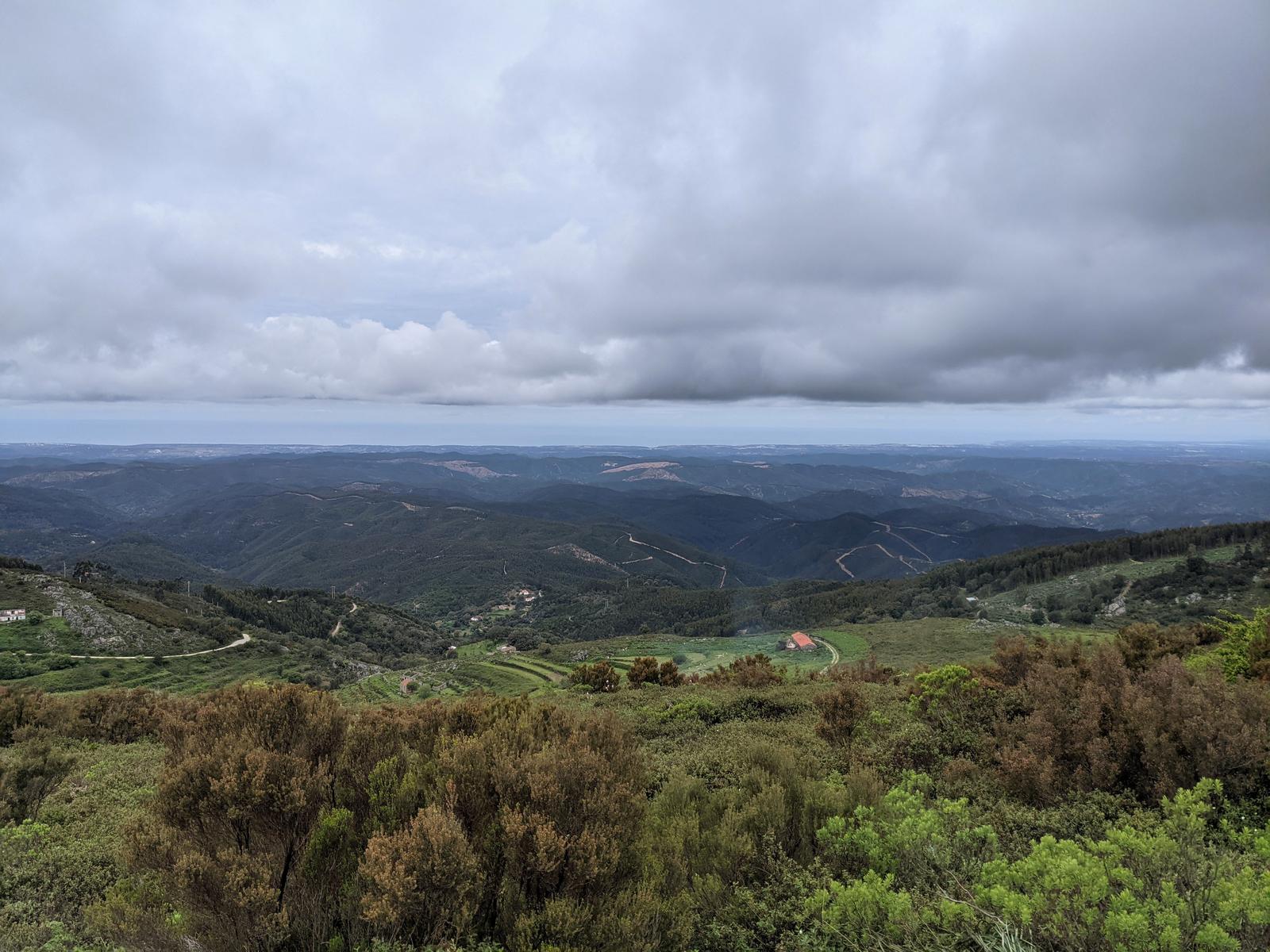 Day 2 sunny and burnt ground: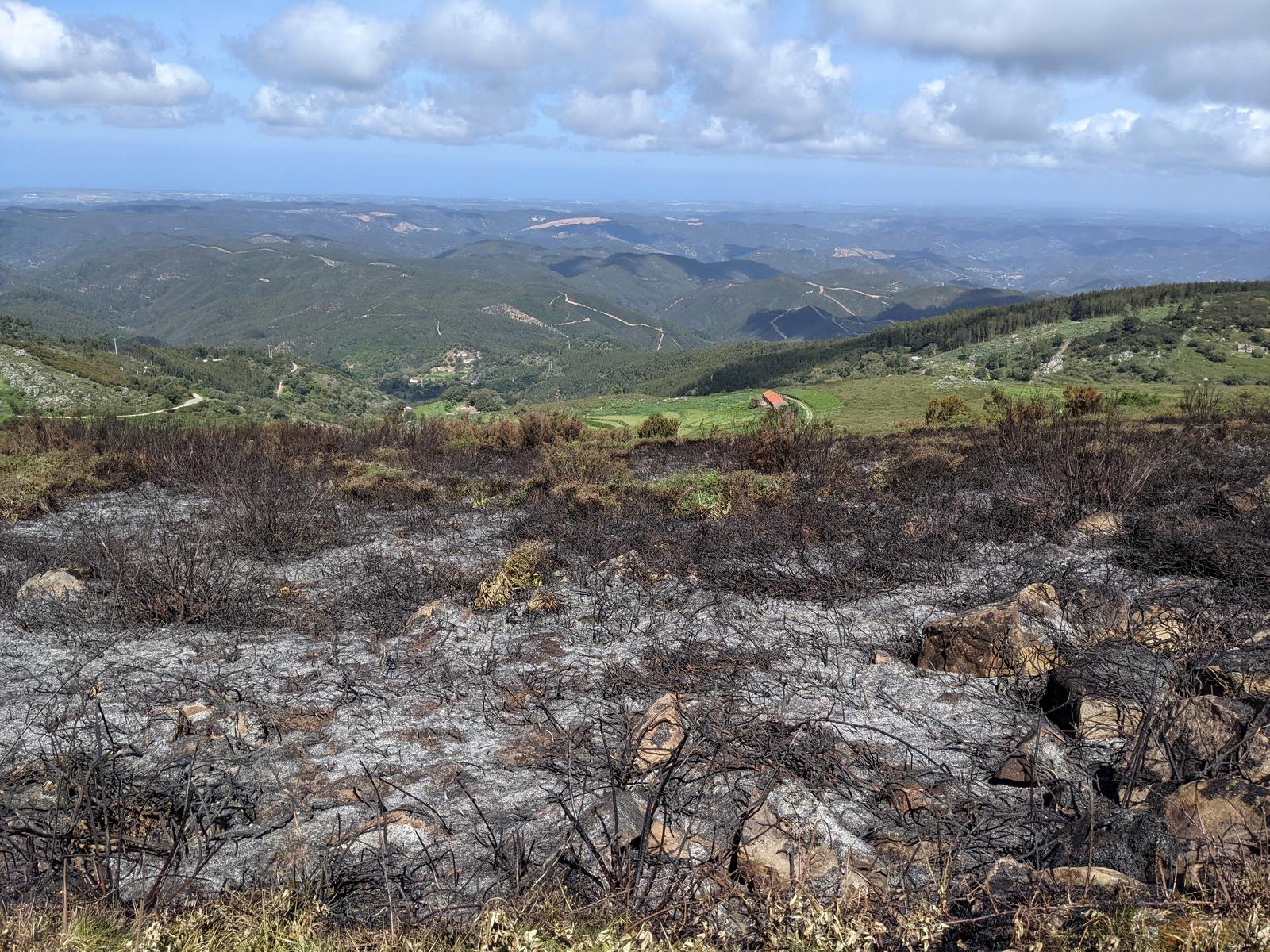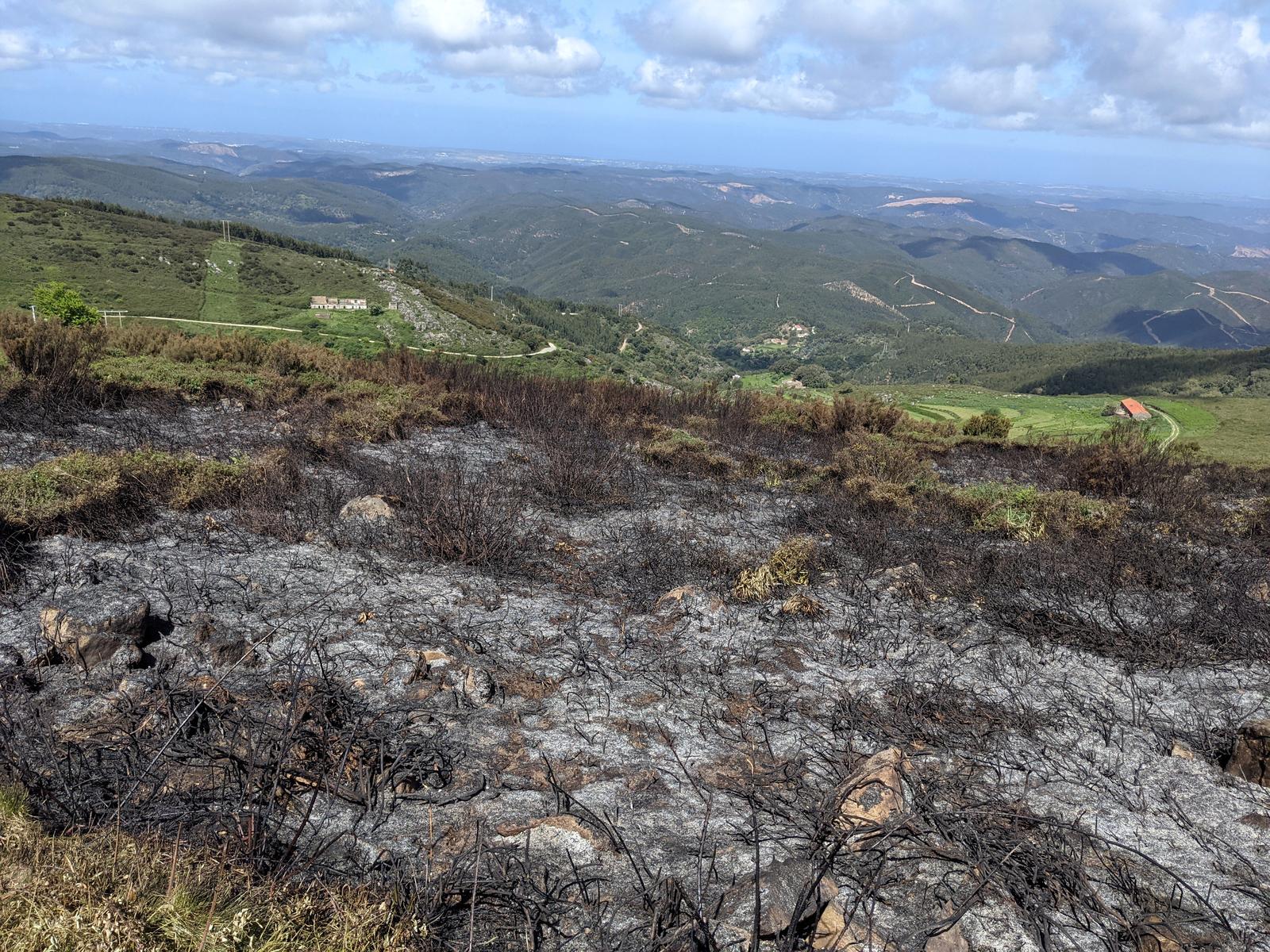 As you can see below, the burnt section was right next to the road but was no longer burning when I passed: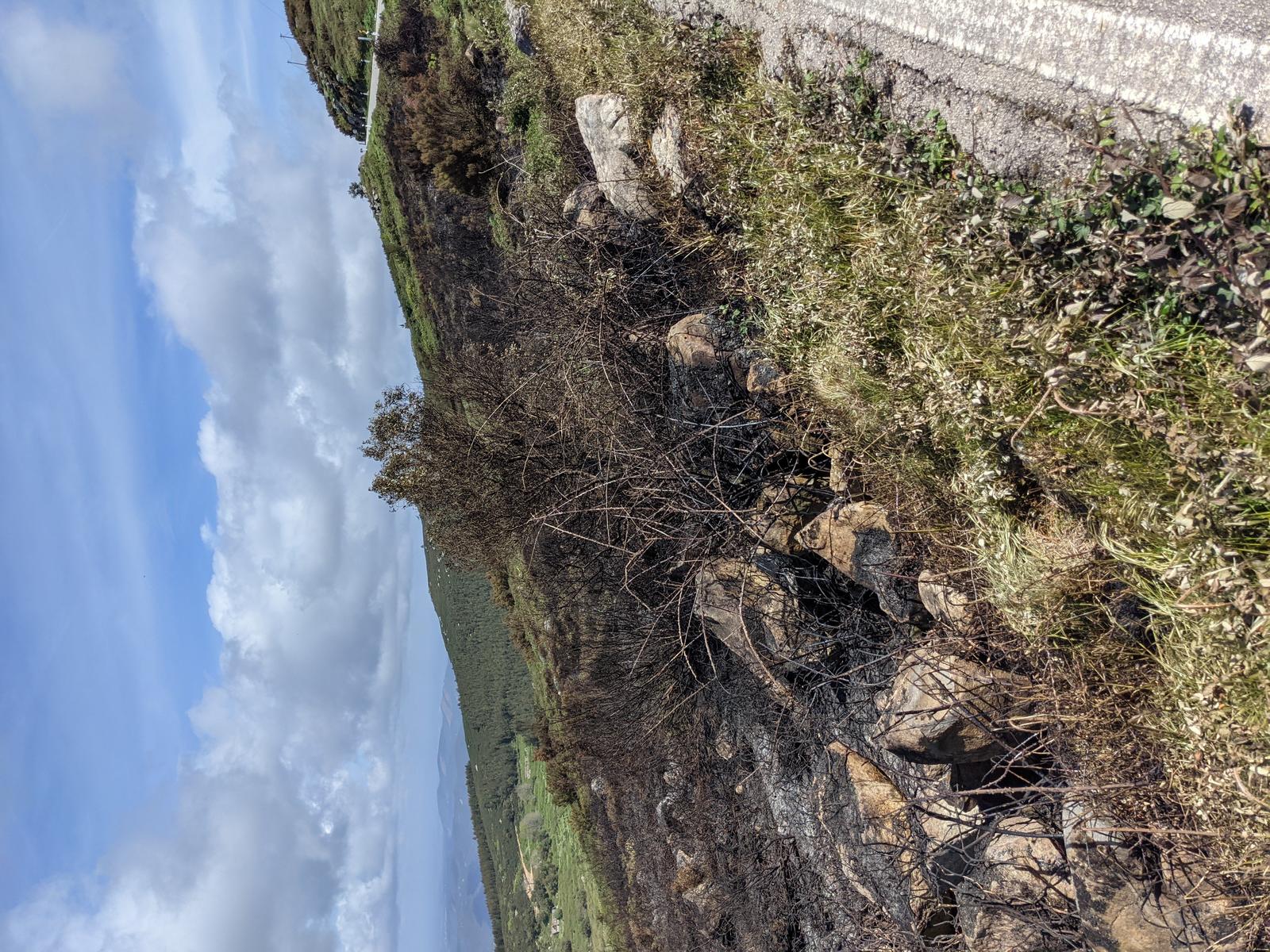 Gorgeous, perfect flower growing further along on the side of the road: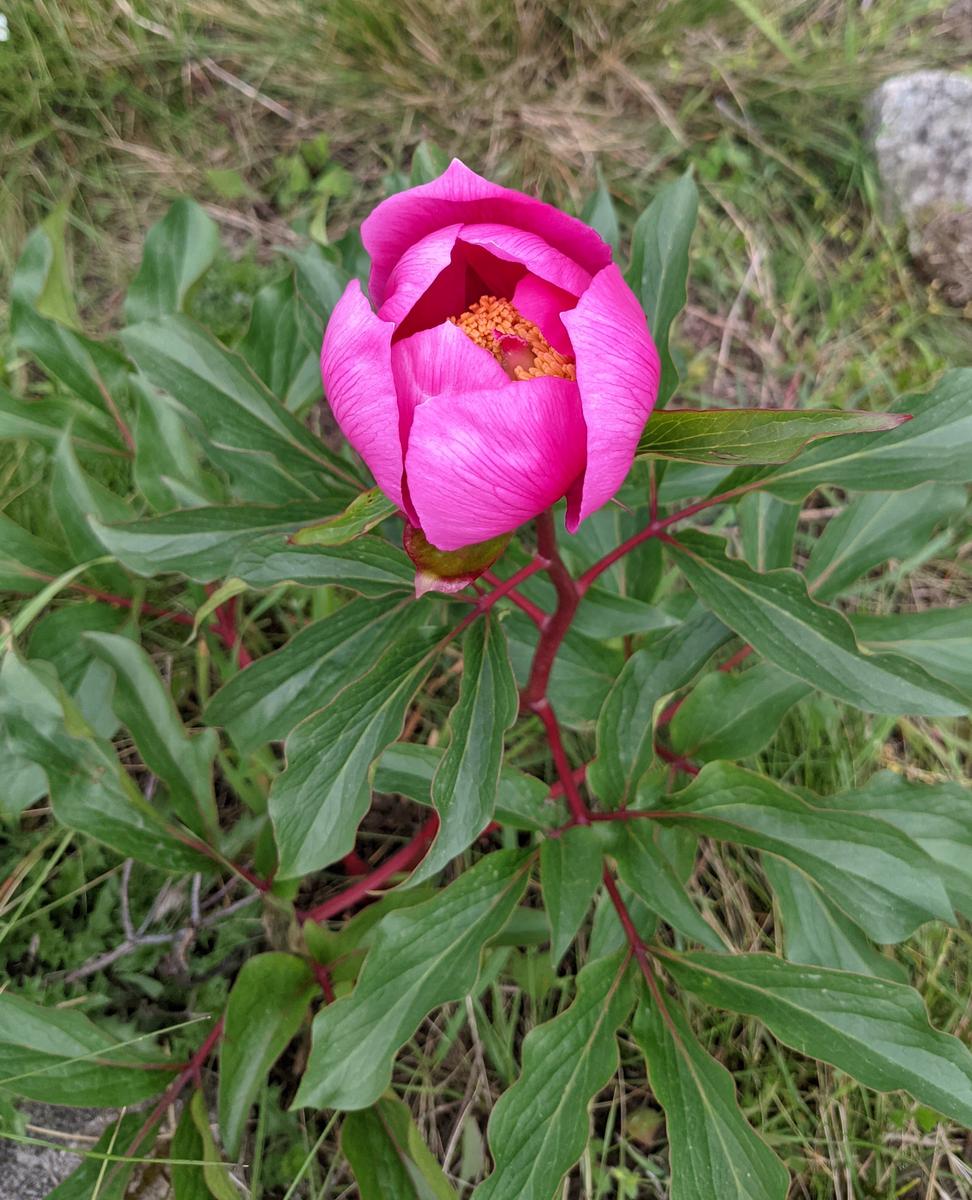 Cattle enjoying the green grass of the terraces below the road: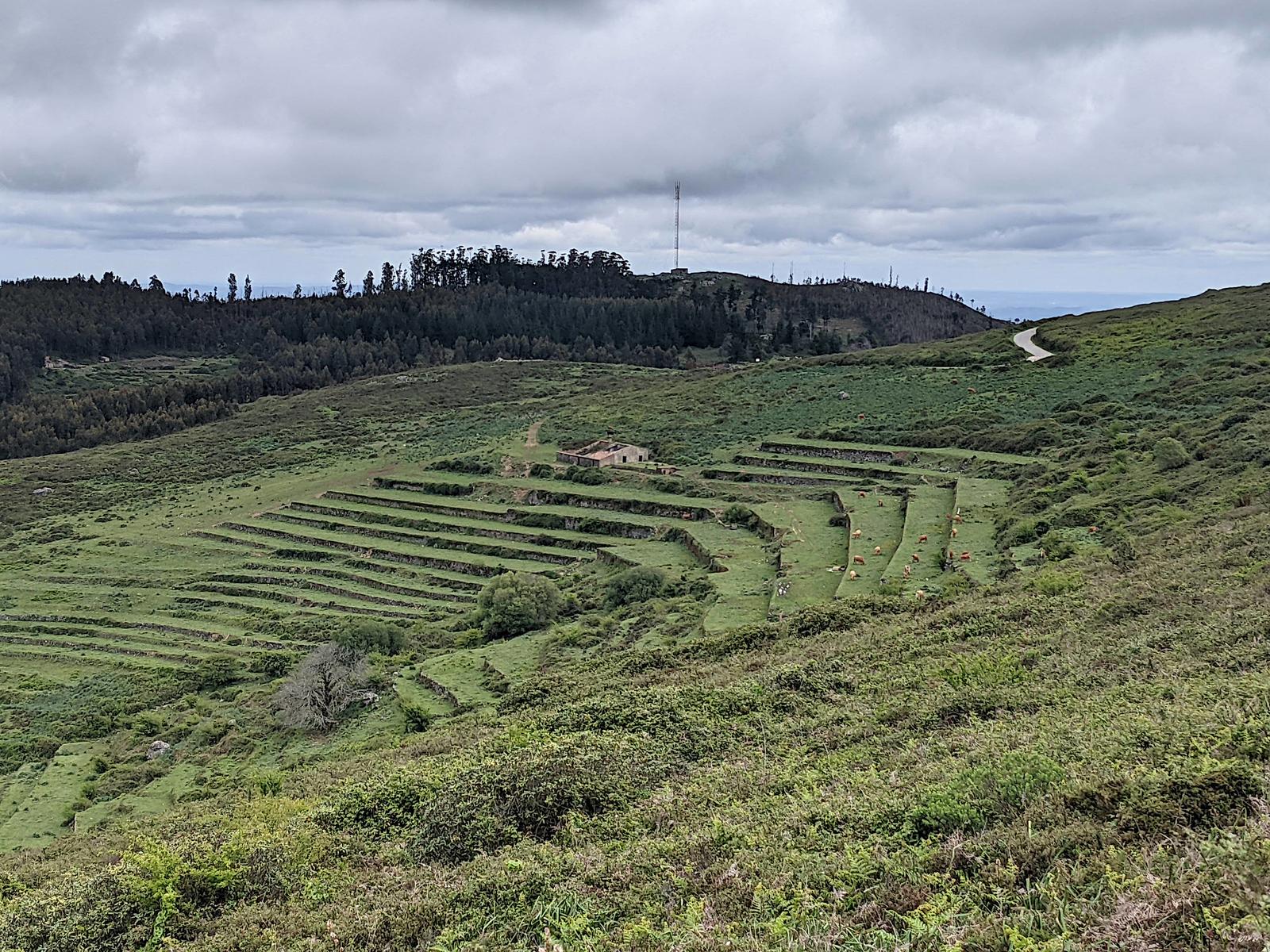 ---
Miradouro da Fóia:
After a few road kms you will find yourself at the Fóia stone marker.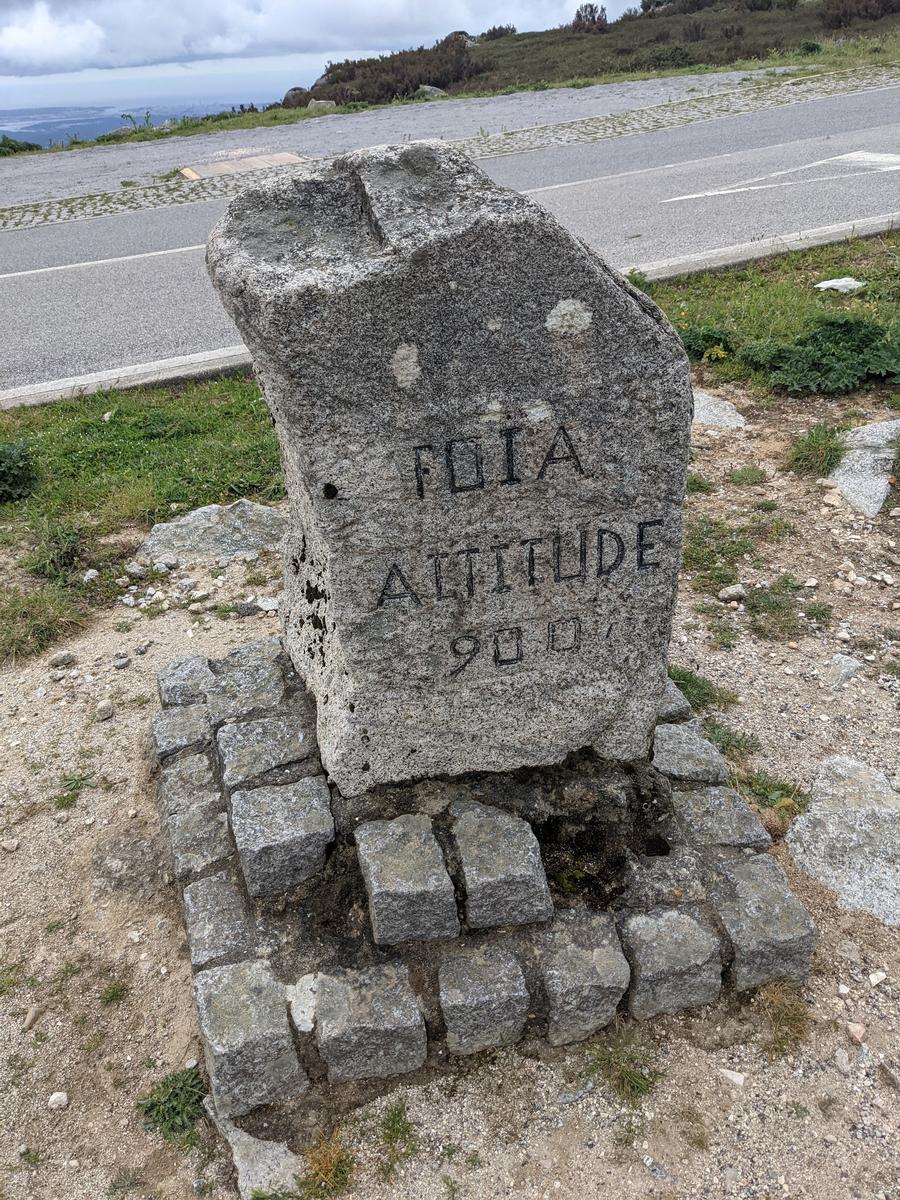 There is an artisan shop, cafe, toilets etc. located in the building below at Fóia: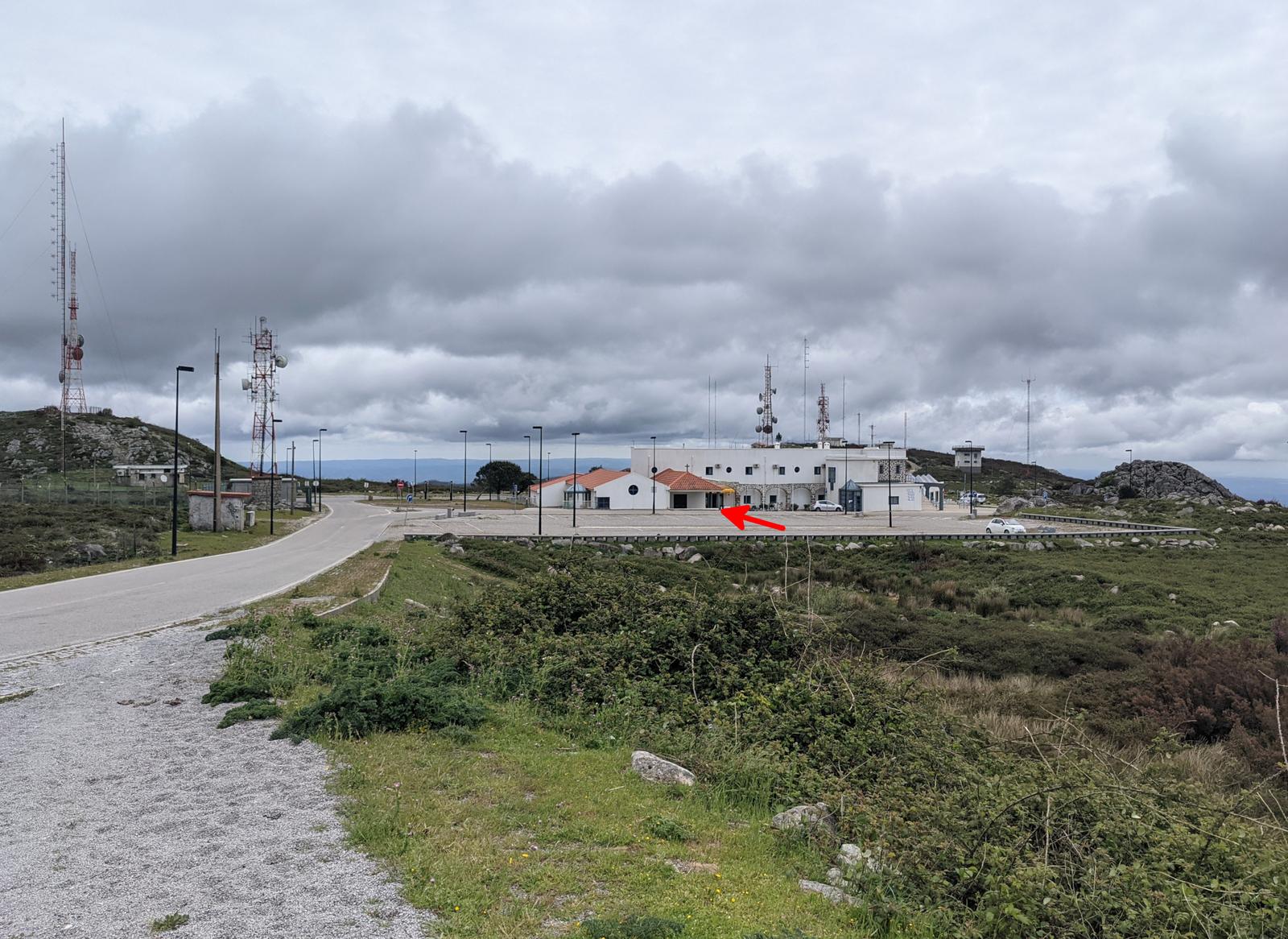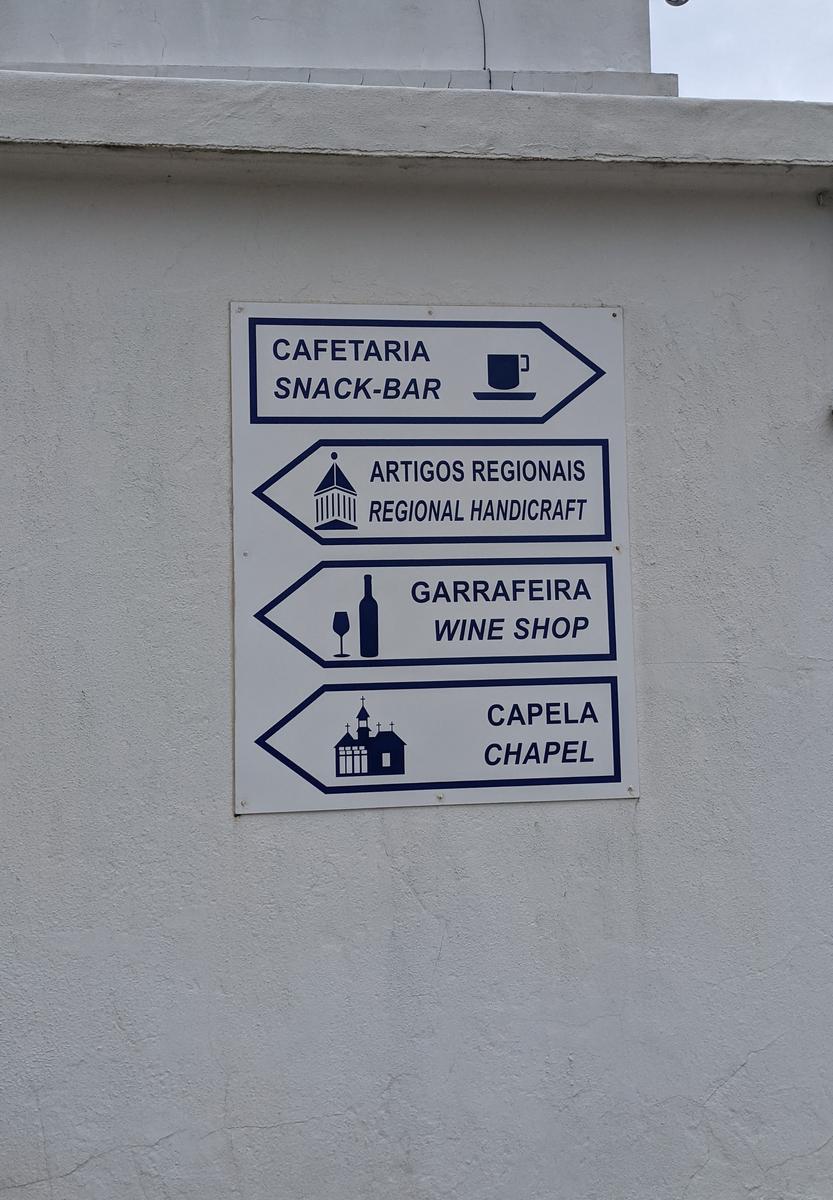 The official Miradouro da Fóia is located on the cliff side in front of that building, not a great view when I was there.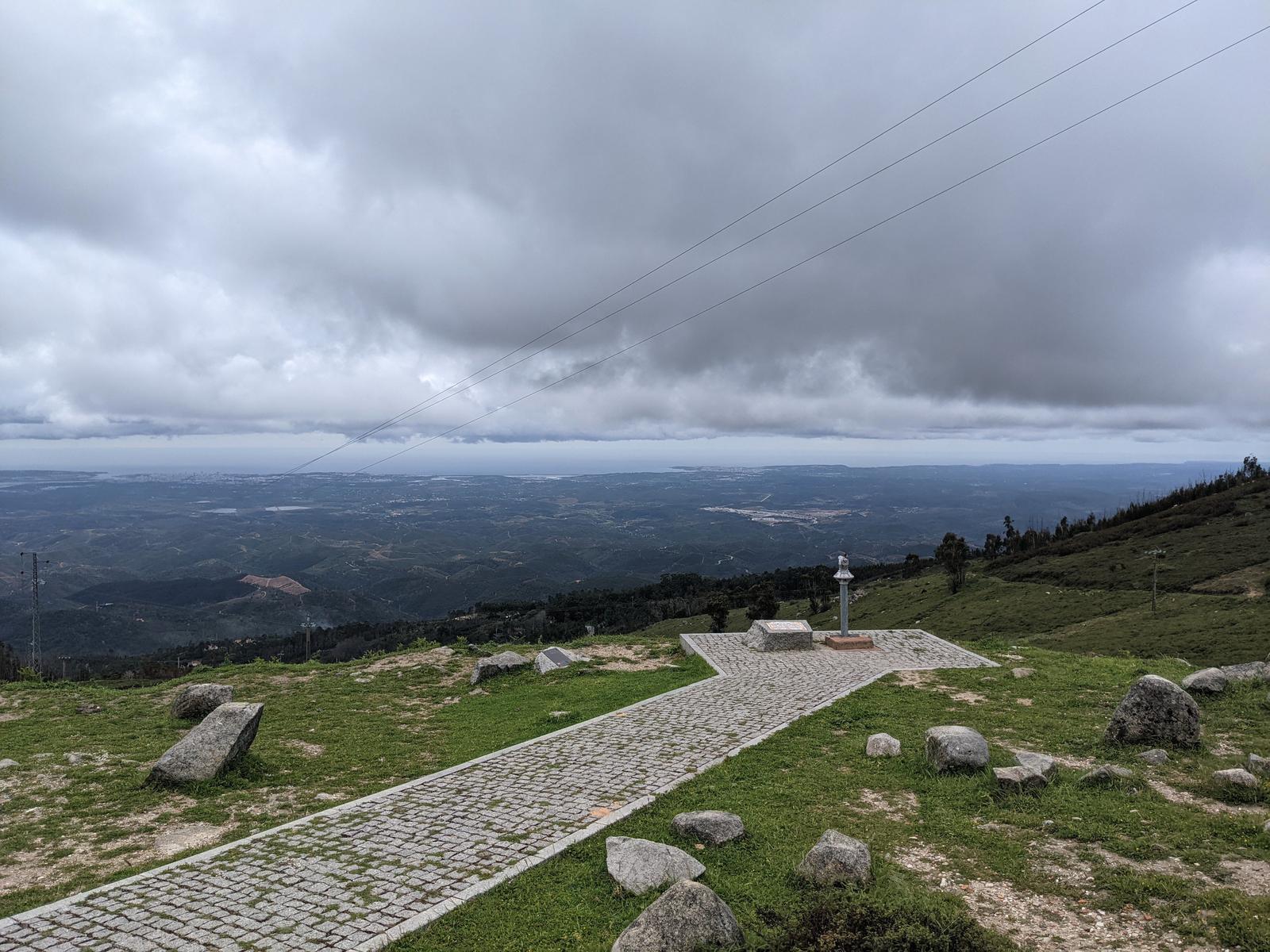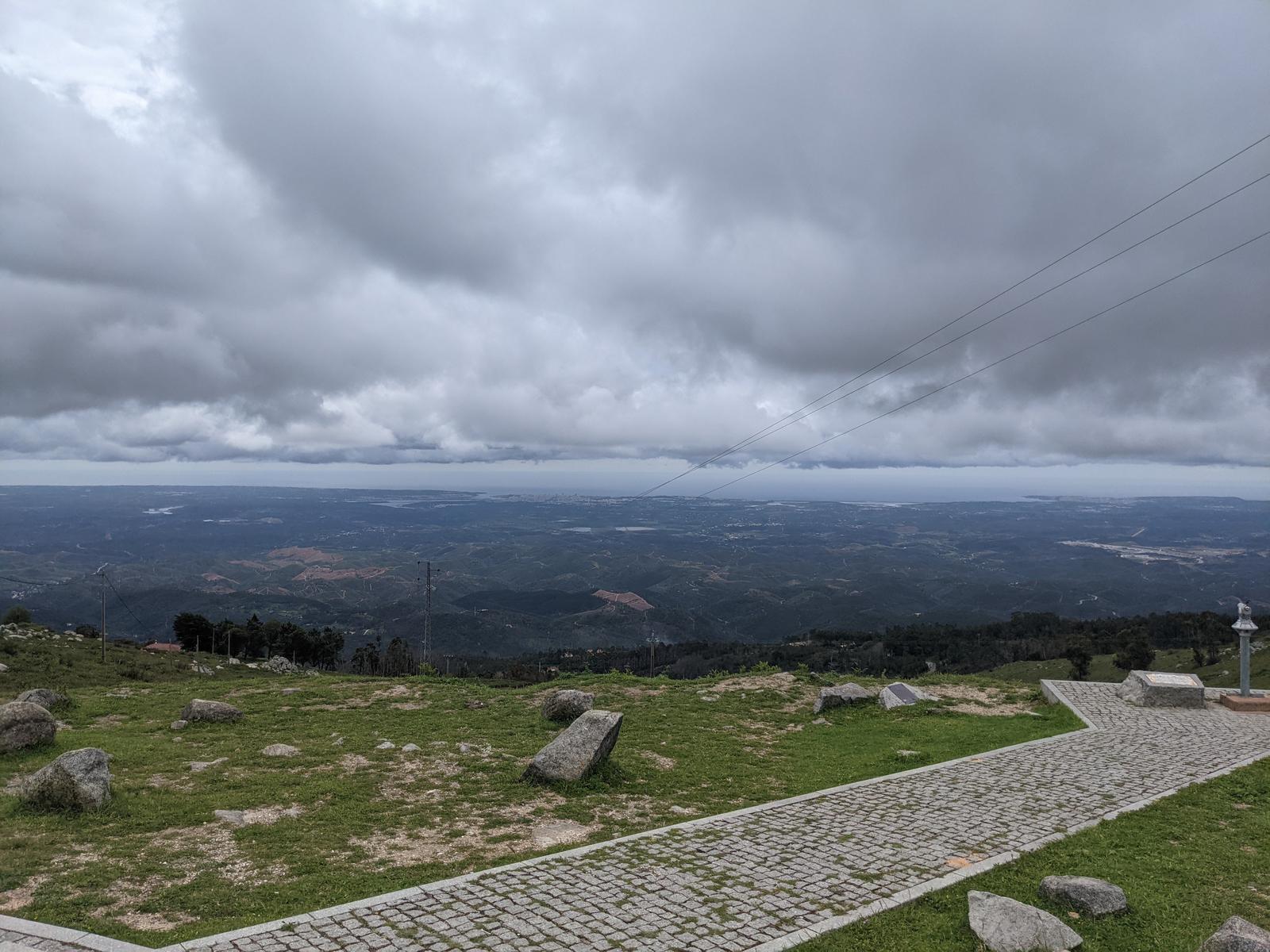 You could definitely drive to Fóia to start a hike (the PR3 or PR5 are easily followed from here), there was loads of parking spaces available when we were there.
---
PR3 Trilho da Fóia:
From the Miradouro da Fóia, I hooked onto PR3 Trilho da Fóia and took that back down to our accommodation. There are signposts near the Miradouro da Fóia and the trail is also marked so it is easy to follow once you are on it.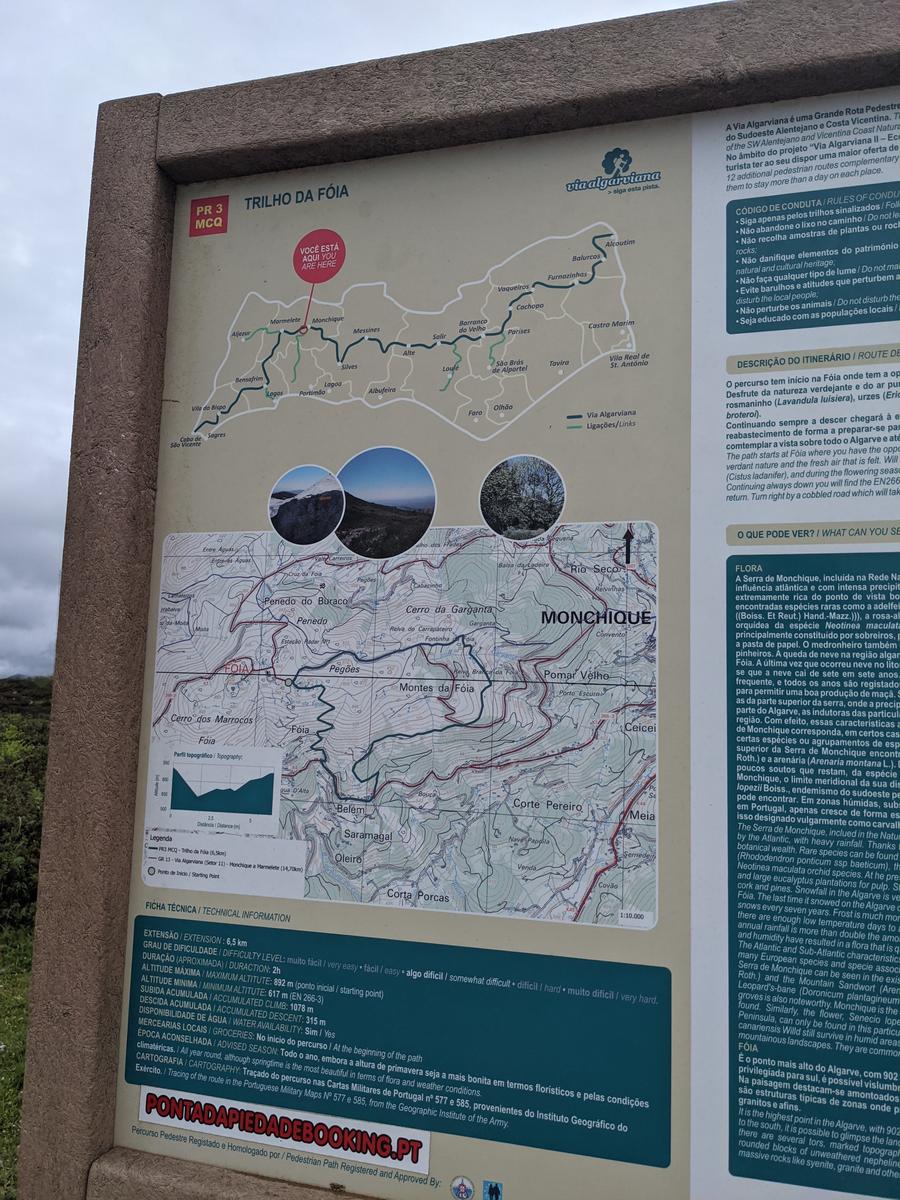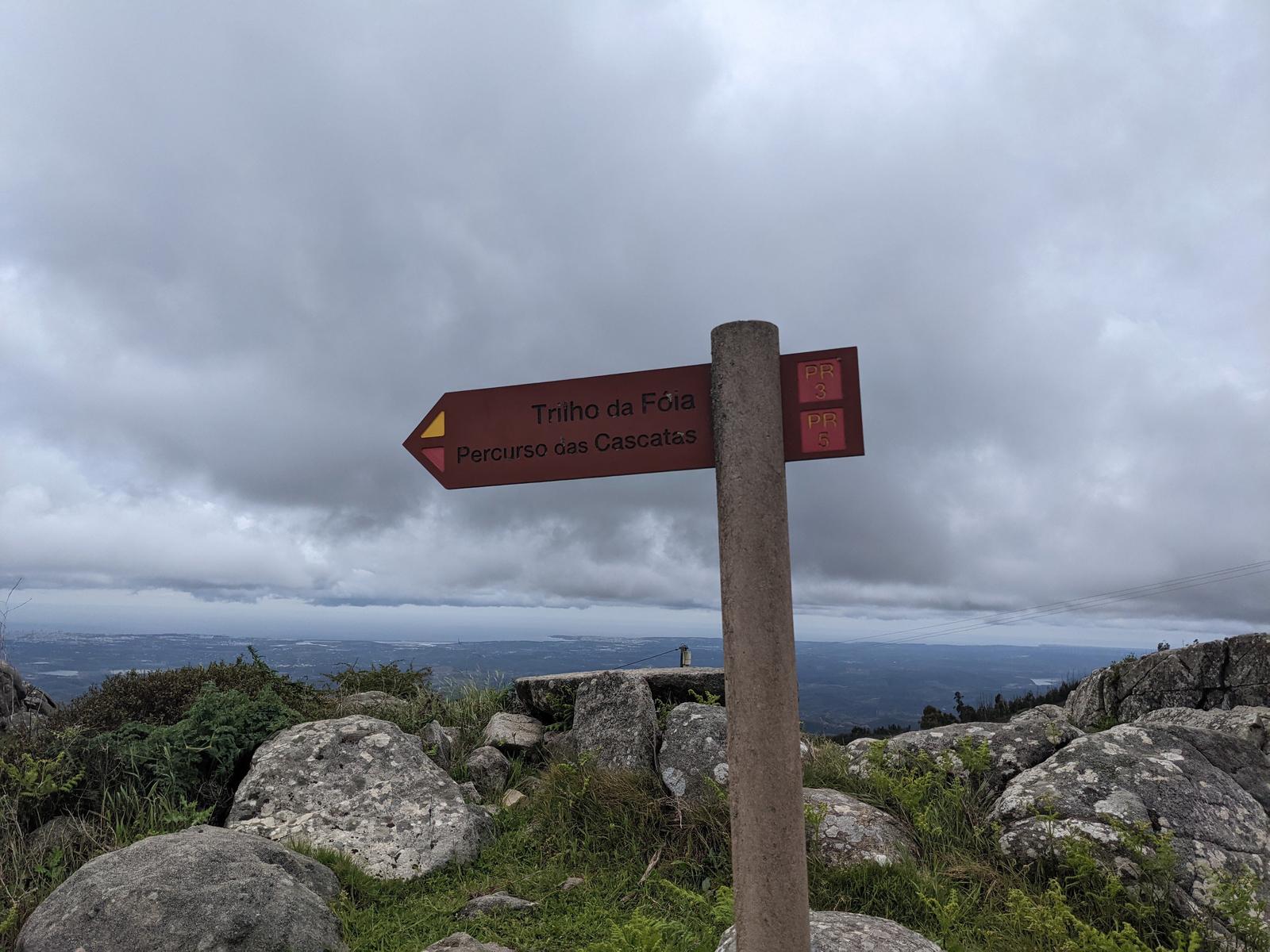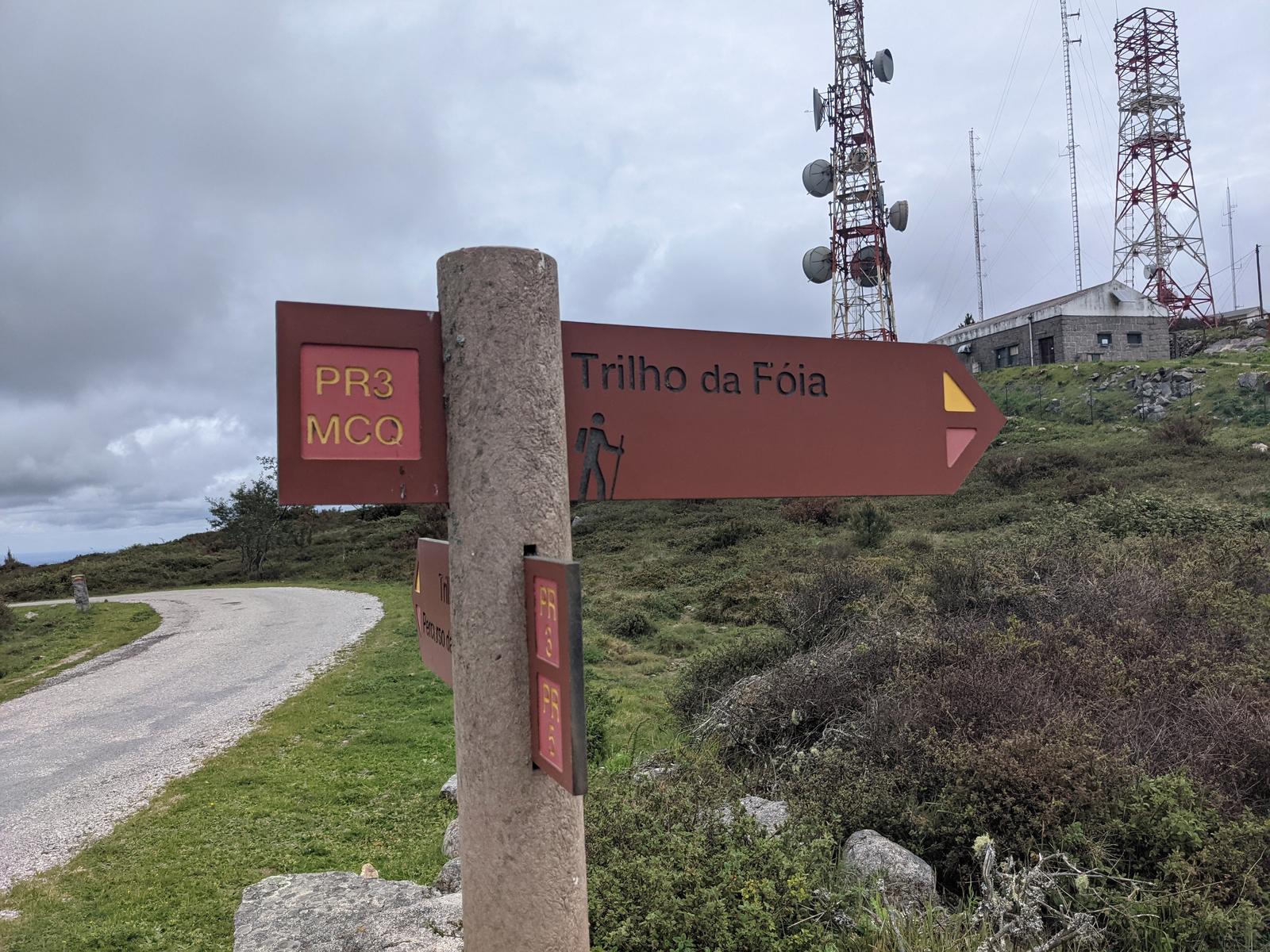 Dirt trail to start and later it was cobbles before you get back onto the road at the end. A really nice, well signposted section of that trail.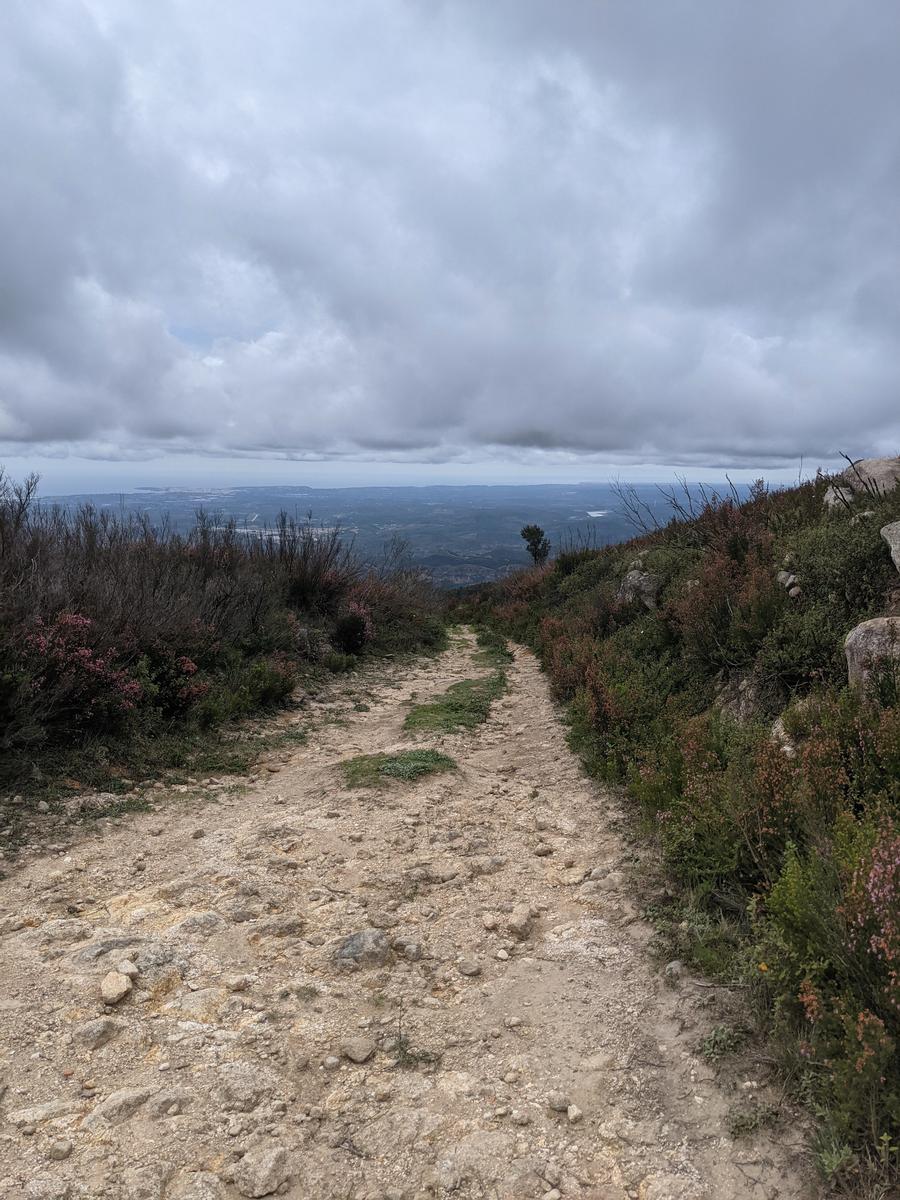 Lovely wild flowers along the trail: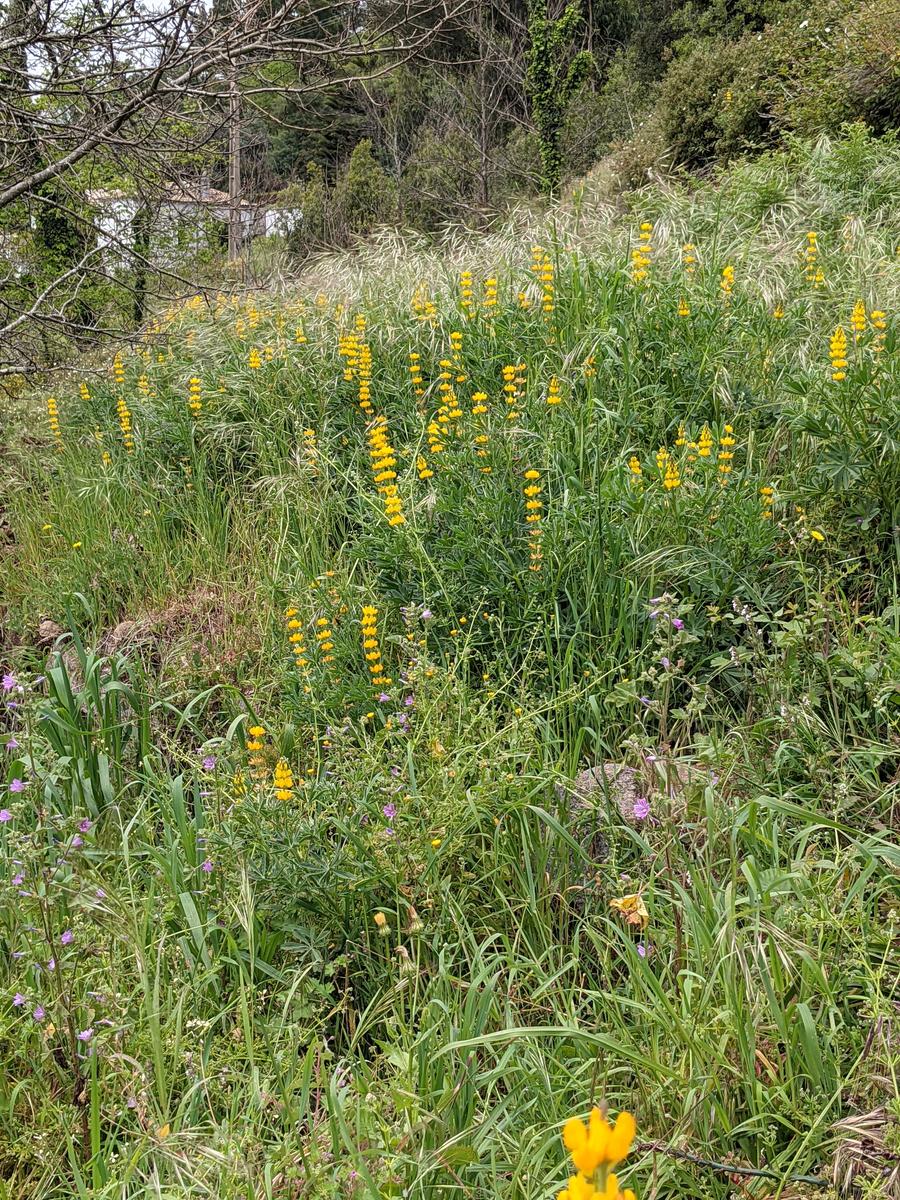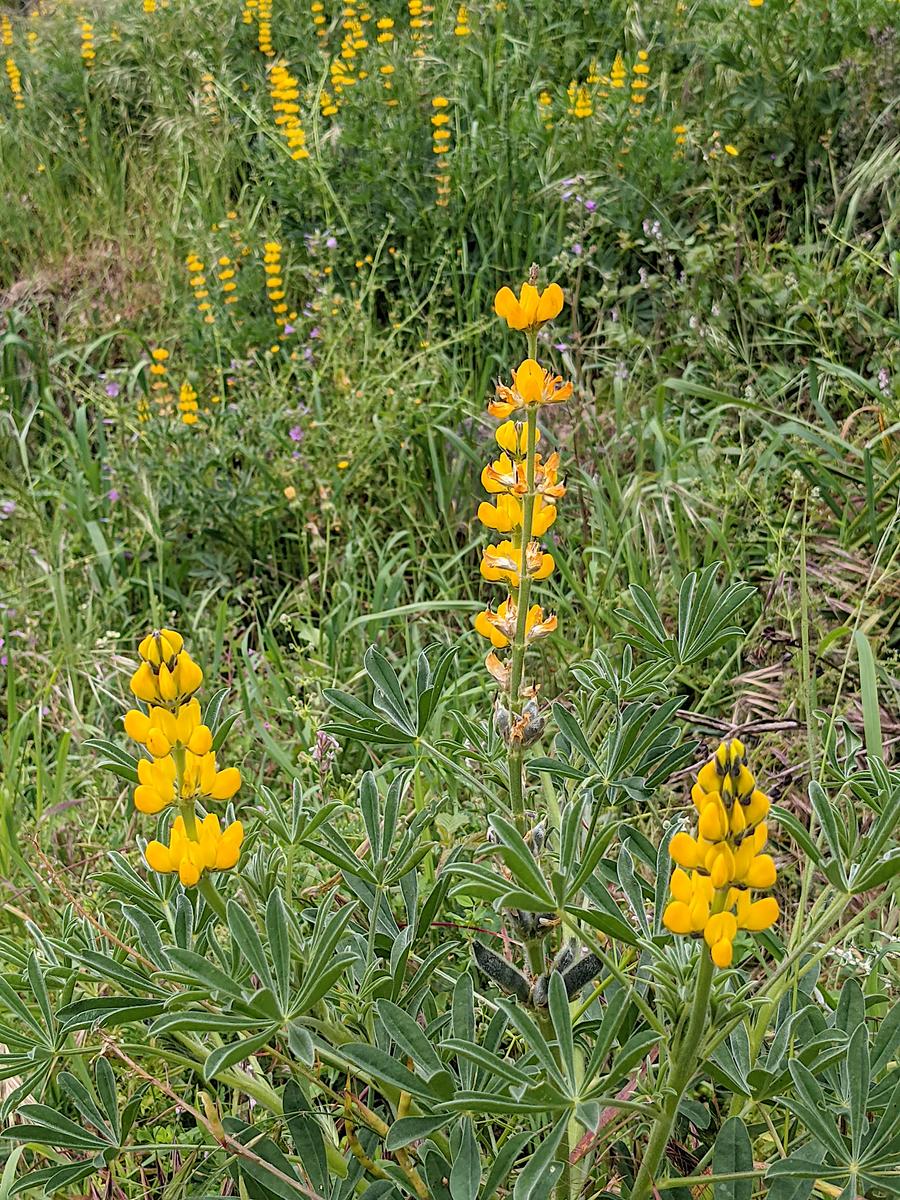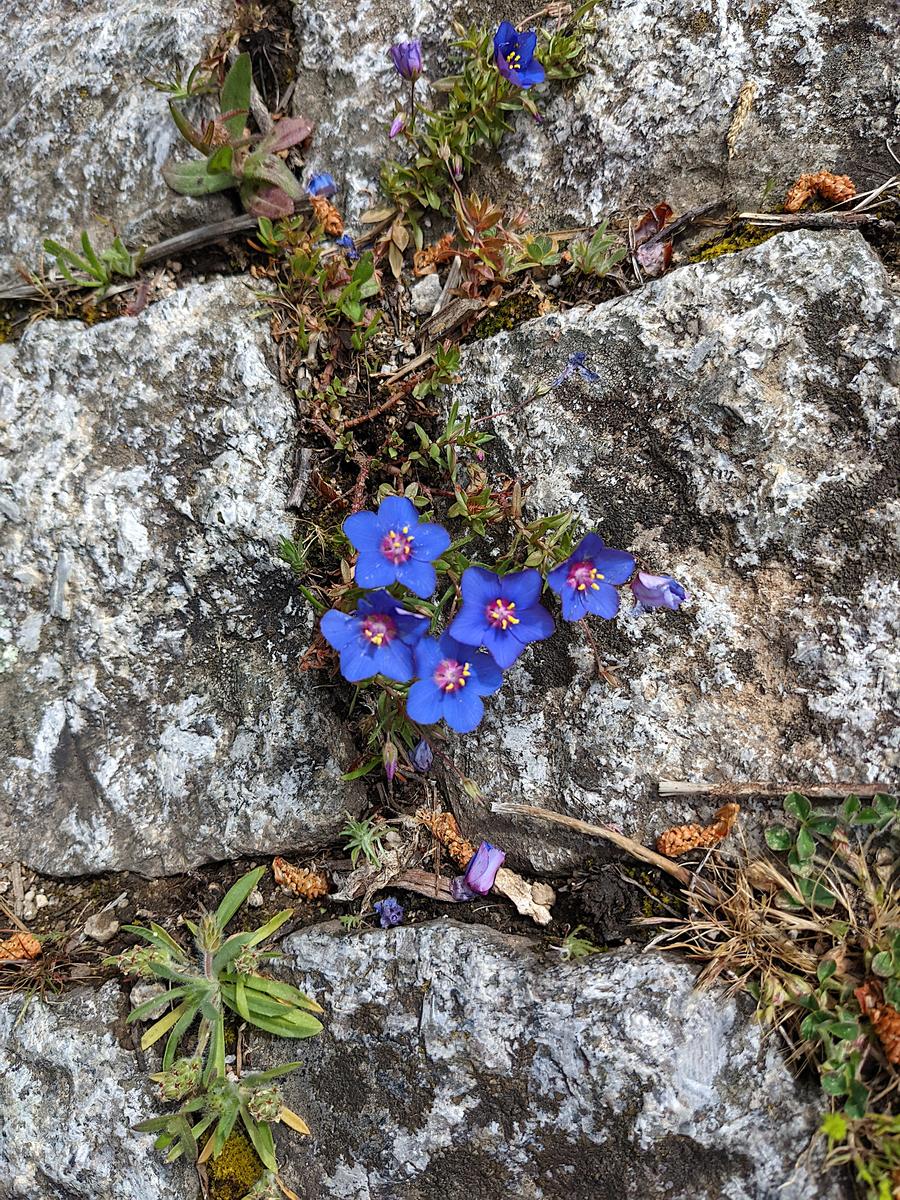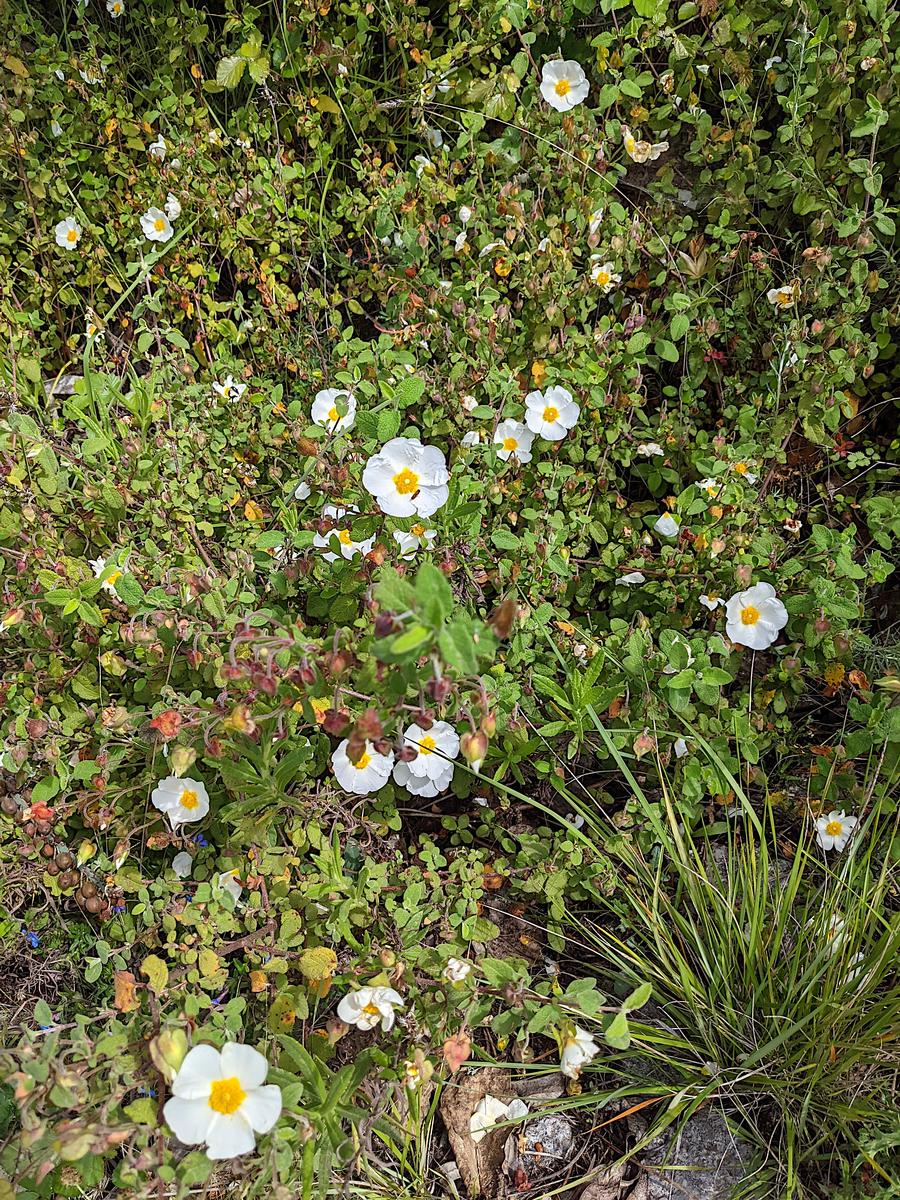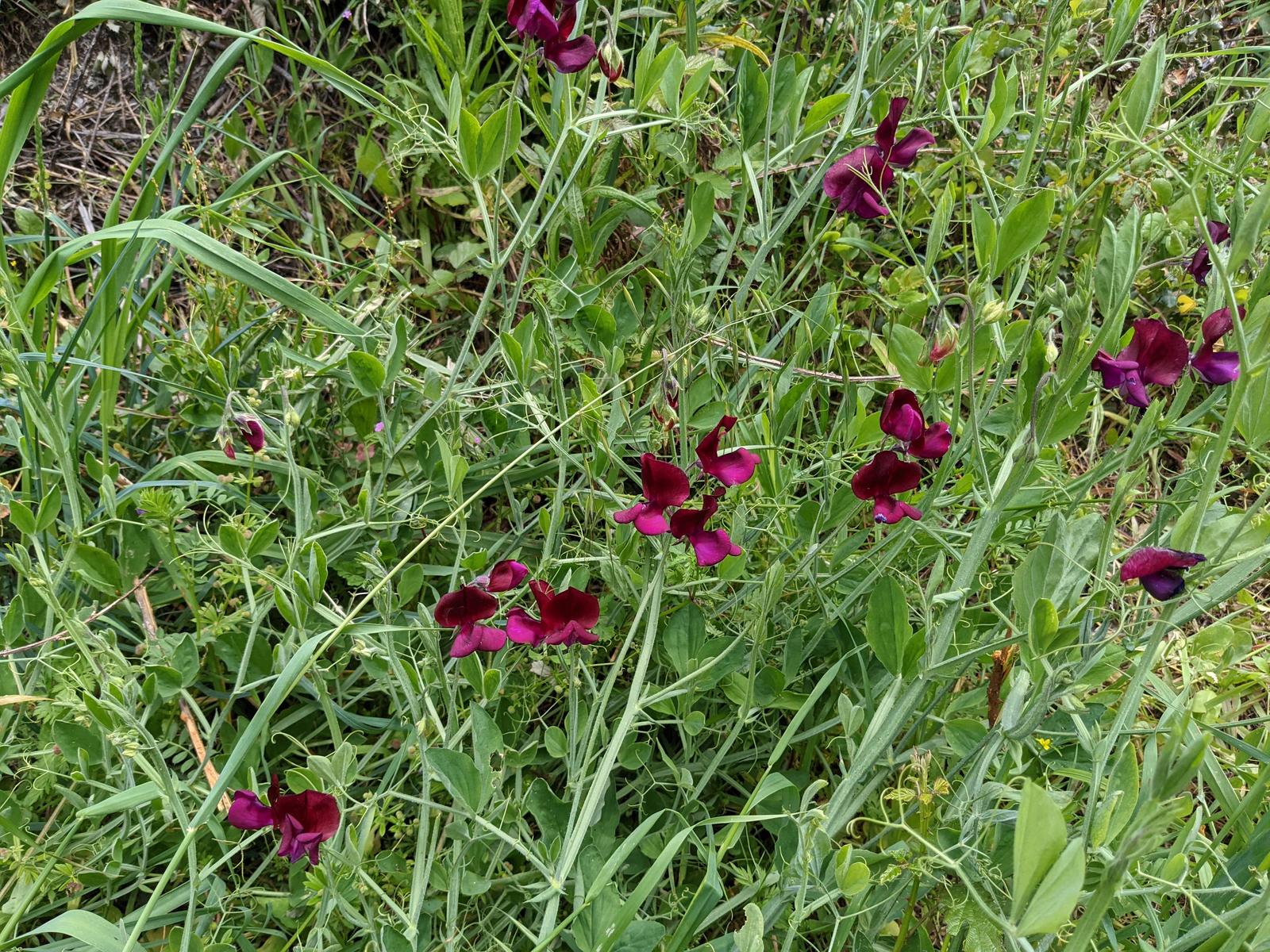 Locals at work: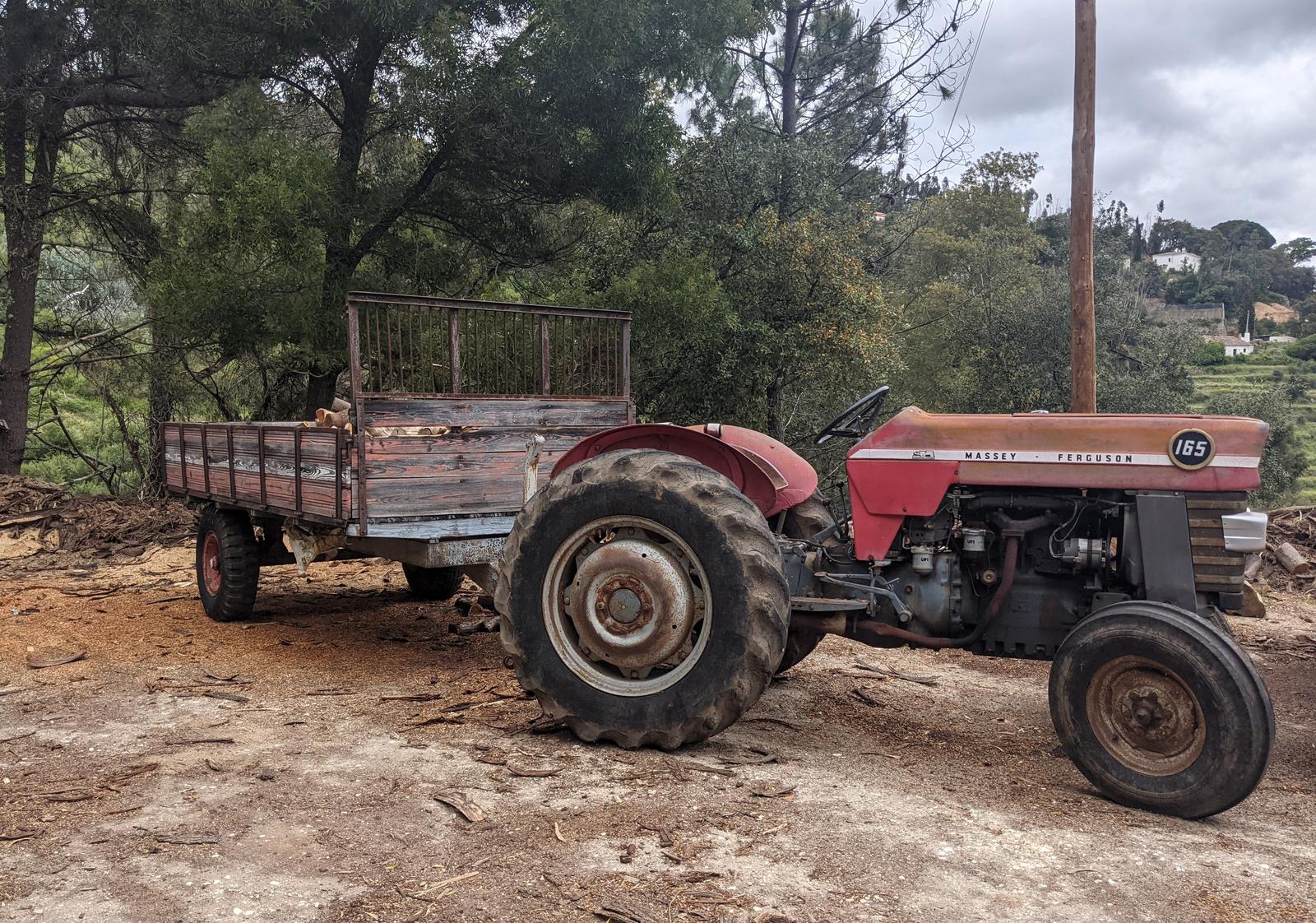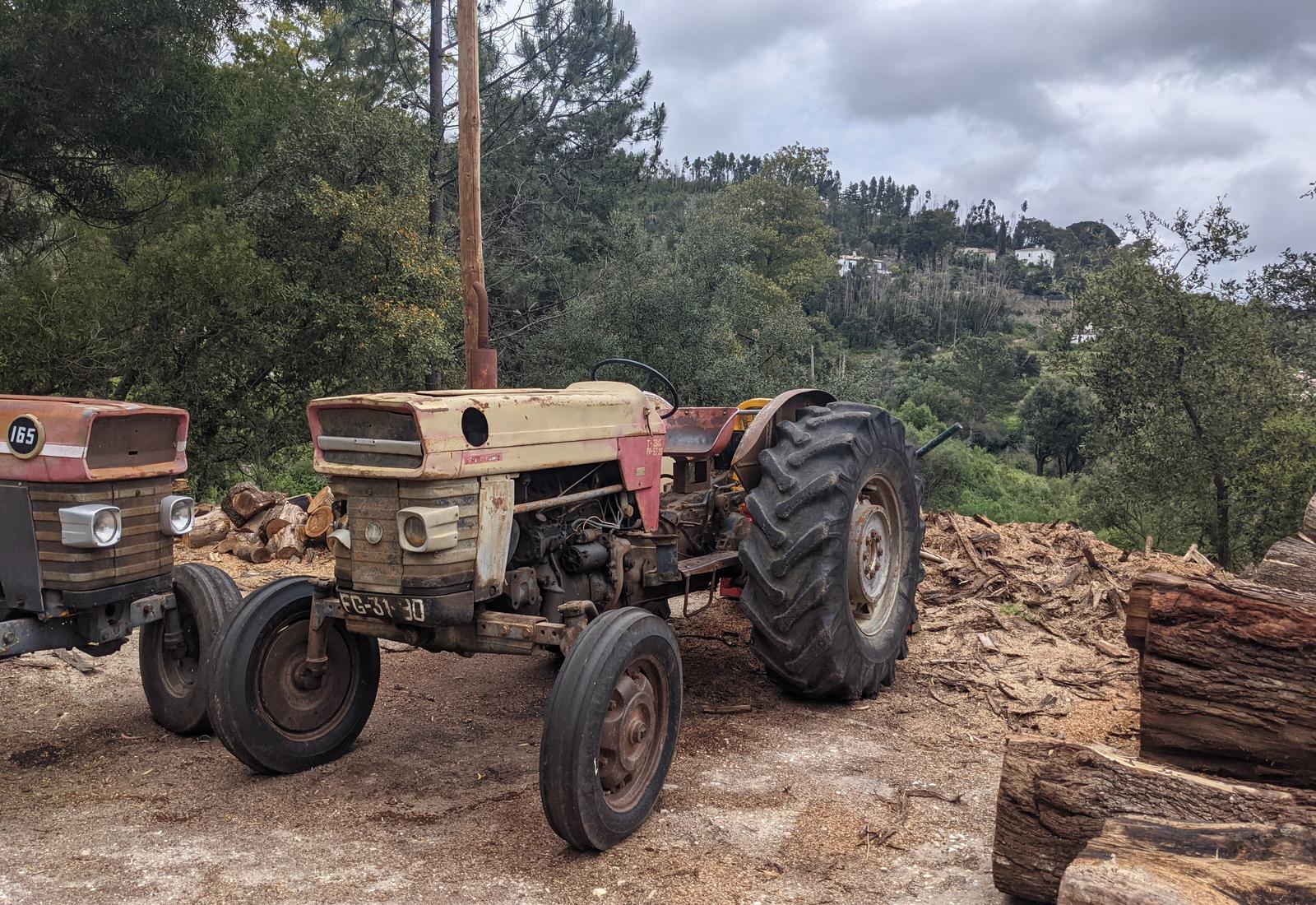 ---
Day 3 - PR5 Percurso das Cascatas:
On day 3 we took the morning off as it was showery and windy. In the afternoon the showers were gone so we hiked up the same part of the PR3 Trilho da Fóia (as shown previously) but then took a right turn at Fóia and followed the PR5 Percurso das Cascatas for a few kms.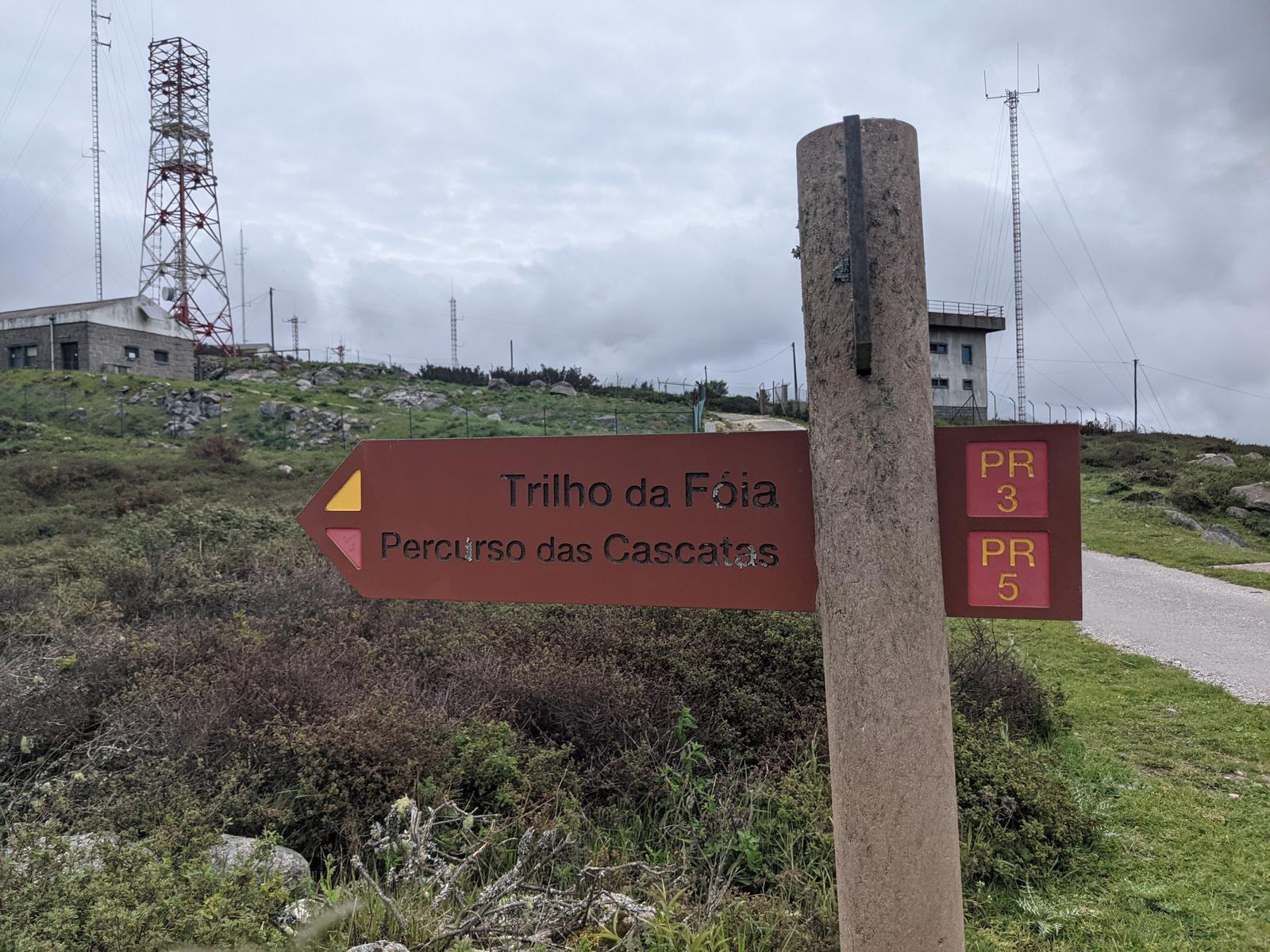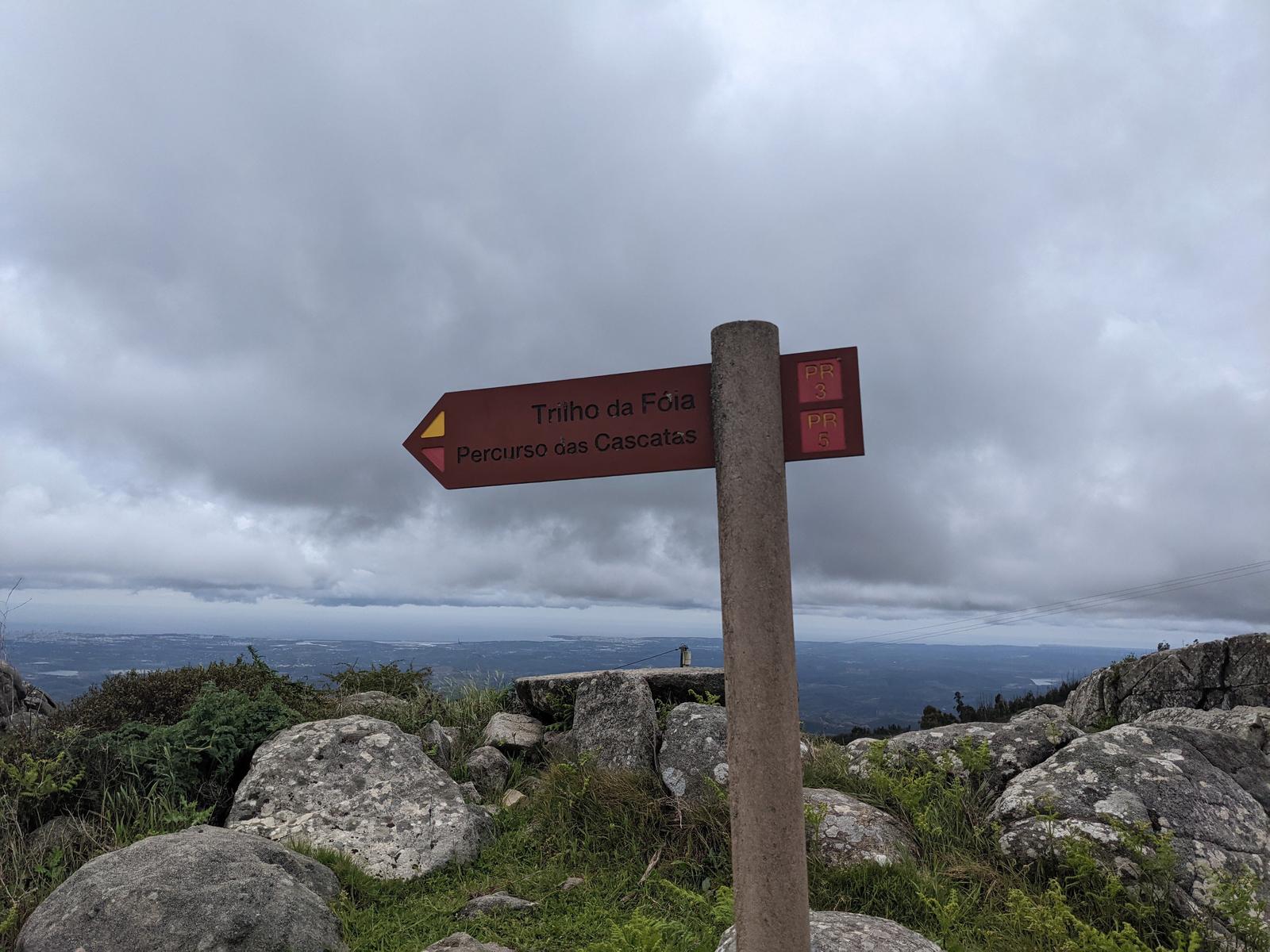 As the weather wasn't great (it was really windy) we only walked part of the trail before turning off towards Monchique: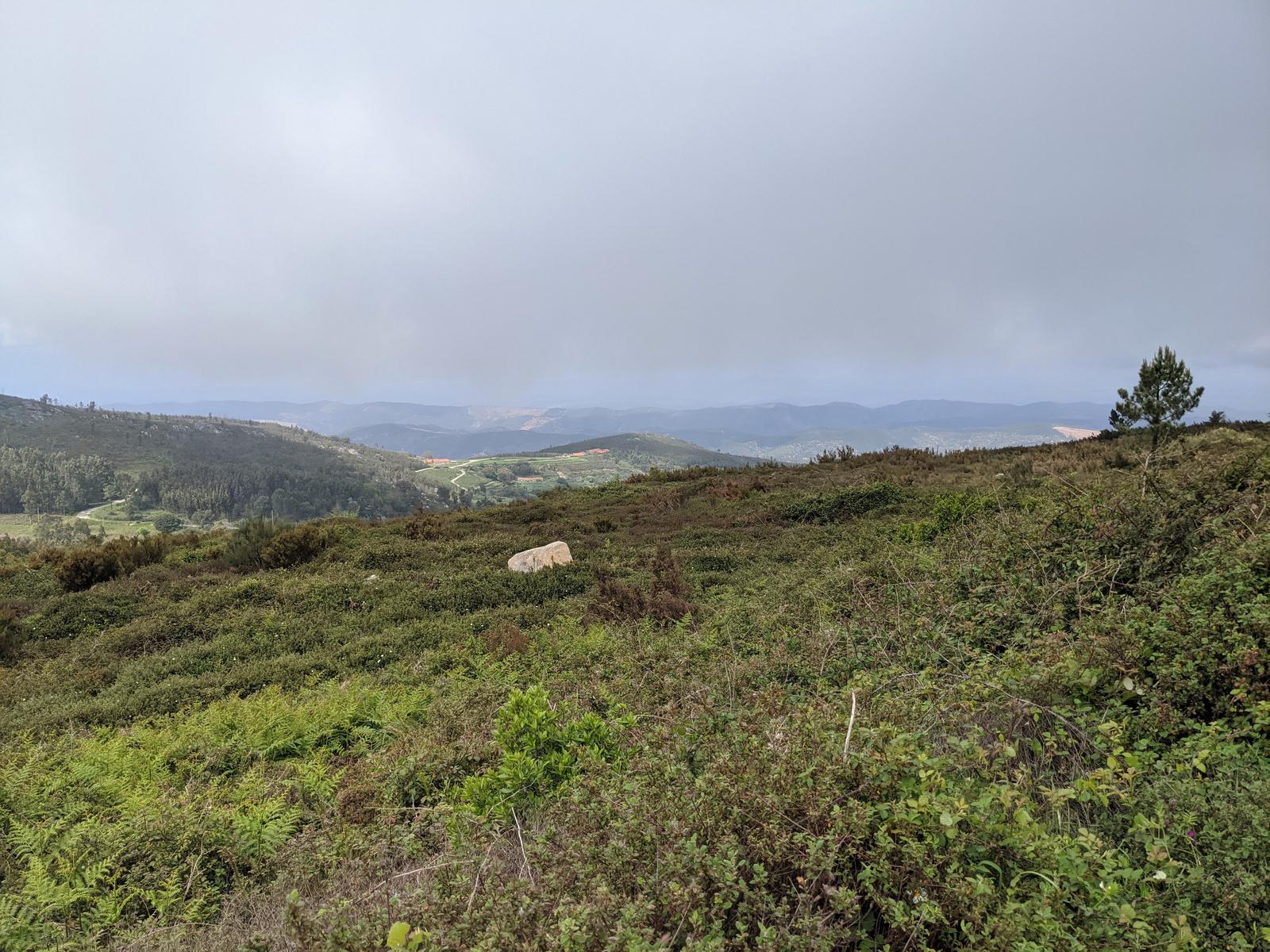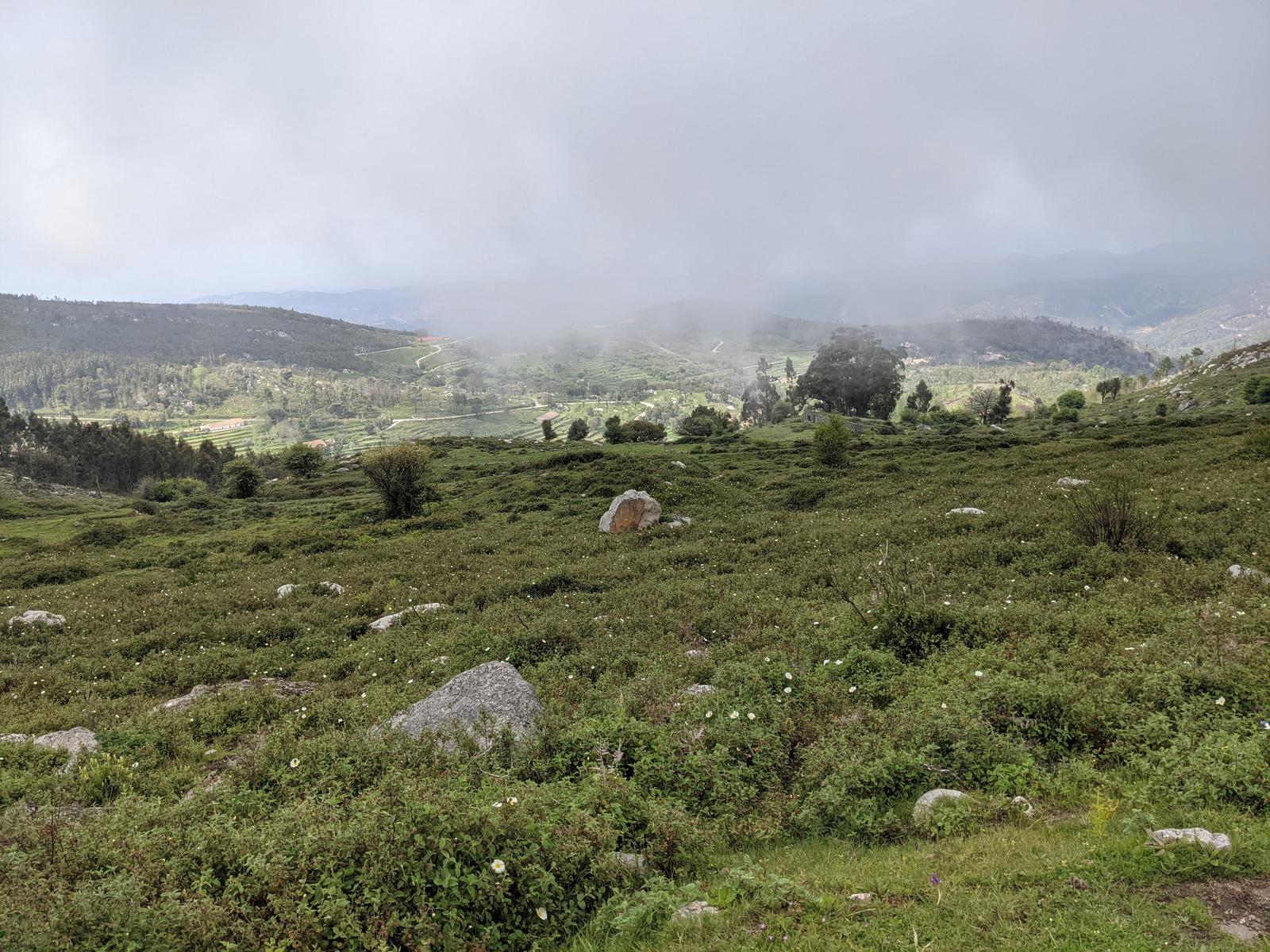 The trail we followed down towards Monchique was really nice (I think it was another section of the PR3 Trilho da Fóia) the sun even came out for a while and it brought us back to the main road close to our accommodation. An easy 8.5km loop on our last day in Monchique.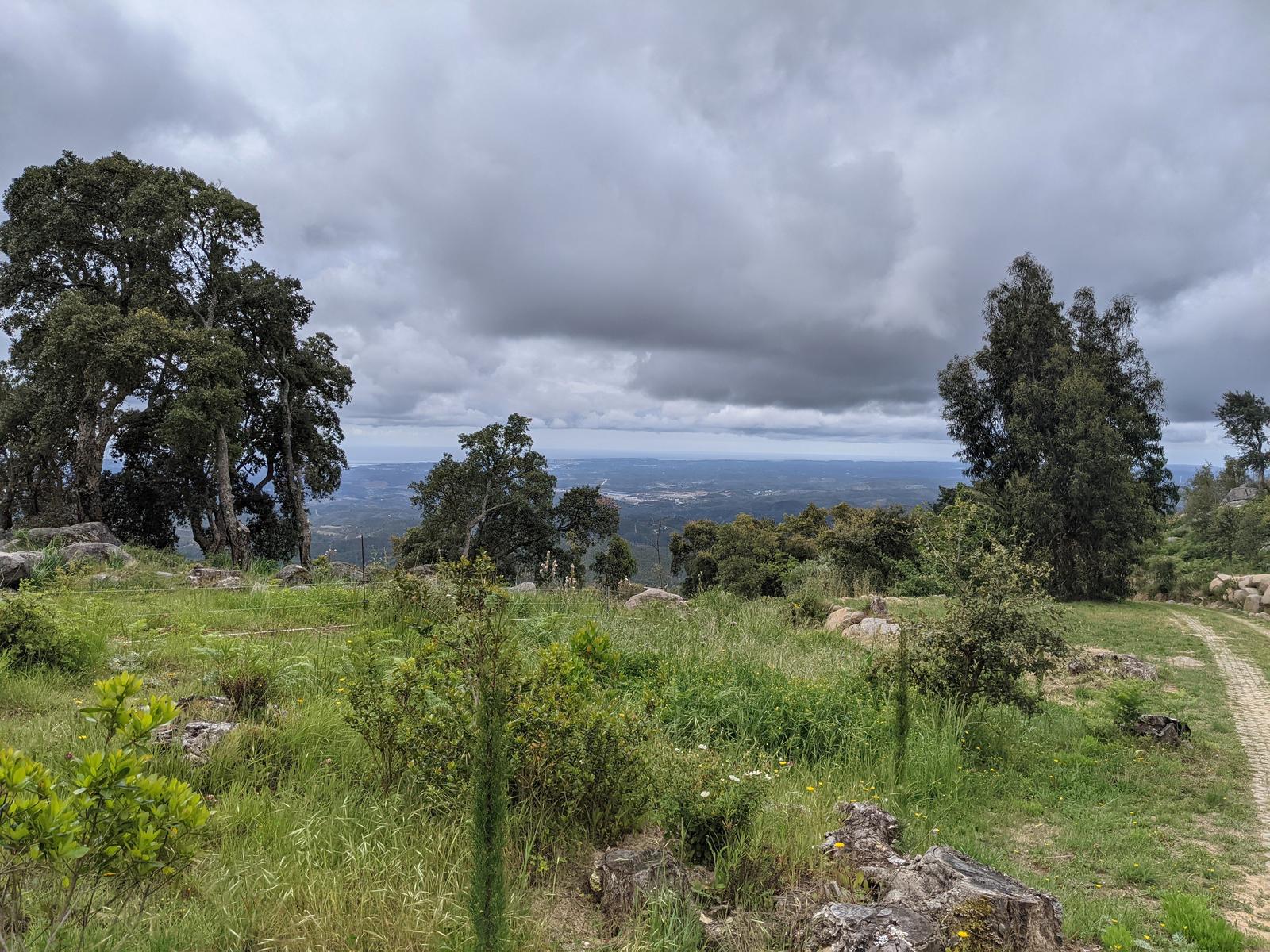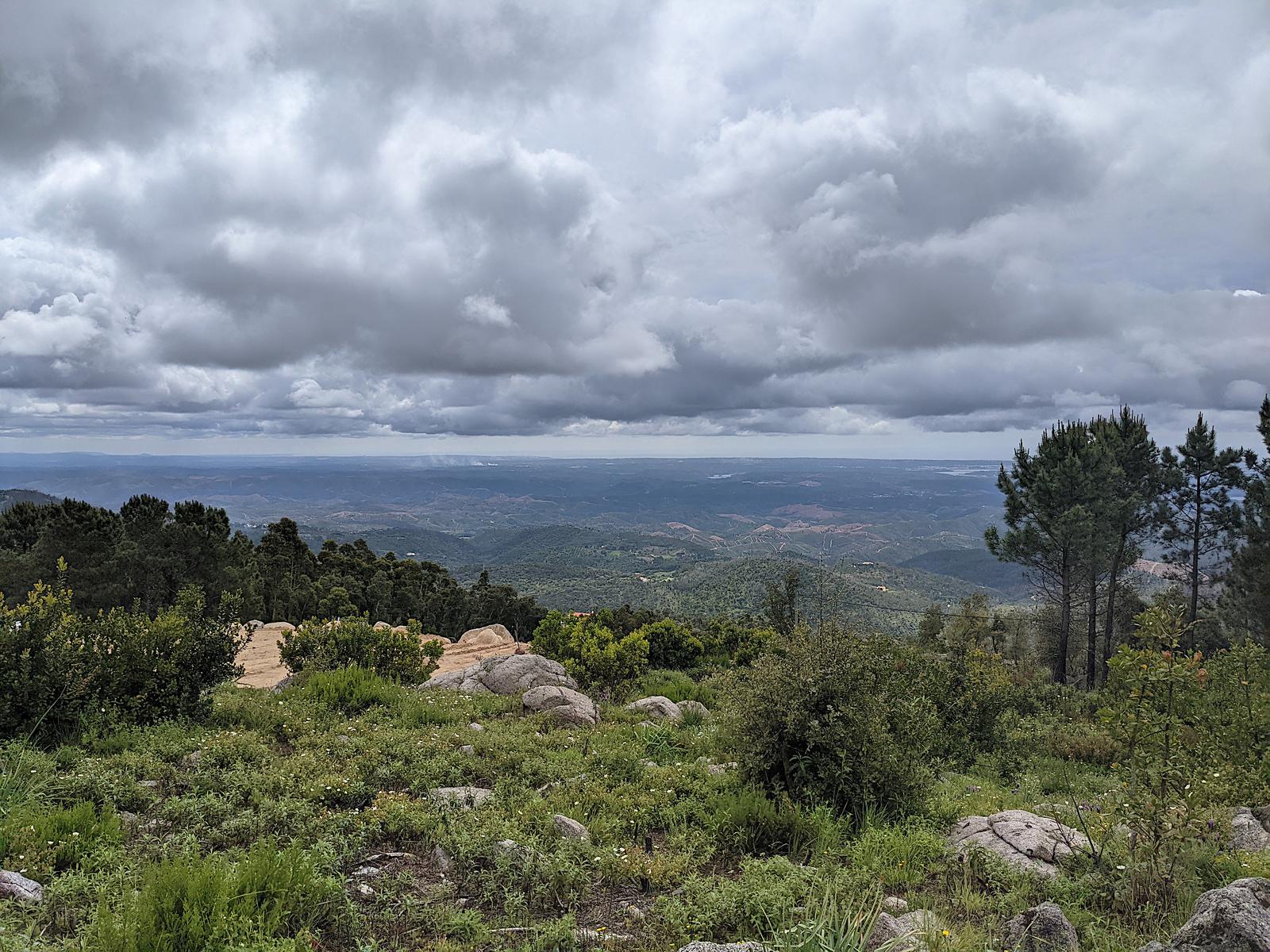 ---
Where We Ate?
We ate lunch out two of the days we were in Monchique and both places were really great.
Luar da Fóia:
We enjoyed an absolutely scrumptious late lunch in Luar da Fóia after our first morning hiking. We were starving and so relieved to get a table as they were very busy. They have a big menu which you can view on their website and in the photo below. The speciality in the area is black pork.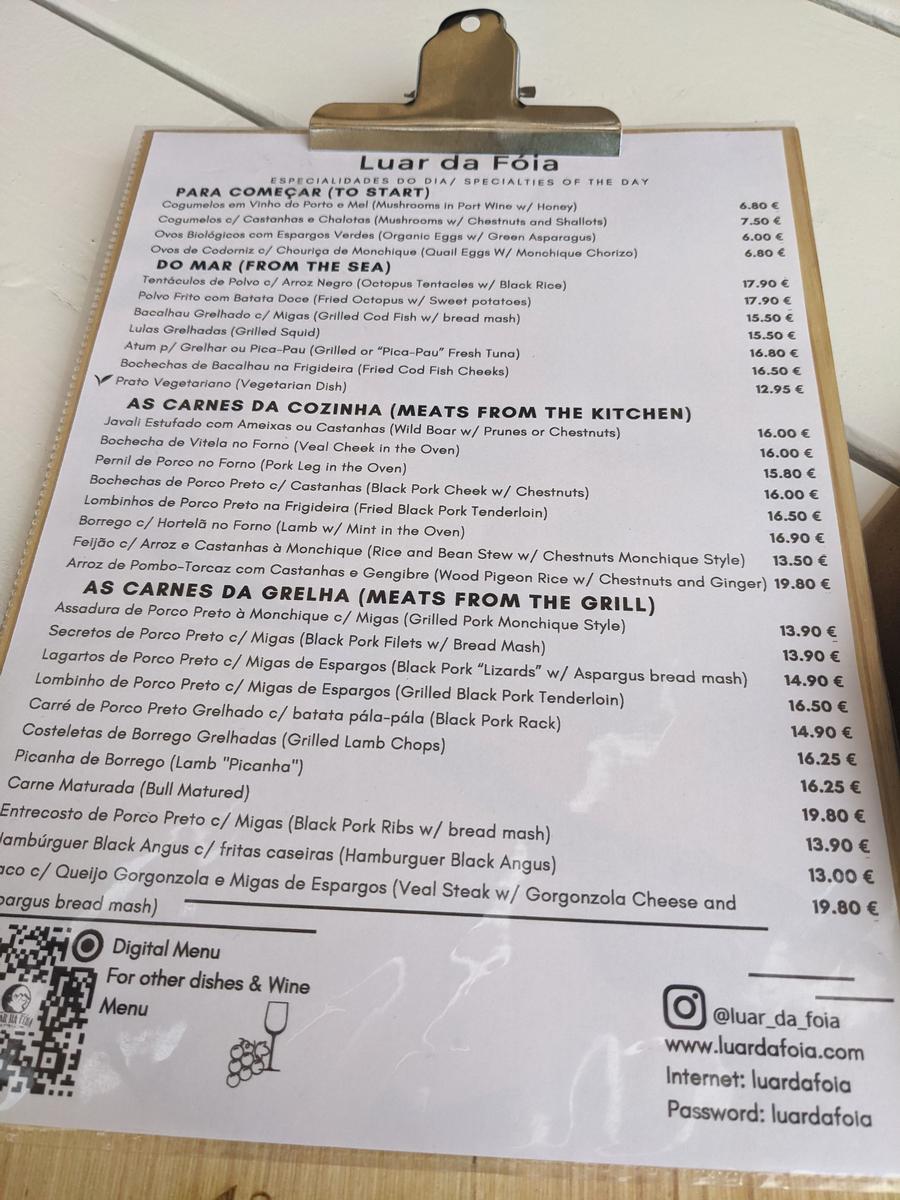 To start we shared the most delicious mushrooms ever, mushrooms in port wine & honey with yummy fresh bread to soak up that incredible sauce, absolutely bursting with flavour, I could eat this every day!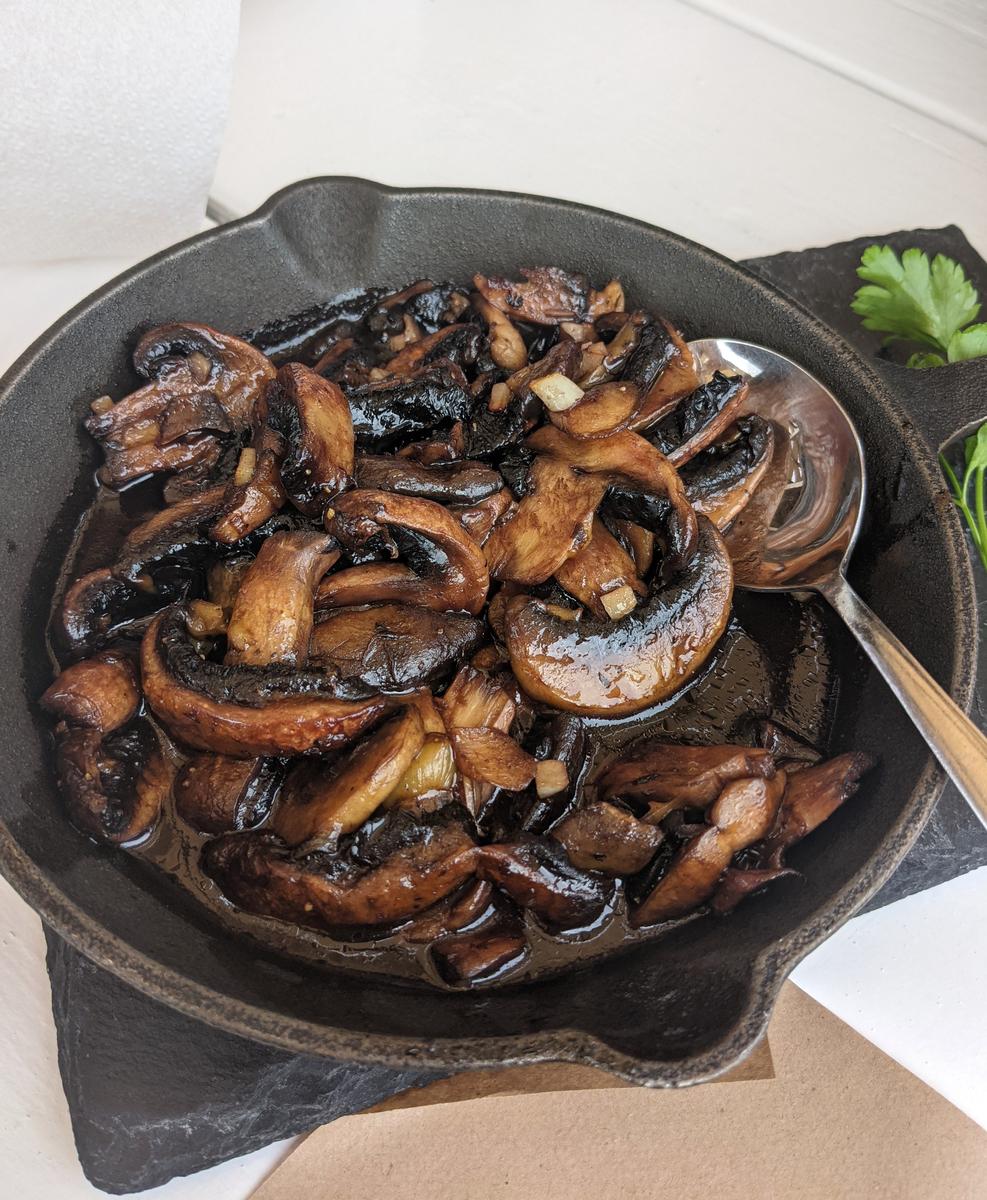 For my main I opted for the daily roast meat dish which was very good and a very large portion as you can see!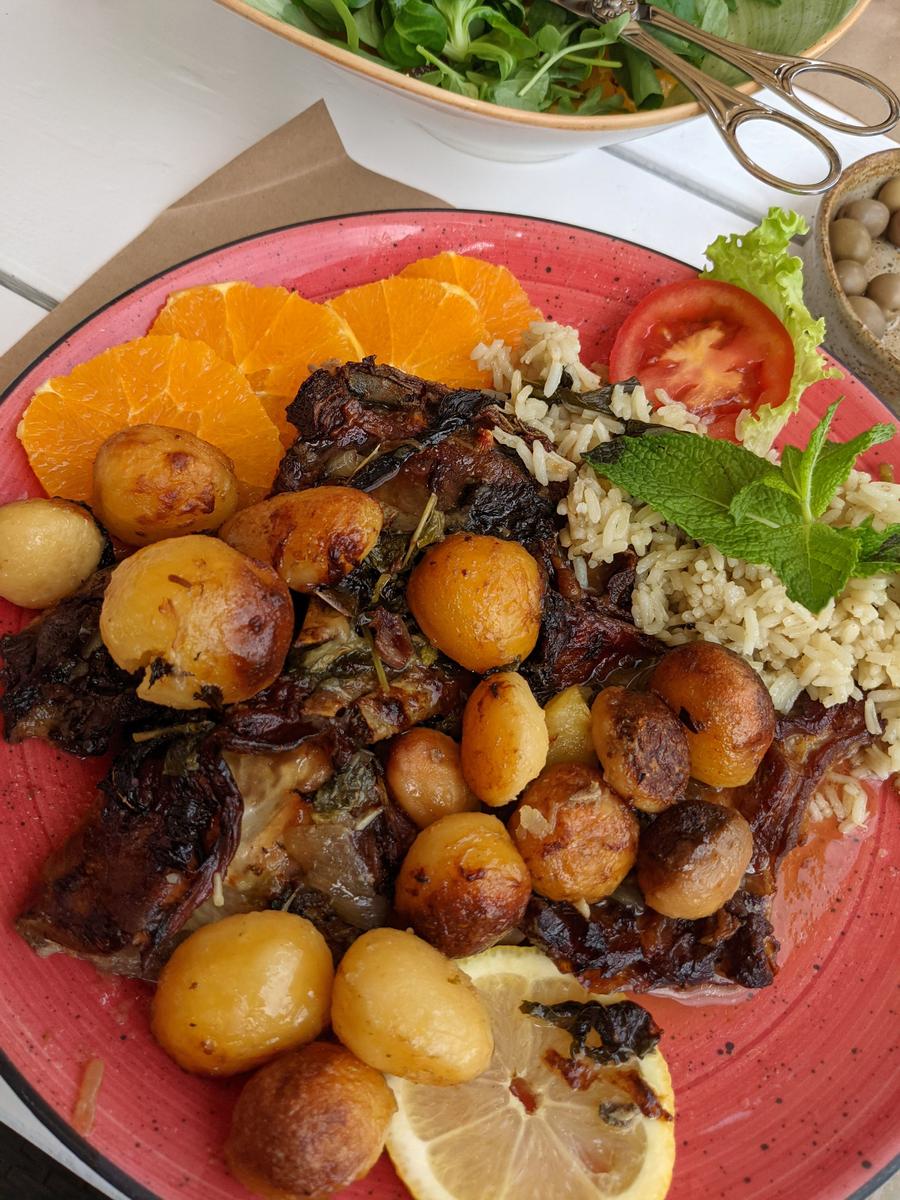 J had the tuna steak and he really enjoyed it, another decent portion for him too!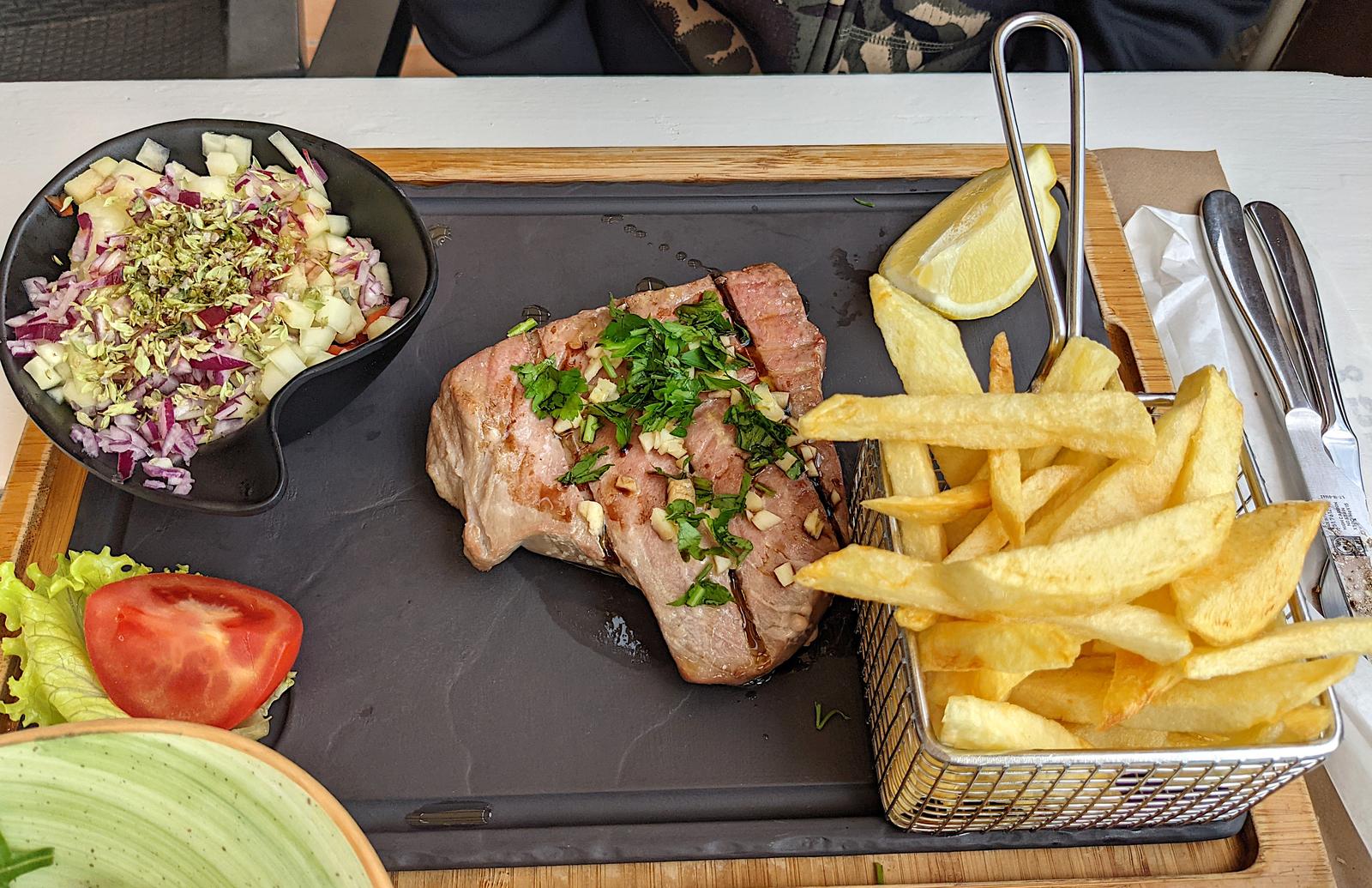 Green salad: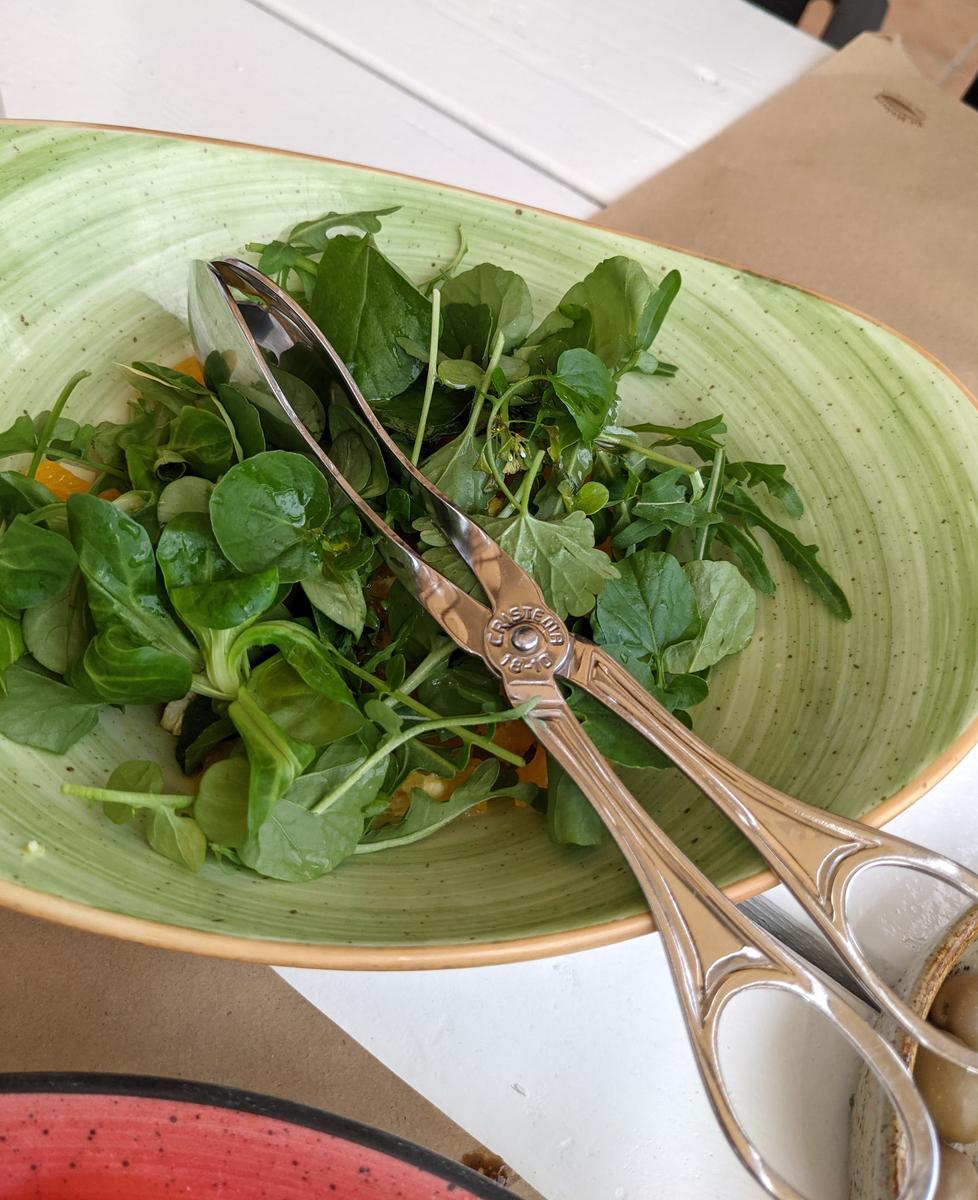 The staff were very nice and friendly and we loved our table on their outdoor terrace which has a superb view. We were too full to have dessert so we just had coffees. We will definitely return here the next time we are in Monchique, I need more of those mushrooms!
---
Jardim das Oliveiras:
We received a very warm welcome the moment we pulled into the car park at Jardim das Oliveiras. The sun was shining and they have the perfect terraced area to relax and dine in.
They brought us their menu as shown below, an ideal way to view it during Covid-19 times. The owner also explained some of their speciality dishes and their dishes of the day.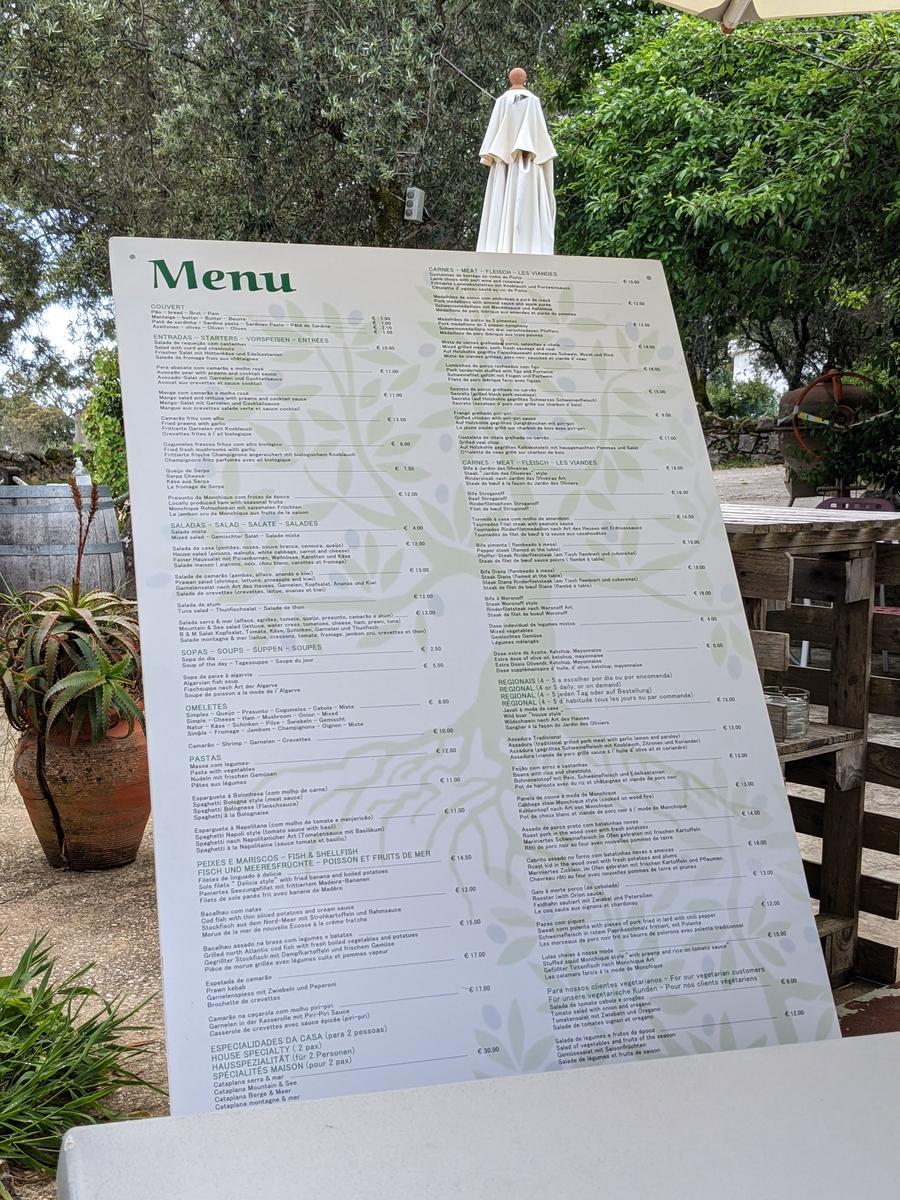 We had mushrooms with fresh bread to start. This time the mushrooms were fried with garlic and went down a treat.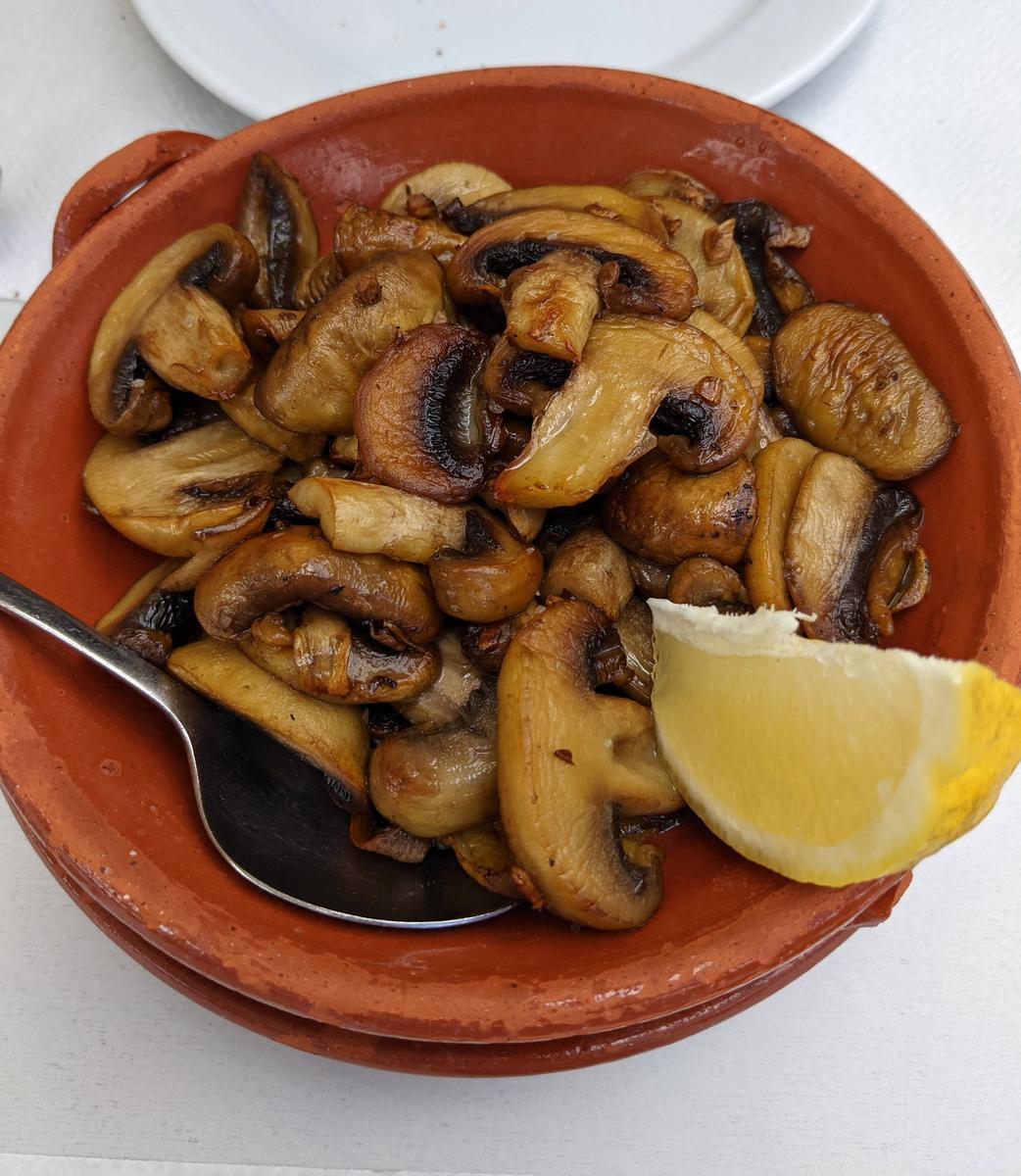 For my main I had one of their dishes of the day which was squid stuffed with rice and shrimp and I loved it. J had a cod dish which I never got a photo of but he quickly devoured.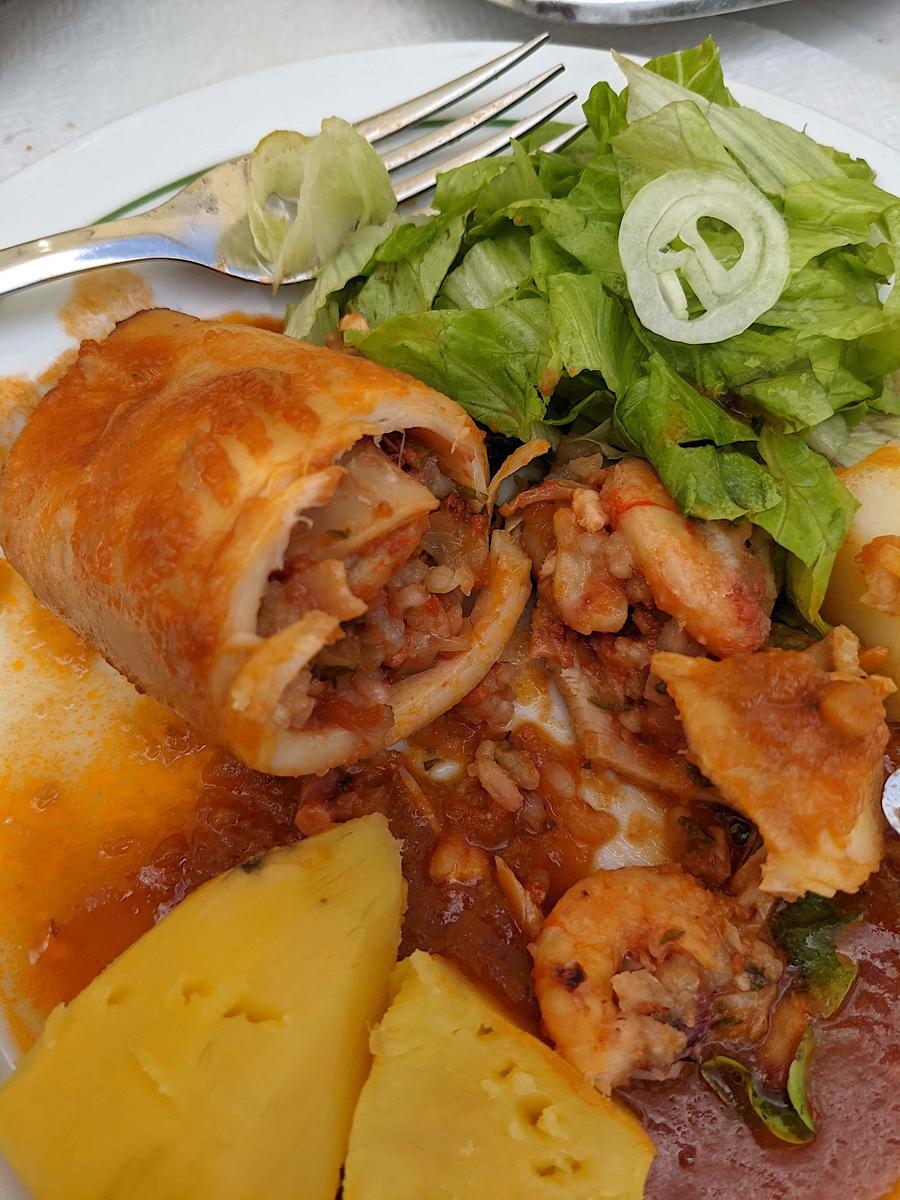 Again we were too full for desserts so just coffees to finish off another great meal. If you have children this would be a great place to dine as they have swings, a slide and a play area for children just off the outdoor dining terrace area. There is a large parking area also.
---
Time To Go!
After four nights it was time to say goodbye to the wonderful trails of Monchique and Fóia. We didn't really explore the town of Monchique (besides visiting the very well stocked Intermarché Monchique) on this trip as due to Covid-19 we are still trying to somewhat limit our interactions with others but I have no doubt that we will return to Monchique again and we can look forward to seeing more of the town when we do.
On our way down from the mountains we passed this lovely view before leaving the area behind and joining the motorway - until next time!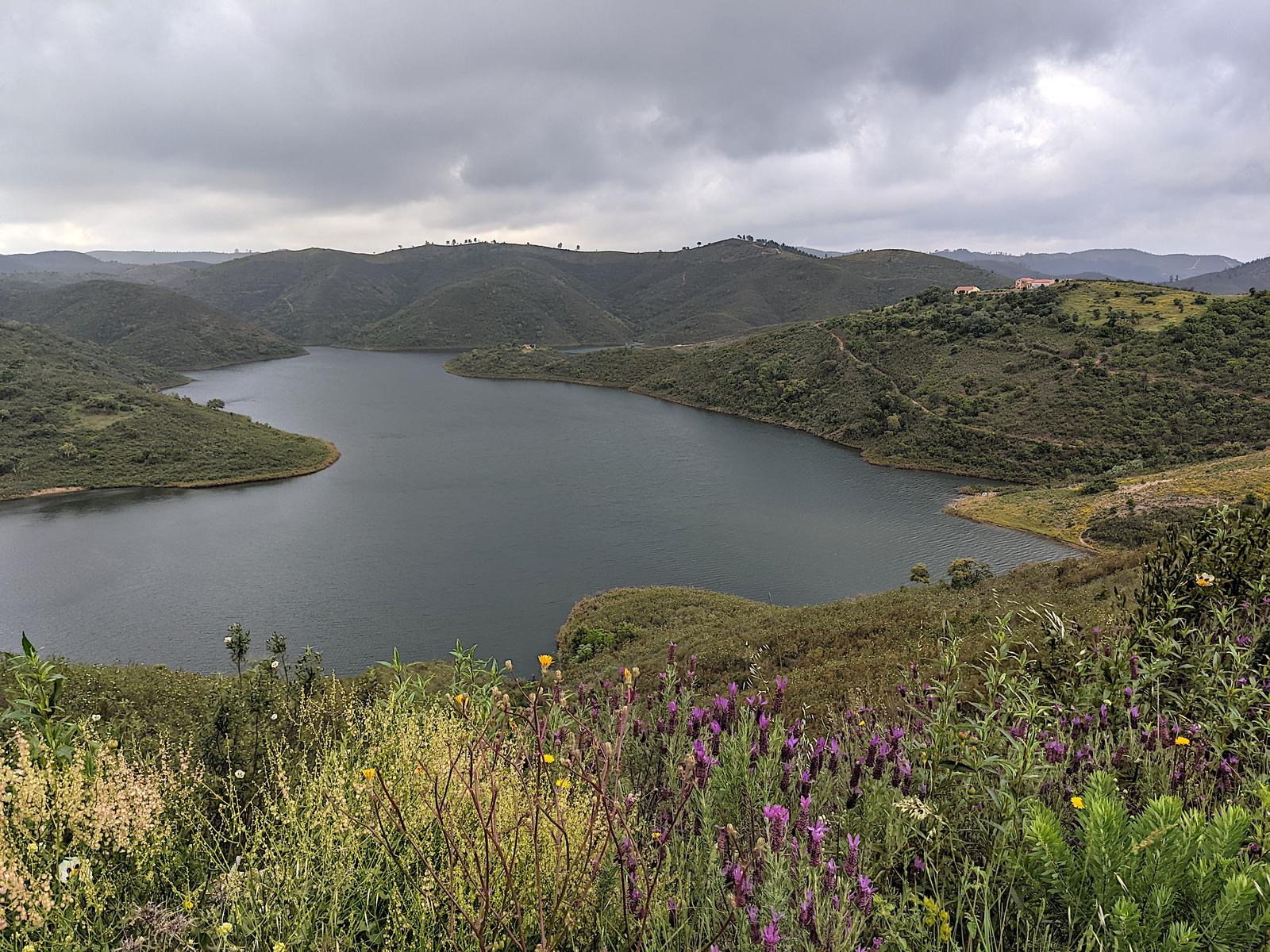 ---
If you've any questions, suggestions or just want to say hello, contact me via the Contact Form, Instagram (@noroadlongenough) or By Email noroadlongenough1@gmail.com