Where is Lucca?
Lucca is a truly charming city, located on the Serchio river in the Tuscany region of Italy. Lucca (old city area) is completely surrounded by a circular Renaissance defence wall. Access to the area of the city within the wall is via gates located at different points around the wall. While originally there were only three gates into the city, there are now six, extra gates were added to deal with the expansion of the city. You can read more about Lucca's wall and gates here and here.
So, of course we too entered the older part of the city via one of these gates, but we were on our bicycles (bike tour 2018)! We entered via the Gate Sant'Anna/Vittorio Emanuele and in doing so we swapped smooth tarmac for cobbles and said goodbye to the majority of motor vehicles (restricted access of motor vehicles within the walls). I could feel my excitement growing and couldn't wait to start exploring!
Note: Due to it's location, Lucca is a great place from which to do a day trip to Pisa and/or Florence. There are regular direct trains from Lucca to both cities. We did visit Pisa from Lucca and you can read more about our experience here.
---
Four Top Things To Do in Lucca!
1. Eat some Delicious Socca/Farinata!
Socca/Farinata is a savoury flatbread made with chickpea flour. It had to be the top of this list at it was pretty much the first thing we did when we got into Lucca. We were two starving cyclists waiting to check into our Airbnb when we smelled something delicious… a few minutes later we were happily eating socca in the sunshine.
We got ours in Itaco Pizza Restaurant that first day… and the next day! We also had a yummy slice of the "La Cecina" pizza from Pizzeria da Felice. The base of this particular pizza is made using chickpea flour (so it has a socca/farinata type base). A super popular pizza place, they of course sell traditional style pizzas too and as they sell by the slice you can try different ones.
---
2. Run, Walk or Cycle the Circumference of the City's Old Renaissance Wall.
Running, walking or cycling along the top of the 16th and 17th Century ramparts of Lucca's famous defence wall is not only an excellent way of getting an overall panoramic view of Lucca, but you can burn some calories and enjoy some more socca afterwards! It is a very popular free (if you go by foot and not bike rental) activity in Lucca and always busy. A full loop of the wall is approximately 4.7kms. There are some great photo opportunities along the way and you get to see the old inner city Lucca (inside the wall) and the newer modern Lucca (outside the wall).
"From an architectural point of view, the walls are made up of twelve embankment curtains, which join together eleven ramparts, with brick facing, twelve meters high and thirty wide at the base."
We ran around the city walls early every morning of our stay and it was gorgeous. We also walked the walls during our days exploring Lucca so we got to see it at different times of the day. For much of the walk along the wall you are shaded by trees which is delightful on the hot days. There are some recreational areas along the way, playgrounds for children and picnic tables which were always busy in the afternoons/evenings. There are also lots of benches so you can stop and rest along the way if you need to, or bring a book and relax for a while (we saw loads of people doing this in shade in the afternoons).
These next two photos are from here: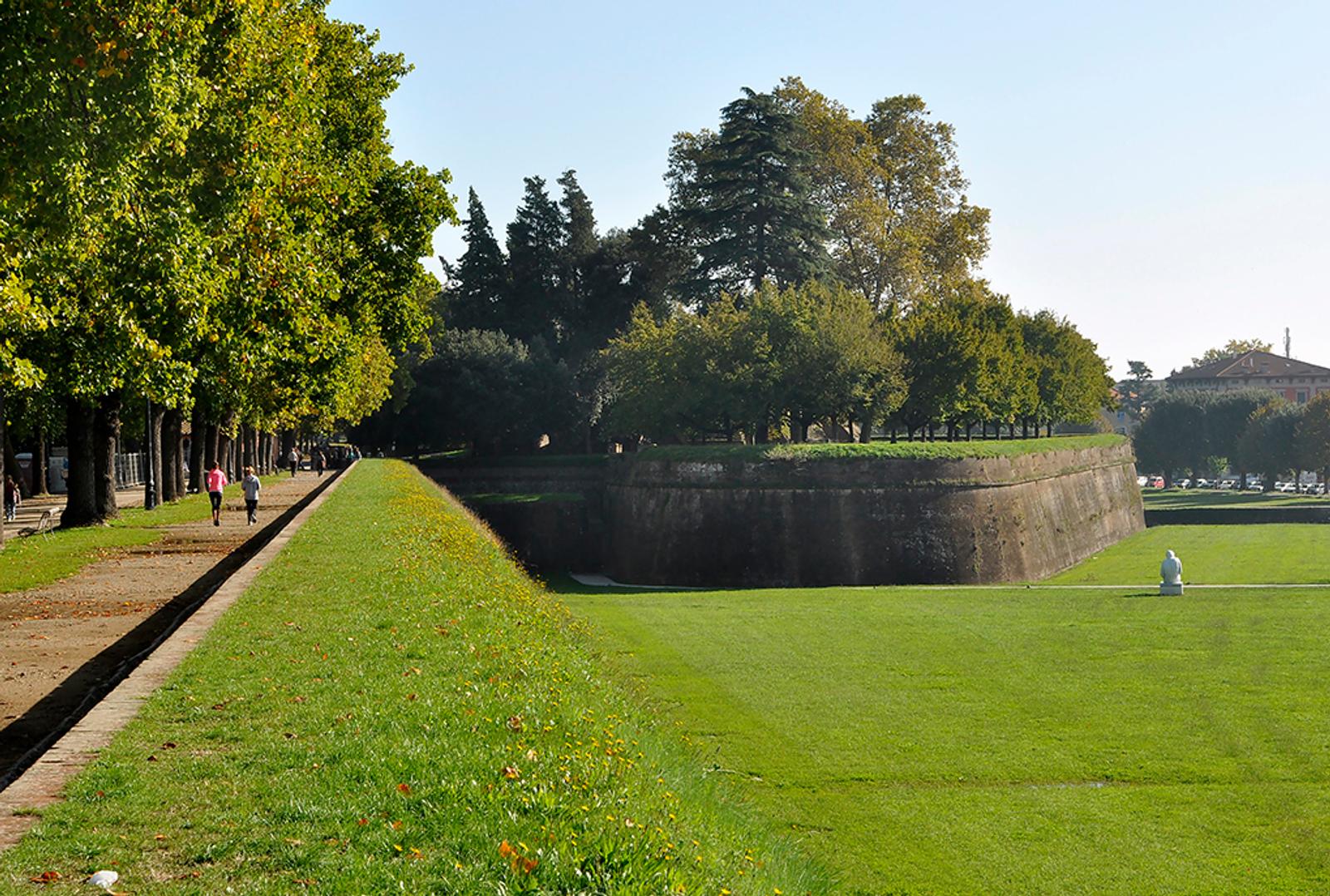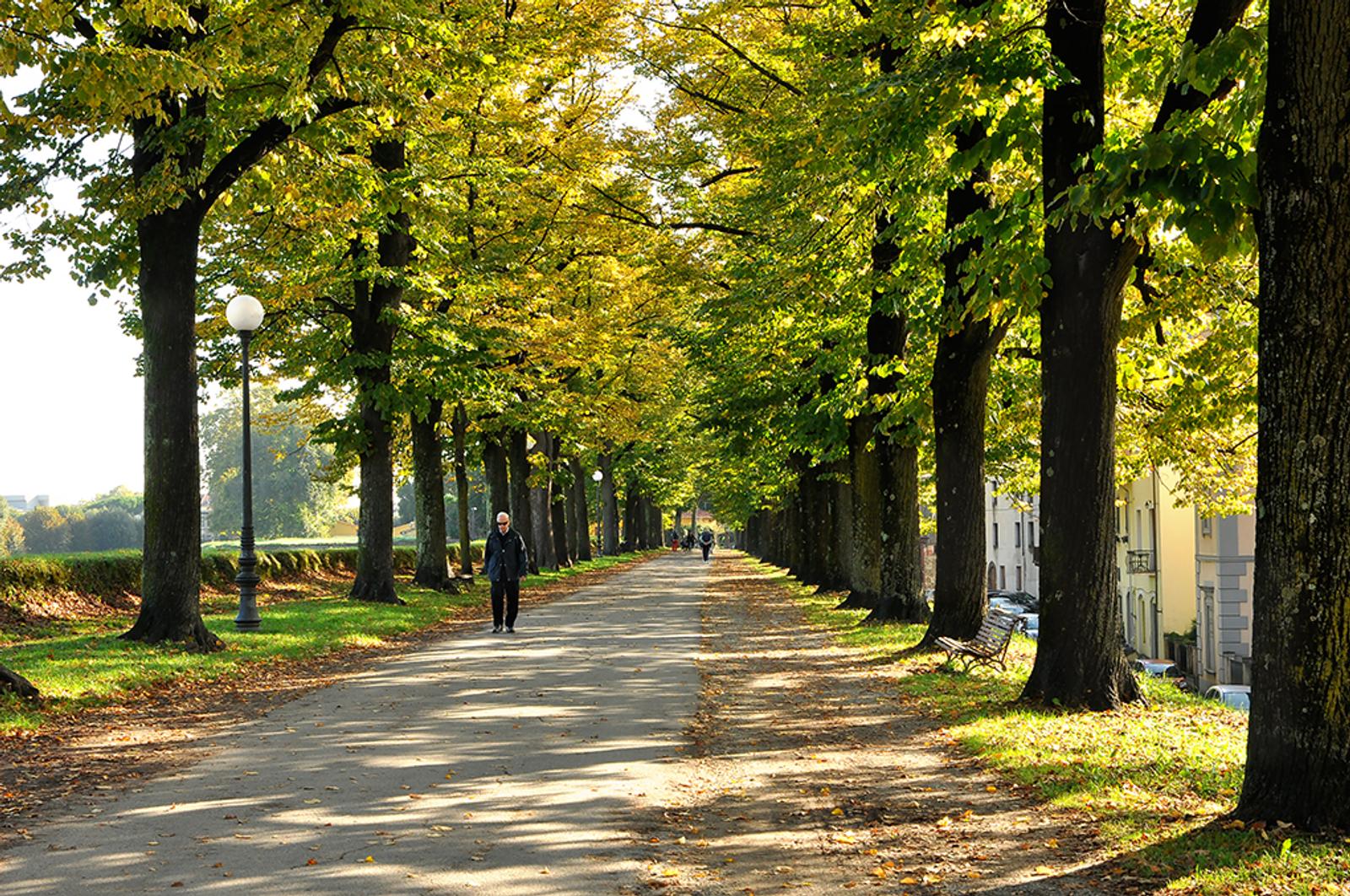 If you are visiting Lucca with children, cycling would probably be a better way to tackle the wall loop! I found this blog which is some great information about doing just that.
---
3. Explore Lucca on Foot & Get Lost Wandering it's Maize Like Streets!
It is hard to beat a "wandering" session in any City and Lucca, due to its compact area (within the wall), is perfect for exploring on foot. In fact, I would say it is the best way to see the city. Exploring on a bicycle would be quite challenging as the streets tended to be packed with tourists (of course this would vary depending on the time of year that you visit), the streets are narrow, winding and mostly cobbled (uncomfortable for bike riding). The area within the walls is predominantly pedestrianised so you don't have to worry too much about motorised vehicles.
The streets are lined with places to eat, drink and shop! Of course, there are many ice-cream/gelato places too, our favourites were Gelatarium Lucca and La Bottega del Gelato.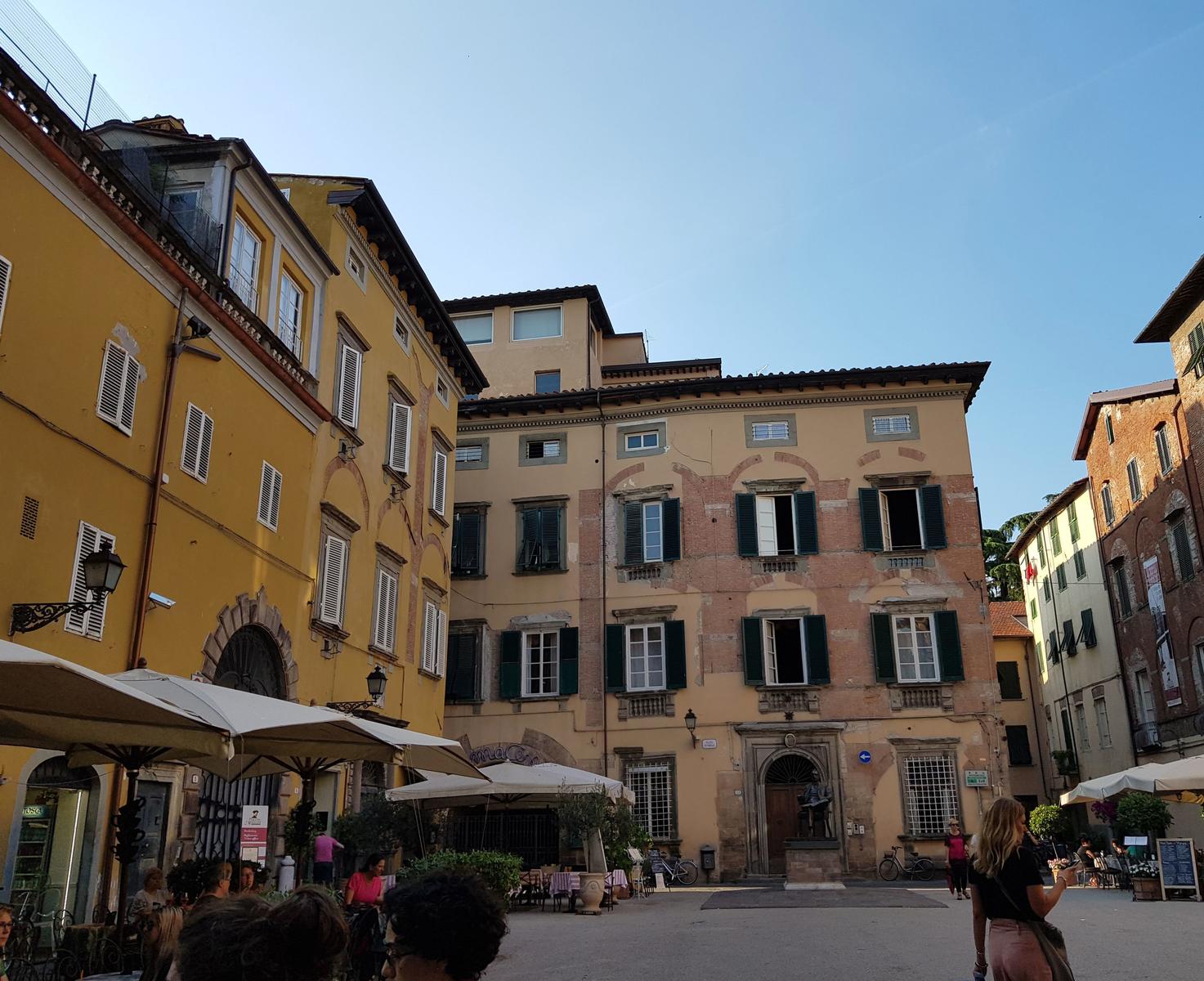 Another popular activity is to climb the Torre Guinigi. While we did not do this, I expect that on a clear day the views would be impressive. The Torre Guinigi is:
"Built in stone and brick, the Torre dei Guinigi is 45 meters high and stands out from all the buildings in the historic center due to the trees that grow on its top."
Some other sites to visit on your wandering walking tour would be: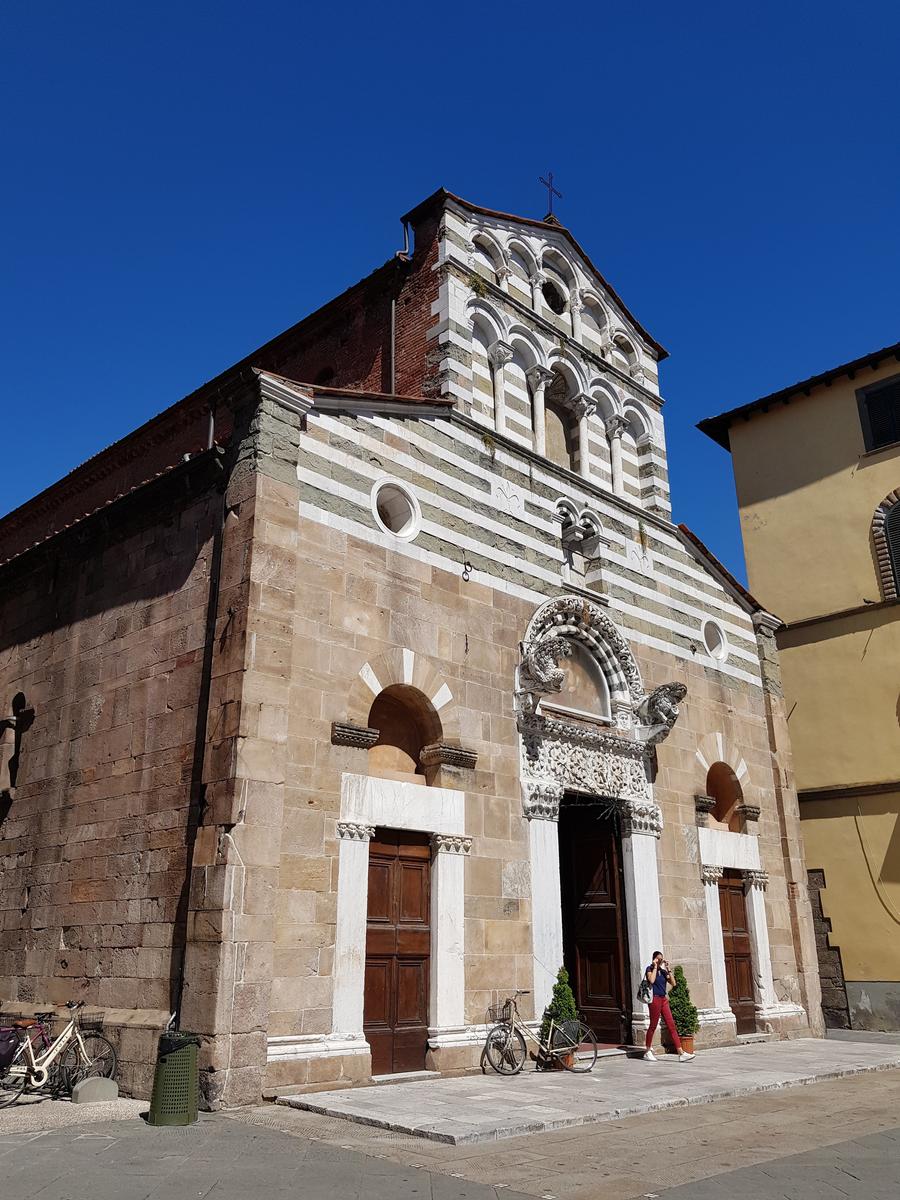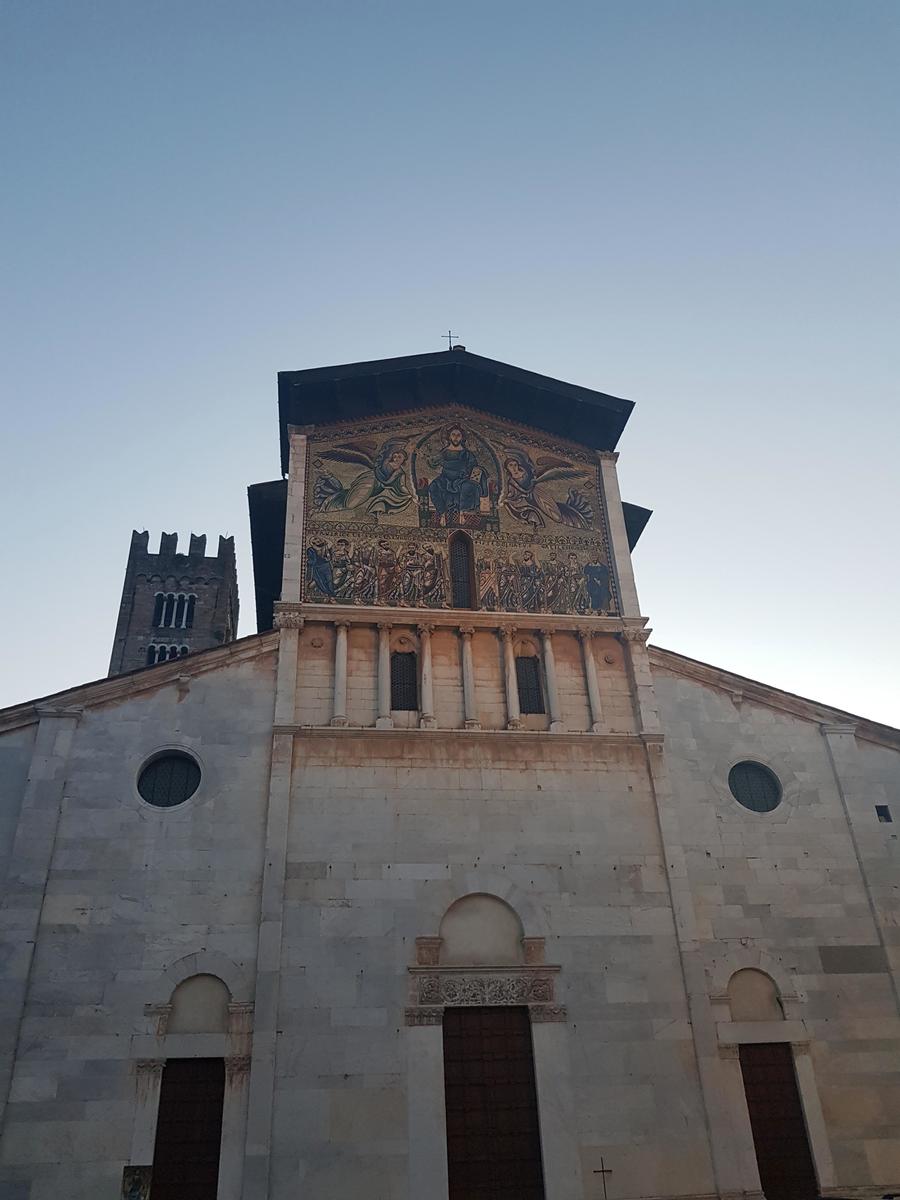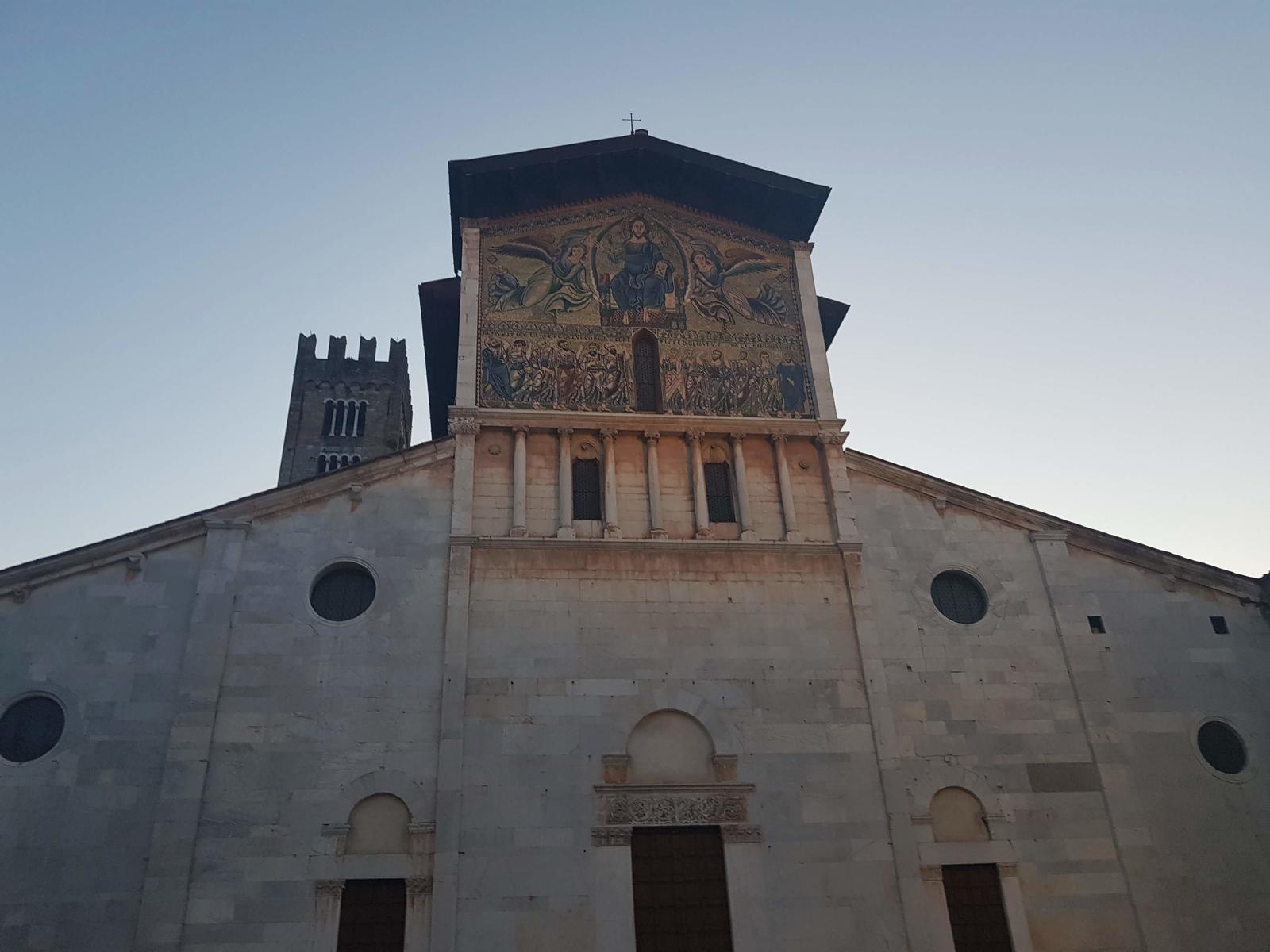 ---
4. Have a Drink, Relax & People Watch!
Our favourite late afternoon/early evening activity was to sit outside in the sun at Enoteca Marsili Lucca which is located next to the Chiesa di San Michele in Foro (Church of San Michele in Foro), the perfect people watching location.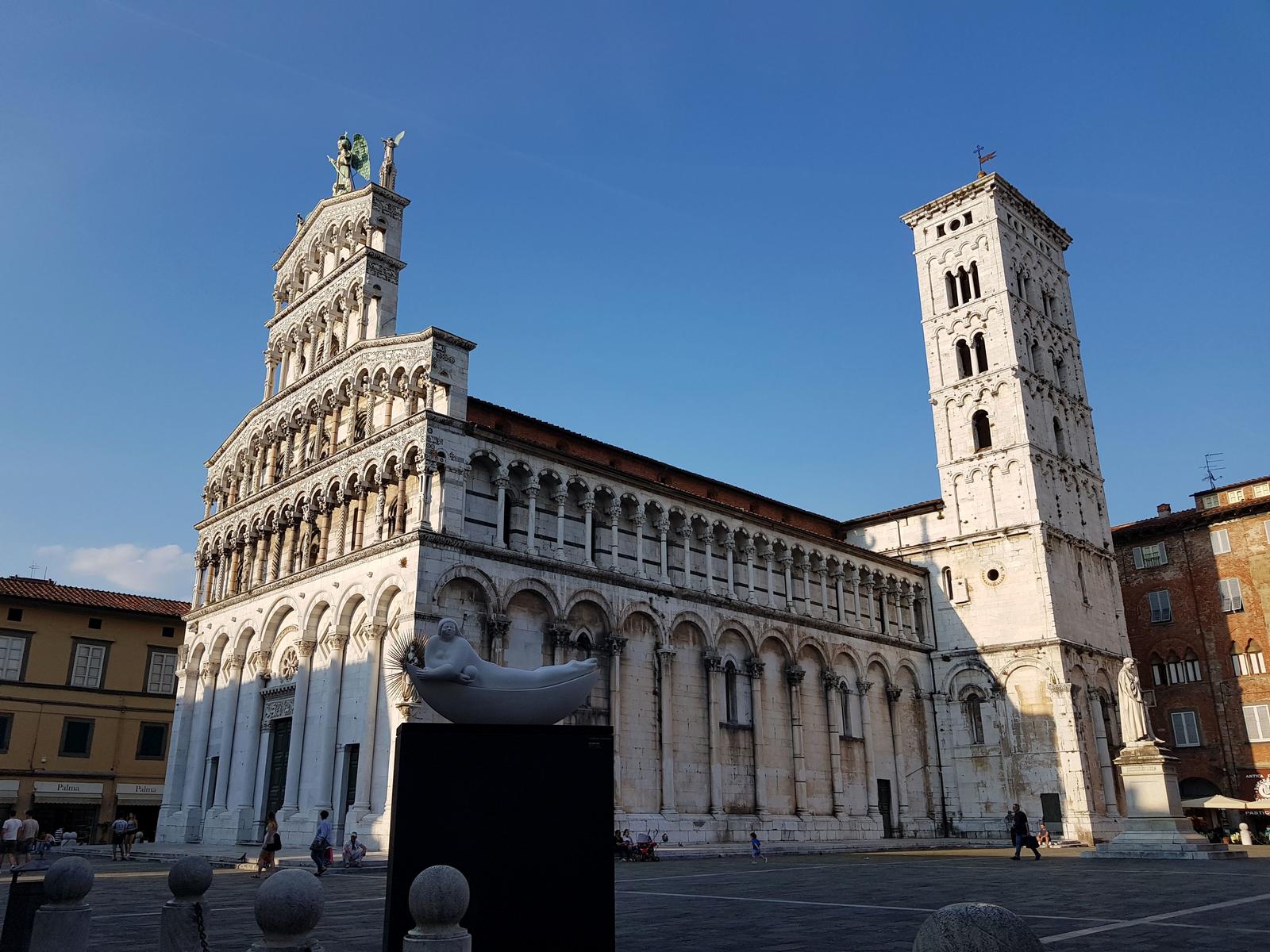 Enoteca Marsili Lucca is firstly a wine shop, offering a large selection of wines, spirits and champagnes, as well as extra virgin olive oils and typical/local produce. They also sell some drinks by the glass and have outdoor seating, this is where we spent our time. The staff are very friendly and there is always a steady stream of customers coming and going. With wine for €2 a glass in a fantastic location it is easy to see why it was always so busy.
We also enjoyed a pre-dinner drink on our first evening in Vinarkia Della Pavona. It is in a great location, with indoor and outdoor seating and a tapas menu.
Lastly, another lovely wine bar that we visited was La Cantina di Lucca where you are guaranteed a warm welcome. The wine bar has an American themed interior and is described on their website as:
"This little Wine Bar is offering only authentic products. Local wines, quality craft beers, American whiskeys, quality local meats, quality local cheeses, and much more. The cosy Western American atmosphere, turns this spot into an authentic Bar."
While this wine bar isn't good for people watching it is cosy and the staff/owner is very chatty. It is the perfect location for later in the evening when the sun has set and you need to move inside.
---
That's it!
Overall we really loved Lucca and would happily return there again. There are plenty of accommodation options available, we opted for an Airbnb but you will easily find lots of small hotels and guest houses. I would much prefer to base myself in Lucca and visit other larger cities in the area from there and I recommend you do the same!
---
If you've any questions, suggestions or just want to say hello, contact me via the Contact Form, Instagram (@noroadlongenough) or By Email noroadlongenough1@gmail.com