Part Three: Cycling the Canal du Midi from Toulouse to Sète, France.
At the end of our last blog Part Two: Cycling the Canal de Garonne from Bordeaux to Toulouse we had cycled as far as Toulouse. After enjoying a few days there, we were now back on our Kona bikes heading for Sète on the Mediterranean coast but this time we were going to follow the Canal du Midi.
---
Day 14 - May 2nd 2018 - Toulouse to Carcassonne.
- 99.6kms of Cycling & 253 metres of Elevation.
We left our Airbnb at 8.30am and headed to the canal to find the bike path. It wasn't long before we were peddling along the tree lined path. It was actually really busy, there are lots of office buildings next to the canal and so lots of people were using the lovely bike path as their commute/route to work. It was gorgeous though and the further we cycled the quieter the path became: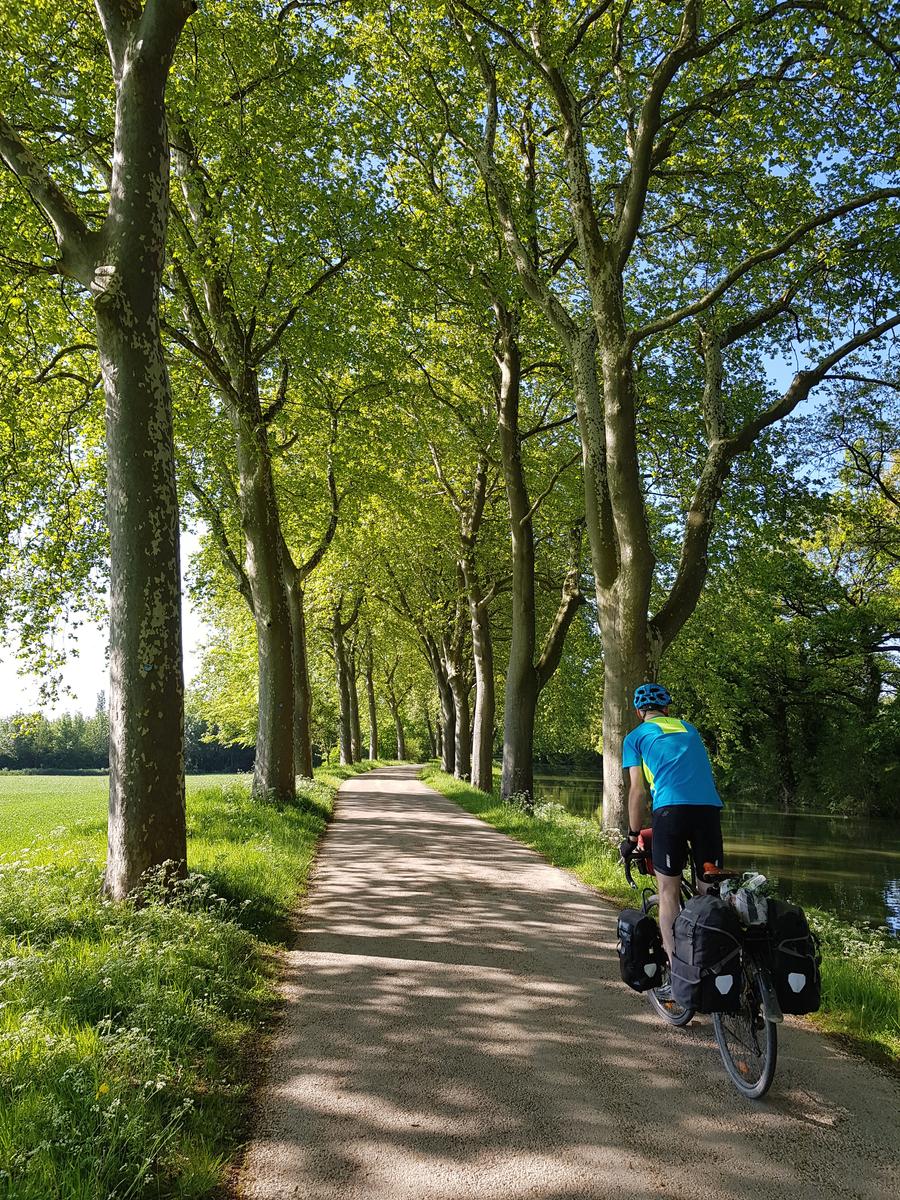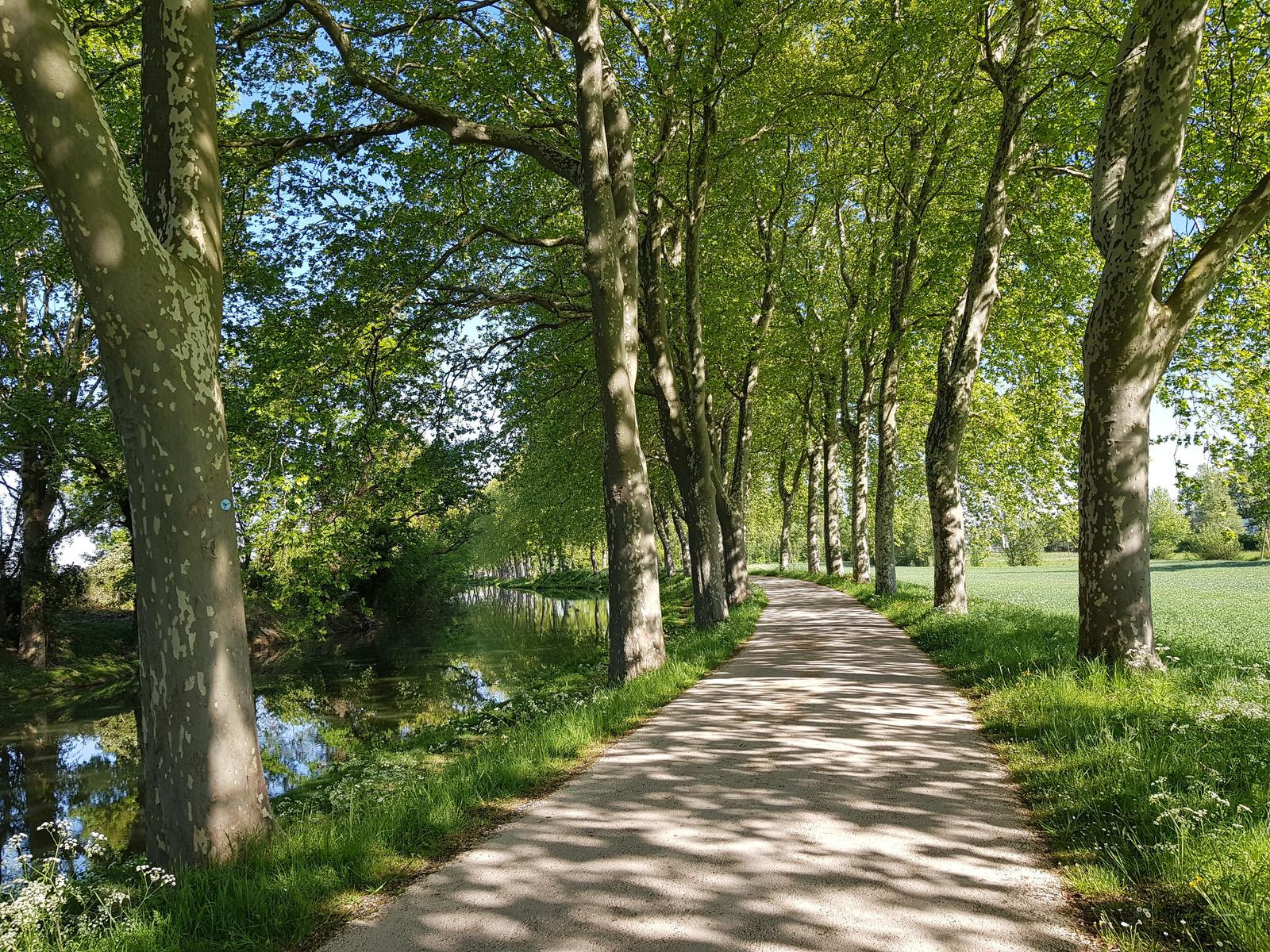 ---
We cycled about 35kms to Gardouch where we stopped for a rest and coffee in L'Estanquet - Restaurant - Canal du Midi. It was hot but at least the path was shaded by trees so that helped. We had a picnic lunch about 2pm before cycling on into Carcassonne mainly via good bike paths and some road sections. Carcassonne was lovely, bathed in sunshine when we arrived so after a quick shower we went for a drink in sun and relaxed before later cooking dinner in our Airbnb.
The following day, May 3rd we had a rest day exploring Carcassonne. It was actually much cooler, overcast and a little rain but the main thing was it was REALLY windy so we were very happy we were not battling that wind on the bikes! We explored anyway despite the weather, visiting the castle and other tourist sites.
---
Day 15 - May 4th 2018 - Carcassonne to Béziers.
- 84kms of Cycling & 348 metres of Elevation.
Cycling for 8.30am and not far out of Carcassonne we made the decision to change from following the canal to following the road instead. While this section is described as:
"… the canal – itself World Heritage Listed – closely follows the course of the River Aude through the gentle, hilly landscape of the Aude valley. This part of the canal is lined with ancient villages, their gothic and medieval churches, castles and ramparts all of interest." (Source here).
We found that, having cycled a few kilometres along the Canal du Midi route out of Carcassonne we quickly realised it was an unpaved, rough, lumpy, muddy dirt track (after last night/yesterdays rain) and the nice smooth tarmac road made for a far nicer, more comfortable ride… it was far quicker too!
We cycled along the road as far as Trèbes. After Trèbes we cycled a mix of the canal path and roads. The view was beautiful; vineyards, red poppies and distant mountains.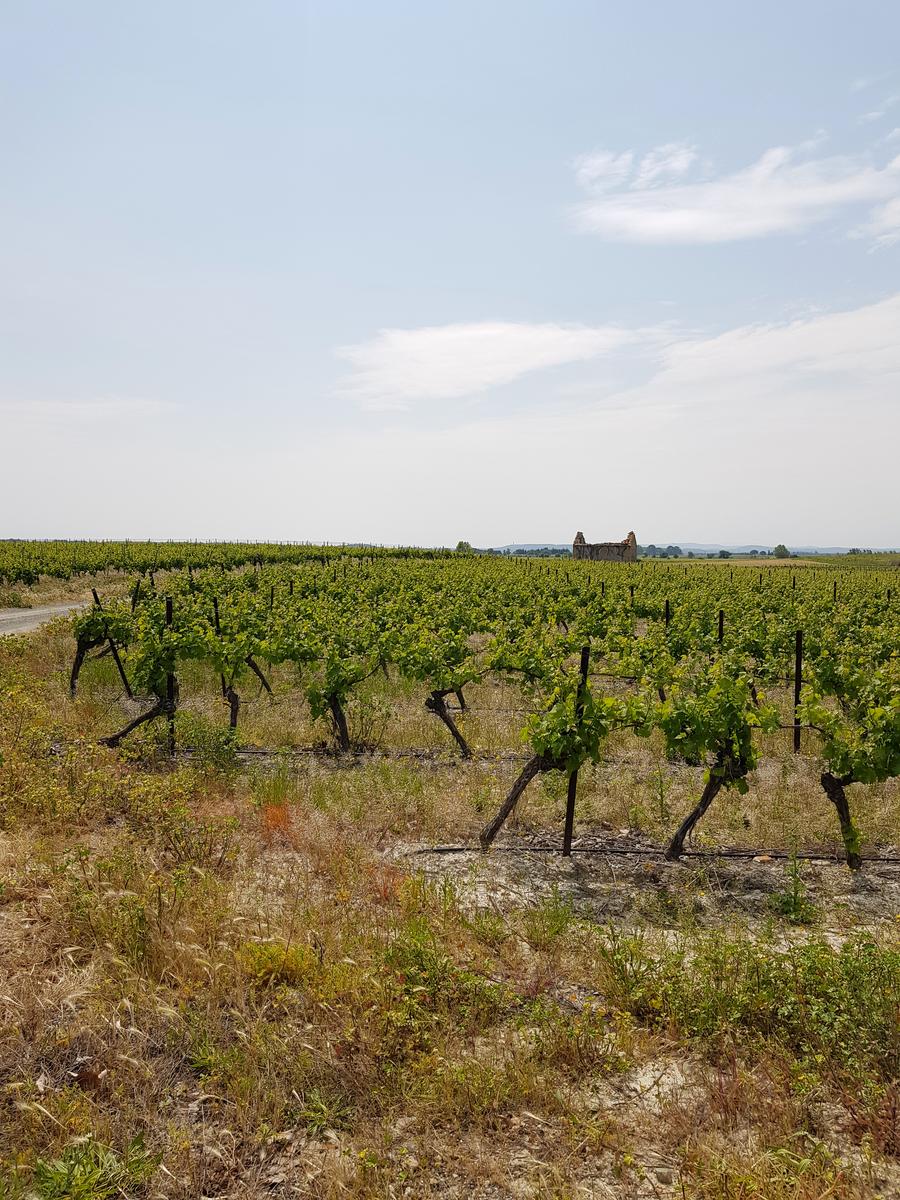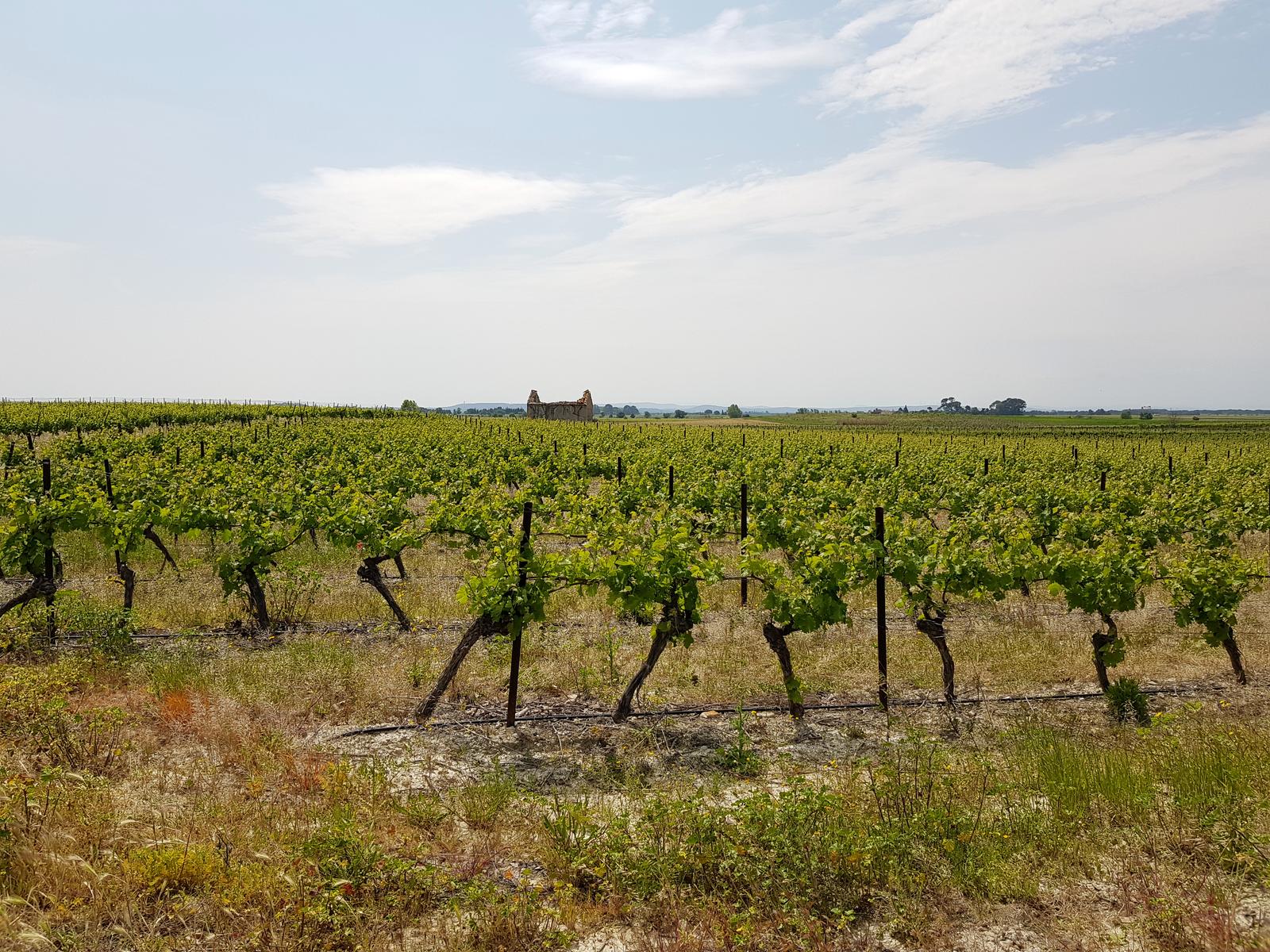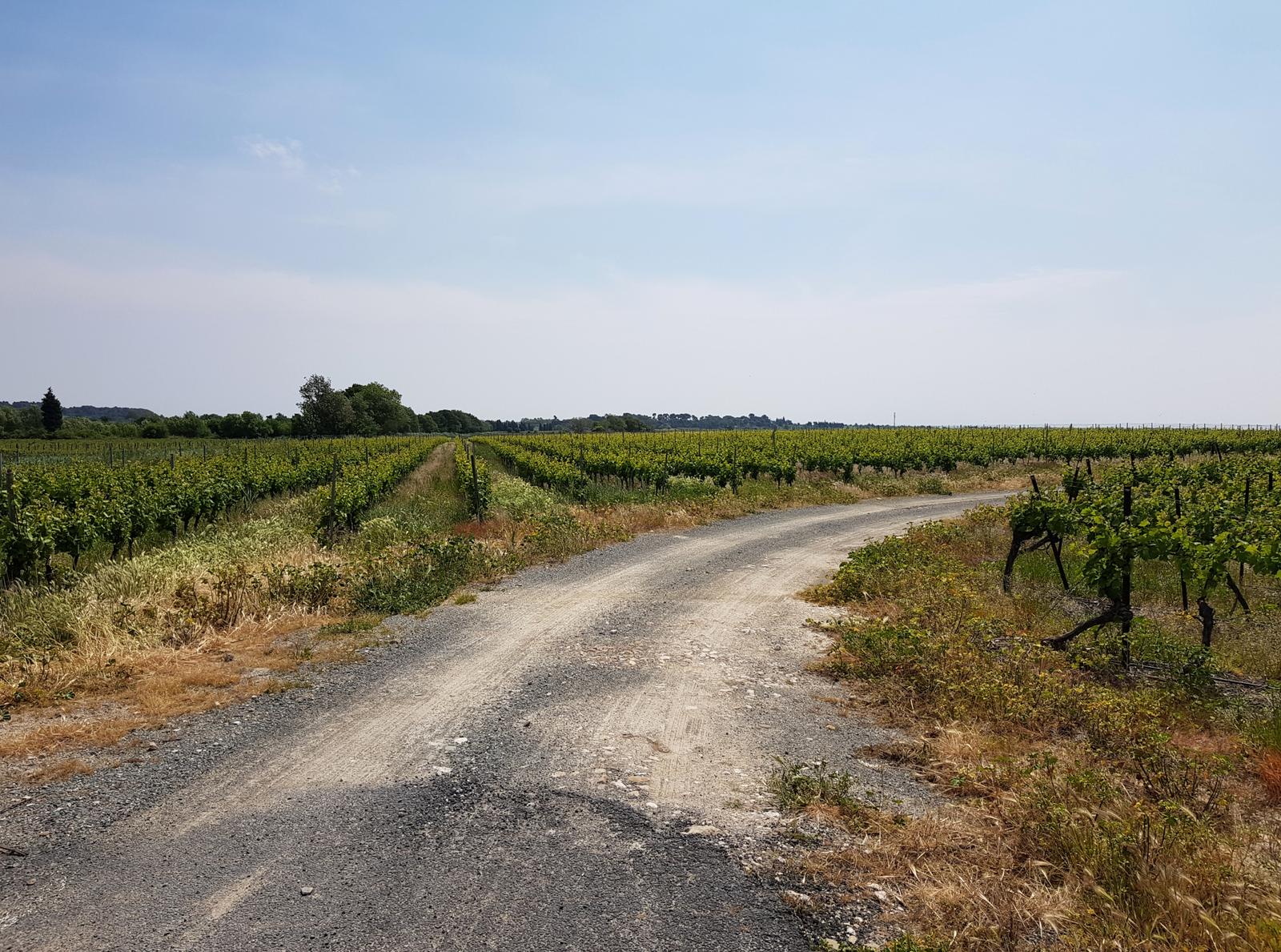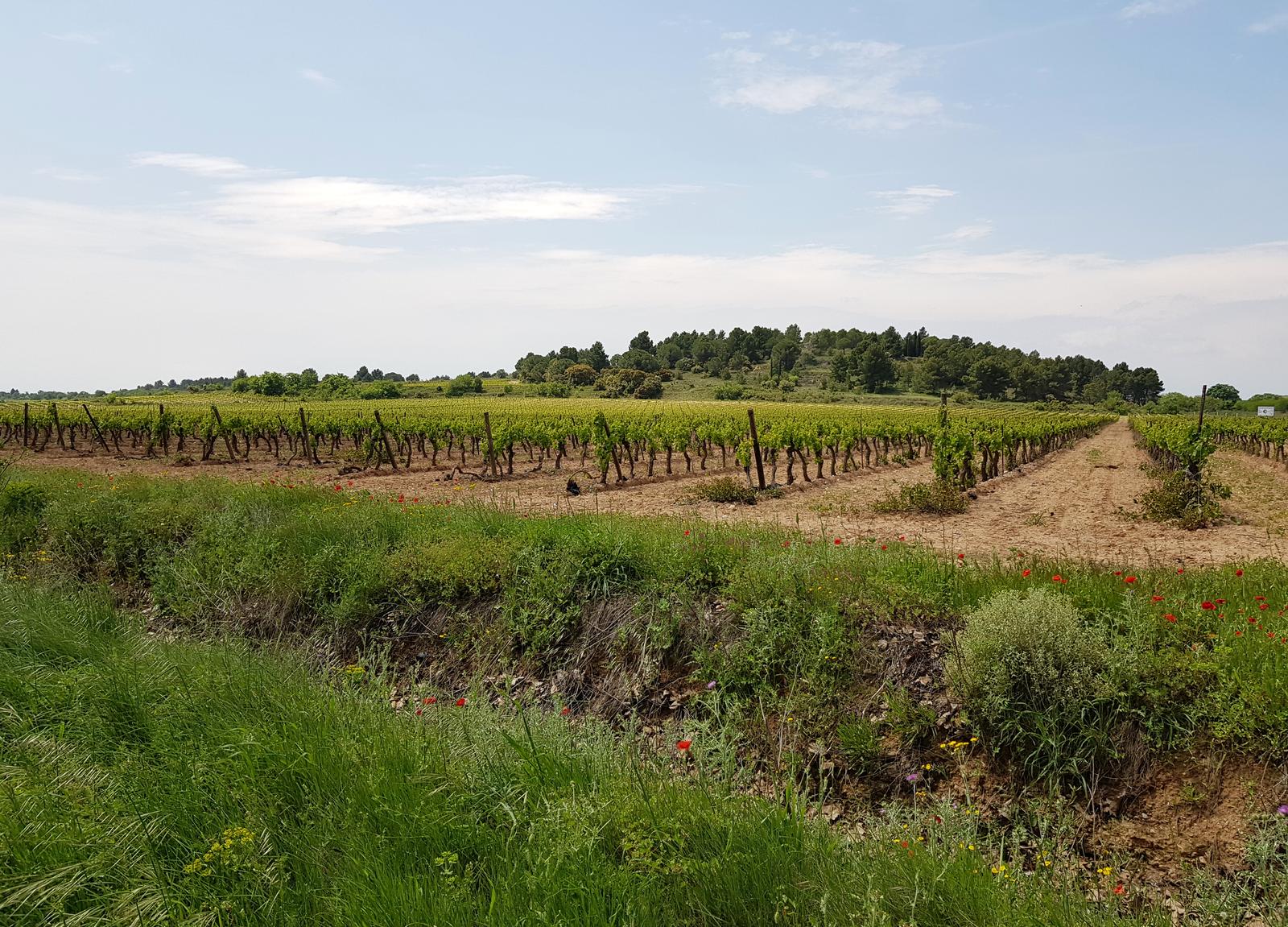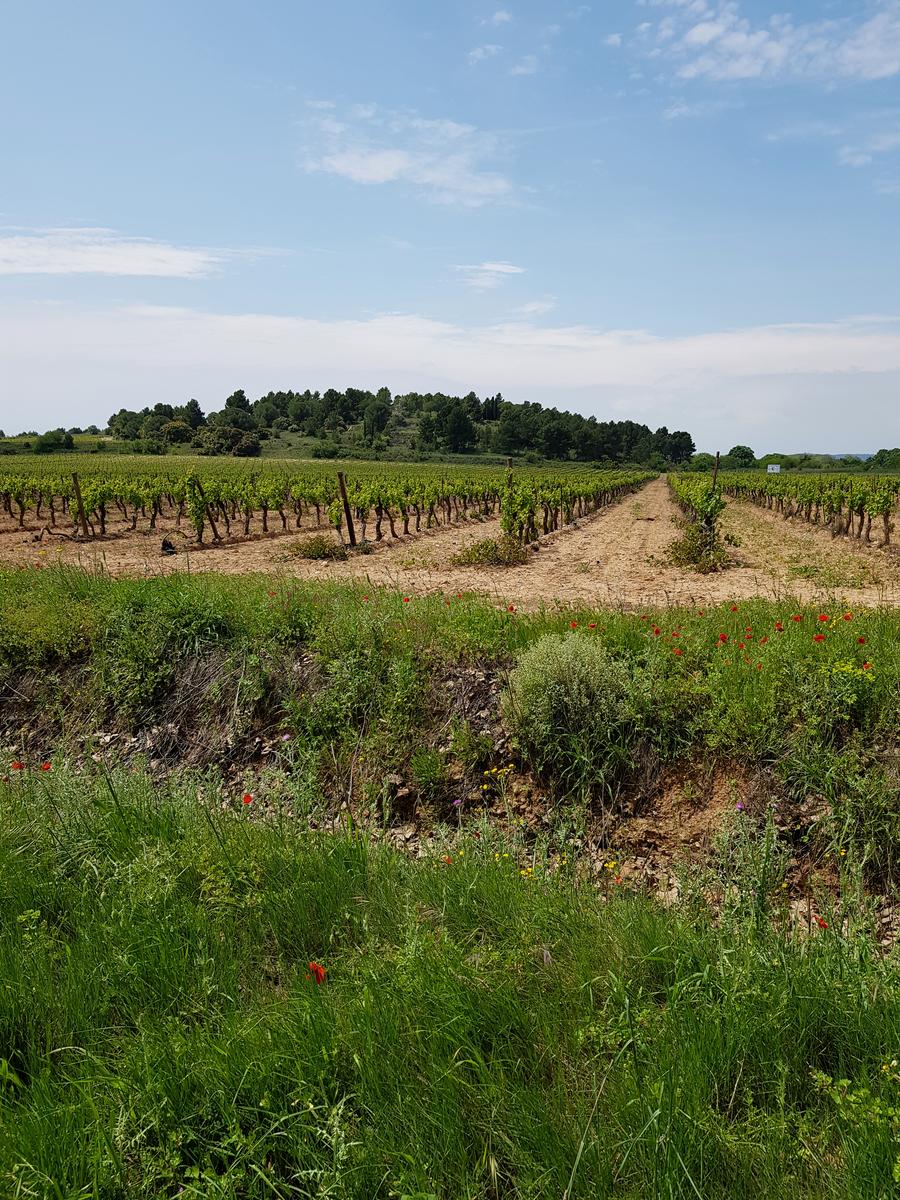 ---
We stopped in Homps and had coffee and chocolate muffins in Le Rive Gauche. We cycled along the road again from there as unfortunately once again the canal path was rough! We were blessed with a great tailwind which made the rolling hills (of which there were many) far more manageable and enjoyable. Below, the view from where we pulled in off the road to eat some fruit along the way: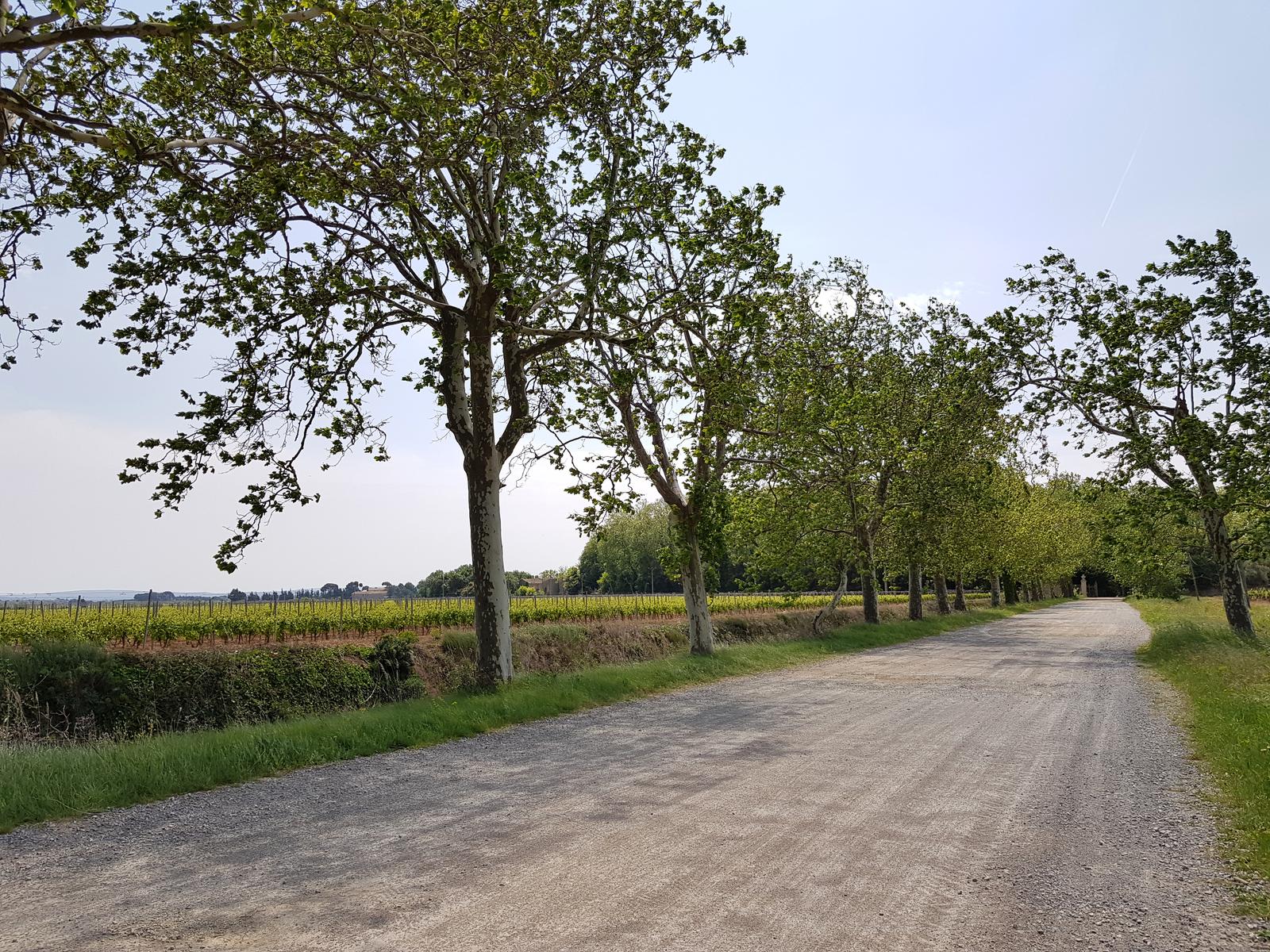 ---
Around 2.30pm we stopped for our picnic lunch in Capestang and continued cycling along the road as far as Montady where we cut back onto the rough canal route as we wanted to see the Les Écluses de Fonseranes/The Locks of Fonseranes. The Locks of Fonseranes are:
"… a flight of staircase locks on the Canal du Midi near Béziers. They consist of eight oval-shaped lock chambers, characteristic of the Canal du Midi, and nine gates, which allow boats to be raised a height of 21.5 metres over a distance of 300 metres." (Source here).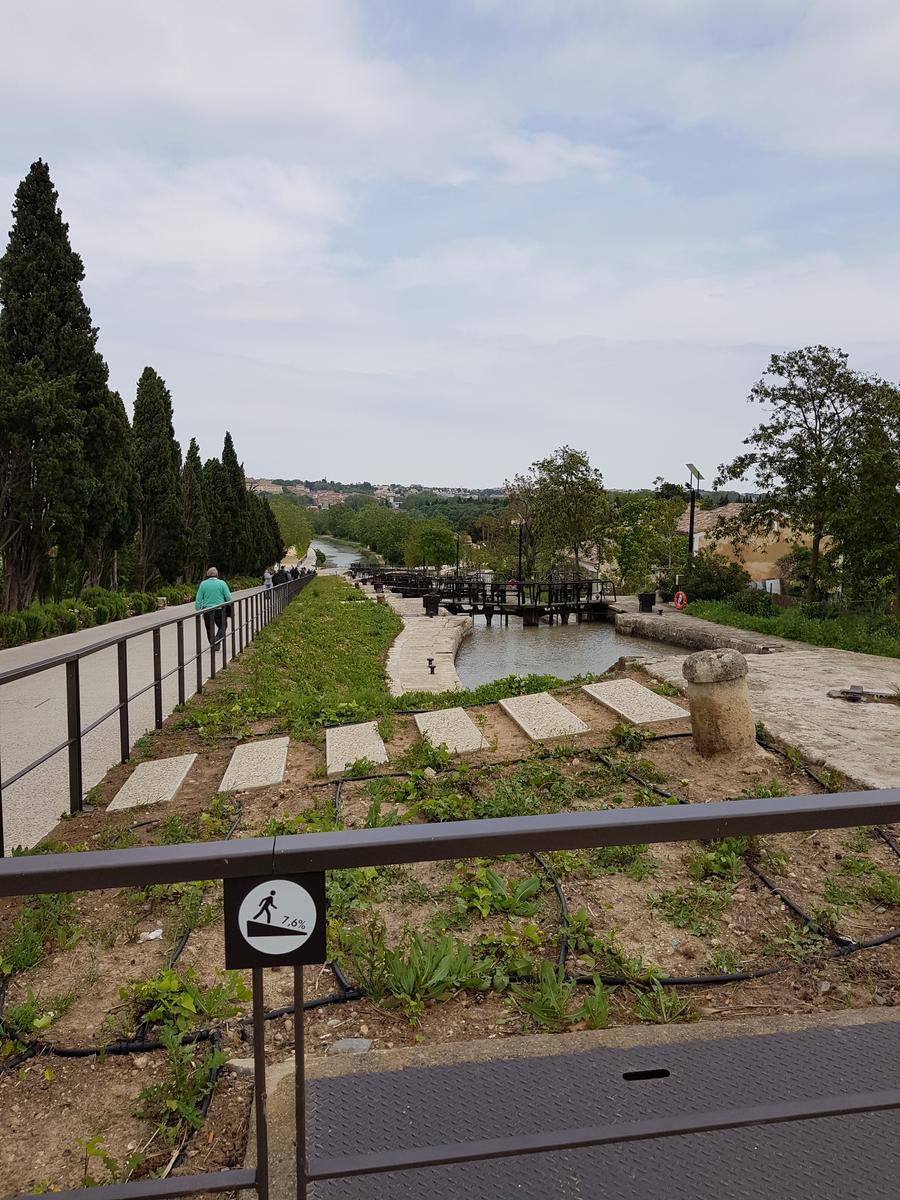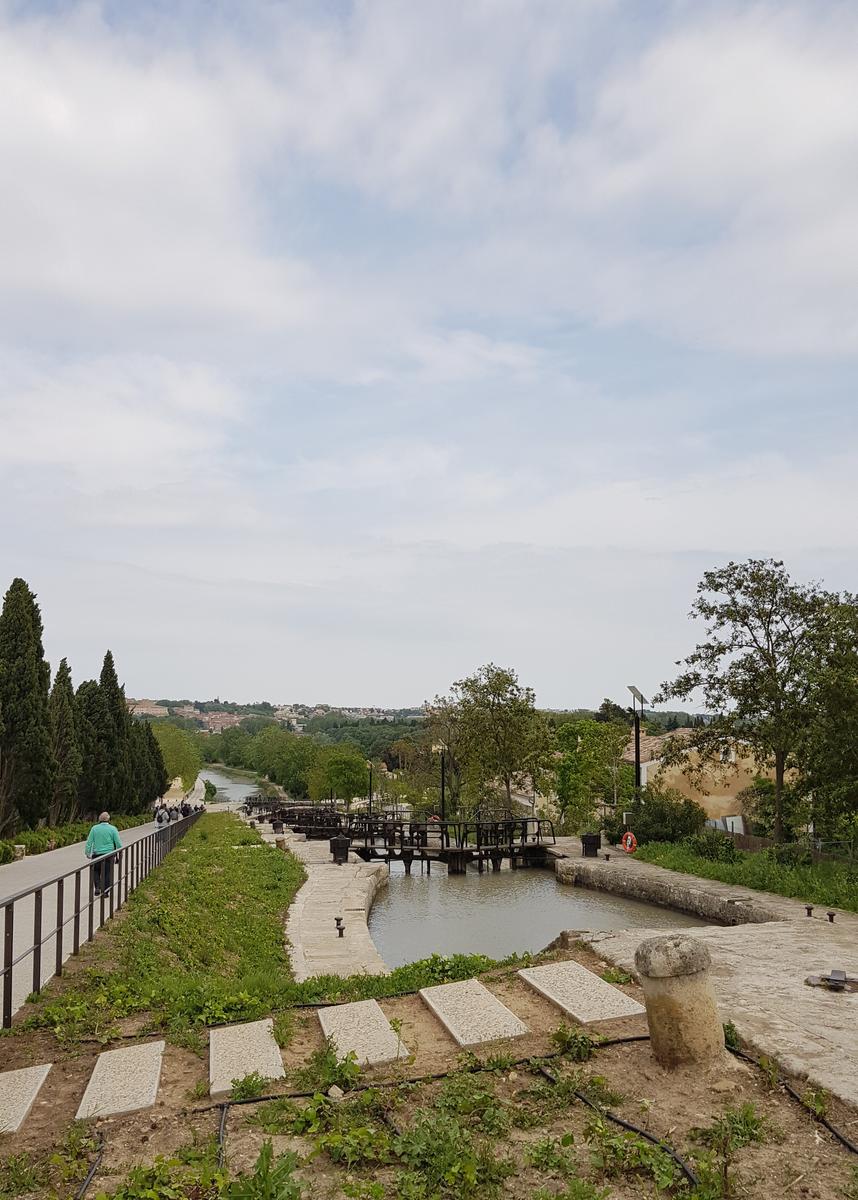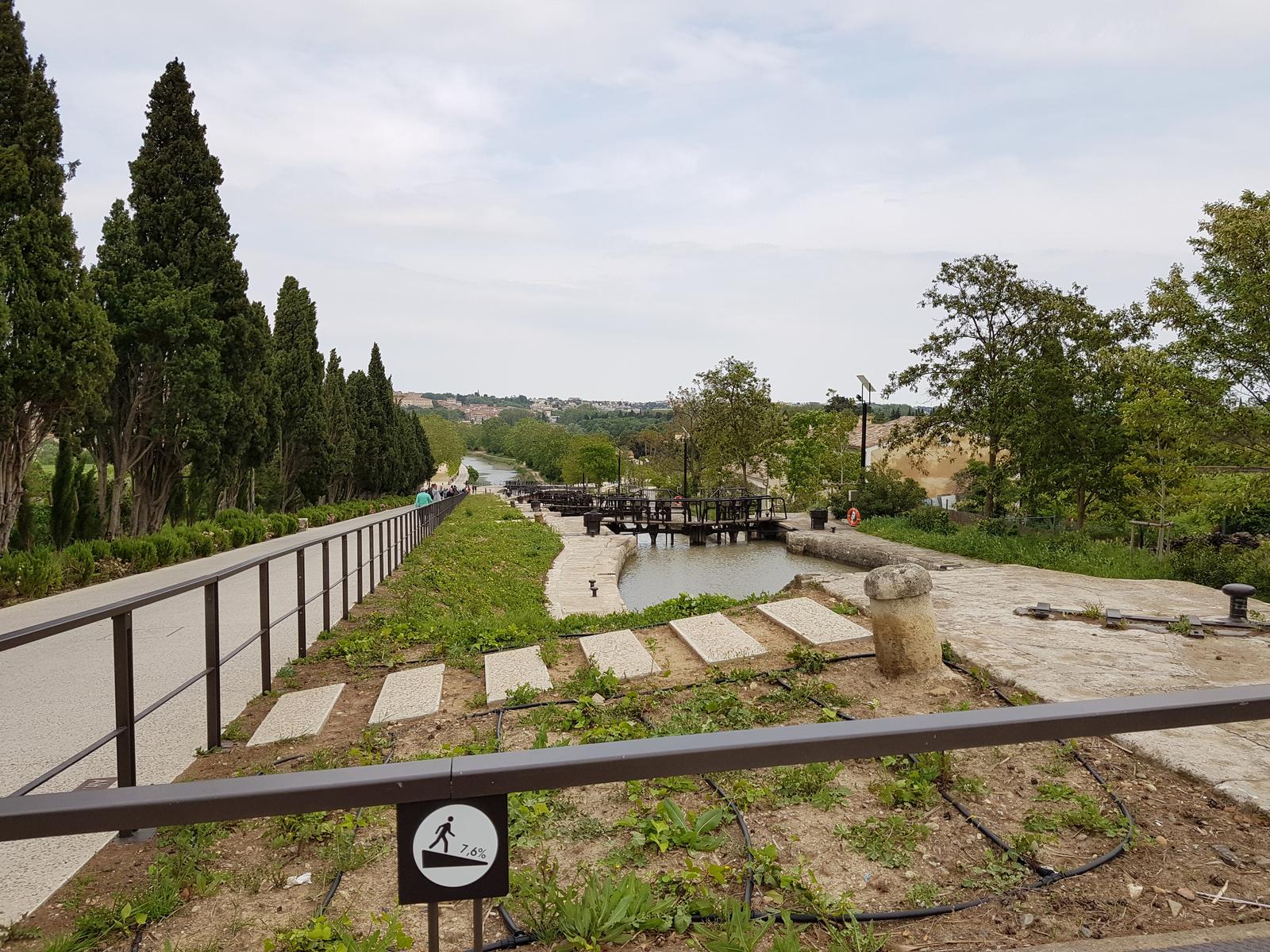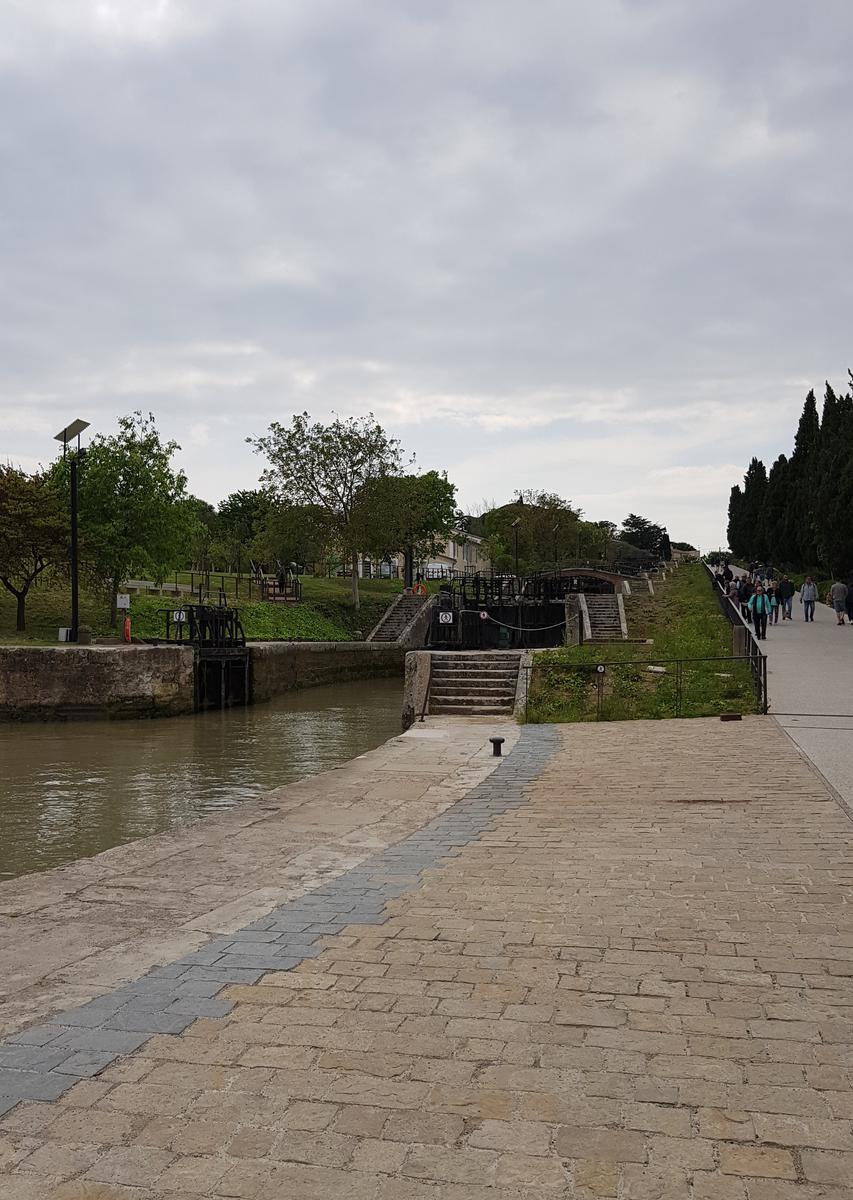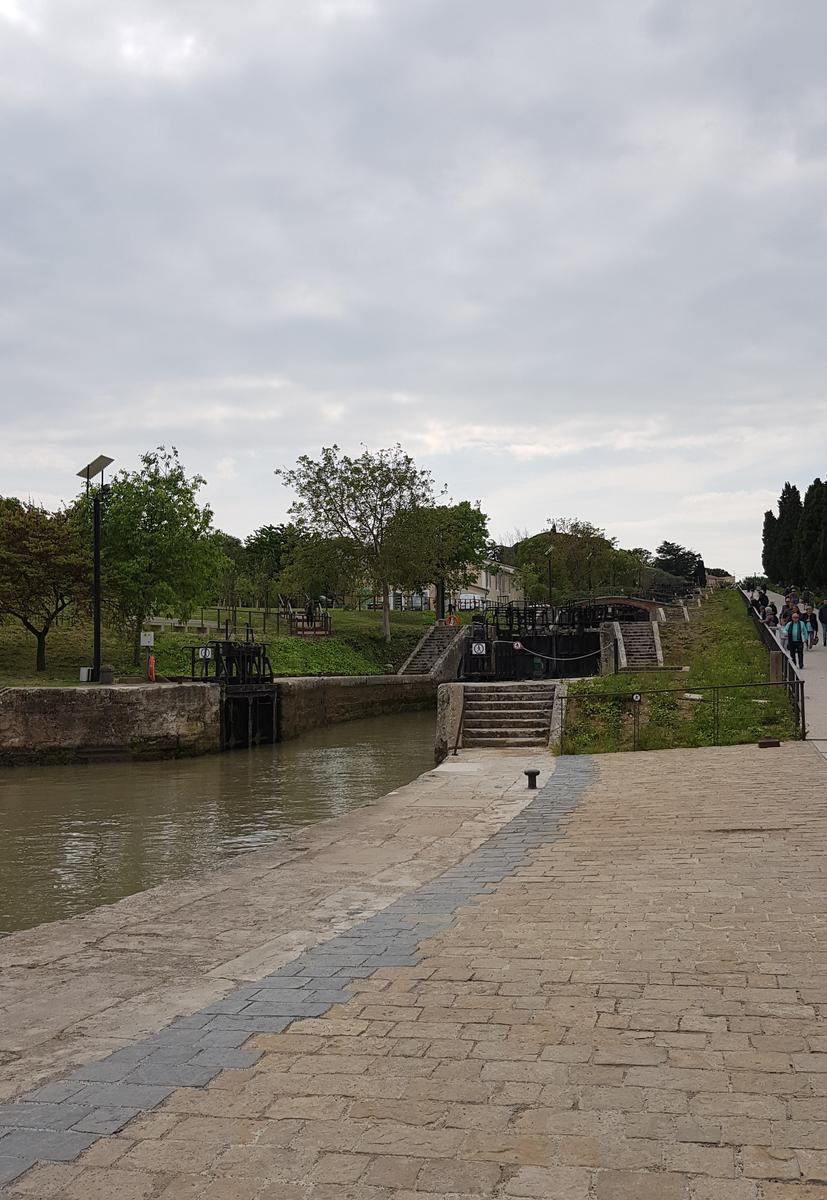 ---
We hadn't too far to cycle to Béziers from the locks but we had one last big climb up to our accommodation of course! The apartment owners checked us in and soon we were showered and ready to walk around Béziers for a little while before getting dinner. We had a lovely dinner in Le Taj Mahal and if you like Indian cuisine I would definitely recommend eating there.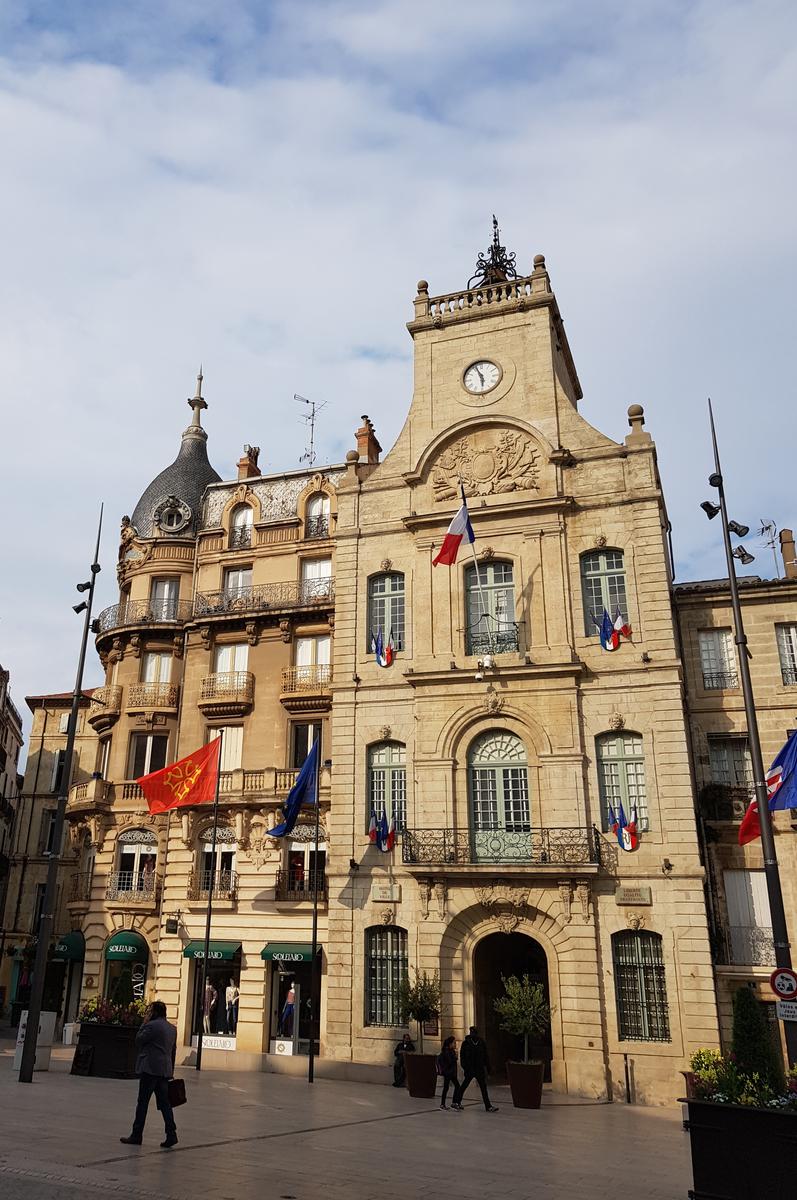 ---
Day 16 - May 5th 2018 - Béziers to Sète.
- 56.8kms of Cycling & 113 metres of Elevation.
Today was an exciting day, we would reach Sète and achieve our goal of cycling from the Atlantic to the Mediterranean coast. We were late leaving as we woke to rain so we held off our departure and didn't leave until 9.30am. We started by going down the big hill we had to cycle up yesterday evening all the way to the canal bike path and for the first 18kms we had a really nice path, apart from the section from Vias to Agde where we abandoned the rough broken trail and took the road instead. We had coffee in Agde.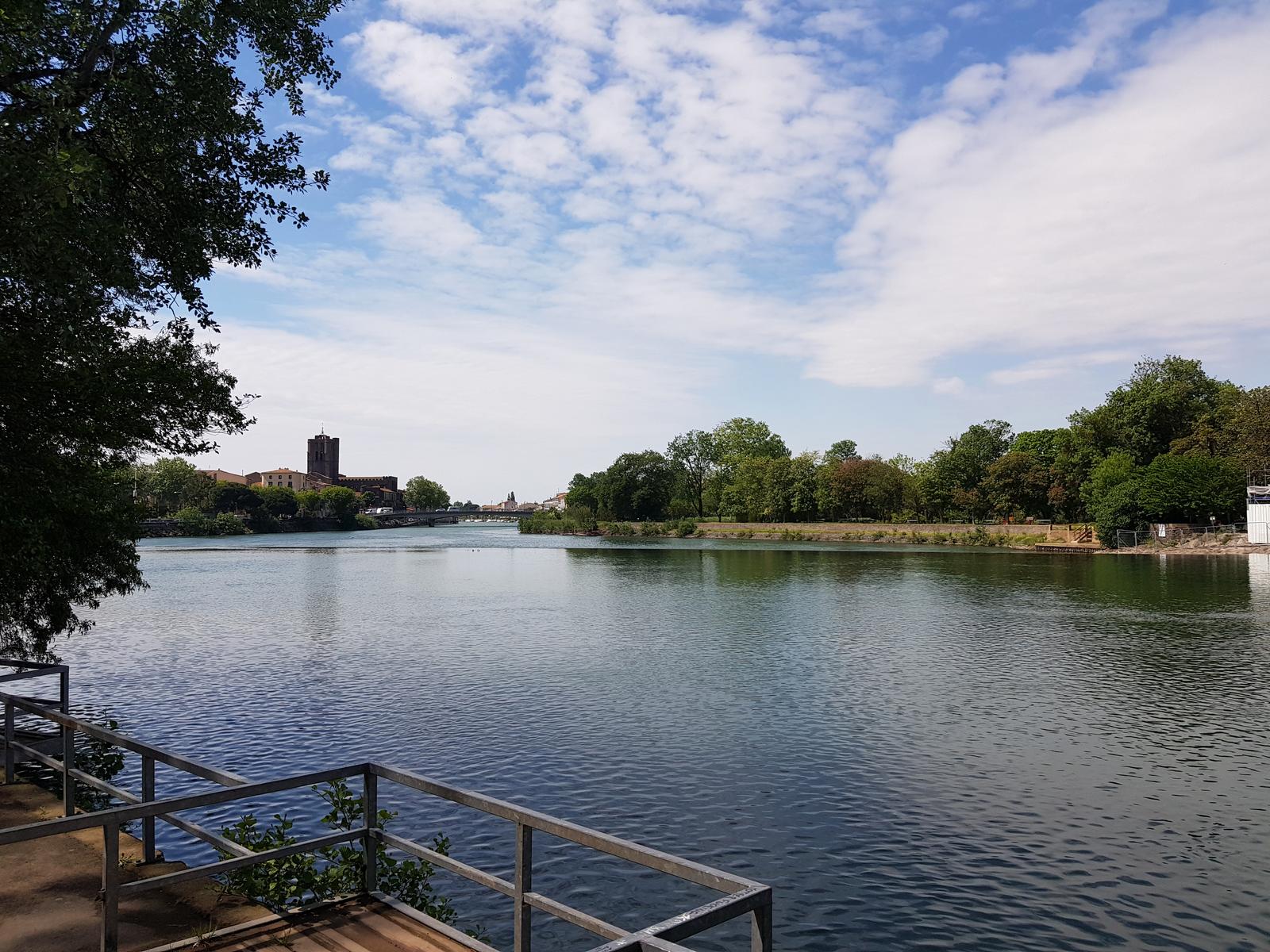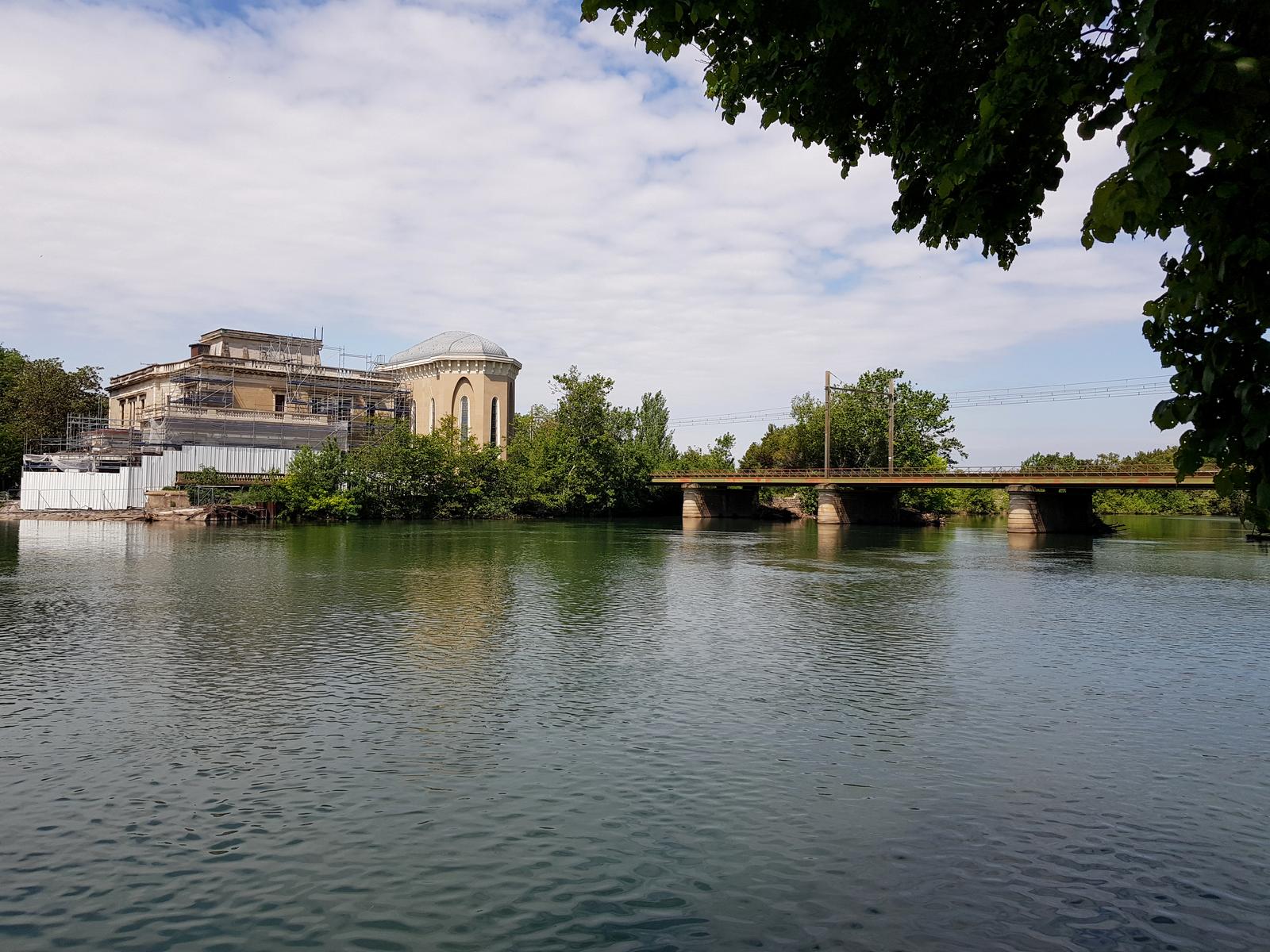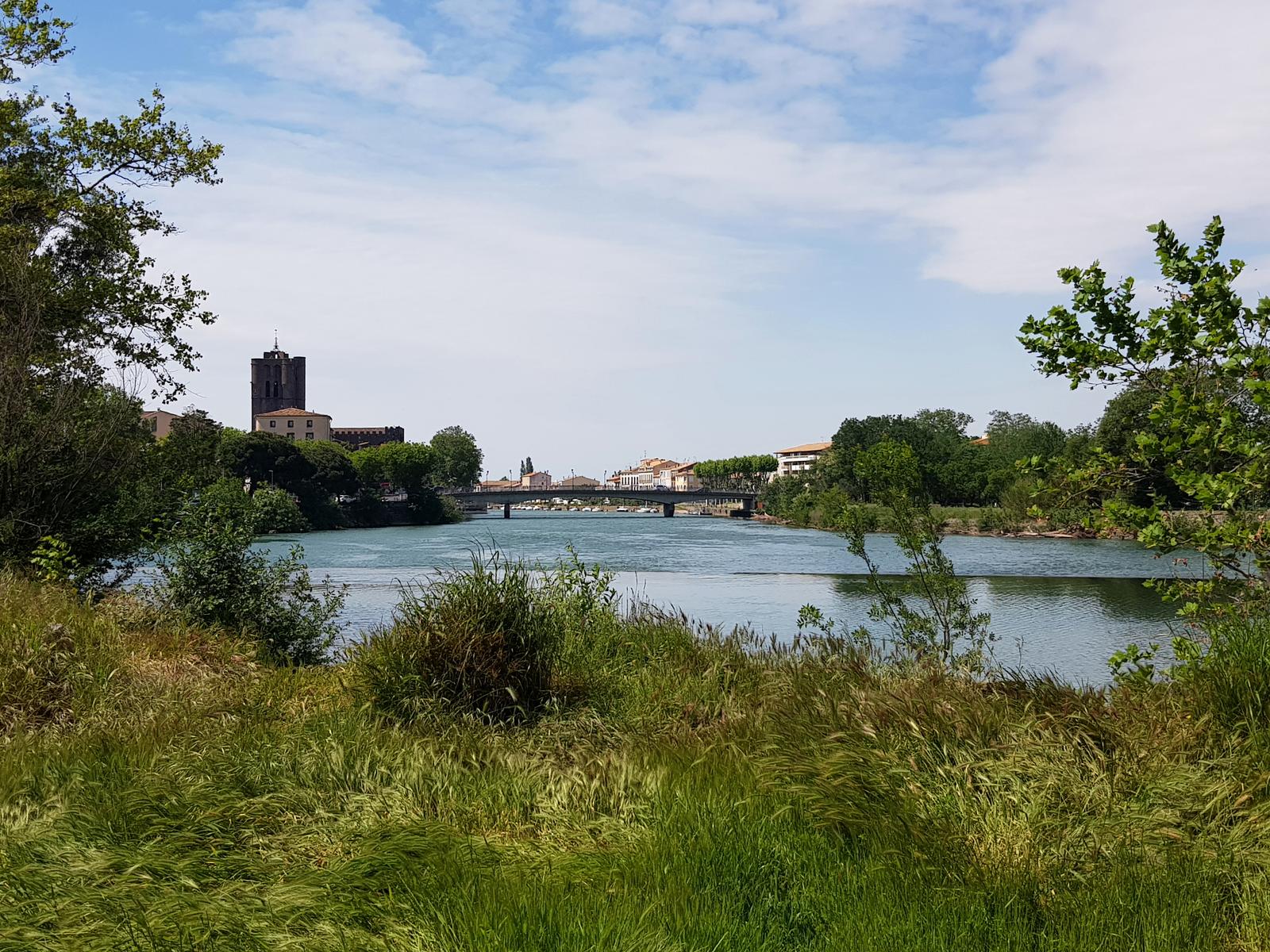 ---
Leaving Agde we found it hard to find the route. We decided to follow the road near the canal before ending up on a bridge unsure of the way. We encountered another bike tourer and then a local man told us all that we should go down and follow the canal. Getting down from the bridge to the canal took some work but we managed it eventually. The path was gravel with plenty of ridges and holes but not too bad to begin with: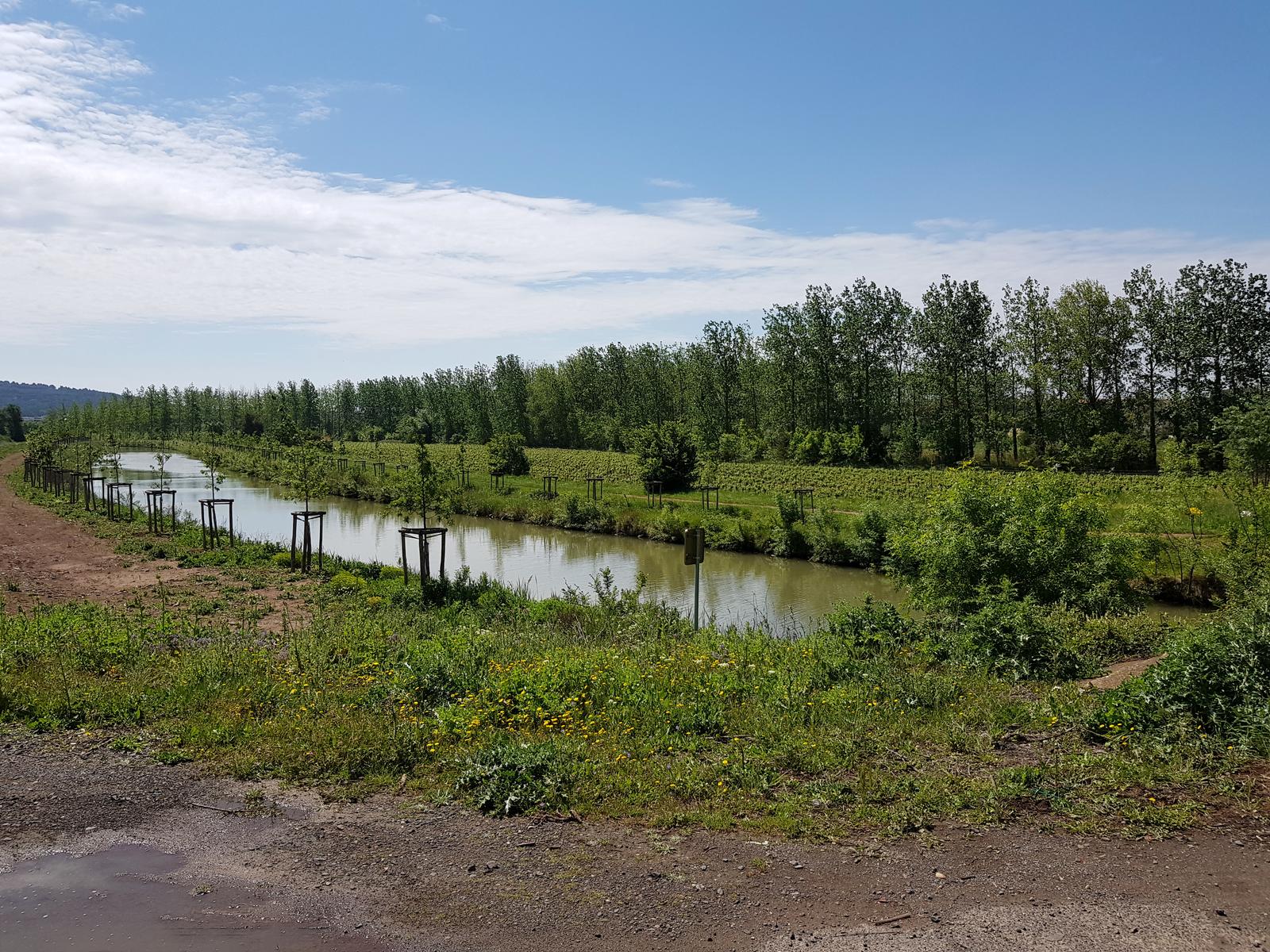 ---
After a while the path got really narrow and overgrown and our panniers where whacking off bushes at both sides as we cycled. It was also very hot with no shade. There were a lot of flying insects and of course many ended up inside our helmets! We finally found a way to leave the overgrown trail and join a paved bike path that took us to Marseillan Plage. The bike tourer (from Switzerland) that we had met earlier caught up with us as we were leaving the overgrown path and so the three of us cycled together, chatting as we peddled, into Marseillan Plage and along the sea front there until we stopped to take some photos and find some lunch (and he kept cycling).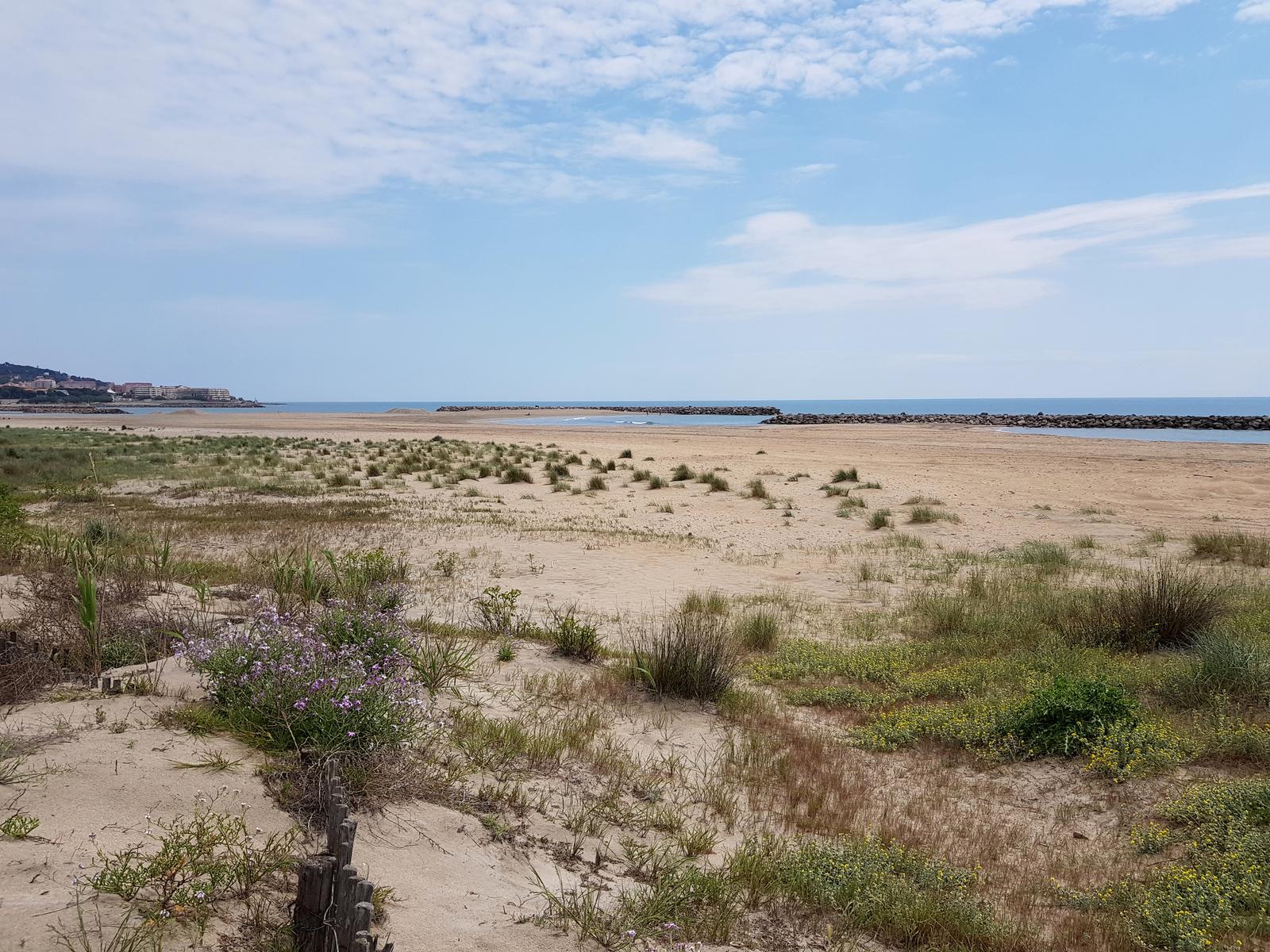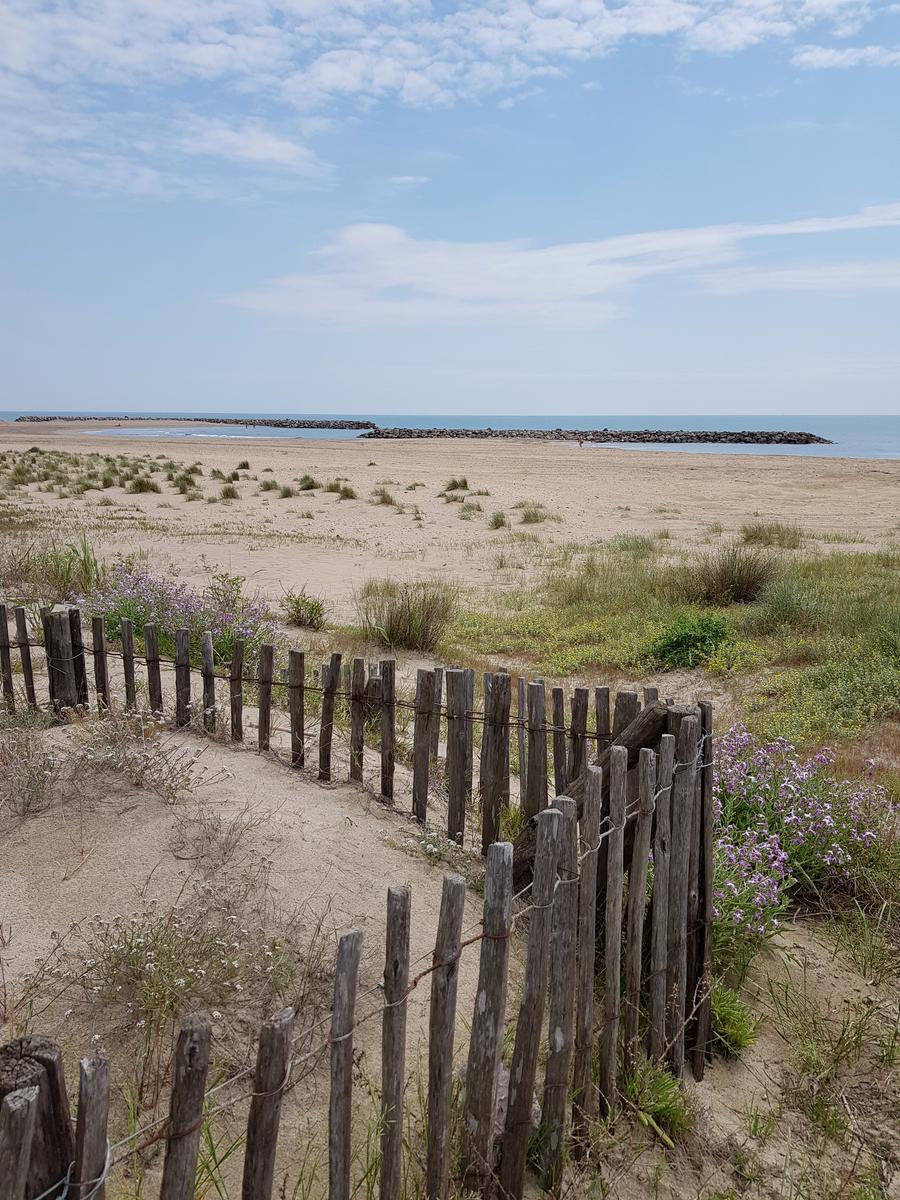 ---
There is a really nice path, a large promenade really from Marseillan Plage into Sète. If only all bike paths were that good! The coastline was gorgeous too but boy was it hot without any trees to shade us.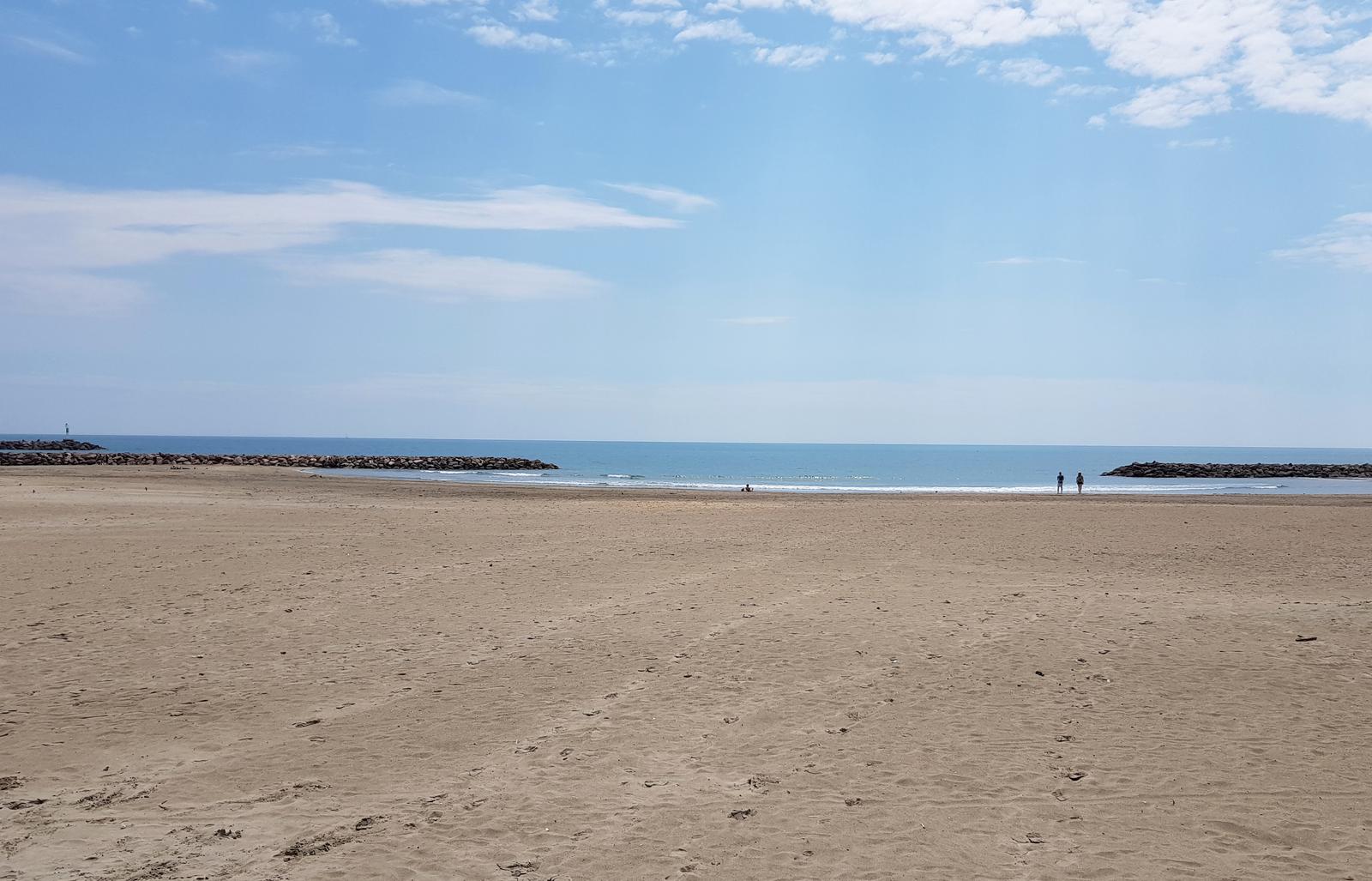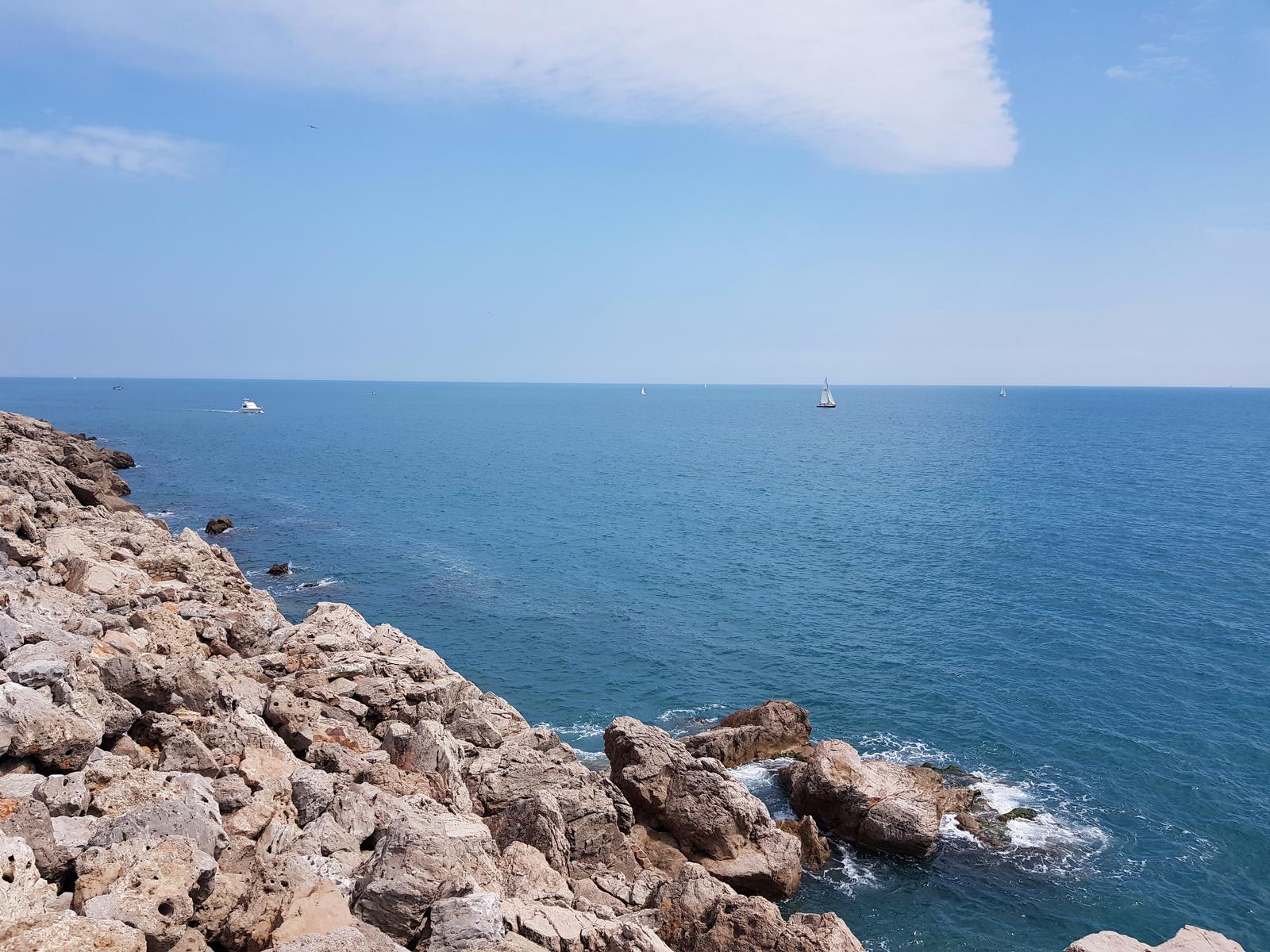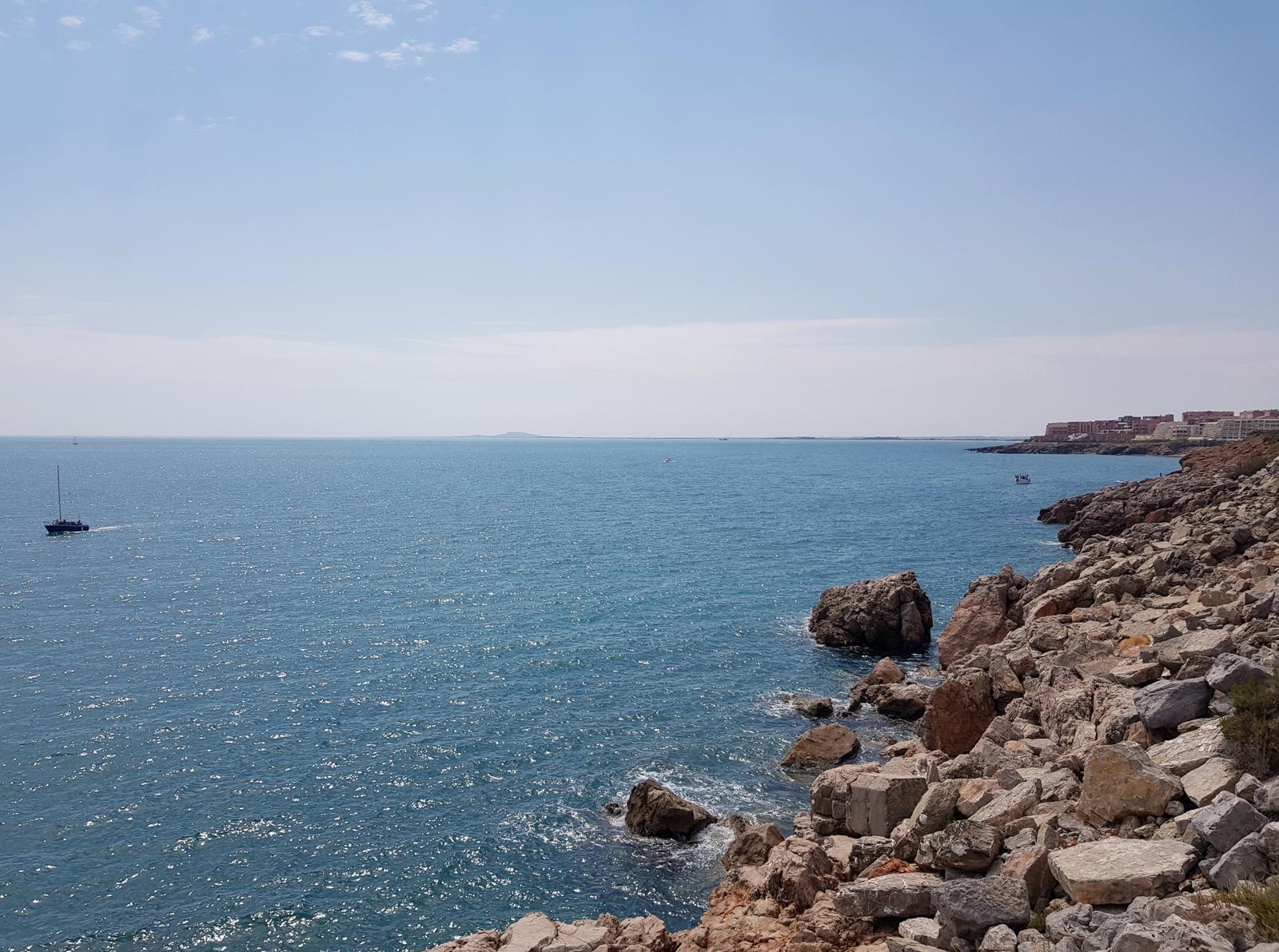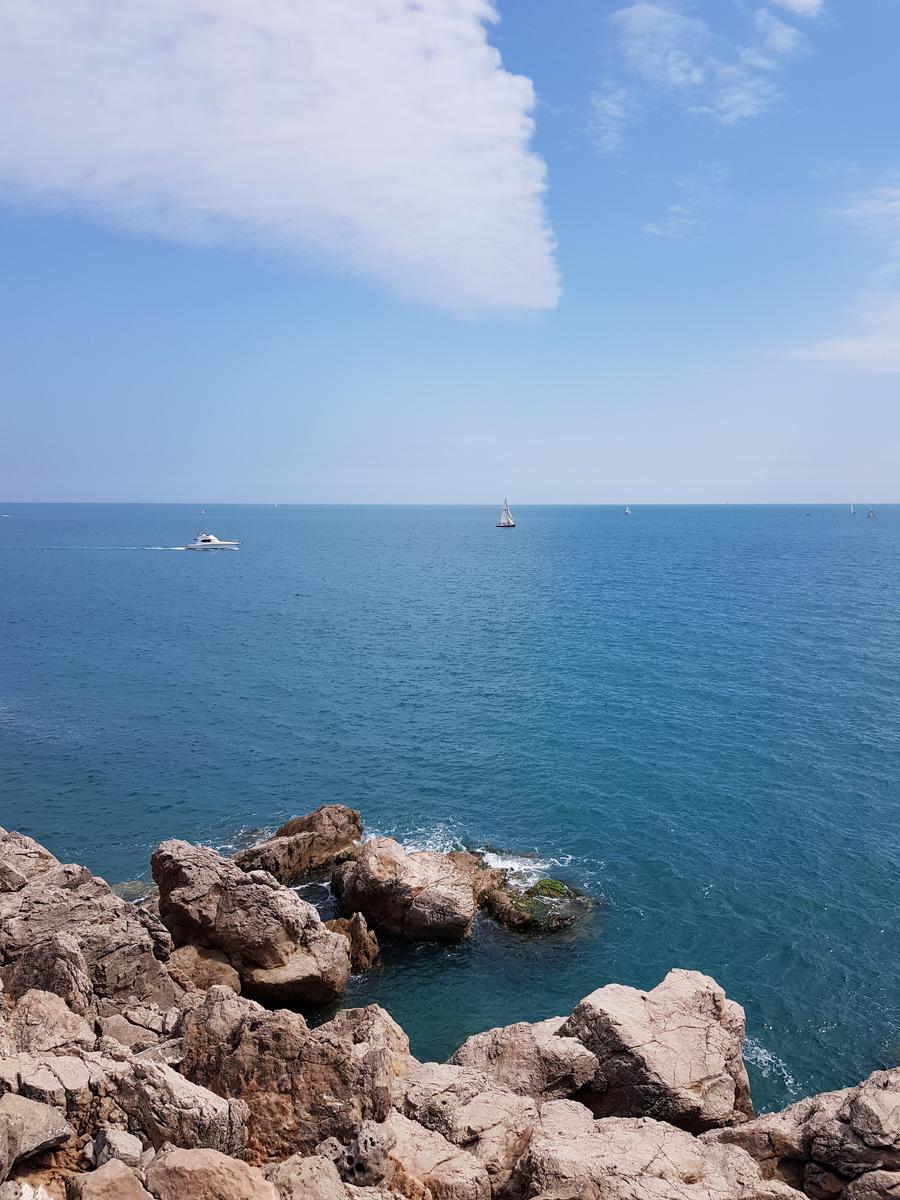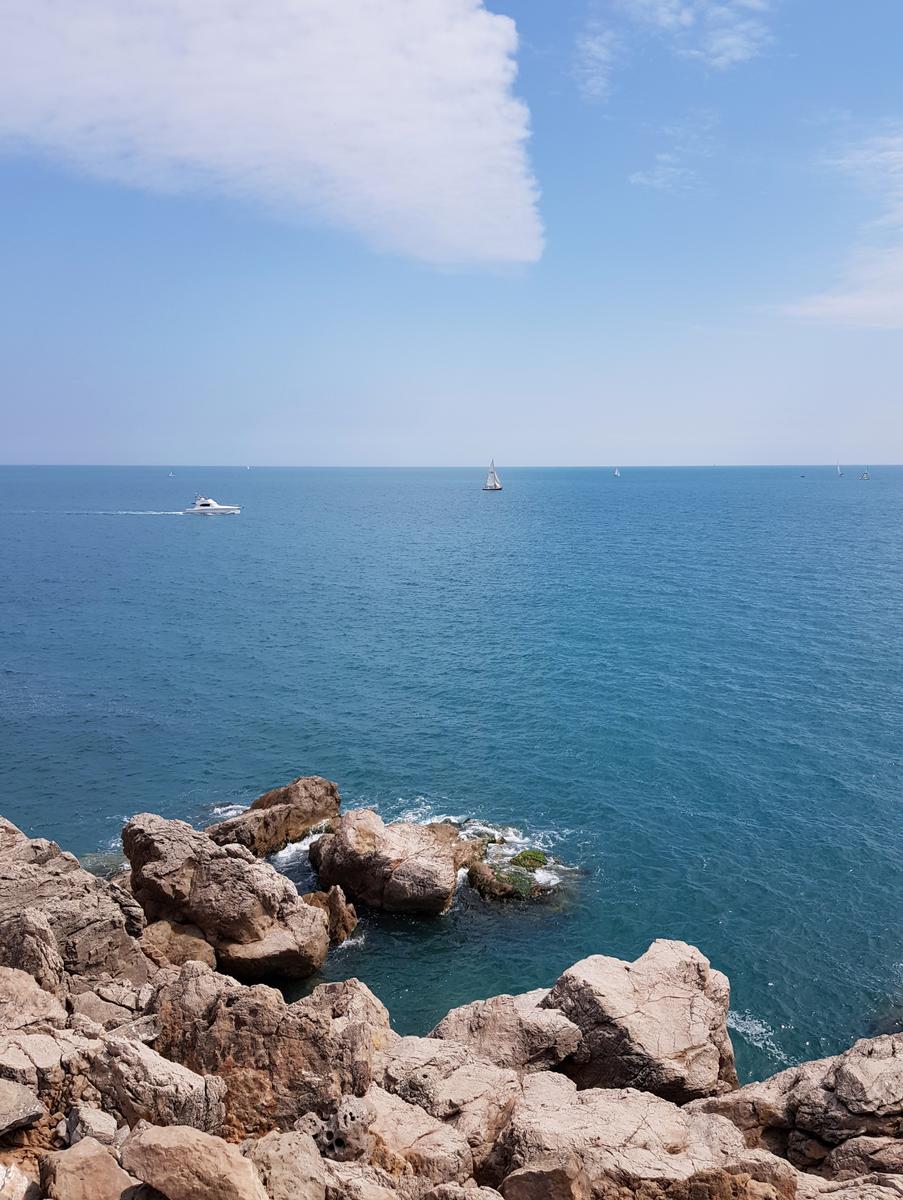 ---
In Sète we stayed in an IBIS Hotel for the night. As usual after showering we spent some time walking around Sète, particularly the harbour area which is lined with bars, cafes, restaurants and ice-cream parlours. We were also were planning our next stop and decided we would continue along the French coastline aiming for Italy.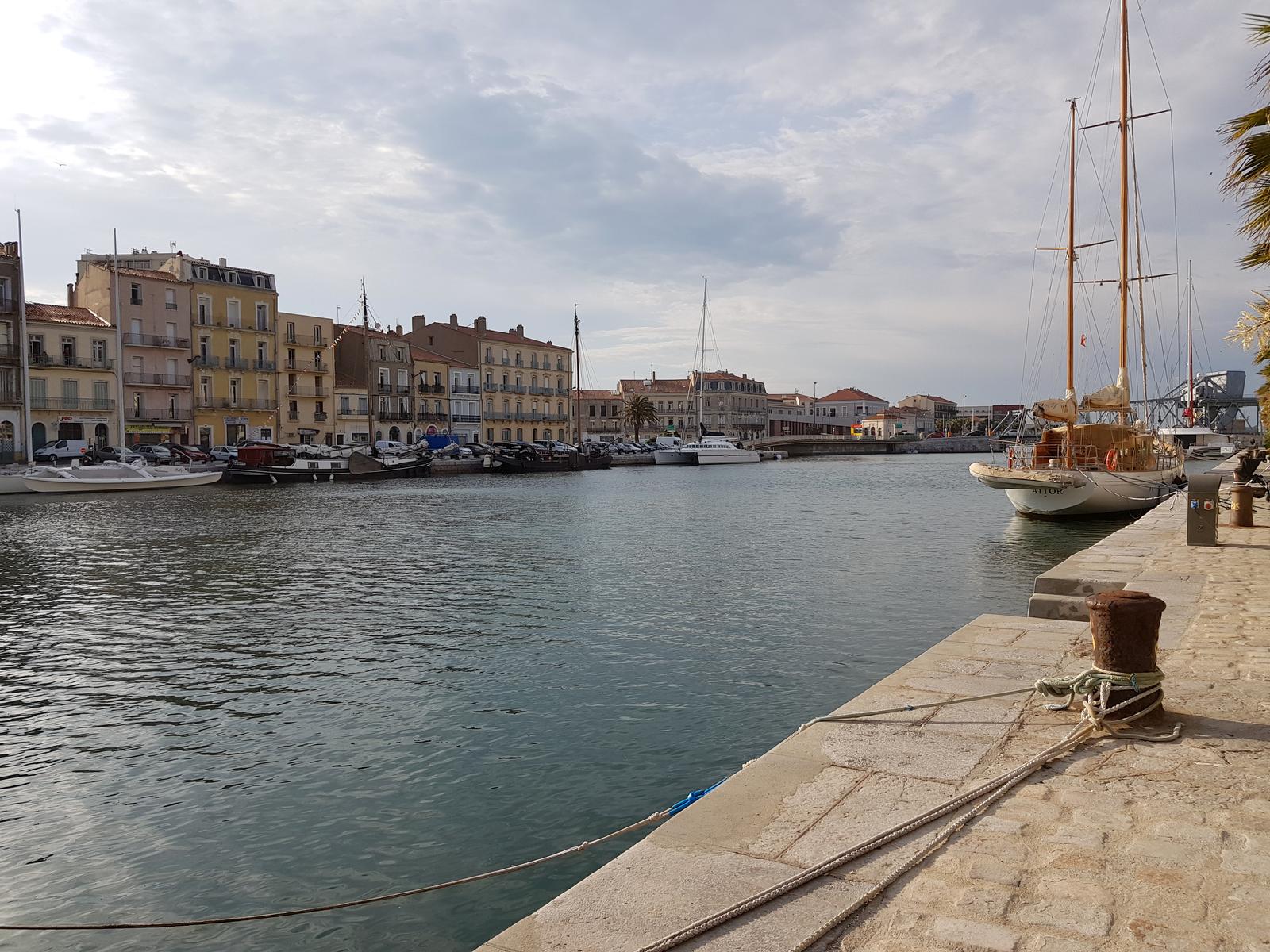 ---
So, that was it, we had made it to Sète. Overall we found the Canal du Midi to be a challenging route that at times was difficult to follow. You probably knew that would be our opinion given that we abandoned the canal path at times, favouring the road instead. It really is the nature of the path, mostly unpaved, rough with long gravel sections that made this route less enjoyable than other routes we have cycled.
The total distance cycled on this leg of our bike tour was 240.4 kilometres with 714 metres of elevation. The total distance cycled from Roscoff to Sète was 1174.7 kilometres and 4266 metres of elevation.
---
If you've any questions, suggestions or just want to say hello, contact me via the Contact Form, Instagram (@noroadlongenough) or By Email noroadlongenough1@gmail.com