Trails For Days in Sameiro, Manteigas - Serra da Estrela, Portugal.
Back in August 2020 (can't believe it was that long ago already) we left Lisbon city and headed to Sameiro in Serra da Estrela to spend some time in nature and check out some of the local trails. As Covid-19 was still a concern (however travel was permitted) we booked an apartment so we could self-cater and thus reduce our contact with others.
Sameiro, Manteigas - Serra da Estrela
Sameiro is a small village in the municipality of Manteigas with a population of approximately 350 people. We chose this village as our base as there are lot of hiking trails in the vicinity and because of Covid-19 we knew we would not be eating out and mixing with people, we wanted to keep to ourselves and it was definitely easy to do this in Sameiro. As mentioned above we self-catered and so we stocked up in a large supermarket on the way to the apartment which we would definitely advise you to do as there are only quite limited supplies available in Sameiro and the nearby villages.
A few photos of Sameiro: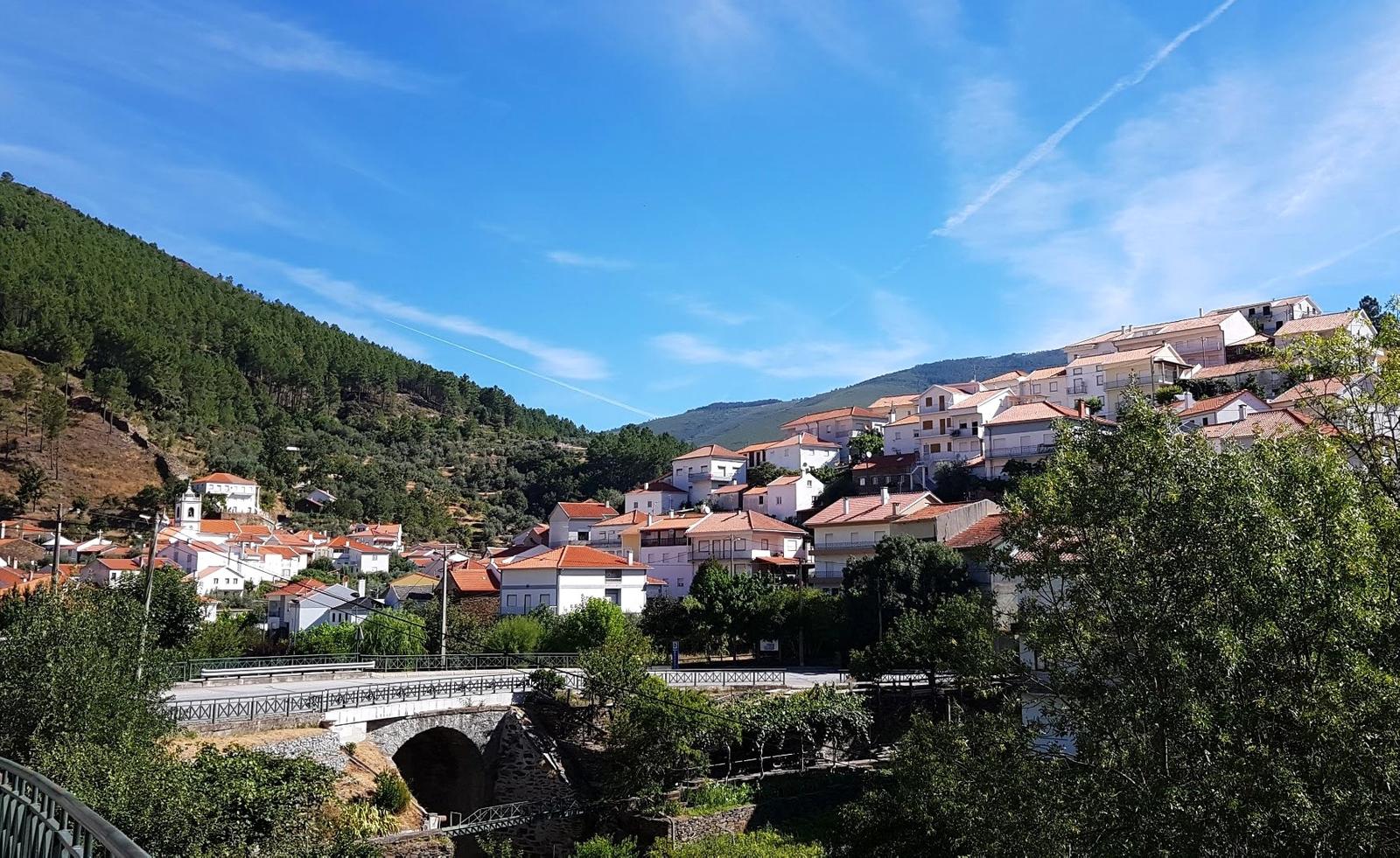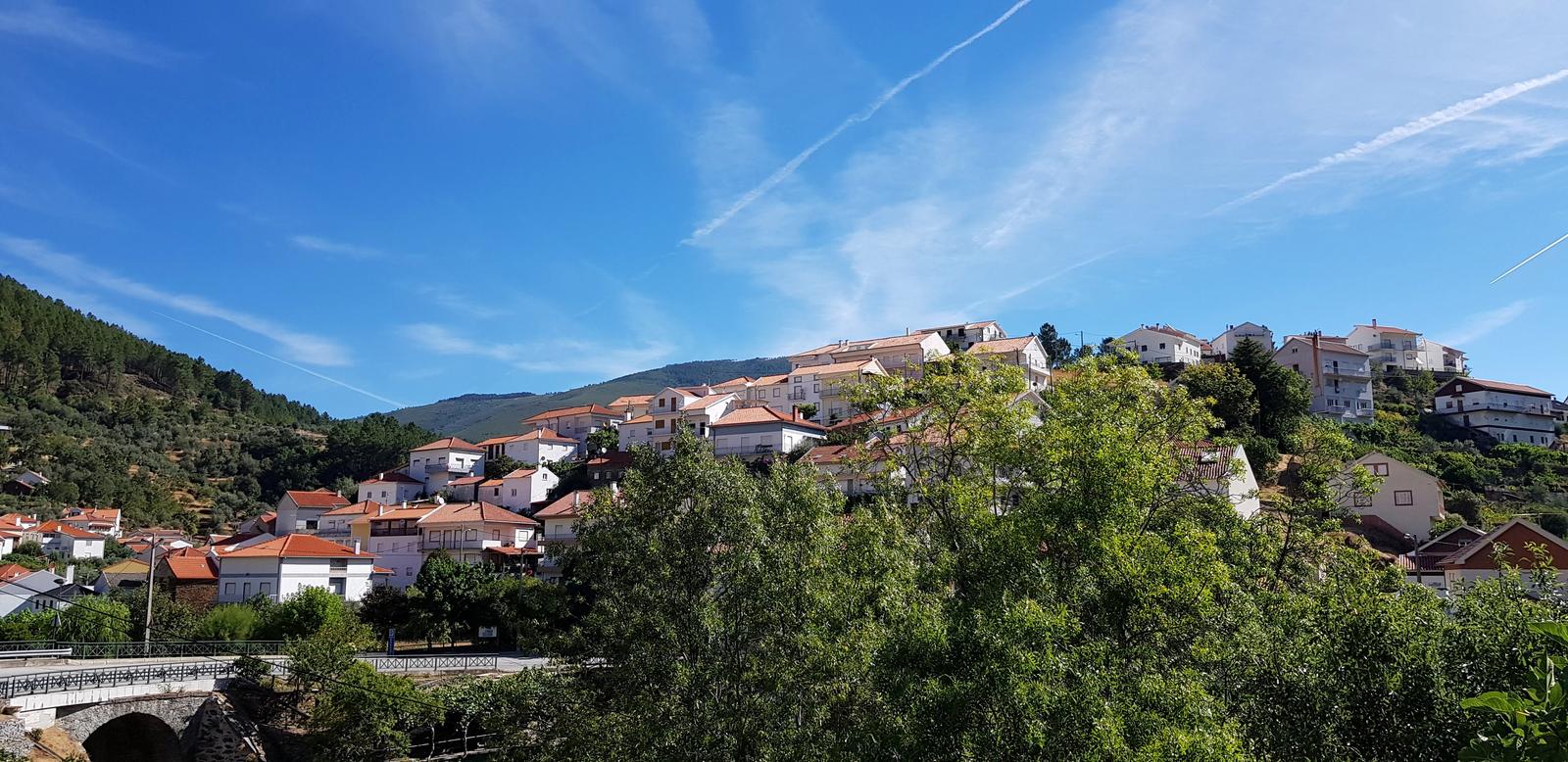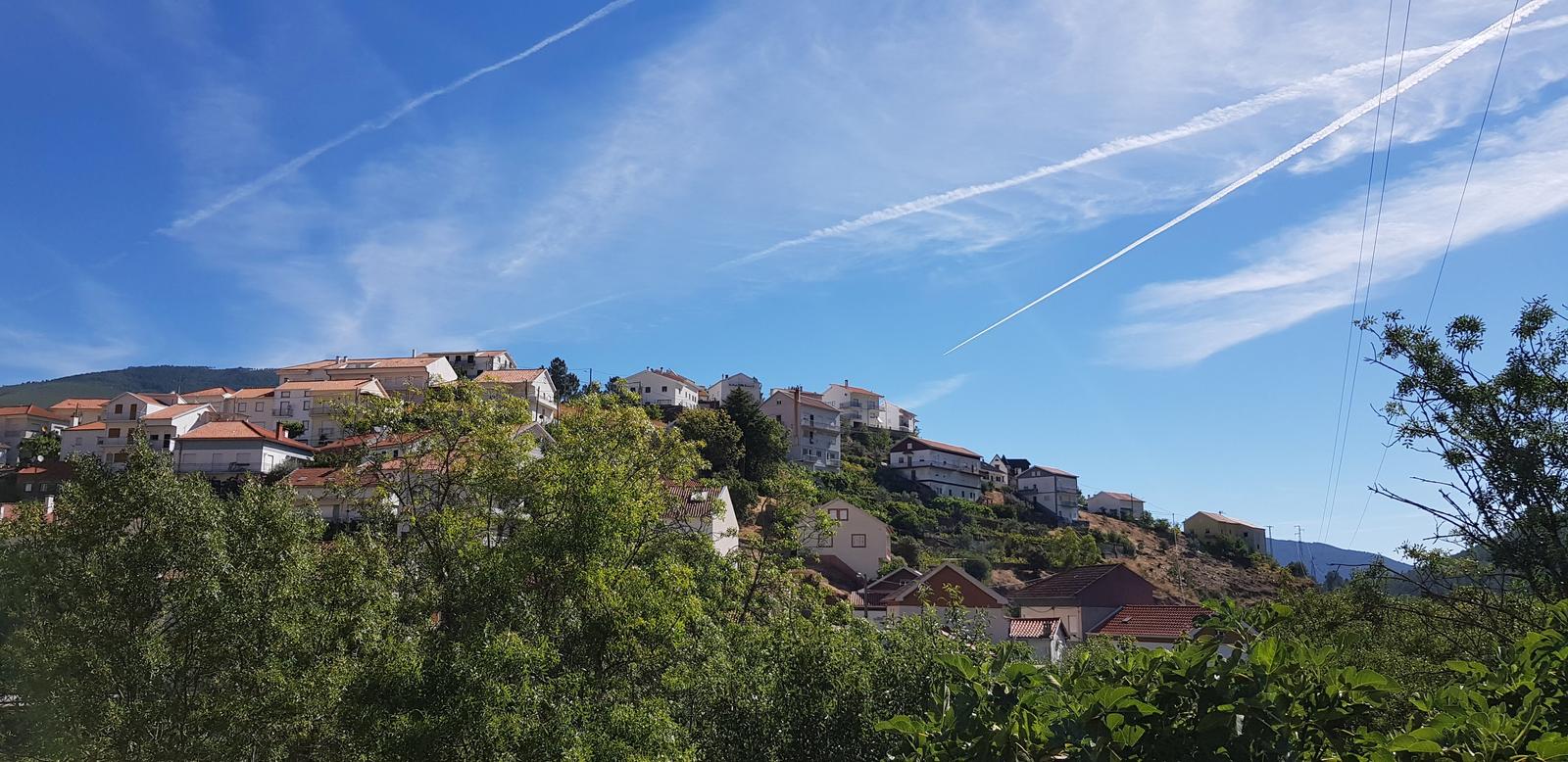 Below is photo of Sameiro from one of the nearby hiking trails: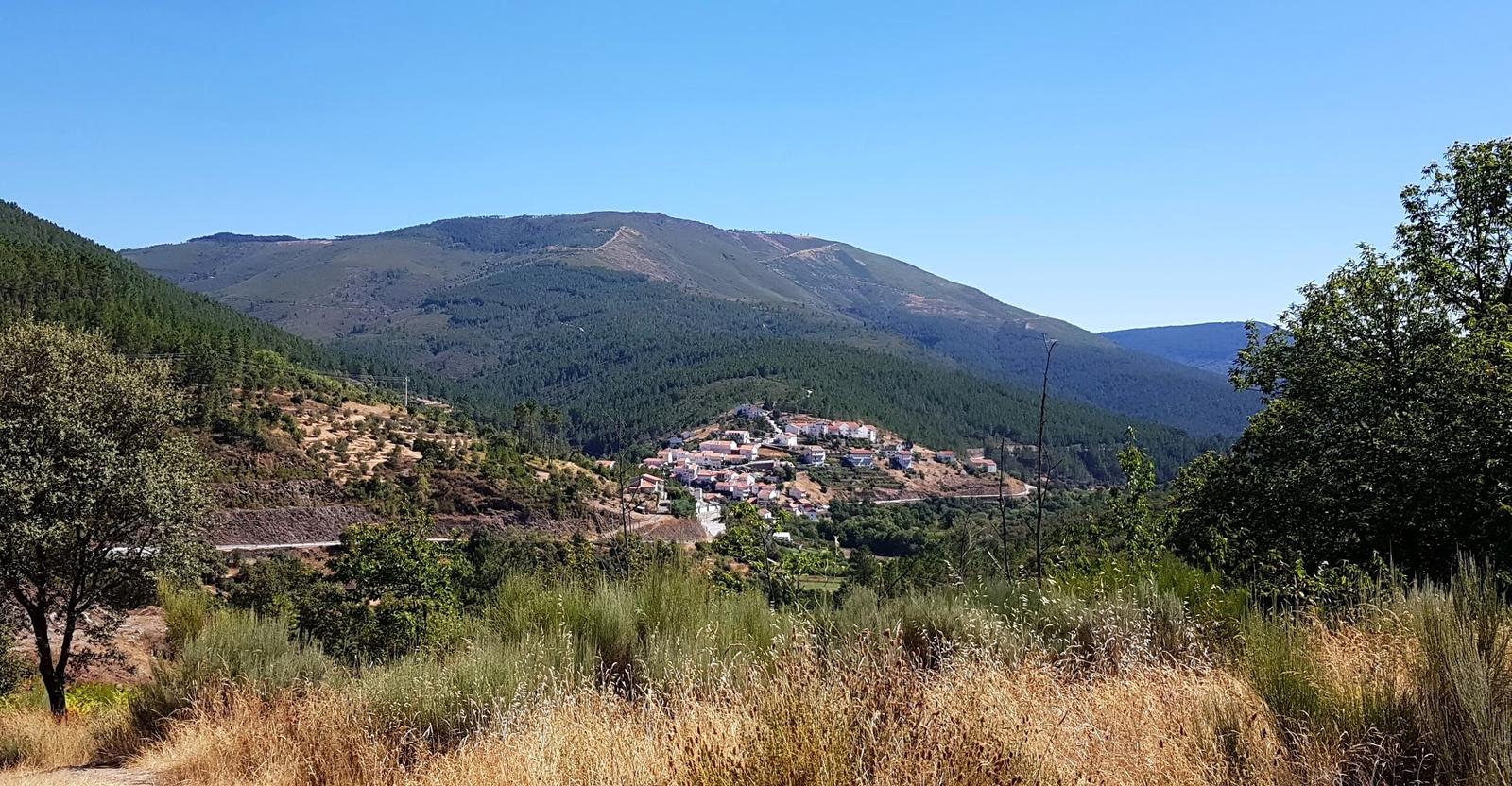 Below is the view from the upper terrace of our apartment: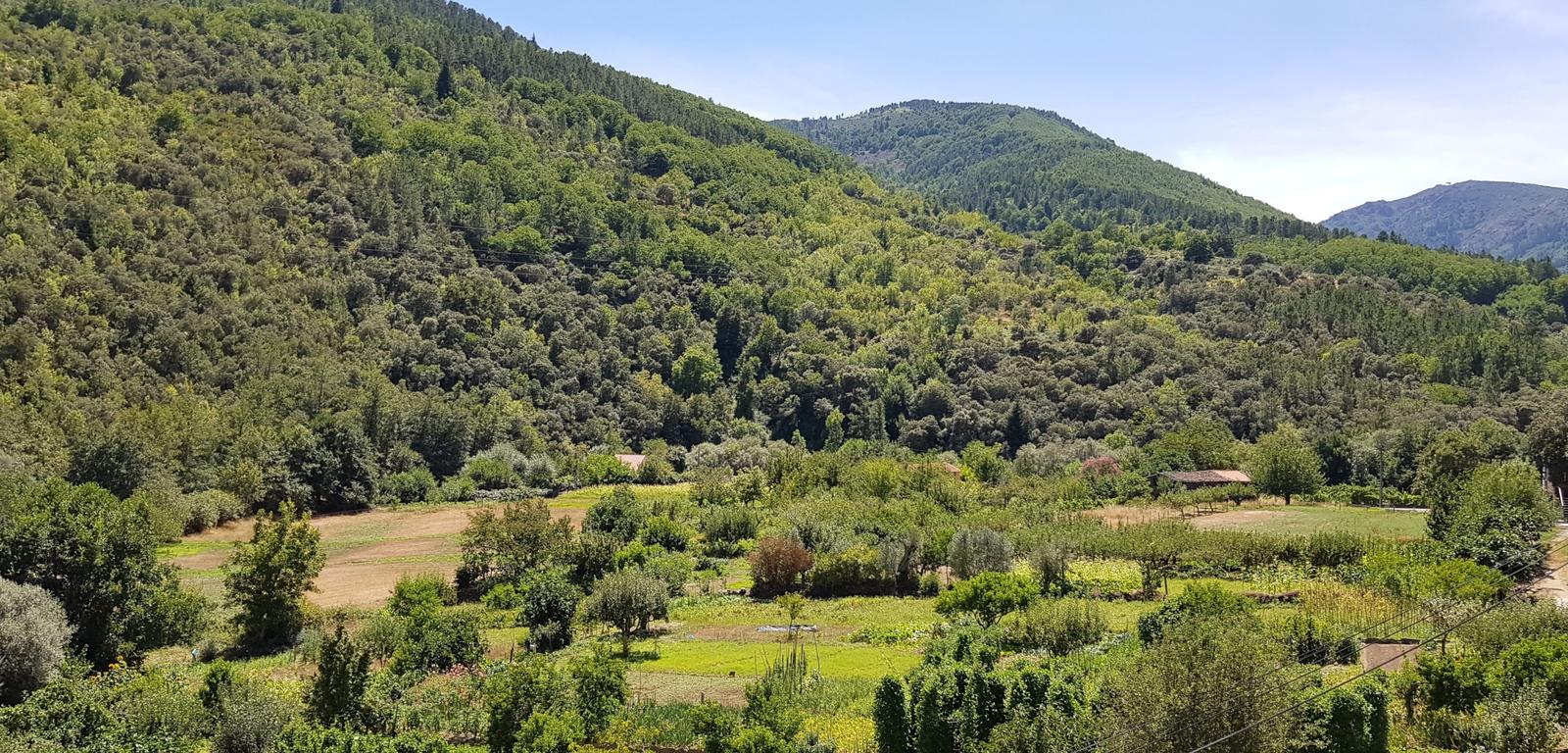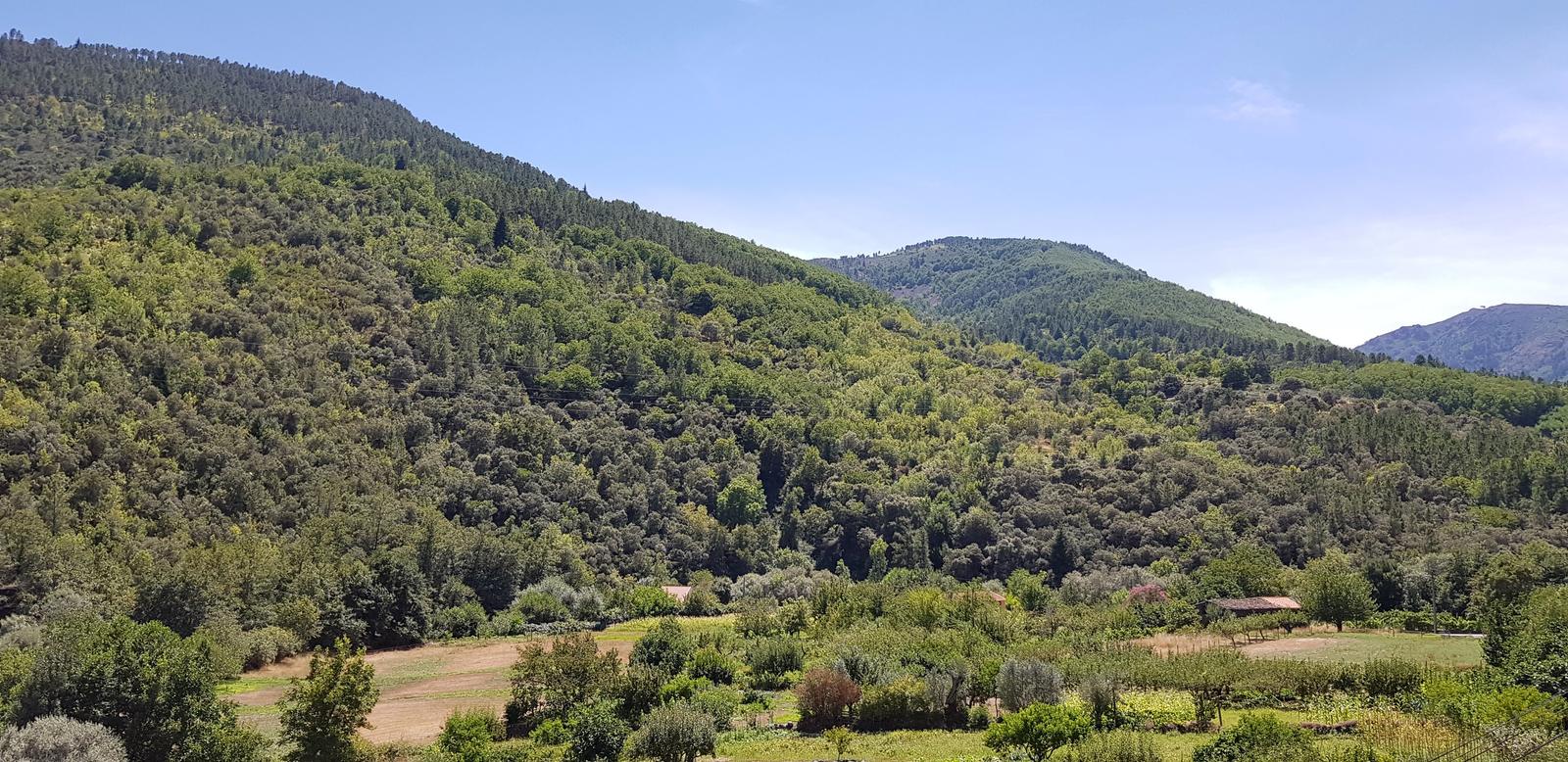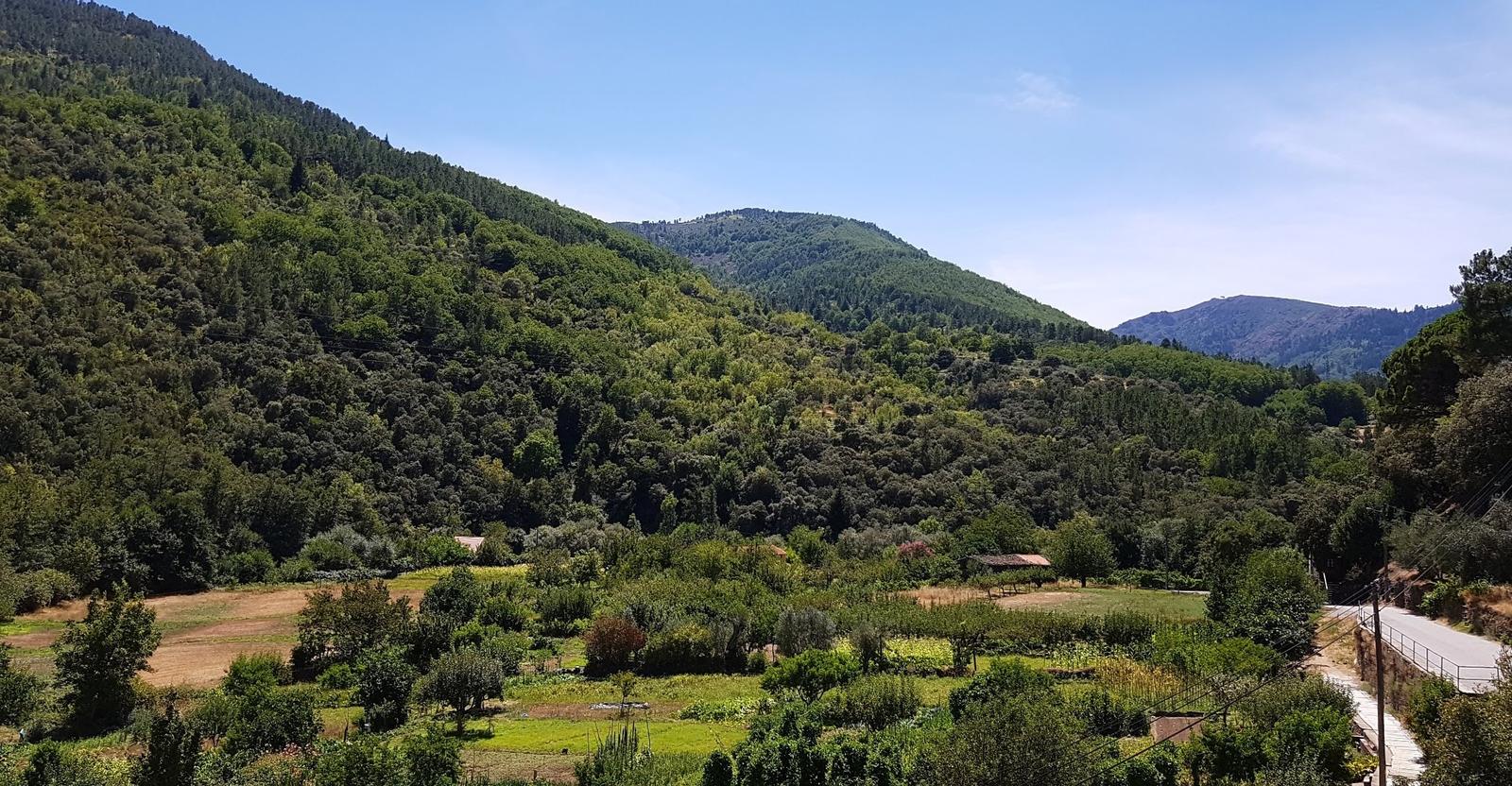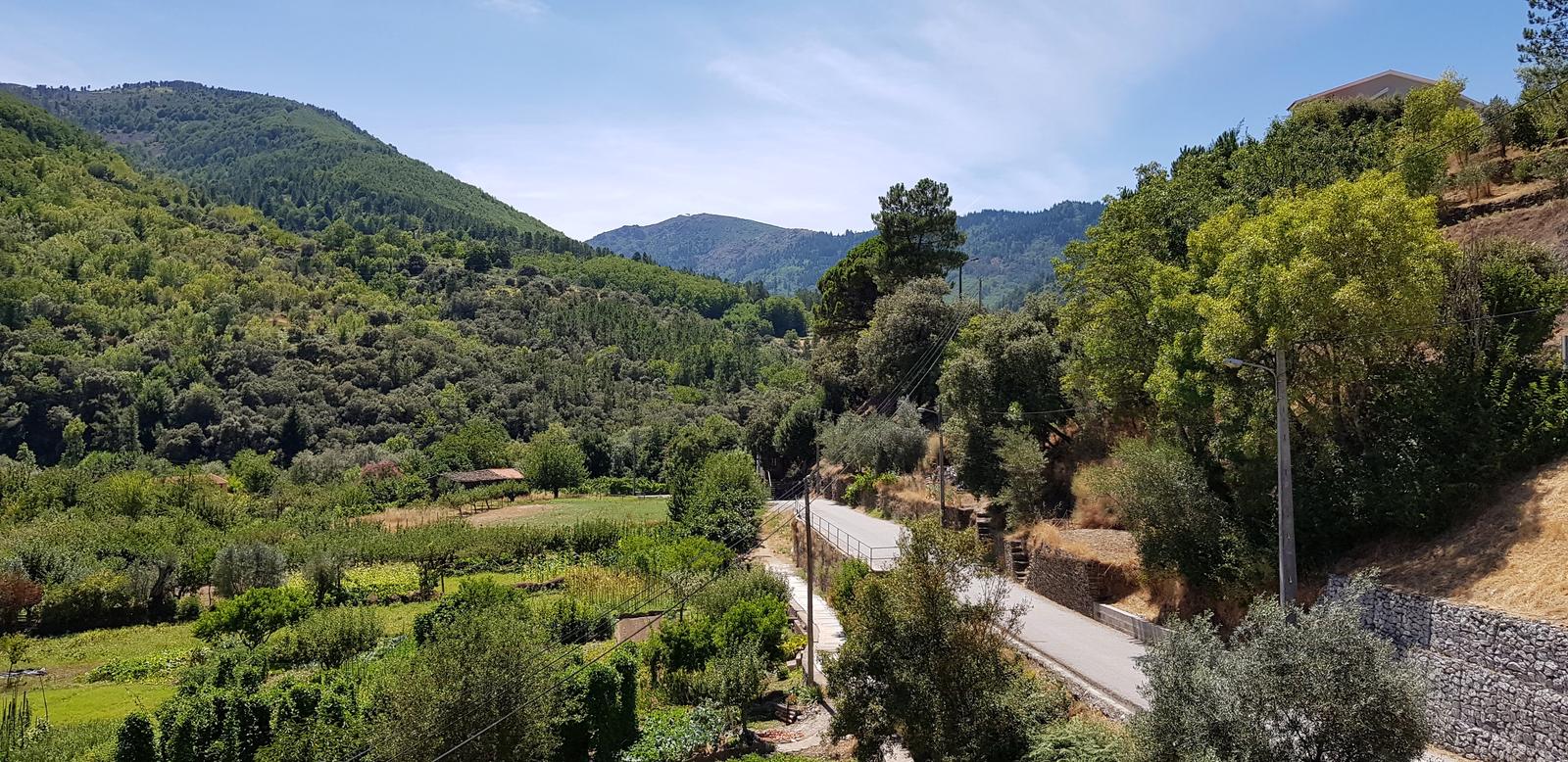 Looking back towards Sameiro from our upper terrace: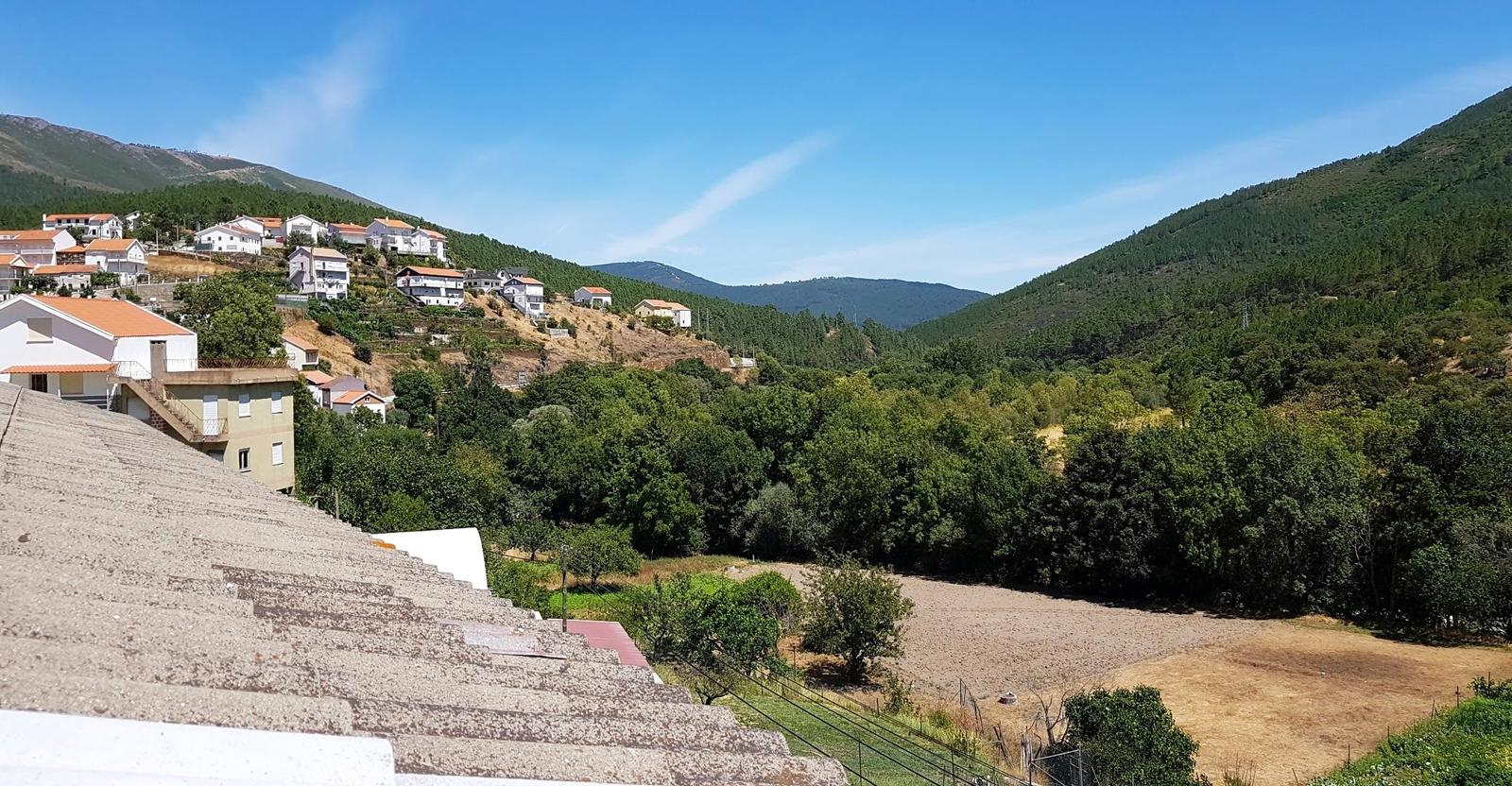 Our upper terrace where we enjoyed our morning coffees and all our evening meals: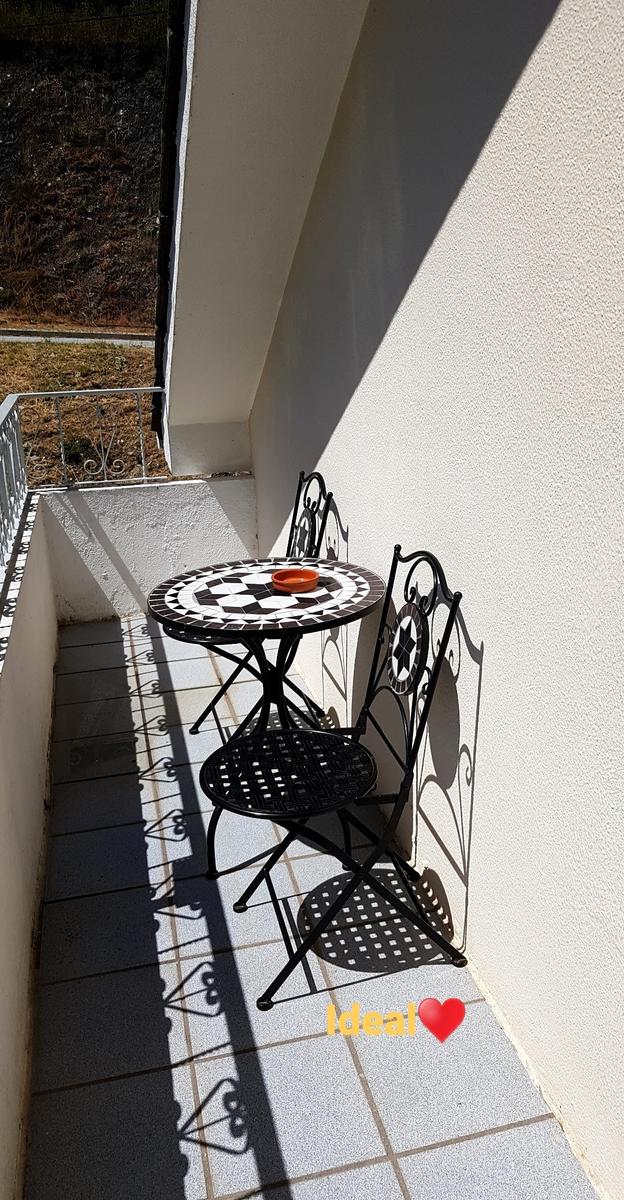 For all of our stay in Sameiro the weather was hot, it was +33'C daily! Luckily the owner of our apartment had planned ahead and had a number of fans in the apartment ready for us to use. We got up early every morning (5:30/6:00am) to make sure we got out on the trails while it was a little cooler but it was tough going at times in the heat!
---
The Hiking & Running Trails We Explored!
1. Poço do Inferno:
On our first afternoon, once we had checked into our accommodation we decided to drive to the Poço do Inferno trail head. It is a very narrow winding road to get to there. As it was 5pm we had no issue getting a parking space.
The Poço do Inferno waterfall is located a short walk from the parking area but as it was Summer we did not expect there to be much water (we had read this online) so instead we had planned to walk the 4 kilometre loop trail around the area (we had a GPX on our watches). Some sections at the start of this trail (which started near the sign photographed below) were quite dangerous with steep drops and it was hard to follow at times. However, we once we got passed these areas, the trail was nice and easy to follow. We passed people bathing in the river further along but again there was not much water.

We did enjoy the trail and the view from it was gorgeous: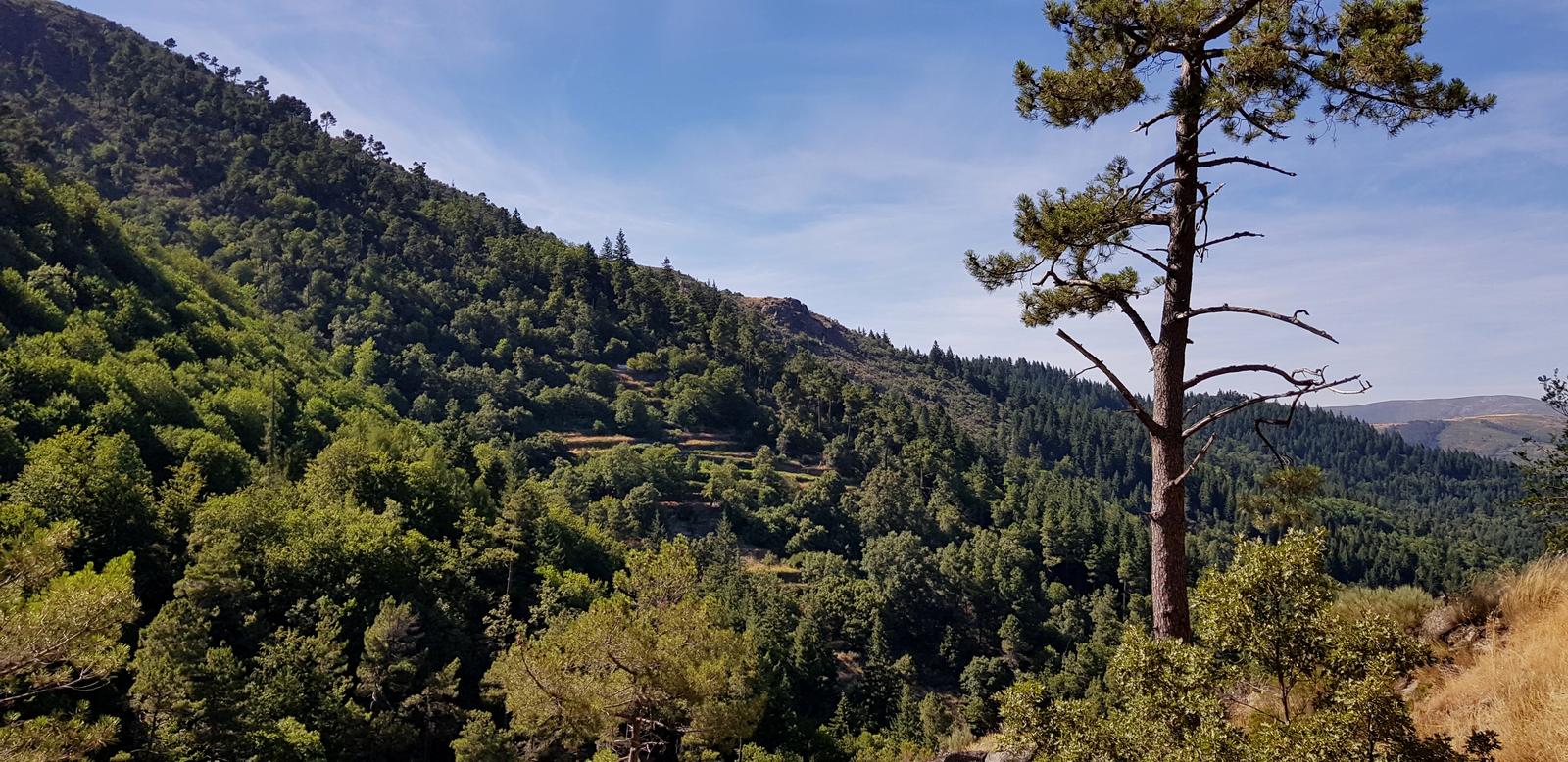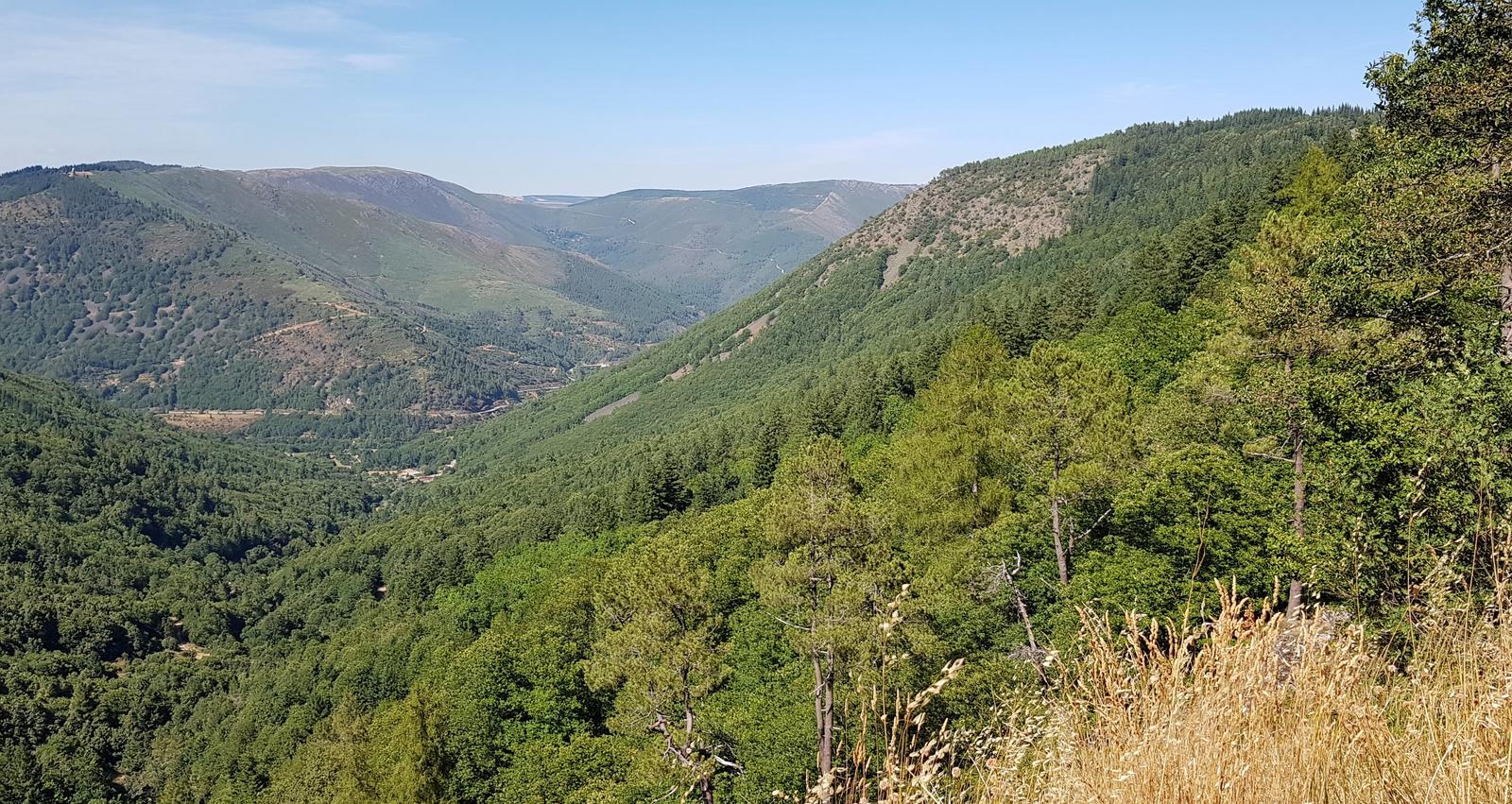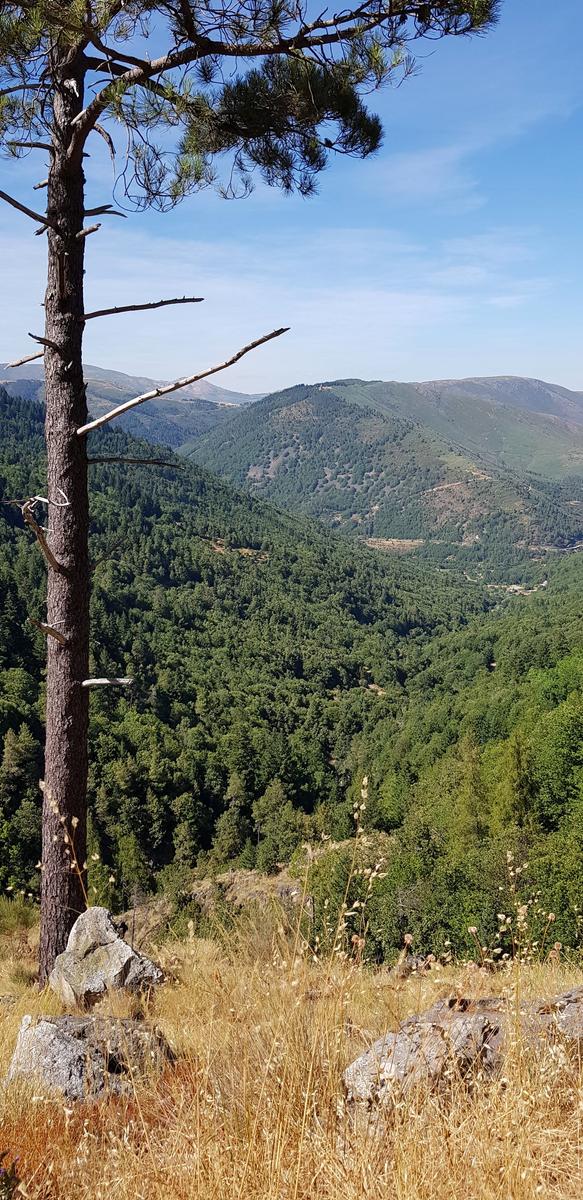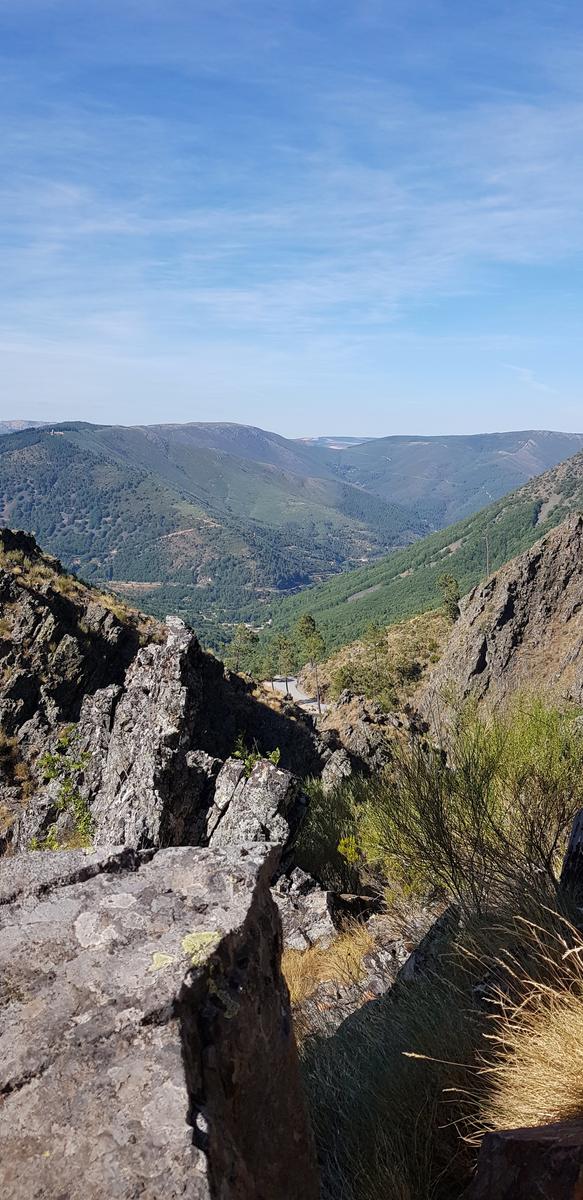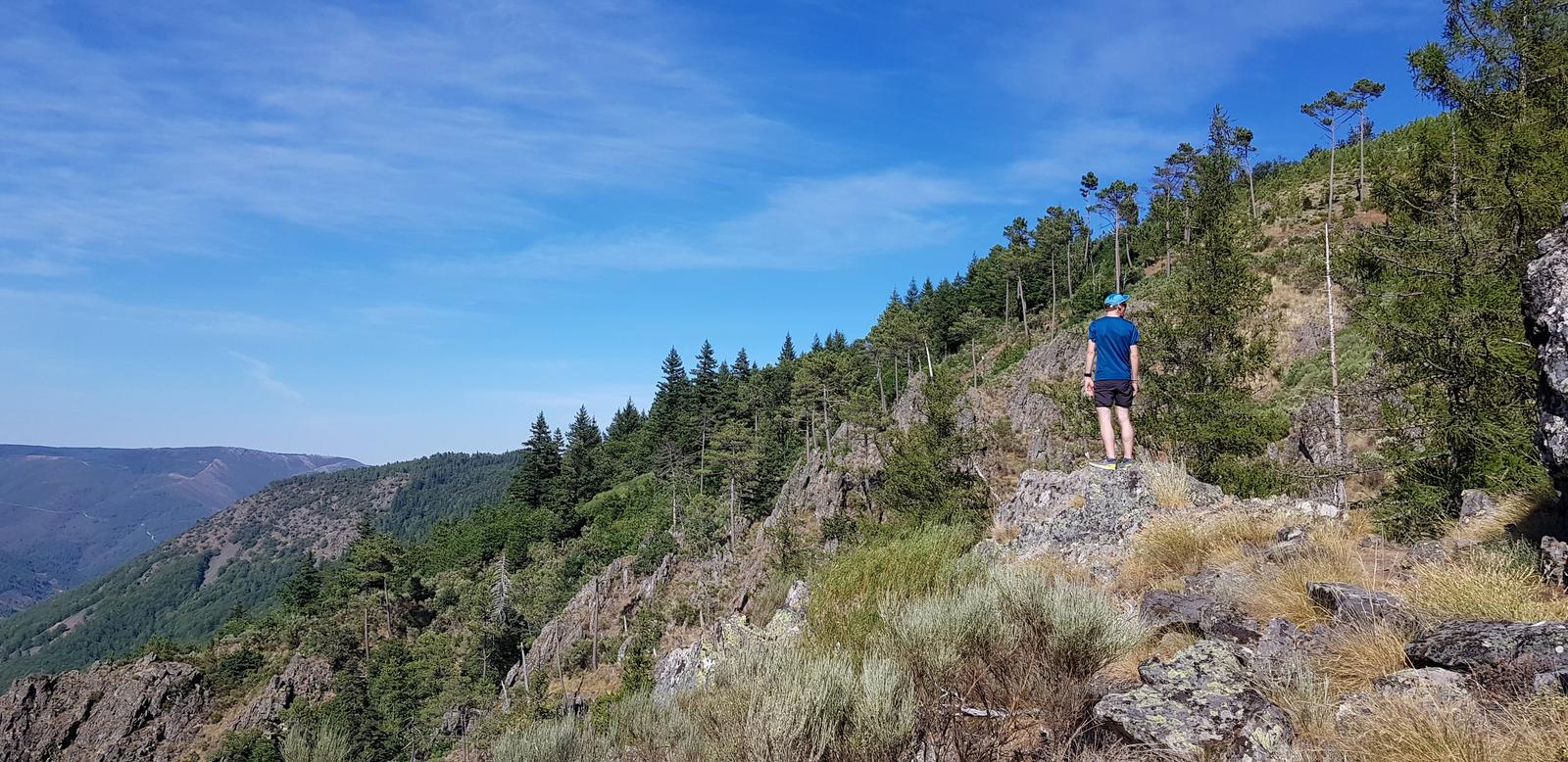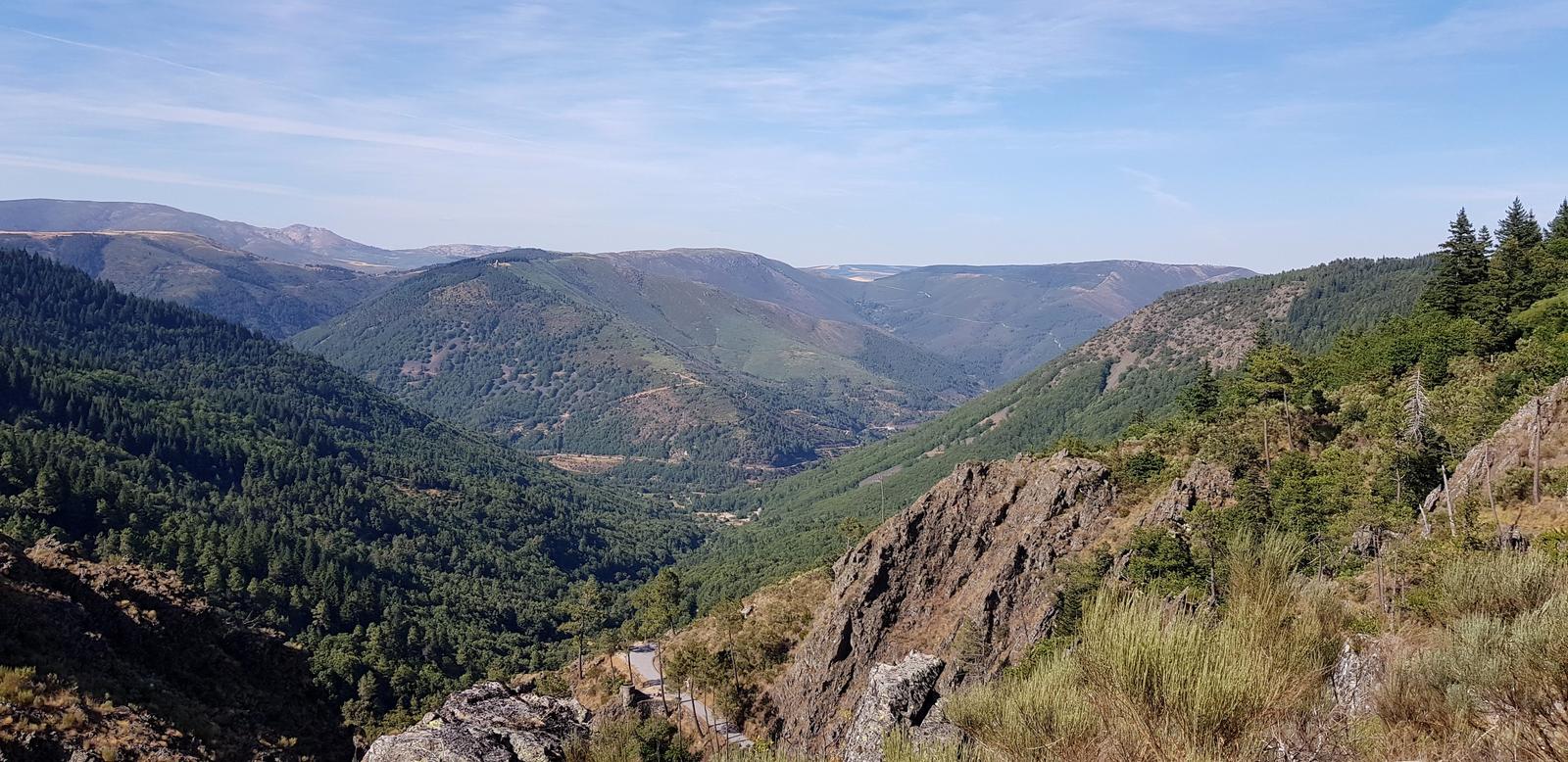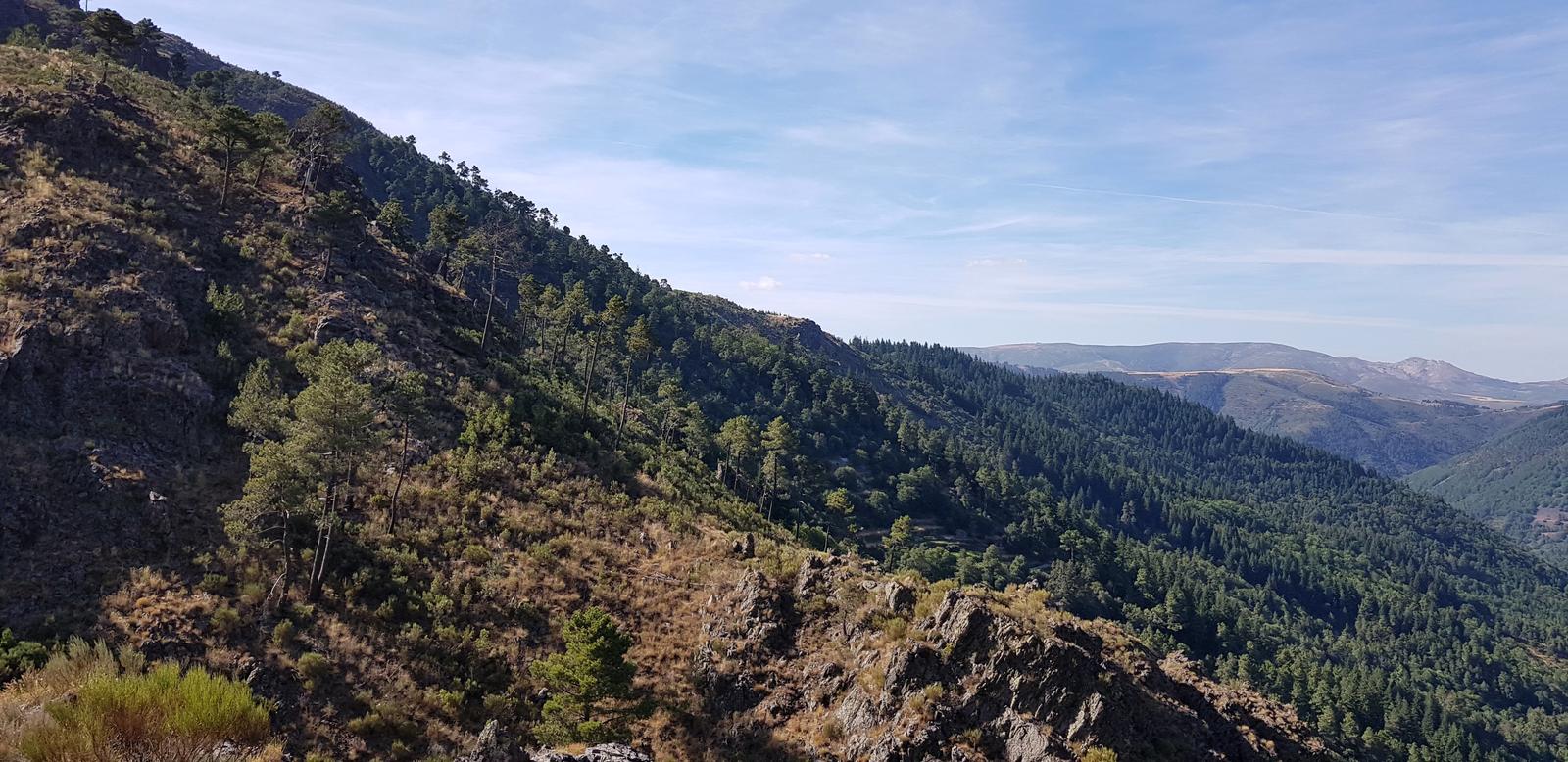 The last section was along the road and brought us back to our car: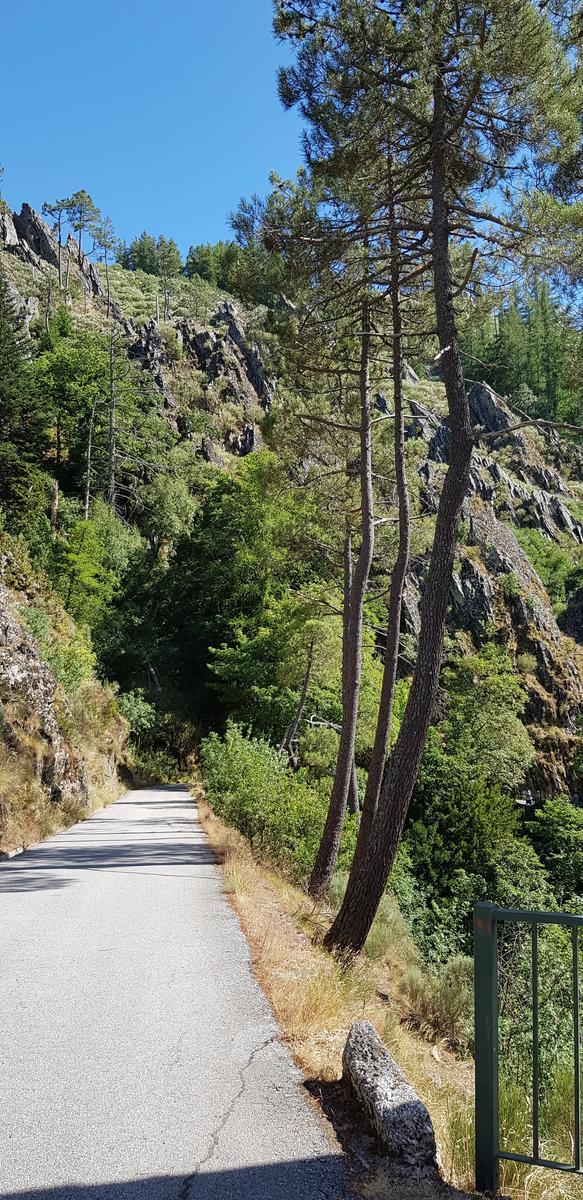 I think if you are close by this area like we were, this is a nice trail to visit and walk but I probably would not go out of my way to do this hike. It would be a accessibility nightmare during peak tourist/visitor times simply due to the road (narrow & winding) and the limited parking. During the quieter off season, when there is water for the waterfall I could see this area being magical, especially if you were brave enough to swim!
---
2. Capela de São Lourenço:
On our first full day we headed off early with our day packs and of course a GPX route on our watches that would lead us on a 15 kilometre circular route via the Capela de São Lourenço. We were mainly following the marked trails PR12 and PR13.
Although we were on the trail for 8am it was already 25/26C. Over the first 5.5 kilometres, starting in Sameiro we ascended 530 metres to the Capela de São Lourenço and I was so glad I had my Leki hiking poles, it was steep and mainly loose earth and rock. It was also very hot with little shade. However, the climb was worth it for the view of the valley which was constantly changing as the sun continued to rise and the landscape changed.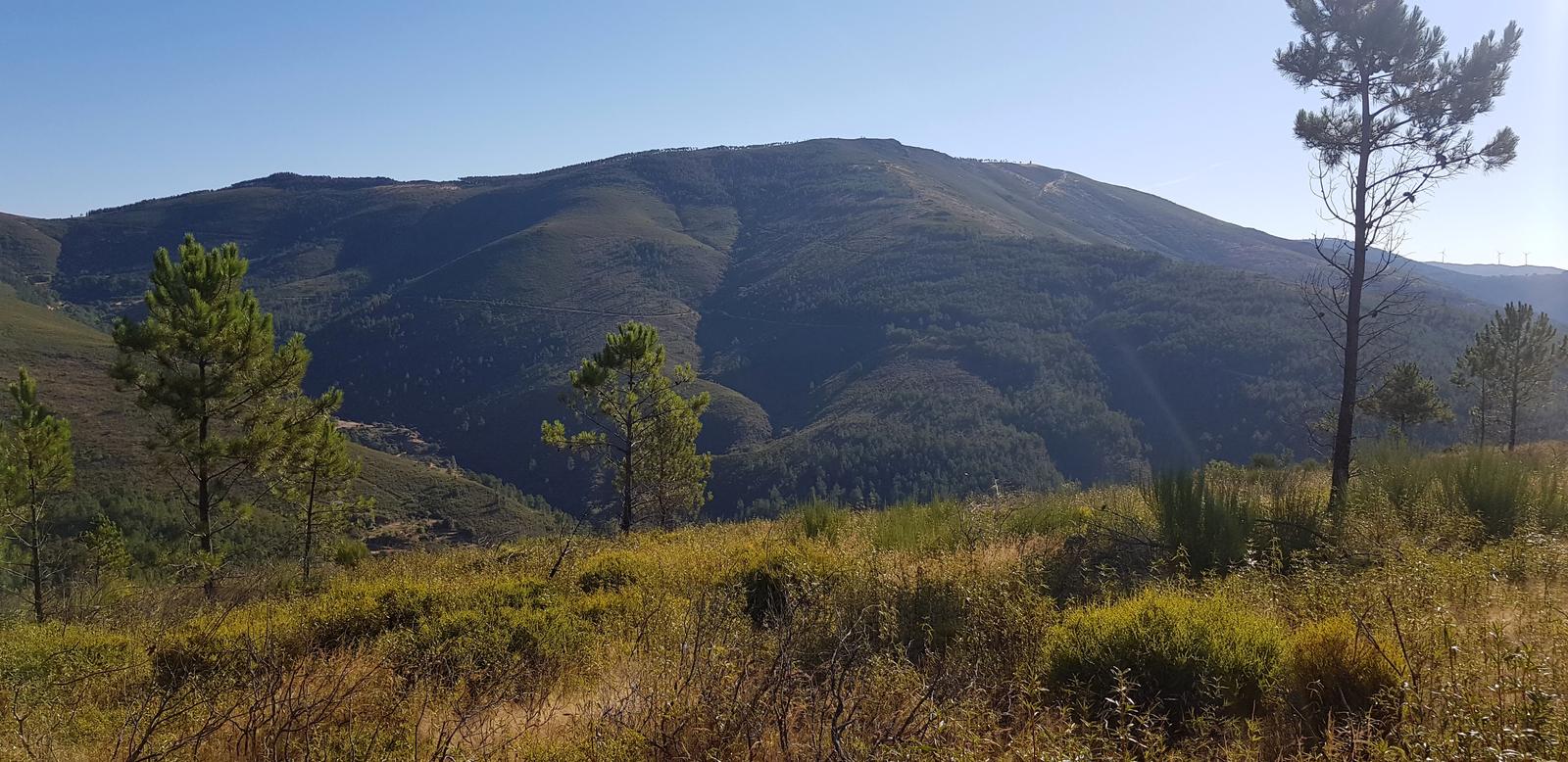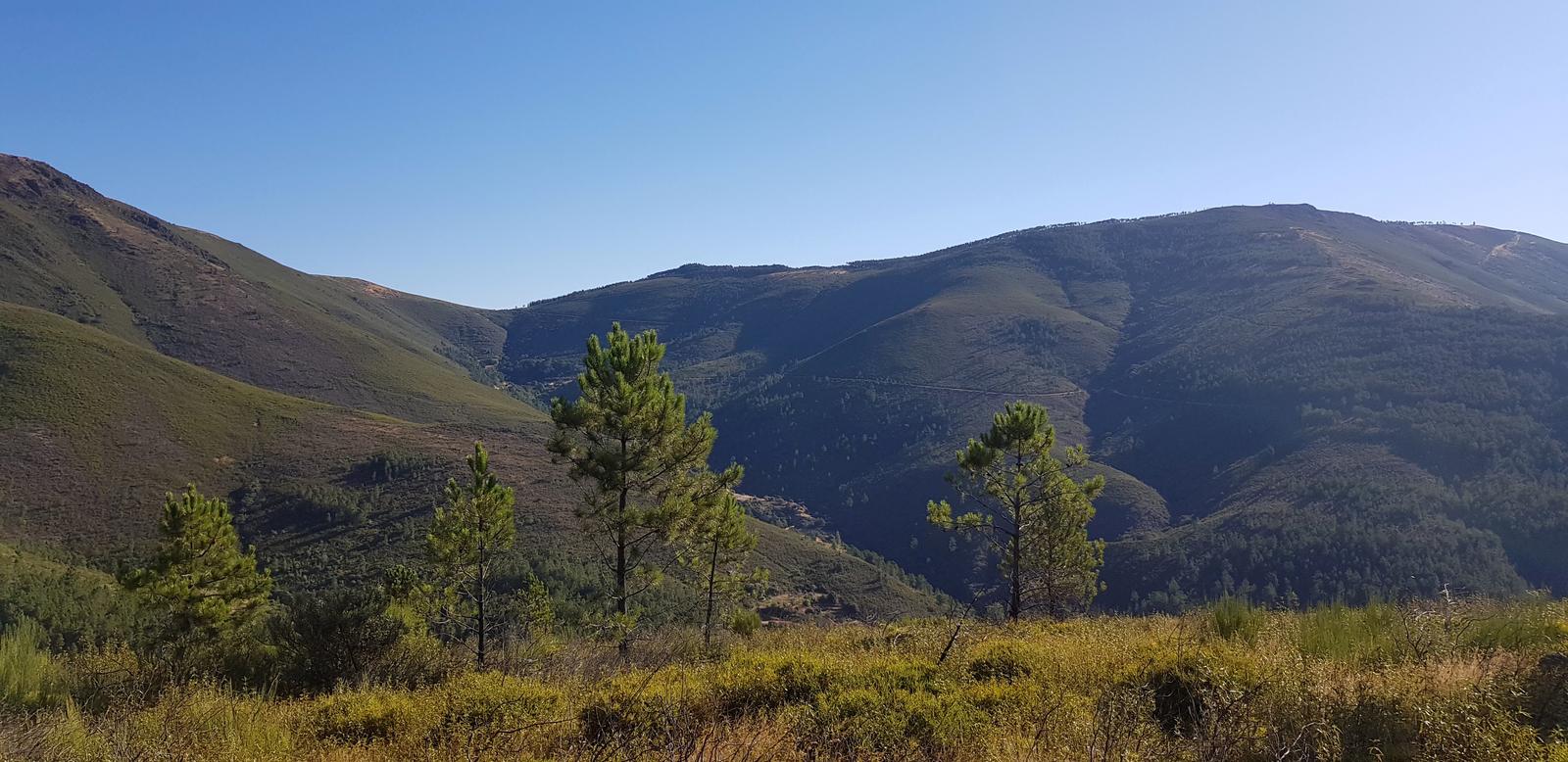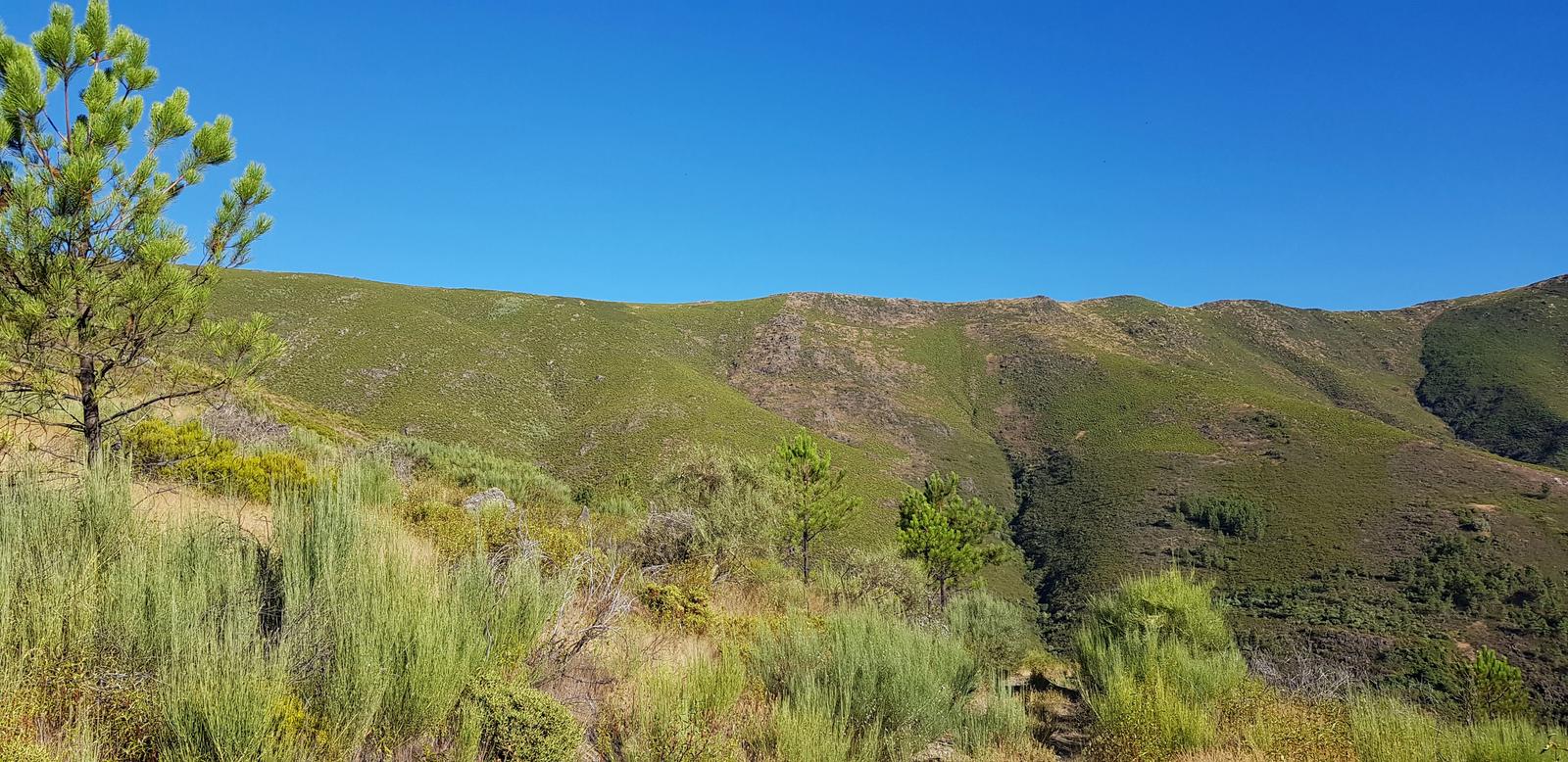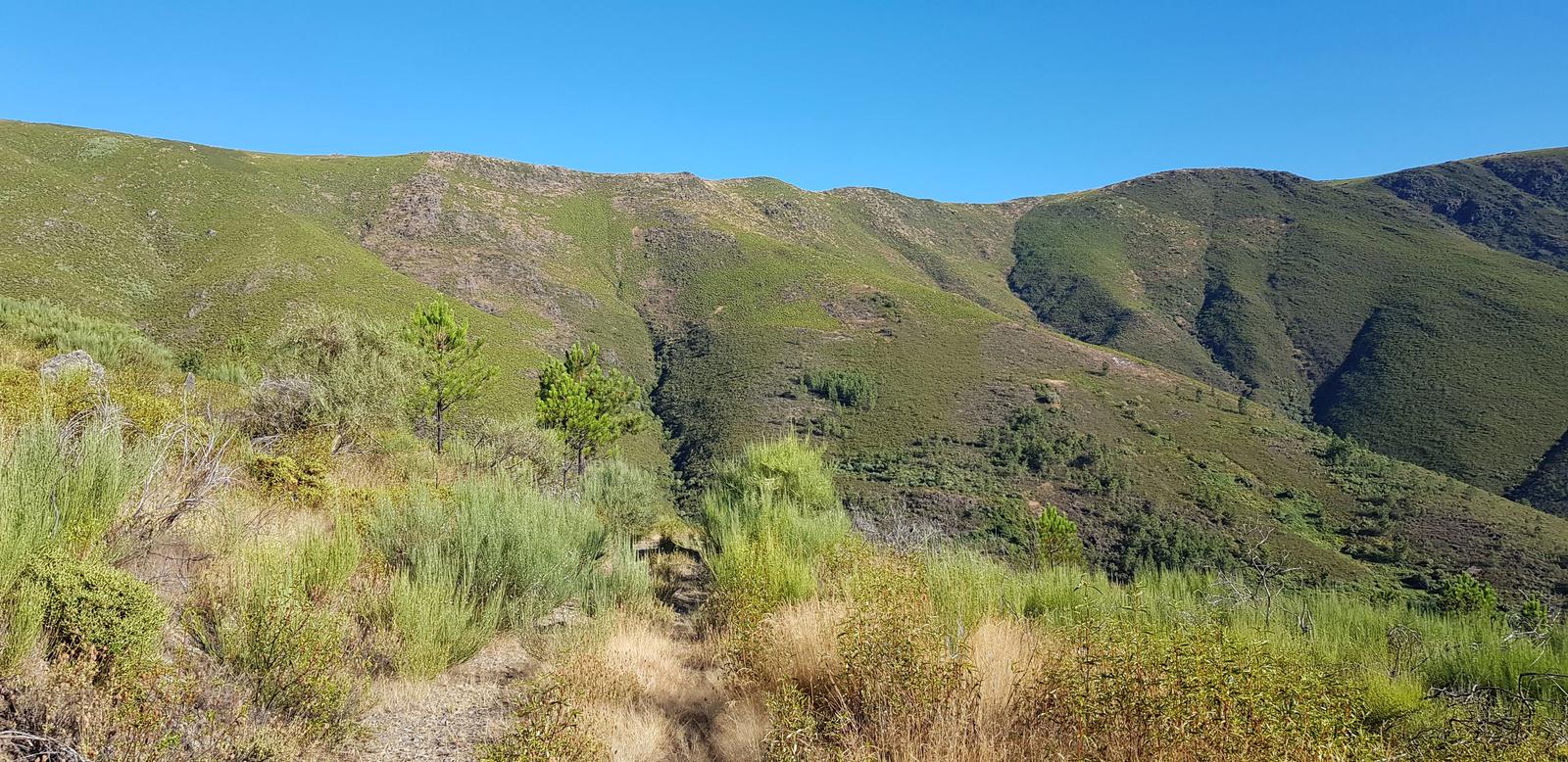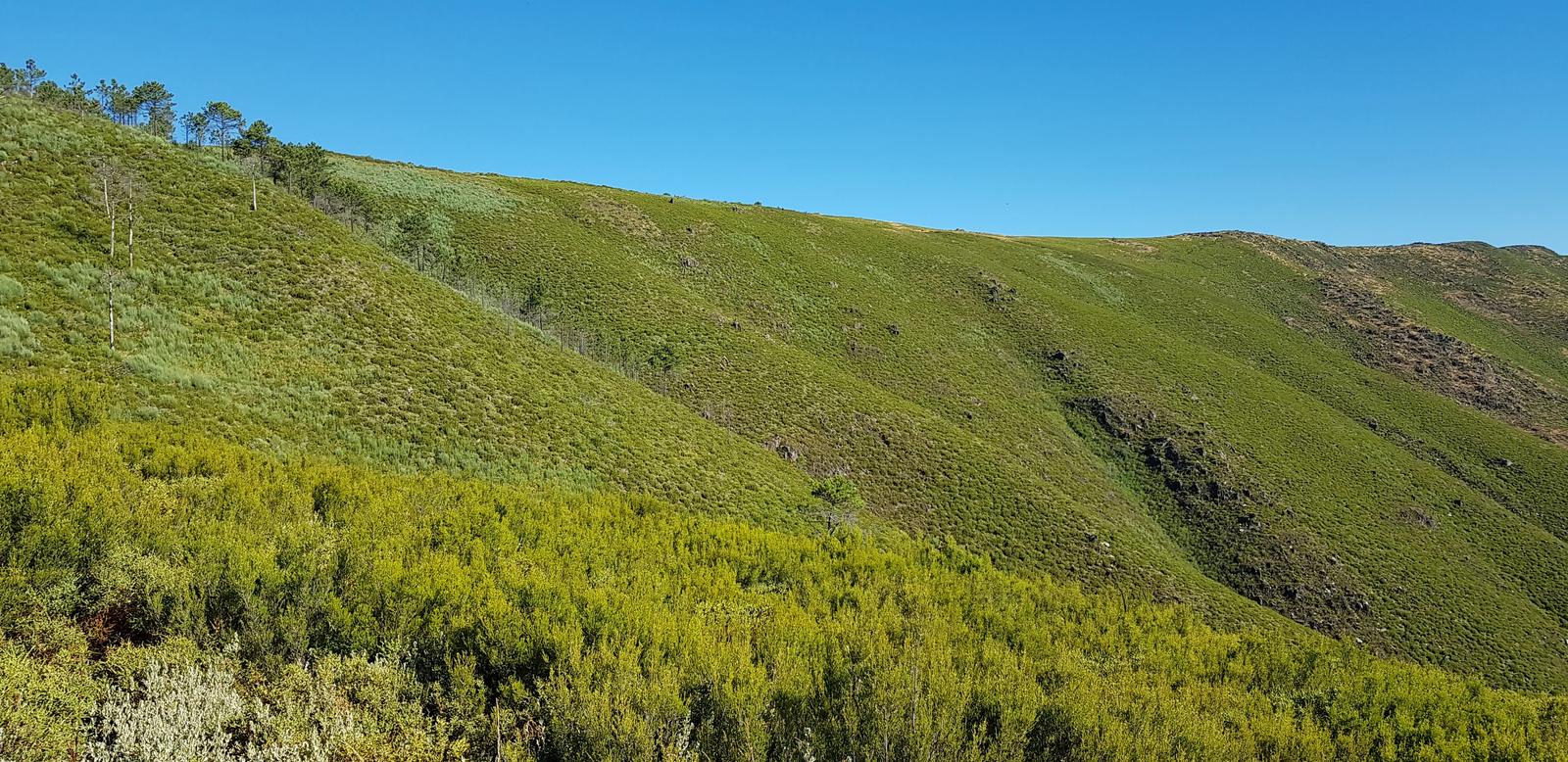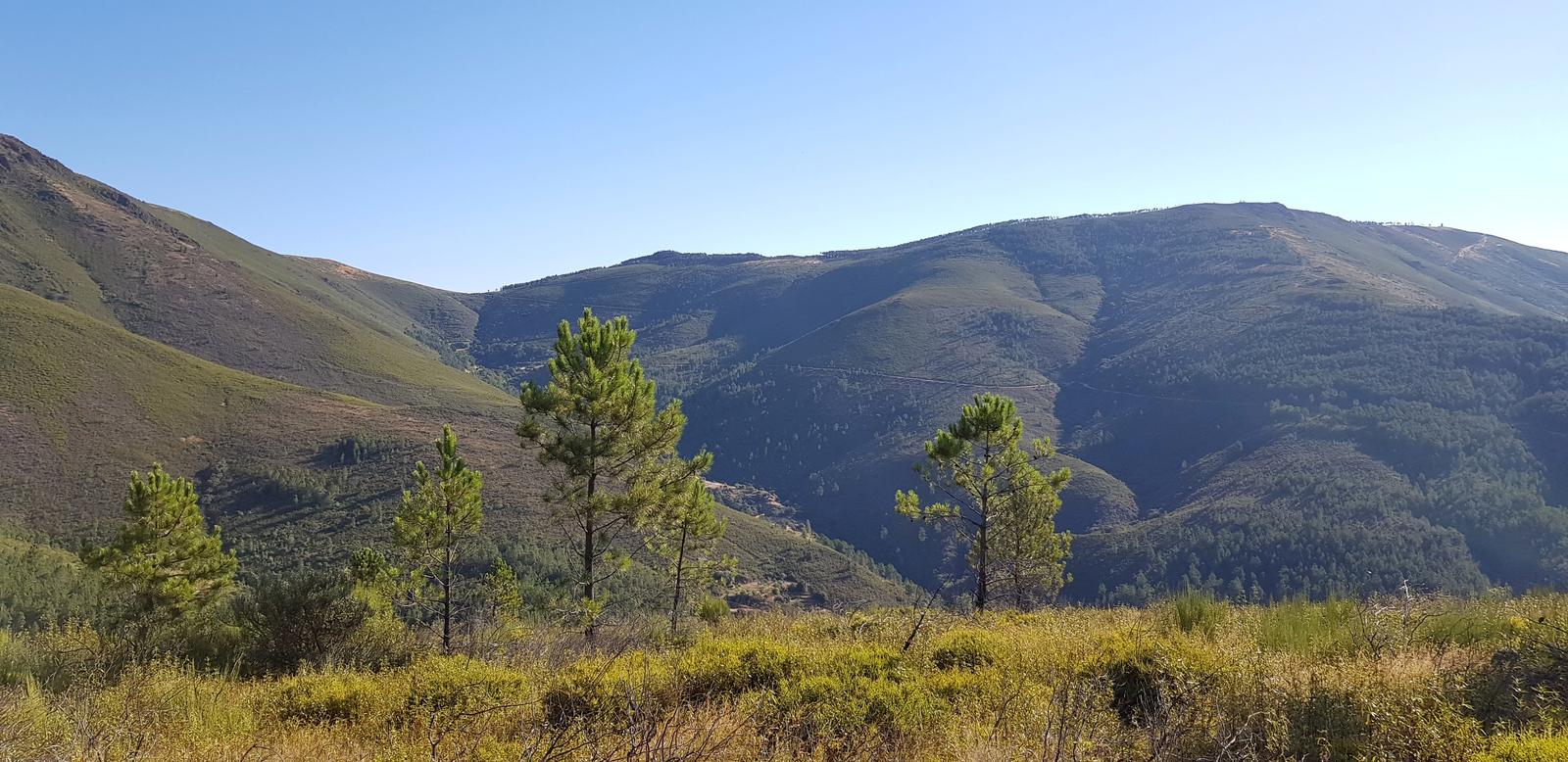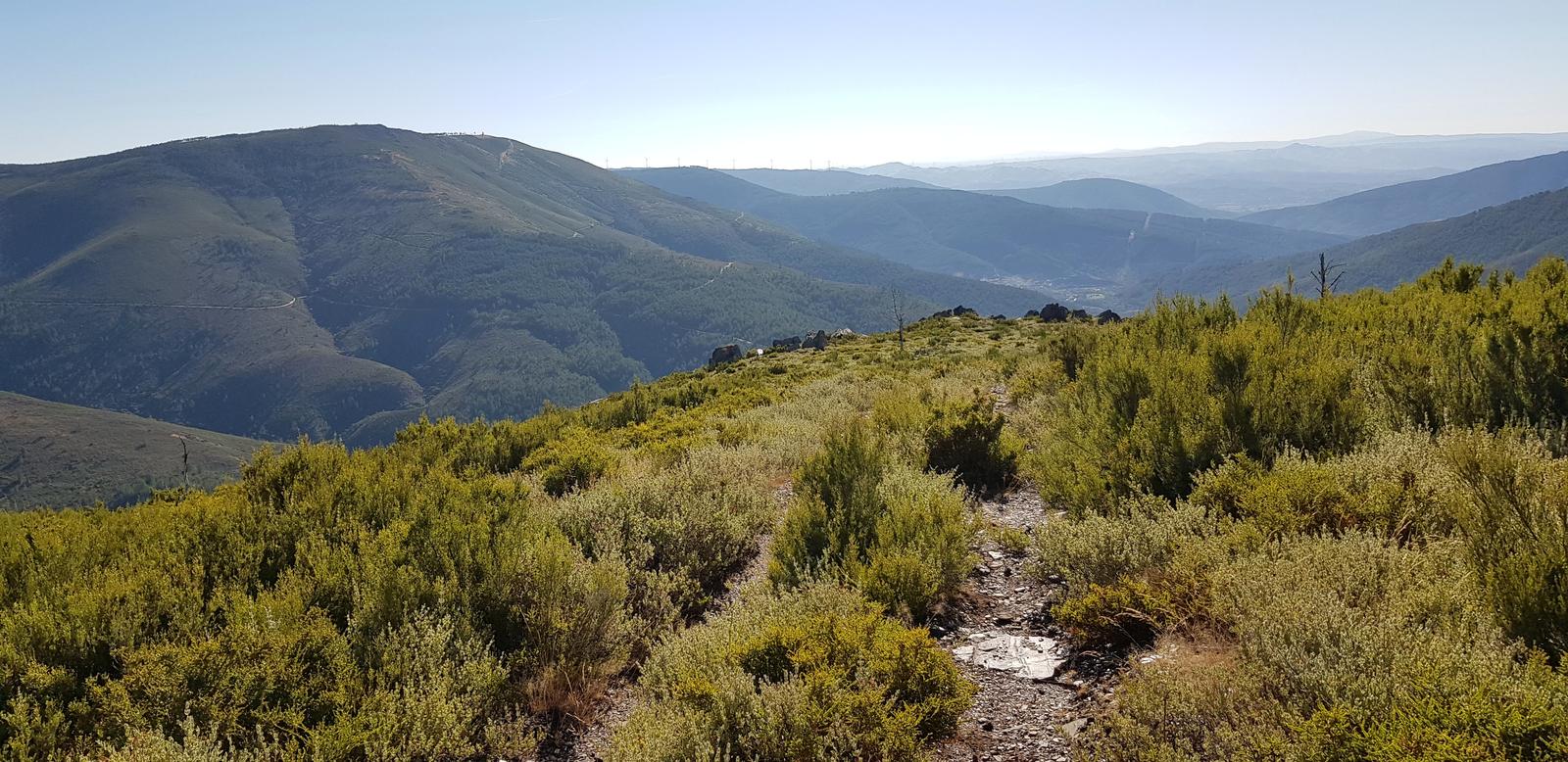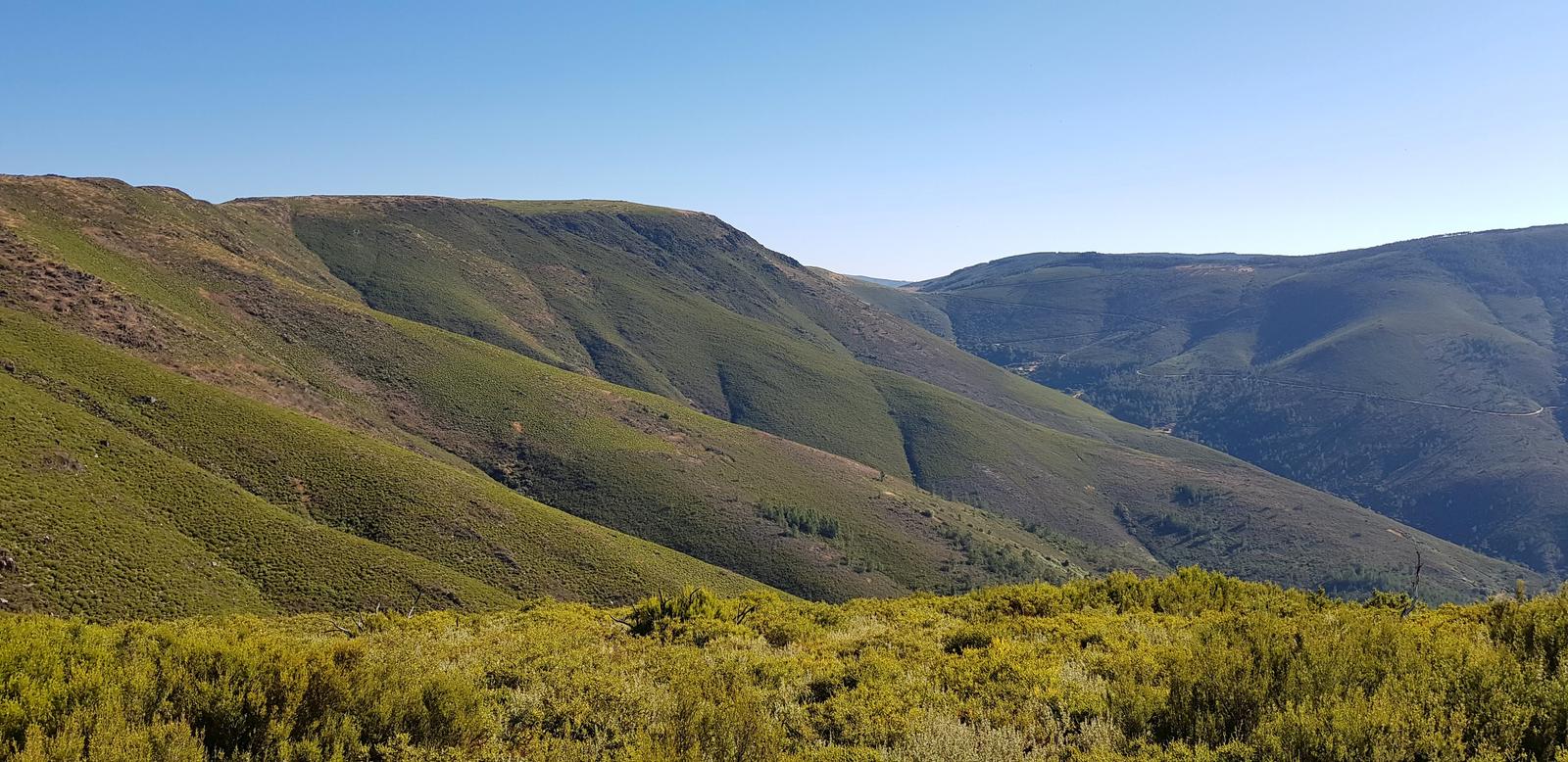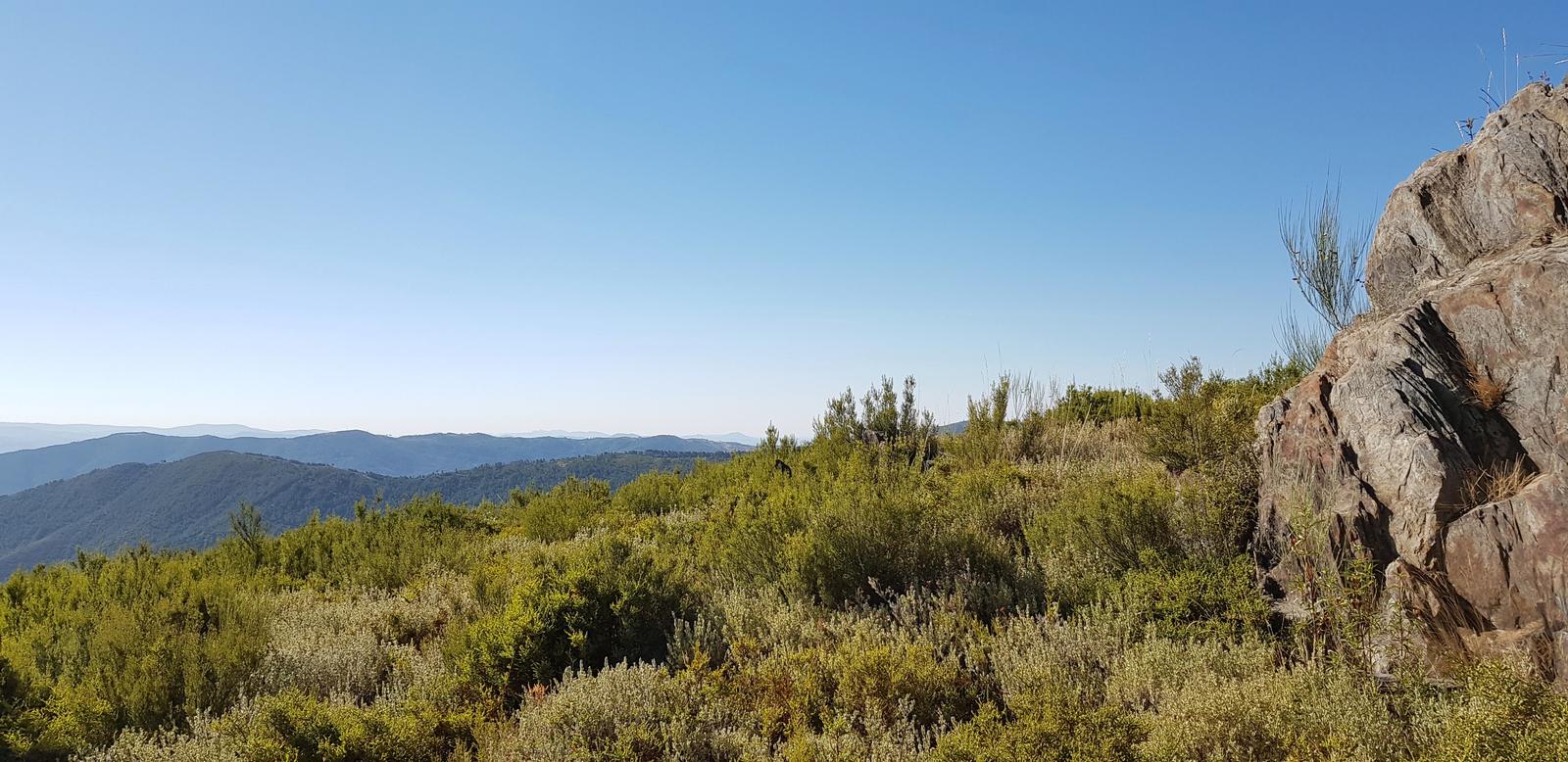 Once we saw these signposts we knew we had most of the climbing done!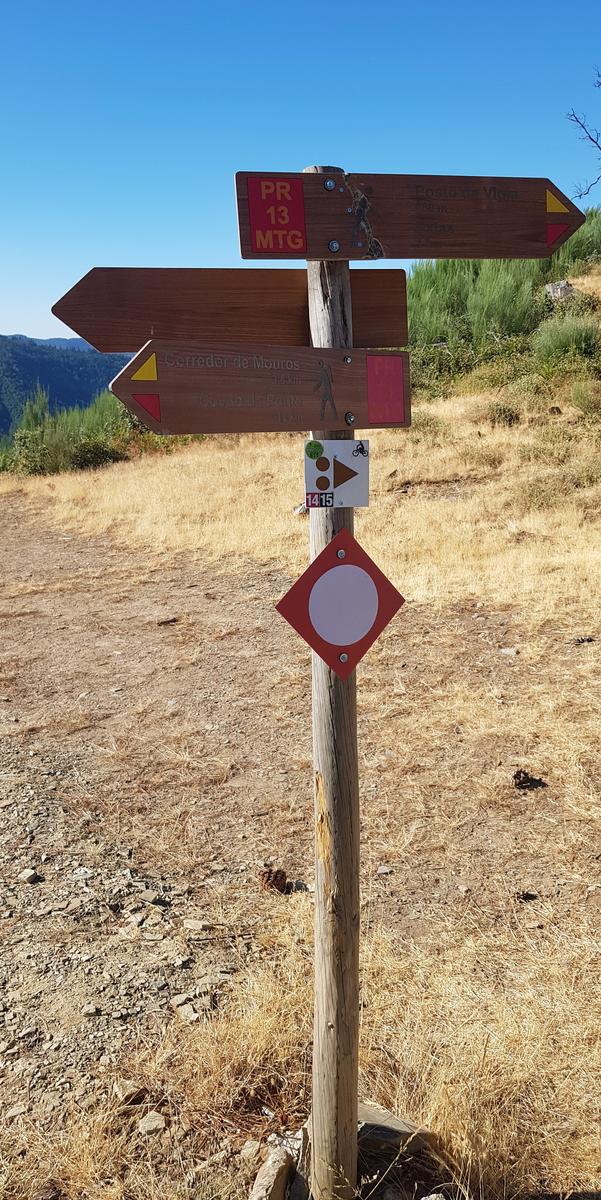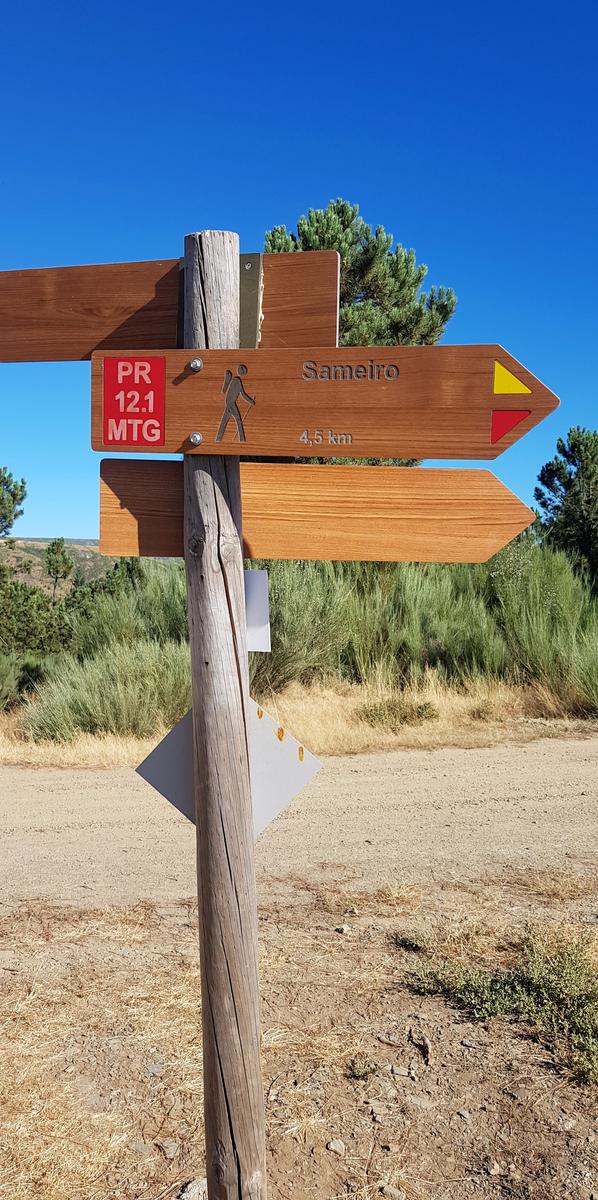 There were two other hikers at the Chapel but they were leaving when we arrived so we had the place to ourselves.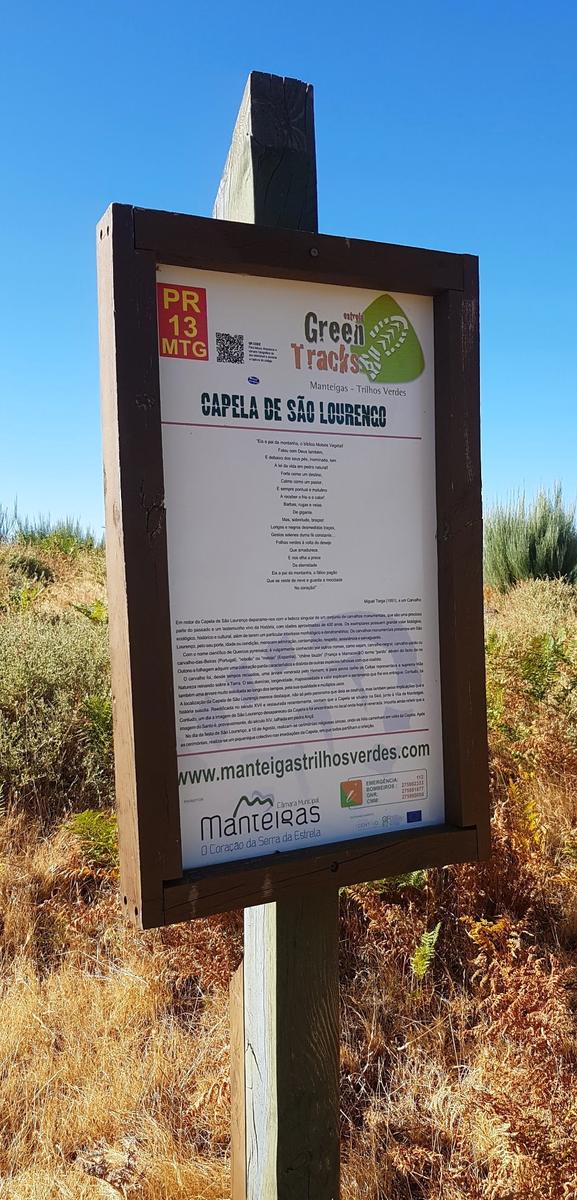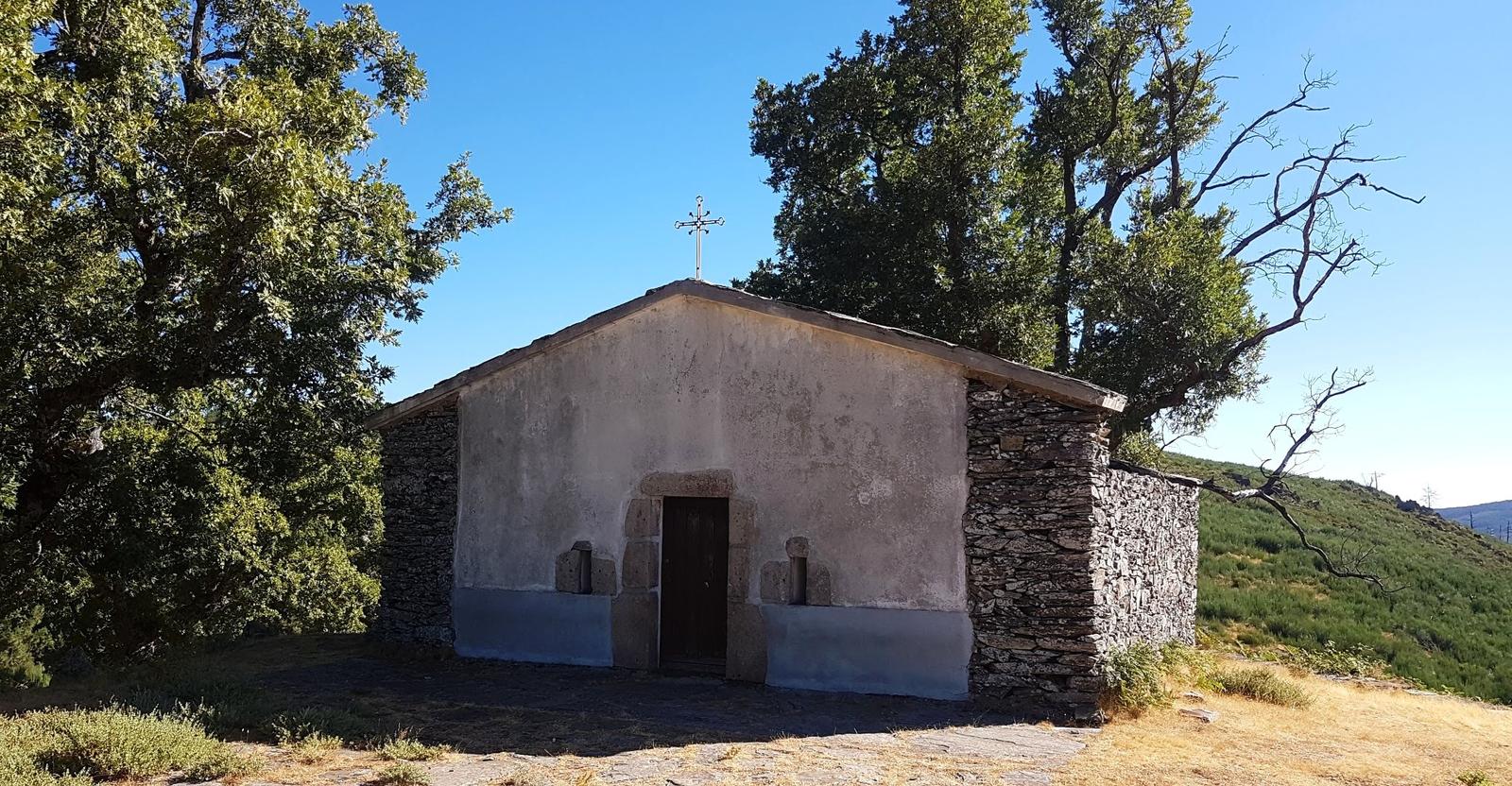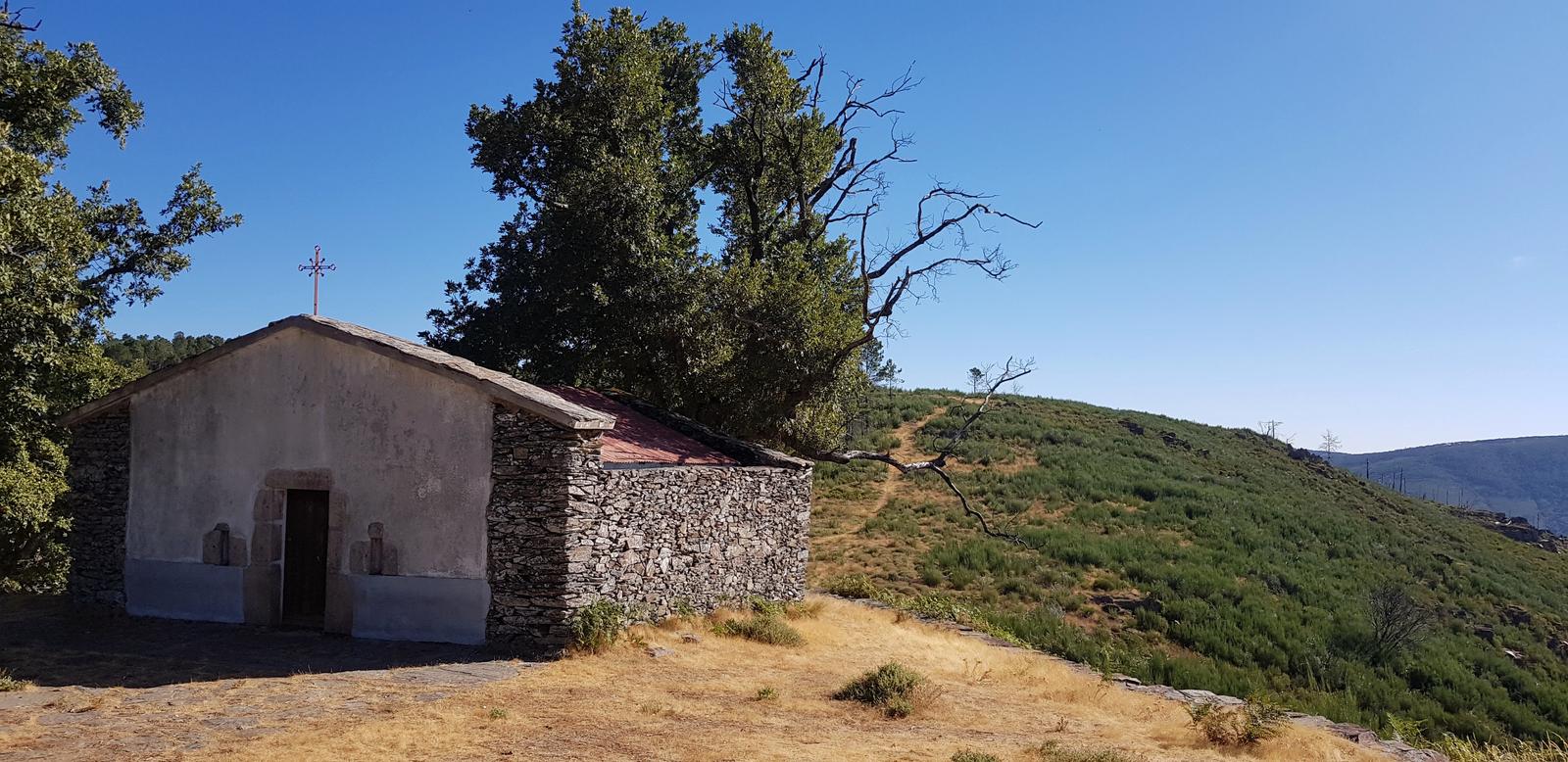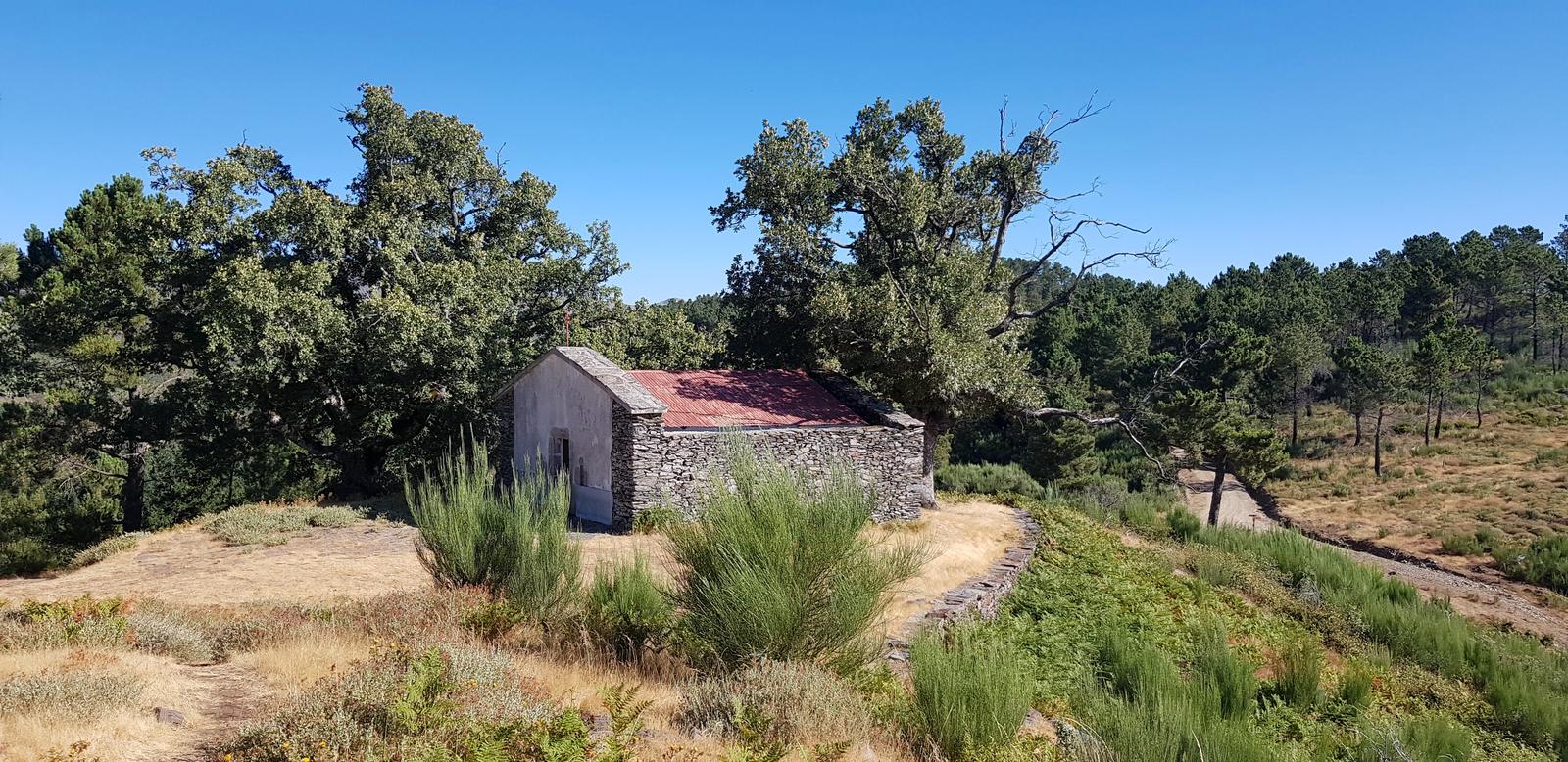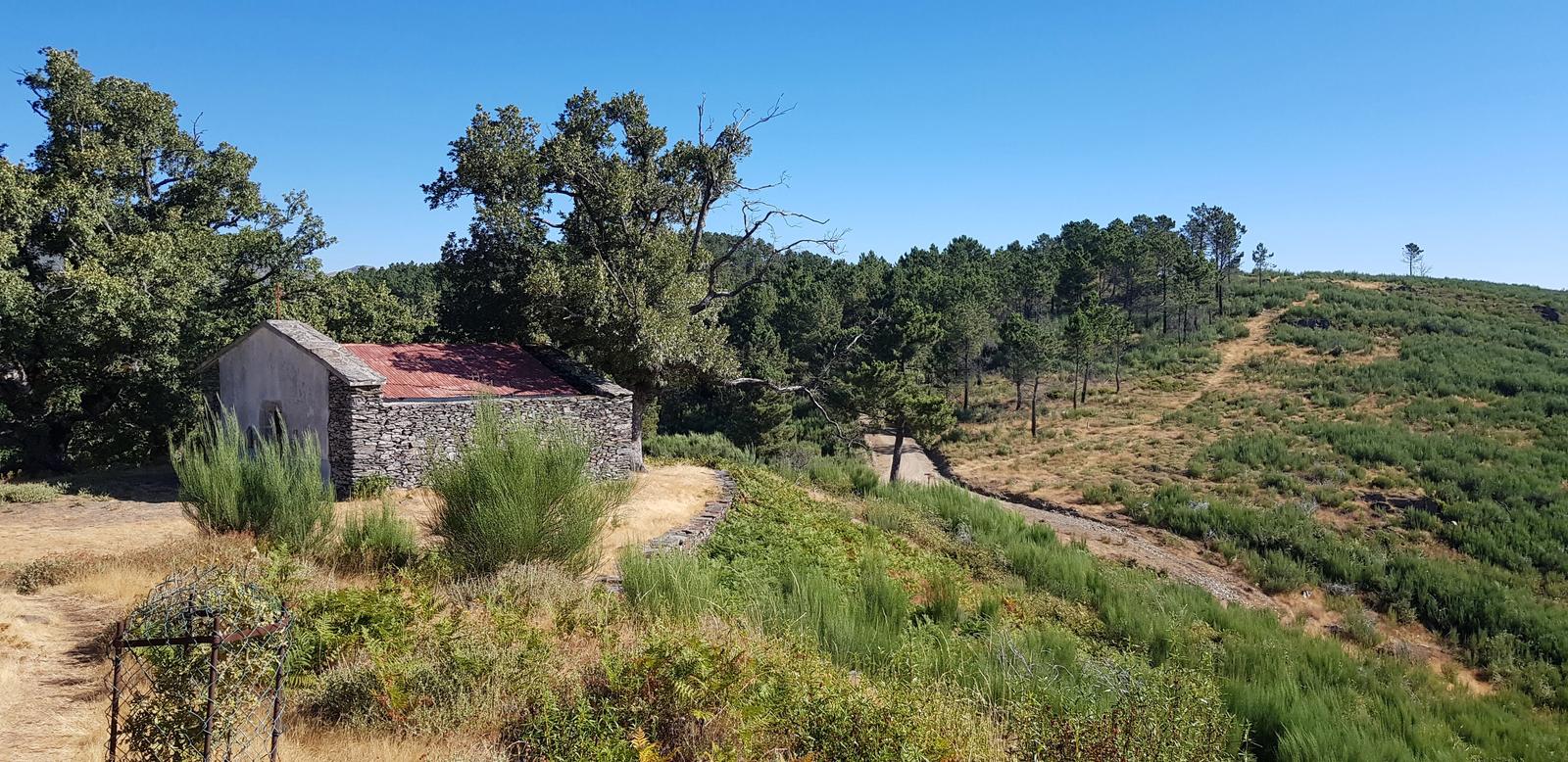 The view from the Chapel: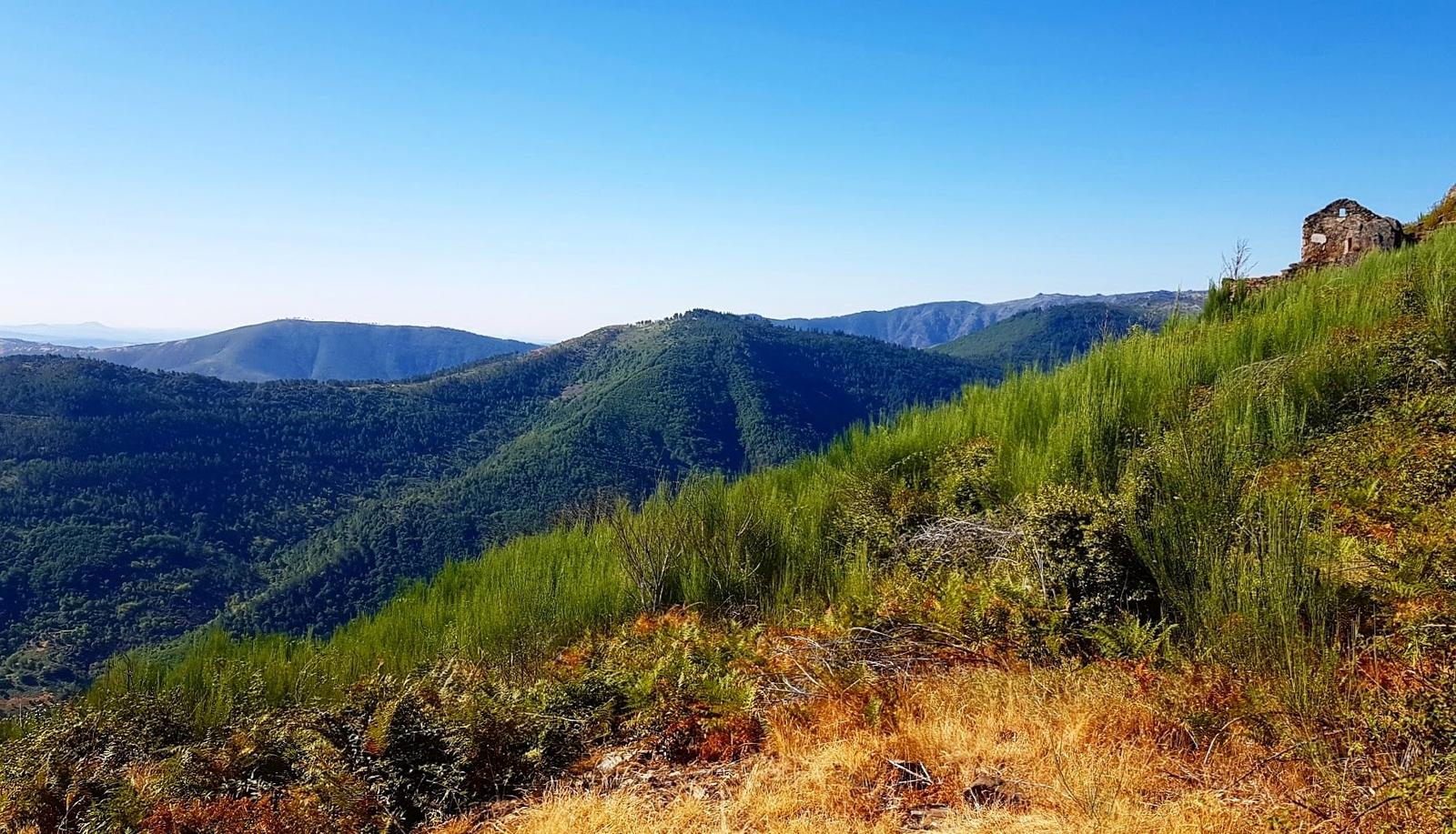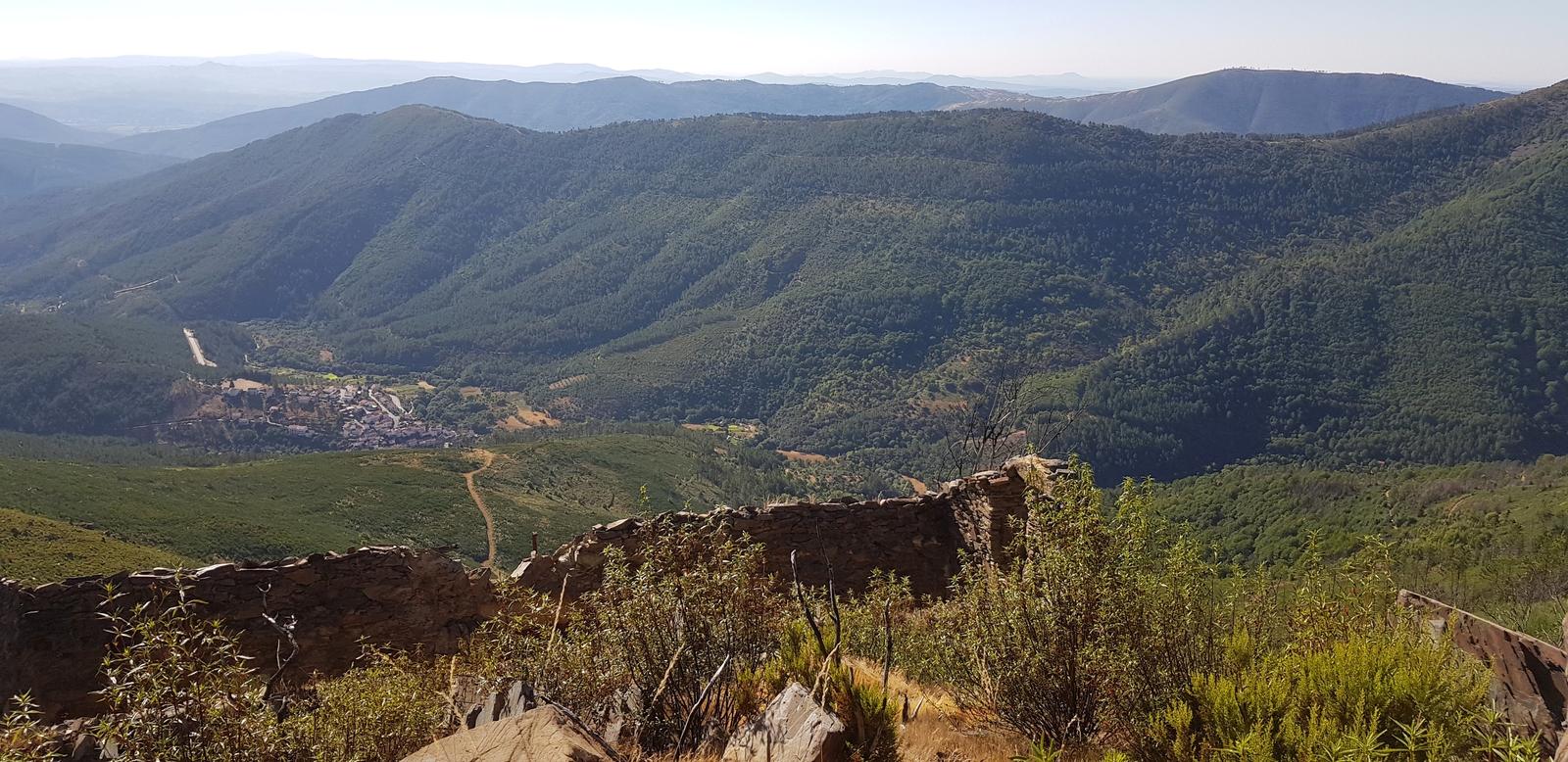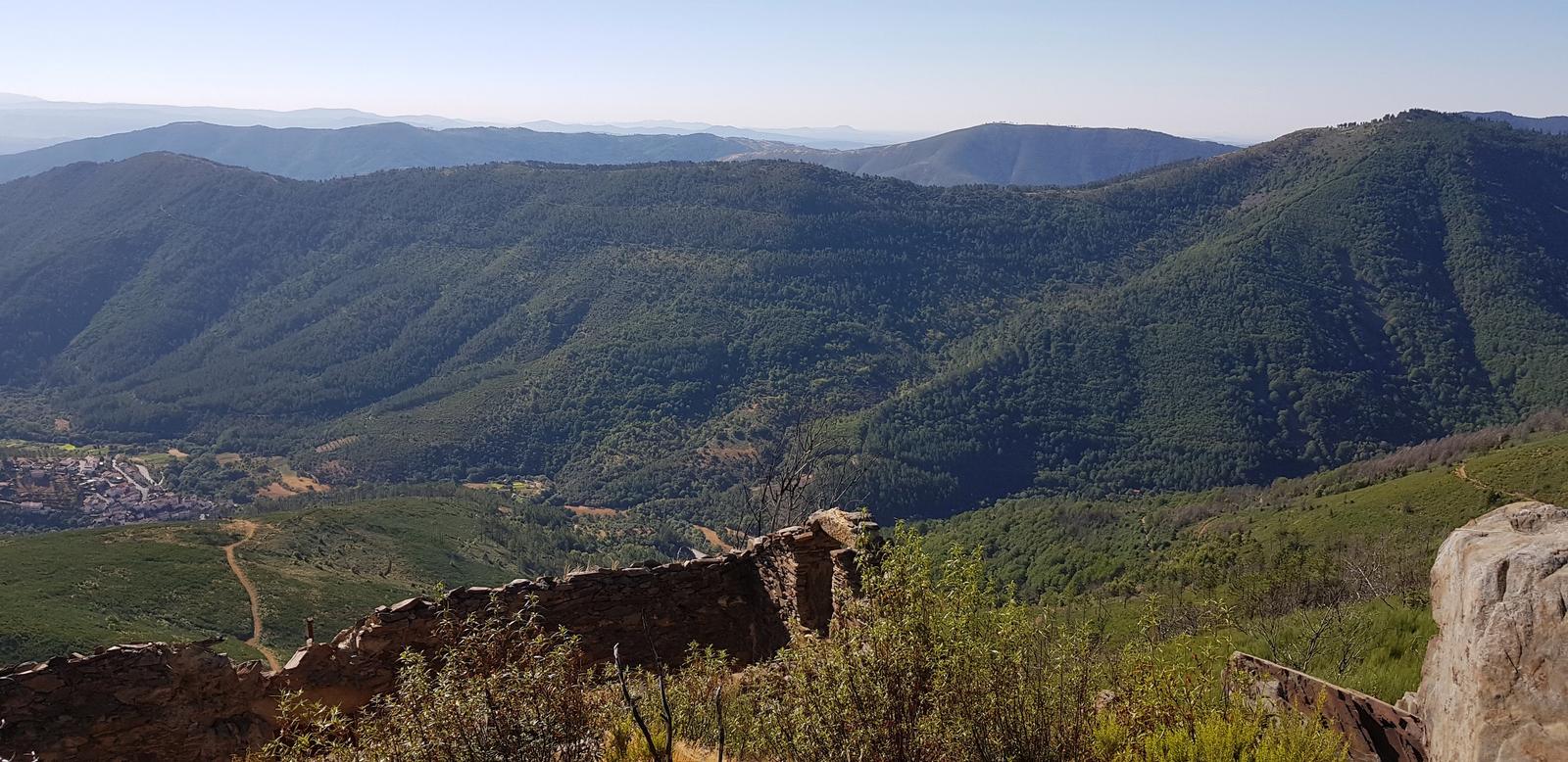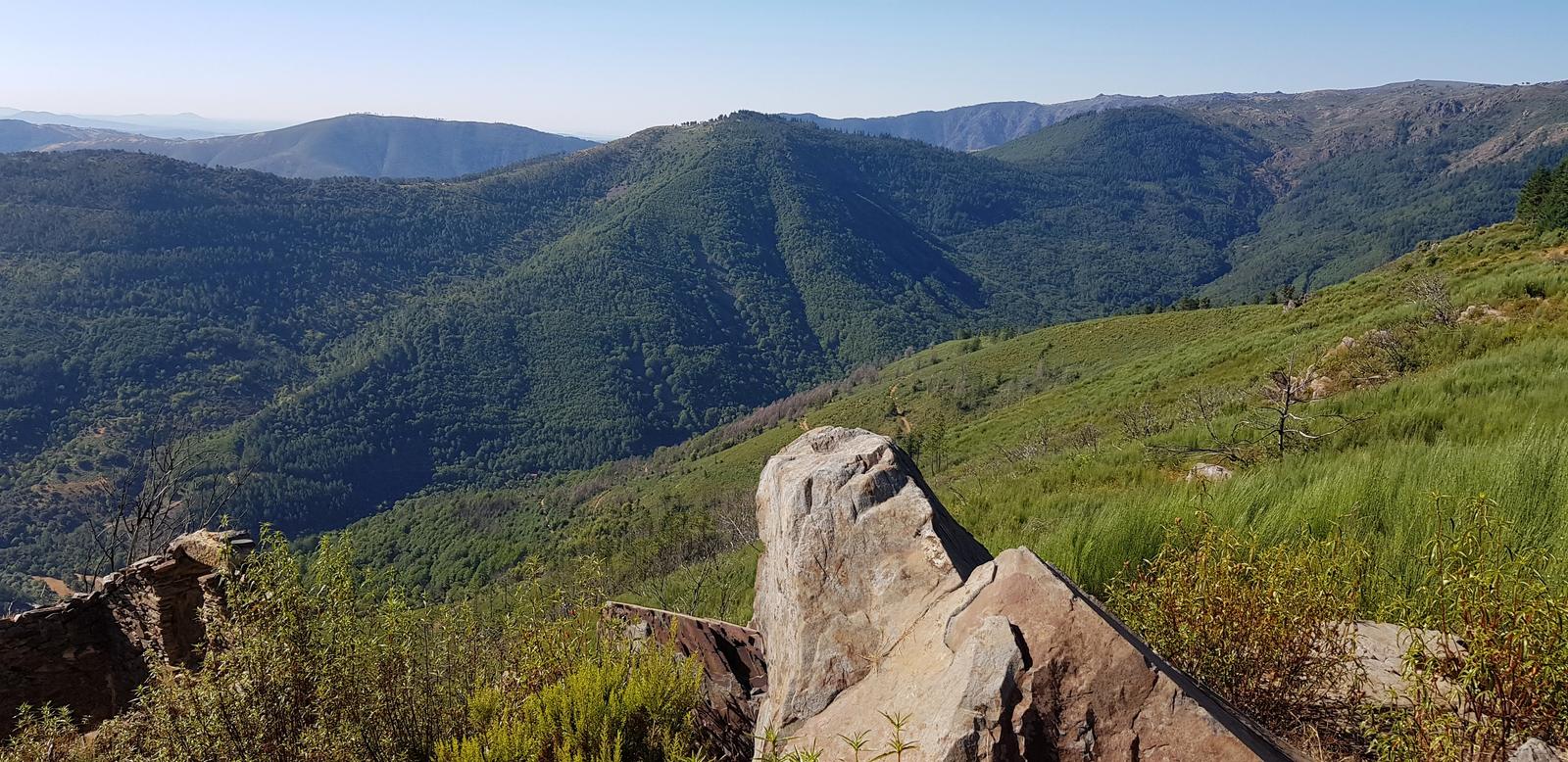 Looking down to Sameiro below: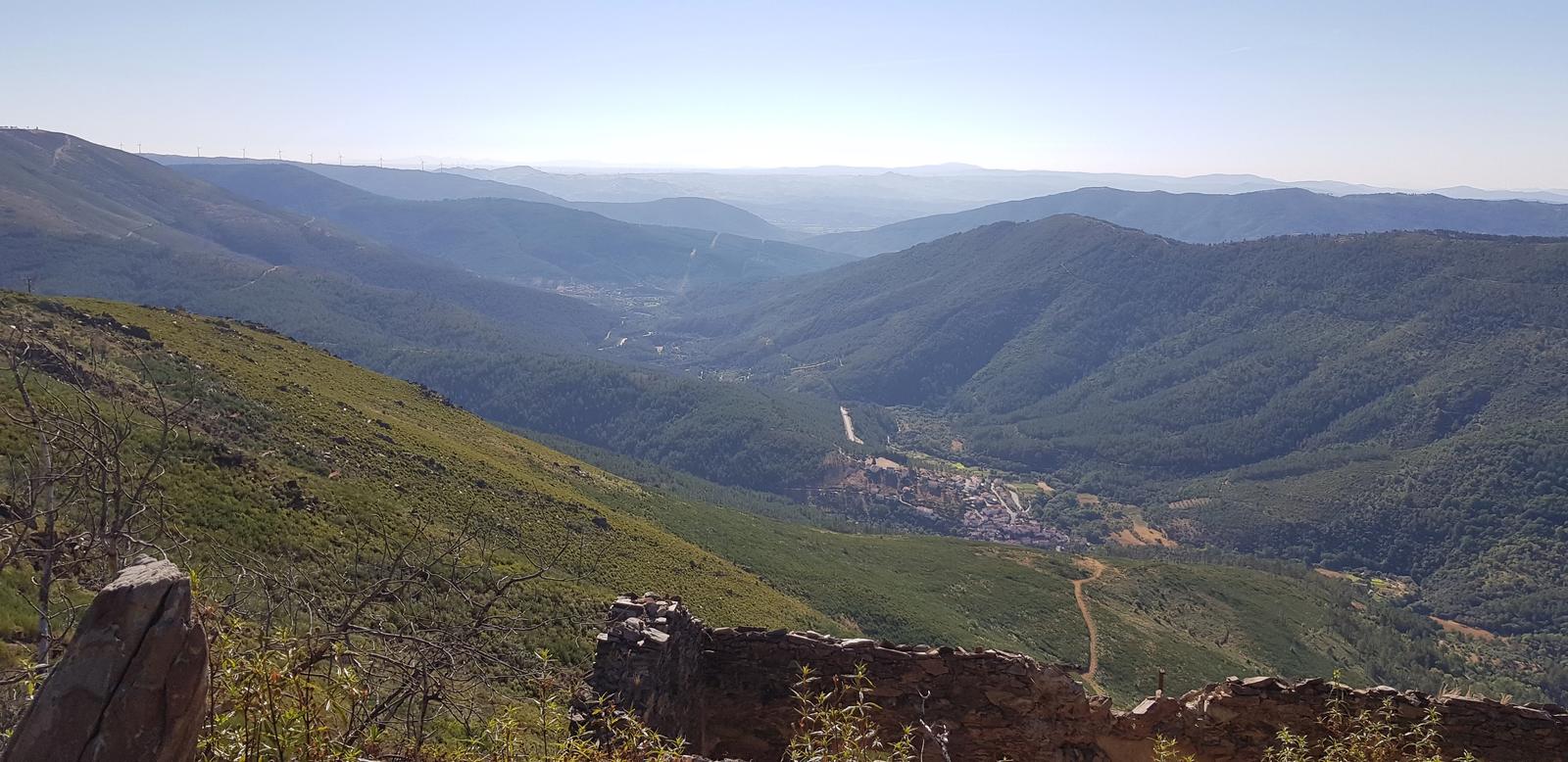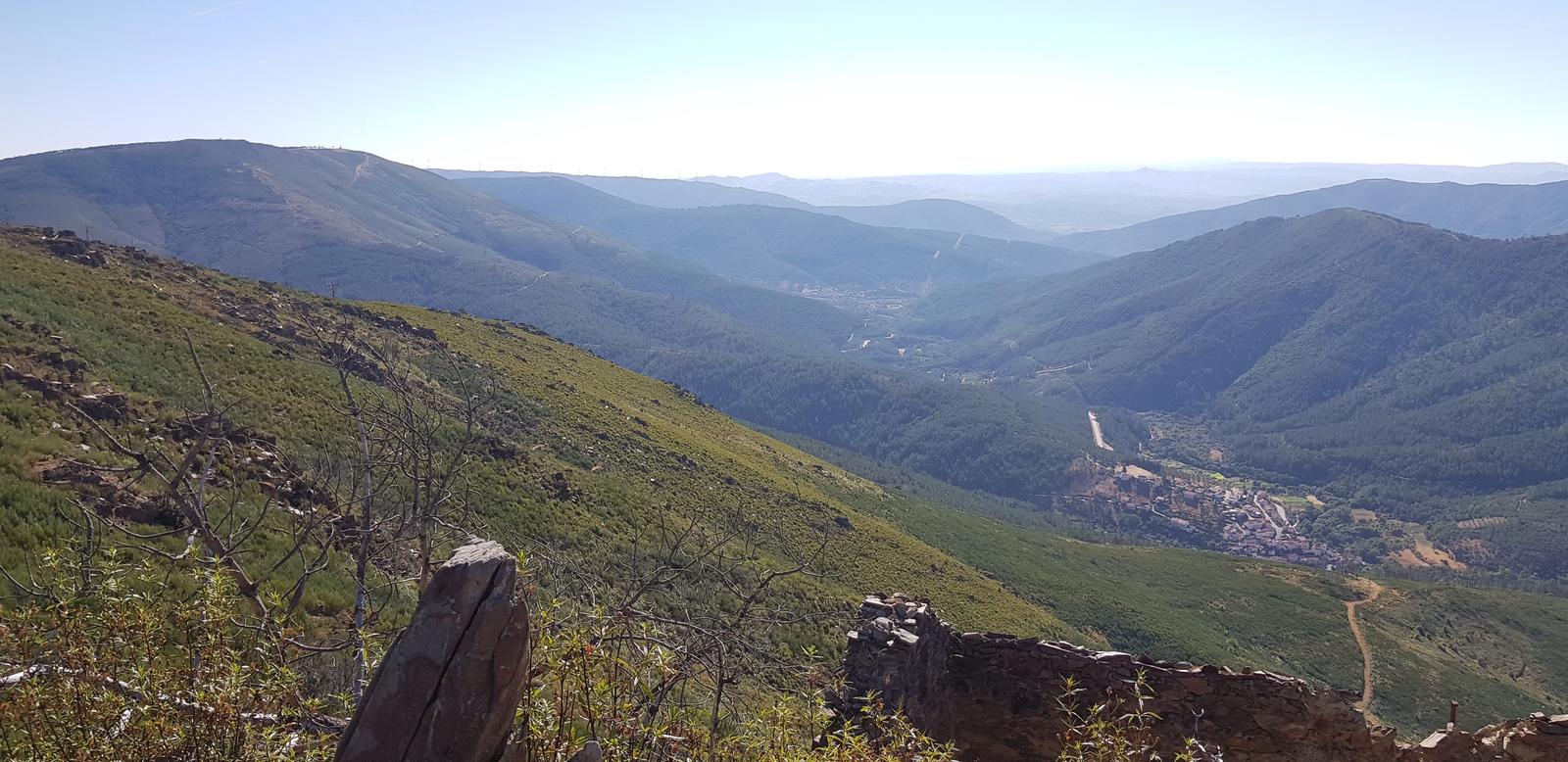 After some photos and water we headed off again on our mapped route. This brought us down the back of the mountain we were on and it was so nice to walk in the shade for about one kilometre before we were back on sunny paths with only goats for company.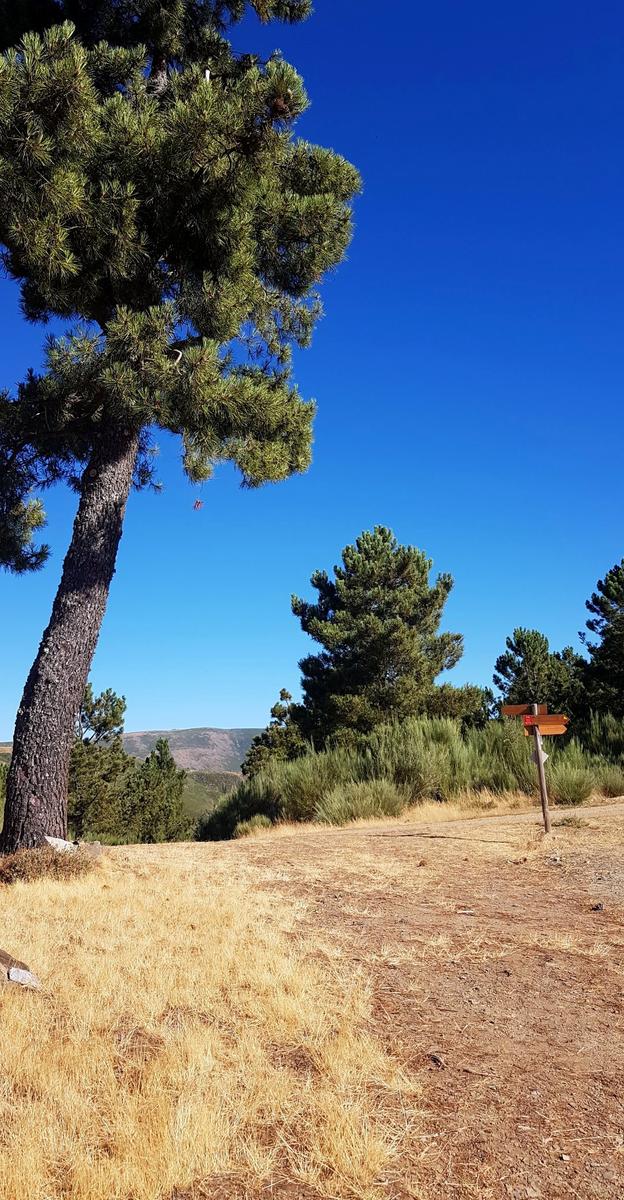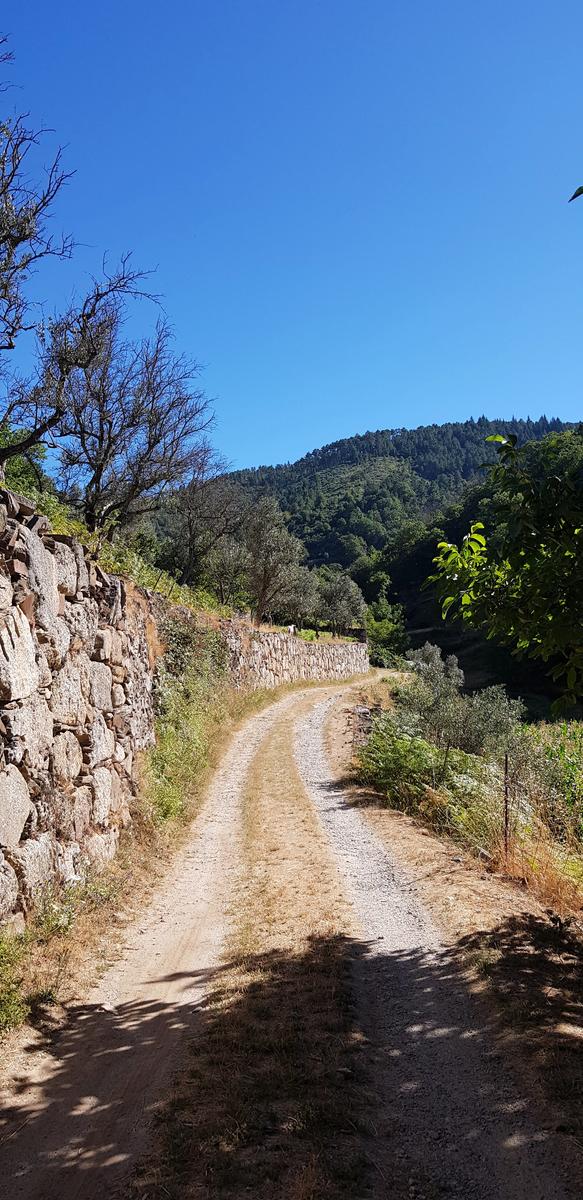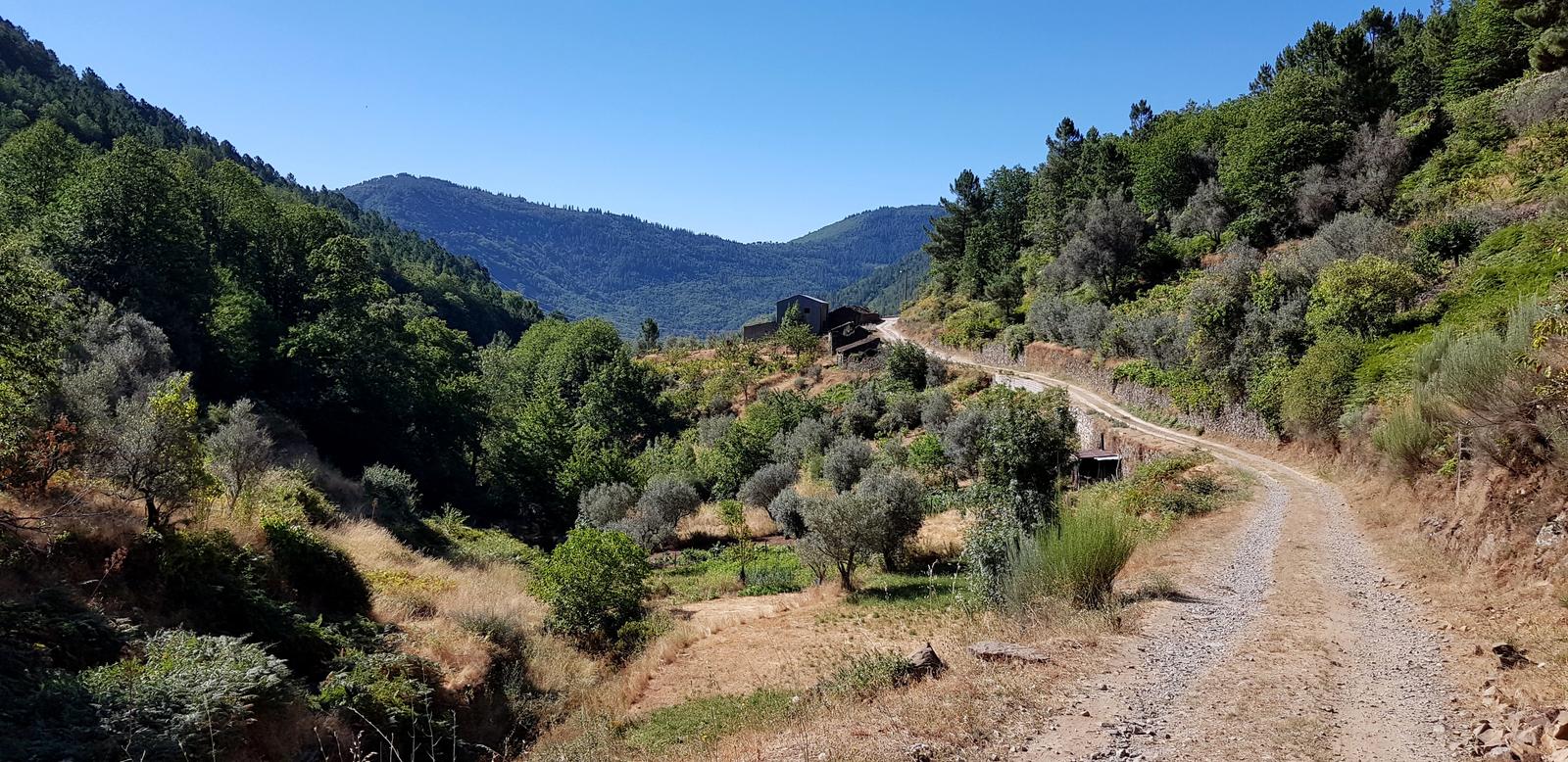 Around 9 kilometres we joined onto small cobbled roads that then brought us to the edge of the town of Manteigas. There we crossed the main road (EN232) and then took the bridge over the river and continued our walk along a quiet road adjacent to the Rio Zêzere. We were really feeling the heat by now but still had some kilometres to go so more water and a snack and no complaining! At kilometre 13 we turned up and away from the river and onto a marked trail from which we could see Sameiro in the distance: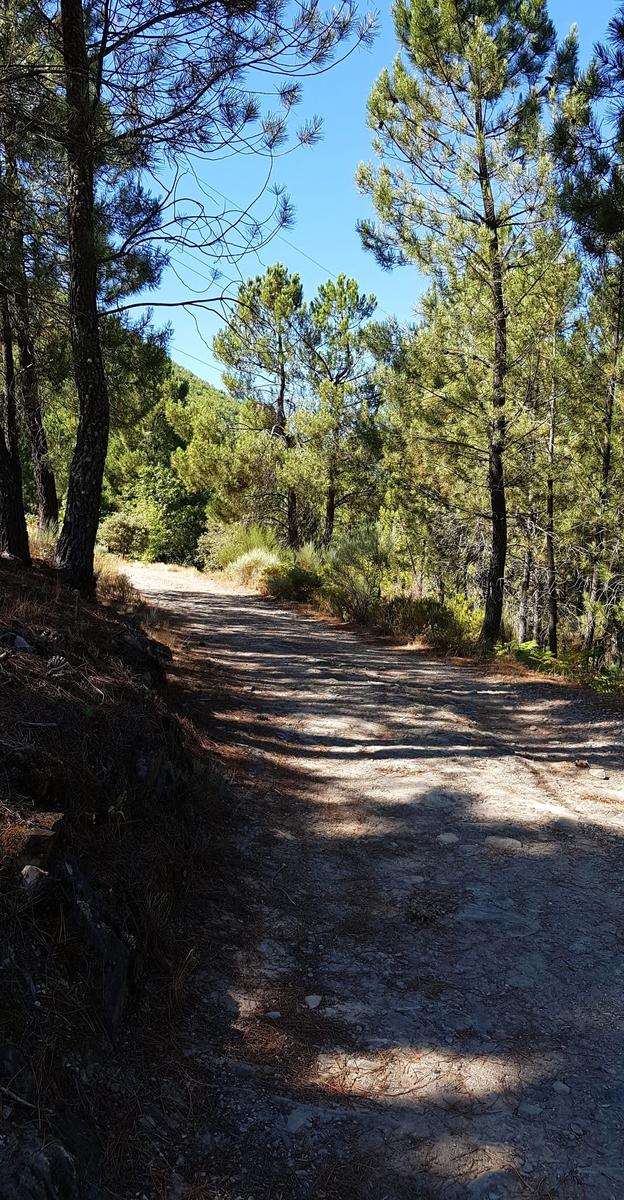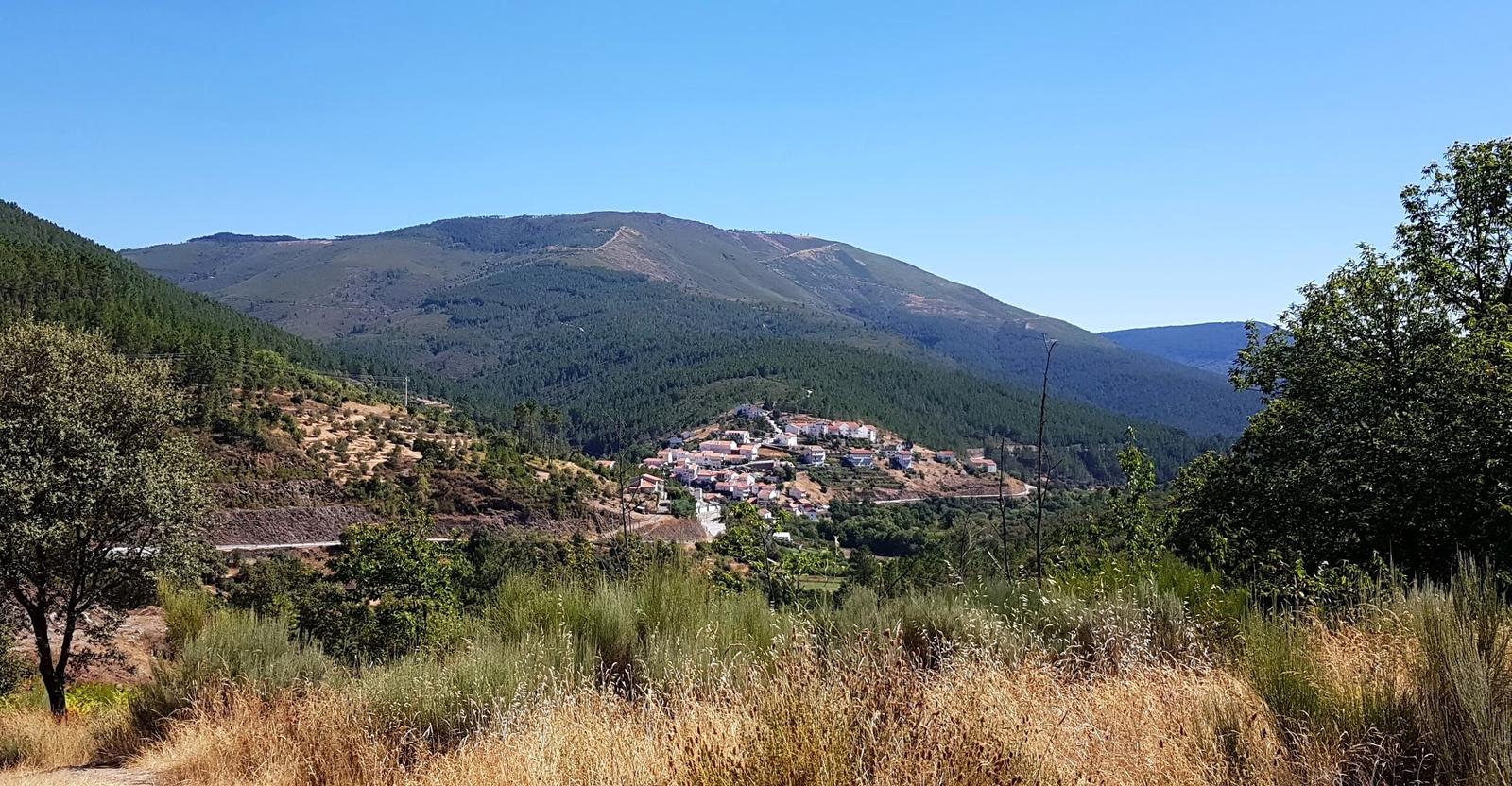 We followed the trail for another 2 kilometres before turning left and making our way down to the river once again. Hopping on stepping stones we were quickly over the river and walking the last few hundred metres back to our accommodation. A cold shower was calling!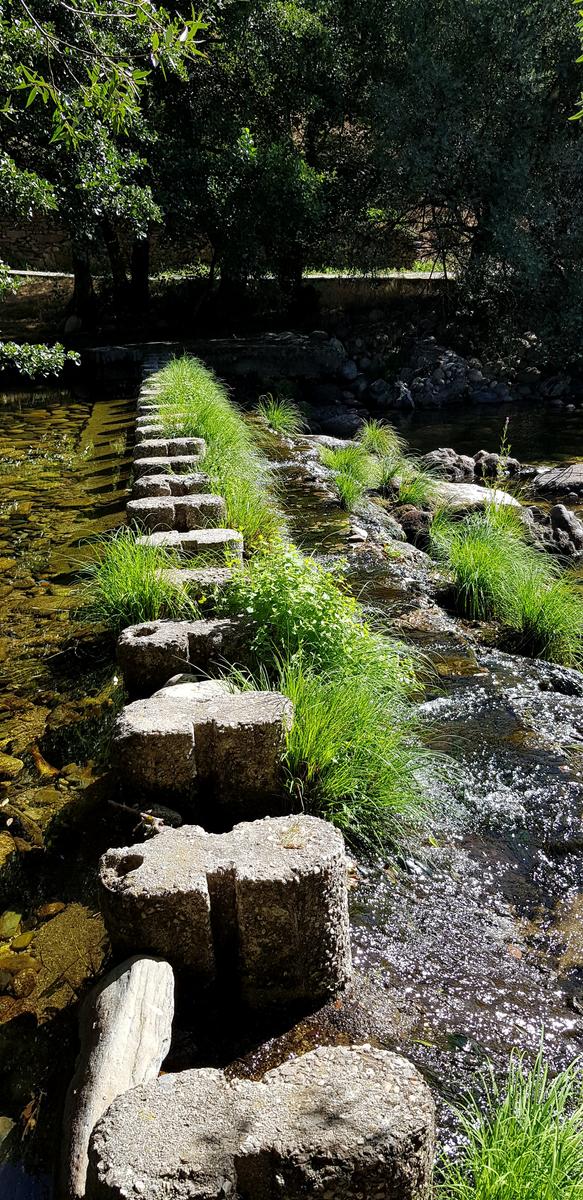 We both really enjoyed this hike, it was so quiet and the view was awesome. We have already planned our next hike for this area, we will once again hike to the Chapel but from there we will follow a different marked trail (that we saw) which brings you to the peak of Sao Lourenço and into Manteigas via a different trail.
---
3. Sameiro to Cabeao Azinheira & Back!
On our second full day I headed off on another trail, this time to Cabeao Azinheira and back (12.5 kilometres return). I had a GPX route and I knew the start of the trail as it was the same section that we walked at the end of our trail the previous day. So, I started by walking to the river in Sameiro, hopping across the stepping stones once again and then I hiked back up the trail we had descended yesterday. This brought me back onto a marked trail, the PR8. While there were markers, there were also a lot of paths close together so sometimes it was hard to know what way an arrow was pointing or the marker paint had faded and was hard to spot so I was glad to have the GPX which helped me to stay on track.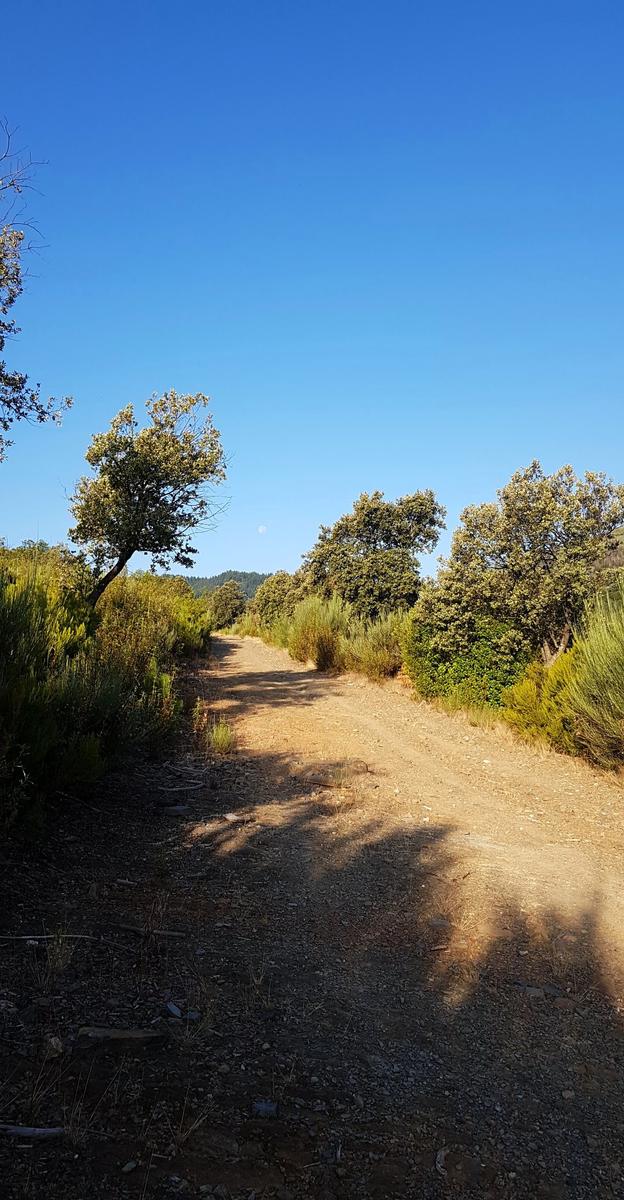 After a small section in the sun, I was in a forested area and due to the orientation of the route I was delighted to have shade for the about 2.5 kilometres. The last 2.5 kilometres to the Azinheira marker was in the sun, on an easy to follow trail with a superb view (and lots of flies) - a hot 29C by 10am.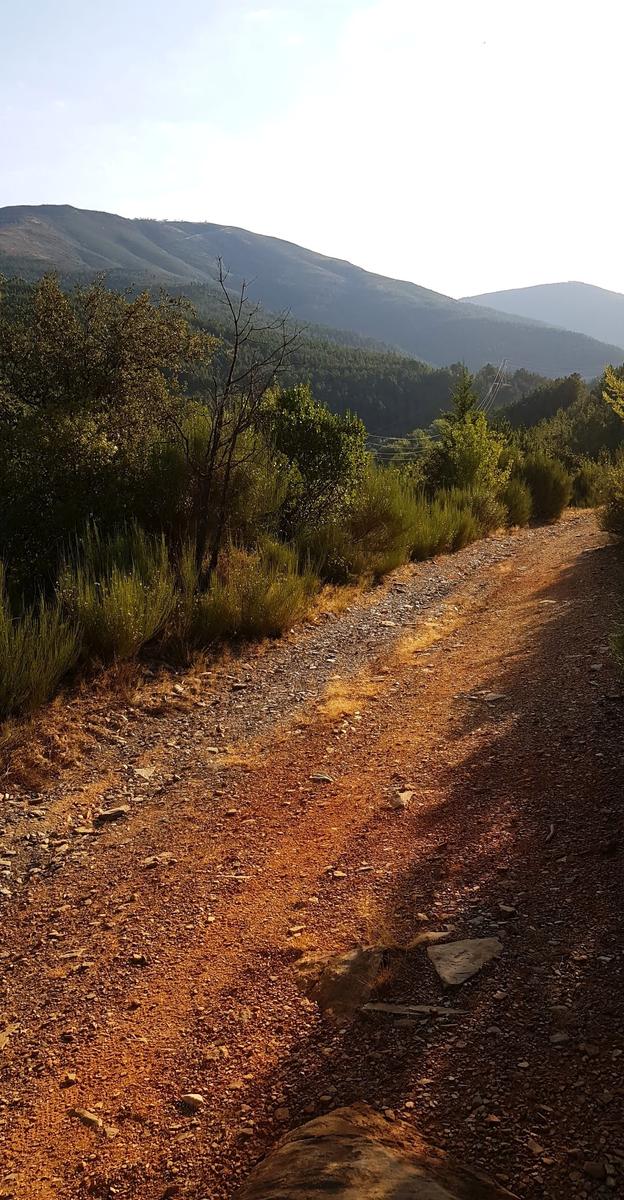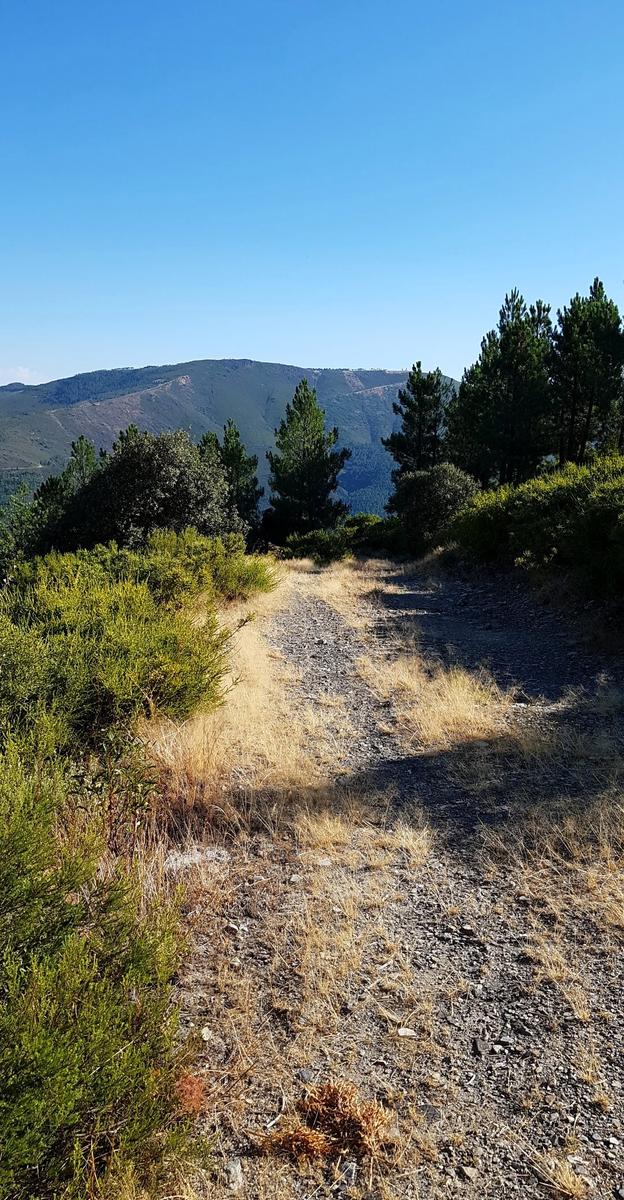 Not far left to the marker!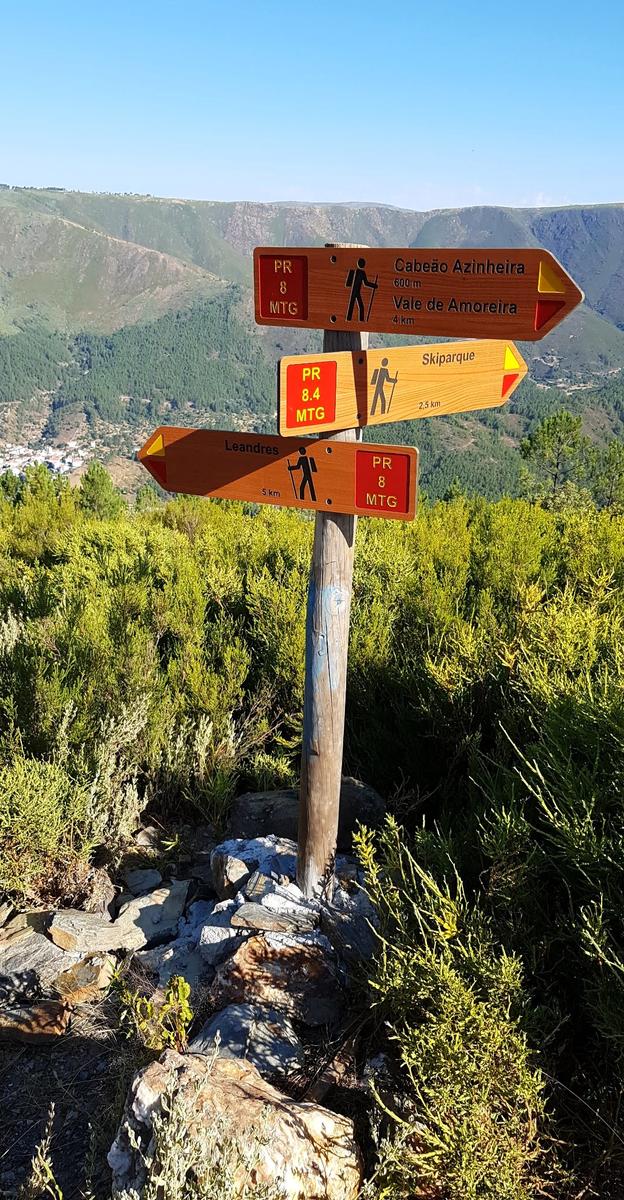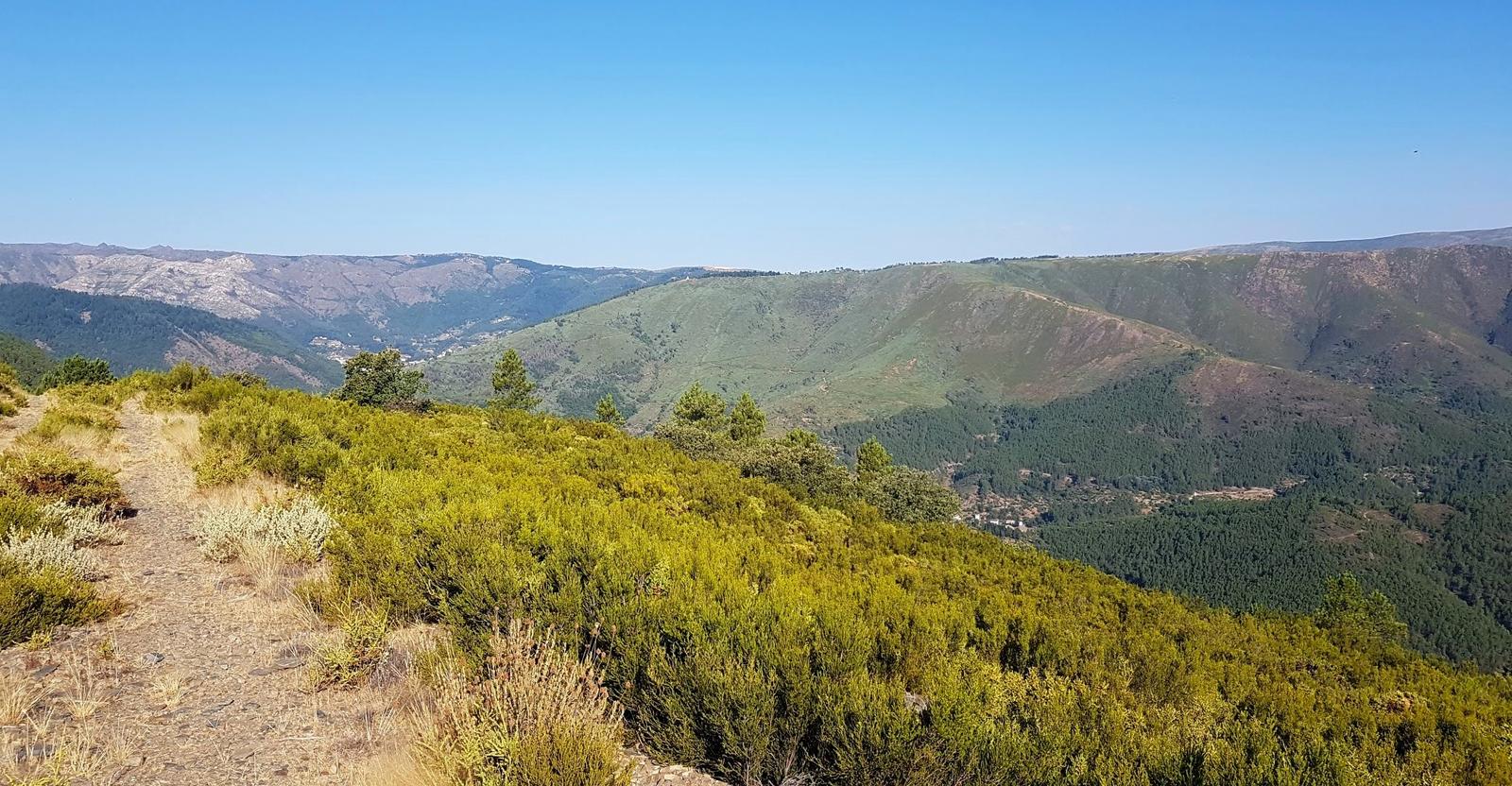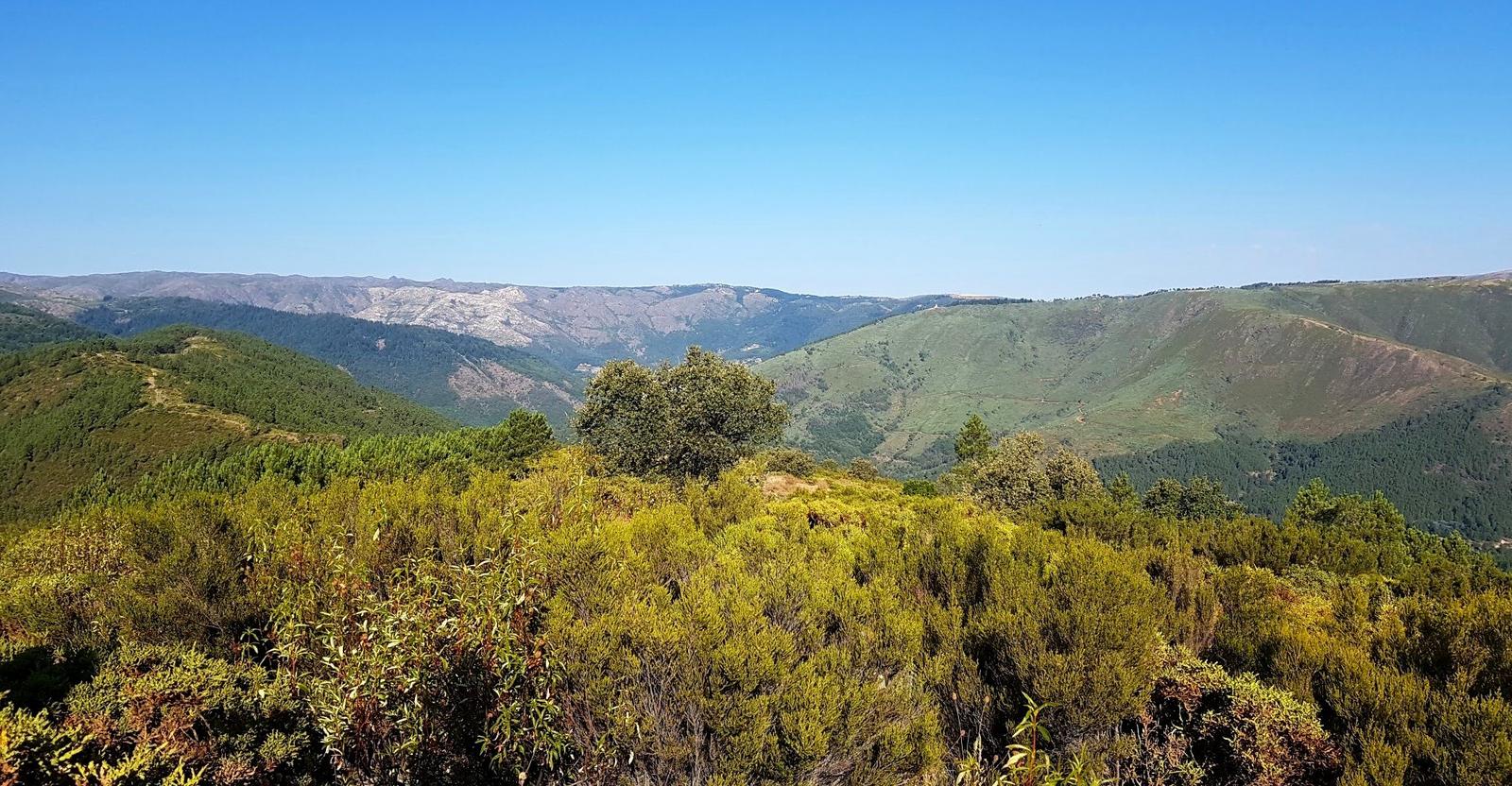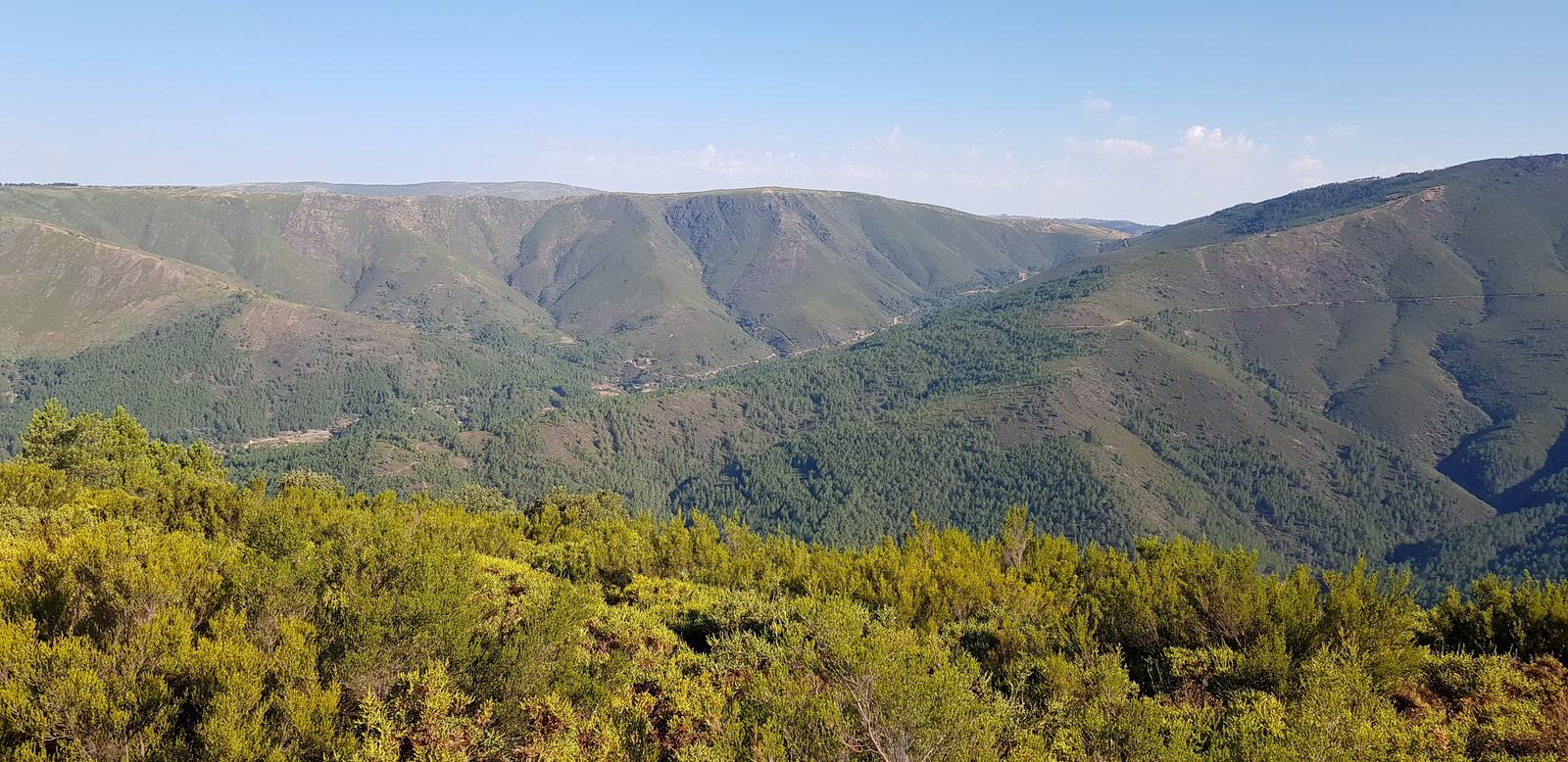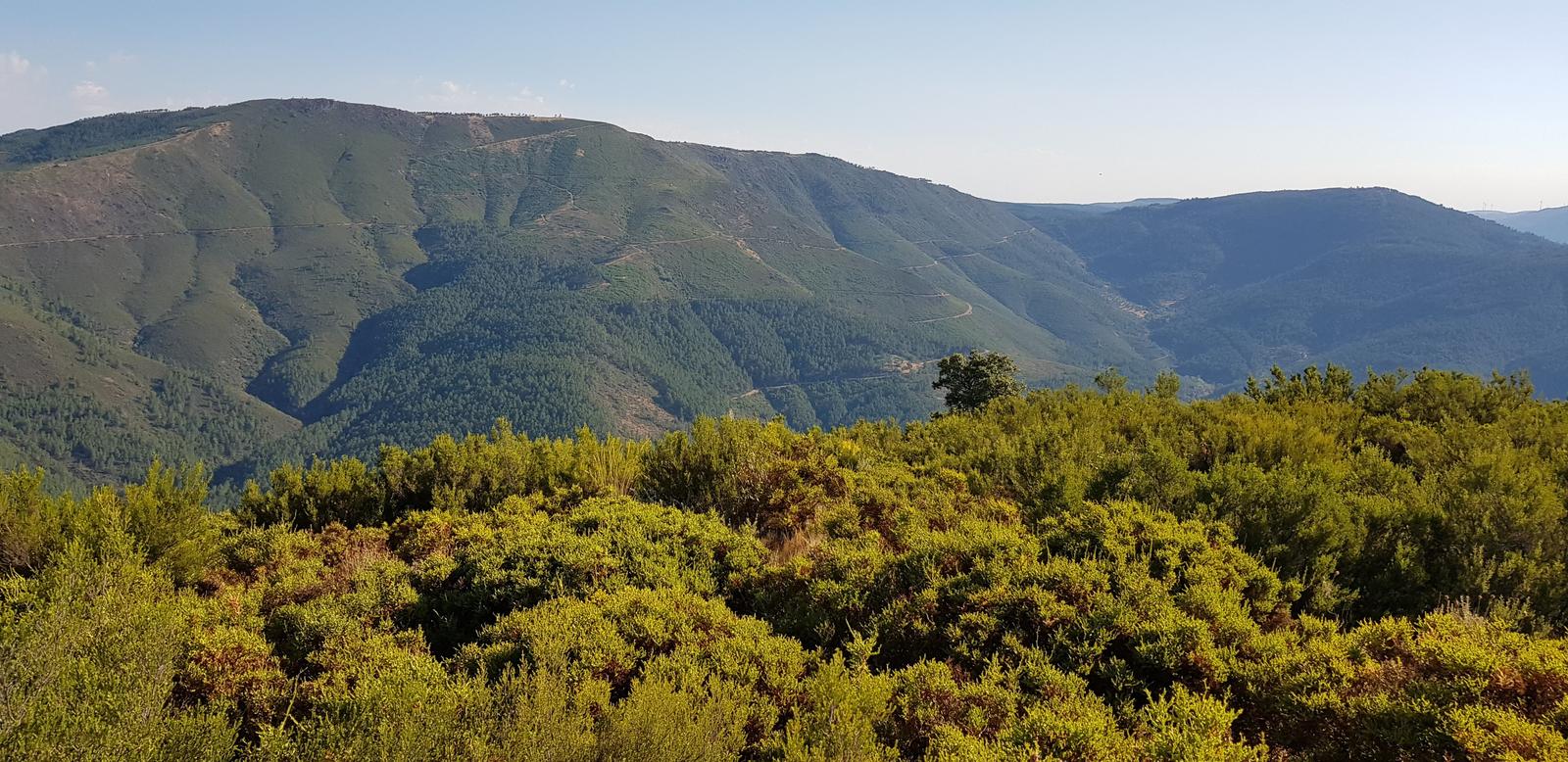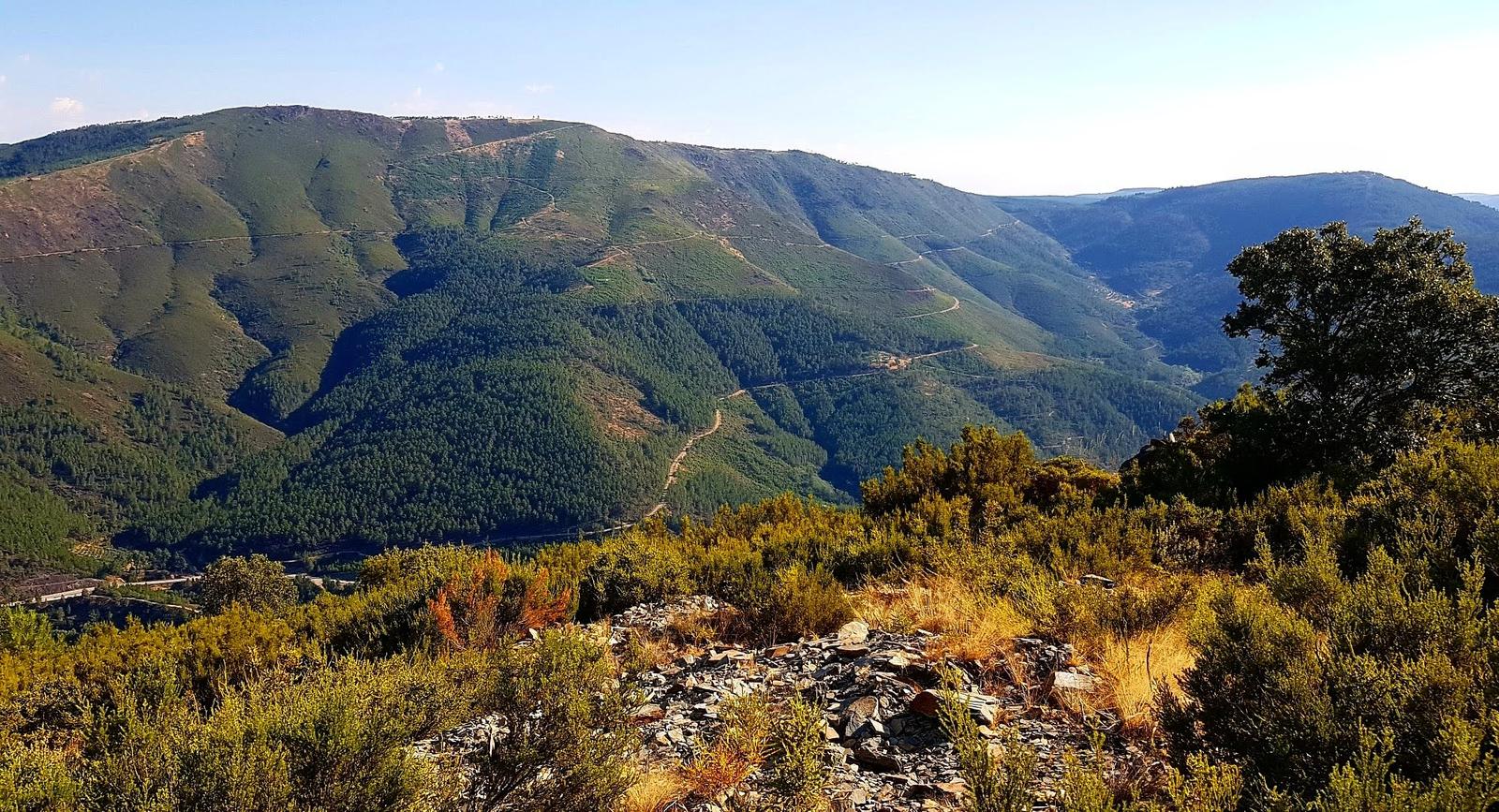 Made it: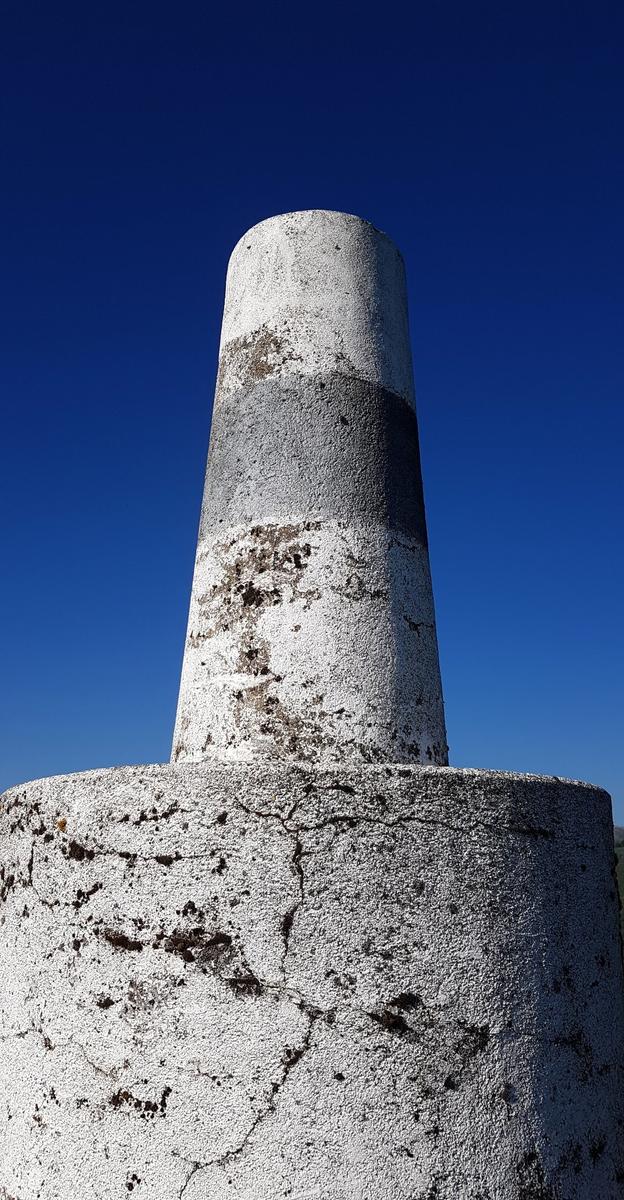 I walked a little bit down past the marker to check out the view from there: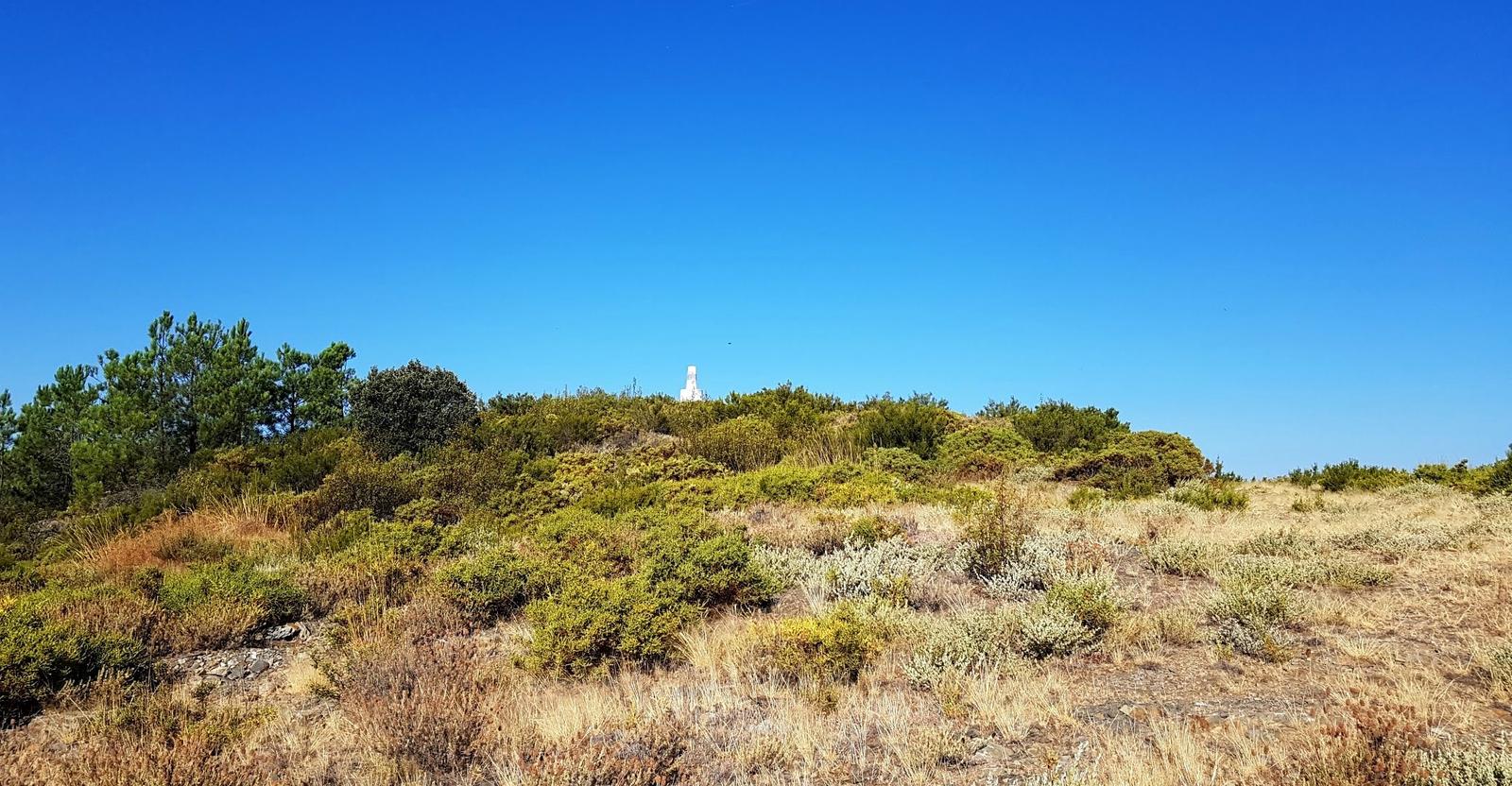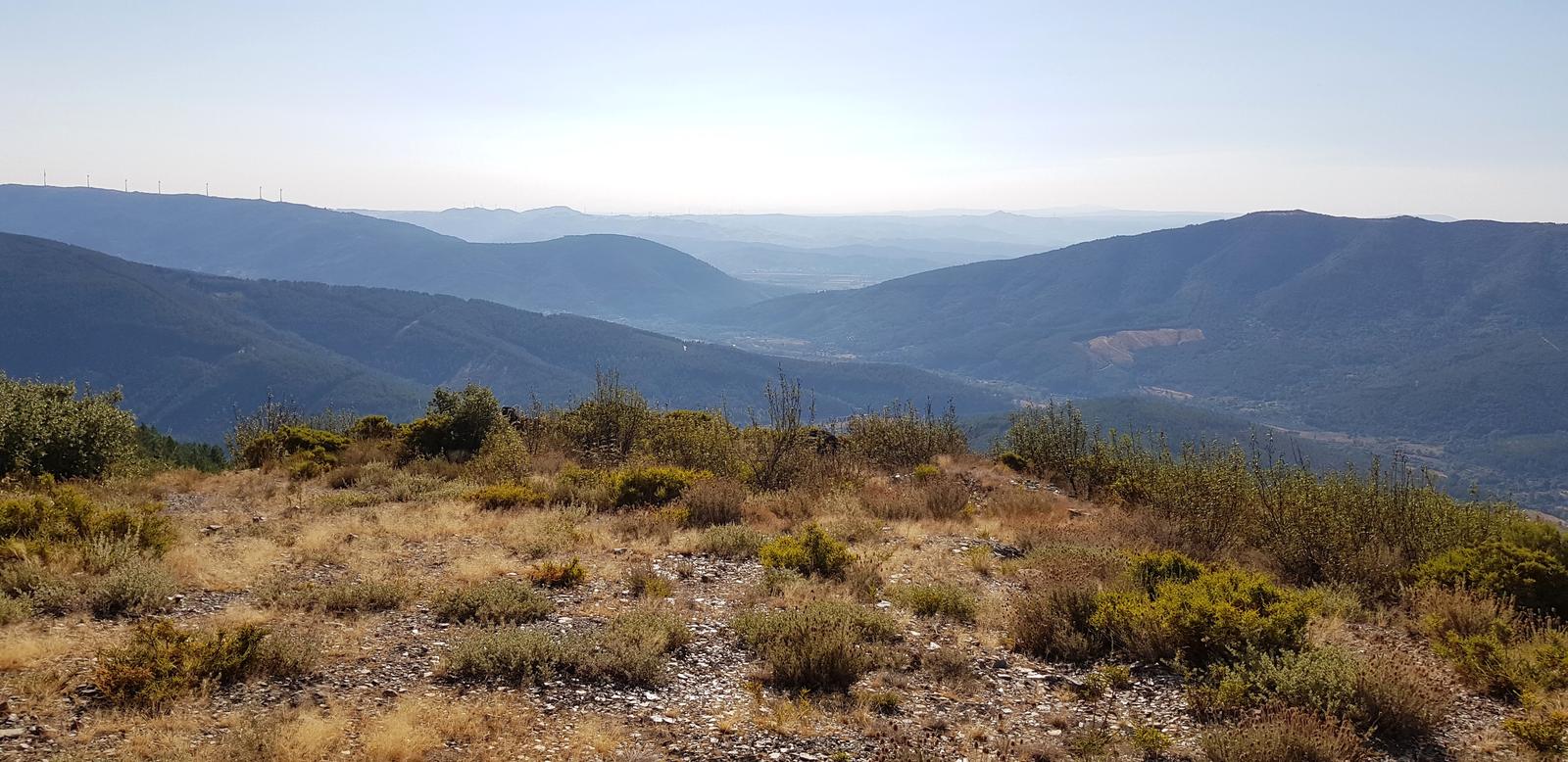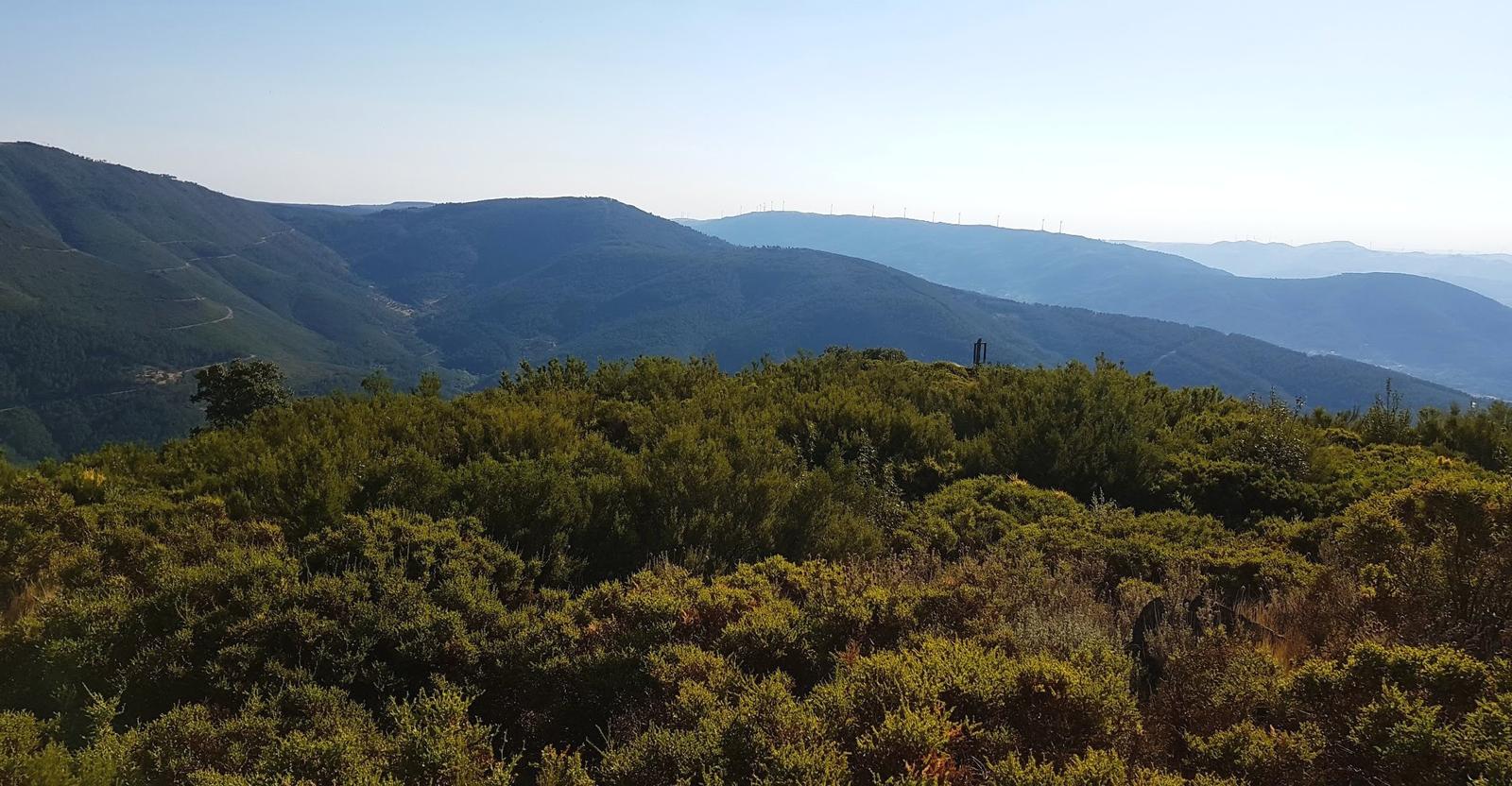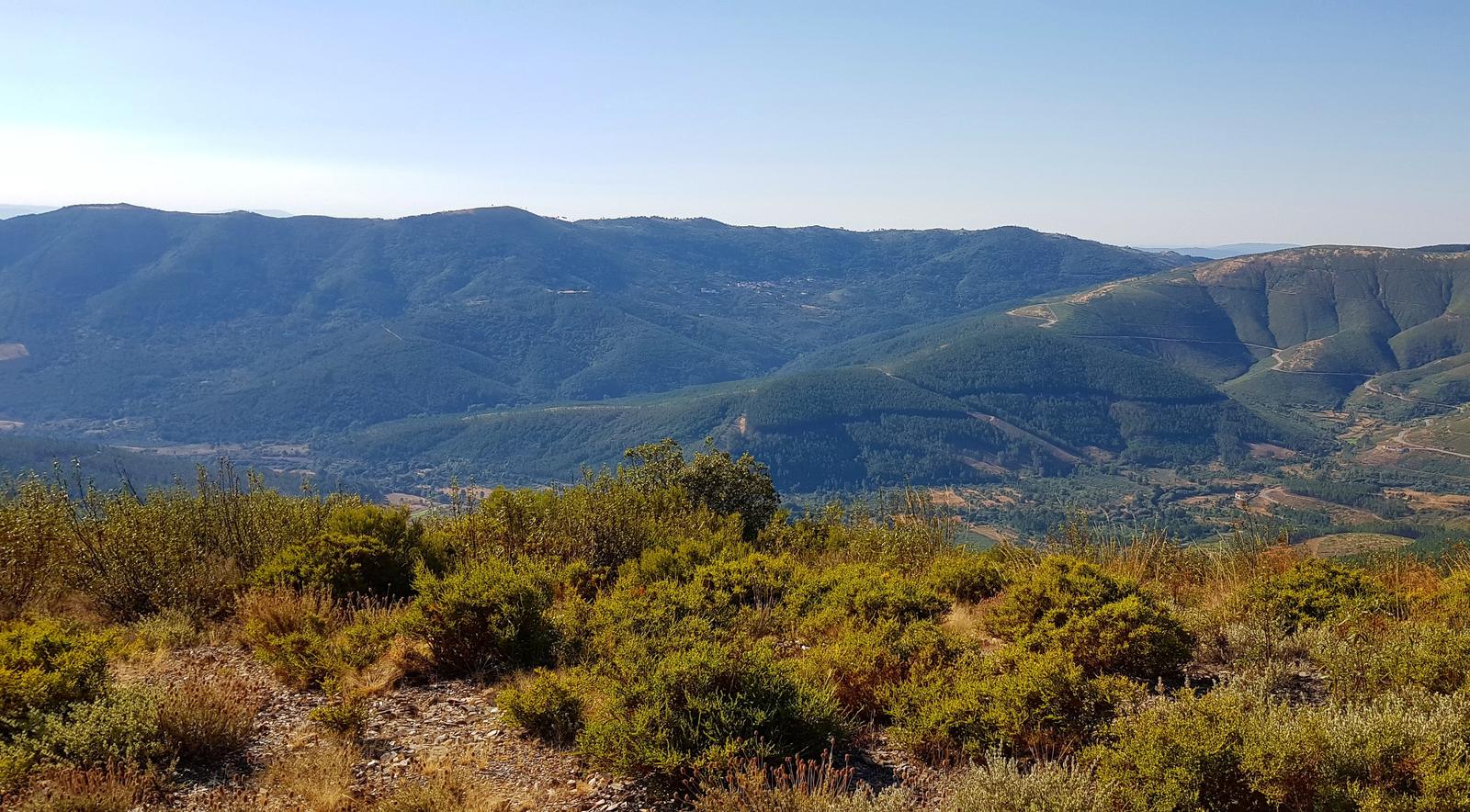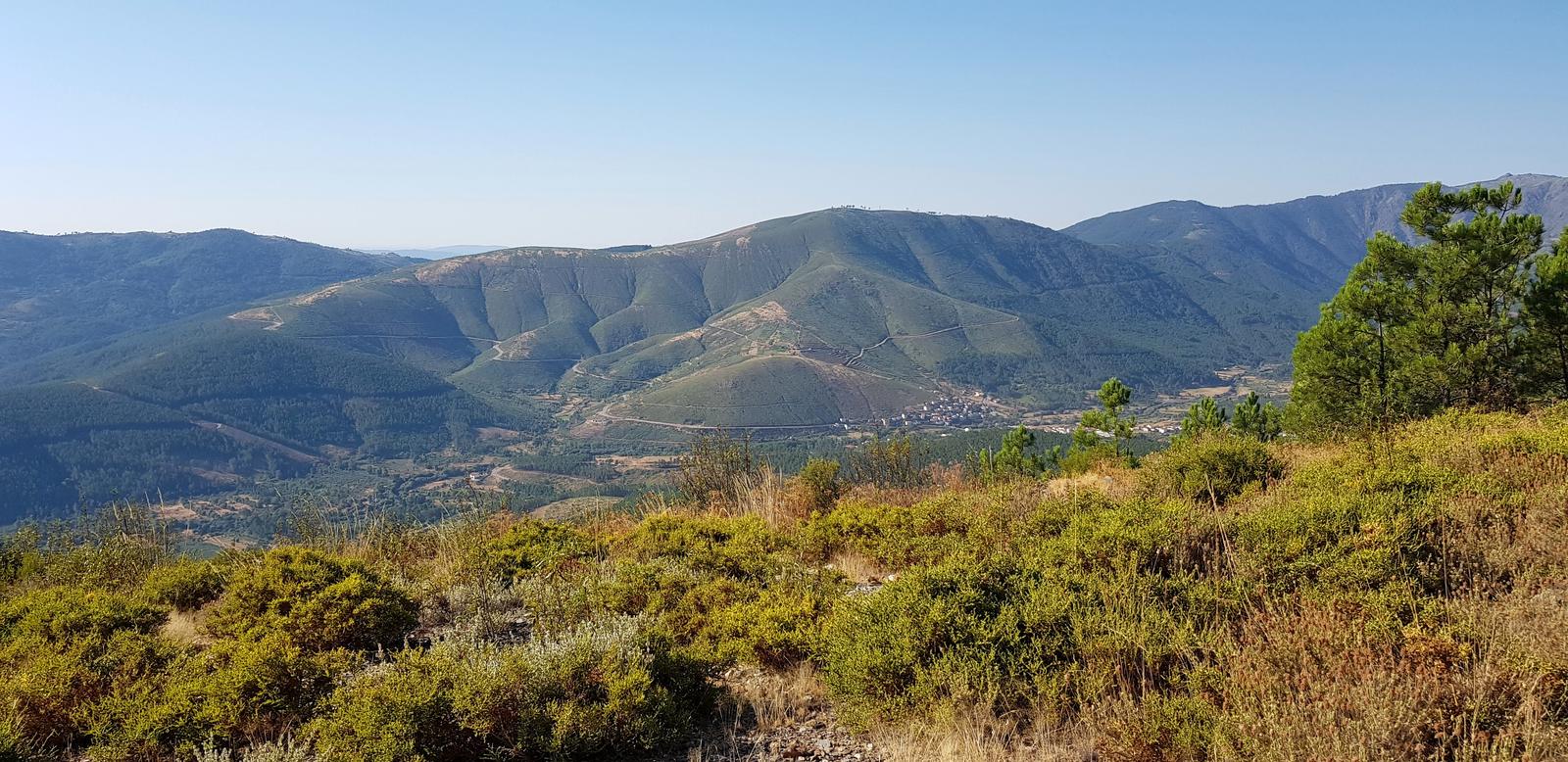 As you probably already guessed, I did not meet anyone else on the trails. I took the same route back; at least I had cleared all the cobwebs on my way up! A gorgeous easy hike with rewarding views.
---
4. Sameiro to Vale de Amoreira & Back!
On day three (our last day) I decided to take an easier route and get some more running in so I followed a trail to the next village called Amoreira. This is actually a really nice route, a gradual downhill from Sameira for the first 2 kilometres along a quiet cobbled road lined with allotments and running parallel to the Zêzere river.
Below using water from the river to irrigate the crops, vines etc.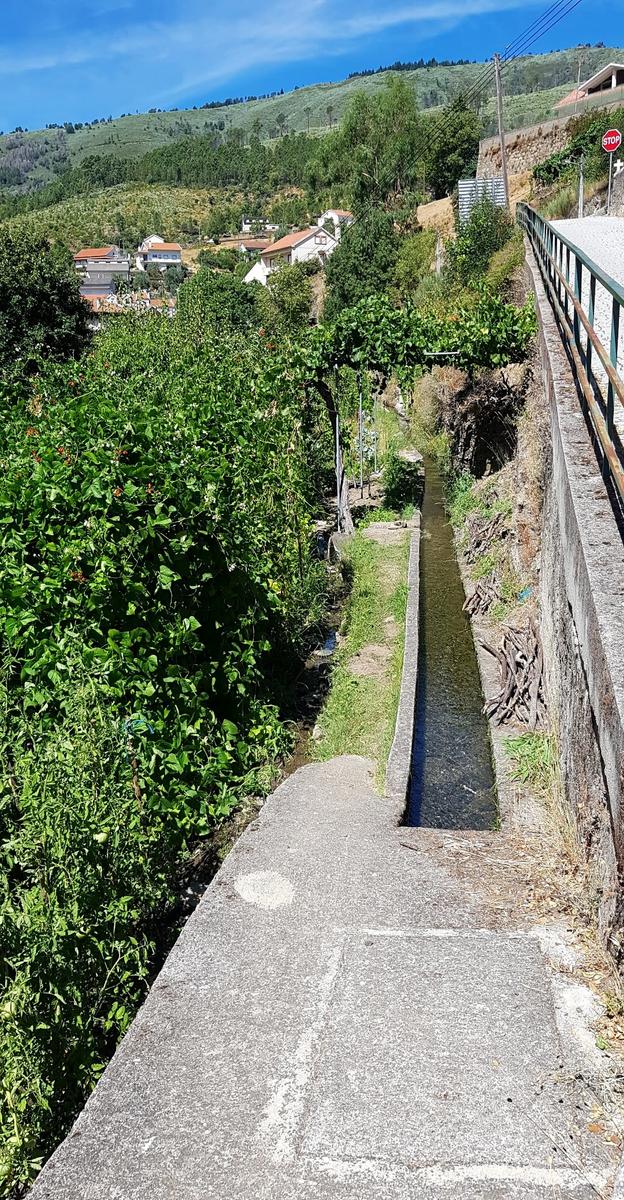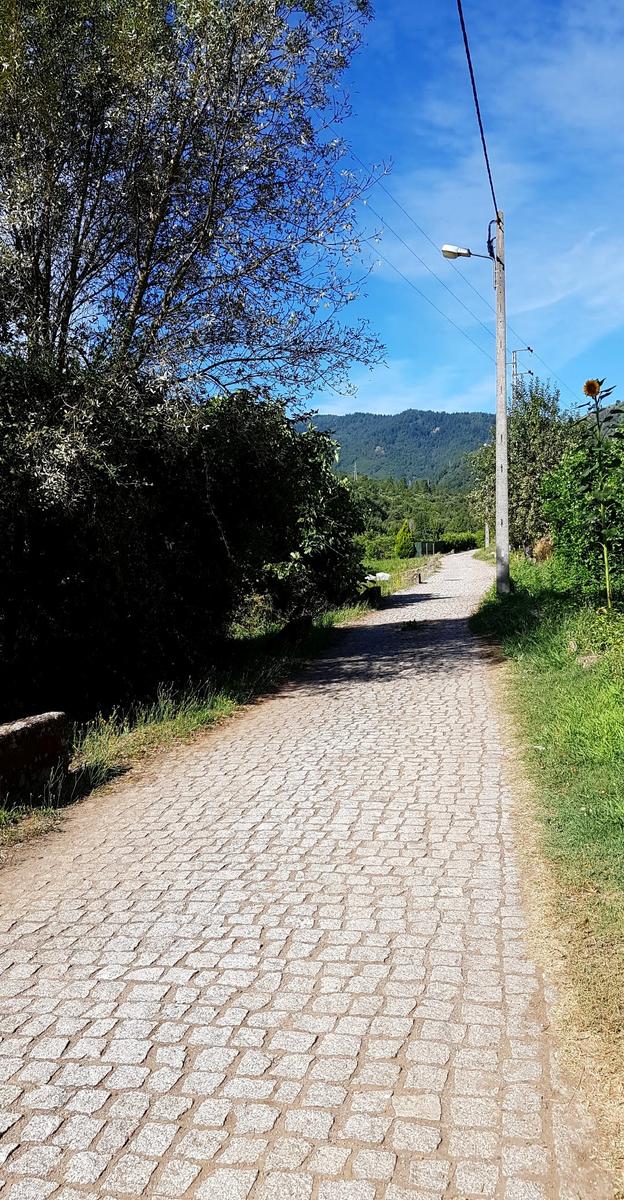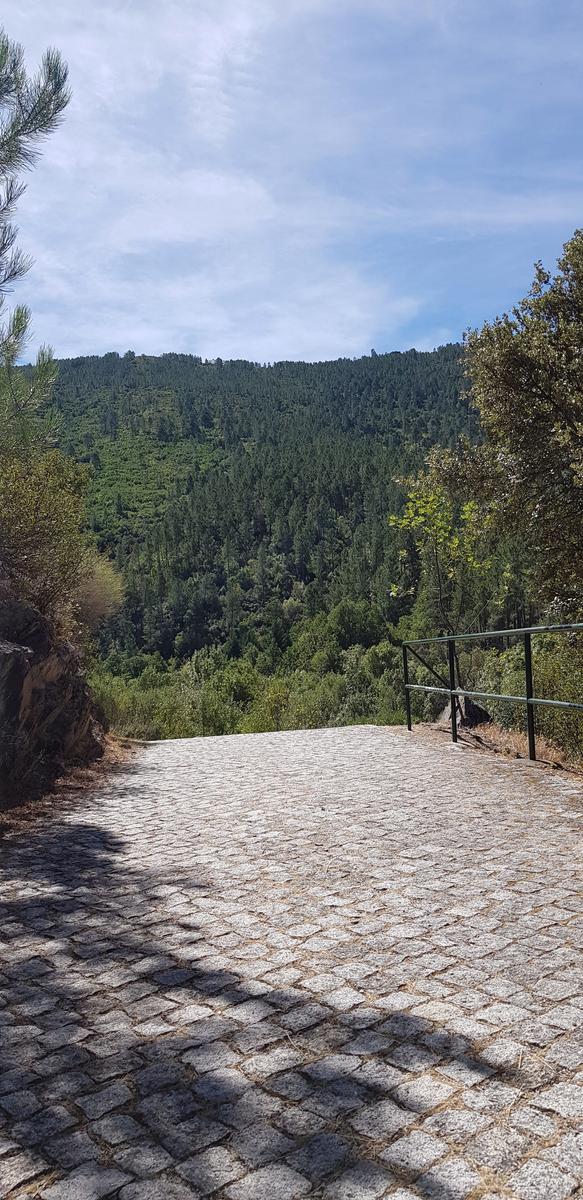 Delighted to see some sunflowers, they reminded me of bike touring!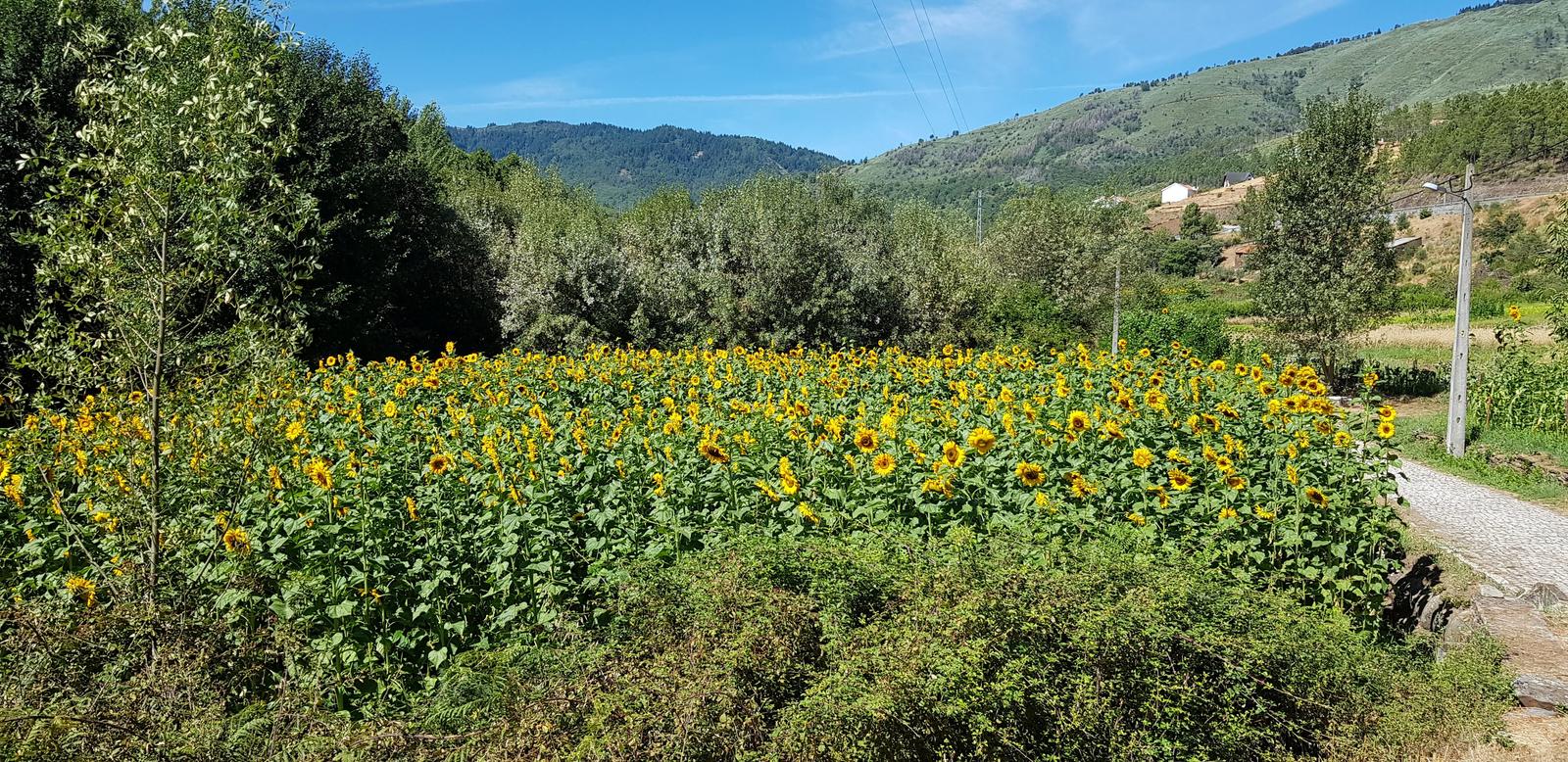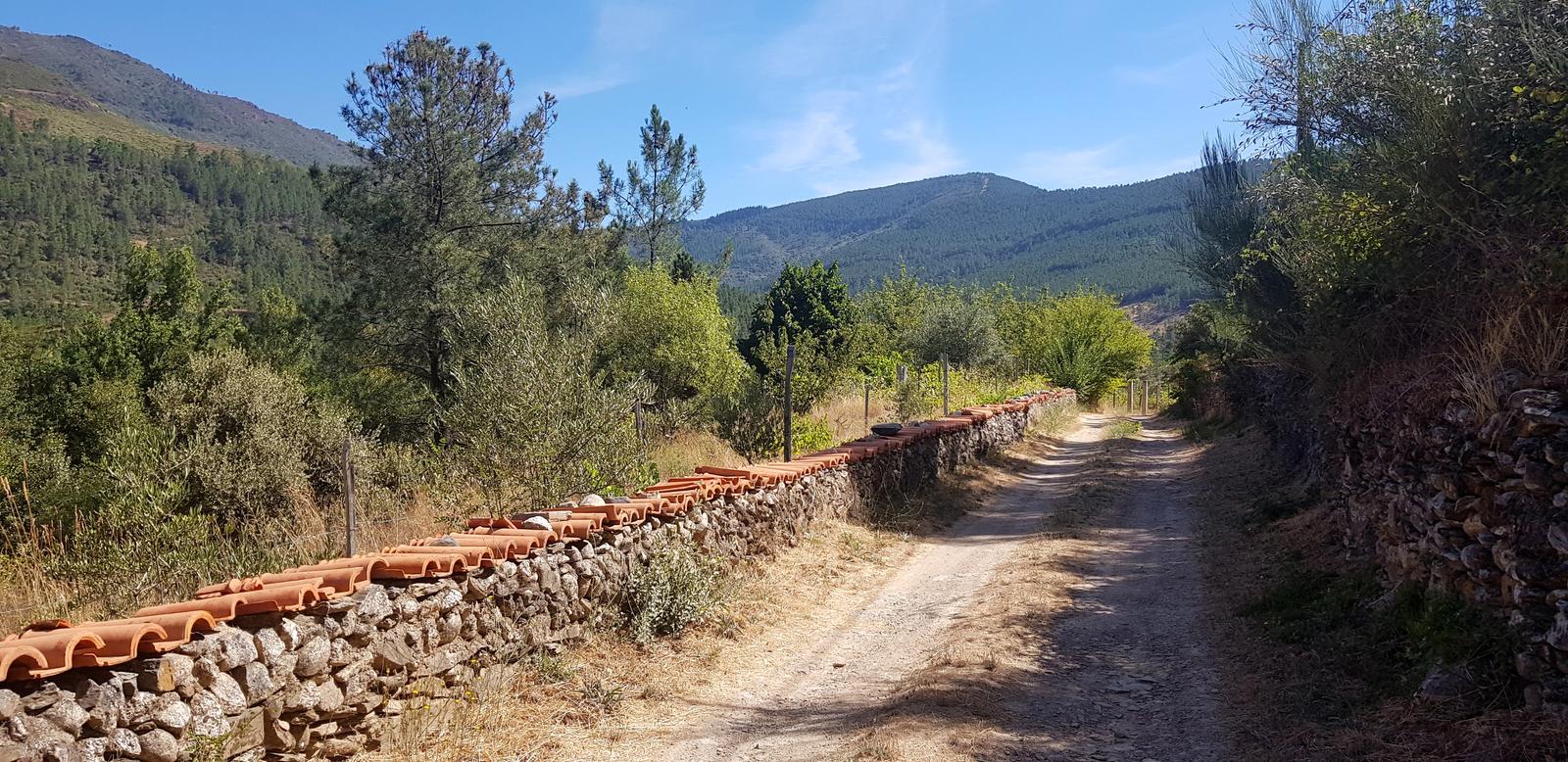 When you get to the Parque Campismo you take a right over a wooden bridge and from there it is easy to spot the trail (GR33) as there are signposts. Once again … I did not meet anyone on this trail!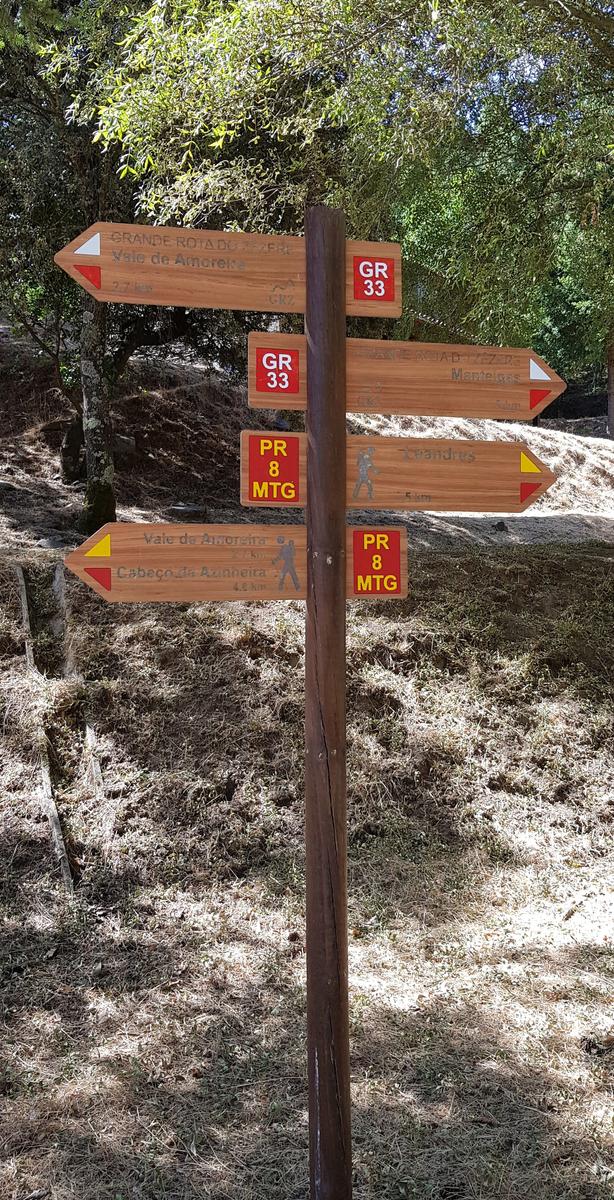 The trail was through a forest and was well marked.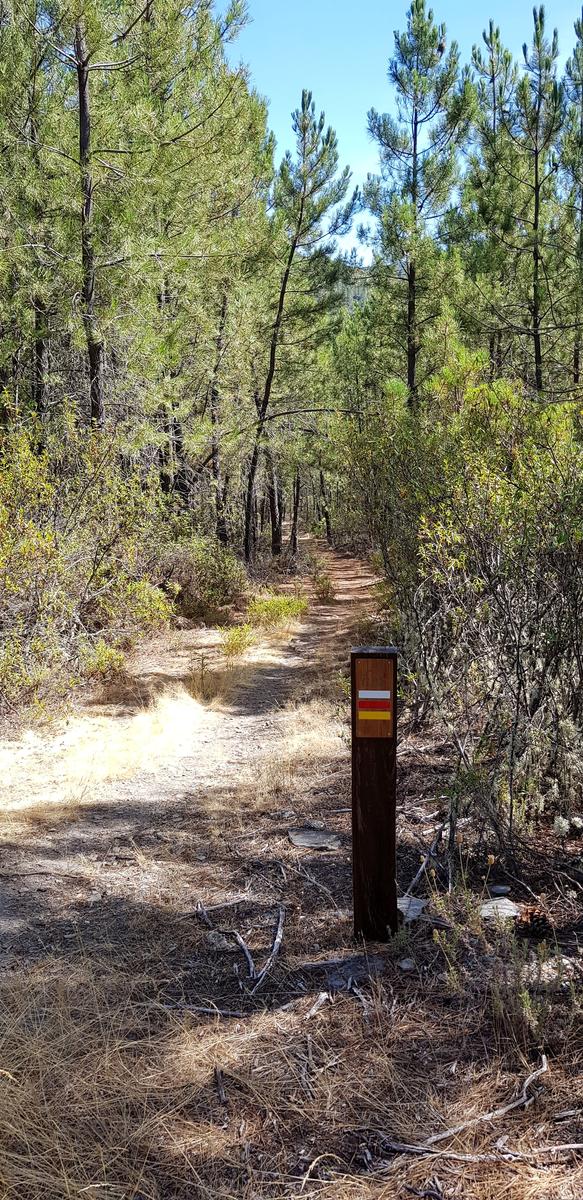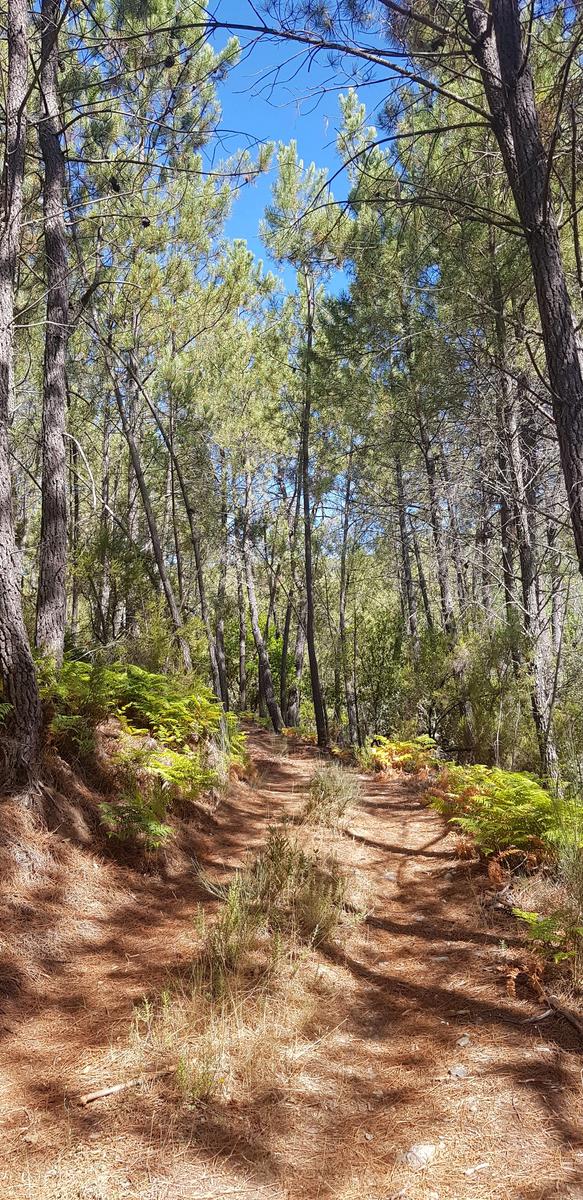 The trail eventually ends and you are back on a narrow road the rest of the way to Amoreira. I stopped just shy of the village so as to avoid meeting people while dripping sweat during Covid-19 times and headed back the same way. This is another great route with plenty of options to extend the distance by hopping onto one of the other nearby/intersecting trails.
---
Goodbye Sameiro!
And just like that our stay in Sameiro had come to an end. We loved our time in Sameiro, the beautiful views and the trails that brought us to them. The best part was that we were not yet done with the wonderful Serra da Estrela, we had another apartment booked in São Romão in Seia so we packed up the car and hit the road.
---
If you've any questions, suggestions or just want to say hello, contact me via the Contact Form, Instagram (@noroadlongenough) or By Email noroadlongenough1@gmail.com