Your first ski trip can be a little daunting, everything is new and you're not sure what to pack or expect then you arrive. Here are a few tips for first timers!
BEFORE YOU GO - WHAT TO PACK?
I am not going to get into major detail here, listing everything you need to bring but just wanted to highlight one or two things that can be overlooked!
1. Sun Protection for Face & Lips!
I know what you are thinking, that if the weather is very cold you will literally not have any of your skin exposed but you will often have blue sky sunny days. It is very important to bring some good sun cream for your face. If it is sunny, you will be outside for many hours in the sun, at a higher altitude than normal and with the white snow reflecting the sunlight onto your face. A small tube of facial moisturising cream with a high SPF or a specific facial sun cream is essential. You can keep it in the pocket of your ski jacket and re-apply as required, especially your nose! Don't be embarrassed, it's far more embarrassing to be the only person in the pub or restaurant later in the day with a big red sunburned face #spotthebeginner!
Lip balm with SPF is another absolutely essential item for your ski jacket. For the same reasons as the face SPF and also due to wind when you are skiing/boarding (moving air). You will find yourself happily reapplying your lip balm numerous times a day.
NOTE: If you do forget these items you will be able to purchase them wherever you rent your ski gear or in local supermarket or pharmacy.
A sunny day on the slopes in Saalbach, Austria!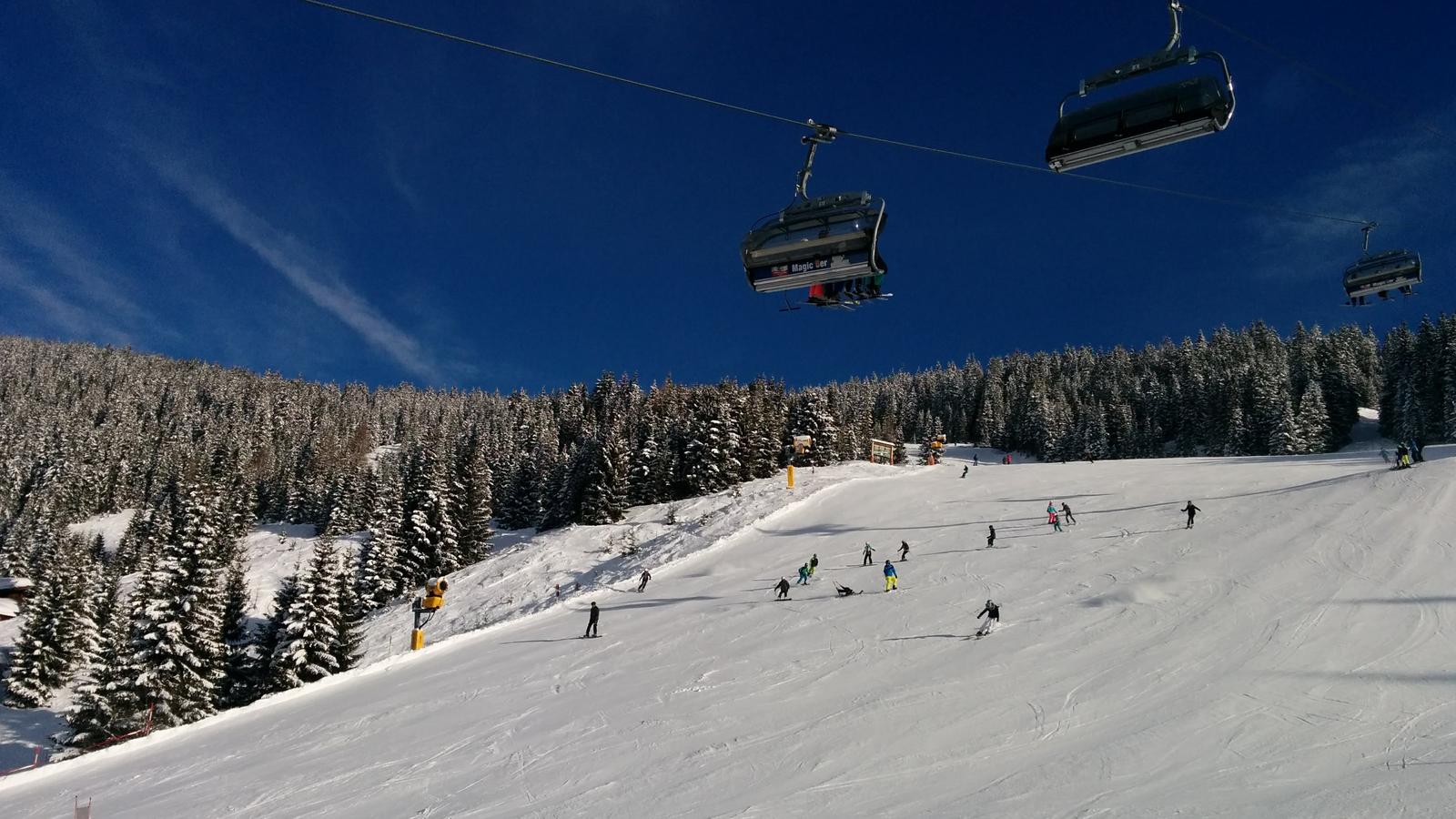 Another bluebird day in Zell am See, Austria!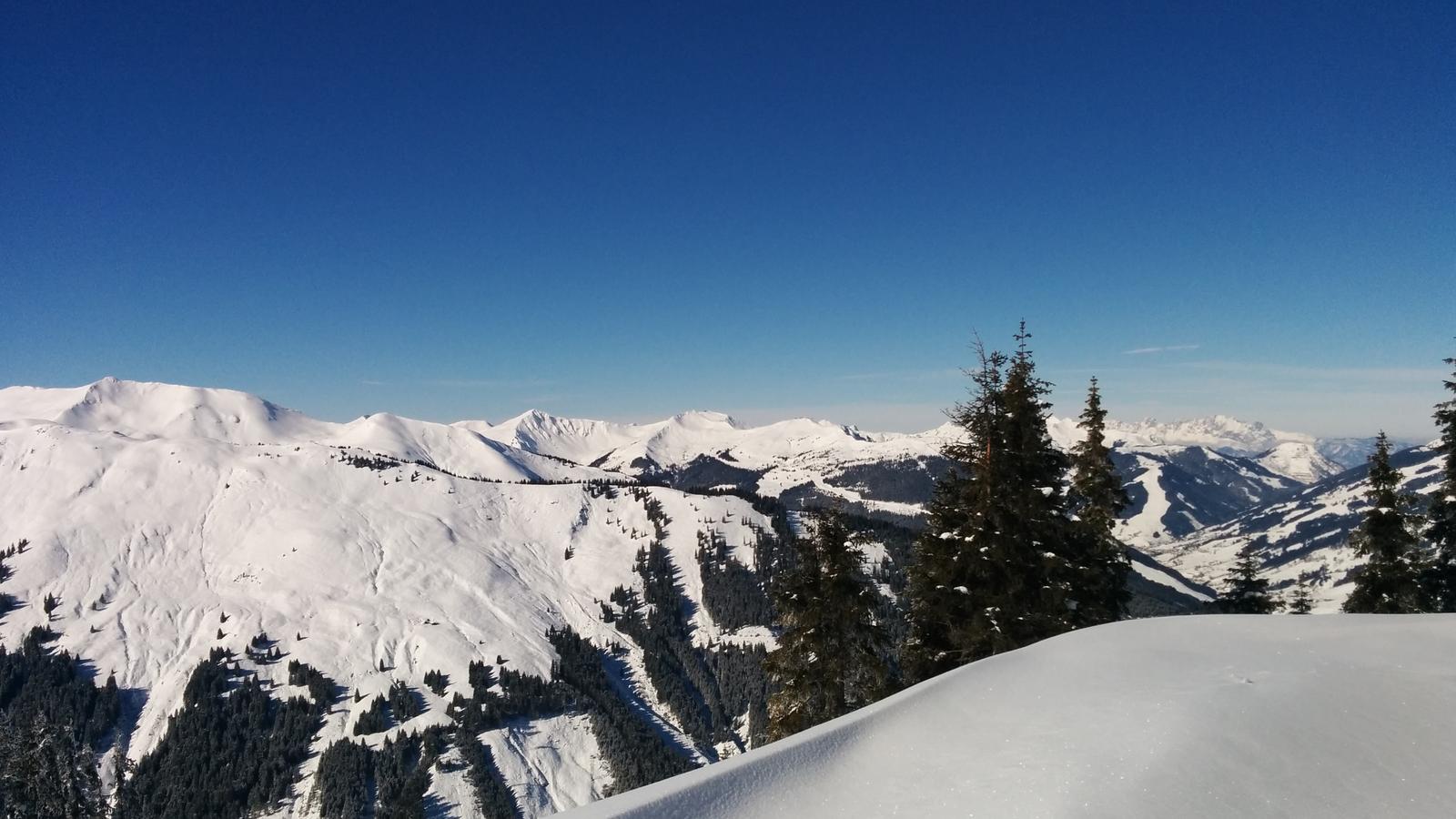 Beautiful early morning in St. Anton, Austria.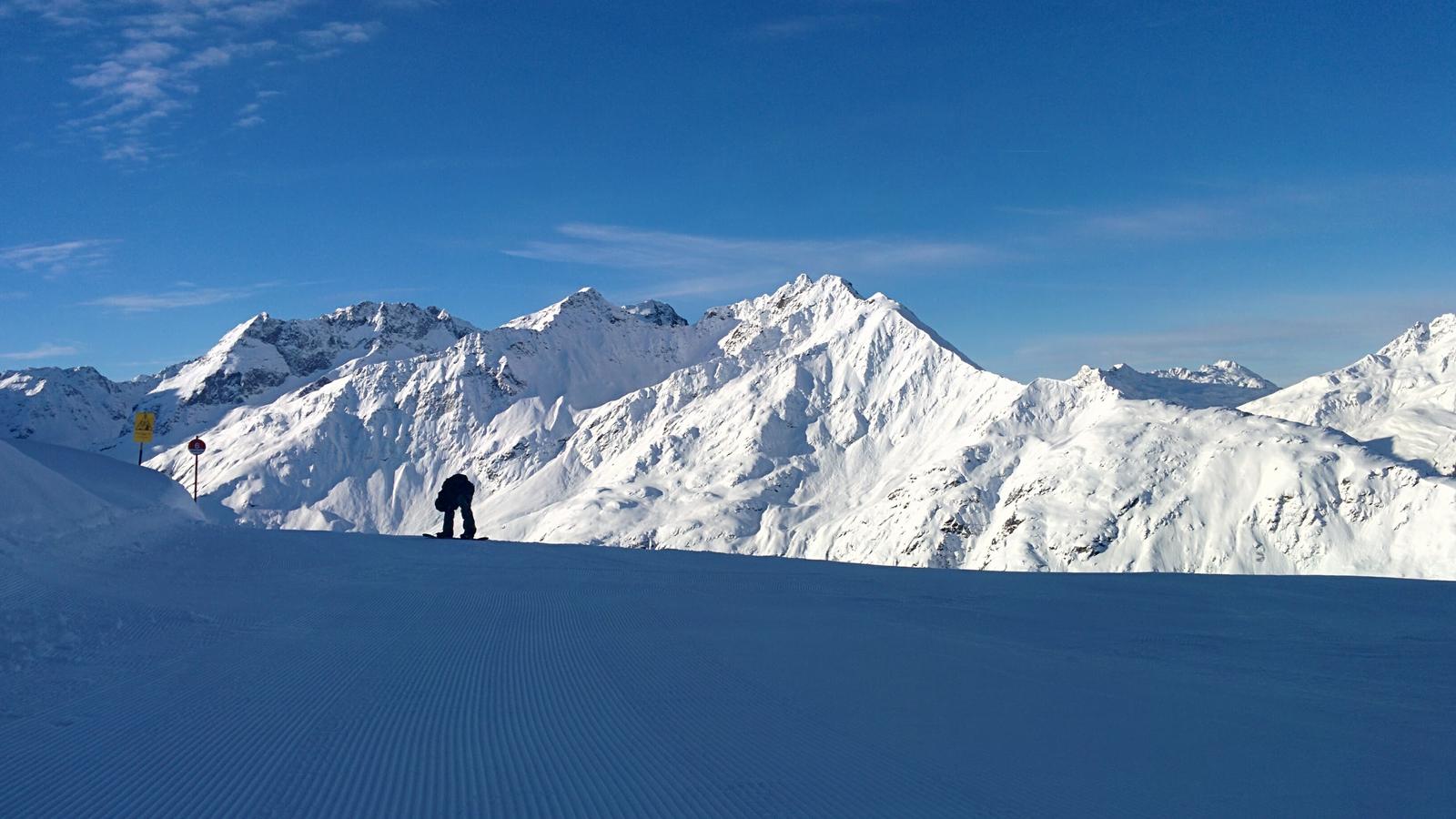 And later in the day St. Anton, Austria.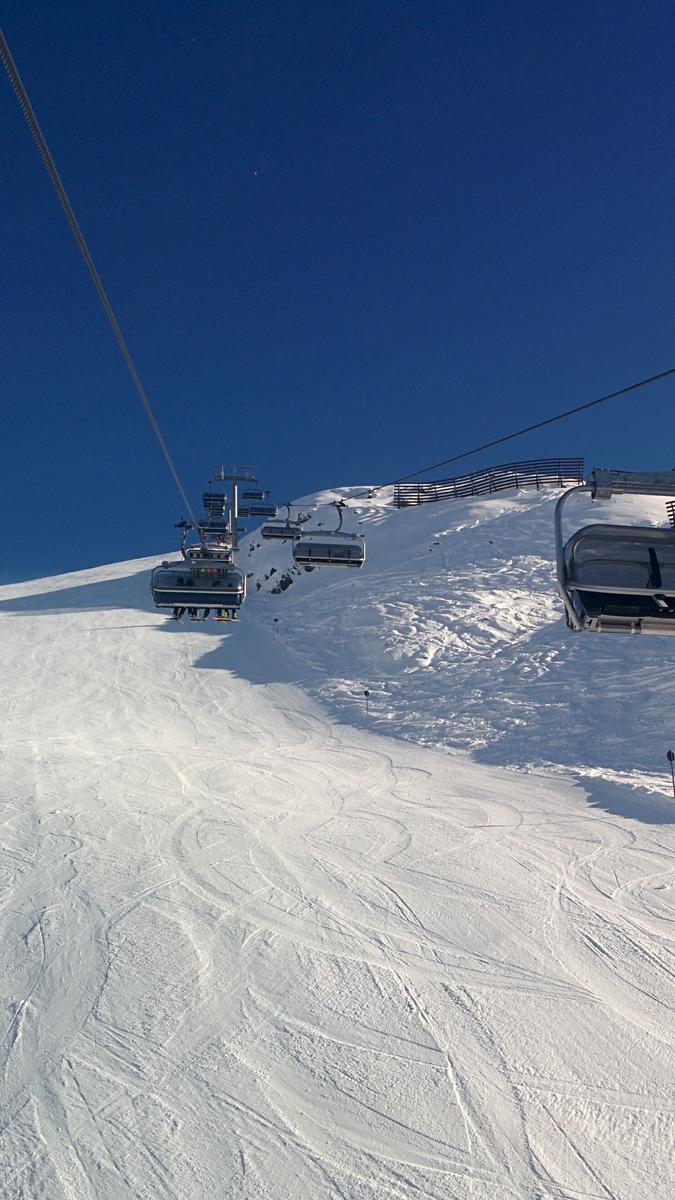 2. A Buff for your Face
Believe me when I say if the air is cold enough and you don't have a buff (or something similar to cover your face) you will be rushing to buy one as quickly as possible. We have experienced -30C wind chill while snowboarding in Austria, which forces you to adapt mummy like qualities with goggles so no skin is exposed! You can get special skiing buffs if you want, they tend to be shaped to accommodate goggles and/or cover your whole head with just a cut out for your goggles or they can be more like a mask covering your chin, nose and cheeks and sitting under your mask.
No skin exposed in St. Anton, Austria.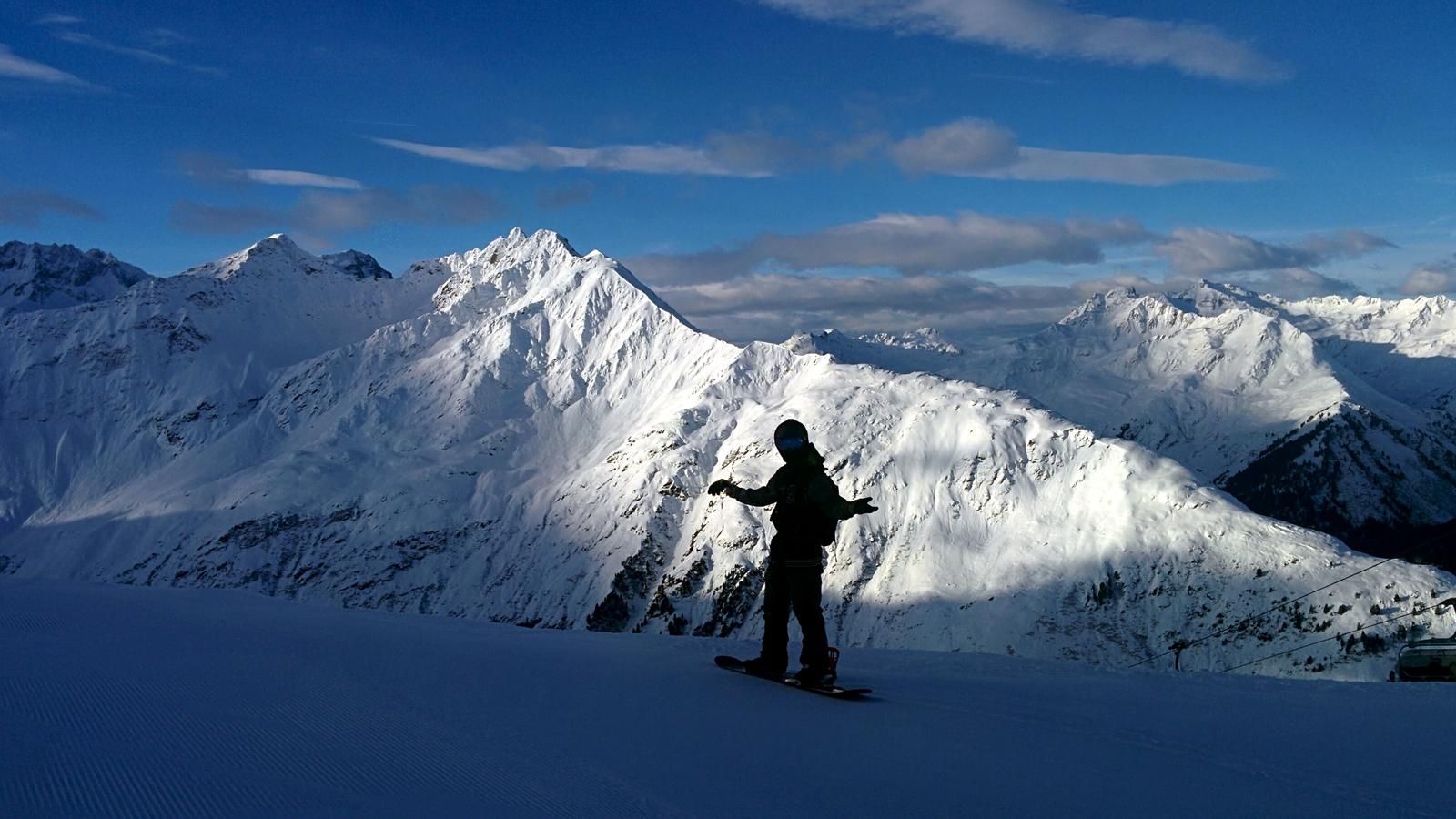 A freezing cold day in St. Anton, Austria.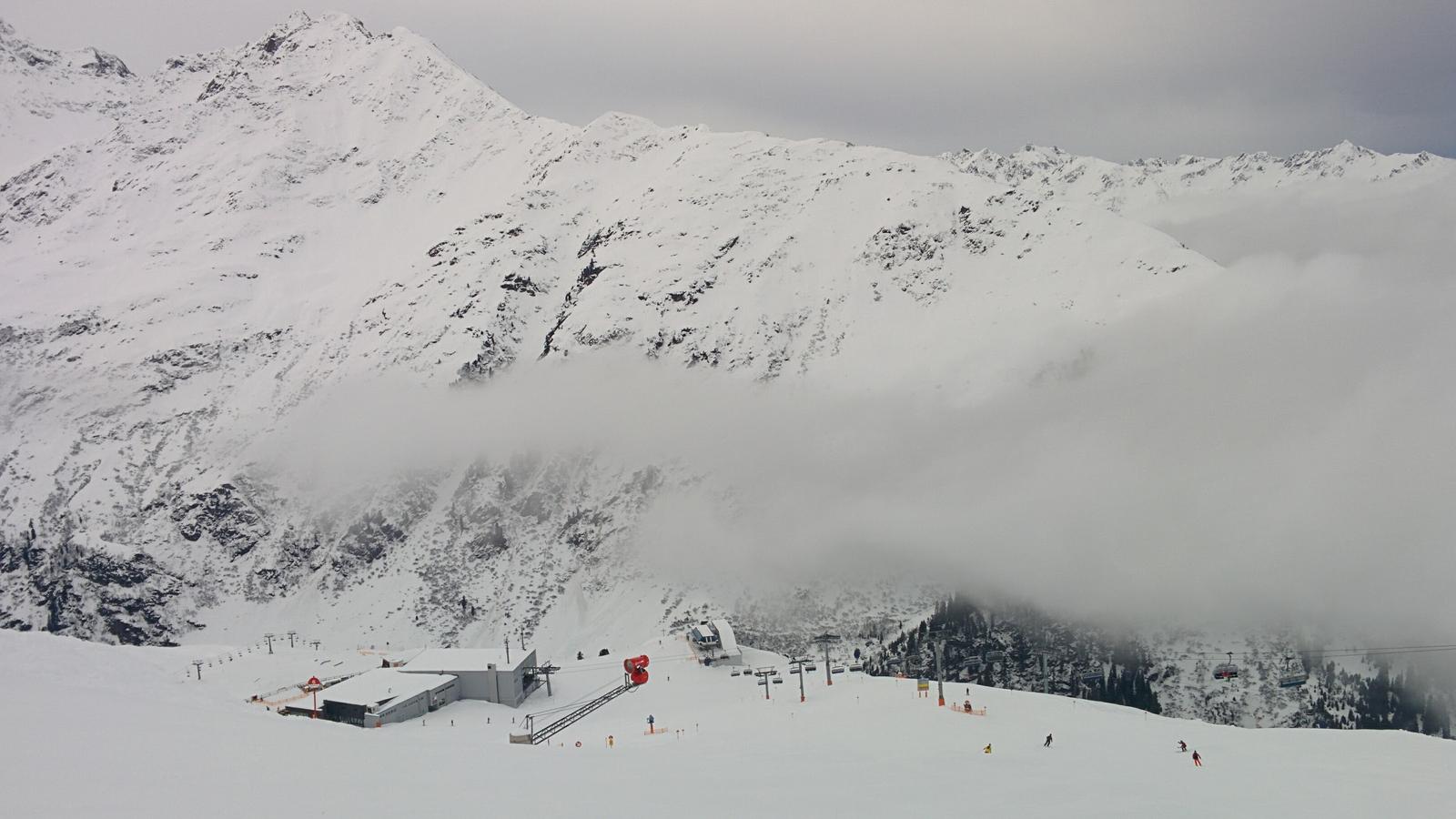 And another icy cold day Zell am See, Austria.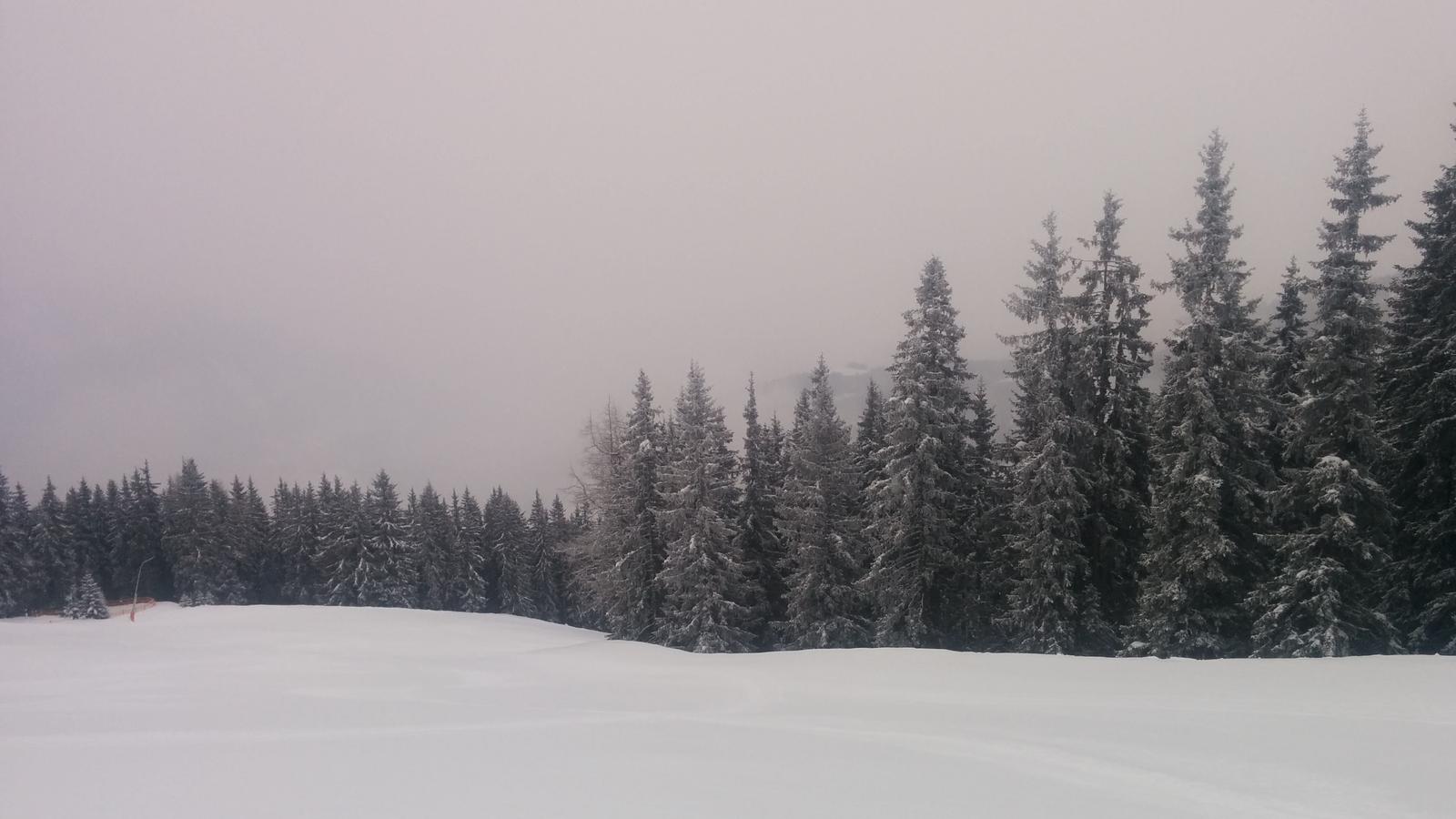 3. Goggles, Gloves and a Hat!
People always ask me "Do I need goggles?"" and I have to say "Yes!". They don't have to be top of the range but make sure they are a good fit and comfortable. If you don't have goggles you will find your eyes streaming constantly as you ski/board down the mountain, that's assuming you can actually see where you are going with no goggles due to either the glare of the sun reflecting on the snow (on a sunny day) or through your iced eyelids and eyeballs (on a snowy day). You could get away with sunglasses on warmer weather days but you will still have the cold air "wind" as you ski/board down the slopes.
While you will most likely wear a helmet while skiing/boarding you will love your woolly hat when you set off to experience the resorts nightlife or explore the town. On a very cold day you might choose to wear your hat under your helmet while skiing/boarding for extra warmth.
Gloves/mittens are also essential, you will wear them both on and off the slopes. If you can, buy gloves/mittens with an elasticated string/cord attached, which you then loop around each wrist. This means if you need to remove your gloves to e.g. adjust your boots, the gloves will simply dangle off your wrists and you don't have to worry about dropping them. This is VERY useful when you are travelling on a chair lift and remove your gloves to take a photo!
GEAR TIP: If buying gloves for children don't even bother buying gloves unless you are getting a pair with the elasticated wrist loop, they won't last day without losing one otherwise!
4. Insurance & European Health Insurance Card
I don't think many people travel without insurance these days but just make sure that it covers you for Winter Sports. Also, get yourself a European Health Insurance Card before you go, they are free and you can apply online for yourself and each family member and they will be posted to you. (Obviously you need to be a resident in an EU country to get one of these cards).
---
GEAR TIP: If you are buying a ski/boarding coat try and purchase one that has a small pocket on the sleeve for your ski-pass (this is a common feature) as it will be easier for you when using lifts and gondolas.
---
WHEN YOU ARRIVE - THE BASICS!
Ok, so lets take it for granted that you have all your ski gear sorted and you have your ski pass and you are ready to go! What now?
1. Take a photo of your Ski Pass!
So you really don't want to lose your ski pass but if you do and you have a photo of it, you have some hope of getting it replaced for free - so take a photo and get your family/group members to do the same.
2. Have your Health Insurance & European Health Card Information accessible!
Look hopefully you won't need either but just have them available. You can photograph your European Health Card if you don't want to bring it with you and make a note of your insurance policy details in your phone or on a piece of paper and zipped into your wallet/jacket.
3. Using the Lifts & Gondolas
So, you scan your ski pass for every gondola or chair lift that you take (you will not be let on/in if you don't) so keep your ski pass in a pocket at the front of your coat or in the sleeve pocket so you can just lean up against the scanner without taking it out every time.
When getting on a gondola, just watch the people ahead of you in the queue, observe what they do and copy it! Normally skis and boards go in a holder on the outside of the gondola and you bring your ski poles into the gondola with you. Don't forget to grab your skis when you get out at the top. With some gondolas you bring your board into the gondola with you. This usually means you put a cover on it before you hop in and they will be available at the gondola station.
Using ski lifts can be a little tricky the first few times. You will probably get a few lessons on your first trip and this will be one of the things the ski instructor will teach you; how to use the ski lifts. Generally, you queue up, line up and wait for the chair to approach you from behind. It is wise to be looking behind you as the chair approaches and to grab the chair with your hand when it is directly behind you before you sit down. Once seated (and everyone else is too) you pull the safety bar down. As you approach the end, you lift the safety bar and ski off the lift. Try to keep straight and not cross over those on either side of you or it is likely you will end up in a heap on the ground!!
NOTE: Ski/boarding lessons are really valuable for first timers. They are also a great way of meeting people and usually organise nights out too. If you can afford private lessons or shared private lessons with a friend it is likely you will improve faster. You will get more one on one time and the instructor will be watching you constantly to give you tips and advice. If you haven't skied for a few years or have a few areas that you feel you are weaker at e.g. turning, then a private lesson will go a long way to getting you where you want to be.
4. Toilets
In Austria and Switzerland there are toilets at most of the gondola stations and at the bigger chair lifts, they are generally of a very high standard and are free to use. All restaurants/bars on the mountain will also have toilets, some charge for them but the majority don't. In France the toilet facilities are few and far between and existing toilets leave a lot to be desired - bring your own toilet paper for starters!
5. Storing Ski Gear
Every hotel/guest-house/apartment will have some sort of ski storage area available for your use. It is a big "no-no" to wear your ski/board boots to your room or around your accommodation, or to store your skis/poles/board in your room. Some places can fine you for doing so as it usually results in walls and floors getting marked or damaged.
Depending on the ski resort you are in and the distance to the base lift/gondolas from your accommodation, you may want to consider renting a locker at one of the lift stations. For example, you may always get the same lift/gondola in the mornings and your hotel might be a 10 minute walk from your hotel. This doesn't sound like much but ski boots are notoriously uncomfortable and you will need to carry your skis and poles also. Moreover, if you have children you will probably end up carrying their skis and poles too. You can save yourself a lot of hassle by renting a locker at the base of a gondola and storing your skis, poles and boots in it for the week. You can walk easily and pain free from your accommodation to the locker in the mornings and back to your accommodation when you are done. This also works out well if you like to go for a few après-ski drinks straight off the mountain. You can ditch your stuff and more importantly those ski boots that your feet will be screaming to be rid of! All in all, you will know very quickly if a locker is something that you would use or not! (Maybe the bus will sort this for you see No.6 below!)
6. Ski Buses
Every resort will have ski buses available. Sometimes your accommodation can be further out of town, away from the base gondolas/lifts but will usually have a ski bus stop nearby which will bring you where you need to go. The ski bus is free with your ski pass. Ski buses usually cover the journey to other resorts that are included in your ski pass too e.g. going to Kaprun from Zell am See.
---
Hopefully you found this article useful! If you have any questions, suggestions or observations email us at: noroadlongenough1@gmail.com or comment below!
---
If you've any questions, suggestions or just want to say hello, contact me via the Contact Form, Instagram (@noroadlongenough) or By Email noroadlongenough1@gmail.com