Podcasts for Sport Lovers
As we are currently on lock-down, I decided to go through more of the Podcasts that I listen to regularly and noticed I have a nice selection of sports related ones that I thought I would share.
---
1. No Finish Line with John O'Regan Sponsored By Great Outdoors.
Irish adventurer and Great Outdoors brand ambassador John O'Regan hosts the No Finish Line Podcast. In each episode you can expect:
"… conversation with those that go the extra mile. Featuring athlete interviews and discussion on running, training, travelling and adventure. My objective is to interview athletes from a wide range of sports and to talk about how they do what they do. We will discuss the mindset and find the point at which all disciplines intersect." (Source here).
Some of my favourite episodes are his interview with Irish International Trail Runner & Wicklow Round - Paddy O'Leary as we were lucky enough to share a few drinks with Paddy last year as he recovered from his UTMB Mont-Blanc ultramarathon trail race in Chamonix and he is a really lovely guy. Also, the episode Oman by UTMB - By Eoin Keith was a must listen for me as I have been following Eoin since UTMB Mont-Blanc 2019 where he achieved a fantastic 3rd place in his category (V2 H) in the 171km race and we got to chat to him after that race too. Eoin has since gone on to win UTMB Oman 2019 170km race, finishing in a time of 36 hours and 4 minutes. I also really enjoyed Rowing the Atlantic - James Morrissey, don't know how he did it!
Eoin Keith accepting his prize at UTMB Mont-Blanc: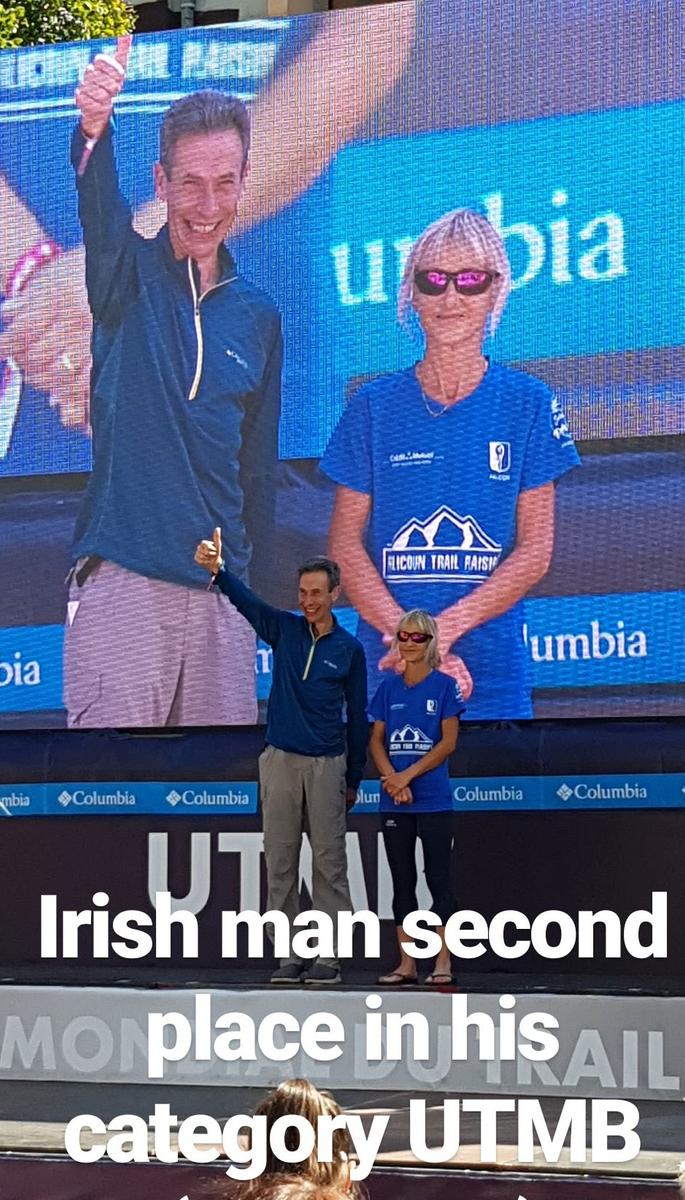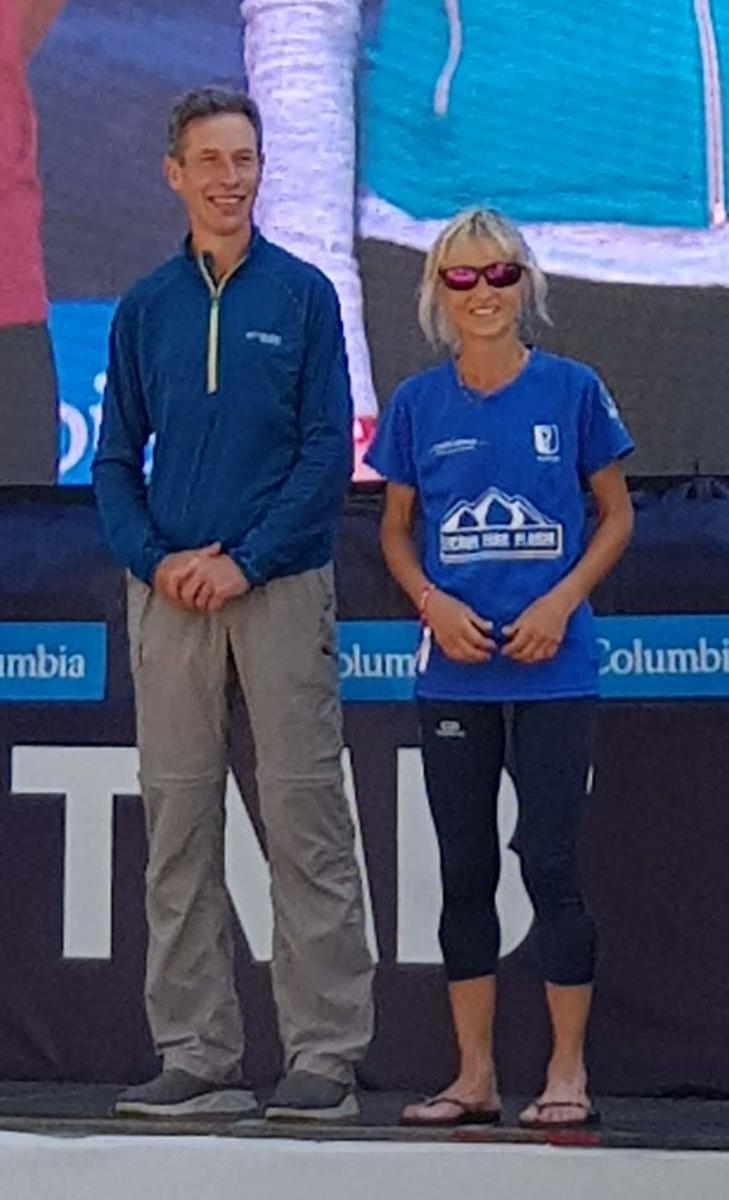 Photo below (L-R) - Dylan Bowman (more about him later), Paddy O'Leary (blue t-shirt, mentioned above), Stephanie Howe representing the ladies and Pau Capell (more about Pau later too). Not pictured but also present were also Zac Miller and Rory Bosio. All are professional trail runners pictured here speaking at a The North Face event held in Chamonix 2019 (who sponsors all of them).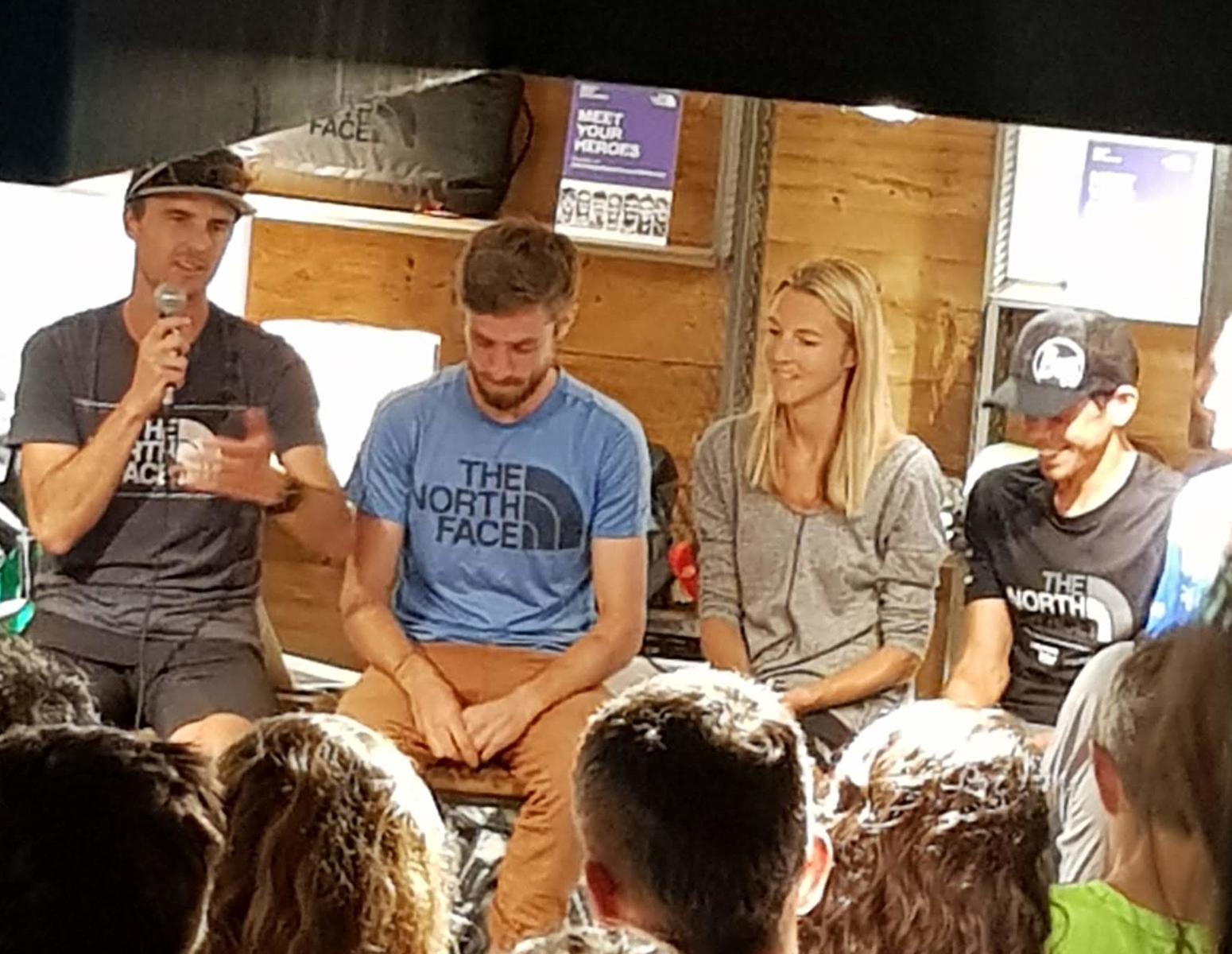 ---
2. The Brian Keane Podcast/BFK Podcast.
Brian Keane (or Brian Keane Fitness BFK as he is better known) is a qualified personal trainer, sports nutritionist, strength and conditioning coach as well as a popular Irish fitness "influencer". He is a wealth of knowledge on all things fitness, health and mindfulness related and has published two books on these topics which you can read more about here.
In each episode of The Brian Keane Podcast/BFK Podcast:
"Irish Fitness Entrepreneur Brian Keane answers your questions and interviews leaders in the world of fitness, health, mindset and natural wellness to share tips about all things that can support you on your journey to becoming the best version of yourself. Lose fat, build muscle, improve your health and build a bulletproof mindset to get whatever you want out of life." (Source here).
With 268 episodes to choose from, you will definitely find a topic that interests you! I really enjoyed all of Brian's personal experiences Podcasts, where he discusses his major "fitness" achievements. They are: Episode 148: Marathon Des Sables – Running 250km Through The Sahara Desert, Episode 213: Running 230km Through The Arctic Circle, Episode 229: 10 Life Lessons I Learnt Running Through The Arctic And The Sahara and Episode 266: My First 100 Mile Ultra Marathon (Jackpot 100 In Las Vegas, Nevada).
---
3. Billy Yang Podcast.
Billy Yang first came on my radar for his film making, some of which are available on his YouTube channel which I was drawn to as a lot of his film work involves pro athletes in world of running/trail running (documentary style). I then realised he had a Podcast so of course I had to check it out! We got to meet him numerous times while in Chamonix last year as he was working at UTMB-Mont Blanc, recording films and Podcasts so that was pretty cool.
In the Billy Yang Podcast:
"… he sits down for one-on-one conversations with some of the most prolific and rising athletes, creatives, entrepreneurs and many others on what drives and inspires them." (Source here).
I loved his interview with Lucy Bartholomew (big fan of her) and his interviews with Jason Koop and Rich Roll.
---
4. The Morning Shakeout with Mario Fraioli Presented By New Balance.
Mario Fraioli's The Morning Shakeout Podcast is solely focused on running as he is a well known and very successful US based running coach. In each podcast episode Mario gets:
"… insight and inspiration from some of the top athletes, coaches, and personalities in the sport of running." (Source here).
If you are into running, you will really enjoy these interviews with accomplished runners. I particularly liked his chat with Corrine Malcolm (who we also met at UTMB Mont-Blanc 2019) and New York Times best-selling author Christoper McDougall.
---
5. The TrainRight Podcast with Adam Pulford & Hillary Allen for CTS.
The TrainRight Podcast is a little different in that the hosts take turns, every second episode is hosted by either cycling expert Adam Pulford or running expert Hillary Allen.
"The TrainRight Podcast carries forward the mission of CTS – to further human performance in endurance sports – into the earbuds of its expanding and loyal endurance athlete audience." (Source here).
I'm a huge fan of Hillary Allen who is a big name in the world of professional trail running. Hillary almost lost her life after a horrific fall in the Tromso Skyrace in 2017 but made a truly miraculous recovery, showing unbelievable strength, resilience and self belief. If you want to read more about this, you can do so here. Hillary has also done a number of Podcasts about her accident/recovery, including on The Dig Deep Podcast which is next on this list! Needless to say Hillary is back running, as strong as ever and came second (woman) in the TDS race at UTMB Mont-Blanc 2019 with time of 21:52:46. You can read more about that here.
This Podcast only launched in January 2020 so you won't have too many to catch up on before you are eagerly waiting for a new release weekly!
---
6. The Dig Deep Podcast - Hosted By Hugo Mendez for CHASKIS.
The Dig Deep Podcast is a:
"… weekly show that features inspiring people from different backgrounds (from professional athletes, to every day athletes to entrepreneurs) who share something in common: they know how to dig deep to be the best that they can be." (Source here).
There are quite a few episodes available so you will definitely find one to interest you. The episode with Boulder based elite ultrarunner Mark Bottenhorn is a good one to start on!
---
7. The Well with Dylan Bowman.
Dylan Bowman is another famous professional trail runner that I have followed for a number of years. He is a The North Face, Red Bull and Julbo sponsored athlete (and more) who we saw a number of times in Chamonix 2019. At that time Dylan was recovering from an injury, unable to race but instead did a really great job of race commentary for the online streaming of the UTMB Mont-Blanc races. Definitely not surprised that he now has his own Podcast.
The Well with Dylan Bowman involves:
"Conversations dedicated to endurance and outdoor sport, among other things." (Source here.).
This Podcast only launched in December 2019 so there are not that many episodes yet however his latest episode with professional Spanish trail runner Pau Capell is a must listen, love him, total gent! Read more about Pau here.
Dylan at a signing event for one of his sponsors at UTMB Mont Blanc 2019: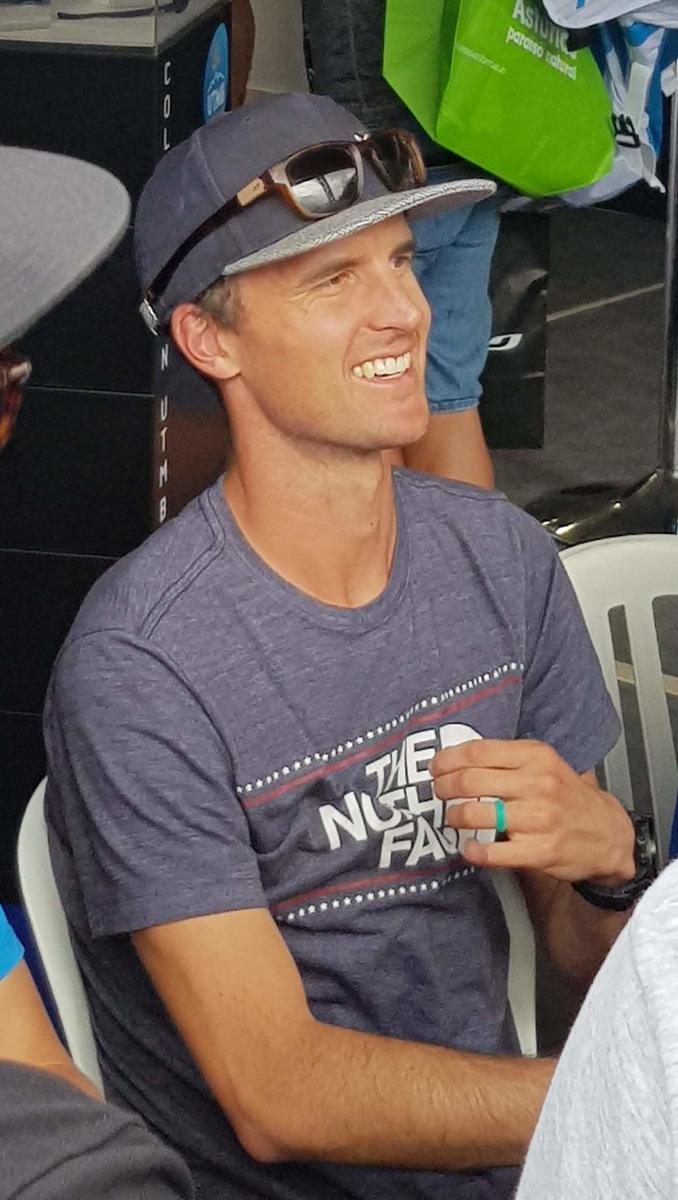 Dylan with fellow US professional trail runner Tim Tollefson who also has many of the same sponsors as Dylan.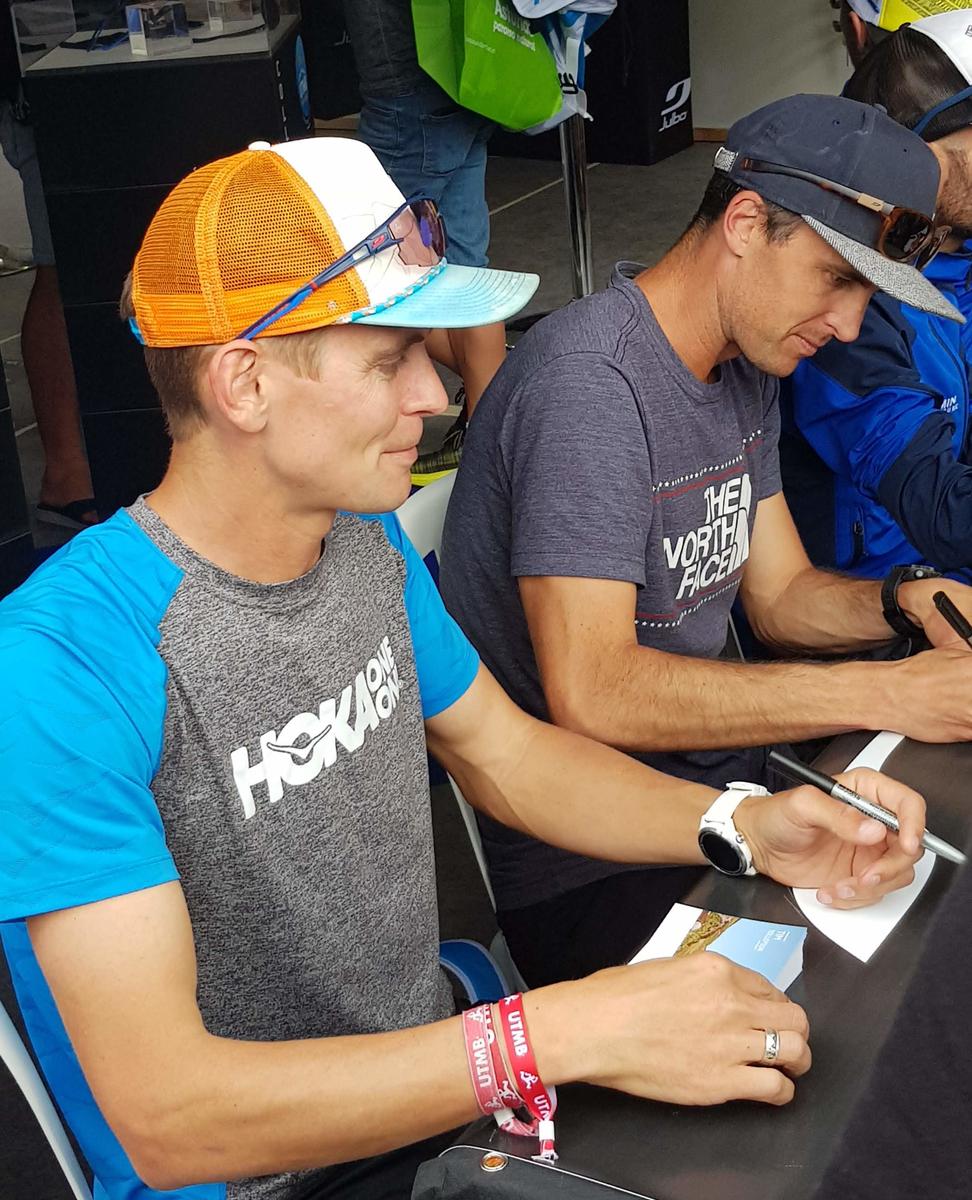 Below, Pau Capell accepting his prize as winner of the 2019 UTMB Mont-Blanc 171 km race, to his right is Courtney Dauwalter, female winner and total legend also.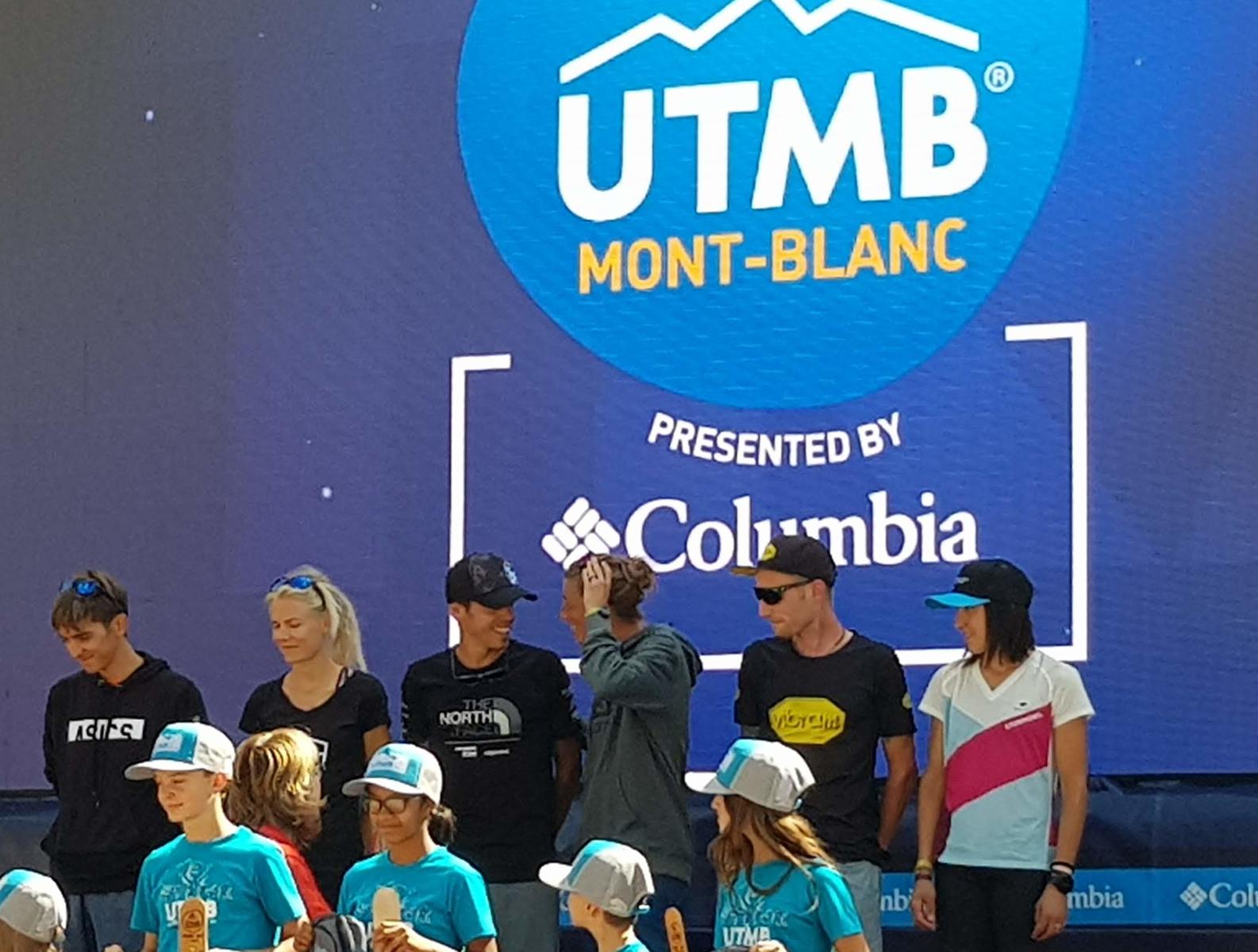 ---
8. TRAINED By NIKE - Hosted By Ryan Flaherty.
I have already included this Podcast in an older 2018 article but decided to mention here again as I am still listening to it!
Trained By Nike is hosted Ryan Flaherty who is the Senior Director of Nike Performance and trainer to elite athletes such as Serena Williams! Each podcast episode is:
"… conversations with industry experts and discover the latest innovations, insights, and trends making the biggest impact on the training world." (Source here).
Easy and very interesting listening covering a wide variety of topics related to health, fitness, nutrition and recovery. Each episode is between 30-40 minutes and so are great when you don't have much time but want to expand your knowledge base. Being Irish of course I liked the Rory McIlroy episode and if you are into CrossFit you will definitely be interest in the Sara Sigmundsdóttir episode! Lots of other great ones to choose from.
---
Perhaps some of these sport related Podcasts will give you an extra boost to get active during this weird time we are having or accompany you during some of your at home workouts!
---
If you've any questions, suggestions or just want to say hello, contact me via the Contact Form, Instagram (@noroadlongenough) or By Email noroadlongenough1@gmail.com