Planning Our Visit to Saxon Switzerland National Park
Having cycled about 600kms we were well on our way and once again studying our dates/days left to cycle to Prague (to catch our flight home). We needed to try and book some accommodation along the rest of our Elbe route. We knew from the start that we would love to spend a day (at least) in or around the area of the Saxon Switzerland National Park. However it was proving difficult to find suitable accommodation due to the time of year (peak season) and our laid back approach, not booking well in advance, didn't help!
Thus began some online research into possible places to stay along the Elbe. This was when we "found" Pirna. We knew we were stopping in Meissen and so Pirna seemed like the ideal next stop. Not only is Pirna an easy 50km cycle from Meissen, it is also located close to both the Saxon Switzerland National Park and to Dresden, which meant we could in theory visit both places if we had our two rest days in Pirna (we later decided not to visit Dresden and instead spend a day relaxing in our Airbnb). So that was it, decision made, even more so when we found a great Airbnb available in Pirna, it was definitely meant to be!
Next up was some research into activities/tourist sites that were accessible from Pirna and I narrowed it down to visiting Bastei Bridge or Königstein Fortress. We decided we would go to Bastei first and if we felt like it we could then go to the Fortress after, but Bastei was definitely our number one choice.
We got to Pirna on Tuesday. We checked the weather forecast and it looked good for the following day (Wednesday) but had possible thunderstorms forecasted for Thursday (and they did come). Decision made, we would it visit Bastei the next day, the Wednesday and boy were we glad we did!
---
About Bastei and it's Bridge
According to the official Saechsische Website Bastei is:
"… the most famous rock formation in Saxon Switzerland, Germany. Bastei and the Bastei Bridge are the highlights of the German Saxon Switzerland National Park area."
The Bastei Bridge itself is:
"… a 76,5 m man made bridge which connects the rock formations."
What is the Bastei? Well it is the ruins of what once was the Felsenburg Neurathen Fortress, built in the 11th Century.
According to Atlas Obscura the Felsenburg Neurathen Fortress:
"… dominated the landscape for 3 centuries until burned by a besieging army in 1484."
Now all that remains are the ruins of the castle and of course it's bridge.
---
Visiting Bastei
When researching I read reviews about visiting Bastei and the common sentiment was it was best to visit early or late, to avoid the Summer crowds and make it a more enjoyable experience. We took this advice onboard and set our alarms for 7am.
The following morning we were cycling along the Elbe by 8.15am, ready for the day. The weather forecast told us to expect 30C temperatures for the day so by going early we hoped to avoid the worst of that heat.
As has been the pattern on this trip so far, we once again had a headwind on our way to Rathan but with no panniers on our normally fully loaded bicycles it was still an enjoyable cycle on what was a beautiful quiet morning. We cycled as far as Stadt Wehlen and crossed the Elbe there via ferry (€5).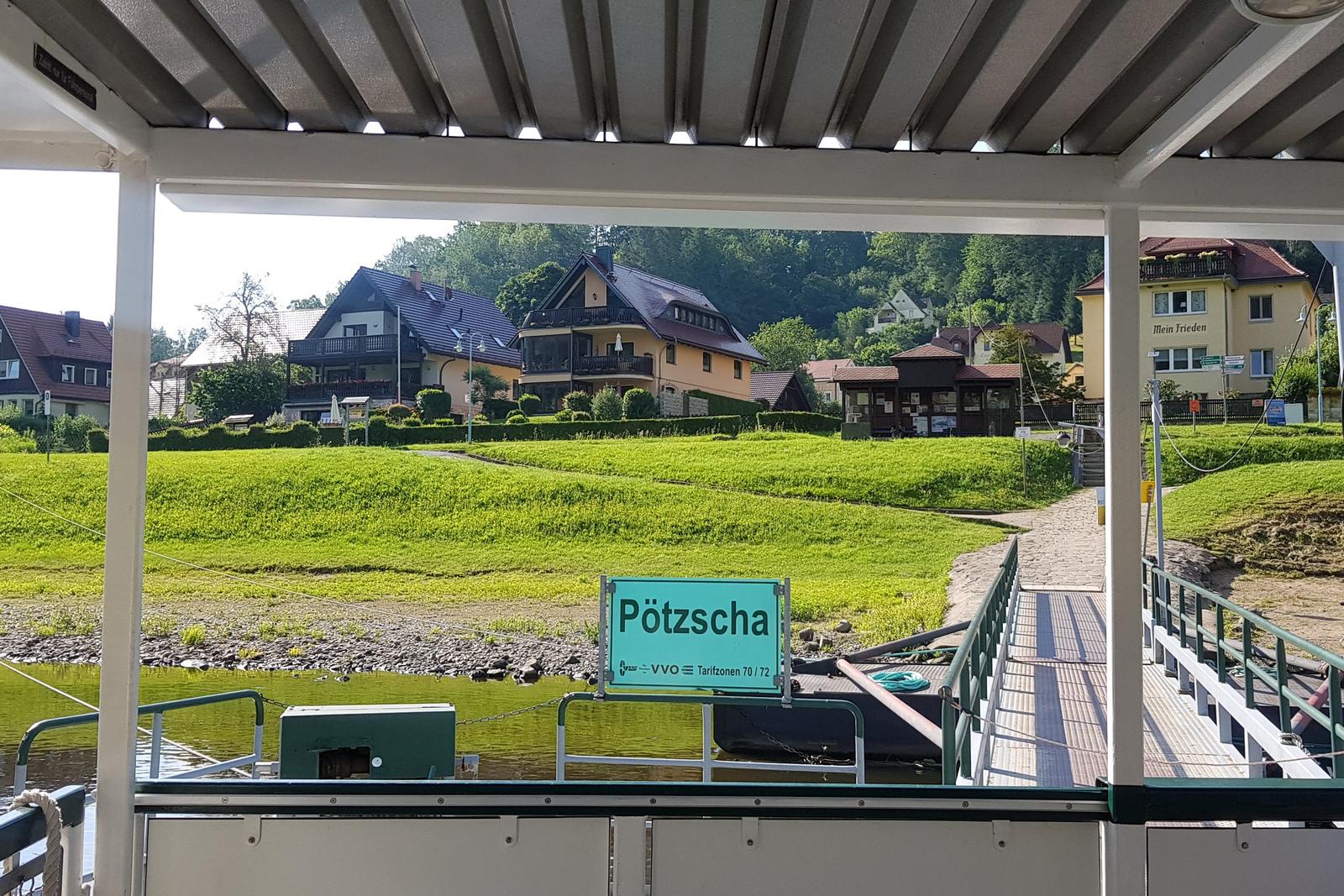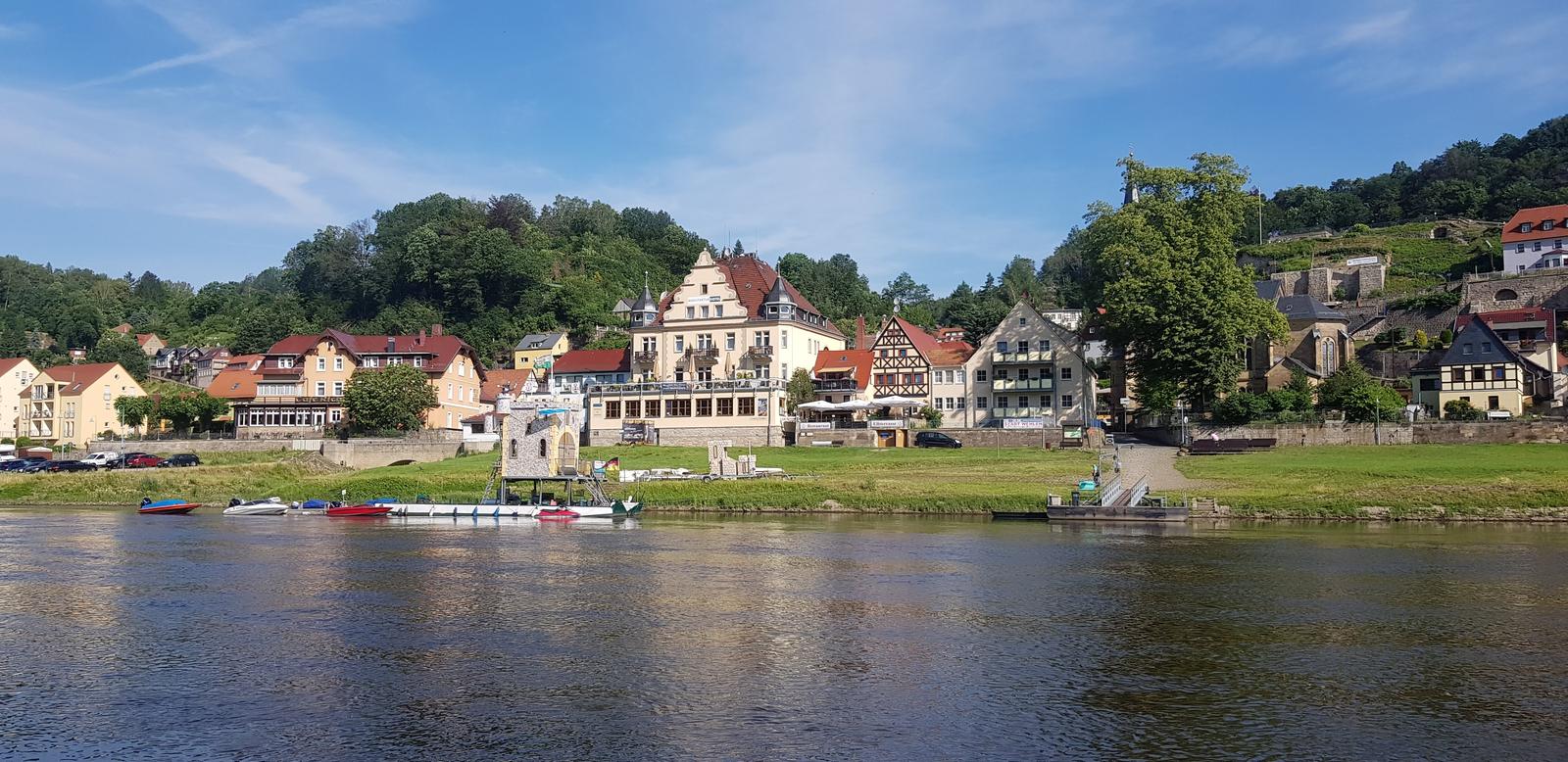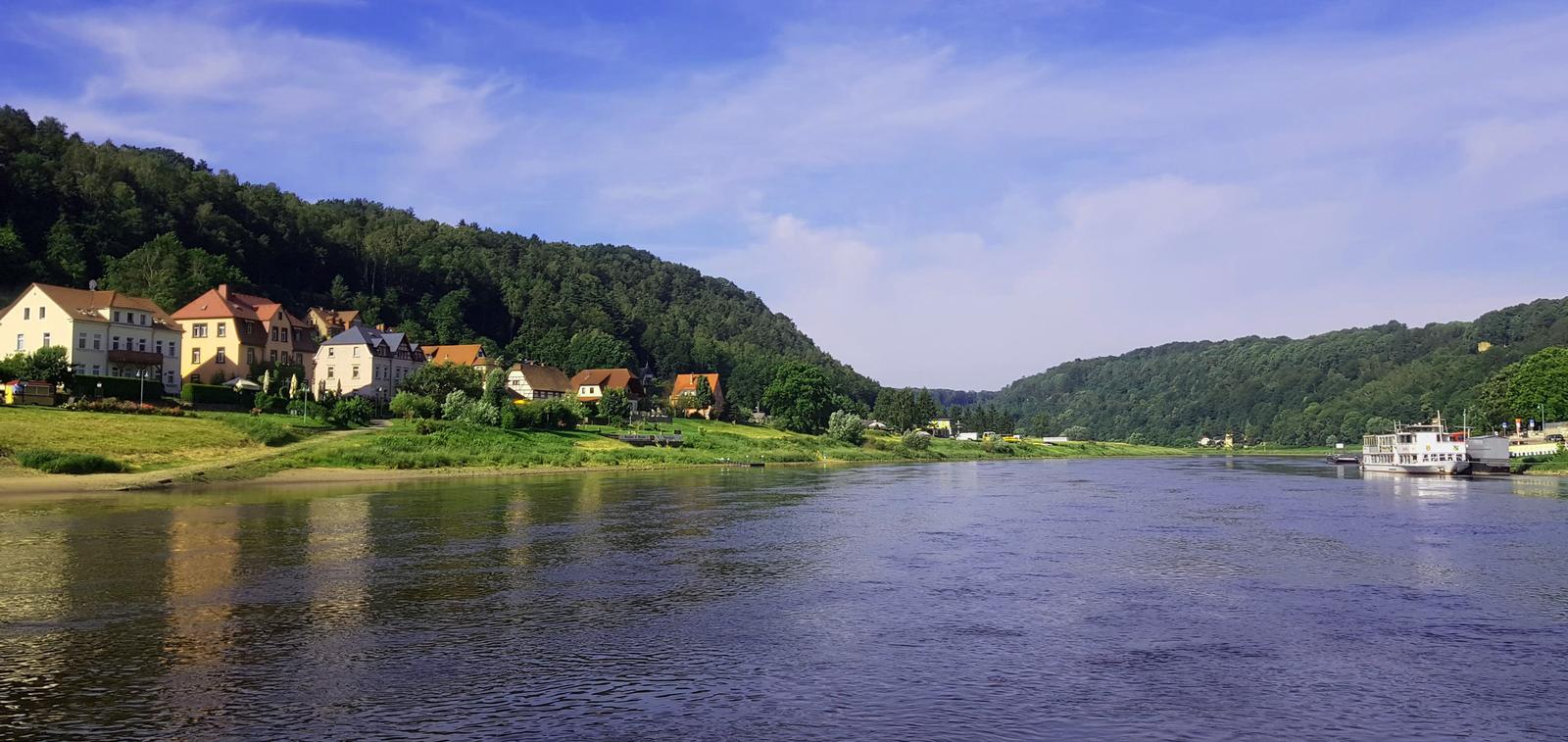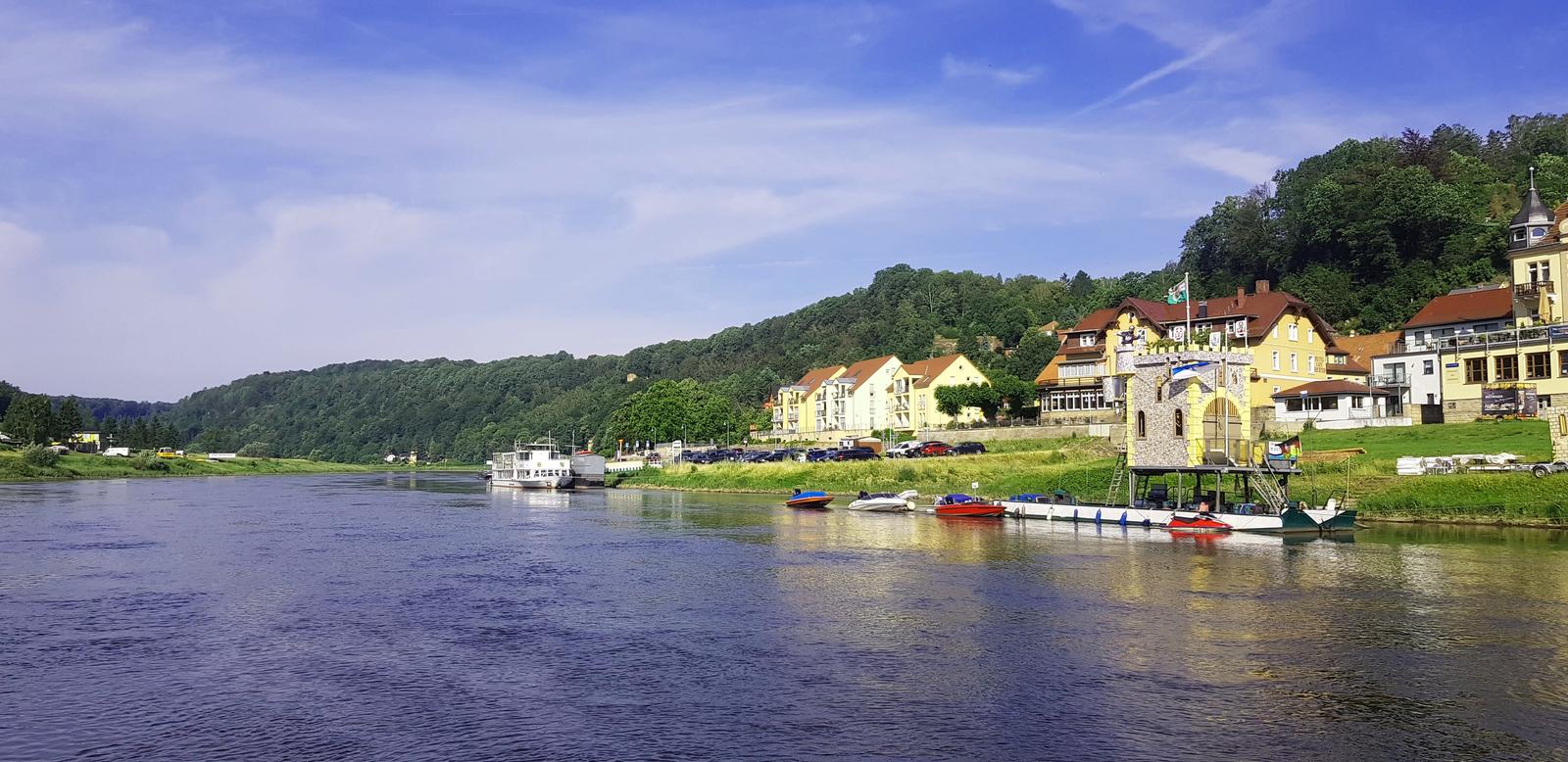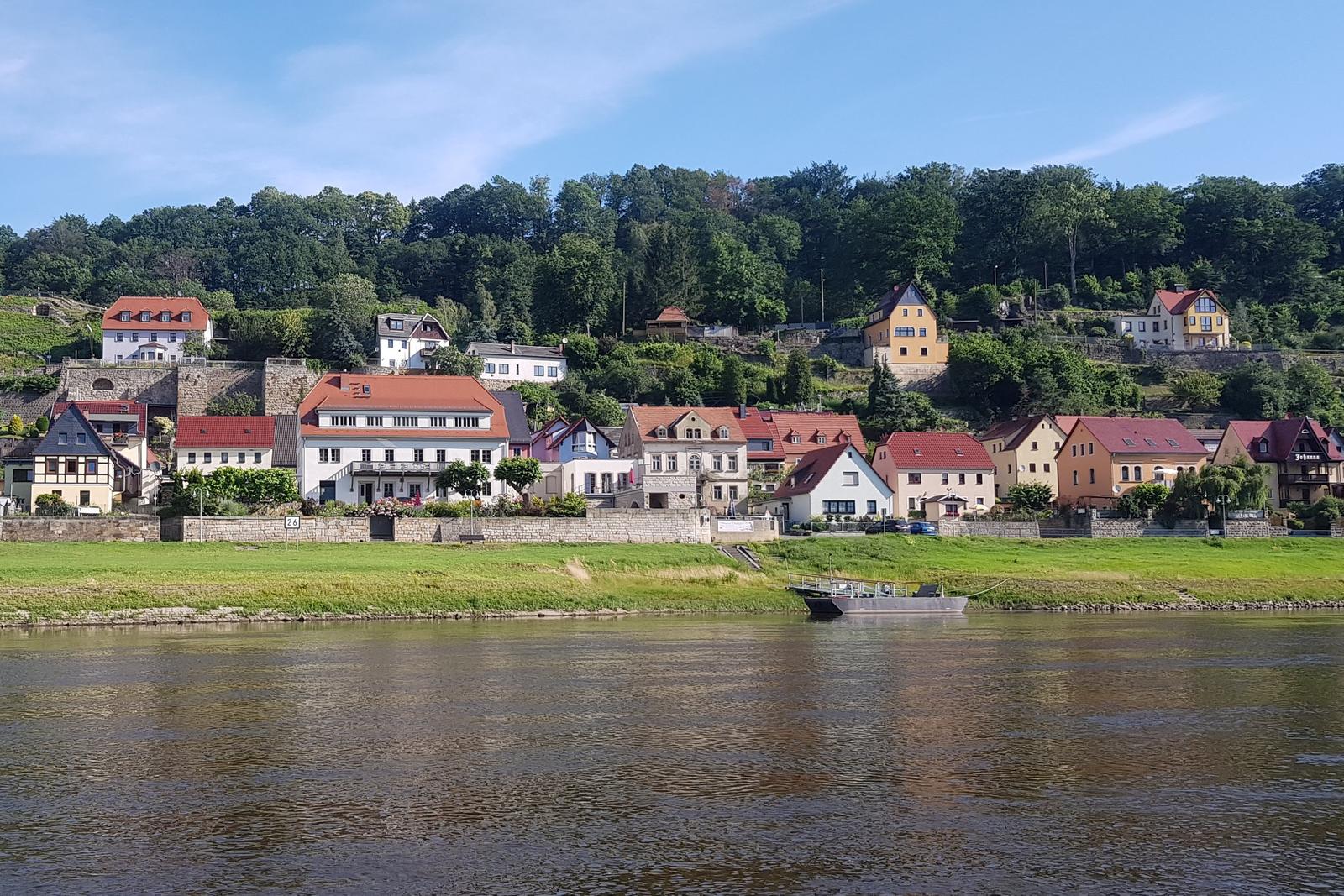 We then continued on cycling to Rathen, a total of 11kms, it took about 40mins.
---
We weren't 100% sure about how we were going to get to Bastei Bridge, either we had to cycle up the road that people in cars use to access it and walk from the car-park there, or lock the bikes near a trail head and hike up. Once we got to Rathen it made sense to go with the latter option. So in Rathen we cycled along the main street (Am Grunbach) for about 400 metres and then took a left turn up a small hill and onto the street called Amselgrund. After about 200 metres of cycling along this road we were in a beautiful wooded area and the road changed from tarmac to cobbles. Shortly after that we were at the perfect place to lock our bikes; the starting point of a hiking trail marked "Bastei 30 mins".
We locked up our bikes here: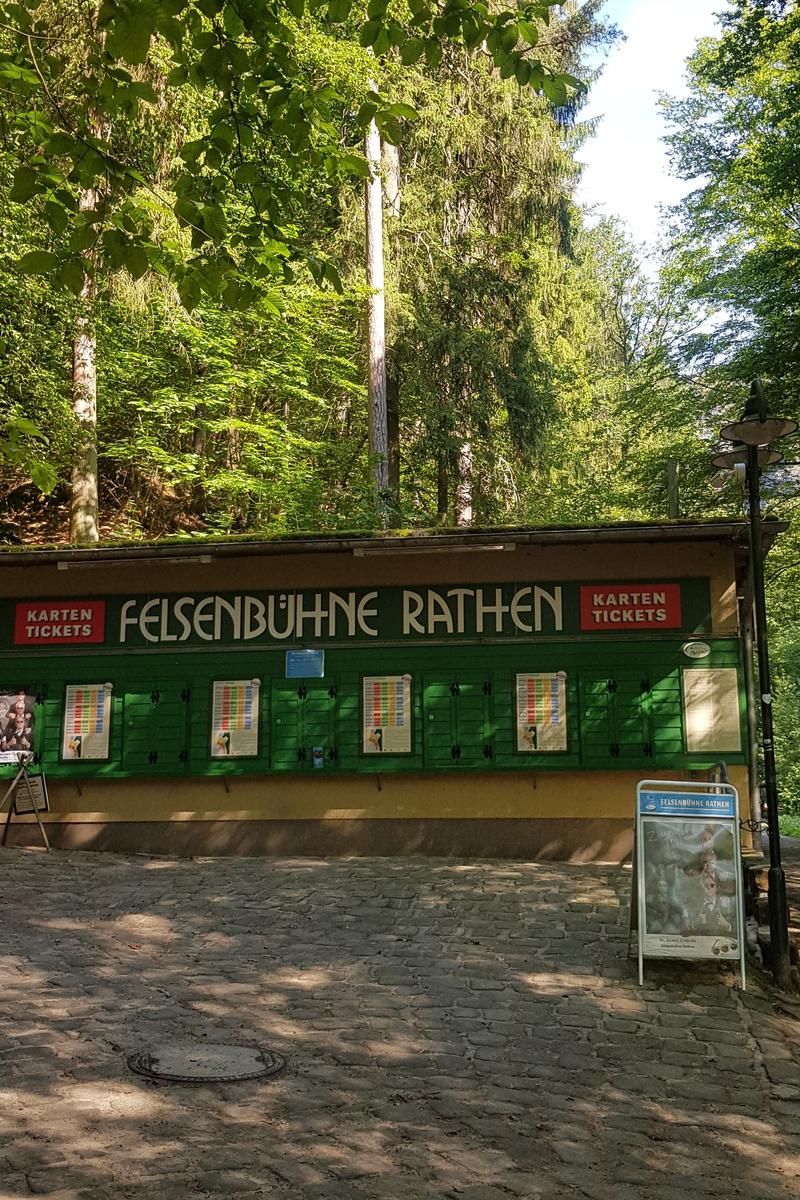 ---
The Hike to Bastei Bridge
As I said, the trail was marked as 30 minutes to the Bastei Bridge, I would say it took us 20 minutes tops.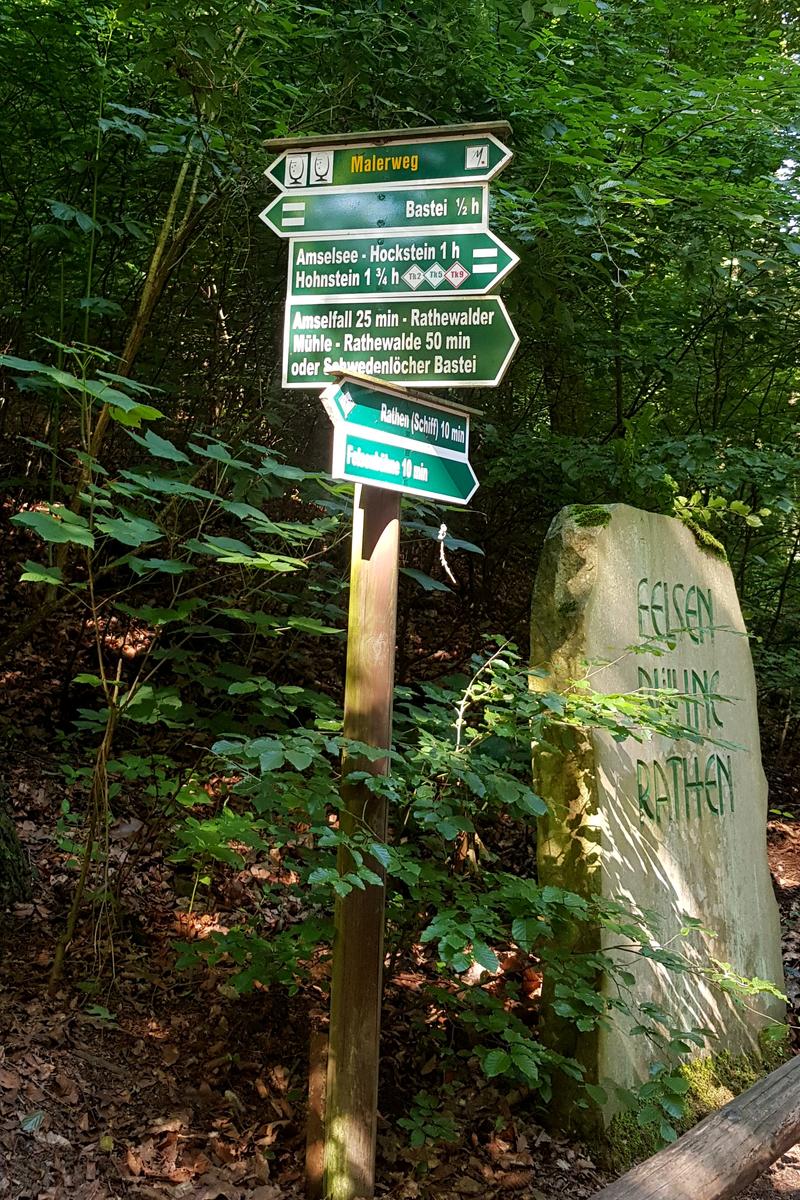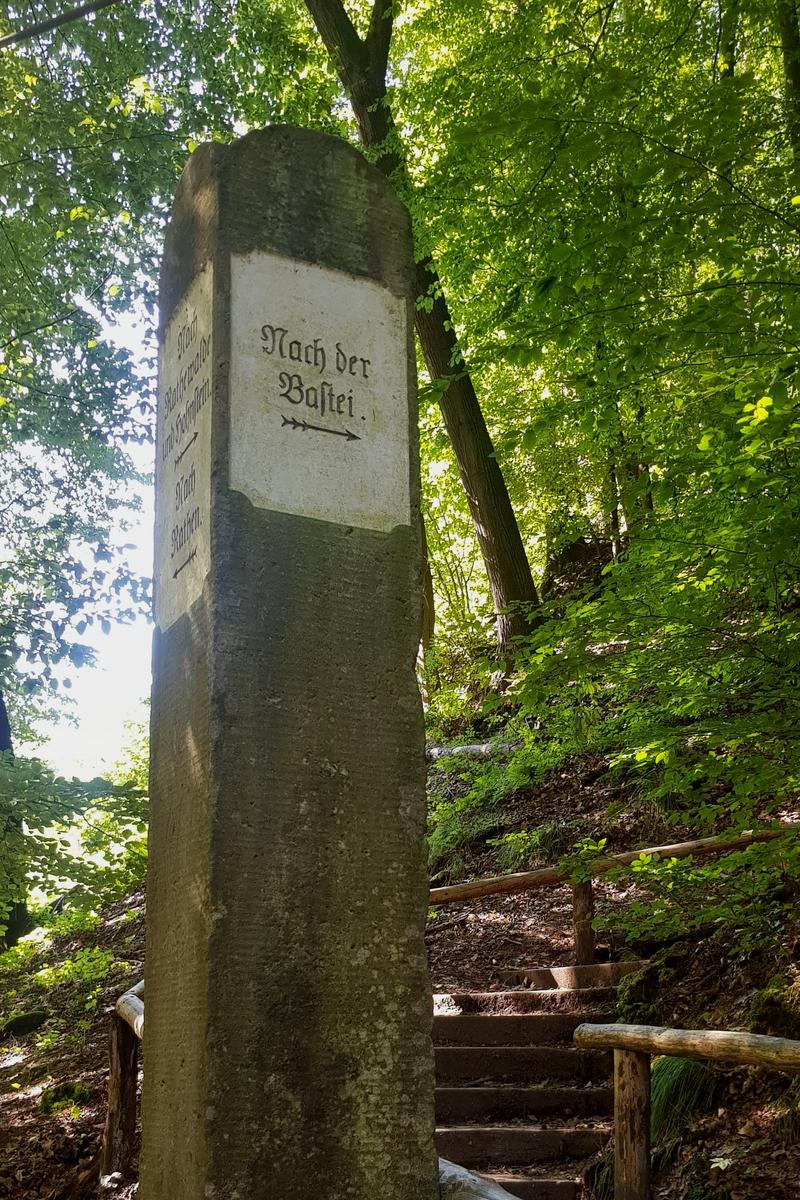 The trail was mostly earth and sand and lots of steps. It was well trodden and easy to follow. You are walking in the shade of a beautiful forest, shaded and so helping to keep you cool. We saw some squirrels munching their breakfast along the way, love them!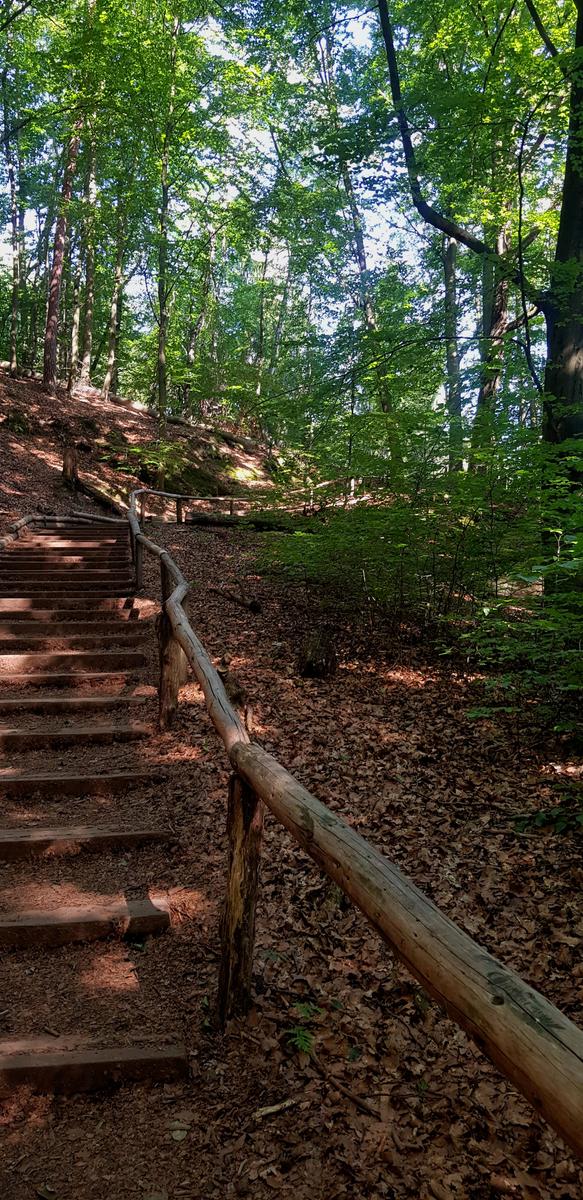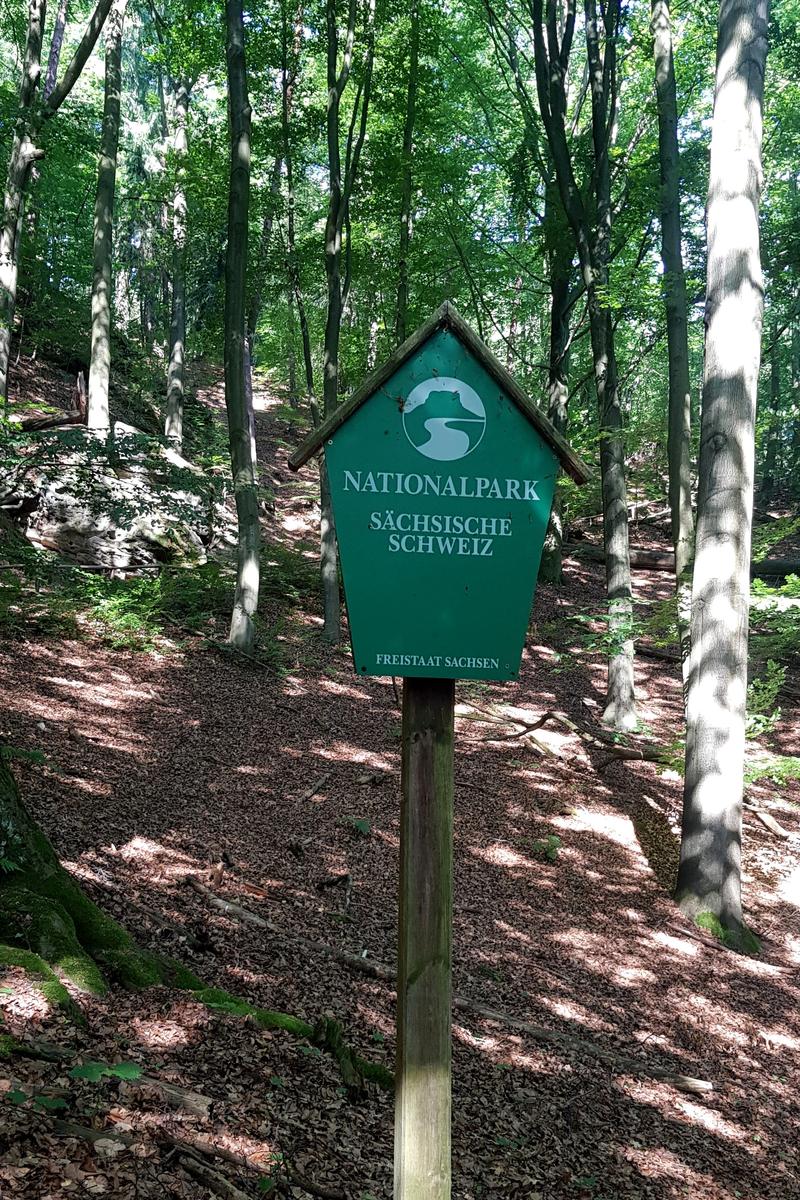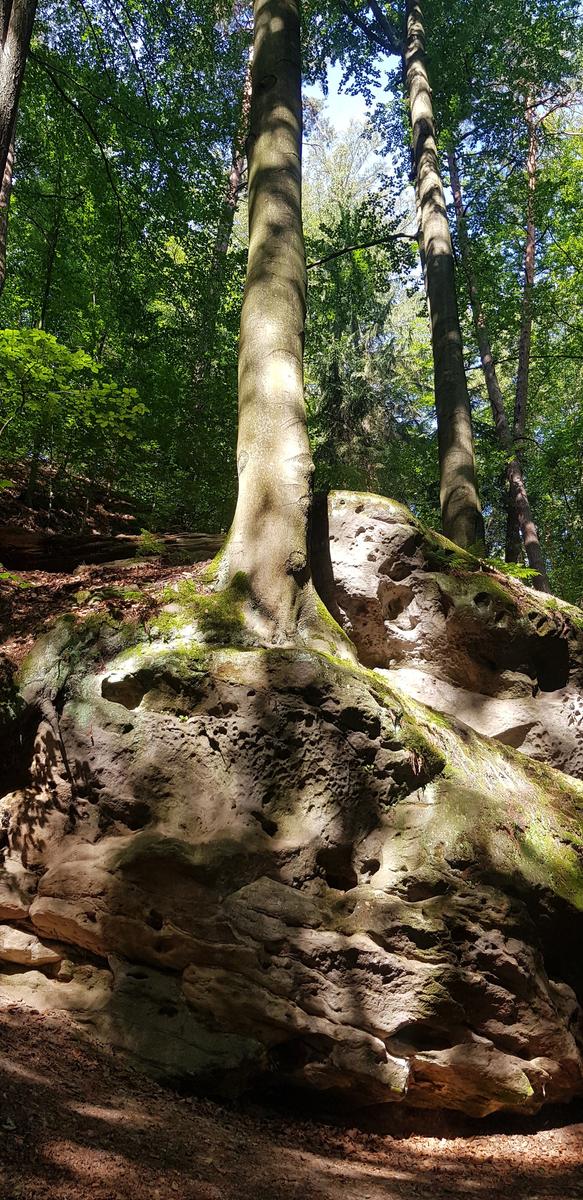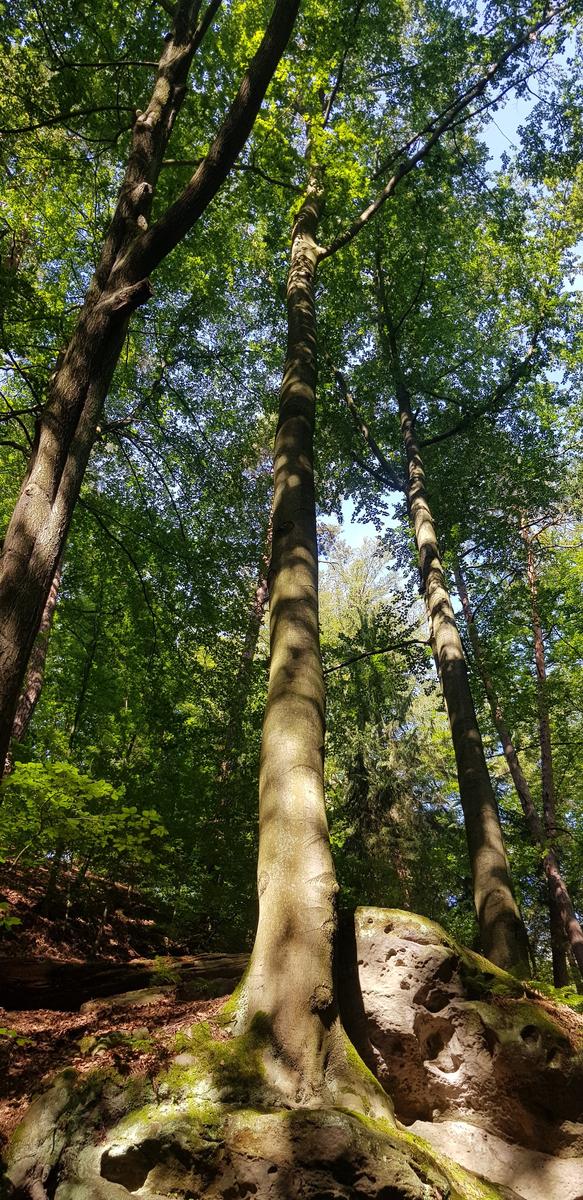 Starting to get a glimpse of the view!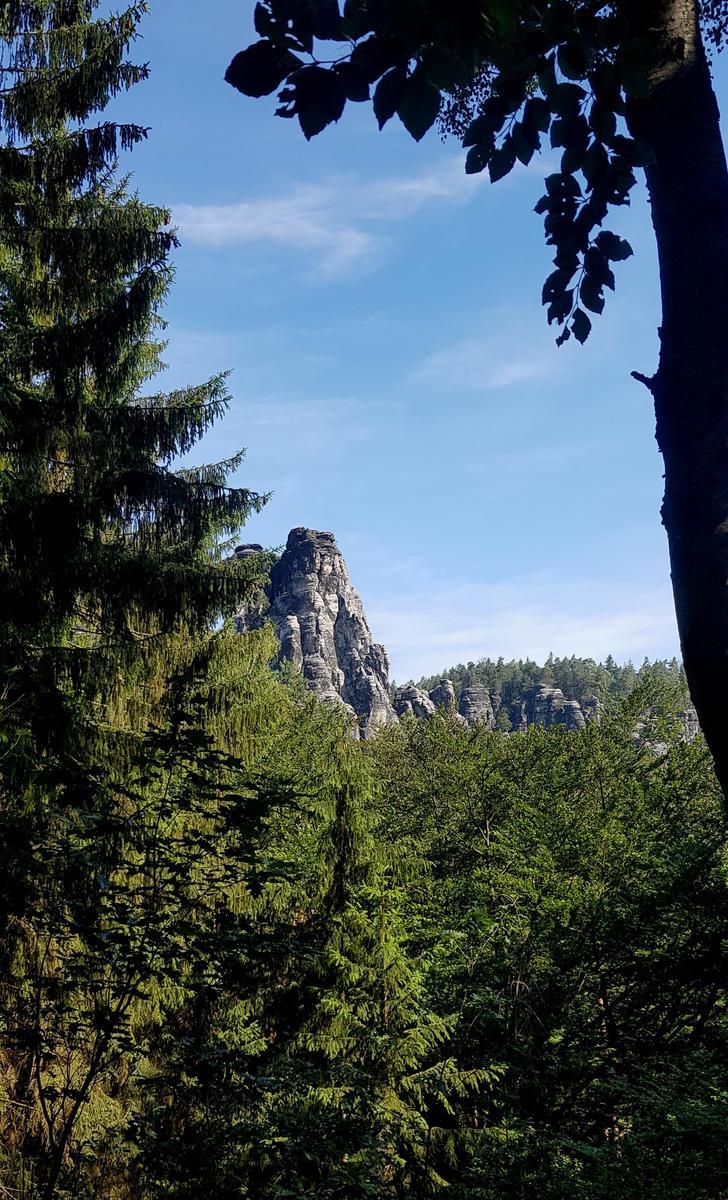 More steps!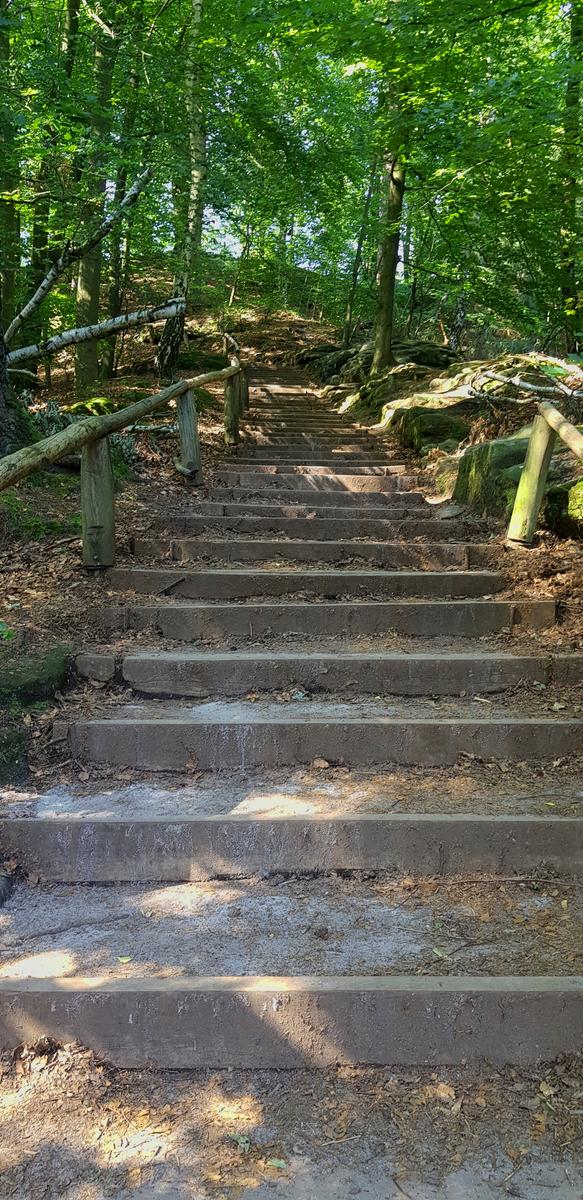 Rock cave and popular photo posing location.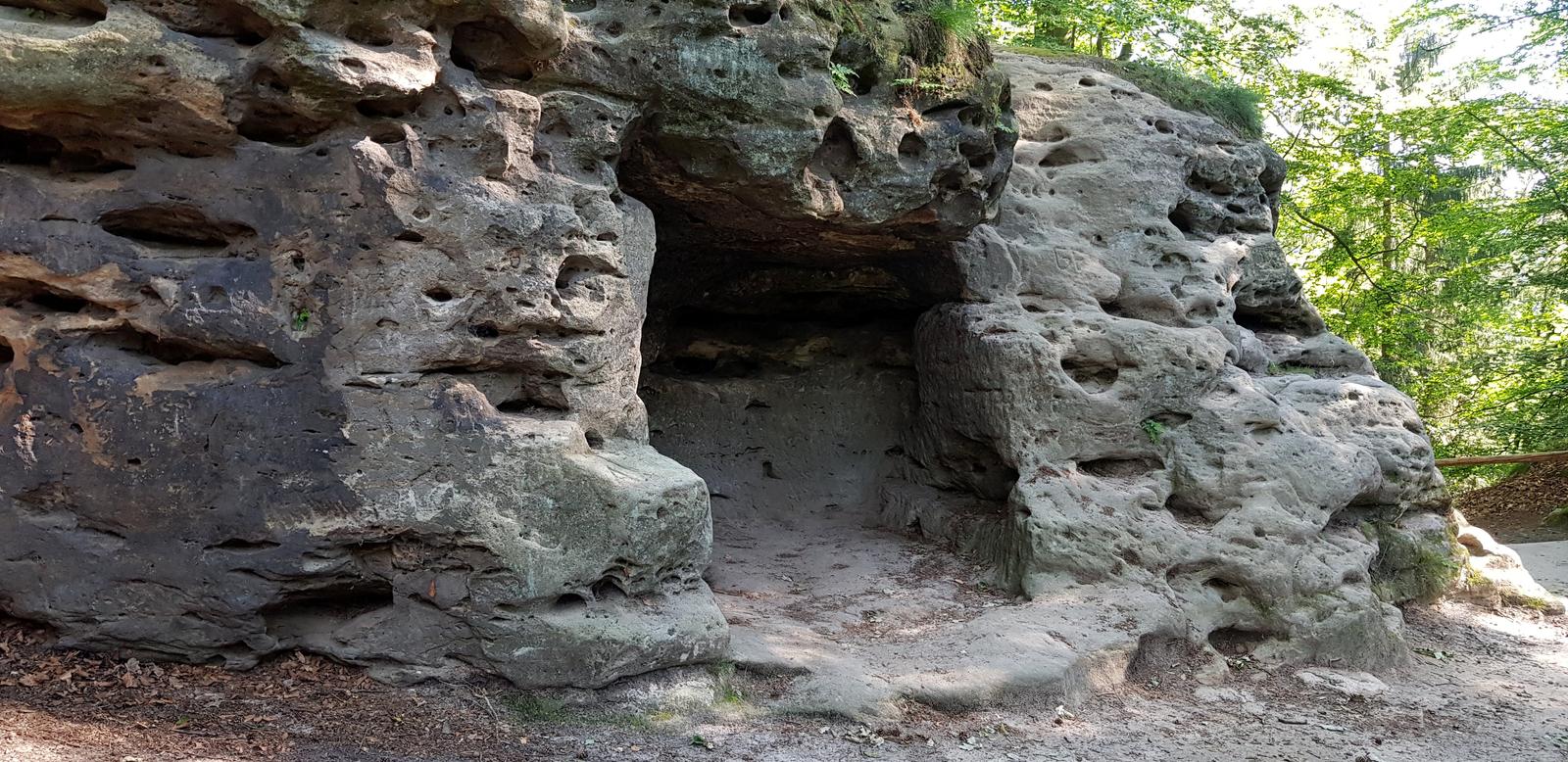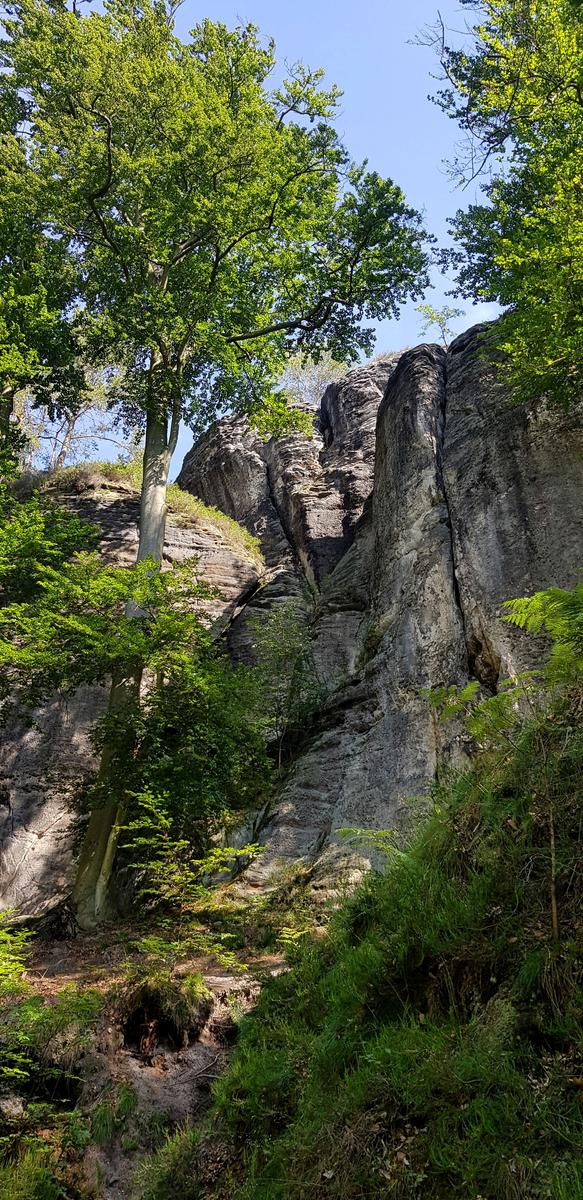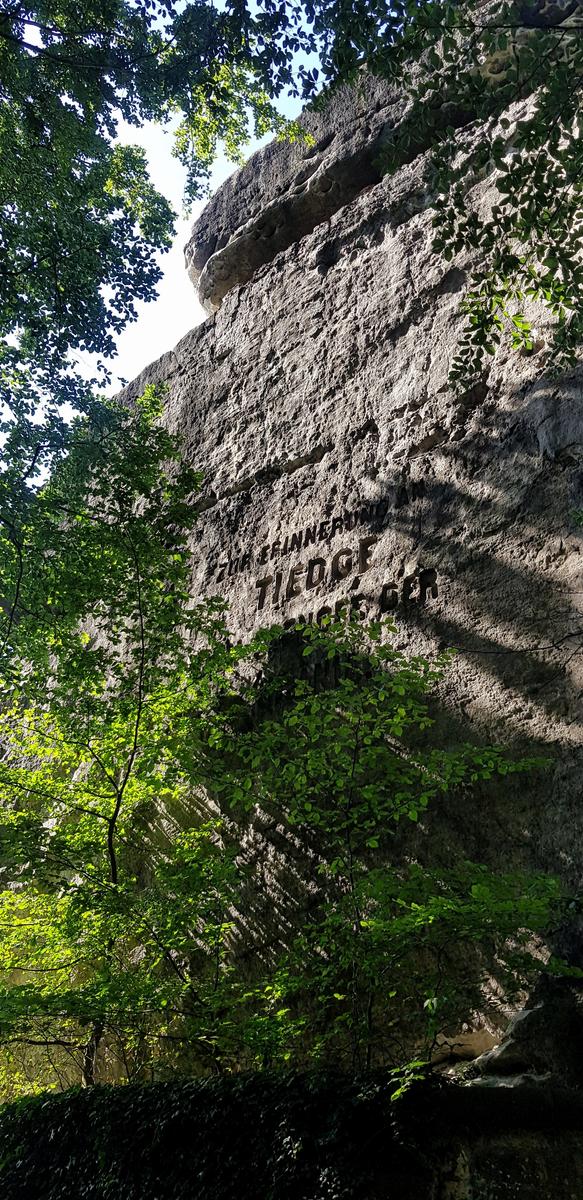 After about 15 minutes of uphill walking we came to the first lookout which was on our left. It was approximately 9.30am and there were only a handful of people around. We had no problem taking photos and the view was amazing. For once we were seeing the Elbe from above, getting a better idea of its size and how the surrounding area fitted around it. It was fantastic, all the colours of the landscape and we could even see Koenigstein Fortress in the distance. We were so happy we had left Pirna early and were able to enjoy the view without being interrupted or rushed.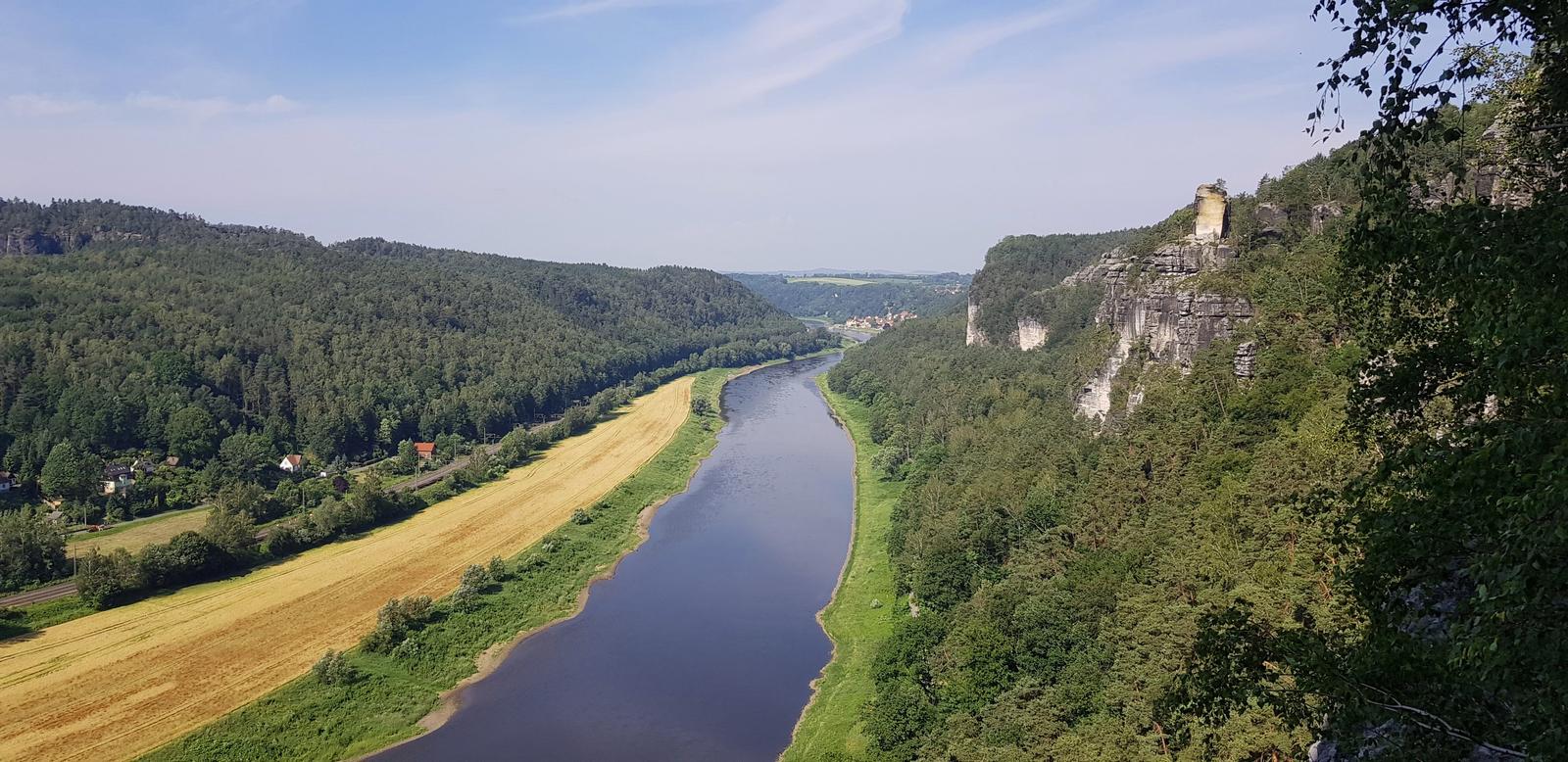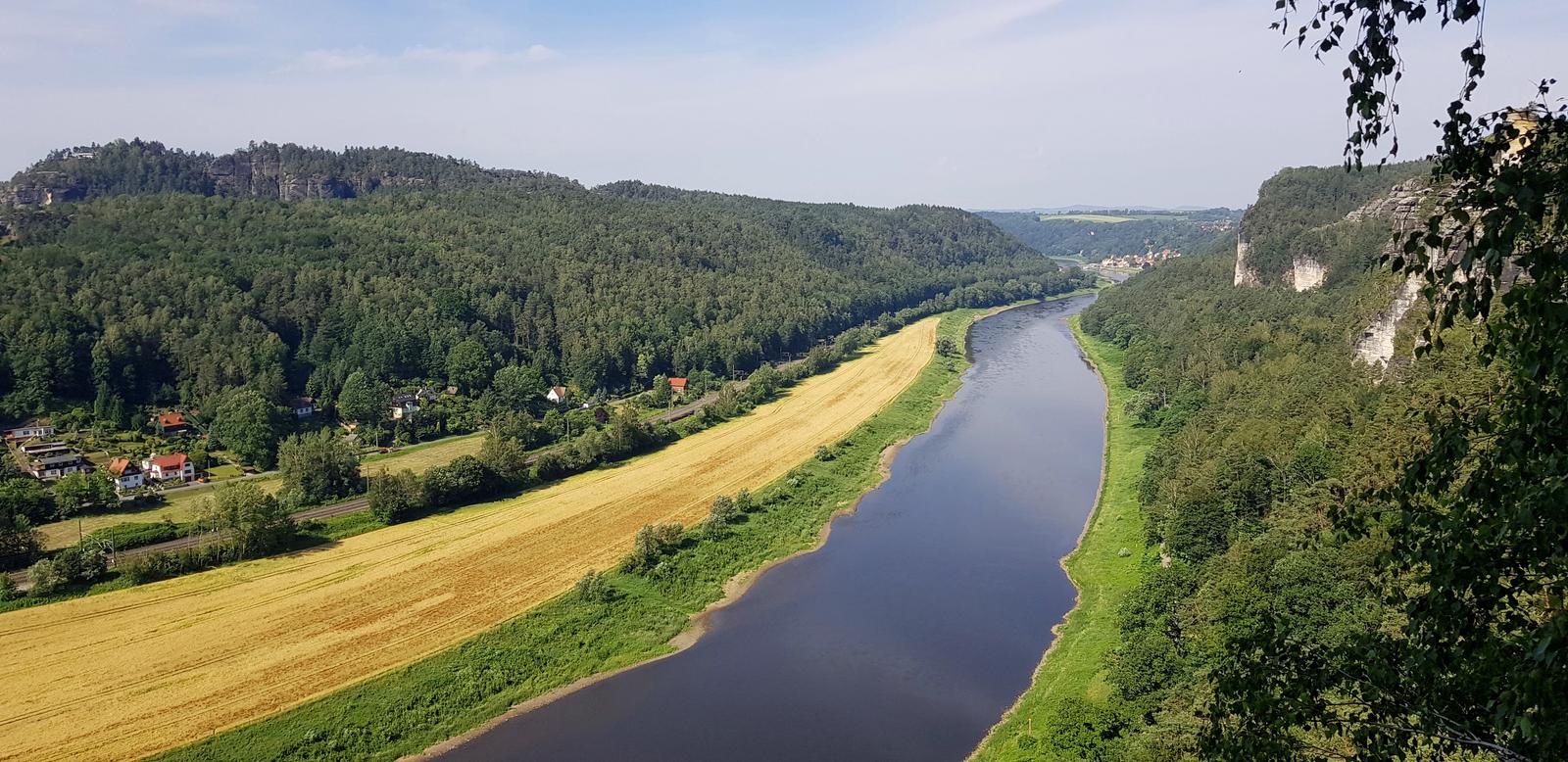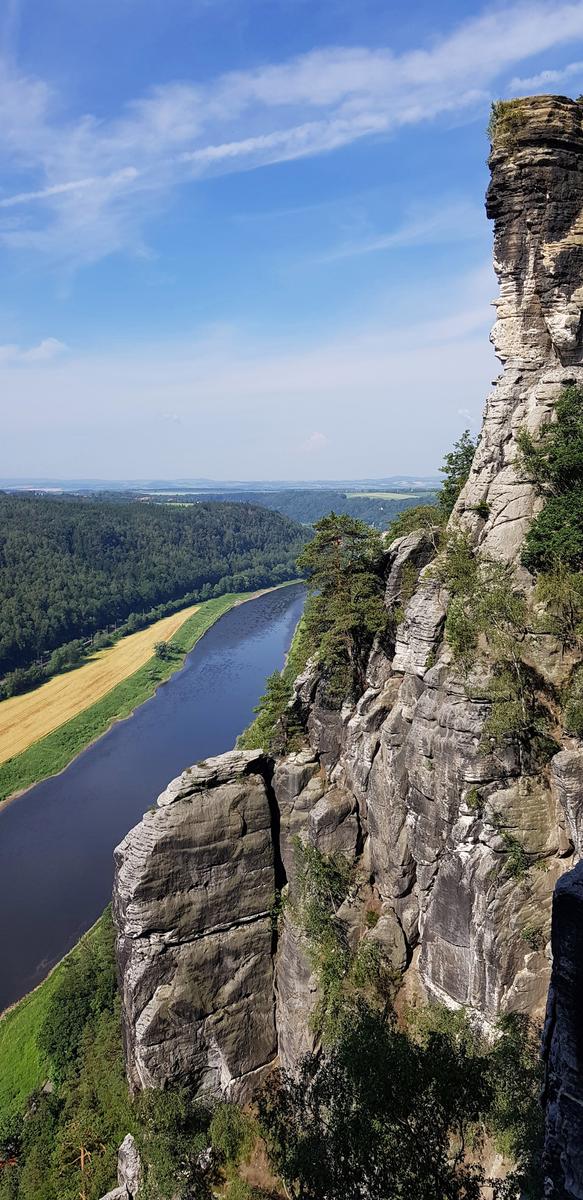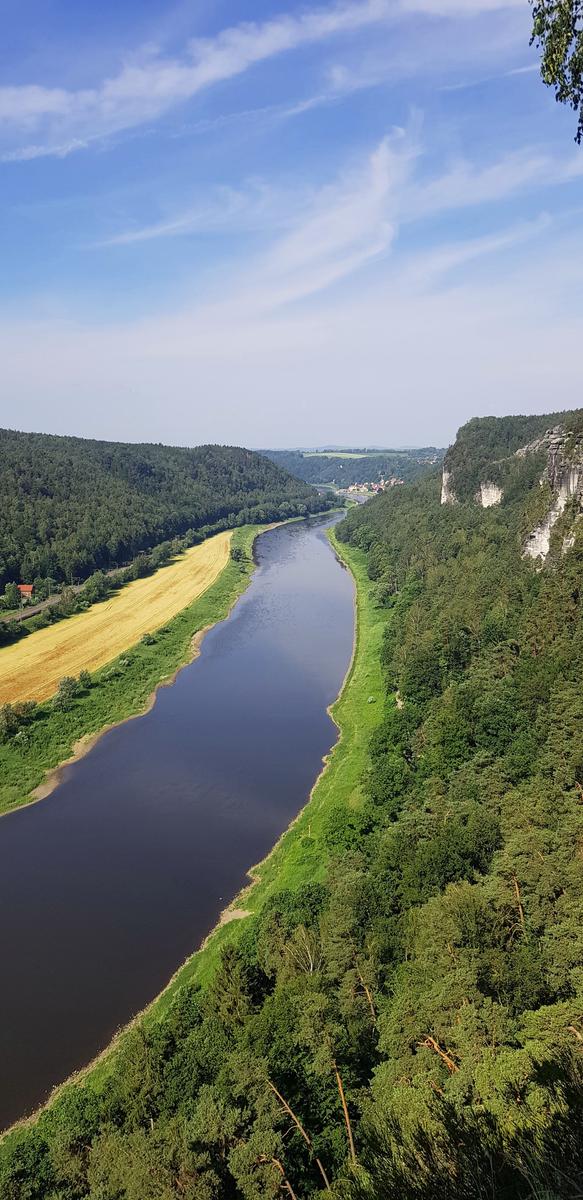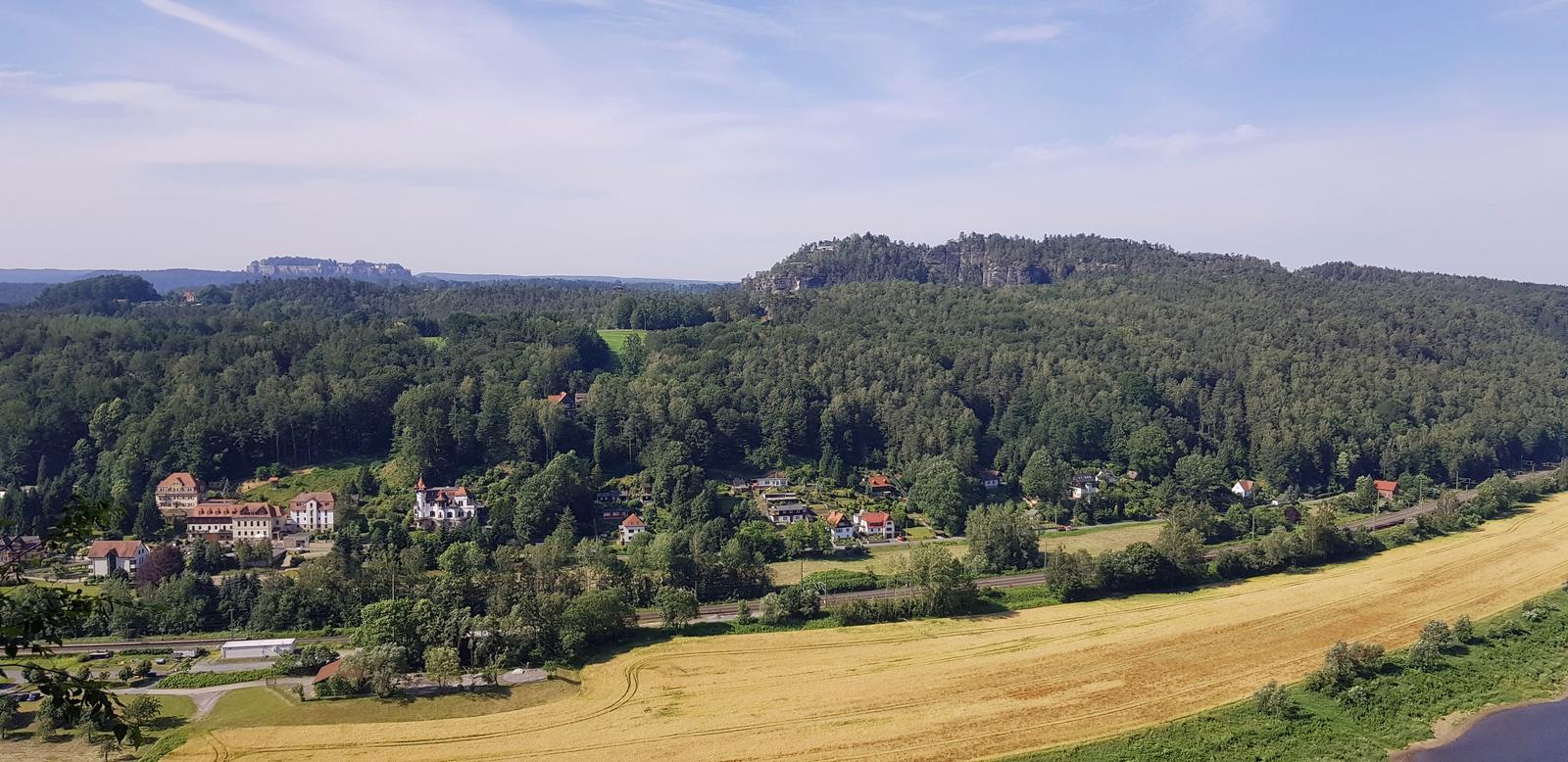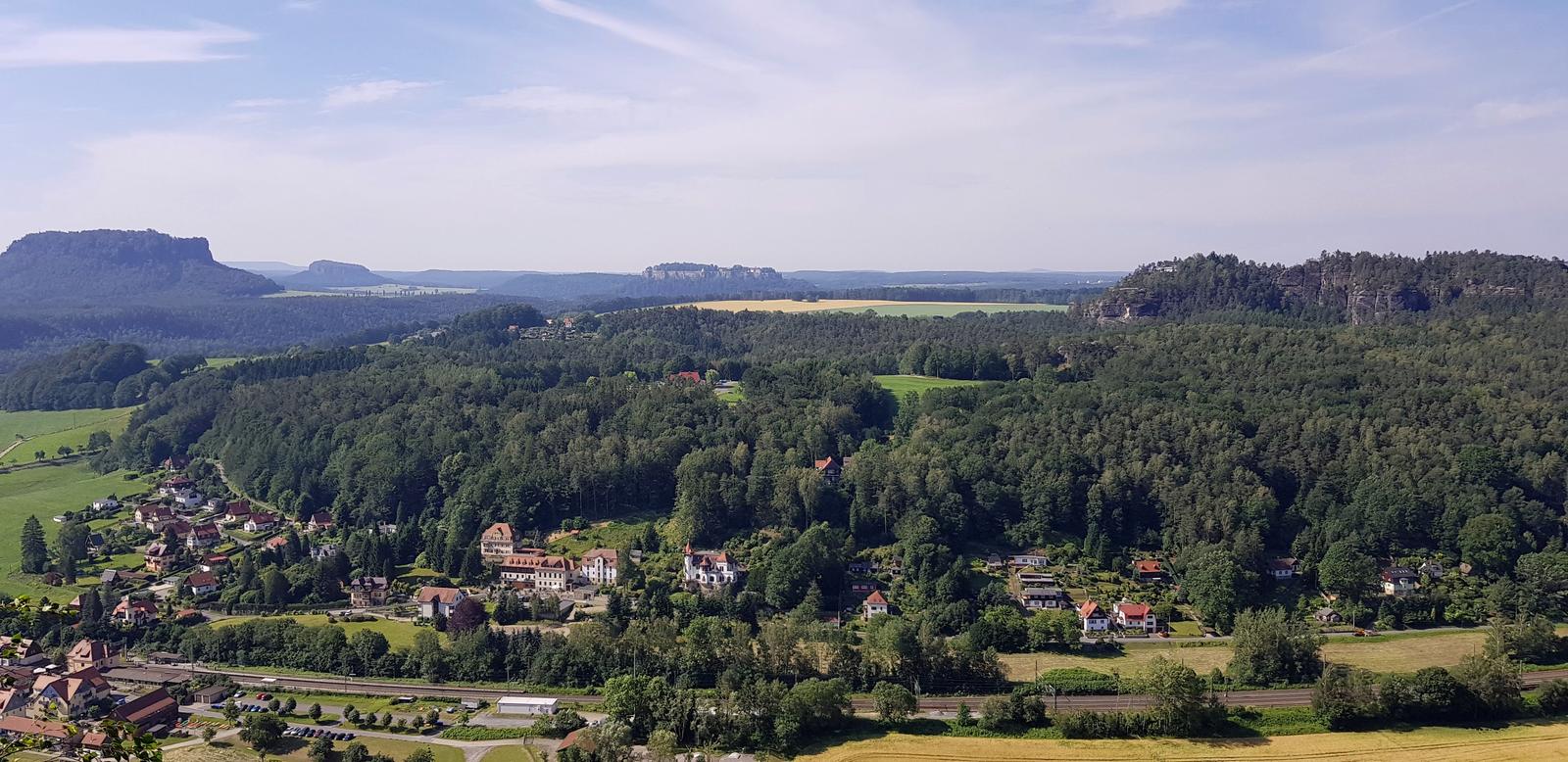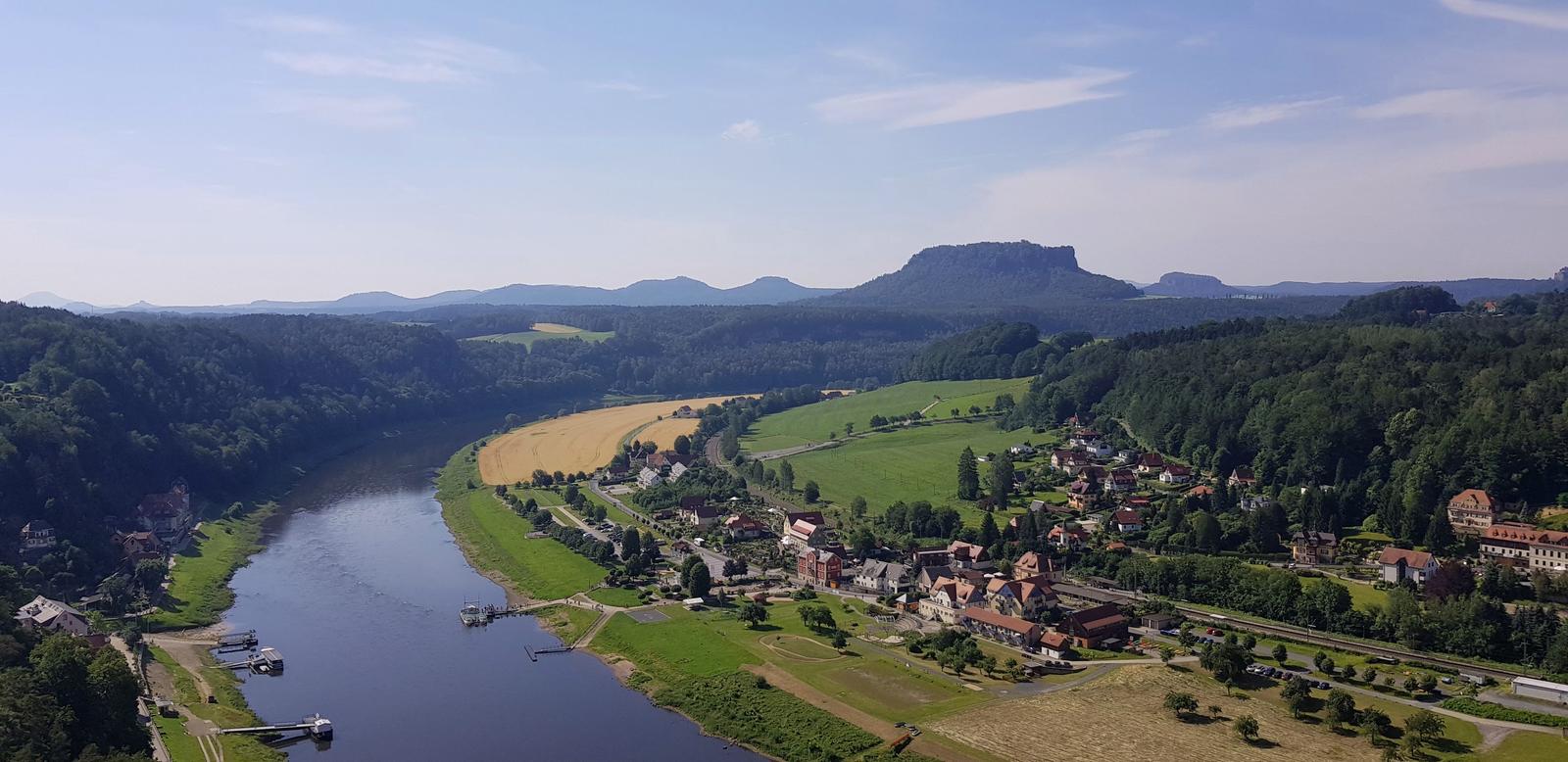 Walking the narrower parts of the trail was easy and we were able to walk at our own pace. We continued up the rest of the trail, stopping to take photos and then got to the Bridge, the views were stunning.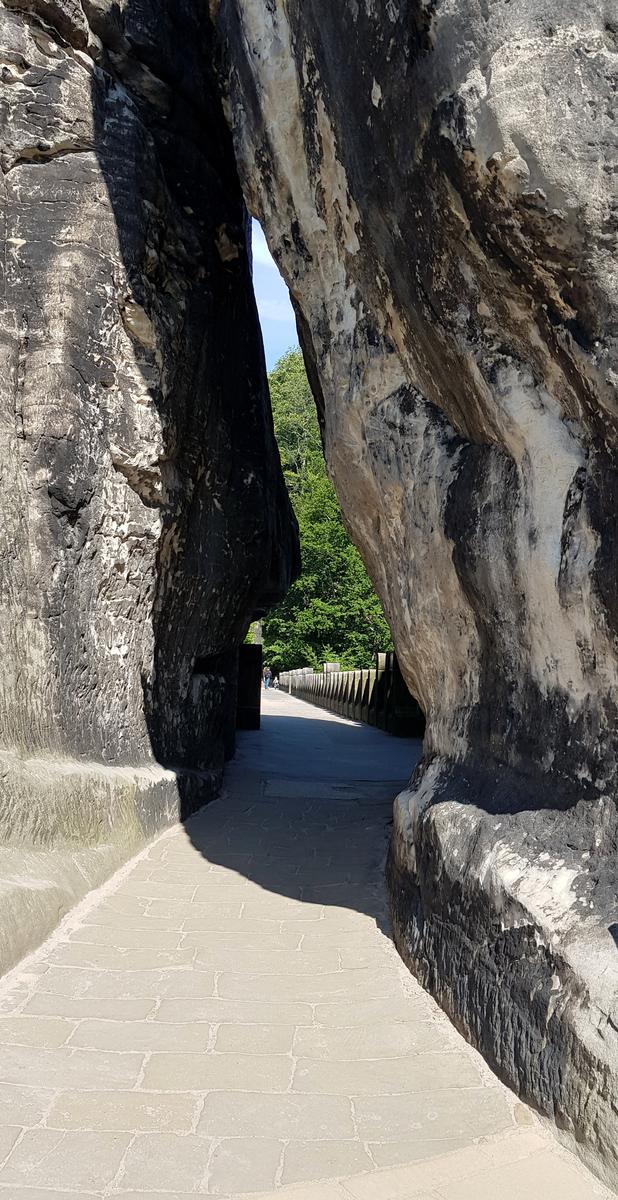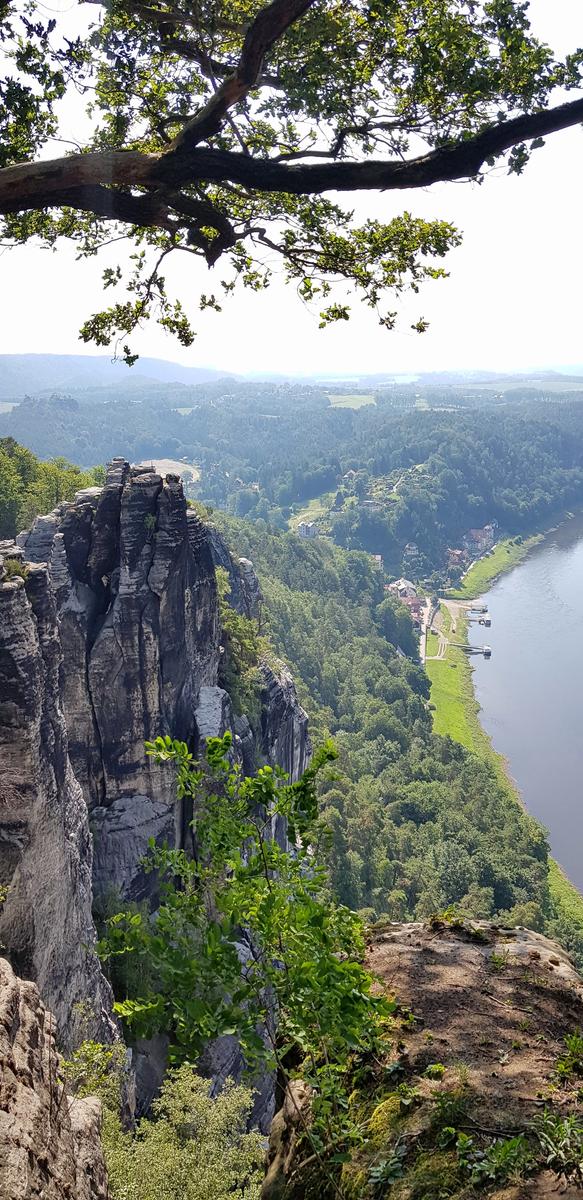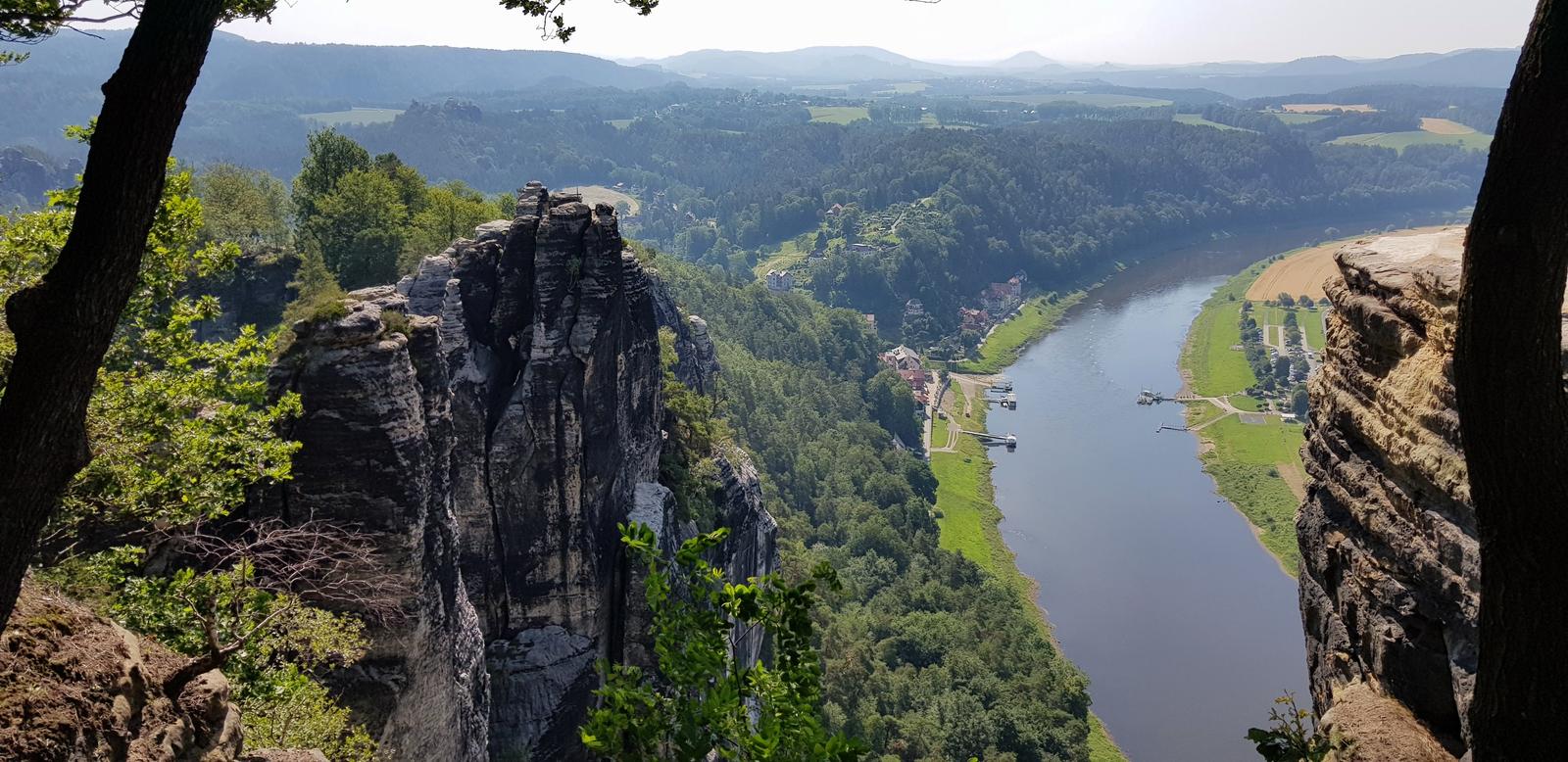 The giant pinnacles of sandstone rock were impressive to say the least. There were a few more people around the bridge area but it was still relatively easy to take photos.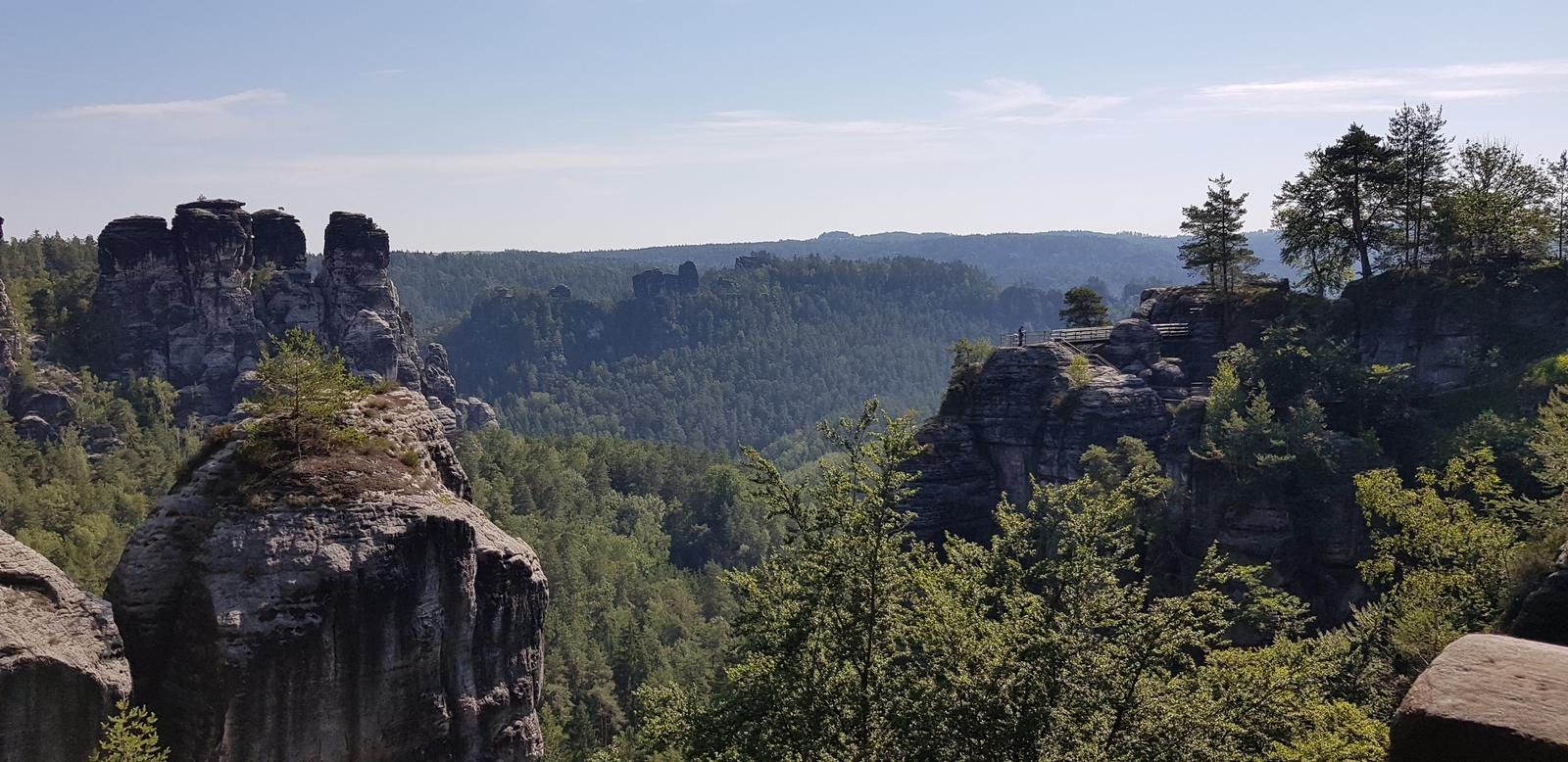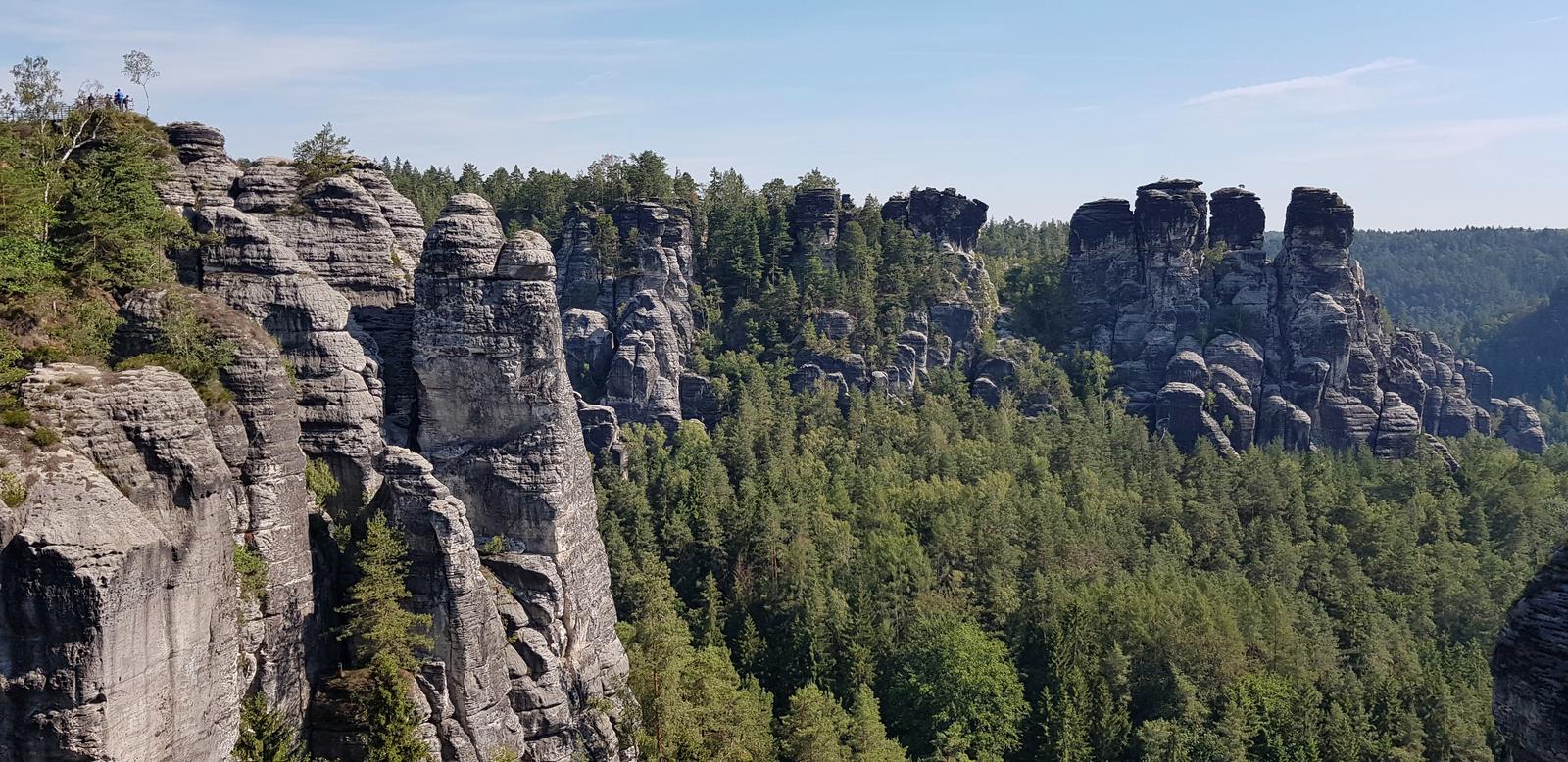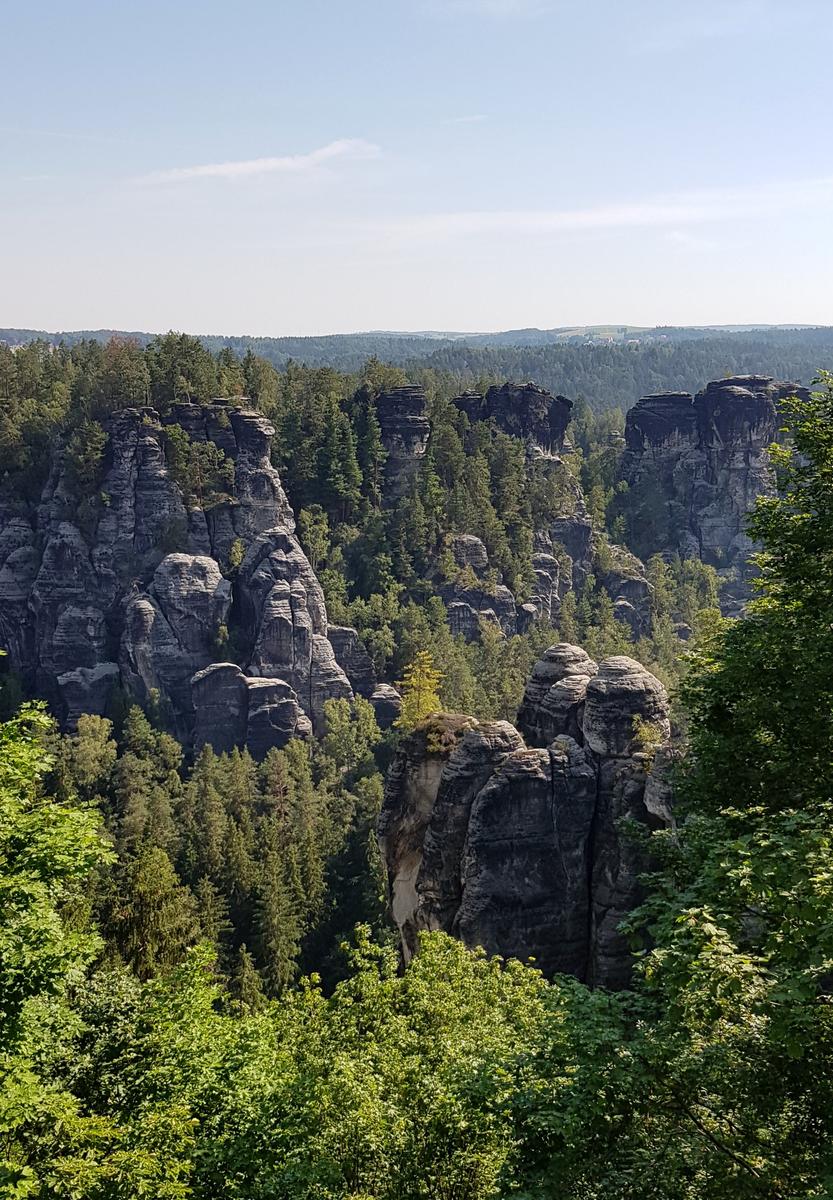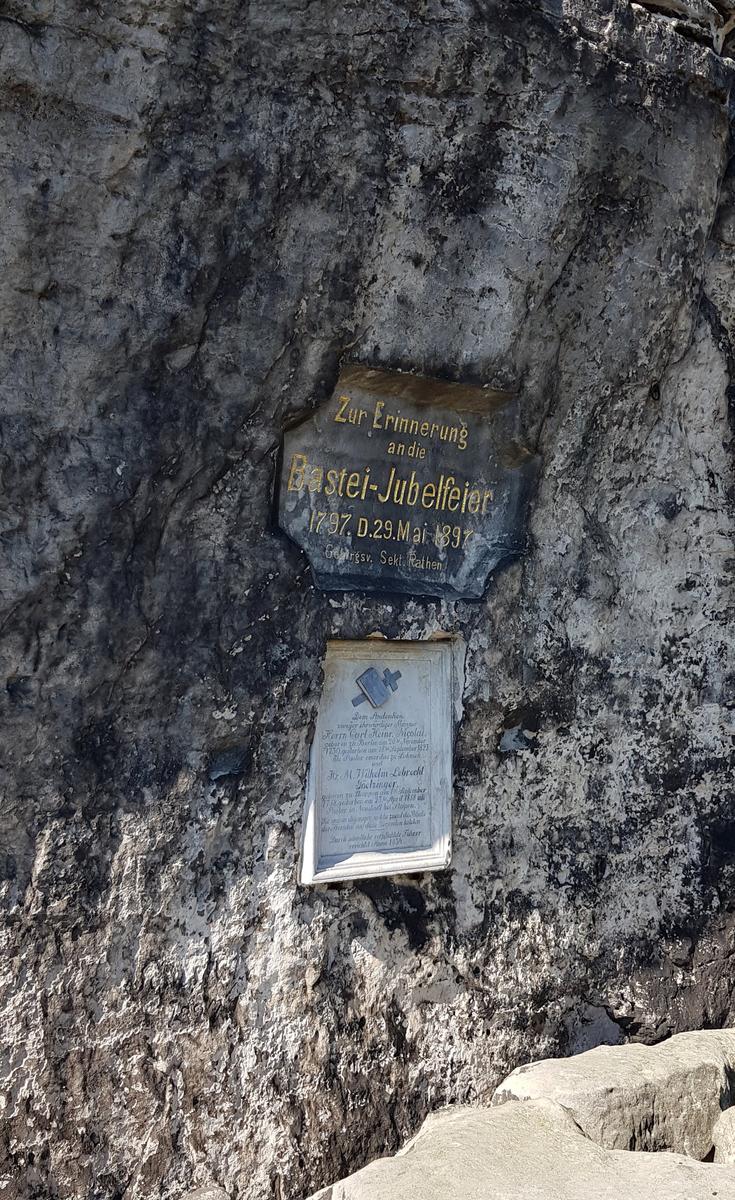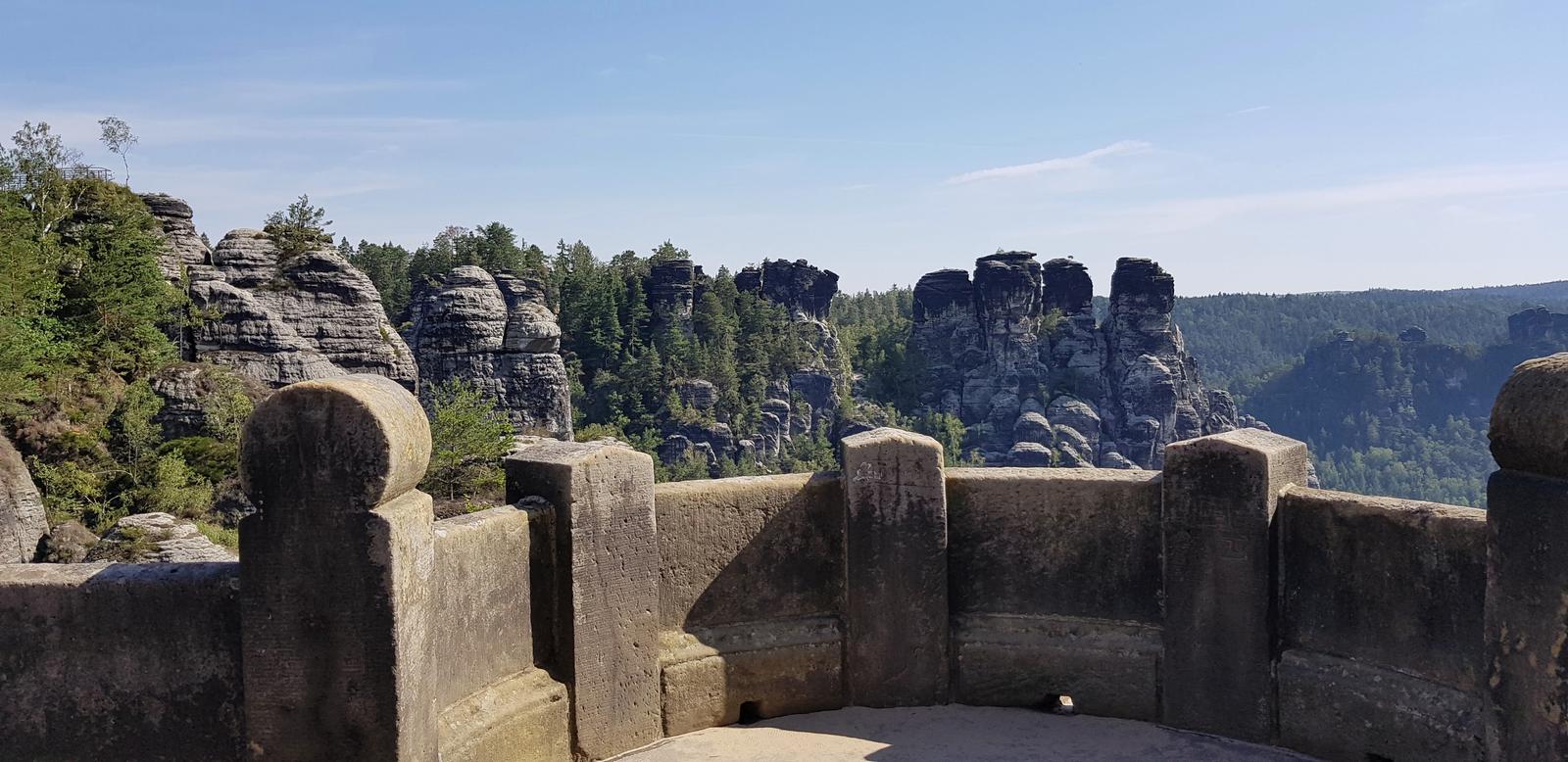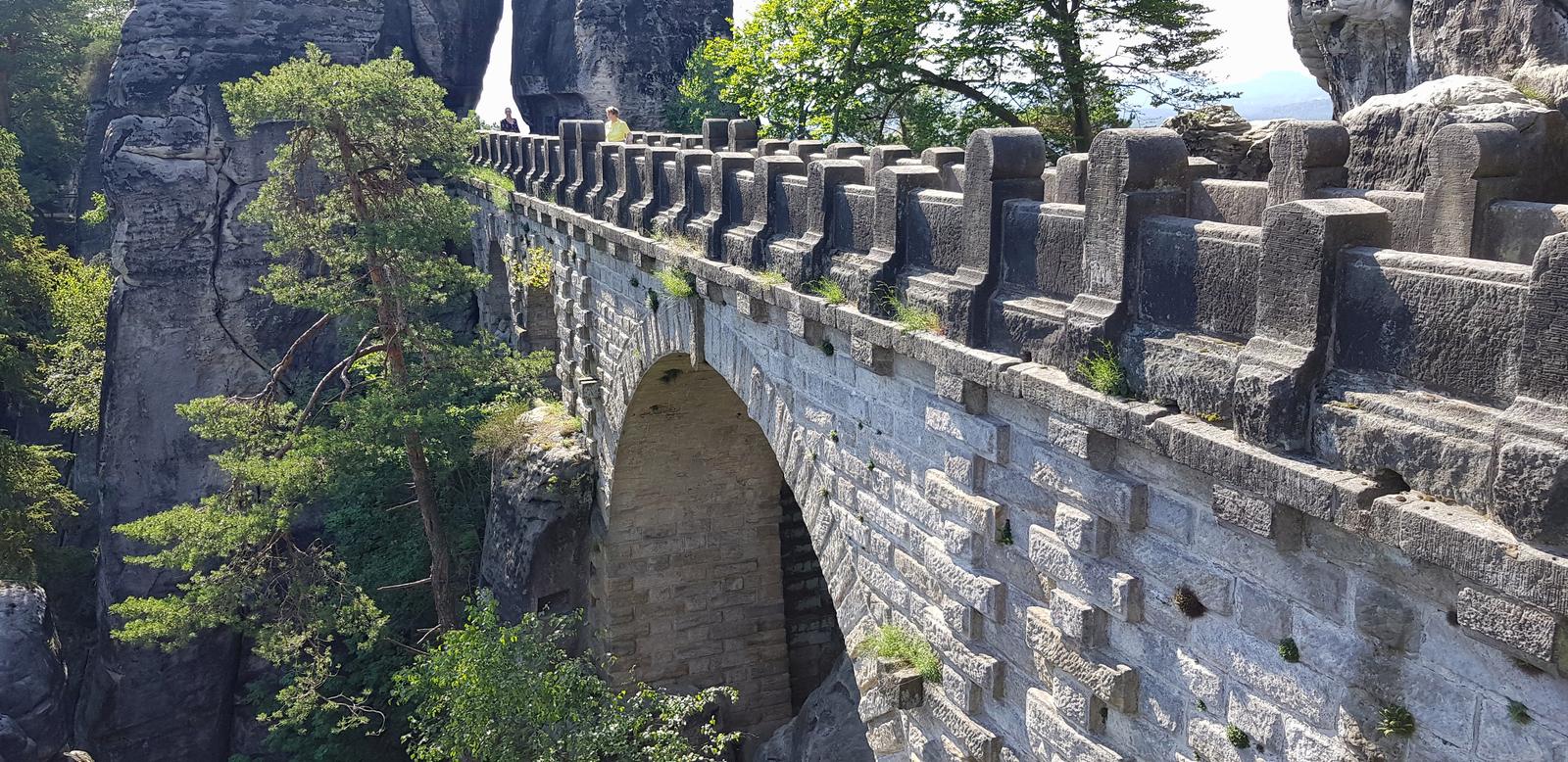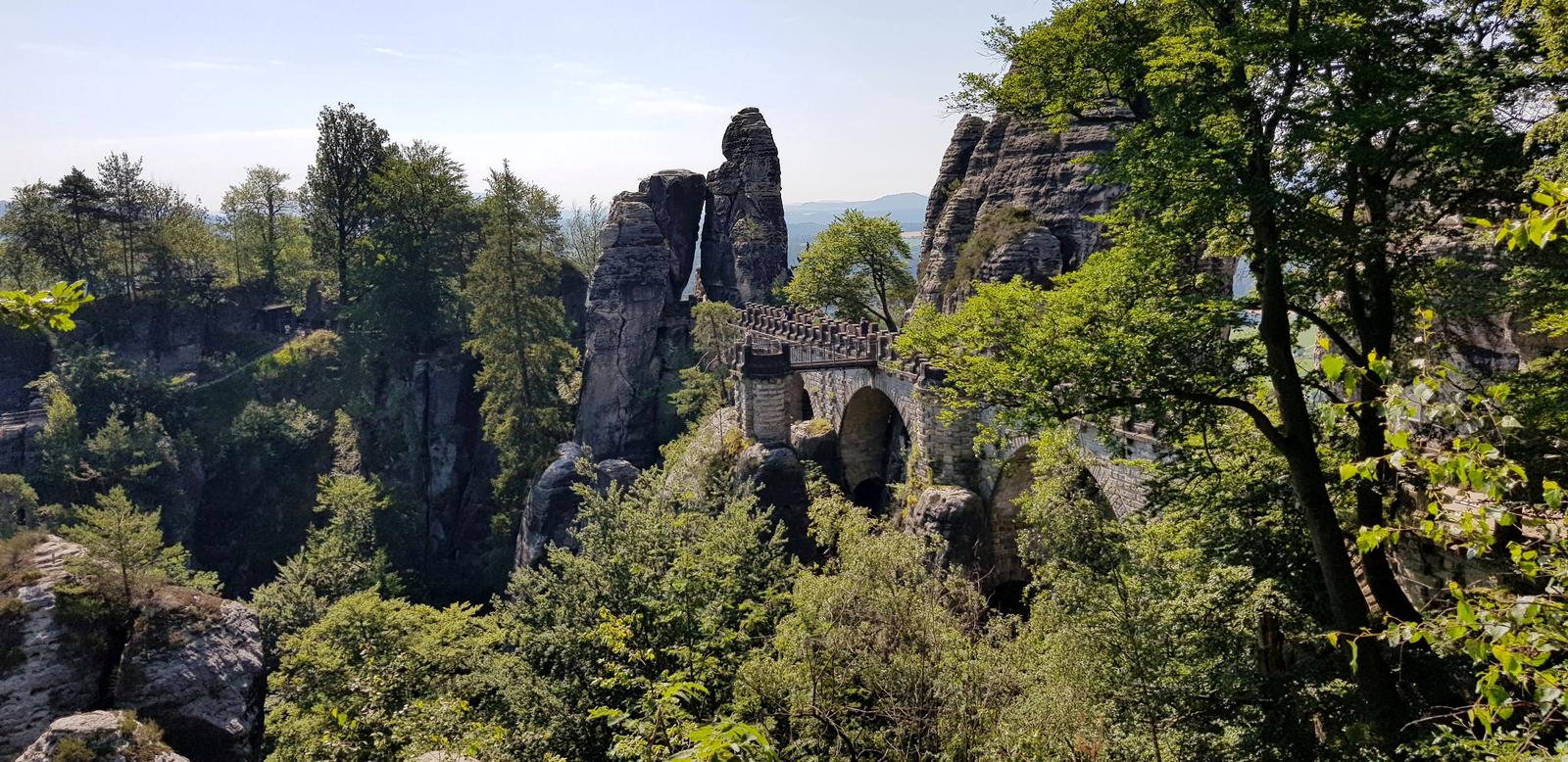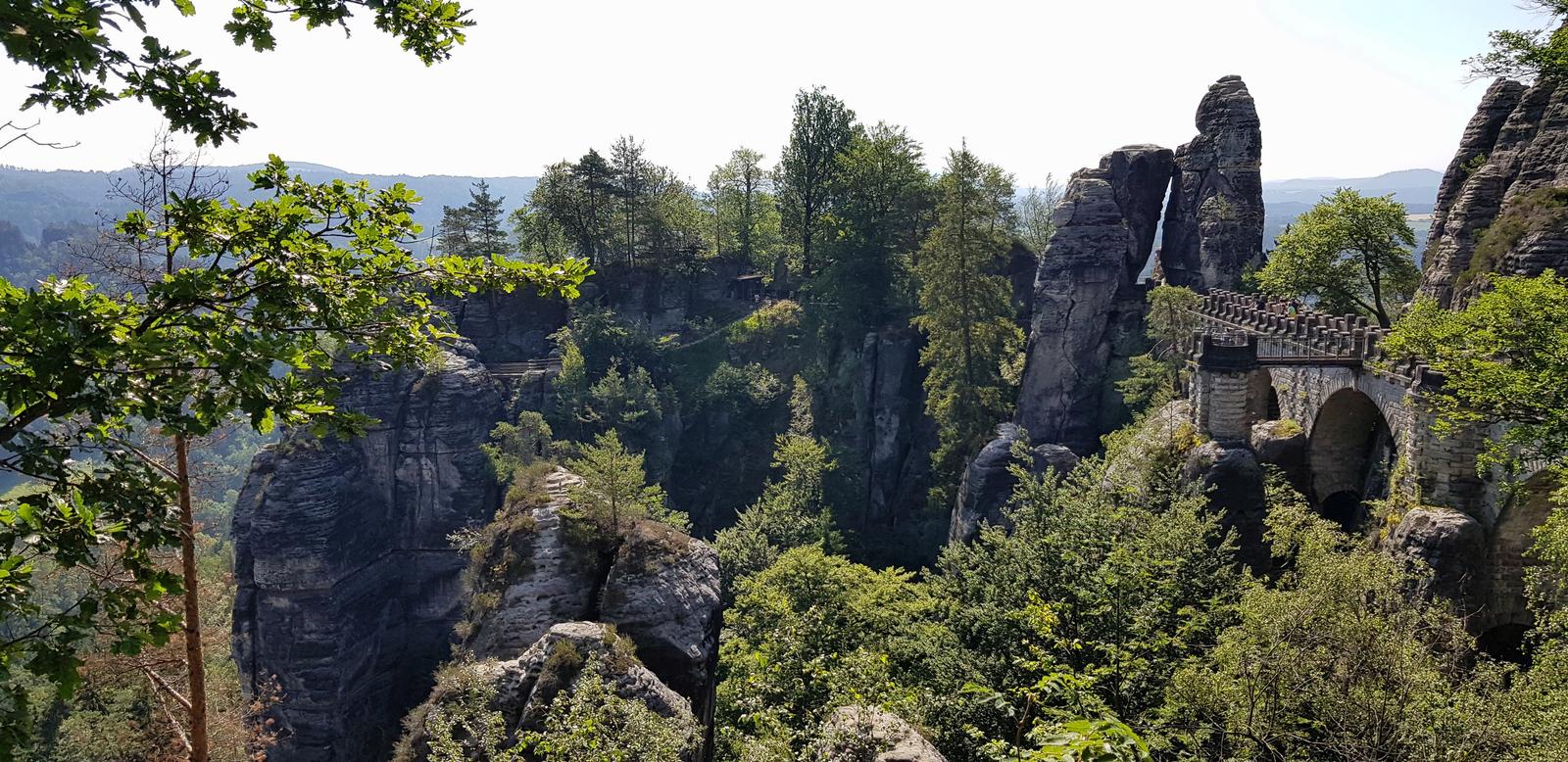 We spent around 15 minutes walking through the rest of the area, up and around by the Panorama Restaurants/Cafes and shop before making our way back down to our bikes. On our way down, we started to meet big groups of children (school tours perhaps), 20+ kids per group and then later bigger groups of adults and children 40+ people per group - so as you can imagine we were so glad we were on our way down!
We cycled back to Rathen and grabbed a coffee in the sunshine. It was really hot now. We decided we would cycle back to Pirna and not visit Koenigstein Fortress. So, once our coffee was finished we waited for the very busy ferry in Rathen to bring us across the Elbe and then we enjoyed having a tail wind back home to Pirna!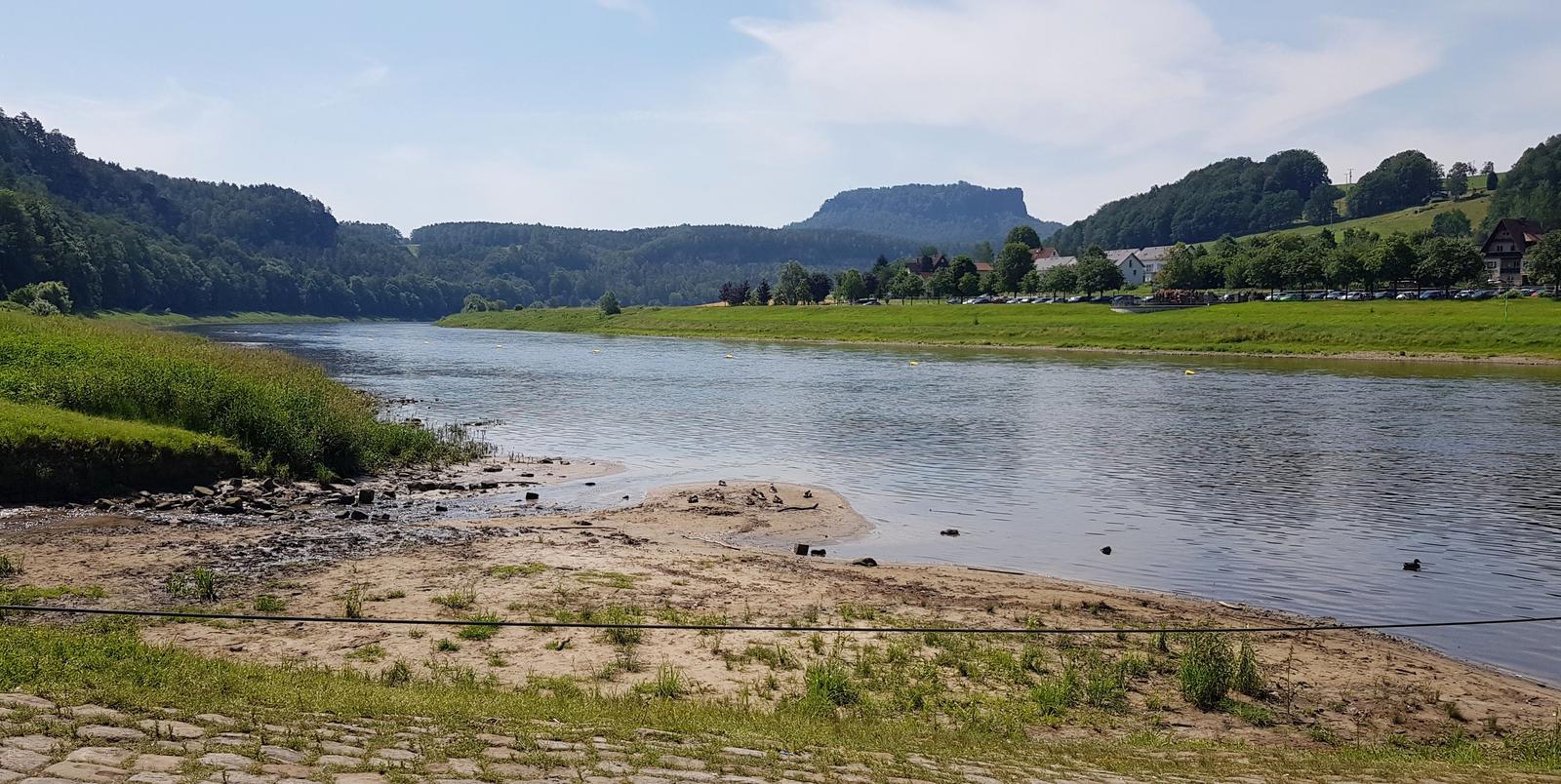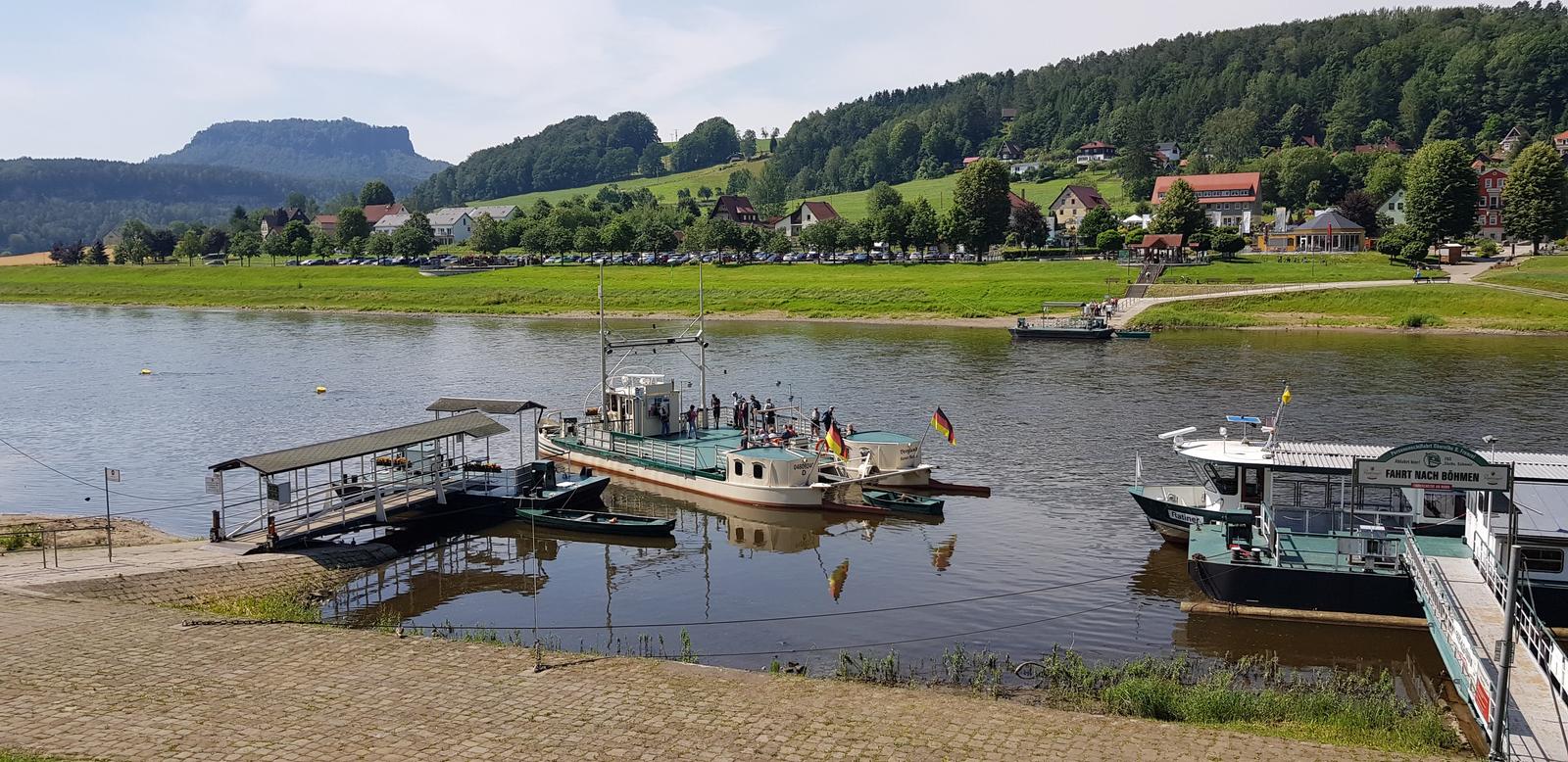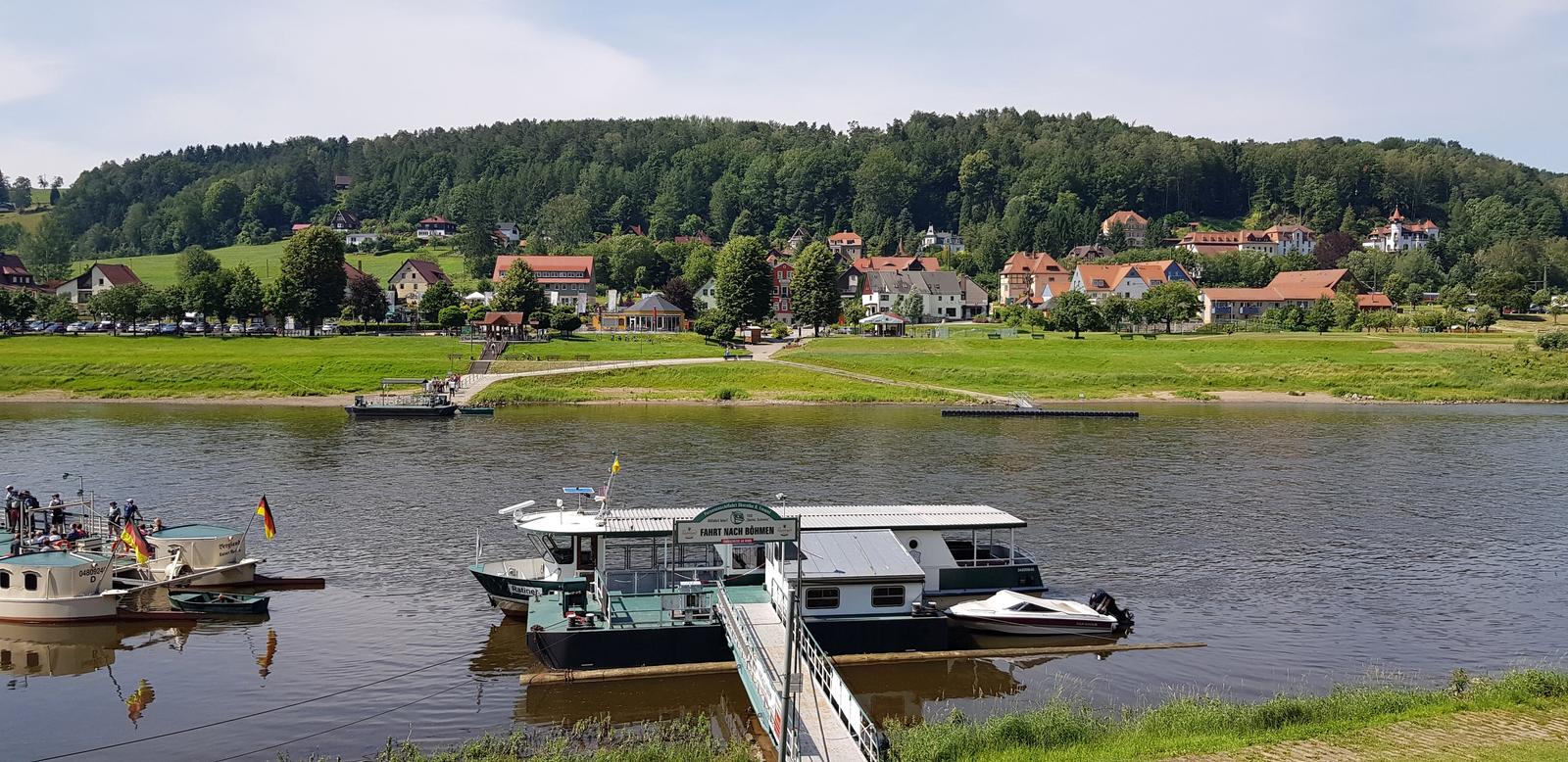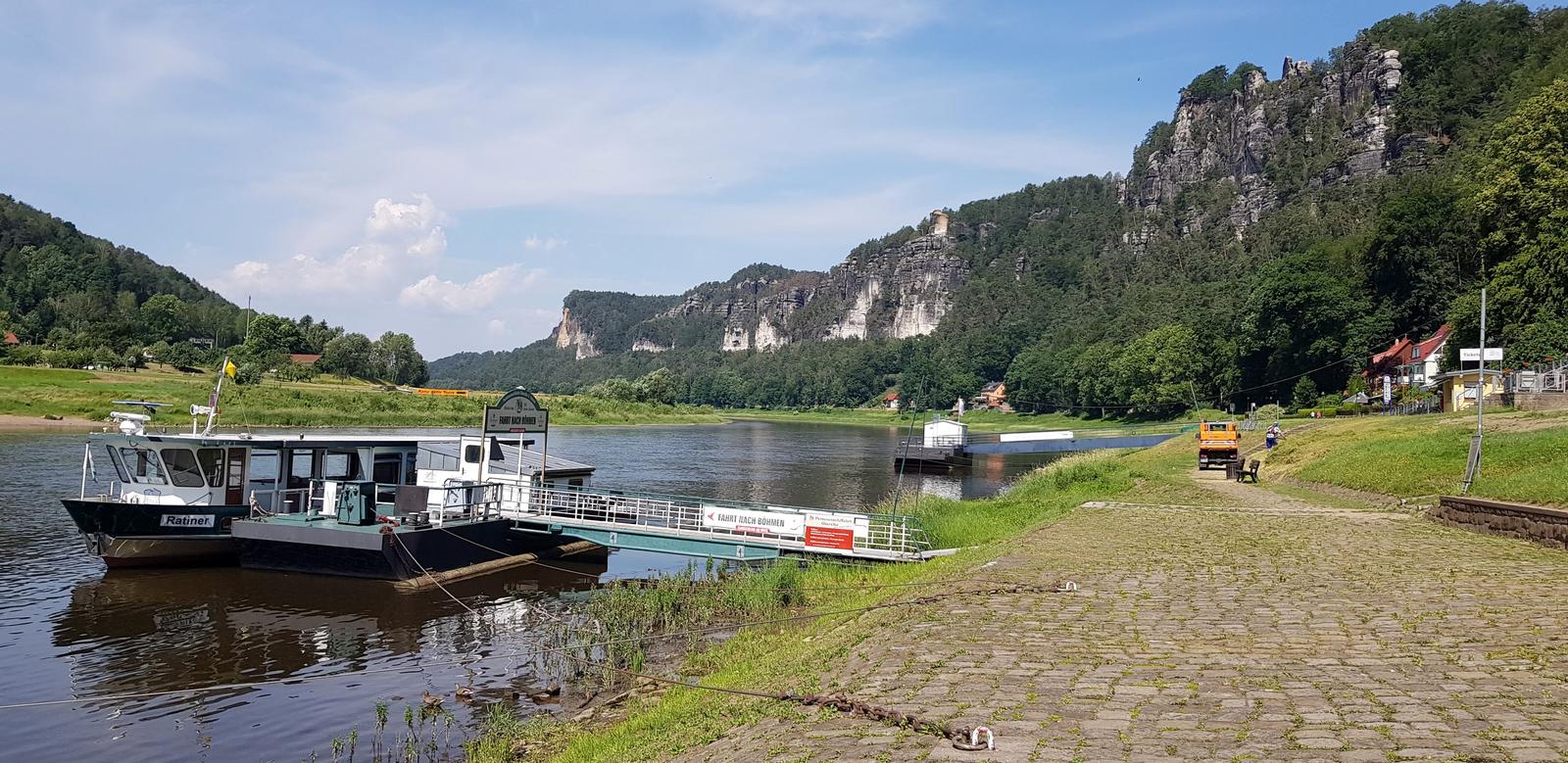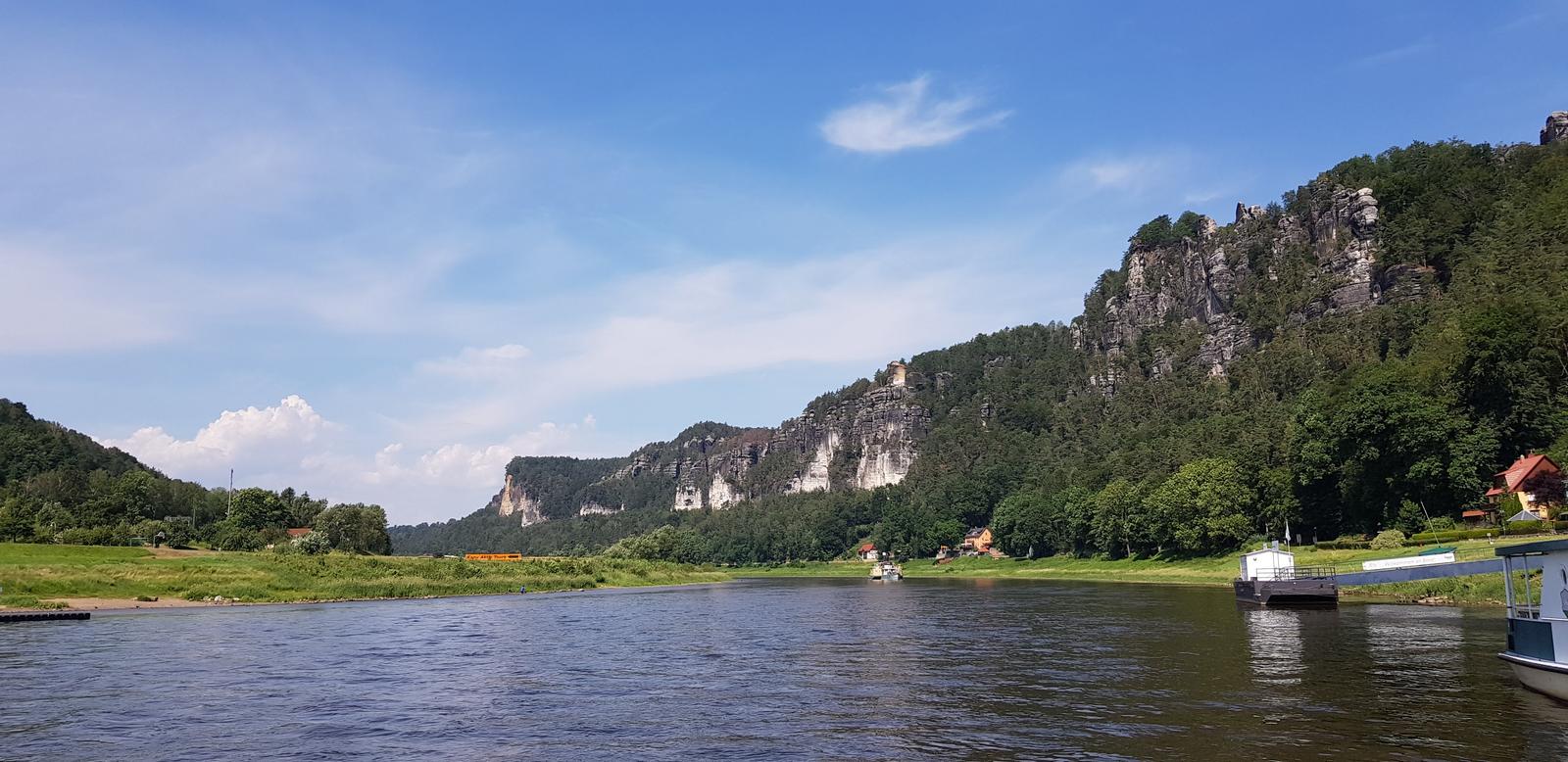 ---
If you've any questions, suggestions or just want to say hello, contact me via the Contact Form, Instagram (@noroadlongenough) or By Email noroadlongenough1@gmail.com